Moto's Chianti B&B (mostly known as the "Motolocanda") is a B&B run by a biker family working in the theatre field. In the middle of hills (35 km from Florence and 45 km from Siena) Moto's Chianti is an ideal starting point for excursions to the most evocative Tuscany areas (Chianti, Siena, San Gimignano, Volterra)
The idea comes up from my passion and my husband Daniele's (scenographer) for motorbikes and alternative excursions. The house has got 3 double bedrooms with shared bathroom. Bed linen, breakfast and city tax are included in the price. It is possible to rent each separate room or all 3 rooms for groups (50 € per night per room, discounts are offered for weekly and monthly stays). On request it is possible to organise themed dinners.
Leaving Florence, in the middle of hills, the road climbs till it gets to the small village of Lucardo Alto where there is an evocative, unique B&B: the "Motolocanda".
Angelita gave us a warm welcome on our arrival and we saw her briefly before leaving. Definitely a trip back in time. This old house has a mysterious atmosphere that makes you feel like you're in a film or in a theatre. Our huge room "la camera gialla", has a high ceiling and big windows and is decorated all over in a yellow theme. The bed is large and quite comfortable. The bathroom looks like a theatre stage. Should be nice to come in mid-summer but in May it was rather cold. We appreciated the many breakfast items provided: butter, jam, bread, milk, coffee, coffee-machine, tea, fruit drinks, etc. You obviously need a car and there's ample parking space in front of the villa. The surrounding country side is beautiful with typical landscapes of the rolling hills of Chianti. Impossible to get a wifi connection.
ALAIN
2016-05-18T00:00:00Z
This place is very special. For us it was one of the highlights of our one week in Toscana. We felt like being at home in the familiar hospitality there was from the Whole Family. This is a must go -
Ole
2015-10-22T00:00:00Z
Was amazing to stay at Angelita's place. You feel really in a medieval house with your own secret passage to the bathroom and the amazing main hall. Her husband Daniele was very understandable with our lack of Italian and presented us every morning with a delicious breakfast with real bread and butter from Tuscany. The place is also very well located to visit the wine cellars in the region and the thermal waters. Incredible experience!
Fernando
2016-06-11T00:00:00Z
We had a lovely stay at Angelita's beautiful house! She was very welcoming and gave us some recommendations of things in the area. She always had breakfast set out for us. I really enjoyed hearing the church bells going off outside our window. She helped us with our boarding passes, and showed us around a bit. We loved all the secret passages! We also had no trouble with the wifi. It worked in our room pretty well, and if it didn't, we went to the common area and it worked just fine.
Jenna
2016-08-02T00:00:00Z
As described, must have a car.
Ross
2016-06-21T00:00:00Z
very nice house, in a quiet countryside. we did not had the chance to meet the host but she was very arrangeant with the check in and check out hours. highly recommanded!
Audrey
2016-05-06T00:00:00Z
The setting is very authentic and a great base point to see the whole Tuscan area. Angelita did her best to make sure we had everything we needed and we enjoyed our stay very much. Thank you!
Oana
2016-08-08T00:00:00Z
It was an interesting experience. A very old house with an impressing history. Very big room and bath.
Alexandra
2016-05-25T00:00:00Z
Room Type
Private room
---
Property Type
Bed & Breakfast
---
Accommodates
2
---
Bedrooms
MONTESPERTOLI, Firenze, Italy
The house looks over the valley of Certaldo - a view worthy of the Tuscan Renaissance painters! This area, known for its enchanting trekking paths, is in the very midst of the most famous Tuscan tourist venues.
This is the third year, for us, in airbnb. These two years was a great experience. We met a lot of nice and friendly persons, from everywhere in the world! I want to tank warmly all our beautiful guests for their lovely presence and for their nice reviews. I hope to meet them again! We enjoy waiting new guests and share with them our beloved place...Now spring is coming and our country become, day by day, nicer, with new flowers and colors! Spring is a really good season for tourism, cities and places of interest are easy to visit and it's charming to walk in the country's paths. OUR PLACE What charmed me most, the first time I saw the house, was the amazing landscape, the extraordinary panorama of wide open spaces and vast horizons. The house is on the top of a hill above the Certaldo valley and looking out the windows one can count nine different layers of hills before reaching the mountains on the horizon, the Apuan Alps and the Tuscan-Emilian Appenines. Sunset is the most beautiful time of the day; the play of sunlight, color and clouds creates a true spectacle in the sky. Five million years ago the valley below was a marine lagoon. Walking around one finds perfectly preserved fossil seashells. I have used some of these fossil seashells and stones worn smooth by the river to decorate the antique kitchen sink. The view into the valley includes the medieval town of Certaldo, birthplace of Giovanni Boccacio, as well as San Gimignano, another medieval town famous for its numerous towers, and the dome of the church of Semifonte, the mysterious ancient city destroyed by the Florentines in 1202. Florence's Porta Romana is only 25 minutes away, San Gimignano 30, and Siena 40. Pisa and its international airport are only an hour away, as are both Volterra and Lucca. In an hour and a half one reaches the shores of the Tyrrhenian Sea. Here we are, practically in the center of the most famous and beautiful sights in the Chianti area and Tuscany in general. In a corner under the ceiling of the porch a family of swallows has its nest and they fly back and forth chirping and chattering keeping us all company.
Florence's Porta Romana is only 25 minutes away, San Gimignano 30, and Siena 40. Pisa and its international airport are only an hour away, as are both Volterra and Lucca. In an hour and a half one reaches the shores of the Tyrrhenian Sea. Here we are, practically in the center of the most famous and beautiful sights in the Chianti area and Tuscany in general.
Cristiana has been a wonderful host and we can absolutely recommend her place if you're planning to go to Tuscany. From the house you have indeed spectacular views and you are on driving distance to many medieval villages and places such as Florence and Siena. Cristiana's place is well equipped and the beds are comfortable. She has been very helpful and made us feel home. When we were lost her husband picked us up in the village and since we arrived late in the afternoon she had prepared a breakfast for the next morning.
Tim
2015-10-06T00:00:00Z
Dear Cella family, Thank you for hosting us in your lovely home, It was one of the greatest trip we've made in the past 10 years! The view from the windows was stunning, the house was very clean, equipped and organized . We hope to return for a longer period. Best regards, Ehud & Yafit Hanan
Ehud
2016-03-19T00:00:00Z
Christiana was the sweetest lady. She made sure we got there ok and we had something yo snack on for breakfast. She should really just open a bed and breakfast, Im sure it would be booked out in no time. Beautiful charming villa with views I will never forget. Wake up to the birds singing and the fresh air of the Chianti vineyards. Just outside of cute little towns to eat and explore, this place is a perfect get a way. Next time, I will bring more books and stay longer. Caio, thank you for everything!
Camille
2016-04-04T00:00:00Z
We loved staying out in the beautiful country. Cristiana proved a nice welcome basket and was very helpful with our questions. She gave us good dinner recommendations and set us up for a lovely fall hike among the vineyards. We enjoyed watching the olive harvest. Great location for day trips to Florence, Siena.
Deb
2016-10-30T00:00:00Z
The apartment is spacious and feels like a real home. The bed is very comfortable and so is the sofa. There is information about the cities nearby and we found lots of nice restaurants in the neighborhood. Christiana is very hospitable and we even were invited to the anniversary of her grandson. We had a wonderful time and I especially enjoyed the tranquility and beautiful landscape around the house. It was a visit to the Chianti at its best!
Cis
2016-09-11T00:00:00Z
Very nice experience in a comfortable house. Well located with amazing views. Cristiana help us to discover the area.
Eli
2015-10-28T00:00:00Z
Christina's home was a great place to relax, the views are so beautiful and the house is so authentic and cosy!! Thank you for the great stay!!
Anna
2016-07-12T00:00:00Z
This beautifully decorated house with a gorgeous view of the Chianti Hills was perfect for our 3 night stay Tuscany! It was spacious for a couple and very well maintained. Loved the colours as well! We were also able to cook our meals in the kitchen and a picnic at the terrace is a must! Communication with Cristiana was very good and on the day of arrival, we were greeted with a warm welcome and suggested places to visit and eat. She was also very thoughtful and had a bottle of wine ready for us. It was like staying with a friend rather than an airbnb. We had a very relaxing stay and wish we could come back soon. Highly recommended!
Aiyana
2016-04-09T00:00:00Z
Room Type
Entire home/apt
---
Property Type
Apartment
---
Accommodates
4
---
Bedrooms
Fiano, Toscana, Italy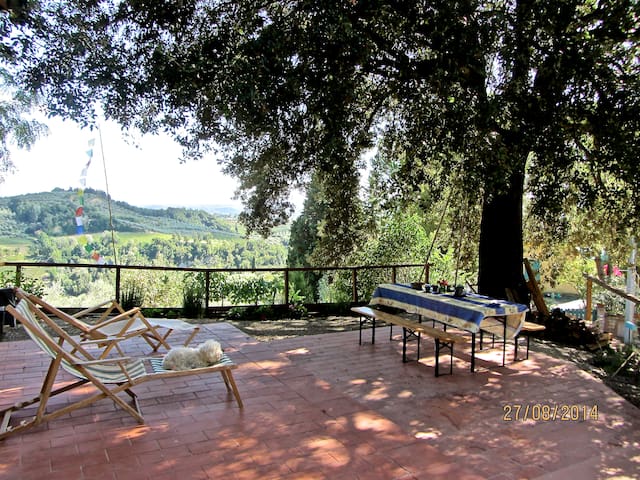 This beautiful and well equipped apartment with exposed beams and terracotta floor,sits on a large estate (10.000 square meters) with olive groves and vineyards with pool directly by the (URL HIDDEN) is well connected to the most important Tuscan cities.
Polvereto is set on 2 levels (both with access on to the outside) and offers welcoming, nicely furnished interiors. 70 m2 Ground floor: living-room (satellite TV) sofabed (2 persons) dining area with kitchen corner, bathroom with shower (without window and without bidet). Lower floor: double bedroom with large window/door,private terrace overlooking the beautiful surrounding landscape. The bedroom is connected with the upper floor through spiral stairs inside, without a door as well as through main stairs which connect the terrace with the front door.
The location is ideal for those who want to enjoy the peace of the Tuscan countryside and at the same time wish to visit all the Chianti little towns such as Castellina, Radda, Greve, Gaiole and the most important art centers like Florence, Siena, Lucca, Pisa ,San Gimignano. Distances:Montespertoli with general stores 10 km away, San Gimignano 30 km, Florence 25 km away, Siena 40 km, Pisa (airport) 75 km, Lucca 90 km away. At guests' disposal: large outside areas with furnished garden (ideal for al-fresco dining), panoramic swimming-pool (1(URL HIDDEN)min. depth 1,2 m – max. depth 2,2 m – open from 01/06 to 30/09) to be shared with the owners, open-air shower (only cold water available) and barbecue. Parking within the grounds. The house is situated in the green hills of Florence in absolute tranquility In the neighborhood a Fornacette (1,5 km)is a bar with a little supermarket where you can get fresh bread,milk and all the (URL HIDDEN) is closed only on (URL HIDDEN) summertime (June –Settembre)it is open untill 12pm and on Sunday nights there is live music and dance at the bar place. At the nearby village of Baccaiano are sports fields (tennis, football, soccer, large public swimming pool with courses). Anselmo is an equestrian center where you can take guided walks on horseback. In the town of Montespertoli (10 km) is every kind of shop, bars, restaurants, pharmacy and ice cream!
The listing description was accurate and our host, Dorthe, was absolutely lovely. We can't wait to plan our next trip to Tuscany and make our second booking with Dorthe.
Jennifer
2016-05-31T00:00:00Z
We stayed at Dörtes place for about a week and couldn't have been happier. Her place is beautiful, calm and clean surrounded by picturesque Tuscany hillside. It is the perfect spot for a relaxing holiday. The apartment is exactly as advertised. Newly renovated, tastefully furnished and completely equipped with everything you need. Dörte has been living in Italy for 26 years most of them in that same spot, so she knows the surrounding perfectly well. She had some great tips for what to do in he area. The appartment is the perfect spot to explore the region as it is right in the middle of Tuscany. You can easily reach Florence, San Gimignano, Volterra, Siena... Dörte was always available and we had a good time together by the pool. She harvests her own olives from the huge estate and makes her own wine which was pretty interesting. We would highly recommend staying there and will most definitely come back some day.
Theresa
2015-06-22T00:00:00Z
Dórhe's location was something like a "all in one solution". We could find everything in it - especially her warm and heartful sharing of our being there - soft care for all the questions - and she gave us the room to be ..... lovely and all the best
stefan
2016-03-12T00:00:00Z
Excellent. The place is beautiful, tasteful, quiet and has an amazing scenery. Dorthe is very helpful, kind and has great suggestions. We will definitely come back again.
Nader
2015-08-27T00:00:00Z
Out time at Toscany was great. Especially with this apartment as our home. Dörthe was the best host and even took care of us on our late arrival with mozarella and red wine. Lovely place, quiet, beautiful views from the bed and the terrace and very private. Many thanks Dörthe
Tony
2016-05-10T00:00:00Z
My girlfriend and I booked a week with Dörthe in her lovely apartment just outside of Montespertoli and Tavernelle Val De Pesa. The apartment itself was very clean, tidy, well stocked with everything that you need and a lovely big comfy bed in a cool bedroom with a stable-like door to the outside area. Dörthe's poolside area is a perfect sun trap with hammocks and chairs and is surrounded by grapevines, olive trees, a fig tree and a pomegranate tree. Dörthe very kindly allowed to forage our own rosemary (and other herbs) and eat fruit from the trees, which were lovely and fresh. Dörthe herself is a great host, left us a lovely bottle of wine on arrival and ever so helpful, warm and welcoming. The area is so quiet and tranquil, perfect for lazy days in peace and quiet by the pool, but is close enough to roads to the towns nearby and the main roads to Pisa, Florence and Siena. We cannot thank Dörthe enough for allowing us into her home and we will most definitely going back. I highly recommend time here!!
Stewart
2015-09-03T00:00:00Z
Fantastic apartment - so cosy in the cold evenings with the log burner and very comfortable beds. We loved all the candles and the general relaxed atmosphere. A way off the beaten track but that was fine for us - after a hard day/night out it was great to come back to our little home. We were a family of two adults and two teenage girls who also loved the various cats and dogs around the place. I just wish we had also experienced it in the summer as the hammock and pool looked so tranquil. Still with a log burning fire, glass of wine in had who could ask for more?! Robin, Dorothes son was charming and around to help us when we first arrived - even finding somewhere to feed us as we had arrived lat lunch and most places were closed. Thanks so much both
Emily
2017-01-01T00:00:00Z
Dorthe is a really beautiful person & her house is like paradise! The only "problem" is that she didn't know anything about the area and she couldn't suggest us something about eating or hanging around and the second problem was that the house is a little bit faraway from the central villages of the Cianti area! But if a have the opportunity i will go again to Dorthe's house! Really amazing!
Dora
2016-05-01T00:00:00Z
Room Type
Entire home/apt
---
Property Type
Apartment
---
Accommodates
4
---
Bedrooms
Montespertoli, Toscana,Firenze, Italy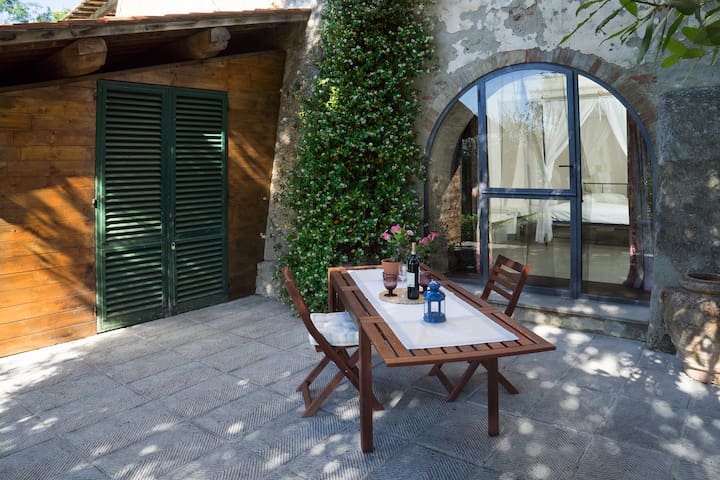 Antique Tuscan barn made into a comfortable home with private swimming pool. Best views ever. Close to Florence, Siena and Pisa. Very quiet, yet easy to reach. Sunsets you can only dream of. Ideal Tuscan getaway for family or two couples. The house has two bedroom and two bathrooms plus a guest bathroom on the ground floor. The pool has a panoramic edge and whirlpool section. There are two restaurants on walking distance (a few hundred meters).
A beautifully restored barn (finished January 2016) in Tuscany, 30 min from Florence, 50 min from Siena and 1 hour drive from Pisa. The holiday house (officially named Tra Sogno e Realtà - "between dream and reality") has a private panoramic swimming pool and lovely fenced garden. Pets are welcome. There is a typical Tuscan bocce court and lot's of children's toys. Barbecue in stone with firewood supplied by the owners. The fridge has an ice cube dispenser ... a real home to enjoy all the bounty Tuscany has to offer, in total privacy and with the best views ever. Guaranteed! There is an alarm system and automatic gate. Plenty of parking inside the gate. The swimming pool has one panoramic edge and is 10 meters by 5,5 and between 1 and 1,4 meter deep. In one corner there are Roman steps going down, with a nice whirlpool function.
Lucardo is an antique hamlet high on a hill. There is a nice restaurant on 5 minutes (walking distance) from the house. You can do your shopping in Montespertoli where you can buy excellent local products in small shops. Famous is the sour-dough bread made with antique grains that are organically grown in many farms in the area. An excellent cheese is made by a young shepherd in Lucardo, 10 minutes walk from the house. The area is furthermore ideal for day trips to the famous Tuscan towns or smaller towns like San Gimignano (less than half an hour drive). There are many wine producers (famous and not) where you can do tastings. You can rent an e-bike to ecologically tour the hills without having to be an athlete, there is ballooning nearby (only for those who don't mind getting up very early in the morning), at the tourist office of Montespertoli you can get free maps with a few nice walks you could do ... and so forth. Do ask us (best in advance) if you would like to know about things to do, we will gladly help you plan your holiday in a way that makes sense!
This place is unbelivable! It is the best place in Tuscany to stay. The view is awesome. Like the description says: Best view ever! The house is very nice from the outside and even more from the inside. Furniture and equipment are lovely, everything fits. Very high standard, like ice-spender in the fridge, air-condition, TV and DVD-Player, outdoor-kitchen and last but not least the infinity-pool. We have made many daytrips. All the lovely places in Tuscany are easy to reach within an hour. We had a very warm welcome by the owners of the house and expierienced an unbelievable "Festa" in their village Fiano. We were also invited to have diner with them, best pizza ever. Only one negative aspect: The day you have to leave this place will come. We were truly sad to leave. We will definetly come back some day.
Kai
2016-08-01T00:00:00Z
We had a wonderful experience at this villa in Lucardo. Its situation is perfect with fantastic views across the Tuscan countryside. It was a real pleasure to sit outside the house each evening and watch the sun set over the mountains. We split our time between enjoying the pool and garden and visiting places such as Florence, Siena, San Gimignano and Lucca ..... which can all be reached in less than an hour. The house itself is tastefully furnished and contained everything we needed during the holiday. It was a special treat to be able to enjoy fruit and vegetables picked directly from the garden. Massimo and Gabriella are the perfect hosts ...... they made us feel so welcome and generously invited us to join them for a meal in a nearby village. This was one of the best holidays we've had as a family and will definitely hope to return again in the future.
Amanda
2016-08-28T00:00:00Z
We had a wonderful time at this beautiful house in Lucardo. You have a stunning view over the Tuscan hills with amazing sunsets and a really nice pool. The entire property is in a fantastic condidtion, you can reap fresh strawberries, lemons, zucchinies and many more for own use. The house is very clean and the interior is very tasteful decorated. There is nothing you will miss. We cooked several times at home it was fun to spent time in the house. The location is also perfect for day trips, so we visited Arezzo, San Gimigiano, Siena and Livorno. Massimo and his family are very kind - Gabriella prepared the best tiramisu we have ever had when we arrived at the house. At any time they were approachable and really cared about us. It is just a lovely family and it was so nice meeting them. All in all it was the best place we have ever stayed in Tuscany and we can strongly recommend a stay at Massimo´s, Gabriella´s, Camilla´s and Jacopo´s house. For sure we will come back one time. Jörg, Sabine, David & Anna
Jörg Willi
2016-10-09T00:00:00Z
We were so lucky to stay at this magical place for five wonderful days! So much thought and care has been put into the details that make a home away from home: a beautiful house, unbeatable view of Tuscany with amazing sunsets, stunning Infiniti pool, and garden yielding lovely tomatoes, strawberries and herbs. The family who owns it makes sure you have all you need - including local delicacies (for us an out-of-this-world homemade tiramisu!) and is so warm and welcoming. The house is a great base in Tuscany with quick trips to Florence, San Gimignano, Volterra, etc. and many other small towns. We enjoyed every minute - we will be back!
Claire
2016-09-23T00:00:00Z
WOW! What an incredibly awesome place in Lucardo, Italy - tra sogno e realtá (between dream and reality) the name says it all. Thank you to Massimo, Gabriella, Camilla and Jacopo for creating such a lovely vacation home for so many to enjoy. The pictures really don't do this home justice, the views are absolutely breathtaking, to say the least. This home has everything you could ever need on vacation. We booked this lovely Toucan Villa in March of this year without any reviews but the description and pictures kept bringing us back and we are so happy we chose this Villa for our Italy vacation in September with my sister and brother in-law. It was our 30th anniversary and my brother in-laws 50th birthday celebration. Prefect fit for two couples. Very convenient to Florence. We took several day trips to visit Siena, Certoldo, San Gimignano, Montespertoli, Greve in Chianti, we can not say enough about the area, the villa and this wonderful family. Upon our arrival we were met by Massimo, Gabriella, Camilla, Jacopo and a really cute puppy. They gave us the grand tour explaining how everything worked with the help of some excellent translating by Camille since Massimo and Gabriella do not speak English, which all added to the charm of our experience. We opened the refrigerator and Gabriella had made us a pan of tiramisu as a welcome gift. And I will tell you it was by far the best tiramisu any of us had in or out of the country. The villa is architecturally wonderful and with good reason, Massimo is an architect and rebuilt the old barn from top to bottom himself. The features are wonderful exposed beams, brick floors, tile roof, beautiful pool and a garden. Everything is new and works great. Wonderful water pressure which was a surprise when being in the country side. We cooked breakfast each day and cooked dinner in a couple of nights using fresh vegetables from the garden even in mid September delicious tomatoes. If you like to cook there is everything for the chef in you and plenty of dishes to serve a nice crowd. We ate most of our meals on the covered porch so we could enjoy the views with some great local wines. As an aside, the villa is gated for your added comfort but we actually had no uncomfortable experiences anywhere we traveled in Italy. And just to tell you how great this family is, my sister loved the hand soap and asked Gabriella where she got it (with the help of (SENSITIVE CONTENTS HIDDEN) translator), but before we could go get some, she and Camilla arrive with 2 bags for us to take back to the states. One night we decided to eat dinner at a great little trattoria in Lucardo and as we were leaving we told the waiter we only had a short drive up the hill and he said "so you are Massimo's people" and he opened a bottle of...
Leila
2016-09-19T00:00:00Z
We had a wonderful time during our stay in this house. Lucardo is a good starting point for day trips to the highlights of Tuscany like Florence, Siena, San Gimingano and others. We had a very warm welcome by the owners with home-made tiramisu, a giant fruit basket and local olive oil and wine. As we told them we were travelling with our one year old, we found the house equipped with a crib, a high chair, a baby-bed and some outdoor toys. The villa is beautifully built and decorated in Tuscan style. It offers all amenities as washing maschine, dish washer, giant fridge with ice cube dispenser, two coffee machines (filter and Nespresso) and other kitchen appliances. The garden is lovely and offers stunning views over the surrounding hills. The owners encouraged us to pick the delicious strawberrys and salad from the garden. We also enjoyed the brick-built barbacue. The pool is cleaned daily in the early morning by the owner. We loved to see the sunset from the patio every day. As the house is set on the hill, there is a soft breeze in the afternoon. Put together, it was a perfect experience and we can fully recommend to stay in this Tuscan villa. It is even more beautiful as it looks on the fotos.
Stephan
2016-05-29T00:00:00Z
Incredible views of the countryside. Beautiful modern house built from historic materials. Great pool and the owner was a great host.
Kevin
2017-03-26T00:00:00Z
This might have been my favorite Airbnb experience (which is saying a lot, because I've had really great experiences so far!). My husband and I stayed here for 3 nights and used it as a base to explore Tuscany. We arrived late and Massimo and his family (including two children!) greeted us, showed us around, and had homemade tiramisu and a bottle of prosecco waiting for us. The house was clean and well-equipped. There was a beautiful view of Tuscany in the backyard, which was perfect to catch sunsets. We would absolutely stay here again and highly recommend it to others!
Lindsay
2017-03-06T00:00:00Z
Room Type
Entire home/apt
---
Property Type
House
---
Accommodates
5
---
Bedrooms
Lucardo, Toscana, Italy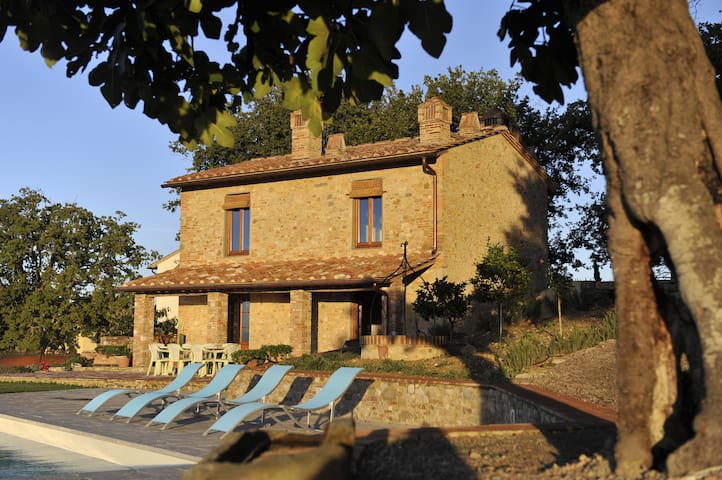 Cozy and comfortable studio apartment, in the splendid landscape of the Chianti countryside. It's a dependance with a sofa bed for 2 people, kitchenette, bathroom with shower, wood-burning stove. With area in the garden and a comfortable external loggia with laundry. This is an ideal place for relaxing stays. Trekking in the countryside. A grocery with bar and minimarket at 200 meters. Strategic position for visiting Florence, San Gimignano, Siena, the sea and wineries tours.
The Casina degli Angeli is located on a hillside with a mild climate. You need a car to come here and drive around in the countryside. It is completely separated from the main house and in total privacy. Inside the kitchen is equipped with plates, cutlery, glasses, pot and pans, a refrigerator and a modern stove with ceramic plates. You will find also some teabags, istant coffe, sugar, salt and oil... just for basic needs. The apartment is furnished of laundry (sheets, towels, dishtowels). The wood burning stove is the heart of the studio apartment. When you arrive, you will find the fire burning in the stove and the room already warm! It is also available to families a baby carrier for the night to be fixed to the bed (model 2 Next to Me, CHICCO), range up to 9 kg.
La Casina degli Angeli is located in the quiet of the Chianti countryside. It's in Fornacette, Montespertoli town. It is surrounded by vineyards and green meadows with grazing flocks. Just a 5 minutes walk, and you have the Circolino, with a bar and milk, cheese and bakery products selling, such as the legendary Tuscan wine honey, bread and crackers, the delicious Tuscan cold cuts (ham from Tuscany and the finocchiona), sweets and a small supermarket. Children Area with a playground is in the garden. The supermarkets are about at a 15 minute drive (Montespertoli Tavarnelle, San Casciano). Pharmacy, ATM, gas station and post office are just as easy to reach.
The Casina degli Angeli is a beautiful granny flat immersed in the green on the Tuscan Hills. Benedetta Elisa is a lovely host, she waited for our arrival which was a bit later than expected. Unfortunately we only had one day left in our trip otherwise we would have loved staying longer! Absolutely recommended!
Ivano
2016-09-24T00:00:00Z
All was super. Small but comfortable country house. All available, even oil and milk :) Wifi is the only thing we were missing, would be good to have, But you have a lot of free time without wifi. Were very happy to stay, would visit again!
Yuliia
2016-10-08T00:00:00Z
The apartment is very small but good for a couple who wanna travel in the area. It had every thing we needed (washer, kitchen ... No wifi), and the price is very good. We recommend the apartment for travelers
Saar
2016-10-05T00:00:00Z
Benedetta was a fabulous host, so welcoming. Her place is very cute and cozy, would highly recommend.
Tamson
2016-10-07T00:00:00Z
Benedetta is a very nice host who prepared the fire place for us in her tidy little cottage when we arrived in the evening. Thank you very much and see you again when we come to Montespertoli.
Maurice
2016-10-19T00:00:00Z
Benedetta was wonderful! And her place was cozy and comfortable with a fun little wood fire in the corner. I'd recommend staying here anytime.
Luke
2016-11-11T00:00:00Z
We had a really great stay at Benedetta's cute apartment, definitely one of the best Airbnb experiences we ever had! She's a really amazing host and very helpful and always on top of communication! The apartment is very well equipped and decorated with love and an eye for the details. We really can recommend to book this apartment!
Philipp
2016-09-27T00:00:00Z
It was our second visit to Ellisa, it was a really place where we wanted to come again. Very warm fire place in the house, quiet location, all kitchen stuff available, also both times there was breakfast: milk, honey, croissant, jam, butter, some crispy bread, biscuits, good grind coffee, olive oil and sugar :)
Yuliia
2016-10-12T00:00:00Z
Room Type
Entire home/apt
---
Property Type
House
---
Accommodates
2
---
Bedrooms
Montespertoli, Toscana, Italy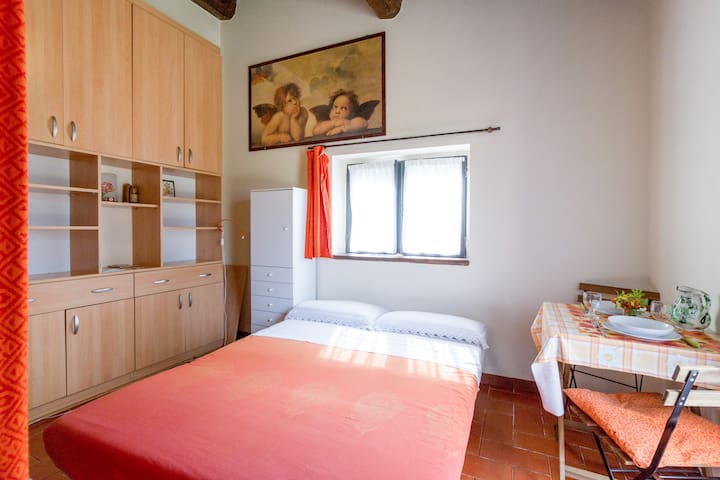 Pleasant stay among Chianti olive groves and vineyard. Ideal geographic location to visit easily Tuscany: Florence (15,5 MI) , Siena (25 MI), Certaldo (6,2 MI), San Gimignano (15,5 MI.), Volterra (28 MI), Pisa e Lucca (circa 50 MI).
It is a semi-detached, charming, well furnished, ancient house, with typical tiles of "cotto" on the floor, timber-beams at the ceilings and a real fireplace. The décor is typically Tuscan, comfortable and inviting. The home can accommodate up to 7 guests: there is a double bedroom and a comfortable living room with a large divan. Up to three extra beds are placed on a gallery. The kitchen is well equipped, as any other room in the house. A washing machine is available. The large pergola located next to the house is furnished with a dining table.
The house is surrounded by vineyards and olive trees. At Fiano, the nearest village, you can buy food in the local shops. There is also a chemistry and a bar, a newsagent and a small drugstore which sells many kinds of items. It's very easy to go to Florence: in 25 minutes you can reach the neighborhood of Galluzzo where you can park your car and get a bus. Two bus lines, no. 36 and no. 37 will take you directly into the center of Florence, very close to the main railway station (Santa Maria Novella) and the suburban bus station from which you can leave to visit other beautiful places in Tuscany.
If you want to drive around Tuscany and wake up to a stunning view, after sleeping soundly, then book Annamaria's cottage. Beautifully decorated, supplied with everything you could possibly need, it was the best experience of countryside Tuscany. Annamaria is warm and welcoming. Bonus, Annamaria's neighbour Flavio who makes good wine which you can buy from.
Ionut
2016-07-31T00:00:00Z
We had a wonderful time at Annamarias place. The house is very cosy and definitely big enough for 4 people. We were welcomed by Flavio our neighbour. He and his wife Daniela are very hospitable and made our stay special. Thanks for everything!
Rafaela
2016-09-05T00:00:00Z
Très bel endroit au calme ! Bien localisé par rapport aux grandes villes à visiter (Florence, Sienne). Annamaria a été très accueillante, serviable et à l'écoute de nos demandes. Le gîte était prêt à nous accueillir dans les meilleures conditions (propreté, fraîcheur, petite restauration). A conseiller fortement !
Magali
2016-08-13T00:00:00Z
Pas facile de quitter Fiano, la petite maison d'Annamaria au milieu des collines, entre vignes et oliviers. Quel endroit idéal, en effet, pour découvrir la Toscane, la douceur de sa campagne, à petite distance de ses villes -Siena, Firenze, San Gimignano, Volterra... Nous nous sommes sentis bien -"at home"- dans cette maison colorée, où chaque objet semble avoir une histoire. Et le voisinage chaleureux et discret de Daniella et Flavio renforce cette sensation de paix. Grazie mille !
Florence
2016-08-07T00:00:00Z
L'accoglienza da parte di Annamaria ė stata fantastica! Ci ha fatto sentire a casa dal primo istante! La casa é accogliente e comoda, é il posto ideale per una settimana in pieno relax! Vicina a Certaldo centro, fantastico borgo medioevale! Anche Firenze, Volterra, San Geminiano, Siena sono stati facilmente raggiungibili durante il nostro soggiorno. Grazie grazie grazie Annamaria per aver reso la nostra vacanza indimenticabile. Torneremo sicuramente a trovarti nella favolosa valle del Chianti!
Luisa
2016-07-11T00:00:00Z
Nous avons passé un très agréable séjour. Nous avons profité du calme de la campagne avec la proximité du très beau village de Certaldo ( à 10 mn) où l'on trouve toutes les commodités (supermarché, station service....). La maison est très bien équipée en plus d'être idéalement située : proche de Florence (environ 45 mn), Pise et Sienne. Expérience à renouveler sans hésiter.
Magali
2016-08-21T00:00:00Z
Nous avons été merveilleusement bien accueillis par Daniela et Flavio. Un couple qui prend plaisir à recevoir et à donner des renseignements. Une belle rencontre ! Logement confortable et très propre correspondant bien à la description. . . Nous avons profité de ce séjour en Toscane pour visiter quelques superbes villes et villages ,la maison est idéalement placé . Très heureux de ces 5 jours Dans le Chianti Merci encore
bruno
2016-09-22T00:00:00Z
Das Haus hat uns sehr gefallen. Viel Platz und viel Ruhe mit unglaublich schönem Ausblick über toskanische Hügel! In der Küche war alles da unter der Pergola haben wir häufig gegessen. Wir haben nichts vermisst. In der Küche war alles ausreichend vorhanden. Auch Handtücher und Bettwäsche war ausreichend vorhanden. Die Nachbarin hat uns herzlich empfangen. Wir konnten sie immer ansprechen. Die Nachbarn waren freundlich. Es sind dort einige Häuser auf dem Grundstück, welches wie in einem Hof gruppiert ist.
Sebastian
2016-10-12T00:00:00Z
Room Type
Entire home/apt
---
Property Type
House
---
Accommodates
6
---
Bedrooms
FIANO (Certaldo), Toscana, Italy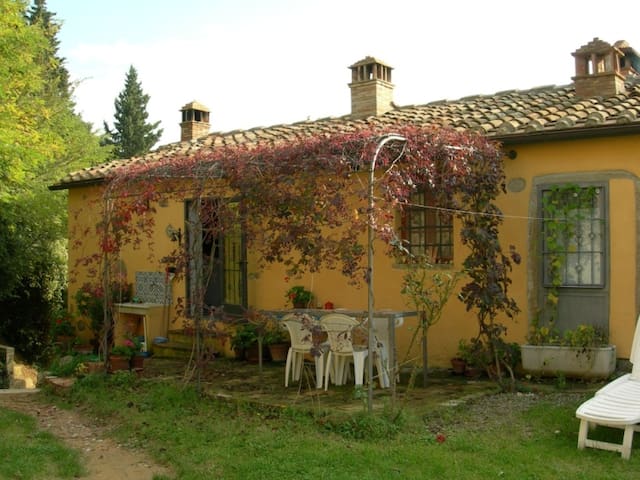 Ti piacerà il mio alloggio per questi motivi: l'intimità, la posizione, i panorami e i soffitti alti. Il mio alloggio è adatto a coppie, famiglie (con bambini), grandi gruppi e amici pelosi (animali domestici). La posizione della struttura è l'ideale per coloro che intendono rilassarsi nella campagna toscana e al tempo stesso essere vicino ai più importanti centri d'interesse storico come Firenze, Siena, San Gimignano, Volterra e i caratteristici paesi del Chianti.
We had a very good stay in such a beautiful region. The house is very nice and the view from the garden is superb. Martina is a very nice guest and so is her family who were very kind to our children.
Etienne
2016-07-30T00:00:00Z
Amazing place. Great hospitality by Martina. The view from the home was absolutely stunning. The house was well stocked and ver comfortable. . We were a family of 6. Martina was very communicative and was always on call to help us out. Definitely recommend.
Arjun Krishnan
2016-08-16T00:00:00Z
The host canceled this reservation 19 days before arrival. This is an automated posting.
Anna Maria
2017-03-26T00:00:00Z
Une bouteille de Chianti nous attendait en signe de bienvenue. Le logement offre tout le nécessaire pour se sentir bien et accueilli.
Agnès
2016-08-12T00:00:00Z
La Terrazza es una casa muy conveniente, bien situada, con unas buenas vistas para disfrutar y Martina siempre atenta cuidando de que la estancia fuera muy agradable. Una muy buena base para conocer la Toscana!
Joaquim
2016-08-24T00:00:00Z
Room Type
Entire home/apt
---
Property Type
Apartment
---
Accommodates
7
---
Bedrooms
San Donato, Toscana, Italy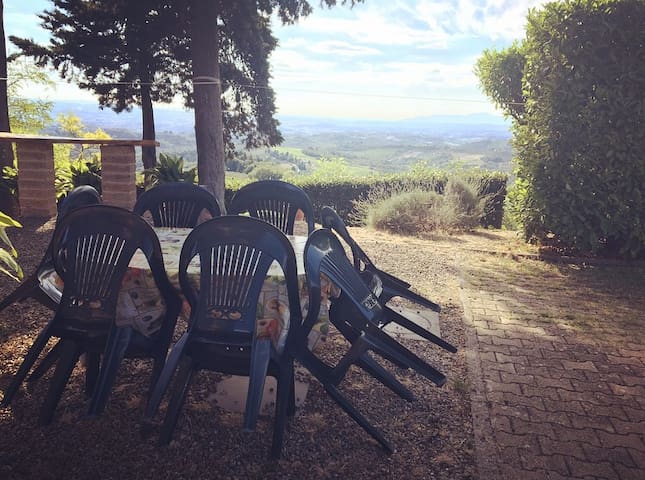 Incantevole porzione di colonica con vista spettacolare sulle colline del Chianti ...perfettamente restaurata con accessori originali With enchanting views on Chianti Hills, a very charming country house is waiting for you....perfectly restored with original accessories
La casa è composta al piano terra da cucinotto,una sala pranzo con camino e divano letto matrimoniale,piu un bagno mentre al piano superiore si trova la camera da letto padronale con 1 matrimoniale,un letto singolo ed un grande bagno (URL HIDDEN) (URL HIDDEN) La Casa ha inoltre a completa disposizione un giardino frontale di circa 180 mq ,provvisto di barbeque ,ed un giardino nel retro dove è possibile pranzare/cenare nella tranquillità della campagna(URL HIDDEN) la colonica,inoltre ,dispone di connessione WIFI libera e gratuita .URL HIDDEN) la casa si presenta al cliente perfettamente restaurata per offrirvi il massimo del servizio.
Il Borgo medievale di Lucardo dista 7 km da Montespertoli (Firenze) di cui è frazione, su una collina tra la Valdelsa e la Val di Pesa, fondato probabilmente su un insediamento etrusco e rappresenta uno dei luoghi più antichi del territorio di Montespertoli.Come nel passato le tradizioni agricole sono ancora ben radicate nella popolazione. A Lucardo viene ancora (URL HIDDEN) il tradizionale formaggio "marzolino di Lucardo", mentre la coltivazione della vite e dell'olivo costituisce ancora oggi la principale risorsa economica per gli abitanti della zona con la produzione di buoni vini(URL HIDDEN)Lucardo is situated 7km from Montespertoli in the hills between the Valdelsa and Val di Pesa. Founded on an Etruscan settlement, the mediaeval Borgo of Lucardo represents one of the oldest villages in the territory of Montespertoli. As in the past, the agricultural traditions are still widely practiced by the local people. In Lucardo you can find a traditional cheese "Marzolino di Lucardo" whilst the cultivation of olives and vines still constitute the principle economic resources for the population with the production of fine wines and olive oil.
BOOK. THIS. PLACE! We LOVED our stay here. The location is remote but close enough to a couple cute towns, the hosts don't speak English but are so kind and accommodating, and it is located on the top of a hill so you can see miles and miles of some of the most beautiful landscape I have ever seen. Wished we could have stayed longer - and hope to return. If you're considering a romantic adventure in Tuscany, this is the place for you!!
Tricia & Eric
2016-08-10T00:00:00Z
My family and I spent a great time in "La Colombaia". After a week we consider it as our own house. Very comfortable and specially quite well reformed. The place is unique to stay with childreen, very peacefull and beautiful views. Giuditta, Mirko and family were always attentive to our needs and helped us when it was necesary. Great vacation!!!! and whising to tornare!!!!
Daniel
2016-07-21T00:00:00Z
We had a wonderful time in Giudetta's Casa La Colombaia in Montespertoli, Tuscany. It's located in a amazingly beautiful area, with asthonishing views, far beyond we could imagine. Giudetta and her husband Mirko are very nice and welcoming people from the moment we met. Everything we needed was supplied in the house, which was very neath and tidy. It really felt like home to us. We also enjoyed the visits from the communal cat Olivia, who visited us almost every day. The location is in driving distance from all the places we planned to see. We would recommend this place to everyone who's looking for a peaceful stay and a wonderful vacation. We are certainly coming back!
Elroy
2016-08-06T00:00:00Z
Giuditta welcomed us warmly at her lovely home in the beautiful countryside of Tuscany. With magnificent views of the countryside and a close proximity to Florence, it was perfect for exploring the surrounding area and cities while staying at a quiet and safe home with all the amenities needed for comfort.
Sander
2016-10-04T00:00:00Z
Although the quite short stay the experience here was fantastic! Giuditta and her husband are fantastic and very welcoming people. the place is absolutely beautiful with all the space and comforts that one can ask for "scenery" included, it is placed on top of a hill dominating the entrance of the Chianti valley. I suggest asking them for any information you need, especially culinary...you will be surprised how much they know!
Filippo Maria
2016-06-05T00:00:00Z
We really loved an appreciated our stay at La Colombaia. The appt is as described, with large doors from both sides opening to the gardens. Charming environment with absolute silence and beautiful views. Very well received and very nice neighbours as well. We highly recommend it.
Farid
2016-09-03T00:00:00Z
Apartamento en lo alto de una colina. Dos plantas con dos terrazas, al más puro estilo toscana. Giuditta y su familia son estupendos y te ayudarán con lo que necesites. A nosotros nos ayudaron con una visita a una bodega cuando ya no había sitio. Muy recomendable!!!
angel
2016-08-15T00:00:00Z
Siamo stati molto bene. Giuditta e suo marito sono molto accoglienti. La casa, che gode di una vista splendida, è piacevole e fresca. Ci sono due bagni modernissimi, di cui uno con vista sulla campagna. In cucina non manca nulla! C'è un piccolo giardino dietro con un tavolo e un altro spazio molto piacevole davanti alla casa, con fiori e alberi. C'è sempre un po' d'ombra. La casa è inoltre perfettamente situata per andare a Firenze ( 20 minuti) e la campagna Toscana. C'è un bar alimentari a 2 chilometri. In breve è perfetta! Grazie mille Giuditta:-)
Benedicte
2016-07-03T00:00:00Z
Room Type
Entire home/apt
---
Property Type
House
---
Accommodates
5
---
Bedrooms
Montespertoli, Toscana, Italy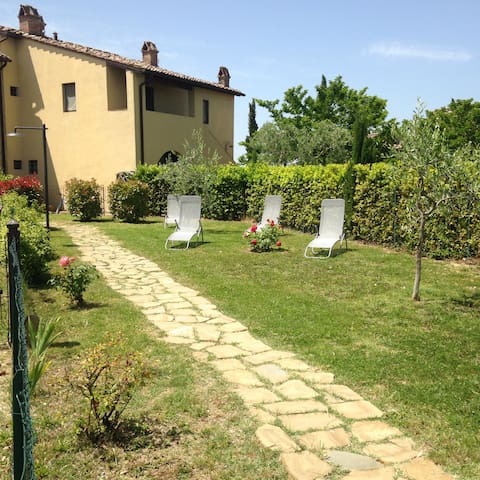 The Germano apartment is part of the Tenuta di Sticciano, a winery with farmhouses in the middle of chianti rolling hills. The apartment is for 4 people with one double bedromm, one twin bedroom, bathroom with shower a living with kitchen and fireplace and a large terrace overlooking the vineyards and San Gimignano.
Due to its privileged geographical location in the heart of Tuscany, Tenuta di Sticciano is the ideal starting point for visiting the most important art cities in the region. Immersed in an enchanted countryside of vineyards and olive groves and surrounded by the rolling hills of Tuscany, Sticciano is also the ideal place for a relaxing holiday.
Room Type
Private room
---
Property Type
Apartment
---
Accommodates
4
---
Bedrooms
Certaldo, Toscana, Italy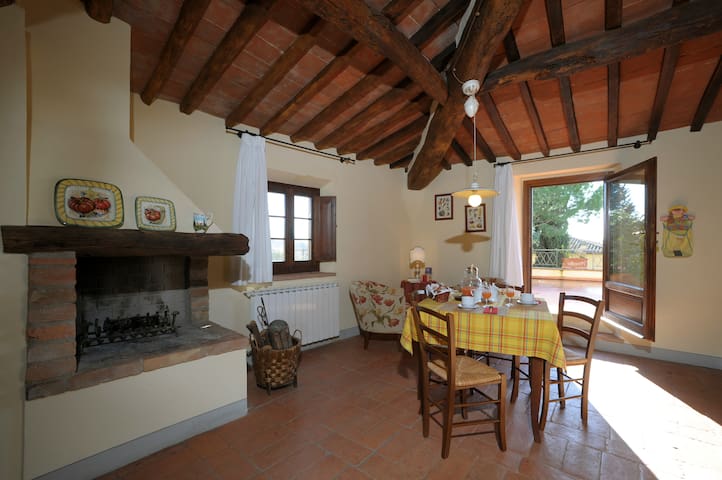 l'appartamento è composto da cucina soggiorno con camino funzionante, camera matrimoniale con accesso alla terrazza, camera doppia con bellissima vista, bagno, parcheggio privato, giardino attrezzato con zona barbecue; finiture tipiche
Appartamento molto confortevole, zona tranquilla e silenziosa, vicina alla più importanti città della Toscana, ci accettano cani
Charming rural house with a typical Tuscany furniture in a very calming and quite place. We loved our evenings on the terrace with a glass of chianti. Sara is very hospitable, always ready to help and solve any your question.
Victoria
2016-07-25T00:00:00Z
This place is amazing. Beautiful View, great beds, great bedrooma. Only thing i missed was a sofa. Sara was very kind and helpful and het father and mother are two lovely People. We bought some wine and olive oil wich was very sheep. We definatly going Back here.
Wilco
2016-08-13T00:00:00Z
Great authentic/rustic house in a very quiet location inmidst Tuscan countryside. Fantastic if you want a quiet place and have a car. Note that the house is outside in the fields with only few other houses around in a 100m radius. Sightseeing is easily feasible as many interesting places are within 30-60 mins by car (during our one week stay we went to Florence, Siena, San Gimignano, Volterra, Pisa, Monteriggioni and even to the beach). Furniture is nice and authentic/rustic but obviously does not offer modern comfort (e.g. there is no couch, beds are quite comfy, though). House took 2 days to get warm (in March) but it was fine as the fireplace in the kitchen provided a nice intermediate relief. Gas heating is charged additionally, which Sara told us in advance, though. We would highly recommend this house to all those who value an authentic place more than the comfort of a modern home. For us it was great.
Darius
2017-03-18T00:00:00Z
Everything work nice,beautiful place,near to roads and easy to go in any place in Toscana.
Vesela
2016-11-13T00:00:00Z
Cet endroit est un petit paradis sur terre entouré de paysages magnifiques et d'un calme époustouflant, tout en restant proche de Florence, Pise et Sienne. La maman de Sara est une dame charmante qui nous a accueillis avec la générosité toscane. C'est notre location coup de cœur que nous recommandons vivement.
NHI MOUI
2016-08-20T00:00:00Z
Хорошее тихое место. Прекрасный вид. До Флоренции 30 минут на машине. Без автомобиля практически невозможно добраться. Хорошо оборудована кухня. есть стоянка на 2-3 машины.
Igor
2017-02-13T00:00:00Z
Room Type
Entire home/apt
---
Property Type
Apartment
---
Accommodates
4
---
Bedrooms
Il Pino II, Tuscany, Italy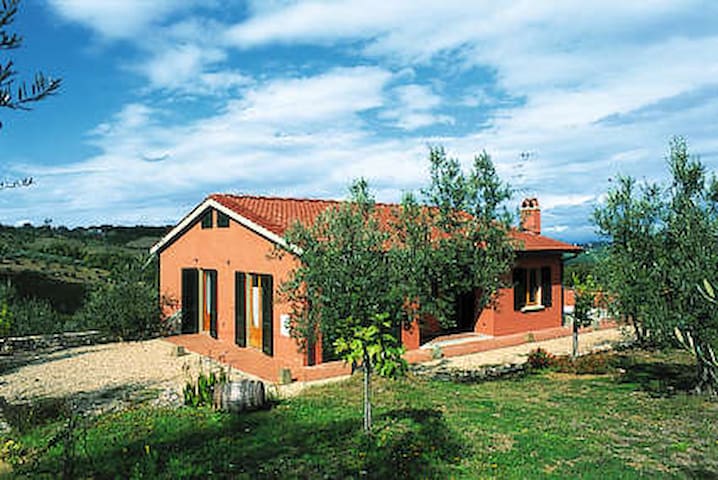 This beautiful property, in typical Tuscan style, is situated on a hill between the valleys of Elsa and Pesa in the Chianti region. We belive that the settelment was there for almost 2000 years. Etruscan Objects where found in the house, wich are now in the Museum in Certaldo. The Fienile consists of a living / dining area with a well equipped kitchen and a little bathroom on the ground floor. On the first floor is the bedroom with a large double bed (180cm 2 matrasses) and a fireplace. Sheets, Towels and Kitchen Towels and all the things you will need for your stay are provided. To the Fienile belongs also a Veranda with a large table and chairs that can be used as a outside dining area. There is also also a Baby Bed (children up till ca. 4 years) available. Older Children can sleep on the Bedsofa in the bedroom. Both options for children are free of extra charge. There's a privat parking space in front of the house. The property is surrounded by a yard, olive trees, wineyards, oak woods and Mediterranean maquis. There are several Restaurants and Pizzerias in the near villages. There is a Foodstore (Coop) at 3 Kilometers. You will be sorrounded by Wine and Oil producers, some of them have nice Winecellars to show. Certaldo, the hometown of Boccaccio, is 12 Kilometers away. San Giminiano 25 Km, Siena 40 Km, Firenze 31 Km. Please ask us if you have any questions! We are happy to assist you and make your stay a pleasant holiday experience.
We very much enjoyed staying at your home in Tuscany. It had everything we need. I especially appreciated espresso being available. And we are so grateful for you accommodating us a couple of hours early. After traveling for more than 24 hours to arrive- we were thankful you allowed us to unload and rest. Your location is magnificent. It was a perfect place for us to explore Firenze and Toscana!
Gretchen
2016-05-12T00:00:00Z
This was everything and more than we expected. A little off the beaten track, but that's a definite plus, and the GPS coordinates provided took us to the door. Gianfranco was there to welcome us (along with Camillo the dog), and made us feel most welcome in settling in. A marvellous self-contained cottage in a great location, close to everything Tuscany has to offer. Fully equipped, nicely furnished, and separate and private from the main house. We wouldn't hesitate in staying there again. Highly recommended. Thank you so much, Gianfranco!
Alastair
2015-09-27T00:00:00Z
We stayed at the Fienile for a few days during our road trip across northern Italy. It is the perfect, authentic Tuscan retreat - tucked away in the beautiful countryside but also ideally situated to visit some of the areas best destinations (such as Siena, San Gimignano, Volterra...). A car is definitely needed to get around. The house is a historic Tuscan country-home, very comfortable, cozy, and cool even on hot days. It is perfect for 2-3 guests, has a well-equipped kitchen/dining room and spacious bedroom, as well as a wonderful porch to relax outside. We stayed in some of the evenings to enjoy the delicious food we purchased at the local markets. Everything was clean and in good working order. The house sits on a beautiful property with olive trees and offers a stunning view over the valley (Val d'Elsa). Gianfranco and his dog Camilo live in the adjacent house and are wonderful hosts. Gianfranco shared lots of interesting information and tips about places to visit and things to see. We loved our stay here and hope to be back one day!
Pablo
2015-06-16T00:00:00Z
I can't imagine a better place for a vacation in Tuscany. It is out in the country as can be, surrounded by vineyards and olive orchards, which made it perfect for us. Very quite and yet only a short drive from town, shopping, restaurants and whatever one may need. It's an old house, as one can clearly see in the photos but the interior is modern and very tastefully designed and decorated. The house was equipped with everything one may need for such a stay. Someone clearly paid attention to the smallest details, such as a pair of scissors and clothespins in one of the kitchen drawers. There was soap and shampoo in the shower - high quality, not the standard hotel variety. And the view from the house! breathtaking. Photographs cannot do it justice. Gianfranco was waiting for us when we arrived. A very gentle and welcoming man. I knew he had designed the interior of the house himself, and I knew he was a theater director but I was surprised to see him on a tractor, working in the olive orchard - a man of many talents. He advised me on the treatment of the single olive tree I have in my yard and I can't wait to try that advice and let him know how it worked, preferably in person when I come to stay in Fenile again. It is definitely a place I would want to stay in again and will certainly recommend it highly to anyone.
Shai
2015-10-12T00:00:00Z
Gianfranco and his dog Carmillo were by far the friendliest hosts that we had in our travels through Tuscany! The flat is beautiful and much more then the pictures portray. The bedroom is a loft style, with long views from the upper windows, full kitchen and bathroom downstairs made for a very comfortable stay. It has beautiful views all around as well as picturesque landscape surroundings. It is also in a great location to visit many wonderful cities of Tuscany. I wish that we had more time at this place and hope to visit again sometime in our travels!
Kevin Caitlin
2015-04-17T00:00:00Z
Beautiful rustic apartment, well equipped with everything a couple might need for a relaxing few days stay in the Tuscan countryside. Gianfranco was welcoming & kind and spent a lot of energy calling people on our behalf / fixing the wifi when it was down etc., for which we are very grateful. A couple of things you might want to beat in mind, though..... 1) Expect the simple pleasures of an old Tuscan farmhouse rather than 5* luxury (eg aircon, modern appliances etc.). We found it a good base from which to explore Siena/Florence/San Gimignana etc. rather than somewhere you'd want to hang around all day. 2) It is tucked away down a part-paved / part-dirt road and slightly hard to find. GPS coordinates are better than an address. The nearest town is Marcialla (not Cetraldo as Air bnb implies) which only really has a square, a locals bar & pizza restaurant. For shops/supermarkets you have to go further afield and this does have implications regarding how much Chianti you can consume before navigating the hairpin bends home. 3) If you are there in the summer come prepared for insects & heat. Hope you enjoy!
Adam
2016-07-17T00:00:00Z
We loved staying in the cozy farmhouse in Maricella, Tuscsny. Gianfranco was a wonderful host as was his sweet, funny dog Carmillo. I only wish we could have stayed longer. It was the perfect place to stay, tranquil and scenic but so close to many interesting towns and restaurants. We dream of returning to this small slice of heaven.
Linda
2016-04-26T00:00:00Z
I don't think you could find a nicer host than Gianfranco! From taking us into town to a local festival to chatting on the patio with a glass of limoncello. And the house is amazing - very clean, bright, warm and welcoming; surrounded by olive groves and very quiet. The location is good if you want to explore Tuscany - we went west to Volterra and San Gimignano one day and north to Florence the next. Driving in Tuscany is a treat with long range views, vineyards, old houses. I wish we could have spent longer with Gianfranco and Camillo but despite the short stay it is a memory we will cherish forever.
Robin
2015-10-07T00:00:00Z
Room Type
Entire home/apt
---
Property Type
House
---
Accommodates
3
---
Bedrooms
Certaldo, Tuscany, Italy
You are my only guests in my B&B and you have a bedroom (2p.) and a living (with 4p. both are bedroom) and a private bathroom. There is also a minibar. In restored ex hay-barn on a hill with hudge views from the terraces and the private swimming pool (only to share with me) on Tuscan vineyards. Between Florence and Siena. Ideal for culture and walking.
B&B where you will be my only guests. Bedroom (2p.) and a living room (with 4 p. they become two bedrooms), with minibar and private bathroom. On the first floor of a beautifully former hay barn, now turned into a comfortable home and with splendid panoramic views on the Tuscan vineyards. Central position between Florence and Siena (30-50 km). Ideal starting point for people who - like me - are passionate about nature, culture, gastronomic experiences, walking and cycling. The price is on the basis of 2 persons for both rooms, incl. Italian breakfast, sheets, towels, bathrobe and tourist tax. The total renovation of this beautiful hay-barn was completed in 2013 in Tuscan style with heavy chestnut rafters and 'cotto' tiles on the ceilings. There are also modern and artistic details like a steel cutwork stair handrail and gold mosaic in the bathroom. The cosy rooms (two, 10 square meters each) are upstairs. One bedroom is tastefully designed with a double bed (or two singles), desk and cupboard. The living (or bedroom) next to it has a double bed (or sofa), a desk, two chairs, a cupboard and a filled up bookcase. Both rooms are connected by a little balcony. The bathroom is well equipped with a very comfortable shower with gold mosaic, basin, toilet whith bidet and a radiator for towels. On the corridor you will find a filled up minibar and a table with everything to prepare yourself some tea and coffee. The living room can be used upon request as a bedroom (+ 2p.). In that case you will get an extra shower space on the ground floor. There are several terraces where you can enjoy your breakfast. You can also use (with me) the private pool during season. Furthermore there are geothermal cooled floors (free until a max.), there is a private parking spot and free WIFI for guests. The house is on top of a hill with a splendid view on the Tuscan landscape with the beautiful hills, vineyards and cities of art. The wide views make you enjoy both sunset and sunrise from the terraces…breathtaking. The temperature inside the house is always agreeable in summer time, because the hill is the highest one in this area (420 m.) The house on the hill, 'Casetta', is the ideal starting point for people who – as I do – love nature, culture, gastronomic, walking and cycling. Normally I will be at home and can give you suggestions for sightseeing trips. Some periods I am not there and therefore I prepared a table full with flyers and information about the surroundings and suggestions for sightseeing trips. I like to welcome guests who share my passion for art, history and walking and to make them feel at home during their stay in my 'Casetta'.
What do I like in my environment? The splendid views on the hills until the sea, the beautiful wine castles and the wide skies. The enormous amount of culture in the neighbourhood, endless walking on the paths without meeting a car or enjoying by bike the beautiful views (I rent out 2 nice mountain bikes). Tasting nice local wines on the terrace watching a breath-taking sunset or eating typical Tuscan food in one of the restaurants (even at 600 m. walking distance).
This was hands down one of the most spectacular places that I've ever stayed at. Upon arrival, Marjet kindly welcomed us and quickly prepared some wine and chairs for us so we can watch the sunset. That night she also prepared an all Italian dinner, which was scrumptious! My husband and I enjoyed every minute of the stay. Knowing that you're in Tuscany and being surrounded by the beauty of the country side is a feeling like no other. The only unfortunate thing about the stay is that it was so short. Next time we are definitely staying longer. Marjet, thank you for your kindness and hospitality! And thank you for making our trip unforgettable!!!
Margarita
2013-09-11T00:00:00Z
Marjet was a gracious host full of very good suggestions about the Tuscan region. We enjoyed the room, the residence and the view, and would return when we next visit.
Sim
2015-07-07T00:00:00Z
Marjet was warm, friendly and very helpful with things to do and places to visit/eat in the area. The views of Florence are spectacular and the highlight of the place.
Lesley
2016-09-05T00:00:00Z
Marjet's house on a Tuscan hilltop is just wonderful. My boyfriend and I found our way by car easily via use of GPS, and stayed for four lovely days. The house is magnificent - it's cool, clean and modern, and yet still captures a certain country charm. We thoroughly enjoyed sitting out on the gorgeous terrace, which overlooks the picturesque stretch of Chianti between Florence and Siena. Perfect for drinking wine and nibbling antipasto! Marjet was a great host, and made sure we had absolutely everything we needed. Breakfast, a well-stocked and reasonably-priced mini-bar, oodles of information on the surrounding region and Marjet's own invaluable suggestions were all hugely appreciated. On our first evening we were even lucky enough to join Marjet and her friend in Florence to see a musical concert. The location is perfect to explore the region by car - we did day trips to Florence, San Gimignano, and Montespertoli and Castellina in Chianti. We loved our stay in Marjet's beautiful home in the Chianti countryside!
Terri
2014-07-21T00:00:00Z
Marjet's house is in a really lovely location with amazing views across the Tuscan countryside. We booked after seeing the photos on the website, but it's actually much nicer than any photos can show. You can just sit and admire the view and it just doesn't get boring. We visited so many areas of Tuscany but coming back every evening was never any less lovely. The house is very cosy and homely, with lovely bedrooms and bathrooms, and sitting and having breakfast outside on the terrace is just perfect. There are some nice local Tuscan restaurants a short walk or a short drive away, and so much to see within a short distance, never mind the more obvious places a little further like Florence or Siena. Certaldo (a few minutes drive away) has a very small but lovely old town as nice as any other in Tuscany, and is perfect for a romantic dinner in the evening. We enjoyed Marjet's hospitality, and enjoyed looking after her friendly (but very quiet!) dog Betsy when she was away. Would definitely love to come back some time.
Joseph
2014-09-03T00:00:00Z
I haven't met Marjet personally but the other Airbnb guests that also stayed in the house were able to support us with the check in and check out procedure. We were happy to play with Betsy, Marjet's dog who stayed at the house when she was away.
Karim
2013-07-30T00:00:00Z
To tell you the truth, the website looked and sounded almost too good to be true. But, lo and behold, it WAS true. We loved everything about this place: Marjet's warm hospitality, her sweet dog Betsy, the panoramic views, the quiet, Tuscan vibe, the walks, trattoria, view from the bed, the delicious breakfast. I HIGHLY recommend Casetta on the hill!
Diane
2014-04-19T00:00:00Z
Marjet is a very friendly and helpful hostess. She runs a real bed and breakfast, with a nice traditional Italian breakfast and it's easy to feel at home. The house a very nicely decorated and comfortable and the view is amazing. We loved sharing a glass of whine with our fellow guests (which we had fun with), siting outside, watching down on the other villages nearby. Be sure to have a GPS system in your car (unlike we did....) cause getting around in Tuscany without knowing the area is not very easy. Florence is a 40 minute drive (gorgeous) and Sienna a little over an hour (breathtaking). Marjet knows the area very well and has good tips for dinner en nice views. We had a great time!
Tjeerd
2014-10-04T00:00:00Z
Room Type
Private room
---
Property Type
Bed & Breakfast
---
Accommodates
4
---
Bedrooms
Montespertoli, Florence, Italy
===== Exterior ===== This comfortable apartment is found inside a farmhouse in Tuscany near Tavarnelle Val di Pesa and Montespertoli, just 30 km south of Florence. The apartment has been recently renovated and is very welcoming. The owners live in the neighbouring apartment, they are kind and welcoming people and they know just how to help their guests with any advice or suggestions during their stay. A beautiful swimming pool, complete with lights, sits in the garden, which is taken care of by the owners. The great location of this rental makes for easy visiting of the most beautiful areas in Tuscany like the Chianti area (approx. 10 km away), Florence, Siena, San Gimginano and the Tuscan coast (approx. 100 km from the rental, more or less a one hour car journey) Access to the house is via a short stretch of dirt road. Distances: Tavarnelle Val di Pesa with many shops is 8 km away, Montespertoli 10 km, the Chianti area 15 km, Florence 30 km, San Gimignano 30 km, Siena 50 km, Lucca and Pisa are roughly 80 km and the Tuscan coast (Castigioncello and Viareggio) is roughly 100 km. Available to guests: Private outdoor space, furnished with table and chairs, swimming pool shared with the owners, (1(URL HIDDEN)minimum depth 1,5 m – maximum depth 2,5 m – open from 01/06 to 30/09), outdoor shower (cold water) beside the pool, private barbecue. Free WI-FI connection. Parking onsite. Extra Services: Child's cot (upon request and at no extra charge). Housekeeper available at a charge of € 12 per hour (payment taken at the property). Option to add another bed at a cost of € 15 per day (payment taken at the property). Pets are welcome upon request and only once approval has been granted by the owners (who have a dog). ===== Interior ===== 60 m2 First floor: Entrance into living space comprised of living room (satellite TV) with wood burner, sofa bed (double size), dining area and kitchenette (oven, small freezer), bathroom with shower (without bidet). Lower floor (accessible also from outside via the private furnished outdoor area): double bedroom. Note: the lower floor is reached by an iron spiral staircase, which in some places does not have any side protection. ===== Apartment Policies ===== Arrival between 16:00 and 19:00 Departure between 08:00 and 10:00 Pool open from 1 June to 30 September Not included in the rental price and to be paid on the spot: Final Cleaning (mandatory): 40.00€ Extra Bed (on request): 15.00€ per day Maid service (on request): 12.00€ per hour Refundable security deposit in cash (mandatory): 150.00€ Heating: 10.00€ per day Included in the rental price: Internet Wifi Babycot (on request)
Room Type
Entire home/apt
---
Property Type
Apartment
---
Accommodates
4
---
Bedrooms
Polvereto, Tuscany, Italy
Un'ampia camera con soffitti a travi lignei. Bagno privato, con doccia e servizi. Dalle finestre si possono godere splendide viste su uliveti e vigneti. Intimità. Adatto a coppie, avventurieri solitari, chi viaggia per lavoro. Ottima posizione strategica per raggiungere i maggiori centri d'interesse turistico e culturale. Situato a metà strada da Firenze, Siena, Pisa, San Gimignano...Potrete godere della tranquillità della campagna toscana, in relax davanti alla piscina.
La camera è finemente ristrutturata e arredata in stile toscano. Si trova nell'appartamento situato al secondo piano di un'antica Villa padronale dell'ottocento. E' molto grande e spaziosa con soffitti a travi molto suggestivi. Dispone di letto matrimoniale e gode di ottime viste panoramiche. Il bagno è ad uso privato esclusivo della camera ed ha accesso diretto nella stanza da letto. E' composto da un comodo lavabo, bidè, wc e doccia.
Lucardo è una località molto tranquilla con poche case, ma di facile raggiungimento. Per chi ama la cucina toscana c'è la possibilità di gustare ottimi piatti tipici proprio a due passi dalla nostra villa, in quanto di fronte c'è un ristorante "C'era una volta", quindi basta attraversare la strada (30 metri). Altri ristoranti tipici li potrete trovare non molto distanti, Località Fiano (1 km), Località Montalbino (3km) con tipica trattoria con piatti a base di tartufo ed inoltre nei vicini centri di Montespertoli, Tavarnelle e Certaldo potrete trovare ristoranti e pizzerie per tutti i gusti. Lucardo inoltre è situato in posizione strategica per raggiungere velocemente le importanti città d'arte toscane, come Firenze (25km), Siena (35km), Pisa (40 km), S. Gimignano (20 km), Volterra (40 km), Certaldo (10km).... ecc. e potrete visitare antichi castelli e grandi fattorie vinicole dove degustare eccellenti vini e prodotti locali. Il centro più vicino è Montespertoli (7 km), tipico borgo toscano, ricco di storia, arte e leggende, famoso per il vino, l'olio e la sua cucina. A Montespertoli potrete trovare tutto ciò di cui avete bisogno, come supermercato, forni, farmacia, banche, ufficio postale, negozi, ufficio turistico, ristoranti, bar, pizzerie. Per quanto riguarda i supermercati, è possibile trovarne almeno uno per paese.
Room Type
Private room
---
Property Type
Apartment
---
Accommodates
2
---
Bedrooms
Montespertoli, Toscana, Italy
The B&B Liberty bedroom is located in the Manor House B&B at the first floor (no elevator), it is richly furnished, with fresco paintings in the ceiling, antique furnitures of Liberty age and with a well finished en-suite bathroom with an amazing round tub, tuscan travertino basin and floor. This historic 15th century building has been restored in 2010 conserving its original structure and design. The walls of our houses, made of stone, river pebbles and bricks, have undergone a five years conservative restoration that enhanced their architectural and constructive features. Floors are made of local terracotta with handmade bricks recalling the Florentine tradition. Green building products have been used to plaster and paint the walls of our houses in order to ensure proper respiration in the rooms and the best comfort to our guests. Rooms have been decorated combining antique furniture, mostly belonging to Paluffo house, and modern Italian design; special attention has been given to the design and functionality of bathrooms where we offer shampoo, shower and hand soap locally produced from organic olive oil without chemicals. All rooms have central heating and air conditioning and a broadband WiFi Internet connection; for the best dreams we selected latex matrasses for beds and pillows. Paluffo features four independent apartments, each of them with a private garden – Torre, Stillo, Forno and Frantoio -, and the owner's house, with four rooms available for B&B. The housing estate includes the historical olive mill, a fermentation room used in the past for the production of wine, a wine cellar dug in the tufa rock, a bread oven and two wells. The fermentation room and the wine cellar are now at the disposal of guests as common spaces with sofas and fireplace. Paluffo has also a unique natural pool without any chemical for water purification. A laundry area is also available to guests. We have reduced the environmental impact of the structure using different technologies and solutions. Electricity is produced by a 12kWatt photovoltaic system. Heating and cooling systems use renewable energy: there are heat pumps powered by photovoltaic panels, hot water heating using thermal solar panel and pellet (compressed recycled wood) boilers in addition to the heating system. Rainwater is collected and used for irrigation, while waste water is regenerated through herbal purification methods. Paluffo is surrounded by six hectares of land on which olive trees and grape vines are organically cultivated. Guests can taste and buy the extravirgin olive oil produced in the estate. We have also bee hives that produce pure natural honey. The calm and relaxing energy of Paluffo results from the delicate balance among nature and buildings, from the presence of ancient trees, from the use of traditional farming methods excluding the use of weed-killers, insecticides and indiscriminate exploitation of the soil, from the biodiversity of plants and flowers. In Paluffo we grow several varieties of olives and Chianti wine grapes, interspersed with old fruit trees (peache, apple, pear, blackberry) and other trees typical of the Tuscan scrub. Facilities • 24/24 7/7 availability • Daily cleaning of B&B rooms • All B&B rooms with private bathroom • Minimum stay 1 night • Special rates for 2 or 3 nights stay and non refundable rate • Towels provided • Hi speed wi fi free • AC and heating included • Self laundry area available • Wine and olive oil degustation • Free parking • Open natural swimming pool with garden • 400 sq. meters of open air common areas • Walking paths In the hamlet of Fiano (1,5 km far) you can find 3 restaurants, 2 coffe shop, bakery, chemist, bank, post office, butchler, pizzeria take away. The best way to reach Paluffo and discover surroundings is by car, it's possible to rent a car in Certaldo rail station (reservation mandatory).
Our guests appreciate the view on the tuscan panorama and the peace of Paluffo.... and many other things that you will discover as tuscan gastronomy and Chianti wines, tuscan way of life
Staying at Il Paluffo was such a wonderful experience. The property is beautiful and in a great location in the countryside. Easy driving to many towns for day trips. Federica manages the property and is a wonderful hostess. She helped us to make dinner reservations on two occasions. The restaurants she recommended were both great! The breakfast each day is wonderful...continental breakfast with fresh bread, two salami choices and a nice cheese. Then there are pastries, cereals, fruit, and juices. Each morning you are also treated to a hot beverage of choice and eggs cooked to order. Such a great way to start your day! The liberty room is in the main house, and it has an attached bathroom. Very nice room, with a comfortable bed. Would definitely stay here again, in this room or any other!
Matthew
2015-07-10T00:00:00Z
The reservation was canceled 88 days before arrival. This is an automated posting.
Tina
2014-07-07T00:00:00Z
Federica greeted us warmly upon our arrival and gave us a tour of the premises as well as some history about the property. The building is beautiful and so rich in history. The view is wonderful and the pool area was very peaceful to sit and relax. A wonderful experience for our quick one night stay.
Natalie
2015-06-25T00:00:00Z
Our experience at Paluffo was warm, relaxing and beautiful. This piece of property is truly amazing. The liberty room was stunning. Upon arrival we were greeted by Frederica who was helpful and available throughout our stay. We had a small emergency and needed medical assistance and she went above and beyond. Not only is this property beautiful, but it's location is perfect. We felt secluded yet close enough to restaurants, vineyards and historical sites. We would visit again in the future.
kerri
2015-10-26T00:00:00Z
Room Type
Private room
---
Property Type
Bed & Breakfast
---
Accommodates
2
---
Bedrooms
Certaldo, Tuscany, Italy
A typical Tuscan farm in the center of the Chianti region, surrounded by cypress hills, vineyards and olive-trees; a large garden and a swimming pool to relax. The most important cities of art and culture in Tuscany are just one hour far.
The apartment is on the first floor of the villa; it's composed of two bedrooms with double beds (plus an additional bedroom, see below); there is a large living room, a kitchen and a bathroom. Additional beds can be added in each room. For groups of five or more paying guests there is an additional double bedroom and an additional bathroom with toilet and basin (no hot water!). An additional bed can be added in this bedroom too, so the apartment can host up to nine people.
Trecento is located in the heart of the Chianti, a zone famous both for the wine and for the cypress hill covered by vineyards and olive trees. From there you can visit both the most famous cities of art (Florence, Siena, Pisa) and many other wonderful medieval towns (Certaldo, Barberino Val d'Elsa, Colle Val d'Elsa, San Gimignano, Volterra to say a few).
Love the house, love the garden and pool, love the location. The photos don't really do this place justice. Alberto's dad (Roberto) is a lovely man who made us feel welcome and comfortable, and provided some great tips for restaurants, local shopping etc, but was always unintrusive - the perfect host. No hesitation is recommending. So relaxing! (Please note that the wifi was unreliable so if this is important to you during your stay you might need to consider this.)
Ben
2016-07-24T00:00:00Z
Very kind, discrete and warm reception from the hosts. The house is comfortabel and clean, everything you need is at hand. Good beds, cool rooms. The interior tastefully decorated. The garden is nice to sit in (sun as well as shade) and a safe place to play for young children. We feld very welcome.
Geert
2014-08-09T00:00:00Z
We had a lovely stay! The farmhouse is very tastefully decorated and has everything you need. The place is clean and it all feels really Italian and timeless, which I love. The garden is quite large and we especially enjoyed lying at the pool, with a perfect view over the Tuscan landscape. Our host was happy to help when needed and was able to give us advice on which villages to visit. Florence, Siena and Pisa are easy to reach from Trecento. This way this is a perfect place to stay if you want to relax, but would like to see some culture as well!
Nedda
2015-06-26T00:00:00Z
You will be welcomed at Trecento by Roberto, the grandad who takes good care of the property. It is a beautiful typical Tuscan house, with high wooden ceilings. The whole second floor will be yours, 3 bedrooms (one can host three ppl), 2 bathrooms (only one bathtub), a fully equiped kitchen with basic goods and a living room. The first floor is private (owner) but the best part is the wonderful garden with the swimming pool. Many beautiful tall local trees, you can hang on there all day and eat outside. Thanks to Roberto for his help and his warm welcome in this calm heaven, perfect place to rest.
Fabien
2016-07-18T00:00:00Z
Alberto's place feels like paradise! The house is gorgeous, the pool is great, the landscape is breathtaking! Alberto's father was the best host, very welcoming and willing to help, he gave us good tips on what to visit and where to eat. I would definitely recommend this place and go back there for another perfect vacations in Tuscany!!
constance
2015-07-29T00:00:00Z
I chose the farmhouse in Trecento because of good location and nice photos. When we arrived and saw that place all of us were supriced and shocked of that beauty – Trecento farmhouse turned out to be a real paradise. Gourgeous villa, amazing garden and beautyful land(SENSITIVE CONTENTS HIDDEN)s - quintessence of Toscany. Alberto's father is perfect host, very nice guy who can advice, help and joke. I really recommend visiting Trecento , I know I'll come back.
Marcin
2016-07-09T00:00:00Z
We were made to feel very welcome. If you are looking for a location with a real Tuscan feel, this is the place. The home has high ceilings, over 100 years old, with everything you need. The views are amazing, and the pool very refreshing after a day of visiting Siena, Florence, and other Tuscan towns.
G Graham
2016-09-14T00:00:00Z
Merci beaucoup à Roberto ! Les enfants se sont régalés à la piscine. Idéal pour visiter la région. Une bonne adresse à conserver.
Mireille
2016-08-04T00:00:00Z
Room Type
Entire home/apt
---
Property Type
Villa
---
Accommodates
9
---
Bedrooms
Trecento, Tuscany, Italy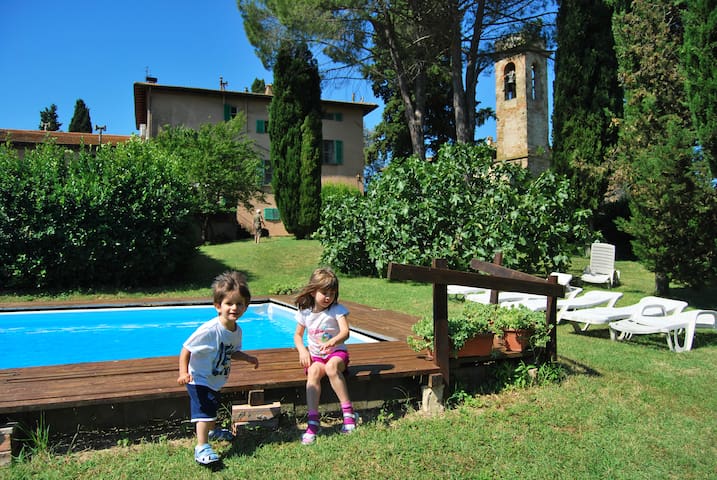 "Poderi in Chianti": A charming little apartment overlooking the vineyards and olive groves of Chianti. the flat has a bedroom with the possibility of adding a bed, kitchen with table and chairs, there is also the bathroom with wonderful shower
"Poderi in Chianti": A charming small apartment overlooking the vineyards and olive groves of the Chianti The apartment has a bedroom with the possibility of adding a bed, three steps and a kitchen with table and chairs, a bathroom with box shower. Private terrace with table and chairs where you can dine while admiring the sunset over the vineyards and olive groves while sipping a glass of Chianti wine. wifi internet free. This former farmhouse dating back to 1600, recently beautifully restored, is located in Noce, quait little town of Chianti. The area was recalled by Dante Alighieri in his Divine Comedy. Located in the heart of the Tuscany hills of Chianti, due to its location enjoys an excellent climate and healthy air in both summer and winter. Great wine and olive oil superb! The furniture consists of original pieces chosen one by one from me around the Tuscan and colored notes handicraft Italian and international. The swimming pool with a solarium area, has a splendid view over the valley and the Castle of Santa Maria Novella place just up the hill in front of and behind which the sun sets. L'aia, the courtyard where once you beat the grain, you can enjoy breakfast or dinner thanks to the great barbecue where wood or coal to cook (or cook on request from my husband) grilled meat or vegetables to the Tuscan style I can arrange on request Tuscan cooking classes, and then eat together. The location is perfect, you can reach Florence 20/25 minutes, Siena 30 minutes, San Gimignano in 20 minutes, and cities like Lucca and Pisa within an hour. Consider that we also have 2 other properties for rent, also published in these airbnb, so if your period is already booked please contact me also.
Our stay by Susanna was lovely. The little village is lovely and the view is lovely. Susanna has excellent taste, it is rare to find a place with such beautiful design. On top of that Susanna and her husband are very nice, warm and informal.
Gali
2013-09-25T00:00:00Z
Great stay. Really nice location and the place has everything you need for a few nights away.
Cathy
2015-07-01T00:00:00Z
Susanna was so welcoming and always made herself available for answering questions and giving us ideas of where to go or eat. The pictures of the place don't do it justice, it was absolutely beautiful and so rustic! Every window in the apartment had a breathtaking view. Our apartment was even stocked with their wine from their own vineyards which was outstanding. I strongly recommend this place to anyone looking for a relaxing Tuscan getaway!
Lauren
2014-10-26T00:00:00Z
Great little place with lovely host! Susanna and her husband are very nice! We were greeted with a bottle of wine they make and it was delicious!! The hosts where kind, helpful and was a pleasure to talk with them! They lent us a detailed map of the region and had many Italy guide books that were very useful for us! The place we rented had a little bathroom trouble and we got upgrated directly to a superb and big apartement free of charge, we were quite lucky! Thanks again! One little note: make sure you note heating is an extra 6 euros per day.
Valérie
2014-02-25T00:00:00Z
This is an excellent little place, where you can really relax and enjoy Tuscany as well as being able to nip to Florence very easily. I would thoroughly recommend both the room and the wine they produce!
Chris
2014-07-11T00:00:00Z
It's a beautiful place, all the small details how it's been decorated was so lovely. We felt very welcome and would for sure come back!
Julia
2016-03-25T00:00:00Z
Susanna's place could have been a nice place to stay, however the experience went from mediocre to terrible by the end of our time there. First, the internet continually cuts out, so if you need to do any work, as we did, it is not a reliable connection. The room is not so private, as it is an extension of Susanna's house. It is only separated by a hallway. As my girlfriend and I are sitting down for dinner together, Susanna and her daughter proceed to have a screaming argument next door. So much for a romantic meal. As we were there in November, it was quite cold. Yet, Susanna controlled our heat and after three days we had to practically beg to have the heat turned on. The night before we left, she informs us that heat is extra and now we owe her more money. The total she came up with was completely unfounded. She acted as if we had heat everyday and tried to charge us an outrageous fee. When we refused to pay her exaggerated charges as we were leaving, she threatened us with calling the police and ran after us to take the license plate number. The place is in a good location but WATCH OUT. She kept telling us, "This is her business." Definitely would recommend staying somewhere else.
Joshua
2013-11-26T00:00:00Z
Live in a fast four hundred houses feel great intentions changed by the homeowner independent small house with a kitchen, feel at home, colorful layout, there are homeowners own ideas and designs in the room balcony you can see the beautiful Tuscan landscape, summer must have the opportunity to come back :) 住進一家快四百年的房子覺得很棒,經屋主用心改變後的獨立小房子裡有廚房,有家的感覺,色彩繽紛的佈置,還有屬於屋主自己的想法和設計,在房間的陽台就可以看到托斯卡納的美好風景,有機會夏天一定要再來:)
Purplej
2014-03-19T00:00:00Z
Room Type
Entire home/flat
---
Property Type
Apartment
---
Accommodates
3
---
Bedrooms
Noce, Tuscany, Italy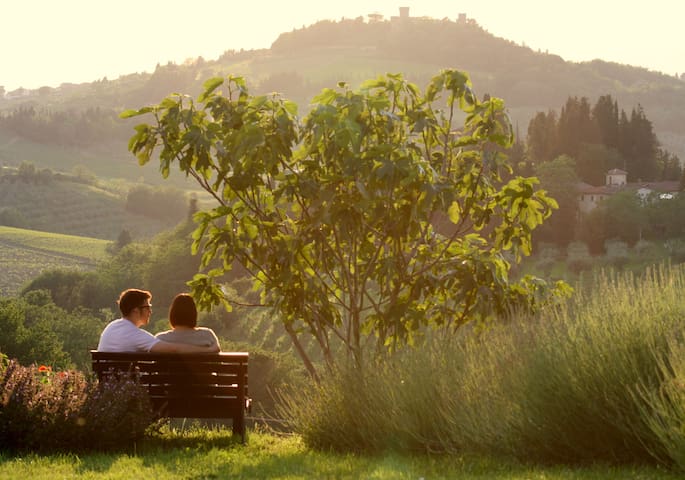 Lovely Apartment in the countryside between Florence and Siena. A very comfortable and relaxing place in the hearth of Tuscany, where the guests will enjoy the beauty of Chianti. From the garden of the house there is a lovely view on S. Gimignano's towers!
External Description: The apartment is part of a wonderful Villa which is very private thanks to a driveway with independent access from the main road, and stands in a wonderful position at the top of a hill with a breathtaking view of the valley and surrounding hills. The house is built with stones is surrounded on two sides by about 1000 square meters of garden with a lawn that slopes into an olive grove. The courtyard in front of the facade is completely paved in "cotto". The paving runs around to 2/3 of the property, but from the side view of the villa, the area is covered by a huge lawn. The apartment is on the first floor, accessible from an external stairway. It consist of 2 double bedrooms and 1 bathroom. Our Opinion: Casale la Rosa of Certaldo is a great place for those who like to stay immersed in nature and tranquility. It is also an ideal accommodation for families who want to entertain children in a safe and protected in area. The location of the apartment, makes it a very quiet place, but not isolated from urban centers, which are indeed easily accessible through the private road that runs along the property. The apartment is located at a short distance from many places of tourist and cultural interest. Destinations: Casale la Rosa di Certaldo is located in the countryside surrounding the small medieval village of Certaldo, in the heart of the Chianti area, halfway between Florence and Siena. The village was founded in Etruscan-Roman period, but it was in the Middle Ages that it developed and prospered due to its strategic and dominant position overlooking Via Francigena, the main communication route between northern Europe and Rome at the time. Grown from an old fort in the Middle Age, Certaldo has its own historical center to the top of the hill, which remained the same during the centuries. Certaldo, however, is famous throughout the world for being the birthplace of one of the fathers of Italian literature, the author of the Decameron, Giovanni Boccaccio, who lived there for a long time and died there. Moreover, Certaldo is the ideal starting point both for day trips to Florence and Siena, and for reaching other charming Chianti villages Chianti such as Greve, Panzano, Castellina, Radda or the Medieval villages of the Tuscan countryside such as San Gimignano, Monteriggioni, Volterra. Main Distances: Greve in Chianti (20 km), Monteriggioni (25 km), Siena (33 km), San Gimignano (34 km), Florence (35 km), Volterra (56 km), Pisa (96 km) Parking: 2 parking spots Other amenities: Heating Mosquito screens (in bedrooms only) Internet Wi-Fi Fridge Kettle Satellite TV Barbecue Linen change (once a week) Private garden
Room Type
Entire home/apt
---
Property Type
Apartment
---
Accommodates
4
---
Bedrooms
Certaldo, Toscana, Italy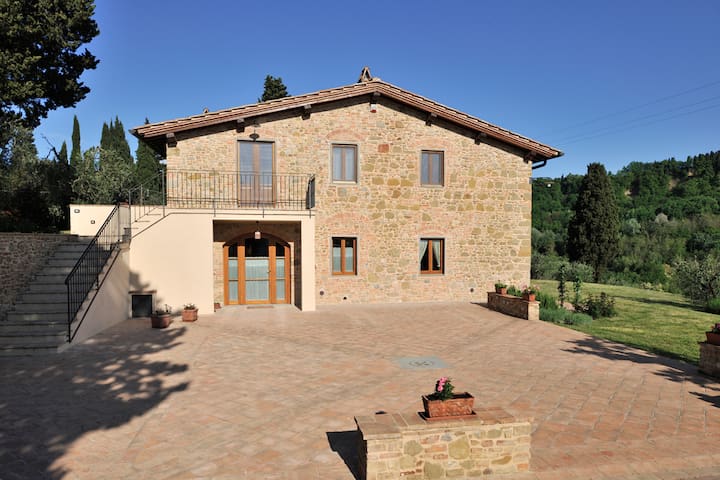 Lucardo - Airbnb
:
Average

4.73

out of

5

stars from

502

guest reviews