Apartamento situado en Villarcayo ( Burgos ), capital de la comarca de las merindades, consta de cocina con vitro, microondas, horno, lavadora... Tiene 1 habitación con 2 camas de 1,20, en el salón un mueble con 2 camas abatibles, 2 TV, calefacción, una pequeña terraza y una lonja con sobrepiso con camas. La urbanización está en una zona muy tranquila y residencial, cerca de todo pero a las afueras, situada enfrente del centro de salud y estación de autobuses, a 5 min andando de la piscina municipal(URL HIDDEN)min del centro del pueblo y 10 min del río... Distancias en coche: A 10 min está Medina de Pomar, a 20 min están las cuevas de Ojo Guareña de la ermita de San Bernabé. A 30 min están las cascadas de Pedrosa de Tobalina, a 40 min Frías, a 1 hora el salto del nervión y Burgos capital. Fuera de la provincia de Burgos pero cerca está a 50 min la playa de Laredo, a 1 hora Bilbao, a 1 hora y 10 Cabárceno y a 1 hora y 20 Santander.
El apartamento es ideal para ir con familia es amplio y acogedor. Javier y Rosana han sido muy atentos en todo momento . La ubicacion del apartamento es ideal para recorrer la merendidades. Se encuentra en una zona tranquila pero a dos pasos del centro de Villarcayo. nosotros nos moviamos andando dando un paseo e ibamos con dos niños.
Rosana
2016-11-01T00:00:00Z
Room Type
Entire home/apt
---
Property Type
Apartment
---
Accommodates
4
---
Bedrooms
Villarcayo, Castilla y León, Spain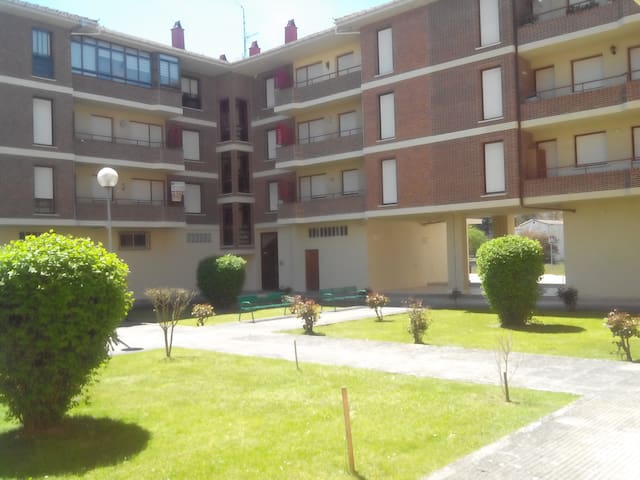 Attractions: Waterfall Tobalina Pedrosa, City of cold, Ona, Valderejo Natural Park ...
The host canceled this reservation 11 days before arrival. This is an automated posting.
Natalia
2016-10-17T00:00:00Z
El piso prácticamente lo estrenamos, esta muy bien reformado y con mucho gusto. Hemos estado cuatro personas muy a gusto y muy cómodas. Los anfitriones muy bien y muy pendientes de que todo estuviera bien
Ana
2016-08-15T00:00:00Z
logement moderne, tres agreable, lumineux, ressemblant en tout point a la description . hote tres sympa. le coin est tres chouette a visiter et il y a beaucoup d'endroit a decouvrir ! cascades, rivieres, montagnes, chateaux .... la ville en elle meme est tres vivante, aminée. immersion assuré dans la culture espagnole !
Stéph
2016-08-23T00:00:00Z
Room Type
Entire home/apt
---
Property Type
Apartment
---
Accommodates
4
---
Bedrooms
Trespaderne, Castilla y León, Spain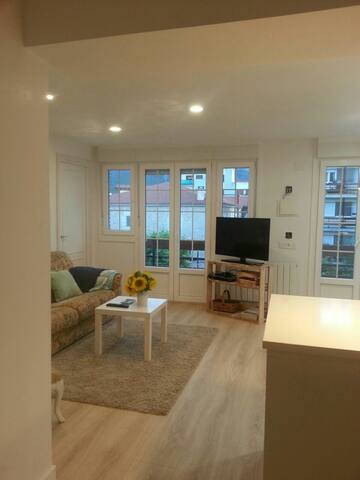 Apartamentos "TOP" para familias y/o parejas, con amplio dormitorio y sala de estar, cocina americana y baño completo. Todo hecho con gusto y cariño para que el viajero disfrute de su estancia en contacto con las personas, la naturaleza y el arte.
El sitio es una pasada! Los ventanales amplios, parecen cuadros de los maestros impresionistas, que además cambian de colores cuatro veces al año. Saltas de la cama y estás andando en dos minutos en una colegiata Románica, en cuatro en el río Ebro y en cinco en la montaña. Y si no te levantas; La paz y el feng shui para descansar no es excelente, es lo siguiente!!!
La Colegiata Romanica de San Martín de Elines, Monumento Declarado Histórico Artístico desde 1908. Los moradores, ganaderos y labradores (Buena gente!) Y por supuesto LAS VISTAS Y LA PAZ para descansar y relajarse!
This place was one of the nicest spots I have ever stayed. You have a small apartment in an old building overlooking a beautiful ancient church, the gorgeous countryside, mountains in all directions. It is located in a tiny traditional town full of friendly local residents. There is so much to explore in the area- ancient churches, cave paintings, not to mention gorgeous nature and tiny rustic towns. You really feel you are in another time- but there is a grocery store 10 mins away if you need anything. It is a hotel, not a private residence so you have a ton of privacy. There is a very nice local bar on the first floor in case you want to meet the locals. The view is unbelievable and the house has been recently renovated so it is very comfortable even though it feels rustic. Wood burnings stove in every room (but you don't need it), kitchen with fridge, gorgeous huge bathroom, bed overlooks the view with big windows. Really have no words to say how nice this was. I could have stayed here for a month. And Rudolfo is so amazing as well- very friendly, his whole family is from the area so he is very knowledgeable. Everyone is like a family there. Ophelia helped us a lot, even though the English is limited we had no problems communicating at all. We did not have kids but it also seemed like a great place for children- there was a little playground. If you are looking for somewhere really special to spend your vacation in the Spanish countryside you could not do better than this place. We could not believe how incredible it was. The value for the price is incredible. Really I have nothing bad to say... I would go back again in a minute! I wish we had more time there!
Becca
2015-06-07T00:00:00Z
Rodolfo is a great host and made us feel very welcome. Kids could play around the place. Beautiful and quiet surroundings. Ebro valley was a highlight of our trip.
Laurens and Corette
2016-08-13T00:00:00Z
We had a nice stay here. The house is beautifully renovated and decorated. Our apartment was as shown in picture 7, 8, 9, with view on the Colegiata. Bed, bathroom and Wifi were good, so an excellent apartment. The other pictures are probably from the cafeteria/library, but this was closed (only open in August?). Rodolfo had been promising kisses and hugs in his mails but wasn't present. Ofelia showed us around and was really very kind and willing to help but we only know few single words of Spanish so communication was difficult. This we missed: we had hoped for a place to talk with fellow travellers and Rodolfo and hear about the best sights and hikes in the region. It was quite difficult to find information (there is no tourist office in the valley, they sent us from the Ayuntamiento in Polientes to the cultural centre and back; tip: in Puente del Valle is an interpretation centre 'of the dry stones' where the lady speaks English). The area is little touristy although there are some real gems to be discovered: the Colegiata San Martin of course, other roman churches, some very small, simple, pure; the architecture of the old, original houses and villages. Lots of the special 'rock churches' often hidden somewhere in the landscape, a necropolis. In these places we were often completely alone with attributed to the wonder. Beautiful hikes, places at the river (the Ebro runs too fast to swim) and wonderful scenery. There is only a supermarket in Polientes and eating out is very limited but there is bakery and bar/restaurant in nearby Ruerrerro and San Martin has three bars, among which a lively village bar 50m down the road. Half the village walks by for an evening stroll, quite a lot of them visit the cafe for a drink, a card game, etc. Everybody knows and greets each other... A region that deserves a visit if you like to be in the countryside and have an eye for the type of sights that are to be found here. And this apartment offers a luxurious place to stay.
Ida
2016-07-28T00:00:00Z
Very nice, welcoming and warm place, very nicely decorated and recently renewed You are watching all the time a 12th century church and on the other side the beautiful landscapes of South Cantabria. The area is beautiful with hikes and rivers and friendly people. Warning: Do not go there without a car! 2 hours drive to either Santander or Bilbao.
Daniel
2014-08-01T00:00:00Z
Ola! Nous avons passé un très bon séjour chez Rodolfo: - les appartements sont d'une très grande qualité: un vrai deux pièces, confortables, propres et agréables à vivre. - notre appartement avait une vue géniale sur l'église du village: un régal pour les yeux. - Rodolfo a été très très sympa avec nous: il est convivial, il a le sens de l'accueil et toute sa famille ainsi que le personnel a été très chaleureux avec nous. - enfin concernant le village et les alentours, c'était top: la campagne à 1h30 de la mer. Muchas grazias Rodolfo
Loïc
2015-08-15T00:00:00Z
Estuvimos muy a gusto. Rodolfo fue muy amable con nosotros y nos facilitó todo aquello que pudimos necesitar. El sitio es muy bonito y es ideal para ir con peques.
Ana
2015-10-13T00:00:00Z
Ha sido una maravilla!! La casa tiene unas vistas impresionantes,los alrededores de ensueño,y el anfitrión muy atento y disponible.Totalmente recomendable
Ruben
2016-10-31T00:00:00Z
Apartamentos perfectos en plena naturaleza. Muchas gracias por todo!
Meri
2015-08-18T00:00:00Z
Room Type
Entire home/apt
---
Property Type
Apartment
---
Accommodates
4
---
Bedrooms
San Martín de Elines, Cantabria, Spain
El piso se encuentra justo en frente de la cascada de Pedrosa de tobalina. Desde casa te puedes relajar escuchando el sonido del rio. El piso tiene un jardín comunitario donde puedes tomar el sol tranquilamente. pertenece al Valle de tobalina
Una familia se puede alojar tranquilamente
Poder nadar en el rio jerea es un lujo
The apartment was clean and nothing ng was missing for our stay. it is well situated at 200m from waterfalls of pedrosa de tobalina, a nice place of nature which deserve a bath in the the cristal clear waters. Noelia's mother was here to welcome us and give us the keys, and was very nice and explained us everything. We enjoyed our stay a lot !
Sylvain
2016-08-07T00:00:00Z
En primer lugar dar las gracias a Noelia porque nos esperó a la hora que le dijimos, también nos dejó llevar a nuestra pequeña mascota y nos recordó que nos dejamos una prenda cuando nos marchamos. En cuanto a la casa está igual que en las fotos y limpia pero deberían mejorar la limpieza en la cocina porque las sartenes estaban todas sucias guardadas en el horno con algunos muebles con los tiradores sucios de grasa y otros utensilios de cocina la verdad es que estaban algo sucios. La calefacción que tienen son un par de radiadores que apenas caldean la estancia donde los tengas y tampoco los puedes poner mucho porque saltan los fusibles y hacía bastante frío en la casa. Lo mejor es que la casa está muy bien ubicada para visitar toda la zona de Las Merindades.
Oscar
2016-03-30T00:00:00Z
Room Type
Entire home/apt
---
Property Type
Apartment
---
Accommodates
6
---
Bedrooms
Burgos, Castilla y León, Spain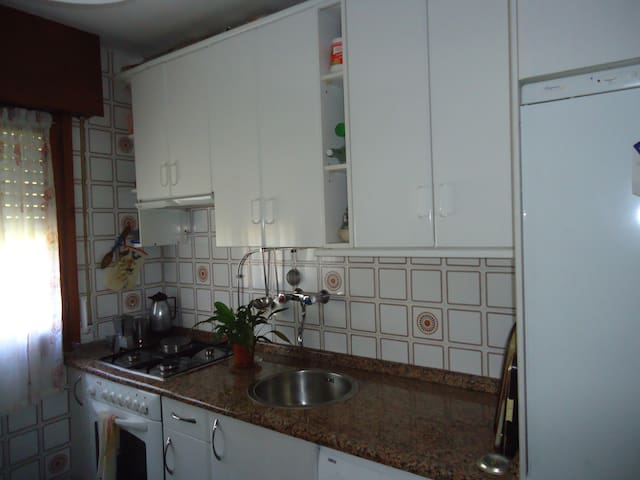 Beautiful bright penthouse in the historic center of the town of Artziniega 30 minutes from Bilbao and Vitoria-Gasteiz 45, ideal if you are looking for tranquility and natural surroundings. 120 m2 house on three floors: Entrance, dining room, kitchen, large lounge with library, TV area and work area and spacious bathroom. On the second floor are the bedrooms and the third is a room where you can relax, read .. surrounded by a balcony with wonderful views.
It is a carefully and lovingly decorated apartment, to make you feel welcome and thank you that you also take care. Ideal for families, but be careful with children, both the stairs and the balcony. We also have cots and children's bath, so that we mount request.
Artziniega although it is a town that does not reach 2000 inhabitants it offers many services: supermarkets, bars, restaurants, pharmacy, swimming pools, library, medical, three museums ...
Room Type
Entire home/apt
---
Property Type
Apartment
---
Accommodates
4
---
Bedrooms
Artziniega, Euskadi, Spain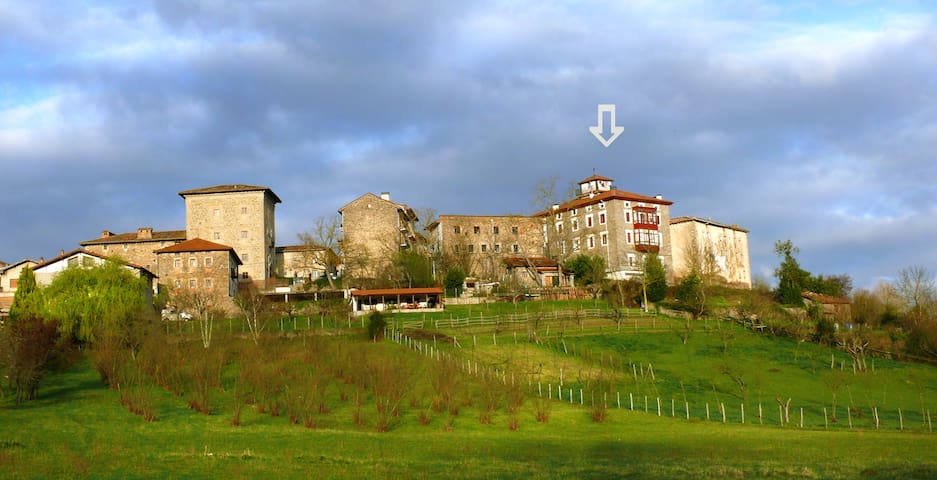 Rent apartment for summer, 3 bedrooms, kitchen, bathroom and terrace .Completamente equipped except sheets and toallas.Situado in the center of Medina de Pomar, you can go to the river or the swimming pool walking, no lift, 1200 € August and July , loose week 400 €
perfect place for family holidays, with many places to visit, walk or coche.castillo and beautiful convent to visit in the village, river, swimming pool, bike rides, bars, beer pub, restaurant ...
7 dwelling heights with 6 apartments per floor, which is rented is a third. ONLY WHOLE MONTHS RENT
Room Type
Entire home/apt
---
Property Type
Apartment
---
Accommodates
4
---
Bedrooms
Medina de Pomar, Castilla y León, Spain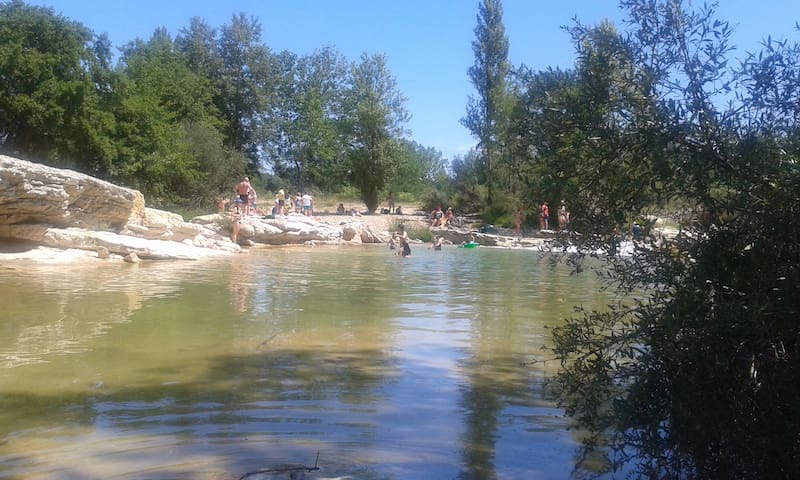 Our place you'll love, very close to Cantabrian and Santander. Good places for cycling: Puerto Orduña, Peña Angle, Puerto Dungeon, 55 'drive from Puerto Urkiola, Puerto de la Lunada and Portillo of the Day.
Good location in the village.
the location
El piso se ajustaba a lo que estábamos buscando: un lugar para pasar una noche, con un salón en el que estar un rato relajados, una cocina con servicios básicos y un baño para asearnos.
Lara
2016-12-04T00:00:00Z
Muy buen alojamiento, muy servicial
Manu
2016-12-25T00:00:00Z
Lo único malo, el termo eléctrico. El agua caliente se acababa rn dos duchas rápidas aunque no tardaba más de una hora en calentar de nuevo. Por lo demás, perfecto
Juanma
2016-11-12T00:00:00Z
Room Type
Entire home/apt
---
Property Type
Apartment
---
Accommodates
4
---
Bedrooms
Artziniega, País Vasco, Spain
Piso iluminado tres habitaciones...
Cerca de Bilbao a 20 minutos y
Parque para pasear y muy tranquilo
Room Type
Entire home/apt
---
Property Type
Apartment
---
Accommodates
5
---
Bedrooms
Balmaseda, Euskadi, Spain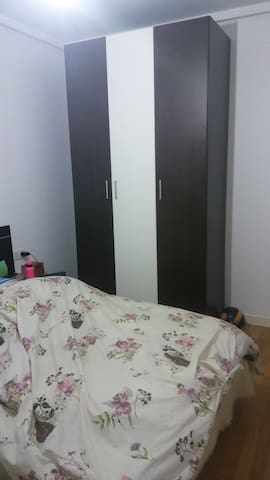 Uno de los lugares mas deconocidos de España , guarda paisajes maravillos , rincones de cuento .. ideal para romanticos , amantes de la naturaleza y bucolicos soñadores .
Hello, you Druna Home located in Santa Gadea of Alfoz (northern border Burgos Cantabria), surrounded by natural grasslands, white sand beaches in the Ebro reservoir and forests of oak and beech as Mount Hijedo and Carrales Beech . There are two houses and AN APARTMENT located on land adjacent but not attached: 1 Druna House has 5 rooms with shared bathrooms (35 € person / double) with capacity for 10 people, I live in it with my daughter. It has a different cuisine from mine for passenger use. Druna Lee 2nd House has two separate entrances. A door leads to La Casita Druna is a 2 (70 €) to 4 (90 €) squares.   And the other door access Druna Lee House 5 rooms with private bath (45 € person / double) and capacity of 14 seats. It has a lounge - kitchen - dining room. Extra beds are € 10 per person (triple and quadruple) It's where I spent the holidays of my life along with my cousins. I live with my daughter and I have here my emotional roots, I love the change of seasons that are like the stories. I think it's the perfect place to relax, play sports, and LIVE. Home care because it is part of me, of my ancestors, that I so wanted. I like to share with travelers because I too am traveling and I pogo in place of the other when they visit my home. NATURE is so beautiful and full I want to share this moment, there is no better gift that air, water and land clean.
Charming house in a very nice mountain area of Spain. Marta was very friendly and provided us maps and advices about what to see in the area. A very good overall experience!
George
2012-08-29T00:00:00Z
Because she lives nearby she is available when needed. We arrived quite late in the evening and when we arrived, there was a bowl full of fruit and vegatables from her own garden and she pointed out where we could go if we wanted to eat out. The house was clean and well equipped when we arrived.
Stephan
2014-08-15T00:00:00Z
Pasamos sólo una noche en el apartamento para dos personas. Fuimos con nuestra perra que fue, sin duda, la que más disfrutó con los perros de Marta. El apartamento es tal y como se ve en la fotos, con todo lo necesario para hacer vida en él. Muy bonito decorado y muy acogedor. Está adosado a otra casa más grande y tiene un porche muy agradable. El tiempo no nos acompañó por lo que no pudimos conocer el embalse. El pueblo es pequeñito y tranquilo, ideal para desconectar. En definitiva nos gustó mucho el sitio y no descartaríamos volver :-)
Nuria y Borja
2014-08-05T00:00:00Z
Nuestra estadía en Casa Druna nos ofreció una excelente experiencia y Marta siempre se mostró amable y dispuesta a ayudar. La propiedad es cómoda, hermosa y acogedora, situada en una aldea rodeada por paisajes de gran belleza y nos sirvió como base para excursiones a sitios maravillosos, particularmente el Cañón del Ebro y el pantano. Desde el primer momento, Marta nos hizo sentir bienvenidos, con mucha información acerca de la zona e inclusive nos surtió con comida para el desayuno en el primer día por que llegamos en día de fiesta nacional con tiendas cerradas.
Gavriel
2014-08-24T00:00:00Z
Marta ha sido una anfitriona estupenda. Sus desayunos son riquisimos y el trato ha sido genial! Gracias Marta y Sofia!
Carla
2014-07-23T00:00:00Z
Fiel descripción de Marta en cuanto a su casa. Tranquilidad, naturaleza, parajes maravillosos...Buena atención por parte de la anfitriona y muy buen trato, absolutamente recompendable!
Adrian
2016-07-20T00:00:00Z
Tuvimos la oportunidad de estar tres días en la casa de Marta y nos sentimos como si estuviéramos en nuestra casa. La casa es tal y como aparece en las fotos: cómoda, acogedora, tranquila. Marta siempre estuvo atenta por si teníamos algún problema. ¡El entorno es perfecto si quieres descansar y desconectar de todo! We really had a great time at Marta's home. Her house is as you can see in the photos: a quiet, cosy and comfy place. We took advantage of its unique localization in order not only to rest but also to enjoy walks through the nature. Marta was a great hoster always attentive with us to make a great stay.
Teo
2012-08-07T00:00:00Z
ENGLISH BELOW Ha sido una de las mejores experiencias que mi novio y yo hayamos tenido, la casa no sólo es preciosa, decorada con mucho mimo y buen gusto, si no que el ambiente que se respira es simplemente perfecto. Muchísimas atracciones para hacer, tanto si eres un aficionado del senderismo, como si prefieres planes más tranquilos de playa o picnics. Si tienes la oportunidad, echa un vistazo por los pueblos de alrededor, ¡tienen mucho encanto y una gastronomía muy buena! Nuestra anfitriona Marta es una persona encantadora, muy atenta y detallista. Ha sido un placer conocerla.Volveremos seguro. ---- It's been one of the best experiences that my boyfriend and I had. The house is beautiful, decorated with a good taste and love, and a charming atmosphere. There's a lot of interesting things to do, perfect for people that love walking inside the woods and spend a day discovering it, or just more relaxed going to beach or picnics. If you have a chance, visit the other villages , are lovely and you can enjoy an amazing food! Our host Marta is a wonderful person. Very helpful, it has been a pleasure to meet her. We will go back for sure.
Cristina
2012-08-17T00:00:00Z
Room Type
Entire home/apt
---
Property Type
Apartment
---
Accommodates
4
---
Bedrooms
Alfoz de Santa Gadea, Castile and León, Spain
la casa esta completamente preparada y completa Balmaseda es la primera villa de Vizcaya , muy bien comunicada por carretera , tren y autobuses con Bilbao aprox a unos 25 km permite conocer , tanto Bilbao como toda la zona de las encartaciones
la casa tiene 2 habitaciones sala , cocina y baño es un segundo piso y no tiene ascensor , las llaves las entregare personalmente
Balmaseda es una villa muy especial con vida propia , las fiestas , su iglesia su fabrica museo de boinas , su puente medieval la hacen única
El apartamento aunque tiene sus años está muy limpio, todo funciona perfectamente, y es tal y como se ve en las fotos. Lo cierto es que está muy bien, y estuvimos muy a gusto, no tenemos ninguna queja. José Ramón además fue muy atento con nosotros, nos explicó muy bien lo que había en la zona para ver, incluso en Bilbao y tenía un mapa preparado para nosotros. El trato fue muy bueno, tanto antes de ir, como allí. Sin duda recomendamos este apartamento.
Sergio
2016-08-01T00:00:00Z
Nuestra estancia ha sido de 4 días en este apartamento, tres personas. Tal y como habíamos quedado por telefono nos estaba esperando . El piso es como en las fotos, todo estaba muy limpio . Esta en pleno centro de Balmaseda, un pueblo muy bonito y tranquilo. Tiene tiendas al lado de todo tipo , esta muy bien situado. Una estancia magnifica. Nos llamo Jose Ramon al dia siguiente para saber si necesitabamos alguna cosa o si encontrabamos algo en falta. Muchas gracias
PURI
2016-08-21T00:00:00Z
Nous avons été très bien accueillis. L'appartement était conforme à nos attentes (propreté, proximité du centre, équipement - tout y était, même des petites confitures dans le frigo!-).
J-Michel
2016-08-08T00:00:00Z
Hemos tenido una estancia genial en el Piso de Jose Ramon. El piso es tal y como lo veis, comodo, acogedor y tiene todo lo que puedas necesitar. El pueblo es precioso, muy recomendable, está a 15 minutos en coche de Bilbao y muy bien comunicado por tren y autobús. Jose Ramon ha sido muy atento y nos ha facilitado todo lo máximo posible, es de agradecer.
Victor
2016-07-11T00:00:00Z
Muy lindo departamento, bien comunicado en tren para Bilbao (45min) y el poblado es muy bonito. José nos atendió de maravilla, nos dio buenos datos para el país vasco! Saludos!
Ana Clara
2016-10-28T00:00:00Z
La casa esta bien, el pueblo cerca de Bilbao y un lugar muy bonito para pasar unos días, mis compañeros estuvieron muy tranquilos y a gusto. Buena comunicación con el anfitrión y muy atento.
MARIA
2016-06-09T00:00:00Z
Room Type
Entire home/apt
---
Property Type
Apartment
---
Accommodates
5
---
Bedrooms
Balmaseda, Euskadi, Spain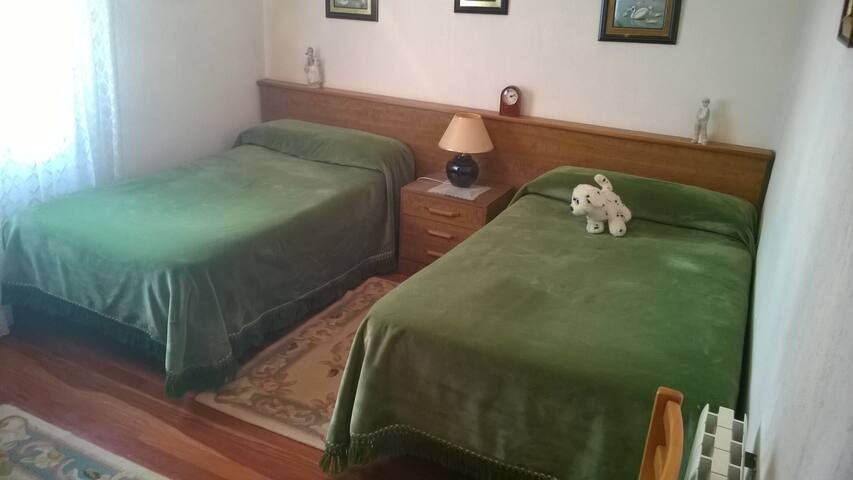 Casa rural La Toba II, está situada en la segunda planta de un edificio, que fue una antigua posada en el siglo XVIII. Sus techos de madera, paredes de piedra y muebles decorados a mano, hacen que sea un lugar único. Tiene un jardín con barbacoa.
Cuatro habitaciones dobles, 2 baños, salón con chimenea y cocina equipada. Se pueden añadir dos camas supletorias y se aceptan mascotas. Las camas supletorias llevan un coste añadido de 12€/cama/día y las mascotas 6€/perro/día. Disponemos de cuna, trona, y bañera para bebé gratis.
La casa está ubicada en un entorno rural y de montaña. Zona tranquila al norte de la provincia de Burgos, entre el parque natural de Ojo Guareña y el de Los Cañones del Ebro. Muy adecuada para familia con niños o grupos de amigos. Posibilidad de actividades de naturaleza y deportivas.
Room Type
Entire home/apt
---
Property Type
Apartment
---
Accommodates
8
---
Bedrooms
Bezana, Castilla y León, Spain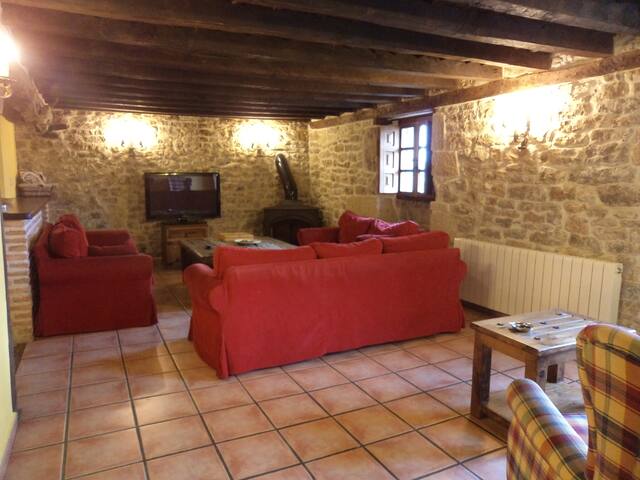 Attractions: Parks, art and culture, amazing views, and restaurants and food. You'll love my place because of the cozy space, views, location, and people. My accommodation is good for couples, adventurers, families (with children) and pets.
We really enjoyed our stay in San Martin de Elines. A beautiful Romanesque village off the beaten track. Rodolfo and his family were very welcoming and accommodating. The room was very nice with all the self-catering facilities we needed. I would recommend staying here to people who have visited Spain several times and would like to see a different side of Spain. Conversational Spanish essential as not many people in Cantabria speak English.
Daniel
2016-08-18T00:00:00Z
La casa es perfecta para una familia y en pareja; frente a ella se encuentra la colegiata y el lugar es muy tranquilo. Sobran las palabras para describir la zona que rodea al pueblo, un entorno con una riqueza arqueológica impresionante. Recomiendo ser acompañado por el guía de la zona, Roberto, preguntad por el a la gente del pueblo. ¡Disfrutad!
RUBÉN DARÍO
2017-03-19T00:00:00Z
El alojamiento lo disfrutamos una noche pues íbamos a visitar el Observatorio en el Páramo de La Lora. Todo estaba en perfectas condiciones, limpio y preparado para nuestra estancia.
Carmen
2016-08-21T00:00:00Z
Los dueños fueron encantadores. A la llegada estuvieron en todo momento atentos para poder ayudarnos a encontrar el alojamiento. El trato fue muy cercano durante nuestra estancia. Con la perra estuvieron muy bien a pesar de que ella en sitios desconocidos esta muy tensa. El apartamento bien, limpio y comodo. Con todo lo necesario para poder pasar las vacaciones. El pueblo era pequeño y con gente muy amable. Tranquilo y bonito como todo a su alrededor.
Aintzane
2016-08-27T00:00:00Z
El trato cercano , sencillo y humilde, asi uno se siente cómodo!
Juan
2016-08-05T00:00:00Z
Room Type
Entire home/apt
---
Property Type
Apartment
---
Accommodates
4
---
Bedrooms
San Martín de Elines, Cantabria, Spain
Dormir a tan solo media hora de Bilbao pero en una preciosa casa de madera, junto a la cascada Peñaladros, entre bosques y a las faldas de Sierra Salvada. Muy cerca 3 nucleos medievales: la villa de Artziniaga, el castillo de Quejana y Orduña.
Apartamento con una habitación con cama de matrimonio, cocina y baño totalmente equipados y 2 camas individuales en el salon. Diseño simple pero confortable.
UN APARTAMENTO PERFECTO PARA ENCONTRARSE CON LA NATURALEZA Y UNO MISMO. En solitario, con tu pareja o con tus hijos. Un espacio de tranquilidad en el que uno puede disfrutar con lo más sencillo.
Room Type
Entire home/apt
---
Property Type
Apartment
---
Accommodates
4
---
Bedrooms
Angulo, Castile and León, Spain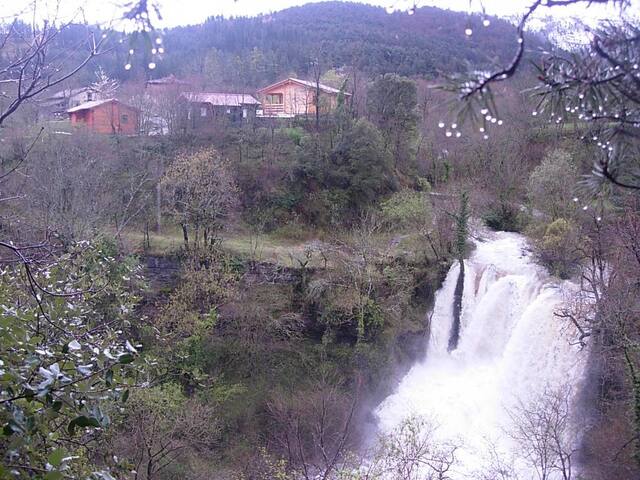 Si te vienes a mis apartamentos, la vida de pueblo te va a sorprender de manera muy grata. Sólo en un lugar así se puede respirar la paz y tranquilidad que hay en Quintana.
Nuestros apartamentos cuentan con todo lo necesario para que tu estancia sea lo más agradable posible.
Los apartamentos se encuentran en el barrio de La Plazuela, tranquilo barrio de Quintana. En cualquier rincón vas a encontrar naturaleza en estado puro.
Room Type
Entire home/apt
---
Property Type
Apartment
---
Accommodates
6
---
Bedrooms
Quintana, Cantabria, Spain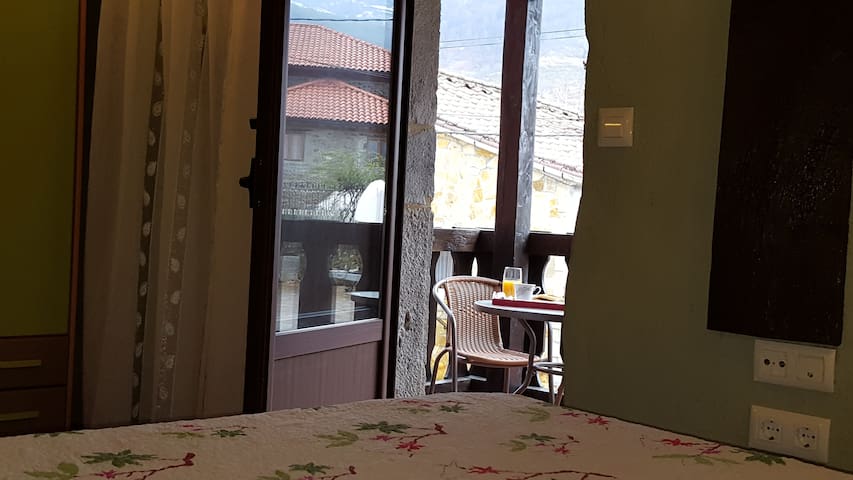 Come and enjoy a beautiful place located in the north of Burgos, next to the Embalse del Ebro, bordering the south of Cantabria, a large green area full of beautiful landscapes, leisure alternatives, adventure, walks, villages to discover ... come You'll be in a wooden house of 35 m2, with large green area, free parking and a host of adventure activities to enjoy
In an absolutely privileged setting next to the Embalse del Ebro, it is Arija, Burgos municipality located just 500 ms southern Cantabria, where you can enjoy a multitude of resources for entertainment and leisure. Enjoy equipment for two with more than twice the space of a hotel room and the views that many can not take a picture or just look at our photos and enjoy them. The apartment Arija is a wooden house of 35 square meters with two closed compartments for the bathroom and kitchen, and the main cabin where you can find bedroom, dining room and living room with TV (loft style).
Arija is divided into two districts, we are in the of Vilga, which are the beaches of Arija, to which can access only a walk. It is also where the village amenities (bars, restaurants, shop, bakery, pharmacy, train, bus, etc.)
Hemos pasado un poco más de una semana mi pareja, yo y nuestra perra en uno de los apartamentos de madera y todo lo que tengo que decir son cosas positivas, entorno increíble y la casa muy completa. El anfitrión se portó muy bien con nosotros y nos indicó en dos mapas que nos dio él lugares que merecían la pena visitar por las proximidades.
Daniel
2015-09-23T00:00:00Z
Un lugar lleno de encanto!!!! Con muchisimas posibilidades para perderse y soñar despierto por el entorno..Alfa informa de muchas de las posibilidades del entorno y te cuida con un riquísimo bizcocho!!! Una buena opción para alojarse y disfrutar unos días (:
Laura
2013-10-15T00:00:00Z
Alfa es un tipo simpático que siempre te recibe con un buen trozo de bizcocho y chocolate caliente antes de ir a su ensayo musical. En cuanto a Arija es un lugar maravilloso, poder disfrutarlo en estas cabañas lo hace aún más especial. Lo recomiendo al 100%
Carlos
2013-08-25T00:00:00Z
La casa agradable y bonita, pero colocada en un lugar feo. El entorno, en general, agradable.
Narciso
2016-11-05T00:00:00Z
Un entorno natural increíble, la zona es estupenda y el anfitrión muy agradable y la casa de un tamaño perfecto para dos. Si hay que ponerle un pero es sin duda la falta de limpieza de la casa, que no estaba todo lo limpia que se esperaba en un primer momento. Las sabanas en perfecto estado pero la cocina y el baño no estaban en el estado optimo para una casa de 50 euros noche. Alfa nos regalo un mapa para decirnos las cosas mas importantes, estuvo atento y fue muy agradable.
Iñigo
2013-01-06T00:00:00Z
La estancia ha sido muy buena. Ángel es un anfitrión muy agradable que además te aconseja un montón de rutas y visitas por la zona. La cabaña es muy acogedora, perfecta para dos personas y un perro como fue nuestro caso. Está equipada con todo lo necesario y su ubicación es buena y cómoda.
Maria Jesus
2013-08-29T00:00:00Z
Room Type
Entire home/flat
---
Property Type
Apartment
---
Accommodates
2
---
Bedrooms
Arija, Castile and León, Spain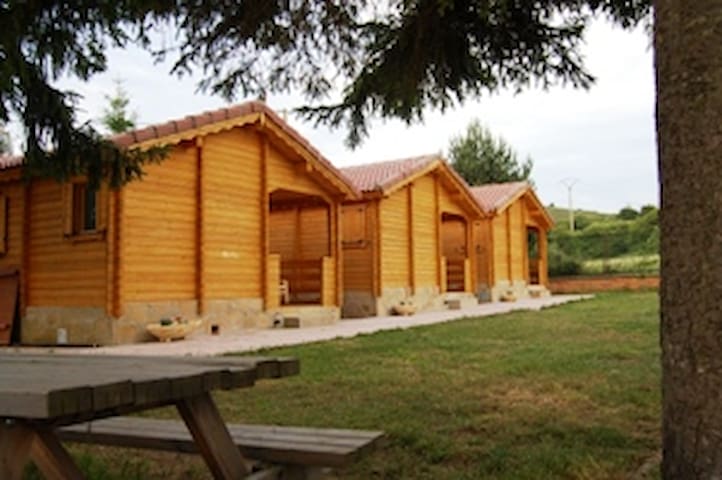 Apartamento a 14 km de Santander Urbanización Ría de Pas, en el pueblo Boo de Piélagos. A 5 minutos en coche de la Playa de Valdearena. ENTREGA DE LLAVES EN BURGOS (Indicar en el mensaje que se cogen en Burgos) Piscina y plaza de garaje.
RECOGIDA DE LLAVES SOLO EN BURGOS (Especificar en la consulta que SI se pueden recoger en Burgos) El apartamento esta en la urbanización Ria del Pas, en el pueblo Boo de Piélagos. A 10 minutos de Santander.
El piso esta bien comunicado con la autovia y las playas están cercanas a unos 6km
Dionisio
2016-03-25T00:00:00Z
Room Type
Entire home/apt
---
Property Type
Apartment
---
Accommodates
5
---
Bedrooms
San Pedro del Romeral, Cantabria, Spain
Lugares de interés: Valle salado de Añana, Monte Santiago, Frías, Rioja alavesa, Vitoria, San Sebastian, Bilbao.... Te va a encantar mi lugar debido a que haremos todo lo posible para que te encuentres como en casa. Mi alojamiento es bueno para parejas, familias (con hijos), y mascotas.
La estancia en la casa rural de Zuriñe fue perfecta! Cuando llegamos nos atendió muy amablemente y nos aconsejó multitud de lugares para visitar. La casa nos encantó, especialmente el detalle de la chimenea. Un lugar muy recomendable! Volveremos sin duda!
edurne
2016-10-12T00:00:00Z
Wir haben unseren Aufenthalt in Maderas y Sal sehr genossen. Das kleine Haus ist, wie die Bilder zeigen, sehr gemütlich eingerichtet und komfortabel ausgestattet. An kalten Abenden lässt es sich gut beheizen. Zuriñe ist eine sehr freundliche und sehr bemühte Gastgeberin. Sie hat uns gute Tipps für Wanderungen und Besichtigungen gegeben. Salinas de Añana ist ein guter Ausgangspunkt für Ausflüge in verschiedene Naturparks, das Rioja-Gebiet und natürlich Vitoria. Añana selbst ist ein netter kleiner Ort mit einem Restaurant und einer Bar. Lebensmittelgeschäft und Bäcker sind 4 km entfernt. Bei Ankunft am Wochenende empfiehlt es sich, das nötigste vorher einzukaufen. Zuriñe bietet im Gemeinschaftsbereich aber auch ein reichhaltiges Frühstück an. Alles in allen ein sehr lohnendes Urlaubsziel.
Monika
2016-09-17T00:00:00Z
Room Type
Entire home/apt
---
Property Type
Apartment
---
Accommodates
4
---
Bedrooms
Gesaltza Añana, Euskadi, Spain
Casona de Piedra dividida en apartamentos duplex de 2 a 5 plazas, totalmente equipados. También posibilidad de alquiler intregro 25 plazas. Ubicada en el Valle de Valderredible. Románico, rupestre, Monte Hijedo, Cañones del Ebro, ven y vivelo!!!!
Room Type
Entire home/apt
---
Property Type
Apartment
---
Accommodates
2
---
Bedrooms
Sobrepeña, Cantabria, Spain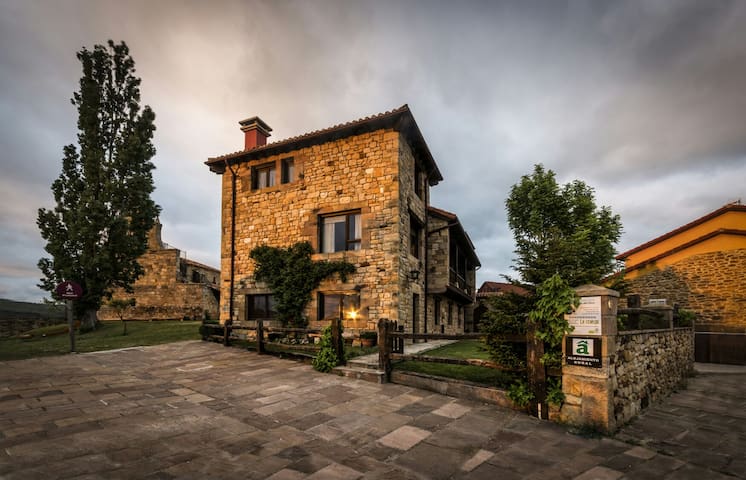 Las Merindades - Airbnb
:
Average

4.19

out of

5

stars from

58

guest reviews
1

–

18

of

24 Apartment Rentals
Enter dates to see full pricing. Additional fees apply. Taxes may be added.