Rural yet close to everything! We are located in the perfect spot between Denver and Colorado Springs. Surrounded by open space and nestled up against the real mountains. Nothing but wilderness to the west and only 7 minutes (or a 40 minute bike ride) to the nearest grocery store. 2 Acres of heaven can be your retreat or base camp for hiking, biking, paddle boarding, fishing and other Colorado style fun. Here on business? We're 50 minutes from downtown Denver and 30 to Colorado Springs.
Private room with closet space, dresser drawers, mini fridge, coffee machine and microwave. We can not accommodate RV's and travel trailers.
Spruce Mountain is a small, roughly 50 household community nestled between the mountains and beautiful table mesas. We are surrounded by open space, trails including the famous Santa Fe Trail and rock formations galore. Hike, bike or cross country ski right out of our front door!
Great host! Great location!
Eric
2017-03-16T00:00:00Z
Ron was an amazing host, and such a wonderful cozy abode! Very clean, beautiful view, beautiful amenities and wonderful family. Definitely a hidden gem!! I look forward to staying again at his place!
David
2017-03-26T00:00:00Z
Great hospitality and amenities for a great price.
Noah
2017-03-14T00:00:00Z
This was a great place to stay! Nice and quite, but still close to Colorado Springs and Palmer Lake. The room was super clean and cozy and we felt comfortable the whole time. Our hosts were nice and welcoming. We would absolutely stay here again.
Mackenzie
2017-03-20T00:00:00Z
Room Type
Habitación privada
---
Property Type
House
---
Accommodates
2
---
Bedrooms
Larkspur, CO, United States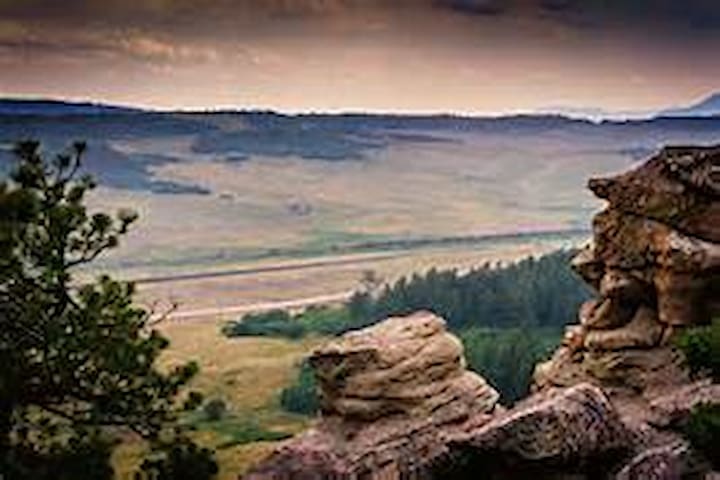 Only 5 min to I-25! Make yourself at home in the entire spacious lower level of our home. Featuring a movie theater, laundry, private kitchen, bathroom, bedrooms & stunning views! Apartment sleeps 8 guests in 3 rooms+ more rooms upstairs if needed.
This is the perfect apartment for your visit in Colorado! Make yourself at home in the spacious entire lower level of our home with a private walk out entrance 3 private bedrooms, private bathroom and private, full kitchen and a shared laundry space. The bedrooms sleep a total of 8 people. Bedroom 1 has a queen bed. Bedroom 2 has 2 bunk beds and bedroom 3 is an office/bedroom with a full size sleeper couch which you are welcome to use. (Just understand that Mark will work in there 2-3 X a week. There is now a door between the upstairs and downstairs for privacy. In the upstairs space that is shared with the owners there is a 4th bedroom with a double bed, a 5th bedroom with a single bed and a sun room with a full size sleeper couch. If your party has up to 13 guests total this will work for your group. Book the camper too and you can add 6 more spaces for up to 19 people (click on my profile picture for the camper listing.) Enjoy roasting marshmallows and hot dogs by the fire or grilling outdoors on the gas grill! Kids enjoy a teeter totter and netted trampoline. We are usually here and love to assist you in making your stay enjoyable. We respect your privacy as much as possible. Yes, we live here so you will hear normal family activity upstairs. We may knock to go through to the laundry and office from time to time. Whether you enjoy quietness and privacy, or friendly conversation, We do our best to provide for both!
Feels like your in the hilly wilderness yet 10 minutes to Monument, 20 minutes to Colorado Springs,15 min. to USAFA, 15 minutes to Castle Rock, 10 minutes to the Larkspur Renaissance Festival 30 minutes to Lone Tree and an hour and a half for skiing! Many open space hiking and riding trails within minutes.You're going to love it so get packed!
Mark & Ruth were awesome hosts! A week before our arrival, they contacted us to ensure we were on the same page in regards to the space and facility. Actually, I was unclear what my requirements were... there were many aspects that were not decided, and they were more than flexible. Upon arriving, we were greeted with care and given a great tour of the place. If you're looking for quiet with your thoughts, this place has that! Great WiFi in a rural area... I sincerely appreciate this. Most importantly, there were many "VALUE ADDS" that are beyond words of my appreciation that contributed to the "happiness factor" of my crew. MANY THANKS!
Frank
2015-09-29T00:00:00Z
In all honesty I had misinterpreted the description of this property. First, it is more fitting to categorize this posting as room rentals versus an "entire house" as the house owners are still living in the house and the rooms they rent out are not separated from their main living space/kitchen. I rented this place with my family intending to have a detached house or private entrance/finished basement to ourselves, but instead we found ourselves sharing the house with another family. If you are looking to rent up to 4 bedrooms in this house with a host family, then I would recommend it as our hosts were very accommodating and nice. They have a beautiful and clean house set out in the country with wonderful views. They were happy to chat with us and let us come and go around the house as we pleased. They also were not strict about any noise we might've made during the night.
Michelle
2015-12-29T00:00:00Z
Wonderful. This was such a great experience for our Walk2Comnect walking community. Mark and Ruth were very attentive and quick to help us with anything we needed. They went above and beyond. Plus, the indoor home movie theater on one side and epic valley views on the other make it extra special.
Jonathon
2016-03-20T00:00:00Z
We stayed in the apartment for almost two months and, although we weren't there much of the time, we enjoyed our time at Wild Skies Ranch. With that, always remember that you are sharing a house with another family; just as the description states. In all honesty, it took me a few days to get used to it all, as I haven't lived in an apartment for well over 25 years. You will hear them, and I'm sure they can hear you, in their young family day-to-day activities as there is no door leading to the upstairs. They are very accommodating, kind, daily music listening (different music), warmhearted, and polite. With that, if any problem arose, they'd promptly and cheerfully take care of it. Since we were gone most of the time during the day, Mark was kind enough to get his office work done during our time away. We definitely felt safe and secure while there. It's in a great rural location not far from the highway (down a gravel road about 4/5 minutes from the highway). The kitchen was a big asset for us. If we are ever back in Colorado, we'll stop and see the completed deck, which they were working on all summer. It'll be a nice addition to the house(URL HIDDEN)
Jan
2016-09-30T00:00:00Z
If you're looking for the best location and experience for your money, this is the place to stay! The home is in fact beautiful, clean, and comfortable. The family is very kind and they care very much about your experience in Colorado. You quickly become like family to them! The beds are made well and hosting five people is very comfortable, everyone with their own bed. They offered leftover food from previous guests and helped us cook an enchilada dinner our first night there! It was so fun! They also cared about your personal space, and seemed only to be in it if you welcomed them in conversation. A wonderful family, a wonderful home, and an awesome Airbnb experience! Thank you so much!
Scott
2015-10-04T00:00:00Z
The house is very beautiful. All rooms are very nice and clean. My family stayed 4 nights there, plus a one year old dog and two month baby. Everyone enjoys very much staying here, and the dog has places to run. Mark and Ruth are so nice. They make us feel like home. Very comfortable staying here. I will definitely recommend this place.
Qian
2015-11-29T00:00:00Z
Mark was a gracious host who welcomed us into his home immediately. He and his wife were very helpful and provided us with whatever amenities we needed! Made the whole trip a great experience!
Xiu
2016-06-04T00:00:00Z
Amazing views, amazing people. I'm definitely going to be staying here next time we visit. The views are amazing the pictures don't do it justice. On a personal level the owners are so awesome they were extremely helpful and very friendly and their son is awesome my kids had a great time and so did I. Very clean and safe. Great wood burning stove too.
Josh
2017-03-14T00:00:00Z
Room Type
Entire home/apt
---
Property Type
House
---
Accommodates
8
---
Bedrooms
Larkspur, CO, United States
Conveniently located between Castle Rock and Colorado Springs, the house is just far away enough to feel like you are out of the city but close enough to enjoy the city life. Easy access to I-25. The backyard features a fire pit for added entertainment. The home boasts 4 bedrooms and 2 bathrooms. My place is good for couples, solo adventurers, and families (with kids).
A home surrounded by tall pine trees on a half-acre lot. Conveniently located between Castle Rock and Colorado Springs, the house is just far enough away to feel like you are out of the city but close enough to enjoy the city life. It's very easy to access I-25. The home features 4 bedrooms and 2 bathrooms, kitchen and living room. The backyard includes a fire pit for added entertainment. The home is being rented out when not in use. I apologize in advance but my 3 kids have personalized their rooms to be "theirs" and the home may not look like a model home but it is well loved and their little personalities shine in the decor.
Larkspur is a community that boasts a small town feel and we love our local restaurants which are within walking distance including: The Spur of the Moment (sports bar), Larkspur Pizzeria, Chorizo's (Mexican and breakfast), and the Corner Market (pizza, sandwiches, snacks and convenience store). A first class park and playground is also nearby. Larkspur is the home of the Renaissance Festival which is only .9 of a mile away. Castle Rock is a 20 minute drive and Colorado Springs is 30 minutes away. Castle Rock (20 min drive): Castlewood canyon State Park, Phillip S Miller park (MAC), zip line tours, outlet mall, Rock Park, 105 Brewing Company Colorado Springs (30 min drive): Garden of the Gods, Cheyenne Mountain Zoo, Air Force base, Cave of the Winds, Seven Falls, National Museum of WWII Aviation, Glen Eyrie Castle, Olympic Training Center, ProRodeo Hall of Fame, North Pole Denver (45 min drive): Museum of Nature and Science, Denver Art Museum, Elitches, Aquarium, Children's Museum, Denver Center of the Performing Arts, Broncos, Nuggets, Rockies, Avalanche, State Capitol, Denver Zoo, Botanical Gardens, Wings over the Rockies Air and Space Museum, Denver Mint, Dinosaur Ridge, Brown Palace Hotel Sedalia (20 min drive): Devils head hike, Bud's Bar (best hamburgers in the state!), Cherokee Ranch Castle
Room Type
Entire home/apt
---
Property Type
House
---
Accommodates
5
---
Bedrooms
Larkspur, CO, United States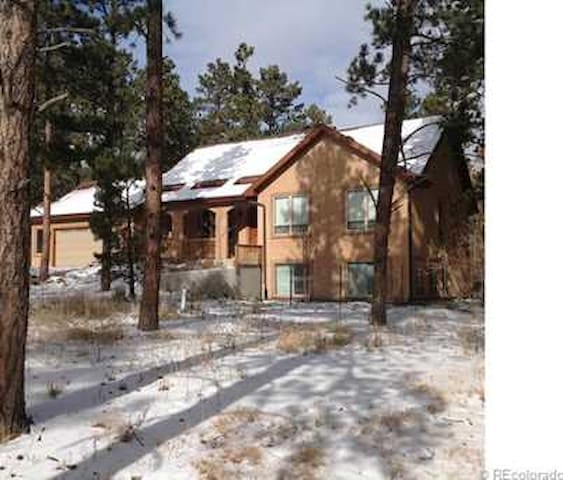 Looking for a mountain getaway that is large enough to comfortably accommodate up to 12 people and centrally located to many Colorado activities, this is the Airbnb place for you. Near By: Colorado Renaissance Festival (9 min) Skiing (1hr 30min) Bear Dance Golf Club (PGA Course & 2016 Denver's Best Golf Destination) (6 min) Pikes Peak (1hr 39min) Royal Gorge (1hr 45min) Castle Rock Outlet Mall (25 min) Downtown Denver (45 min) Our home is beautiful and will be perfect for your Colorado get away.
Room Type
Entire home/apt
---
Property Type
House
---
Accommodates
12
---
Bedrooms
Larkspur, CO, United States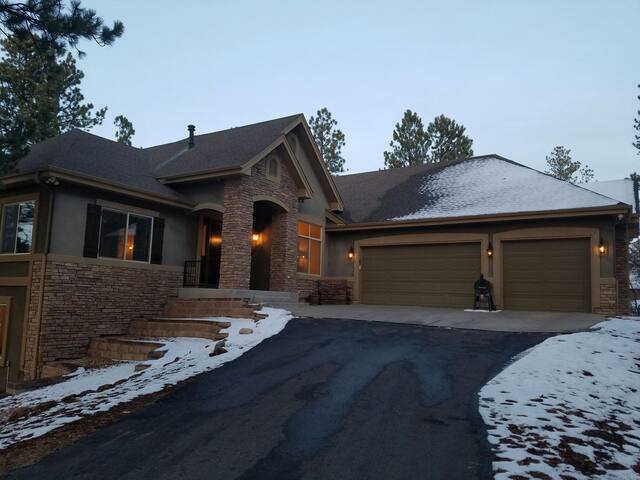 Family-friendly mountain home by famous Perry Park Golf Course and Country Club. Conveniently located between Denver and Colorado Springs, with view of Garden of the Gods rock formation. Huge great room for family gatherings; two king beds, one double, two full baths with jacuzzi tubs, 3 dishwashers, 2 ovens, 2 car garage, hiking trail out back door. Cable, Netflix, wireless Internet, landline. 3000+ sq ft, caretaker in separate unit on premises. About 5 miles west of I-25 at Larkspur, CO.
Room Type
Entire home/apt
---
Property Type
House
---
Accommodates
6
---
Bedrooms
Larkspur, CO, United States
Your hosts are Europeans who welcome you to our one bedroom apartment on 10 acres and relax . It features a full kitchen, large bedroom and great views. Only 20 min from Castle Rock or Colorado Springs it is a quiet getaway yet not too secluded.
There are 600 sf of tile and carpet with a sliding door to your own patio with Adirondack chairs. The bedroom features a fully organized closet and a very comfortable queen sized bed with a pillow top mattress. The living space shares an open plan with the kitchen, and has a leather love seat and recliner and a very cosy sofa which pulls out to accommodate sleeping space for an extra two people. There is no extra charge for little children under 10. The full sized kitchen is equipped with everything you need including basic spices, hot water kettle, coffee maker and toaster. The bathroom is off the entryway and has a bath/shower.
Greenland road is a wonderfully quiet and semi-secluded country road. Come prepared for dirt roads, clean air, lots of birds, and even the occasional elk. Very quiet and yet only minutes from I-25, and just 20 minutes from Castle Rock or Colorado Springs for easy shopping. We are surrounded by beautiful bluffs and wide open plains, and a gorgeous view of Majestic Pikes Peak. We live about 20 minutes from the Air Force Academy. You'll want to grocery shop before you get here if you plan on cooking. There are good places to eat in Monument, Larkspur and a great pub in Palmer Lake, all of these just minutes away.
Our stay at Terry and Monika's apartment was just what we were looking for: comfortable and relaxing. The apt. was clean, the bed very comfortable and the kitchen perfect to cook, even big meals. Monika was very welcoming and helpful. We loved this small apartment and the view on the countryside was amazing. Will definitely stay there again.
Eve
2014-05-02T00:00:00Z
A beautiful welcoming apartment in a peaceful refreshing bucolic setting, Terry and Monica have created a immaculately clean and new setting to make anyone feel right at home. Filled with all the amenities one could even need, our stay was beyond anything we expected. Even stocked the refrigerator with fresh eggs from the chicken coop! Big sky, gorgeous views, and plenty of relaxation!
Steve
2015-06-01T00:00:00Z
Monika and Terry's place is really lovely and peaceful. I can see that they cared for a lot of details. Great location for places we were visiting, we even took one day to drive to Denver which was only an hour away. Would definitely recommend to friends who are visiting this area
Guo
2015-06-11T00:00:00Z
What a really special experience! Especially if you are Los Angeles city slickers like we are. My husband and 2 of our kids stayed here for a wedding in Larkspur. I selected Mesa View Apartment for them because of the stunning views and plush country feel. My 8 year old was in cart wheelin' heaven!! She was also especially fond of the many happy hens in the yard!! (The complimentary fresh eggs were also a huge bonus!!) The apartment itself was clean, charming and comfortable. It was stocked with condiments, coffee, coffee filters, cookies and lots of other things my family found useful. My husband and daughter shared the bed and both reported it to be extraordinarily comfortable!!! My 15 yo so slept on the sofa bed and was less comfortable. As with all sofa beds, the dreaded thinner mattress and metal bar combo was a bummer, but would have been fine for a younger, lighter kid. For a full grown person, they may find it more cozy to sleep on the couch as is and not use the sofa bed. The owners seem great! Excellent communication throughout this process, flexible and accommodating! Beautiful property!! Lovely people. Highly recommend!!
Tanya
2015-06-29T00:00:00Z
Property offers amazing scenic views and is just that touch of "privateness" that offers anyone the chance to get away...literally and relax! Very hospitable and detail oriented, also appreciated the suggested activities! Would definitely recommend!
Kittie
2017-01-02T00:00:00Z
Off the beaten track..? Yes!! But that's what made it more special. After staying in Castle Rock last time I wanted a more authentic experience and chose Monika & Terry's place. It couldn't have been better.. apart from being excellent hosts I enjoyed brilliant sunrises from my window and sunsets from the wooden swing. Extremely well stocked and immaculate, it was so quiet and peaceful I slept amazing!!! Larkspur and Palmer Lake are close by and Monument is a very fast drive as well. Missing the views of the buttes and mesas already...)
Hellen
2016-09-15T00:00:00Z
This was a cute little suite in a beautiful country setting! We thoroughly enjoyed the sunrise coming up over the hills. The only downside was that we just popped in for the night, and we wish we could have spent more time there. Monika was very nice and accommodated our travel schedule. I highly recommend this little suite as a quiet place to stay in Colorado!
Heather
2015-06-30T00:00:00Z
We loved staying in Terry and Monika's apartment! It was exactly what we were looking for and more than we could have imagined. The location is great - very peaceful,serene, and convenient. The apartment was perfect for our needs and we enjoyed watching the many hummingbirds hovering outside our back windows. We were able to hike at the beautiful Spruce Mountain Open Space area which is about 7 miles away. Colorado Springs is just 15-20 minutes south. What more could one ask for? Monika and Terry are wonderful hosts, and we enjoyed our chats with Monika during our stay. We will certainly return! Thank you Monika and Terry!
Julie
2016-08-15T00:00:00Z
Room Type
Entire home/apt
---
Property Type
House
---
Accommodates
4
---
Bedrooms
Larkspur, CO, United States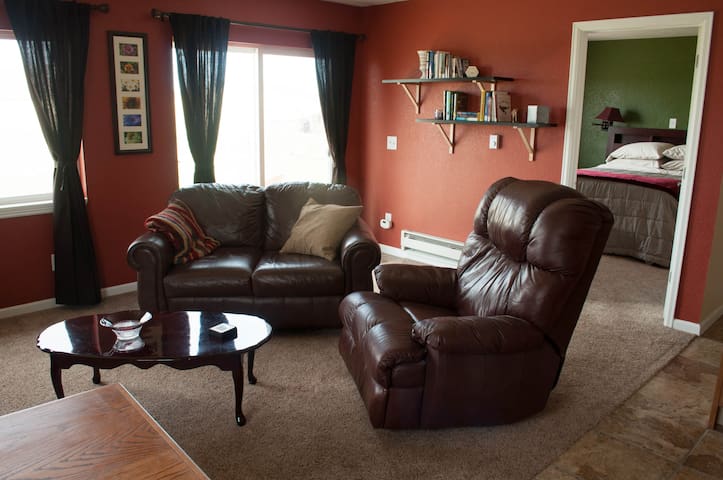 "Artist's Retreat" is a private room in the heart of Palmer Lake, CO. Located in this small town nestled up to Pike National Forest, perfect for relocating professionals and adventure seekers! One block to popular coffee bistro, sports pub and open spaces. You can still see stars on a clear night and smell wood burning in stoves. Near I-25 between Denver - Colorado Springs, great for sight seeing opportunities. Perfect for trail runners, and cycling opportunities.
Welcome to "Artist's Retreat" in Palmer Lake, CO. Great for vacationing or long term "relocating" professionals. Enjoy two private bedrooms on lower level of split level home, each with queen sized beds. Private entrance through front door with key code. Small refrigerator, microwave and Kurieg coffee maker in private kitchenette, paper goods and all toiletries included, just bring yourselves! ~ One block from popular restaurants and coffee bistro ~ Near Monument, Larkspur and Colorado Springs and Denver (40 miles) ~ Easy access to I-25 ~ between Denver and Colorado Springs (15 miles) ~ Enjoy this small town environment ~ population 2,500 ~ You will be provided a personalized key code for front door ~ You will be only guest and have privacy ~ we interact as much or as little as needed. We do enjoy visiting and sharing things to do in the area. ~ WI-FI If you want to rent a whole house, see our "Almost Heaven" listing for up to five registered guests. July is one of the best times to visit Colorado!
Historical town, quiet at night, small town where the stars still shine on a clear evening. Near grade school, police station, post office, town hall, volunteer fire station, library, ice cream shop. Family friendly neighborhood (in heart of town). Trails are close by for hiking and biking. On a cool evening you'll smell wood burning stoves in this nice historical train town. You'll be near the mountains with ever changing weather patterns and beautiful sunsets. One block to gourmet restaurants including Speed Trap, La Rosa, O'Malley's Steak Pub and more...great for foodies, adventure travelers or overflow house guests!
Our stay at Diane's was fantastic. The place is just as described, super clean and spacious and Diane is a great guest and provided very useful information. Thanks Diane and we definitely stay here again
Maria
2016-09-18T00:00:00Z
Diane is an amazing host! She was so kind and flexible. I was in town for work, traveling with a new puppy and she couldn't have been more helpful. She made us feel right at home and even toom the time to show me around and go on a couple hiking adventures! Her house is so lovely and in a great location. On top of everything she was just a wonderful person to get to know. I can't wait to visit again! Thank you so much, Diane! Hope to see you soon! -Lauren
Lauren
2016-09-20T00:00:00Z
This is the perfect place for me! Diane is very friendly and everything is in order. The room downstairs is nice, cool and quiet. I have decided to stay here for much of the summer even though I am working 50 miles away. There is so much outdoors stuff to do here the mtn biking is great! Thank you Diane for a great stay
John
2016-05-30T00:00:00Z
Diane is a fabulous host. She is an encyclopedia of knowledge about the area and fun or interesting things to do. The area is quiet, walking distance to restaurants, some little shops and Palmer Lake. Very easy to get to Colorado Springs. Great area to take walks. You can chat with the deer as you walk by them. :)
Victoria
2017-03-20T00:00:00Z
Diane is very nice and chatty! She did everything possible to make me feel welcome and comfortable. Palmer Lake is lovely. I was in town for the cycling race up Pike's Peak. Tons of nice, low traffic roads for riding! Both 105N & Spruce mountain road are good to take out of town :)
Stefanie
2016-08-13T00:00:00Z
Our stay with Diane was fantastic. She kept in touch with messages leading up to the trip, and checked to see if we would need anything special. She got us anything we needed or had forgotten, and was all-around very accommodating. She gave us our privacy, but was always ready for friendly conversation. We had the downstairs of a split level house to ourselves. 2 bedrooms, a large bathroom, laundry access, and a living room with access to the fireplace, which was incredibly nice on September nights. She was able to give us tips on where to go, and what to look for, and there are nice trails right near her home. Deer frequently roamed through the street and into Diane's yard during our stay, and there are incredibly large crows that greet you in the morning. Denver is around an hour away, and Colorado Springs is 30-40 minutes away, making her home a pretty decent starting point in the morning. I highly recommend the restaurant down the street, Speedtrap Cafe. We walked down there more than once, and it was easily the best food we had the whole trip. The Ham, Swiss, and asparagus crepes are my favorite, and if you're there on a Sunday, do not pass up the Banana waffles. Staying with Diane made one part of our trip much more affordable and homey. It's nice to come home to a house at the end of a long day exploring. The first thing you see in the morning are the mountains, and the hostess is wonderful.
David
2016-10-02T00:00:00Z
The faint sound of the train horn crossing the road... the sound of the crows working in the neighborhood... the deer wondering around everywhere in town... the lake so beautiful and blue... the local restaurants, especially the Speed Trap and the small town feel just makes for a wonderful time away from the big city.
Gregory
2017-03-24T00:00:00Z
It was a pleasure to stay with Diane. The room and bathroom were clean. She was very helpful and friendly. The location was ideal to walk to a coffee shop for breakfast and there are several dinner and bar options half a block away. This a small town and people were friendly. The home is very close to nature trails and the lake.
Heather
2016-08-20T00:00:00Z
Room Type
Habitación privada
---
Property Type
House
---
Accommodates
2
---
Bedrooms
Palmer Lake, CO, United States
Your hosts are Europeans who welcome you to a very cozy suite on 10 acres. Come and relax and enjoy the amazing views from the deck. We are only 20 minutes from either Castle Rock or Colorado Springs and yet right in the country.
The space is a Master Bedroom with a seating area, private bathroom and walk-in closet. Fully carpeted with tile in the bathroom. A sliding glass door leads to your own deck with outdoor furniture. The bedroom area features a very comfortable queen sized bed with a pillow top mattress. The living area has a leather sofa and a comfortable chair. There is no extra charge for little children under 6. We have a travel cot for babies and could also put up an air mattress . You can store some items in the small fridge and make your own coffee with a Keurig coffee maker. There is a grill outside that you can use.
Greenland road is a wonderfully quiet and semi-secluded country road. Come prepared for dirt roads, clean air, lots of birds, antelope, cows and even the occasional elk. Very quiet and yet only minutes from I-25, and just 20 minutes from Castle Rock or Colorado Springs for easy shopping. We are surrounded by beautiful bluffs and wide open plains, and a view of Majestic Pikes Peak. We live about 20 minutes from the Air Force Academy. There are good places to eat in Monument, Larkspur and a great pub in Palmer Lake, all of these just minutes away. We do have a Golden Retriever called Winston and a black and white herding dog Tessie. They are both super friendly, though Winston is young and very enthusiastic… We also have chickens (no rooster), but you won't hear them at all from your place.
We really enjoyed staying at Monika's and Terry's place. The room was clean, well equipped and with a wonderful view! Monika joined us for dinner one night and it was a delight talking to her! Thank you for a great Airbnb experience!
Maria
2015-09-23T00:00:00Z
The suite is beautiful and bright, decorated with an artist's eye, and furnished with a very comfortable bed and sitting area. The neighborhood is peaceful and quiet with excellent views. Monika is a wonderful host, very friendly and welcoming while also respectful of her guests' privacy. I will recommend this stay to any friends or family who were traveling through the area.
Margot
2015-04-01T00:00:00Z
Dear Terry and Monica; We were so pleased with our stay at Mesa View. Not only did it give us shelter from the weather, we were able to get plenty of rest. It was so peaceful and quiet and the surroundings were so beautiful. We are looking forward to coming back someday. Hope to see you then. Don and Shelly Morrison
Don
2015-05-13T00:00:00Z
I loved staying in your small efficiency apartment! I felt so comfortable and homey. Thanks so much for the genuine hospitality. It is an idea space. So many nice touches, as coffee, little fridge, etc. It felt like a real "Retreat".
Julia
2015-06-29T00:00:00Z
What a wonderful weekend we had in Colorado. Monika couldn't have been more welcoming. She stayed in touch with us and answered all our pre-arrival questions with ease. She even taught us about egg collection from her beautiful chickens. The location was perfect for being able to do things in both Denver and Colorado Springs. The views are amazing, the décor stunning and the hosts welcoming. It was great to have two apartments to rent so that our entire family could be together but not on top of each other. I would recommend you checking this place out! We hope to be back. Very fun location, rural, quiet and breathtaking.
Pat
2015-06-08T00:00:00Z
Terry and Monika were wonderful hosts. Very welcoming. The location is beautiful!
Puneet
2015-06-30T00:00:00Z
Monika and Terry's room was every bit as comfortable & cozy as we had hoped! And peaceful only begins to describe the setting; it is quiet, there are horses to watch and lots of wide open space. Monika has been a wonderful host!!
Doug
2015-10-28T00:00:00Z
I so enjoyed my stay in Larkspur! Monika was so kind, hospitable and helpful. It was a beautiful and quiet retreat, exactly what this buys and tired mama of three needed! I hope to be back soon!
Jessica
2015-06-01T00:00:00Z
Room Type
Entire home/apt
---
Property Type
House
---
Accommodates
2
---
Bedrooms
Larkspur, CO, United States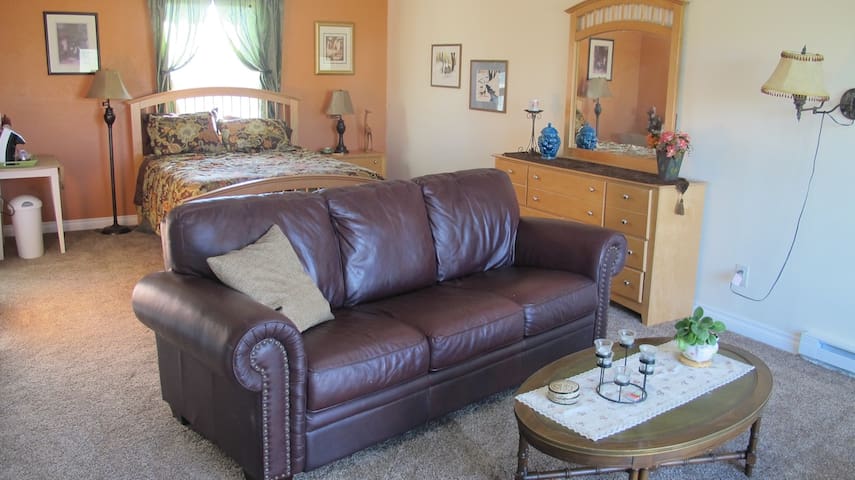 Imagine all your worries and fears drift away as you settle into the calming mountainside. Why is there only one photo you ask? As of now we currently have full time renters in the home so we are unable to fully display the space. I know, it looks and sounds sketchy but I assure you, that beginning July 10th, it will be thoroughly furnished and ready for your leisure. If you have any questions, please contact us, we are more than happy to answer any inquires.
• Sleeps four comfortably, eight creatively - Queen mattress in main bedroom - Living room sofa Sactional converts to comfy queen size bed - Queen size air mattress - The floor (sleeping bags not included) • Kitchen - Samsung refrigerating unit - Bosch electric oven - Bosch gas cooktop - Bosch dishwasher - Moen faucet - Composite sink basin - Quartz countertops - Maple cabinets • Bathroom - Moen rainwater shower head - River rock shower floor - Glass shower door - Above counter vessel sinks - Kohler Santa Rosa toilet • Living Room - Lovesac Sactional couch - 55" Samsung 4K Ultra HD television set - Samsung 2.1 channel soundbar system with subwoofer - 48" Spotlight writing desk
Palmer Lake is a beautiful, quaint community with many hidden gems to be found. From a morning cup of coffee at The Speed Trap to a sunset walk around the lake, every minute of your experience is sure to be relaxing and peaceful.
Room Type
Entire home/apt
---
Property Type
House
---
Accommodates
4
---
Bedrooms
Palmer Lake, CO, United States
Our home is 10 min. from Colorado Springs and 45 min. from Denver. Tourism activities; Garden of the Gods, Olympic Center, Downtown Denver, Pikes Peak, Seven Falls, Cheyenne Mountain Zoo, The Air Force Academy, lakes, hiking. Right off I-25, close to gas stations, grocery stores, library. We want to make you feel comfortable in our home! We will provide coffee/tea. You may use the microwave.
Room Type
Habitación privada
---
Property Type
House
---
Accommodates
3
---
Bedrooms
Monument, CO, United States
Located at the end of a quiet cul-de-sac, be treated to amazing Pikes Peak views and a great get-away that any outdoor enthusiasts will love. Our home is walking distance to the Woodmoor country club (Golf and swimming) and there are hiking and biking trails galore.
Our home is nestled within a very quiet community that has you enjoying the beauty, sounds and wonders of nature with all your major amenities just a few minutes away. We're (literally) right next to the Woodmoor golf and country club and you can just walk to the driving range and tee off. They also offer swimming, tennis and amazing meals. We are 15- 25 minutes away from most of the main attractions in Colorado Springs or South Denver, Air Force Academy, Garden of the Gods, Castle Rock, Manitou Springs, Cheyenne Mountain Zoo and so much more). We recommend a visit to the main downtown of Monument where, in the summer, they have weekly Farmer's markets and bi-monthly "Art Hops". In the immediate area, there are several parks, restaurants and grocery stores. Your bedroom has a queen bed. You'll have your own attached and dedicated private bathroom with shower, lots of closet space to stow your bags and gear. There is also a desk with a printer, WIFI access and access to up to 2 parking spots on our driveway. We are very much looking forward to having you as a guest in our home. Please do not hesitate to contact us for any questions.
We are next to the Woodmoor Country Club next to the club house and the driving range. We live in a quiet neighborhood and are minutes drive away from a ton of outdoor activities (a lot you can do from our doorstep) and all necessities. - Less than 15 minutes to the Air Force Academy - 2 miles to the local brewing company (Pike's Peak Brewery) - 20 minutes to Colorado Springs - 25 minutes to Garden of the Gods - 10-15 minutes to several parks and trails near the house - 35 minute highway drive to Denver
Luisa and JJ were very friendly. The area is very nice and backs up to a golf course. The neighborhood roads were low traffic, which was nice for walking in the morning.
Sam
2016-08-28T00:00:00Z
location was perfect, house was beautiful, and the Lopez family was awesome! we had great conversations and they were so helpful with recommendations of things to do/ places to eat, around the area.
Lindsey
2017-01-01T00:00:00Z
Louisa and JJ are lovely people - authentic, warm and pay such attention to details to make your stay relaxed and fun. From the toothbrush in the bathroom, to the earplugs by the bedside, tea bags... Louisa thinks of everything you may need. The room is really nice - with a computer too. Great views of the golf course. Lovely kitchen. I was tired after all the hiking in Rocky Mountain NP, so ended up staying one of the 3 days there just relaxing in the house - and had such a great time with Louisa, her son Felix, dog Diesel and grey parrot Liberty! They are a wonderful family, with a lovely home. Easy access to Colorado Springs - about 20 minutes.
Devika
2016-08-11T00:00:00Z
Luisa, JJ, Felix, Liberty, and Diesel were all very welcoming and enjoyable! Very hospitable couple and very inclusive! Thank you for a fantastic trip!
Lori
2016-12-19T00:00:00Z
JJ and Luisa are fantastic hosts, and do everything they can to make you feel like you are right at home. I absolutely loved my stay and only wish that I could have gotten more time with this family. Alas, it was a busy work week for me. Felix is a great kid and Diesel made coming home from work the best thing ever. They live in a beautiful part of town and have a wonderful home. Thanks JJ and Luisa!
Matthew
2016-08-19T00:00:00Z
Good communication with host via text message. No surprises. Home is located in a beautiful golf course community. Was first time using airbb so was a little skeptical. Loved the dog. Will definitely use this service again.
Greg
2016-09-07T00:00:00Z
I stayed with JJ and Luisa for 2 1/2 months as I relocated with my company to Colorado and it couldn't have been a better stay. They are very gracious and treated me like one of the family. Their son, Felix is very well behaved and very polite. I highly recommend this location if you are looking for a relaxing and beautiful location next time you're in Colorado!
Kevin
2016-11-30T00:00:00Z
Louisa, JJ, and their son Felix are by far the nicest, most genuine people Ive come to know up in Colorado. I was coming all the way from Austin Texas and I had to drive a whole 14 hours just to get there. So when I finally got there (14 hours later) , they made sure to greet me with open arms and show me around and let me know that I can feel at home. (Which I did and it was lovely.) They also have the coolest bird, and an adorable dog named Diesel. (He's hilarious and so loving, it's insanely amazing.) Everything about this Airb&b was amazing. The bathroom was stocked with everything you would need, the room had such an amazing wilderness view from the big window, not to mention the mountain view outside on the patio is hands down beautiful! Without these guys to talk to and give me advice on good places to go and eat, I doubt I would of enjoyed my stay as much as I did. So thank you guys again and I look forward to coming back!!
Hailey
2017-03-17T00:00:00Z
Room Type
Habitación privada
---
Property Type
House
---
Accommodates
2
---
Bedrooms
Monument, CO, United States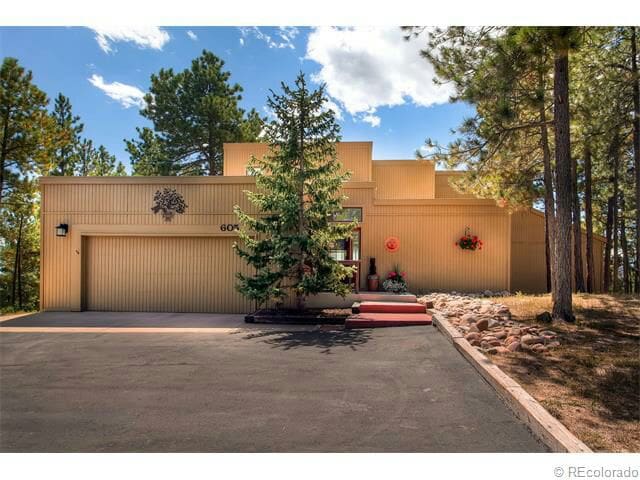 "Almost Heaven" is a nice cozy home nestled up to the Pike National Forest with a full kitchen and attached garage for your comfort and use. Easy access to I-25 and perfect for your family vacation! Perfect location for sight seeing. Clean and well located ranch home in walk-able down town Palmer Lake. Near popular coffee bistro, hiking trails and open spaces. You can still see stars on a clear night and smell wood burning stoves. Just 15-20 minutes from USAFA north gate. Quiet at night.
Perfect for your family vacation! "Almost Heaven" is a small cozy ranch home, all on one level. Comfortable for up to five registered guests. Great location (right in the heart of town) and close to mountains. Easy walk to sports pub and popular coffee bistro. Park your car in the garage for added comfort and convenience. Nestled up to Pike National Forest where you will find many different trail heads for outdoor recreation for bike riding, walking or hiking. NO pets allowed ~ we have many guests with allergies and keep the home clean for these travelers. Sleeps up to five registered guests. (*No unregistered guests allowed on property, no parties or events). If possible, we like to meet our guests upon arrival to familiarize safety features of the home and answer any questions. No shoes worn in the house - place them on the mat by the door. ~ Family friendly neighborhood ~ Great for relocating families or out of town house guests! ~ Five minutes to Interstate 25 for easy access ~ Pet free environment (No pets allowed) ~ No smoking - family neighborhood ~ Perfect for up to five registered guests If you are looking to rent a private room with kitchenette, see our other listing "Artist's Retreat" in Palmer Lake.
~ Easy access near Interstate 25 ~ Between Denver and Colorado Springs ~ Nearby communities: Monument, Larkspur and Gleneagle, USAFA ~ Family oriented neighborhood, quiet at night ~ Wildlife abounds ~ Only blocks from popular lake with trout fishing ~ Lots of interesting history ~ Small town of 2,500 population ~ Near many bike, walking and hiking trails ~ Enjoy Speed Trap Coffee Bistro, O'Malley's Sports Pub ~ Bella Panini Gourmet Pizza ~ Rosa Southwestern Gourmet ~ Safeway (groceries) and Starbucks 5 minute drive ~ Near police station, town hall, library, playground, post office, volunteer fire department, village green ~ Near FREE Lucretia Vaile History Museum ~ Walk-able town and trails for enjoyment and relaxation
We had a lovely time in Colorado visiting our family. We very much appreciated being able to stay just a few short miles from their home. Diane was a very accommodating host. Thank you so much for having us!
Lisa
2016-05-31T00:00:00Z
Diane was the nicest and most generous host. Time and time again she was willing to go out of her way for me and made my experience at Palmer Lake truly incredible. Cant recommend it highly enough. The hiking trails there are just awesome.
Elburz
2016-04-07T00:00:00Z
This was my first time using Airbnb and it could not have gone better. I just needed a place to rest my head at night and have access to wifi. Not only did I have that but I also had a host who was so nice and so detail-oriented towards her guests that it was better than staying at any hotel. A very cute little house that is clean and comfortable and sits in a cute neighborhood near a gorgeous lake. Coffee was available, easy access to get in and out, an easy drive to Castle Rock which is where I was visiting. Diane could not have been nicer nor could her house be more private and comfortable to stay at. Highly recommended!
John
2015-07-20T00:00:00Z
We had an AMAZING experience staying at Diane's house. It is very well situated with plenty of things to do and places to visit. Just a few minutes from Colorado Springs. The town of Palmer Lake is adorable. The house was very clean, and very cozy. We particularly enjoyed spending afternoons at the front deck, watching the sunset. Very peaceful! The playground across the street was a pleasant surprise, my 9 year old daughter was thrilled, and we could watch her play from the front deck. We had a deer visitor in our front yard a couple of times. That was a bonus too! The kitchen is spacious and has everything you need: plenty of dishes, pots and pans, appliances, etc. It was a pleasure to prepare meals. Even though it was summer time, with very hot days, the house stayed comfortable with plenty of fresh air coming through, once you open the windows. The nights were cool and pleasant, we also enjoyed stargazing from the front deck. Diane left us a welcome note and suggested hikes to take and places to go. The breakfast and the perrier bottles of water were a wonderful touch! We went on the hike on our first day there, the views are breathtaking. Almost Heaven is a place I would definitely recommend. Our one week vacation in Colorado was perfect! Thank you Diane!! :)
Marina
2016-07-09T00:00:00Z
Diane was very welcoming and went out of her way to make us feel at home. Great place to stay and very clean. Loved seeing deer right in the yard by the house!
TAMMY
2016-07-17T00:00:00Z
"Almost Heaven" was striking in its cleanliness. It is cozy and comfortable. It was quiet at night with very soft sound of the train about 9 pm. This did not keep me awake or wake me up. The kitchen had what I needed to make a few meals. Garage parking (cleanest garage ever)!
Lisa
2016-03-09T00:00:00Z
WE HAD AN AMAZING ANNIVERSARY!!! "Almost Heaven" was immaculately cleaned, maintained, and stocked for our weekend needs. We had mentioned that we were celebrating our anniversary and Diane left us a welcome gift!! Could not more strongly recommend "Almost Heaven" for any occasion. Best Airbnb we have ever stayed in. Palmer Lake is filled with activity options for couples or families. The team at The Villa restaurant also celebrated our anniversary with us.
Jonathan
2016-04-11T00:00:00Z
Absolutely loved our stay! Exceptionally clean, cute furnishings, and great location. Felt like home. Beds were very comfortable. Plenty of space and fully furnished kitchen. The host went out of her way to accommodate our special requests and was a great communicator. Highly recommend this place!
Amanda
2017-04-09T00:00:00Z
Room Type
Entire home/apt
---
Property Type
House
---
Accommodates
5
---
Bedrooms
Palmer Lake, CO, United States
Private keyless entry. Listing is approx. 2200 sq ft of space w. 4 bedrooms & 1.5 bath, large living space w. multiple couches, air hockey & foosball tables, & dining for 9. Room 1: sleigh bed set w. queen size bed. Room 2: 4poster bed w. queen bed, Room 3: king bed w. wine cooler Room 4: 2 beds (1 full & 1 twin) Plus dry sauna.
Private key pad entrance with Access to your own circular drive way. Ample parking situated on a corner lot with views of pikes peak. Lots of games, movies, great space for families & large groups of friends.
Large lots in a community mixed with trees and beautiful front range- pikes peak views
Amazing stay. Very scenic place. Was well maintained. Had a wonderful stay. Clear instructions and well maintained place. Would love to be back there again
Karthik
2015-05-19T00:00:00Z
Shawna was an amazing host, the house was comfortable, and she was very good with keeping in touch durning our stay. I appreciate her opening her home to us, and would definitely recommend her to other travelers.
John
2016-06-09T00:00:00Z
The place is well-maintained, clean and beautiful. Josey is a great host. She had left clear instructions for us and was always reachable via text. We had a great time here.
Chinmay
2015-05-26T00:00:00Z
Shawna was a great host. Worked perfectly as a staging area for my bride and her bridesmaids to get ready for our wedding!
Sam
2016-07-18T00:00:00Z
Great place, especially for multiple guests! Beautiful bedrooms with comfortable beds. Huge living space with lots of activities. Gorgeous neighborhood, very close to restaurants. I hope to stay again!
Janelle
2016-03-19T00:00:00Z
Wonderful experience that family had. It was a nice cozy place and was just as pictured. We enjoyed our stay.
Diana
2016-06-28T00:00:00Z
The space was great perfect for our family to stay and relax. We really loved the privacy and beautiful view. Shawna was very responsive. Beds were super comfy! We loved the air hockey table!
Jill
2016-09-19T00:00:00Z
The host canceled this reservation 4 days before arrival. This is an automated posting.
Zac
2016-12-27T00:00:00Z
Room Type
Entire home/apt
---
Property Type
House
---
Accommodates
9
---
Bedrooms
Monument, CO, United States
Comfortable home built in 2015 with all amenities needed to make your stay in Colorado fun and amazing! The home has 4 bedrooms, 3 bathrooms and incredible front range views. Split halfway between Colorado Springs and Denver and minutes from the Air Force Academy you are close to everything.
The fully furnished home is ready for your trip. There are board games, a wii, ping pong and pool, and poker table and a professional popcorn machine.
Monument is a quiet shall town that is very quaint and very safe. Elevation is approximately 7200 feet.
Room Type
Entire home/apt
---
Property Type
House
---
Accommodates
12
---
Bedrooms
Monument, CO, United States
My place is close to Denver or Colorado springs are a 30 minute drive., great views, restaurants and dining, an outlet mall, 30+ miles of hiking trails, Fairgrounds, parks, the MAC recreation and concert center. You'll love my place because of the coziness, the views, the high ceilings, the town of Castle Rock is always among the best 10 places to live in the USA. Its small town feel with a friendly population.. My place is good for couples, business travelers, and families (with kids).
Welcome to my home. It is a nice place to stay you will have access to the entire house. you can fix your own meals (bring food, most condiments are available), do laundry, watch TV by the fireplace in the living room or just get a good nights sleep.
This is a neighborhood where kids will shoot hoops or throw around a football in the street and parking is available on the street or in the driveway (I'll want to be able to get out of the garage)
Norman went above and beyond to make sure our stay was great. Would highly recommend staying here.
Genevieve
2017-02-23T00:00:00Z
Norman went above and beyond our expectations. We woke up to breakfast and great conversation. Norman recommended us to go see the Garden of the Gods . It was exactly what we were looking for while we were traveling across the country . He is personable, helpful, and kind . I definitely have a new friend in Colorado and plan on coming to visit again and will be looking forward to hanging out with Norman again.
Mathew
2017-01-28T00:00:00Z
Norm's place is nicely appointed and he is a gracious host.
Julie
2017-01-25T00:00:00Z
Norman was a great host,he interacted with my 7 year old grandson and I think we got Norman hooked on building Lego's!! We watched movies and had long conversations and he gave us tips on places to visit in the area. We had a very relaxing and pleasant stay.
Royce
2017-03-27T00:00:00Z
This was a really nice place to stay. Comfortable beds, pleasant patio to watch the birds and deer, great kitchen nice home in a convenient location. Norman is a fantastic host and genuinely kind person. I would definitely stay here again if I am ever in Castle Rock.
Laurie
2017-04-09T00:00:00Z
Norman is very nice and kind person, he always give some very helpful information to travelers.
Wang
2017-03-17T00:00:00Z
Beautiful home in a very scenic area. Norm is a very accommodating host. Friendly and he bakes a mean cookie
GREG
2017-02-03T00:00:00Z
Norman was and excellent host beautiful home nice neighborhood and a great price. Would strongly recommend anyone to his residential
George
2017-04-05T00:00:00Z
Room Type
Habitación privada
---
Property Type
House
---
Accommodates
4
---
Bedrooms
Castle Rock, CO, United States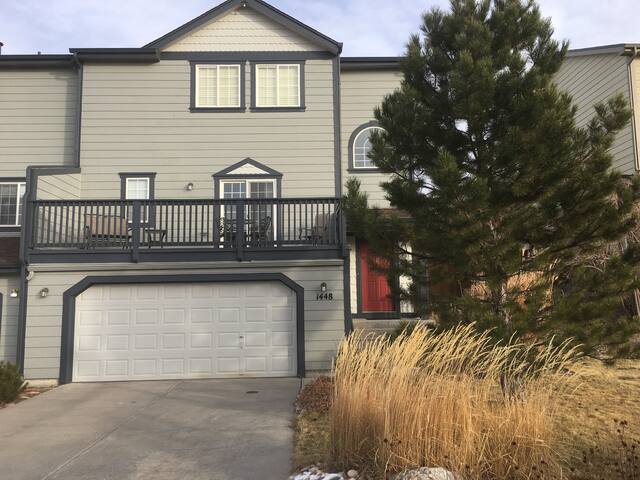 The home is very comfortable and cozy. Three stories including and upstairs, downstairs, mother in law's, and basement. Great for entertaining as well as large families here to visit the Air Force! Monument Lake is located behind our home.
Home borders lake, close to AFA and Colorado Springs.
Very quiet and private. There are lots of pine trees therefore you won't see many neighbors.
Room Type
Entire home/apt
---
Property Type
House
---
Accommodates
12
---
Bedrooms
Monument, CO, United States
Mountain home, 3/4 acre with views of Front Range & Pikes Peak. Sleeps 6 comfortably (in 4 beds) on Lower Level; 1 private room with Queen & Double, 2nd Private room with Murphy Queen, Large common area for Queen bed(s), 1 full bath, bar, 65" TV, Bar/Kitchenette. Fire pit for quiet groups of 4 maximum. PLEASE NOTE: WE ARE NOT ABLE TO ACCOMMODATE OUR SPACE FOR LARGE, NOISY, PARTY GROUPS. WE ARE GOVERNED BY OUR HOA AND SURROUNDING NEIGHBORS SO WE CAN MAINTAIN THE INTEGRITY OF OUR PROPERTY
We live in a quiet area at end of cul de sac in North Woodmoor with driveway parking for 2-3 cars and garage parking for 1 depending on length of stay. Our back deck has views of the Front Range and Pikes Peak. Our lower level gives families plenty of private space with a TV area (65" screen), wireless, a bar with refrigerator, blender, microwave, coffee pot, double stove top plate, roaster, full bath. 1st Private bedroom with a Queen and Double bed and 2nd Private room with Queen Murphy bed. Open area for 1-2 Queen beds as needed. We also offer our upper level guest room with Queen bed and 3/4 bath which is a separate nightly fee and a separate listing on Airbnb #(PHONE NUMBER HIDDEN), but we have included those photos with description in this listing. Kitchen and laundry use is TBD based on timing and length of stay. Continental breakfast with French Press coffee/tea provided first 2 days of your stay. Plenty of refrigerator space for groceries. We have friendly, indoor animals; a 50 lb lab mix dog and 2 tuxedo kitties. Our back area won't disappoint if you love watching birds of all kinds, hummingbirds in the summer months, rabbits, deer, squirrel. You might hear a distant coyote howl some evening or a fox or bear sighting, it's what unique to our beautiful Mountain area. We will be available upon your arrival to greet and help you settle in. "SHARED SPACE" LISTING EQUATES TO UPPER and LOWER LEVELS sharing space. However, even with 2 private rooms and multiple beds, we do NOT rent the lower to different parties once booked. Our upstairs living space does not overlap with lower level living space except entering/exiting our garage. PLEASE NOTE: WE ARE NOT ABLE TO ACCOMMODATE OUR SPACE FOR LARGE, NOISY, PARTY GROUPS. WE DO NOT ALLOW SMOKING OR DRUGS OF ANY KIND. ADDITIONALLY, WE ARE GOVERNED BY OUR HOA AND RESPECT OUR SURROUNDING NEIGHBORS SO WE CAN KEEP THE INTEGRITY OF THE PROPERTY AS IT IS TO BE ENJOYED; A SERENE/PEACEFUL SPACE WHERE OUR NEIGHBORS AREN'T AFFECTED BY OUR GUESTS. WE DO UNDERSTAND AND APPRECIATE LARGER GROUPS AND WILL ACCOMMODATE THE POTENTIAL INSIDE NOISE LEVEL AS OPPOSED TO OUTDOORS. THAT ALL NOTED, WE DO LOVE MEETING ALL OUR GUESTS PASSING THROUGH ON THEIR VARIED JOURNEYS.
Quiet, 3/4 acre, lots of large pine trees and Pikes Peak and Front Range Mountain views. Our guests need to understand that residents live here for the serenity so large, noisy groups aren't a good fit.
The house is super lovely and Susan was so fabulously helpful with making our stay a wonderful experience !
marybeth
2016-08-28T00:00:00Z
Our experience staying with Susan and Dave was phenomenal. They went above and beyond expectations in every way. I was traveling alone with my four children across country and Susan made sure the sleeping arrangements were going to work for us ahead of time. Dave met us at the base of the mountain late at night to ensure our safe arrival and they had a glass of wine waiting for me! Their home is gorgeous and overlooks Pikes Peak. The beds were extremely comfortable and they had extra touches like a welcome basket but the best part of our stay was the interaction with Susan and Dave. They weren't the least bit put off by four children aged 11-16 and took a sincere interest in them. Their dog was a huge hit with the kids, too. After spending a week on the road, I was weary and sincerely enjoyed the conversation and pampering. As we left, the kids commented that it felt like we had just spent the night at my parents' house. That's how comfortable we all were!!
Heather
2016-04-03T00:00:00Z
Susan and Dave were PHENOMENAL! Extremely accomodating and welcoming. Their home is GORGEOUS and I look forward to someday copying their decor ;). I was stranded in Monument due to the blizzard and booked with them last minute. They even had French press coffee in the morning :)
Arron
2016-03-25T00:00:00Z
Susan and Dave made our vacation perfect. They were easily able to house 7 of us in their warm and comfortable home. The view is fantastic, the sleeping arrangements were amazing, and the experience is one I will never forget. My group and I stayed in the lower portion of their home, which was completely finished with a working kitchen, huge television, multiple beds, and a clean washroom. The mood the house gave off was welcoming and warm. Susan and Dave were kind and considerate, never barging into our living area and leaving us be. They were kind enough to leave snacks and drinks, free of charge, and allowed us to use their firepit each night. The neighborhood is excellent, as well! A perfect view of the mountains and close enough to stores to grab food and drinks. I cannot say enough good things about this experience. I can only wish for my future trips using AirBNB will be this good. To Susan and Dave, thank you so much for your hospitality. It was really out of this world!
Matt
2016-06-27T00:00:00Z
We had a group of three come to our national championships. In the past we had only stayed in an empty house all to ourselves, so we were a bit worried about sharing the house with the owners. We are glad we did. Susan and Dave are amazing hosts, we had the most wonderful time. They even had us for BBQ one night, which we loved. They have great pets, which we saw and played with, but mostly because we like pets, they were never in our space, but we looked for them. All in all it was a great experience, I definitely recommend their place to anyone looking to stay in a quiet, beautiful place, with access to nature and everything else you might need. I talked to my two friends afterwards about how hey felt and they felt the same way. So if you're looking for a wonderful time in Colorado, this is definitely the place to stay.
Francisco
2016-06-24T00:00:00Z
Room Type
Habitación privada
---
Property Type
House
---
Accommodates
8
---
Bedrooms
Monument, CO, United States
Newly remodeled. Hickory wood floor and cabinets. Cozy master suite with personal deck. A chefs kitchen and an awesome living room area. Beautiful entertaining area out side with built in gas fireplace place. Close to i25 and shopping.
Beautiful home and host is very responsive to all of my questions and extremely helpful. I've extended my stay for a week longer.
Carissa
2016-11-19T00:00:00Z
So glad we decided to stay here instead of a hotel! House is so cute, spacious, and easy to find! Adam was very quick to respond with any questions!
Dianna
2017-04-10T00:00:00Z
OK About us first. My wife, daughter, and I are from Florida and were in Castle Rock to visit my cousin and his family and to see the Colorado sights. Secondly, We spent very little time Adam's house. We were up and out the door by 07:30 and usually didn't return until nightfall. Third We prepared breakfast and to-go lunch each day and ate dinner out every night. So... Adam's house was perfect for us. It is a split level with bedrooms above and below the common/kitchen area. The residential neighborhood was quiet in the morning and evening. We saw the neighbors on a couple occasions and they were pleasant. The home has everything you need. Kitchen has standard pots and pans, utensils, dishes. toaster, microwave, skillet, Keurig, dishwasher Washer and dryer on downstairs level meant we could pack fewer clothes. We also took advantage of the garage door opener to load and unload our daily necessities. Unfortunately, our Suburban wouldn't fit in the garage but a standard vehicle probably would. The home is about 6 minutes from the interstate and there is a Walgreens right by the highway which was convenient. Overall, we loved the house and would recommend it. Thanks for letting us stay at your place,, Adam.
Robert
2017-03-23T00:00:00Z
This was my first Airbnb experience and I couldn't have been more pleased! In fact my whole family had the best time! The kids loved the multilevel floors and large bathrooms. Everything was available within a 5 minute drive. Clean, fresh modern home!
Tisha
2017-03-18T00:00:00Z
The location is great! Close to shopping and a reasonable distance to Denver. A quiet location with anything you need. A great T.V. For those cozy nights snuggling and watching a movie. Adam is great, he responds very quickly and is helpful with any questions you have. We would recommend this location for anyone.
Dana
2017-01-08T00:00:00Z
Adam's house is absolutely beautiful and very homey. There was plenty of room inside and out to for my 3 boys to play. The house was stocked with all the necessities and it was a short commute to grocery stores. We saved a ton of money being able to cook all week instead of eat out. Staying here definitely made our vacation even more relaxing and enjoyable. Wish we could have stayed longer.
Lauren
2017-03-31T00:00:00Z
Great location in quiet family friendly neighborhood. Enjoyed my stay!
Andrea
2017-03-11T00:00:00Z
Adam was very hospitable and the house is beautiful.
Carissa
2016-12-04T00:00:00Z
Room Type
Entire home/apt
---
Property Type
House
---
Accommodates
4
---
Bedrooms
Castle Rock, CO, United States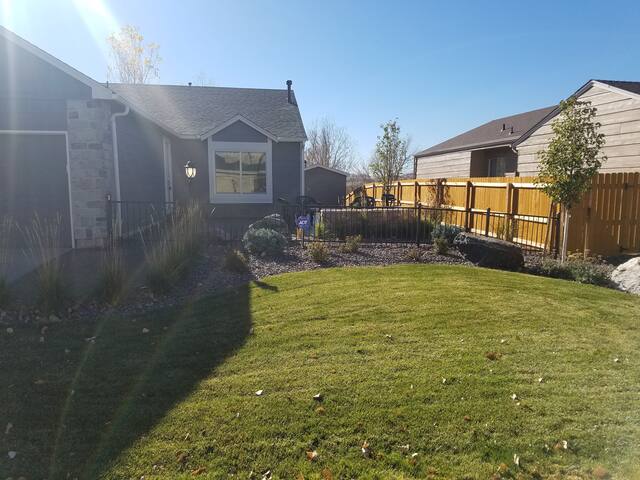 1

–

18

of

33 Home Rentals
Enter dates to see full pricing. Additional fees apply. Taxes may be added.