Overlooking the hills of Matheran and surrounded by mango orchards. This architect Vistasp Mehta designed eco property offers an escape from the city to soak up the peace of nature. Relax, read, play, swim, walk, or simply do nothing. Enjoy simple, healthy country food. Ideal for 6 to 8 adults, not more. During the week 2-3 in guest room. The property is exclusive and the two night weekend package price is good value, as it includes food and warm-hearted service. So please don't haggle !
Sohana is a farm house situated in a hundred acre estate, which you are welcome to explore. In line with the objectives of Modak Van Society, you can learn first hand about nature and see rainwater harvesting and solar power in action' Look out for the notes and guide books on birds, trees and flowers. We can comfortably accommodate six adults in two bedrooms and can sleep eight at a push. Larger groups would have to sleep on two charpois or even the floor and we prefer to avoid that. The house is not ideal for small children with steps, a water tank and unlocked workshop cupboards, so we recommend children should be over ten years old. Water is drawn from the borewell, drinkable and additionally filtered in the kitchen. The house runs on solar power, so you should not suffer electricity outages. During the monsoon we may be a bit more reliant on the grid. We have A/C in the bedrooms which runs on the grid, but we rarely need to use it because the house was designed for natural cooling. During the monsoon and winter we remove the air vent covers and switch the A/C off. The pool is filtered and kept bacteria-free by ozonation, meaning we use very little chlorine and can use the water for irrigation of the trees and plants. The river Pej borders the orchard and has a path to help you explore its banks and rapids.
Nasarapur is a typical small river-side village situated between Karjat (12 km) and Neral (7 km). The hill station Matheran is nearby, as are the Kondana buddhist caves. The nearest shops are a few kilometers away, in Kadav. The nearest places to eat out are about 5 kilometers away. Dada's Grill is near Kadav and there is another good restaurant, Namak, on the Karjat - Neral road, about 14 kms away.
We settled on Sohana for a weekend family getaway from the sordid rush of the city. Getting to Sohana is pretty straightforward. Shabnam, the ever gracious and patient owner , had ensured that with detailed instructions , the (SENSITIVE CONTENTS HIDDEN) map location and a call to ensure we were in the right direction.   Sohana turned out to be everything we had wanted and much much more.  The property consists of a tastefully furnished and well appointed spacious house with all the necessary modern amenities. It is set amongst lush green mango orchards, besides a river which was full and  with the mountains as the distant backdrop. To state it simply, This would be my dream home. The property is eco-friendly i.e. primarily solar powered and backed up with conventional electricity  The household staff(Jayawanta maushi and Ganpat bhau) are extremely helpful and patient. Good and simple people who will take care of you as their own.  The food is primarily vegetarian. Tasty , wholesome and healthy (Jayawanta maushi should get the Best Cook award for the amazing Puranpoli's. Absolutely divine). You can bring along your non-vegetarian fare and the staff will readily assist you in getting that ready. There is a barbecue pit and getting it going and grilling our own meat was a different and fun experience for us. Again the staff will assist you on the same There are recreational options such as a foosball table, table tennis, carom ,the pool and badminton should one get tired of just lazing about blissfully.  At Sohana, we re-discovered, even if for a brief period of time, what it means to be cradled by nature (bird songs, lush greenery, clean air,  ripe mangoes),  the brilliance of the star-lit sky and the value of silence (no noise pollution). It was a very special experience for us. Positive vibes,  relaxing and rejuvenating.  P.S: We got to see pea-hens in the early morning hours, foraging in the lush green orchards Thank you very much Shabnam and Koen
Sunita
2016-05-30T00:00:00Z
Nestled a little away from the nassrapur village, sohana is the perfect getaway from city life. As you enter the estate you are surrounded by lush green trees and a beautiful pathway leading to the house. The pictures on Airbnb do not do justice to the beauty of the sohana house, we entered wide eyed as the place was waaaay beyond our expectations. The first thing that hits you is the beautiful patio with arched brick-wall decor and right on the outside the tank (which is hardly a tank, it was just as good as any pool, minus the chlorine). The rooms are exquisite and tasteful with all amenities. Linen fresh and neatly stacked. Jayawanta (the caretaker) and her husband were always around to help for anything. And the food prepared by her was homely and yum! she even prepared kheer for us on special request. Sohana was everything we wished for and MORE. A special mention of the owners, Shabnam and Koen who were always available for our smallest queries and in making our trip comfortable & enjoyable. And for also having such exquisite taste, we sure are stealing some interior decor ideas off sohana! Definitely coming back here!!!!!
Steffi
2016-06-27T00:00:00Z
This bunglow is one of the best property i have ever stayed in. It was so peacefull that we never felt like leaving even the cook was friendly and made sure our each and evry demand was fulfiled. The river beside the house was the best location to watch the sunset with river trees and mountain in the view.
Rushil
2016-05-25T00:00:00Z
Sohana had been indeed a 'Suhana' experience for me and my group of friends. The house is lot more beautiful than what it appears in the photos. The moment you reach the place and look around it becomes very apparent that lot of heart has been put into creating Sohana. The layout of the house, color, design, selection of the furniture and even crockery is a work of art. As we visited during monsoon, the surrounding was even more beautiful than what it might normally be. It was raining the whole day we arrived at Sohana. The greenery around the house combined with the drizzle made a beautiful picture. The hosts (Shabnam & her husband) guided us during our journey and the location shared made it very easy to find the place. Jaywanta Maushi, her daughter and her husband took care of every need of ours and cooked the food exactly the way we asked them to. We also had the chance to meet the hosts in person before leaving the place and am really glad that we got that opportunity to meet the creators of Sohana in person. This is a perfect place to get away from the hush of the city and indulge yourself in relaxing activities. We even had the chance to have a swim in the pool while it was raining and that for me were the best moments of this trip. Sohana helped me get closer to the nature and shut off from the worries of corporate life for perhaps the best weekend of this year yet!
Nilesh
2016-07-25T00:00:00Z
Sohana as the name suggests was exactly that ..a 'Sohana experience' right from the moment we stepped in we were totally in awe of this beautifully made and maintained place by Shabnam and Koen ..They spent time with us explaining the entire property right from how to use the solar power yes the entire property is run on solar energy to introducing us to her cook who was very very Gd in cooking lip smacking meals for us .. .. In all ,our year end was a wonderful , peaceful and fun experience . The barbeque ,the pool, the home cooked delicious meals and the hospitality will definitely take us back to Sohana..
Nirmala
2017-01-01T00:00:00Z
The feeling that I got while reading the description is what made me want to stay at this bungalow as it was very personal and genuine. I wanted a beautiful home with a pool and good energy. This property seemed like the place where I wanted to celebrate my birthday and the long weekend with my special people. The owner Shabnam is a very nice lady and was always ready to help. As we had a few dietary restrictions as most of us were vegans, she made sure that it was to our liking and explained it to her cook as well. Her husband too explained the route to get to their property with patience. The (SENSITIVE CONTENTS HIDDEN) maps link works perfectly and will take you straight to the house. The house is made so beautifully and you can see that a lot of love and care has been put into this place. Everything has been taken care of. Everything except for the air con works on solar power. This was one of the main reasons we decided to stay here. There's a beautiful dining area in the varanda overlooking the pool, hills and to catch the beautiful sunset. The open kitchen is a fun place to cook with your family and friends. The pool is where we spent a lot of our time and it was perfect to cool off from the heat and playing badminton. They also have a TT and foostable. There's also a barbecue outside near the pool and the coal, wood shavings and Skewers were already kept there. Which made it very convenient for us to have a great vegan barbecue. The two rooms could easily accommodate 8 people. The beds were very comfortable and the bathrooms were nicely kept too. The bedrooms are very cozy and spacious. There's a lot of open space in this beautiful property and its surrounded by trees and hills. As its summer it tends to get really hot during the day but the pool is a great way to beat the heat. The estate is huge and very peaceful. It's very safe and there are a few friendly dogs that guard the bungalow too. This trip was a great break for everybody as we all felt very relaxed and at home. The energy of the place is very positive and welcoming. We are feeling rejuvenated and relaxed to get into the routine of a busy city life. Shabnam and her husband have put their heart into this property and it can be felt in everyone corner of the house. As the couple live there during the week, it felt like a real home with everything available for us. We wanted to leave it the way it was kept when we got there. It's such a beautiful home that anybody who stays there would want to do the same. I was so glad to see that they manage their waste and are into composting. If you're looking for a beautiful property...
Madhuri
2016-03-30T00:00:00Z
Fabulous location. Really appreciated that the owners welcomed us at their home and took time out to talk to us and show us around. Shabnam was very sweet in regularly following up with us as to how our stay was going and if we had any problems. They helpers who came to cook and clean were very friendly and went out of their way to help in whichever way they could. Lots of fun stuff to do in the home like take a dip in the tank, play table tennis or carom and even take a very short walk down to the river. Beds were very comfortable and the house is designed beautifully. Thanks a lot for everything Shabnam and hope to see you soon.
Zarius
2016-09-06T00:00:00Z
Room Type
Entire home/apt
---
Property Type
House
---
Accommodates
6
---
Bedrooms
Karjat, Maharashtra, India
Beautiful 3 bhk villa with a lush garden. A ideal space to relax with family and friends. 2.5 hours from Mumbai. The complex has 2 flowing rivers which are in spate during the monsoons with abundant greenery. The villa has a large deck that is ideal to relax in the evenings and listen to music and have drinks of choice. I find the place a great way to unwind and practice yoga as well as take long leisurely walks. A cook is available with advance notice and can be guided to make desired food.
The villa has a beautiful landscaped garden and affords a lot of privacy being off the main avenue. Hearing birds chirp in an otherwise almost noiseless surrounding gets you one with nature
The village next door is inhabited by helpful and friendly people.
Thank you for the memorable experience :) The house was pristine and well stocked. The music system was off the hook. Overall an amazing experience Thank you Gyan & Mr & Mrs Dhoondu.
Madhav
2017-04-02T00:00:00Z
Room Type
Entire home/apt
---
Property Type
House
---
Accommodates
6
---
Bedrooms
Karjat, Maharashtra, India
A beautiful farm house 1 hr from mumbai and 2 min from karjat station. A place I love and my kind of a place is where we are free and away from the world .(peace and music) a indoor swimming pool where u can have a pool party or just relax. Breakfast,lunch and dinner leave it up to us we take care of that .you just do what you love ... it's the perfect get away .. like they say party all night and day . See you soon
Room Type
Entire home/apt
---
Property Type
House
---
Accommodates
16
---
Bedrooms
Karjat, MH, India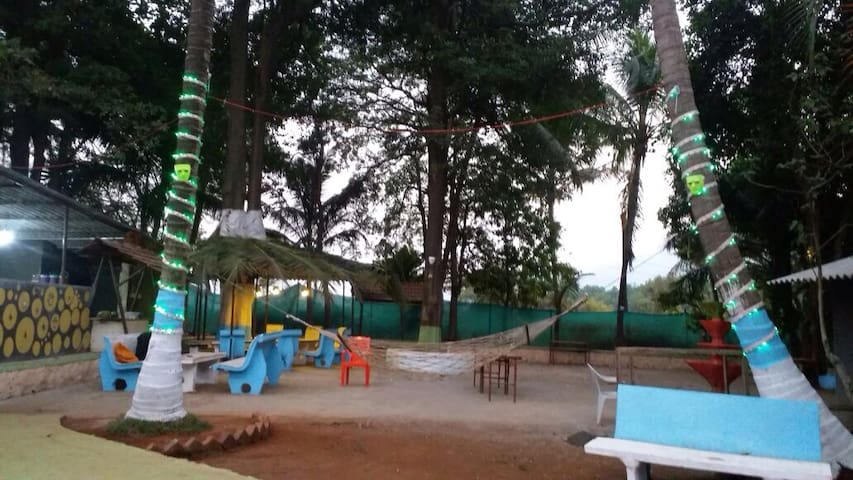 A beautiful 5 bedroom property in 55000sq/ft of land . With beautiful garden and lawn . With scenic view . It's high end luxury villa with the best amenities .
Z villa is 5 Bhk luxurious property built on a plot area of 55000sqft . Decorated with beautiful garden and plants . With best high end amenities . Beautiful , clean and well maintained bedrooms .
It's located just a min away from N.D studio . Surrounded by nature . Vast open fields around . Very peaceful . No noise no traffic away from the busy city life .
Room Type
Entire home/apt
---
Property Type
House
---
Accommodates
12
---
Bedrooms
Karjat, MH, India
-40 to 60 people can do It's Resort so big/small groups can do With food and stay per head cost is displayed -1 breakfast n 2 meals n tea Veg n non veg as per guest choice/ customized/ alacarta we do
Total 11 rooms 9 rooms with 3 occupancy 1 with 5 occupancy And last room with 8 pax Plus one big hall where 20 more people can sleep with extra mattress So according to your group size would accomodate you all. With dj music Tv Pool Kids zoon Day and over night picnic for family and friends Rain dance Dj Don't include mineral water
Room Type
Entire home/apt
---
Property Type
House
---
Accommodates
16
---
Bedrooms
Karjat, Maharashtra, India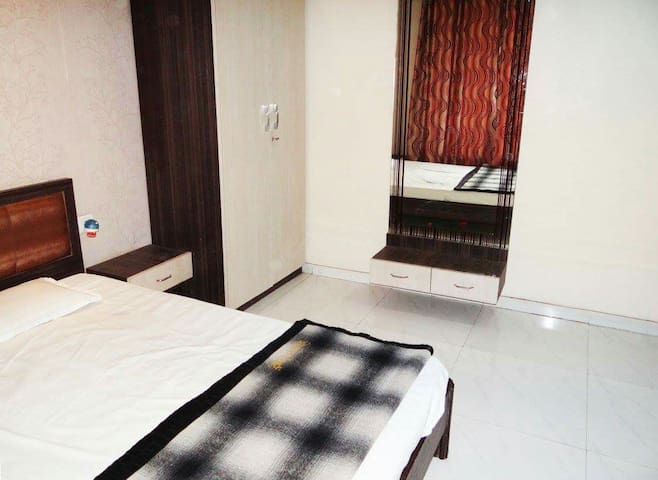 Our 3 bedroom Bunglow in one of the best location of lonavala is a perfect place for a perfect holiday . Ideal place for family outing . At a very peaceful location .With great view right In the foot hills of Tungarli dam . Easy access to the property from the highway .
Unique and cozy 3 bedroom space with neat interior . With a great view overlooking Tungarli .
Our property is located on the foot kills for Great mountain which over looks lonavala city . Very close to Tungarli dam . Perfect place for adventure activity like hiking , trekking and mountain biking .
It's a beautiful property , great location , very easily accessible . The host (imran) was very cooperative and helpful . Rooms were clean . The caretaker was at service all the time . I would always recommend this property . Very affordable at this price . Had a great experience .
Sam
2017-03-17T00:00:00Z
Room Type
Entire home/apt
---
Property Type
House
---
Accommodates
8
---
Bedrooms
Lonavala, MH, India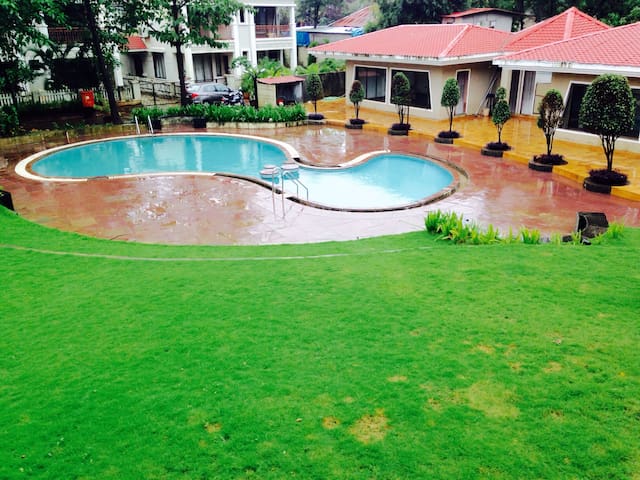 You'll love my place because of the ambiance. My place is good for couples, business travelers, and families (with kids).
Room Type
Habitación privada
---
Property Type
House
---
Accommodates
6
---
Bedrooms
Lonavala, Maharashtra, India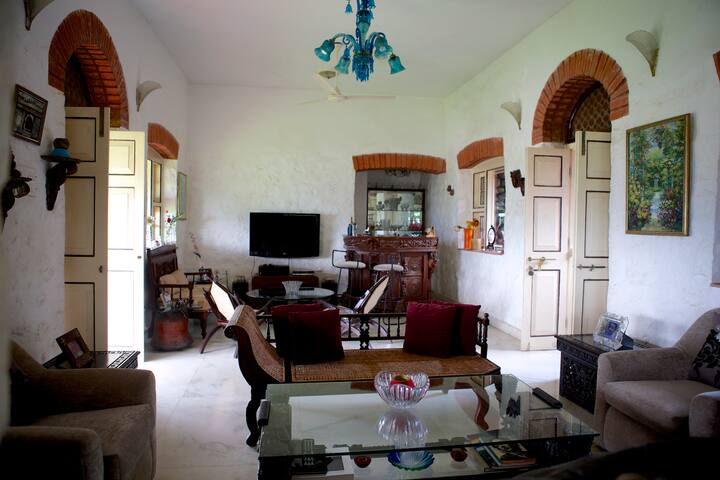 Huge luxurious villa. With Big Swimming pool don't miss out the deal.
Room Type
Entire home/apt
---
Property Type
House
---
Accommodates
12
---
Bedrooms
Lonavala, Maharashtra, India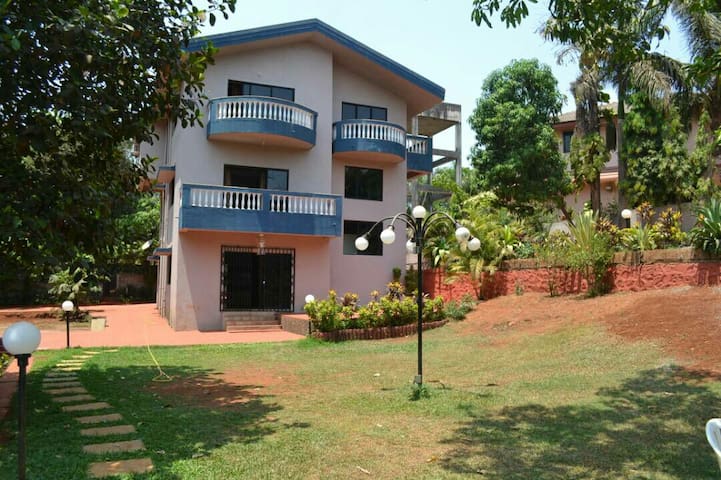 I have 3 bhk 2 bnglows Total 6 bhk 1 bunglow cost 10 k for 12 membrs i have total ac garden swming pool etc great bunglow good view close to highway
Room Type
Entire home/apt
---
Property Type
House
---
Accommodates
12
---
Bedrooms
Lonavala, MH, India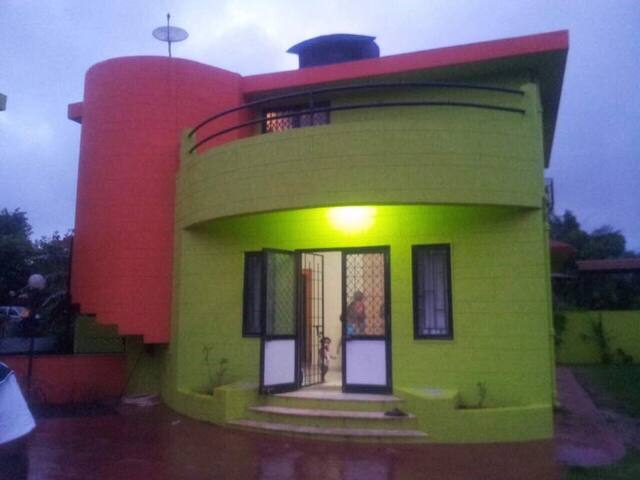 This spacious 2BHK bungalow has a true feel of Lonavala due to its scenic landscape of greenery and mountains. It is perfect for young people looking to party, drink and chill. Caretaker at 24hrs service. Cozy Veranda overlooking the mountains.
This spacious 2BHK bungalow is located in Tungarli, Lonavala next to hotel Lagoona, where everything is easily accessible. It is situated in a private gated complex. The bungalow has a private garden and a cushioned swing. The house is built on the corner, so you will have all the privacy and serenity you may desire. Both the rooms are air conditioned. The master bedroom has a queen sized bed, a spacious bathroom with a bathtub and a private veranda overlooking the mountains with a lush of cool breeze. The other room has a massive sofa cum bed, which is quite comfortable. The second bathroom is located in the living room. There are extra mattresses available on request, we currently have 5 mattresses. (Maximum 12 guests) The kitchen has all the utensils for someone that would like to make a quick meal. The apartment is equipped with a refrigerator, cooking gas etc. Clean pillows, bed linen and blankets would be provided. Kindly message/call me for the directions of the bungalow as it may be difficult to find the bungalow.
All the places are easily accessible by car. There is a mountain right opposite the bungalow with a walking track on it, in case you fancy to go on a trek. The view from the top of the mountain is unbelievable!!! There is a deserted lake, 15-20 minutes walk (depends on your speed ;)) from the bungalow.
It's a great place with nice view from bedroom. It's approximately 1 km inside the centre it's easy to go and get food.
Kush
2017-03-05T00:00:00Z
disappointing
Ganesh
2017-04-09T00:00:00Z
Room Type
Entire home/apt
---
Property Type
House
---
Accommodates
12
---
Bedrooms
Lonavala, Maharashtra, India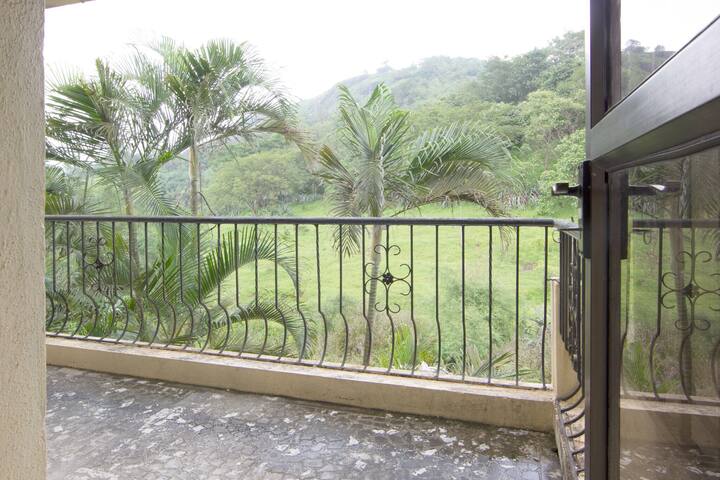 Located in a nook on old khandala road and surrounded luscious greenery, out calm and peaceful 3BHK bungalow with pool is a ideal getaway for small and big groups and families. Our fully serviced property consists of an on call caretaker, 3 bedrooms with attached bathrooms, king sized beds, an open terrace for small get together's, dining area, fruit and flower garden, clean linens, 24 hr hot water facility, functional kitchen with necessary crockery and cutlery, open lawn for kids play area.
Our property is located in the by lanes of old khandala road and is away from the main city and commercial areas which makes it an ideal getaway for guests looking for a quiet place. Our bungalow is a 3BHK and consists of the garden, the terrace, 3 bedrooms with attached bathrooms along with their balconies, the living room, dining room and kitchen area.
Our bungalow is located in a residential area with other bungalows and bungalow society's around. Our bungalow is a independent property and not a part of any society. The neighborhood is very calm and peaceful. Our bungalow is surrounded by greens on 3 sides and that makes plus point for privacy.
Room Type
Entire home/apt
---
Property Type
House
---
Accommodates
16
---
Bedrooms
Lonavala, Maharashtra, India
La Petite Maison is an elfin bungalow situated on a slope in a picturesque location of Lonavala. The doors of La Petite Maison open into a lounge setting with elegant furniture and memorabilia that exudes a warm and old-world allure. The balcony offers a breath-taking view of the valley and the adjacent garden is ideal for a stroll or lazing about.
Two suites are located inside the main bungalow of La Petite Maison. The suites are alive with light colors that bring in the nuances of the outside, seen from the window. Both suites are connected to the hall, kitchen, and balcony. The glass room is an independent part of the bungalow, located at the back. It's three walls are completely made of glass and have curtains within. Activities The house offers several board games and in-house library to venture into. Serving as an ideal base for popular activities around Lonavala, one can visit Tiger's Leap that is an excellent vantage point for views of the surroundings, and enjoy the gushing cool water by sitting on the steps around Bushy Dam. Ryewood garden is a serene place ideal for a picnic. Several trekking and camping spots lie near the Pavna lake, Tungarli lake or Lonavala lake; all abundant with natural beauty.
Room Type
Entire home/apt
---
Property Type
House
---
Accommodates
6
---
Bedrooms
Lonavala, Maharashtra, India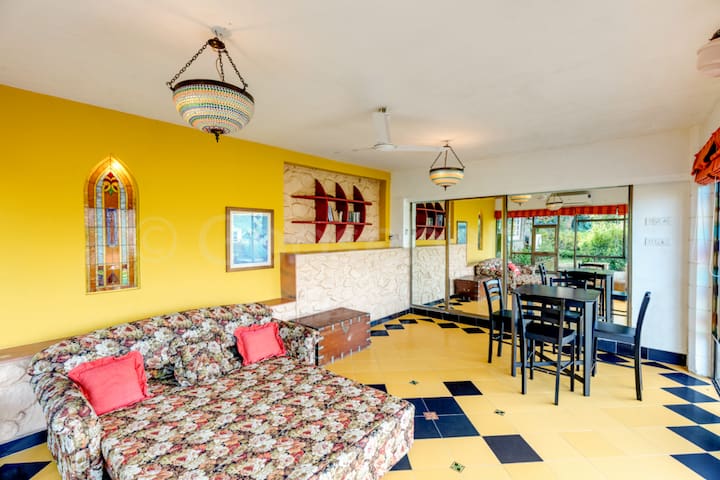 Luxurious and Comfortable villa to stay inn. The lush green beauty of mountains will cherish your day. With beautiful scenic and treaking places near by will allow you to get in touch with natures beauty.
Room Type
Entire home/apt
---
Property Type
House
---
Accommodates
10
---
Bedrooms
Lonavala, Maharashtra, India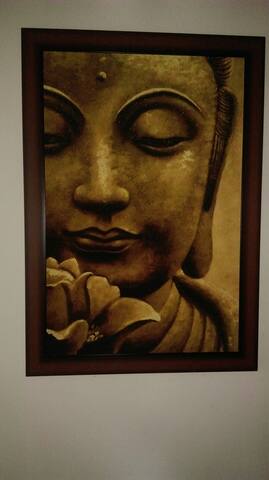 4-bedroom, split level, functional kitchen bungalow in the Nagpal Dream Valley,Khandala. Located in the midst of other Holiday Homes, and plenty of lush greenry, this house is an ideal getaway for a family/group or even a couple seeking quiet time. Also available per room basis.
This house has 2 separate floors: ground floor and a 1st floor. Each floor has 2 bedrooms, each with attached bathrooms. Each floor also has a sitting are, dining hall and a kitchen. It has a beautiful garden surrounding the house and a swimming pool which is operational in the rainy season only.
Lonavala and Khandala both are the hill stations in Pune district in the Indian state of Maharashtra. Khandala is about 3 kilometers from Lonavala. Lonavala is famous throughout India for the hard candy sweet known as Chikki. Lonavala has been blessed with valleys, hills, Milky Water Falls, Lush Greenery and pleasant cool winds. The morning sun rising over here appears as if it is sprinkling rose water all over. Chirping birds gently awaken oneself and all of this makes it a really Good Morning. The whole place is covered with a thick blanket of fog early in the morning; this is how the day begins here. If you travel to the Khandala hill station, one thing is for sure - you will fall in love with it at the very first sight. In fact, most of the people who stay in Mumbai also visit this hill resort on weekends, to forget the daily tensions and let their body as well as their mind relax and rejuvenate. Khandala has been blessed with nature's beauty in abundance. The natural splendor, combined with peaceful surroundings, makes the hill station the perfect holiday spot. Today, Khandala is counted amongst one of the most visited tourist destinations in India.
Loved the place, Arish personally visited us and took care in making us comfortable in his house. The caretaker Kuldip, was very good in making awesome food for our family and looked after us. Definitely recommend to anyone who wishes to visit the place.
Ajay
2015-07-19T00:00:00Z
Room Type
Entire home/apt
---
Property Type
House
---
Accommodates
12
---
Bedrooms
Lonavala, Maharashtra, India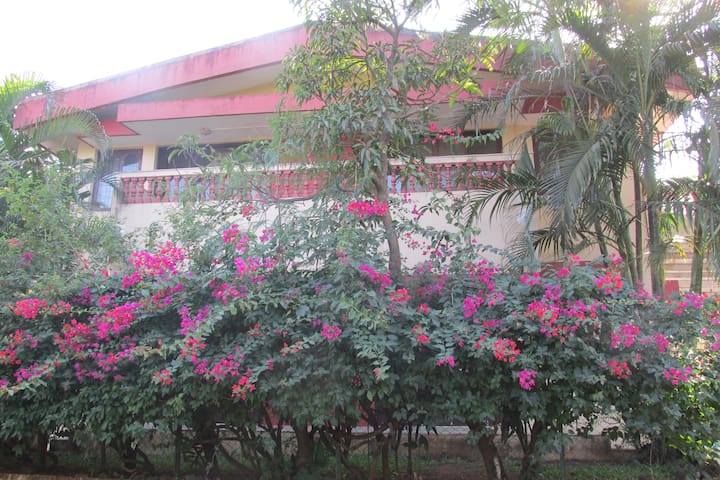 My place is close to the railway station. You'll love my place because of the coziness, the peace and quiet. My place is good for couples and families (with kids). To get around you will need to have your own transport or hire it. The place is away from the market and other busy places and is ideal to unwind and relax. There is a small garden in the front which is a part of the property.
The property is exactly as described by the host, or even better and is very close to Khandala station (bring your own vehicle though, and avoid walking the way across the station after evening hours). The property has a pleasant ambience. The property is ideally suited for families of 4-5 members. The place is not a resort and kids might not find anything to play with esp. in the monsoons, but they do have a swing set in the gardens at the owners bungalow next door. The living room and bedrooms are spacious, queen size beds, they have hot water geysers in both bathrooms, a fridge, water purifier and even a 2-burner cooking unit in the kitchen. However there are no shops close by to the property and I didn't see any public transport at all. The care-takers on the property are a very homely family and cook for the guests as requested, they cook both vegetarian and non-veg indian dishes for breakfast/lunch/dinner. In fact the food was so good that a few of my friends who were booked in to some nearby resorts at lonavla came down for dinner and they loved the food here. This place is close to Lohgad fort (30 minutes drive), Korigad fort (40 minutes drive), Bushi dam (25 minutes drive) and places around Lonavala. Overall a very positive and peaceful experience of staying in Khandala.
Manoj
2016-08-15T00:00:00Z
Room Type
Entire home/apt
---
Property Type
House
---
Accommodates
4
---
Bedrooms
Lonavala, Maharashtra, India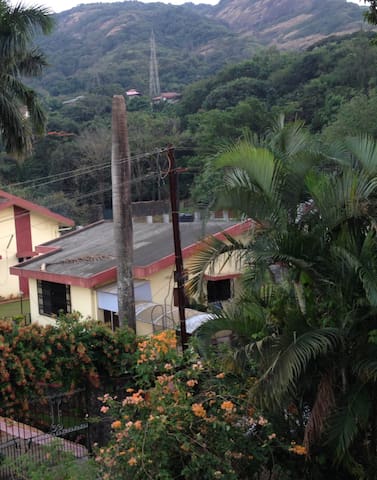 My place is close to great views, parks, the city center, and restaurants and dining. You'll love my place because of the high ceilings, the location, and the views. My place is good for couples, solo adventurers, families (with kids), and big groups.
My place is a large open Garden with one cabin for rent on the property. The cabin was built in 1940 and has an old world charm. it has modern amenities like flat screen tv's and wifi. However on ur holiday at my cabin i hope u will enjoy sitting on the verandah drinking pots of tea watching the Rain. The Garden is shared between the two cabins but there is enough space where u needn't bump into the other people. We have parking for three cars as the driveway is large enough to accommodate them. The cabin can accommodate a couple and a child comfortably. It has a kitchen and my caretaker living on the property will be happy to cook all meals as long as the ingredients are provided for. She is a lovely woman and her family and they all chip in to maintain the property and look after my guests. She will make u pots of our native gauti (indian lemongrass) chai for free. The cabin consist of 1 bedroom with a lock on the door, and a living area with a sofa cum bed. We provide towels and clean sheets. on My property you will have lots of privacy and serenity, wide open green spaces. Come here to relax, rejuvenate. We are 15 mins from the market by car and 2 minute from one of the first five star hotels in lonavala Fariyas where there are a variety of restaurants and entertainment for tourists if u want something a little busy. We are also not too far from the Kaivalyadham which is a yoga and health centre which you may visit for ayurvedic massages and other services. The caretaker will be happy to help you with any of this information.They can also help u with any and all entertainment as well. Renting of bicycles, bonfires in the evening, where to take a fun rain walk.
Tungarli is a beautiful residential area of lonavala with many old bungalows and now is getting very populated with many small boutique hotels . we recommend visiting the Rhythm hotel which is a lovely fun hotel with good food and a lively bar it also has a wonderful spa and is 15 minutes from our cabins and the kaivalyadham which is an ayurveda centre.
Amazing place... If you love nature.. This is it.. Besides, the caretaker is great and very helpful.. Gave us a welcome drink and even did breakfast. The place was so relaxing that we did not want to leave at all expect for lunch the next day. The host Tanisha is very nice and very responsive. She doesn't live on the property but is reachable via the caretaker and everything was new and updated! Must go! :)))
Karann
2016-08-16T00:00:00Z
We loved the place, it was beautiful, exactly how it looks in the pictures. However, during our stay, there was no electricity at night. A couple of bulbs weren't working. Basically, there was a problem with a few amenities that can be solved easily. And if they, it's the most perfect vacation spot to relax! :)
Diksha
2016-08-14T00:00:00Z
This place is definitely worth it. The cabins, the furniture, all the amenities and the caretakers were excellent. Couldn't have asked for a better place. These cabins were very easily accessible and we definitely felt safe staying here. Definitely recommended!
Vikram
2017-01-27T00:00:00Z
Room Type
Entire home/apt
---
Property Type
House
---
Accommodates
4
---
Bedrooms
Lonavala, Maharashtra, India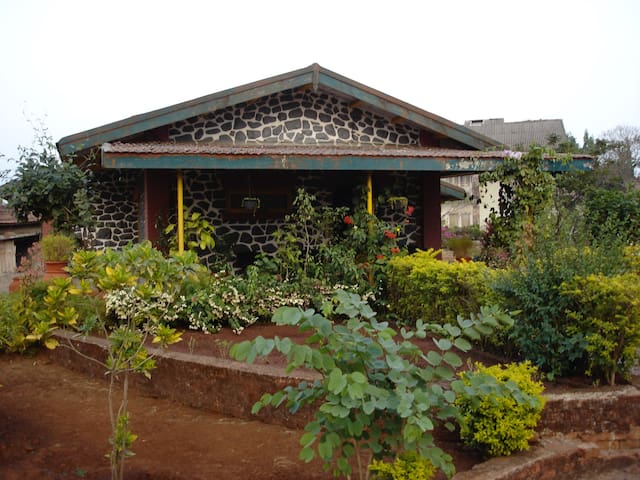 This is a lovely 2BHK home, in a peaceful location at Lonavala. Dreamy and tranquil , this home is a perfect escape.
Room Type
Entire home/apt
---
Property Type
House
---
Accommodates
8
---
Bedrooms
Lonavala, Maharashtra, India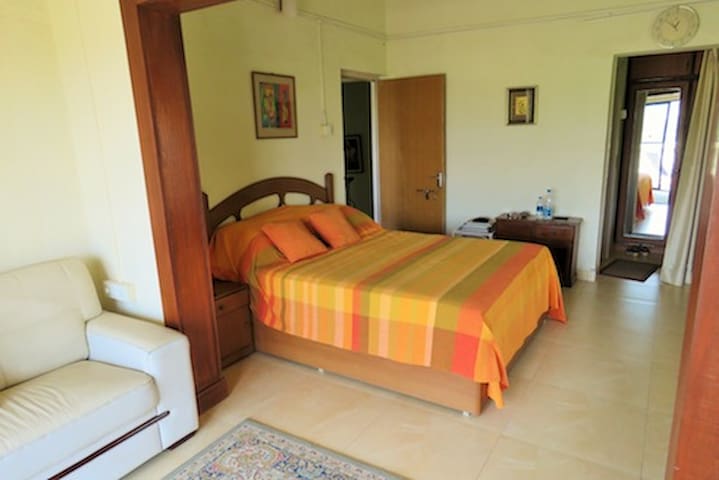 Surrounded by hills,Cool and Comfortable villa to keep your mood fresh through out.
Room Type
Entire home/apt
---
Property Type
House
---
Accommodates
12
---
Bedrooms
Lonavala, Maharashtra, India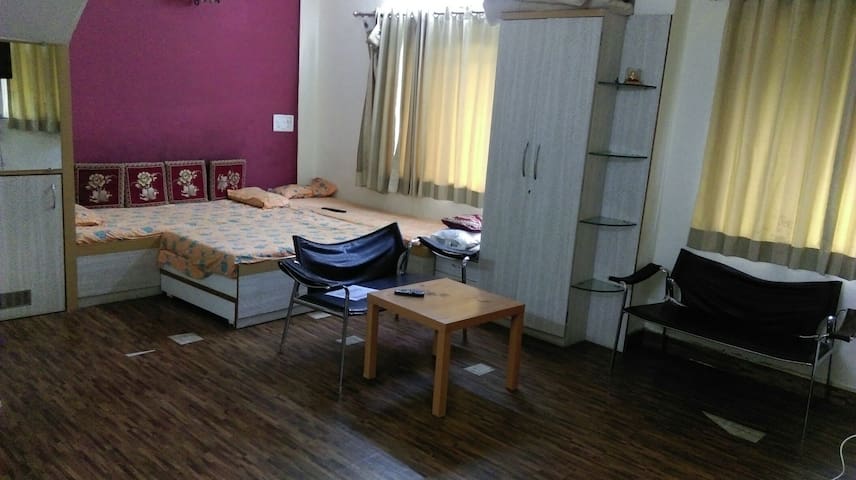 1

–

18

of

58 Home Rentals
Enter dates to see full pricing. Additional fees apply. Taxes may be added.