VIVIENDA TURÍSTICA - CORTIJO RETARTA - CR/MA/00117 - JUBRIQUE 29492
Cortijo Retarta is a large family orientated house, with pool and garden, sleeps min 8 persons, max 13 persons. Private Parking. Ronda 45 Min Malaga, Cadiz, Seville 120 min Granada 180 min The Cortijo at Finca La Retarta is a fine example of an old Andalucia home built to traditional design. Now modernised as a Self Catering Holiday Home, it is ideally suited for groups or family get together's. Enjoy a unique experience of Rural Living in modern comfort with lots of outdoor space. GROUND FLOOR: (sleeps 8 Persons) Room#1 : One Double Bed and Cot, Room#2 : One Double Bed and One Single Bed, Room#3 : Three Single Beds. Salon : Double Sofa Bed (sleeps 2 extra) Kitchen/Dining Room with Fireplace, Salon with Stove, Two Bathrooms. TOP FLOOR: (sleeps 5 persons) Room#4 : One Double Bed, Room#5 : Three Singles Salon : Double Sofa Bed (sleeps 2 extra) Kitchen, Salon with Open Fire, Dining Room, One Bathroom, Roof Terrace OUTDOORS: Swimming Pool and Garden with BBQ, Dining areas in Walled Garden and Inner Courtyard, Citrus and Olive Grove (A Working Finca), Private Internal Parking. La Retarta is situated in the White Village of Jubrique, which is in the Genal Valley, South West of Ronda and North of Estepona in Andalucia, Southern Spain. La Retarta is a luxury Cortijo with very flexible accommodation, that can suit both small or large groups and families. Set on the edge of the stunning white village of Jubrique in the Lower Genal Valley, one can enjoy the best of both worlds (Village Life and Campo). The south western side of the property enjoys tranquil views of the surrounding countryside. The propertie's 3 acre gardens and olive/citrus groves are pleasant to walk through or just to sit in the shade. On the other side of the Cortijo, the street entrance opens to all the amenities of village life with it's shops, bars, restaurants and friendly locals. Retarta is quite a unique experience, providing an insight into both Country and Village life from one location, in the heart of Rural Spain. Jubrique is an ideal location to tour the local countryside. With its wildlife and flora, walking trails, history and culture, Jubrique is very interesting place. It is also well worth visiting the neighboring Villages. Just 45 minutes in opposite directions, you can visit the Costa del Sol at Estepona or for a completely different experience, visit the historic and famous City of Ronda.
Colm is a very nice person and James and Ingrid are loveable people who will assist you with every problem that occurs. Jubrique is a very nice village up in the mountains. With the six little shops to do your groceries you don't need to go far. Algatocin is the nearest village with a large supermarket. Driving to the cost (Estepona or Marbella) will cost you almost an hour. But the house is large and during the summer (35° - 40° Celcius) you live outside on the perfect yard with the pool, everything surrounded with fruit trees. In the summer you can pick your own lemons, in autumn the avocados and figs and in December oranges or mandarins. Meson La Posuela is a very good restaurant (Dutch owners) but you can also eat tapas in most of the small restaurants in the village. We had a lovely time with the whole family (from one year old to sixty). When you drive there from Ronda, make sure your navigation don't send you via the mountain road. You need very strong nerves and mountain-driving experience driving that road at night. We did and still talk about it. So make sure you follow Algatocin (or Gaucin) where you can take the road to Jubrique. We had a very pleasant holiday in the house and thank you Colm, James and Ingrid for the hospitality. Peter-Paul and Jacqueline van den Berg
Peter-Paul
2015-08-10T00:00:00Z
This house, the village, and the landscape around it are phenomenal. One of those rare occasions when you want to give six stars if that was an option. There was six of us who spent four nights here over Christmas, and we very much enjoyed our stay. The house has a lot of character and is comfortable, with good heating (important in the winter!) and adequate kitchen. The fireplaces add extra coziness, and the yard with its view, fruit trees, and pool (although too cold at this time of year) makes it enjoyable to spend many hours in and around the house. The village is charming, with few but good choices for eating out, and the surrounding area is excellent for hiking. The hosts went the extra mile in helping us find restaurants, get firewood, and generally getting our bearings in the village. The house has lots of space, but it might get a little crowded around the dining table if more than 6-8 people want to eat together.
Linus
2015-12-27T00:00:00Z
We had a great stay in Jubrique. It's a wonderful village in a beautiful part of Spain. Colm was a generous host and we'd recommend his place to others - especially groups!
Sean
2016-03-25T00:00:00Z
Just back from 10 glorious days in Jubrique, what a lovely part of Andalucia it is, isolated, off the beaten track and so friendly. The village has great tapas bars and restaurants and the locals were really helpful and welcoming. The house is fantastic, very spacious and grand while also being simple and traditional. Despite being walking distance from great bars it's very private and enclosed with lovely views across the valley. The house and village was exactly as described by Colm who also provided good directions to get there. Key collection was straightforward from Ingrid who lives in the village, the house was cleaned by Maria, a neighbour, and a gardener came most mornings to water the plants and clean the pool. It was a perfect backdrop to a lovely family holiday, can't recommend it highly enough.
Dave
2014-07-06T00:00:00Z
I had all the infprmation I required from Colm and was made to feel very at home in the apartment. Everything was perfect.
Paul
2015-08-29T00:00:00Z
La retarta is a fabulous conversion of a distillery (we were told) in the white village of jubrique. With five large bedrooms, three bathroom, two kitchens, two secluded courtyards shaded by orange and lemon trees (in blossom when we were there in April), a swimming pool and views over the mountains, a place to bring an extended family where everyone can find a separate corner to escape, cuddle, sulk, sew, read, play whatever. We were seven adults and the house could easily absorb seven more. James and Ingrid who look after the place were friendly and helpful. James showed us round the village on our first morning. All the people who we met were pleasant to us, despite our execrable Spanish. Our neighbour gave us a crate of avocados oranges and lemons as we left. The bars were lively just after the easter holiday when we were there and we had an excellent meal at the restaurant on the main road on our last night. Jubrique is quite remote so you would need a car. There are lots of walks in more or less any direction and places where you can bathe in the river. There are signs to a municipal swimming pool, though we didn't actually see it. Ronda is a bit over an hour away and malaga airport two hours. Despite having had bad weather over the three days we stayed in Colm's house (two wood burning stoves and one open hearth fire make it cosy), we left discussing when we would return and who we would bring with us.
Maggie
2015-04-12T00:00:00Z
We were four adults with three kids, and we had a fantastic time in the house. The communication with Cold was perfect since the very beginning and he arranged all our enquiries regarding baby cods, high chairs, etc. Upon arrival Antoñita welcomed us, explained everything we had to know about the house and Jubrique, and she even accompany us to do some grocery shopping in the shops around. The house looks exactly like in the pictures, and the swimming pool is ideal for summer time.
Jose
2016-07-17T00:00:00Z
Jubrique is a beautiful place in the mountains... We enjoyed our stay and we'll be back soon!
mathilde
2013-07-27T00:00:00Z
Room Type
Entire home/apt
---
Property Type
House
---
Accommodates
13
---
Bedrooms
Jubrique, Andalusia, Spain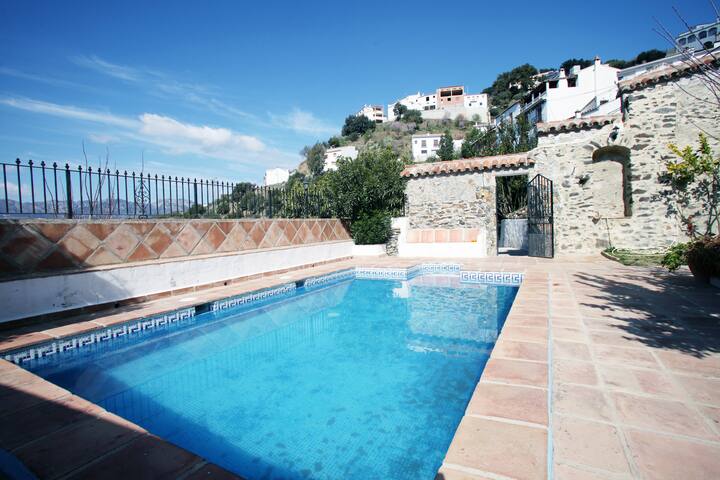 The house is in the countryside 5 minutes' drive from Jubrique. The mill has a lounge with fireplace, bathroom and kitchen. On the second floor there is another fireplace, a bathroom and four bedrooms. El Molino has porch with barbecue and pool.
The farmhouse The Oil Mill is in the countryside five minutes drive from the village of Jubrique in the province of Malaga. The house is ideal for families with children, young or friends willing to spend a dream vacation. The house is located on the outskirts of town, near the Genal river and the mountains. Isolated from other cottages.
Such a welcoming host and an idyllic location. If you are looking for a relaxing Spanish getaway, stay here!
A. Morgan
2016-06-14T00:00:00Z
Room Type
Entire home/apt
---
Property Type
House
---
Accommodates
9
---
Bedrooms
Jubrique, Andalucía, Spain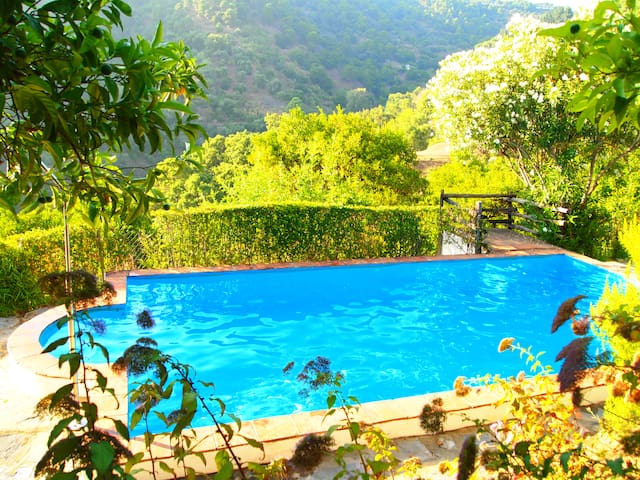 Traditional house situated in Jubrique which is found in an amazing location ideal for relaxation as well as for people looking for adventure and outdoors sports such us cycling, horse riding, trekking or water sports in the Genal river. The house has a living room and a kitchen both with chimneys and fully working equipment and facilities. It is located very close to the main square in which you could enjoy the gastronomy of the area in traditional restaurants and bars.
Pueblo muy pintoresco en la sierra de Málaga que es bastante desconocida pero tiene unos paisajes estupendos. La casa es grande, familiar, con todas las comodidades. La chimenea fantástica. La leña se paga aparte pero muy económica. La acogida de Pepe e Inma fenomenal, llegamos muy tarde debido a que las carreteras son complicadas y era de noche pero nos estuvieron esperando sin problemas. Estuvimos 6 personas holgadamente alojados. Para repetir
Juan Ramón
2016-12-11T00:00:00Z
Casa grande y acogedora. Muy recomendable.
Joaquín
2017-01-02T00:00:00Z
Es un pueblo muy bonito y tranquilo. La casa cerca de la plaza con tienda cerca. El pueblo está en un sitio privilegiado, rodeado de naturaleza y varias rutas para hacer senderismo. Un lujo estar con la chimenea. La casa es muy muy amplia con una terraza con vistas increibles
Mariola
2016-12-29T00:00:00Z
Ubicación muy central y conveniente, mucho espacio, muy bien. Very central location and very convenient, lots of space, very good!
David
2017-03-13T00:00:00Z
Room Type
Entire home/apt
---
Property Type
House
---
Accommodates
8
---
Bedrooms
Jubrique, Andalucía, Spain
Attractions: Hiking. You'll love my space for the views, the outdoor areas, atmosphere, location, and people. My accommodation is good for couples and adventurers.
Room Type
Entire home/apt
---
Property Type
House
---
Accommodates
4
---
Bedrooms
Jubrique, Andalucía, Spain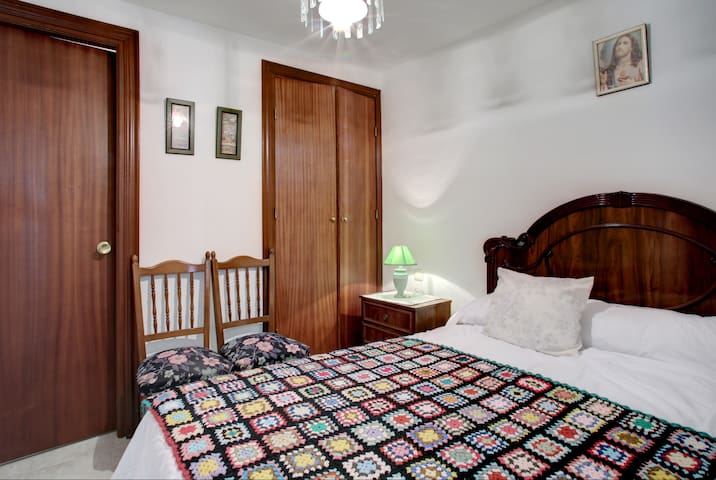 Casa Rebecca is a fully equipped 5 bedroomed house with two sun-terraces, garden and private parking. Perched at the top of the village overlooking the wonderful Genal Valley (adjacent to the village swimming pool) it is idyllically situated.
Ideal location for walkers, bird watchers or just to relax with a drink on the terrace and enjoy the spectacular views.
Jubrique is a charming Spanish White village with a population of 776 very friendly people. Everything you need can be found in the village: Unicaja Bank (open Mon, Wed and Fridays 8:15am until 2:15pm) Chemists (open weekdays from (PHONE NUMBER HIDDEN)pm; Saturdays 10:00-1:30) Baker´s (fresh bread baked daily Mon–Sat (PHONE NUMBER HIDDEN)) Butcher´s (open daily 10:00-3:00; 7:00 til 10:00) Tobacconist´s (open daily 9:00-3:00; 6:30 til 9:15) WiFi - There is open WiFi available in the Plaza área. Village Market (there is a small market every Monday morning on the main road) The tobacconist, baker and butcher also sell other goods and there are 3 other shops with similar opening times, Ramona´s (opposite the butcher), Paula´s (behind the Church) and The Shop (on the main road, Inger at The Shop also speaks English). Places to eat and drink in Jubrique: Mesón La Pozuela The main restaurant is situated on the main road next to the hotel. Where you will get top rated cuisine with "a touch of Andaluz" excellently presented by Barry and Hellen from Holland. We advise you to book as they are very popular: (URL HIDDEN) +(PHONE NUMBER HIDDEN). The Hotel Posada Mirador Jubrique has a bar and serves food. You can also get WIFI access here. Bar 23 - Stop for a drink and a tapa with Rubén and Sarah on the main road next to The Shop. Bar Bajoelarbol (face the town hall in the Plaza and take the street to the left and the bar is just down on the left) is well worth a visit with a great choice of tapas and music. Various other bars are dotted around the village, in the main square is the Plaza Bar, Bar La Parra is located on Plaza La Parra (lined with Seville Orange trees) and on the main Jubrique road you will find Eladios.
Tuvimos una magnífica experiencia en Casa Rebeca para final de año. La casa está genial y la ubicación es ideal para pasar unos días cerca de la naturaleza. La anfitriona nos aclaró todo, y la casa está totalmente equipada. La única pega es la potencia eléctrica contratada, que en invierno y si vais 10 personas, se queda un poco escasa. Por lo demás, todo perfecto. Lo recomendamos!!
Alberto
2017-01-02T00:00:00Z
Casa con espectaculares vistas, amplia, bien equipada y muy confortable . Cuenta con todo lo necesario para pasar unas agradables vacaciones. Muy recomendable para realizar senderismo por el valle del Genal. La anfitriona responde con rapidez a todas las dudas y preguntas relacionadas con el alquiler de la misma.
Lola
2015-11-02T00:00:00Z
La casa es preciosa. Estuvimos dos familias con hijos y lo pasamos muy bien. Tiene una terraza con barbacoa con unas vistas muy bonitas. La casa está decorada con muy buen gusto y nos la encontramos muy limpia. Lo malo que no pudimos encender la calefacción porque nos quedábamos sin luz. Seguro que lo arreglaran. Rebecca es muy amable y nos solucionó todas las dudas que tuvimos. Casa totalmente recomendable
Antonio
2015-12-08T00:00:00Z
Nous avons passé une super semaine et recommandons vivement Casa Rebecca et Jubrique. Dans la maison, nous avons trouvé tout ce dont nous avions besoin. Nous nous sommes sentis comme à la maison. Mes enfants ont particulièrement apprécié la salle qui leur était dédiée, avec plein de jouets et de jeux. La vue de la maison est simplement époustouflante. La piscine municipale est à environ 30 mètres de la maison, et il y avait tellement de choses à faire: randonnées, simples promenades, nager dans la rivière, visiter Ronda et d'autres endroits tels que la Cueva del Gato, ou la Cueva de la Pileta (à voir!!). Le village était animé et les gens étaient accueillants.
Tarik
2015-08-19T00:00:00Z
Room Type
Entire home/apt
---
Property Type
House
---
Accommodates
10
---
Bedrooms
Jubrique, Andalucía, Spain
Beautiful Finca in a peaceful valley close to the parque natural Sierra Bermeja. 40 mins from the beaches of Estepona or the historic town of Ronda. Ideal for walking, birdwatching, or simply enjoying nature and relaxing.
Eco-finca ubicada entre Estepona-Jubrique, cuenta con 3 dormitorios dos baños, dormitorio principal con estufa, salon con chimenea, cocina con chimenea, funciona con paneles solares por lo que el consumo de energia y uso de aparatos electronicos esta limitado al tiempo actual, preciosa para desconectar de la ciudad y para amantes de la naturaleza
Especial para desconectar no tenemos Wifi, TV permitiendo un verdadero disfrute del paisaje, se pueden observar aves migratorias, aguilas, halcones, vida silvestre en general. Tenemos cerca un riachuelo el cual en época podemos escuchar desde las terrazas, microclima propio de la Sierra bermeja y multiples rutas para hacer senderismo, bicicleta de montaña y ecoturismo
We had a pleasant stay at Pago del Higueral. The surroundings of the house are very quiet and peaceful and there are really nice views from the terrace. In the nearby white village of Jubrique (5 minutes by car) you can find everything you need (shops and bars). James was a great host. We asked if the BBQ was possible and he got everything ready for us. Also, we had a minor problem with hot water in the evening and he arrived instantly and sorted it out.
Jana
2015-09-28T00:00:00Z
It is a magical place in the mountains 3 kms from the next village. The best place to recharge yourself. I liked the style of the house.
Petra
2017-01-21T00:00:00Z
James and Ingrid where amazing hosts. They are helpful and very knowledgeable about the local area and wildlife. James offers local tours for bird watchers and nature lovers. One of the highlights of the trip was the wonderful food at the local restaurant Maison la Pozuela is Ella in Jubrique, (3km away) where you will also find shops for supplies. The house offers a "get away from it all" serenity. It's very secluded and often the only sound is of birdsong and the stream in the valley below the house. We had many chats around the wood burner in the evenings. There are clear skies and amazing views of the stars from the Veranda on the top floor. The house was clean, well furnished and comfortable. It's a lovely drive to the stunning city of Rhonda . Five stars from us - we will be back!
David
2015-11-05T00:00:00Z
The host canceled this reservation 3 days before arrival. This is an automated posting.
Julio
2017-03-14T00:00:00Z
Hemos pasado una semana genial en la finca. La casa está situada en plena montaña, tiene unas vistas magníficas y dispone de todas las comodidades. Tanto Ingrid como James fueron encantadores, siempre pendientes de cualquier necesidad que pudiéramos tener. Haciendo un uso responsable de la energía solar no tuvimos ningún problema de electricidad durante nuestra estancia.
Carlos
2015-12-29T00:00:00Z
Una bonita casa de campo en el Valle del Genal, con estupendas vistas. Dispone de dos amplias terrazas con mesas y sillas para pasar veladas al aire libre, disfrutando del cielo y el verde de los castaños, pinos y encinas propios de la zona. Un entorno natural y tranquilo para desconectar y disfrutar del campo. James e Ingrid fueron muy atentos y amables. Volveremos :)
Rocío
2015-07-26T00:00:00Z
Un sitio genial para desconectar enclavado en un valle lleno de posibilidades
Miguel
2016-11-01T00:00:00Z
Un séjour inoubliable dans cette très jolie maison située en pleine montagne et à environ 45 mn de la mer. Des paysages magnifiques dont une vue splendide sur la mer du haut de la montagne en allant à Estepona. La maison est très agréable, spacieuse et dispose de tout le nécessaire. Ingrid et James sont des hôtes vraiment très gentils, aimables, courtois et toujours très disponibles avec qui nous avons échangé de nombreuses fois sur la région et l'histoire du lieu. Nous sommes enchanté! Volveremos!
isabelle
2015-08-21T00:00:00Z
Room Type
Entire home/apt
---
Property Type
Cottage
---
Accommodates
6
---
Bedrooms
Jubrique, Andalucía, Spain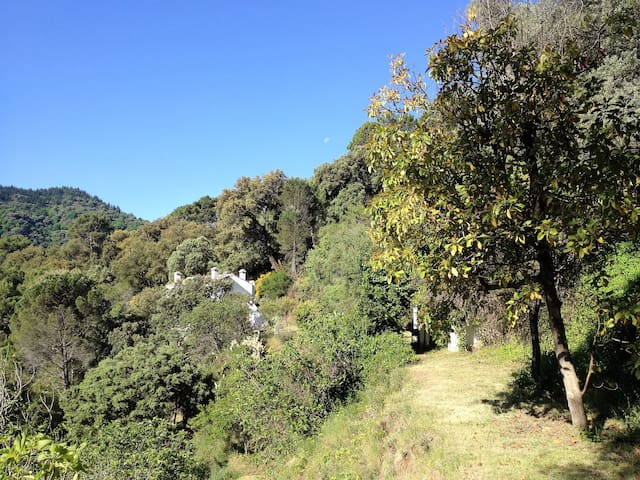 La Puente es idónea para parejas que deseen pasar unos días de ensueño, hacer turismo, senderismo o disfrutar de la gastronomía. La casa dispone de un salón con chimenea, cocina incorporada en el salón, una alcoba y una alcoba y un cuarto de baño.
La casita es pequeña pero tiene encanto, igual que el pueblo.
Thomas
2016-04-06T00:00:00Z
Nos gustó la estancia . Era todo como en las fotos. Encontramos lo que íbamos buscando ,tranquilidad y naturaleza. Lo mejor ha sido María por su disponibilidad en todo momento. Esperamos poder volver.
Dalmacio
2016-04-18T00:00:00Z
Room Type
Entire home/apt
---
Property Type
House
---
Accommodates
2
---
Bedrooms
Jubrique, Andalucía, Spain
Appartement meublé de 55m2 : Cuisine équipée, salle de bain, salle à manger, une chambre comprenant un lit 2 personnes et 1 lit pliant 1 personne.
Appartement meublé de 55m2 : Cuisine équipée, salle de bain, salle à manger, une chambre comprenant un lit 2 personnes et 1 lit pliant 1 personne.
Appartement tranquillement niché dans les collines andalouses entre mer et montagne, perché à 560 mètres au-dessus du niveau de la mer au sud de la Serranía de Ronda à 38 kilomètres de Ronda et à 105 km de la capitale provinciale, Malaga. Ce petit village offre une vue imprenable sur la campagne environnante, c'est un enchevêtrement de petites ruelles et, de maisons blanches, avec piscine municipale et rivières proches (10 mm en voiture). La zone environnante est un paradis pour les amoureux de la nature, avec une abondance de bons sentiers adaptés à la marche et le vélo. Perché sur des montagnes où le climat est rude en hiver, ce village représente un contraste très fort avec la côte, modernisme contre respect des traditions, c'est un lieu de visite pour ceux qui aiment le tourisme en dehors des sentiers battus et situé à seulement à peine une heure de route de la cote, Estepona, Marbella et le détroit de Gibraltar.
La casa cumple todas las expectativas, bonita decoración y completamente equipada, en pleno centro del pueblo. La anfitriona ha sido muy atenta con la comodidad de los huéspedes.
Alberto
2016-02-16T00:00:00Z
Room Type
Entire home/apt
---
Property Type
Apartment
---
Accommodates
3
---
Bedrooms
Jubrique, Andalucía, Spain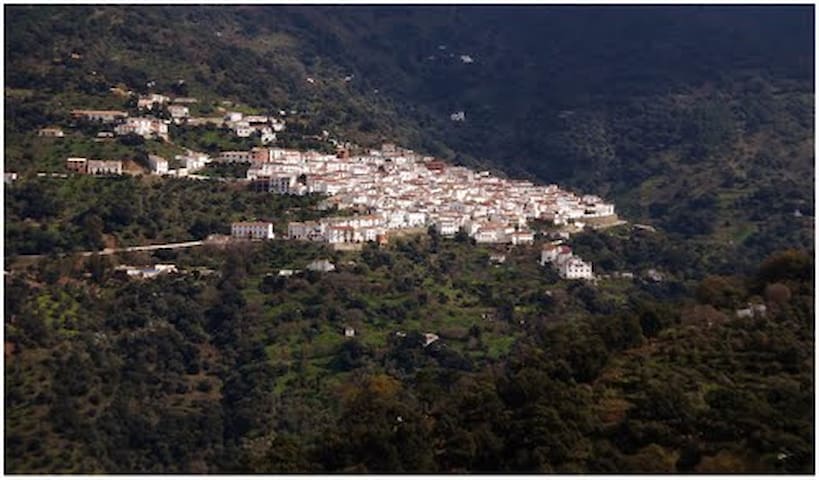 Posada Mirador de Jubrique is a mountain hotel located at the entrance of the town of Jubrique, in the south of Serrania de Ronda and Genal Valley. Opened in September 2012. Posada Mirador de Jubrique offers a friendly relaxed and quiet atmosphere
We have 10 spacious double/triple bedrooms decorated using wooden furniture in a functional style. We also have four superior rooms, ideal for families (up to 5). All rooms have bathroom with bathtub, wardrobes, shoe-removing chairs, desk, ceiling fans, TV with international channels. On the first floor, there are balconies to enjoy the splendid views over the valley and the nearby towns of Algatocin and Benarrabá.
This magnificent place features beautiful villages and landscapes, a privileged area: • Pinsapar del alto de los Reales. 16 km • Peñas Blancas. 12 km • Río Genal con su piscina natural. 4.5 km • Genalguacil (Pueblo Museo). 8 km • Algatocín. 10 km • Gaucín. 16 km • Casares. 22 km • Ronda. 30 km • Júzcar (Smurf village). 25 km • Igualeja. 30 km Activities: To make your stay more enjoyable, we will offer detailed information on all hiking trails (both guided and non-guided), bathing in natural pools and documentation to visit the main natural sites and the most beautiful towns in this privileged setting. You recommend various leisure activities: • Bicycle routes. • Canyoning. • Climbing. • Canoeing. • Adventure activities. • Bird watching. • Mushrooming. • Visit to wineries... We have partnerships with local adventure tourism companies. Activities Summary: Bike riding Multisports Paintball Quads Horse trails Hiking Relax activities Playground Board games Snooker Horse riding Bird watching 4x4 Routes Mountaineering
Room Type
Habitación privada
---
Property Type
Bed & Breakfast
---
Accommodates
16
---
Bedrooms
Jubrique, Andalusia, Spain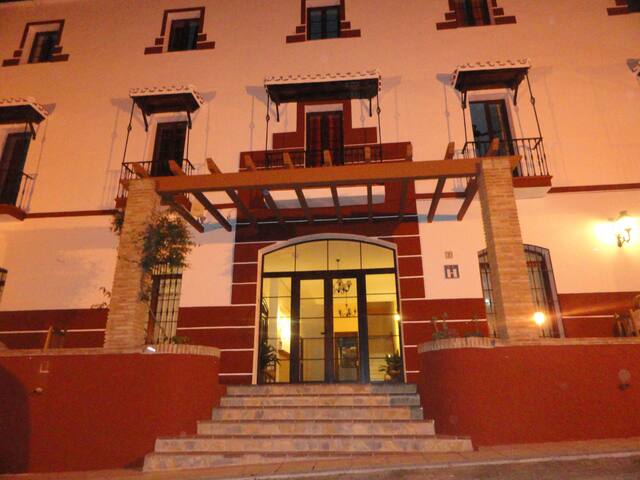 Acogedora casita de piedra, cal y madera.Con espacio para dos personas, cuenta con una un salón con chimenea, comedor y cocina en la primera planta. La habitación y el baño, ubicados en una preciosa buhardilla, conduce a una terraza desde donde podrás disfrutar de unas increíbles vistas del Valle del Genal.
La casa está ubicada en la parte alta del pueblo desde donde las vistas al bosque de castaños y al Valle del Genal, son un auténtico regalo para los sentidos. Desayunar una rebanada de pan a la candela, cenar a la luz de las velas en nuestra terraza, pasear por las calles del pueblo, sentarse en uno de sus bares a degustar una de sus maravillosas tapas, disfrutar de un imponente cielo azul, caminar por las diferentes rutas de senderismo, practicar algún deporte de aventura, disfrutar del olor del horno de leña del pueblo o vivir la fiesta de Moros y Cristianos, hacen que pasar unos días en La Parra y Benalauria se conviertan en unos días especiales.
La casa está ubicada en la parte alta del pueblo, a escasos metros de la plaza principal. El pueblo en general es tranquilo. La zona donde se encuentra la casa es especialmente tranquila, apenas hay tráfico y ruido. Los vecinos, acostumbrados a recibir visitantes, son unos maravillosos anfitriones. Benalauria cuenta con dos aparcamientos, ambos en las diferentes entradas al pueblo. Uno de ellos se encuentra bástate cerca de la casa.
Jesus' place is beautiful! It is situated right at the top of the hill and you'll be able to enjoy the beautiful view up there.There is a little open space right at the roof top of the house which we had our breakfast every morning enjoying the sunrise. The house is very homey and cleanliness is excellent. The kitchenware were new and complete. The host,Jesus is very amicable and made us feel very welcome. We loved that he went the extra mile to get us some locally baked bread during out stay which we thought was very thoughtful of him.:) One of the best host so far!
Jessica
2017-02-05T00:00:00Z
I HIGHLY recommend for anyone looking for a remote little get away. Cute as a button, I hope to be back!!
Shea
2017-03-29T00:00:00Z
This place is amazing!!! The house is so comfy and cozy. Just as the pictures show. There is everything you need! Jesus was very good at communicating and always available. The little village is precios. A very special place. No Tourists at All - only very sweet neighbours and village people. Make sure to try the fantastic restaurant Moliendos! I Will never forget the days here.
Louisa
2017-02-15T00:00:00Z
This was a really nice house to stay in. The 'hidden' roof top garden was a delight and perfect for an evening gin and tonic as well as breakfast. Jesus was a fantastic hoast and had thought of everything, even to sending his sister to deliver a cork screw one evening? True dedication indeed. The town is picture book and the house a great vantage point, the local residents are friendly and we will definitely be back. Highly recommended Malcolm and anne dixon, London.
malcolm
2016-11-01T00:00:00Z
Beau petit village si vous voulez vous relaxer. Maison très confortable pour deux. Vous voulez vous dépayser c'est l'endroit tout choisi. Tout est parfait. La Casa Parra est chaleureuse et relaxante, tout y était pour rendre notre séjour agréable. Notre hôte Jesus a été d'une grande aide afin de nous guider dans notre visite touristique. Vous avez des questions , Jesus est à un coup de téléphone, toujours disponible. vous voulez passer une semaine des plua agréable alors rendez-vous à la Casa De La Parras un incontournable. Une toute petite maison très confortable pour deux personnes. Sans hésiter nous recommandons cet emplacement.
manon
2017-03-16T00:00:00Z
Somos Irene e Ignacio, dos disfrutones de profesión... Fue un placer apagar el móvil y olvidarse del ordenador durante todo el fin de semana. La casita es perfecta para dos, no le falta detalle. Y qué decir de las terrazas y los desayunos frente a la montaña. Jesús es un pedazo anfitrión. Volveremos seguro!
Dogo
2016-12-18T00:00:00Z
La experiencia en general yo la calificaría como inolvidable. He pasado unos días con mi novia maravillosos!! Jesús ha sido un anfitrión excelente, flexible en los horarios tanto a la entrada como a la salida, siempre en contacto con nosotros. Desde la llegada nos dedicó todo su tiempo para enseñarnos su casa y explicarnos todos los rincones que esconde Benalauría (lugares,restaurantes, bares, etapas de senderismo...). No dudéis en seguir sus consejos, es acierto seguro. En cuanto a la casa se encuentra en lo alto del pueblo, con las mejores vistas al valle. Mantiene la esencia y estructura de una casa tradicional con todas las comodidades necesarias (diría que en directo es incluso más acogedora de lo que ya parece en las fotos). Sin duda, espero poder tener la oportunidad de repetir en un futuro, se le recomendaré a mis amigos!!!
Antonio
2016-12-11T00:00:00Z
Jesús fue muy hospitalario desde el primer momento. Nos recogió a la entrada del pueblo y nos facilitó mucho la llegada. Nos explicó perfectamente los servicios del pueblo y los puntos de interés de la zona. A nuestra llegada nos sorprendió con un detalle, pues nos dejó reservado un pan del pueblo para que lo probáramos (riquísimo). La casa es mucho mejor que en las fotos. Es pequeña pero muy acogedora, perfecta para perderse y relajarse con tu pareja. Se respira tranquilidad en cada esquina. Además está muy bien restaurada pero guarda toda la esencia rural de una casa típica. Las vistas son inmejorables, en la ladera más alta del pueblo. Aunque la chimenea no es imprescindible, es recomendable al 100% por el ambiente que crea. Inmejorable. En general, repetiríamos sin lugar a dudas, tanto por el anfitrión, que es de 10, como por la casa, como por la zona en la que se encuentra.
Beatriz
2017-01-08T00:00:00Z
Room Type
Entire home/apt
---
Property Type
House
---
Accommodates
2
---
Bedrooms
Benalauría, Málaga, Andalucía, Spain
The spotless interior and its sunny decor immediately make you feel like you are on holiday A very quiet spot with incredible views, and is the perfect base to explore and enjoy all the fruits the Genal Valley has to offer.
If you are looking for peace in a rural environment, but you don't want to miss out on urban facilities? Then Villa Sila is your place! Villa Sila is situated on the edge of the white village Benalauría, in the mountains of Ronda. It is located right underneath the Mirador, Viewpoint, where you can park your car, walking down only a view stairs (aprox 50m). This apartment is situated on the ground floor of the house, with an independent entrance and a private little garden. From here you can start your walk or bicycle ride straight off into the woodland. The apartment has beds to sleep max 3 people in 2 bedrooms, one bath, and one open plan kitchen - dining area. Washing machine, Television, free Wi-Fi, Central Heating in all rooms available. The village has it all necessary amenities, 3 different bars restaurants,beautician for pampering , 2 little supermarkets, and a bank..And the most important part..Friendly people- What else do you need..??? In august the local fair "moros and cristianos" (Moors & Christians) is celebrated, I also recommend a visit to the neighbouring village of Genalguacil with its permanent Art exhibition. The local Swimming Pool is less than 2km away with stunning views overlooking the mountains. Only open during summer month. July and August. The close by River Genal is ideal for refreshing and walks. (3km walking distance).
Benalauria ist ein malerische Dorf, maurischen Urspungs, in den Bergen von Ronda. Kleine Gassen, Blumen an jedem Balkon und Eingang. Auch ist das Maultier oder der Esel noch ein gängiges Fortbewegungsmittel. Die Menschen sind sehr freundlich und stolz auf ihr kleines Dorf. Schnell wird man mit eingbezogen und man fühlt sich sofort wie zuhause. Auch mangelt es nicht an Bars und Restaurants, Bäckerei, und Fleischerei um die Verpflegung zu garantieren!
Andrea was a wonderful host with a delightful place. The view was spectacular and the village was so charming. We stayed 3 nights and was the perfect hide away. Highly recommend staying.
Hugh
2015-04-16T00:00:00Z
We have enjoyed a lovely week in Andrea's cosy hideaway. It was peaceful. She made us feel welcome. She gave us a tour of the village and she offered help and advice on arrival. We liked the flat and enjoyed the resident geckos and toads. We enjoyed many walks and feel this was a real holiday away from UK. We would like to come back in future. Thanks for a lovely week.
Lisbeth
2015-10-10T00:00:00Z
Andrea's lovely cottage is definitely worth a visit if you want some calm and relaxing days in the mountains. It's also a great place to stay if you want to go on adventures in the area. Andrea was very welcoming and gave us usefull tips about where to go and what to see. We visited several pueblos blancos in the area, the community pool and the pileta caves, and it was all great. Can definitely recommend staying here.
Hanne Sofie
2016-07-27T00:00:00Z
yes yes felt very welcome the cottage is as cute as it is in photos. I loved the purple touches. everything works super well. well equiped. the best accomodation of my entire stay Andrea was helpful with places to eat and a perfect host i will go back
manavi
2015-05-25T00:00:00Z
A lovely, peaceful home in a gorgeous and friendly little village. With two little children we spent nearly every day at the community pool, which was beautiful, clean, and which we often had all to ourselves! There's everything you need right in the village - a couple of little shops for food, a few restaurants, a fascinating little museum and even a tourist office; however a car is recommended to visit neighboring villages and towns like Gaucin and Ronda, both of which are quite close. Andrea was a great host - the perfect mix of helpful and available but never intrusive. The suite is attractive and nice and cool in the heat as it benefits from shade from the orange and lemon trees. The patio area is also lovely for meals or a glass of wine in the evening. Note there are only three rooms (not counting the bathroom) so if you are using the living area as a second bedroom as we were and the bedrooms are occupied (as ours were with our 2 sleeping kids) there is no other place to sit besides the patio table or dinner table. Just something to keep in mind. Thanks Andrea for the lovely stay!
Lindsay
2014-07-15T00:00:00Z
Andrea's hideaway was truly beautiful. We marveled at the view from the house, from the kitchen especially. The house was very cozy. We had a great time in the surrounding area; We hiked a lot and can totally recommend this house when you want to enjoy the beauty and quiet of Andalucía. Andrea was very welcoming to us and provided us with tips about the village (where to eat) and the surrounding area (where to hike). Recommended!
Bo
2016-11-07T00:00:00Z
A very nice house in a nice place.
Peder
2016-08-28T00:00:00Z
The setting is beautiful, the flat tastefully decorated and very comfortable, and Andrea was a great host! Breakfast an added bonus. I highly recommend staying here.
Kristin
2014-04-14T00:00:00Z
Room Type
Entire home/flat
---
Property Type
House
---
Accommodates
3
---
Bedrooms
Benalauría, Andalusia, Spain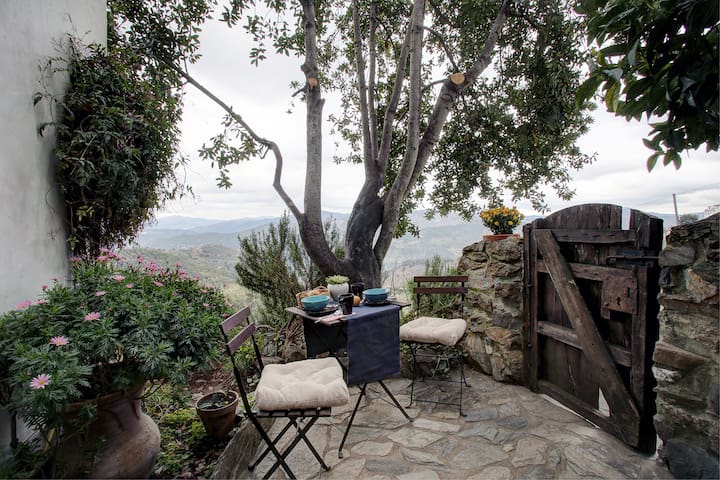 La estancia en El Alambique añadirá un inolvidable recuerdo a vuestra vida. Una inmersión en plena naturaleza y una aproximación a saberes tradicionales de la vida rural, un turismo sostenible que fusiona Naturaleza y Cultura y estimula los sentidos.
El Alambique está situado a las afueras de Algatocín, pintoresco pueblo blanco de la Serranía de Ronda, colgado de la ladera de la montaña y con calles de sinuoso trazado árabe, en su frente el valle del Genal y a su espalda el valle del Guadiaro. Un lugar privilegiado, con vistas espectaculares a cadenas de montañas cubiertas de bosque mediterráneo, quercus, pinos, castaños… En las más de dos hectáreas de la finca los bancales y senderos zigzagueantes, que salvan lo empinado del terreno, son apropiados para sentarse y contemplar el paisaje, para pasear y disfrutar de alcornoques, encinas, madroños, un tejo y también, olivos, almendros, nogales, higueras, viñas, granados, ciruelos, caquis, chirimoyos, cítricos…tal es, que en cualquier época del año hay una o varias frutas para saborear, además de varios bancales de huerta ecológica. Cuando el tiempo lo sugiera...un baño en la piscina. A la belleza natural del entorno, hay que sumar el mágico encanto de la casa, un fascinante espacio etnográfico, se trata de un antiguo molino de aceite rehabilitado con la infraestructura necesaria para su total comodidad, que conserva las piedras cónicas para la molienda, una prensa de hierro y numerosos aperos y enseres para la prensa de la aceituna y de la uva, la destilación del mosto para la obtención de orujo y la fabricación de cera. La casa tiene dos alturas, en la planta superior, un gran salón con una bancada de obra con divanes y una chimenea, una habitación abuhardillada y un baño; en la planta baja, una cocina bien equipada, el comedor con una chimenea de hierro, una habitación y otro baño. Y, ¡para maravillarse!, en el comedor un continuo goteo de agua de manantial llena un aljibe antiguamente utilizado para enfriar el serpentín del alambique , el vaso de agua se puede llenar en el grifo o ¡acercándolo al chorrito de agua de manantial!. Este aljibe desahoga en una alberca en el exterior de la casa junto a un porche emparrado y una barbacoa. Una construcción centenaria que mantiene una temperatura agradable y constante a lo largo del año. Un verdadero sosiego y deleite…
Aún estando a las afueras del pueblo, bastan cinco minutos caminando para estar en la plaza del pueblo, donde dispones de bares, mesones, tiendas de comestibles y carnicerías con excelentes chacinas. La ubicación central de Algatocín en la Serranía de Ronda permite que en un trayecto en coche de diez o quince minutos accedas a otros pueblos blancos, y puedas visitar el castillo de Gaucín, la fortaleza-cementerio de Benadalid, el museo etnográfico de Benalauría, el museo-pueblo de Genalguacil, y también Benarrabá, Atajate... La majestuosa y monumental Ronda está a media hora en coche y las playas de Sabinillas y Estepona a una hora.
We had the most relaxing and wonderful time at El Alambique. The views from the terrace and pool are just breathtaking. And the house is full of character and beautifully decorated. Elena was a very generous host and made us feel really at home. I'd recommend this house to anyone who wants to get away from it all and be surrounded by wonderful views and nature (and amazing river walks!). At the same time the village is just a short walk away so you've got the best of both worlds. We normally don't go back to the same place twice but this is one of those special places I think we'll definitely return to. Thanks for your lovely welcome and hospitality Elena. See you again! Debbie x
Debbie
2016-06-14T00:00:00Z
El Alambique served as a lovely home for us (a group of 10!) for a glorious week, the house has lots of character and catered for all our needs, and space was not much of an issue bearing in mind we were a large group. The surrounding area is absolutely gorgeous with breath-taking views from the pool and other "chill spots" (including the hammock area which we took advantage of in siesta time). Elena was a perfect host and dealt with our every need, you could even say she became our personal taxi driver for a week - as a group of 20-year olds from London none of us drive, and Elena was happy to drop us to the supermarket, the nearby River and other places. She also brought us fresh chicken eggs, cucumber, basil, lemons and other goods from the farm, which we very much appreciated! We would recommend spending a few days down at the Genal River where you can discover hidden streams, waterfalls and lagoons, absolutely beautiful! I cannot stress enough how much we enjoyed our time at El Alambique and recommend it to anyone thinking of going to Malaga. We would 100% go back, especially as Elena is such a fantastic host! :)
Mimi
2016-07-09T00:00:00Z
Amazing house, location, facilities, pool and host. Elena was very welcoming and she also brought us fresh fruit, eggs, vegetables and fruit from her amazing garden. This was our family holiday and we all thoroughly enjoyed it. We went to the local river Rio Genal and walked down it, visited some local caves Cueva de la Pileta and visited the nearby town of Gaucin where we had a couple of good meals. I would recommend El Alambique and definitely want to go back.
Jo
2016-09-01T00:00:00Z
We had a wonderful stay, a perfect base to explore the beautiful surroundings. The house is cosy, a perfect retreat! Elena was a wonderful host who helped make our stay so lovely, she even brought us fresh eggs for breakfast!
Georgia
2017-03-26T00:00:00Z
El entorno es tán impresionante como aparece en las fotos, los detalles del exterior hace que resulte agradable y comodo para disfrutar de las vistas y del precioso huerto que tiene la finca. El interior de la vivienda es muy espacioso y te hace sentir casi como en casa. Cuenta con todo lo necesario para una estancia agradable. Fuimos un grupo de 6 personas y disfrutamos tanto del maravilloso entorno como de la casa. Elena es una anfitriona excepcional agradable cercana y estuvo pendiente de que no nos faltara de nada durante toda nuestra estancia. Recomiendo a toda persona que quiera una escapa en la naturaleza que se quede en El Alambique. Muchas gracias Elena, volveremos.
jose miguel y Javier
2016-03-20T00:00:00Z
El Alambique me parece un lugar espectacular. Molino rehabilitado a vivienda conservando su esencia y gran parte de su construcción primitiva. Tiene múltiples detalles que le dan ese aspecto rústico. Además esta ubicado en un entorno preciso con increíbles vistas a la sierra de Ronda.
Manuel
2017-02-12T00:00:00Z
Un gran acierto el haber elegido "El Alambique" para alojarnos este pasado fin de semana. Un lugar de ensueño, entrañable y con sabor a pueblo, justo lo estábamos buscando para pasarlo en familia. La casa es un antiguo molino rehabilitado con exquisito gusto, que disfruta de unas vistas espectaculares y muy cerca del pueblo con todo a mano. Estuvimos paseando por los alrededores del pueblo. Aconsejamos subir al El Peñón de Benadalid y más si eres aficionado a la escalada (las vías son alucinantes), y con suerte se puede avistar África. También es interesante visitar el pueblo de los artistas de Genalguacil y caminar a la vera del río Genal.. Hay tanto por descubrir en la zona que nosotros nos hemos quedado con ganas de volver. Muchísimas gracias Elena por hacernos sentir como en casa, por tu amabilidad y tus atenciones. Y te felicitamos por tu sensibilidad al crear un lugar con tanto encanto. ¡Hasta pronto!
GUIOMAR
2016-04-10T00:00:00Z
L'alambic est fidèle aux photos publiées et aux commentaires élogieux qui précèdent. Les vues sur la montagne sont époustouflantes (surtout depuis la piscine) et la décoration intérieure et extérieure est soignée avec beaucoup de charme. Le village d'Algatocin est pittoresque et calme et ses habitants très sympathiques. Un lieu à réserver pour les amateurs de plaisirs simples! Alain et Marie-Pierre
alain
2016-08-21T00:00:00Z
Room Type
Entire home/apt
---
Property Type
Villa
---
Accommodates
10
---
Bedrooms
Algatocín, Andalucía, Spain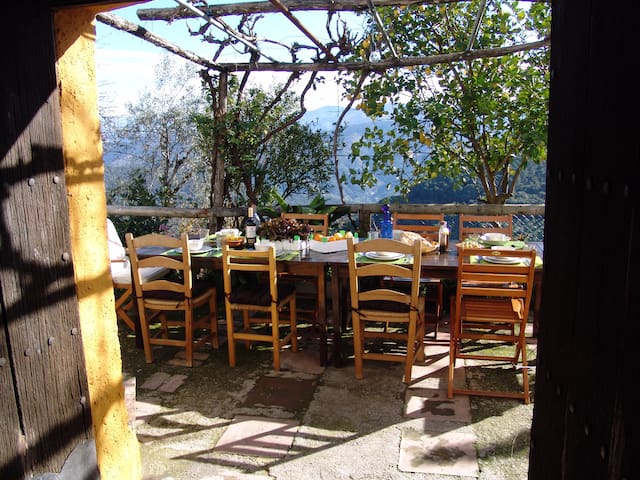 My house is very cozy and spacious, it is warm in winter and cool in summer. Totally equiped. I really like, really comfortable. Located in a town of culture and surrounded by forest and wild animals. I am love nature and animals.
New house construction, was an old bread oven, where all the people took their bread baking. It has heating fireplace with fan rooms so they are warm in winter. A terrace where breakfast watching the landscape of the place is spectacular. easy to maintain.
It is a quiet neighborhood where you can relax without noise. It is a street where no cars ,. That store has a 10 meters and 30 meters doctor. There are several villages around. It is also the Sunshine Coast 35 km, Ronda to 40. There are several hiking trails departing from the village by chestnut trees and cork oaks. With two rivers, the Almachar and Genal, where you can enjoy bathing and wild animals including wild boars, otters, roe deer etc.
Magnificent village!! We loved this beautiful colourful casa. We felt at home right away. Lolita was a wonderful host and even provided a basket of organic home grown leafy greens and oranges. The terrace view was stunning- overlooking the luscious mountains. This stay was one of my favourites from my stay in Europe. I highly recommend it :)
Elle-louise
2016-05-29T00:00:00Z
A lovely house in a quiet village, the streets are full of beautiful works of art and the views are simply stunning. The free car park is two minutes walk away. There is no internet in the house but free wi-fi is available in Plaza Constitucion - one minute away.
Tim
2017-01-13T00:00:00Z
The house is in a very little town right out in the mountains and you will definitely need a car if you want to stay here. It's a little complicated to get to and find the house as you walk from a car park to the house, but once you get used to the town its easier to find. The road leading to the town is very steep and winding. You should also get groceries on your way to the town as there is only a small shop that doesn't stock much but it is right outside. If you haven't got euros before going you should also get euros from one of the bigger towns on your way as the town back won't exchange and you can't withdraw. The town is very very quite in the week, not sure what the weekend is like as we left before then, but there was a small bar open on one night and a market one morning but other than that there is not much going on. There is a meuseum you can visit however it's not open many days but was interesting to see. There is alot of artwork dotted around the town which was fun to seek out and the views were also amazing. The actual house is lovely, three stories with a kitchen/livingroom on the bottom floor, a bathroom and a room with bunk beds on the second floor and a master bedroom with double bed and a balcony on the third floor. Very quirky style and colourful details, definitely her family's home . There is no WiFi and we also couldn't get any data. The living room has a TV and a fire which is the heating for the while house, which you can buy wood for in the town but we never found where to go for this - about €8 for a wheelbarrow full. The kitchen has a new oven which is lovely, it doesn't have a kettle or toaster or microwave but as long as youre okay using the oven for all these things it's not a problem. The kitchenware was a little disappointing as we had to wash it before use and alot of things were chipped or stained. The bathroom has a bath/shower, a toilet and sink. The water is lovely and hot. The only issues we had with the bedrooms were the mattresses were too hard for our taste but overall a good night's sleep. We did experience a slight smell of cigarette smoke in the master bedroom. The balcony is lovely and has an amazing view and we enjoyed mornings and evenings up there. There is a church tower in the town and it chimes every hour and also one chime every half hour. Lolita was lovely but unfortunately does not know any English at all, as we didn't know any Spanish we couldn't communicate all all and we couldn't find out much about the house, town or surrounding area. (SENSITIVE CONTENTS HIDDEN) translate...
Vanessa
2017-02-04T00:00:00Z
Todo perfecto, una casa muy acogedora y un trato excelente por parte de Lola, recomendable 100%
Alberto
2016-12-11T00:00:00Z
Todo muy bien, Lolita es muy agradable, fue muy atenta con nosotros a la llegada. La casa es preciosa,buenas vistas e inmejorable ubicación. A destacar fls aspectos a mejorar: la temperatura de la casa en invierno es algo fría, sobre todo en cocina y baño; y la escalera poco apta para niños. En general, una experiencia positiva.
Montserrat
2016-11-14T00:00:00Z
Lolita fue una excelente anfitriona. Se adaptó a nuestro horario de llegada. Además nos comentó cosas que hacer por la zona y fue muy agradable tanto en nuestra llegada como nuestra salida, y eso que nos retrasamos un poquito. La casa es maravillosa y en condiciones excelentes. Altamente recomendable.
Guille
2016-08-31T00:00:00Z
Todo muy bien, hemos pasado unos dias perfectos. Lola muy bien, muy buena recepcion, y trato. Ideal para pasar unos dias de relax la gente muy agradable, el entorno una maravilla
nuria
2016-10-31T00:00:00Z
Ideal para descubrir el precioso pueblo de genalguacil. Céntrica, tranquila y buena chimenea que calienta las habitaciones. Terraza con preciosas vistas.
genevieve
2016-12-25T00:00:00Z
Room Type
Entire home/apt
---
Property Type
House
---
Accommodates
4
---
Bedrooms
Genalguacil, Andalucía, Spain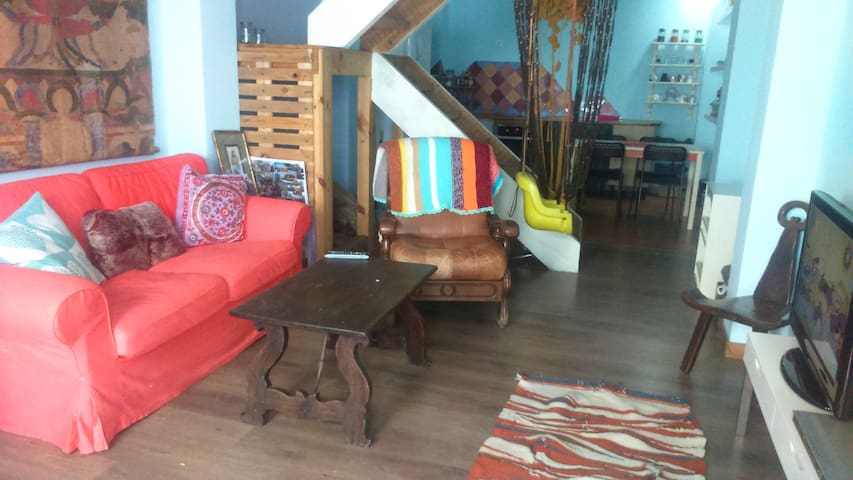 sustainable tourism, these two terms define the horizon of this establishment, which seinserta in the surrounding nature. This house offer the traveler a receipt from the busy city life, in contact with a virgin nature.
Es una encantadora casa rural, muy bien situada y fácil aparcamiento. Es perfecta para pasar unos días y visitar el pueblo o hacer deporte.
Rosa
2015-05-27T00:00:00Z
Danke Francaisco Das Wahr sehr schön bei dir in Schlumpf Dorf super Natur nette Leute Wohnung sauber Pool auch bin sehr zufrieden
Safer
2015-08-20T00:00:00Z
Room Type
Entire home/apt
---
Property Type
Apartment
---
Accommodates
3
---
Bedrooms
Júzcar, Málaga, Spain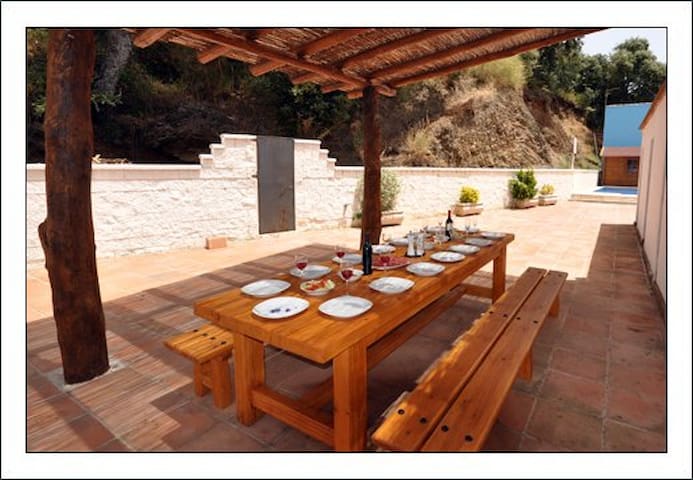 Nice rustic house with a modern flavour in the museum village of Genalguacil, a place where artwork is spread out everywhere and w amazing nature...House w/ stonewalls, bathtub, wooden floors, 2 bedrooms, sleeps 5, spacious and w/ lots of Andaluz sun
This house is a combination of rustic housing with a modern flavour...stone walls to keep fresh in summer, a bathtub to relax all in an environment with a touch of modern style for a bit of colour and spanishness :) There are two private rooms, one with a super comfy double bed and one with two cosy single beds, another room with a single bed in the hallway and our sofa is a sofa-bed so the sleeping arrangement are multiple :) ideal for families :) There are two private rooms, one with a super comfy double bed and one with two cosy single beds, another room with a single bed in the hallway and our sofa is a sofa-bed so the sleeping arrangement are multiple :)
lively neigbourhood with young people
We had a truly magical time in Genalguacil and its surroundings and Carmen's charming house played a huge part in our our comfort, we fell in love with the place! She was a wonderful host, helpful and very welcoming, we felt as if we were welcomed by an old friend : )
Anna
2015-04-07T00:00:00Z
The village is beautiful, I travel many country and villages, this one is standout, Carmen is very nice lady and her home is sweet, if you want experience local people's daily life, you need try this one. Even though driving is kind of challenge but when you arrive the village you know all worth to come. Carmen is so nice, she is very kind and help. I enjoy the one night stay her home and can feeling her big heart. Thanks Carmen for this chance to stay. 卡门人非常好,家里是典型的小村生活环境,要是自己带着菜来,还可以做饭,这里环境太好了,以后有机会还想来驾车有点难度,最好在天黑前到达。她家在44号门牌对着的路下去以后左拐的紫色小屋,最好向她要个地图,从停车处怎么走的。
simon
2015-07-28T00:00:00Z
We had an amazing experience in the Dragonfly House! Carmen made us feel very welcome in her house and showed us around. We had the whole place to ourselves for one night. We fell in love with the house immediately, it is beautiful and has everything that you need. Genalguacil is a lovely little village, definitely worth the visit!
Shiron
2016-02-25T00:00:00Z
The place is amazing. Better than in the photos. Wehad such a lovely stay. I wish we could stay more than one day. Even though we didn´t meet Carmen. She left really good indications how to get to the vilagge and her house! We hope to go back there in the future. The village is also really nice if you wish to disconnect from everything. Thanks Carmen for making us feel at home!
Eva
2015-10-27T00:00:00Z
What a beautiful cozy house in the beautiful little artistic town of Genalguacil ! The owner, Carmen, is a very welcoming host and provides in everything you need in such a warm way...I hope to go here again !!!
hanna
2015-03-02T00:00:00Z
There are no words to describe the Genalguagil experience..wonderful place, wonderful people, and all this small withe houses and narrow streets make you feel like part of a novel. Carmen has been very friendly and kind to us, suggesting place for dinner and amusements of the valley..the house was clean and nice. I suggest for sure this accommodation if you want to relax and get some fresh air in the "caliente Andalusia"..
Mattia
2016-07-23T00:00:00Z
Dragonful House, Genguacil and Carmen are uniquely wonderful. We were in a real home, in a real village with a real hostess. The house is alive with bits and pieces of Carmen's and her children's lives. The village is a surreal blend of "old Algarve" (working cork harvesters w/ mules, pensioners sitting on benches) and contemporary public art (in the Museum and integrated into the architecture and streetscape) - gleeming white - flowering plants at every turn(URL HIDDEN)Carmen has an easy flexibility and a glowing smile. We left something behind and before we realized it was missing, Carmen was in touch with us to make arrangement for returning it. If you're looking for the Holiday Inn, cookie cutter kitsch, and Swiss Hospitality, this is probably not for you.
Jonathan
2015-06-21T00:00:00Z
When we arrived at Genalguacil Carmen was not there but communication with her was very easy and she replied fast. The place is beautiful and really cosy and the village is interesting and provides stunning views from the plaza. The tips that we received from Carmen on restaurants as well as placed to visit were awesome and ensured a memorable stay at Genalguacil.
Marie
2016-11-10T00:00:00Z
Room Type
Entire home/apt
---
Property Type
House
---
Accommodates
6
---
Bedrooms
Genalguacil, Andalucía, Spain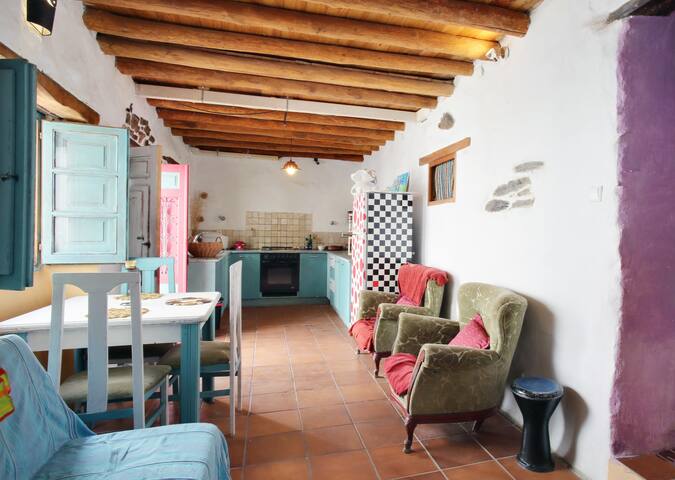 Un lugar único en el que podrás disfrutar de las maravillas donde se fusionan arte y naturaleza en el pueblo de Genalguacil, situado en el Valle del Genal. Un magnífico espacio en un paraje idílico para relajarse, descansar y desconectar.
Esta finca se encuentra situada a la entrada del propio pueblo, a escasos minutos andando. Con capacidad para 6 personas, distribuida en 3 habitaciones, todas ellas con camas dobles, te ofrece las mejores comodidades y el mayor confort para hacerte sentir como en casa. En la planta baja, preside un gran salón que cuenta con una chimenea central con confortables sofás y una mesa con espacio para 6 comensales. A continuación, se encuentra una amplia cocina totalmente equipada con una mesa comedor, un sofá dirigido hacia una chimenea, y con acceso a un cuarto de baño completo. Desde la cocina podras acceder a uno de los porches. Toda la estancia interior cuenta con ventanales grandes que te permitiran disfrutar de la naturaleza en la que la finca se encuentra enclavada. La primera planta cuenta con un precioso estudio de madera maciza, diseñado para relajarte pintando, estudiando, o cualquier uso que quieras darle. Seguido, se encuentra un cuarto de baño completo, las 3 habitaciones y al final del pasillo un acceso con su escalera hacia el exterior. En la primera habitación, cuentas con unas vistas maravillosas a todo el Valle del Genal, equipada con una terraza y un balcon muy amplio donde te perderas viendo este increible paraje. La segunda habitación, contiene un porche individual, con acceso al exterior, realmente acoger. Dicha habitacion contiene una chimenea. La tercera habitación tiene un balcon con vistas a dicho valle. Todas las habitaciones disponen de armarios empotrados, los cuales llevan espejos y conexion a TV. En toda la finca puedes disfrutar de wifi. Y es que, si el acogedor interior de la casa te ha escandilado, el exterior no te dejará indiferente. En el porche continuo a la cocina, podrás preparar una rica barbacoa o relajarte mientras ves las puestas de sol, o las maravillosas estrellas nocturnas... Una experiencia que no te puedes perder! Extras: -Desayuno: 7€/persona - Comida: 14€/persona - Cena: 14€/persona - Leña: 5€/canasta - Barbacoa: 16€/persona Toda la comida será elaborada con productos de nuestro propio huerto, o bien de la zona, siendo productos de temporada. Somos muy generosos, nos encargaremos de que no te quedes con hambre. Si decides por optar a comer, nos encantaría saber que es lo que te apetece... o lo dejamos en las manos del chef, tú decides! Al hacer la reserva se se ruega que se informe si decides optar por algunos de los extras.
Tendrás una experiencia inolvidable y realmente grata, donde no te faltarán motivos para querer volver a vivilar.
The host canceled this reservation 84 days before arrival. This is an automated posting.
Michele
2016-02-10T00:00:00Z
It was absolutely wonderful to stay at Teresa's home. We arrived late due to some uncontrollable situations and Teresa accommodated us in every way. We enjoyed the best meal of our trip that evening as we were graciously served by our host even though , due to our late arrival, we did not finish until after 11:00. Her home is immaculate and the surrounding country is beautiful. the drive itself to her home, and the drive leaving are spectacular. If you like quiet, then this is a place you must visit. Thank you Teresa.
Ron
2016-04-28T00:00:00Z
Theresa is very welcoming and has a beautiful house. She is also a great cook. We had a great stay there.
Alexandre
2016-04-23T00:00:00Z
In 1 word: paradise! We felt at home in this beautiful house in the mountains of the lovely village Genalguacil. We had a lot of fun with the very enthousiastic dog and cats. Teresa felt like a mother, such a sweet and caring woman. And the breakfast and dinner were amazing, best we had in Spain. Everything out of her own garden. Thank you so much Teresa!
Veerle
2016-05-03T00:00:00Z
We just spent a night at Teresa's place and had an amazing time! She was very welcoming and hospitable. The three nice guestrooms share a clean and fully equipped bathroom. Her impressive house (which is worth a visit for itself) has also nice indoor and outdoor common areas. The dinner and breakfast she prepared was mostly out of her own garden and tasted delicious! The nearby town has nice pieces of art and the area around is nice for hiking and relaxing. Absolutely a recommendable host and place! We wish we could've stayed longer
Alexander
2016-03-07T00:00:00Z
Teresa is a delightful person and a wonderful host in every way. If you enjoy beauty, art, peaceful country settings with amazing views, a few animals to pet, lots of space, great food, and comfortable accommodations, you will love this place. Everything was superb; a visit we shall remember with fondness and if I find myself in the south of Spain again, I will definitely be back. I highly recommend Teresa's place and if I could, I'd give it a 7 star.
Alexandra
2016-05-18T00:00:00Z
This place is wonderful! The mountains and the villages are beautiful. Not to mention the starry night. Ronda and other sights are close. Teresa is the best, and she cooks so well. We felt like a part of her family. This was faar the best place we have visited in Andalucia. Our daughter is still talking about it.
Bence
2016-04-02T00:00:00Z
Had a nice, peaceful stay at Finca Emantejo. Teresa was a gracious host. It is truly a magical place. The surrounding area is a great place to hike and explore, and as rustic and peaceful as you will find in Spain. Be aware you will not be able to cook your own meals, but Teresa is a great cook, so don't worry.
Brandon
2016-05-25T00:00:00Z
Room Type
Private room
---
Property Type
Bed & Breakfast
---
Accommodates
6
---
Bedrooms
Genalguacil, Andalucía, Spain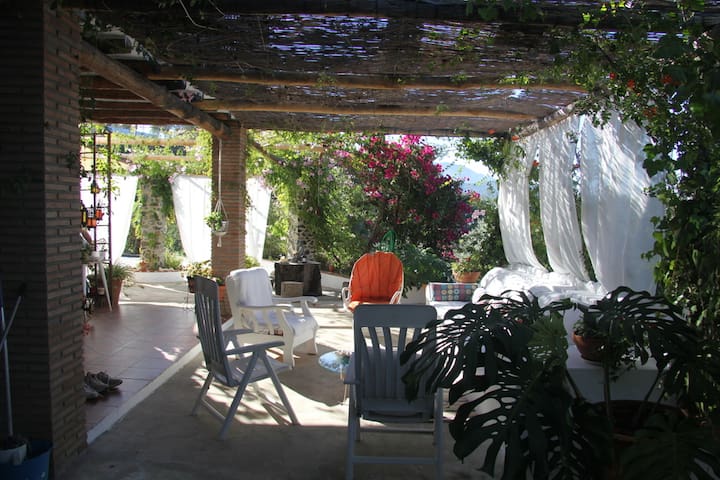 "Tierra" es una habitación privada, para 4 personas, integrada en el proyecto de sanación de nuestra ecoaldea, la casa de retiro "Los Cuatro Elementos", en el corazón de un frondoso bosque, lugar de sanación y armonía con la naturaleza.
Habitación "Tierra" un cobijo construido con materiales naturales del lugar, una casa viva en conexión directa con la energía sanadora e inspiradora de la Naturaleza. Integrada en la Ecoaldea "Los Guindales", dentro de nuestro proyecto de sanación de la Casa de retiro "Los Cuatro Elementos". Pueden alojarse hasta 4 personas. Equipada con sábanas, edredones , toallas y estufa de leña. La Ecoaldea en un proyecto común basado en valores de respeto entre los seres humanos y su relación en armonía con la Naturaleza
Nos encontramos en un bosque de una gran biodiversidad, a unos 15-20 minutos caminando al pueblo de Algatocin. Rodeados de una gran red de veredas de senderismo que conducen al río Genal, otros pueblos de origen bereber y bonitos lugares en el bosque. Muy cerca de la cueva prehistorica "La Pileta", cueva del "Gato" y la ciudad soñada de Ronda.
Great, inspirational place in pure nature. You can hike all you want, wander around through fields of wildflowers or just sit back and relax the views. África is a wonderful person and cooks delicious meals. The nearest village is a 25 min walk away. The room I stayed in was nice and had a comfortable bed. The place has everything you need. I would recommend it to anyone who loves to stay in a natural environment.
Anne
2016-05-04T00:00:00Z
此房深藏山中,从最近的阿尔加托辛村沿山路下来约需15分钟。房主热情好客,我们是她接待的第一批房客,通常她们只接待朋友,特别是有一些同好的朋友,一起修炼身心。我们入住那天正好碰上了几位,一同渡过了一次非常愉快的晚餐时光。如果你喜欢山居的幽静和山间清新的空气,也能够接受山居的朴素, 不妨来小住。 此地离龙达40公里左右,是游玩龙达的另一类选择。
Alan
2015-01-03T00:00:00Z
Gastvrouw Afrika zorgt ervoor dat bezoekers, vrijwilligers en gasten zich thuis voelen in de Ecoaldea. Je hebt gelijk zin om dit thuis verder mee te helpen opbouwen. Daarvoor krijg je een ding... rust. De kalmte van de plek, het enthousiasme van de woongemeenschap, het uitzicht en alle gelegenheid voor retraite, meditatie of therapeutische sessies doen de rest. In Los Guindales kom je tot jezelf. Voor ons een plek om zeker terug te komen.
Kira
2016-04-11T00:00:00Z
Room Type
Private room
---
Property Type
House
---
Accommodates
4
---
Bedrooms
Algatocín, Andalusia, Spain
Casa increíblemente espectacular en pleno valle del genal la localidad de Benalauria para un finde semana para un par de parejas desconectar ruta de senderismo bicicletas y por desconectar de las grandes ciudades el entorno es maravilloso
Room Type
Entire home/apt
---
Property Type
House
---
Accommodates
8
---
Bedrooms
Benalauría, Andalucía, Spain