This suite will be a perfect home away from home. It will accommodate 3 guests if needed. Inside the suite you will have a TV, desk, queen memory foam bed and couch for an additional child or small adult. We are within walking distance of all dining, walking trails, Stanislaus college, coffee shops Starbucks included, downtown shopping and dining. We are located in between San Francisco and Yosemite. It's a great pit stop in a wonderful small town to relax in between cities.
I have the room set up like a hotel room that includes a frig of snacks with drinks, fresh muffins for your coffee in the morning, sitting area with TV that has amazon prime to order movies or watch on Dvd's. A cozy fireplace is in the room with a sitting area and a soft couch to cozy up for the night or early mornings to relax. There is also an iron, first aid kit, drawer full of bathroom amenities shampoo, qtips etc to make your trip convenient with every detail thought of. Queen memory foam mattress and desk to complete this room. The bathroom says shared only because it's not inside your room but it will mostly be used only by you when you stay. There is a nice clean laundry mat across the street for easy convenient. You can do 6 loads in 45 minutes. It's great. Pets and smoking are ok. Even though I don't do or have either. Smoking can be done outside. The home has never been smoked in. Pets can be outside. I have a secure yard for them to stay in. Your room has an exit to the backyard so it will make easy for you to take care of them.
You can literally walk to anything. Everything is within a 1 mile radius, dinning, stores, parks, Starbucks.
Wow! Angela had an incredible home to share. It was beautiful. I also can't say enough about how she was as a host. She was so warm and welcoming, and offered so many amenities. Check in was a breeze! She had a list of recommended places to dine and we walked to the Italian restaurant and it was delicious. I highly recommend.
Frankie
2017-04-02T00:00:00Z
Angela was an excellent host, and this was honestly the best airbnb experience we have had so far! She provided everything we needed and so much more. Thank you for welcoming us into your home!
Emily
2017-03-20T00:00:00Z
Angela doesn't miss a thing, From the moment I walked into the space I noticed an abundantly prosperous heart. She went above and beyond the expectations that I had by providing a number of "extras" that even I don't offer in our own AirBNB. And her ease and comfort in relating to us was a welcome addition to making us feel welcomed and special. The facilities were separate from the main living area w/a private entry and a space where you could be social OR totally private. Loved it. When I return I hope to stay here again. I highly recommend it.
Ronald D
2017-04-01T00:00:00Z
Angela's home is stylish, modern and pleasant. Instructions and directions are clear. She thoughtfully provides everything you would need for your travel (bath toiletries just in case, iron, hangers) and treats too. The room has a cozy couch and electric fireplace (has the feel of a suite) and access to the backyard. TV with internet and DVDs too. Also, it was nice to have coffee available in the morning. We had a very nice and easy time!
Andrea
2017-04-09T00:00:00Z
I needed a place to stay for work that was close to CSU Stanislaus, and Angela's place was perfect. I booked it for the convenient location, but it turned out to be a lovely oasis: the room is a comfortable suite, with a sofa and tv, desk, and bed; it's right off the kitchen and close to the bathroom. I didn't actually meet Angela--too bad, because she was very friendly in her communications--but the privacy was nice. I'd definitely go back.
Jennifer
2017-03-30T00:00:00Z
Angela is a wonderful host and the room/house just as described. Will definitely return.
Amy
2017-03-26T00:00:00Z
Room Type
Habitación privada
---
Property Type
House
---
Accommodates
3
---
Bedrooms
Turlock, CA, United States
This a private bedroom for two guests with a private bathroom (hallway location but only sometimes shared) in a 3-bedroom two-story house occupied by owners. The bed is a full. Wireless internet, cable (living room), and street parking are included, as well as laundry, if needed. The neighborhood is quiet and safe. *Please contact me before booking the room. There is also another room that can booked for two extra guests on some dates, should it be needed. Thank you!
This a private bedroom with a private bathroom (hallway location but only sometimes shared) in a 3-bedroom two-story house occupied by owner. The bed is a full. Wireless internet, cable (living room), and street parking are included, as well as laundry. The neighborhood is quiet and safe. *Please contact me before booking the room. Thank you!
I spent two nights in Turlock while visiting Yosemite National Park. Eduina has a great place to stay and is a fantastic host, very friendly and communicative. I can definitely recommend staying at Eduina's, and, of course, enjoying the great National Park!
Marc
2012-09-22T00:00:00Z
Just came back from the US trip. It was a good start for the trip as we were welcomed to this lovely place for the first night. Pity that we didn't get to meet E. as she hurt her back, but her husband stayed up and waited for us. The room was nice and clean, so was the bathroom. Parking was easily found on the street. Quiet neighbourhood.
Wimero
2016-04-30T00:00:00Z
A wonderful experience; exactly as advertised. My host was charming and very helpful. Thank you.
Deborah
2013-11-23T00:00:00Z
This was our second time staying with Eduina and we had the good fortune to meet her in person this time around. She is a wonderful, welcoming Airbnb host who makes her guests feel at home. The guestroom we stayed in was the same as last time and both the bedroom and the private bath were very neat and clean. She always provides her guests with special touches such as toiletries, snacks and reading material - like a first class hotel! We will definitely stay with Eduina again!
Annette
2014-11-29T00:00:00Z
Eduina was wonderful! We arrived later than planned and she still welcomed us with a smile. Although we were only there to get some sleep for a few hours, the bedroom was beautiful and clean. She even supplied us with fresh towels for a warm shower. Overall, great stay!
Bethany
2014-11-10T00:00:00Z
welcome and comfortable
Nancy
2016-06-01T00:00:00Z
Nice room. Great value.
James
2016-09-11T00:00:00Z
Checked in, and got a recommendation for a local restaurant that was great. E was a wonderful host going above and beyond welcoming me even introducing me to public transportation for the fist time. She knows where everything is and will make you feel right at home. The house is very clean and modern, no pets. The neighborhood is quiet and safe. I highly recommend staying at E's place for a home away from home.
susanna
2016-11-15T00:00:00Z
Room Type
Habitación privada
---
Property Type
House
---
Accommodates
2
---
Bedrooms
Turlock, CA, United States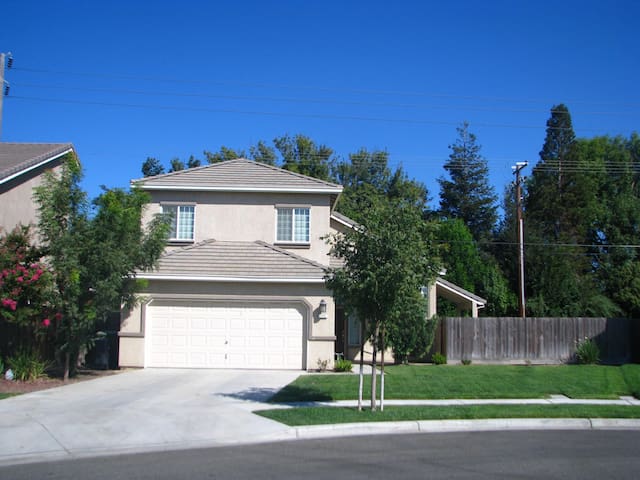 Great Remodeled 2 bed 1 full Bath home In Turlock... walking distance to bars, shopping, downtown ; Restaurants, THS, Emmanuel Medical & Much more...
Cozy home newly remodeled ... new pics coming soon... huge yard .. walking distance to shopping , Downtown Turlock ect
Room Type
Entire home/apt
---
Property Type
House
---
Accommodates
4
---
Bedrooms
Turlock, CA, United States
Our place is located 3 minutes from Emanuel hospital and 20 minutes from Modesto hospitals. Very close to grocery stores and shopping areas. Near downtown Turlock where most restaurants and entertainment are located. You'll love our place because of the quiet neighborhood, the comfy bed, the kitchen and the green backyard which invites you to relax and unwind. Our place is good for couples, solo adventurers, business travelers, families, and big groups that need temporary accommodations.
I arrived very late and we ended up having one extra guest!! The host was very accommodating and friendly. I wished the layout of my house was like this.. very quiet neighborhood and I will definitely be renting again if they let me!!
Patty
2016-08-08T00:00:00Z
Boris and Claudia were always available to answer our questions. Their house was clean and inviting. Our family slept comfortably in their own, comfy beds. It was nice to have our own home to go back to at the end of the day. Thanks for making our visit perfect.
Monica
2017-04-09T00:00:00Z
We had a lovely stay at Boris and Claudia's place! They were excellent hosts and very good at communicating prior to our arrival. The house was large, clean, and had everything we needed. Would recommend to anyone looking to stay in Turlock!
Rebekah
2016-10-09T00:00:00Z
The house is great!! It is very spacious and clean for a big group of tourists. We were welcomed by Boris and Claudia. They responded to my messages very quickly and I was informed about the house very specifically. Claudia followed up after I checked out and it was very friendly.
Jae Eun
2016-08-01T00:00:00Z
Our stay in this home was fabulous! Boris went above and beyond to meet our needs. He was very easy to communicate with! We are a large family, so having 4 bedrooms, a large living room and a backyard to play in were great! The kitchen is spacious. Air conditioner worked wonderfully and we didn't notice any noise from outside. We would recommend this home to anyone!!
Levi
2016-06-20T00:00:00Z
Very clean and very spacious. Pretty much anything needed was provided.
Michael
2016-09-06T00:00:00Z
Boris and Claudia's place was outstanding. We called them when right when we got into town, and in just a couple of minutes they were at the house introducing themselves, giving us access info for the front door, and then they gave us a quick tour. Myself and several family members needed a place to stay in the area, as we were attending and hosting my mom's memorial service in Modesto and her internment near our late dad in a military cemetery which is located about an hour's drive away from Turlock. It was a spacious home, with 4 bedrooms, and a large kitchen which opened up to a sizable TV/dining room with a couch and stuffed chairs -- a space large enough so that we could all hang out and talk to each other. The backyard was also very nice with seating for everyone, which gave us an opportunity to enjoy the the greenery and the great weather. I would definitely recommend this house for a family. Not only was it a spacious place, but its also situated in a very nice neighborhood. It had everything you need, from towels to shampoo, a coffee-maker, a washer and dryer, and it even had snack items which were on the kitchen counter. It was even better than we expected! Thanks Boris & Claudia...
Dave
2017-04-05T00:00:00Z
great place to stay, it is clean and nice. and the host is nice, thank you for sharing your house.
Bin
2017-03-03T00:00:00Z
Room Type
Entire home/apt
---
Property Type
House
---
Accommodates
8
---
Bedrooms
Turlock, CA, United States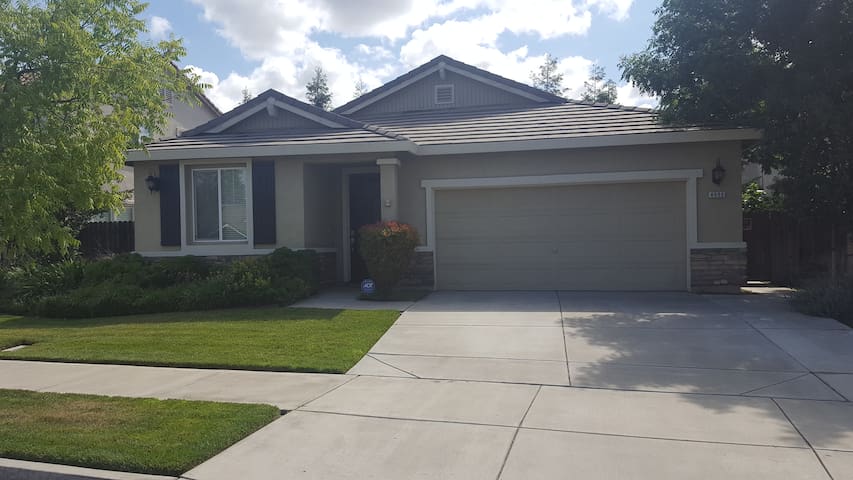 Private Master Suite with private bath, and private entrance if needed. It's your perfect home away from home. Cal King bed, chair and ottoman, TV, DVD player, Apple TV, Wifi, and mini fridge stocked with drinks and snacks. It is within walking distance of all dining, coffee shops, and shopping.
Included in this space: CAL king bed, sitting chair, TV, DVD player, private bath, DVDs with player, Apple TV, mini fridge stocked with drinks and snacks.
Quiet, well established neighborhood. Minimal traffic. Close to shops and all dining.
we had a very peaceful evening.
Cinnamon
2017-04-13T00:00:00Z
Teddy and Rachel are great hosts . They have a beautiful home . Its within walking distance to several nice restaurants . The neighborhood was nice and quite . We really enjoyed our stay .
chad
2017-04-09T00:00:00Z
Large comfortable feathery warm bed with many pillows. Bedroom separate from common area with private bathroom. Beautiful sliding glass doors overlooking a pool. A clean family friendly home.
Cinnamon
2017-04-11T00:00:00Z
Room Type
Habitación privada
---
Property Type
House
---
Accommodates
2
---
Bedrooms
Turlock, CA, United States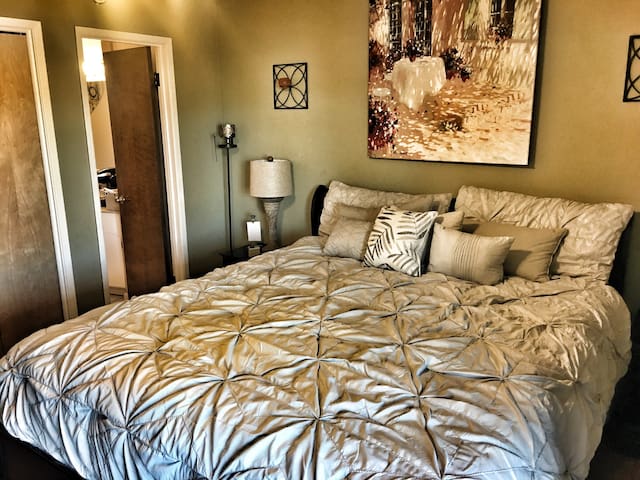 This room in this modern home has a full size bed with the bathroom right next door. Your stay will be very cozy and quite if needed. Tv in room as well. This is more for a quick one or two night stay for a single person or couple.
My home is very quite and clean but still cozy and warm. You can sleep-in late with the blackout curtains or have coffee with us in the nice large Kitchen.
We are located to nearly anything you could want; grocery stores, fine dining, fast food, laundry mat, Starbucks, and even a couple of gyms. I will have a list in your room.
Room Type
Habitación privada
---
Property Type
House
---
Accommodates
2
---
Bedrooms
Turlock, CA, United States
My comfortable 3 bedroom home has 1 bedroom available to rent. Only 1 person for long term reservations (over 3 days). Full bath is shared. The home is located on a quiet residential area in Turlock Calif with a community park and Stanislaus University 1 block away. Minutes to Emanuel Hospital. Travel Nurses Welcome!
Room Type
Habitación privada
---
Property Type
House
---
Accommodates
1
---
Bedrooms
Turlock, CA, United States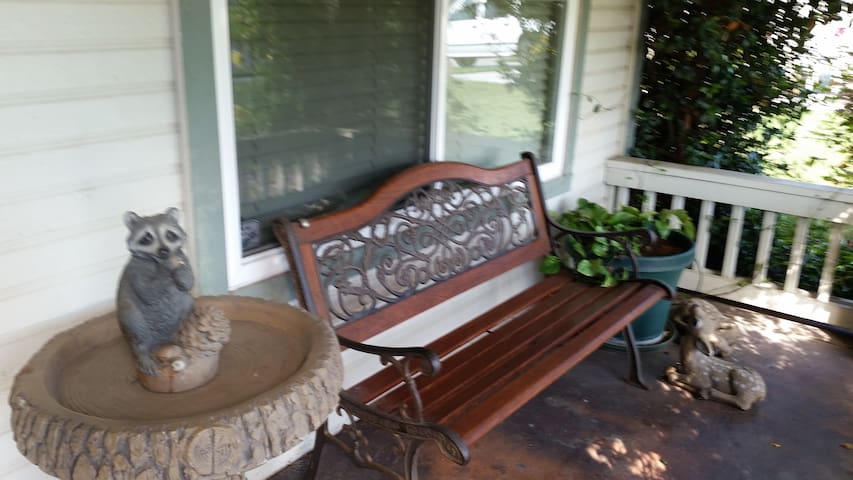 Walking distance to Stanislaus University and restaurants. Around the corner from public transportation.
This is a single family house on a corner lot, just across from the University of Stanislaus. You will have a private room and bathroom, bathroom will be cleaned and disinfected prior to your arrival. You will be provided with clean white towels and your bed (which is sleep by number) will have fresh washed set of sheets, US is just around the corner, enjoy walking their winding paths covered by mature trees.
Room Type
Habitación privada
---
Property Type
House
---
Accommodates
2
---
Bedrooms
Turlock, CA, United States
My place is close to the main highway, restaurants and dining. You'll love my place because of the location. My place is good for couples, solo adventurers, and business travelers. This is a second bedroom for those who need extra space, maybe a second couple or children. Please see the main listing.
Room Type
Habitación privada
---
Property Type
House
---
Accommodates
2
---
Bedrooms
Turlock, CA, United States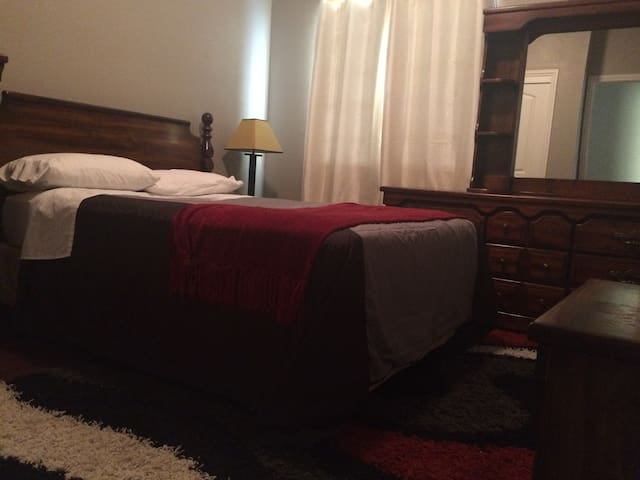 My place is close to From San Francisco 1 hour 50min. And 1 hour 50min. To Yosemite National Park. You'll love my place because of Great landscapes provide a relaxing setting and resting point in your travels to Yosemite National park.. very private and quite . My place is good for couples, families (with kids), big groups, and furry friends (pets).
Room Type
Entire home/apt
---
Property Type
House
---
Accommodates
6
---
Bedrooms
Winton, CA, United States
En route to Yosemite 2 bedroom, 1 bathroom guesthouse. Totally quiet, cozy, & private with ample off street parking. You have complete privacy for your restful stay. Country setting. Nice valley neighborhood. Super Target, Walmart, Applebee's & Big 5 nearby. We provide a hair dryer, iron, and hangers as well as a drying rack. Digital Flat Screen TV with over 50 channels. Of course, the full kitchen offers necessary pots, pans. Stove Oven and Microwave. You will also find espresso and a maker.
A cozy, peaceful place, perfect for Yosemite travelers with plenty of free parking. We are dedicated to the educational aspects of travel and offer meaningful educational and historical literature about Yosemite. Many naturalists and researchers have stayed with us as well as other groups who we are able to share diversity with. Cook in kitchen what you like. No one else resides in this space while you do. Allows you to recharge with whole food meals locally grown and just enjoy a quiet night's sleep. Only 76 miles to Yosemite Park entrance. Private driveway to unit. Nearby shopping at Super Target and Super Walmart. Come recharge before your amazing day in Yosemite or wherever you may be traveling, working, or journeying on to. Just go in the exclusive listing and enjoy. Thanks. *Please send a short message of pertinent information regarding your travel so that we may best assist you :)
Quiet neighborhood of country homes zoned for single family residences mostly on one acre lots.
The location was a great stop off on route to la. Perfect for exploring Yosemite park. The property is great has everything you could require & super comfy. Also the hosts were really friendly and helpful. Recommend staying here
Celena
2016-04-30T00:00:00Z
Very nice place with good fascilities.
Trond
2016-04-22T00:00:00Z
Very cute clean and quiet place. Loved the neighborhood. We really liked the place. Hope to stay here again in future
Raveesh
2016-10-30T00:00:00Z
The house was exactly as described and a great place to stay for the night. I had a little trouble finding it, but even late at night Chris and Holly helped me find my way! I really appreciate their help!
Nick
2016-02-06T00:00:00Z
Chris and Holy were marvellous hosts. Their house is spotless, well presented and homely. We thoroughly enjoyed staying there and would return again.
Helga
2016-10-20T00:00:00Z
This hosting is just perfect in terms of everything. We have checked in at the very late night and checked in at the early morning for Yosemite. There was a cozy living room to drink beer, and a nice kitchen to cook a breakfast. Kitchen has everything we need. There was even an espresso machine. 4 Beds gave all of us a quick but tight sleep. Although it was 8-hour stay, I can definitely recommend here as the best accomodation befor Yosemite. Also, hosts always gave me instant replies for my questions. Thank you again.
Junsuk
2016-02-07T00:00:00Z
This place was very cute, there were all kinds of small things that are included by Chris & Holly. Definitely read the rules, there are parameters on the temp, which I didn't realize till after I tried to change it lol. Very homey, highly recommended.
Angel
2017-01-15T00:00:00Z
I absolutely loved it. It was such a beautiful home. Holly and Chris were both accommodating and helpful. I would stay again :)
Bayshta
2015-10-25T00:00:00Z
Room Type
Entire home/apt
---
Property Type
House
---
Accommodates
7
---
Bedrooms
Atwater, CA, United States
Gateway to Yosemite, and Merced University. Train service nearby. Home of the Castle Air Museum. Two hours from Sacramento and the Bay Area. Walk around the local golf course. I spent my career at the University of California Berkeley.
Rosa's place is in a nice, quiet residential neighborhood. It is easy to arrive from the highway. Her home is clean and very charming. The room is a good size and has plenty of closet space. The bed is comfortable. The breakfast was magnificent! Rosa is a wonderful host! I will recommend her place to my friends and family.
Gabriela
2017-04-10T00:00:00Z
Rosa is a really nice woman with a Big Kind Heart. She is a perfect host and very interesting person. She do her best in order to help people feel home even far from native walls. Rosa's room is very clean and decorated with love and attention to details. We strongly recommend Rosa and her home and want to go to her house again.
Mary
2016-04-18T00:00:00Z
Rosa's place is wonderful!! She is so friendly and accommodating. I could not imagine staying anywhere else when on this area. Thank you Rosa!!!
Vida
2016-12-22T00:00:00Z
Beautiful home, very relaxing, felt like home the moment I was greeted at the door. Rosa went above and beyond to make us feel comfortable and welcome. Rosa was born to be an amazing hostess. I will definitely be back. She made us feel like we were visiting an old friend. Excellent breakfast, felt like royalty. I can't recommend this home enough. Certainly you will not go wrong staying here.
Kathleen
2016-03-18T00:00:00Z
Wow what a fab time. We had immediate response to our questions and a wonderful welcome on arrival. Her house is in a quiet neighbourhood and a wonderful house too, great view over the golf course. She is very well prepared for guests. In the evening we were greeted with some guacamole and a margarita. Breakfast was cooked fresh and beautiful fruit. We really enjoyed our stay there.
Peter and Agneta
2016-04-03T00:00:00Z
I had a great time staying at Rosa's house. She is very friendly and motherly, and I felt at home. Her house is very clean and beautiful, with a huge backyard. Over and above, My stay was complemented with daily morning coffee, fruits and delicious home-made food. I would definitely come back to visit Yosemite just to stay at Rosa's place. Yosemite is nearly 2 hours from Atwater, and I would recommend anybody visiting Yosemite to stay at Rosa's place.
yogeeta
2016-05-22T00:00:00Z
Rosa is the best host ever! Really nice house with an adorable poppy. She made us feel like at home. If I came to California again, I would def stay at her place.
Maria Luisa
2016-10-03T00:00:00Z
I spent a night at Rosa's on the way to Yosemite. From San Francisco it is conveniently located at half way point to the stunning national park. Definitely a recommended place to stay overnight (or 2) while going to or coming from ynp. Rosa's communication was very prompt during the booking and I had no problem getting few clarifications and setting an estimated arrival time beforehand. Her house is in a nice quiet neighborhood with a golf course right on the other side of the backyard. View is gorgeous from her well maintained backyard. I didn't have issues with parking and there are ample spots to park your vehicle. She made me feel right at home from the get go. After a refreshing shower at the private and very clean and spacious bathroom, we had a nice conversation over a round of drinks. She is very accommodating, offered me food and mentioned her flexibility in terms of arrival time. She has a small and cute dog who was friendly most of the time. Bedroom is very clean and tastefully decorated (the whole house is). Bed was comfortable and had an uninterrupted night's sleep. Connecting to her wifi was easy and there are multiple charging points for your electronic devices. She offered a nice fresh breakfast next day morning with coffee. It was a refreshing start of the day with a great tour of her backyard. She is a wonderful host and i definitely recommend her place.
Chandrabhan
2016-05-16T00:00:00Z
Room Type
Habitación privada
---
Property Type
House
---
Accommodates
3
---
Bedrooms
Atwater, CA, United States
The cottage is located in Atwater, 1.5 hours from Yosemite. An 18 hole golf course is across the road. Access to the freeway is easy and quick. The bedroom features a feather mattress with down comforters and high count linens. The kitchen is fully equipped with ample counter space and utensils to accommodate most cooking needs The neighborhood is quiet and calm. The majority of the residents are retired or preparing to retire. The calm evenings are excellent for relaxing in the backyard surrounded by fragrant lavender, rosemary, and wisteria. Freeway access to Highway 99 is two minutes away. Also nearby is the Castle Air Museum with one of the largest collections of vintage aircraft. UCMerced is a fifteen minute drive away. Rancho del Rey golf course, an 18-hole public golf course, is within walking distance.
The Cottages is a quiet, gated community of small families and retired people who take pride in their residences. Neighbors wave to each other but don't meddle in each other's affairs.
Stylish and very clean. The place was perfect for a weekend golf outing in Merced. Alan was gracious and provided us with everything we needed to enjoy this very nice home. Break a leg! We'll be back!
Christopher
2016-02-28T00:00:00Z
The house was great! Very neat house in a very quiet community. Exactly what we needed after hiking through Yosemite. Alan was an excellent host who made sure that we had everything we needed during our stay.
Danielle
2014-07-29T00:00:00Z
Alan is a wonderful host. He made us feel so welcome. The place is clean and comfy. Everything in the listing is accurate, though the photos can't capture the essence of what makes his place a home! We stayed for two days while visiting family in the area. The place was so nice, we didn't want to leave!
Dina
2014-12-21T00:00:00Z
We had a very good stay at Alan's place. The house was huge, clean and well decorated. It is located in a quiet and secured community. Alan was nice and left us some drinks and food for the breakfast! We planned to visit the Yosemite park but it was closed because of the government shutdown. So Alan gave us some advices on what to do and other things to see in the area. He also left us notes on restaurants, coffee shops... nearby. Highly recommended!
Julien
2013-10-04T00:00:00Z
What a fantastic experience! Alan couldn't have been nicer, and his home couldn't have been more perfect. He stocked the fridge with orange juice and muffins for breakfast and had an assortment of coffees and teas for us to choose from. Most hotels don't even do that haha Thank you so much, Alan, for everything!
Tyler
2013-06-03T00:00:00Z
We had a great stay. It's about a two hour drive from Yosemite. Alan was very helpful and directed us to a cute Mexican restaurant close by. The house was very peaceful and met all our needs.
Karyna
2013-09-30T00:00:00Z
The host canceled this reservation 60 days before arrival. This is an automated posting.
Laura
2016-08-08T00:00:00Z
This place is great!!! Alan provided us with everything you could wish for in the fridge so we could start our day fueled. We had the whole house for ourselves and everything was very nice & clean. The communication was excellent und Alan was very accomodating. I highly recommend staying at Alan´s place.
Rieke & Daniel
2013-08-01T00:00:00Z
Room Type
Entire home/apt
---
Property Type
House
---
Accommodates
2
---
Bedrooms
Atwater, CA, United States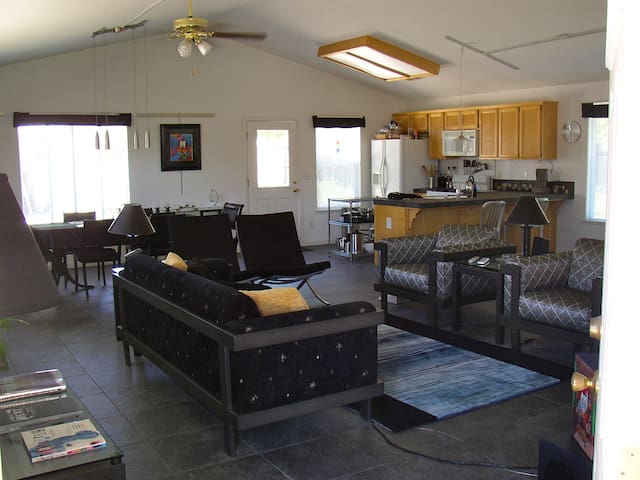 My home has an open floor plan with lots of natural light, a relaxing outdoor view of pine and redwood trees and a lap pool. Going out or staying in, its perfect for reaching the Bay area, Yosemite or Sacramento without the big city worries :)
Our vibrant two story 4 bedroom house is on a quiet court. Kitchen is clean and ready to use. A shared bathroom is upstairs, a shower/bathtub combo and clean towels for your use. Your room will have a twin bed with a north facing window. We keep pretty busy and try to be kind to the environment by recycling, saving water and electricity. We have a dog that lives outside and makes cameo appearances inside.
Two blocks away are fast food restaurants, grocery shopping, Walmart and ATMs for Chase and a Wells Fargo. Four blocks away is the downtown area with some buses, more food, bars and banks. Downtown buses go to Modesto, Turlock, Ceres and Westley and bus schedules can be found on-line. Local Attractions Stanislaus River - 42.6 Miles . The Stanislaus River offers serene landscapes, white-water rafting, fishing, canoeing, hiking, and camping as well as a historic covered bridge and nine beautiful parks. Altamont Raceway Park - 22.1 Miles . Altamont Raceway Park, located in Tracy, California, features exciting Super Stock, Modified, Midget, and Sprint racing on two oval tracks. Races are held on Friday nights, Saturday nights, and Sunday. Skiing. California's Central Valley is just a short drive away from a variety of top skiing destinations. From small, family friendly snow play parks, to large ski resorts, winter sports enthusiasts have a wide variety of winter activities to choose from. Badger Pass, Dodge Ridge and Mammoth are just a few of the fabulous ski areas that are open for wintertime. San Francisco - 76.9 Miles . San Francisco is a charming city offering visitors a wide range of fun attractions and interesting things to do. From the famous Golden Gate Bridge to Chinatown, Pier 39, Fishermen's Wharf, and Golden Gate Park, San Francisco is a destination that offers something for everyone. San Francisco is also a cultural Mecca, offering a wide range of museums, live theatre, opera and ballet performances, galleries, and more. No matter what you're looking for, San Francisco has it. San Luis Reservoir - 47.3 Miles . San Luis Reservoir State Recreation Area is a popular multi-use recreation area offering boating, sail boarding, fishing, camping, hiking, horseback riding and picnicking for day and overnight. Modesto Farmers Market - 19.8 Miles . The Modesto Farmers Market offers produce, flowers, organic foods, and more for shoppers looking for fresh, organic food. The market is open 7am-12:30pm each Saturday and Thursday starting in May. McHenry Mansion - 19.9 Miles . Built in 1883, the McHenry Mansion is a beautiful Victorian residence that was originally the home of rancher and banker Robert McHenry. The home was restored in 1976, and is decorated and furnished with period antiques. Open Tue-Thur and Sun 1-4pm; Fri, Noon-3pm. McHenry Museum - 19.7 Miles . Located in Modesto, CA just one block away from the McHenry Mansion, McHenry Museum features exhibits, photographs, and artifacts detailing the history and culture of Modesto and Stanislaus County from pioneer days through the mid-20th century. Open Tue-Sun starting at noon. Central Valley Wineries & Vineyards Diablo Grande Vineyards - 12 Miles . Covering 36 acres, the Diablo Grande Vineyards grows Chardonnay, Sauvignon Blanc, Pinot Noir, Sangiovese, Barbera, Merlot, Syrah, and Cabernet Sauvignon grapes adjacent to Diablo Grande's Ranch and Legends West Golf Courses, and produces a variety of unique Estate Bottled wines.) Delicato Vineyards - 31.7 Miles . Delicato VineyardsDelicato has been growing and producing fine wines for more than 75 years, creating distinctive wines and serving them up in their Manteca tasting room. Visitors can taste a variety of wines and purchase a selection of gift and gourmet items in their tasting room. Lodi Appellation - 50.1 Miles . Located between the San Francisco Bay Area and the foothills of the Sierra Nevada, the Lodi Appellation is a unique wine growing region that has a history of hand crafted, fine family wines since the Gold Rush era. The area features several vineyards and numerous wineries offering wine tasting, winery tours and festivals. Golf Courses Diablo Grande Winery & Resort - 12 Miles . Located just six miles from Patterson, Diablo Grande Golf Course offers scenic beauty and stunning natural terrain on two award-winning golf courses that meander through rolling hills, stands of native oaks, green vineyards, and canyons. The resort also features a pro shop, a restaurant, lounge etc. Stevinson Ranch Golf Club - 34.9 Miles . Known as one of the top golf courses in California, the Stevinson Ranch Golf Club features an award-winning course surrounded by acres of natural wetlands and beautiful natural terrain, plus a state-of-the-art putting green, a clubhouse, a pro shop, restaurant, a saloon; and an outdoor barbeque and party area. Near UOP and CSU Stanislaus. Not far from UC Merced.
Wondering host, very nice and very helpful
Zhou
2016-01-30T00:00:00Z
My stay in the house of Ramona was great. Ramona and her daughter are very nice and helpful. It was a pleasure to meet them. The room is great and the private bathroom is perfect. Thanks again
Sylvain
2016-09-28T00:00:00Z
Super clean and comfortable home with a great host. Easy access in a safe, convenient neighborhood. Cute dog, Otis, lives in property that is very fun to play with.
cyrus
2016-10-05T00:00:00Z
Ramona welcomed us with a smile even though we got delayed by traffic and came in a bit late. She was very friendly and showed us her beautiful home and we found the room to be exactly as described. We only stayed for one night but felt comfortable and would stay with her again!
Fabian
2016-07-17T00:00:00Z
Every thing was amazing. Ramona was a wonderful hostess. Her home was beautiful and the neighborhood was cozy and pleasant. I highly recommend it
Jennifer
2016-06-26T00:00:00Z
Host is kind and friendly. They helped us prepare 2 rooms for 2 persons
Chai Ying
2016-02-11T00:00:00Z
Location is good for Patterson, close to business areas but in a fairly quiet residential neighborhood. It's just minutes off the I5 exit. The room I stayed in was basic, with a comfortable single bed. The bedroom, kitchen, and bathroom were clean. The house is older and a bit worn in places, and bedroom furniture and furnishings are old. Minor problem with my phone charger falling out of the older outlets. Shared space in the fridge and kitchen was good. Bottom line is -- I was here for a weekend and would stay again next time I'm in Patterson. Recommended for anyone who wants a clean, simple, good value place to stay.
Torrey
2017-04-02T00:00:00Z
Although I showed up late, Ramona still welcomed me into her beautiful home with a genuine smile! She was very helpful with the bus routes since I had to get around during my stay. It really felt like another home! I had the privilege of meeting her daughter Abigail, as well as her son Matthew, who are more than respectful and welcoming. If I ever need an Airbnb in the area again, I'll know where to go. I would definitely recommend this to anyone looking for a place to stay in Patterson! Nice neighborhood, and a beautiful small town with wonderful views of the hills and countryside.
Traelon
2016-08-11T00:00:00Z
Room Type
Habitación privada
---
Property Type
House
---
Accommodates
2
---
Bedrooms
Patterson, CA, United States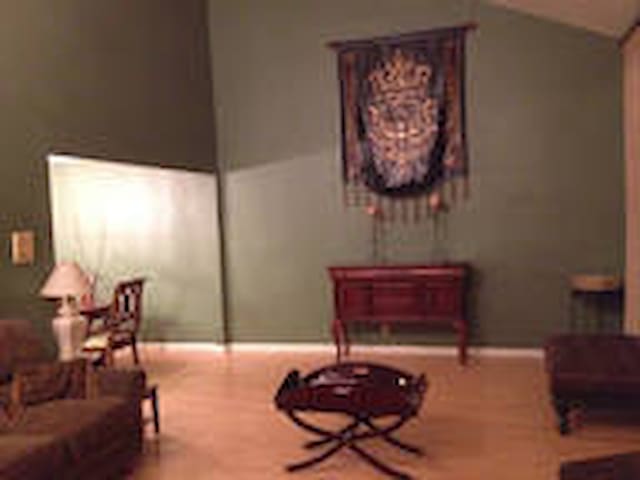 Hi: I'm Carol Ann, welcome to my home here in Patterson, CA! It is comfortable, clean and very nice. You'll have your own private room, living room and bath. You are welcome to use kitchen as well. (Best in area) Please ask any questions!
TV in both- private room & living space with ROKU, Direct TV, fast internet, morning snacks, coffee, tea or upon request I can provide what you like. Walk in closet and dresser drawers for your things. Feather pillows, duvet with down comforter.
This was our first experience with air bnb and it was amazing! Her home was beautiful and clean and she was very helpful about the area. My husband and I were pretty nervous about being guests in someone else's home but she was very welcoming and kind. I would definitely recommend this host to anyone. Thanks again for the great stay!
Sara Beth
2016-03-16T00:00:00Z
Lovely room and bathroom, quiet and comfortable space. Great location off the 5 freeway as a halfway point through CA. Thank you!
Susan
2016-05-14T00:00:00Z
Staying at Carol Ann's has been more incredible than I can even put into words. This was my first Airbnb experience, and saying that I was extremely nervous and hesitant to stay in someone else's home would be an understatement. I read and re-read every review, and although every single person couldn't have said nicer things about Carol Ann and her home, I was still very worried about what it would be like and if I would feel comfortable. I'm happy to say that the very minute Carol Ann opened the door and greeted me, all my fears went completely out the window. In the first moment of meeting her I felt safe, welcomed, and truly right at home. Carol Ann, her daughter Tracie, and the rest of their wonderful family have shown me nothing but kindness and warmth from the minute I got there. The house is absolutely stunningly gorgeous and couldn't be cleaner, the bedroom is beautiful, comfortable, and roomy, they provide ROKU tv service which is simply divine if you enjoy watching television, the bed is the most comfortable I've ever slept on, the upstairs living room is spacious and private, the bathroom and shower are incredibly clean and inviting, and on top of all of that the hospitality Carol Ann shows is simply out of this world. These are the most wonderful people you could ever hope to meet. Carol Anne has coffee prepared in the mornings, and has offered me delicious homemade food on several occasions. I was here 40 days and I truly never wanted to leave. The neighborhood and surrounding area are extremely safe and has much to offer directly across the street (you could walk) including Walmart, Walgreens, and many places to eat ( Subway, Panda Express, Togo's sandwiches, Baskin Robbins, McDonald's, Taco Bell,sports bar, pizza place, etc. I highly recommend staying here to anyone and everyone!
Amanda
2017-03-31T00:00:00Z
Nice upstairs area in the home. Clean and lovely furnishings. Great location.
Amy
2017-02-20T00:00:00Z
Future guests can be rest assured that their stay at CarolAnn's place will be comfortable. The listing's details are accurate in regards to CarolAnn's accommodations. CarolAnn went above and beyond to ensure my brother and I had everything we needed to have a comfortable stay.
Joshua Robert
2017-04-02T00:00:00Z
I had a pleasant stay, no complaints!
Jeff
2016-04-25T00:00:00Z
Carolann was a great host! Very friendly and she has a beautiful home.
Hannah
2016-06-29T00:00:00Z
Carol Ann was so accommodating and the room was comfortable and clean. The bed was also very luxurious!
Subrina
2017-02-14T00:00:00Z
Room Type
Habitación privada
---
Property Type
House
---
Accommodates
2
---
Bedrooms
Patterson, CA, United States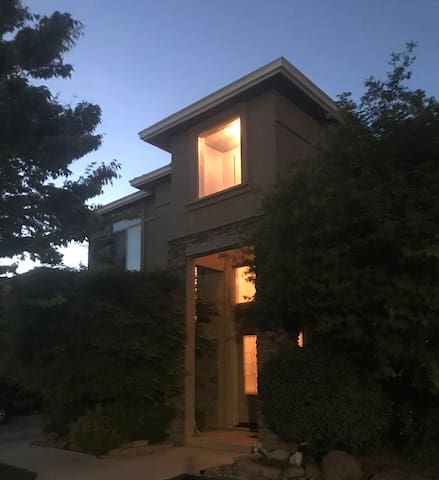 My place is close to the beach. You'll love my place because of the high ceilings.
We had an amazing and comfortable stay at this beautiful home. It was within easy access to amenities and the bedrooms were quiet and spacious; great bedding and nice garden that is private and well tended. The house has all mod-cons and we loved relaxing there between outings. I'd highly recommend this place and the wonderful hosts. Thank you.
Jonathan
2016-08-08T00:00:00Z
What a fantastic location! Easy walking distance to a lot of restaurants, wine tasting venues, etc. It's so close to the heart of Yountville. If you plan in advance, you might even get a reservation at French Laundry, which is just a few minutes walk. For those of us with thinner wallets, there are some other great restaurants for foodies, too. The house itself is comfortable, but unassuming, and is a good home base for exploring Napa.
Peter
2016-09-23T00:00:00Z
Room Type
Entire home/apt
---
Property Type
House
---
Accommodates
4
---
Bedrooms
Snelling, CA, United States
Temp stays ok. 2 minutes to downtown Modesto, off La Loma ave. 9 mins each to Doctors Hospital and Memorial Medical Center. It's just my hubby and I, plus our 2 cats :) (so please don't book if you are allergic to cats)
Close to downtown. Shared guest bathroom. Low key hosts. Pool view room (it's cold right now!) Outdoor seating if you are into that. Cat house, they WILL want you to pet them, super social cats. Other spare room in the house tends to be travel nurses/med school students for 2-4 weeks at a time.
Super close to downtown, local bus lines. Uber and cabs are cheap. Great neighborhood for jogging (towards the river, not towards Yosemite Ave)
Very nice hosts!
Leo Yuanjie
2017-03-09T00:00:00Z
I was in Modesto for work, and I loved staying at Tiffany's place! It was very comfortable, and the kitties were precious. :) The home is close to downtown and easy to access. Tiffany was very kind and accommodating of my changing schedule, which I appreciate. I hope to visit again in the future!
Kristin
2017-03-07T00:00:00Z
very comfortable!
Ruth
2017-02-17T00:00:00Z
Tiff and John are very nice couples with 3 lovely cats, will definitely book again.
Leo Yuanjie
2017-02-16T00:00:00Z
They made me feel welcome in their place, and gave me privacy.
Mirbel
2016-12-18T00:00:00Z
Tiffany is a great hosts. Very young hip couple. Cute cats. Close to work
Cherish
2017-01-10T00:00:00Z
Tiffany it was very accommodating. Communication is limited and it was perfect for my need
Randy
2016-12-27T00:00:00Z
This is a very comfortable room, super comfy bed, and quiet household.
Ruth
2017-03-03T00:00:00Z
Room Type
Habitación privada
---
Property Type
House
---
Accommodates
1
---
Bedrooms
Modesto, CA, United States
When you walk in the front door between travels to Yosemite and San Francisco, you'll feel immediately at home. There is space for you to unwind, whether inside on the couch or outside by the pool.
This bedroom has a bookshelf, a rustic view of pine trees and the sound of birds singing in the morning. This room is the largest of the three. Feel free to read something unusual :) The house has lots of tuck away spots for quiet time and meditation.
We're across the street from a field, less than a mile from Walmart, Panda Express, Sally's Beauty Supply, Taco Bell, Togos and a variety of other mini mall attractions. The best restaurant in town in by the 5 freeway, El Rosal and a mile away is Blues Café, a place with good ambiance and a lot of character. The sports park has a dog park to the right of it (half a mile away).
I stayed at Ramona's place for a month and if not for having to move out of town I would have stayed there even longer. Her house is very spacious and clean, quiet neighborhood with super easy parking, close to highways 5N and 5S. Ramona is genuinely good person, for example when I told her that I was looking for RN job she gave me tips on which hospitals would be good to apply to and how to perform well on job interviews. Ramona's kids (Abigail and Matt) who visited the house over the Christmas break were extremely friendly as well which made me feel very comfortable. Overall I can't say enough about how much I enjoyed the stay. I would definitely recommend this place to my friends❤
Mariah
2017-01-06T00:00:00Z
☺
Krishan
2016-10-31T00:00:00Z
Ramona met us at the front door and was immediately giving hugs! She is very personable and was an instant friend. She showed us around the whole house so we would be comfortable and then left us for our one night stay. The only thing I would caution families is there is no TV. We could careless but some folks love their addictions to the box! We will definitely stay again on our return trip next month if it works out. Thanks Ramona!
Douglas
2016-03-18T00:00:00Z
Room Type
Habitación privada
---
Property Type
House
---
Accommodates
2
---
Bedrooms
Patterson, CA, United States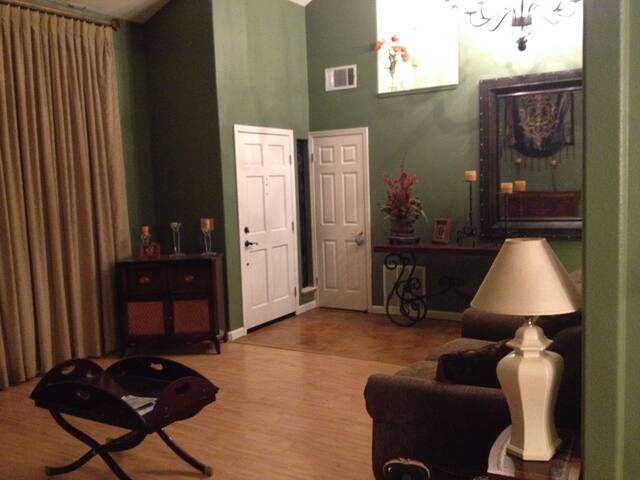 1

–

18

of

54 Home Rentals
Enter dates to see full pricing. Additional fees apply. Taxes may be added.