Set on five acres, this modern fully self contained cabin sits by the pool and overlooks the forrest. Although only 10 mins from the M1 freeway and 15 mins from Wamberal beach, the only sounds you hear are bellbirds and the occasional kookaburra.
My husband and I stayed two nights at Tom's listing and we had a great experience. The property was quiet and peaceful and accurately described in the listing.
Keiko
2016-10-03T00:00:00Z
It was a beautiful place. We enjoyed the pool and quiet outdoors. Would highly recommend for anyone looking to get away from the city. Thanks Tom.
James
2016-11-05T00:00:00Z
Upon arrival met Tom and was very pleasant and lovely to meet a fellow Airbnb person. The Secluded treetop pool side cabin was just wonderful. It was modern, has a great kitchen for cooking and the shower is just brilliant and the bed is very comfy. Everything as described was delivered and very quiet and close for us to visit all our family and friends on the Central Coast. Well worth the stay and awesome experience.
Simone
2016-09-05T00:00:00Z
My husband and I drove up on a Friday night and stayed for the weekend, leaving late Sunday morning. Only an hours drive up from Sydney, its the perfect distance to feel like a getaway, without spending too long in the car! The Pool house is set behind a lovely modern home in a beautiful leafy acreage, quiet and secluded. There is a lovely pool you have access to (perfect for summer!) and a verandah for Breakfast by the bush. The Pool house itself has a fully functioning kitchen with sufficient utensils and crockery. Would stay again.
Helen
2016-07-10T00:00:00Z
We enjoyed our stay in Tom's poolhouse. The house was located on a secluded street so it was lovely and quiet. You could step out the bedroom door onto a small patio which overlooked the bush. It had all the facilities we needed and a super comfy bed! Thank you Tom!
Leran
2016-09-11T00:00:00Z
The house was beautiful, & Tom was friendly from a distance! Barely any reception or wifi here so if coming in the rainier months, be sure to bring a hardrive stocked with movies. Very happy we found this place the views were spectacular.
Hilary
2016-10-22T00:00:00Z
Pool was fabulous , very quite and peaceful location surrounded in nature which is what we needed.
Anne-Marie
2016-12-30T00:00:00Z
This cabin Has everything you need to have a lovely quiet stay. Tom is very approachable and is keen to make your stay memorable.
Steve
2017-02-09T00:00:00Z
Room Type
Entire home/apt
---
Property Type
Cabin
---
Accommodates
2
---
Bedrooms
Mount Elliot, NSW, Australia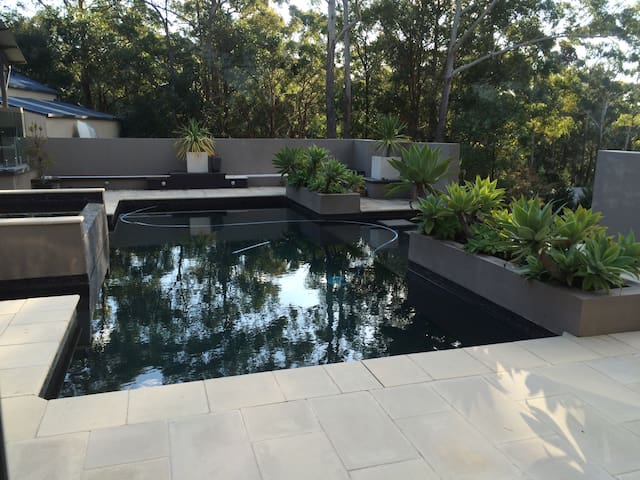 Self contained studio apartment with Private access and stunning ocean views. 1 queen bed 1 bathroom Small Lounge and kitchen. coffee/tea/milk Access to property up 3 flights of stairs. Quiet on street parking
The space is a studio apartment with the bedroom and living areas separated by louver screen. There is a small kitchen with a portable cook top, microwave, bar fridge and all essential cooking utensils.
We have lovely neighbours and hope that our guests will respect the quiet and caring neighbourhood we live in.
We had a wonderful stay with Scott & Michelle. The property was exactly as described & very picturesque with wonderful views of the sea. The interior was clean, modern & super comfy with all of the amenities we needed. We would definitely recommend for a weekend away by the beach.
Dani
2016-11-13T00:00:00Z
Our weekend stay was super comfortable and we felt right at home. Perfect location with spectacular views also. Scott and Michelle were so welcoming and friendly, and happy to answer any questions or share some local tips. Scott and Michelle used to run a climbing school also, so they know some pretty sweet spots. We will definitely be visiting again. Thanks Scott and Michelle!
Mia
2016-08-08T00:00:00Z
it was fantastic house!! very nice view and tidy tidy
찬양
2016-10-22T00:00:00Z
Our stay at Scott and Michelle's place was absolutely perfect! From being greeted with such a warm welcome, to a surf report the next morning we felt so well looked after. The place had everything we could ever need for our stay. The decor was delicious and lush, all the textures were so comfortable and well thought out. The outdoor furniture and swing were awesome! We had our car and were closeby to everything we needed and went to Terrigal and Avoca for breakfast and surging which were right around the corner. Couldn't recommend this place highly enough!
Georgia
2016-08-29T00:00:00Z
Lovely hosts, great apartment, nice view over the village and the sea
Nadia & Remo
2016-07-22T00:00:00Z
Beautiful space, great location, awesome hosts! Everything was better than described, highly recommended. Thanks guys!
Christopher
2016-10-13T00:00:00Z
Cozy & beautiful spot to relax! Loved waking up in the morning and watching the sunrise - Michelle & Scott were lovely hosts!
Vanessa
2016-12-01T00:00:00Z
This is the second time I've stayed with Scott and Michelle. Again it was a relaxing and peaceful stay in cosy and beautifully decorated accommodation. I will be back again!
Alexandra
2017-02-12T00:00:00Z
Room Type
Entire home/apt
---
Property Type
Apartment
---
Accommodates
2
---
Bedrooms
Wamberal, NSW, Australia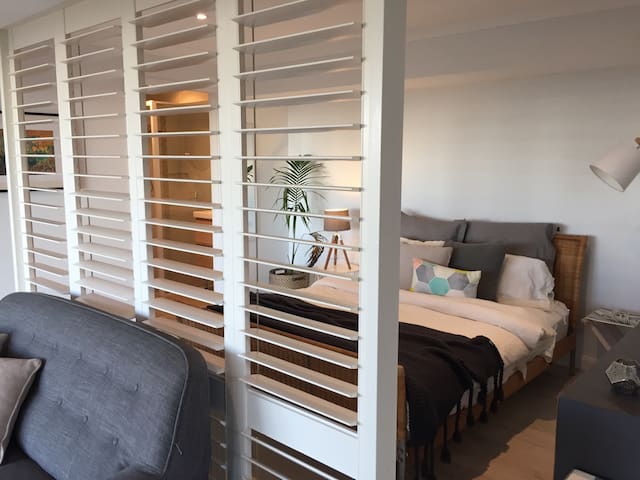 Welcome to beautiful Terrigal! Our space is the front part of our house with SEPARATE ENTRY. It offers privacy with COMFORTABLE queen size bed in the bedroom, own ensuite, own living area and a COMPLIMENTARY light BREAKFAST. We are centrally located in a lovely suburban area LESS than 3kms from Terrigal Beach and promenade and also close to Avoca Beach! A top spot explore the Central Coast or relax with a book. We are experienced hosts and greatly look forward to welcoming you!
WELCOME! Terrigal is a lovely SEASIDE suburb and a popular holiday location and weekend picnic spot. It has a stunning BEACH, a great choice of RESTAURANTS and CAFES. Your accommodation is the ENTIRE FRONT part of the house and has a SEPARATE ENTRY. It is private, bright, spacious and homely. Your accommodation is made up of a master bedroom with super comfortable queen size bed, own ensuite as well as a LARGE LIVING AREA with TV, writing table, books/games and a small fridge. We offer a COMPLIMENTARY light BREAKFAST (cereal, toast, juice, yoghurt) and tea & coffee making facilities. If you'd prefer to eat out, there are LOTS of fabulous CAFES and restaurants only a few minutes away. A SOFA BED can be made up in the living room for 2 people wishing to sleep separately or for an accompanying small child. Please let us know if you you wish to utilise the sofa bed. An extra $10 fee (per stay) applies, paid on arrival. The location is a quiet suburban area LESS THAN 3kms from BEAUTIFUL TERRIGAL BEACH and TERRIGAL HAVEN! Come and explore other nearby STUNNING SCENERY too including: Avoca Beach, The Entrance, Crackneck lookout, Norah Head, Maitland Bay, Killcare, Pearl Beach and several National Parks. There are plenty of nearby ACTIVITIES: cafes, walking trails, shopping, swimming, surfing, picnics, tennis, boating, golf, ice skating, movie theatres, art galleries (Ken Duncan, Gosford Regional Gallery), Gosford Classic Car Museum, scuba diving the Adelaide and the Australian Reptile Park. The Hunter Valley wine region and Sydney are also only 85kms away. Having your own transport will offer you the greatest flexibility to enjoy the area. Gosford is the closest railway station. A bus route operates from Gosford to Terrigal and the bus stop is 200 meters away from our home.
* Stunning BEACHES. * Beautiful scenery. * A wide variety of CAFES and RESTAURANTS. * Local BOUTIQUES and large shopping mall nearby. * ONLY 2.6 kms from Terrigal Beach. * Located in a quiet residential area.
Just two words, NO REGRETS! It was my first airbnb experience and its pretty impressive! Such a warm welcome from the hosts Gerri and Jeff, clean,tidy,wonderful,comfortable,modern (and what else?) Fabulous en-suite bed room with huge lounge area! Just wanna spend my every weekend right here!! Highly recommended whoever want to visit beautiful Terrigal beach area! Big thanks to hosts Gerri and Jeff!
DAMI
2016-11-19T00:00:00Z
i had a great experience staying at this lovely home. Gerri made us feel very welcome and was very helpful. The room was really cozy with lots of space along with a lovely breakfast that was provided. The location is a short drive from Terrigal town which is perfect. I really enjoyed my stay at Gerri's home and would definitely recommend to stay there.
Danielle
2016-07-25T00:00:00Z
My Husband and I stayed with Gerri with our 10.5 week old daughter and it was fantastic. Great location as it's less than a 5 min drive to the main strip of shops at Terrigal Beach. Gerri was really welcoming and we were pleasantly surprised by the amount of space and privacy we had. The room was massive with a really comfortable bed and there was an even bigger lounge room for your own use. Very convenient and will definitely stay again. This was our first AirBNB experience and it was amazing. Thanks for having us Gerri!
Larissa
2014-11-23T00:00:00Z
Wonderful place, beautiful location, we had our own living room, bed- and bathroom, wonderful prepared breakfast, everything was clean and pretty and Gerri made sure we had a beautiful stay. I absolutely recommened staying here!
Caroline
2015-04-13T00:00:00Z
I had a wonderful stay at Gerrii and Geoff's place. I walked into a spacious and immaculately clean area of bedroom, lounge and private bathroom. There was tea/coffee and breakfast in the fridge, a stocked bookshelf etc etc. Gerri explained everything about the apartment to me and let me settle in. We then sat down for tea and Gerri gave me loads of local information. A fabulous stay I would recommend to anyone. Thanks for being a great host.
Nigel
2015-03-31T00:00:00Z
Gerri's airbnb space is so plush and well appointed that it's like an expensive hotel apartment. Thanks for your friendly hospitality, Gerri!
Kate
2014-07-04T00:00:00Z
Thank you so much Gerri and Geoff for providing such a wonderful space for us - it's always a home away from home. Beautiful, immaculate, extremely clean, and Gerri always goes above and beyond to look after her guests. We love staying here. We would highly recommend this listing for anything traveller.
Maggie
2015-11-18T00:00:00Z
We had a great experience at their house. They provide us with breakfast and very comfortable beds. Both were very nice to us, they always keep in touch and answer all enquiries. We recommend it 100%
Veronica
2016-10-15T00:00:00Z
Room Type
Private room
---
Property Type
Bed & Breakfast
---
Accommodates
2
---
Bedrooms
Terrigal, NSW, Australia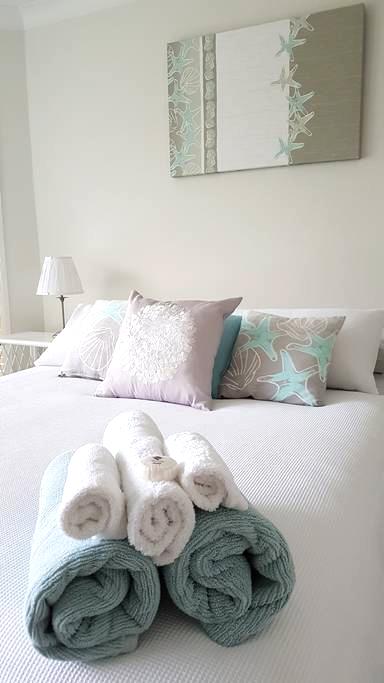 Luxury private air conditioned studio with your own private access. Amazing ocean, beach and lagoon views. Close to Terrigal's cafes, shops, restaurants and beach front lifestyle. Continental breakfast included. Can sleep up to four.
Private luxury with ocean views. Completely self contained
Sue was friendly and welcoming. The space is modern and comfortable. Huge TV. And of course amazing views of Wamberal beach. Only drawbacks were the lack of close shops (if you had a car it would be absolutely fine but I was afoot) and the small bathroom facilities. They were clean and fine but some people desire a big bathroom. Thanks sue I would recommend this place for a lovely mid coast holiday.
Kate
2016-03-08T00:00:00Z
Sue's place was perfect for a weekend getaway. Spacious, clean & very comfortable with a beautiful outlook. Would definitely stay here again!
Leah
2017-02-18T00:00:00Z
Highly recommend staying here! Immense views out to the sea, stunning appartement, v comfy bed, very clean place with a range of things to cook with in ur own kitchen if you want to. Lovely private terrace. A/C. Lovely breakfast. Very friendly and warm hosts! One of the better airbnb's we have stayed in.
Emily
2016-12-14T00:00:00Z
We had a wonderful stay with Chris and Sue and their place exceeded our expectations in every way. Not only were they friendly and hospitable people, but the space was so big, clean, functional and luxurious. It truly had everything we needed! It was a great location with everything very close by and we certainly enjoyed a nice view to relax with a drink after each day. Thank you for welcoming us into your home! We will be back one day.
Beth
2017-01-07T00:00:00Z
Beautiful apartment - very cosy and secluded. Wonderful host, very friendly and easy check in. Great for a couples getaway!
Nicole
2017-04-01T00:00:00Z
Great space, amazing views, has everything you could possibly need & more! Sue & Chis were so friendly & very helpful. We had a wonderful stay & would definitely stay again!!
Jill
2016-04-10T00:00:00Z
Sue, Chris and Ollie were amazing hosts and it truly is the best view in Wamberal. We had everything we needed and Sue and Chris went out of their way to make us welcome, even finding Mili a practice tennis court. We will definitely return to Wamberal.
Nicole
2015-09-22T00:00:00Z
Really soacious and comfortable. Sue made it very easy for us to relax.
Jenni
2017-01-07T00:00:00Z
Room Type
Entire home/apt
---
Property Type
House
---
Accommodates
4
---
Bedrooms
Wamberal, NSW, Australia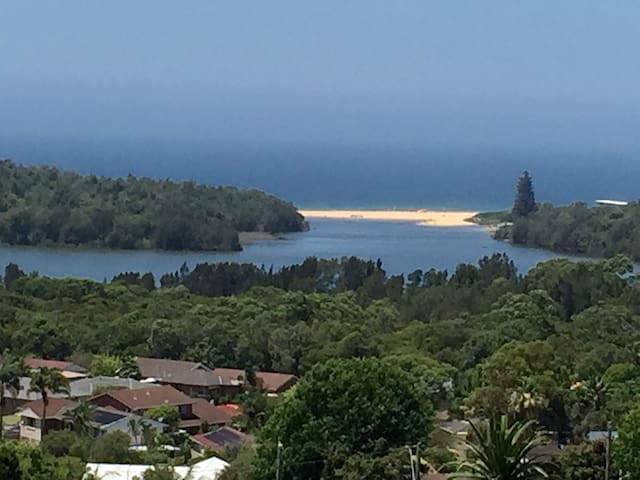 A self contained studio attached to our home on half an acre. Spacious and quiet garden accommodation with a relaxed style perfect for a mid week or weekend break or longer stay. Situated in the beautiful seaside suburb of Terrigal. Terrigal is an ideal seaside holiday destination to relax, and is well placed between Sydney ( up to 60- 90 minutes ) and The Hunter Valley wine region (around 2 hours)
The studio has a queen bed( with electric blanket) lounge and TV area, dining table and chairs and plenty of storage space. If a travel cot is required , it can be set up in the studio for an additional cost of $10 per stay. You will enjoy the use of a fully equipped kitchen but lacks a dishwasher (sorry, on the future list). There are books, board games, and DVD's for your use, complimented with free WiFi. Reverse cycle air conditioning keeps your space heated or cooled.
We love our beach side suburb and the atmosphere of Terrigal. We encourage visitors wishing to know what this area and the wider Central Coast has to offer to start with a visit to the internet site - NSW Central Coast Visitor Information.
Studio 11 was excellently presented and a beautiful place to stay. Susan was in constant communication about parking and tips to find the place, which were easy to follow. The studio was also well equipped with beautiful towels, a few films and books and some snacks. There was an extensive 'how to guide' which covered everything from how to use the air con to the DVD player. Would definitely stay again!
Vashti
2016-06-10T00:00:00Z
Lovely clean, fresh, large studio. Nice welcome drink with the friendly hosts who gave me lots of advice on great things to do in the local area. I will be back, thank you!
Sally
2016-04-22T00:00:00Z
From the moment we made first contact, to the day we left, everything about our stay was perfect. It turned out that we were Sue and Wolfgang's first 'official' booking and they welcomed us with a card and bottle of wine to say thank you, which was so lovely of them. The studio was incredibly well equipped (towels, flannels, shower gel, shampoo, conditioner, extra blankets, pillows, air con, electric blanket, breakfast juice, snacks, etc), clean, comfortable, quiet. All of the good things! They even offered us a lift to the coach for the wedding we were attending, and provided soy milk upon learning we don't drink dairy milk. We would definitely come back to stay if we're in the area again. Thanks to both of you for such a lovely stay.
Kimberley
2016-10-04T00:00:00Z
Upon arrival Susan made us feel so welcome! Susan went above and beyond what we would expect of a host to provide us with the best stay possible. The studio was immaculately clean and had nice little touches and extras everywhere. It was just the right size for my boyfriend and me to have a cosy weekend getaway. Would highly recommend Studio 11 and look forward to staying again!
Kiara
2016-05-23T00:00:00Z
We were only there for one night, but we wished we could have stayed longer! The place was much more than we expected, even better than it seemed in the photos. Very spacious with everything we needed, and Susan was very warm and welcoming. We would definitely come back.
Abigail
2016-07-08T00:00:00Z
What a fantastic airbnb, highly recommend! Great location and a fantastic stay!!
Teagan
2016-06-20T00:00:00Z
My husband and I had a relaxing and very comfortable stay at Studio 11. The studio itself is lovely, with everything you need and the most comfortable bed we have slept on anywhere. It is also very quiet, which is a great bonus for light sleepers. It's proximity to Terrigal basketball stadium was really handy, as we were attending a basketball tournament. Sue is so helpful and has thought of everything to make your experience at Studio 11 exceptional. We will definitely stay there again.
Sue
2016-09-04T00:00:00Z
Cute and cosy studio, centrally located just a few minutes drive from Terrigal beach. Susan and her husband were lovely hosts who made us feel welcome and made sure we had everything we needed. Loved the small touches such as snack items stocked in the kitchen! My partner and I enjoyed our 2 nights stay here and highly recommend Studio 11!
Kay
2016-04-26T00:00:00Z
Room Type
Entire home/apt
---
Property Type
Apartment
---
Accommodates
2
---
Bedrooms
Terrigal, NSW, Australia
Soak up the sun on our North facing balcony, listen to the ringing of the bellbirds and swim amongst the lilies in the lake; *2 bedroom home on 43 secluded acres with large swimmable lake *Large private outdoor deck *Fully equipped and stocked kitchen *Outdoor/indoor bathroom *10-15 minute drive to the nearby beaches Terrigal, Avoca, Shelley. *Main amenities within 10-15 mins *Onsite, secure parking for cars *Extremely safe neighbourhood
*The house is our separate guest accommodation, spacious and welcoming *Living room is a beautiful space, furnished with new comfy chairs and sofa intermixed with inherited heirloom items and well loved pieces. *Kitchen is newly installed *External bathroom offers a wonderful open but private vista *Claw footed antique bath with plenty of room for two *Toilet located indoors.
*Our neighbourhood is dominated by bush and people who love privacy *Council reserve opposite *Surrounded by high conservation rated private land holdings of minimum 43 acres to 100acres *However, supermarkets, beaches, cafes and restaurants in any direction 8-15 minutes *The cottage is located near a road that now carries a lot more traffic so care needed when entering/exiting the property. The road can become busy at peak times.
We have travelled quite widely - from Mexico, to Lebanon, to France, Japan, to the US etc etc. But in all honestly the cottage is one of the most beautiful places we've stayed in. We were there for a long weekend (wished is what longer!) and it was one of the most relaxing, peaceful little trips we've ever had. Very convenient to get to from Sydney, and super close to the beaches. You're also only 15min from Terrigal so we were able to head out to watch the NRL grand final and still get a taxi home! Spending our mornings on the porch overlooking the beautiful greenery of the bush and listening to the birds was magic! Barbara and Howard also had wonderful little touches in the cottage (fresh eggs and croissants waiting for us when we arrived!) and were super friendly and helpful with all our queries. We will be back next year!!!!
Catherine
2015-10-06T00:00:00Z
Charming cottage; great view from the top of the hill. Good restaurants 10 min by car; try SUQ in Wamberal Good value for your money!
Francine
2017-03-12T00:00:00Z
A beautiful home with breathtaking scenery only and hour and a half from Sydney. Barbara and Howard were lovely hosts and kindly provided all the essentials. We loved the huge deck, the privacy and the stunning pond for swimming.
Claire
2016-02-22T00:00:00Z
This was my fourth stay at the cottage, and everything was fabulous as always. Tranquility, fresh eggs, and herbs from the garden! Highly recommended.
Nicole
2016-08-29T00:00:00Z
Our stay at Rose Lavender Cottage couldn't have been more perfect. The house had so much charm, and the garden and surrounds were just beautiful. Barbara was a wonderful host, providing fresh herbs and greens from the garden as well as croissants for breakfast. Everything was so well cared for, clean, with plenty of provisions. We were able to fully relax and unwind and would highly recommend this place to others as the perfect getaway for couples. Thank you so much Barbara - we hope to visit again soon! Luke & Naomi
Luke
2016-05-16T00:00:00Z
From the time we pulled up, Barbara was the ultimate host. She gave us a tour of the cottage and a layout of the property. She gave us a printout of interesting things to do and she checked in to make sure we were enjoying our stay. The cottage was stunning. Huge windows with a view to die for. The outdoor bath was a huge hit! The property is clearly very very well maintained. The experience was fantastic. Secluded enough, but only 20 minutes from Terrigal. We all had an absolutely great time and will most certainly be back. If you're planning a trip up the coast and you don't book at Rose Lavender cottage - you're doing yourself a disservice. 5 stars, it's a very beautiful place run be lovely people.
Chris
2015-01-08T00:00:00Z
What an amazing weekend! Rose Lavender Cottage surpassed all expectations - cozy, tranquil, and secluded. Barbara is a lovely host and I cannot recommend this location highly enough. Perfectly located, priced and presented. We'll be back!
Samara
2015-08-03T00:00:00Z
Thankyou Barbara & Howard for a wonderful stay. Your cottage was beautiful ..everything, if not more that the website showed. The attention to detail & the beautiful niceties that you share were truly appreciated .A wonderfully relaxing mini break... I definitely look forward to a return visit . Sharleen & Sally
Sharleen
2015-09-20T00:00:00Z
Room Type
Entire home/apt
---
Property Type
House
---
Accommodates
2
---
Bedrooms
Tumbi Umbi, NSW, Australia
Welcome to Terrigal Sunrise. A short level stroll to cafes, restaurants and Terrigal Beach. Facilities - Lounge Room with water views - Kitchenette with microwave, fridge, toaster, tea and coffee making facilities - Queen size bedroom with plenty of storage - En-suite with laundry facilities - TV/DVD/CD - Internet access - Underfloor heating - Ceiling fans in both rooms - Deck with BBQ overlooking water view. Your hosts live on the upper level and are happy to assist during your stay.
Our apartment is beautifully presented offering you one comfortable bedroom with a queen sized bed and a large en-suite. The good sized lounge, kitchenette, private deck overlooks our lovely water view of Terrigal Lagoon and surrounds, particularly spectacular as the sun sets.
The 10-15 minute level stroll into Terrigal Village is a beautiful walk and where you will find many fine dining restaurants, cafes, boutiques and a safe, patrolled swimming beach. We are also close to Wamberal Beach for the more experienced surfers. Across the road is Terrigal Lagoon where you will find stand up paddle boarding and paddle boats. A number of local restaurants and clubs have courtesy buses for your convenience including Breakers Country Club. On the First Sunday of the month we have a market just 100 metres walk away. Dive shops operate out of Terrigal accessing great dive sites including ex-HMAS Adelaide. Further afield you will find Erina Fair Shopping Centre, The Australian Reptile Park and Avoca Beach Historical Theatre. There are many coastal and bush walks and cycle ways around the beautiful NSW Central Coast.
Sue and Tony were very inviting and extremely thoughtful in letting us check in early due to our flight times. The house is in a lovely location with water views and easy access to the town centre by bus or Uber ($6). Accommodation is a little home of its own with everything you need for a perfect stay. Would definitely stay here again. Thanks Sue and Tony for a great stay. Michelle and Shane
Shane
2017-03-11T00:00:00Z
We loved the space as soon we saw it . always a pleasant surprise when a place is even better than the pictures . a nice entry up the garden stairs to our own private deck and the downstairs part of the house always nice to have our own entry into a house The place was tastefully furnished the lounge large and very comfy couches, large bathroom nice towels and the bedroom was perfect . very comfy bed the linen and sheets pillows etc were high quality it was like sleeping on a cloud ,beautiful Having the ceiling fan was a bonus . Could have easily spent more nights here . short walk to Terrigal shops and beaches so very good location Tony was very warm and wellcoming great host .
Shelley
2016-12-28T00:00:00Z
Fantastic experience at Sue and Tony's place. The unit is very large, clean, comfortable. Very well equipped as well (TV, music speakers..) and was working perfectly. Very good sound proofing too. Sue & Tony are very nice,I highly recommend the experience
Sebastien
2016-09-11T00:00:00Z
Sue and Tony's house was perfect for our stay. Beautifully decorated, clean and much larger than the photos make it out to be. S&T were wonderful hosts and made everything very easy for us. Thank you!
Alex
2017-01-26T00:00:00Z
Tony and Sue's place was lovely. We were extremely impressed with how large and modern it was. It had everything we could possibly need and more. It was a great location with only a short walk to the beach,cafes and restaurants. The accommodation was very private. Sue and Tony went above and beyond to make sure we enjoyed our stay. Highly recommend this place. Thanks
Garreth
2016-11-20T00:00:00Z
Our stay at Terrigal Sunrise was s(PHONE NUMBER HIDDEN) good. The hosts were great, the place was beautiful! It was clean an roomy and had everything we needed and more. Sue and Tony did a great job in welcoming us. They supplied a few little extra's that made it more special. We would thoroughly recommend this place!!
Carol
2016-09-13T00:00:00Z
Sue was there to meet us and show us around he apartment. It contained everything that you need. The chocolates were a very nice touch. We would recommend this place to anyone.
Helen
2017-02-05T00:00:00Z
What a great place. It has everything set up for a comfortable stay. The views are amazing. Its a very private layout with your own entrance and stunning gardens to enjoy. Very close to the restaurants and cafes. Tea and coffee machine at the ready was a nice surprise and demonstrates the thought put into this little spot. Tony and Sue are very welcoming and we will definitely return, time and time again.
Sandra
2017-02-11T00:00:00Z
Room Type
Entire home/apt
---
Property Type
Apartment
---
Accommodates
2
---
Bedrooms
Terrigal, NSW, Australia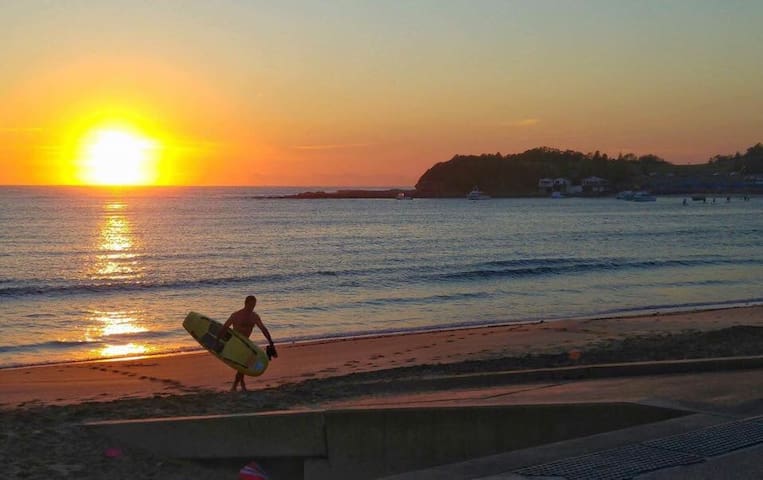 A self contained studio attached to home on 1 acre. Spacious and quiet garden accommodation with a relaxed style perfect for mid week or weekend break or longer stay, Situated in a area surrounded by rainforest and only 2 k from Erina Fair Shopping Centre, 8k from Terrigal beach 5k from Gosford train station with link straight into Sydney. Fully renovated, comfortable queen bed, own entry, with own bathroom. Fully equipped kitchen.
This studio has a queen bed, lounge and tv area plenty of storage. There is reverse air-conditioning and complimentary foxtel, with sports channels.
Frankly we don't understand how we got so lucky. Amazing place for a cheap price. We were looking for a secluded spot not too far from Sydney to recuperate from some heavy workloads on us this Christmas. Margaret's place more than loved up to expectations. It's 5mins to shops and restaurants, yet, while there you feel like the world doesn't exist. To top it off, the extremely comfortable queen bed ensured we slept better than we have at home in several months, in the quiet of the forest. Seriously, if you need a rest, this is the place to go. Don't even bother looking elsewhere.
Marina
2017-01-08T00:00:00Z
Marg's place was excellent, it was very comfortable, clean, tidy and was well stocked to ensure you have all you need. I would definitely stay here again and would recommend it to others wanting to stay in the Central Coast! Thanks Marg!
Erika
2017-03-04T00:00:00Z
Marg was very welcoming and accommodating. Her place was beautiful and as described, and she was very welcoming for us to have a friend and his kids join us in the pool on a 40 degree day. Would definitely recommend to anyone staying in the area.
Kelley
2017-02-12T00:00:00Z
The studio was lovely and spacious, perfect for the weekend we had away. Nice and quiet area as well, but a very close drive to the shopping centres.
Alexandra
2017-01-13T00:00:00Z
A great place to stay if your looking for for a central location in the Gosford area, quite and secluded but only minutes from Erina and Gosford. Marg is a great host and her home is very modern and clean with everything we needed for our weeks stay and exceeded our expectations.
John
2017-02-24T00:00:00Z
Enjoyed the peace and quiet. Loved the access to pool. Top quality bedding.
William and Margaret
2017-03-26T00:00:00Z
Marg was lovely, friendly & helpful. The room was perfect , the surroundings were beautiful . I would def stay again Thanku
Danielle
2017-01-09T00:00:00Z
Marg's home is so peaceful and relaxing and certainly welcoming, felt like I was staying with friends. Would definitely stay with Marg again.
Mark
2017-03-12T00:00:00Z
Room Type
Entire home/apt
---
Property Type
Other
---
Accommodates
2
---
Bedrooms
Springfield, NSW, Australia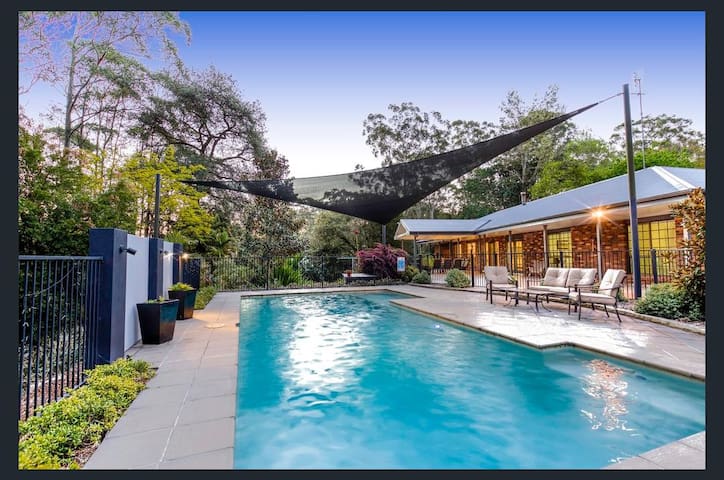 Living and dining space with 6 seater dining table, lounge and tv. Newly updated kitchen. Private paved and fenced courtyard with outdoor setting and hammock. Master bedroom with ensuite and queen bed. Second bedroom with double bed. Third bedroom has two single beds. All have built-ins. Full bathroom with separate w/c. Single lock-up garage and internal laundry. Minutes to beaches, Terrigal and Erina Fair Shopping Centre. 90 minutes north of Sydney CBD.
Very clean and nice place. The host was friendly and easy to communicate with. Will def book again
Vy
2016-12-23T00:00:00Z
Anna is such a welcoming and kind person and has thought of everything for guests to enjoy a homely relaxing stay at her home. The location is excellent, near bus stops, Terrigal beach and restaurants and shopping centres. The home is perfect - clean, fully equipped and Anna is fantastic is helping out with whatever you need. A great place and a wonderful host. Loved our stay.
Dianne & John
2017-02-27T00:00:00Z
A very wonderful stay for us (2 adults and 2 kids), with all the comforts of home & convenient to everything. Close to the Country Club (for dinner) with views to Terrigal Lagoon and a short trip to Wamberal Lagoon & Beach. All other beaches and towns so close! Clean, quiet and cool accommodation. Thank you Anna!
Mardi
2017-01-06T00:00:00Z
Would definitely recommend Anna's place! Her place is in a good location and is close to beaches, shops and restaurants. The house itself is very clean and welcoming, like a home away from home. It was super relaxing and was really impressed with all the things stocked in the house in the bathroom and kitchen.
Mila
2017-01-16T00:00:00Z
We had a great stay. Everything was nice and easy and just what we needed for the weekend
Ellen
2017-03-25T00:00:00Z
Anna made us feel very welcome. Everything worked well and ceiling fans in each room cooled us down after our daily walk to the Lagoon (1.4km). Our stay was a family with 3 adult children and an older dog. We took a single foam mattress to better suit our needs. Our dog stayed in the laundry and had an outside area to explore. While close to a main road it was quiet at night. We would book again if possible.
Grant
2017-01-11T00:00:00Z
Great house. Very clean and fully equipped. Quiet and close to beaches, would recommend.
Marta
2016-12-29T00:00:00Z
This place was perfect for our needs. It had 3 bedrooms and a good-sized living and dining area with a light and airy feel to it with big windows and fresh bamboo flooring. The kitchen and laundry were well stocked, and there was a good-sized patio, too. The attached garage was an added bonus on those very rainy days, and we had wifi throughout which was included. We will choose this place again when in the area.
Maureen
2017-03-20T00:00:00Z
Room Type
Entire home/apt
---
Property Type
Villa
---
Accommodates
5
---
Bedrooms
Wamberal, NSW, Australia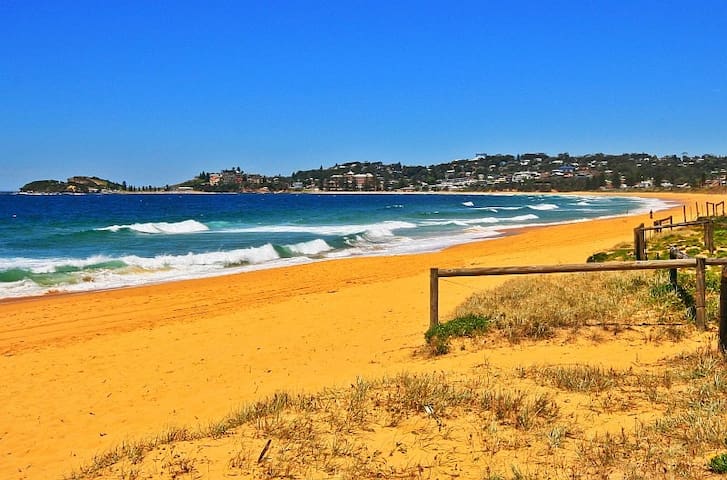 You arrive at this beautiful private studio via stairs through a rainforest garden. Then there is that view! A few minutes stroll to the patrolled beach, walk to lake, Avoca theatre, shops, markets, cafes and all that Terrigal has to offer too.
Thank you Karen and Bruce! My boyfriend and I had an amazing stay at the Sea Salt cabin. The studio is well-supplied and is in a great location with an amazing view. We can't wait to come back! Definitely would recommend to stay there if you're heading to the Central Coast.
Rachelle
2016-08-21T00:00:00Z
Karen and Bruce where the best AIRBNB hosts I've ever had. They were kind, friendly and welcoming. The studio was amazing, everything was exactly as you see in the pictures and better. I took myself away for a restful couple of days. I was able to walk short distances for everything I needed. The Studio was private, gorgeous and the best relaxation I've had. I highly, highly recommend staying with Karen and Bruce they were knowledgable, helpful and so welcoming. There was all the supplies I needed and more in the fridge and pantry and even hosted me for dinner one evening. Its no wonder they are we booked in advance. Highly recommend.
Jaimee Leigh
2016-11-28T00:00:00Z
By far one of the best Airbnb experiences we have ever had. The warmness and generosity displayed by Karen and Bruce was quite frankly astounding. A beautiful studio with everything we needed and an exquisite location.
Conor & Mykle
2016-05-22T00:00:00Z
We cannot rate our experience highly enough. Both Karen and Bruce were the most magnificent hosts and we were welcomed with open arms. We chose to stay here for 3 nights after our wedding and we couldn't have dreamed of a better place to stay. The accommodation is outstanding and the view, absolutely breathtaking. Karen went above and beyond to ensure our stay was one we would remember forever. We will be back and feel we have made life long friends. A short walk to cafes and a short drive in to Terrigal or Avoca, yet in your studio you feel you could be a world away from it all nestled in a little forest overlooking the stunning beach. Thank you Karen, Bruce and Harry for a stay that will forever remain dear to our hearts.
Michelle
2016-10-05T00:00:00Z
Our beautiful weekend at North Avoca was 100% due to the amazing stay in Karen and Bruce's studio. While we got stuck in terrible weather over the weekend (it rained the entire time and a lot of things were closed due to the weather), the studio had everything we could have wanted/needed to stay in for a quiet, relaxing weekend. Karen provided us with snacks and food for breakfast, champagne and even left us some cupcakes for our anniversary. They were very accommodating and looked after us with anything we may have needed. Thanks again for everything and for letting us stay later than checkout on Sunday to wait out the bad weather :)
Kristina
2016-06-06T00:00:00Z
Karen & Bruce made me and my partner feel right at home. We were welcomed with a smile and the place was amazing. The view & vibe was just what we needed. The house was perfect with all the features and appliances you would need, we honestly felt like we were at a 6 star hotel. I would highly recommend this as a perfect getaway from the hustle and bussle of the city, you honestly could not ask for anything more. Thanks again Karen & Bruce - we will see you again. : )
Luso
2016-05-24T00:00:00Z
For my first air b@b experience, I couldn't have asked to stay in a better place. Brilliant views with lux interiors; the bathroom was our favourite!!Karen and Bruce are a very cute couple and their hospitality was warm and generous. Thanks so much for a fantastic 3 nights guys xo
andrew
2016-03-26T00:00:00Z
What an amazing place for a quick central coast getaway! Walking up to the cabin through the rainforest - you could have been in anywhere around the world. The view is incredible and the apartment is beautiful and decked out with more than you will ever need - games, coffee machine, speakers just to name a few. You won't want to leave - which is what happened with us. A quick drive to the surrounding beaches but in our opinion sitting on the balcony at North Avoca Sea Salt is even more relaxing. To top it off Karen and Bruce were such welcoming hosts and really wanted to help out in every way that they could. Hopefully we'll be back soon! Highly recommended. Thanks!
Sam
2016-02-20T00:00:00Z
Room Type
Entire home/apt
---
Property Type
Cabin
---
Accommodates
2
---
Bedrooms
North Avoca, NSW, Australia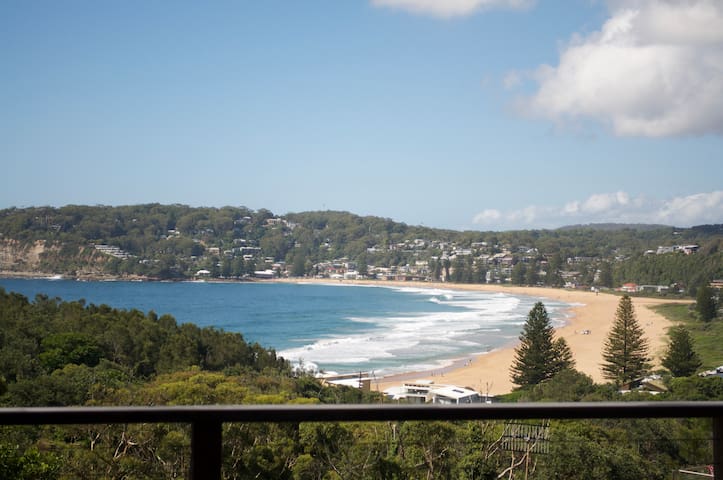 Welcome to Sundale Retreat, a charming studio nestled high amongst the trees in a peaceful area only minutes to beautiful Terrigal Beach. It is private & completely self-contained, with lush gardens & plenty of nurturing spaces to relax & rejuvenate. We also offer a deliciously relaxing in-house massage and aromatherapy bath in nature to all our guests, in the privacy of the garden or studio.
We warmly invite you to step out of your busy routine, to walk through the garden gates & immerse yourself into the enticingly restful energy of the space. You will find many alluring nooks to indulge the senses & nourish the soul, from the cushioned dining platform under the 'Tree of Life', to the sheltered deck where you can gently sway in the hammock to catch the ocean breeze, be charmed by the rustic fire pit under the stars, or feel totally immersed in nature in the deliciously romantic & private out door bath. If you prefer the cosy indoors, the spacious studio provides all the comforts, as well as many little luxuries to feel nurtured & replenished.
When you feel rested & ready to explore, you will find so many interesting & enticing places nearby. The family-friendly, yet hip Terrigal Beach is perfect to enjoy a day of swimming, surfing, diving, snorkelling, whale-watching or other water sports, as well as offering an eclectic selection of bars, cafes & restaurants. You will also find a local landmark, The Skillion, situated in the calm waters of Terrigal Haven. The lookout offers stunning views along the coastline. Terrigal Hotel is a 10 minute easy stroll, & it also offers a courtesy bus service for after hours. This saves you tackling the hill after a full day of adventure. Other beautiful beaches nearby include Wamberal Beach, Spoon Bay, Forresters Beach, Avoca Beach, Copacabana , or venture further north to The Entrance, or south to the charming Pearl Beach. Each area offers a variety of activities & attractions to complement your stay at Sundale Retreat. Take the ferry from Ettalong across to Palm Beach (Sydney), or head out to The Australian Reptile Park, Somersby (25 mins drive). Drive towards Calga, where you will find Australian Walkabout Wildlife Park, or meander down to the picturesque Glenworth Valley for horse riding or quad biking. Plan another day trip to explore the gourmet delights of The Hunter Valley wine region, which is a convenient 1.5 hr drive north on the M1 freeway through the pretty countryside. ...and if you are still running out of ideas, why not visit one of the local weekend markets such as Avoca & Ettalong, or hop on the bus to Erina Fair Shopping Centre.
Sundale Retreat was just what I expected. It was also exactly what I needed to have really some serious downtime. I spent 3 days there and can't believe how relaxed I felt when I left. It was so nice just to lie in the hammock or sit in a chair in the sun in the garden, reading. Unfortunately it was too cold to try the bath. The stocked fridge and other treats made me feel very spoilt. Danielle was so lovely to deal with and very welcoming, Tony was away with work and we did not meet. I really felt that I was staying with an old friend. The studio, while underneath the main residence is very quiet. I would not hesitate to recommend Sundale to anyone, single or a couple for that special trip away.
Jeni
2016-06-30T00:00:00Z
Danielle and Tony have THE most amazing and relaxing place. They have put a lot of love and effort into creating a sanctuary and if you just need to get away, you are guaranteed to feel rejuvenated after staying at this studio. Also, the garden, which we knew would be good after seeing the photos and reading the reviews, was even better then expected. The stay was superb It was a very close drive to the beach and all of the main spots in Terrigal, and only a 10 min drive from some other more secluded spots. Danielle and Tony also made us feel really looked after, whilst still respecting our privacy. If you are staying in Terrigal and are looking for paradise, then this is where you must stay.
Nataly
2015-01-26T00:00:00Z
We loved every moment in Danielle & Tony home. It was our own piece of heaven. Close to the shops and beaches (you don't really need to leave the place is wonderful) we had a very chilled weekend and Danielle & Tony always checked up on us to make sure everything was ok, which is a beautiful touch. Thank you guys, hope to be back soon.
Van
2016-09-11T00:00:00Z
Wow, we loved it here. Such a great tranquil and cozy little hideaway. Only complaint was that we couldn't stay for longer! Great communication from the hosts, and so nice of them to leave healthy snacks and drinks for our arrival. The outdoor tub is amazing! Would be happy to return here for another excuse to switch off our minds from the busy city life.
Celine & Tom
2017-02-07T00:00:00Z
What a beautiful place. Danielle and Tony have done a fantastic job with the space - the unit is nicely decorated, the fridge was stocked with goodies, the garden is amazing and the outdoor bathtub was a godsend on a 37 degree day! Danielle and Tony were both very kind and helpful, they even arranged to pick us up from the station. The location is quiet and leafy. It's about a 20 minute walk to the beach and restaurants but there is a bus stop close by if you don't fancy walking. You can see that these hosts genuinely care about giving their guests a great experience.
Angie
2017-01-20T00:00:00Z
This was a perfect place for us to relax in over Christmas, with all needs taken care of. Well-stocked kitchen was a very pleasant surprise, garden setting,superbly planted and maintained, a joy to look out on while sitting on the spacious deck. Suburbia all around didn't intrude for a moment on our little 'Balinese' paradise. Many thanks,Danielle and Tony. We will be back.
Paul
2016-12-28T00:00:00Z
Sundale Retreat is a little slice of Bali without stepping on a plane. It's beautiful, serene and ripe for relaxation. Danielle and Tony are so welcoming and their attention to detail is top notch.
Kate
2017-01-07T00:00:00Z
Your Sundale Retreat was a special place to come & get away from the busyness of life. We loved the gorgeous deck and backyard to relax in & the room was so beautifully decorated. It was a peaceful and relaxing place to be! Thanks so much! Lauren & Andrew
Lauren
2017-03-27T00:00:00Z
Room Type
Entire home/apt
---
Property Type
Apartment
---
Accommodates
2
---
Bedrooms
Terrigal, NSW, Australia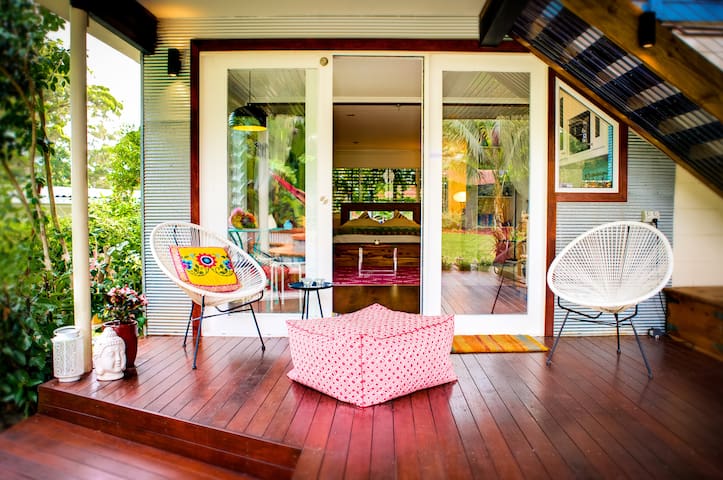 "Zahra" is located between the golf club and the beach. Enjoy your own personal space in our self contained (single room) studio with queen bed and a double fold out (if you really need to bring the kids!). A private verandah/court yard are perfect for breakfast or an evening barbeque. This wonderful cabin is completely separate (including access) from the main house.
This is definitely not a Bed & Breakfast! 'Zahra' is a self contained cabin/studio where you will have your own personal space with kitchen/dining, lounge area, separate bathroom and small courtyard complete with bbq. The lounge area includes a TV and dvd player as well as a selection of dvds, books and board games.
'Zahra' is central to all the great spots on the Central Coast, including beaches, golf course and restaurants. The best place to get supplies is the local IGA at Erina Heights (375 The Entrance Road heading towards Gosford). There is also a bottle shop, chemist and fruit shop at this site: (URL HIDDEN) For basics (milk, bread and papers) and a great coffee try "The Little Shop" on Terrigal Drive just near the end of Willoughby Road.
Beautiful house! Amazing hosts! Very organised and thoughtful setup, cosy and friendly. Had a wonderful weekend away, defiantly will be going back soon. 100% my favourite stay with airBnB
Julia
2016-07-18T00:00:00Z
We had a lovely stay at "Zahra". Vince was very responsive and friendly. Everything was clean and comfortable. 15 minute stroll to the beach, which was where we spent most of our time! Loved the board games and little touches in the cabin. Would love to come back!
Skye
2015-01-18T00:00:00Z
Wonderful place to stay. With books, dvds and board games you will never be bored. Very private place and room for parking for a SUV. Thanks Vince for everything. Will surely recommend friends to stay there.
Jenny
2016-03-25T00:00:00Z
Zahra was the perfect place to stay for our trip to the Central Coast, its beautifully decorated, great location and well equipped with all we needed for our stay. Best of all Vince and Bernadette were outstanding hosts and went out of their way to accomodate us and make the trip really special for my partner's birthday. I would highly recommend Zahra for a Central Coast holiday.
Stacey
2015-08-02T00:00:00Z
It's always wonderful staying at "Zahra". This cabin is gorgeous, private, very clean, has good quality beddings and towels. Vince and Bernadette are so generous and great at communication. We love coming here.
Maggie
2015-12-03T00:00:00Z
Love staying at "Zahra"! It's so clean, so spacious, so comfortable... Communication is easy and quick. Highly recommend!!!
Maggie
2016-01-28T00:00:00Z
Great location, had everything we needed for a weekend away. Very clean and nice and warm on a winters evening. Great communication with hosts.
Judy
2015-06-08T00:00:00Z
Zahra is a very pleasant surprise. We booked very short notice and loved what we found, a little oasis tucked away in wonderful Terrigal. Vince and Bernadette have beautifully fitted out and tastefully decorated this retreat with quality and comfortable furnishings..very understated in the profile pictures. Thoroughly recommended this excellent value for money secret!
Cara & John
2015-10-18T00:00:00Z
Room Type
Entire home/apt
---
Property Type
Cabin
---
Accommodates
2
---
Bedrooms
Terrigal, NSW, Australia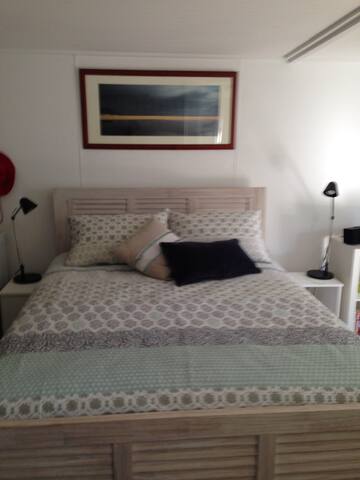 Converted garage, comfortably sleeps 2. Kitchenette, and own WC/Shower room. Queen bed and dining area.. Walk to the local train station (700m), supermarket, shops and McDonalds, Subway. Easy drive along the scenic Ridgeway to gorgeous Central Coast beaches like The Entrance, Terrigal, Avoca and Toowoon Bay
Self contained 'granny flat/studio' in converted garage. Basic clean and comfortable accommodation. We are a busy young family with 2 young toddlers so you may hear some noise during the day times/early evenings. We can provide travel cots, high chairs etc if you are travelling with an infant. The room has a gas heater and electric blanket if it gets cold and there is a fan for warmer days. As the granny flat is below the main house, it stays quite cool, even on the hottest days. You are welcome to use the washer and dryer.
We love the Central Coast! Close to bush and beautiful beaches, whilst still being within easy reach of shops, restaurants and Sydney and Newcastle. The people are friendly and you don't pay for parking!
Host was very understanding when I couldn't get in until late. Was very friendly and helpful throughout my stay. Would highly recommend.
Chris
2016-10-07T00:00:00Z
Carrie was a great host, a helpful and prompt communicator. We were both quite busy during my stay so it was a shame we didn't get to have a proper chat! The room was great, very clean and had everything we needed. A good base to explore the central coast if you have a car.
Bridget
2016-03-12T00:00:00Z
Immaculately clean and professionally presented, this granny flat allows independence and everything you could want in a BnB (self catered) - kitchenette, bathroom, everything was spotless and beautiful. They accepted my last minute request with alacrity and really helped me out of a tight situation. And best of all - they're PET FRIENDLY!!! I was so happy with this place. It's only 10 mins off the highway so there's no messing about in traffic to get there. And it's a lovely part of the world.
Aimee
2016-10-22T00:00:00Z
Carrie & her husband welcomed us warmly
mary
2016-07-25T00:00:00Z
Very welcoming and helpful.
Chris
2016-10-02T00:00:00Z
We arrived late and left early the next day so sadly we didn't get to meet Carrie and her family but they provided the perfect place for us to stay and break up our trip up the coast. A private granny flat with all the facilities you would need. Carrie had the heater on for when we arrived so the place was lovely and warm. A travel cot had been set up for our toddler and a high chair left out too. We appreciated all the little extras Carrie. Thank you so much
Kate
2016-06-11T00:00:00Z
My husband and I decided to have a spontaneous night away in the Central Coast along with our dog! Carrie was most welcoming, friendly and very responsive! We had an awesome time, the place was clean, tidy and the bed super comfy! Our dog got to explore Carries secured back yard so everyone had a really good time! Thank you Carrie for having us!
Jeanette
2016-07-18T00:00:00Z
We had a great stay in Lisarow. The hosts are lovely people and the acommadation offers a lot of privacy and space. We always felt welcome and Carrie and Marc helped us a lot. Would recommend it to anyone who wants to stay at the Central Coast.
Sarah
2016-02-15T00:00:00Z
Room Type
Private room
---
Property Type
House
---
Accommodates
4
---
Bedrooms
Lisarow, NSW, Australia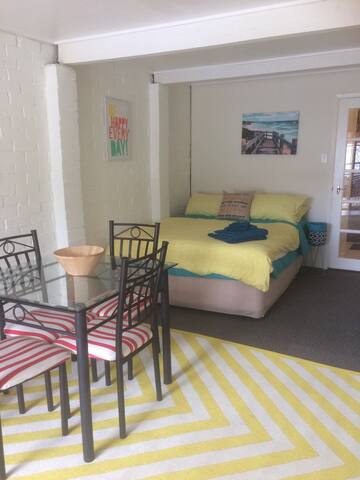 We welcome you in our charming, self contained Yurt built on our 2 acres of Australian Eucalyptus forest. For a unique outdoor experience, enjoy our beautiful valley, pool, yoga studio, 5 min drive from Terrigal beach and coastal national parks.
Self-contained wooden Mongolian Yurt with its own car park, entrance, set on 2 acres of beautiful bush. Funky Yurt sleeps 2 people (Queen Size bed) + sofa and opens directly into the Australian bush. The newly built Yurt includes an outdoor shower, small kitchen with barbecue for cooking, small bathroom with sink and outhouse with composting toilet. A wonderful way to relax as a couple, indulge yourself in the midst of this beautiful nature, majestic trees and peaceful surroundings just 5 minutes from the renown Terrigal Beach. The wooden yurt has a large comfortable and bright room, thanks to the presence of four large windows overlooking beautiful trees and its central dome which allows you to watch the stars from your bed. A large terrace with a covered area that houses a fridge and a sink, a barbecue place, simple but really made to live in communion with nature. 80 kms north of Sydney, 5 minutes drive from Central Coast beaches and surfing spots. Parking on site.
We are located in Erina Valley, one of the remaining semi-rural areas within minutes of Terrigal beach. We are within distance of the best coffee place on the Central Coast, Glee Coffee, as well as famous Italian delicatessen BamVino, micro-brewery Six String Brewing Co and the famous Distillery Botanica and its award winning liquors. Our house is nestled in a lovely eucalyptus forest and we wake up to the sound of native birds (Sulphur Crested Cockatoos, Bell birds, King Parrots, Kookaburras and many more). If you love nature walks, our home is located 15min from breathtaking coastal walks and national parks. If you are a beach lover, the central coast offers a wide range of sandy beaches and tranquil bays for swimming and surfing. - If you rather pamper yourself you can walk to Elyssian Beauty Skin therapy Centre or try a massage with Sana Wellness.
Glamping in style! Surrounded by beautiful eucalyptus tree's, bell birds ringing, cicada's singing, peaceful bliss all around. Eric was very welcoming & informative & left me to my solitude to soak in the yurts harmonious energy. First day was a scorching 33 degree's so made use of the main house pool & kept myself cool throughout the day with the outdoor shower, then mother nature decided to rain for the rest of the time which made cooking a slight challenge on the outdoor BBQ, but so many amazing eateries super close that you could never go hungry! Didn't get to make use of the coast being so close due to the rain, but the location is priceless! Enjoyed eating at Bella's in Terrigal for their organic offerings & heaps of shops close by. Love Love Loved it! Can't wait to go back
Jen
2016-12-15T00:00:00Z
The listing is very accurate. I can still not believe that that area of housing exists! So close to Erina Fair, and to Terrigal and the beeches. Fantastic location for amenities, yet it could be (and Feels Like) it is in the middle of the bush. Very private outlook, and even the though the main house is near by I don't think I saw a single person for the whole time I was there, which suits me. No nosey hosts looking in each day! Thanks again for sharing the yurt with me.
Shane
2016-05-10T00:00:00Z
Was a pleasure to stay at the Yurt, such a beautiful peaceful location, lots of additional tips and directions provided to explore the area, Eric was warm, friendly and very hospitable! Would recommend to anyone looking for a central coast get away - close enough to the beach, far enough away to feel at peace in nature
Laura
2016-10-06T00:00:00Z
Staying at the Funky Yurt at Erina was a great experience. Great location, Quiet with plenty natural bushland. Eric was a great host and made my stay very easy and comfortable Will stay again if in the area next time. Thanks Eric
Mark
2016-09-08T00:00:00Z
Thanks for the wonderful stay and hospitality. The place was so peaceful we didn't want to leave or get out of bed where we just lazed watching the sky. We will be back ☺
Rytz
2017-03-05T00:00:00Z
The whole experience was excellent. The yurt was perfect and private. Outdoor shower was amazing. Thanks very much we will be back
teleri
2016-10-23T00:00:00Z
a beautiful place to relax in nature, enjoying secluded outdoor showers & BBQing. Close to beaches & shops.
Emma
2016-10-11T00:00:00Z
it was a great stay good to have that outdoors relaxing experience, They even provide us with a list of places for food and events in the area
adam
2016-11-12T00:00:00Z
Room Type
Entire home/apt
---
Property Type
Cabin
---
Accommodates
2
---
Bedrooms
Erina, NSW, Australia
We live in the leafy suburb of Terrigal and our 'Hideaway' nestles in the Treetops. We have pristine golden sandy beaches nearby and endless beautiful beachside walks. Many trendy cafe's and restaurants close by.
Although the room is not large it is cosy, furnished with a very comfortable queen bed, quality linen and towels. The shared bathroom has been newly renovated and we are mindful of our guests privacy. You are most welcome to do any washing or drying during your stay. Step out through your own French doors onto a private deck where you can relax, read a book, enjoy your breakfast , (weather permitting) You have your own TV/DVD player in your room. And we will share our WiFi with you. The lounge room is not a part of the Treetop Hideaway but we love it when our guests wish to use this space with or without us. We will provide a continental breakfast especially for you.
We love our friendly neighbourhood and watch out for each other and also respect each other's privacy. We are only a short drive to the buzzing beachside suburb of Terrigal. Where you will find many gourmet eating options, from rustic bakeries to fine dining restaurants. Terrigal also offers a great patrolled beach which is perfect for families and is only just across the road from the boutique shopping that is always popular. Even though we are not far at all from the trendy town centre of Terrigal - it is worth mentioning that the walk there is much more pleasant than the walk back home, where you would need to walk up a couple of steep hills. So we recommend you drive there and then enjoy walking around the buzzing town centre.
We thoroughly enjoyed our time in the treetop hideaway. Michelle and Darryl were very welcoming and we enjoyed chatting to them in the evening and meeting the local possums! The house is beautiful with an incredible view over the valley and our room and private balcony/terrace was perfect! The bed and pillows were very comfy and the little extra touches were very nice! The shared bathroom was perfectly clean and ultra modern with a great shower. The breakfast in the morning was amazing! Thanks for a great stay and would definitely return if in the area again! Highly recommended!!!
Amy
2016-03-30T00:00:00Z
We had a lovely weekend away staying at Michelle's beautiful house. The bed was amazingly comfortable after a day of diving, and the next morning the breakfast was delicious. There was no detail missed and we were made to feel very welcome. I will definitely be coming back next time I'm in Terrigal!
Gel
2014-11-17T00:00:00Z
Michelle and Darryl made us feel very welcome and we thank them for their hospitality and sharing their home with us. Like others before us, we really appreciated the extremely comfortable bed and quality bed linen, the delicious breakfast and the strawberries, almonds and chocolates in the room. The birds that come to the back window to feed, the cats and Darryl's beautiful tropical fish and tank are a bonus. We hope to be back some time soon. Pauline & Col, Canberra.
Pauline
2015-07-12T00:00:00Z
Great place, lovely quiet leafy location overlooking the valley. Beautiful house and such a friendly welcom from Michelle & Daryll. Great, comfy room with private deck and beautiful breakfast in the morning. Thanks for having us we look forward to coming again.
James
2016-01-27T00:00:00Z
From the moment we arrived, Michelle & Darryl had us feeling right at home. We just felt like we were staying with family friends we've known for years - it's a big part of why we love air BnB! The room was just as described & styled beautifully. The bathroom is newly renovated & gorgeous, & breakfast on the terrace was delicious. Thank you both for having us, we love the Treetop hideaway & will see you again soon.
Vicky
2015-03-02T00:00:00Z
It was amazing Terrigal is a great place to visit and Michelle made me feel very welcome. Best bed I have ever slept in !
Dion
2015-03-27T00:00:00Z
very comfortable bed, bathroom impeccable, very nice terrace with privacy, very yummy breakfast...2 very restful and quiet days.. hosted by warm and caring people, we will come back!
marina
2014-12-10T00:00:00Z
We had a fantastic overnight stay at Michelle & Daryl's. They were incredibly welcoming and we felt like we were at home from the moment we arrived. The bed was super comfy and the room very cosy. Thanks again for your hospitality ☺️
Jana
2016-10-15T00:00:00Z
Room Type
Private room
---
Property Type
Bed & Breakfast
---
Accommodates
2
---
Bedrooms
Terrigal, NSW, Australia
We have a comfortable house that is furnished and has a vegetable garden. We have a cat and a 6 year old. We love to grow and enjoy our own veggie. and we would like to be sustainable living.
A spacious queen bedroom with a private bathroom, TV, Dvd player, wifi access, study desk, and a following extra if required: - Tennis rackets and balls (Tennis court is only 5 mins walk away) - Fishing rods and gear - Bicycles
quiet area with a lot of visiting of colorful birds / bush walking tracks and 5 mins drive from Gosford.
Visited for work. Comfortable space within close driving distance. Very happy with what was provided.
Kate
2017-03-23T00:00:00Z
I had a wonderful stay in Gosford at Leonid's home. The family was very friendly and welcoming. The house is quiet, on a small hill with leafy views. Highly recomended.
kanna
2016-08-11T00:00:00Z
Thanks, Toon and Len. Your place was exactly what my son and I were after for our brief stay. Clean premises with good amenities in quiet location. Friendly and helpful hosts, value for money.
Lok
2017-02-18T00:00:00Z
Their room is bright and spacious. Also there is a big desk in the room, which is great. They allowed me to stay with my dog. My dog was very happy. Their son is gorgeous. I had a great time. Thank you very much, Toon!!
Tomomi
2016-12-26T00:00:00Z
Great stay. Just needed my own room for a few nights while I did a work contract. Bed was very comfy and I had easy access to the bathroom. The hosts were kind and went out of their way to drop my laptop charger into work for me when I forgot it! Thanks guys
Beth
2016-01-30T00:00:00Z
Toon and his family are very friendly, easy going and they have flexible check in time. The place is very neat and tidy. They are really thoughtful to have coffee, tea and cereals provided for breakfast.
Romilda
2017-02-07T00:00:00Z
This was a really great place to stay. Totally private room with great facilities I definitely recommend it and will stay there again most likely!
Graham
2017-03-30T00:00:00Z
The host canceled this reservation 3 days before arrival. This is an automated posting.
Sunil
2017-03-08T00:00:00Z
Room Type
Private room
---
Property Type
House
---
Accommodates
2
---
Bedrooms
Wyoming, NSW, Australia
The West Wing is a recently renovated & beautifully furnished 2 Bedroom House/Studio nestled in the trees in the beautiful acerage suburb of Matcham. Located a short drive to Terrigal Beach and shopping centres.
Sit back and relax on the balcony overlooking the garden and Pond, or take a book to the pond pavillion for some extra relaxation. There are 2 bedrooms complete with Luxury Linen, beautiful bathrobes and plenty of wardrobe space. Main Bedroom has a Queen Bed and Second Bedroom has a double bed. The Lounge Area has a Large Flat Screen TV, Blue Ray Player and Bluetooth Playbar & Subwooffer. There is a good stock of Books, DVD's and Board Games. The Open plan Kitchen/Dining is fully equipped to cook up a storm, or on balmy nights on the BBQ on the Deck. There is a lovely outdoor table and chairs also on the deck overlooking the garden and pond. The West Wing has ducted air-conditioning for cooling and heating. There is a Front Load Washing Machine and outdoor Clothes Line. Iron and Ironing board. Hairdryer in the Bathroom. Also Included is a Gourmet Breakfast Hamper, including homemade Sourdough Bread, Fresh Eggs, Organic Bacon, seasonal fresh produce from the fruit & veggie garden and lots of other homemade goodies. There is also plenty of other provisions and extras included in the fridge and pantry.
We live in a beautiful, leafy rural area close to beaches, shopping areas and quite a few fabulous restaurants and cafes are a few minutes away.
We were a little hesitant staying at a place with no online reviews, but the pictures and write-up looked nice enough, so we thought we'd give it a shot. And we're glad we did. So here is the first ever online review, and I apologise if I ramble on a bit! The West Wing is a lovely 2 bedroom studio/house that is separated from the owner's main residence by a couple of garages. It is set in a very nice semi-rural location that is very close to Erina Fair (LARGE shopping centre) and Terrigal. The hosts (Kim and Ken) are very nice. Kim is generally around a good deal of the time, and is more than happy to have a chat, or leave you alone if you'd prefer. I have to say in advance that we unluckily picked the coldest 3 nights in the last 15 or so years to stay in the Central Coast area (end of July 2015), and therefore didn't spend as much time outside as we would have liked. I would imagine that ordinarily, it would be very pleasant sitting out on the balcony or down a bit further under the pavilion by the pond. We did, however, manage to spend some up close and personal time getting to know the very cute chickens that sometimes roam around the property. They are quite friendly and would come up to us looking for something to eat, but never in your face. They are happy scratching around nearby, and as there are no roosters, you don't have to worry about them waking you up in the morning. The studio itself is recently renovated and very nice. You can obviously tell that Kim enjoys interior design and styling and she has fitted the place out very nicely. There are quality linens, lots of items in the kitchen such as fresh milk and orange juice, cereals, condiments, mayonnaise, tomato chutney, caramelised onion, cheeses, a bottle of wine, chocolates, coffee, and a very generous fruit bowl. The kitchen is also very well stocked with all the stuff you need with regards to plates, bowls, cutlery, pots, pans and cooking utensils. Tank water is used on the property, and in case you're uneasy with drinking it, there is an under-sink filter and some bottled water in the fridge. Then there's the fabulous breakfast hamper that Kim leaves on your doorstep every morning! There's organic bacon, fresh eggs from the aforementioned chickens, freshly made sour dough bread that Kim bakes every day (and it's nice and warm when it arrives), baby spinach, tomatoes, more fruit and butter. Add all that to the cereals, milk and orange juice, and you've got a pretty hearty breakfast to start your day. On the entertainment side, there's no digital TV coverage there, but that didn't worry us. There is, however, Netflix to keep you entertained with plenty of movies and TV shows, as well as a DVD/Blu-ray library and plenty of books. There's also free Wi-Fi, and...
Sarah
2015-07-30T00:00:00Z
Kim and Ken were the perfect hosts. The West Wing was better then described and the pictures dont do it justice.
Rachel
2016-01-12T00:00:00Z
Kim and Ken and lovely, warm welcoming hosts who really looked after us during our stay. The freshly baked bread in the morning is a delight to wake up to!!
Kelvin
2016-03-08T00:00:00Z
place: clean, spacious, well furnished... environment: green, serene, idyllic, pleasant, the little pond and surrounds make a great outdoors area... hosts: lovely, warm, fantastic breakfast hampers (accommodated our dietary restrictions too)... overall: fantastic sojourn...kids enjoyed thoroughly too
Tejas
2016-03-30T00:00:00Z
What a stunning place the West Wing is! Kim and Ken have thought of everything. The home is exactly as described and all of the amenities are quality and beautifully clean. The serenity was just what we were looking for. I can't wait to return.
Sharon
2016-10-15T00:00:00Z
Thank you Kim and Ken for your 200% friendly hospitality. The actual house is true to its listing. We were welcomed by a bottle of wine and chocolates, delicious breakfast hamper every morning with home made sourdough bread, organic bacon and eggs from home grown chickens. I look forward to breakfast every morning. The bed and pillows are so comfortable. My kids enjoyed the stay there , they love feeding the fish in the pond and the Netflix channel kept them entertained with plenty of kids shows. Kim and Ken are always there happy to help and chat. The BBQ outdoor area makes it easier for us to organise dinner while our kids can run around and play in the grass area.
Irene
2016-01-27T00:00:00Z
Kim was such a wonderful host, she and her husband made us feel very welcome, everything was outstanding. Loved the breakfast basket, she made us every day fresh bread, which was so delicious. The West Wing is very private, the garden area beautiful, so is the whole house! thank you Kim, we will definitely be back!
eniko
2016-03-05T00:00:00Z
The host canceled this reservation 114 days before arrival. This is an automated posting.
Elizabeth
2015-09-05T00:00:00Z
Room Type
Entire home/apt
---
Property Type
House
---
Accommodates
4
---
Bedrooms
Matcham, NSW, Australia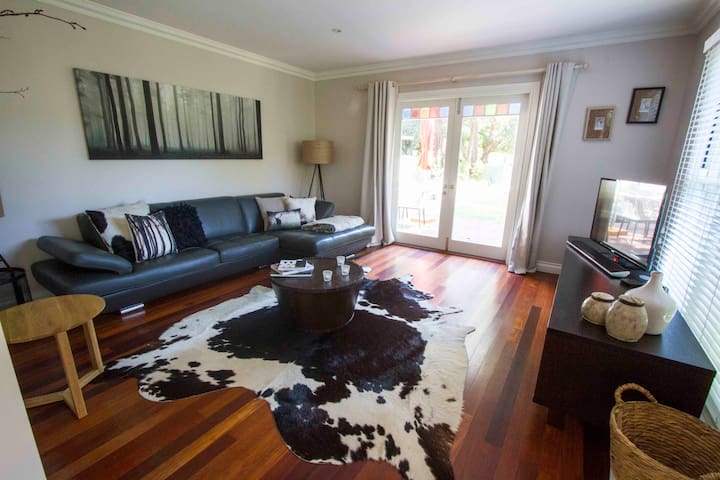 Our place is close to Erina Shopping Centre (5min drive), Terrigal beach (10mins), restaurants and dining (5-10 mins drive). You'll love our place because of the comfy bed, quiet surroundings and close proximity to main attractions. The house is pretty new and has a fresh look and feel. With ample street parking around, you won't have any troubles to find one. Also, there is a bus stop close by. We provide you with a nice home cooked breakfast with tea or coffee to get your day started :)
The house is not big: there are two bedrooms rooms, two bathrooms, living room and a spacious kitchen. You'll stay in a comfortable cosy room with en-suite toilet/shower. There is a separate back door into a backyard outside the house (for a QUIET ACCESS TO YOUR ROOM PRIVATELY if needed). The room is cozy and has a large comfortable bed with brand new linen. The bathroom has all basic toiletries. Fresh towels are also provided. There's a flyscreen on the door if you want to have some fresh air. There're washing machines and dryers available in a common area to be used which accepts $2 coins.
We live in a quiet neighbourhood with native animals and birds coming for a visit from time to time. We are also located close to the Erina shopping centre and 10mins drive to Terrigal and Avoca beaches.
Three of us stayed at Alex and Olga's. They were very accommodating and friendly and the breakfast was a very nice touch! It's a squeeze for 3 but very nice for 2.
Joe
2017-01-29T00:00:00Z
Alex and Olga are amazing. The room was very clean and confortable. The hosts were very very friendly. Alex even cooked a tasty breakfast for us:) Highly recommend it
Charbel
2017-02-26T00:00:00Z
Stayed at Alex and Olga's place for a night. The room was quaint but perfect for a good night's sleep. Alex cooked a delicious breakfast and they were very accomodating with my requests.
Jerome
2017-04-01T00:00:00Z
Lovely small and cosy room for staying in Terrigal! Very close to the beach and all the happening spots! The house itself is located in a very scenic neighbourhood and you will fall in love with the place. Alex and Olga go out of their way to make you feel at home and help in any way they can! I was really touched by their hospitality and can't wait to visit again :)
Mani
2016-12-22T00:00:00Z
Alex & Olga's place is a great room if you need to stay for couple of nights in Terrigal, especially if you are wanting to explore the coast. The room is enough space fro two people and the bathroom was very clean and in the room - very handy. The bed was very comfortable and we slept so well. Alex and Olga are very sweet hosts and provided breakfast for us and cold waters daily. Definitely recommend if you need a place to stay!
Theresia
2017-01-14T00:00:00Z
We had a lovely quiet stay in this cosy bungalow! Alex + Olga were great hosts and we would definitely recommend people to stay here =)
Rohit
2017-01-27T00:00:00Z
We stayed with Alex and Olga as a last minute decision whilst traveling back up the north coast. We were pleased and satisfied with our stay. Very lovely and welcoming people whom are more than happy to have a chat or give you your own privacy. Would definitely recommend their air BNB and hospitality. Thank you Alex and Olga.
Jess
2017-01-04T00:00:00Z
Alex & Olga were very friendly hosts. The place was very clean easy to access. Not far from the beach, was a quiet and nice place for relaxing. They provided a wonderful breakfast.
NICHOLAS
2017-01-02T00:00:00Z
Room Type
Private room
---
Property Type
House
---
Accommodates
2
---
Bedrooms
Terrigal, NSW, Australia
Enter dates to see full pricing. Additional fees apply. Taxes may be added.