Welcome! This recently renovated flat is located in the quiet and green quarter of the 13th district. Perfect for guests who prefer a quiet sleep :) The subway line U4 is only 6 minutes away. There are grocery and drug stores as well as restaurants nearby. In the 13th district you don't need a parking permit, so you can park for free. Since I live very close, I can help you with questions and concerns at any time.
The apartment was renovated and furnished in January 2017. It is located in the raised ground floor and is about 60m² big. Windows, floors, kitchen, bathroom and furniture were newly purchased. Due to the simple design, the apartment is clean and open.
The 13th district is known for its quiet and green area. Guests who want a quiet sleep with open windows will love this flat. However, just because it's quite doesn't mean that you're isolated. The metro line U4 is only a few minutes away and leads directly to the center of Vienna. Shops, restaurants and bars: Near the metro station is a large supermarket called "Merkur" and a McDonald's. On the way there is a dugstore ("BIPA") (about 3 minutes away). If you walk along Hietzinger Hauptstraße (about 8 minutes by foot), you will find two more supermarkets, an ice cream parlor, a bakery, a pharmacy, and a Chinese restaurant. If you walk in the other direction of Hietzinger Hauptstraße (about 10 minutes away) you will find a drug store, another supermarket and a church. There is also a small bar called "Gössels" which is open daily until 4 AM. Further bars and cafes can be found in Hietzing, such as the "Reigen" or "Della Lucia". Leisure activities: The Schönbrunn Palace and zoo are 4 metro stops away. If you want to enjoy a beautiful view over Vienna, you should take the 15 minute walk to the "Roter Berg". The "Lainzer Tiergarten", a big areal with a wood and a lot of animals running free, is only one metro station away and is worth a visit if you enjoy hiking and having a great view over Vienna.
Everything was perfectly fine, Anna was waiting for us and showed us around. The flat is beautiful, clean, quiet, the kitchen is well equipped, even with some food, sparkling wine, chocolate - really sweet! We only stayed one night and were allowed to check out at 12 instead of 10 am - thanks a lot again! I definitely recommend this place and will stay again when in Vienna :-)
Justyna
2017-03-11T00:00:00Z
We liked that the apartment was practically equipped with everything that we needed. The baby bed with the changing table was really nice. We were happy and surprised because we found not only place to stay but also drinks and food. Anna was very kind and she had written every information that I had asked for. She communicates perfectly in English and she gave us privacy and total confidence during our stay. We recommend the place for everybody.
Kárpáti
2017-04-09T00:00:00Z
If there were 10* Stars I would give to Anna for being the best host and the best Air BNB ever. She and her apartment can be a model host and house for all Airbnb hosts. She has thought of everything that a traveler would need.
Anjena
2017-04-08T00:00:00Z
Anna's place was great and convenient for a couple days in Vienna. The apartment is close to the U Bahn which will take you to the center in about 10 minutes. The flat has everything you need. Good coffee maker; nice bathroom; laundry, etc. Would recommend staying here!
Nick
2017-03-09T00:00:00Z
Sehr saubere Wohnung, angenehmer Gastgeber und sehr bemüht, in Summe bestens zu empfehlen, besonders auch wenn man mit dem Auto anreist da keine Kurzparkzone . Und U Bahn ist auch gleich in der Nähe .
Johann
2017-03-06T00:00:00Z
Wir (Familie mit zwei kleinen Kindern) hatten einen 6-tägigen Aufenthalt in Anna's Unterkunft und waren in jeder Hinsicht uneingeschränkt zufrieden. In jedem Detail (bereits vor der Anreise) ist erkennbar, dass Anna ein Top-Gastgeber ist. Die Wohnung ist nett gelegen, schön und modern eingerichtet und bestens ausgestattet.
Wilhelm
2017-04-01T00:00:00Z
Schöne, saubere Wohnung. Kann definitiv weiterempfohlen werden :)
Nicole
2017-04-04T00:00:00Z
Die Wohnung ist elegant, zweckmäßig, sauber, komplett ausgestattet und sehr neu. Auch auf die Details wurde Wert gelegt. Hier fühlt man sich auf Anhieb wohl. Weiterhin hervorzuheben ist die ungestörte Nachtruhe bei offenem Fester. Einkaufsmöglichkeiten und Nahverkehrsmittel sind gut per Fuß zu erreichen. Also uneingeschränkte Empfehlung für alle Wien-Besucher!!!
Fabrice
2017-03-24T00:00:00Z
Room Type
Entire home/apt
---
Property Type
Apartment
---
Accommodates
4
---
Bedrooms
Wien, Wien, Austria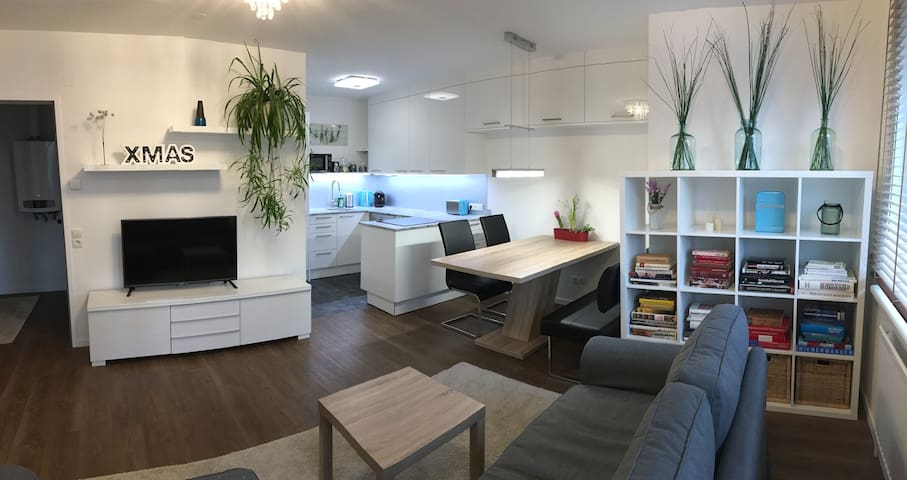 I rent out a very sunny and bright apartment only 7 minutes walking distance to the metro station Ober-St. Veit. The aparrment has a spacious living room with a kitchen, one bedroom and a bathroom with mit bath. A terrace can be used in summer.
The apartment was built in november 2015. The wooden and glass design give the apartment a nice athmosphere and a lot of daylight. In the summer the terrace can be used. There will be a little table with 2 chairs. You have a view to the church spire. The bathroom has a bathtube with shower. A hairdryer ist there. In the bedroom there is a big closet. In the kitchen there is an oven, a stove, a dishwasher and a fridge. Vinegar, oil, salt, pepper, tee and cleansing material is existing. The curtains in the bedroom and the living room are black out curtains. A washing machine for the two apartments is in the first floor.
The apartment is in the lovely neighbarhood of Ober St. veit. Viennese restaurants and shopping facilities are in walking distance. (supermarket, pharmacy, bakeray etc.) Guests like the Viennese Restaurant Schneider Gössl in Firmiangasse 9 a lot. There is a nice pizzaria on Hieitzinger Hauptstrasse.
Lovely, bright apartment with awesome interior design. It is very close to U-bahn (10min) as well as to supermarket,bakery and restaurants. We would highly recommend this property!
Natasha
2017-02-11T00:00:00Z
This is a beautiful appartment, completely uniquely designed with lovely light and spacious feel. Clara was efficient and kind. The house is about a ten minute walk from the station which takes you directly into central Vienna. It was a beautiful place to stay.
hannah
2017-03-11T00:00:00Z
Clara's apartment is like being in a dream! The big windows and wooden structure somehow surrounds you in a very warm atmosphere. Temperature inside the apartment is always optimal. Location is perfect, few blocks from the Metro station and plenty of shops around, even restaurants. We had an amazing time at Clara's place an would recommend staying there without a doubt. Thanks!
Darío Sebastián
2017-03-07T00:00:00Z
Sunny and natural light. Feels like home :) Quiet and beautiful neighborhood . Grocery store and public transport near. Clara is a caring host and helps when its needed :) Thank you for a lovely stay :)
Piret
2016-05-03T00:00:00Z
The Airbnb was exactly like it's shown in the pictures! Beautiful, bright and clean. It's not in the centre of town but good transport links. Only downfall would be to have directions to the house in English!
Georgia
2017-02-24T00:00:00Z
We had a wonderful time in Clara's mordern and cozy apartment. lovely neighborhood and convenient transportation, good choice for traveling with friends and family.
Qing
2017-04-03T00:00:00Z
Good location for those which are here to visit the town.
Simion
2016-12-04T00:00:00Z
Clara was such a gracious host & the condo was an architectural phenomenon. It was super clean, airy & bright. We had the feeling of being up in a treehouse
Joanne
2016-06-02T00:00:00Z
Room Type
Entire home/apt
---
Property Type
Apartment
---
Accommodates
4
---
Bedrooms
Wien, Wien, Austria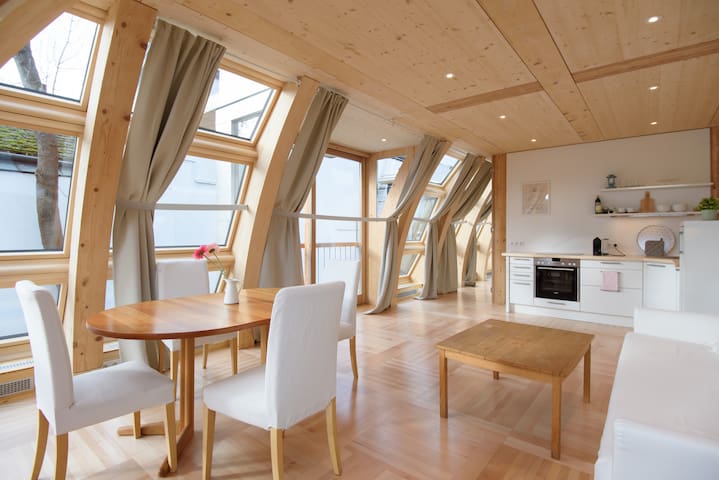 My accommodation is close to the traditional Wiener Heurigen (restaurants) and Schönbrunn Palace. Within 35 minutes you will reach the city center. You will love my accommodation because of the beautiful surroundings and because it is accessible to the public means of transport. My accommodation is good for couples, solo travelers and families (with children). FREE PARKING available.
Dear guests, I offer you a nice room with double bed and a private bathroom for a wonderful night. The kitchen can be used only for breakfast. The house is located in the suburbs of Vienna and therefore is quiet, nevertheless you have public means of transport (bus, tram) right around the corner. It takes you 15 minutes by tram to reach Schönbrunn castle or about 35 minutes to the city center. Me and my family are nice, friendly and cosmopolitan. I would be glad if one or the other contact is made, and you may sometimes drink a glass of wine together. I also speak English. ----------------------------------------------------------
The house is located in a safe and beautiful area in the vineyards of Vienna. Here you can find especially the traditional Viennese wine tavern and restaurants. Supermarket is about 5 minutes walk. The house is very close to Schönbrunn Palace (15 min, Tram) and the Naschmarkt. The center of Vienna can be reached comfortably with tram/ subway. It takes you about 35 minutes to get there. The house is perfect place to explore Vienna with its many attractions and the Viennese wine areas with its beautiful vineyards and the Lainzer Tiergarten. Public transport take you easily to all major sightseeing spots (Schönbrunn Palace, Naschmarkt, Museums, Stephansplatz , ... ) and many other interesting places in the city . ----------------------------------------------------------
Barbara is a great host! We loved staying there. The room was perfectly clean, it is a very nice and quiet neighbourhood and we really enjoyed it!
Vedrana
2016-08-26T00:00:00Z
Warm and friendly hosts both Barbara and Stefan. Room was clean and cosy. Had a very homely feel and bus accessibility was good to get us into town. Thanks for having us !
Vinesh
2016-11-21T00:00:00Z
It was a great experience, accomodation was clean, cousy and private, the family was making us feel very welcome.
Dragana
2016-10-11T00:00:00Z
This is the loveliest home we've stayed in via Airbnb! The host couple were delightful & so helpful. They were also flexible when our arrival time ended being quite late. Our room was clean and comfortable & the bathroom is exceptionally nice! We highly recommend a stay here, be sure to enjoy a glass of wine or your morning coffee in their beautiful garden!!
Brooke
2016-09-13T00:00:00Z
Nice house in a nice vienna district with nice host.
Cahit
2017-03-05T00:00:00Z
Exactly as described. Great short stay. Would definitely recommend!
Damien
2017-01-18T00:00:00Z
Great experience! I would definitely recommend the place and hope to come there again soon! The neighbourhood was really quiet and super safe, the bed super comfy. Barbara is a great host, really nice and polite!
Ioana
2017-02-24T00:00:00Z
Barbara and Stefan are the nicest people in the planet. The room and bathroom are very clean and cozy and the communication with the owners could not be better! We did not have any problems during the stay and I highly recommend staying in this warm and comfortable place.
Julia
2016-12-18T00:00:00Z
Room Type
Habitación privada
---
Property Type
House
---
Accommodates
2
---
Bedrooms
Wien, Wien, Austria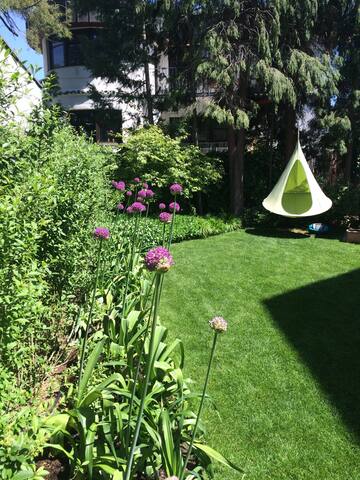 Extraordinary, bright and spacious rooftop with balcony in green villa area and stunning view. The 71qm flat is on top of an Art Nouveau Villa from 1900 and let you feel the spirit of former epochs.
The flat has spacious rooms with huge windows and leaf door with leads you to a beautiful balcony. The flat is divided in a cosy living room, sleeping room, kitchen, bathroom with a new bathtub and washing machine. The kitchen is well equipped with everything you need plus a dishwasher ;) The public transport is super easy and fast. Tram: in front of the house Metro (U4): 4 minutes walk Schloss Schönbrunn: 5 minutes by tram City center: 16 minutes by metro U4 (Karlsplatz)
The area called Hietzing is one the oldest, safest and luxuriously quarters of Vienna. Nearby the villa you find a supermarket, bakery (open also on sundays), restaurants, taxis, tram, flower shop and a lot of trees :)
Sabines apartment is even more stunning than the pictures :-). She was very accommodating (our flight was delayed and she waited for us to arrive and then drove us into the local town to get some dinner). Very kind of her. The apartment was very clean, spacious and comfortable. Our favourite was the balcony! This was fabulous for us to sit and have our breakfast whilst watching the world go by. This area of Vienna (Heitzing)is very cute and will take 25-30 minutes by tram and metro to get into the heart of the city. This may be too far for some people but we like the opportunity to stay out of the city. If you fancy staying local there is plenty to do. Nice restaurants, traditional bars and pubs to keep you busy. We loved it and would definitely go back. We just ran out of time. Thanks Sabine.
Jo
2016-06-13T00:00:00Z
An absolute gem of an apartment, clean, bright, with great views of Vienna. Public transport is right outside the door, supermarkets within walking distance and 5 minutes away from the Palace. If you come to Vienna this is the best apartment and location to stay in.
Rian
2016-07-08T00:00:00Z
Sabine's flat offered everything required for a visit to Vienna: even some basics for breakfast were available. Only 5-10 Minutes walk away is the next subway which takes you in 10 Minutes to the Stephans Dom/ 2 stops to Schloss Schönbrunn! We enjoyed our stay!
Lena
2016-01-02T00:00:00Z
The flat is very nice, spacious and homely. In the night, I recommend to have the windows closed, because there are trains going nearby, but with closed windows, you don't hear anything. Everything works fine and looks just like on the pictures. The appartment is about 30 minutes from the city center (5 min walk to the next tube station). Sabine is also very nice and tries her best to make you feel comfortable. Thanks a lot for the pleasant stay :)
Matthias
2015-09-10T00:00:00Z
Sabine was an excellent host! She's very quick and replying, always friendly and helpful :) Her flat is exactly as described, extremely clean, spacious and full of character and charm. We felt right at home instantly. Is in a quiet and very safe area with great transport links to the tube and tram. Would highly recommend.
Ashlie
2015-12-28T00:00:00Z
I passed a great month at Sabine's place. It was perfectly suitable for my needs. I didn't get to see Sabine, nevertheless Michael awaited me at an unconventional arrival time and helped me settle in. He also made big efforts to help me sort out a little problem I had upon leaving. Thank you!
Roy
2015-12-20T00:00:00Z
The perfect place for our weekend in city. The flat is clean and characterful, perfect for a couple who want to see the "real" Vienna. A little out of town - but with easy access to the city center by tram and train, the charming residential area boasts some hidden gems (like Gustav Klimt's house - right across the road!). Sabine and Alex were perfect hosts, on call if we needed anything. 5* we would love to visit again someday.
Tom
2017-01-02T00:00:00Z
Fantastic apartment, beautifully decorated and spacious. Amazingly welcoming host. With a patio that overlooks the tram that takes you into the city. Wish we had made a longer reservation, we didn't want to leave! We will definitely be coming back!
Gabriel
2016-06-17T00:00:00Z
Room Type
Entire home/apt
---
Property Type
Apartment
---
Accommodates
3
---
Bedrooms
Wien, Wien, Austria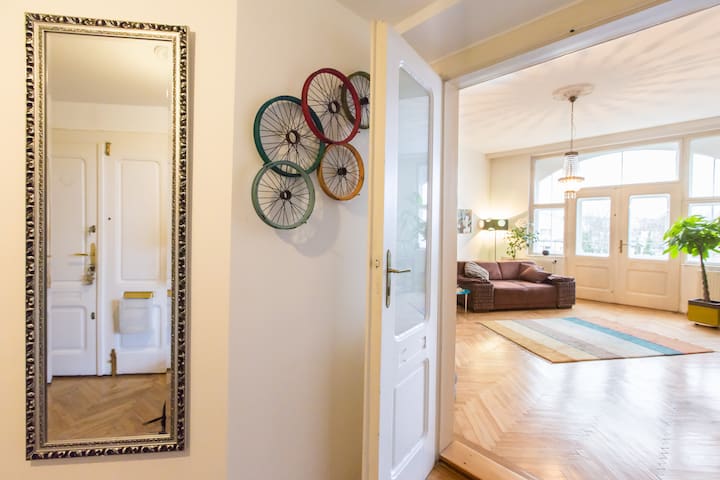 Designer Loft near Schloss Schönbrunn
Room Type
Entire home/apt
---
Property Type
Loft
---
Accommodates
4
---
Bedrooms
Wien, Wien, Austria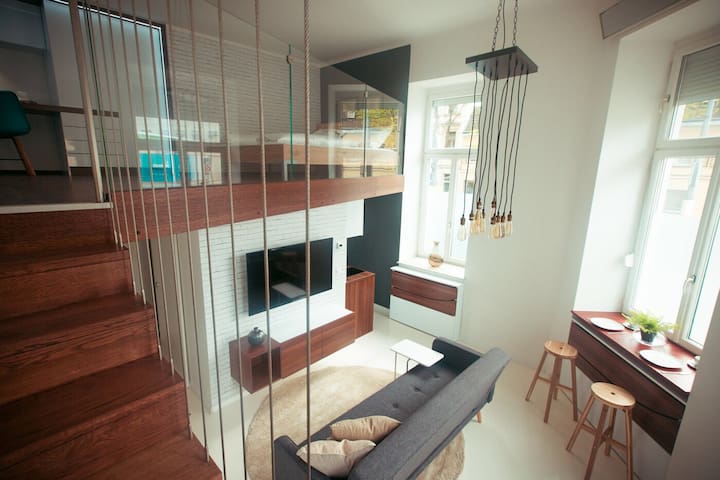 Welcome to Vienna! Our freshly renovated apartment is located in of the most beautiful districts in Vienna, Hietzing, close to subway U4 Braunschweiggasse (walking distance 1 min.). It takes you only 3 min. drive to Schönbrunn Palace and 15 min. to downtown Vienna. Free parking in front of apartment. We are looking forward to welcoming you! Marijana & Robert
The 30 sqm apartment has been completely renovated and converted into a stylish and cosy place to stay. Our modern and fully equipped kitchen, a high standard bathroom with a comfortably sized shower and a living/sleeping room for 2 person will for sure make your stay enjoyable.
You will find a bakery, supermarkets, restaurants and shops within a 5-10 minutes walking distance.
Beautiful, new and spotless, clean apartment with lovely neigbourhood. Metro station just around the corner but still very quite. Great restaurants and shops just couple minutes walking away. Marijana and Robert were very kind and helpful. Their tipps were great. City map, restaurant recommendations, Vienna tours-all there! Their hospitality made me feel like I am at home. Fully recommended and definitely will come again!
Ivana
2017-03-30T00:00:00Z
A bit far but the U4 can take right to the city. However if we are late to return from a far tour make sure you have your dinner as there are no restaurants around. Small apartment just to fit in two persons
Vikram
2017-03-24T00:00:00Z
The flat is in a very good location with a great neighbourhood and a metro station is only 1 minute away. The flat is perfect for a couple or a single traveller and is newly renovated, clean and comfortable. I would like to stay there again.
Stefan
2017-01-29T00:00:00Z
We had a very good time at Marijuana & Robert's apartment. The place is exactly as described, and very comfortable for the cold days we had in Vienna. It was very easy to explore the city as it is very close to a metro station. The parking in the neighborhood is free, which was also a bonus for us. Would definitely recommend it to anyone visiting the city!
Rui
2017-02-20T00:00:00Z
Wir hatten einen wunderschönen Aufenthalt in dem Apartment. Der Empfang war sehr freundlich, die Wohnung gut ausgestattet, die Lage zentral - wir haben nichts auszusetzen. Gerne wieder! Ben & Sarah
Sarah
2017-03-07T00:00:00Z
Super sauber, alles vor Ort, was man braucht, netter Kontakt, überraschend ruhig und absolut verkehrsgünstig. Ich kann dieses Quartier als Basis für schöne Tage in Wien nur empfehlen!
Mechtild
2017-04-07T00:00:00Z
Wir waren als Paar für 5 Nächte im Appartment und hatten eine schöne Zeit, einen tollen Aufenthalt und haben uns wirklich sehr wohl gefühlt. Die Kommunikation im Vorfeld und während des Aufenthalts hat gepasst. Beim Check In sind wir freundlich empfangen worden und uns wurde das Appartment kurz gezeigt und alles erklärt! Das Appartment ist neu renoviert, sehr hell und freundlich eingerichtet und es hat uns an nichts gefehlt! Auch eine kleine Nachricht zur Begrüßung, Restaurant-Tipps und ein Stadtplan waren hinterlegt! Das Internet (W-LAN) funktioniert super! Im Keller gibt es die Möglichkeit Wäsche zu waschen! Im 13. Bezirk kann man gratis parken und wir haben einen Parkplatz vor der Wohnung gefunden. Die Öffentliche Verkehrsanbindung ist TOP! Ein kurzer Fußweg (5 min.) zur U-Bahn Station U4 Braunschweiggasse. Zwei Stationen entfernt befindet sich das Schloss Schönbrunn. Ins Stadtzentrum braucht man mit der U-Bahn nur rund 15 Minuten! Am letzten Tag wurde uns dann noch ein "Late Check Out" um 12:00 Uhr ermöglicht. Geplant war eigentlich 10:00 Uhr. Außerdem haben wir unser Gepäck noch bis am Nachmittag im Appartment lassen dürfen, bevor es dann wieder zum Flughafen gegangen ist. Maja und Robert sind um 14:30 Uhr dann nochmals extra zum Appartment gekommen, als wir die Koffer abgeholt haben. Wir würden das Appartment sofort weiterempfehlen! Wir hatten einen wirklich schönen Aufenthalt in Wien! Zoe & Wolfgang
Wolfgang
2017-02-18T00:00:00Z
Wir hatten einen wunderbaren Aufenthalt in der Unterkunft von Marijana und Robert. Die Wohnung ist sehr schön und modern eingerichtet. Die Kommunikation im Vorfeld und während dem Aufenthalt war sehr gut! Marijana und Robert waren für Fragen jederzeit erreichbar. Das Parken vor der Wohnung ist kostenlos - wir hatten einen Parkplatz direkt for der Wohnung. In der Nähe (5 Minuten) ist eine U-Bahn-Station - von dort aus kommt man in 15 Minuten in die Wiener Innenstadt und in 5 Minuten zum Schloss Schönbrunn. Die Wohnung selbst sieht aus wie auf den Bildern. Die Wohnung ist neu renoviert und mit allem ausgestattet, was für einen kurzen Aufenthalt benötigt wird. In der Küche steht alles bereit, um sich kleinere Mahlzeiten zuzubereiten (Salz/Pfeffer/Essig/Öl/Tee...sogar Kaffee :) ). Das Wlan funktionierte sehr gut. Im Keller besteht zudem die Möglichkeit Wäsche zu waschen (haben wir für unseren kurzen Aufenthalt nicht benötigt). Zudem liegen in der Wohnung Stadtpläne... für die erste Orientierung bereit. Insgesamt liegt die Wohnung sehr ruhig. Wir haben unseren Aufenthalt sehr genossen und würden jederzeit wieder die Unterkunft bei Marijana und Robert buchen. Isabel&Florian
Isabel
2017-03-28T00:00:00Z
Room Type
Entire home/apt
---
Property Type
Apartment
---
Accommodates
2
---
Bedrooms
Wien, Wien, Austria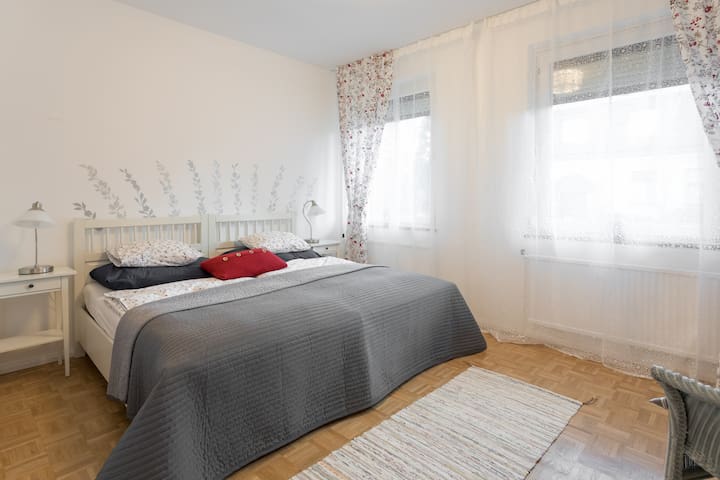 THE RESIDENCE befindet sich in Hietzing, einem der schönsten Wohnbezirke im Westen von Wien. Die kleine Unterkunft wurde von uns gerade komplett renoviert und liebevoll, aber sehr modern eingerichtet.
Parkmöglichkeiten befinden sich vor dem Haus und sind bis auf wenige, gekennzeichnete Kurzparkzonen kostenlos. Das Studio liegt gartenseitig und ist daher sehr ruhig. Mit etwas Glück kann man sogar Eichhörnchen beim Frühstück beobachten ;-) THE RESIDENCE verfügt über eine Fußbodenheizung, kindersichere Steckdosen, eine voll ausgestattete Küchenzeile und ein geräumiges Badezimmer. Grundsätzlich ist das Studio für 2 Personen ausgestattet. Sollten Sie aber mit Ihrem kleinen Baby anreisen, stellen wir Ihnen gerne kostenlos eine Baby Bay inklusive Schlafsack zu Verfügung.
In unmittelbarer Nähe befinden sich ein gut sortierter Supermarkt, Bäckereien, ein Drogeriemarkt, Geldautomaten, kleine feine Restaurants usw. - generell eine gut strukturierte Infrastruktur mit Dorfcharakter. Ein 25minütiger Spaziergang über die Hietzinger Hauptstraße und/oder parallel dazu auf der Auhofstraße führt Sie entlang an Altwiener Villen direkt zum Eingang des Schönbrunner Schloßparks, zum ältesten Tiergarten Europas sowie zu dem berühmten Wiener Tafelspitz im Restaurant Plachutta oder einem der berühmten Wiener Cafes, dem Cafe Dommayer.
Very nice welcome with Birgit, the apartment is so nice, calm and well equipped. In a nice area, close to the bus, tram. Schonbrunn palace is close as well by feet as by bus or tram. There is s SPAR at less than 100 m and a bakery .. Next in Wien, we will return in this apartment ... Thank you Birgit and Konsti ...
DOMINIQUE
2016-08-23T00:00:00Z
Very sunny apartment, quiet area and hospitable owners. Birgit and Konsti ready to help with any questions -- milk, sugar and anything else, you need just come on top floor. The only thing missing is... bubbles in the tap water :) Joke :) We will gladly come again.
Valery&Misha
2015-11-24T00:00:00Z
Birgit and Konsti are excellent hosts. Their apartment was very clean with brand new furniture. Bathroom was clean and had all the necessary toiletry. Comfortable bed, big tv, all that is needed to prepare a dinner. Automatic heating and temperature control for winter. The flat is located 7 min walk from the tube station. Every evening we were able to find a free parking place outside the house. Birgit is a very kind person. She helped us a lot! We will definitely stay here every time we'll travel to Wien!
Elena
2016-01-13T00:00:00Z
It was great staying in THE RESIDENCE, I immediately felt comfortable by the warm welcome and the nice apartment. It is perfectly equipped, decorated with a tasteful tough and has a great view into the garden. The metro is not far by walking and goes directly to the city centre. Everything was so uncomplicated. Hope to come back soon! Thank you for the great stay.
Imelda
2016-07-15T00:00:00Z
Birgit is a great host! It was a pleasure to stay at her apartment! It's really new and very beauty! Thanks a lot!
Stanislav
2015-12-07T00:00:00Z
We would really recommend this apartment. It is really nice, you feel like you are at home. It has everything what you need. Birgit and Konsti are really cool and they are available all the time.
Tadeja
2017-02-24T00:00:00Z
Wir haben uns in dem Appartement von Birgit, Konsti & Theo super wohl gefühlt. Wir wurden herzlich empfangen, das Appartement ist stylisch u perfekt ausgestattet- es ist alles da was man braucht. Alles ist bis ins Detail perfekt u sehr liebevoll gestaltet. Die Lage ist top, in wenigen Minuten ist man an der U-Bahn Haltestelle u in 15min. am Karlsplatz. Einfach zu empfehlen.
Nora
2015-12-13T00:00:00Z
Wir hatten einen super schönen Aufenthalt in Wien. Vom ersten Moment an konnten wir uns wohl fühlen, da wir herzlich in Empfang genommen wurden (Sie stellten sogar einen Obstkorb zur Verfügung als kleine Willkommensgeste). Der Kontakt untereinander gestaltete sich total unkompliziert, Birgit und Konstantin waren jederzeit für uns erreichbar. Sie gaben gute Tipps, was man in der Gegend unternehmen kann etc. Danke für den tollen Aufenthalt.
Darleen
2016-01-22T00:00:00Z
Room Type
Entire home/apt
---
Property Type
Apartment
---
Accommodates
2
---
Bedrooms
Wien, Wien, Austria
Newly furnished 70 m2 loft-style apartment in a charming turn of the century house . The very bright and spacious apartment can accommodate up to 4 people and is well connected to the public transport network .
The property can accommodate 4 people. The master bedroom has a large double bed (180x200 ) and the living room on a pull-out sofa bed ( 140x200 ). Incl bathroom with shower . Towels and soap fully equipped kitchen incl. Washer-dryer , toaster, coffee maker, dishwasher and kettle WLAN / Wifi 40 " flat screen TV incl. satellite Receiver
The apartment is located in Vienna - Penzing in the immediate vicinity of Schönbrunn Palace where the famous zoo of Schönbrunn and the Gloriette can be found. Shopping facilities are within walking distance on the Linzerstraße.
Very nice apartment, cozy, with everything you need. I would definitely recommend it to others.
Alexandros
2017-03-12T00:00:00Z
This apartment was perfect for me and my husband! It made our stay in Vienna very easy and convenient. It was quite near the metro station and the beautiful Schönbrunn palace. Apartment was beautiful, cosy, spacious and handy. Markus was welcoming and very friendly, he answered quickly to the messages. This was better than any hotel, thank you for a very nice first airbnb experience!
Sini
2017-03-29T00:00:00Z
Host were very friendly, quick to respond and on time. Everything in inside was clean and organized. Washer, dryer are also located here! Place is nicely located within a couple minutes of all public transport and 10 minute walk from the Schönbrunn Palace. No traffic noise can be heard at night which made the sleeping here great.
Justin
2017-02-19T00:00:00Z
Great appartment! Very clean and nicely arraged. Markus is a very nice person who made us feel immediately very well there.
Christophe
2016-10-03T00:00:00Z
It was wonderful please to stay... Very good atmosphere, very quiet... Everything was good quality and WiFI is perfect!!!!! And Marcus very great owner, very friendly!!! Thanks a lot;))
Art
2016-03-06T00:00:00Z
Markus is a very friendly person and gave us my friend and I a very nice welcome. The flat is nice and specious and very close to the city centre, reachable by train or tube. I strongly recommend the place to any one visiting Vienna.
Stephan
2016-10-17T00:00:00Z
Great place to stay, veeery helpful and nice host. Really recomend it. It is also easy to get to public transport
Hector
2016-03-31T00:00:00Z
We spend 7 days in apartment with 3yo kid and enjoyed that time. Apartment is nice, very well equipped (you have all you need). Our host was professional, there on time, flexible and helped us solve parking issue we had...thx Markus ;) Overall very positive feedback from our side...
Zoran
2016-07-15T00:00:00Z
Room Type
Entire home/apt
---
Property Type
Apartment
---
Accommodates
4
---
Bedrooms
Wien, Wien, Austria
Quiet, green. 5 minutes walk to U bahn (U4), 10 to historic Dommayer Café, 15 to Schönbrunn Palace Gardens and a 15 minute ride to city centre. Newly renovated, fully furnished kitchen, 1 double bed, 1 pullout sofa. Owned by a writer/musician couple.
This apartment is on the first floor of a four storey building. There is a fully furnished, brand new kitchen. The bedroom has a double bed and there is a pullout sofa that sleeps two .
The apartment is in the district of Hietzing, a green, residential area close to Gustav Klimt's old atelier and many grand villas. Right opposite is a house built by Art Nouveau architect Adolf Loos. Schönbrunn Palace and gardens, the Vienna Woods are only fifteen minutes walk from here. Cafe Dommayer, where composer Johann Strauss the Younger began his rise to world fame, is at the end of an adjacent street. The Metzgerei, a Gasthaus that Trip Advisor rates the best in Vienna, is only a ten minute walk from here (reservation recommended). The beautifully restored Otto Wagner church is a short bus ride away, situated in a wooden area where we love to go walking.
We stayed at Mhairi's place for two weeks and it truly became 'a home away from home'. Mhairi and Aviott are wonderful hosts, very kind and considerate. They made sure we knew how to reach their apartment and made us feel welcome. The apartment had been recently renovated and prepared with a great attention to detail. Indian cushions, home-made marmalade and foremost the beautiful paintings by Ian MacInnes made this place really special. Knowing we would arrive on a Sunday with most of the shops closed, the hosts even made sure there were some groceries in the kitchen! The check-in and check-out times were flexible. The apartment is cozy and comfortable, facing a quiet, green backyard. There is a romantic willow tree in front of the bedroom window. The metro station is within a walking distance and so is Schoenbrunn Park, Zoo and Palace. You will easily find a few good restaurants and cafes in the vicinity. Our stay in this apartment has been very enjoyable. What we especially cherished were the conversations with the hosts. They are truly amazing people – a writer and a teacher of creativity; experienced travelers and ex-pats with many a fascinating story to tell. We feel blessed for having met them. Mhairi, Aviott, thank you so much for two wonderful weeks at your place! We do hope to stay in touch with you.
Anna Maria
2016-02-28T00:00:00Z
What a great host and apartment! My friend and I arrived very late (past midnight) into Vienna. Mhairi's husband warmly greeted us and stocked with the kitchen with a few snacks until we could get to a grocery store - perfect for two hungry college students. Unfortunately Mhairi was out of town, but her husband was able to answer any questions that we had about Vienna. It was a fantastic first trip to Vienna and I can't wait to come back. The apartment is within five minutes walk of the metro which made getting into the city easy as well as to places like Schonbrunn which are just outside the heart of the city.
Sarah
2016-03-16T00:00:00Z
This apartment is beautiful! Aviot and Mhairi were very nice and helped us anytime we needed. We do recommend it! :) thanks!
Ana
2016-11-08T00:00:00Z
Amazing, everything!!! The flat was just perfect for us, Mhairi and Aviott just wonderful people, i don't need further description, simply great!!!
Razvan
2016-03-06T00:00:00Z
Loved the nice clean and quite place
ulrich
2017-04-11T00:00:00Z
I booked the apartment for a friend and accompanied him to it. Mhairi's husband warmly welcomed us. The apartment is within five minutes walk to the next metro station (U 4). By tube you can easily go to the city center. My friend liked the apartment.
Irene
2016-04-11T00:00:00Z
Mhairi appartment is a cosy and pleasant one. Her help was precious and appreciated.
daho
2017-01-16T00:00:00Z
We (two adults with a 2-year-old child) are very satisfied with the flat. It is located in a quiet place and it is very clean. Aviott John provided us all the important information and we can reach him easily when we have any question.
Kuan-Heng
2016-06-23T00:00:00Z
Room Type
Entire home/apt
---
Property Type
Apartment
---
Accommodates
4
---
Bedrooms
Wien, Wien, Austria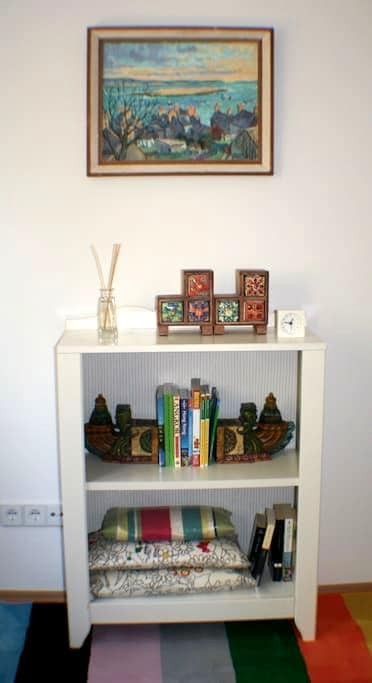 Meine Unterkunft ist in der Nähe von Wien Hütteldorf, Schloss Schönbrunn, Lainzer Tiergarten, Westbahnhof. Meine Unterkunft ist gut für paare, alleinreisende abenteurer und geschäftsreisende. Supermärkte befinden sich wenige Gehminuten entfernt. Die öffentliche Verkehrsanbindung ist sehr gut!
Das Apartment befindet sich in einem jugendstilanmutenden Altbauhaus im Erdgeschoss, strassen- und hofseitig und ist ruhig und hell. Ausstattung der Wohnung: Garderobe: - Spiegel - Kleiderhaken Küchennische: - Geschirr, Gläser, Kochutensilien, Wasserkocher und Kaffemaschine - Zwei Kochplatten - Kühlschrank - Schränke Schlaf- und Wohnzimmer: - Bett (140x200cm) - Bettwäsche - Nachtkästchen - Kleiderschrank - Kleiner Esstisch mit 2 Stühlen - Fauteuil Badezimmer: - Dusche - Toilette - Hand- und Badetücher - Waschbecken - Spiegelschrank
Die Wohnng befindet sich nahe des Fahrradweges am Wien Thal sowie zwischen dem wunderschönen Lainzer Tiergarten und Schloss Schönbrunn. Supermärkte befinden sich in der Nähe.
It was not bad, but there are some small things that have missed and I think Sarah can easy improove them. There was no coffe machine, no micro wave, no washing machine. One half of the apartment is not renewed and without extra heating is too cold. There is an iron but no ironing board. Our stay was ok and we have had no problems. The renewed part is very nice, the bed is verry comfortable. I prefer it for people with a car only.
Kiril
2017-01-03T00:00:00Z
Wohnung sehr gut ausgestattet, sauber und gemütlich. Besonders positiv fällt die An- und Abreise auf. Ganz unkompliziert und ohne Termindruck.
Bendix
2017-01-07T00:00:00Z
Es war alles wie beschrieben und sauber. Die Kommunikation hat prima geklappt, genau wie der Check-In. Vielen Dank LG Daniel
Daniel
2016-11-12T00:00:00Z
Obwohl ich mich nicht persönlich mit Sarah getroffen habe hat die Schlüsselübergabe prima geklappt mit dem Codesystem. Die Wohnung war sauber und ist ziemlich ruhig gelegen. Es ist nicht so weit von der Innenstadstadt gelegen, mit den öffentlichen waren wir schnell in der Stadt. Kann es nur weitempfehlen ;)
Andreea
2016-11-01T00:00:00Z
Το διαμέρισμα ήταν πολύ ωραίο και πολύ ζεστό, είχε ότι χρειαζόμασταν και ήταν σε πολύ καλή περιοχή. Σίγουρα θα το προτιμούσαμε ξανά.
ΔΗΜΗΤΡΑ
2017-03-14T00:00:00Z
Квартира очень подходит для тех, кто приехал посмотреть Вену и не нуждается в излишнем комфорте. В ней есть все, что вам понадобиться, от кухни до утюжка :) Заезд и выезд устроен очень просто с минимумом человеческого контакта (отсутствием оного :D ), найти просто, общественный транспорт рядом. В округе есть магазины, но напоминаю что закрывается все очень рано (в 1930 или 2000), мне сказали, что ночью открыты турецкие магазины, но я их не нашел. Поблизости есть ресторан с китайско-японской кухней, открыт до поздна, готовят вкусно) В квартире было чисто, но мне показалось, что убрались не до конца (постель не застелена и мусор не выброшен). Из бытовых проблем я столкнулся с тем, что не было пакетов для мусора, но тут не используют специальных, поэтому можете использовать любой. Ночью в Вене прохладно, но в квартире есть отопление, поэтому всегда было тепло, есть ощущение, что квартира хорошо сохраняет тепло. В целом впечатления скорее положительные, советую)
Dmitrii
2017-02-24T00:00:00Z
Vielen Dank für die tolle Unterkunft, es war alles großartig!
Stefanie
2017-03-19T00:00:00Z
Room Type
Entire home/apt
---
Property Type
Apartment
---
Accommodates
2
---
Bedrooms
Wien, Wien, Austria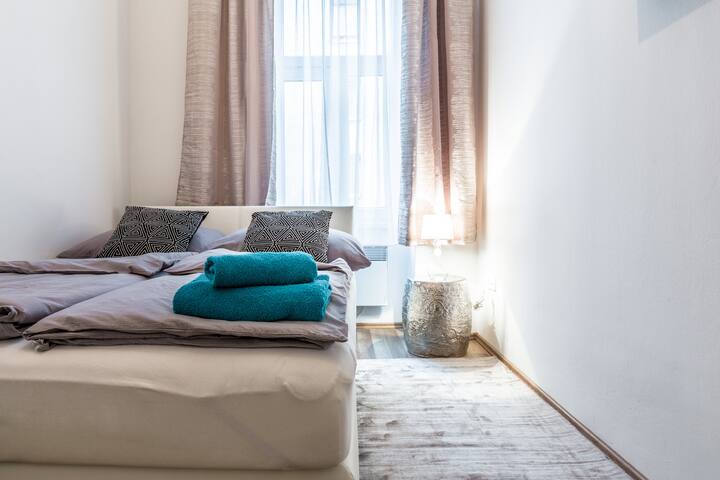 Meine Unterkunft ist gut für paare, alleinreisende abenteurer, geschäftsreisende, familien (mit kindern) und pelzige freunde (haustiere).
The host canceled this reservation 40 days before arrival. This is an automated posting.
Jakub
2017-03-20T00:00:00Z
Really good room with all you need. Cool and welcoming host. He offered us bed sheets, towels, hair dryer, washer, dryer, coffee and even a pc. You can catch a bus or a tram nearby and get everywhere you need. Also, supermarkets are just there.
Martin
2017-04-08T00:00:00Z
A great stay and a wonderful host. Very helpful, highly recommended!
Christopher
2017-04-12T00:00:00Z
Tsvetan is a nice guy who is both kind and professional. Room is equipped with modern stuff and Tsvetans art, which makes it more personal
Vítek
2017-04-10T00:00:00Z
Wirklich unkomplizierter Gastgeber! Immer wieder gerne für einen kurzen Aufenthalt bei dem man hauptsächlich zum schlafen in der Wohnung ist.
Paul
2017-03-26T00:00:00Z
Sehr netter Gastgeber:) das Zimmer ist schön, die Wohnung liegt in einer ruhigen Umgebung. Straßenbahn Haltestelle ist 3 min zu Fuß entfernt. Wir haben uns bei Tsvetan wohlgefühlt und kommen gerne wieder:)
Pavel
2017-04-02T00:00:00Z
Room Type
Habitación privada
---
Property Type
Apartment
---
Accommodates
2
---
Bedrooms
Wien, Wien, Austria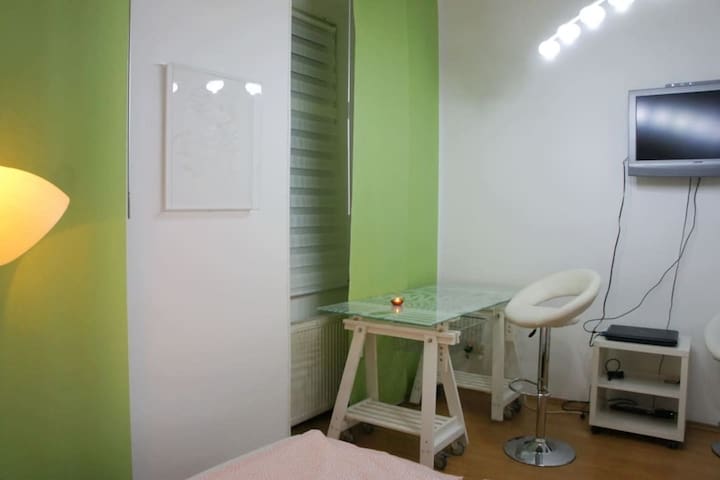 Unser elegantes Studio für 2 Personen befindet sich in einem Jugendstilhaus in einem der schönsten Wohnbezirke Wiens. Hier findest Du eine gepflegte, stilvolle und grüne Umgebung bist aber in 10 min in Schloß Schönbrunn und in 20 min in der Innenstadt.
"A home away from home" - das findest Du in unserem hochwertig ausgestatteten Studio, das keine Wünsche offen läßt. Die Ausstattung und die Lage machen das Apartment zum idealen Ort für Geschäftsreisende, die am Abend und am Wochenende einen stilvollen Rückzugsort mit hohem Freizeitwert suchen. Es besteht aus einem großen Wohn-/Schlafraum (Eckzimmer) mit begehbarer Garderobe, Küche, Bad mit Badewanne und Fenster, großzügigem Vorzimmer mit Fenster, WC und Abstellraum. Die Räume verfügen über Parkettböden, sind über 3 m hoch und lichtdurchflutet, bleiben aber auch im Sommer angenehm temperiert. Im Wohn-/Schlafraum befinden sich ein 1,40 m breites Doppelbett, ein Original-Jugendstil Kachelofen, Sitzecke mit Stehlampe, Bücherregale und ein Schreibtisch mit Breitband-Internetanschluß. Weiters sind WLAN, Telefon, Stereoanlage mit CD-Player, 15" Flat-Screen TV mit Kabelfernsehanschluß vorhanden. Die Küche verfügt über einen Essplatz für 2 Personen und ist ausgestattet mit Geschirrspüler, Waschmaschine, Herd mit 4 Ceranfeldern, Backrohr, Kühlschrank mit Gefrierfach, Mikrowelle, Wasserkocher, NESPRESSO Espressomaschine, Kaffeemaschine, Toaster, Mixer, Koch- und Essgeschirr, ..... Im Badezimmer befindet sich eine Badewanne, ein Waschtisch mit Ablagemöglichkeit und ein Spiegelschrank. Das Apartment ist komplett mit Bett- und Tischwäsche, Handtüchern und Badetüchern, etc ausgestattet. In der begehbaren Garderobe, dem Abstellraum und im Vorzimmer ist großzüger Stauraum vorhanden. Bei Bedarf kann auch Raum im Keller (zB für Fahrrad) genutzt werden. Bei längerfristigen Aufenthalten können auch Zwischenreinigungen mit Wäschewechsel vereinbart werden. Sollte Dir etwas abgehen, werden wir uns bemühen, es zu ergänzen.
Die gepflegte Nachbarschaft mit ihren Villen und Gärten lädt zu Spaziergängen ein. Schloß Schönbrunn mit seinem wunderbaren Park ist 3 Straßenbahnstationen entfernt.
What a beautiful space to stay in! I immediately felt at home and ended up extending my stay. Katinka was very kind and helpful. The neighborhood is lovely and very safe. Everything is an easy distance whether you are on foot or taking public transit or both, depending on what you want to see. Schönbrunn palace is a little more than a miles walk through nice neighborhoods, with good shopping and food. Enjoy!
Rachel
2016-09-13T00:00:00Z
I had the best time! As a student I generally look for places even more affordable/ni while traveling; however, Vienna was a *very* spur of the moment stop on my travels - I contacted Katinka while already on the train from Prague, she responded in under and hour (I already had a message out to another airbnb host and was starting to feel a bit homeless). She even messaged me great tram directions, further easing my anxiety. She and her boys welcomed me at the apartment and warmed my heart! I wasn't sure if I'd stay longer than I night, but I was so smitten I asked if I could stay for 4! They are a huge part of my falling completely in love with Vienna! Thank you!!
Ariel
2015-09-26T00:00:00Z
The apartment is in a loveliest neighbourhood with very comfortable connections to the rest of the city, surprisingly roomy and very stylish, and the host is the friendliest and sweetest. Although our stay was too short, we got to try out some of Katinka's personal recommendations about cafes nearby, and they were worth even a repeated visit. Located close to Schönbrunn castle, the luxurious apartment left us feeling like kings ourselves. Recommended for treating oneself!
Madli
2015-12-01T00:00:00Z
Very nice flat and owner. Katinka welcomed us and gave us a lot of information. She made sure that we had all the thinks we needed during our stay. We used her bikes to discover the city. The apartment was very clean, full of light, located in a very green and peaceful area. Very convenient for a romantic escape. Public transport are very close to the house, as the supermarket, the palace of Schönbrunn and the former "atelier" of Schiele. We highly recommend the place.
Anouck
2016-06-01T00:00:00Z
Katinka is very neat and friendly. We enjoyed our stay in Vienna. Many thanks!
Adrian
2016-07-21T00:00:00Z
My time in Katinkas apartment in Vienna during December 2015 was very pleasant and I thoroghly enjoyed my trip to this wonderful city. The apartment was clean, very well equipped, is in an excellent location in a prestigouos area of Vienna and Katinka is a great host, who really cares about her guests feeling well. I recommend Katinkas apartment for anybody visiting Vienna, either as single traveler or with a partner. Important for anyone renting a car, Katinkas apartment is in one of the few locations in Vienna which allows parking on the road without extra payments!
werner
2015-12-17T00:00:00Z
My host Katinka was very helpful and attentive. The studio is very clean, cozy and convenient, with all necessities covered. The neighborhood is quiet and clean, with lots of elegant old buildings. It takes 20 minutes to get to the center of Vienna. Altogether I was very much satisfied with my stay.
Nathan
2015-09-01T00:00:00Z
Excellent apartment, very clean, nice interior design, in a great area, close to Schoenbrunn. Katinka is a very good host, everything was perfect. Thank you!
laura
2016-12-03T00:00:00Z
Room Type
Entire home/apt
---
Property Type
Apartment
---
Accommodates
2
---
Bedrooms
Wien, Wien, Austria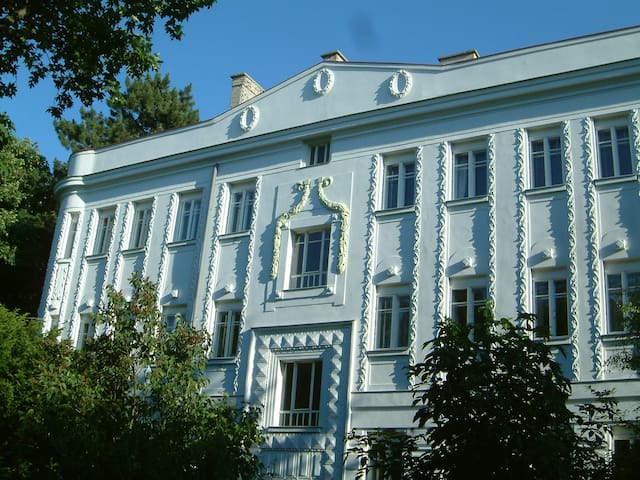 Cosy 55m2 two room apartment located directly (2 Minutes walk) at the subway (metro) U4 that brings you in 10 minutes to the center station Karlsplatz and in 4 minutes travel time to Schönbrunn castle and the Zoo.
Cosy 55m2 two room apartment located directly (2 Minutes walk) at the subway (metro) U4 that brings you in 10 minutes to the center station Karlsplatz and in 4 minutes travel time to Schönbrunn castle and the Zoo. The apartment is located in a very safe and exclusive and green district of Vienna. Free parking right infront of the house! The apartment can be used for aprox. 4 guests. 2 rooms and two double beds and a walk-in closet. Also there is a fully equipped kitchen with fridge, oven, microwave, water heater, coffee machine, toaster and any kind of dishes you need. In the bathroom you find a bathtube, shower, toilet and even a washing machine. The apartment has a flat screen TV and high speed internet.
The very exclusive , safe and green district of Vienna! 1 minute walking distance to the subway station U4 "Ober St. Veit"! With the subway (metro) U4 you reach the center Karlsplatz in 10 minutes! The castle Schönbrunn (residence of Kaiserin Sissi) and the Zoo of Vienna you reach with the subway U4 in 4 minutes!
DO NOT TAKE THAT APARTMENT! I was robbed there, and having in mind that according to the owner it was only me and him, that had keys for the apartment, I think it is clear to all what happened. On the first day my mother left in the apartment about 200 Euro, because these was the money we were going to use for our return. On the las day, when we started to pack things back, we found out, that the money were missing from the place they were - with our documents on the TV table. I called Peter, the owners father, who gave me the keys. He came with some woman, who I dont know, and started to explain me, that he can not do anything about it, and even accused the members of my family, that some of them had stolen the money. They started to explain, that I should be HAPPY, that I have LOST so small sum, and there is nothing wrong with us or the car. They werent even close to be worried, that someone came in the apartment while we weren`t there. As the women told me, that she would look for the money later, while cleaning the place, I asked her if she had come during the week. I asked her several times, but she wouldnt answer. Later my mother remembered, that some of the cleaning staff in the corridor were moved, and she thought, that I moved them. Only that I did not. I strongly advise everyone not to rent that apartment.
Биляна
2015-07-25T00:00:00Z
It was really nice. Exactly like in pictures. The appartment is clean and has everything you need to feel like home and very well positioned next to the metro in a quiet place. We met Alex's father who was very welcoming. Nice people and a great city!
Matei
2016-10-07T00:00:00Z
Nice and cosy apartment located in a quiet and handily area.
Ilaria
2015-07-08T00:00:00Z
Very flexible and accommodating for our arrival. Great location. Quite residential neighbourhood within a 5 minute walk from bakeries and the U4 metro line. Metro takes you right to Schoenbrunn Palace and downtown. Parking was very convenient.
Peter
2016-05-19T00:00:00Z
Near to station, great hosting
Thanh
2017-03-06T00:00:00Z
Host met us as scheduled and showed us the basics. Apartment was pleasant for our family and in a nice residential area with quick subway to city center. All good!
Brian
2016-06-16T00:00:00Z
Great apartment, close to everything, place was spotlessly clean and we were made to feel very welcome by Alex's dad (Alex was away). Everything was just easy which is exactly what you need when away from home. Just far away from the city centre to make it quiet and comfortable.
Mark
2015-10-05T00:00:00Z
Quite big apartment, a bit off the city centre but with good connection, with u4 line. Nice neighbourhood. Communication with Alex was flawless, has arranged his dad according to our areival. My only complaint would be about barhroom which could have been cleaner.
Miro
2015-06-29T00:00:00Z
Room Type
Entire home/apt
---
Property Type
Apartment
---
Accommodates
4
---
Bedrooms
Wien, Wien, Austria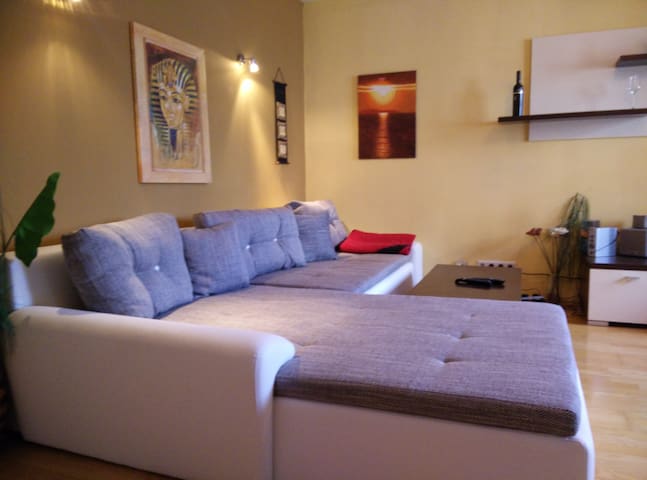 Die ruhig gelegene, helle Wohnung liegt in der 4. Etage und ist mit dem Aufzug erreichbar. Die Wohnung bietet Platz für 2 – 3 Personen. Zu Fuß ist das Schloss Schönbrunn in 6 Minuten zu erreichen und die nächste Ubahn liegt 1 Minute entfernt. In 13 Minuten sind Sie in der Altstadt. Parken in der Nähe der Wohnung ist gratis.
Die frisch renovierte Wohnung besteht aus einem Vorraum, einem Wohnzimmer, einer neuen voll ausgestatten Küche, einem Schlafzimmer, einem Bad, einem getrenntem WC und ist modern ausgestattet. Im Wohnzimmer befindet sich eine Couch, das zum Schlafen für einen weiteren Gast geeignet ist und ein Esstisch mit 2 Stühlen. Die Küche ist neu und beherbergt einen Dunstabzug, Mikrowelle, Wasserkocher, Nespresso Kapsel Maschiene, Kühlschrank und einen klappbaren Tisch. Die Waschmaschine im Bad steht zur Benutzung frei zur Verfügung. Im Schlafzimmer befindet sich ein Doppelbett 200x180cm, 2 Kästen und ein Schreibtisch. Die Matratzen der Betten sind mit speziellen staubdichten Encasings umhüllt und deshalb auch für Hausstauballergiker geeignet. -Spar Supermarkt und Drogeriemarkt sind in 2 Minuten erreichbar. -Tankstelle mit Spar Express Supermarkt, der auch in der Nacht offen hat, ist in 3 Minuten erreichbar.
- Das majestätische Schloss Schönbrunn liegt 1 ubahn station oder 6 Geh Minuten entfernt. - Wunderschöne Lage in Alt-Hietzing mit tollen Villen - 24Std Sparexpress Supermarkt und - Spar Supermarkt wenige Min entfernt - Dm Drogerie und Apotheke naheliegend - Tolle Restaurants wie Plachutta oder Mario gleich nebenan!
The apartment is very spacious, clean and comfortable, it was extremely well equipped as well, it had everything we needed for cooking, cleaning and chilling after sightseeing:) Metro in Vienna is great, station is nearby, 10 minutes and you are in the city center. There is also a beatiful Schonbrunn palace and park with a zoo in walking distance. Josef was very kind and helpful, apartment was superb, best equipped I've ever been to, I'd recommend it to anyone coming to Vienna, whether it is for buisness or pleasure:)
Jakub
2017-02-17T00:00:00Z
Quiet and spacious
Sherlin
2017-02-01T00:00:00Z
Josef ist ein super netter, zuverlässiger Gastgeber. Die Wohnung ist perfekt für zwei Personen und gut angebunden an U-Bahn, S-Bahn & Infrastruktur. Preisleistungsverhältnis: top! Immer wieder gerne
Christina
2017-02-23T00:00:00Z
Room Type
Entire home/apt
---
Property Type
Apartment
---
Accommodates
3
---
Bedrooms
Wien, Wien, Austria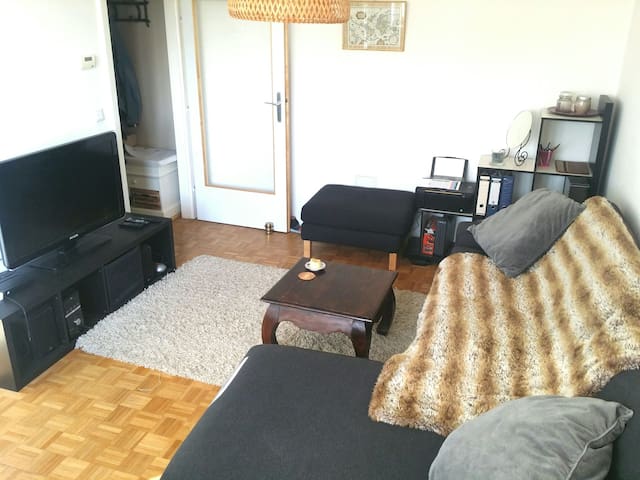 Renovated city appartment in quiet Hietzing area right opposite the famous Klimt Villa. Equipped kitchen with dishwasher, oven ond stove, table for four. Bedroom with 160cm bed. Livingroom with bedsofa, big TV and desk. WLAN, washingmachine, ...
The appartment is on the second floor. The entry room is equipped with a built in wardrobe. There is a bathroom with washing machine and a seperate toilet. Double bed dedroom, and a living room with a big TV, WLan and a bedsofa.
Central city appartement in the nice quiet area of Hietzing perfectly connected to the city. Various shops around like 2 supermarkets, a bakery with coffee place, an ice cream store and various restaurants.
Even if i came a bit late in Vienna, Phillip were here to host me and the contact by the phone was easy. The contact with the host was really efficient and always quick. I stayed 5 weeks in the flat and i felt instantly at home. The flat is brightness, clean as i expected through the pics, no neighborhood in front of the windows, only great view of trees. Bathroom has everything you need. The bed is confortable, everything had works properly, (wifi, kitchen...) The supermarket is only 200 meters away from the flat I came by car in Vienna and i could parked my car easily in front of the flat for free. The strassebahn is 200 m away from the flat & The U-bahn is 5 min away, which will bring you in the center in 20 min. I really felt that Phillipe & Monica tried to make my trip as good as possible. They made me a great discount for my stay as i did take a long trip. I would definetely recommend this flat if you have to live for a couple weeks in Vienna and if you're looking for a quiet place. If i had to live in Vienna, I would like having an accomodation like this one.
gilles
2017-03-24T00:00:00Z
Clean apartment with easy access to the subway. The apartment was as advertised and the hosts were very helpful during our stay in Vienna. I would absolutely stay here again.
Jacob
2017-01-01T00:00:00Z
Room Type
Entire home/apt
---
Property Type
Apartment
---
Accommodates
4
---
Bedrooms
Wien, Wien, Austria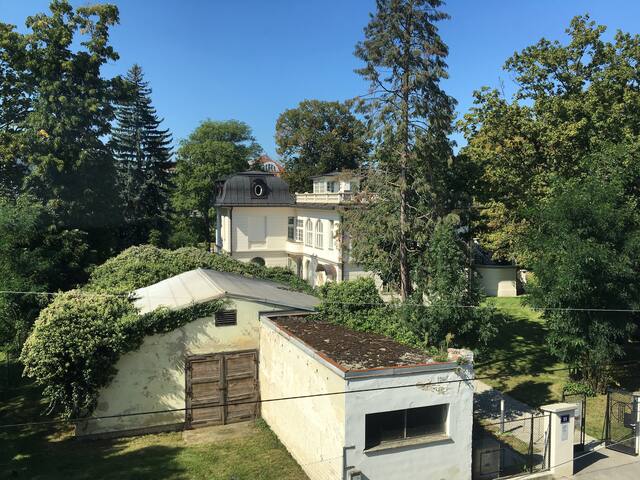 Cosy, quiet 2 rooms Apartment (47m2) with sunny view into the garden, The flat is available for max. 4 guests.
Cosy, quiet 2 rooms Apartment (50m2) with sunny view into the garden, The flat is available for max. 4 guests and is equipped with a new exclusiv kitchen, living room, bedroom, seperate toilet and bathing room with a hair dryer. Fresh towels for each guest of course inklusive! Enjoy the view out of the living room and bedroom window into the beautiful garden which invites you to have breakfast and get to gether for happy hour. Free parking right infront of the house! Best Connections to public Transport: The tram (60) brings you in 10 minutes to the Viennese Zoo and "Castle Schönbrunn"! With the excellent Train Service (s-60) you travel in 6 minutes to main central Station. From there the sunway "U1" brings you in 4 minutes to the Center "Stephansplatz" and "Karlsplatz". The empres (Elisabeth 1st) summerresidence "Hermesvilla, Lipizaner horses and Lainzer Tiergarten" are very Close to the Apartment. The bus stop (56b) is just around the corner of the Apartment to get to the Lainzer Tiergarten.
Very nice save and exklusiv district Hietzing is very green and quiet.
Alex was a great host. The apartment was tidy and cosy. Definitely worth the three days.
Hassan
2016-11-17T00:00:00Z
Alex's place was great. Loxated near shops. It was warm and clean. It is easy to get in touch with Alex during the whole stay. He is nice. Thank you for the lovely stay.
Yordanka
2017-02-25T00:00:00Z
Alex sent us directions and met us at the apartment. He was very friendly, helpful and welcoming. The apartment was as described and suited our needs. The neighbourhood is very nice and the apartment is very close to the tram stops which we used to get into the city.
Paul
2016-02-09T00:00:00Z
Overall great stay. Took us one day to figure out the transit system and then we were quicker moving! Easy access to the trains. Great space and great value! Thank you for a great stay!
Amanda
2016-12-26T00:00:00Z
Alex welcomed us nicely. He was flexible and punctual. Apartment was in line with expectations from the listing. Neighborhood is remote, quiet - 45 mins to/from karlplatz, approximately.
Miloš
2015-04-15T00:00:00Z
It was very nice of the hosts' dad to allow for a late check in around midnight. The apartment is very spacious and has everything one might need. Internet worked very well. It's not a very warm apartment, but there's an electric heater in the bedroom, which was more than enough to compensate. The street is quite crowded, so it might take some time to find a place for a car. Shoenbrunn palace is easily accessible by tram. Overall it was a very good experience.
Dominik
2016-09-24T00:00:00Z
Alexander was most helpful and hospitable. He welcomed us in person when we arrived, introduced with apartment and neighborhood. Apartment is nice (on the 1st floor), equipped with all stuff we needed - must mention good quality internet and digital cable TV with excellent choice of channels. Nice and quiet neighborhood.
Dragan
2014-10-12T00:00:00Z
Alexander is a great host! His appartment is very cosy, in quiet and green neighbourhood. Our communication was great, he responses very quickly. I appreciate his help with public transport tickets. Since Alex was not there, when we arrived, his father met us and was also very kind, showing us everything we needed to know about the appartment. I really enjoyed staying in Alex's apartment with my family.
Nadja
2015-06-15T00:00:00Z
Room Type
Entire home/apt
---
Property Type
House
---
Accommodates
4
---
Bedrooms
Vienna, Vienna, Austria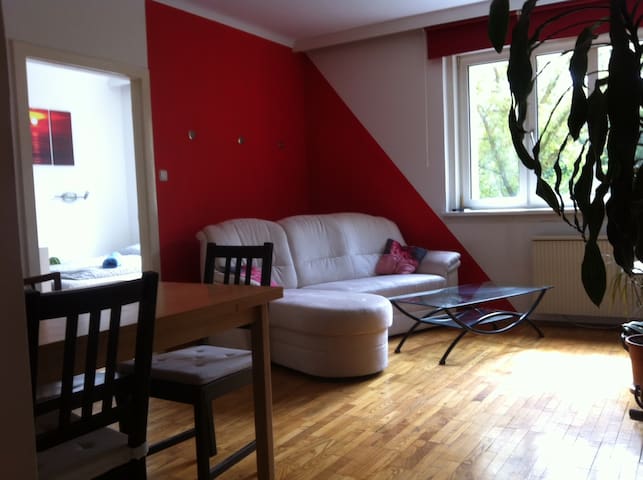 Gemütliche/ruhige wohnung GRATiS PARKEN für Autos kann man weiterhin gratis im diese Bezirk von Wien parken , außer dort wo es speziell gekennzeichnete Kurzparkzonen gibt . 95% ist es aber platz gleich vor der haus tür! schlüssel übergabe ist vor ort 0-24h möglich ! ofizielle check-in zeit ist zwischen 12 - 22 uhr ab 22h check-in €10 vor ort cash zu bezahlen.
Das bett ist 200/140 gross und immer mit frische bettwäsche und handtücher .
bitte gegenseitig rücksicht nehmen, wegen lärm und ruhe zeiten ..
It was very clean and quiet. Excellent for 1 or 2 people. Very close to the Schönbrun castle.
Hanna
2017-01-06T00:00:00Z
The apartment is situated in a strategic area close to one of the most important touristic attractions, Schönbrunn Palace. The accommodation offers everything what you need, starting with a cozy bed, a nice little kitchen and finishing with make-up removal pads for girls ;-) We stayed there for three nights and we left Vienna with a very good impression. We recommend this apartment for the future!
Sebastian&Roxana
2016-07-18T00:00:00Z
We had a great time at Mustys appartement. Everything was just fine. We enjoyed Vienna and can totally recommend Mustys appartment. Our check in as well as the check out were very uncomplicated.
Elisabeth
2016-08-31T00:00:00Z
The place is very nice for this cheap price. I definitely recommend.
Mohamed
2016-12-04T00:00:00Z
A nice small space close to Schonbrunn. Easy access by subway (10-15 minutes to city center). A nice neighbourhood. Musty was nice, waited for us a little long and still he was friendly. The only issue was the lack of curtains and the fact that very early in the morning we woke up because of the bright light.
Sinziana
2016-08-18T00:00:00Z
Musty was a great host. Everything in the room was as expected even found some beer, coffee and water bottles in the kitchen and were invited to enjoy them. The communication with the neighbour (where I left the keys at departure) worked well and she was a very nice and helpful lady during my stay. The location was convenient (although a bit far from the centre it is very close to the metro station). This one-room apartment is a great place to stay for 2 people. I strongly recommend it to anyone willing to spend a great time in Vienna.
Marian
2016-09-14T00:00:00Z
Everything was perfect and as advertised. They were friendly, and made no problem even that I arrived very late (after 23h in the evening). I only had to pickup the keys at other location, but that was it. I fully recommend! The good thing is, in front of the building there are parking spaces, so good for the people coming with a car.
Marko
2016-07-10T00:00:00Z
I love this apartment so I stayed here for one more day.Suzi the neighbor lady give us the key.She is not good at English ,but she is very kind and helpful.there is everything you need in the house,and it's close to the metro,there is also a marked nearby that makes our stay comfortable.
Zhi yi
2017-01-17T00:00:00Z
Room Type
Entire home/apt
---
Property Type
Apartment
---
Accommodates
3
---
Bedrooms
Wien, Wien, Austria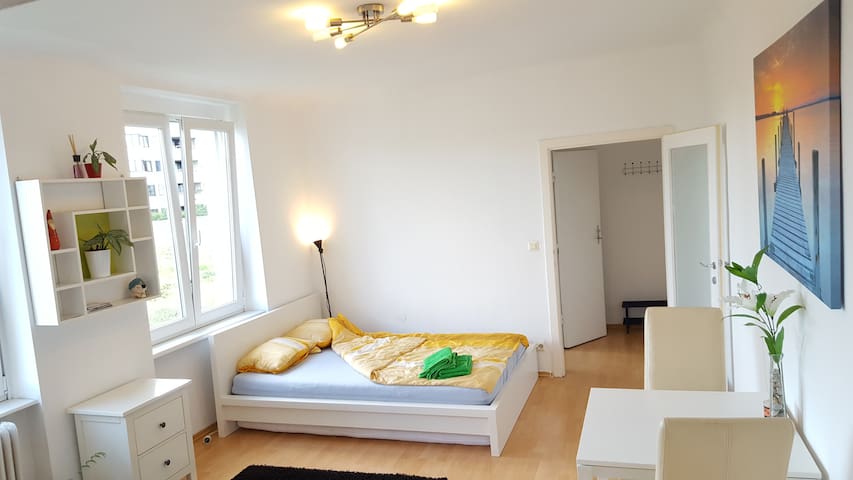 Ihr Appartement/Wohnung liegt im Grünen mit eigenem kleinen Garten und doch sehr Zentrums nah. Mit den öffentlichen Verkehrsmitteln sind sie in 15 Minuten im Zentrum der Stadt. Das Appartement erwartet Sie neu renoviert. und mit liebe zum Detail
Es erwartet Sie ein neu renoviertes sowie elegantes Appartement. Ausgestattet für hohe Erwartungen.
Wohnen in der Stadt und trotzdem im Grünen.
Alexander's been a great host and we really enjoyed staying at the nice apartment. Everything was perfect.
Lei
2017-03-15T00:00:00Z
The apparment is very nice, clean, modern and it has everything you neeed - from the dishes to hairdryer. ;) Alexander is a great host, very friendly and helpful. Location is 5 minutes walk to the underground, which takes you to the very centre of the city in 10 minutes. I recommend this place, we had a lovely time!
Gea
2016-12-28T00:00:00Z
We spent 2 nights in the apartment, which was absolutely perfect. Everything was nice, new and clean, just like in a well-equipped hotel room. Alexander is a great host, easy to contact, giving us all the information and help we needed. We are really grateful for everything and recommend this place to anyone who would like to stay in Vienna in a pretty, modern apartment in a quiet, green area but still very close to public transport (therefore close to the city center).
Fanni
2016-06-06T00:00:00Z
Alexander goes out of his way to make your stay enjoyable. His charming apartment is perfect for a couple, with a garden patio for morning coffee and evening drinks. The apartment is 500 metres from the metro and that line takes you directly to St Stephanplatz in 15 mins. Many thanks Alexander for warm your hospitality and advice.
Nick
2016-09-28T00:00:00Z
We were very pleased to stay in Alexander's apartment. He was extremely helpful, nice and very friendly. The apartment was comfortable, perfectly clean and the equipment was satisfying every need. Alexander almost immediately responded to all requests. We enjoyed a great dinner in an Italian restaurant thanks for his recommendation and reservation. The area is very quiet, safe and beautiful. The inner city was very close to this apartment. Alexander is a great host, we can definitely recommend for anyone.
Márton
2016-11-13T00:00:00Z
My boyfriend and I felt so comfortable staying a few nights at Alexander's apartment. He was a gracious host and provided maps and information on Vienna and the neighborhood. The apartment is just as described -- great shower, a coffee maker, a beautiful garden, a comfortable bed. The neighborhood is very peaceful, a great place to come back to after a long day seeing the sights. Checking in and out was very easy and Alexander made himself easy to contact if I had any questions. We would definitely stay here again on our next trip to Vienna.
Una
2016-08-21T00:00:00Z
We would definately recommend staying at Alexanders appartement. It was clean, modern and exactly the same as the photos. He even went out of his way to point out the must see places in Vienna, and all the transport links, even stocking the fridge with some refreshments! Definate a superhost!!
Sioned
2016-10-09T00:00:00Z
We were very pleased with the apartment of Alexander. Apartment very beautiful, stylish and comfortable in all respects! apartments are close to the metro station, it is very convenient. Alexander is very friendly, helpful and hospitable host! the apartment had everything we needed and Alexander immediately responded to all requests! great place to relax, I recommend to everyone!
Елена
2016-10-06T00:00:00Z
Room Type
Entire home/apt
---
Property Type
Apartment
---
Accommodates
2
---
Bedrooms
Wien, Wien, Austria