My place is close to the Maryland Live Casino, parks, restaurants and a movie theater in walking distance. 35 minutes outside of DC, and 15 minutes outside of downtown Baltimore. My place is perfect for couples, business travelers, and families (with kids). The perfect place to enjoy a relaxing vacation for those wanting to experience all that Washington DC and Baltimore have to offer, in a safe, clean, friendly community with all the amenities to make your stay a very pleasant one.
Room Type
Entire home/apt
---
Property Type
Apartment
---
Accommodates
6
---
Bedrooms
Hanover, MD, United States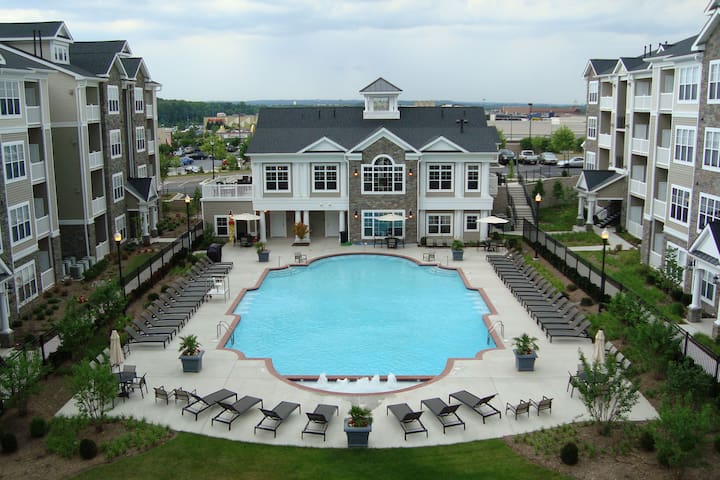 Luxury rooftop one bedroom 920 sq ft apartment with a beautiful skyline rooftop view. It comfortably fits 4 and is walking distance to Maryland Live Casino/night life/restaurants, it's situated at the BW Parkway exit 10 minutes away from BWI airport. 30 minutes to DC & 15 minutes to Baltimore.
Relax in the luxury sun filled space and get lost in the tranquility and amazing views. ***additional collapsible raised King bed provided at request (see Frontgate website for "Essential EZ Bed Inflatable Guest Bed") that can be set up in living room ***Please go to "Request to Book" and go to "See Price Breakdown" this is where you'll see the most current nightly rates -- the rate may very well be lower than what is advertised (this does not commit you to booking)
Well appointed tranquil space in a safe idealistic neighborhood, walking trails, Wine&Spirit store, restaurants, cleaners, Starbuck's all in the parking lot. Walking distance to Casino Live/Arundel Mills Mall -- 20 miles from Washington, DC!
A great place. Centrally located with a fantastic view where you can enjoy the sunrise before exploring for the day. Diedre is a everything you can ask for in s hostess: prompt, considerate, and accommodating. If you are passing through I highly recommend it!
Robert
2017-02-20T00:00:00Z
Amazing place, beautiful views. Host very informative and kind.
Issa
2017-03-26T00:00:00Z
Booked Diedre's place for my parents who were visiting. They had a great time, excellent stay. Awesome view, easy to work with, excellent value for the area. 10/10 would book again!
Jack
2017-03-12T00:00:00Z
Thank you for taking my last minute request! Awesome place with a beautiful view and great location.
Jeff
2016-05-01T00:00:00Z
Loved staying at this apartment. The location is central to Baltimore and DC, the decor was unique and fun, the bed was super comfortable, and the building amenities were top knotch.
Mara
2016-11-20T00:00:00Z
I had a well-coordinated stay at Diedre's place. I had all my own traveling kitchen supplies so was able to make good use of the kitchen space. Love the openness of the space with the tall windows. Diedre provided a nice space for me to spend in for a couple days. I didn't explore the area but spent a lot of time organizing work and personal projects and felt quite at home.
Brian
2016-09-13T00:00:00Z
Diedre's apartment was GORGEOUS! So clean, amazing, and in a great location (lots of food around and very close to Arundel Mills + Maryland Live). Would definitely stay again!
Caitlin
2016-03-21T00:00:00Z
Diedre was a great host and the apartment was fabulous. Comfortable bed and couch, large dining table, beautiful decor and great location. Would definitely recommend this place to anyone traveling to this area and would definitely stay there again myself. Thanks Diedre for a lovely stay!
Patricia
2016-10-01T00:00:00Z
Room Type
Entire home/apt
---
Property Type
Apartment
---
Accommodates
4
---
Bedrooms
Hanover, MD, United States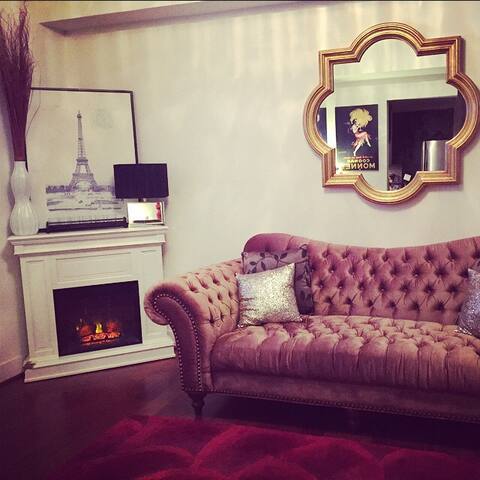 luscious one bedroom Apartment in a gated community. The serenity is surreal. Very secured and Calm. Huge separate shower, jacuzzi and marble counter tops. Huge walk- in closet. Fire place, washer/dryer. Hard wood floors. Amazing decor. Qsize bed. Supper clean. Full kitchen. Amazing Lobby, game room and office center.
This space is 10 minutes from BWI Airport, next to one of the biggest outlet mall, casino and 30 minutes from Washington DC and Baltimore.
I am close to everything I need. I am safe in my gated community. I have access to everything I need or want in a few minutes. The movie cinema is 5 minutes from my apartment. I am 1.30 from major beaches. One of the biggest outlet malls is right across the street. Countless restaurants. Costco, Walmat. Banks. Shops. Too many to list. Casino.
This place is not well represented by the pictures she has posted. It far exceeds what we expected to see, the location was awesome right near casinos and shopping centers. Plus located near highways for easy access to anywhere in maryland. Our host was great we booked with less than 24hr notice and she was able to meet us at 1 am because we were coming from out of town. The place is in a very secure apartment complex with gated entry. All in all should we come back to maryland to visist better believe she at the top of our list
Alonzo
2017-02-20T00:00:00Z
Great place tucked away, but just 10 mins to the airport. I'ts easy to forget it's so convenient because I never heard any planes!
William
2016-10-23T00:00:00Z
Beautiful place, great service, and prime location make this a hard spot to beat!
William
2016-11-04T00:00:00Z
Location Location!! Close to the mall, shopping work, access an anything you need. But why go out when it's so beautifully decorated? Great communication - a joy to stay here.
William
2016-10-21T00:00:00Z
The accommodations were as described and Comfort went out of her way to meet us when we arrived even though our drive took much longer than expected.
Karen
2016-09-04T00:00:00Z
Comfort was wonderful and her home was beautiful. My wife and I loved our stay. Comfort made us feel extremely welcome and made the entire process effortless. Highly recommend!
Dan
2016-06-27T00:00:00Z
Comfort is a fantastic and gracious host. She did her very best to ensure I had a pleasant stay.
Brian
2017-03-31T00:00:00Z
Great area, clean apartment, very hospitable host
Garrett
2017-02-15T00:00:00Z
Room Type
Entire home/apt
---
Property Type
Apartment
---
Accommodates
2
---
Bedrooms
Hanover, MD, United States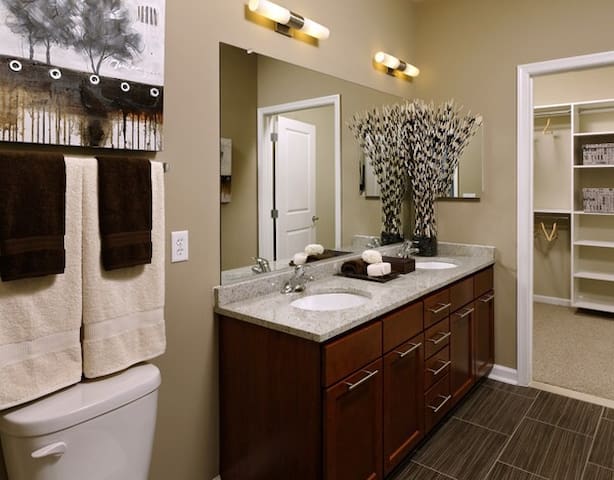 As you drive through the gates, you are impressed with the smart, sophisticated architecture that wraps around unrivaled community amenities; all under one roof! With the casino and the mall at walking distance.
The Seperate Large Thub the fire place the gaming area the mall at walking distance the casino the airport at 8mins Away and Two 4K And 3D screen TV in both living room and Bedroom.
The shopping center the movie theater the mall the casino all the good restaurants and major bank. The fast ride to BWI airport which is less than 10 min away
Better than the pictures! Super clean and the location was perfect. I wish I lived here!
michaela
2017-03-12T00:00:00Z
Room Type
Entire home/apt
---
Property Type
Apartment
---
Accommodates
3
---
Bedrooms
Hanover, MD, United States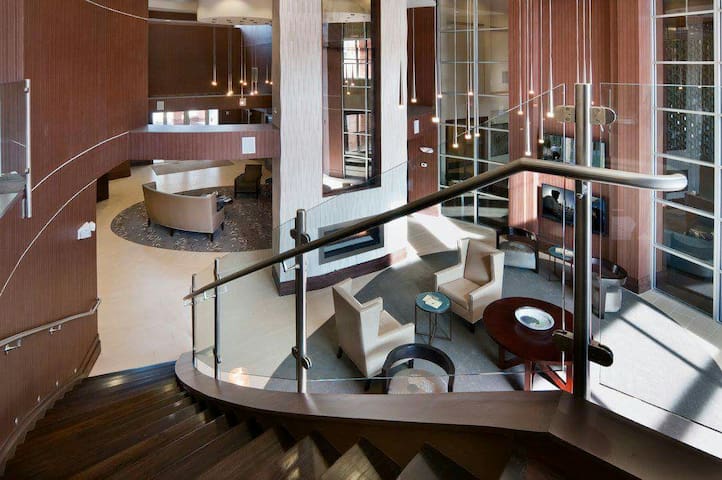 Come stay at Arbors at Arundel Preserve. Close commute to the Arundel Mills Mall and Maryland Live Casino. Very close to 295 as well!
Unit available at the Edgemont in Bethesda, MD. 1 Bedroom/ 1 Bath fully furnished including all utilities, housewares, cable tv, and high speed internet. Perfect location for Presidential Inauguration this Monday. Minimum four ay minimum Location is easily accesible to DC metro.
We were in a desperate situation after something else fell through, and we needed a place to stay in the region for 2 months for work. It was fine--a clean, furnished but otherwise bare apartment. It is actually a corporate short stay apartment, run by a management company. I don't know if 'Anne' really exists. You could probably rent it through their own website if that's what you're looking for. However, if you want to actually cook, there is nothing there, not even salt. And it's a ground floor apartment, kind of dark as a result. The long description saying it's in the Edgemont in Bethesda is clearly totally wrong and inaccurate--probably copied and pasted from some other property the company manages.
K. E. Saavik
2016-11-18T00:00:00Z
Room Type
Entire home/apt
---
Property Type
Apartment
---
Accommodates
3
---
Bedrooms
Hanover, MD, United States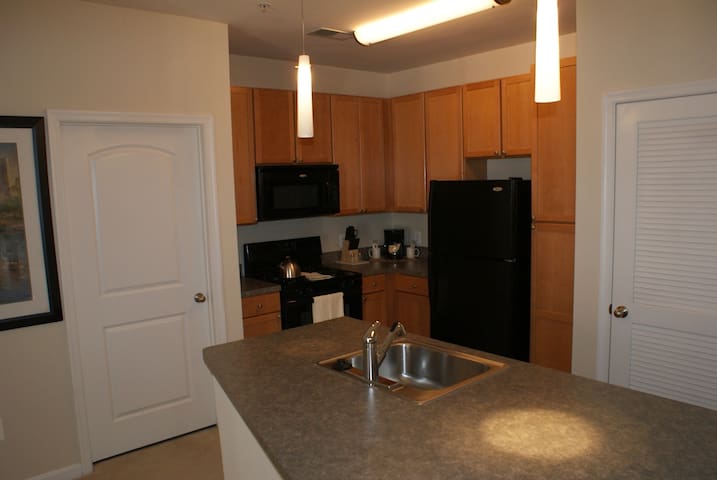 This 2 BR apartment is clean and bright with lots of character. It's a perfect location in a to take in Charm City! The private apartment is on the 3rd floor. Spoons, my restaurant, occupies the first floor. 1 parking space included. Please note: The apt. is located beside popular bars, restaurants and nightclubs. It is a noisy location at night so if you're a "light sleeper" this place is NOT for you!
1) Rustic, bright apartment with plenty of authentic Baltimore character! Say no to a blocky, cookie-cutter apartment buildings and hotels. 2) Fantastic neighborhood, Federal Hill! A few blocks away from popular Inner Harbor Attractions. Just walk out your from door for great nightlife and restaurants. A brief walk to M&T Bank Stadium, Camden Yards and the Convention Center. Just 5 minutes from 95. 3) Solid wi-fi! Super fast high-speed internet. Extended Cable-HBO. That means you won't miss one episode of Game of Thrones. 4) Private and safe building. This is the only apartment in the building. The first floor is our restaurant, Spoons, which closes at 2pm. After that time you pretty much have the building to yourself. 5) You will be staying above Spoons. (Warning: shameless self promotion). Spoons has been a neighborhood cafe since 1999. It has the best breakfast/brunch in the neighborhood, hands down. All of our food is from scratch and coffee is roasted on-site. 6) Our home is your home! Help yourself to food and drink. Treat yourself. 7) Stocked kitchen with every appliance you could need. You can help yourself to anything. We are big on coffee (we are, in fact, coffee roasters) and have a grinder, french press and drip machine - we provide all the fixings! 8) A gas fireplace in the living room. Perfect to cozily sit by with a cup of coffee and a book. 9) I have scoped out the best of the best in the city. I will be happy to provide a full list of suggestions and recommendations! 10) Warm and cozy queen size beds! The apartment has two bedrooms. It comfortably sleeps 4. The couch can sleep an extra guest if need be. FULL DISCLOSURE: PLEASE READ--VERY IMPORTANT BEFORE YOU BOOK We have a great apartment in a great location, but, there are times when the area is noisy. If you are "light sleeper", this place is NOT for you. Cross Street (where is apartment is located) is a nightly entertainment location, therefore some nights (mainly Thursday, Friday, Saturday and sometimes other nights) between the hours of 10 pm - 2 am, you will hear noise from the bars next door and people on the street,i f they are loud. All of the other times, probably 95% of the time, it is a very peaceful, sunny, enjoyable space. We have a no refund policy for noise complaints. The space is older. You can expect the quirks of an older listing: Our appliances are older, the hardwood floors show some wear, and the a few tiles in our bathroom have some cracks in them. Despite our extremely clean nature some things just never quite look brand new. However, these marks just add character and we can assure you that before every guest the place is cleaned from top to bottom, your linens will be fresh, and everything will be in working order. Parking: Parking around the area is tight. There is 2-hour metered parking in and surrounding the business district. Permit parking only in the neighborhood. Included in the rental is one parking pass which allows you access to a Baltimore City owned garage one block away. ----------------------------------------------------------------------------------------
Many of the city's top cultural and tourist attractions are only blocks away from Historic Federal Hill. We are walking distance from the American Visionary Arts Museum, the Baltimore Convention Center, the Baltimore Museum of Industry, Harborplace and the Gallery, the Maryland Science Center, the National Aquarium, Oriole Park at Camden Yards, the Pier Six Concert Pavilion, Port Discovery Children's Museum, the Power Plant and Ravens Stadium.
The apartment is wonderful. It's tastefully furnished and there is a lot of room. We really liked the brick walls, the chimney and the large well equipped kitchen. The location is very good for night owls and when you want to party because pubs and bars are right around the corner. Deborah gave us detailed instruction for the apartment and she was always available – especially when we had some issues with the front door. We really enjoyed staying at Federal Hill.
Philipp
2016-04-19T00:00:00Z
If you enjoy the nightlife then this place is perfect for you. The location in federal hill couldn't have been better, and while like Deborah says there is a bit of noise, I barely heard it. I Loved the Coffee she gave us from her restaurant downstairs and recommend this place to everyone. Thanks Deborah!
jonathan
2016-07-12T00:00:00Z
Deborah's apartment is amazing! It was very clean and looks even better than the pictures. I was in Baltimore for a conference at the convention center, which is an easy 15 minute walk up the street. Their are tons of restaurants and bars near by. It was never noisy in the apartment, although I was only their from Sunday through Thursday night. Deborah was easy to communicate with and always quick to respond. I would highly recommend staying here.
Plamena
2016-03-19T00:00:00Z
Want to pop downstairs for live music, a variety of bars, a younger crowd and an active nightlife? You've come to the right spot! Enjoyed the two large bedrooms with super-comfy beds, charming red kitchen, exposed ceiling beams and hardwood floors. Hostess supplied a variety of grooming products in the bathroom and a lovely selection of snacks, beverages and decadent coffee from her business downstairs (Spoons).
Catherine
2016-10-10T00:00:00Z
Deb's attention to detail and consideration for her guests was evident frm the moment we arrived. The apartment was as described- clean and comfortable. The fridge was stocked with snacks and beer, as well as half and half for the freshly ground coffee she provided. Th neighborhood got a bit noisy at night but Deb provided white noise devices that adequately blocked the sound. We would stay here again as well as recommend the apartment to our friends. Lagniappe: breakfast downstairs in her restaurant was delicious!
susan
2016-06-27T00:00:00Z
The apartment was GREAT. Thank you so much. I really loved all the little extras that you left for me. The place was easy enough to find, perfectly clean, and a very cool place. The apartment is very close to lots of interesting restaurants and bars. It was the perfect stay, and Deborah has really taken care of everything to make it perfect. The only small thing to be aware of, as others have said, is there is a lot of street noise. The good news is there are two bedrooms, one facing the street and one at the back that is a little quieter. If you are a heavy sleeper then its OK, but be prepared for 4am wake-ups from noisy vehicles. However this is a minor issue and you are going to find this in any part of a large city.
Adam
2016-07-28T00:00:00Z
Amazing place in the heart of the nightlife in Baltimore. If you are looking for a quiet stay with no night life, this isn't it. If you are though, then nothing beats this. Absolutely loved it and would stay again without a doubt! You can't stay here and not go to spoons, FYI, nothing beats the beast!
Casey
2016-11-20T00:00:00Z
Great location ,easy walk to attractions . Good combination of residential and restaurants ,bars, café. You have to go to Spoons great food ! A most gracious host. Parking pass a plus. More then expected .
janne
2016-01-21T00:00:00Z
Room Type
Entire home/apt
---
Property Type
Apartment
---
Accommodates
4
---
Bedrooms
Baltimore, MD, United States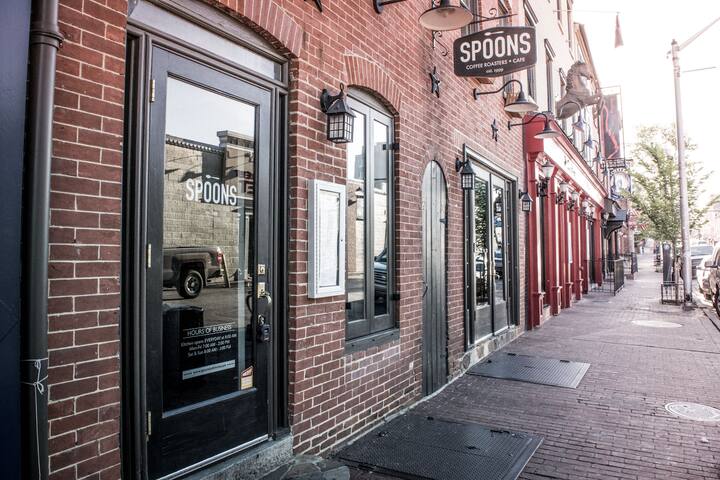 - Walking distance to Baltimore Convention Center (5 min) - University of Maryland Medical Center (5 min) - Camden Yards, Ravens Stadium, and the Inner Harbor, Hilton - Walk everywhere downtown - Quiet cobblestone tree-lined street in Historic Ridgley's Delight neighborhood. - Free Visitor Parking available on request - Room is located downstairs with private bathroom Thank you for supporting us @Airbnb!
- Bedroom is located downstairs - Clean and cozy room and on a very quiet street - A complete private full bath - Located in the basement with a walk out - Face towels provided (if you forget your own towel, please ask for one)
What I like most about our neighborhood is that we live 5 minutes away from the world famous Baltimore Inner Harbor so I can easily find our living place (approximately) in a world map. The area is safe and clean, with friendly people all around. Colonial style street with all locations within walking distance. A cafe is just a 3 minute walk away. Grocery store, 7 Eleven, Pizza Shops - you name it, everything is within walking distance. Rest assured, it is safe to walk at night in the neighborhood as well, with a 24/7 security presence! NEARBY ATTRACTIONS: - University of Maryland, Baltimore: 2 minute walk - Oriole Park at Camden Yards: 5 minute walk - M&T Bank Stadium: 5 minute walk - Baltimore's historic Inner Harbor: 10 minute walk - a short walk from the MARC Train and the Light Rail's Camden Station Several bars and shops are located in the neighborhood, most popularly Quigley's Half-Irish Pub, Camden Pub, Corner Bistro & Wine Bar, and Peace and a Cup of Joe. You can walk to the following places, without having to rely on a car. Inner Harbor: one of America's most beautiful city waterfronts Camden Yards: home of the Baltimore Orioles M&T Bank Stadium: the nest of the Baltimore Ravens The B&O Railroad Museum: historic trains and more The Walters Art Gallery: a world-class fine arts collection Hippodrome Theater: Broadway theater quality right in Baltimore Enoch Pratt Free Library: the main branch of the public library Baltimore Convention Center: trade shows and meetings Burial site of Edgar Allan Poe: a shrine for his fans Federal Hill: an old neighborhood of markets, restaurants and pubs Fells Point: a popular waterfront area full of nightlife and shops Little Italy: an ethnic neighborhood packed with good restaurants
It's a cozy apartment in a safe neighborhood near the UMD hospital system. The hosts are helpful and accommodating. The room is a steal and is totally worth the money.
Dhruv
2016-04-30T00:00:00Z
I was very uneasy coming to a big city and staying at someone's home all by myself. My trip was a great experience and it was all very affordable because I was able to stay here. Zac gave me my privacy and left me alone for the most part and when I finally met him he was very friendly and welcoming.
Hollie
2016-10-20T00:00:00Z
The host is very patient and warmhearted. The room is nice and worth this price. Also the neighborhood is so nice!!
Xiaoqing
2016-07-25T00:00:00Z
Awesome room blocks from Camden Yards! I had a very short stay but Zak and Alia were very accommodating and welcoming. The room is located in the basement down a fairly narrow staircase, but the room was spacious and comfortable. It is especially nice having its own dedicated bathroom connected to the room. The house is also located on a quiet street. Highly recommend for stays in Baltimore!
Brian
2016-06-19T00:00:00Z
They were so easy to communicate with, very prompt and friendly. The room was clean and well stocked, I didn't feel like I was disturbing anyone. The neighborhood is adorable and everything was just really easy.
Maddie
2016-09-10T00:00:00Z
Zak and Alia were extremely helpful and responsive to get me settled into their place. The basement room is very small, but has everything you need for a stay. The entire apartment is clean and it's in a great location! I would stay here again.
Kara
2016-10-15T00:00:00Z
I HAD A GREAT EXPERIENCE AT Z@K & ALIA'S. THE BED IS VERY COMFORTABLE. LOCATION IS PERFECT! CLOSE TO EVERYTHING. THEY WERE VERY KIND, I FELT AT HOME! HIGHLY RECOMMENDED.
Xochitl
2016-09-25T00:00:00Z
Zak & Alia's place was quite cozy. Surprisingly quiet for being right at the inner harbor. The room was comfy, very private and I slept very well the days I was there. It was also very convenient, in that it was only a 5 minute walk to work. Zak was helpful and understanding about my late arrival. I will definitely keep them in mind for future stays.
Lisa
2016-06-03T00:00:00Z
Room Type
Habitación privada
---
Property Type
Apartment
---
Accommodates
1
---
Bedrooms
Baltimore, MD, United States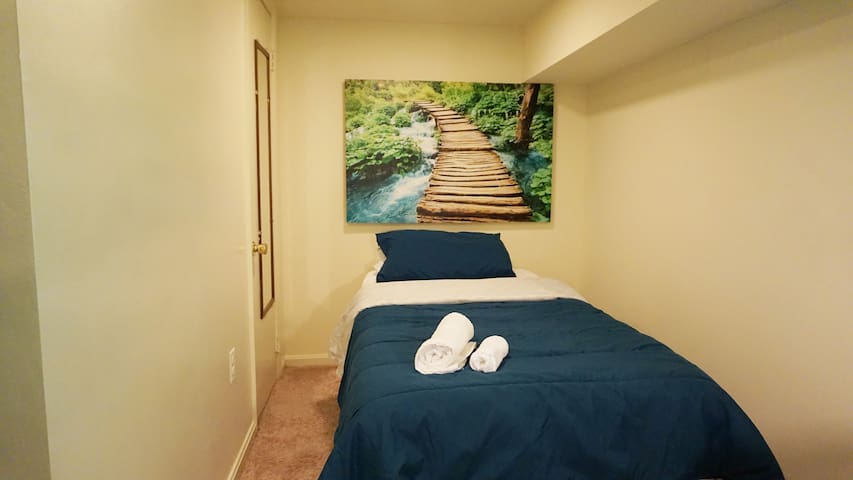 Fully appointed one bedroom apartment three blocks from North Charles Street. Light rail stop at our door with easy access to rail and airlines. 24 hour front desk, gym, free parking.
Secure access-controlled entrance Gated reserved parking for residents and guests Beautifully landscaped outdoor courtyard Spacious entertainment and activity room 24-hour exercise room with latest fitness equipment 24-hour front desk attendant On-site maintenance and On-call emergency maintenance staff Resident Manager
Chesapeake Commons remains an outstanding architectural achievement in Baltimore's West Side Renaissance. Bordering the historic neighborhoods of Seton Hill and prestigious Mt. Vernon, Chesapeake Commons is ideally situated amidst the city's premier cultural and education institutions and attractions
returning guest. another amazing stay.
Emily
2016-09-30T00:00:00Z
This apartment is A++! It is very clean and inviting; looks EXACTLY like its photos. The check in process was quite seamless and the front desk staff are friendly. John was very proactive in making sure we were taken care of and that we were happy with the arrangements. The location was excellent...very quiet neighborhood, within walking distance to nice diners and coffee shops. I will definitely be using this listing again (if available).
Adam
2016-10-23T00:00:00Z
Via text or email kept me abreast of my changes, made aware of an event & how it may be effective to me. Periodically, made sure everything was good during my stay. Stores were accessible in walking distance, people seems friendly!
Pamela
2016-10-15T00:00:00Z
very clean and spacious. check in process is easy. Gated parking is safe and secure. overall highly recommend
Emily
2016-09-23T00:00:00Z
Thank you! Condo was lovely.
Doralina
2016-10-28T00:00:00Z
The place was very clean and spacious. I was excited to see a movie collection and many books although we did not have time to check any of them out. Everything we needed was provided, from shampoo to wine glasses and a corkscrew! It was overall a great exp
Mark
2016-10-21T00:00:00Z
We enjoyed our stay. The place is extremely secure and the front desk was very helpful. An uber was $6 to the Harbor or Fleets Landing. Both can be walked as well. The room was spacious and clean.
Todd
2016-10-18T00:00:00Z
John is an amazing host. Great communicator. Only thing better is his place. OMG! Perfect for girls/guys getaways. Great for a business meeting place too. If you're coming in to town for an Orioles/Ravens game this place is perfect. Don't even bother renting a car. Right next to the Centre light rail station. The unit itself is beautiful. Very clean, well appointed, decorated, and comfortable. The view from the outdoor patio is to die for. HIGHLY recommend this place.
Kevin
2016-10-20T00:00:00Z
Room Type
Entire home/apt
---
Property Type
Apartment
---
Accommodates
2
---
Bedrooms
Baltimore, MD, United States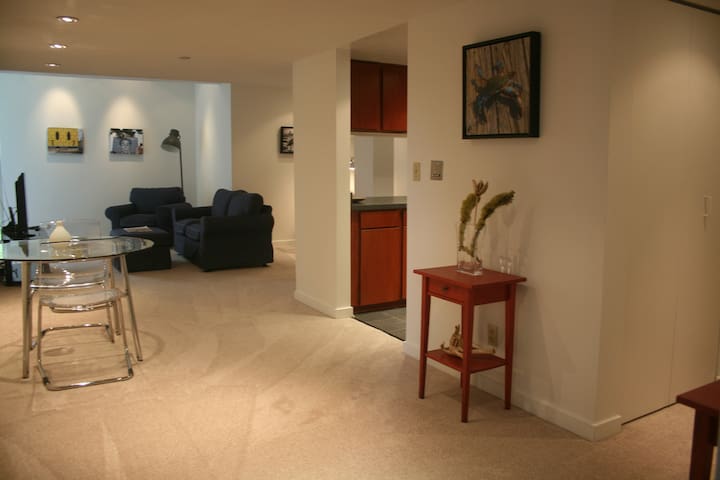 Enjoy this 120-year old row home owed over the last 20 years by a naval officer and a tugboat captain, giving it a nautical flair. Close to family-friendly Riverside park and Ft. McHenry, as well as Ravens and Orioles stadiums, nightlife, and just 15 minutes from BWI airport. Parking pad in the rear. Daily shopping is 2 blocks away. Lots of kids and local pubs in the neighborhood. The owner works overseas and is rarely home, so this is a private experience. Anything in the kitchen is fair game!
We love the small touches in the house, from the whale tail door knocker and the mosaic compass rose in the entry way, to the built in bookshelves and the bathroom which feels like an old yacht. The house is 120+ years old - but continued renovation has kept it current.
This section of Federal Hill is called 'Riverside' and is sandwiched between Riverside Park, the Southside Marketplace, I-95 & the train tracks and Fort Avenue. This makes for a small enclave about 4x5 blocks, having its own identity. There are several small local pubs, most of which are both family friendly and very old-school. Odd hours and cash-only are still normal. Many bars will serve carry-out.
The listing was spot on in description. Tim was a responsive easy host to work with. The house is beautiful, with everything you need. Quiet, nice neighborhood a couple blocks to groceries and tons of options within walking distance to great bars and neighborhood establishments. We had a relaxing wonderful time. I highly recommend staying at this listing.
Christine
2016-10-05T00:00:00Z
Nautical Flair was a very nice stay. It was very clean, comfortable, and convenient to the surrounding areas. I would definitely recommend this to others!
Hanson
2016-10-16T00:00:00Z
Great communications from Tim and Jen - easy to access. Perfect place for the Army Navy game - so close to Raven's stadium. Great little pub/grill spots within walking distance. Beautiful decor, and well laid out, comfortable in every way. Would gladly stay here again (assuming Tim lets me - BEAT NAVY!!)
Tom
2016-12-11T00:00:00Z
This is a beautiful private row house in a nice part of town, easy access to convenience store by foot, nice park on next block, off street parking, and just gorgeous, gleaming hardwood throughout. Very clean throughout. I could have stayed a week, it pained me so to leave the beautiful book collection of classics by all the great authors without holding them and sitting under one of the lamps in a soft cozy chair. Bedroom is sweet! Great built in bookshelves. Highly recommend!
Humberto
2016-10-09T00:00:00Z
Room Type
Entire home/apt
---
Property Type
Apartment
---
Accommodates
4
---
Bedrooms
Baltimore, MD, United States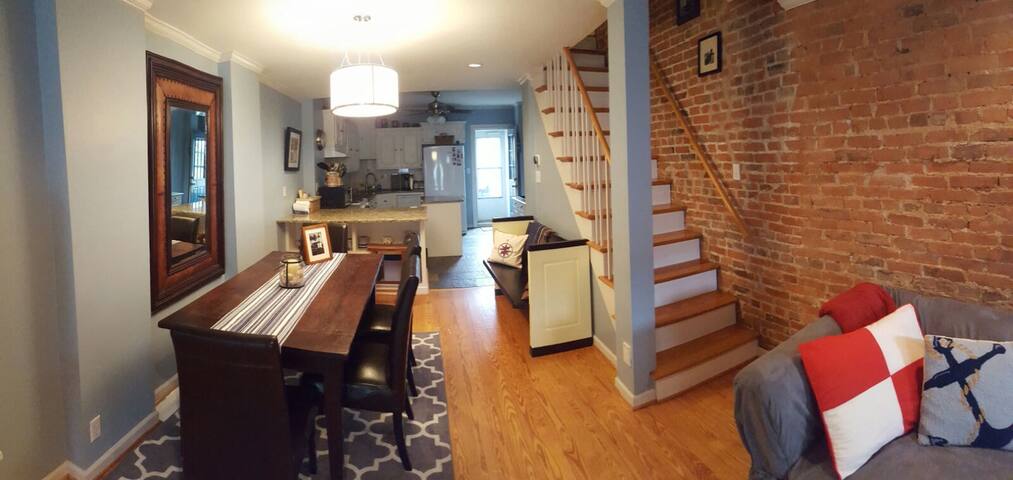 Our chic 1 bedroom apartment comfortably sleeps 2, is located in the beautiful Locust Point neighborhood, with easy access to amazing restaurants and local pubs. Views of the city and harbor from the bedroom and a complimentary drink awaits you in the cozy bar below.
Amazing Amazing
Nzinga
2016-08-26T00:00:00Z
Everything was great and better than pictured. Place was right out of a magazine with so many extras.
Nzinga
2016-08-25T00:00:00Z
This was the best Air BnB experience! Jeff was the most personable host, so much fun and so pleasant. The bar downstairs has amazing food and drinks. There is street parking that we had no trouble finding and it's close to many conveniences (Starbucks, grocery, etc). It was a short drive to many attractions in the area. The apartment itself so so adorable with all the works-- big tv, cable, Netflix, etc. We were very impressed and will definitely book this apartment again next time we are in town.
Alison
2016-04-01T00:00:00Z
Jeff is very accommodating and hooked us up with a drink at their bar downstairs.
Casey
2017-01-20T00:00:00Z
Wonderful little apartment in a fantastic neighborhood! Bar Liquorice below is amazing and Jeff is the most incredible host. If they have the chocolate bread pudding, it's to die for. We walked to the Locust Point water taxi stop (behind the Under Armor building) and took a fun ride around the Inner Harbor, stopping at the Aquarium. This is a great place to stay if you like to explore on foot or via public transport. The bed is super comfy as well and it's very quiet for being on a main street. The bathroom is tiny, but we loved the place so much! Thanks for such a great experience in Baltimore!!
Brandy
2016-09-13T00:00:00Z
Our experience at Jeff's place was wonderful! Great hospitality & a beautiful space. We really enjoyed hanging out at the bar, chatting with Jeff & the bartenders. The Airbnb is also in a great location with easy access to area attractions. We will definitely be back!
Tasha
2016-07-12T00:00:00Z
Really great spot! Love the area and the decor. The bed was very comfortable and everything anyone needs for a weekend away. Bathroom is a little small but just fine for 2! Loved this Airbnb will definitely be back!
Madison "Beth"
2016-02-25T00:00:00Z
Nice place close to the bay. Friendly host!
Chenault
2016-10-13T00:00:00Z
Room Type
Entire home/apt
---
Property Type
Apartment
---
Accommodates
2
---
Bedrooms
Baltimore, MD, United States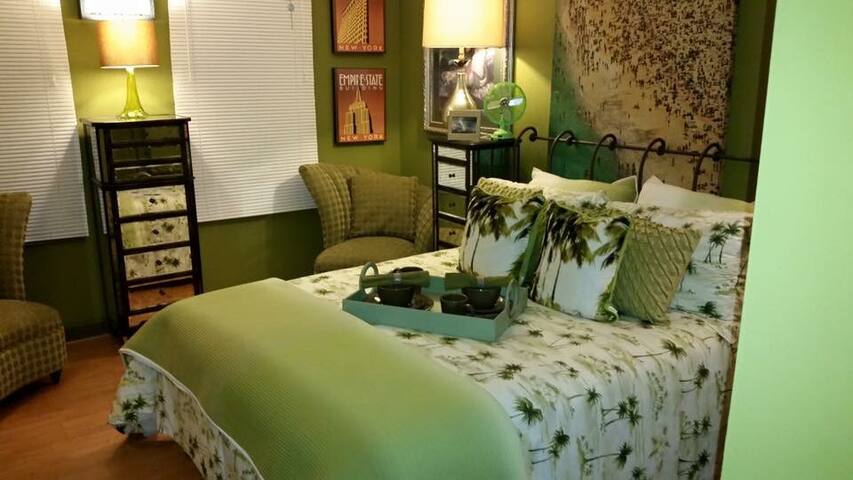 Out on the town? Enjoying Baltimore's nightlife? We have a comfortable futon available in this beautiful loft in the Inner Harbor. Our futon is located in a comfortable corner of our loft with a shared bathroom. Perfect for a good nights rest after a long night of partying.
Cozy and quiet space to lay your head after a night out. The bed is located in a corner of the office area of our home. This is an open concept loft, please be advised that your bed is near a common area of the home. Due to the open concept, there may be interaction with other guests. The loft is located in the heart of Downtown Baltimore, there will be city noise!
Great place to be for all the sights and sounds of Baltimore- Sam is a great host
Michael
2017-03-12T00:00:00Z
Great location, walked to both day and night activities. Keep in mind you are downtown so the sirens and street noice are there but that would only impact you if you are a light sleeper. I slept through the night my entire stay with no issues. Sam is great - very personable but totally gives you your space.
Connie
2017-04-02T00:00:00Z
This was my first Airbnb experience so I relied heavily on previous comments from individuals who stayed there. Location was a little difficult to find but Sam walked me through it over phone. Free parking out front was challenge not a lot of spots if any so parked in garage across street $10 if park after 5pm and leave before 8:30am. Convenient location to inner harbor. Apartment is on 4th floor narrow steps and because of close quarters scent of smoking was present. Price was $35 slept in common area on leather futon received blanket, sheet, pillow and I had to bring a towel. She also had another guest who was nice and her bedroom was good size so next time I would most likely request a bedroom versus the futon. Overall Sam was pleasant, responsive and polite. JPW
Jeff
2017-03-22T00:00:00Z
I had a short but enjoyable stay at Sam's place. It's spacious, clean, with a comfy futon. The central location is fantastic -- only a couple blocks from the Inner Harbor. I'll definitely stay here again when I'm back in Baltimore.
Isaac
2017-03-26T00:00:00Z
The sofa bed was very comfortable and Sam was a great host. The apartment is in an amazing area (great value!) and very clean, spacious, and modern. Couldn't have asked for better!
Nathan
2017-01-10T00:00:00Z
Sam was the first person I've ever stayed more than twice with on air bnb! She was friendly, hospitable, and flexible. Her place is clean, safe, and located on prime real estate. I am 100% sure I'll be back!
Sean
2017-03-10T00:00:00Z
I was in Baltimore for a short business trip only, but it was fantastic. The appartment is beautiful and close to everything (bus/train, bakeries, restaurants, bars, the harbour!!!). Sam is very nice and easy to reach if needed. I'd come back every time.
Katharina
2017-02-25T00:00:00Z
Sam was very hospitable and made the experience great! The location is fantastic and from leaving early and coming back late, also very safe. Thanks for the stay Sam!
Sean
2017-01-12T00:00:00Z
Room Type
Shared room
---
Property Type
Apartment
---
Accommodates
1
---
Bedrooms
Baltimore, MD, United States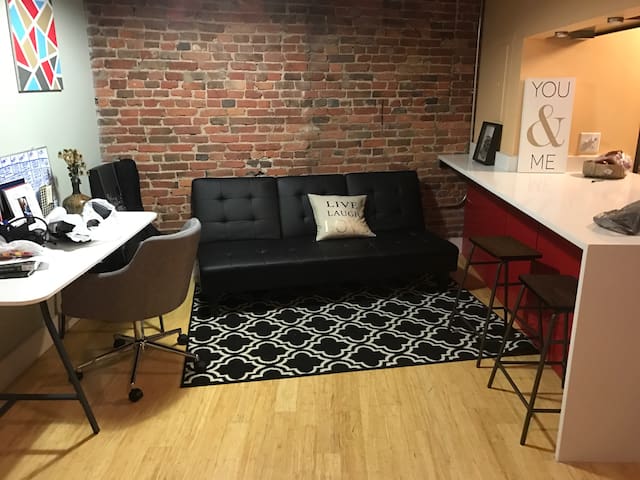 One bedroom, one bath corporate apartment in an owner occupied, elegant victorian townhome in the middle of Mount Vernon. This beautifully furnished second floor apartment ready for your weekend away or an extended stay. The kitchen is fully equipped, towels and linens are included. OUR LOCATION: Nestled on a tree-lined side street, we're right around the corner from from everything historic Mount Vernon has to offer, including restaurants, theatre, museums, symmphony hall and nightlife. TRANSPORTATION: The central location makes our apartment an ideal hub from which to explore the rest of the city, and the region. Stops for the MARC train, Amtrak, Lightrail, The FREE Charm City Circulator, as well as the Johns Hopkins shuttle, are all within walking distance. There's several Zipcar stations within a block radius of our front door.
Susanne and her husband were awesome. They were not just friendly, they were kind and accommodating. The house was just as described, and the neighborhood was perfect. We had access to everything - great cafes, bars, and a 20-25 minute walk to the inner harbor. We also got to hang out with her, her friends, and their BEAUTIFUL dog on the stoop for a bit, which was really great! Couldn't have asked for a better stay - we'll definitely be back.
Lilah
2015-07-13T00:00:00Z
A top tier experience from start to finish! From the quick and timely response during booking, to Joe waiting on the front steps for our arrival. From the fresh cut flowers greeting our entry into the spacious apartment to the welcoming and comforting appointments inside. Our experience with Susanne and Joe and this one bedroom unit in Mt Vernon was fabulous, and arguably the best stop on our East Coast tour. Mahalo for all you did. We will return, happily!!!
Ken
2014-10-23T00:00:00Z
Very charming, grand old home. The apartment is spacious, sunny, and the location is excellent.
Carol
2017-02-26T00:00:00Z
Enjoyed our stay with Susanne and Joe. The apartment is beautiful- we both enjoy and appreciate historical buildings. The apartment was decorated very nicely and had all the conveniences of home. The neighborhood was great- 1 block from Mt Vernon Place. Off street parking was a plus.
Bob
2014-11-30T00:00:00Z
Susanne has a lovely, historic home is a very convenient location in Mt Vernon. Walk up to your very well appointed 2nd floor apartment to sleep in the most comfortable bed. And I have very high marks for the "clean" factor. Not a piece of dust in sight. And it is so spacious. NOTE: The home is from 1850, so the water pressure is not high. An you do occasionally hear other people coming and going on the wooden stairs (there is another apt above). But I did not find either of these things a problem. will go back as soon as I can.
Dawn
2014-03-11T00:00:00Z
SUMMARY - A wonderful and comfy 2d floor walk-up apartment (>650 sq feet) that is a 20 minute walk, free Circulator bus or a $5 Uber ride to the Convention Center. DETAIL - What a pleasure it was to stay at Susanne and Joe's lovely and spacious apartment in the Mount Vernon neighborhood of Baltimore for five nights at the end of July! The 2d floor apartment is a huge old elegant one bedroom with a full kitchen, including a refrigerator, dishwasher, microwave, – the works. Including coffee for the first couple of mornings. The living room has comfortable seating for many people. The bedroom has a comfortable bed with tables on either side so both people have space for phone, water, book, etc. Several big closets, a full length mirror and an iron and ironing board, which I needed because I was attending a conference at the Convention Center. Everything in the bath was new and sparkling and they had made plenty of room for toiletries and other items. All the linens were nice. When it was hot, the window unit air conditioners worked very well and when the weather was nice, there were screens for the gigantic windows. The Mount Vernon neighborhood has at least 10 restaurants within 2 blocks of the apartment, and there is a grocery 1 block away, along with convenience store across Cathedral street. The area has pretty old homes and businesses, leafy green trees and an abundance of local shops and markets. When we traveled downtown, it is a convenient walk, free Circulator bus ride or $5 Uber fare to downtown. And best of all, Joe and Susanne! They are friendly and shared just enough info and recommendations to be useful but not so much that we ever felt they were intruding. The perfect hosts. Instead of renting a car, get ZipCar, because there are three parked on Read Street just west of Cathedral. If you do choose to bring a car, parking will be ~$20-25 per day. On a day when we had a rental car, we had a parking dilemma, and Joe graciously fed the meter in front of the house for us one night so we didn't have to spend a fortune to keep our car overnight in a lot. Way above and beyond the call! It was a great stay and we would hope to stay with Susanne and Joe again anytime we are in Baltimore.
Walt
2014-07-31T00:00:00Z
The apartment is lovely---spacious and beautifully furnished. It is the perfect combination of an historic home with modern updates. The best features, though, are the hosts. Susanne and Joe are delightful and extremely helpful. Would definitely stay there again!
Helen
2014-08-30T00:00:00Z
Susanne and Joe ( and their beautiful pooch, Victoria) could not have been better hosts!! The apartment is lovely, bright, and very comfortable. Oh, and very clean! The location is tops! We enjoyed lovely walks, the cozy coffee shop across the street, and the fabulous wine shop on the corner. It was wonderful to wake and see the beautiful church on the corner. We would definitely return. I only wish Internet was a bit better, but not the end of the world. Great place. Thank you.
Anne
2015-11-28T00:00:00Z
Room Type
Entire home/apt
---
Property Type
Apartment
---
Accommodates
2
---
Bedrooms
Baltimore, MD, United States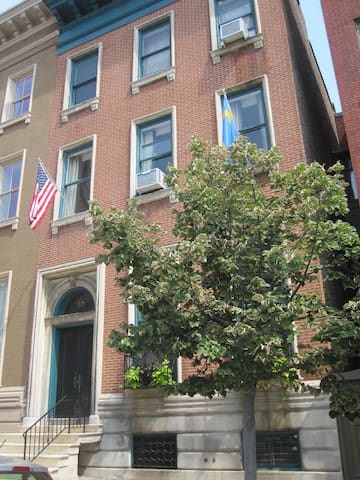 With our urban-chic exposed brick 1 bedroom apartment, location is KEY. Directly across the street from Camden yards and M&T stadium, you won't find a closer location this beautiful and convenient. Minutes walk from Inner Harbor, Horseshoe Casino, Convention Center, museums, amazing restaurants, nightlife and more!
The cozy space is a newly renovated urban luxury apartment comprised of a master bedroom with a comfy queen sized bed for royalty and an en- suite bathroom with waterfall shower. We also have a stylish and comfortable futon located in the open concept living area framed with exposed brick, open floor plans, and large windows that provide character and beautiful natural light, while stainless kitchen gives a modern twist. Developed from a restored warehouse, this space offers urban luxury green living, wrapped in historic charm. Keyless entry, bike storage, and for the socially conscious - there are high efficiency AC /heating units as well as garbage compactors so you can stay at your home-away-from-home comfortably, while remaining environmentally-friendly. Our cozy crib is located at the center of the bus lines, the free Charm City Circulator Bus that's goes to all major attractions downtown m and minutes from Penn station so you don't waste a second getting to where you need to go. There's also a Zip car pickup station right across the street from our apartment if you're looking into renting a car. Since this is a renovated warehouse with green living in mind, we keep energy use to a minimum. That means, NO ELEVATORS (2 floor walk up- honestly not that bad but if elderly or have trouble walking 2 flights, this home may not be for you), hallways with motion sensor light etc. So please be mindful of turning apartment lights off when not in use or leaving to explore the beautiful city of Baltimore.
Safe, tree lined neighborhood with the best neighbors!!! Located directly across from Camden Yards and within 2 block walking distance of the University of Maryland. Cobblestone streets and nightlife just footsteps from our quiet sanctuary in this vibrant up-and-coming area. We walk to home baseball and football games - about a 5 min walk for us. There's also free street parking for zip rentals directly out front otherwise, parking is fine unless it's a game day, but no need to worry, you'll be walking since you're so close :)
This is a great apartment, very comfortable, secure, nice vibe. Lovely neighbourhoods to walk around closeby, and easy walk to downtown area. Nicole was excellent host and clear, easy, timely communicator. I've no hesitation in recommending others to stay here.
Anne
2016-11-05T00:00:00Z
Nicole's apartment was perfect for my trip! The apartment is nice and cozy and so much more personal than a hotel room. The location can't be beat. Just blocks from the stadium, conference center, and Inner Harbor. Everything was perfect for my stay!
Julie
2017-03-21T00:00:00Z
We had a great stay at Nicole's apartment. It was clean, very well maintained, and the perfect combination of hip and cozy. The building was very nice and it was only a short distance from both the stadiums and the inner harbor. Nicole was extremely friendly and quick to respond to any questions I had. I highly recommend you consider staying at Nicole's apartment when visiting Baltimore!
Bryan
2016-12-19T00:00:00Z
Returning to Nicole's wonderfully welcoming place after a day out in Baltimore was most welcome. Clean. Well appointed. Excellent communication. Perfect location. It doesn't get any better.
Frederick
2017-03-12T00:00:00Z
I stayed at Nicole's lovely apartment for five nights while in town for a conference at the Baltimore Convention Center. The location was perfect for walking into the Inner Harbor--it was about a 5-10 minute walk to the Convention Center and in such close proximity to so many restaurants and bars. The apartment itself was lovely--the keypad locks were great as I never had to worry about bringing/losing/keeping track of any keys. The place was spacious, quiet, and very comfortable. I thoroughly enjoyed my stay here!
Juleen
2017-03-17T00:00:00Z
Great place, lovely building, will stay again!
Lonnie
2017-02-14T00:00:00Z
I'm 55 in pretty good shape. I downsized my baggage to do three floors up and down stairs so no prob. It was quiet and good amenities. Nice aesthetics. Loved cup of joe and potbelly's also: two good down home places to get coffee and other place, sandwiches or oatmeal. Bring a map if you don't know Baltimore. Or study ahead. I walked Pratt towards Inner Harbour and felt safe. Nicole is sweet and wants to help. All in all, very good.
Elizabeth
2016-12-13T00:00:00Z
First of all Nicole's place looks exactly like the pictures...absolutely amazing and you can't get any better with the location . She responded to all my questions promptly and I was also able to check in early ! Parking was not an issue the entire weekend! I would highly suggest this airbnb ! I plan on staying here the next time I visit Baltimore !
Donna
2017-02-19T00:00:00Z
Room Type
Entire home/apt
---
Property Type
Apartment
---
Accommodates
4
---
Bedrooms
Baltimore, MD, United States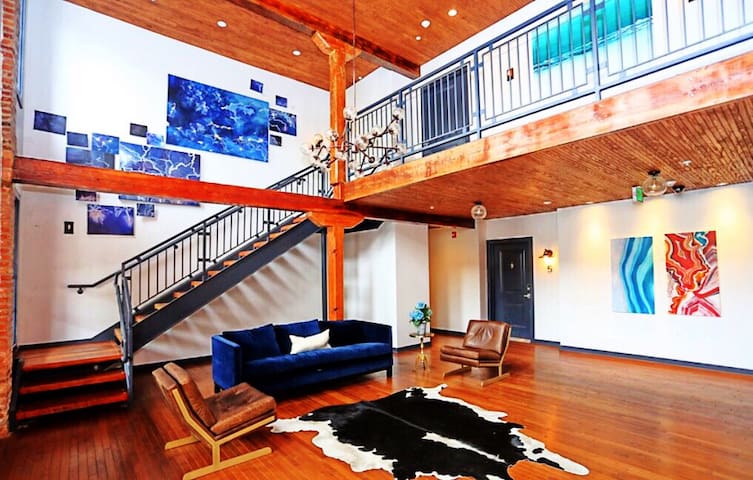 The apt is located on a quiet, tree lined, dead end street directly across from University of Maryland Campus & Hospital and just a few minutes walk from the Inner Harbor & Stadiums. The apt has a lovely kitchen, fresh towels & linens, and a comfy bed. Whether you are in town for 2 month or 2 days this apt will be very comfortable, you will not be disappointed. We live across the street if you have any questions or concerns.
Great kitchen, comfy bed, quiet, secure, location, location, location, central to downtown. This unit is located on the 3rd floor. We look forward to having you stay and visit Bmore. The TV is a "smart TV" which will give you access to Netflix, Hulu,etc.. Cable is also provided
This is 100% "walkabilty" at its best!! No car needed, but parking, on the street by permit, is available if you need it. Inner Harbor, Camden Yards, Convention Center, UMB Medical School, Shock Trauma, BioPark...all within a short walk.
Clean, open space with everything you need, and close to everywhere you want to go.
Anne
2017-04-02T00:00:00Z
Bill is a great host. He gives you the space or attention you need to enjoy your stay. The apartment offers everything you need and is close to everything. It is off a relatively quiet street with minimal traffic and foot traffic.
Cheryl
2017-02-01T00:00:00Z
Exactly as pictures. Very comfy bed and comforter. Perfect spot for the weekend.
Bhumika
2017-01-23T00:00:00Z
This was a perfect location for accessing the Inner Harbor and the Charles Street historic area. The unit was super clean and contemporary , and the directions that Bill sent made my late arrival not a big deal . Nice touch with the the morning coffee! I would return to this Awesome Downtown apartment next time I need time in B'more, maybe I will even catch the Orioles in town !
Robert
2016-04-01T00:00:00Z
Great space for an individual or couple wanting to explore the inner harbor. The medical school is right across the street so even wandering at night is pretty safe with all the street lights and campus police. The place was clean and as described. The bed was surprisingly very comfortable. Plenty of kitchen supplies provided. Place cools down quick with the ac so no need to leave it running when away. Only downsides are the small doorways and stairwell which makes carrying big things up to the 3rd floor a bit of a pain. Also no cable access on the tv. Great experience. Definitely recommend.
Rachel
2016-08-15T00:00:00Z
This is a perfect place to stay while in Baltimore. It was very clean and in a nice location. I'd recommend it for anyone. Bill was super friendly and very helpful with local information. He was very responsive and accommodating. Thank you, Bill, for making our stay in Baltimore so comfortable.
Kathy
2016-11-03T00:00:00Z
Bill was awesome and I loved staying at his place. I will stay there again! Perfect for single or couples coming into town.
Mitchell
2016-08-22T00:00:00Z
This home/apt is ideal for anyone wanting access to downtown Baltimore, Inner Harbor, the University of Maryland and, Camden Yards and the football Stadium. All of it is within walking distance. Additionally, the apartment is 7-10 minutes away from the Penn Train Station. This provides and easy 1 hour Amtrak ride to Washington DC and a 2 3/4 hour ride to New York City. This was our first visit to Baltimore and we had a great time. Part of our great experience was Bill's advice on where to eat, how efficient Uber is in the city of Baltimore and, common sense safety advice. Bill was a great host and the apartment was wonderful. Additionally, Bill is a great face for the city of Baltimore. The city needs more people like him, that are willing to a make a living in Baltimore and to contribute to the economic development of that city. This was probably the best domestic vacation that my wife and I have ever had! Go, go Baltimore! We're rooting for you!
Erik
2016-10-18T00:00:00Z
Room Type
Entire home/apt
---
Property Type
Apartment
---
Accommodates
2
---
Bedrooms
Baltimore, MD, United States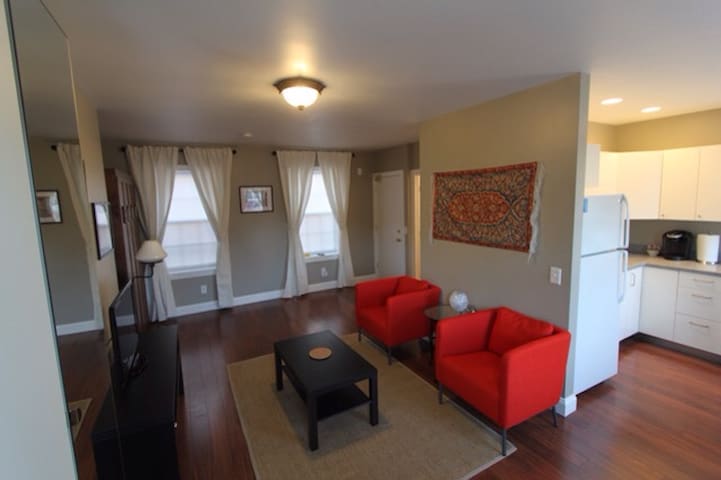 Great location! Cozy, comfortable & luxurious studio apt w/ private entrance & available street parking in a renovated historic row home. Kitchenette:Fridge w/ breakfast items. Located in a nice neighborhood in historic federal hill-convenient to all Baltimore gems. Short walk to Ravens m&t bank football stadium, inner harbor, convention center, dining/bars, museums, history, inner harbor and other conference facilities. Perfect for a short stay or city getaway. Great for business travelers.
It's exactly what you'd need for a short yet comfortable stay. The studio is a cozy separate unit located in a beautiful, renovated historic brick home in federal hill. It is clean, has a comfortable bed with fresh linens and has luxurious upgrades. There is a lovely deck for you to enjoy some fresh air and coffee on in the morning and a lovely green view when the weather is nice. There is a separate, private entrance and plenty of sunlight. Please view pictures of listing. Kitchenette with granite countertops, a microwave, toaster, french press coffee maker. Queen bed with fluffy pillows clean white linens and down alternative comforter. The bathroom has a floor length mirror, white towels and toiletries(shampoo, conditioner and body wash). Fridge with some breakfast items and snacks provided. Tea and coffee also provided.
Federal Hill is a friendly area with lots of energy! It's a fun neighborhood to spend a weekend in or relax after a conference. There is lots of Baltimore pride and amazing seafood and nightlife/bars within walking distance! Also parking is generally tight in Federal Hill due to the central location so as an added bonus, a street parking pass is provided pending a safety deposit.
The listing was accurate and the place was lovely! The location was perfect and everything was as described in the listing. The hosts were wonderful and we will be back to stay again!
Jordan
2016-11-13T00:00:00Z
My girlfriend and I thoroughly enjoyed our stay at Jay's place in Federal Hill. The location is excellent and just a short block away from all the restaurants and bars in Federal Hill, as well as the free circulator bus that will take you to most of the major destinations in the city. It's a good base from which to explore the city or catch an Orioles game when in season. Check in was very easy and both Jay & Zara were helpful in finding convenient parking.
Mark
2017-01-02T00:00:00Z
BEYOND EXPECTATIONS! I was attending a convention in Baltimore and unfortunately had a death in my family which changed my plans rather suddenly. I asked if I could amend my reservation by a day or two. Jay and Zara were not only immediately willing to change my reservation in any way I needed, but they both contacted me personally to extend their sincere sympathies for my loss. It was so touching and truly kind. When I arrived, Zara was there to meet me and help me get inside. The apartment was exactly as advertised. It was cozy and clean with modern, updated furnishings and appliances. The kitchen was stocked better than most places I've stayed. I wanted for nothing. Truly. Anything extra was within walking distance as was the convention center, so I didn't need to bring my car and pay parking fees the whole time I was there. I highly recommend Jay and Zara's place. In this price range, there are other hosts who could take a page from their book both in accommodations and personal touch. Good place with good people.
Cassidy
2017-02-21T00:00:00Z
This studio is in a fantastic location, especially if going to an NFL game. The hosts are very responsive and the place is immaculate.
Carol
2016-12-05T00:00:00Z
Jay's place was a perfect home base for our weekend trip to the Women's March. Jay and Zara were very helpful and patiently answered all of my questions. Check in was easy and the updated studio was a lovely, clean, comfortable space stocked with snacks and bottled water. Neighborhood location was accessible to everything. I would happily stay here again.
Laura
2017-01-22T00:00:00Z
This is a nice simple room with a well-stocked mini fridge. The neighborhood has a lot going on, which makes it a bit noisy, but not too bad. The bed is comfy, the shower pressure is good, and the whole place was nice and clean.
Robert
2016-11-05T00:00:00Z
We had an excellent stay in Federal Hill. Jay and Zara were an absolute pleasure and were extremely helpful and accommodating. We would definitely stay here again!
Morgan
2016-10-16T00:00:00Z
Great place to stay for conferences at the Convention Center. Close to many restaurants and pubs. Clean and cozy. Jay and his wife will make you feel home.
Giustarini
2017-03-17T00:00:00Z
Room Type
Entire home/apt
---
Property Type
Apartment
---
Accommodates
2
---
Bedrooms
Baltimore, MD, United States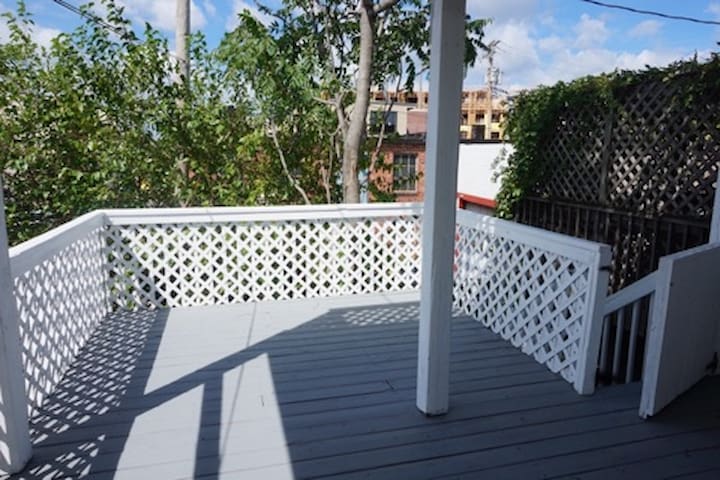 Our apartment is in an old bank which was originally built in 1929 and recently renovated into apartments. Our Guest Suite is complete with a private bedroom/bathroom, and luxury finishings. The downtown location is walking distance to Baltimore Convention Center, several restaurants, bars, museums, sporting arenas and public transit!
If you're looking for a very safe and secure place to sleep in Baltimore, this is it! We are nestled 5 stories above the bustling streets of downtown Baltimore; in a highly secured apartment building. Our apartment is a large flat style unit that offers our Airbnb guests a secluded section of the apartment in the Master Bedroom. This master suite is one of two rooms in our apartment that we rent though Airbnb, which means you may have a housemate during your stay! In the event that we have both suites rented during your stay, we will certainly let you know in advance of your arrival. Each one of our master suites are equipped with your own, private bathroom, so you will not have to worry about sharing. You will have access to our kitchen, your own private in suite restroom, and are welcome to enjoy our living area (couches and dining area). We will provide a shelf in our refrigerator to guest staying two (2) or more days and access to our washer and dryer to guest staying four (4) or more days. Access to our fourth (4th) floor apartment will be a breeze as you will be provided with a key set once you check in; complete with a building access card and a key to our apartment. Navigating our building is easy with three fast operating elevators; and for our over achievers there's two stair wells on either end of the building. The bed is a new Queen size pillow top mattress, setup on a contemporary bed frame. We use a mattress protector that is washed after each guest, ensuring everything is clean and sanitary when you arrive! The room will have a space for you to hang your clothes and coats, ample space for your luggage, and a 51 inch Plasma TV complete with HD Network channels, and Apple TV with full access to HuluPlus and Netflix. We also have the fastest Comcast internet available in Baltimore, with Wifi speeds of 250Mgs. We will provide the Wifi password upon check in.
Our Apartment is wedged between Baltimore's famous Inner Harbor, Little Italy, Historic Mount Vernon, several famous monuments, free museums, great restaurants, and nightlife. We are only 5 blocks from the Baltimore Convention Center, and 5 blocks from the Light Rail train with direct access to Baltimore/Washington International Airport. We are 1.5 miles (2.4km) from Penn Station [15 minute bus ride on Baltimore's free Charm City Circulator, see below] - which will provide you easy access to Washington, DC, Philadelphia, and New York City via Amtrak or regional rail. Baltimore is well known for its abundance of bars and small locally owned restaurants. By staying with us, you will be walking distance to a variety of amazing food, coffee shops, bars, and anything else you want to do and see here in Baltimore. With that being said, we highly encourage you to venture into the urban wilderness of Baltimore City. You'll find the best food and examples of local culture in any of the many historic neighborhoods, all within walking distance from our apartment. We will always discourage our guest from dining anywhere near the tourist trap areas around the Inner Harbor.
Maureen & John are super friendly and easygoing! At the same time the room has a lot of privacy and is more comfortable than a 4 star hotel room! I stayed 4 nights for a conference downtown, great value! Would toatlly recommend!
Daniele
2016-09-29T00:00:00Z
Maureen and John were very welcoming and helpful and the location was great. Definitely makes me want to go back to Baltimore sometime.
Elliot
2016-10-20T00:00:00Z
Maureen and John's apartment will make you feel right at home. The guest room is super clean and organized. It is very hospitable and has great decor. It is perfectly conducive for any traveler! The room also has a very clean private bathroom. The view from the apartment is beautiful; it's in a great location.
Sydney
2016-06-10T00:00:00Z
We stayed one night in Baltimore with Maureen and John. They where incredibly friendly and we had a nice stay. I would definitely recommend staying with them. Maureen even helped us find a really nice neighborhood to go out and eat and have some drinks.
Kristoffer
2015-11-16T00:00:00Z
We were looking for a reasonably priced room in a high-priced area of Baltimore and we found it. Conveniently located (with free street parking on the weekend) within walking distance of the convention center, comfortable and clean, it was exactly what we needed. John was very helpful before, during and even after our departure. Highly recommended for the traveler who needs a safe and comfortable place to stay at a reasonable price.
Shela
2015-12-14T00:00:00Z
John and Maureen were the best hosts we could ask for! The room was clean and had everything we needed and more. They alwaya made sure that we feel comfortable in the apartment and the city. Definitely recommended, 5 stars!
Chen
2015-10-11T00:00:00Z
I had a great time! I was in Baltimore for a conference at the waterfront. Staying at Maureen & John's place ended up being ideal. It was a 5-10min walk to the inner harbor and was very close to a market and several great restaurants. The place itself was very clean and cozy, and the bed was super comfy. Maureen & John were also fantastic hosts. They were very accommodating, casual, and friendly. Would highly recommend.
Dave
2016-07-20T00:00:00Z
This place was so lovely at such an extraordinary value. The hosts were very kind and had great suggestions for restaurants. I walked nearly everywhere. The room was spotless and the private bathroom was so nice. Would recommend!
Jeanette
2017-03-16T00:00:00Z
Room Type
Habitación privada
---
Property Type
Apartment
---
Accommodates
2
---
Bedrooms
Baltimore, MD, United States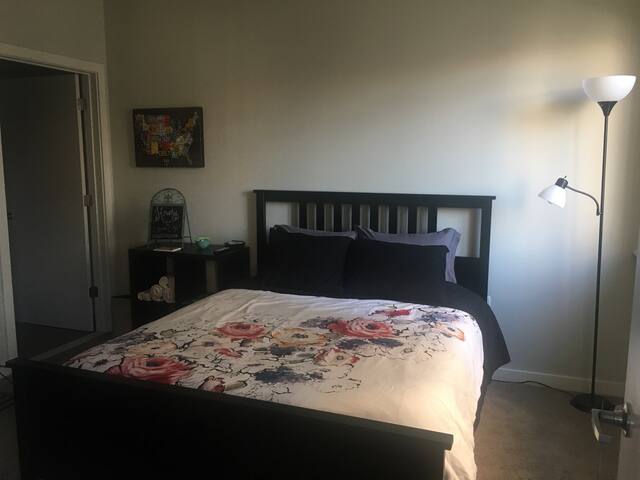 Looking for a roommate. Short term stays are welcome in the meantime. Master bedroom, with one queen size and trundle bed (2 twin beds). All furniture brand new, with pillow and mattress protectors. The room is ideal for a group.
Luxury apartment in the downtown Baltimore. I made sure to purchase mattress and pillow protectors, so my guest can ensure that everything is completely clean. Note linens provided based on number of occupancy.
Baltimore downtown and close to all major tourist/conference areas. The area I live is next to the city hall and is considered safe. The greatest thing for me is that its walking distance to the hospital and 2 stops away via metro. Convention center is 15 minutes walk away. Inner harbour 4 min walk. Fells point/ fed hill/ and mount vernon 15-20 minute walk
Omr was an overall great host. He was genuinely concerned about making our stay here the best possible and had excellent recommendations on where to eat.  His place was very clean, presentable, and the view was incredible! He made us feel at home and made sure we had everything we needed. We definitely recommend a stay at Omr's.
Zaire
2016-07-04T00:00:00Z
The house, view, service, everything was fantastic!
Brionna
2016-06-30T00:00:00Z
Nice place it was clean and nice location in the heart of the city
kevin
2017-02-28T00:00:00Z
Omr is really welcoming and accommodating. He loves giving recommendations for restaurants. The room is really large and bed is comfy. So nice to have the big private bath in room. Great location for a short walk to restaurants and inner harbor. Cool old building with a great view.
Jim
2017-03-05T00:00:00Z
I had a good experience for the most part. The apartment is well maintained and Omar is a very nice person to interact with. The bed is comfortable and nice to sleep on. The blanket provided is the thin type, so bring something extra to cover, or use a jacket, if you're used to something heavier for the winter. Very minor but the room is not completely soundproof so you may hear sirens every so often during the night along with the hourly clock chimes from outside.
Shao
2016-12-31T00:00:00Z
The location of the apartment was great and the room was big with a nice view! No one else where at the apartment, so we had everything for ourselves. Unfortunately the Wifi didn't work. The check in was a little bit complicated and we never met the host during our stay, but we could reach him easily over the phone. But we had a good time, the location was so close to the harbour and the area seemed safe!
Mara
2017-01-29T00:00:00Z
Omr was a great host and made the stay easy. Very convenient location.
Cori
2016-10-30T00:00:00Z
This place was wonderful! Omr is a wonderful host. He has a genuine spirit & made my first Airbnb experience as comfortable & easy as possible. 100% recommend.
Brianna
2016-11-27T00:00:00Z
Room Type
Habitación privada
---
Property Type
Apartment
---
Accommodates
4
---
Bedrooms
Baltimore, MD, United States
Couch with an amazing harbor view.
I live in this apartment all by myself and would like to share the living room with someone who is visiting the city and doesn't mind sleeping on the couch.
Harbor East, the most amazing part of Baltimore city with access to Fells Point & Inner Harbor. There is a CVS & Whole Food with a bunch of really good restaurants & bars on a walking distance. Indoor Parking comes along with this property.
I basically needed a place to crash. The place has more to offer, pertaining to its location. Its very trendy! I personally liked the location. Highly recommended if you don't mind staying in living room!
Prasad
2017-04-07T00:00:00Z
Room Type
Shared room
---
Property Type
Apartment
---
Accommodates
1
---
Bedrooms
Baltimore, MD, United States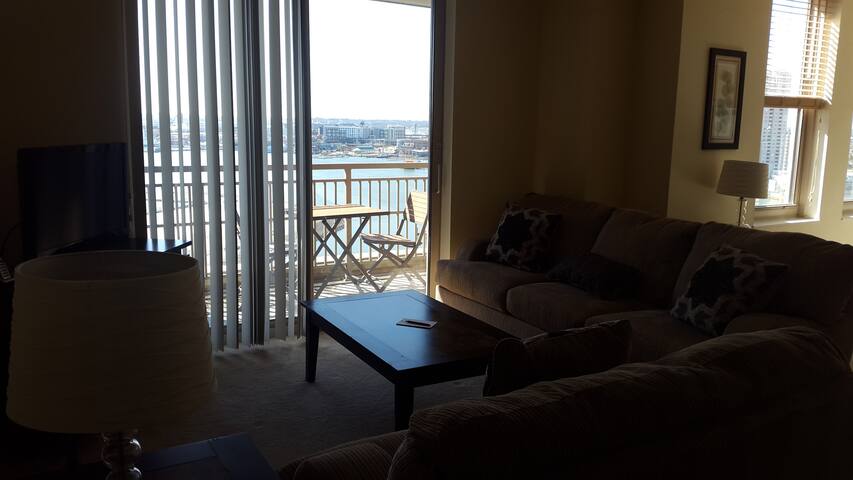 Hanover - Airbnb
:
Average

4.98

out of

5

stars from

958

guest reviews
1

–

18

of

250 Apartment Rentals
Enter dates to see full pricing. Additional fees apply. Taxes may be added.