snug and cozy nest. 3 bedrooms and a loft, living room, bathroom, 2 separate toilets. Washing machine. Bedding Fully equipped kitchen with oven, microwave, vitroceram, coffee machine. quiet. Spectacular views of the Fribourg pre-Alps.
Very quiet, surrounded by greenery.
Near the ski facilities and cable car, summer toboggan run, making cheese, bucolic ballads, 10 min Castle gruyeres. Thermal baths 20 min.
It was a great stay.. the chalet is beautiful and the view is amazing.. we are coming back!
Ana-Marija
2017-01-02T00:00:00Z
Chalet très agréable et accueillant. Un point de vue magique sur les environs. Nadia a été charmante et disponible. Cependant attention, il y a réellement beaucoup de marches sur l'escalier qui mène au chalet. Donc attention si vous êtes chargés, l'ascension n'est pas toujours simple surtout quand l'escalier disparait sous la neige. Encore Merci, à vous Nadia pour ce séjour.
cécile
2017-02-11T00:00:00Z
Très agréable WE dans ce charmant chalet en pleine montagne gruyèroise. Nadia et Gilles sont très accueillants et font tout pour que le séjour se passe au mieux ce qui a été le cas. La description et les photos sont fidèles au logement qui était très propre. Nous reviendrons avec plaisir.
Lucie
2016-09-25T00:00:00Z
Bon séjour dans le chalet de Nadia, très belle vue une fois les marchés montées
Martine
2017-01-25T00:00:00Z
Gospodarz pomagał rozwiązać kłopot z internetem . Nie było żadnych trudności z przedłużeniem pobytu i z kontaktem z gospodarzem.
Astra-Milk Sp. z o.o.
2016-12-16T00:00:00Z
Merveilleux séjour. La région et le chalet sont magifiques.
Danielle
2016-11-02T00:00:00Z
Un logement impeccable et confortable avec une vue imprenable sur les montagnes qu'il faut mériter car il y a beaucoup de marches à gravir avant d'atteindre le chalet mais une fois le mauvais moments de voitures à décharger, on oubli tout tellement on y est bien!
Julie
2016-11-13T00:00:00Z
Très agréable séjour au vert! Chalet très confortable et bien équippé! Bon à savoir: Marches pour atteindre le logement. Nous reviendrons!
Caroline
2016-10-09T00:00:00Z
Room Type
Entire home/apt
---
Property Type
House
---
Accommodates
6
---
Bedrooms
Gruyères, Fribourg, Switzerland
Our farm has a beautiful view of the surrounding mountains. The interior is cosy, spacious and full of light. Enjoy the pool, relax in the lounge or go for wild walks in the mountain..Whatever you choose, the house is suited for maximum happiness!
Absolutely beautiful and well equipped farmhouse in the most scenic location with 360 degree views of the mountains, the Gruyere fort and more. The views from every angle, were a true delight. Excellent touristic opportunities also abound in the immediate area. Although we didn't have a chance to use it, there is also a lovely heated swimming pool. Kitchen was well equipped and the house was very clean and tidy. Check-in and checkout was very smooth and easy too. Most importantly, Adeline was a great and responsive host. We without hesitation, recommend this lovely and charming farmhouse to large groups and families.
Ayan & Chris
2016-12-18T00:00:00Z
We were a group of 5 children and 5 adults. We loved our stay here. I think it was even better than the photos. There's a wonderful feeling of serenity around the farmhouse.
Rick
2016-07-29T00:00:00Z
Cet endroit est un enchantement si vous aimez la montagne et le calme. La maison est entièrement rénovée à l'intérieure et les lits très confortables :-) Très proche du village de Gruyères, plein de choses à faire dans le coin… Pas testé la piscine en revanche Je recommande vivement !
Thibault
2016-03-08T00:00:00Z
Room Type
Entire home/apt
---
Property Type
House
---
Accommodates
10
---
Bedrooms
Gruyères, Canton of Fribourg, Switzerland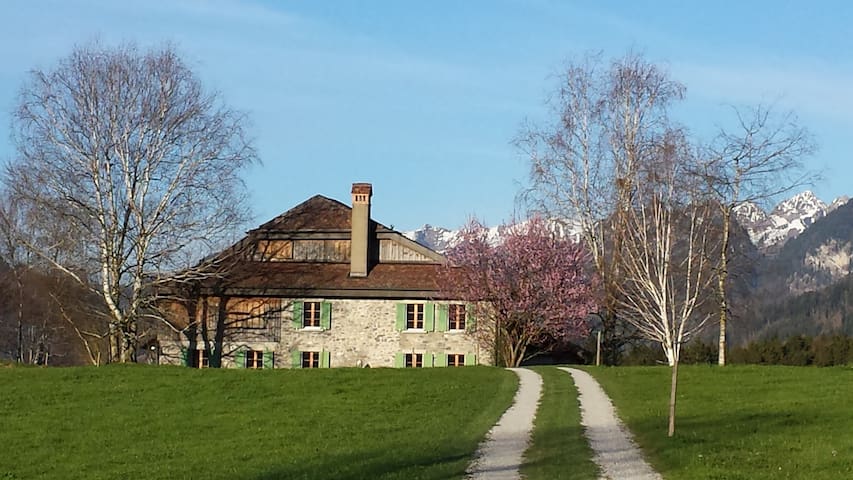 Old house, renovated in the charming wine village of Chardonne. A few minutes from the lake and fixtures, the ideal place for nature lovers. 1 garage available.
Spend an unforgettable stay in Chardonne, in an old house renovated. On the ground floor, large lounge / dining room with fully equipped kitchen, bathroom with tub and toilet. Upstairs, 1 large bedroom with dressing and 1 single bedroom, bathroom with shower and toilet. If you are driving, 1 garage space is available. By public transport? Nothing is easier with the cable car and bus taking you in Vevey in less than 10 minutes!
In the center of town ... if you like wine, you are exactly right!
Room Type
Entire home/apt
---
Property Type
House
---
Accommodates
5
---
Bedrooms
Chardonne, Vaud, Switzerland

Bedroom for couples with great views and access to all facilities: Terrace embrage, beautiful living room with old, shower room, etc.
Very quiet and peaceful. The house is 5 minutes walk from the Mont Pelerin hotel and village shops.
Extremely quiet, close to the green and relaxing.
Room Type
Habitación privada
---
Property Type
House
---
Accommodates
2
---
Bedrooms
Chardonne, Vaud, Switzerland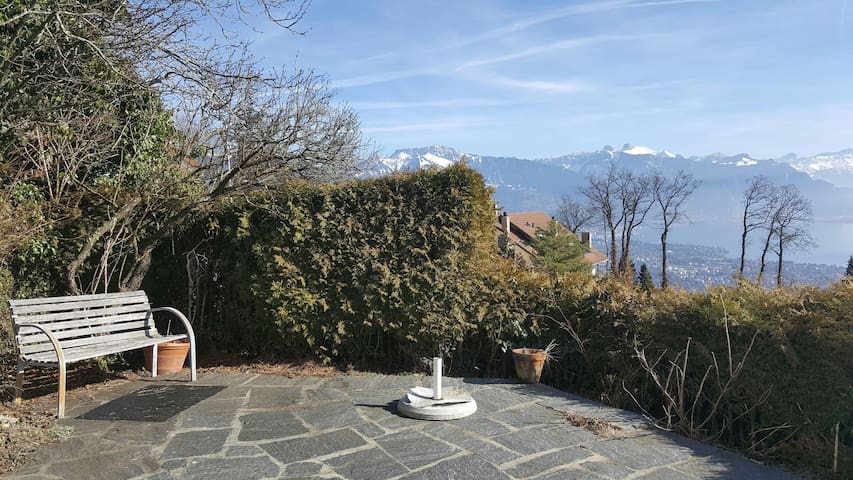 Beautiful apartment of 100 m2. Bedroom with private bathroom. Two other bedrooms. Bathroom with walk-in shower, fully équipée.NOUVEAU kitchen: you get the MONTREUX RIVIERA CARD, which provides access to free public transport and museums to 50%!
It is located in Mont Pelerin, well known telluric place. Close to a golf course and an hour's drive from the ski resorts.
tranquility
Barbara is a fantastic host, very welcoming and friendly. The place is located away from the city, with an amazing view just outside. The apartment was very clean and there was lots of room to move around for four people. I would highly recommend this to anyone visiting the area.
Neel
2017-01-16T00:00:00Z
Barbara's place was great. Very spacious and clean. The kitchen was well equipped. It is a short walk to the Funicular to town. Public transit pass was included with the stay. Barbara also kindly picked us up and dropped us off at the Vevey train station. Overall great stay!
Jason
2017-01-23T00:00:00Z
Most wonderful location with a terrific view over the lake and the mountains. Barbara is an excellent host and made us feel 'at home' the moment we arrived. The place is in like-new condition and exceptionally well equipped. Welcome drinks and the next day's breakfast were already waiting for us. We all enjoyed the stay and would have wished to be able to spend a few more days. We will certainly return, not just for the perfect location, but also due to the fact that Barbara provided the perfect AirBnB experience. Thank you very much!
IVO
2016-10-05T00:00:00Z
I have been familiar with the lake Leman area for many years since I studied in Geneva. Being Airbnb my favorite site for house/apartament hunting for short term renting I chose Barbara's place for this trip. Our 19 years son has just started his studies at the Ecole Hoteliere de Lausanne and we came to settle him in his new life for the next four years. Barbara's is nestled just over Vevey and Montreux, 15 miles from Lausanne, an incredibly comfortable place where everything works as it should in the American way, excellent showers, modern working appliances, three bedrooms, two real bathrooms, super equipped kitchen, laundry and so on, and so on. And thanks God, an all area for you to park a vehicle as big as a motor home inside de property right in front of your front door. But what really makes the difference is Barbara herself ad her husband.They where born to help and to let you feel at home. We will have to come back at least twice a year and guess where we are definitly going to lodge...
JULIO
2016-09-19T00:00:00Z
We must say this is the best since we book last 10 orders, best condition,best price. 1st surprise: Barbara come to pick us from train station, which made us a lot easy and convenient; 2nd surprise: the house is big enough for us six and almost have everything we need; 3rd surprise: we have mini mountain train up and down everyday free, which is very exiting! Thank you Barbara for all you have done for us! I will try to come back with my family to enjoy that very special experience! We would also highly recommend this nice and special house if you are planning to that area !!
Grace
2016-10-15T00:00:00Z
Barbara and her husband were great host and my family who visited Switzerland for the first time loved the place and so happy with the location. The apartment was exactly as photos showed and beautifully set and ideal for the family . The place us highly recommended !
Afsaneh
2016-07-31T00:00:00Z
Barbara is a fantastic host. She is friendly, warm and helpful. She is the most hospitable host in my experience with air bnb so far. We loved staying at Mont Pelerin. The children enjoyed riding the funicular! The house was clean, well equipped and cozy. Thank you for being an awesome host Barbara!
Joo shin
2016-12-20T00:00:00Z
Room Type
Entire home/apt
---
Property Type
House
---
Accommodates
6
---
Bedrooms
Chardonne, VD, Switzerland
Charming rooms with a private bathroom, separate living room with working desk & chair in a centrally located chalet with the most breathtaking view on Lake Geneva, and Lavaux vine area. Option of using a double sofa bed for a small supplement.
Duerme en un clasico chalet suizo en el corazon de la region viniticola de Lavaux y disfruta de una magnifica vista al lago y los alpes.
The house is located in a quiet and wooded environment on the slopes of a charming winegrower village called Chardonne. At the bottom of Mt-Pèlerin, Chardonne is a pretty linear-shaped winegrowing village. The winemakers welcome visitors throughout the year.
The house is clean, the environment is very good, the hostess is very careful and the enthusiasm, I like them very much! We are very happy!
DONGYING
2016-06-01T00:00:00Z
Great Location with special views of the lake & mountains. A quick trip in the funicular takes you into Vevey.
mike
2016-05-06T00:00:00Z
Wonderful home and Javiera was very helpful in the entire communication to reach her house and then attending us very warmly...house is located on top of the hill and a gondola like train takes you there..... Even 5 star hotels cannot the view at her house in chardonne...... It's a hot spot to experience the valley ( scenic views) and I loved every part of it.....definitely recommended for families and for husbands who want to surprise their wife....
Puneet
2016-06-21T00:00:00Z
Very good stay at Javiera's place. Perfect to visit the Lavaux region. Bed is super comfy. The road to arrive is not very easy so during winter, winter tires are mandatory. Thanks a lot, we will come back!
Céline
2016-10-09T00:00:00Z
Javiera is so kind of host. Her house have a wonderful lake view. We have a good stay!
Melissa
2016-10-08T00:00:00Z
We had a great time staying with Javiera. She was very welcoming, and even drove us to a restaurant as we arrived late. Her house is beautifully situated on the hillside outside of vevey, and although it was cloudy when we were there, the views over lake Geneva were beautiful. Her house is lovely, with a great lake view room, and guest bathroom. Javiera made us a delicious breakfast in the morning, and was very helpful with information we needed. Overall we have a really great stay, and Javiera is very chatty and friendly and interested to hear of our travels. I would highly recommend staying with Javiera! Thank you!
Clare
2016-06-15T00:00:00Z
Javiera's Swiss chalet in Chardonne was amazing and she made us feel welcome right away! We arrived rather late in the evening and she made us feel right at home and allowed us to park in her private garage. She was available to answer any questions, but also allowed us to explore on our own. Her place was very clean with exceptional linens and even chocolates on the pillows! She also had a table set up with a hot water pot and beverages to enjoy evening or morning. When our stay was over, she gave us a Swiss chocolate bar which was amazing, and wished us a Happy Anniversary!
Kirsten
2016-06-24T00:00:00Z
Francesca gave great directions, had basically the whole basement to myself. Nice going up to Owen & Francesca's via Funicular (at first people at the railway didn't understand my pronunciation of this). My hosts served me dinner!!! Fruit for breakfast. Overall, very friendly and warm couple with a lovely place to stay. I would definitely recommend.
John
2016-06-29T00:00:00Z
Room Type
Habitación privada
---
Property Type
House
---
Accommodates
2
---
Bedrooms
Chardonne, Vaud, Switzerland
Welcome to Chardonne. A wine growing charming village in the terraced vineyards of the Lavaux region which is now a UNESCO World Heritage Site. If you are looking for a quiet place with amazing view, close to public transport and amenities, then this is the right one. The place is close to Mont Pelerin and Vevey. You can do plenty of hikes and walks from the house. Vevey is 8min away from funicular. 1 minute walk to Public transportation.
The room is located in the ground floor and has access to the terrace where you can enjoy the view.
The house is located in Chardonne, a beautiful wine making village. There are plenty of walks you can explore.
Javiera was a wonderful host.. Her home and family are lovely, and she was very helpful in recommending local eateries and sites. I would definitely stay again!
Caitlin
2016-07-01T00:00:00Z
Amazing place: Javiera's home is perfect and she is a super host, very kind and nice. Absolutely recommanded. I hope I'll come back soon!
Marianna
2016-05-28T00:00:00Z
Fantastic location on top of the mountain, such a pity it was raining. We arrived much later than expected, but Javeria's family still waited and welcomed us. The room was clean and cozy, nice stay!
Lily Yue
2016-07-23T00:00:00Z
The place is really beautiful with a spectacular view of Lake Geneva. The vineyards of the neighbourhood are another wonderful attraction. Walking around is gorgeous. The room is a bit small, but very clean and comfortable. The bathroom and shower are very good. Javiera is very attentive and gave us all information we needed to explore the neighborhood. And every morning she prepared some special breakfast for us. The access to Vevey and every neighborhood is easy and fast. Well worth staying there.
Augusto
2016-10-18T00:00:00Z
The house is not that hard to find although the narrow and steep streets of Chardonne will make it a bit of a challenge. When we arrived Javiera and Owen were really cheer and nice, they even gave us the garage for the car for the period of our staying. The house is very very nice, it has a nice garden in the back with a small table with chairs so you can enjoys the view which is more than spectacular. The neighborhood is amazing, we had long walks on the beautiful small streets and enjoyed the view and admired the lovely build houses on the way. The hosts are very friendly and the house with the view is fantastic, it is an amazing place to spend your holiday or to just sit quiet for a few days.
George
2016-06-28T00:00:00Z
Lovely place, really enjoyed our stay. Javiera was very friendly, beautiful views and quiet place. Easy access with public transport, perfect place to stay while going to the montreux jazz festival.
Deborah
2016-07-07T00:00:00Z
The house was beautiful with a perfect view of the léman lake! The room was cosy and we loved it. The location was perfect as the tram station was just 2 mins walk. The host was quite helpful and we recommend you to stay at her place!
vincent
2016-07-01T00:00:00Z
She was fantastic host... very attentive and make sure we felt like at home. Explained us everything around the area and gave us fantastic tips of places to go to and restaurants with traditional experience....! It really was the best stay of our trip. Couldn't recommend her highly enough! The funicular is just outside the house so getting anywhere is really easy. The views from the house are amazing and so are the surroundings! A+++
Alle
2016-10-13T00:00:00Z
Room Type
Habitación privada
---
Property Type
House
---
Accommodates
2
---
Bedrooms
Chardonne, VD, Switzerland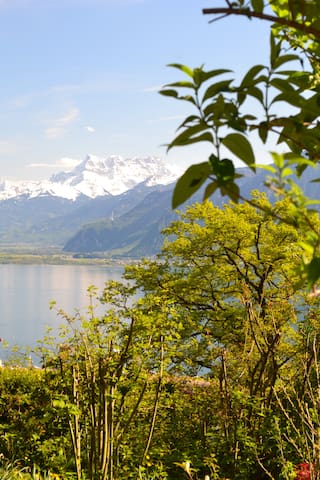 View Quiet Independant access Own bathroom Own place with fridge microwave coffee machine
In the Mont-Pèlerin Village this nice 20m2 private design studio has its own entrance and bathroom in this great contemporary Wooden house with this amazing view on the Geneva Lake and the Alps. just 10 min away from Vevey and 1 hour from Geneva airport this house is situated in a really quiet neighborhood just beside the forest. The Mirador Kampinsky ***** hotel and its several yealy international seminars is just at 5 min walking distance There is a cable car 5 min away from the house which will bring you directly to Vevey within 10 min. Description: 20m2 Studio with 1 double bed which could be split in 2 singles. really nice big shower just next to the studio with WC. Flat screen, wifi. Nice 10m2 wooden Terasse for the sunny days. big enough for 2 people but we can easily add a baby bed if requested without any extra charge.
Bernard's place is as it is described, a relaxing mountain get-away for those seeking silence with a breathtaking view. Perhaps equally impressive is Bernard's caring hospitality and quick responses. I had booked his place literally hours before my arrival. In addition, I arrived well-later than originally communicated. Yet, he was always responsive to the change in scheduling, and seemed to genuinely care in not only my safety, but overall well-being. Enjoying the fantastic hiking trails around his property, he, without my even asking, freely allowed for me to stay later than planned. It was just the place I needed. Thank you!
Phillip
2013-05-06T00:00:00Z
We had a perfect stay for one night at the studio. Bernard was a great host. Good and fast communication. I totally recommend this place.
Henrik
2014-07-06T00:00:00Z
The room and the house were wonderful. Very clean, and the view was outstanding. Bernard was a wonderful host to my family. This would be a place we would use any time we travel to Switzerland.
Elizabeth
2014-11-08T00:00:00Z
Bernard has an amazing beautiful home just like him, the room was chic well furnished and designed, he was kindly help us find his villa and greet us with fruit and drink, the scenery is fabulous, Bernard asked whether we like for our breakfast and prepared us one that is super nice, I highly recommend his house to everyone.
A li ce
2014-10-09T00:00:00Z
My girlfriend and I spent a few relaxing days in Bernard's amazing house with an astonishing view on Lake Geneva. The booking process was quick and easy and Bernard offered us to stay at the house as the studio was already booked. Bernard was very welcoming and did all he could to make our stay comfortable. We highly recommend Bernard and his place to anyone interested in spending time on beautiful Lake of Geneva, you'll love it!
Martin
2013-08-04T00:00:00Z
Great modern place with an excellent view! The room was comfortable, the water pressure was great and everything was clean. Bernard was a great host, extremely accommodating and kind! Highly recommend staying here!
Stephanie
2015-04-24T00:00:00Z
Bernard is an AMAZING host. I rented the studio, but the full house wasn't booked for that night so he was kind enough to let me stay there and enjoy the magnificent view. The house is absolutely fantastic! I had a magical stay in Vevey, thanks Bernard!
Ksenia
2013-12-26T00:00:00Z
Bernard and his place are simply amazing! The house and adjoining studio are very modern, a really cool place to stay. The view of the alps was breathtaking, and it was very peaceful. The room and amenities were exactly as described. Bernard was kind and helpful, and I would absolutely recommend this place to everybody!
Brian
2014-09-27T00:00:00Z
Room Type
Habitación privada
---
Property Type
House
---
Accommodates
2
---
Bedrooms
Chardonne, Vaud, Switzerland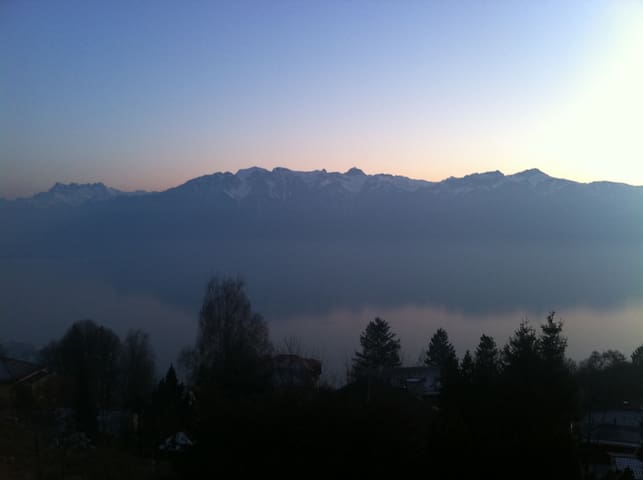 - Maison, intérieur douillet aux couleurs chaudes. Poële suédois, cuisine agencée. Plein pieds sur jardin et terrasse. - A proximité : bains thermaux, piscine, télécabine, parapente, pistes de ski Nombreuses randonnées sont proposées à partir de ce lieu - Du 7 novembre au 1er février plus d'ensoleillement direct sur la maison
Maison duplex ouvert, chambre à coucher lit double + lit au salon
Had a wonderful stay in Charmey with Marie-José. Beautiful little town, great accommodation and a friendly host! Thank you for having us.
Dean
2016-07-05T00:00:00Z
Marie-Jose met us on arrival and was extremley helpful. she had fresh provisions for us on arrival which was very sweet. She also gave us slippers to use whilst there. I wonderful clean place with plenty of character
mat
2016-06-20T00:00:00Z
This home is so very charming, perfect that it's in Charmey! It's very colorful, cozy and central to all your tourist attractions - there's a bus stop right across the street. And if you drive, Maison Cailler is a mere 10 minutes away, Bains de la Gruyere 2 minutes. Even though we arrived early unannounced, Marie José was very accommodating and always made sure she would be reachable. The house is suitable for families or large parties, and the garden outside is lovely.
Carrie
2016-09-18T00:00:00Z
Un appartement à louer les yeux fermés, un super accueille, Marie José veillera a votre confort! Idéal pour les amateur de randonnées. La vallée de Charmey est une merveille....
vincent
2016-04-22T00:00:00Z
Marie- José est charmante, accueillante, disponible. La maison correspondait à nos attentes, nous sommes restés trois semaines, nous nous sentions comme chez nous. La région est magnifique, voyage à renouveler dés que possible. Encore merci, A bientôt Caroline
Caroline
2016-08-21T00:00:00Z
Merci à Marie-José pour ce court mais formidable séjour dans sa belle maison dominant la vallée de la jogne. Marie-José a tout fait pour nous rendre notre séjour des plus agréables. Je recommande chaudement cette adresse.
Christophe
2016-11-12T00:00:00Z
Nous aimerions remercier Marie-José pour son accueil chaleureux. Ce fut un séjour des plus adorable dans un intérieur parfaitement en raccord avec sa description. Cosy, confortable et apaisant. Nous ne pouvons que recommander ses lieux et ne manquerons pas d'en faire notre petite escapade de douceur. Merci pour tout Marie-José
Sandy
2016-09-26T00:00:00Z
Très jolie appartement et la hôte nous a reçue chaleureusement. Environnement un peu bruyant mais bien placé pour découvrir la région.
meryl
2016-08-24T00:00:00Z
Room Type
Entire home/apt
---
Property Type
House
---
Accommodates
4
---
Bedrooms
Charmey, Fribourg, Switzerland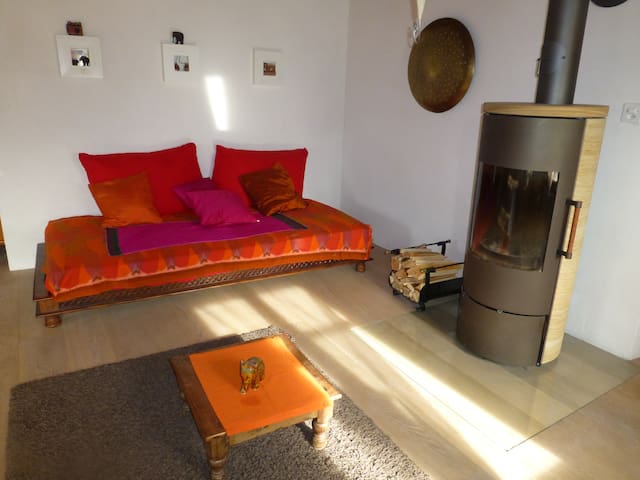 Just above Vevey, Whole House with 3 bedroom + 1 independant studio for 2 more people, 3 bathrooms, big living room 80m2. Big Bulthaup kitchen, in a clear and sobre contemporary design. Wooden terrace with roof 140m2 with an amazing view on the geneva lake and the alps . Just 45 min from geneva airport, 20 min from lausanne and 10 min from the lovely city of vevey. The worlwide famous Montreux Jazz festival just take place every year begginig of july is only at 15 min drive. Paceful place just beside the forest. Lot of walking trails just start few meters away. The finicular station at just 10 min walk will bring you downtown vevey in few minutes.
Stunning place - gorgeous house with breathtaking views! Visited with a group of friends during our stop in Lausanne, as part of a weeklong trip to Switzerland. Exact location of the Airbnb can be a little tricky to navigate to by driving, but worth the extra effort. Bernard was a terrific host - very communicative and gracious - we loved the bottle of wine as a welcome gift!
Kathy
2016-10-24T00:00:00Z
Did not meet host personal, my family members said he was friendly. House is in a very nice location, view was fantastic. Property was as described. When not rented it seems owner lives in the house with small children. Nothing wrong with that, but if a 4 bedroom house only has 4 sets of cutlery and crockery and the rest is children's plates and mugs it should be advertised. Nespresso machine in kitchen not working. Large spaces but very little furniture, not enough seating for group of 8, no beside tables, no closet space, 2 dress hanger in the whole house otherwise need to live out of your suitcase. The house is modern, great, but it feels unfinished. As well the description would benefit if the 36 steep steps to the front door would be mentioned.
Ulrich
2015-06-02T00:00:00Z
Bernard's place is one of the best places to stay in while you are visiting this area. Everything in this place is just perfect. I got to be honest it exceeds my expectations in deferent levels. Me and my family (7 adults & 4 years old boy) fitted perfectly within this great house. I'm very sure that I'll be here again & again.
Turki
2015-09-21T00:00:00Z
We spent one New Year's week in Bernard's house. We arrived late at night and when we woke up in the morning were amazed by the beauty of the landscape from the windows. This is something unbelievable! The house is incredible, has everything you need and even more. Very clean, comfortable, great modern design. Bernard is very hospitable host, he was ready to help us with any issue. Thank you, Bernard, our vacation was wonderful!
Margarita
2014-01-06T00:00:00Z
Bernard's place was truly a designer wood house with amazing view. The house was as shown in the pictures and the view was even better. The house is big, comfortably furnished, and great for large groups. We had great wifi access and use of all the house amenities including the amazing sound system for entertainment. Bernard was quick to respond back whenever we sent him a message through Airbnb app. He had left us a bottle of wine for our first night at his place. All in all, we had a great time and would absolutely recommend the place.
Sevil
2016-07-02T00:00:00Z
Absolutely first class! Bernard was extremely helpful and very friendly. I couldn't have wished for a better host for our first Airbnb experience! His house is absolutely beautiful and fantastically well-equipped. We had an amazing week in beautiful Chardonne!
Deborah
2015-07-12T00:00:00Z
Bernhard is a very nice host. We spent a wonderful weekend in this amazing house. The view, the green surrounding, the balcony and the inside of the house make you feel so comfortable. We liked it a lot.
Wanda
2016-06-20T00:00:00Z
Many thanks to Bernard and his family for letting us stay in this amazing house plus amazing view. Really we had a wonderful time. The only notice we had is the construction around the neighborhood in which once we got lost returning for about 3 hours trying to reach the house. Best wishes
Mohammed
2016-07-23T00:00:00Z
Room Type
Entire home/apt
---
Property Type
House
---
Accommodates
8
---
Bedrooms
Chardonne, Vaud, Switzerland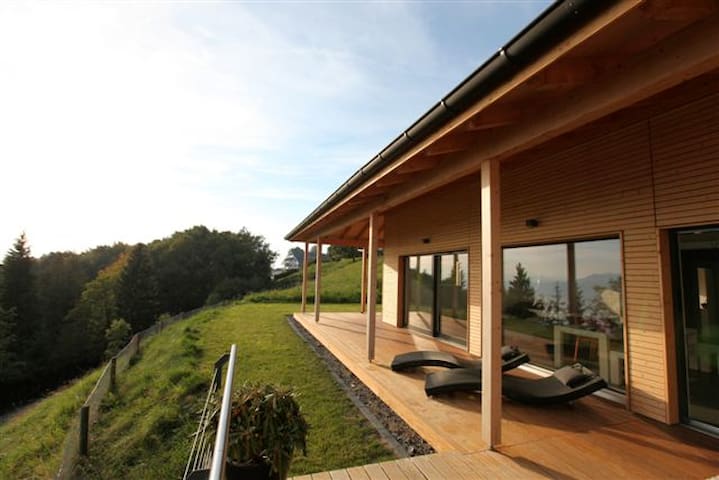 Dans la verdure des préalpes fribourgeoises, située à 150 m. des Bains de la Gruyère, dans un quartier résidentiel et tranquille, cette grande chambre avec salle de bains privative vous attend pour une petite escapade ou un plus long séjour.
La chambre se trouve au rez-de-chaussée d'un chalet typique de la région, et sa salle de bains avec douche confortable y est attenante. Lit de bébé à disposition, majoration du prix de 20 € par nuit. Pour les sportifs, dans votre chambre, vous pourrez en plus profiter d'un vélo d'appartement, d'un élliptique, et d'une cabine sauna/infra-rouge. Devant votre chambre, vous avez un petit jardin. Nous vous offrons aussi l'accès à la terrasse équipée de chaises longues par beau temps.
Le centre du village, avec ses magasins et restaurants, se trouve à 5 minutes à pied, Les Bains de la Gruyère à 2 minutes. Le chalet est dans un quartier résidentiel calme et tranquille. Vous bénéficiez d'une place de parc privative.
Anne has been a wonderful host during my stay in Switzerland and she totally offers the well known swiss hospitality, preparing breakfast for us everyday and picking us up when we came. It was a wonderful stay with Anne! Merci beaucoup!
William
2017-02-19T00:00:00Z
Everything was very nice. Anne was a very patient and sweet host. Great location in Charmey!
John
2016-09-25T00:00:00Z
We spend a wonderful time in the Chalet. Annie and her husband are nice and friendly people. We totally enjoyed our stay!
Mikhail
2016-08-01T00:00:00Z
Anne ad husband are perfect host. They provided us very much accurate information and were always kind and ready to help. Thanks a lot!
Ele
2016-11-27T00:00:00Z
Super chambre pour ma mère qui a pu se reposer et profiter des bains. Elle a reçu un accueil très chaleureux de la part d'Anne et son mari. Le temps était au rdv et les gens au village très agréables.
Maxime
2016-12-02T00:00:00Z
En un mot: parfait En plusieurs: La chambre est très agréable, le lit fort confortable, la douche et salle de bains impec, tout est conforme aux photos. L'accueil de Anne et Jean-Baptiste est des plus convivial, chaleureux et adapté aux souhaits des voyageur, avec beaucoup de gentillesse et de serviabilité manifeste pour parer à d'éventuels imprévus. Nous n'avions qu'une nuit à disposition, mais nous serions resté volontiers une semaine, et nous reviendrions sans hésiter. Le petit-déjeuner fut un excellent moment de convivialité à quatre. Aussi savoureux que généreux, de qualité, et même les cappuccini vous transportent immédiatement en Italie. Quand à Dalton, le petit chien de la maison, il est très gentil et drôle. De quoi réconcilier tout le monde avec la gente canine. La localisation est parfaite, à 2min à pied de tout .... Bref: comme dit au début, et un vrai très bon moment de vie.
Pierre
2016-08-07T00:00:00Z
Nous avons passé 3 jours merveilleux chez Anne. Son chalet est situé face à la montagne, avec une vue panoramique à couper le souffle. Vous serez en 1min aux bains de Charmey et en 5 au centre ville. La chambre est très grande, avec une salle de bain attenante très comfortable et grande également. Nous reviendrons à tous les coups :) Merci Anne pour ce séjour mémorable !
Elsa
2016-05-17T00:00:00Z
Nous avons passé une semaine à charmey, nous y cherchions le calme de la montagne et le charme de la Suisse, et bien nous sommes ravis! C'était réèllement un séjour super! À savoir, Anne (l'hôte) étant absente, nous avons eu accès à la cuisine moyennant un supplément pour le nettoyage, mais l'annonce initiale était seulement pour une chambre (à noter pour les longs séjours). Anne est très arrangeante et a pu répondre rapidement à nos questions. Tout était conforme à l'annonce, et c'est plus beau en vrai qu'en photo! Merci Anne!
Jakou
2016-07-17T00:00:00Z
Room Type
Habitación privada
---
Property Type
House
---
Accommodates
2
---
Bedrooms
Charmey, Fribourg, Switzerland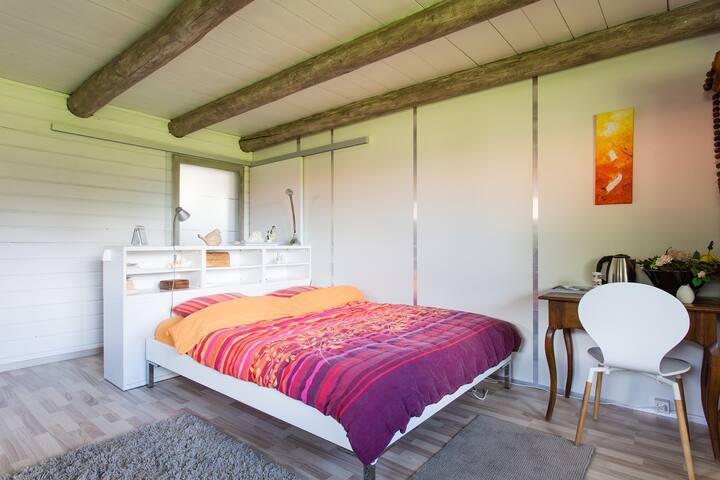 Bedroom for one or two guests in house built in the thirties with peaceful atmosphere. Central (in walking distance to university, hospital cantonal and train station), quiet, private bath, private breakfast area, breakfast equipment (coffee machine and capsules, teapot and teabags, toaster and toast, honey, jam, cereal, milk, orange juice)
This is an ancient house with a garden (sitting areas, BBQ eqipment, space to relax), find yourself at home in a peaceful and healthy place. Visit us and hopefully....come back again!
Great place and great host. Room is cozy and roomy, and Andrea is a truly lovely host. If you can find it available, I definitely recommend.
Federico
2017-03-03T00:00:00Z
Andrea made our stay at her place a wonderful experience. The small apartment with bathroom and a nice terrace is cosy and comfortable! The apartment is in a family house surrounded by a gorgeous little garden, both close to the city centre and extremely quiet! Thank you in particular for all the small attentions that made our stay so pleasent!
Pietro
2017-02-27T00:00:00Z
Cet emplacement est vraiment très bien situé, il est au calme et proche de toutes les activités de la ville. This place is very nice and quiet, near the center of town with all shops and transportations
Michaël
2017-04-06T00:00:00Z
deuxième séjour chez Andréa qui est toujours aussi parfait. Je me sens comme chez moi. It is the second trip to Andrea's home and it is always perfect. I feel like at home
Michaël
2017-03-23T00:00:00Z
Chambre calme et agréable avec possibilité de prendre le petit déjeuner dans une mini véranda attenante. Accueil discret et chaleureux.
Isabelle
2017-03-08T00:00:00Z
Sehr schön eingerichtetes helles Zimmer, sehr nette gastgeberin! Unbedingt empfehlenswert!
Anja
2017-02-22T00:00:00Z
Je peux recommencer cet endroit et la présence de Andrea de tout mon coeur.
Martine
2017-03-12T00:00:00Z
Sehr zuvorkommend, man fühlt sich sofort wohl. Toll, ein Raum in separater Wohnung mit eigenem Bad. Andrea und Gian Battista und die Kinder sind äusserst angenehm und eine spannende Gastgeberfamilie. Sehr zu empfehlen!
Patrick
2017-02-21T00:00:00Z
Room Type
Habitación privada
---
Property Type
House
---
Accommodates
2
---
Bedrooms
Fribourg, Fribourg, Switzerland
Individual room next to the studio
Endroit à recommander.
Maeva
2017-01-22T00:00:00Z
Room Type
Habitación privada
---
Property Type
House
---
Accommodates
2
---
Bedrooms
Chexbres, VD, Switzerland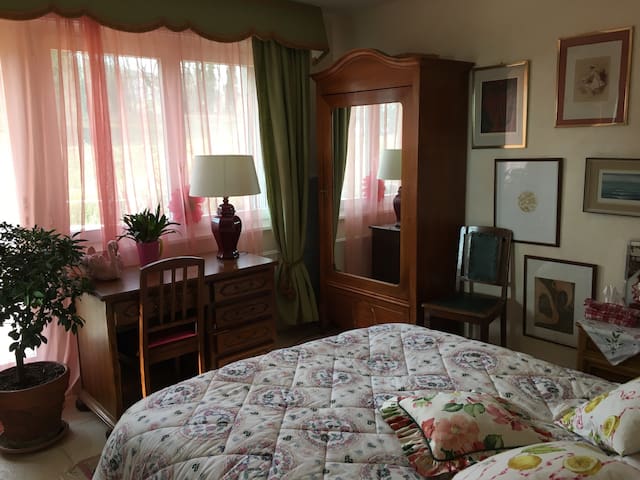 En Gruyere, acceuillant, peut loger 1 enfant dans la meme chambre, 5mn a pieds de la gare du train touristique goldenpass qui relie Montreux à Gstaad, Zweizimmen. Les chambres sont à l'etage. 2 places de parc privees avec abri
Is calm
Proche des excursions et endroits touristiques Gruyeres, Broc (visite de la maison Cailler/chocolat, bains de Charmey, Chateau-d'Oex, Gstaad Activités version été et hiver. Aerodrome d'Epagny
Room Type
Habitación privada
---
Property Type
House
---
Accommodates
2
---
Bedrooms
Haut-Intyamon, Fribourg, Switzerland
New wooden house with big volume. 3 big (20m2) bedrooms where 6 people can easily fit. Huge deck around the house where you ll have an amazing view on the Alps and Geneva lake. Quiet area above Vevey and Montreux which you can reach in 15 min drive.
Breath taking view
2 min away from the swiss Tibetan community and its temple, 20 min away from the Montreux Jazz Festival and The Nestlé Headquarter
Everything was perfect, the house is beautiful and the place is amazing.
Guillermo
2015-02-16T00:00:00Z
House was amazing and Bernard is a great host. The view was really great and the house is well equipped. Would definitely book again if coming back to the area. Highly recommended!
Jialin
2015-06-27T00:00:00Z
We enjoyed 3 weeks staying at Bernard's house in August 2016 very much. The area is beautiful, close to the nature and to resort and all entertainments at the same time. Very good place for travelling around. The view is really breathtaking, the location of the house is perfect. Bernard was always helpful, providing everything we asked for, even sending us addresses of shops, hospitals, pharmacies, restaurants, etc. We are very thankful for staying and can recommend this property to everyone. We'll be happy to come back here next time.
Tatiana
2016-08-21T00:00:00Z
This house located in the hills of Chardonne is truly a gem. It is modern, spacious because of the design which includes: a large kitchen with all the amenities, a vast amount of windows several which are operated by remote control. The view from this home offers a breathtaking view of the Alps. Nestled in a quite neighborhood minutes away from local farms, vineyards and quaint markets stocked with farm fresh produce and foods. Conveniently locatd a short cable-tram ride from Vevey and less than a half hour drive from Montreux. Bernard was a helpful, gracious and accommodating host of this house which is better than advertised and exceeded our expectations. Our party of 8 were extremely comfortable as if we were home.
Laurence
2016-07-16T00:00:00Z
Incredibly inspirational space hidden on top of the mountain with view that takes breath away. We enjoyed every single second there and do not want to leave!! Extremely well-lit during the day and cosy at night. This is the perfect place to wind-down and relax. Lovely host who waited after midnight for our delayed arrival. Super responsive on requests and really helpful. Everything was perfect when we arrived. Couldn't ask for more. Really recommend the experience.
Max
2015-08-29T00:00:00Z
The host canceled this reservation 27 days before arrival. This is an automated posting.
Brigit
2016-06-06T00:00:00Z
The house is great, comfortable, and the view is absolutely unbelievable. Bernard is welcoming and does whatever he can to accommodate the guests. Really a nice stay.
Hannah
2015-12-30T00:00:00Z
Surreal. Beautiful. More than incredibly comfortable. To be picky: 1. There was a climb up a flight of stairs to the place of residence. It is after all on the side of a small mountain. 2. Bernard is a little too kind... he actually allows full fridge access with sausages, pasta etc etc. This does provoke a certain sense of laziness. ;) The place was lovely. My Fiancé found this place to celebrate my Sister's birthday with my Parents. The view was amazing: Paranomic views of the lake! Modern settings. Full kitchen utilities. Bathtub. Bernard wasn't able to meet us on the first night, but arranged the check in with no issues at all. The second night he came by and shared his house building experience. He was friendly, informative and helpful. No complains. Seriously, if you have a car, some time to relax and want a place to really be able to be in touch with your surroundings, then you have found your place. Thanks Bernard.
Keefe
2014-09-14T00:00:00Z
Room Type
Entire home/apt
---
Property Type
House
---
Accommodates
6
---
Bedrooms
Chardonne, Vaud, Switzerland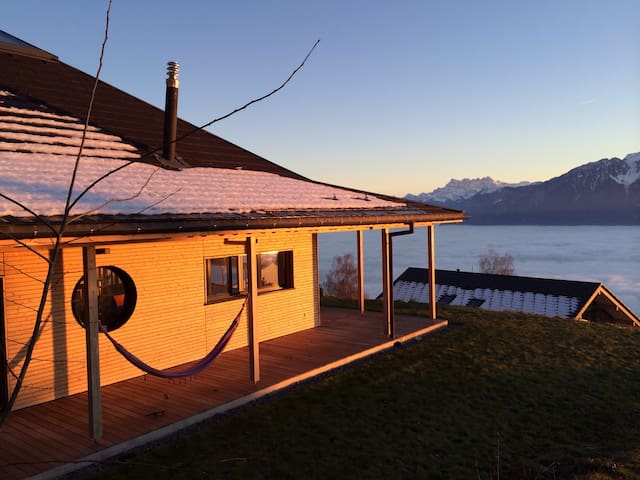 This fabulous house lies within the village of Les Sciernes d'Albeuve, close to Chateau D'Oex and around 40 minutes from Gstaad. The house has its own garden offering peace and seclusion with far reaching views. The interior is bright and sunny, rustic but very comfortable.
Outside terraces on two levels, both south east facing allow for comfortable indoor and outdoor living. It sleeps up to eight people with 4 bedrooms and a family bathroom with two separate wc's. It is perfect for family summer holidays offering access to walking, biking and all of the attractions of rural Switzerland. A wide variety of winter sports and skiing are located nearby.
Very quiet neighbourhood, super uninterrupted view of the valley and mountains .
Very beautiful, warm, cozy house in the swiss Préalpes. Francis and his sister Philippa made all their best to make us feel like home, and they succeeded! The hous has all you need, and is very warm during winter days. The location is ok for winter, with the skiing facilities at some 30 mins drive. Unfortunately for us there was no snow... It surely is a great location for a summer holiday with nice walk in the neighbourhood.
Sien
2017-01-06T00:00:00Z
Room Type
Entire home/apt
---
Property Type
House
---
Accommodates
8
---
Bedrooms
Haut-Intyamon, Fribourg, Switzerland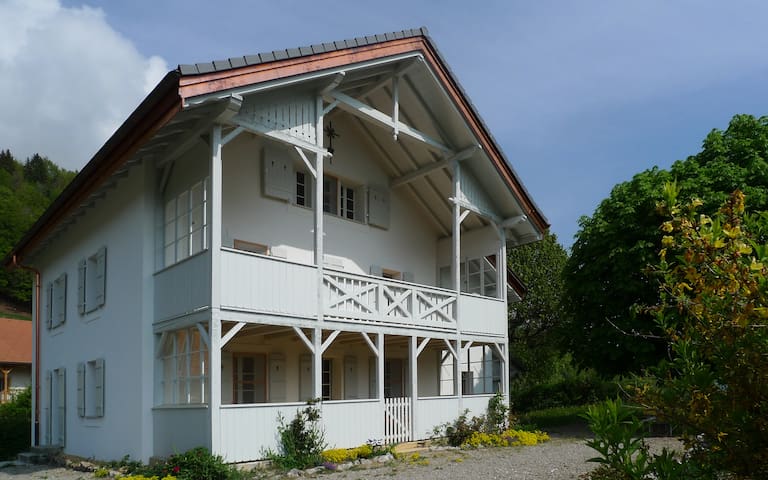 Grosses Studio in ruhigem Wohnquartier auf 900 m.ü.M. im Naturpark Gantrisch. Nahe Wald, Berge, Schwarzsee, Fluss Sense, Skigebiet. Hier könnt ihr in der Natur relaxen, Sonnenbaden und viel Platz im gemütlichem meist rollstuhlgängigen Haus geniessen. Perfekt für Familien mit Kindern, friedensliebende Jugendliche, Paare aus aller Welt, naturbegeisterte SportlerInnen und alle achtsamen Personen. Gratisferien gegen Mithilfe in Haus/Garten möglich.
Das Studio befindet sich im Dachgeschoss und ist für Behinderte leider nicht erreichbar. Es ist gut 50m/2 gross, hat ein Bett, Sofa-Sitzecke, Schwedenofen, eine Kochecke mit Esstisch sowie ein Bad mit grosser Dusche. Terrassen, Schwimmteich, Sandfläche zum Liegen und Burgen bauen, Wintergarten sowie Sauna (CHF 10.-/Tag) stehen allen offen.
Gleich nebenan grasen die Kühe, kommen Pferde vorbei, Kinder können den Quartierspielplatz nutzen und nach wenigen Schritten seid ihr im Wald. Dort hat es einen Vita- und Bike-Parcours. Geniesst die Aussicht vom Schwyberg, von welchem man mit dem Gleitschirm in den Himmel fliegen kann. Plaffeien liegt auf einer Hochebene. Rundum laden Asphaltsträsschen zu Velo- und Rollstuhltouren in der lieblichen Hügellandschaft ein. Im Winter führt bei genügend Schnee die Loipe hier vorbei und am angrenzenden Hügel gibt's einen Skilift. Zum breiten Bett der Sense mit ihrer einmaligen Auenlandschaft sind es nur wenige Fussminuten. Der idyllische Schwarzsee ist nur 6km entfernt. Die Berge rundum sind bis zu 2200m hoch und bestens zum Wandern oder Skifahren geeignet.
Ich wurde sehr herzlich von Katharina willkommen geheissen & hatte sehr angenehme Tage im gemütlichen & gut eingerichteten Studio. Ich kann Katharina's Alpenbad sehr empfehlen.
Frank
2017-02-11T00:00:00Z
Room Type
Entire home/apt
---
Property Type
House
---
Accommodates
2
---
Bedrooms
Plaffeien, Freiburg, Switzerland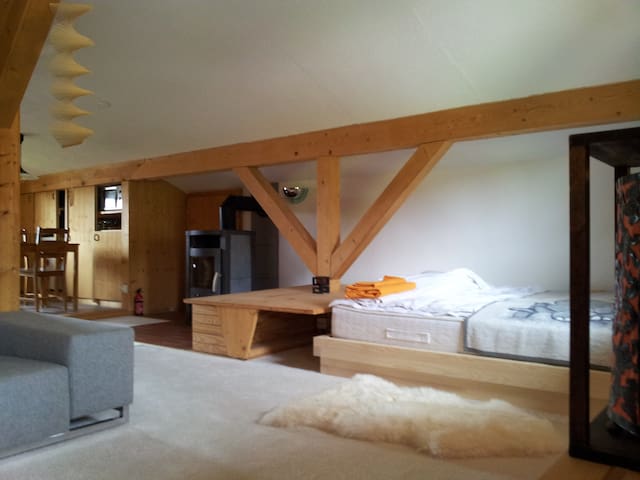 2 nuits min.Située en Gruyere a 5mn a pieds de la ligne de train "goldenpass" qui relie Montreux, Gstaad, Vous apprécierez l'emplacement pour la vue et sa région touristique . La ferme dispose de 2 lits double, 4 lits simple, idéal pour les familles
A du cachet et confortable
La vue, le calme Bon air pour se destresser
Our stay at Medina's home was amazing. Place was nice and calm. Home was like a queen standing in lash green velvet valley. On top of that Medina and her husband was gem of host. Really it was a treat in staying there.. there are many more things which I can't write in words .... I highly recommend this place
ratnadeep
2016-08-02T00:00:00Z
Room Type
Entire home/apt
---
Property Type
House
---
Accommodates
7
---
Bedrooms
Haut-Intyamon, Fribourg, Switzerland
1

–

18

of

179 Home Rentals
Enter dates to see full pricing. Additional fees apply. Taxes may be added.