Appartamento al piano 1 di un fabbricato di recente costruzione. Sita nel cuore di Grammichele nota x la sua pianta urbanistica esagonale e per il sito Archeologico. A pochi km da Caltagirone città della ceramica e a soli 50 km da Ragusa, Modica, Siracusa e Catania.
L'appartamento ha una zona living grande comunicante con la sala da pranzo e cucina. Arredata con mobili di design, parquet e i bagni sono realizzati in marmo, un luogo perfetto e tranquillo x le vostre vacanze
E' circondato dal verde e a pochi passi dal mercatino.
Room Type
Entire home/apt
---
Property Type
Apartment
---
Accommodates
5
---
Bedrooms
Grammichele, Ct, Italy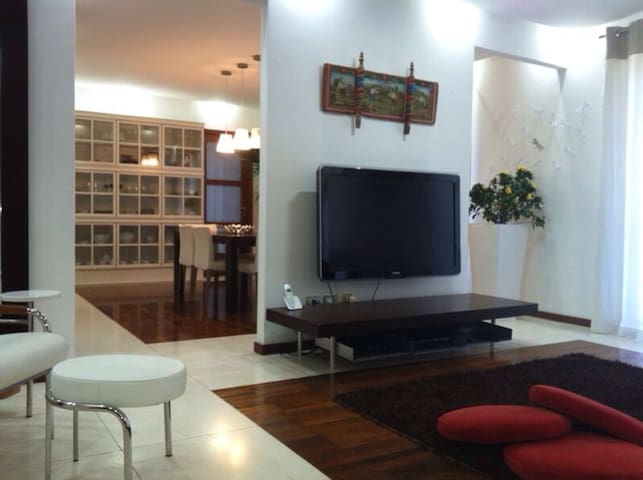 L'appartamento si trova al piano 1 di un fabbricato nuovo di 3 piani. Ha una grande zona living tipo open space con cucina e zona pranzo, arredata con gusto e design. Logisticamente è perfetta x chi vuole visitare le città come Catania, Siracusa, Ragusa e Caltagirone.
Room Type
Entire home/apt
---
Property Type
Apartment
---
Accommodates
6
---
Bedrooms
Grammichele, Sicilia, Italy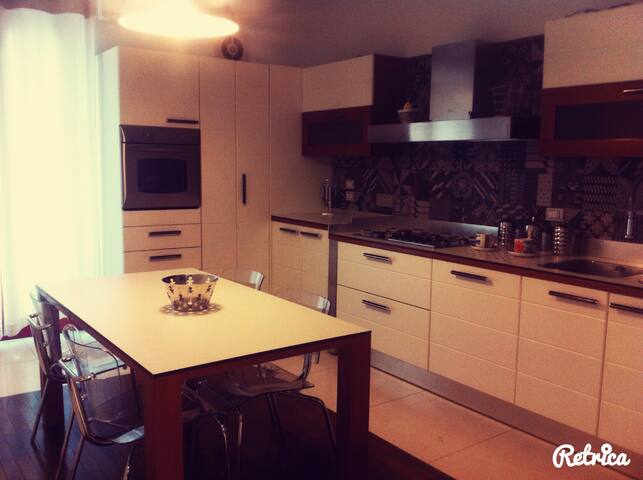 The simple and luxurious suite is located in the new 'Green' house set in the grounds of a former winery. There is a pine wood and 24 acres of private land which you can explore. The architect designed house seems to float in nature, suspended at the top of our valley. The suite is brand new, eco-friendly and it is comprised of double bedroom, luxury bathroom and two huge terraces. Continental breakfast is served on your private terrace and you will have unlimited access to the infinity pool.
The guest suite is brand-new and architect designed. It consists of one double bedroom with a king size bed, a modern and spacious Italian bathroom with shower, WC, bidet and wash basin with heated towel-rail. Good quality cotton bedding and towels are provided and changed upon arrival and thereafter as needed. Two of the 10 foot high (3m) walls are glass and provide incredible views. There are full length black-out curtains for when the light is too much or you need to sleep. The Green House Is fully air conditioned and heated. The suite has its own independent entrance and two large covered terraces overlooking the valley and open countryside. Anna and Irek live on the other side of the building and they will bring you breakfast, make the bed and clean every day. Just down the hillside is the main house which dates back to the 19th century when it was a winery. Guests can enjoy full access to the large pool and the 24 acres of land. Solar panels on the roof and an energy efficient design means the 'Green House' truly is green, as the warm Sicilian sunshine provides enough electricity for the 'Green House' as well as the neighbouring main house. There is a very nice Agroturismo at the end of the street, where guests can enjoy locally delicious meals of foraged food and home grown products like ricotta and eggs at very special rates. We can also provide dinner to guests by prior arrangement . It is important to check our availability in advance as we often travel. Gian Piero used to run one of the top cooking schools for professional chefs in Italy and he makes creative and delicious meals mainly with our own homegrown organic vegetables. We will be happy to provide recommendations on other local restaurants, many of which are Michelin or Gambero Rosso rated at affordable prices. The southeastern tip of Sicily is known from the Inspector Montalbano TV series and comprises many wonderful baroque towns built in the 17th century, as well as beautiful beaches. The 'Green House' is also ideally situated for many historical and archeological sites. Piazza Armerina with its wonderful Villa Romana, Ragusa Iblea, Noto and Siracusa are all easy trips by car. If you prefer just to chill out - you have full access to the infinity pool, which is only shared with us, if we are there. The grounds are composed of hundreds of different types of trees including a pine wood, olives, orange and fig-trees growing naturally on the terraces of the former vineyard. This woody paradise attracts many different species of bird and butterflies. There are many peaceful walks to be taken with only the sounds and scents of nature. The grounds are completely fenced in, which means it's a great place to bring your dog for a holiday. We have two very friendly labradors and they love the company of new people and friendly well-socialized dogs. The guest suite has its own independent entrance and large covered terrace overlooking the valley and open countryside.
The house is located south of Caltagirone. It is around one hour by car from Catania airport (easyjet, most EU airlines) and around 45 minutes from Comiso airport (Ryanair and Alitalia).
Beyond expectations! I will be returning this summer with the entire (URL HIDDEN) was lovely having the dogs aroun. Makes it feel even more like a home from home!
Chrisy
2017-01-10T00:00:00Z
Room Type
Entire home/apt
---
Property Type
Apartment
---
Accommodates
2
---
Bedrooms
Caltagirone, Sicilia, Italy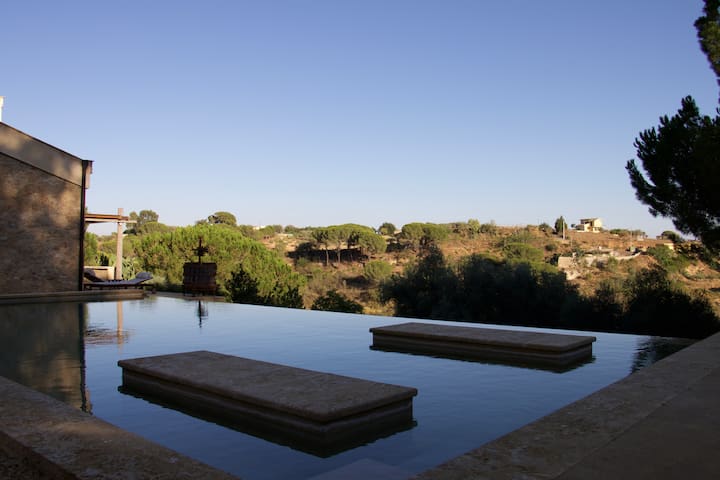 La casa è immersa nella natura con una splendida visuale , da un lato la Città di Grammichele , dall'altro lato La magnifica Etna (Vulcano) che si impone nella piana di Catania. A pochissimi Chilometri vi è la Città di Caltagirone, raggiungibile in treno o autobus. Inoltre a 15 km è possibile raggiungere Vizzini, città famosa per il Grande scrittore Italiano Verga. A Grammichele è possibile ammirare la sua piazza a forma esagonale che funge da meridiana e l'antichissima città di Occhiolà.
La casa è molto grande ed è in un contesto rurale ma non troppo, è affiancata da ua piscina comunale e da un centro benessere. In questo contesto si sta cercando di creare un associazione ed un caffè letterario che per il momento sono in fase di progettazione.
Il quartiere è appena fuori della città .
Room Type
Shared room
---
Property Type
Apartment
---
Accommodates
2
---
Bedrooms
Grammichele, Sicily, Italy
Caltagirone, a town rich in monuments, churches, villas and special features such as the Scala di S.M. del Monte is a great BASE to enjoy cities such as Ragusa, Catania and Piazza Armerina. It's the best place to admire the beauties of Sicily. The apartment consists of one room with kitchen-living room, double bedroom, bathroom with Jacuzzi shower sauna, washing machine, Studio with WIFI and exercise bikes, digital TV. Free bike, car and motorcycle.
Un appartamento a piano terra di 60 mq , senza BARRIERE ARCHITETTONICHE,che si trova nella vicina Viale Europa ed a un passo dai Supermercati LIDL e HARD DISCOUNT. E' previsto il parcheggio con cancello automatico. La colazione è compresa
Very quiet. In the peace of the angels.
Great, safe and convenient location. Melchiore was very helpful and gave us lots of useful advises. It was a great place to stay. I would recommend it.
Romas
2017-03-27T00:00:00Z
Host super gentile e disponibile, appartamento molto pulito, accogliente e dotato di tutti i confort. Appartamento non centrale ma molto tranquillo.
Roberta
2017-01-07T00:00:00Z
Hôte très agréable et logement spacieux. L'emplacement dans la ville est néanmoins éloigné du centre historique.
David
2017-03-17T00:00:00Z
Non manca nulla. Ottimo soggiorno!
Livia
2017-01-25T00:00:00Z
il soggiorno è stato ottimo..l'alloggio di Melchiorre è confortevole sotto ogni punto di (URL HIDDEN) disponibilità è stata totale..lo consiglio vivamente!!
Orazio
2017-01-02T00:00:00Z
Einliegerwohnung im Haus der Familie, in einem ruhigen Reihenhaus-Wohngebiet, etwas ausserhalb des Zentrums. Wir wurden sehr freundlich aufgenommen und mit Tips für die Stadt versorgt. Die Kekse waren sehr lecker.
Hans
2017-01-09T00:00:00Z
Appartamento dotato di tutti i comfort...host disponibile e gentile. Lo consiglio vivamente.
Livia
2016-12-26T00:00:00Z
Abitazione molto accogliente e con tutti i comfort, non ha deluso nessuna delle mie aspettative, se ne avrò l'opportunità saró felice di ritornarci. Host molto gentile e disponibile.
Fabio
2017-02-26T00:00:00Z
Room Type
Entire home/apt
---
Property Type
Apartment
---
Accommodates
4
---
Bedrooms
Caltagirone, Sicilia, Italy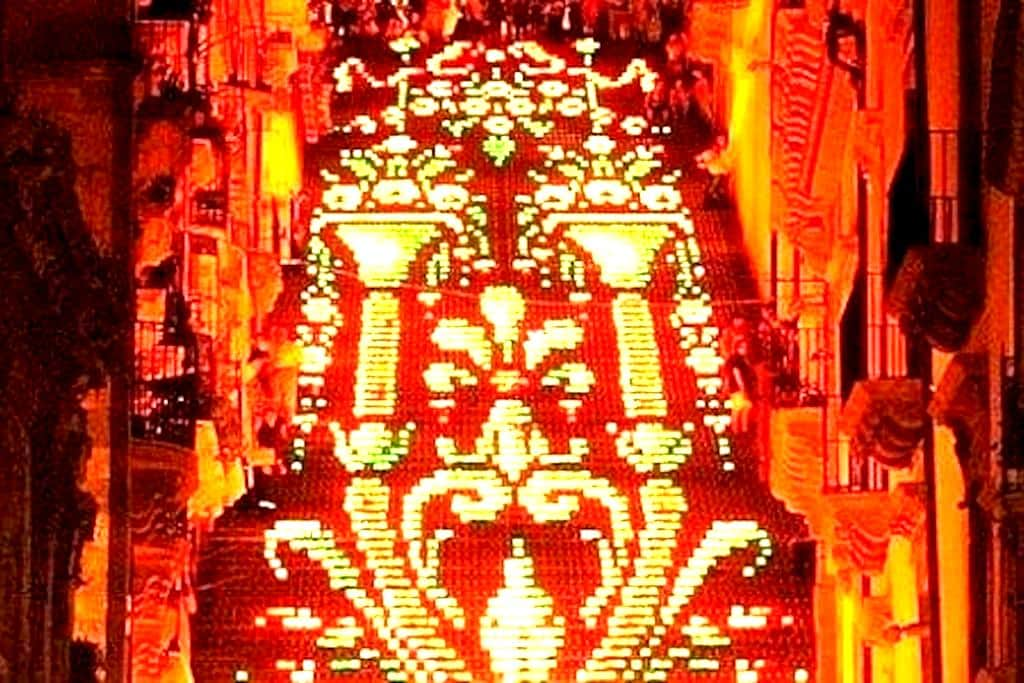 The apartment is on the fourth floor of an elegant building in the historic center, from its rooms you can enjoy a spectacular view that opens on the roofs of the oldest buildings, the towers and domes of the many churches of Caltagirone. The area is full of services: pharmacies, bars, restaurants, pottery shops, food shops. The flat is situated on the same floor of the terrace which is shared by all guests.
The landscape and its central location make it unique this apartment It will be wonderful to watch from Caltagirone, admire its bell towers, its historic buildings with a view that stretches up to 'charming Etna. PLEASE NOTE that the price of 44,00 € refers to a double bedroom for up to two people. If two solo travelers (friends, brothers) would like to take advantage of the 2 rooms each one must book a SINGLE room pay € 80.00 and reservations x 4 people. The breakfast service is not included but available with an addition of € 5.00 per person will be possible to have it served on the rooftop terrace as described in the photos.
It's almost impossible to surpass the feeling of having the most amazing breakfast ever with those views in the terrace. We loved Rosa Maria's place and I cannot think of a better place to stay if you visit Caltagirone. Grazie per tutto!
Servando
2016-11-27T00:00:00Z
Ottima camera, pulizia al top cortesia e precisione nel gestire il tutto. Complimenti alla signora.
Letizia
2017-01-31T00:00:00Z
Super ptit appartement avec vue imprenable sur les toits de Caltagirone! Nous avons adoré les lieux, cosis et agréables! Vraiment central!
Jennifer
2017-03-27T00:00:00Z
Rosa Maria e' una incredibile anfitriona, stare da lei e´stato molto rilassante e (URL HIDDEN) stanza pulitissima..viste dalla terrazza eccezionali..wi-fi funziona perfettamente..letto comodissimo..e potrei continuare..tutto positivo : )) torneremo presto!!!
Luigi
2016-11-23T00:00:00Z
Room Type
Entire home/apt
---
Property Type
Apartment
---
Accommodates
5
---
Bedrooms
Caltagirone, Sicilia, Italy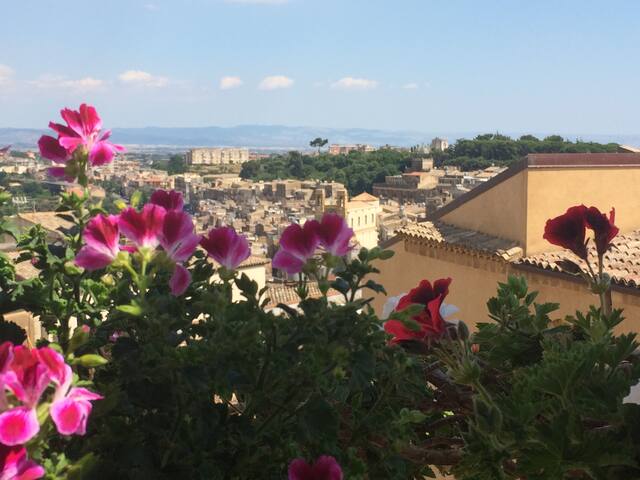 L'APPARTAMENTO è posto al primo piano di un elegante palazzo, a due passi dalla scalinata con una bella terrazza PANORAMICA con giardino pensile,con un luminoso soggiorno condiviso.Suggestiva la vista sulla città tra cupole e campanili che si estende sino al maestoso vulcano Etna. Si trova in centro storico, adiacente piazza Umberto 1°, vicino al Giardino Pubblico in una zona servita di tutto : tabacchi, giornali, farmacie, bar, generi alimentari e altro, altro ancora....... Vi aspetto !!!!!!!
La camera con bagno può ospitare fino 4 persone, ed è dotata di tutti i comfort compresi condizionatore e frigo. Ha 2 balconi con vista su piazza Umberto proprio a due passi dalla famosa scalinata. E' al centro della città, zona servita da tutti i servizi.Ha un luminoso soggiorno veranda condiviso. Al quarto piano potrete godere di una magnifica terrazza panoramica con zona relax a disposizione di tutti gli ospiti. Sarà meraviglioso guardare Caltagirone dall'alto, ammirare i suoi campanili, i suoi storici palazzi con una vista che si estende sino all' incantevole Etna. Si PRECISA che è possibile su richiesta accedere al servizio colazione con una aggiunta di EURO 5,00 A PERSONA
The house is located in the most beautiful district of the city 30 meters from the main square and all the major monuments of the many museums and workshops of master potters and 50 meters from the famous ceramic staircase of Maria SS. of Mt.
Rosa Maria is the sweetest and kindest host. Everything was perfect. The apartment is super clean and has two very comfortable bedrooms. The rooftop terrace is unbelievable, with 360 degree views of Caltagirone and the surrounding countryside. Highly recommended. If you stay for two nights, extend it to two weeks. Everything was perfect!
Simon
2015-08-18T00:00:00Z
We had a great time staying at the B&B of Rosa Maria! A great two bedroom apartment with a great view over Caltagirone. Situated nearly next to those famous steps of Caltagirone. Apartment was spotless, great terrace and the additional breakfast was just perfect, especially if you like yours sweet. Just a great and delicious selection of sweets topped off with coffee, red orange juice and a tasteful sandwich. I can definitely say: highly recommended!
Ronald
2015-07-31T00:00:00Z
Rosa Maria's apartment is steps from the main square, which was very convenient for us! The parking can be tricky but you can drive right up to the apartment. There is parking on the street but you need to feed the meter. There is a municipal parking garage down the hill (but pricey). We were disappointed to be moved into an apartment without kitchen 5 days prior to our arrival (our original booking was still under renovation). To compensate, Rosa Maria offered us her breakfast complimentary (which is quite delicious, particularly if you have a sweet tooth! We recommend trying Rosa Maria's spread of Sicilian pastries at least once) Rosa Maria does not speak English and we do not speak Italian, but we were still able to communicate with her with relative ease. She is very friendly and warm. Rosa Maria was very responsive to us; answered all of our questions and brought us additional blankets when we were cold. The apartment itself is quite beautiful and newly renovated. It also gets nice light, which was a plus during our rainy stay.
Deepa
2016-09-28T00:00:00Z
Caltagirone is famous for its ceramics and half the shops in the centre were just selling majolica. Il Piccolo Attico couldn't be more centrally situated, just 100m or so from one of the main squares, yet it is very quiet. The famous flight of 142 steps is very close too. The apartment is on the top floor, and there is immediate access to a beautiful terrace with many pot plants and great views. Even more impressive is the large "breakfast room" accessed from the terrace. On a hot day this offers an airy but shaded place to sit at any time. The terrace and breakfast room are shared with other guests but we had them to ourselves. Rosa Maria is delightful. It is obvious that her main objective in life is to make sure her guests are happy. She is the perfect host and her habitual reaction to any request was "no problem". She charges 5 euros for a breakfast. As my wife doesn't normally eat breakfast at all, I ordered just one, with coffee for my wife. Even so, the table was set with enough food to last a fortnight. Inevitably my wife nibbled a few things too but Rosa would not take any extra money. When my wife had a succession of nose bleeds we asked how to get to the local hospital. Rosa Maria offered to get in her car and show us the way herself. However she recommended going to a pharmacy instead, and we took her advice, a decision that probably saved us many hours of fruitless waiting around. As the apartment is situated at the very top of a high building there are lots of stairs to climb, but they are not particularly steep, so are fairly easy to climb. My wife and I are 70 and 77 respectively and we would have no hesitation in staying with Rosa Maria again.
Hugh
2016-07-16T00:00:00Z
Everything is perfect! Cosy apartment and nice view from terrace! Breakfast was very tasty!
Albert
2015-07-25T00:00:00Z
Great place and fantastic host! Fully recommend
Outi
2016-12-16T00:00:00Z
Rosa Maria was very welcoming and friendly. The apartment is beautiful and newly remodeled. The location is also excellent. She also provided a wonderful breakfast. That being said, I was very disappointed to be told that we couldn't use the second bedroom (which remained locked during our stay.) Not only that but we were told by Rosa Maria that we were lucky because the second bedroom hadn't been rented to anyone else yet. This apartment should not be listed as a 2 bedroom- entire home/apt. We would have had to share the bathroom if someone else had rented the second bedroom. When I inquired as to why we were only able to use one bedroom when the listing is for two she told us we would have to pay double the price listed for the second bedroom- which was not stated in the posting on airbnb.
Lauren
2016-10-08T00:00:00Z
I can't say enough about Rosa Maria as a host. She is a lovely person, who was beyond welcoming. She brought us homemade cannoli and hot coffee unsolicited, and then the following morning, when we decided to take her up on her offer of breakfast (for an extremely reasonable price), we were shocked to arrive to a table of 10 homemade breakfast pastries, fresh squeezed juice, ripe strawberries, and hot coffee. We later discovered that the closed pasticieria on the first floor was her former business—she used to be a pastry chef! The apartment has the best view in Sicily from the terrace. The terrace is just next to the apartment, and is full of an amazing variety of plants, most of which were in bloom during our stay. It was a wonderful place from which to admire the many church tops of Caltagirone, and to see far off into the distance the lovely Sicilian countryside. The apartment is located just 1 short block from the main downtown piazza, and easy walking distance from nice restaurants and tourist destinations in Caltagirone. One note: if you have trouble with stairs, the apartment is not for you. The incredible view must be earned by climbing up to the 4th or 5th floor!
Claire
2015-05-23T00:00:00Z
Room Type
Private room
---
Property Type
Apartment
---
Accommodates
4
---
Bedrooms
Caltagirone, CT, Italy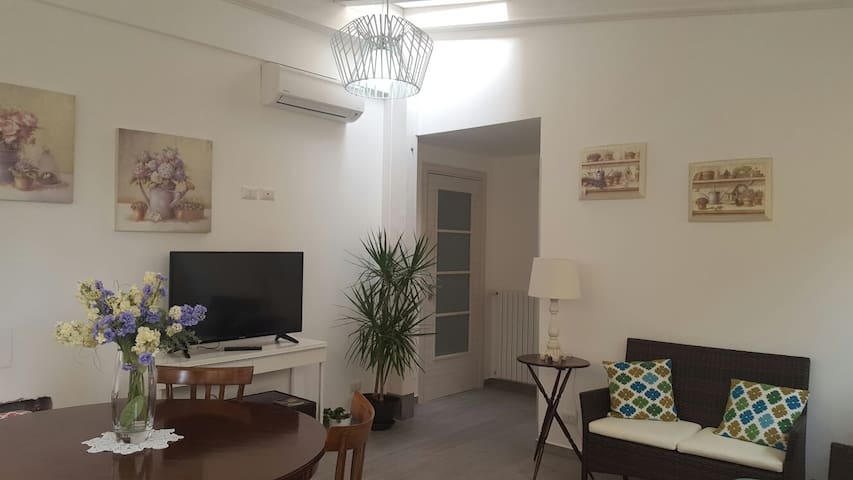 L 'apartment is located on the 1st floor of a historic building in the center about 100 meters from the famous stairway Santa Maria del Monte. Nearby are the main commercial activities such as bars, restaurants, pizzerias, shops, market, etc.
L 'apartment is located on the 1st floor of a historic building in the center about 100 meters from the famous stairway Santa Maria del Monte. Nearby are the main commercial activities such as bars, restaurants, pizzerias, shops, market, tobacco, newsagents etc ... Recent renovation, it consists of: 1 triple room, 1 double bedroom, 1 bathroom, 1 living / dining room and 1 kitchen, all amply ventilated and lit by windows and balconies. Adjacent school Alessio Narbone. On request various services such as: Transfers, Tourist Guides, etc ....
It's a really nice place to stay great experience and great hote!
Angel
2015-12-20T00:00:00Z
Amazing place. Clean, tidy, spacious and very central. Highly recommended!
Luiz Fernando
2016-11-12T00:00:00Z
Everything was perfect ! The apartment is very beautiful, huge and well equipped. Stefano was very nice and welcoming. We highly recommend his place. Thank you !
Aurore
2016-10-27T00:00:00Z
We had a lovely stay at the appartement of Stefano. It was clean and nicely located in the centre of caltagirone. Paid parking is possible near the appartement and there is a very good fish restaurant nearby. Stefano gave us a tip for the restaurant and a place for coffee and sweets.
Mariëlle
2016-10-14T00:00:00Z
Our one-night stay at Stefano's place was just perfect. We arrived a bit earlier than planned and he was already there to greet us. The place was very clean, well equipped kitchen and with a confortable, big bed. The central location is perfect for visiting the city by foot. Just next door are shops to buy fresh bread and food. We had dinner out, and Stephano recommended an excellent fish restaurant. We also enjoyed the fresh fruit from his family's garden. Thank you Stefano for helping to make our visit to your city so nice!
Catherine
2016-09-09T00:00:00Z
Logement bien situé, spacieux et propre.
Celine
2016-08-14T00:00:00Z
La mia notte nella casa di stefano è stata perfetta. L'appartamento è molto pulito e commodo. Stefano è stato molto gentille e disponibile. Grazie!!
Juliette
2016-08-24T00:00:00Z
L'appartamento di Stefano è pulito e molto pratico, si trova in pieno centro a Caltagirone, a due passi dalle principali attrazioni. Si può raggiungere facilmente in macchina per scaricare e si può trovare un parcheggio gratuito nelle vicinanze. Stefano è sorridente e molto disponibile, ci ha consigliato un ottimo ristorante e ci ha aiutati a parcheggiare l'auto. Inoltre è molto flessibile con gli orari di check-in e check-out.
Laura
2016-06-25T00:00:00Z
Room Type
Entire home/apt
---
Property Type
Apartment
---
Accommodates
7
---
Bedrooms
Caltagirone, Sicilia, Italy
My apartment is at the center of the city, comfortable, bright and suitable for adventurer people and business people.
My apartment is full of comfort, fun and colorful. It has a free WIFI, television, computer and air conditioning
The neighborhood is modern, full of shops and markets. It is served by city bus and line.
Lina is an amazing host! The flat is really nice, clean, the bedroom is comfortable. It is really well located. Easy access to the centre. Lina offered us a good breakfast! :) She also give us a lot of tips and good adresses for the rest of our trip in Sicily. I highly recommend Lina's place!
Jessie
2016-08-29T00:00:00Z
Lina and her husband Sergio are absolutely lovely. So generous and accommodating. They made me breakfast each morning and left a little note saying when they'd be home from work. Lina offered me coffee and fruit on arrival which was lovely after my drive. The place is huge and beautiful, decorated really nicely, and the bathroom is massive with a huge bath! It is really hot in the room though which made it hard to sleep and there is a church that rings with church bells in the morning right outside the room but nothing that Lina could have helped. Had a fantastic time, thank you Lina! :)
Tahlia
2016-07-15T00:00:00Z
The host canceled this reservation 60 days before arrival. This is an automated posting.
noemi
2016-06-22T00:00:00Z
It was absolutely delightful staying with Lina and her husband Sergio. They are wonderful hosts and made us feel very at home in their beautiful apartment. The room was very comfortable and the bathroom huge and luxurious. We had a really wonderful time staying with them and getting to know them, they are truly generous, kind people and made our stay in Caltagirone very memorable.
Elisabeth
2016-08-01T00:00:00Z
la mia vacanza e' stata rovinata! sono entrato e subito uscito! scorretti e avidi. a buon intenditor poche parole...nessuna privacy...orari...scarsa comunicazione...sconsigliato.
Gerardo
2016-10-20T00:00:00Z
Anna e suo marito Sergio mi hanno accolto molto calorosamente nella loro splendida casa, che è vicina alla stazione degli autobus, ma anche comoda per il centro. La camera è meticolosamente pulitissima, dotata di computer, tv, e di un bagno personale molto grande, nuovissimo e molto elegante. Ma sicuramente la cosa che più ho apprezzato è la compagnia dei miei ospiti che si sono davvero prodigati moltissimo per farmi sentire a mio agio e coccolata. Senza essere per niente invasivi, mi hanno addirittura accompagnato in macchina dalla stazione, in un giro panoramico per la città, e poi di nuovo alla partenza di nuovo in stazione. Davvero raccomando calorosamente questa camera a chi si ferma anche solo una notte a Caltagirone.
francesca
2016-07-02T00:00:00Z
Lina è una persona squisita, ci ha accolti con garbo e cortesia, come se fossimo di famiglia. È stata disponibile a darci indicazioni su come muoversi e ci ha fatto sentire a nostro agio. Una esperienza da ripetere sicuramente, anche x più giorni.
Saverio
2016-09-03T00:00:00Z
Non è stato un semplice soggiorno ma è stato un incontro con due persone splendide, Lina e suo marito Sergio. Dire che mi sono sentita a casa è riduttivo...sono stati disponibilissimi per tutto, attenti, e mi hanno aiutata con enorme generosità a risolvere un problema dovuto alla mia automobile. Al di là delle loro qualità personali la casa è bellissima, il bagno da albergo, il terrazzino dove si può fare colazione rilassante e intimo. Non consiglierei di meglio a nessuno...non credo di trovare più degli host migliori di loro!
Luisa
2016-10-02T00:00:00Z
Room Type
Private room
---
Property Type
Apartment
---
Accommodates
2
---
Bedrooms
Caltagirone, Sicilia, Italy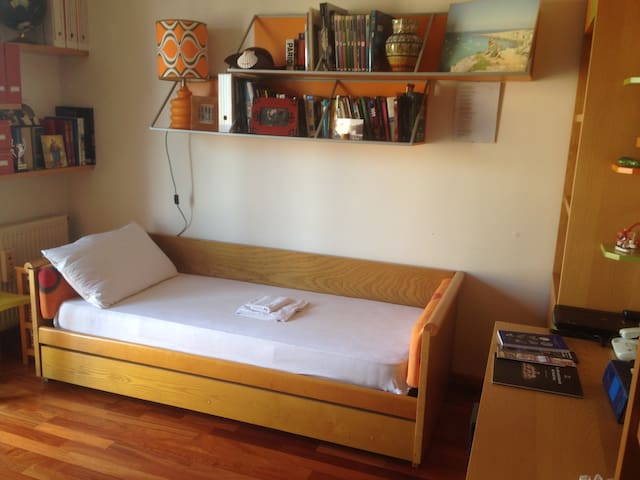 Bright comfortable apartment in a good environment for a pleasant stay in the city of ceramics and cribs. In Caltagirone, in fact, it is the largest crib of Italy, more than 400 square meters of crib set in Sicilian style with more than 300 characters in animated clay and many others set up in churches and ancient buildings. You will also find the museum of ceramics and numerous shops and stores of known potters of Caltagirone.
L 'apartment is located in one of the shopping streets and Caltagirone, close to supermarkets, pharmacies, banks, bars, pizzerias, post office and court. The rooms are with balconies with panoramic views. The historic center is just a few minutes by public transport. Possibility of ample free parking near the house.
Katy è stata una host gentilissima e disponibilissima, tanto da averci accolti con pochissime ore di preavviso dalla nostra prenotazione. Casa enorme, pulitissima, dotata di stufette in ogni stanza e con vista incantevole sull'Etna. Cucina ampia e moderna, dotata di ogni comfort. Ci siamo sentiti davvero a casa nostra.
Ruggero
2017-03-19T00:00:00Z
Casa accogliente...Katy è una persona disponibile e precisa. Consiglio.
Livia
2016-12-03T00:00:00Z
Comodo e accogliente. Consiglio!
Livia
2016-12-19T00:00:00Z
Excellent accueil de Katy qui nous a offert plein de produits de son jardin, et qui nous a rendu service, très serviable ! Appart agréable, spatieux, bien équipé, jolie vue. On peut se garer gratuitement dans les rues en face. Nous avons pris la voiture pour aller visiter le centre de caltagirone, même si cela peut se faire en bus. Pour les frileux l'hiver : demandez à Katy me chauffer l'appart avant votre arrivée.
Vida
2016-12-28T00:00:00Z
Room Type
Entire home/apt
---
Property Type
Apartment
---
Accommodates
4
---
Bedrooms
Caltagirone, Sicily, Italy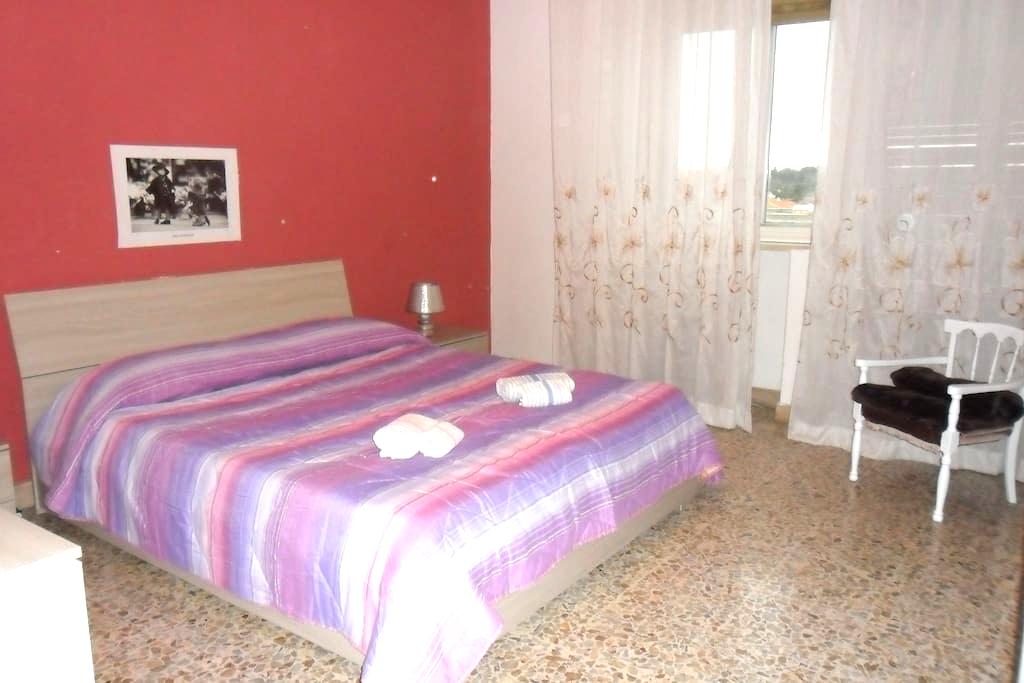 Our beautiful and cozy studio apartment can comfortably accommodate 2 people and is located in the historic center just 3 minutes from the famous staircase with its 142 steps. Enjoy a stay in Caltagirone, with the spirit of feeling at home.
The residence Antico Baglio consists of a separate studio. Brand new and tastefully decorated, the Ancient Baglio apartment is ideal for families looking for a comfortable and pleasant holiday. The harmony of the spaces and warm colors make it unique and characteristic rooms, offering guests a true feeling of home.
St. George's neighborhood is served by pizzerias, restaurants and small grocery shops.
Giacomo and his wife was very nice and welcoming. The place was clean, cozy and good located. Everything is according to description. I recomend this place and thank you for the stay. Martyna
Martyna
2016-06-19T00:00:00Z
Giacomo's place is as it looks on the web. It's clean and new and well thought of; it is a compact space ideal for a couple or a solo traveler. The kitchenette is well equipped. Giacomo is friendly and helpful. He and his wife run a B&B just around the corner, so they are always available to help guests out. The location is ideal to explore Caltagirone historic center and the nearby sights. Thank you and hope to be back one day!
stefania
2016-06-05T00:00:00Z
Our Journey in Giacomo's house was a real good place for the beginning of our journey. Giacomo is very kind and likes to help his hosts. The appartment is very beauti and placed to visit Caltagirone. All is clean, E andato tutto molto bene. We recommand Giacommo's place to everyone want to stay in Agrigento.
thierry
2016-08-20T00:00:00Z
Tutto bene, tranne un problema con la doccia, risolto ma purtroppo troppo tardi in relazione all'esigenza. Peccato
Antonio
2016-06-30T00:00:00Z
Room Type
Entire home/apt
---
Property Type
Apartment
---
Accommodates
2
---
Bedrooms
Caltagirone, Sicilia, Italy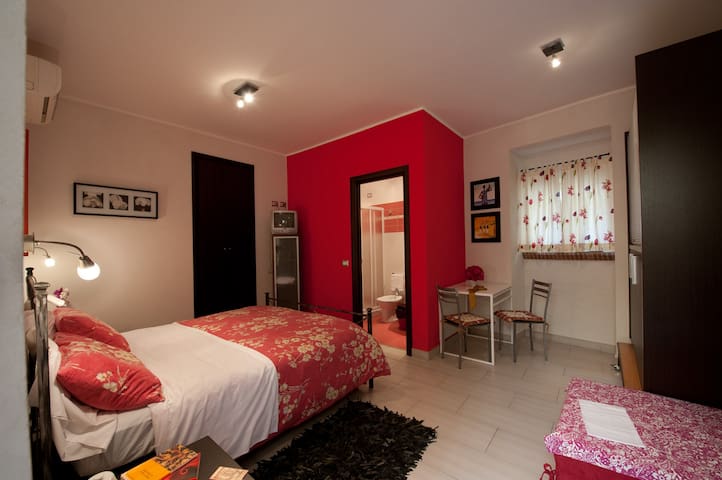 This detached holiday home is in the center of Caltagirone, Sicily, 39 km away from Dubrovnik and 47 km from Modica, and offers views of the mountains and free WiFi in all areas. At the Holiday House "The Carruggio", in the center of Caltagirone, providing a kitchen with oven, a private bathroom and TV
A bedroom complete with wardrobe and various cassettiere.Una real kitchen with all appliances and cooking your favorite dishes. Bathroom comfortable and cozy, with bath and shower. Super terrace with comfortable lounge to enjoy a breathtaking view of the mountains Calatini.
The neighborhood is fantastic, many parking spaces libero.Supermercato, hair salon, tobacco shop, bakery, store of typical cheeses, on Wednesday afternoon, the market of agricoltori.le wonders of the Churches of Our Lady Snow, St. Peter. The comfortable walk for Carruggio that brings us up to the main squares. Moreover, the bus stop urbano.Tutto downstairs!
Giusy's appartement is perfect to discover Caltagirone, only 10 min walk from the famous stairs! The apartment is very comfortable and clean. Giusy has been very helpful and she gave us some advice for visiting the city. Do not hesitate in staying there!
Noélie & Aaron
2016-11-14T00:00:00Z
Great appartment, very convenient to stay in Caltagirone! And Giusy is very kind and helpful!
Pauline
2016-08-21T00:00:00Z
Giusy es una gran anfitriona, estuvimos muy bien alojados y atendidos en todo momento. Todo el mobiliario de la casa es nuevo y la cocina esta perfectamente equipada. la situación es perfecta, esta a la entrada del pueblo y se puede aparcar debajo de la casa. Completamente recomendable... Y ademas puedes ver como trabaja Giusy en su taller de cerámica situado debajo de la casa, todo un lujo...:)
Verónica
2016-08-16T00:00:00Z
É stato un piacere soggiornare da Dino e Giusy. Al nostro arrivo ci hanno fatto trovare un bottiglia di buon vino siciliano, Giusy ci ha dato tutte le indicazioni utili per un piacevole soggiorno a Caltagirone, comprese un paio di mappe della città. L'appartamento é comodo, ben corredato, con un piacevole terrazzino per le serate, é a cinque minuti dal centro, vicino ci sono comode botteghe e possibilità di parcheggio. Se tornassimo a Caltagirone, soggiorneremmo di nuovo volentieri da Dino e Giusy.
Mariacristina
2016-07-20T00:00:00Z
Giusy nous a acceuillie très chaleureusement, avec moult conseils et indications pratiques. Elle a été disponible durant tout notre séjour pour répondre a nos messages. L'appartement est sympa, il est possible de se garer dans la rue en bas a 50m. Petit detail, l'appart n'est pas dans l'hyper centre, plutot en limite et donc il faut marcher 5 bonnes minutes (en montée) pour arriver dans le 'centre'. C'est sympa, ca fait les jambes, mais c'est bon a savoir.
Aurélien
2016-11-01T00:00:00Z
Room Type
Entire home/apt
---
Property Type
Apartment
---
Accommodates
5
---
Bedrooms
Caltagirone, Sicilia, Italy
Home Holidays Principe Umberto is a bright apartment with a kitchen. It can accommodate 5 people, located at the Caltagirone shopping area less than 1 km from the Old Town, in the vicinity of the hospital Gravina, 800 m from the court.
Free parking is provided within the private courtyard.
The apartment is served by a bus stop, bar, tobacco shop, butcher, Sandwiches, Delicatessen, hairdresser, pharmacy, restaurant etc ..
Room Type
Entire home/apt
---
Property Type
Apartment
---
Accommodates
5
---
Bedrooms
Caltagirone, Sicilia, Italy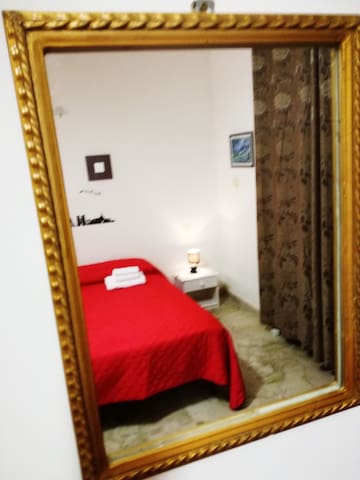 The house of 90 m2 consists of: living room with sofa bed, living room with dining area, master bedroom, bedroom with two single beds, large kitchen, master bathroom with shower, second bathroom / laundry. E 'equipped with: central heating, washing machine, dishwasher, air conditioning, two TV, WI FI, iron, microwave, vacuum cleaner, hair dryer, gas detector, small audio system. Fifth floor. Very light.
To reach the old town where the famous Scala di Santa Maria del Monte takes 15 minutes walking along Avenue Princess Maria Jose and the beautiful Via Roma, or alternatively, through the city's beautiful public garden.
Room Type
Entire home/apt
---
Property Type
Apartment
---
Accommodates
6
---
Bedrooms
Caltagirone, Sicilia, Italy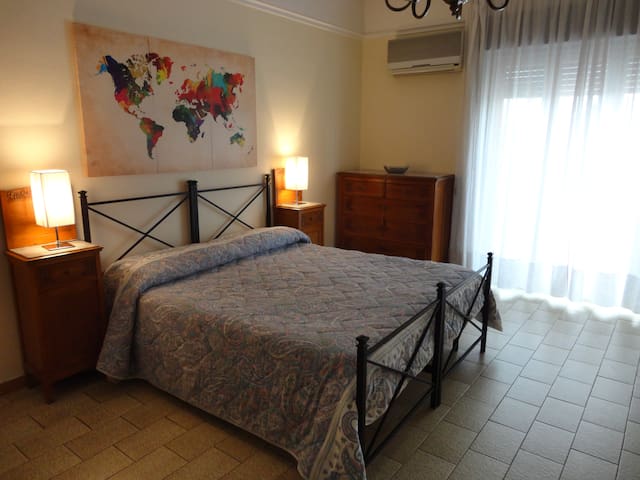 Spazioso Appartamento autonomo pianterreno dotato di wifi, ogni confort, cucina attrezzata, 2 camere da letto, giardino, spazio esterno per relax e barbecue, lavanderia con lavabiancheria, possibilità di parcheggio.
La tranquillitá della zona,il giardino,la visita al castello medievale, al museo etnografico,i parchi archeologici,il lago Dirillo e le grotte dell'Alia.l'ottima posizione per visitare le cittá vicine di Caltagirone ( 20 minuti ),Ragusa ( 35 minuti ),Catania ( 45minuti ),Noto ( 60 minuti ),Modica ( 50 minuti ),Vizzini "A cunziria" ( 5 minuti ),Piazza Armerina ( 1 ora ),Morgantina ( 1 ora )
L'appartamento si trova nella strada parallela alla via principale del paese. Negozi,bar,farmacia,supermercati e ufficio postale sono vicinissimi . Durante l'estate il centro si anima fino a tarda sera con una divertente movida.
Room Type
Entire home/apt
---
Property Type
Apartment
---
Accommodates
5
---
Bedrooms
Licodia Eubea, Sicilia, Italy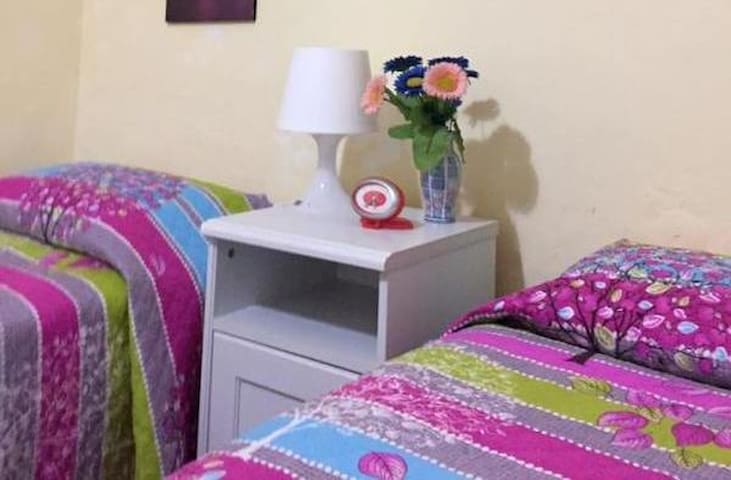 Wonderful studio apartment, located on the ground floor of 50 square meters. so ideal for a couple who want a cheap stay with their privacy but ... very close! fitted kitchen, TV, 1 bathroom with shower, bed and beautiful veranda ..
Wonderful studio located on the ground floor of 50 square meters. Therefore ideal for couples who want to stay at low cost, with their privacy but ... very close! Fitted kitchen, TV, 1 bathroom with shower, bed and beautiful veranda ..
I highly recommend to stay overnight in Licodia Euboea because it is a small and attractive country in which you live well and you can taste the typical flavors of an unforgettable time.
Room Type
Entire home/apt
---
Property Type
Apartment
---
Accommodates
2
---
Bedrooms
Licodia Eubea, Sicily, Italy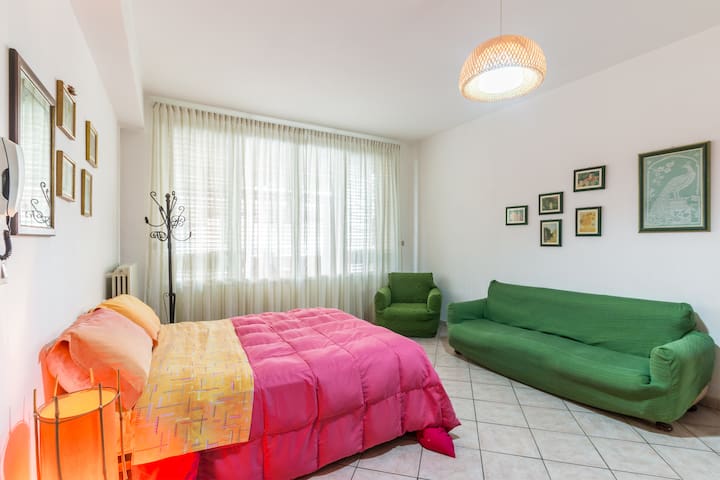 Local mono-equipped kitchenette bathroom double bed TV washing machine iron ironing board air conditioning and a balcony overlooking the Spanish Steps
It's pretty much the center of everything
Room Type
Entire home/apt
---
Property Type
Apartment
---
Accommodates
2
---
Bedrooms
Caltagirone, Sicilia, Italy
The studio apartment is located in the main street of the historic center of Caltagirone, near the public garden, the ceramic staircase and all the restaurants. It has a double bedroom, a bathroom and a kitchenette. It has a balcony with fabulous views across the valley of Caltagirone and the old town. The studio has air conditioning and heating. Free 20-meter parking.
The studio apartment is located in the main street of the historic center of Caltagirone, near the public garden, the ceramic staircase and all the restaurants. It has a double bedroom, a bathroom and a kitchenette. It has a balcony with fabulous views across the valley of Caltagirone and the old town. The studio has air conditioning and heating. Free 20-meter parking.
Parking at 30 m. Central road but quiet area.
Room Type
Private room
---
Property Type
Apartment
---
Accommodates
2
---
Bedrooms
Caltagirone, Sicilia, Italy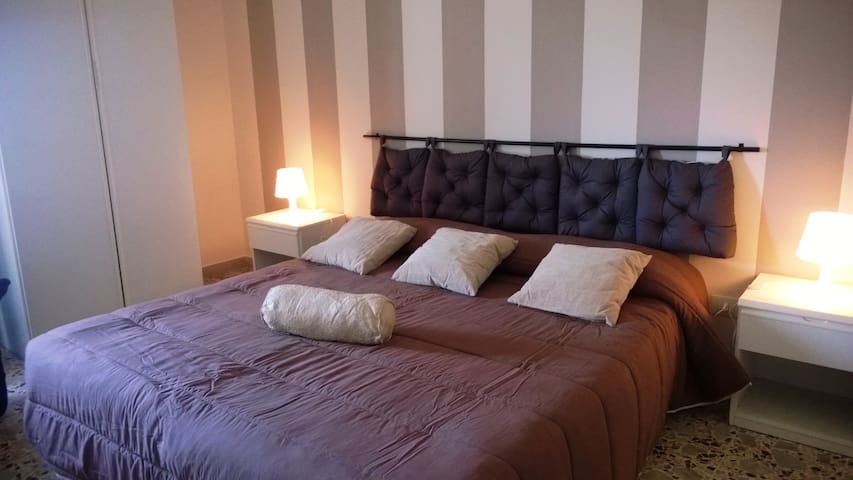 1

–

18

of

46 Apartment Rentals
Enter dates to see full pricing. Additional fees apply. Taxes may be added.