Die sehr ruhig gelegene Unterkunft befindet sich 100 m vom Seerhein. Umgebung schöner grosser Garten, Bahnhof 400 m, Schifflände 100 m, Konstanz 3 km.
Room Type
Habitación privada
---
Property Type
Apartment
---
Accommodates
2
---
Bedrooms
Gottlieben, Thurgau, Switzerland
Ein Ort zum Verlieben ❤❤❤
In der superschönen Neubauwohnung im Ortskern und gleichzeitig direkter Nähe zum Bodensee muss man sich einfach wohlfühlen. Modern und hell hell eingerichtet ein Ort zum entspannen. Hoher Freizeitwert mit vielen attraktiven Möglichkeiten.... sei es Kultur oder Sport. Kurze Wege nach Zürich oder Friedrichshafen. Für beruflich Reisende aufgrund der gepflegten und guten Ausstattung genauso wie für Urlauber hervorragend geeignet. Dich erwartet eine wunderbare Atmosphäre Du hast völlige Ruhe...die Wohnung gehört in der angemieteten Zeit nur Dir 2 Minuten zum See 15 Minuten mit dem Fahrrad zur Altstadt Konstanz 0 Minuten nach Gottlieben...ein traumhaftes Örtchen
Room Type
Habitación privada
---
Property Type
Apartment
---
Accommodates
2
---
Bedrooms
Gottlieben, TG, Switzerland
My accommodation is close to the city centre, so the student nightlife in Konstanz is not far away. The connection to the public transport is ideal. The bus stop is right next to our door. If you want to relax you are only a 5 minute walk to the lake. The apartment is currently in residential community and there are not exclusively students.
The room includes a big TV to which you can connect your laptop, a nice audio system and two desks with two chairs and and a nice armchair.
The neighbourhood is very quiet and it's place in a nice and safe residential area.
I chose to stay at Andrei's apartment, due to location. It was directly near public transit, and smack dab near city centre, where I was in town for meetings. However, I had no idea how utterly blessed I had become until I walked up the 4 flights of stairs and into the most loving, respectful, safe environment. Laura, Andrei's girlfriend, and the rest of the three other roommates were some of the most generous and loving individuals I have ever encountered. I was only there for 4 days, and I will carry them with me for the rest of my life. Staying at Andrei's is the best decision I ever made.
Skyler
2017-01-27T00:00:00Z
all good
Jess
2017-01-24T00:00:00Z
Very easy going community that Andrei lives in. It's a big room, everything is very close to the flat. If you are traveling on a budget, then this is a great place to stay! Thank you so much Andrei, we had a great time. PS: If you are traveling by car, try not to park in the city, it's rather expansive and very full on a Sunday.
Petr
2017-03-19T00:00:00Z
I was welcomed by Andrei's girlfriend Laura, who was really lovely. I didn't interact much with the other (SENSITIVE CONTENTS HIDDEN), since I was there for one night only and had to prepare for my exam the next day, so I was busy, but everyone I quickly got to know seemed really nice. The room is comfortable and I slept well. My stay was as expected and I recommend it.
Julia
2017-01-30T00:00:00Z
Alles super!Nette Leute in der Wohnung!Macht weiter so Leute!
Thomas
2017-02-03T00:00:00Z
Andrei ist angenehm
鲁阳
2017-02-15T00:00:00Z
Das Zimmer und die Gastgeber sind toll :)
Alexandra
2017-03-17T00:00:00Z
Tolle Gastfreundschaft....
Tanja
2017-01-29T00:00:00Z
Room Type
Habitación privada
---
Property Type
Apartment
---
Accommodates
4
---
Bedrooms
Konstanz, Baden-Württemberg, Germany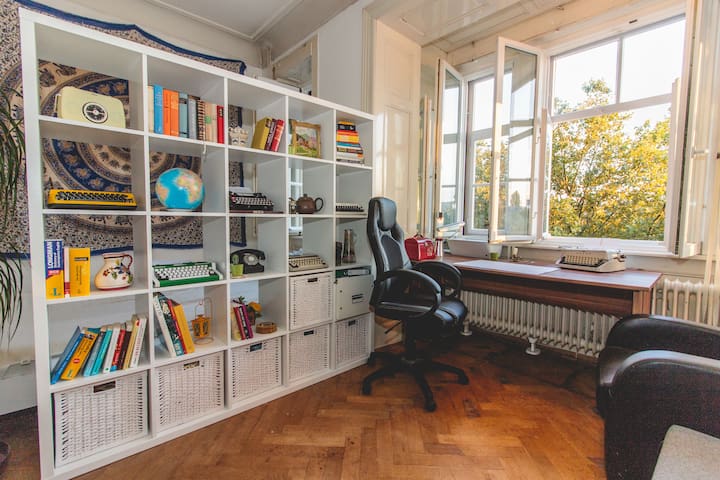 Near the Seerhein, our 3er WG is set in private grounds of the creative Waldorf School. The cozy rooms (19sqm) in our decaying apartment offers everything to spend a nice and successful time in Konstanz.
The apartment is located on a Waldorf school in the 1 OG. If you are traveling by vehicle, offers on the private land in front of the house a free parking space at. In the apartment you will find everything necessary you need for comfortable living; a large kitchen to cook with pleasure and a fresh, modern bathroom where you can wash your clothes at any time. In the room is a Quinn-size bed with bedside table, a desk and a wardrobe,
The apartment is above a forest village school. In 3 minutes you reach the largest Kaufland by CN and Norma market for shopping. Am Kaufland is a Aral gas station for the night shopping.
great hosts, made us feel at home in their flat. location is far from the city center but a short bus ride and very close to supermarkets. would stay again!
Zack
2016-09-24T00:00:00Z
Abdel war ein sehr zuvorkommender Gastgeber. Hat sich vorbildlich darum gekümmert, um unseren Aufenthalt angenehm wie möglich zu gestalten. Das Zimmer war wie beschrieben ausgestattet und war sauber. Küche und Co teilt man sich mit den angenehmen Mitbewohnern - cooles WG-Feeling. Vielen Dank für den Aufenthalt!
Yannik
2016-09-11T00:00:00Z
Wir haben die Übernachtungen bei Abdel sehr genossen. Mit dem Auto war alles einfach zu erreichen und die Parkmöglicheit vor dem Haus super. Abdel ist sehr herzlich und hat unseren Besuch unvergesslich gemacht!
Sarah
2016-09-30T00:00:00Z
Das Zimmer ist sehr zu empfehlen mit den super netten Mitbewohnern Jakob und Daniel. Das Zimmer hat direkten Zugang zur Dachterrasse um die Sonne zu geniessen. Ist alles schön und komfortabel eingerichtet und ist in der Nähe von grossen Geschäften. Gerne wieder!
Martin
2017-04-04T00:00:00Z
Freundlicher Gastgeber und guenstige Unterkunft - war sehr zufrieden ;-)
Arne
2017-03-28T00:00:00Z
Room Type
Habitación privada
---
Property Type
Apartment
---
Accommodates
2
---
Bedrooms
Konstanz, Baden-Württemberg, Germany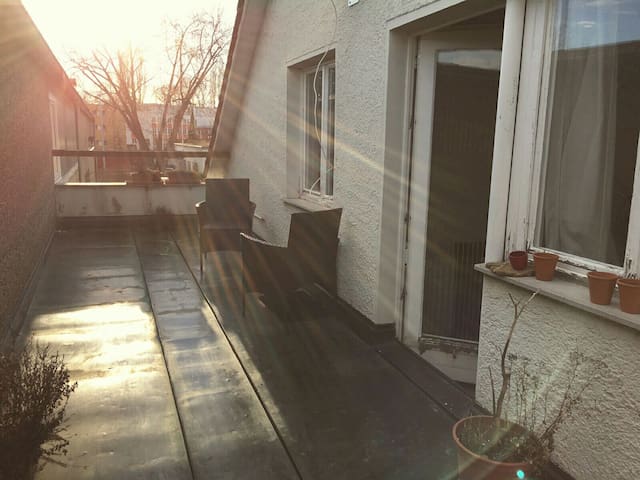 My apartment is not very big but very modern and centrally located in Konstanz in paradise district. On foot it is 2 minutes to water (Seerhein with bathing facilities), about 8 minutes to the old town. A bus stop is right outside the door, restaurants, pubs and cafes and shops within walking distance. Couple one can well explore the city, but ideally it is for a person as well as business travelers. Towels, bedding, kitchen equipment, all there!
Location, location, location! Do not bother with traffic jams in the city. From our apartment you reach the entire inner city on foot! Unfortunately, there are in the immediate vicinity no free parking. Located a few minutes walk you will find pay parking on Schänzle sports complex. A cheaper way is for 3, - Euro per day to park at the park & ride the Bodensee Forum on the other side of the Rhine.
A baker is diagonally opposite, Liquor store around the corner, a nice cafe about 500 meters away. Some nice restaurants within walking distance, We are happy to give you advice!
Claudia's place is a very cosy place in which one (or two) can spend a weekend or longer. It is very clean, with modern equipment, a comfortable bed and very nice bathroom. There is nothing to complain about, on the contrary, it surpassed my expectations. Claudia is a very friendly host and goes the extra mile to care for her guests. Absolutely recommended and I will be sure to check in again! Thank you, Claudia!!
Georgios
2017-01-15T00:00:00Z
Claudia was more than perfect during our stay in the flat, she fulfilled her role perfectly by making us very comfortable in Constanz. The flat is great for a couple, for a cozy stay during a few days. The bathroom and the kitchen are very enjoyable. Thanks Claudia for your availability during our stay ! Jeanne
Jeanne-Lise
2016-08-08T00:00:00Z
Claudia was a fantastic host! She kindly organised our transport between the station and the apartment when we arrived, and gave us a very warm and friendly welcome. The apartment was exactly like the photos shown, it was very clean, warm and spacious. Claudia even left some milk and juice in the fridge for us. The location of the apartment is fantastic, it is just a ten minute walk from the town centre, 5 minutes from the nearest supermarket, and there is a bus stop right outside. Claudia's communication was excellent, and she responded to messages very quickly. We would definitely stay in this apartment again if we come back to Konstanz. Thank you for such a wonderful stay!
Natilly
2016-12-11T00:00:00Z
Me and my sister stayed at Claudia's apartment for 3 days and it was one of the best airbnb experiences! Everything went smoothly and communication was always excellent with Claudia. We received a very warm welcome and goodbye. The room was tidy, clean and well organized. If I come back to Konstanz again, I will definetely stay again in Claudia's apartment. :)
Merve
2017-04-04T00:00:00Z
Es waren prima Tage in Konstanz. Das Studio liegt perfekt für mich als ÖV-Nutzer. Ein herzlicher Empfang und eine Bleibe, die mit allem notwendigen aussgestattet ist.( Für mich unterwegs, schon nahezu luxuriös ) Wir haben uns bei dir sehr wohl gefühlt , liebe Claudia. Hoffentlich bis bald und vielen Dank
Vera
2016-10-31T00:00:00Z
Die Wohnung war sauber und richtig schön! Vor allem die Lage war spitze! Claudia ist sehr nett und hat uns sogar von der Bushaltestelle mit ihrem Auto zur Wohnung gefahren vielen Dank dafür nochmal! Auch sonst hat alles prima geklappt gerne wieder
Anna
2016-08-27T00:00:00Z
Ottimo! Grazie Claudia!
Eliana
2017-01-08T00:00:00Z
Claudia hat uns ganz herzlich empfangen. Sie ist sehr hilfsbereit und gab gute Insidertipps. Wir haben uns in der Wohnung super wohlgefühlt. #glückstreffer#stilvoll#modern#toplage#immerwieder
Dominic
2016-09-24T00:00:00Z
Room Type
Entire home/apt
---
Property Type
Apartment
---
Accommodates
2
---
Bedrooms
Konstanz, Baden-Württemberg, Germany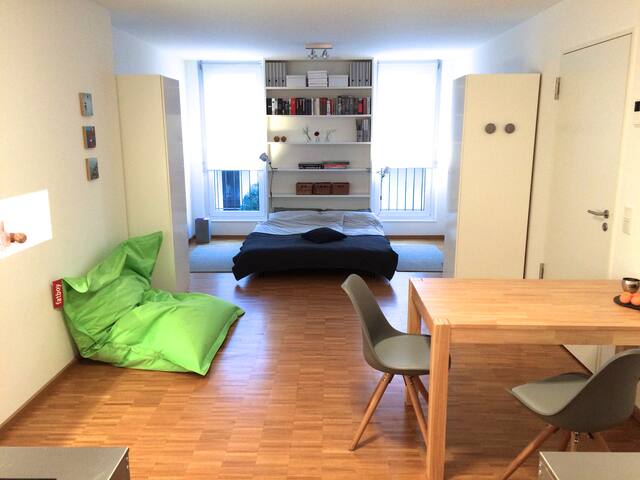 A modern, secluded apartment with own entrance in the district of Konstanz Litzelstetten. 1 living room / bedroom with double bed and sofa bed; fully fitted kitchen; Shower / WC and small. Terrace.
It is a modern 1-Zi. Apartment which is at ground level, from the courtyard accessible and therefore accessible. It is newly renovated, tastefully furnished and equipped to date. In the kitchen is everything you need there, including coffee pad machine with a supply of coffee pads and various teas, toaster, kettle, sugar, salt & pepper, dish cloth and detergent.. In the bathroom: towels, shower / shampoo and hand soap. The bed is completely covered fresh.
You live in the immediate vicinity of the flower island of Mainau, which can be reached in about 30 minutes. In nearby Erlebniswald Mainau see a climbing and a, in the ruins of the St. Catherine monastery, picturesque beer garden. The natural beach Litzelstetten offers sweeping lawns, shade trees, a magnificent view of the lake, beach volleyball, beer garden, kiosk / cafeteria, pool, dock, dressing rooms / dressing rooms and toilets / showers. Litzelstetten is an ideal starting point for activities such as swimming, sailing, windsurfing, fishing, diving, riding, tennis, golf, cycling and hiking.
We were very glad to meet Eva and be able to settle in to the apartment early in the day, found it had all that we needed for a short stay, and was very comfortable and clean. Travel to Konstanz by bus was simple, and we enjoyed the walks around the fields and views across the lake in Litzelstetten. Thank you!
Bridget
2015-10-15T00:00:00Z
Perfect stay! Nice and tiny flat! Nice kitchen! Bed was quite small for two guys but there was a second place to sleep. Everything tidy and really easy checkin. Good communication. Perfect Perfect Perfect!
Kevin
2016-08-16T00:00:00Z
Ewa was extremely kind and gracious. She picked me and my friend up from the train station and drove us back to her place. It was very clean and comfortable. It is within walking distance to Mainau and pretty close to the lake. Everything about the two nights we stayed there was fantastic. I would highly recommend Ewa as a host!
Jeremy
2015-10-17T00:00:00Z
Ewa's little apartment has everything one could ask for. Its kitchen is well-equipped, and everything is functional and nicely arranged. We didn't meet Ewa herself but it was easy to get the key and check-in and out. The neighboorghood is typical German small town neighbourhood, close to the lake and easy accessible by bus from downtown. Highly recommended.
Antonia
2016-10-25T00:00:00Z
Eva was very accommodating and quite a pleasure to meet! She picked us up from the bus stop and drove us to the beautiful clean and very well stocked apartment. Not only was she very welcoming, the apartment was splendid for us. Highly recommend and will return if I find myself back in Konstanz!
Sharon
2016-01-26T00:00:00Z
The apartment was easy to find (we had GPS on our rental car). Ewa and her husband met us and explained the apartment and the area for shopping for groceries and bakeries. The bus was very easy to take into the city. The kitchen was well equipped but we didn't use it. It was very quiet.
Elizabeth
2016-06-24T00:00:00Z
Very nice location close enough to Konstanz, in a quiet area. The apartment was well furnished, clean and well documented for tourists. Nice experience I hope to come back in summer time.
Armelle
2016-12-05T00:00:00Z
Ewa was very friendly, the apartment is very nice and clean. You will find a lot of information about the city and the neighbourhood, bus schedules and tickets as well in the flat. It is well-equipped and travelling to Konstanz is easy, fast and comfortable by bus.
Michael
2015-11-15T00:00:00Z
Room Type
Entire home/apt
---
Property Type
Apartment
---
Accommodates
2
---
Bedrooms
Konstanz, Baden-Württemberg, Germany
die 2-Zimmer Wohnung ist sehr ruhig gelegen, im Parterre mit Sitzplatz im schönen Garten. Sie hat ein separates Schlafzimmer mit Doppelbett, das Wohnzimmer mit Kochnische, Kühlschrank, Herd und Mikrowelle. Bettsofa. Parkplatz in Schrittnähe. Separate Du u WC.
The host canceled this reservation the day before arrival. This is an automated posting.
Ruediger
2016-07-16T00:00:00Z
Room Type
Entire home/apt
---
Property Type
Apartment
---
Accommodates
3
---
Bedrooms
Gottlieben, Thurgau, Switzerland
Our modern two room apartment with big garden and view to Seerhein is the best place to relax and enjoy your stay in Constance. It is located just 25 meters from Seerhein, where you can go for a swim, and has a park, beer garden, restaurants, and shops within a few minutes walking distance. The 60 m2 apartment has a sleeping and a living room, a fully equipped kitchen, a spacious bathroom, and a beautiful terrace. All rooms have underfloor heating. The apartment offers you free Wi-Fi access, a TV and hi-fi unit and a washing machine. Living room In the cozy living room you can chill out on two coaches, one of which can be easily turned into a comfortable bed (1,40 x 2,00m). The integrated dining room comforts you with a big wooden table and four chairs with a view to Seerhein. The Living room is equipped with a flat screen TV and a hi-fi unit. The living room has direct access to the garden terrace. Bedroom The bed (1,40 x 2,00m) offers you enough comfort and relaxation during the summer nights. The room is further equipped with a large modern wardrobe and small sofa. The room has a view into the green garden with direct access to the garden terrace. Garden Terrace The spacious terrace turns to be the third room where you can relax, dine, read a book, have a nap or enjoy a drink during the summer. Because of its splendid view, comfortable furniture and spaciousness, it is the most preferred spot in the apartment to hang out in the summer. From here you can walk to the lake and go for a swim. Kitchen Our modern kitchen is fully equipped with all you need to cook and enjoy a delicious meal. This includes a big fridge (incl. freezer), an oven, a ceramic stove, a dishwasher, an automatic coffee maker and an electric kettle. Bathroom The spacious bathroom is equipped with a shower cubicle, a toilet and a washing machine (incl. an iron and ironing board). To make your stay even more hassle-free an underground parking place is available for your use. The price includes a tourist fee which provides you with free usage of the local bus network; the next bus stop is only 250m away.
Really comfortable, convenient place - walking distance from train station, old town and right on the river. I would definitely recommend hiring bikes (2 minute walk from the flat).
alison
2017-03-21T00:00:00Z
I really loved stay at Robert's place. It was very spacious, and neatly organized. Robert is especially took care of subtle points where we might have not noticed(ex travel guide book) kitchen was fully equipped including microwave. Bed, and sofa was very comfortable. I would definitely come back to this apartment whenever I visit Konstanz.
유현
2017-01-29T00:00:00Z
We had a wonderful stay in this appartment. It was perfectly clean and well equipped. Very calm place near the city center. Very nice and attentive host. We heartily recommend this place!
Antoine
2014-04-22T00:00:00Z
Warm welcome, everything is well organised. Close to old city, I will come back.
Emmanuel
2014-10-10T00:00:00Z
Nice, fully equipped apartment, with parking in excellent location.
Michal
2014-06-28T00:00:00Z
Very kindly accepted our last-minute booking and was easy and reliable to communicate with. A lovely flat in a great location on the Rhein, 5 mins walk across the bridge into the old town. Had everything we needed and were extremely friendly and welcoming. Thank you!
Miriam
2014-08-26T00:00:00Z
Everything was perfect and we had a wonderful stay there. The only thing is : you are not allowed to make a barbecue outside.
Uli
2016-09-05T00:00:00Z
Excellent! Clean (this is how it should be - missed it in other my Airbnb experiences). Everything necessary (and more) is provided. Very good organization (punctuality, explanations). You really feel that the host have thought about you being comfortable at his place.
Dimitri
2014-10-01T00:00:00Z
Room Type
Entire home/apt
---
Property Type
Apartment
---
Accommodates
4
---
Bedrooms
Konstanz, Baden-Wurttemberg, Germany

The cozy three-room apartment with kitchen and bathroom is located in the quiet district "Paradies". The city center with its sights is easy to reach in five to ten minutes. Links to the public transport network are close to the apartment. In the courtyard is a small garden which can be shared and the possibility of bicycles. (Bike rental on request, possible!) For the comfort: there are two bedrooms with bed sizes (1,60 x 2,00 m as well as 1,40 x 2,00 m). In the living room there is a sofa which can be used as a sleeping possibility (1,40 x 2,00 m). The fully equipped kitchen is equipped with a dishwasher and a water cooker. All items in the apartment such as ironing boards, hair dryer, etc. are available for your use. Bed linen and towels are provided free of charge. The washer / dryer in the laundry room can be shared. Please note that the bathroom with shower is 0.82 x 4.10 m. Children up to twelve years are free of charge. The visitor's tax, which is free of charge for public transport, as well as the WLAN, the intermediate / final cleaning are included in the price. Smoking in the apartment is understandably not desired! To bring: A pair of own slippers (wooden floors) Thank you very much for your interest, with sunny greetings from Lake Constance :) Ana
I don't exaggerate when I say that our stay at Ana Luisa's flat was one of our best AirBnB experiences ever. We lived in Konstanz for a year and wanted to return to visit old friends, so we knew the area well enough to know that the flat was ideally located only a few minutes' walk from the main town. The place was immaculately clean, warm (in the middle of a cold winter!), and well-provisioned with everything we could possibly need. We were travelling with two small children too, and it was such a comfortable space for us all. Ana Luisa was an incredibly kind and generous host, taking time out of her own Christmas holidays to check in on us and make sure all was well. Put simply, I would recommend her flat to anyone looking for a clean, safe, comfortable, and well-located base in Konstanz. Thanks Ana Luisa!
John-Paul
2016-12-23T00:00:00Z
Our journey at Ana's was fabulous, the flat is so pleasant and well-located. If you have any questions, Ana can help you, she is really kind. I absolutely recommend her :)
celia
2013-09-14T00:00:00Z
My husband and I just spent 2 weeks in Anabanana's apartment and couldn't have been more pleased with the location or apartment. Ana met us the day of our arrival to turn over the key and gave us a quick rundown of the area, including directions to the local Eteca (grocery store) and a fabulous bakery just down the street. Fresh flowers greeted us in both the living area and kitchen, which was a very nice touch. The apartment itself was immaculate and the kitchen well stocked for our needs -- we basically did breakfast and lunch in the apartment and had dinner out. The walk to old town was pretty direct 10 min. walk. Ana provided us with free bus passes during our stay, but we found everything we needed within walking distance. The mattress in the street side bedroom was extremely comfortable, so much so that my husband and I decided to buy a similar mattress when we got back to the states. The only changes I would make would be to add a small trash can in the bathroom and perhaps a shelf in the shower to store shampoo and soap. Otherwise it was perfect and Ana was the perfect host! We will be returning when we visit our daughter and son-in-law in the future.
Pamela
2015-12-17T00:00:00Z
This was the perfect location for us to visit our German family! 5 minute walk to parking, but easy access from street to drop off bags as well as easy access in and out of the city, and close to the Swiss border. Ana was so sweet and made our Christmas feel like we had brought our home with us!
Collyn
2016-12-30T00:00:00Z
The apartment was just amazing. The perfect place to be at Konstanz. We're amazed and we will back certainly to Ana's place.
Nina
2015-09-29T00:00:00Z
The apartment was immaculate and AnaLuisa was a charming,helpful and welcoming host.
Jacci
2016-12-05T00:00:00Z
Well-appointed apartment. Exceptionally clean and well cared for.. Lovely neighborhood, short walk to town and ferry, free parking, bus service was very convenient. Ana was most gracious - she patiently waited for us despite our delay of several hours, washed and folded our laundry the same day we asked, and gave woderful tips and directions. Thank you, Ana for a wonderful stay.
Karen
2016-07-18T00:00:00Z
Ana came and met us at the station and walked us through the old town to the apartment. We thought the rose she gave us was beautiful until we saw the big vase of them in the apartment. She had left fruit and juice. We found the apartment well equipped and comfortable. Ana was available for any problems as she lives in the same block. Although the washing machine is not in the apartment it is available downstairs whenever you let Ana know you wish to use it. The little pastry/coffee shop on the corner is great. Also having a supermarket around the corner was handy. We followed Ana's tips on what to do and had a great few days in Konstanz. The free transport was also a bonus.
Bev
2015-05-27T00:00:00Z
Room Type
Entire home/apt
---
Property Type
Apartment
---
Accommodates
4
---
Bedrooms
Konstanz, Baden-Württemberg, Germany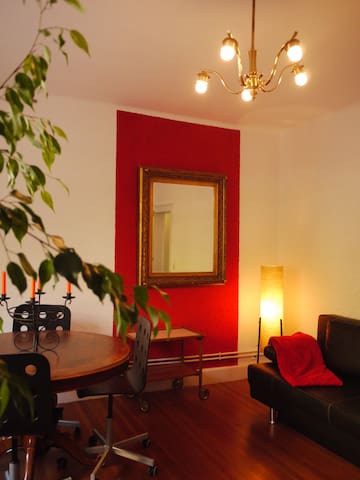 Hello! We offer you a SMALL but to fine rooms in a magnificent part "paradise". Especially in summer, Konstanz is worth a visit! Regarding the equipment, just about showering, please briefly the :-) Read "detailed description" You have NO shower in your room, but can always come to us in the apartment for showering! We look forward to seeing you, Steffi & Christian
The room is located on the 6th floor in the Constance district "paradise", the nearest bus stop is about 5 minutes away, the city center and the lake is 10 min walk. Breakfast options are available right around the corner ;-) Wireless internet is available.
5 min to the Rhine, 10 min to Lake Constance - that says it all ;-) And not to forget the beach, which is 5 minutes away ...
How did your host make you feel welcome? Was the listing description accurate? What was the neighbourhood like? Completely accurate let us use washing machines helped set up my phone with European phone gave us wrench to adjust bike seats charming
David
2016-09-05T00:00:00Z
Room was good, small but clean and with a nice view. You do not need a car as everything is within a walking distance. There is a free parking in the streets just across the river, but the spots are limited and hard to find after 4pm.
Vedran
2017-03-30T00:00:00Z
a lovely and comfort place that near the Alstadt, Christian was very helpful for all the information i need. Definitely enjoyed the stay.
Callia
2016-12-04T00:00:00Z
We had a wonderful experience in Konstanz! After a long train ride, (SENSITIVE CONTENTS HIDDEN) maps gave us the wrong directions to our accommodation, and Steffi and Christian were kind enough to pick us up. They were very helpful with tips on what to do around Konstanz. They even gave is two iced cold beers upon arrival! Couldn't have asked for more, would love to go back. Plus it's a five minute walk to the lake, can't beat it. Thanks guys :)
Lyndsay
2016-07-14T00:00:00Z
I and my boyfriend spent two wonderful days in Steffi's studio! The apartment is fully equipped, lovely and very clean. The location is perfect, just a few minutes from the city center. And the hosts are really friendly!
Vanessa
2016-05-10T00:00:00Z
We had a fantastic few days in Konstanz at Stephanie's room. She and Kristian (hope that's the right spelling!) were both incredibly welcoming and friendly. We happened to be there for the Seenachtsfest weekend, and they even offered to have us come watch the fireworks from their balcony with them. The room was perfect for the 2 of us. Small, but all we needed. Although there was no shower in the room itself, it was no problem using Stephanie's next door. The only downside was that the wifi wasn't the best, but really we preferred to be out enjoying the beautiful city anyway! Highly recommend staying here if you need a nice, clean place to stay for a few days.
Jen
2016-08-16T00:00:00Z
Stephanie and Christian are wonderful hosts - their place is just perfect and has everything you need. We really appreciated the little extras such as tea and coffee :) would definitely recommend!
Josie
2016-10-28T00:00:00Z
We spent in the appartement 2 nights and we felt ther very comfortable. It is a small room with a bathroom but very nicely equipped. Staphanie and Cristopher were all the time ready to help us. When going to Constance I highly recommend this place as it is just in the heart of the city:)
Veronika
2016-04-15T00:00:00Z
Room Type
Habitación privada
---
Property Type
Apartment
---
Accommodates
2
---
Bedrooms
Konstanz, Baden-Württemberg, Germany
Rent my studio in Konstanz peter dwell on weekends / holidays. The location is perfect, there are only a few meters to Seerhein and the city center are also in about 10 minutes away.The bicycle apartment has a small fully equipped kitchenette, a bathroom including separate and a small Balkon.Bushaltestellen and the Petershausen Bahnhof, , and shops in the immediate vicinity
Wir haben die Gastgeberin nicht persönlich kennen gelernt. Die Kommunikation lief trotzdem problemlos. Das Zimmer ist ganz in Ordnung, es gab nur Schwierigkeiten unten in das Haus rein zukommen, weil der Schlüssel erst oben erreichbar war. Insgesamt zufrieden
Sha
2017-04-11T00:00:00Z
Mein Freund und ich waren für ein Wochenende in monjas Wohnung und haben uns sehr wohl gefühlt! Die Lage war super, waren zu Fuß innerhalb von 15 min in der Innenstadt. Das Zimmer ist zwar nicht groß aber dafür schön eingerichtet und sauber. Für ein Wochenende völlig ausreichend! Gerne wieder:)
Mara
2017-03-26T00:00:00Z
Das Zimmer war sauber und gut gelegen. Monja ist sehr nett und unkompliziert!
Rossella
2017-03-05T00:00:00Z
-
chindusha
2017-03-19T00:00:00Z
Schönes zentrales Apartment, sauber, Monja war sehr hilfsbereit! Wohnung war im Haus nicht ganz leicht zu finden.
Jan-Niklas
2017-04-10T00:00:00Z
Die Lage der Wohnung ist optimal um in die Stadt zu kommen und trotz Studentenwohnheim ist es sehr ruhig! Die Wohnung ist sauber und die Kommunikation mit Monja klappt wunderbar.
Monika
2017-04-08T00:00:00Z
Room Type
Entire home/apt
---
Property Type
Apartment
---
Accommodates
2
---
Bedrooms
Konstanz, BW, Germany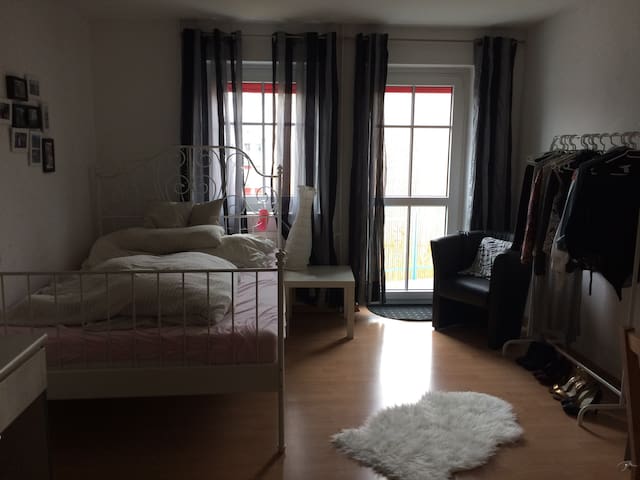 The apartment has a bedroom with double bed and wardrobe, the living room has a large sofa bed with LED TV, free WIFI and piped music. The sun terrace invites you to breakfast, a free garage parking space for your car (max. Height 1.50m) is included. In the fully equipped kitchen next to a Nespresso machine is available also a dishwasher, oven and fridge with freezer.
You book an apartment, which was completed on 1 April 2016 and therefore is in an absolute new. The device is also new and very tastefully chosen, so they made us feel comfortable and at home. For free use is fast Wi-Fi, a flat-screen TV with cable and an underground parking space for your car (max height 1.50m) available. A separate bedroom for two people and a very comfortable sofa bed waiting for two more people to use. In warm weather, a sun terrace invites guests for breakfast. The apartment is fully equipped with heated floors and oak flooring.
The proximity to the lake, the beer gardens and the old town of Constance load after just a few minutes to relax.
We stayed in the apartment, 2 adults and 2 kids, for 10 days. The apartment was great -- exactly as seen in the pictures -- very clean, well equipped and in perfect condition. The apartment is five minutes walk from the river and ten minutes walk from the old city. Well served by public transportation. Julia and Mortiz were also extremely friedly and helpful, gladly assistng us with all our requests. We had a great vacation, and can very highly recommend the apartment.
Michal
2016-08-24T00:00:00Z
It is a cozy, modern and aesthetically equiped place. The flat itself is in a brand new building: everything smells of freshness and cleanliness. The neighborhood is fine, we had no any issues during four days of the stay. The place itself is quite close to a virbant Rhine's riverwalk place of Konstanz with a lot of restaurants and bars. However, at the same time it is far enough not to be disturbed during the night time. It will be really convenient in case you consider to travel by train, as a small railway station it is just arround a corner. Special chapter about the owners, Julia&Moritz... They are the best hosts you can imagine!
Simonas
2016-07-26T00:00:00Z
Julia and Moritz were very welcoming and first hand offered some cold soft drink and a little snack after arriving on a hot summer day. The apartment was modern, clean and new and the neighborhood seemed calm and quiet.
Heidi
2016-06-14T00:00:00Z
Fantastic, clean and stylish flat! Came to Konstanz from the UK for work at the University, which was very easy to get to by public transit and was a lovely walk on nice days. Hosts are very friendly and easy to contact if you need anything. They picked me up at the train station when I arrived which was appreciated. The flat is exactly as described in the ad, which was great (no surprises!). It was very comfortable and quickly felt at home. Everything you needed was only a short, and often picturesque walk away. While close to the train, the building is well insulated and hardly noticed at all. Would highly recommend staying here, and would do so myself again if I find myself in Konstanz again. Thank you for everything!
kelly
2017-04-08T00:00:00Z
Our host warmly welcomed us to the apartment and provided us with lots of helpful information for our stay. The apartment was lovely and clean and looks exactly the same as on the photos. Beds were really comfy and kitchen was well equipped, bathroom had a great shower! Location is fantastic, only a short bus/train journey away from Konstanz but still lots of amenities in Petershausen and so close to the lake! Would highly recommend staying here
rosie
2016-08-28T00:00:00Z
Die Wohnung ist neu und sehr geschmackvoll eingerichtet. Die Ausstatung der Küche hat mich überrascht - es hat an nix gefällt. Man füllt sich sofort wie Zuhause. Die Lage ist ausgezeichnet, man kann zu Fuß in fünf Minuten am Rheinufer und gleich in der Altstadt laufen. Der Empfang durch Julia war sehr angenehm und hilfreich, wir würden jederzeit wiederkommen.
Sanja
2016-07-15T00:00:00Z
Die Wohnung ist sauber, hell und mit allem ausgestattet was man so braucht. Wir haben uns sehr wohl gefühlt und innerhalb weniger Minuten Fußweg war alles zu erreichen: Einkaufsmöglichkeiten, öffentliche Verkehrsmittel, Bodensee und Altstadt. Der Empfang von Julia und Moritz war herzlich und die Empfehlungen hilfreich. Wir hatten einen tollen Aufenthalt!
Tabea
2016-09-30T00:00:00Z
Beschreibung und Fotos der Unterkunft geben den aktuellen Zustand punktgenau wieder: absolut neuwertig und super sauber. Die Gastgeber sind sehr freundlich. Eine Wohnung zum Wohlfühlen!
Arno
2016-08-14T00:00:00Z
Room Type
Entire home/apt
---
Property Type
Apartment
---
Accommodates
4
---
Bedrooms
Konstanz, Baden-Württemberg, Germany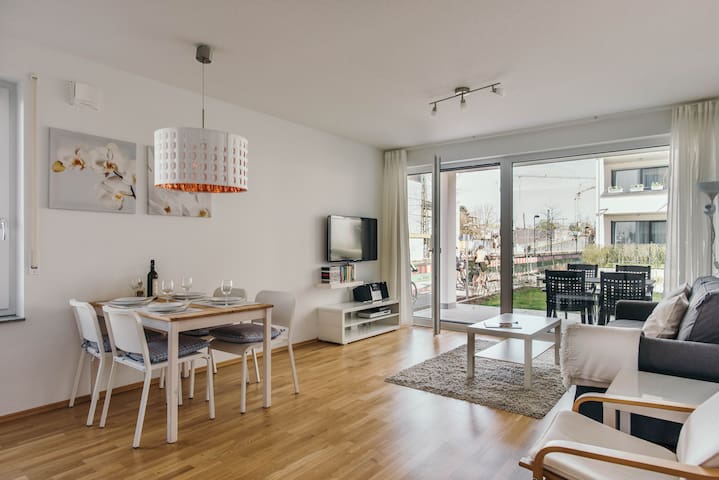 Penthouse Apartment on the 8th floor wird big balkony and a great view on surrounding landscape.
The 17m2 Penthouse Apartment is situated in the ancient City of Constance close to the ancient core. The interior is complete with a kitchenette, sitting- and chillarea with cable TV and WIFi for free. You sleep on 2 beds size 100 x 200cm. Through the small bathromm you get out on the balkony with chillarea. 1 private parkingslot close to the Apartment is available for free. Infrastructure is very good. A bakery with Cafetria, a Supermärkte and 2 citybusstations are in next neighbourhood.
Das Welcome Penthouse Apartment ist eine Stadtwohnung im Grünen mit Seezugang und angrenzendem Naherholungsgebiet "Schänzle"
We were greeted by Axel and shown around. The apartment is small, seems to be partitioned off from a larger apartment. It is on the top floor of a block of flats on the edge of the city, with a large balcony full of plants. Axel also has a great cactus collection out in the hallway. For us the only downside was the kitchenette, with no sink area and only basic equipment - so don't go if you plan on doing a lot of cooking! Otherwise great.
Julian
2017-03-02T00:00:00Z
Axel is super nice and helpful! The apartment is just one room and a bathroom, but there is a small kitchenette. The location isn't in the center of town, but Konstanz is small and there is a bus stop very close.
Andrea
2017-02-22T00:00:00Z
We stayed at Axel's place for a week. The apartment is very cozy and charming with great views of Konstanz. It has what you need for a comfortable stay. Axel was very kind and accommodating to us. I definitely recommend staying at Axel's, it's great for a couple, single, or two friends traveling. The location is excellent, it's a close walk to city center. Thank you Axel for the wonderful stay.
Holly
2017-02-19T00:00:00Z
The host canceled this reservation the day before arrival. This is an automated posting.
Katja
2017-03-24T00:00:00Z
Apartment in a good location, cozy and with a nice view. Axel is a great host, easy to communicate and very welcoming.
Paula
2017-02-08T00:00:00Z
This is my first experience with airbnb. I am glad we went to stay there. It has a great view of the Rhine river. Clean and quiet. Axel is on time and very friendly. I would recommend this place to anyone!
Benjamin
2017-03-29T00:00:00Z
Sehr sauber, angenehme und komfortable Einrichtung, hell, sehr zu empfehlen.
Astrid
2017-03-19T00:00:00Z
Toller, freundlicher, unkomplizierter Gastgeber :) perfekte Unterkunft für einen Trip nach Konstanz!
Lydia
2017-03-01T00:00:00Z
Room Type
Entire home/apt
---
Property Type
Apartment
---
Accommodates
2
---
Bedrooms
Konstanz, Baden-Württemberg, Germany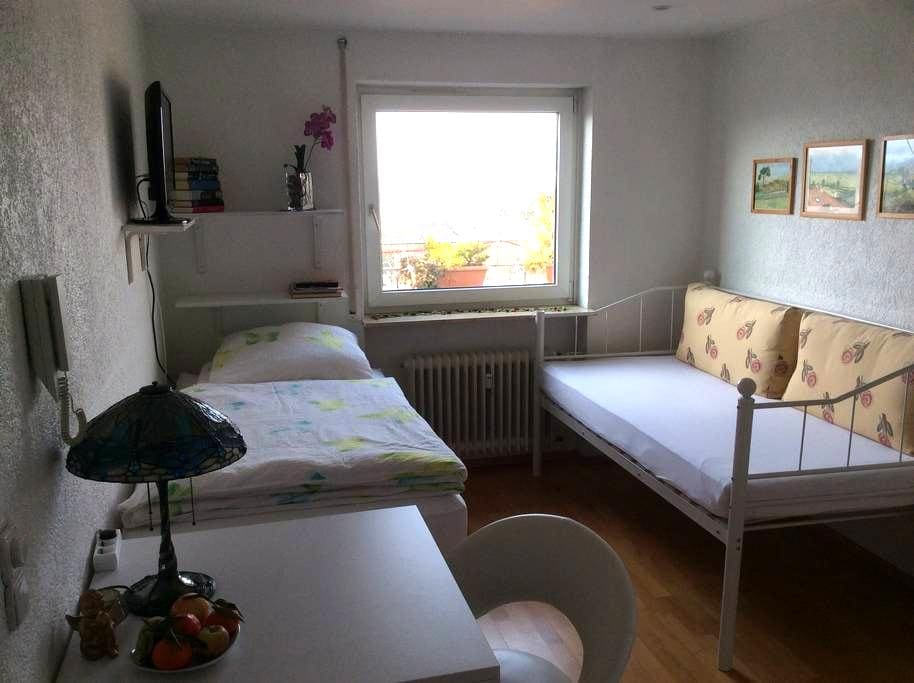 Our smallest: A real Kuschelnest - ideal for individuals or two which may very firmly! Brilliantly equipped with everything you / required female for a short o. Longer stay. Super central location! With balcony ! Floor area: 19 sqm (plus balcony)
From the cozy bed has unobstructed view of the balcony. If necessary, it can be pushed to the couch together and bedding are stored therein. The small kitchenette with dishwasher, refrigerator, stove and sink is cleverly hidden in the high-quality built-in furniture. On the balcony you can enjoy the sun from noon until the early evening hours. The apartment is very quiet (courtyard side).
there are always a few steps to Lake Constance, to the port, the finest restaurants and cafes. The Lago shopping center and the countless boutiques and shops in the best locations in town (Marktstätte, Rosgartenstraße, Kanzleistraße, Obermarkt, Hussenstraße, Wessenbergstrasse etc) are right on your feet.
This was a perfect stay for us. Lydia met us on time, everything was well communicated and the apartment was immaculate and cosy. Highly recommend.
Lauren
2016-12-12T00:00:00Z
There was everything what we needed. The house was so clean. The location was just perfect. We would like to stay there one more time.
Turgay
2016-10-16T00:00:00Z
Michael was super helpful when we made our booking - explaining the best way for us to navigate trains, buses and boats to get from the airport to Konstanz town in great detail. Our apartment was in a great part of town - a few minutes walk from the harbour, train station, shops and restaurants. The furniture and appliances were all modern and we had some really nice evenings just relaxing in the flat with a glass of wine and food. I would highly recommend staying here to anyone visiting the town.
Matt
2015-06-14T00:00:00Z
A very warm welcome and the flat was exactly as described. The only problem was that the weather was very, very hot (something I am very aware that Michael could not control!) so we had to have the windows open ...like everyone (URL HIDDEN) it was very noisy early morning and late evening......but I underline these were extreme circumstances so in no way a criticism of the flat
Ann
2015-07-19T00:00:00Z
We were in Konstanz for two weeks studying German and this place was a fantastic base. Just minutes away from the train station and close to numerous restaurants and bars. Everything in the old town is within walking distance. Washing and any other requests are dealt with promptly too!
Aaron
2016-11-24T00:00:00Z
We liked our stay in Konstanz very much. The apartment is highly comfortable, super clean, well-equipped and ideally located - close to the train station and to the LAGO shopping center. The district is calm and pleasant. The beautiful lake is nearby. DANKE, Michael!
Михаил
2016-05-13T00:00:00Z
This was a really interesting apartment to stay in. Michael is a keen yachtsman and clever yacht fit-out techniques have been used to make this small apartment very roomy for 2 people to stay in. The quality of fittings is excellent and it is well equipped with appliances and kitchen utensils. The balcony catches the afternoon sun and is a great place to sit and have a drink at the end of the day. Very close to the train station and ferries with plenty of eating places nearby...but no noise at night. Michael's communication was excellent. We would recommend this apartment for a short stay in Konstanz.
Jan
2015-09-17T00:00:00Z
The apartment located at the center of Konstanz., very near the railway station. It's very nice and very clean.The style of the apartment is modern and beautiful.Everything is perfect:the comfortable living-room, bedroom. The kitchen is well-equipments. I 'd like to come back again!
Jun
2016-03-27T00:00:00Z
Room Type
Entire home/apt
---
Property Type
Apartment
---
Accommodates
2
---
Bedrooms
Konstanz, Baden-Württemberg, Germany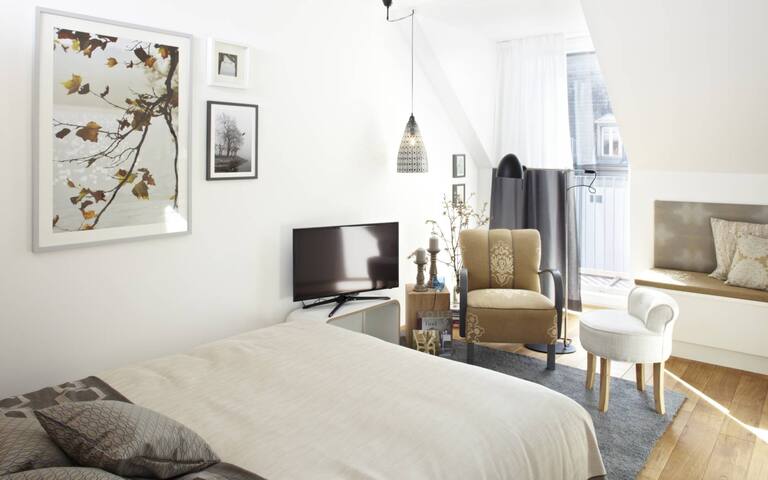 My accommodation is in the immediate vicinity of Lake Constance, walk 15 minutes to the city center along the lake going, with restaurants, shopping facilities, railway station, as well as the rest, swim & sunbathe and quiet walks along the lake and in the forest invite .. .You will be my guest love because of their great location, and the warm atmosphere of love my apartment. The double bed mattress measures 140/200 cm. 2 bikes I have also for guests :)
My apartment is near here at lake constance, 15 minutes go by foot to the city center from the lake, with restaurants, shops, train station ... but also silence, swim & soak up the sun and quiet walks to the lake and in the forest invite ... You're gonna love my apartment because of the site and atmosphere and warm welcome ... The mattress 140/200 cm. 2 bikes I had for my guests too :)
We spend a really wonderful time at Anne-Mireilles place. She is a great Hostess, we felt like home. If you are searching for a great and lovely place to spend your weekend you are going to land at the right place. A wonderful and quite neighborhood and in the heart of Konstanz.
Klea
2016-07-18T00:00:00Z
The host canceled this reservation 28 days before arrival. This is an automated posting.
Ulrich
2016-08-11T00:00:00Z
Un séjour idéal mais trop court. Anne-Mireille est un ange de gentillesse. Aux petits soins pour tout (restaurant réservé, petit déjeuner délicieux et original, terrasse illuminée de bougies à notre retour de diner avec boissons pour nous détendre, infusion pour dormir ...). L'emplacement est idéal, au calme dans le quartier résidentiel au bord du lac et à 15mn à pied du centre historique de Konstanz que l'on fait avec joie puisqu'il suffit de longer la berge du lac pour y arriver. Les maisons sont d'une architecture grandiose. Un bonheur à recommander. Nous reviendrons car la ville et les promenades autour du lac méritent et pour au moins 2 nuits ! Merci AM et à bientôt. Karine et Jeanphilip
jean-philippe
2016-08-17T00:00:00Z
sehr gute ruhige Lage, entsprach voll unseren Erwartungen, liebevolles Frühstück
Ursula
2016-09-22T00:00:00Z
Mon épouse & moi avons reçu un très bon accueil chez Anne-Mireille. Son appartement est fort agréable, bien lumineux, calme et très bien situé par rapport à la ville, laissant aux déplacements à vélo tous leurs bienfaits :-) . Toutes nos questions et autres aspects pratiques liés à Constance et ses alentours ont trouvé réponses et nous lui sommes reconnaissants pour sa disponibilité et sa courtoisie. Nous espérons pouvoir revenir bientôt à une autre occasion et poursuivre la découverte de la région.
Stephane
2016-08-01T00:00:00Z
Anne-Mireille mi ha fatto sentire talmente a casa che sono partita da Konstanz a malincuore e con la voglia di tornare, per rimanere più a lungo. La casa è meravigliosa, curata fin nel minimo dettaglio, a due passi dal lago e immersa nel verde.
Federica
2016-09-24T00:00:00Z
Anne-Mireille hat alles perfekt vorbereitet und mit viel Liebe zum Detail dafür gesorgt, dass wir uns sofort wohl gefühlt haben. Die Lage und das Ambiente ist traumhaft und das Frühstück umfangreich und lecker.
Wiebke
2016-11-18T00:00:00Z
Ich habe mich bei Anne-Mireille sehr wohl gefühlt, die Unterkunft liegt in bester, ruhigster Wohnlage in Konstanz. Die Altstadt ist gut zu Fuß erreichbar. Am Morgen erwartete uns ein wunderbares Frühstück in der gemütlichen Küche. :-) Rasada
Rasada
2016-10-09T00:00:00Z
Room Type
Habitación privada
---
Property Type
Apartment
---
Accommodates
2
---
Bedrooms
Konstanz, Baden-Württemberg, Germany
The apartment is located in the old city of Konstanz. The historical building is more than hundred years old. The cozy apartment on the third floor is a Maisonette. Only 12 minutes on foot away from the main Station and close the pedestrian area.
The comfortable apartment is a Maisonette, equipped with a Queen-size bed(1,80 x 2,00 m) in the bedroom at the top, commode and writing table. The combined living-and bedroom is equipped with a sofabed (1,60 x 2,00 m), dinette, TV, DVD and stereo system. The brandnew kitchenette is equipped with dishwasher, microwave, refrigerator, kitchen stove etc. The bathroom is furnished with a bathtub combined with shower, toilet and washbasin. Laundry mashine and dryer are located in the cellar. Linen, bedsheets, towels and dishclothes are provided. The whole living space has 49 m². The Apartment is located on the third floor. Please notice, there is no elevator.
The apartment is close the pedestrian area, where you will find shops, cafès and restaurants. The Rhine and the Lake Constance are within walking distance to take a bath ;).
Ivonne is a great host and very punctual and responses quickly
Nischitha
2016-10-26T00:00:00Z
Ivonne was a great host. The apartment is well furnished, and is a great location in the old town. Ivonne kindly arranged parking permits for us for our time in Konstanz, and we have a really nice time. Shame we were only there for 2 nights, would have liked to stay longer.
Martin
2016-07-16T00:00:00Z
Wow, beautiful charming historic building updated with everything we needed: beautiful modern bathroom and kitchen, ultra comfortable bed in upstairs loft, pod coffee maker, wifi, you name it. Perfect location in central Konstanz. We walked everywhere. So convenient and charming. Spotlessly Clean. Extremely well cared-for property and lovely hosts.
Catherine
2016-12-30T00:00:00Z
excellent all round
bruce
2016-08-10T00:00:00Z
This is a lovely apartment with very nice updated accommodations and tasteful decorations. We only stayed one night but were able to explore the old town which was just within walking distance. Ivonne gave us a recommendation to a great German restaurant called "Wallgut" just down the street. We would stay here again if we came back to this area.
Angelica
2016-07-03T00:00:00Z
Ivonne's place is truly in the heart of Konstanz, right opposite the Winebar "Schwarze Katz" - we enjoyed Carneval there, for which it was just perfect, but it is also the ideal place for visiting the city in general. Ivonne was very friendly and welcoming and her flat is just beautiful!
Christina
2017-02-24T00:00:00Z
This is a great place to stay in Konstanz 5-Star in every respect. Exquisitely and luxuriously decorated with an amazing attention to detail down to the q-tips in the bathroom, a first aid cabinet, two ways to make coffee and even a working egg-cooker. Thanks Ivonne for make this apartment available to Airbnb guests.
Robb
2016-10-20T00:00:00Z
We spent an amazing day in Constance! A big part of that was Ivonnes amazing Apartment. It is perfectly located in the center of the Old-town. Its charming setup (Bedroom in the topmost floor) is perfect for couples ;-) I'll definitely stay in Ivonnes Apartment again.
Markus
2016-06-05T00:00:00Z
Room Type
Entire home/apt
---
Property Type
Apartment
---
Accommodates
4
---
Bedrooms
Konstanz, Baden-Württemberg, Germany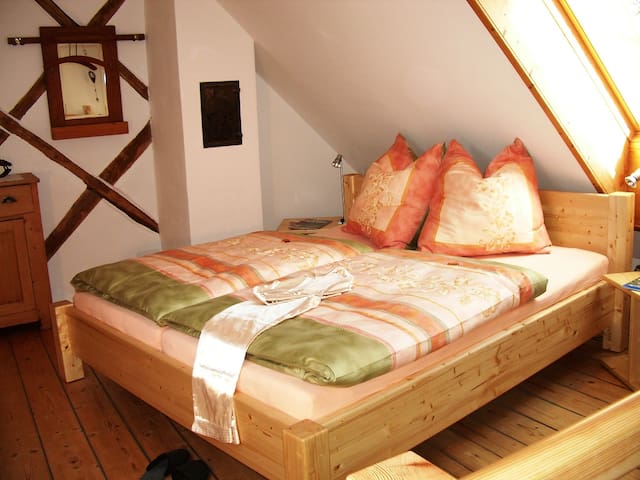 My house is near Lake Constance, Old Town, cathedral, museums, (station, port remote bus stop Döbele, Convention Center Bodensee Forum) 10-15 min walk. Shops, bakeries, restaurants, Fachhochschule in the neighborhood. You'll love because central but quiet location my guest. My accommodation is good for couples, solo adventurer, business traveler and families (with children).
The apartment is centrally located and the communication with Walter was very well. We were two and the space was enough but I think it is too small for three. Otherwise the one-room-apartment is functional equipped and good if you only want to stay for sleeping. It was offered that any shortcomings will be taken care of during our stay, to avoid negative ratings. I agree however a basic cleanliness should be given. Unfortunately it was a bit grubby in general. Therefor I decided to mention it only in the rating. Die Lage der Wohnung ist super und die Absprache hat mit Walter wunderbar funktioniert. Wir waren zu zweit und der Platz hat ausgereicht. Zu Dritt stell ich es mir dann doch sehr eng vor. Ansonsten ist die Ein-Zimmer-Wohnung zweckmäßig eingerichtet und gut dafür geeignet, wenn man nur eine Übernachtung benötigt. Es wurde angeboten, jegliche Mängel während dem Aufenthalt zu beheben, sofern man sie auch nennt, um negative Bewertungen zu vermeiden. Dem stimme ich auch zu, jedoch finde ich eine Grundsauberkeit sollte gegeben sein. Leider war es etwas schmuddelig im Allgemeinen. Daher habe ich mich entschieden, dies nur in der Bewertung zu erwähnen.
Martina
2017-02-26T00:00:00Z
Very nice stay! The place is really close to the Old Town, Host very helpful, he found us even a parking spot:) Perfect for short stays!
Paweł
2016-12-11T00:00:00Z
The house is very warm and close to Kostanz center. Every thing is like the photo and the guest are so kind and friendly. If you have to stay in Kostanz for a few days this apartment is very confortable! Ah! There is a lovely balcony too!
Paola
2016-12-30T00:00:00Z
My gf and I loved it :) Walter was very welcoming and helped us out with the public transport in Konstanz. The apartment is small, but lovely. We definitely recommend it to anyone visiting Konstanz!!!
Hardy E.
2017-02-12T00:00:00Z
My friend and I had a weekend stay at Walter's place (Walter is the cohost). It has two separate beds which was convenient for us and it was very centrally located. (15mn walk to the train station). Walter was very friendly and gave us a lot if information about the city.
Nathalie
2017-01-22T00:00:00Z
Walter was an outstanding host! He found us a place to park our car and even offered to show us around the city. We did not take him up on his offer because it was raining and (URL HIDDEN) was very nice of him. Great location to enjoy Constanz!
Larry
2017-03-19T00:00:00Z
Nirajan was a very helpful and friendly Host - he responded immediatly to all our questions and was very attentive regarding our check-in and check-out times.
Elena
2017-02-19T00:00:00Z
Great, one-room apartment with a small kitchen attached. Beautiful balcony. Great communication. I'd stay again.
Peter
2017-04-02T00:00:00Z
Room Type
Entire home/apt
---
Property Type
Apartment
---
Accommodates
3
---
Bedrooms
Konstanz, Baden-Württemberg, Germany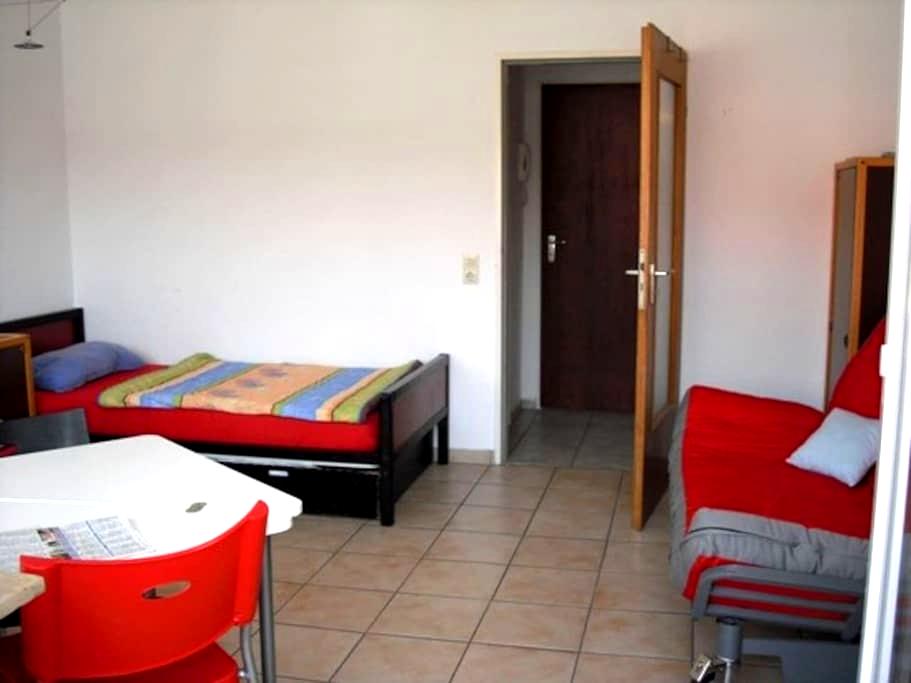 Charming, cozy rooms in a family atmosphere. Ideal for one person or 2 people who want to get along / travel, explore the constancy or retreat simply times from everyday life and well! The room is centrally located, in direct proximity to the station, the lake and downtown. Tourist tax see "more important details"
We like besonderst our apartment ...... ....... The central location, its old buildings charm, the creaky, old wooden floor and of course the Schmusekater (of mostly hiding :-) The room is, as seen in the photo, furnished with a futon. load table and chairs to relax (breakfast / coffee). Space for your personal belongings can be found on the shelves. Kitchen can be used like for breakfast. Coffee and tea are available for free. Other times by arrangement like :-) The family is at our guests in the period 7-22 hours a day.
The proximity to the lake, in the city center. The short way in the evening after a nice restaurant visit home :-)
We had a lovely stay with Heike and her family, although it was just for one night. The apartment is in a great location, with everything you need at the doorstep.
Prue
2016-10-03T00:00:00Z
The position is perfect, close to the station and the center of the town. Heike was kind and nice with us. The room is cosy
Alberto
2016-08-02T00:00:00Z
Great place to stay, close to publick transport and exploring by walking around.
Rentia
2016-12-01T00:00:00Z
Heike and her family are kind and really welcoming. It's been a wonderful experience!
Jorge
2017-02-11T00:00:00Z
Heike and her family was kind to us even we only stay one night. we got lost and her daughter was nice to find us and bring us to their's house. the room was lovely and exactly like pics. Heike left us fresh towels. we don't have much time to chat but I'm highly recommend anyone to stay in Heike's home:)
YiPing
2016-10-25T00:00:00Z
The room is pretty lovely and the bed is large and soft. Though it is in summer but the room is quiet cool at all. The location is perfect just next to train station and shopping mall. I do recommend this room~ Thanks Heike~
Roscoe
2016-07-06T00:00:00Z
A good host to give me many help.
CHAORAN
2016-06-25T00:00:00Z
Heike and her family are wonderful hosts. We sent our request at short notice and Heike immediately replied. The place is situated in the midst of the old-town, restaurants, shops, and public transport is just around the corner. It's super close to the railway station and the lake is just 2 minutes away. Heike's apartment is nicely decorated and everything is clean and welcoming. Everything was organised well, Heike gave us all the information necessary that made our trip just perfect. For sure we will stay with Heike again.
Manu
2016-03-12T00:00:00Z
Room Type
Habitación privada
---
Property Type
Apartment
---
Accommodates
2
---
Bedrooms
Konstanz, Deutschland, Germany
1

–

18

of

242 Apartment Rentals
Enter dates to see full pricing. Additional fees apply. Taxes may be added.