My room is close to public transport. Reasons that my room will like: neighborhood, comfortable bed, light cuisine and comfortable environment. My space is suitable for couples, activities for an individual and families (with children).
Room Type
Habitación privada
---
Property Type
House
---
Accommodates
2
---
Bedrooms
Glinado, Egeo, Greece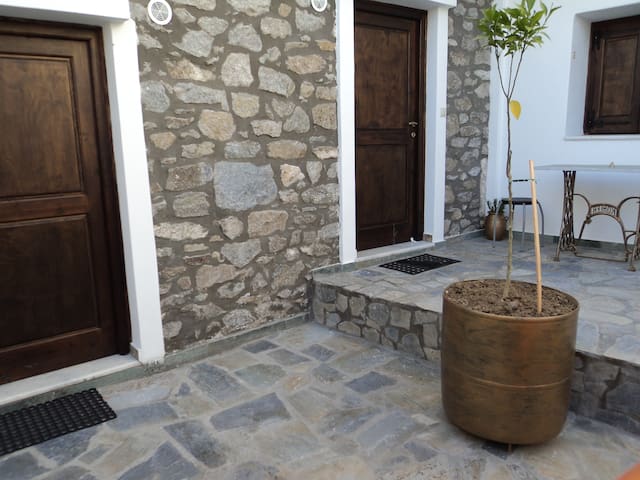 Fully equipped house inbetween the villages of Glinado and Biblos. Xora and most of the beautiful beaches are only 5km away. The location is ideal for those who want to visit the villages and beaches all over the island. Τhe house is absoluty satisfying.Its very bright, with breathtaking panoramic view, peacelull, with a really good energy.
The house is very bright and peacefull. It s ideal for families and couples and also for a company of friends looking for smooth, comfortable vacation. The big terrace has a panoramic view and a bench with a table where you can take your breakfast or your dinner while you are looking the breathtaking view of the sunset.
The house is located in a farm which is very close to Glinado village. The access to the nearest mini market of the village is 5 min. by foot. It's a rural residential area with distance neighbours and you will need a car to get anywhere.
The overall experience was just perfect! Despoina as a hostess was super. A very polite, communicative person always willing to provide anything you may need. The detached house is exactly as presented. Very comfortable and good decorated. It provides all the amenties that are described. Located in a very quiet area with a wonderful, panoramic view of sea and Glinado village. The sunset from the large veranda, is outstanding! A car is needed to reach the beaches. We would definitely recommend this place.
Spiros
2016-07-31T00:00:00Z
We stayed for 6 nights and had a great time. Despoina is a fantastic host, very kind and easy to communicate with, very responsive. The house was as presented in the photos, all the rooms are clean with great terrace and beautiful view. It's well equipped with all that you need. It is a detached house outside the village of Glinado with a big plot of land and distant neighbours so very peaceful and serene. It's a rural residential area and you need a car to get anywhere, even to the village and the nearest shop. We were not bothered by this. Glinado is in a great location to access the most beautiful beaches on the west coast, all of which are max 30 min drive. We used two bedrooms. Great big terrace.
Marika
2016-06-23T00:00:00Z
Excellent house , very clean. Host was very friendly and provided everything that anyone would wish to have for a smooth holiday. Would stay there again.
Ilias
2016-08-06T00:00:00Z
Room Type
Entire home/apt
---
Property Type
House
---
Accommodates
4
---
Bedrooms
Glinado, Egeo, Greece
Villa Cyclades is located in the beautiful village of Glinado with a unique view to Naxos town but also to the sea. Two level house that can accommodate up to 9 people.
Villa Cyclades is located in the beautiful village of Glinado, this strategic position is the perfect choice for who wants to discover the Island and escape from the noise of the most crowed areas. The house is 2 min walk from the bus stop and mini-market, butcher shop and Local Taverna's where you can interact with Locals and feel the real Greek Hospitality Two levels villa in the beautiful village of Glinado, 5 km from the town and 5 km from the nearest beach .The villa has 3 bedrooms , 2 bathrooms with shower ,kitchen , living room, garden, patio, outdoor BBQ, washing machine, air condition.Can accommodate up to 9 people. The ground floor consists of a fully equipped kitchen with all the necessary appliances, a microwave, a coffee machine, a dishwasher machine, a toaster, a juice maker , an oven, a fridge, lunch table. One bed room with a double bed and a single bed , bathroom and access to the patio. The top floor consists of 1 bedroom with double bed , 1 bedroom with two single beds and a living room with sofa bed , a bar , a bathroom with shower and a veranda with outdoor dining table. On the top of the house there is an sitting area so you can enjoy the most beautiful and romantic sunset. You can enjoy the view to the town , the village and the sea. In the patio with the garden you can find an outdoor BBQ , a dinner table and a bathroom with shower. The house is very private and the neighbor very quiet and safe.
Very nice house in perfect greek style, well placed to visit the best beaches in Naxos.The house is very spacious and equipped with every comfort. Many thanks to Despoina and Luca helping us to better organize our staying in Naxos.
Silvia
2016-08-07T00:00:00Z
The host canceled this reservation 182 days before arrival. This is an automated posting.
Sandrine
2017-02-09T00:00:00Z
Casa bellissima, ancora più bella che nelle foto, spaziosa, ben attrezzata, con un ampio spazio esterno con griglia! Molto pulita e confortevole. Come posizione è comoda per raggiungere le spiagge più belle di Naxos e per visitare l'entroterra. I padroni sono gentilissimi e ci hanno aiutato in tutta l'organizzazione del nostro soggiorno. Ci tornerei subito!!
Elisa
2016-08-23T00:00:00Z
Room Type
Entire home/apt
---
Property Type
House
---
Accommodates
9
---
Bedrooms
Glinado, Greece
120sqm traditional castle built in 16th century, renovated, spacious living room with a double bed-sofa and fireplace, 2 bedrooms, one bathroom, one half-bathroom, excellent panoramic sea view, 90sqm verandas, tv, fully equipped kitchen, big yard.
Room Type
Entire home/apt
---
Property Type
House
---
Accommodates
7
---
Bedrooms
Glinado, Egeo, Greece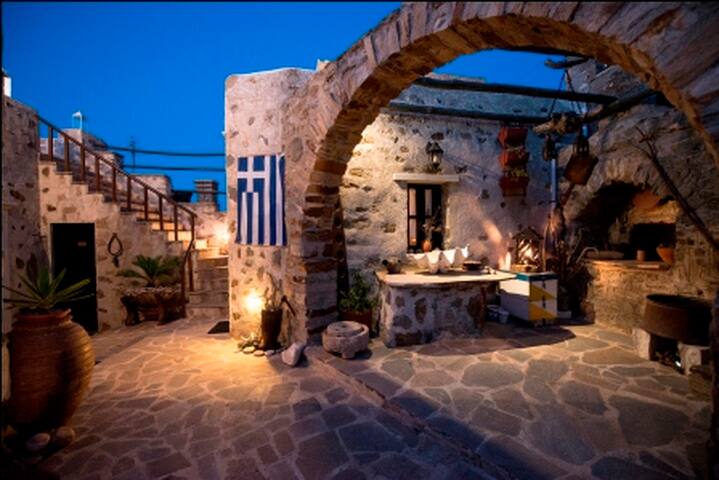 On two floors. On the upper floor double bedroom, shower room and verandas with sea view; on the ground floor kitchen/living room with a sofa bed and additional shower room. Outdoor seating area under the cedar trees.
It has two levels and boasts the largest cedar in the compound. The second floor comprises a double bedroom and bathroom, two verandas, one of them pergola shaded, both with a view of the sea. The ground floor consists of a kitchen and living area, a second bathroom and a pergola shaded veranda. A patio with a dining area is situated under the shade of the cedar trees. This beautiful villa comes with gardens on both levels. The villa is part of a complex comprising nine villas and three suites. Each villa and suite boasts a panoramic view of the seascape and Naxos Town and is surrounded by gardens with trees and plants.
Centrally located: 1.2 km from Agios Prokopios beach, one of the best beaches for swimming with its white sand and crystal clear waters and 550 m. from Laguna beach, ideal for windsurfing. Naxos Town ("Hora") is just a short drive away. Distances from the property. Port: 4.6 km Naxos Airport (JNX): 2.2 km Naxos Town/'Hora' (centre): 3.8 km Marina (Naxos Town): 4.4 km Bus stop: at the entrance to the complex Stelida beach ('Laguna'): 550 m Agios Prokopios beach: 1.2 km Agia Anna beach: 1.5 km Plaka beach: 2.8 km Village of Agios Prokopios: 1 km Water slides: 250 m Petrol station: 900 m Super market: 1 km ATM: 1.1 km Pharmacy: 1.1 km Restaurants, tavernas, cafés: 1.2 km
We felt like we were home here. The toom was so spacious and clean. There are many outdoor terraces to relax. The pool is excellent and the pool beds a perfect invitation to rest after rinning around Naxos. Our hosts were so gentle, kind and thorough with every aspect of our stay. The breakfasts are gorgeous not to mention generous and delicious. The location is perfect access to town, beaches or roads to explore the rest of the island. Highly recommend Kedris Villas.
Pamela
2016-09-20T00:00:00Z
A beautiful week in a stunning private villa. Incredible value for money coupled with first class service, care and friendly hospitality. We couldn't fault our stay at all and wouldn't hesitate to return or recommend to anyone.
Neil
2016-07-30T00:00:00Z
The Kedros Villas are an amazing gem on Naxos. Our villa was very roomy and had all the amenities we needed. Though it was a little too cold for the pool during our stay, the pool area was very clean and the pool itself looked very refreshing. The villas are located between Naxos town and the beach making them quite the ideal location. Renting a car or scooter is probably a good idea since Naxos is very big, but we relied on walking and the public bus and still had an easy enough time getting around. The best part of Kedros Villas is Maroula and her mother. Maroula is a wealth of information and helped us with all our questions and requests. Her mother makes an amazing breakfast spread based on individual requests using ingredients local to Naxos. The breakfast is delicious and keeps you full all day. I highly recommend staying at Kedros Villas if you visit Naxos, it will not disappoint.
Katie
2016-10-20T00:00:00Z
I stayed at Maroula's villa while my boyfriend and I stopped at Naxos on our Cyclades island hopping trip. We loved our stay here so much, that we opted to stay 3 extra nights, and Maroula was able to offer us another property at Kedros Villas as this villa was booked up! Maroula and all the staff are the most helpful and friendliest we've met on our trip so far. Take her advice on restaurants and things to do, you won't be disappointed. The breakfast was amazing every morning and the pool and surrounding area is the perfect chill out spot. Great wifi, and only a short distance from the best beaches - but renting a car or ATV is a must if you want to explore the island.
Louise
2016-09-16T00:00:00Z
This Airbnb is one of the best we've ever visited. Maroula went above and beyond during the off season to help us find excursions and a quad to explore the island. Communication was fast and easy to follow. The house was large and comfortable. Everything was always clean as there was daily cleaning. We appreciated having a kitchen though we didn't use it except for the dishes for drinks. The pool was amazing and the day beds perfect to relax on in the sun. The breakfasts here are amazing, fresh and so delicious! We are pretty sure we gained weight from all the delicious foods. All restaurants that were recommended were also top notch. We also really appreciated having a cab called for us on the morning of our departure so we arrived to the port in good time. We highly recommend this Airbnb!
Kurt & Alysha
2016-10-28T00:00:00Z
Maroulas place was exquisite. From the get go off of the port it's simple and easy to get to her place with the bus stopping a few feet away. Getting to and from the apartment is really easy since buses operate during high season rather frequent. She is also happy to arrange a taxi service to get to and from anywhere you would like to go. She also has bus tickets for purchase at the concierge desk. This place rivals some hotels I've been to. It's sleek, quiet, a private recluse but so easy to get to. There are fantastic beaches and getaway parts of the island within walking distance. Maroula is a fantastic host. She is warm and welcoming, the villa that we stayed at was two floors polished off with marble in exquisite detail. The decor, double bathroom, shower, sundeck, living room and kitchen. I only wish me and my gf stayed longer. Their breakfast buffet is outstanding and the staff is on par with the best professionals out there. Maroula gave us a tour of the place and the villa that was very informative, went over great places on a map and also gave us wonderful recommendations based on what we needed. She even greater us with this fabulous tasty grape drink. What a treat on a hot day! We loved the beach so she gave us a place to go that was her favorite and within walking distance. It was marvelous. Returning here is not only a privilege it's something I very much look forward to. Naxos is mystical, beautiful and wondrous. The food is amazing and trust me when I say there is no better host to have than her. Definitely will be back!!
John
2016-08-03T00:00:00Z
We have had a wonderful night at Maroula's place..a nice swim in our 'private' swimmingpool and a great breakfast! A kind and warm welcome as a start I can recommend for everybody who want to explore Naxos. Thanks a lot and if we come again from your neighbouring island Paros, we'll check in!
Reinier, Lars en Jord
2016-04-21T00:00:00Z
We had an amazing experience at the Kedros Villas thanks to Maroula and her family. They were extremely friendly and helpful, sorting out everything from our taxi transfer to-and-from the port to arranging ATVs for us for the duration of our stay. We stayed in the Laurel Villa, which was lovely and spacious. We had two floors. The ground floor had the kitchen, living room, bathroom and bedroom with two twin beds. The second floor contained a bathroom and a bedroom, but also a huge wraparound deck with amazing sea views on one side and mountain views on the other. We were also offered breakfast in the morning, which we definitely took advantage of! The pool was amazing -- even better in person than in pictures. Thanks to Maroula and family for making our first trip to Naxos so memorable!
Cassie
2016-07-15T00:00:00Z
Room Type
Entire home/apt
---
Property Type
House
---
Accommodates
3
---
Bedrooms
Naxos, Egeo, Greece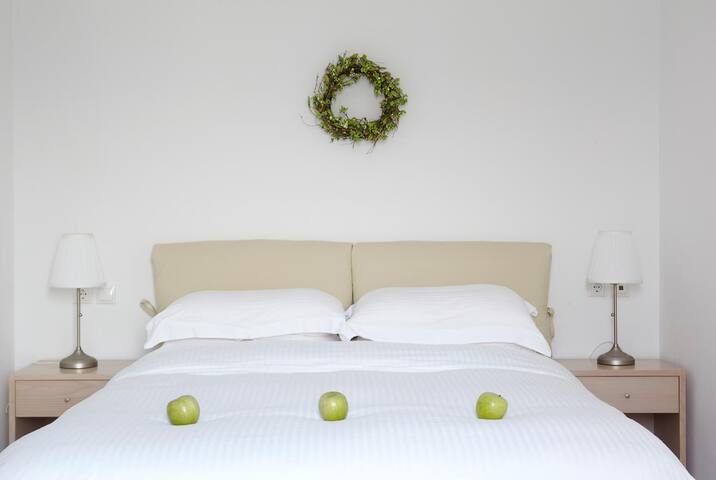 Close to Naxos Town and away from the crowds, this lovely villa is located in a wonderful 2sq.m. garden, totally independent where you may enjoy and collect fresh fruits, strawberries, figues, tomatoes. A camper van is also available in our garden. In case you wish to stay with us during winter for a month or more, we will make a special rate. During winter, if you wish to stay with us, our rate per month is 300euros , electricity is not included in our rate.
Our villa is located in a colorful garden full of trees, only 1 klm from Naxos Port and totally independent. The villa has a bedroom, a dressing room, and a fully equipped kitchen, flat screen TV(smart TV),an(URL HIDDEN) A.C. There is also a camper van with a bedroom for two and private bathrom.
Aspasia became more than a host : she became a friend. She is probably the nicest people in Earth. The place is incredible. I 'll never forget my experience in Naxos thanks to her.
Théo
2016-06-26T00:00:00Z
Very charming house! We've enjoyed our time in Naxos and all the tasty fruits in the garden. Aspasia was an amazing host, she took on her time to show us aroud the city, made us disvover good restaurants and came to pick us up at the port. We've felt at home!
Coline
2016-07-21T00:00:00Z
We loved our stay, the apartment had everything we needed and in a good location. It was clean and comfortable. Aspasia was amazing and helpful she picked us up from the port and dropped us off when we left. She made us feel really welcome and was in contact for anything we needed, we recommend her to everyone she was so lovely! The garden was really charming and it all felt homely :-)
Jo
2016-10-03T00:00:00Z
great welcoming, the house is very charming with a garden very appréciable. all information needed were provided. very peaceful
pierre
2016-08-10T00:00:00Z
Lovely flat, charming garden everything was clean and comfortable. Aspasia is so lovely and a really good host! Highly recommend anyone staying with Aspasia :-)
Jo
2016-10-04T00:00:00Z
Apasia's place is great, with a really nice garden. The studio is really comfortable, with enough place for a couple. A little outside city center, but perfect to live like the Greeks!
Gabriel & Mina
2016-07-14T00:00:00Z
Aspasia gave me a warm and friendly welcome. She waited for me at the port for my late ferry and picked me up to give me a ride to her house. She picked fresh fruits from her farm and offered them to me. The description of her place is accurate. The location is quiet and peaceful, very relaxing countryside feeling, although it's still possible to walk to the port on foot. All in all, Aspasia was a fantastic host who provided a place with great value. I would recommend it to anyone staying at Naxos.
Alex
2016-07-28T00:00:00Z
We stayed for 30 days at Aspasia's place. It is a cosy, clean, private, serene place with clean air; free from city pollution. The place has lemon trees, orange, olive, fig, pomegranate, grape vines, vegetable gardens and tomato bushes. She also has some chickens and rabbits in the property, a real rural gem property. We enjoyed sitting at the porch when the sun is shining and the weather is warm. Aspasia is very nice, friendly and thoughtful, with very active three young children and friendly husband. When they visit, they always have some surprises for us, bread and oranges. When we arrived, she picked us up at the port, she had cooked meal ready for us, bread and olive oil as well. Three days after our arrival, I got sick and she drove us to the emergency room in the local hospital and stayed with us, until the doctor took me in for examination. She always getting in touch with us, asking if we need anything or wanted something. For Christmas she made us Moussaka and for New Year, cake with coin inside for well wishing. She is a very thoughtful person. Her place is a little bit out of the way from the city centre, port and grocery stores, but not a problem for someone who likes to walk as part of exercise. We don't find it an issue the distance, because we enjoy walking. We recommend her place for those who want to come to Naxos.
Tessie
2017-01-03T00:00:00Z
Room Type
Entire home/apt
---
Property Type
House
---
Accommodates
4
---
Bedrooms
Naxos, Egeo, Greece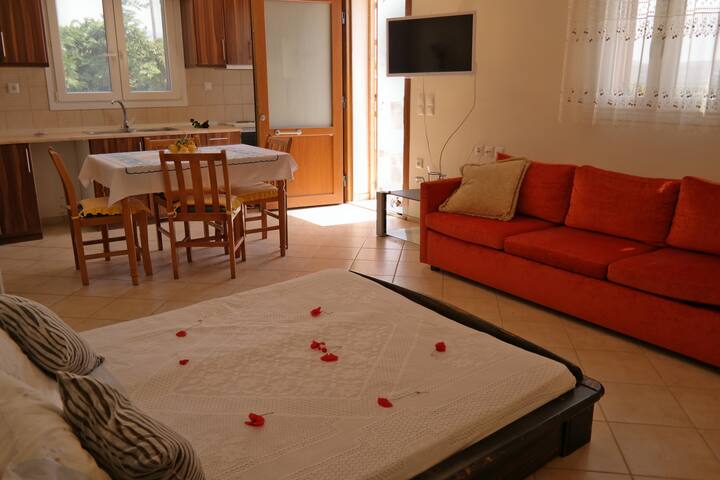 Our home is a 3 bedroom, 2 bathroom, full kitchen and living room overlooking the St-George Beach, Chora (main town) and the lush mountains of Naxos. 2 minute walk to the beach and 10 minute walk to the town.
Iliana by the beach is our family home built on land that was owned by my great grandfather. The home was built keeping true to the traditional Naxian architecture. We created our home to be beautiful, relaxing and create a memorable experience in this majestic, rich and fertile land. The property is located in front of the St-George beach, one (2) minute walking distance to the beach and 10 minute walk to the main town Chora. The land is approximately 1,700 sq. m. in size and the home for rent is on the upper floor and is 100 sq. m. of space (each floor), with full panoramic view of the beach, Chora (main town) and the mountains of the island. The home has 3 bedrooms each with its own balcony, 2 bathrooms, one in the master bedroom and one located in the hallway near both the other 2 bedrooms and can accommodate up to 6 people. There is a full kitchen, with fridge, stove, dishwasher, microwave, and all other electrical appliances and cooking utensils. The main bathroom has a bath and shower with washing machine and dryer. T.V., video and WiFi are all included. Supermarkets, shops, restaurants, bars, pharmacies, car and bike rentals are all in walking distance. Various tours are offered to visit the island. There is an airport, hospital and the island is equipped with everything you will need during your stay. In the summer and fall season, you will be able to enjoy fresh vegetables and fruits from my father's garden. You can contact me at (EMAIL HIDDEN) or call at (PHONE NUMBER HIDDEN) or (PHONE NUMBER HIDDEN) and ask for Anna.
Quiet, In front of the beach, close to main town, restaurants, night life and so many other activities to do. i.e tennis, water sports rentals next to our property.
A nice big spacious house with amazing views of the beach and sunset. The place was clean, tidy and spacious. Location is great and rivht on the beach. The town is only 5 minute walk and great places to eat. We really enjoyed our stay here. Pity we had gale force winds and couldn't enjoy the beach.
Lea
2016-09-05T00:00:00Z
We came back at Anna's house for the second time. Our experience was anazing, as it was the first time we've been there. Anna's family is very hospitable and warm. Her father is very sweet, he took good care of us, offered us fruits from his garden and was willing to help us with whatever we needed. We hope to visit Naxos and stay at Anna's house for a third time as well!
Elpie
2015-08-11T00:00:00Z
The place is lovely! It is a huge space with 3 large bedrooms, 2 bathrooms, a living room and kitchen, and 4 balconies. It's located on the second floor, and the parents of the host live on the first floor. The beds were very hard, but the House was clean and had air conditioning. We had a group of 6 and had tons of space. The location is perfect - it is 1 minute away from st.georges beach which is full of beach umbrellas and lounge chairs and restaurants. It is about a 10 minute (or less) walk to the centre of Naxos and the marina. Perfect location! Here you can rent cars and quads etc. There is a supermarket about 2 minutes away as well. The old couple downstairs is very friendly and can help with anything you need. They will also let you know if you have left a light on etc :) The only problem we had was the wireless - it did not work our entire stay- and that there were no beach towels. But we bought a few for 6 euros which were great! Highly recommended!
Theresa
2014-09-17T00:00:00Z
A group of 6 of us stayed at Iliana by the Beach in mid July and loved it. We were picked up at the port by a taxi service and taken to a beautiful house less than 100m from Agios Georgios beach. The place was clean, with 3 large bedrooms, 4 balconies and clean sheets and towels. the owner's (Anna) father that lives underneath was so generous and kind to all of us and made sure our stay was as comfortable as possible. The house was also in close proximity to the town and supermarket. Overall I would definitely return to this lovely house.
Danielle
2014-07-22T00:00:00Z
Our 10 night stay in Naxos at Anna's 3 bedroom home was fantastic! Her father was very kind and generous providing us with fresh fruit and vegetables from his own garden. The apartment is light, clean and comfortable. Close to town, shops, bus services and the beach is 100 metres away with gorgeous sea views and awesome sun sets most nights. Highly recommend this place and would stay again.
David
2015-09-05T00:00:00Z
Host parents made us feel very welcome on arrival. My son loved the friendly dog! Really big apartment with a fabulous view for sunsets over the sea. Minutes walk to the sea and a lovely bar on the beach recommended by the family. Apartment is as described, immaculately clean and tidy. Would love to return here!
susan
2016-08-12T00:00:00Z
Staying here was like visiting family. The house was steps from St George beach, which was perfect for our 4 young kids. To get into town there is a road that takes you about 10min from the house to the center. The apartment was nicely decorated and everything that we needed was there. Anna's parents live downstairs and they are kind, warm and welcoming. They invited us all in for coffee and my kids were playing with their puppy constantly. It was a pleasure staying here and getting to know them, we truly didn't want to leave. Staying here was one of the favorite things about our Greek vacation and I would absolutely stay here again.
Nicole
2016-03-09T00:00:00Z
Anna's apartment was just as described. It was beautiful, spacious, light and airy. The front balcony had a great view of the ocean and of the sunset. The apartment is within walking distance of the beach and the town. The washer and drier were definitely a plus. Anna's parents, who live below the apartment, were kind, gracious and helpful.
Rafael
2014-10-15T00:00:00Z
Room Type
Entire home/apt
---
Property Type
House
---
Accommodates
6
---
Bedrooms
Naxos, Greece, Greece
Graziosa dependance indipendente nel caratteristico paesino di Sangri al centro dell'area archeologica più importante dell'isola. Da qui è possibile visitare tutti i monumenti archeologici e raggiungere le spiagge su tutti i versanti dell'isola.
La casa è costituita da angolo cottura a due fuochi e frigorifero, bagno con doccia e da un ambiente principale dotato di letto matrimoniale, armadio a tre ante e divano trasformabile in due letti singoli e tavolo. Annesso alla dependance porticato 5.50x4 con tavolo, quattro sedie e giardino. Disponibile posto auto.
Il paese di Sagri è piccolo e grazioso, adatto a chi ama la tranquillità e vuole vivere nella cultura locale.
Room Type
Entire home/apt
---
Property Type
House
---
Accommodates
3
---
Bedrooms
Ano Sagkri, Egeo, Greece
In the old country on Ayios Nikodimou Street in the picturesque alleys is the Aegean White Home. A fully equipped accommodation for a comfortable stay. The Venetian Castle and the Archaeological Museum are just a few steps away from us. Walking a few minutes you can reach Portara, Grotta and Vinci, where you can swim. You are all welcome to our island for a pleasant stay.
There is a double bed and a single sofa bed. We can add another single bed. Large wardrobe, sink, dining table, armchairs, lounge table. There are all electrical appliances. Like household equipment. We also have toiletries (shampoo, shower gel etc)
Quiet neighborhood in the center of the old country, near shopping, taverns, wood oven, grocery stores, museums,Venetian castle.
Room Type
Entire home/apt
---
Property Type
House
---
Accommodates
4
---
Bedrooms
Naxos, Greece
The THEROS boutique house, is a modern, bright and recently renovated apartment, ideally located in Chora of Naxos, facing the Venetian Kastro. ____________ The THEROS boutique house, overlooking the Venetian castle, is ideally located just a breath away from the center of Naxos Town, on the sandy beach of Agios Georgios and the harbor, making it the perfect place to stay the beautiful island of Naxos.
THEROS means summer in ancient Greek. The THEROS boutique house is ideally located just a breath away from Naxos town centre with its imposing Venetian Kastro, from the beautiful sandy beach of St George, and from the main port, making it the perfect place to stay for an unforgettable holiday in Naxos. The THEROS boutique house has been recently renovated into a modern and bright apartment by my father and owner, Giorgos, who remodelled it himself with love, soul and creativity, with great respect for the traditional Cycladic architecture and includes all the latest and finest amenities in order to fulfil your needs; thus contributing to a calm and relaxing stay on Naxos island. The apartment can accommodate up to 6 people and includes a fully equipped kitchen, a spacious dining area, a comfortable lounge with two couches that can be also used as beds, one en-suite double bedroom, another bedroom with two single beds that when necessary , can be set up as a double, and the main bathroom. Both the bedrooms and the communal areas have spacious balconies; the former with a view of the spectacular Venetian Kastro of Naxos and the latter with a the view of the neighbourhood square. As far as the design and the style of the apartment is concerned, the Cycladic colour of white plays a dominating role, as well as wood and beton cire, all of which have been chosen by Giorgos in his effort to bring the unique aura of the island into this accommodation. From the wooden beds, couches, bedside tables, and light fixtures to the modern bathrooms are all handmade by Giorgos. In addition, caring of your sleep quality, we have adopted the COCO-MAT sleeping system to all mattresses in the THEROS boutique house. Upon your arrival, you will be greeted with a basket of fresh organic fruit and vegetables straight from Giorgos's land and some Naxian traditional products. It would be our pleasure to accommodate you in our beautiful and recently renovated guesthouse! ______ The THEROS boutique house, overlooking the Venetian castle, is ideally located just a breath away from the center of Naxos Town, on the sandy beach of Agios Georgios and the harbor, making it the perfect place to stay the beautiful island of Naxos. It is a modern and bright apartment, recently renovated by my father and owner George, with love, passion and creativity, and with absolute respect to the traditional Cycladic architecture. Furthermore, the apartment has all the modern amenities to make your every wish. The THEROS boutique house can accommodate up to 6 people. Includes a fully equipped kitchen with dining area, a comfortable living room with two sofas, which can be used as beds, a bedroom with double bed and ensuite bathroom, another bedroom with two single beds, which if necessary, joined as a double , and the main bathroom. Both bedrooms and public areas have balconies. First, overlooking the castle of Naxos, and the last, the neighborhood square. As for the aesthetics and the partition design, dominated by the white Cycladic, which together with the wood and cement, bring the unique aura of the island in the apartment. From the wooden beds, sofas, bedside, to the wooden fixtures and modern built bathrooms are fabricated from George. Moreover, ensuring the quality of your sleep, sleeping mats were selected company COCO-MAT. Upon your arrival at THEROS boutique house, you will receive a basket of fresh fruit and vegetables from the estate of George and local products of Naxos to taste. We will be glad to accommodate you in the beautiful and newly renovated space!
We (Parents+2 kids) spend some days in October at Eirinis place. It was just fantastic. The house is cosy, perfectly planned and has all you need if you travel with family (even with a baby). We were welcome with fresh, tasty food and felt at home from the beginning on. Thank you Eirini and Luca.
Anna
2016-10-26T00:00:00Z
The house is really beautifully decorated and very clean. The fridge was full of locally produced eggs, tomatoes, eggs, cookies and delicious honey etc. Eirini was so kind to offer us a bottle of raki upon arrival. The house is a little bit noisy during the day because it is on the road and cars are passing by. It wasnt a problem during the night. The place is a 10 minute walking distance from the port and downtown bars, restaurants etc. A fantastic experience overall.
Ece
2016-09-18T00:00:00Z
Fantastic position and great ospitality
Massimo
2016-08-19T00:00:00Z
Despoina and Luca picked us up from the port and showed us the way to the house. The apartment was beautiful, really modern and well furnished, and the hosts had some fruits and snacks ready for us. There was parking right outside the house, while walking to the centre didn't take longer than 10 minutes. We spent a perfect night at the Theros boutique house and would definitely recommend to anyone!
Filippos
2016-07-15T00:00:00Z
Beautiful space within walking distance to city center. Plenty of fresh vegetables and bread at the apartment when we arrived. I would definitely recommend this place to anyone looking for an apartment in Naxos.
Andrew
2016-08-04T00:00:00Z
We had an amazing time in Naxos and enjoyed the house very much! Very clean with beautiful spaces and amenities. We had welcome deserts on the kitchen table a sign of Greek hospitality. Perfectly located near the port and town but away from the noise which allowed us to relax as well! Definitely going back :)
Mariza
2016-08-26T00:00:00Z
We had a fantastic stay at Eirini's "THEROS boutique house" and would gladly recommend it to other visitors. We didn't meet Eirini in person during our stay, as she was unavailable (as she had told us in advance) but her friend Luca met us at Naxos port and kindly drove us to the house and showed us around. Eirini was also available for contact via AirBnB throughout though — responding almost instantly to requests. The only minor niggle we had during our stay was a local water outage one day caused the hot water to run out the next, as its solar heated. Within fifteen minutes of informing Eirini of this, Luca arrived at the house to turn on the back-up mains heating, and we had hot water minutes later. The house is in a residential area, with room for parking, which was handy for a rental car, and a comfortable 10-15 minutes walk to town. It's sitting on the ring road into the town, so some background traffic noise on the balcony during the day but not overbearing. At night the route home from the town was low lit and a little isolated — this was fine for us, the area felt completely safe, but may be an issue for some people. (That said, there may be a longer more main road back — we took the most direct route — or with a car wouldn't be an issue). The house itself is exactly as pictured. We had a group of 4 so used the two bedrooms, but it is spacious enough for six people, and not simply to sleep — with big balconies and kitchen, you wouldn't be on top of each other. (The sofas looked like they would be comfortable for sleeping too.) Eirini/Luca had gone out of their way to make us feel at home by stocking the house *full* of food — two loaves of bread, a dozen eggs, milk, coffee, cheese, ham, cereal, homemade fruit preserves, delicious fresh veg and fruit, homemade biscuits and a bottle of raki! Γεια μας! (Sure, I'm forgetting a load here too — suffice it to say we had some lovely breakfasts and lunches on the balcony). On top of this, we had every kitchen gadget you could want (milk frother, cafetière, espresso machine, Breville sandwich maker); the house also had a washing machine, which was great for us midway through the trip. This review is long enough (trying to give all relevant details), but in summary — would happily stay here again or recommend to anyone: great house & hosts, which was one of our highlights of our Cyclades trip.
Dave and Reshma
2016-10-13T00:00:00Z
This was the perfect little spot for our holiday on Naxos! Lovely well-looked after home, full kitchen facilities, and outdoor balconies. Although the apartment isn't completely central to the heart of town, everything is in walking distance one you know your way around, and a scooter rental is imperative for a holiday in Greece anyway;) Our hosts were lovely and very accommodating- we were met at the ferry to ensure we got into the place ok, and someone even popped in to clean one day midway through our stay. The treats waiting for us in the kitchen upon our arrival were also a lovely touch. Overall, a great spot- true to what is listed. Absolutely no complaints!
Sonia
2016-09-11T00:00:00Z
Room Type
Entire home/apt
---
Property Type
House
---
Accommodates
6
---
Bedrooms
Naxos, Egeo, Greece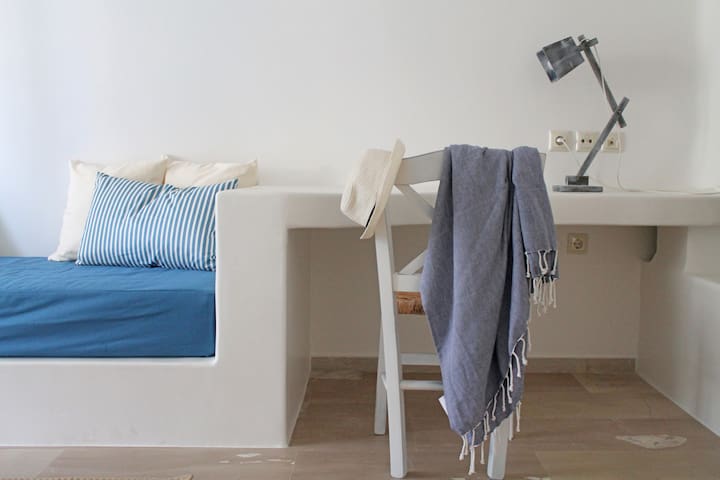 Modern Cycladic apartment for families with 1-3 children. Brightly livingroom with sofabed easy to use, large kitchen full equipped, 1 bedroom and 2 bathrooms. Patio with sofa, solarium, garden and swimming pool in common use but usully fully available.
The apartment is 12 minutes away by car from the city of Chora, port and 7 minutes from the airport. In Chora are located restaurants, shopping and souvenir, many activities. Supermarkets are a few minutes from the apartment.
Relax, silence, landscape, sea view!!!
Room Type
Entire home/apt
---
Property Type
House
---
Accommodates
5
---
Bedrooms
Naxos, Egeo, Greece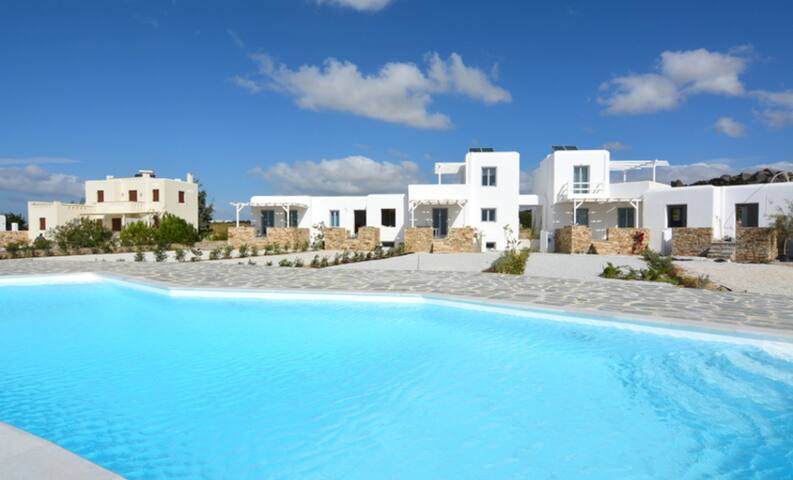 This house, located in Naxos, is ideal for 6 vacationers. It offers 2 bedrooms, an enclosed garden and WiFi.
This house, located in Naxos, is ideal for 6 vacationers. It offers 2 bedrooms, an enclosed garden and WiFi. The lounge is perfect for unwinding after a day in the sun. Curl up on the comfortable sofa and enjoy a good book in front of the fireplace or take advantage of the amenities on offer, including a flat-screen TV, WiFi, a DVD player and a CD player. The kitchen is well-equipped for cooking up your favorite meals. Enjoy your feast around the dining table which seats 6 or outside, on the balcony or in the garden enjoying views of the garden, the sea, the city and the mountains. The house has 2 comfortable bedrooms, 1 including a double bed and 1 including 2 single beds. The bathroom is fitted with a shower and toilets. The house features a desk, mosquito nets, cleaning products, a vacuum cleaner, ironing equipment, a dressing room, a dryer, a washing-machine, a central heating and air conditionning. Notice that the cleaning, towels, bed linen and tourist tax are included in the rental fee. Parking is available onsite and is private. Smoking is allowed. Pets are allowed on demand. Parties are allowed.
This house, enjoys a privileged location that will allow you to enjoy your stay in the area. Many activities await you in the surroundings such as Swimming, Windsurfing, Scuba diving, Cycling, Mountain biking, Fishing, Mountaineering, Snorkelling, Sailing, Surfing and Water sports. Agios Prokopios beach is 3 km away from the house. You will find a supermarket at 1000 m.
Room Type
Entire home/apt
---
Property Type
House
---
Accommodates
6
---
Bedrooms
Naxos, Greece
Beautiful,Modern Cycladic Designed and Comfortable House of two bedrooms and big terrace! The house is located 2km from Naxos town on the hill, overlooking Naxos Bay with a breathtaking view. This cozy house offers you everything for your holidays.
This house is built on a huge rock that crosses the house! You have garden, a very big terrace with barbeque, pergolas, built sofas and amazing view.
Private house in a very quiet neighborhood very close to the town and only 2 minutes drive to everything!
Room Type
Entire home/apt
---
Property Type
House
---
Accommodates
5
---
Bedrooms
naxos town, cyclades, Greece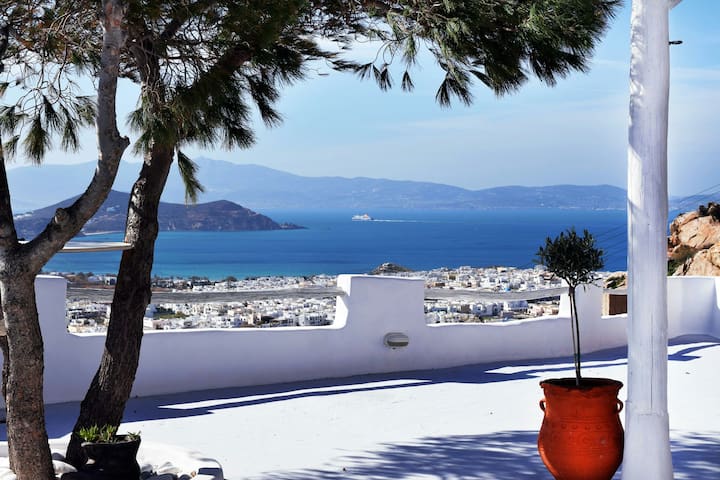 Villa Mousa is located on an uphill with a stunning view. 5min to the beach, 15km to town.Large veranda with a dinning room/couches to enjoy sunset while dinning. Kitchen, livingroom upstairs 2 bedrooms downstairs, bathroom, laundry room.
The house is perfect !! All is new, very comfortable, spacious. And the the view from your terrace ... Hummm !! Even better than you can see on the photos ... And most important for us when we travel with airbnb : Our host, Mike ... He is so helpfull. He came to pick us up at the port, he helped us fto rent a car (something very difficult in Naxos in August !!!), and even much more than that : We hightly recommand these house either for all its qualities and neigbourhood but also because of Mike's kindness !! For all you do for us Mike : Thank You Very Much ! Hope to see you again.
Serge
2014-08-12T00:00:00Z
We were picked up at the port and escorted to the villa. The view from the villa is absolutely amazing and the pictures are 100% true. The villa really feels like home and, being a bit more remote from the villages, is a great place to just relax and listen to the ocean. Minutes away from one of the most beautiful beaches of Naxos it is absolutely perfect. Also, having a few basic ingredients in the kitchen (coffee, sugar, olive oil) really made cooking something you could start right away.
Peter
2014-09-27T00:00:00Z
Mike was a fantastic host. He was welcoming and very generous with his time and advice. The house was lovely and everything worked well. The views are stunning and we absolutely love Naxos. We will definitely be back!
Thomas
2015-08-09T00:00:00Z
Very nice and confortable place located on top of a hill with an incredible view. Mike is a very nice and friendly person who has provided useful advises on places to visit. I would certainly recommend this place to other travellers.
Sebastien
2016-08-24T00:00:00Z
Mike was a wonderful host and really could not have done more to help. We were in Naxos for a wedding and one of the first things he did was point out the venue from our balcony so we knew where we needed to be! The villa is gorgeous with beautiful views and all you could need to explore Naxos from. It is a short walk to a supermarket, bakery and few nice restaurants along the beach. There is also a kitesurfing school nearby, again easily walkable. One thing I didn't realise on booking was quite how steep the hill up the villa is (really should of realised from the pictures of the view!) We walked this a couple of times a day but is worth bearing in mid as it was tough in the midday sun at times. I'm pregnant and managed it fine though ;) Mike was kind enough to offer us help arranging car hire too although we didn't take him up on it. He also called taxi companies whenever we needed them and supplied us with a lovely map with all his favourite places marked! I really couldn't recommend Villa Mousa more, beautiful beautiful beautiful!
Hayley
2016-07-27T00:00:00Z
Mike met us at the port as planned and made sure we got to his place via the petrol station and grocery store . We were met by his house keeper and the place was fantastic. You need a car as a bit isolted but that was perfect for us.
Liz
2014-09-22T00:00:00Z
Excellent place to stay at Naxos with magic view and confortable places. Especially the main dormitory room with the constructed bed and the marvelous see view, is majestic! Mike is an excellent host and provide us with all the required info and facilities. Highly recommended place for relaxing and enjoying beautiful Naxos!
Federico
2015-01-06T00:00:00Z
Naxos is amazing and Mike's place is the best location to be in the island as it has a great view !!! We had a nice time and we highly recommend it!! Irina was our contact in there and was very helpful all times. Thanks for making us feel at home.
Mariana
2015-10-14T00:00:00Z
Room Type
Entire home/apt
---
Property Type
House
---
Accommodates
4
---
Bedrooms
Naxos, Egeo kuklades, Greece
Traditional cycladic studio at Stelida suitable to accommodate comfortably 3 persons. Saint Prokopios beach is located only 8 minutes walking distance from us! Chora (Naxos Town & port) is 12 minutes away by car or bus. No air condition needed! The airy studio lets the north and south wind to pass through. The natural conditions give a bonus to your vacations as you adopt the mediterranean lifestyle.
Quiet neighborhood near the best spots of Naxos island. The best place to be. Take in consideration that a car or bike rental will help you explore the island better.
An amazing place with an amazing host! Konstantinos picked us up from the town, gave us all the necessary informations about the island and even more, the check in was a pleasure as the home was exactly as expected. The place was very cosy and welcoming with a great terrasse with the view on the sunset. Located in a village at 10 minutes from the city center or placa with a car. Thank you Konstantinos for helping us making our stay unique!!
Chloé
2016-07-22T00:00:00Z
Room Type
Entire home/apt
---
Property Type
House
---
Accommodates
3
---
Bedrooms
Naxos, Greece
A stylish house just 10m away from the sea,Villa Maria is situated in Orkos, the most beautiful location of the island, in a 800 sm piece of land formed as a garden with wild greek flora, among which one can find the unique and protected cedar trees!The house boasts a magnificent wide view of the island of Paros over the sea.In front of it,on the right and left, there are unique small and bigger sandy beaches such as Parthena,Mikri Vigla(both famous for wind and kitesurfing),Plaka and Agia Anna.
A fresh and bright house by the sea, Villa Maria offers an enviable and privileged spot in Orkos, one of the best locations on the island. Just meters to the shore, you'll have unobstructed views and privacy in a self contained beach house and a fabulous exterior space. Simple and stylish, the two story villa has been subtly updated and accommodates up to five, with built ins to roll out and conveniently tuck away. The basic adobe interiors and color washed concrete, keep it cool but you should also throw open the double doors to soak up the view and hang out on the stone terrace. Set on the ground floor, the main living and dining area includes seating for eight, a fully equipped kitchen, a bathroom and a central fireplace that represents the heart of the house. The upper floor features one twin bedroom with private bath along with a double bedroom with en suite bath. Both have private balconies with spectacular views of the coast and the wild native gardens. Relaxed and simple, Villa Maria is an unfussy yet supremely comfortable villa to covet.
Located in prime Orkos coastal bluffs of Naxos, which is the largest and best rock in the Cyclades chain. Two perfect sandy beaches are right outside your door including the beautiful beaches of Parthena (famous to kite surfers) and Mikri Vigla and on the right, the famed Plaka, Agia Annaand Agios Prokopios beaches, all within easy reach. Nearby activities: Windsurfing, Kite surfing, Water Skiing, scuba diving or snorkeling, cycling, fishing, swimming. Car / Motorcycle:Recommended Local services ATM / bank, car rental, medical services, supermarket, groceries, bakery- pastry shop, tavernas- restaurants, coffee shops, beach bar. View: 10 m. away from the sea, you'll have views of Paros Island and the coast
Ada and her mom met us at the ferry and directed us to the property. They are warm and gracious hosts. Thank you so much for everything, especially your excellent restaurant recommendations. The property itself is beautifully located and quite comfortable. We'll see you next time we're in Naxos. You made our stay very special.
James
2015-09-26T00:00:00Z
Our stay un Naxos was really great. The house is so nice, well decorated with such a nice taste. Easy to live with in and with a lovely terrace to enjoy great sunsets on the evening. 2 beaches are easily accessible with kids in front of the house (less than 5 minutes walk). Ada's Mum who welcomed us is really nice. She gave us good informations on the island. We had marvellous holidays. This house and its situation are a real paradise !
Alice
2015-08-01T00:00:00Z
there are no words to describe how beautiful is the house and its location, larger then it seems, comfortable, well decor with a very good and relaxing vibe. and the sunset in front of the house its a dream. ada and her mom were answering every question that we had before and during the trip and were very helpful and very very kind. the location is right in the middle of the cost line, so every thing to do or to go is in a short drive. absolutely a grate place for vacation .
merav
2015-08-20T00:00:00Z
The owners of this traditional Naxos house have renovated it with an elegant touch making it a very stylish, airy and comfortable residence. The big terrace in front of the house and balconies from both bedrooms upstairs make the views of the sea and Paros in the distance always present. We were met by one of the very friendly owners who guided us to the house in the midst of Orkos just set back from a winding dirt road. There are several beautiful little cove like beaches just across the road. Until around 11am these are naturally shaded by the cedar trees. The very family friendly shallow and calmer beaches, Mikri Vigla and Plaka are 15 mins walking. There you can hire umbrellas and beds for the day if you arrive around 11.30. During the days we were there it was especially windy, but it seemed to attract many eager kite surfers to the neighbouring beach which makes fun watching. The owners are soon planning on cover over part of the terrace to provide shade in the heat of the day, but at present the house creates shade until mid morning perfect for an outdoor breakfast. In the evening when it's cooler the terrace is a prime spot to watch the sunset.
Daniel
2016-07-31T00:00:00Z
First a note on Ada - she's great. She's friendly, helpful, and we got along very well. Ada met us at the port and drove us to her house (in part because there's no address so we wouldn't have found the place on our own the first time). The house is just awesome. It overlooks Orkos Beach. There is a small dirt road below the front yard, but it wasn't a bother at all. The ocean view from the porch is incredible. We enjoyed breakfast, sunsets and the full, starry skies from there. We could walk to Mikri Viglia and Orkos. Plaka was a very short drive. Only a couple of minor drawbacks - no beach towels at the house, but we brought our own so it wasn't an issue. The light on the A/C unit in the master bedroom has a bright blue light that is pretty powerful. Luckily, we had eye masks from our international flight, so we utilized those when we slept. Overall, this place is awesome. Ada is great. I recommend it wholeheartedly.
Michael
2015-09-17T00:00:00Z
Room Type
Entire home/apt
---
Property Type
House
---
Accommodates
4
---
Bedrooms
Naxos, Egeo, Greece
There is an excellent panoramic view of the sea , the port , the old castle and the palace of Apollon ! The hose is located in the centre of the town on the second floor. It's near all the services and the shops cafeterias restaurants and bars. Someone can enjoy the night life as well as the simple life of an island ! You can enjoy walking in the narrow streets of the old town or swimming in the sea of Saint George as it is only three minutes walk from both places ! Someone can also use the public transport to visit places around the island . The place is very convenient with a nice bedroom , bathroom, a kitchen with all the necessary equipment (a ceramic stove , a washing machine , a fridge) There is also a spacious living room. It's suitable for couples, families , friends or business people . Ο χώρος μου είναι κοντά σε κέντρο πόλης, δραστηριότητες για οικογένειες, νυκτερινή ζωή και δημόσια συγκοινωνία. Λόγοι που θα σας αρέσει ο χώρος μου: άνετο περιβάλλον, η θέα, η τοποθεσία και οι άνθρωποι. Ο χώρος μου είναι κατάλληλος για ζευγάρια, δραστηριότητες για ένα άτομο, επαγγελματίες ταξιδιώτες και οικογένειες (με παιδιά).
It's in the center of the town ,close to all amenities and services. It is located 300 meters from the famous beach of st . George and also in short distance to all tourist attractions around the town. You can enjoy the night life gettig there on foot.All the furniture is new.The apartment is new in Airbnb so it has no critics yet.
Near the house is a lot of Super Market, a very nice bakery,a traditional shop with local products. There is in 5 metres a pharmachy and at 100m is a hospital. Taverns and night life is very close. There is a square at 20 metres and there you can rent a car or a motorbike. The Saint George beach that you can relax and swimm safety is in 100 m. Saint George beach has a blue flag from EE.
Kostas was helpful, communicative, and friendly, and made sure I had access to everything I needed to enjoy the island -- he even stopped by with homemade cookies (melomakarona!) on christmas. The apartment was spacious, the shower hot, the kitchen and wifi functional. Great central location, too -- perfect for my needs. Would definitely stay again :)
javier
2016-12-26T00:00:00Z
Kostas is a great host! Our boat was delayed by one hour and Kostas was still there at 11:30pm to pick us up and carry our luggages. The location of the flat is great and the terrace is just awesome. We strongly recommend this flat if you want to be in the centre of Naxos (Hora).
Tanguy
2016-08-25T00:00:00Z
Kostas's house is perfect. Really clean, cozy and with a awesome terrace. Located in the center of the town, is close to shops, restaurants and markets. kostas is very kind, friendly and helpful. He provided us everything we needed and he gave us some good advices about restaurants and beaches. I really recommend this house! Thank you very much Kostas, we spent a very good time in Naxos.
Aida
2016-08-15T00:00:00Z
Kostas was a fantastic host. He made sure we knew our way around and suggested some great restaurants as well. The apartment is very nice, clean, and comfortable. We'd definitely stay again!
Lukebub
2016-09-10T00:00:00Z
Kostas and his family were lovely hosts and their apartment was a great base for exploring the fabulous island of Naxos. The apartment was completely new, in great condition and walking distance from the ferry. We had all we needed and Kostas helped us with island recommendations and moped rental. Thank you!!!!
Petr
2016-08-12T00:00:00Z
The stay was perfect ! the apartment is spacious and nice , the location is convenient in the center of Naxos . kostas was very helpful and kind! we recommend it and we will definitely !
Giulia
2016-08-21T00:00:00Z
Nice accommodations, amazing view from the patio. walking distance to the port, shops, restaurants, Temple of Apollo, the castle - everything we wanted to see was right there. Kostas was a great host. We would definitely recommend staying here and hope to be back!
David
2016-10-18T00:00:00Z
Very nice appartment, Kostas is very kind and he helped us a lot at arrival. I recommand a lot!!!
heloise
2016-09-04T00:00:00Z
Room Type
Entire home/apt
---
Property Type
House
---
Accommodates
4
---
Bedrooms
Νάξος, Κυκλάδες, Greece
The house is close to the beach, nightlife, public transportation and the airport. Reasons to like this house: the location and the environment. The house is appropriate for couples and families (with children).
The house is located in front of the sea, the beautiful sandy beach of Agia Anna. The view from the veranda and the bedroom is amazing. The big blue of the mediteranean sea. The house has 3 rooms and one kitchen and a bathroom. The one room has a double bed, and the other two rooms have a double bed-couch. The kitchen is fully equipped. You do not need to have a car. Everything is next to you. Beach, shops, bars, restaurants. The road in front of the house and the beach are crowded only in August. If you wish to be on a quiet beach, then you should choose to visit the island during May, June and September.
The house is located right on the sea. Right in front of the house there is a small country road and then the amazing sandy beach.
The host canceled this reservation 2 days before arrival. This is an automated posting.
Timothy
2017-03-29T00:00:00Z
Room Type
Entire home/apt
---
Property Type
House
---
Accommodates
6
---
Bedrooms
Agia Anna, Egeo, Greece