My place is close to public transport, only 20 min to jerusalem city center. You'll love my place because of the views, the location, and the people. My place is good for couples, solo adventurers, and business travelers.
Tiny apartment on third floor (separated spiral staircase) with one nice bedroom, a sitting area that can be use for working area too, spacious kitchen (for tose who love cooking) bethroom with beth and beutiful balcony.
Lovely house and in a nice area just outside of the city. Shani was very welcoming and helpful. House had everything we needed.
Noa
2016-11-10T00:00:00Z
Great value for money! Highly recommended
Anatole
2016-11-27T00:00:00Z
Shani is a great host and the apartment was very nice. The neiboorhood was very calm and beautifull view from the balcony. The comunication with the center of Jerusalem was comfortable. I recomend Shani's place
Joanna
2016-11-03T00:00:00Z
Shani is absolutely a sweetheart! Check-in and check out was easy, and the place matched the description 100%. I would definitely recommend!!
Dani
2017-01-20T00:00:00Z
We spent three nights at Shani's place, it was a pleasant stay in her small apartment. The communication with her was great, and we received accurate instructions about getting the keys for the house via (SENSITIVE CONTENTS HIDDEN) message. The apartment is small, but cozy, and we could use the kitchen as we needed, with the necessary utensils to prepare good dinners. In some areas we missed some cleanliness, but in general was ok. If you need a parking you will have plenty of space, also, you can find quietness and relax if you want to. For us, it was a good starting point to visit the dead sea and Bethlehem.
Javier
2017-01-03T00:00:00Z
Shani was super inviting and helpful. before we came she gave the details and when we came she helped us find transport scheldues and called local company. apartement was the best we have stayed in airbnb and the cheapest one. we got whole appartament and its beautiful. the city is 16 km from jerusalem but it costs only 6 sheckel to get there kn like 25 minutes and easy. one thing that we didnt like is hindu simbols as we are christians, it would be just right to mention that. and 4.30 am muslims start morning prayer that is heard in the room. otherwise perfect.
Edgars
2016-11-07T00:00:00Z
Very good choice value vs location vs facilities. I needed a location to stay in Giv'at Ze'ev and this one was perfect! If you are chosing this location as a hub to visit the area it is a good choice as it is 20~30 minutes away from Jerusalem Central Bus Station (depending on which bus you take). My point of interest was Giv'at Ze'ev itself, but I also easily visited a lot of places I like in Jerusalem and nearby - the Old City, the Mahane Yehuda (market), even the Dead Sea (I went to Kalya Beach, the most northern, left from the host at 9 and arrived at the beach at 10.45 - walking from the main road to the seaside for 15 minutes and also spending 30 minutes at a cafe in Jerusalem Central Bus Station). The host is lovely and the place is better than just simply a private room. Totally recommend it.
Vlad
2017-03-29T00:00:00Z
пишу на русском, так как многие кто едет в Израиль его прекрасно понимают. Касаемо жилья, несмотря на некоторые недостатки, которые можно найти всегда и везде....жилье просто восхитительное, потому как за такой ценник ничего подобного вам снять не удастся. Мы были на машине и доезжали до центра иерусалима за 15-17 минут практически в любые часы, на автобусе наверное было бы чуть дольше, но мы не пробовали, в доме очень тихо, есть открытая веранда где можно в теплую погоду позагарать или завтракать, или сидеть есть сыр и пить вино вечером наблюдая звездное небо. парковки как таковой не было - машина стояла на улице перед домом где всегда было место и искать таковое не приходилось. Рядом полно магазинов и даже пешком они в основном все доступны. Заправка с маркетом почти напротив дома в ста метрах. В целом нам очень понравилось, хозяйка очень гостеприимна
Maxim
2016-12-04T00:00:00Z
Room Type
Habitación privada
---
Property Type
Apartment
---
Accommodates
4
---
Bedrooms
Giv'at Ze'ev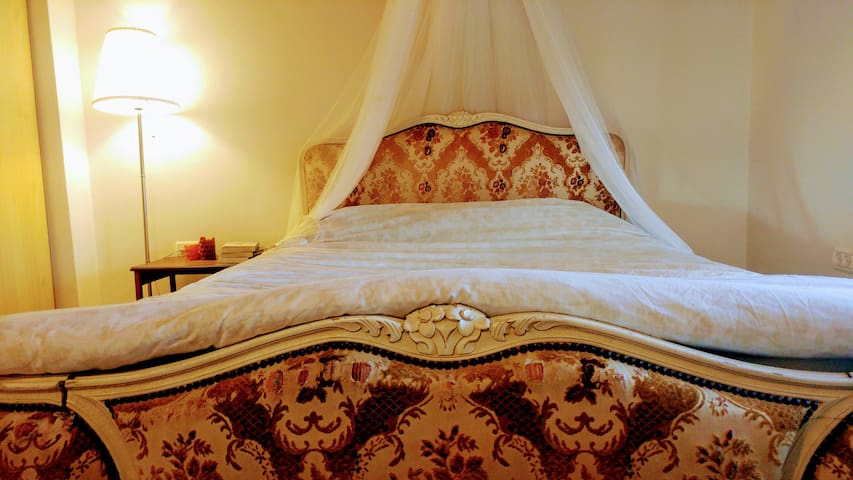 In a quiet nice settlement in 15 min drive from the Jerusalem center and Old City, 45 min to beaches of Dead and Mediterranean Seas, compact, beautiful, fully equipped apartment with a private entrance and a garden; parking, grocery store, bus stop
The apartment is located in a villa and has a small garden. A staircase leads to the second floor lead to on the second floor with a private entrance to a balcony on the second floor and two entrances to each of two bedrooms. apartment. containing two bedrooms, kitchen and bathroom. It's possible to put a clamshell for a child. The apartment is compact and comfortable, has air conditioners and absolutely everything that you may need.
The apartment is located in the center of Israel, in 35 minutes drive from the airport. Highway 443 provides easy access to all parts of the country. Givat Zeev is a beautiful settlement located in five minutes drive from Jerusalem.
I never got to meet Olga - but this was not a problem because I came in and out of the apartment very early or very late. For older couples the bed would have been difficult to get in and out in the middle of the night !! Kitchen facilities ok. bathroom ok but shower stall enclosure in need of a good clean Overall value for money
Phil
2016-08-19T00:00:00Z
Olga's apartment is great for anyone looking for a comfy place while traveling to Jerusalem. We were five adults and although que were a little tight, everything was really good. There is a small supermarket just a short walking from the house. Located on a settlement about 15 km from Jerusalem, the place is a better choice for someone with car. Anyway, there is a bus stop in front of the house to go to Jerusalem central station in about 15 minutes. Olga was a great hostess, always willing to help us all the time. I highly recommend Olga's place for anyone looking for a confortable and valuable lodging option.
Jepthé
2016-10-20T00:00:00Z
What a wonderful place ,we loved the host and even though It was not in Jersaleum the bus 132 was great. Taxi from the house to city center is not to expensive they helped us organize a taxi at 5 am in the morning. The place is cozy clean and perfect for a family. They help us a lot even gave us a ride into Jersaleum on Shabbat . If all the people of Israel were like them wow it would be wonderful Thank you so much for a great three nights in you wonderful city
David
2017-03-19T00:00:00Z
The apartment is quiet, big, and clean. it is a perfect place if you have a car. our host was very welcoming and nice. it was a very good time.
Pauline
2016-10-15T00:00:00Z
We really enjoyed our stay at Olga's apartment which was roomy and comfortable. There are no parking restrictions in Givat Zeev unlike Yerushalayim which is a big plus. Since we were most of the time in Yerushalayim from early morning till late, we only had a 20 minute commute. There are many Shuls in the proximity including Karlin Chassisim. Close by is wonderful bakery called Nechama bakery which is extremely fresh. I very much recommend this BnB to anyone with a car for great value for the size of the accommodations.
Ephraim
2016-08-29T00:00:00Z
Olga was a great hostess. She always responded quickly to my questions. The apartment was exactly as described. It was clean and fully equipped to meet my needs. I recommend this apartment to anyone needing a quiet place of refreshment.
Tracy
2016-10-07T00:00:00Z
The appartement was clean and well equipped and the host was in time and friendly. I would stay there again if I would need a home in this place.
Sarah
2016-04-07T00:00:00Z
Giv'at Zeev's location was perfect for our itinerary, travelling was convenient to all the places we planned to visit. We liked the house very much, especially that each room had it's private entry. Olga had met us the first day and gave us great suggestions on where to start our Jerusalem exploration. It was very helpful. Overall we had an excellent experience.
Natalia
2016-11-29T00:00:00Z
Room Type
Entire home/apt
---
Property Type
Apartment
---
Accommodates
5
---
Bedrooms
Giv'at Ze'ev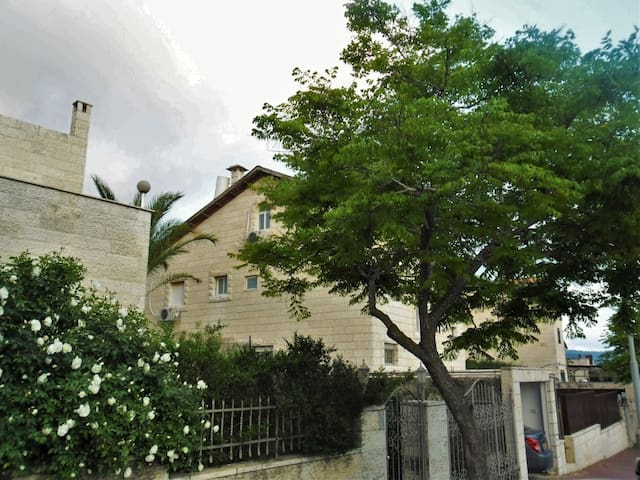 Large saloon and Kitchen, Extra closed balcony which has an opened sofa. 15 minutes bus ride from Jerusalem center. Short walking to Bus stop or supermarket. Quite place and friendly people.
Great Sun set view! Great air flow and full with natural light! German Speaking and assistance. Wilkommen
Room Type
Entire home/apt
---
Property Type
Apartment
---
Accommodates
6
---
Bedrooms
Giv'at Ze'ev, Israel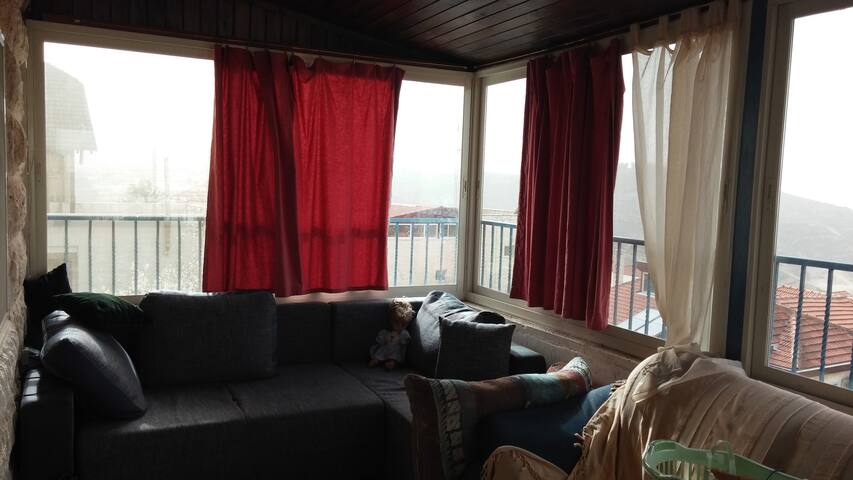 Beautiful apartment for rent in the neighborhood of Ramot Panoramic view of Jerusalem and around Sunny porch facing view Recently refurbished to high standard Includes sheets / towels Includes kosher-for-passover kitchen (including oven) 3 bedrooms (9 sleeps) Convenient for public transportation to city center Close to shopping center and shops Synagogue and playground within very near walking distance
Room Type
Entire home/apt
---
Property Type
Apartment
---
Accommodates
9
---
Bedrooms
Jerusalem
Beautiful, new and very bright 3 bed apartment on the top floor in Ramallah. Great location, close to all lively areas of the city but yet in a very residential area. 2 minutes by car to Al Tireh , the city centre and Al Masyoun. Great for couples, families or solo travellers. New apartment, new modern kitchen equipped with top quality appliances, dish washer, washing machine, big fridge, microwave, oven and countertop cooker. Great views of Ramallah city from the master bedroom. Master bedroom with en suite shower room. Second bedroom (2 twin large beds), 3rd bedroom (study desk + sofa bed)
Amazing indoor space 3 bedrooms and 3 bathrooms (one en suite) with 2 balconies one on the kitchen and the other on the master bedroom.
Very nice, classy and safe neighbourhood.Amazing restaurants within walking distance, UNESCO listed mansion just in front of the kitchen balcony, historical palace next door, beautiful gardens ( Khuzama ).
Room Type
Entire home/apt
---
Property Type
Apartment
---
Accommodates
5
---
Bedrooms
Ramallah, West Bank, Israel
Located in a small suburban neighborhood of Jerusalem, on a hill overlooking the coast of Israel. The unit is a two bedroom apartment right under our lovely home. The apartment has a separate entrance just for guests. There are two big bedrooms, a fully functional kitchen, study, cozy salon, patio, and one giant Shower!!! and of course, Israeli hospitality.
Free unlimited parking on the street right in front of the apartment. The apartment is located 30 minutes from Jerusalem and 30 minutes from Ben Gurion Airport. There is also a bus stop steps away from the apartment. Recommended to rent your own car!
Modern decor, recently built flat in basement of house. Well equipped with everything needed for an extended stay. Location is about 40min drive from the old Town in Jerusalem and also the airport (half way point). Everything perfect, except the slow internet
Brett
2017-01-04T00:00:00Z
Im writing on behalf of my 2 coworkers who came to Israel from Spain. Udi and his lovely family made sure they feel very comfortable and were attentive to their every need. the WiFi didn't work so well so Udi invited them to his home to use his private internet and his lovely wife offered them home cooked meals. Thank you Udi for being such a grasious host.
denise
2017-01-16T00:00:00Z
We felt extremely welcome here and right at home. The place is spacious and perfect for 2 couples. Has comfortable beds, 2 bedrooms, big bathroom, with a washing machine. The location is in a very nice area and its a good spot if you have a car, it is easy to get to Tel Aviv, Jerusalem and The Dead sea. Our hosts were amazingly friendly, hospitable and happy to help with anything. We are really glad we stayed here. Thank you.
Dion
2016-11-27T00:00:00Z
We had a good stay. The house is perfect for 4 people that want to stay for a short period. A car is definitely needed to get to Jerusalem. Udi is very kind and welcoming.
Elisa
2016-11-18T00:00:00Z
Very friendly family. The apt. is clean & new. Very nice for a place to visit Jerusalem that is not located inside the city but nearby. Convenient for parking, nice size apt., well equipped. We walked around the neighborhood in the morning & enjoyed the quiet, rural area very much.
Carol
2016-03-12T00:00:00Z
נהננו מאוד מהארוח ומהדירה. המיקום מעולה
דורון
2016-11-29T00:00:00Z
היה נהדר, התקשורת עם אודי נהדרת והדירה מקסימה. תענוג גדול, מומלץ!
Shahar
2016-11-20T00:00:00Z
war alles super! Wir waren rundum zufrieden, auch mit der Beratung, und allen Absprachen. Auch die nachbarschaft war super. Wir kommen gern ein zweites Mal!
Alexander
2016-10-18T00:00:00Z
Room Type
Entire home/apt
---
Property Type
Apartment
---
Accommodates
4
---
Bedrooms
Har Adar
Come and be among the first to enjoy a brand new boutique apartment in the pastoral hill station of Har Adar. The apartment was designed with lots of love, to make you feel the warmth as if it is your own home.This cozy apartment is located in a prime location. Only 25 minutes from Jerusalem and 40 minutes from Tel Aviv.
The apartment has 3 bedrooms. It is in the first floor of our house. There is a private entrance for guests, and total privacy inside the apartment. It comes fully furnished with everything you'll need for a comfortable and worry-free stay - 2 double beds,1double sofa bed, clean and comfy linens and towels provided, shower cabin and washing machine. Equipped kitchen including refrigerator, oven, microwave, and electric stove. Cable TV and free Wi-Fi.
The neighborhood is nice and quiet. It is recommended to do walks and enjoy the mountain fresh air and see the amazing view.
Roi and Hila were very welcoming hosts. The apartment was beautiful, clean, warm and well designed, so I felt very much at home. it is located in a lovely and quiet area.I would definitely recommend their place!
Antoinette
2017-03-28T00:00:00Z
Room Type
Entire home/apt
---
Property Type
Apartment
---
Accommodates
6
---
Bedrooms
Har Adar
Fully furnished apartments for rent in a premium location in the city of Ramallah
Room Type
Habitación privada
---
Property Type
Apartment
---
Accommodates
2
---
Bedrooms
Ramallah, Ramallah, Israel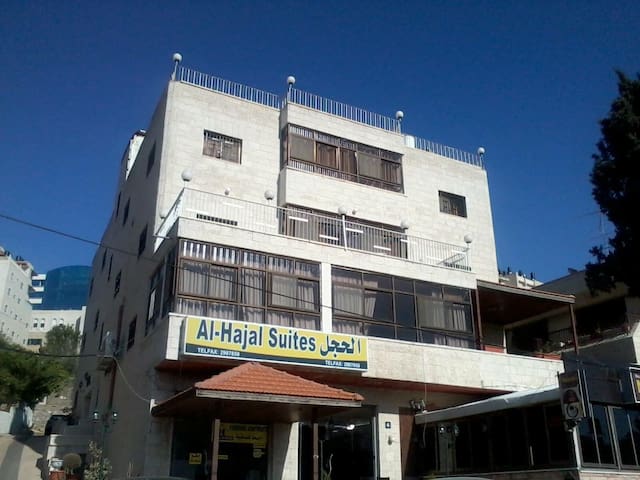 My place is good for couples, solo adventurers, business travelers, and families (with kids).
The apartment is fully renovated, about 50 square meter, a leaving room with kitchen and toilet in the first floor, and a second floor gallery with bathroom and toilet. The access to the apartment is by stairs.
We are located in a quiet neighbourhood named "Har Adar" a 900-meter high mountain in the middle of Jerusalem mountains and forest. The apartment is in the centre of Israel, a great place to explore the country. The distances for key points are: Jerusalem – 14 KM Tel Aviv – 55 KM Abu Gush – 4 KM Ded Sea – 51 KM Nazareth – 137 KM Eilat – 352 KM Tiberias – 168 KM The apartment is located in a separate building that will give you a full privacy, all rooms are in front of the view.
Room Type
Entire home/apt
---
Property Type
Apartment
---
Accommodates
4
---
Bedrooms
Har Adar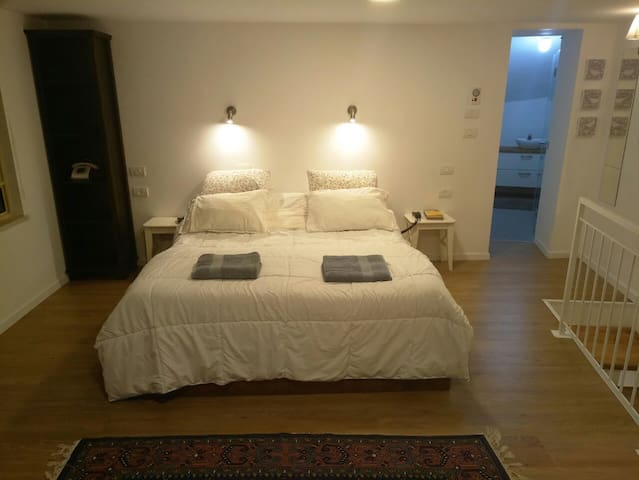 Located in the heart of Ramallah's Financial District Al Masyoun. The studio has all you need from a Small kitchenette, a bathroom, a living room and 2 beds, and a front Garden Space where you can enjoy a small gathering near our lovely garden.
Room Type
Entire home/apt
---
Property Type
Apartment
---
Accommodates
2
---
Bedrooms
Ramallah
Spacious & simply designed, with big living space, suitable for families & events. On 2nd Floor in a 4 floors building. View to the northern part of the city & hills. Another view on the front street. 3 balconies. Top brands furniture. Quite & secure neighborhood. Few minutes from downtown. Preference for longer rentals.
2 Bedrooms, 2 full bathrooms, 3 Balconies, open Kitchen, huge Living room, full Walk-In Closet Entrance space is big open one, at right is the living room and a winter balcony, and at left open kitchen with counter / bar style, and it`s open balcony. The open area without the kitchen or the balconies is about 38 squared meters. Bedrooms The Master Bedroom, reached through a lobby, which distribute for the room it self, or another room made as a full walking closet room, or a full bathroom. The master bedroom has it`s own open balcony viewing the frontal side of the building. The master bedroom has a king size double bed, 2 side units of drawers, and a full dresser unit. Another bedroom can accessed by another lobby, nearer to the living space, and had right next to it another full bathroom. This bedroom have 2 single beds. * All rooms have area of nearly 16 square meters (172 square foot) * There is a couch/sofa which can be converted to another bed size 1.5, & there is a mattress. * The full walking Closet Room, can be converted to a third bedroom. 3 Balconies Balcony no.1 is glazed (winter Balcony) attached to the Living Room, Balcony no.2 is open attached to the Kitchen, Balcony no.3 is open attached to the Master Bedroom. 2 Full bathrooms, one have Jacuzzi Furniture & Items: - Fully furnished (NEW FURNITURE). - Top brand new appliances; washing machine, built-in electrical oven, TV, receiver, DVD player, cooking hood, refrigerator & freezer, iron, water kettle, Intercom, etc. - Gas boiler for heating water, and for space heating in winter. - Fully furnished of NEW kitchenware, toiletries, cooking & serving tools. - Simple & elite designed space. WIFI Internet, Hot Water, Telephone, Central Heating, Intercom; all available Nice views for city and for mountains. Excellent illuminated space (sunshine), and excellently ventilated.
Al Tireh; one of best residential areas in Ramallah. Its` main road is active, full of restaurants, cafes, and it starting with First Ramallah Group club, followed by the Chinese embassy after 200 meters. The neighborhood mostly residential, high-mid class housings & high class villas. Available services in neighborhood: Supermarkets, Laundry & Dry-clean, Pharmacy, Taxi Office, Gardens, Coffee Shops, Restaurants, Police Office, Gas-Station.
The host canceled this reservation 17 days before arrival. This is an automated posting.
Damah
2016-12-15T00:00:00Z
Ayman's flat is spacious and clean, with two balconies overlooking the valleys around Ramallah, the most beautiful views. Ayman's parents have been very nice and helpful, not only showing us around the flat but also the centre of town (which is easily reached via a regular bus-taxi service).
Vanni
2016-10-17T00:00:00Z
Room Type
Entire home/apt
---
Property Type
Apartment
---
Accommodates
4
---
Bedrooms
Ramallah, Palestine, West Bank, Ramallah and Al-Bireh, Palestinian Territories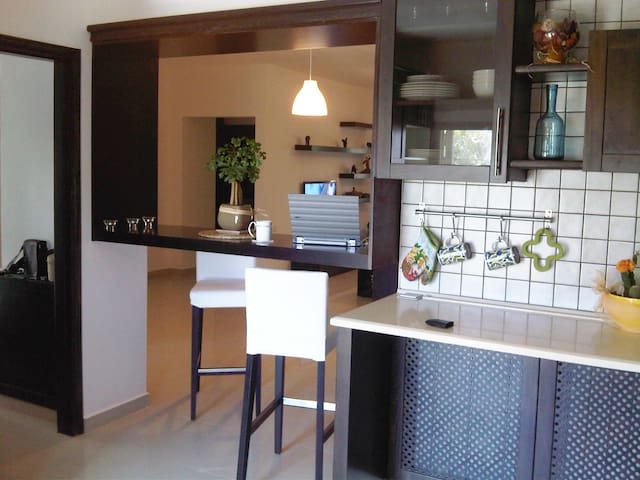 Enjoy a conscious and inspirational space that brings you closer to the world of design and crafts. Your stay will support our non for profit organization 'Disarming Design from Palestine' to sustain itself and invest in local artisanship. Our apartment is located near clock square, around the corner of café La Vie and is good for couples, solo adventurers, artists, designers and business travelers.
Clean, cozy and very light double bedroom located 5 minutes walk from downtown. The apartment is located on the second floor of a secure apartment building, facing a fairly quite street. The private room has a balcony with a wide view. It's located in the appartment of our non profit organization, that develops contemporary design in Palestine with local craftsmen. All furniture and objects in the appartement are either from our own design label (like plates, chairs, pillowcases or lamps) or up cycled with local materials.
This place is magical. Ideal for a short or long stay, I just stayed for one night but could totally image staying longer. It's right in the center of Ramallah, it's not super easy to find in the first place though but with the great explainations from Annelys it was just perfect! The room is great, super ingenious: everything is recycled and made out of palets or tires! I loved it! I totally recommend! Take the time to ask a few questions to Annelys or anyone around the appartment as they are all working on a very interesting project and you could have the opportunity to see some amazing objects that are definetly worth bringing back homeç Also they gave me very good addresses of places to eat or have a coffee (like Café La Vie for example which is right next door) or vibrant cultural life. Thank you so much!!! I will come back ;)
Juliette
2017-04-05T00:00:00Z
Room Type
Habitación privada
---
Property Type
Apartment
---
Accommodates
2
---
Bedrooms
رام الله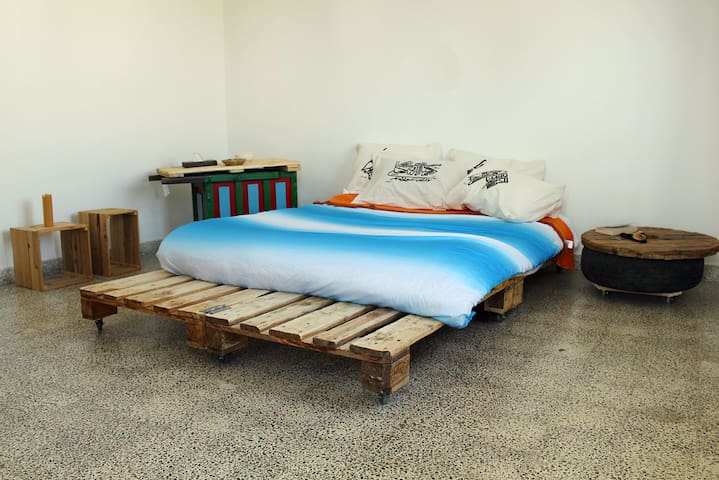 In the heart of Ramallah, this charming, furnished home sits on a quiet street just a minute's walk from downtown. The 1965 space is newly-renovated but keeps the old vibes, with 3 verandas overlooking garden below and an artsy cafe downstairs!
We had an artist living here last, so the flat is full of color. The master bedroom has a queen bed and two windows (lovely morning sun) and a private veranda. It also has a large closet and antique table-desk. The second bedroom has two twin beds and also great light (two windows with late afternoon sun). There's an old desk in there as well. A cozy living room features double doors that open onto the largest of the three verandas, shaded by an 80 year old walnut tree and looking out at the sunset. The veranda has outside furniture and is a great space to hang out, surrounded by flowers. The couch in this flat is fabulously comfortable and faces a big screen tv. In the living room there's also a beautiful kerosene stove that warms the whole house, alongside a side lamp and a wicker arm chair with up cycled coffee table and side tables. In the winter, there are rugs down to keep your feet warm and in the summer, cool tile floors. The kitchen is fully stocked and features its own veranda as well. The original 1965 cabinets and sink are in place, but we have added more counter space and new "old" cabinets as well. It's painted warm yellow and is a wonderful place to sit during breakfast time!
Please note that our home is in central Ramallah, in the West Bank of Occupied Palestine. It's a minute walk to the bus station that takes you to Jerusalem, Nablus, Hebron, Jenin or Bethlehem. Being central is fabulous and not so fabulous at the same time. You are walking distance to everything (Ramallah is tiny) but if you are driving, the streets are congested. We border Qaddura Refugee Camp, Ramallah Hospital and are a stone's-throw from theaters, Ramallah shopping, yoga studio, and cafes. Of course La Vie Cafe is downstairs so you can enjoy live music, a chill dinner in the garden, or take away to enjoy in your flat. We have dozens of fruit and nut trees, a veggie and herb garden, bee hives and chicken coop, and when the season is right, we love sharing our bounty!
Flawlessly beautiful, effortlessly Palestinian. A must stay in Ramallah.
Conor
2015-05-29T00:00:00Z
We had the pleasure of staying at Morgan's flat for two weeks in December of 2014. The pictures do not do Morgan's flat justice, the apartment is beyond charming and extra spacious; in the mornings the sun drenches the bedrooms and living room. Each Bedroom is large with lots of closets. The kitchen is fully stocked, and has its very own Veranda, one of my favorite things to do while staying at Morgan's flat during my two weeks in Ramallah was having a cup of coffee on the Veranda every morning. The apt has its own entrance on the side of the building; its extremely secure one must enter three doors before gaining access to the apartment. Just a few footsteps out the front door, you are in the city center of the hustling and bustling Ramallah. There are Endless options of cafes, nightlife, restaurants, shopping all within minutes of Morgan's flat. However, we ended each night at Café La Vie just underneath the apartment owned and operated by Morgan and her husband. I cannot stress how much we enjoyed having the café downstairs. The clientele is a mix of various tourists from all over the world, local Palestinians and Palestinian Americans the café has a hipster and artistic vibe. Café La Vie has a wide arrange of delicious food and alcoholic beverages, one in particularly that I discovered is the "Made in Palestine Wine" everyone should try it! Morgan and her husband were extremely attentive to our needs, they made sure if we had any questions they got answered promptly. They checked in on us periodically and we often ran into them at their café downstairs. We are planning to visit Ramallah again in the early summer of 2015 and I am definitely staying at Morgan's flat again, in fact its one of the highlights of the trip back to Ramallah.
Albert
2014-12-29T00:00:00Z
What a lovely flat! Really spacious, light and breezy. It was a great place to spend a couple of days//nights. We also loved the big verandas, really leafy and pretty, and great to eat breakfast on. The cafe/flat is very central but set apart from the hustle & bustle of Ramallah - great to come back to after a long day of sightseeing! Morgan was really helpful, she offered us loads of tips and was easy to get hold of. We want to come back when all the renovations are done! Thank you!
Rebecca
2015-09-04T00:00:00Z
One of our favourite places yet. It's big, it's clean, and it has everything you'll need to have a home away from home. It sits above a coffee shop/bar (which they own) that serves up some delicious food. We mostly ate here actually. Great location to central Ramallah, markets and grocery stores too. The best part was how amazing the hosts were. We were invited for Christmas brunch with their family and they lent us car seats to use while in Israel. We loved our time in Ramallah. Xoxox. See you again!
Robyn
2016-12-27T00:00:00Z
Wonderful apartment in central downtown location above fantastic cafe. Easy to get everywhere. Morgan was an excellent host and helpful with all kinds of advice and questions. Would definitely stay again!
Elisabeth
2015-07-23T00:00:00Z
Morgan was an enormous help during our stay in Ramallah, and her apartment was fabulous! She went out of her to make sure we were comfortable during our stay and even included fresh organic eggs. I would highly recommend this apartment--amazing balconies on three sides! And a very pleasant space above the coolest cafe in town.
Andrew
2016-05-28T00:00:00Z
This is a beautiful apartment and Morgan made me feel very welcome, both at the apartment and at the cafe. I really appreciate the extra mile she went to make me feel welcome. The apartment has a full kitchen which helped me save some money by having breakfast there everyday. My favourite part of the apartment was the three excellent balconies so I could enjoy the sunshine and madness of Ramallah :)
Emily
2015-05-03T00:00:00Z
Morgan is a great host and so generous. The flat is above one of the best cafes in Ramallah - delicious food and coffee. The apartment is spacious, nicely decorated, with comfortable beds. It is equipped with everything needed for a long term stay. The veranda is absolutely gorgeous and I spent much of my time there. Would highly recommend Morgan's place and Cafe La Vie.
Erika
2014-11-24T00:00:00Z
Room Type
Entire home/apt
---
Property Type
Apartment
---
Accommodates
4
---
Bedrooms
Ramallah, Palestinian Territories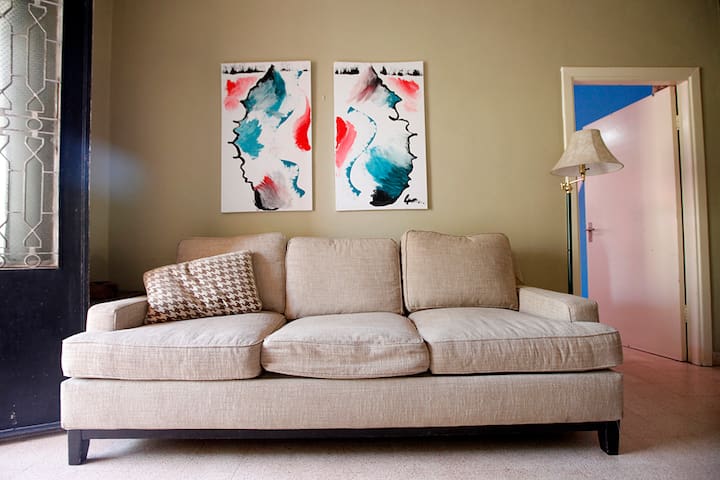 Our comfortable studio is such a cozy place that accommodates up to 4 people located in the downtown of Ramallah. Its only a few minutes walk from all vital and hotspots of this city. It is fully furnished with a wifi connection. Such a friendly place and friendly people that are always ready and willing to help at all times.
Room Type
Entire home/apt
---
Property Type
Apartment
---
Accommodates
4
---
Bedrooms
Ramallah , Palestine, Israel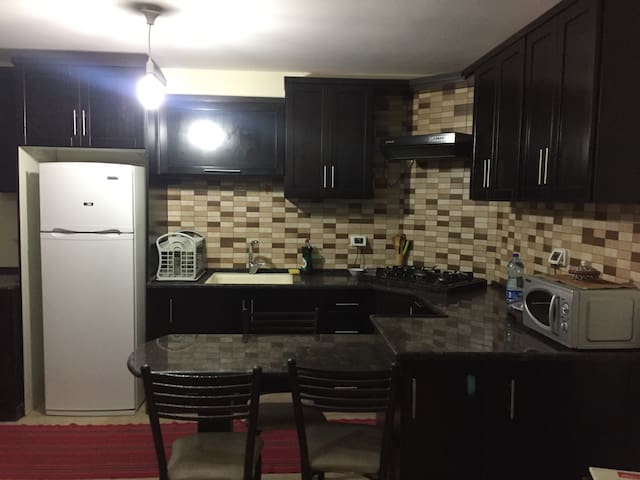 New 165 m square, central heating, Wi-Fi, excellent furniture, attractive view, located in Alteyra Ramallah near Sareyet Ramallah
Each cm in the apartment is designed perfectly, no wasted space. External closed storage is available beside parking.
The host canceled this reservation 53 days before arrival. This is an automated posting.
Nedal
2016-08-21T00:00:00Z
Room Type
Entire home/apt
---
Property Type
Apartment
---
Accommodates
6
---
Bedrooms
Ramallah, ram Allah/west bank/Palestine, Israel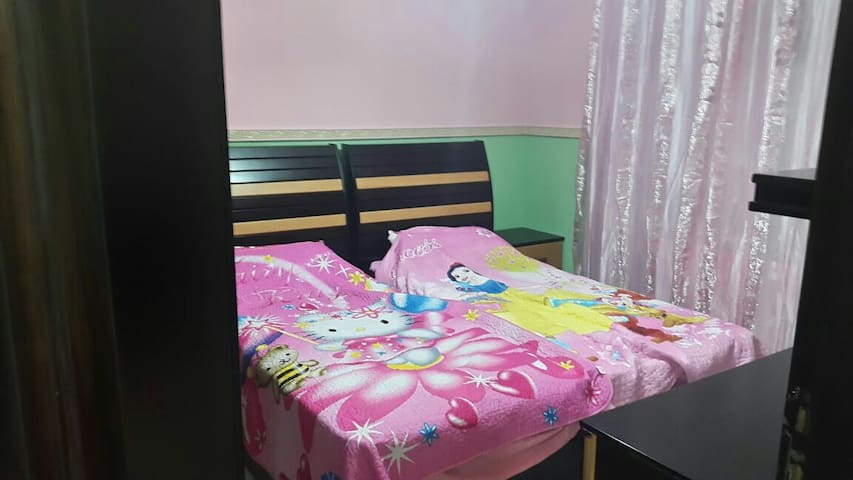 This beautiful room is the perfect place to rest your head after a day exploring! With a double bed, your own bathroom and a terrace with an amazing view, it is sure to be a home away from home!
On the second floor of a duplex, the room comes with a double bed and wardrobe. There is also a sofa bed in the study that opens on a very spacious roof terrace with a stunning view. The ground floor consists of a living/dining room, a fully equipped kitchen, and a bathroom.
The apartment is located in a quiet neighbourhood with great view over the hills and on clear days you can see Tel Aviv in the background. There is a supermarket just 100m away.
We enjoyed our stay here. Alice and Majd were very nice and they accommodated our early arrival time. The apartment is very nice, with a lovely view of Ramallah. It is located in an upper class neighborhood. It is pretty easy to get to town using the service taxis, which come by frequently. It was nice to have a well-stocked grocery store nearby so we could also buy food to eat at home. We recommend staying at this apartment!
Evyn
2016-07-15T00:00:00Z
Alice and Majd were brilliant hosts. Their apartment is clean and very comfortable with brilliant views. They were both very kind and helpful, we really enjoyed getting to know them. The apartment is about 10mins drive from Ramallah and very easy to get to by taxi. If we return to Ramallah we would definitely stay here again.
Daniel
2015-08-17T00:00:00Z
Majd and Alice were very kind hosts who shared with us their lovely home. I recommend connecting with them beforehand as the Al-Tireh neighborhood is not very close to the Al-Manara center of the city. With that said, I think their neighborhood is far more peaceful and it is also very accessible. The home was clean and comfortable in every respect. Highly recommended!
Zalykha
2015-07-14T00:00:00Z
One word: awesome. Why was it awesome? You can't feel more at home than with Alice and Majd. They did everything in their power to make us feel welcome. On top of that... they have a beautiful house plus a even more beautiful roof terrace with a amazing view (you can see Tel Aviv in the back). So to keep it short: I really hope that I get the opportunity to go to Ramallah again - so I can stay place at their place again!
Daniel
2015-07-06T00:00:00Z
Alice and Majd were great hosts and went out of their way to help us by offering advice and recommendations, a pick up and drop off in the city centre upon arrival and departure, and generally making us feel welcome. The place was beautiful and comfortable, with a great terrace, as advertised. The one issue for us was the location which is in Al-Tireh and doesn't match the map on AirBnB. It's a peaceful neighbourhood and an easy and affordable cab ride downtown but you can't walk to the centre if that's what you're looking for. Overall though it was a great place and great hosts.
Sonja
2015-08-01T00:00:00Z
A very nice, spacious apartment with very nice hosts. It's a bit out of the way from the city center, but there are servees taxis (3 NIS) and private taxis (10-15 NIS) to take you back and forth.
Hunter
2016-09-24T00:00:00Z
Alice and Majd were lovely and their home is wonderful. It has a spectacular view and is well-equipped for a visitor in every way .
Henry
2016-06-26T00:00:00Z
Room Type
Habitación privada
---
Property Type
Apartment
---
Accommodates
3
---
Bedrooms
Ramallah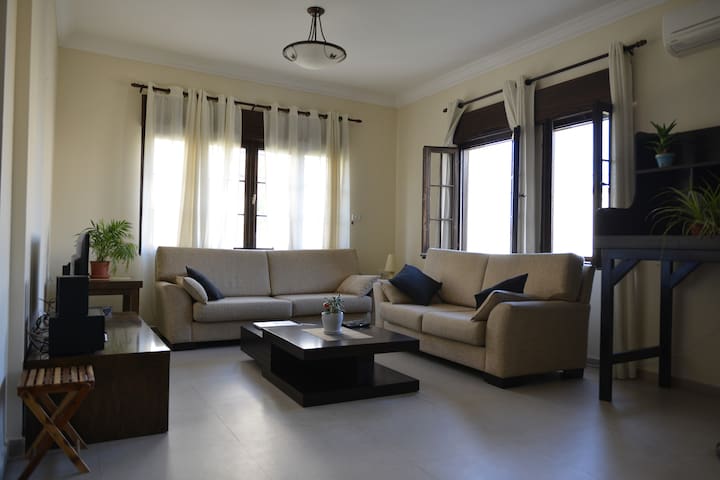 Apartment located in quiet neighbourhood in Ramallah, walking distance from down town Ramallah. Close to Ramallah cultural palace. Private entrance with private garden.
Room Type
Habitación privada
---
Property Type
Apartment
---
Accommodates
1
---
Bedrooms
Ramallah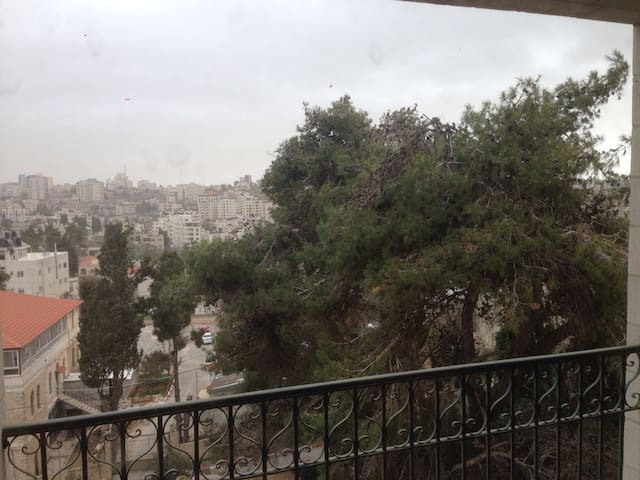 Beautiful brand new Apartment in charming Ramot neighborhood, in excellent location. Apartment on ground floor with private entrance , one bedroom and one living room , fully furnished , near the mall and public transportation and several synagogues. The Apartment has 2 pull-out bed, and we can provide two additional folding beds.
Very welcoming host in a very religious neighborhood. Not for everyone, would recommend if you're religious.
Chelsea
2016-11-09T00:00:00Z
Both, the host and his wife are very warm and welcoming. This residence seems to have just left the oven, shiny floors and up to date fixtures; in fact, as I was leaving, the host was working on installing and giving it a final touch. You'll find there a full size kitchen, full size oven and refrigerator, not just a small kitchenette. Have fun.
Sara
2015-12-11T00:00:00Z
Very helpful and caring host and hostesses. Helped us get settled and were always a phone call away whenever we needed anything.
Cylus
2017-03-20T00:00:00Z
Great location extremely quiet. The property is clean and a great value with close proximity to many neighborhoods of Jerusalem. Also parking is great there are many parking spaces available. Highly recommended
Amit
2016-06-14T00:00:00Z
The place is very comfortable, all things are pretty new and clean, near to shopping and well located. The hosts are very friendly. We recommended for everybody!
ana
2016-04-02T00:00:00Z
It was raining when we arrived. Aviezer came out to our car with umbrellas to help us into the apartment without getting wet. Aviezer was very helpful. Any question I had was responded to very quickly (we corresponded via text). This is perfect for a dati/frum couple as it is in a religious community, just down the street from the Ramot mall. The location was perfect for me as I had a son at the Mir and another son in Givat Zeev so we were between the two.
Chaim
2017-01-27T00:00:00Z
Très bon acceuil de nos hôtes. Logement parfait, propre et confortable. Nous y retournerons.....
Ethel
2016-12-30T00:00:00Z
El departamento estaba en perfectas condiciones y efectivamente tiene detalles de lujo. La ubicación es ideal frente a sinagogas. Abiezer y su esposa nos atendieron excelente, dejaron para nosotros galletas, café, té, etc. Y atendieron con excelente voluntad cada una de nuestras dudas. Fue una gran experiencia y es 100 x ciento recomendable! The apartment was in perfect condition, indeed it has many luxurious details and Abiezer and his wife were very dedicated, they leave for us cookies, coffee, etc. And help us all the time very kindly. The apartment is full equipped and all works perfect! The location is great in front of many synagogues and with a lot of space to parking. 100 % recommended! They are great people and the apartment is also great.
David
2016-01-30T00:00:00Z
Room Type
Entire home/apt
---
Property Type
Apartment
---
Accommodates
4
---
Bedrooms
Jerusalem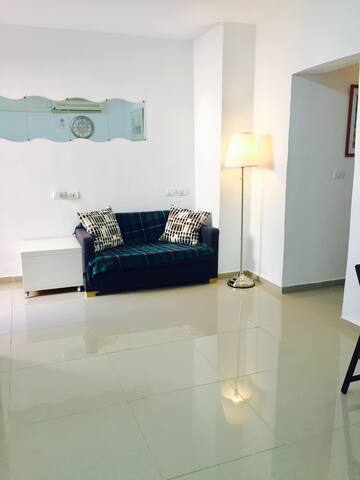 Giv'at Ze'ev - Airbnb
:
Average

4.86

out of

5

stars from

104

guest reviews
1

–

18

of

300+ Apartment Rentals
Enter dates to see full pricing. Additional fees apply. Taxes may be added.