A peaceful and relaxing apartment, 5 minutes walking from the lake. Composed by: 2 bedrooms (a master bedroom + second bedroom with 2 bunk beds), large living room with another double sofa-bed, spacious and sunny terrace. Very quiet and private, ideal for families with kids.
The apartment is fully equipped for a short holiday. You will find everyhting you may need during your stay: fresh towels and linings, toiletries, cooking utensils, TV,...
The host canceled this reservation 22 days before arrival. This is an automated posting.
Mayank
2016-12-02T00:00:00Z
Apartment was very clean and friendly. The environment is quiet and really beautiful. It is ideal for 4 persons, but we could also manage with 6 people without real problems.
András
2016-10-31T00:00:00Z
Bonne expérience, logement spacieux, propre et proche du lac. Petit port de Feriolo agréable avec plages et restaus. A proximité de Stresa et des iles Borromée. Accueil très chaleureux de Myriam et de sa maman qui parlait français.
Naoual
2016-09-06T00:00:00Z
Nous avons été très bien accueillis dans ce sympathique et agréable appartement très bien situé, proche du centre commercial, du lac, de l'arrêt de bus.
myriam
2016-08-21T00:00:00Z
Eine Flasche Wasser, Wein und Früchte als Willkommensgeschenk. In nur zwei Minuten waren wir am See. Sowohl Check-in als auch Check-out konnten sehr flexibel gestaltet werden. Da wir zum ersten Mal in dieser Region im Urlaub waren, hätten wir uns mehr Informationen zu den Ferienorten, Stränden und Tipps für gute Restaurants gewünscht.
Obert
2016-08-01T00:00:00Z
Rustige locatie en toch vlak bij het meer en andere voorzieningen. Prettig contact met verhuurder.
Marieke
2016-08-10T00:00:00Z
Un appartement idéalement situé avec tout le confort nécessaire pour deux adultes et deux enfants. Merci pour l'eau pétillante au frais et les fruits dans la corbeille pour nous accueillir !!
Barbara
2016-09-11T00:00:00Z
Room Type
Entire home/apt
---
Property Type
Apartment
---
Accommodates
6
---
Bedrooms
Feriolo, Piemonte, Italy
Splendido appartamento affacciato direttamente sulla famosa spiaggia di Feriolo
Una vista stupenda in paesino meraviglioso adatto sia per famiglie ,per coppie e per amici !
L atmosfera magica di uno dei più bei paesi del lago Maggiore.
Would like to give 6 stars for your hospitality and the location of the apartment. Love to come back.
Hillegonda
2016-08-27T00:00:00Z
Un séjour irréprochable dans un appartement idéalement placé car la plage est directement accessible et la circulation dans le village est interdite à partir de 19h donc on peut profiter du bord du lac en toute sécurité. Un bar se trouve juste en dessous , les patrons sont très sympas et accueillants et les prix sont très corrects . Un grand merci à notre hôte Katia qui a tout fait pour que notre séjour se passe bien , toujours un grand sourire ,rien ne manque dans l'appartement et nous avons eu beaucoup de petites attention comme des sucreries pour notre fille , une bouteille d'apéritif pour nous , et des boissons fraîches dans le frigo . Nous avons bien l'intention de revenir l'année prochaine . Extrêmement satisfaits.
dorothee
2016-08-13T00:00:00Z
"Il porto" est probablement le logement le mieux équipé que nous avons trouvé sur airbnb. C'est simple, il ne manque rien! Tout ce dont vous avez ou pourriez avoir besoin s'y trouve. Et c'est un vrai plaisir. Le logement est complètement fidèle aux photos, il est grand, lumineux, hyper propre (quasi neuf) et avec une vue incroyable sur le lac. Un petit parking gratuit se trouve à proximité, nous avons pu nous y garer quasiment tous les jours. Ferriolo est un excellent point de départ pour visiter les îles Borromée bien sûr, mais aussi le petit lac d'Orta, à une vingtaine de kilomètres, à ne pas manquer. Nous avons été accueillis par Katia, la femme de Roberto, qui habite juste au dessus et qui est tellement adorable! Elle a vraiment été aux petits soins pour nous, drôle, attentionnée (le frigo était plein de petites choses!!) pleine de bons conseils. En résumé, ce logement est proche de la perfection. Quel dommage que la route principale du lac majeur, tellement passante, se trouve si près…
Cecile
2016-07-09T00:00:00Z
Merveilleux séjour au Lac Majeur. Appartement très bien situé, vue magnifique sur le lac. Appartement bien équipé, très propre. Nous avons apprécié l'accueil de la propriétaire et ses délicates attentions envers nous. Je vous recommande tout particulièrement la location de cet appartement.
Camille
2016-03-31T00:00:00Z
Room Type
Entire home/apt
---
Property Type
Apartment
---
Accommodates
4
---
Bedrooms
Feriolo, Piemonte, Italy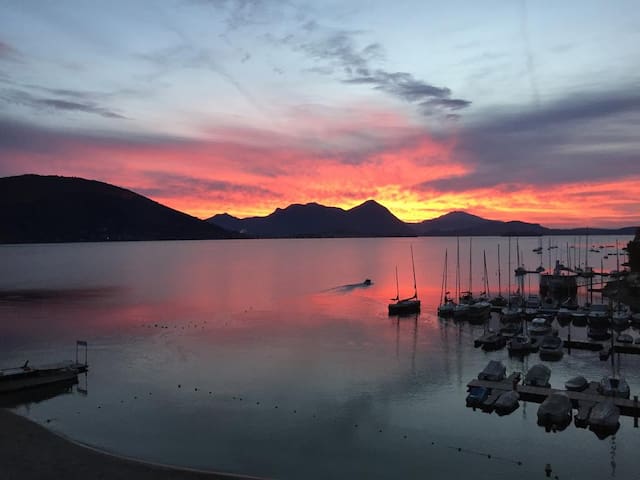 Luminosa Mansarda a Feriolo di Baveno, tranquillo paese di ex pescatori e picasass sulle splendide rive del Lago Maggiore con le sue Isole Borromeo, adatta a coppie, singoli, chi viaggia per lavoro e famiglie (anche con bambini). Ferienwohnung 5 Gehminuten vom Strand und Restaurants und 5 Autominuten vom Golfplatz und 10 Autominuten Umschlaghafen vom Isole Borromeo. Du wirst meine kleine Ferienwohnung lieben wegen der ruhigen und schoenen See. Autoeinstellplatz.
Room Type
Entire home/apt
---
Property Type
Apartment
---
Accommodates
3
---
Bedrooms
Feriolo, Piemonte, Italy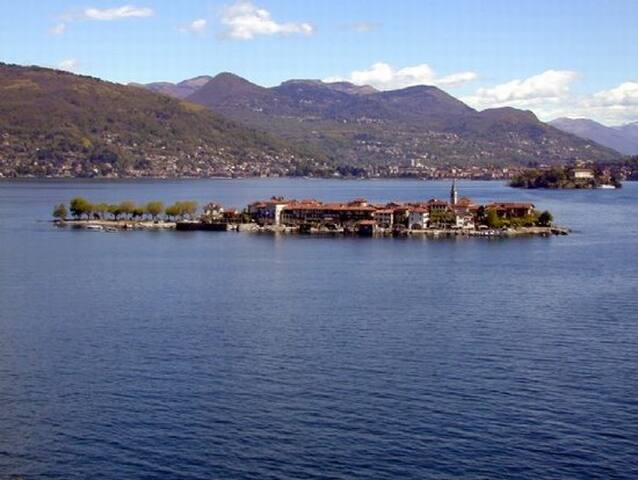 In a wonderful location, just 20 meters from the lake, completely renovated in 2012 and in perfect condition; shared garden with gazebo and barbecue. It offers Wi-Fi, bicycles. Possibility of trekking with a Nature Guide. Apartment for 3-5 people
Stunning views of the islands of Lake Maggiore. The apartment is in the historic center of Feriolo, 2 minutes from the motorway. In the home there are 3 apartments with independent access. Each apartment consists of a bright space of 57 sqm and a large bathroom with shower. Temperature-controlled, equipped with double glazing is in perfect condition. Shared garden with gazebo, chairs, barbecue and parking for loading and unloading. Bicycles and a small motor boat are available to guests. The sandy beach below is equipped with mooring boats.
The lake promenade of Feriolo is one of the most characteristic of Lago Maggiore: the bright colors of the houses, the beaches with picturesque moored boats, characterize the appearance, offering a particularly scenic at sunset, when water reflect the light of street lights that surround it. Feriolo is a major tourist center with a long history behind it and numerous archaeological finds dating back to the prehistoric age, have been found in the area.
We had a wonderful 6 night stay in Feriolo. Tiziano is an excellent host and a good communicator. He met us to show us through the apartment. The apartment is well furnished and clean and had everything we needed including bikes we could use for free. The milk , orange juice, fruit and buns were much appreciated on our arrival. The setting is absolutely picturesque ... It has a beautiful view of the boats on the lake from the balcony windows. There are some lovely restaurants on the waterfront right in front of the apartment. And a small mini market close by. Tiziano was very helpful with suggestions of places to visit. We had a car so it was easy for us to explore the towns and villages nearby. We would highly recommend this apartment. We felt very much part of a little Italian village.
Kay
2015-05-06T00:00:00Z
Heel fijne vakantie gehad, mooi uitzicht ,leuke en goede restaurants aan het water. Tiziano en Laura lieve mensen (URL HIDDEN) het appartement was alles aanwezig wat je nodig had. Goed verzorgd . Het contact was prima . Bij aankomst fruit en wijn heel attent. Gr. Carla en Lou
carla
2016-07-28T00:00:00Z
El apartamento está muy bonito y tiene todo lo necesario para sentirse cómodo. La descripción es correcta y Tiziano super amable nos enseñó como funcionaba todo y los alrededores.
Verónica
2014-11-27T00:00:00Z
Room Type
Entire home/apt
---
Property Type
Apartment
---
Accommodates
5
---
Bedrooms
Feriolo, Piedmont, Italy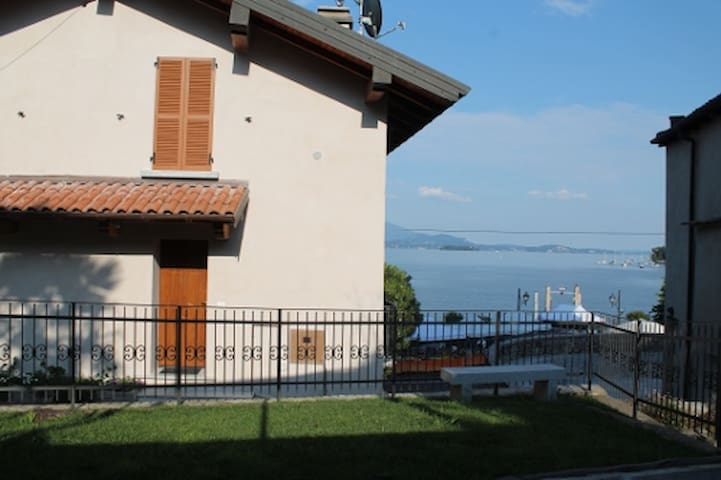 Quiet and cozy apartment in the lovely town of Feriolo on the shores of Lake Maggiore. Private Parking Lot (car/boat) and possibility to use the swimming pool. It can comfortably accommodate 3 people, beach within walking distance.
NEWS // Oct-10-2015 Free Wi-Fi internet is now available to the guests! // // Aug-11-2015 Swimming pool reopening! After completing the maintenance works, the pool returns available to the guests! // The apartment is in the lovely town of Feriolo, on the shores of Lake Maggiore. It has a terrace and a patio where you can also have lunch or dinner. It's composed by a large living room with a sofa bed plus the kitchen, the bathroom and one bedroom. It is included the right to use the beautiful residence swimming pool and the reserved parking lot. It will take only a couple of minutes to reach the lake by walk, and you can easily access the public beaches.
Feriolo è un piccolo paese molto tranquillo. L'appartamento è a pochi passi dal lago e nelle vicinanze si possono trovare bar e piccoli ristoranti. Non ci sono locali rumorosi, il relax è assicurato!
The host canceled this reservation 26 days before arrival. This is an automated posting.
Cédric
2016-07-07T00:00:00Z
We had a very nice time in Feriolo. It is a great village at the maggiore lake. The appartment is clean and well equipped. Swimming pool area was still under construction but we could swim. However we preferred the lake.
Sophie
2016-07-02T00:00:00Z
Great experience. The apartment is very well located and it is exactly as shown in the pictures. We were two and a baby and the place was more than enough.
Diana
2015-10-25T00:00:00Z
It was perfect and exactly the same as on the pictures. The apartment and it's private garden were very nice, clean an equipped with everything the guest might need ! It's located in a quite and very beautiful village by the lake. Paolo's mother welcomed us and was smiling, kind and helpful, even if we were half an hour late. Highly recommended!
Claire
2015-08-14T00:00:00Z
Paolo was nice and easy to reach. He gave us the address of the best pizzeria in the area and was helpful giving us tips on where to go and what to see. We met him at the entrance of the apartment complex. The apartment in itself was nicely furnished, looked like it was newly built. The terrace, while offering a view of the courtyard was nice and sunny. Parking spot was a big plus considering the fact that it is a rarity around town. Location is perfect, a minute away from the waterfront. Feriolo in itself is a pretty tiny hamlet with not much to do, still there are many restaurants directly on the waterfront. Our only complaint would be that the pool was still closed. It was a really hot summer day, the pool of apartment complex next to ours was packed with people and since one of our criteria of research was a pool, we were a little bit disappointed. Also, the apartment has no air conditioning system. Overall, we would rent from Paolo again during our next stay at the Laggo Maggiore.
Le
2015-06-07T00:00:00Z
One of the best features of this listing is its position in the village of Feriolo, nestled between Lake Maggiore and the mountains. Lovely lakefront with enough places to eat and drink but not too crowded. A supermarket nearby provides all you need to cook for yourself. Public transport not great but if you come by car its a great place as a base for travelling around this beautiful area. We were met by Paulo's mother, the appt was spotless and fresh flowers were a lovely welcoming touch. The appt has everything you might need to self cater. Nice garden area to relax in, which gets the morning sun. Bathroom is a bit cramped and if I lived there I would lose the bidet. We enjoyed our stay there. Being in a gated complex has its pros and cons. Secure yes but you have to use keys always to enter/leave which can be a pain. Great to have parking space in cool underground area Highly recommended. Only grumble is that the beds not great in bedroom for those who need a supportive bed - but ones in living room more comfortable which seems a bit counter intuitive.
Joe
2016-05-24T00:00:00Z
Die Lage der Wohnung in Feriolo ist echt toll. Man erreicht zu Fuss prima den See, Restaurants, einen Spielplatz und einen kleinen Supermarkt. Der Parkplatz ist gedeckt und abschliessbar. Der Gastgeber ist sehr hilfsbereit auch wenn es um Tipps (z.b. für Ausflüge) geht.
Daniela
2016-07-31T00:00:00Z
L'appartement est situé dans une région très agréable, étant venu avec un enfant en bas âge, nous avons apprécié la place de jeux à quelques pas. Appartement conforme à la description sur l'annonce, et bien équipé. Dommage que la piscine n'était pas encore en service. En tous cas merci pour le contact très agréable!
Matthieu
2015-05-16T00:00:00Z
Room Type
Entire home/apt
---
Property Type
Apartment
---
Accommodates
3
---
Bedrooms
Feriolo, Piedmont, Italy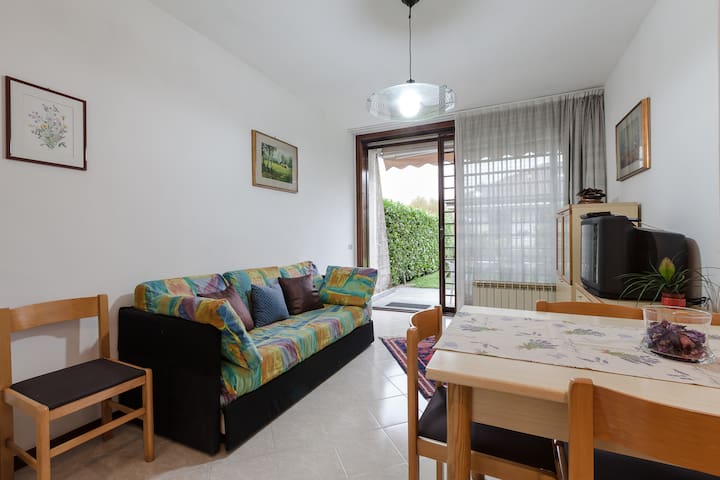 Sul lungolago di Feriolo all'interno di una casa tipica completamente ristrutturata c'è l'appartamento MARTA. Tutto è completamente nuovo e ben arredato con anche alcuni mobili d'epoca.
Room Type
Entire home/apt
---
Property Type
Apartment
---
Accommodates
5
---
Bedrooms
Feriolo, Piemonte, Italy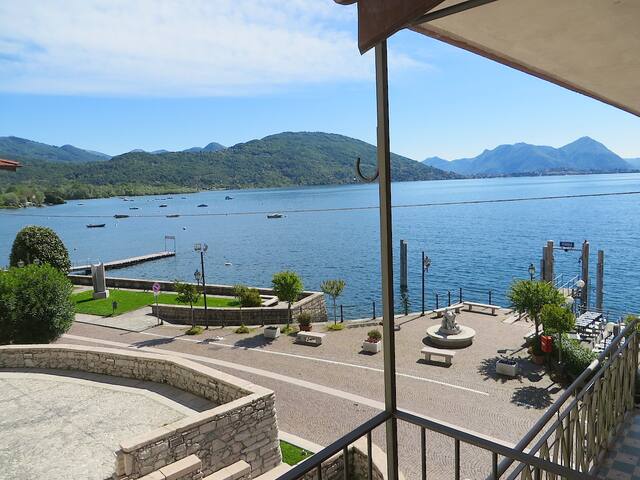 My apartment is located in a small village of Baveno in tranquillissima.E position 'a whole on the ground floor apartment with separate entrance and private garden in front. It 'easy to reach (see photo seedlings). At 300 mt. from the center, the station, the supermarket and the lake for boarding Borromean islands. Ideal for a relaxing holiday on Lake Maggiore. Parking facilities nearby. Malpensa Airport 60 km away.
We spent 2 nights at Grazella's place and that was a pure pleasure! :) The place is very clean, convenient, fully equipped, cosy and beautifully decorated. There is plenty of touristic materials waiting for you in the apartment so you will not have problems with finding your way in the neighborhood. Braveno is a small town but it has its charm and it's very easy to get from there to Stresa or to the Islas Borromeas. Grazella and her husband are very hospitable people, we even got a welcome cake when we arrived :) The only missing thing was the Internet access but Graziella promised to work on this already :) We highly recommend staying with Grazella!
Magdalena
2016-09-23T00:00:00Z
From the moment we arrived off the train at Baveno station and were picked up by Graziella we were made extremely welcome. The accommodation is perfect, good size bedroom and double pull down sofa/bed with fully equipped kitchen and dining area along with a very modern bathroom and a powerful shower. It was the little extras that made our stay all the more special and very memorable - a delicious home baked cake, coffee and milk and even some beers in the fridge! Graziella and her husband couldn't be more helpful with travel advice and local information nothing was a problem. This was our first experience of Airbnb however I can't imagine that many others would be better than this one. Thank you Graziella , ciao.
Gary
2016-10-11T00:00:00Z
Graziella and her hubby "Peter" were wonderfully accommodating hosts. Though a short 3-5min walk, Graziella was at the station waiting to give us a lift. Their 1st floor apartment was clean, spacious, and the perfect lovers' getaway. We spent a sleepy winter week in the little town of Baveno, the kid brother to Stresa, 5km south, along Lake Maggiore's riviera. Milan is a smooth, cheap 2hr train ride away for day trips. Graziella and Peter gave us plenty of privacy, yet, avid hikers, gave us plenty of tips on local strides. We'll absolutely stay here again. The value and the hospitality are second to none. Graziella even shuttled us through the rain, to the station, for a heartfelt fairwell. This is what feeling welcomed into a culturally rich, kind community feels like.
Garek
2017-02-03T00:00:00Z
E' stato un weekend fantastico, in una location incredibile. L'appartamento è di quanto più bello ci sia. La padrona di casa rende tutto ancora più bello facendoti sentire come a casa
vito
2016-11-06T00:00:00Z
L'accueil de Graziella et son mari est exceptionnel. Le logement est très confortable, aménagé avec beaucoup de goût. Celui-ci est parfait pour passer un excellent séjour. Graziella et son conjoint sont très soucieux des attentes de leurs hôtes. Ils anticipent tout dans le moindre détail. Nous avons le projet d'y retourner.
Bernard
2016-10-28T00:00:00Z
Confermo quando detto da tutti che hanno soggiornato da Graziella. Aggiungo che è stato un vero piacere e un onore conoscere due brave persone che grazie alla loro serietà e disponibilità ci hanno permesso di conoscere uno dei più bei posti d'Italia.
Vito
2016-09-25T00:00:00Z
Graziella est une hôte prévenante, très soucieuse de notre bien être. Son sens de l' accueil est formidable. Le logement est idéalement placé dans un quartier résidentiel très calme à quelques minutes à pied du centre de Baveno et de l'embarcadaire vers les îles Borromées. Le logement est tenu avec beaucoup de soin et dispose de tout l'équipement nécessaire pour faire la cuisine; une grande salle de bain très agréable, de grands placards dans la chambre et une terrasse extérieure avec mobilier de jardin. Seul bémol: le stationnement de la voiture qui doit se faire dans la rue, rue cependant très tranquille avec très peu de passage. Je recommande vivement ce logement !!
Narcisa
2016-10-25T00:00:00Z
Le logement de Graziella est très bien situé, très propre, et peut accueillir 4 personnes sans problème. Accès au lac et à l'embarcadère pour les îles Borrommees en moins de 10 minutes à pieds. Carrefour Market à moins de 5 minutes à pieds. Parking gratuit à 2 minutes à pieds. Graziella est une hote charmante, pleine de bons conseils et très attentionnée.
Sébastien
2017-04-05T00:00:00Z
Room Type
Entire home/apt
---
Property Type
Apartment
---
Accommodates
4
---
Bedrooms
Baveno, Piedmont, Italy
Apartment located in the center of Baveno 100m from Lake Maggiore. It offers 2 bedrooms, one with a double bed, the other with 2 single beds and a desk, private bathroom with shower and kitchen with balcony. Pedestrian zone. Eolo unlimited WiFi. Apartment located in the center of Baveno 100m from Lake Maggiore. It offers 2 bedrooms, one with a double bed, the other with 2 single beds and a desk, private bathroom with shower and kitchen with balcony. Pedestrian areas. Eolo unlimited WiFi.
The accommodation is located on the first floor of a small building. To access at home you have to walk up a flight of stairs.
Overlooking Lake Maggiore a few meters on foot from Baveno and the railway station connecting Milan and Switzerland. We recommend you to visit the Borromean islands by ferry or private boat.
Host's mother welcomed us at property. It was nice to find biscuits and jam left for us.
Felicity
2016-06-11T00:00:00Z
Mama's place was just fine for a one-night stay in beautiful Baveno. Mama was very pleasant during check-in, despite having limited english skills. The apartment was warm (good as it was a cold winter evening), very close to everything in town, and had everything we needed for our stay. Thanks!
Lija
2017-02-15T00:00:00Z
Nice appartement close to the lake. It's perfect to take the boat for the islands, it's one minute walk from the boat. The appartement is nice, the two bedrooms are perfect for a family of 4. Everything was ready for our arrival. Really nice stay.
Emeline
2017-04-05T00:00:00Z
We were so impressed with what great value the apartment was. Fantastic location, Baveno is stunning. The apartment was very clean and had everything we needed and very thoughtful biscuits and tea bags and coffee. Would definitely recommend to friends.
Katy
2016-08-25T00:00:00Z
We enjoyed our stay in Loredana's apartment. I recommend her listing to other potential guests.
Abolfazl
2016-03-19T00:00:00Z
Baveno is a beautiful place. Loredana is a wonderful host even though we didn't get to meet her we were welcomed by her mother and father who were very lovely. We struggled with language barrier but got there in the end with a lot of laughs and hand gestures. The accomodation was lovely although it was up one flight of stairs and our bags were heavy but Loredanas father very kindly carried mine up. The unit is very clean and spacious and well located. There were nice little touches like tea biscuits coffee etc which was very welcoming. I would recommend this place anytime. It was a little noisy but cannot be helped. Thanks regard Lesley and Gary
Lesley
2016-06-15T00:00:00Z
Nice appartment in the center of Baveno... so cute near Lago Maggiore
Christine
2016-07-26T00:00:00Z
We had passed a weekend so wonderful ! It's a sweet apartment, Thanks a lot , Loredana,and your mother!
Miko
2016-11-07T00:00:00Z
Room Type
Entire home/apt
---
Property Type
Apartment
---
Accommodates
4
---
Bedrooms
Baveno, Piemonte, Italy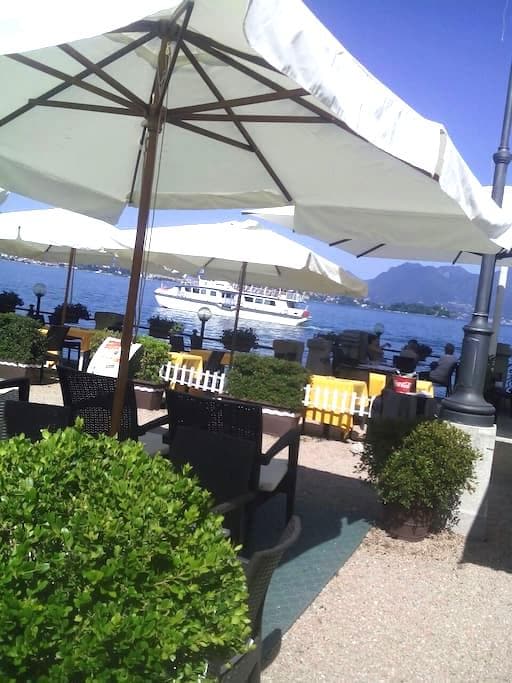 Newly arranged in Baveno in a villa of the early nineteenth century made in perfect Art Nouveau style, the exterior architecture and typical park. A short walk from the piers to the Borromeo islands and the center of Baveno and the beaches. The villa is 45 minutes drive from Malpensa airport, great for visiting Stresa, the Islands and the Lake Constance area. The villa is set in a private park available to guests.
First floor apartment in a villa of the early nineteenth century made in perfect Art Nouveau style, the exterior architecture of the park and typical lake style with 2000 square meters park of historical and cultural interresse available to guests. Exit highway A26. Baveno is a charming tourist town of Lake Maggiore site between Verbania and Stresa. The villa is located approximately 300 m from the landing stage with mooring boats for trips to the Borromeo Gulf Islands and the botanic gardens of Villa Taranto. The villa while being isolated from the park is situated in strategic position close to shops, restaurants, hotels, the public park of Villa Fedora, not far from the lake, from the public beaches and its equipped beach. Also within easy reach a golf course and tennis courts. For children a Aquadventure Park surrounded by nature. The apartment on the first floor, of about 120 square meters, is furnished with both modern and historic and is as follows: Entrance hall, large living room with fireplace and view of the park, kitchen, three bedrooms, one large room bedroom (it is possible to provide a cot or crib for small children), bathroom with tub and a large terrace for outdoor dining. L 'apartment can accommodate up to n. 6: 2 people in the master bedroom (+ possible cot) 2 persons in the bedroom with twin beds, 2 persons in the bedroom with sofa bed. Facilities: kitchen, refrigerator microwave, television, washing machine. 2000sqm park, barbecue, deck chairs, electric gate, parking. Animals are not allowed.
Baveno is convenient for visiting Stresa, the Borromeo Gulf Islands botanical gardens of Villa Taranto. Only 45 minutes from Milan Malpensa airport, 60 minutes from the center of Milan, 50 minutes from Switzerland. about 2 hours from Bellagio and Lake Como
A lovely house in a place convenient for traveling around the lake. The apartment located on the top floor of the villa, it's big enough to for big family or for 5-6 addult friends. There are all the necessary things in apartment - coffee, salt, spices, detergents, etc. The owners are very very nice people, they are always ready to help.
Olga
2017-03-10T00:00:00Z
Hi Nicola, we had great days in Baveno. Big kudos to all, your aunt, Elio, the chickens..... The Apartment is very beautiful. There is everything you need. The Communication was very uncomplicated. Wie give you an OSCAR!!!!! Thanks for all and very warm greetings to all Gabriela and family
Gabriela
2016-03-30T00:00:00Z
A warm welcome, thanks family of Nicola! Great stay in Baveno!
ann
2016-07-22T00:00:00Z
We were received very warmly by Elio and Enrichetta. The houe exceeded all expectations. Lovely welcome with wine. Lovely homemade cake. And local food tips and ingrediens. The area is lovely and has a magical feeling about it. Thank you for an authentic local italian exprience.
Gailie
2015-09-23T00:00:00Z
The hosts Aunt was very welcoming, checking in was very easy, & it was so lovely to receive a baked cake & wine. nothing was to much trouble. the appt was spacious & well equipped kitchen.
Mark & Julie
2016-10-01T00:00:00Z
We had à wonderfull time in this "new" appartment. The interior loods wonderfull and the villa and garden were very nice to stay. The location is wonderfull and the host is very kind and helpfull. The appartment was very clean an we had a lot of privacy and à warm welcom. We have surely in mind to come bank next year.
Ruud
2015-07-23T00:00:00Z
Nicola gave us the warmest welcome accompanied by a bottle of red wine and a home-made pear cake. The apartment was clean with a lot of attention to details, e.g fresh flowers. We also found a table with information on what to do in and around the region. The place was both enchanting and practical with a modern kitchen, heating system and bath. The master bedroom was quiet and cosy. The house is perfectly situated close to Baveno´s restaurants and harbor. Altogether, we felt at home and would recommend this apartment without any hesitation.
eileen
2015-10-17T00:00:00Z
We had a fantastic stay at nicola's apartment - the lake is most beautiful, and the apartment too! Spacious and very nicely decorated too, our hosts gave us a very warm welcome indeed, it felt great to be so at home (especially around Christmas time!). Can only imagine how nice a stay would be in warmer seasons - this apartment is most recommended for the region in any case!
Danmi
2016-12-26T00:00:00Z
Room Type
Entire home/apt
---
Property Type
Apartment
---
Accommodates
6
---
Bedrooms
Baveno, Piemonte, Italy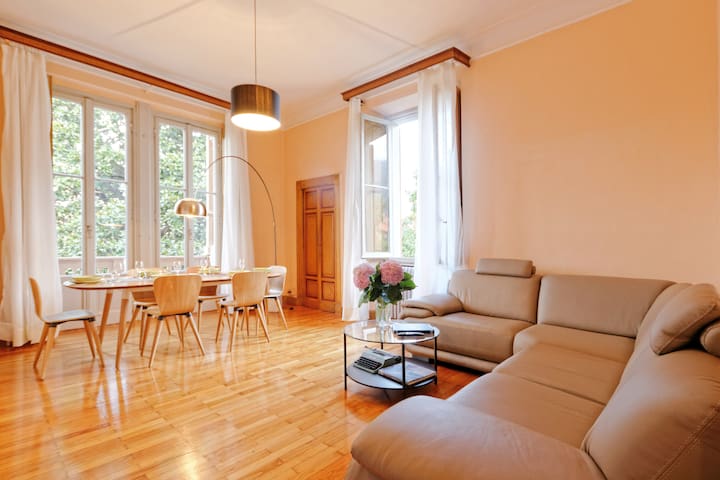 Accogliente e luminoso bilocale, in una palazzina privata con giardino. L'appartamento si trova a due passi dal centro e dal lago. Bautiful two-storey apartment, bright and welcoming, in aprivate building with garden, in a greed and quiet environment. The centre and the lake are within walking distance.
L'appartamento é stato di recente restaurato ed ha la sua personalitá. É ideale per due persone, ma all'occorrenza si puó utilizzare il divano, che diventa un letto matrimoniale, oppure la poltrona futon. Punto forte della casa sono le grandi finestre che danno sui balconi da cui entra una splendida luce naturale. The apartment has been recently restructured. It's perfect for two people, but I also have a double bed couch, just in case. From the bedroom's balcony you can see the lake.
É una zona tranquilla ma a pochi passi dal centro del paese. É in prossimitá della stazione, perció é inevitabile sentire il passaggio dei treni. The house is located in a quiet zone, 5min walking from the centre and the lake side. Near by ther's the train station, so it's inevitable to hear the trains passing.
Beautiful two-storey apartment, spotlessly clean, views of sunrise over the lake while lying in bed. What could be better. Camilla is very attentive to detail. Not only is the apartment beautifully appointed, she also provided guest slippers, and a small chocolate each to go with the tea and coffee, as well as fresh fruit, cereal, milk, etc etc. Added bonus: the kitchen is a decent size and very functional.
Renée J
2017-03-02T00:00:00Z
Siamo stati veramente bene a casa di Camilla, pulita e tenuta davvero bene con ogni comfort a portata di mano. Unica pecca é la stazione dei treni a pochi metri dall´appartamento che, per chi come noi ha un sonno piuttosto leggero, poträ riscontare qualche problema durante la notte.
Saele
2017-04-05T00:00:00Z
Appartement parfait, propre, tres bien situé: à 5minutes du départ en bateau pour les iles borromées!
Margaux
2017-04-01T00:00:00Z
L'alloggio è davvero carino a circa 7 minuti a piedi dal lungo lago di Baveno e Camilla è un hosting molto accogliente.
Graziana
2017-04-02T00:00:00Z
Week-end super dans l'appartement de Camila! Il y avait tout ce dont nous avions besoin et n'avons manqué de rien.
Luciano
2017-03-19T00:00:00Z
La cosa che mi ha colpita di più dell'appartamento di Camilla è che mi ha fatto sentire proprio a casa. Pulizia , ambienti Curati e luminosi disposti su due livelli :zona giorno piano terra e zona notte con bagno sopra. Avevamo a disposizione una bella scelta per la colazione : frutta fresca, marmellata , biscotti cereali . Ha lasciato pure un ovetto di cioccolato a fianco delle tazzine ❤ Per me questo è prendersi cura di chi verrà ospitato e di certo mi ha fatto molto piacere . Spero di aver occasione nuovamente di passare in zona e comunque consiglio vivamente di soggiornare nel suo appartamento . Stazione vicinissima , centro di Baveno con attracco per visitare le isole Borromeo a 5 min a piedi .
Silvia
2017-03-29T00:00:00Z
Il soggiorno nella casa di Camilla è stato piacevole e confortevole. La casa era molto pulita e fornita di tutto il necessario. L'ubicazione è ottima per arrivare sia in macchina, grazie ad un grande parcheggio vicino allo stabile, sia in treno, data la prossimità alla stazione ferroviaria. La zona è molto tranquilla, inoltre il centro di Baveno ed il servizio traghetti per raggiungere le isole sono facilmente raggiungibili a piedi.
Matteo
2017-03-12T00:00:00Z
Room Type
Entire home/apt
---
Property Type
Apartment
---
Accommodates
4
---
Bedrooms
Baveno, Piemonte, Italy
Ca' Irri Apartment is located in Baveno. Free WiFi access is available in this holiday home. The accommodation will provide you with a seating area. There is a full kitchen with a dishwasher and an oven. Featuring a shower, private bathrooms.
We renovated the structure maintaining and enhancing the features of this ancient Osteria !!!
In Antica Osteria del Portico, in the town center in a cute medieval village, 400m of the great Lake Maggiore.
We had a lovely couple of days staying at Max's place Ca' Irri. Nice quiet private spot in a picturesque street lovely apartment, recently refurbished and very stylish. Lovely bathroom with a washing machine hidden away and a very powerful shower:) Well located for touring Maggiore by car and not far off the main road to Verbania and Locarno
Jon
2016-09-18T00:00:00Z
we had a great time in this apartment. it was very clean, quiet and stylish. it has all that we needed. the bed was very confortable, all things in the kitchen works good and were very clean (fridge,freezer, microwave and cookingplace). in the bathroom we found towels for us; very confortable. we were positiv suprised about this cozy place and we will come back. maximiliano was very helpful with local advises for restaurants, beaches and bars. we feel that he make all with passion and we are sure that he will have a lot of success with the apartment! muchas gracias para todo. espero que nosotros regresan un dia.
Priska
2015-07-19T00:00:00Z
Maximiliano's place is about an hour away from Milan, but the entire place looks newly renovated. There isn't much to do in the area, but the lake nearby is gorgeous. There's also a small strip of restaurants sitting right next to the lake (very scenic). Overall, the apartment looked very clean and would definitely come back.
Zach
2015-10-10T00:00:00Z
The apartment was exactly as pictured, very clean and modern set within a beautifully rustic village. We thoroughly enjoyed our stay, despite only passing through for one night. Maximiliano was a gracious host and provided maps, flyers, and restaurant recommendations.
Jin
2016-07-15T00:00:00Z
Very friendly contact, clean and top style flat. It was really nice to stay there! I would come again ...
Emmanuel
2016-07-01T00:00:00Z
Maximiliano was a great host. Communication, Information and friendliness-> superb. Nice clean and very elegant appartement ( a little bit difficult to find) , enough space, calm includes everything you need ! For people who wants to make party it is the wrong place. But for those who are searching a calm place, good startpoint for excursions and an elegant appartment it is perfect. When we're coming back to Baveno, then for sure in the appartment of Maximiliano! ️️️️️
Victor
2016-04-27T00:00:00Z
This small flat is absolutely charming. It is brand new with all the furnitures would might need to feel at home. The kitchen is 100 % equiped with even a dishwasher which is really convienient. The flat is an a very quite and lovely area. Maximiliano is really nice and available for any question. To sum it up : I would highly recommend this place for just one night or even an entire week. Ps: There is a view on the lake :-)
Léa
2015-07-12T00:00:00Z
Very nice, chic and new apartment. We felt very comfortable in this flat. The neighborhood is nice and with italian flair. We loved it! The communication with Maximiliano is very good and uncomplicated. We would highly recommend this apartment in Baveno.
Lavinia
2016-05-23T00:00:00Z
Room Type
Entire home/apt
---
Property Type
Apartment
---
Accommodates
4
---
Bedrooms
Baveno, Piemonte, Italy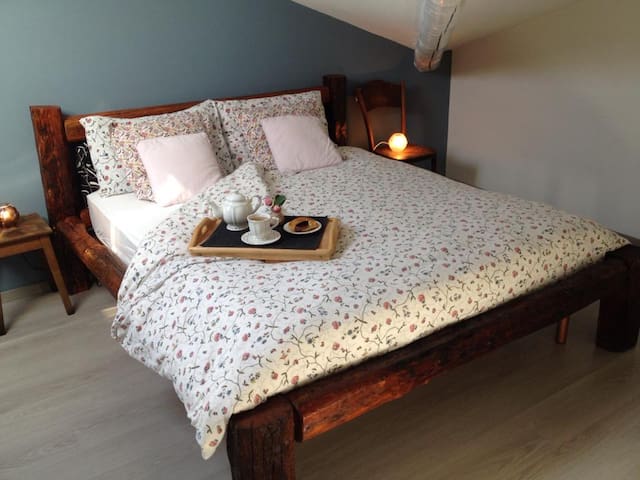 Recentemente ristrutturato appartamento con terrazza frontelago di 2 camere da letto doppi servizi posto auto garage posto barca piscina sulla spiaggia pubblica di Feriolo ideale per famiglie e coppie
ideale per famiglie per l'ampia piscina e la comodita' di accesso alla spiaggia sul lago nelle vicinanze ristoranti e supermercati
la tranquillita' la vicinanza al vicino canteire Nautico per possibilita' di affitto barche .Parcogiochi adiacente alla casa
The host canceled this reservation 31 days before arrival. This is an automated posting.
eve
2015-07-14T00:00:00Z
Room Type
Entire home/apt
---
Property Type
Apartment
---
Accommodates
6
---
Bedrooms
Feriolo, Piemonte, Italy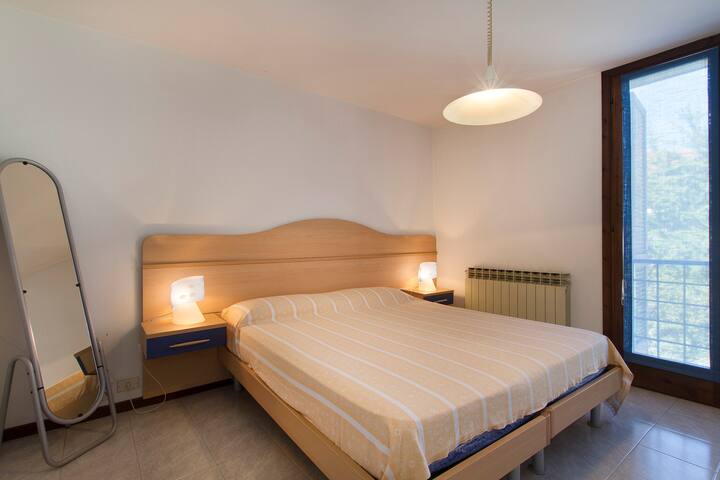 Situato in zona tranquilla incantevole appartamentino recentemente ristrutturato. Facile da raggiungere dall'autostrada, a pochi passi dal centro e dal lago. Ottimo punto di partenza per molte escursioni. Parcheggio privato.
Appartamento completamente ristrutturato nel 2016 impreziosito da balcone con una splendida vista sul lago Maggiore ed i monti adiacenti. É composto da una zona soggiorno con cucina a vista ed un alto soppalco adibito a camera da letto. Il soggiorno è dotato di confortevole divano letto estraibile ad una piazza, televisore e ampio armadio. Nel soppalco ad altezza abitabile si trova invece un letto matrimoniale con materasso memory, un altro televisore e una comoda poltrona. Cucina e bagno sono forniti di tutto il necessario e nel prezzo è compreso parcheggio privato gratuito e connessione Wi-Fi illimitata.
Il quartiere è molto tranquillo, ricco di verde e a pochi passi dal lago.
Room Type
Entire home/apt
---
Property Type
Apartment
---
Accommodates
3
---
Bedrooms
Feriolo, Piemonte, Italy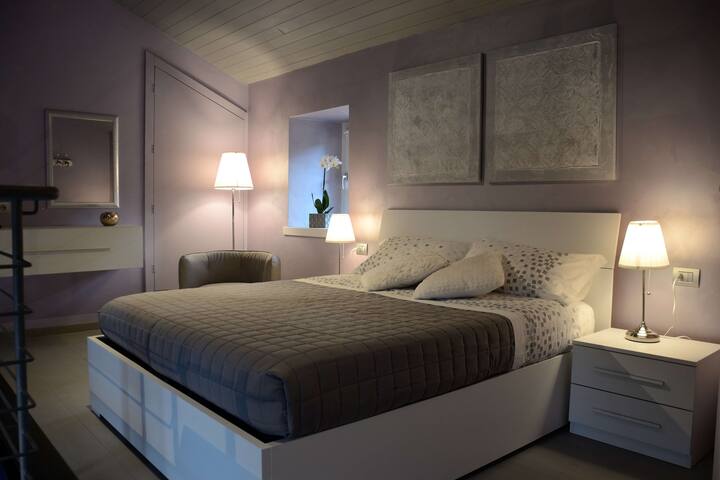 Accogliente appartamento, ideale per due persone, ristrutturato nel 2015, sito al piano primo Gli spazi interni dell'appartamento sono stati suddivisi con gusto ed è composto da zona giorno con cucina a vista con adiacente soggiorno dotato di letto matrimoniale a scomparsa, servizi e balconcino. Cucina e bagno sono forniti di tutto nel prezzo è compreso parcheggio privato gratuito,Wi-Fi free. POSIZIONE: a pochi passi dal lungo lago di Feriolo-2 Km da Baveno e dalle isole Borromee
Room Type
Private room
---
Property Type
Apartment
---
Accommodates
2
---
Bedrooms
Feriolo, Piemonte, Italy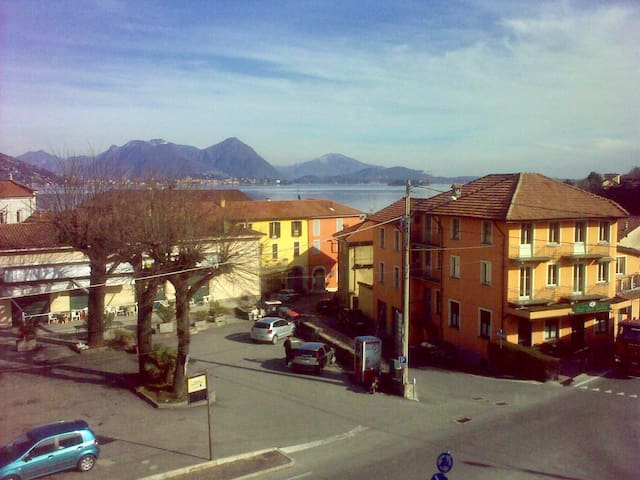 I'alloggio is: 50 meters from the ancient Church 100 meters from the lake 150 meters from the station
The apartment is small but very welcoming and equipped with all the necessities, very close to both the train station and boarding for the Islands.
The proximity to the lake, the train station and in the town center, do the "Peace Corner" a unique angle and privileged.
We had a really pleasant stay in this cozy, very clean, entirely refurbished apartment perfectly tailored for two. Everything you may need is at disposal and all the equipment is brand new, functional and working! Sofa bed is comfortable and you will experience a gentle shower in the large shower enclosure. Well-heated in spring, it should be delightfully cool in summer thanks to its thick walls. It is situated at the heart of the old town in a quiet row, 1 min from the lakeside, from a small, well-supplied supermarket with local products as well as from restaurants, cafés and other various shops (including a self-laundry, useful for long (URL HIDDEN) only two min's walk from the railway station and the pier, too. Baveno is really lovely with its charming ancient look and its view on the lake and the Borromean isles. Communication with Pietro was easy and prompt, he's very kind and helpful. Even if we didn't meet him, everything was perfectly settled for an easy self check-in and -out . Absolutely recommended!
Cinzia
2017-03-20T00:00:00Z
The host canceled this reservation 8 days before arrival. This is an automated posting.
Guillaume
2016-12-20T00:00:00Z
Room Type
Entire home/apt
---
Property Type
Apartment
---
Accommodates
2
---
Bedrooms
Baveno, Piemonte, Italy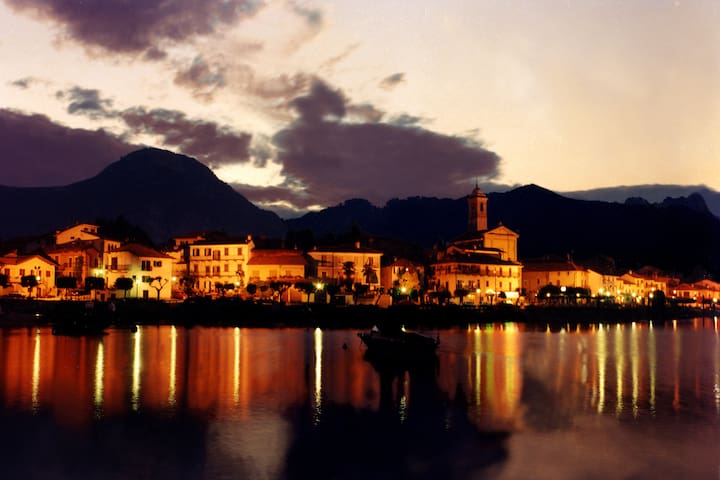 Sleeps 2. 1 bedroom apartment. Ideal for couples & young families. Private apartment within our family home with a private entrance, parking and separate access to our gardens. Set in a quite quiet residential area, we can accommodate for young families with children on request. We're a 10 minute walk from Feriolo end 20 minute walk from the town centre at Baveno providing Bars, restaurants, Ferry Boat and main line train terminals to explore Lago Maggiore, Milan and the Ossola mountains. Our comfortable 1st floor apartment is located Feriolo, near Baveno, and is ideal base for exploring the surrounding lake(s), the Alps, as well as the cities of Milan and Turin. We are a short walk from the town centre providing numerous bars, restaurants, shops as well as the ferry terminal to access the entire lake. Recommended for visitors with a car. Our apartment is well appointed and comprises of a double bedroom, large kitchen and living room, bathroom, private balcony and entrance hall and storage. Very spacious for couples and we can provide facilities for a young family on request. The apartment prices are fully inclusive with no "optional extras". King-sized bed with large quality fitted wardrobes and bedside cabinets. Large windows with access to a private balcony leading to our gardens with a view Mont Mottarone or Lago Maggiore from our balcony. Original character bathroom hand basin, mirror unit with lighting, toilet, bidet and bath / shower unit. Beautifully tiled with heated (winter) towel rails. Fully equipped fitted kitchen providing sink, cooker, oven, fridge, freezer, storage cabinets, kettle and coffee mocha. Ironing equipment, blenders and ample cooking and dining equipment. Large entrance hall with plenty of space for coats, and corridor providing for additional storage. Washing machine located in Balcony area. All linen, bed linen, tea towels, hand towels and bath towels are included, and we take care of all cleaning.
We had a wornderful time at the appartment of Umberto and Carole. They are extremely nice and welcoming and took care of us. The best pizza in town is Umberto`s home made pizza. The appartment is also good and fully equipted! Hope to see you one day again!
Venelin
2016-03-31T00:00:00Z
We spent a short vacation with 5 friends at the Casa Mailinne. Carole, Umberto and their lovely family were extraordinary charming and truly hospitable from their heart. The appartment is perfectly located a little up the hill with a stunning view over the lake; very cozy and clean. We had everything and even more than we expected. Thank you again for the perfect stay!
Matthias
2013-07-08T00:00:00Z
It was a pleasant stay at Caroles place. The accomodation is clean, well equipped with a nice view on the lake. Carole and her husband Umberto are absolutely friendly, open-minded and really cared about us. Even as we arrived late at night due to car breakdown, Umberto welcomed us warmly. 5-Star-Rating absolutely deserved, will come back!
Philipp
2013-05-13T00:00:00Z
Carole and Umberto were brilliant hosts - really very nice people! Umberto drove to find us when our navigational skills let us down trying to locate the apartment - and we were even given homemade blueberry jam and Bolognese sauce (which were both delicious!!) The apartment itself is really lovely, in a very quiet and peaceful location. This apartment is perfect if you are renting a car and want to drive around the Lake Maggiore area (it is a 25/30 minute walk into Baveno if you don't have a car.) Safe car parking, with gated entrance. Beautiful lake views from the balcony - we watched some fantastic sunsets - and there is even a swimming pool in the back garden, which we made regular use of!
Ginni
2016-07-28T00:00:00Z
Really great accomodation next to Baveno and Feriolo in the hills very close to lago maggiore. The rooms are bright, clean and with enough space for. If you want to you can use the fully-equipped kitchen. We did´nt because Carole and Umberto were cooking Pizza for us. They are the best hosts you can imagine for your holidays. Really warm welcome of two very nice and interested people. So if you like to talk to them: Just ask! We`ll be back :).
Anne
2013-08-19T00:00:00Z
Highly recommended!! Last week we spent 3 days at Carole and Umberto's lovely apartment and we enjoyed every minutes. We are a couple and 3 boys (17,13,11). The two main rooms are spacious and warm and providing a very nice family environment. The apartment is totally arranged with all the small things that a family needs. In addition a small pool in the area (not mentioned in the amenities). The location is great, close to the lake but quiet. Supermarket is 2 minute drive. Carole and Umberto are extremely nice and helpful. I would certainly recommend to my friends and wish I could come back someday.
Jerry
2014-08-06T00:00:00Z
We had a very nice and relaxing stay at the "Casa Mailinne". From the very first day on we felt like home. The family is very friendly, open minded and helpful. We enjoyed our stay and can recommend the location and its hosts.
Urs
2014-04-30T00:00:00Z
Nous avons passé un excellent séjour chez Carole et Umberto. L'appartement était conforme à la description, très bien équipé et très propre. Nous avons beaucoup apprécié les petites attentions à notre arrivée et surtout la gentillesse et la disponibilité de Carole et sa famille. C'est vrai qu'ils parlent français et ça facilite les échanges qui ont été nombreux et agréables. L'appartement est un bon point de départ pour aller faire de belles balades autour du Lac et vers le lac d'Orta qui est superbe. Voila, nous avons passé un excellent séjour et nous remercions Carole et Umberto pour leur hospitalité.
Philippe
2016-07-31T00:00:00Z
Room Type
Entire home/apt
---
Property Type
Apartment
---
Accommodates
4
---
Bedrooms
Baveno, Piedmont, Italy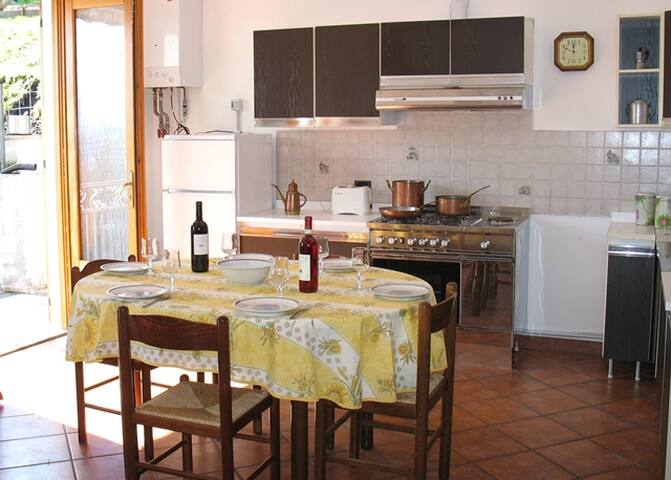 Loita is a balcony on Lake Maggiore, in the wooded foothills above Baveno & Stresa overlooking the Borromeo islands, within easy reach. Set in the grounds of a Villa d'epoca, ideally placed to explore this beautiful area by car or boat. A car is definately advised as Ventidue is set outside the town and although it looks quiet close it is a steep walk! Family and pet friendly. Please read the description fully before booking. This is not a hotel!
My apartment is on the ground floor and approx. 65sq.m over one level - contemporary in style with a large open plan kitchen/dining/lounge area. It is bright and airy and its location ensures good ventilation, even during the hottest of summer days. You have magnificent views from two French doors opening onto the balcony, which has a table and chairs for four. The kitchen is modern and well equipped with everything guests may need during their stay, including expresso machine, blender, toaster, electric kettle, microwave, induction hob, oven, fridge/freezer and dishwasher. The living area has a large, comfortable sofa-bed, a flat screen 40" TV with USB port and a DVD player - should you want an evening in! There's a good size bedroom with a large double bed, it can also accommodate a cot or small bed (arranged once booked). The bathroom is modern with a spacious corner shower, bidet, toilet, washbasin, and washing machine. Soap and shampoo are provided. I often use the apartment so it's fully functional and the kitchen is stocked with basics, which guests are welcome to use. Cleaning spray, washing-up liquid, kitchen towels and dish cloths are provided for your convenience.
With breathtaking views over the lake and the Borromean islands the property is ideally placed for exploring the area, with a ferry port and train station both at Baveno and Stresa. On the summit of Mottarone, which can be reached by cable car, you have views over the Borromean Gulf and onto the Swiss Alps. There are plenty of routes to walk and hike, signposted with distance, difficulty and approximate times from point to point. It's a 5 minute drive down to the beautiful lake promenade of Baveno and a further 5 mins to the sparkling lakeside town of Stresa. Walk 15 mins, mainly off the main road, downhill to Baveno...but allow twice as long for the very steep walk up! 'Ventidue' is set in the private grounds of a beautifully restored early 20th century villa with gardens and a private pool. Beach: 2km Golf: 10km Skiing: 19km Restaurant 600m - easy 10 min walk
Beautiful location and wonderful place. Very nice and clean as the pictures ! Thank you for having us
Manon
2016-08-09T00:00:00Z
The apartment is fine - we especially liked the fully equipped kitchen - and exactly as shown on the pictures. The view is truly amazing, however future renters should be aware of the surrounding apartment blocks and the status of the pool area - not quite as tidy and shiny as shown on the pictures. If you are just searching for an apartment on the west side of Lago Maggiore, go for it, if you are looking for something special, keep on searching.
Stefan
2016-09-01T00:00:00Z
we were given a guided tour of the property on arrival and were left to our own after that which suited us to
Fraser
2016-07-29T00:00:00Z
Spectacular view!We had a very pleasant stay in this lovely place.
Sabine
2016-07-23T00:00:00Z
Perfect. Really lovely location and would stay here again. Dominique was a considerate hot by leaving us extra basics in the apartment which were much appreciated.
Georgina
2014-09-03T00:00:00Z
Clean and well-furnished apartment with a nice pool and great views over Lake Maggiore. The pool area was busy and quite noisy whilst we were there which detracted a little from the peacefulness of the setting. Nevertheless, being set apart from Baveno and Stresa, Loita and its local restaurants still provided for a relaxing holiday in a beautiful setting. We had some trouble booking the apartment as it ended up not being available on the dates listed. This was unfortunate as it meant we had to move during the holiday and we incurred some additional costs because of that. The apartment itself was comfortable and well-equipped. It's a lovely place but it isn't priced as competitively as other options in the area and we were surprised to learn that the linen would cost an additional €12 per person. In our view, this was over-priced for making up a double bed, particularly given that the sheet and throw provided, left us a little cold at night. The apartment could also be improved with some welcome information including logistical information, local advice and requested check out times. We were unable to find this in the apartment and felt it would have made our stay a bit easier.
Christine
2015-09-03T00:00:00Z
Dominiques place is just perfect for a relaxed stay in a beautiful landscape. We had a lovely time and Dominiqe was a Great Host.
Katharina
2017-03-07T00:00:00Z
Nice, compact, clean and practical modern apartment on ground floor of holiday lettings block, with an outstandingly beautiful view across the lake from its location in hills above Baveno and Stresa. Easy to find with Dominique's excellent directions and generous parking space outside the block. The (shared) swimming pool directly outside the front door was an additional bonus, particularly on very hot Italian summer days trekking down and up the hill from the lake. On-site housekeeper/caretakers for the block were exceptionally helpful, enabling easy check in and out, and reliable and rapid communications from Dominique (despite last minute booking) made everything very slick and easy. Definitely recommended!
Matt
2015-08-13T00:00:00Z
Room Type
Entire home/apt
---
Property Type
Apartment
---
Accommodates
4
---
Bedrooms
Baveno, Piemonte, Italy
Ferienwohnung in unserem 2-Familienhaus, 5 Gehminuten vom Strand und Restaurants und 5 Autominuten vom Golfplatz. Du wirst meine Unterkunft lieben wegen der ruhigen und schönen Lage. Autoeinstellplatz.
Room Type
Entire home/apt
---
Property Type
Apartment
---
Accommodates
4
---
Bedrooms
Feriolo, Piemonte, Italy