Stylish small apartment on a farm with a lake nearby. The modern studio is part of a 350 year old farmhouse. Located on the Santiago. Near the city of Rapperswil with its numerous attractions. Rural location with hiking trails, fitness trail and outdoor pool (May-September). By car via Forch motorway in 45min downtown Zurich.
A bright 1.5 room apartment with a gallery and a lot of charm. The kitchen is equipped brand new and completely. Private bathroom with shower and toilet. About a ladder staircase leads to the sleeping area under the roof with two single beds. The living area has a sofa bed which can sleep up to 4 people.
The farmhouse is situated in a small hamlet on the outskirts of Bubikon.
Lovely place. We enjoyed being on the farm!!! Great place and great people!
Carol
2017-04-08T00:00:00Z
Very nice apartment in a beautiful location. Well located in Switzerland for touring multiple locations by car. Lukas and his family were very nice to deal with. Highly reccomended, we would stay here again!
Alex & Gina
2017-04-01T00:00:00Z
Amazing place, and Lukas is very nice; communication is prompt which is always a plus!
Chris
2017-03-05T00:00:00Z
Lukas is a great host. Everything was easy and well prepared. Would stay there again when I am in Switzerland.
John-Miles
2017-03-27T00:00:00Z
Helpfull man
Münire Sibel
2017-04-05T00:00:00Z
Lukas's place was great and he was a great host. He was easy to get in touch with when we had questions. We only stayed for one night but I would stay here again.
Bailee
2017-03-11T00:00:00Z
Gemütlich, Willkommen, Parkplatz, Tolle Morgenstimmung durch die Fensterfront für unseren Zweck wars sehr gut. Grüsse Ursula und Georges aus Beatenberg
Georg
2017-02-26T00:00:00Z
Es war toll, wir hatten eine sehr gemütliche Zeit auf dem Land. Schönes Studio mit hochwertiger Ausstattung, alles vorhanden, sehr empfehlenswert, vielen Dank!
anya
2017-03-22T00:00:00Z
Room Type
Entire home/apt
---
Property Type
Apartment
---
Accommodates
4
---
Bedrooms
Bubikon, Zürich, Switzerland
Newly renovated appartement with a beautiful sight and an unbelivable sunset. You will find a modern kitchen as well. Parking is easily possible around the house. If you travel by public transport: there is a Busstation 1 Minute by foot from the appartement. Within 5 minutes you reach the Rueti Railwaystation (20 minutes to Zurich) aswell Rapperswil. Buses run every 15 Minuten.
IfYou have access to my W-LAn, restroom, livingroom and of course the balkony (with a great lounge to chill (: ). Parking in front of the house and for free
Room Type
Habitación privada
---
Property Type
Apartment
---
Accommodates
2
---
Bedrooms
Rüti, Zurich, Switzerland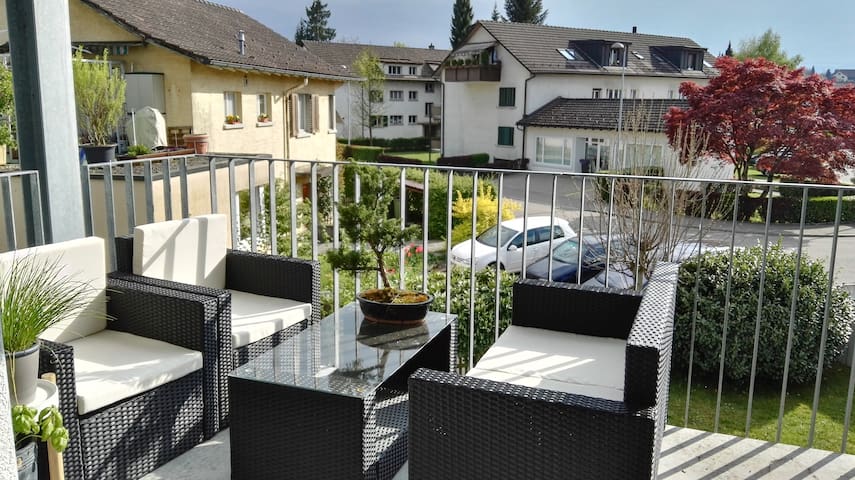 **BLOCKED DATA ON REQUEST POSSIBLE** We are offering a very nice, bright and cozy apartment with one bedroom, living room with sofa bed, bathroom and kitchen with dining area. The apartment is on the 2nd Floor of a two-storey house (with a separate entrance) in a nice and quiet residential area. We lives on the first Floor. The Apartment has a large sun terrace with a great view of the mountains as well as free parking directly in front of the door.
We are offering a very nice, bright and cozy apartment with one bedroom, living room with sofa bed, bathroom and kitchen with dining area. The apartment is on the second floor of a two-storey house (with a separate entrance) in a nice and quiet residential area. We live on the first floor. The apartment has a large sun terrace with a great view of the mountains as well as free parking directly in front of the door. Nearby are many interesting place (Alpamare, Golfpark, Knie's Kinderzoo). In winter, you can go skiing on the slopes and in summer you can go hiking, swimming in Lake Zürich or biking in the beautiful Linthebene. Zurich is only 30 minutes away (by car). In the evening you can enjoy the view from the apartment terrace or the pool. For children, we have, among other things, a sandbox in front of the house. Public transport is only a few minutes´ walk away. Breakfast can be ordered from a bakery delivery service.
wonderfull
riva
2016-09-09T00:00:00Z
We liked everything. Barbara has a very nice and friendly family and great house you will love to stay in, as we did. They met us in agreed time, provided a space to park a car, advised places to visit. The apartments are spacious, clean and bright, has everything you need. I can separately mention a great bed and pillows - the best I've ever slept :) Thank you once again, Barbara, and have good guests!
Irina
2016-09-18T00:00:00Z
Great place to stay in. Even though I never been to any other Switzerland home, but the place seems to have the typical modern style Switzerland home
SeongTaek
2016-12-26T00:00:00Z
We enjoyed our stay. Barbara and her family were very kind. We had a warm welcome. Our kids get into the pool and we overall had a nice time.
Sumana
2016-08-23T00:00:00Z
Wonderful hosts, lovely neighborhood, very comfortable, high quality, clean and brand new place to stay. You can not find anywhere better than Barbara's place. They are a very nice family with great flexibility (especially about the check in time). If I could be able to give more than 5 stars Barbara would definitely take it. Should I show up one day again in your neck of woods, I want to stay again and highly recommend Airbnb members to stay in Barbara's place. Thank you so much Barbara we felt ourselves at home.
Fatih Serkan
2016-08-16T00:00:00Z
This was the best AirBNB we've stayed at. It was convenient and lovely and in immaculate condition. The price was perfect and we wished we could have spent more time there.
Julie
2016-11-27T00:00:00Z
Its a nice residential place south of Zurich lake. No trouble reaching with our car. Parking space was available and already ear marked for us before arriving. Apartments was spick and span and very well maintained. Barbara and Philips were very welcoming and friendly. Everything required for our stay was already provided. We enjoyed the nice terrace sit out, although couldn't enjoy it for long as it rained during most of our stay. Wish we had better weather. Overall the apartment matches their description and our expectations. It was nice staying at their quiet family friendly place and would definitely recommend it.
Rupam
2016-10-03T00:00:00Z
Hi This is a incredible tidy cleaning house. Everything you need is already there. Unfortunately we didn't have much time to enjoy the beautiful view . Next time if we still have chance to travel there ,I would like to stay at Barbara house again.
maggie
2016-09-27T00:00:00Z
Room Type
Entire home/apt
---
Property Type
Apartment
---
Accommodates
4
---
Bedrooms
Wangen, Schwyz, Switzerland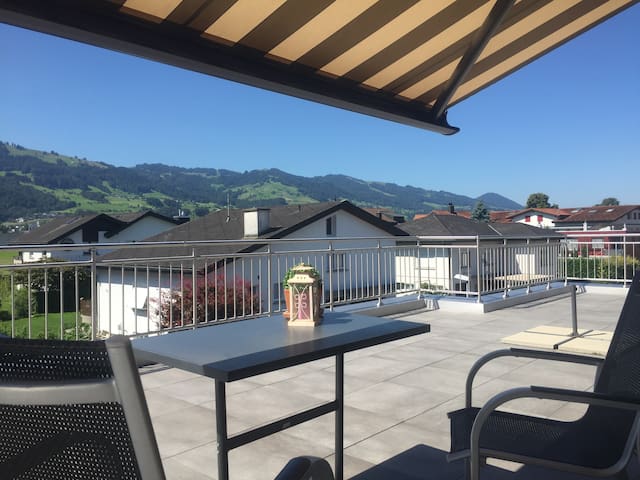 Our property is near St. Gallen and Appenzell. Easily accessible by public transport. Restaurants in the vicinity. Very good starting point for hiking, biking and snowshoeing. In fifteen minutes you reach our beautiful Alpstein. In half an hour you are at Lake Constance. You'll love our hotel because of the very beautiful countryside location. A garden with terrace invites you to linger.
The apartment has a separate entrance so that you yourself can feel completely independent. Can but our help or advice concerning excursions, activities, etc. need, we will help you. Even if you wish to accompany your mountain or cycling tours or want to do snowshoeing, Armin will be happy to help.
In our village there is an insider Restaurant (Krieger mill), which you can reach by a walk of about 45 minutes. You will see the kitchen offered there like: simple, very good and pleasant prices. Of course you can go by car. For your evening beer or aperitif we recommend the sticki51, THE restaurant where you can pleasantly chat with locals of all ages.
The place was cosy and perfectly equipped with modern furniture and all sorts of entertainment and kitchen gadgets. We were warmly welcomed by our friendly hosts. We immediately felt at home and can't think of a better place of hospitality and relaxation - even at this very low price. We loved it!!
Daniela
2017-01-15T00:00:00Z
We had a great stay at Irenes and Armins place. From the very first second we felt more than welcome. Irene surprised us right away with fresh bread, chocolates, coffee and even a nice piece of Appenzeller cheese. We couldn't have a better start. Because we are planning to emigrate to Switzerland, Irene helped us a lot with giving good advise and all kind of suggestions we could check. She responded very quickly on any question we had. We won't forget the nice evening we had at their place where discussing all kind of things while enjoying a good glass of wine. The apartment itself has everything you want. Good equipped kitchen, nice bed and great shower. Fast internet connection and big tv as well. We would highly recommend this place to anyone who would like to explore the beautiful Appenzeller Region. Irene, thanks so much for your hospitality! We'll definitely meet again.
Tom
2017-03-01T00:00:00Z
I proprietari sono persone gentilissime e in casa ci siamo sentiti come se fosse la nostra! Torneremo certamente
Davide
2017-02-12T00:00:00Z
Eindrücklich war die Natur rundherum und die Ruhe! und natürlich die sehr herzliche Gastfreundschaft!
Elsbeth
2017-02-06T00:00:00Z
Die Wohnung ist genau wie beschrieben und sehr gut zu erreichen. Die Beiden sind tolle Gastgeber und wir hatten einen sehr schönen Aufenthalt. Insbesondere für Leute die Ruhe, Natur und Wanderungen suchen, ist diese Wohunung wunderbar geeignet.
Kerstin
2017-04-02T00:00:00Z
Die Wohnung war super ausgestattet, es fehlte uns an nichts! Wir waren dort um zu lernen und es war der ideale Ort dafür. Es war ruhig und wenn man mal frische Luft brauchte, war man in weniger als 5 Min. im Wald. Wenn man Ruhe und Erholung sucht, ist dies der perfekte Ort.
Loraine
2017-01-26T00:00:00Z
Die Wohnung ist sehrg geschmackvoll eingerichtet. man kommt an und fühlt sich wohl. Ein sehr geschmackvolles Ambiente erwartet einen. Überall liebevolle Details. Eine gut ausgestattete Küche, alles sauber und modern, tolles Badezimmer, bequeme Betten und absolute Ruhe. Ideal zum erholen und entstressen. Man kann direkt vor der Tür viele Wanderungen starten, oder hinter dem Haus den Hang runterrodeln. Wir hatten super Schnee. Irene und Armin sind tolle Gastgeber, sehr aufmerksam, interessiert und freundlich. Man fühlt sich zu Hause.
Andrea
2017-01-05T00:00:00Z
Room Type
Entire home/apt
---
Property Type
Apartment
---
Accommodates
4
---
Bedrooms
Bühler, Appenzell Ausserrhoden, Switzerland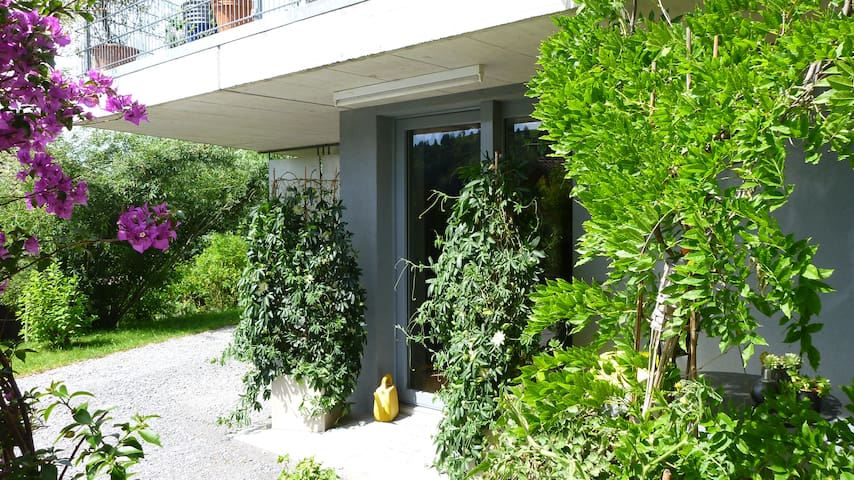 in the heart of the Rhine valley, surrounded by mountains, quiet and bright rooms in a friendly environment, close to the city center, railway station and bus stop.
bright and quiet room for one or two people, friendly and simply furnished in large apartment, second floor.
We live in a quiet, pleasant residential area.
I've stayed in quite a few airbnb places, but I can honestly say that Brigitt is the best host I've had the pleasure to stay with; I stayed for 3 nights. Communication with her was always good. She was friendly, welcoming, generous and interested in her guests. The accommodation was great - comfortable and clean. The area is quiet, but also very close to the train station and bus stop. The wider area is wonderful for hiking and biking; well worth staying for a few days or more! Vielen, vielen dank Brigitt xx
Tina
2016-08-08T00:00:00Z
Both of my hosts were lovely people and made the place feel like home. They spoke perfect English and even helped me practice my Deutsch. Would definitely visit them again!
Corey
2016-09-18T00:00:00Z
Brigitt was most welcoming and met me at the train station with a big smile despite the fact that I missed a connection so she had to make two trips to the station! Everything was to my liking; the room - quiet, clean and spacious - and the bed with feather(?) duvet very cozy and comfortable. Brigitt went out of her way to make me feel 'at home'. My stay was excellent and a memorable experience.
Collette
2016-10-16T00:00:00Z
I stayed for just one night at Birgitt's place while making a bicycle tour towards Croatia. The apartment is located in a quiet village next to the Rhine. The room was very clean and they also had a safe place to park my bike. Birgitt and her husband are extremely friendly people. They have let me join them for dinner and breakfast, something which really helped after a very long day in the saddle and it was even possible to wash my clothes.. Birgitt and her husband are the best hosts one can wish for and I would definitely come here again.
Thomas
2016-08-13T00:00:00Z
Brig was incredibly hospitable and fun to chat with. She would go out of her way to make you comfortable. Her home was warm and inviting. Not to mention, the use of her bicycle allowed to exploration in the surrounding towns. I would highly recommend staying with her, I know I will next time I am in the area!
Jessie
2016-04-24T00:00:00Z
The accommodation provided by Brigitt was pretty amazing :) I highly reccomend this place for a lot of reasons! It is close to the city center, to SG, to LI so you can move easily and the room is really clean!
Georgios-Marios
2016-08-06T00:00:00Z
Everything was clean and Brigitte really kind
Davide
2016-02-27T00:00:00Z
Brigitt waited me already in the Train station, which is just 10min from home. She and her husband was very welcome and nice. Room was very clean and cozy. Brigitt even gave me her bycicle and I could cycle to the castle in Buchs and Liechtenstein. The best experience so far. :)
Ieva
2016-10-30T00:00:00Z
Room Type
Habitación privada
---
Property Type
Apartment
---
Accommodates
1
---
Bedrooms
Buchs, Sankt Gallen, Switzerland
Zeer mooi groot appartement met twee slaapkamers met twee keer twee bedden. Linnengoed en handdoeken zijn inclusief, dus geen meerkosten nadien! Kinderbedje is aanwezig en hier worden geen extra kosten voor gerekend. Voor het extra bed worden meerkosten in rekening gebracht.
Het appartement kenmerkt zich door een zeer groot balkon aan de voorkant met prachtig uitzicht over de Walensee en het voorgelegen terras. Het appartement is centraal gelegen op het park, dicht bij de gondel naar de Flumserberg. Bij het appartement is een eigen gratis parkeerplaats inbegrepen. Naast een toegewezen parkeerplaats zijn er ook nog een aantal vrije gratis parkeerplaatsen. De keuken is van alle gemakken voorzien en volledig voorzien om gezellig te koken.
We have had a great time at the Walensee, the location was perfect and our host made our stay very pleasant. The apartment was clean and well equipped - the lake view was stunning! Hope to be back one day...
Petra
2017-03-28T00:00:00Z
We had a great week at Gijs's place and kids didn't want to leave. Location, standard and comfort all fit the description perfectly. Can happily recommend to anyone skiing in Flumserberg or just enjoying the beautiful Walensee area.
Peter
2017-02-12T00:00:00Z
Stunning place with amazing views of both the mountain and the lake. We were blown away by the place. A 30-second walk from Intersport Walansee and a 4-5 minute walk from the gondola to take you up the mountain. Really convenient and easy for a trip that has so many extra things to worry about (ski rental, lift tickets, etc.). Gijs was terrific in helping my party get settled in and ensuring that we were comfortable throughout our stay. He was by far the best host I have ever had.
Jack
2017-04-02T00:00:00Z
appartement très confortable et très cosy , 2 grandes terrasses avec vue direct sur le lac. Vous êtes à 5 mn à pied du téléphérique . Nous reviendrons avec grand plaisir dans cet appartement
Guillaume
2017-02-19T00:00:00Z
Eine rundum perfekte hervorragend ausgestattete Ferienwohnung! Die Wohnung ist Teil eines sehr gepflegten Resorts direkt am Walensee in der Schweiz. Alles ist sehr gepflegt und perfekt ausgestattet. In der Küche findet man wirklich alles um zu kochen und sich selbst zu versorgen. Das Badezimmer ist sehr groß und übrigens wie die ganze Wohnung perfekt sauber! Zudem ist die Wohnung auch einfach gemütlich und schön eingerichtet. Kleiner Tipp für deutsche Gäste: man sollte sich einen oder mehrere Adapter für die Steckdosen mitbringen. Offenbar gibt es in der Schweiz andere Stecker. Das Ferienresort liegt direkt am Walensee und vom Balkon hat man sogar einen hervorragenden Seeblick. In Sichtweite befindet sich ein Sportgeschäft zum Ausleihen von Skiern, Schuhen und allem was man sonst zum Skifahren braucht. Die Gondel, die ins Skigebiet führt, ist nur 5 Minuten zu Fuß von der Wohnung entfernt. Wir haben uns oben am Berg ein Skidepot gegönnt, so dass wir nach dem Skifahren shr entspannt in normalen Schuhen ohne Skier und Stöcke in der Gondel saßen - sehr zu empfehlen! Das Skigebiet ist sehr kinderfreundlich. Direkt oben am Tannenboden ist ein Kinderland und auch ein öffentlicher Zauberteppich. Und daneben ein wirklich gutes Areal mit Ankerliften und flachen Hängen zum Üben. Die Lage der Wohnung, die Wohnung selbst und das Skigebiet sind einfach perfekt. Wirklich ein Grund zum Wiederkommen. Der Austausch mit Gijs bevor ich buchte und dann rund um Abfahrt und Ankunft war sehr direkt, schnell und alle Auskünfte waren richtig! Vielen Dank!
Annette
2017-02-28T00:00:00Z
Room Type
Entire home/apt
---
Property Type
Apartment
---
Accommodates
5
---
Bedrooms
Quarten, Sankt Gallen, Switzerland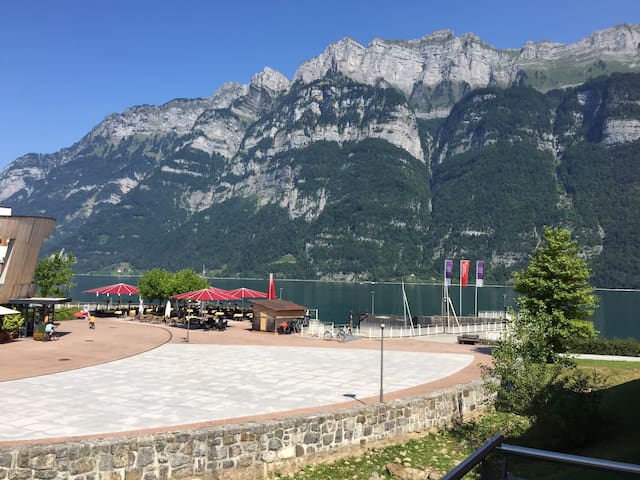 Die komfortablen 4-Zimmerwohnung bietet eine wunderbare Sicht über den Walensee. Idealer Ausgangspunkt für Wintersportler. Die beliebten Skigebiete Amden, Elm, Pizol, Braunwald und Flumserberg liegen in unmittelbarer Nähe.
Fantastic place, lovely scenery !!!
Gregory
2016-04-10T00:00:00Z
I stayed here on a business trip, just me. Vreni greeted me on arrival and made sure I was settled in; when my German language skill was not quite good enough to understand her she kindly called her son who I spoke to on the phone and the details of the property were made clear to me. There is a lovely terrace that looks out over the lake, on the next terrace down is the pool which I was told I could use. Vreni did some clothes washing for me. The apartment is nicely equipped and comfortable. The nearest bus stop is just a few minutes walk and there was car parking at the apartment. Vreni was very friendly and I enjoyed my visit. I will visit again I am sure.
Richard
2016-09-22T00:00:00Z
The host canceled this reservation 2 days before arrival. This is an automated posting.
Adnan
2015-08-23T00:00:00Z
After some slight confusion before our arrival about which apartment we were in, we thoroughly enjoyed our stay. Vreni was very welcoming and helped us with anything we needed. We love the view out across the lake to the mountains, the pool and the garden. We also had easy access to the trails along the lake and bus up to Amden for more hikes. We enjoyed hiking in the mountains and the boat rides. Vreni also offered to take us to the train early in the morning for the next leg of our trip. We didn't have to ask. Weesen is called the "Riviera of Switzerland" and has many amenities and fewer foreign tourists than other sites we visited.
Heidi
2016-07-29T00:00:00Z
L'appartement est très agréable, la vue sur le lac est magnifique. Il est confortable et conforme à l'annonce. Il dispose d'une belle terrasse et d'une piscine. La famille Stahli est adorable, nous avons été très bien accueilli et ils sont très disponibles en cas de besoin.
Michel
2015-08-02T00:00:00Z
Room Type
Entire home/apt
---
Property Type
Apartment
---
Accommodates
6
---
Bedrooms
Weesen, Sankt Gallen, Switzerland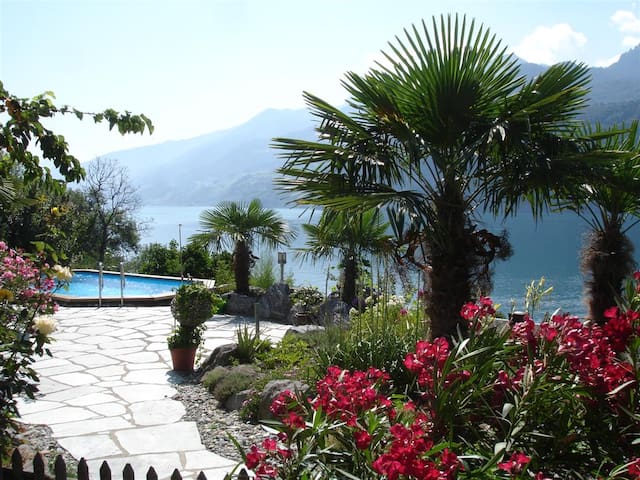 Ausweichzimmer nach Absprache Replacement room for short stay that other room in not blocked becouse of one/two days. This room is only used if our guestroom is full and is also for friends and relatives who vsit us also spontanious so the calender cant be actual all the time. Please Only book/request our Guestroom "simpleroom in St. Gallen quiet and central" There are also all the Informations.
Tolle Lage in kleiner Wohnstrasse, Johannes hat meinen Aufenthalt perfekt organisiert, obwohl er gar nicht da war und ich erst einen Tag vor der Ankunft gebucht hatte - Danke Johannes!
Thilo
2017-04-11T00:00:00Z
Room Type
Habitación privada
---
Property Type
Apartment
---
Accommodates
3
---
Bedrooms
Sankt Gallen, Sankt Gallen, Switzerland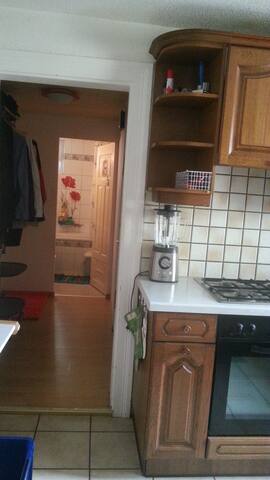 Studio (only NO SMOKING) with separate entrance Bath / WC small KITCHEN OFFICE with 1. Induction hotplate and fridge
Room Type
Entire home/apt
---
Property Type
Apartment
---
Accommodates
2
---
Bedrooms
Wildhaus, Sankt Gallen, Switzerland
The quiet, rural and familial environment. And yet one is in few minutes in the middle of the city.
Lovely place, very clean and very comfortable . Would definitely recommended !
oksana
2017-03-26T00:00:00Z
Thomas and his family were very welcoming to us and made our stay a pleasant one. The apartment was really spacious and clean. It has everything you would need. Highly recommend it!
Hussain
2017-03-06T00:00:00Z
Overall, a great place, great view, and just great!
Matt
2017-02-19T00:00:00Z
Thomas is a very nice host. The apartment was comfortable , very clean. It was perfect. Thank you Thomas
Loïc
2017-04-09T00:00:00Z
Thomas is a nice person and we had a wonderful stay at his place. This is one of the places I've ever stayed with the highest quality-price ratio. I highly recommand it to people who wants to visit this beautiful region.
Hsueh-Yung
2017-04-02T00:00:00Z
Very nice, clean and spacious apartment. Easy to find. Beautiful views.
Leslie
2017-03-31T00:00:00Z
The apartment is only 10 mins drive from Liechtenstein with very nice environment. Rooms are Super clean and tidy. Thomas and his wife are very nice person, friendly and easy communicate with. Everything is perfect, wish we have chance to visit again in the future.
Becky
2017-03-30T00:00:00Z
House is nice. There is all that we need on the kitchen. Bedroom and bathroom is very well. Quiet, warm and comfortable.
Евгений
2017-03-24T00:00:00Z
Room Type
Entire home/apt
---
Property Type
Apartment
---
Accommodates
4
---
Bedrooms
Buchs, Sankt Gallen, Switzerland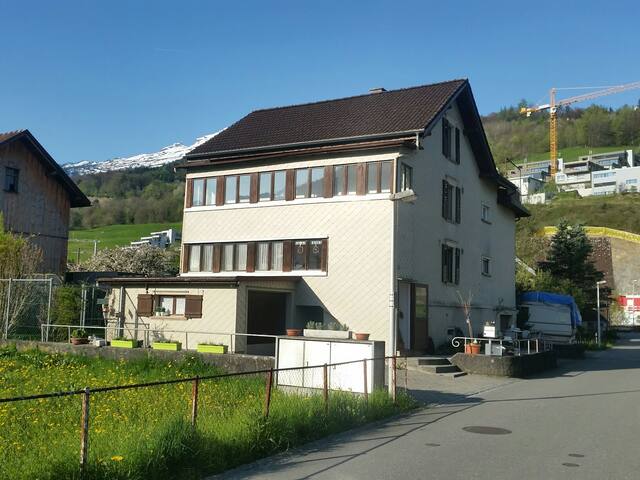 My little guest room in my appartment is a nice place to stay for holidays: you have the perfect nature all around: lakes, mountains, river... it s amazingly beautiful. Half of the rent pay goes as donation for Bali Streetdogs! ((URL HIDDEN) I have 2 loving dogs - that nobody should be afraid of...
My place is 200m apart from the cristel clear and beautiful Walensee (lake) and right next to amazing beautiful hiking and land "Glarnerland". Its surronded by mountains. From here you can start amazing hiking, biking, or boat trips , surf or climb - anything you wanna do in swiss mountains. You share the appartment with me (if im around) and get your own little guest room. I have seaview, balcony and 2 very friendly small dogs, who make you feel comfi (if you like (URL HIDDEN) happy to advice you with trips or might even be able to take you to places. You can use my internet or anything you need. I now have WLan (Wifi). Weesen is a small little village , right at the lake - with pretty little harbour and restaurants. Bus connection is right at front - train also available. Come and check it out - i try to make you feel comfi. The rent is donation for my animal welfare association (BAWA - (URL HIDDEN) (URL HIDDEN) - so if you want to do a good thing for poor streetdogs in Bali - come and stay :) ! Im 1 Hour from Zürich (60km) or Liechtenstein.
beautiful nature, lake very nearby - see pictures
Everything sat as promised. The location is good in a wonderful town between the lake and the mountains. The room is confortable. The apartment has a gorgeous view from the balcony. Mel is surfer(!) and engaged in protecting animals and teaching handicapped children.
Mario
2015-03-24T00:00:00Z
The host canceled this reservation 23 days before arrival. This is an automated posting.
Ping Hsi
2016-03-23T00:00:00Z
Mela was a terrific host! Despite having to spend a lot of time during the day dealing with her ailing Father, she setup everything for me, including providing me with some excellent hiking suggestions, which I took full advantage of. Her place is exactly as she describes and as the photographs depict. A wonderful location to breath the fresh mountain air, and just stare out the window if that's all you want to do for a few days. The nearby mountain towns of Amden and Arvenbuel are just a short bus ride away, which picks you up just a few feet from her home. She was gracious in allowing me to use anything in her home, including food she had in her fridge and cupboard. And to top it off, her two dogs, Bruni and Queenie were two of the quietest and gentlest dogs I have ever met! It was a joy having them around. Great energy all around! I will be back again in the future no doubt! :)
Patanjali
2016-10-13T00:00:00Z
Melanie's apartment is in a great location with fabulous views & east access to lots of activities all by foot or bus/rail. She was helpful, interactive & enthusiastic - the dogs were great & lots of fun.
Vicki
2014-02-04T00:00:00Z
I've stayed for 2 days at Melanie's place. It was my first stay with Airbnb so i didn't now what to expect. Me and my dog had a very warm welcome from Melanie and her 2 dogs! She can tell you all about the nice area. We walked the dogs and cooked dinner together. Very good hospitality!
Kevin
2014-07-31T00:00:00Z
Auch a beautiful place with so much to do !! Relaxing and serene ! Mela was so helpful and we felt like the place was our own! She is really a sweet and honest person! The money also goes to a very important cause! She offered us her foods and washer and maps and sunset spots :) We will be back!
Jordan
2015-09-01T00:00:00Z
Melanie was a fantastic host! She was very friendly, hospitable, and we had wonderful conversations together. She showed me some beautiful places to visit in Weesen and in nearby villages. She has a beautiful flat with a nice view of the lake, the bedroom is very spacious and comfortable, and she has two happy dogs. She is an excellent host and I highly recommend her. Thanks again Melanie for such a wonderful experience!
Karl
2013-06-21T00:00:00Z
Mel's village is as beautiful as it can be. It's a photographer's dream. Within walking distance, you can practice long exposure photography on a nearby waterfalls, sunrise and sunset photography on a pebble beach and harbor. You can also go hiking on many trails up to the mountains or around the lake. Opportunities are endless and only limited by your time and physical abilities. Oh and when you're here, you must visit Liechtenstein to cross it off your list because it's about 90 min away by public transportation. Mel likes to share with guests whatever she has and that was very kind of her. I'd love to come back and see what I didn't have the chance to see last time.
Timothy
2015-04-27T00:00:00Z
Room Type
Habitación privada
---
Property Type
Apartment
---
Accommodates
1
---
Bedrooms
Weesen, Sankt Gallen, Switzerland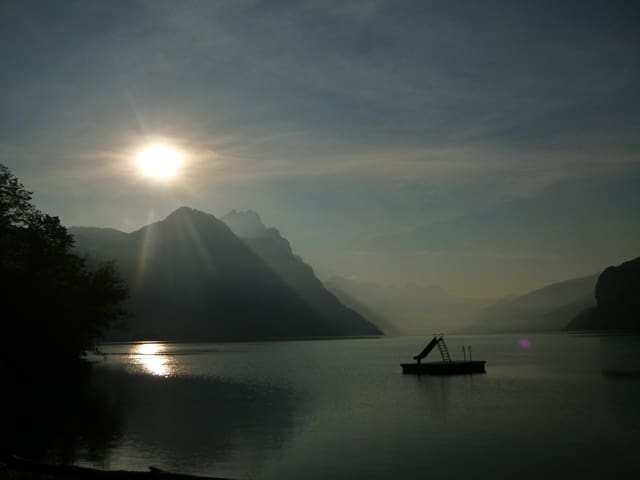 Komfortable Wohnung im EG mit Balkon , Sehr ruhige Lage , nähe OEV , Einkauf , Post ....
Kinderspilplatz , Gartensitzplatz , Abendsonne auf dem Balkon , PP & Veloraum vorhanden ....
Ruhige , freundliche Nachbaren mehrheitlich Schweizer Bürger ....
Room Type
Entire home/apt
---
Property Type
Apartment
---
Accommodates
3
---
Bedrooms
Niederuzwil, Sankt Gallen, Switzerland
1 Bedroom in beautiful apartment in the city centre, close to the railway station (7 minutes by foot), supermarket (5 minutes by foot), public transport (3-5 minutes by foot), old town (5 minutes by foot).
I had great nights in Andrei's place. He is nice and cares what you need. The place is accessible with a few minutes walk, quiet and comfortable.
Paul
2017-01-11T00:00:00Z
Very nice place. Andrei is an interesting host, with whom you can have nice discussions about art, history, and life. I enjoyed my stay here.
Michael
2017-01-19T00:00:00Z
Andrei is super friendly, helpful, knowledgeable, polite, considerate, and interesting. The apartment is very central and convenient; just a minute's walk from the old town and all the must-see places. It's clean and comfortable and the furniture is stylish. Absolutely recommended.
Bijan
2017-01-07T00:00:00Z
Great access in middle of St Gallen, super quiet and peaceful
traian
2017-03-19T00:00:00Z
The host was kind and friendly. We had a sudden change in our plan so we arrived at st gallen early, the host allowed us to check in early to leave our luggage in his home. The place is close to st gallen main station and bus station. The house is clean, the kitchen is well equipped. Would highly recommend to anyone visiting st gallen.
Man Fay
2017-04-02T00:00:00Z
Andrei's place is located in a quiet area, super close to the market place. The check in and check out was easy and the host made the process convenient and comfortable. The place was clean and well decorated. All in all, it was a nice stay and value for money.
Komal
2017-04-10T00:00:00Z
The host canceled this reservation 81 days before arrival. This is an automated posting.
Regina
2017-04-10T00:00:00Z
Andrei has a nice and cozy apartment in the centre of St. Gallen. He is very nice and hospitable.
Viktor
2017-01-14T00:00:00Z
Room Type
Habitación privada
---
Property Type
Apartment
---
Accommodates
2
---
Bedrooms
Sankt Gallen, Sankt Gallen, Switzerland
My accommodation is good for couples, adventurers, business travelers and families (with children). A complete apartment in the quiet area of Rosenberg in St. Gallen. Great views, 10 minutes from the station. Mi alojamiento es bueno para parejas, aventureros, viajeros de negocios y familias (con hijos). A complete apartment located in the peaceful zone of Rosenberg in St. Gallen. Great view, 10 minutes walking from the train station, near the forest and various grocery stores.
Gloria's place was big, very clean, and easy to find.
Alissa
2017-04-08T00:00:00Z
The apartment is what you see in the description. 15 min. walk from the central station. A cozy apartment in a quiet neighbourhood. Elisa was a great host.
Pedro
2016-12-02T00:00:00Z
Gloria's place is great! It's big, clean and bright. Highly recommended. She is a great host also.
Ilya
2017-03-26T00:00:00Z
The apartment is perfect for families or small groups. Good position, ti is close to the city center that you can reach by feet in 10/15 minutes. Bus stop just in front of the palace so you can use public transport if you have heavy luggage. Lovely quartier and the host is very kind and helpful!
Roberta
2017-03-18T00:00:00Z
Wohnung und Lage sind top!!!
Doris
2017-02-25T00:00:00Z
Eine schöne Wohnung. Ruhig gelegen mit allem was man braucht. Glorias Freund war sehr zuvorkommend.
David
2017-02-15T00:00:00Z
Room Type
Entire home/apt
---
Property Type
Apartment
---
Accommodates
4
---
Bedrooms
Sankt Gallen, Sankt Gallen, Switzerland
Small studio with private entrance, simple kitchenette and a private bathroom. The room is located in the basement of our house. Perfect for 1 - up to max 3. Three minutes to the bus-stop, only 34 minutes to Zürich HB! A safe area!
The small and cosy studio provides 18 square meter living and sleeping space with one high quality single fold away bed (90cm), one sofa bed for two (135cm), a simple kitchenette with basic kitchen-tools and a private bathroom. The kitchenette is equipped with coffee maker, microwave, toaster, electric kettle, electric hotplate and a small fridge. There is no kitchen hood fan. Water and sink are available in the bathroom right next to the kitchenette. The foldaway table is big enough for two. You will have free WLAN access. Sorry, there is no tv.
Wir leben in einer ruhigen Einfamilienhaus-Siedlung im ländlichen Bertschikon (Gossau) ZH und trotzdem nahe bei Zürich: In nur 34 Minuten bist Du mit Bus und Bahn im Zentrum von Zürich! Ein kleineres Lebensmittelgeschäft (Volg) befindet sich 3 Gehminuten vom Haus entfernt, eine grosse Auswahl an verschiedenen Verkaufsgeschäften findest Du im nahegelegenen Uster (10 Minuten mit dem Bus).
We had a wonderful stay at Nina and Kurt's air BnB! Everything was spectacular, really a family that goes above and beyond for their guests! They were very sweet and kind people, they picked us up from the airport when we arrived, which was lovely and helped us with tips on what to see in Zurich! Would definitely recommend staying here to anyone! Thank you again Kurt and Nina
Anita
2016-09-22T00:00:00Z
We totally enjoyed our stay! Nina and Kurt were friendly and hospitable - they gave us guides on transportation and suggestion on where to visit. The room itself was very nice and clean; we had everything we needed. We would definitely recommend it!
Tiffany
2016-03-22T00:00:00Z
We stayed with Nina for 4 nights. Although it's not a huge space but it was very clean & functional. Nina even prepared some basic stuff like cereal, milk & water in the fridge for us. It's a very quiet residential district, and Nina's neighbours are very friendly! I managed to cook simple dishes in the apartment without any problems. All in all, Nina is extremely responsive and helpful, and I highly recommend.
Karen
2016-08-23T00:00:00Z
Very quiet region outsider Zurich
Koen
2017-02-17T00:00:00Z
Nina and Kurt are wonderful hosts. I had a really good stay at their place. They were taking care that I had anything I needed. We had the chance to exchange around a coffee and a tee. I recommend their place if you stay in this region of Switzerland.
Corentin
2016-11-15T00:00:00Z
Kurt and Nina were very welcoming and kind and made my stay extremely comfortable and always asked if there was anything I needed to help make my stay more enjoyable. They are great hosts and I highly recommend staying here. I really felt at home here here with my own peaceful apartment.
Craig
2016-10-23T00:00:00Z
It is so perfect of this small home. It is privacy and very comfortable. Nina and her husband are very friendly and nice to help us bring the luggages. Strongly recommend for those who like to traval by car
Huiyi
2016-10-04T00:00:00Z
The apartment is incredibly lovely, cosy and clean. It is well equipped and has everything that you need. There is also a bus every 15 mins to go to the metro station so it is quite convenient. Nina, as a host is very helpful and kind. She even provided us some refreshments for us to enjoy and drove us to Uster metro station on our last day. My parents and I had a wonderful time staying at her place. Thank you Nina <3
Sherlyn
2016-06-16T00:00:00Z
Room Type
Entire home/apt
---
Property Type
Apartment
---
Accommodates
3
---
Bedrooms
Bertschikon, Zürich, Switzerland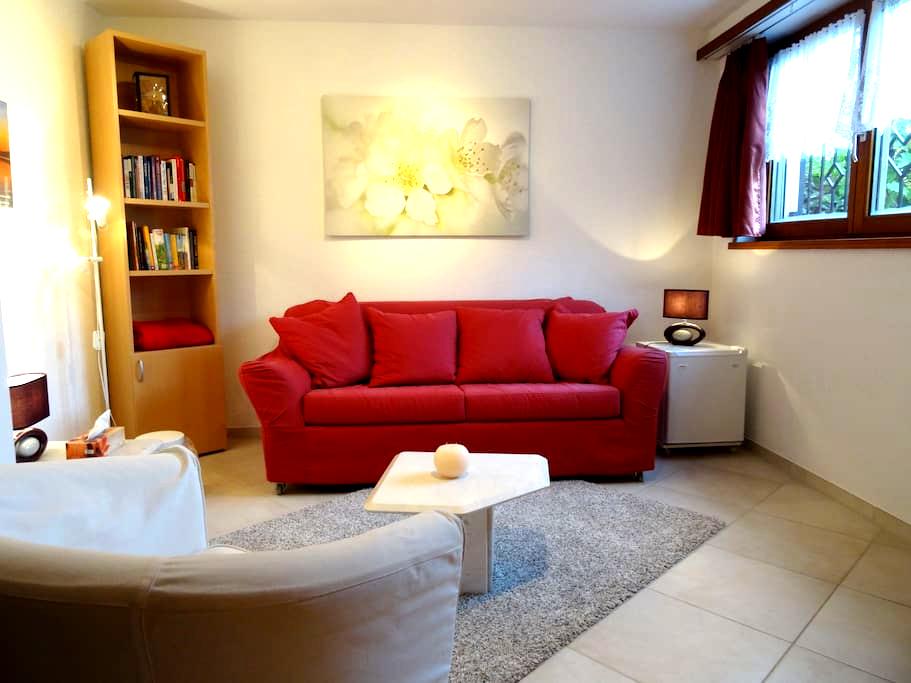 We rent a cosy, basic holiday apartment on the sunny side of Wildhaus. The apartment offers stunning views on the Churfirsten and it is situated in a calm and beautiful surrounding. You reach the town-center in a 5 minutes' drive.
The holiday home is located on the sunny side of Wildhaus and offers a stunning view on the Churfirsten. The two- and a half room apartment offers space for up to 4 persons, is furnished nicely and decorated with taste. In the living room, there are two beds, a satellite TV, a big dining table with a service hatch to the kitchen as well as a bench. Furthermore the oriel and the balcony can be reached from the living room. The bedroom has two beds and a wardrobe and the small but mighty kitchen is equipped with an electric cooker, a fridge with freezer compartment and a coffee machine. The bath has a shower and a toilet.
Wildhaus belongs to the community of Wildhaus-Alt St. Johan, which is the most important community in the Toggenburg-area and the place of birth of the well-known reformer Huldrych Zwingli. Wildhaus is very family-friendly and offers a large variety of activities: children's playgrounds, picnic areas with fireplaces, many picturesque hiking- and biking routes, which are perfectly suitable for children. Furthermore, there are theme trails and children's programmes – so it never gets boring. But on the other hand, also adults will feel very comfortable in this beautiful alpine world as there are also a little more challenging biking and hiking routes and during wintertime, it's popular for the various snow activities. Everyone will go home perfectly relaxed after a stay in Wildhaus.
We had a delightful few days in Stefanie's apartment in Wildhaus. Although we didn't meet her, she was very prompt and clear with her email responses and did all that she could to answer our queries. The apartment was well equipped and very cosy and welcoming. My four year old son immediately made himself at home with the good selection of toys provided in the bedroom. The outlook from the windows and the balcony was simply beautiful...Churfisten mountain range glistening in the snow. We didn't have a car so mostly walked the 20minutes to the resort area. The skibus was useful during the day and passes near the apartment but the last one back up is 4.30pm, so bear this in mind as you will need to walk home after this, though we were often lucky and offered lifts by friendly locals in their cars. You have to walk a bit further towards Wildhaus dorf for grocery shopping but there are a few restaurants in Lisighaus where you can dine or go for a beer. The ski resort itself is small but friendly and was ideal for us. We met Stefanie's mother who lives upstairs and she was very friendly and helpful. We were even lent a sledge from the cellar to save us having to hire one at the piste. We loved our little home in Wildhaus and would love to return. A car would be useful for some but for us it was no problem as we were happy to walk. Thank you Stefanie and family.
Tanja
2016-02-20T00:00:00Z
We had a wonderful week at this apartment in Wildhaus. We didn't meet Stefanie, but she made us feel very welcome with lovely little touches in the apartment and by answering any questions we had promptly and making the whole experience very easy. The apartment is very comfortable and had everything we needed for our stay, including a bed-guard for our little one. The views were brilliant and the location perfect for exploring the Toggenburg region. There are only two extra things we would take with us if we were to visit again.. a pair of binoculars and a black-out blind for our little one's bedroom.
Suzanne
2016-06-12T00:00:00Z
A wonderful apartment with an exception view of a wonderful valley. I sincerely enjoyed my time in Toggenburg, it's a hiker's paradise. The apartment's got plenty of room for a family, everything you need in the kitchen and the Wifi is plenty solid. When it's not too wet or cloudy, the balcony's a pretty nice place to spend an afternoon reading with the Churfirsten in the background. Despite being on holiday on the other side of the world, Stephanie was really quick to respond with help whenever the odd issue arose. Easy to recommend.
Ewan
2015-11-04T00:00:00Z
Very quiet location with stunning views of the Churfirsten mountains. Right in the middle of an extensive network of hiking trails, from the easy to those just for the seriously adventurous. The apartment was well-appointed and perfectly clean. Perfect for a short break!
Adrian
2016-07-19T00:00:00Z
Stefanie was really responsive and helpful, and the apartment is in a beautiful location - the photos genuinely show the fantastic view! We are a family of four with two young girls and they loved it, especially the nice selection of toys and the hiking (Klangweg and Blumenweg) nearby, and swimming at Walensee. In my view the apartment is bigger than it looks in the pictures, and is really well equipped. Highly recommended!
Gerald
2016-07-09T00:00:00Z
Stefanie sent me information about the apartment in a timely manner. Everything was accurate and complete. Although I never met Stefanie, she answered my questions promptly and courteously. The apartment is extremely well equipped and has a beautiful view. The hiking in the area is quite spectacular. I stayed for a month and would gladly do so again.
Howard
2015-09-18T00:00:00Z
our family has been stayed here for one month. everyday i wake up in the morning and open the curtains. fantastic landscape unfolds in front of my eyes. if someone want to get truely relax, i strongly recommend this house. be happy always full to stefanie. Jung from south korea, Dec,2015
BYUNG SU
2015-12-05T00:00:00Z
We've had an excellent stay! We immediately felt at home due to the superb equipment and the welcome drinks and sweets. The children also really liked the cupboard filled with toys and games. The appartment was more spacious than we expected based on the photo's. The Wildhaus area is stunning, although not very big, it is very diverse and very child friendly. We'd love to come again!
Martijn
2017-03-04T00:00:00Z
Room Type
Entire home/apt
---
Property Type
Apartment
---
Accommodates
4
---
Bedrooms
Wildhaus, Sankt Gallen, Switzerland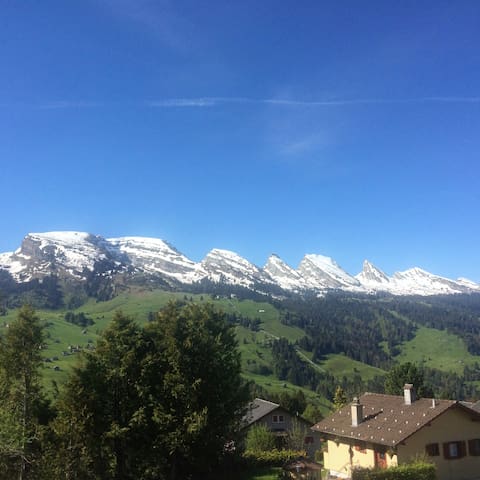 Gommiswald is on the south side overlooking the Linthebene . The studio is in a quiet and sunny side and is heated. If necessary, up to 2 extra beds, baby cot and table seating can be placed. The shops for daily needs are within walking distance.
The studio is located on the first floor on the south side , is quiet and has Buzzer. The whole building is non-smoking and pets are not allowed.
Gommiswald is located on the sunny side. Here it is ideal for walking , hiking and biking . The village has a swimming pool and a tennis court, a little above there is a small ski lift . In the Linthebene ( Uznach -Benken ) is a great place velor and inline skating or swimming in the river Linth , Lake Zurich or Lake Walenstadt. Very quick you will be in the Alpamare in Pfäffikon SZ, in the children zoo Rapperswil, in the leisure parc Atzmännig. You will also be very quick to go hiking and skiing to Flumserberge, Wildhaus, Hoch-Ybrig and Sattel-Hochstuckli.
Daniela was a great host! She even stayed up late to accommodate our late arrival. The place looked just like the pictures.
Taylor
2014-09-22T00:00:00Z
Daniela is very friendly, she gave us a very clear guide of the apartment. The apartment is really big and clean, it locates at a very quiet street and has very good view on the terrace. Definitely recommended, will come in winter :)
Haitong
2016-07-08T00:00:00Z
The reservation was canceled 5 days before arrival. This is an automated posting.
Piotr
2014-04-14T00:00:00Z
Daniela and her family were lovely! So friendly and welcoming! The apartment was in a beautiful mountain village and just exactly what we were hoping to experience in Switzerland! I would recommend this apartment, location, and host to anyone wanting to travel to Switzerland!
Christie
2014-09-11T00:00:00Z
Such a nice place with nice people. Th room is big and clean.
David
2016-12-15T00:00:00Z
Clean and Lovley room, lovely people and lovely sleepy little town (we visited the evenning before nationalday). Also good price in this crasy expensive coountry :-)
Jonas
2014-08-02T00:00:00Z
My guys really enjoyed the house and next time we are working again in the neightboorhood we will return
John
2015-02-21T00:00:00Z
Daniela was lovely and looked after us well, the property was perfect with great surroundings and the views were picturesque. We wish we had a bit more time here and would definitely be looking to stay here again on our next visit. Thanks Daniela.
Ferdinand
2015-07-07T00:00:00Z
Room Type
Entire home/apt
---
Property Type
Apartment
---
Accommodates
4
---
Bedrooms
Gommiswald, St. Gallen, Switzerland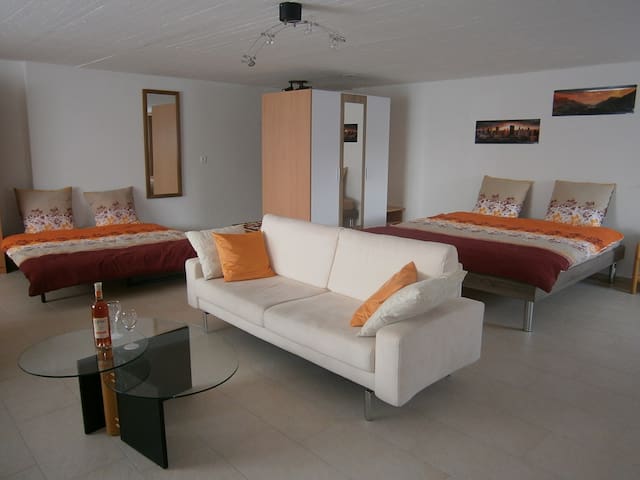 Grüezi mitenand, sönd willkomm im schöne Appenzellerland Wir begrüssen Sie herzlich im Appenzell- Ausserrhodischen Hinterland Hundwil. Dieses Bauernhaus mit Kinderspielplatz steht mitten in den Wiesen in schöner und sonniger Aussichtslage nähe Säntis und ist ein Geheimtipp für Familien, Gruppen und Ruhesuchende, die gerne ihre Ferientage in der Natur verbringen möchten. Hier haben Sie eine frei Rundsicht über die Appenzellerhügellandschaft und auf den nahen Säntis
We warmly welcome you in Appenzell-Ausserrhoden hinterland Hundwil. This farmhouse with a children's playground is in the middle of the meadow in beautiful and sunny location near Santis and is a tip for families, groups and tourists alike who wish to spend their holidays in nature .Here you have a free panoramic view of the Appenzell hills and on the nearby Santis.The property is surrounded by woods and meadows.Here graze from spring to fall, some sheep and cows.A private road with no through traffic leads to the house. Active guests will find on the doorstep wonderful hiking, cycling and bike tours.The nearby Santis with the Seealpsee, Hoher Kasten with revolving restaurant, Ebenalp, Schäfler and Wildkirchli you find some great vantage points and load them naturally to a great mountain adventures. Children and young people like to go with the summer toboggan run at Kronberg or practice in the cable park. The places Appenzell, Herisau, Trogen, depths or St. Gallen invite you to go shopping and sightseeing. The nearby Lake you will find great beaches and water sports facilities, or take a boat trip and visit easily the cities of Bregenz, Lindau, Friedrichshafen or Constance. Winter visitors can find great winter hiking and snowshoeing and ski touring beautiful possibilities outside the house.Children sledding in the meadows by the house. Cross-country skiing in the region and on the ski slopes Schwägalp, Ebenalp or in the ski resort of Alt St. Johann and Wildhaus.Guests who like it a little more comfortable, find the house determines a place to relax and unwind. Young and old will appreciate the peace and the wonderful children's playground with swings, slide and several seats and a barbecue. Apartment on the ground floor 130m2:Living room with sofa bed, satellite TV, internet connection, DVD, books and much information about the region. Large kitchen with large table and corner bench, dishwasher, fridge freezer, ceramic hob, oven, microwave, toaster, fondue and raclette dishes and many other devices.2 double bedrooms and two bedrooms with two single beds and a cot on request. Bathroom with bath, separate shower and double sink bathroom. Big area with a children's playground, swing, slide and several seats and a barbecue at the house.
The tranquility of the countryside
At first glance, the house building looked old. But the flat inside was incredibly clean and well laid out. Beautiful linens, fantastic space, really nice size kitchen. Lovely bathroom and lots of privacy. Beautiful views out every window and tranquil country sounds. This place was incredible! Sandy was unobtrusive but available. There were 8 of us and we all fit very comfortably. The large kitchen table was great for our family. It's a little hard to find down a small road that is not well marked, but that is part of being in the countryside. We enjoyed this visit so much! Thank you!
Lexi
2016-06-16T00:00:00Z
What a wonderful stay! The apartment is very clean and extremely spacious, and located on the first floor of the farm house. The area surrounding the farm and the view from the windows is beautiful and relaxing, and it feels like you are staying in the heart of the Appenzeller region. The farm is a true working farm, and you can hear the sounds of the cowbells around the house, as well as visit the sheep. The apartment is newly renovated, and decorated with traditional Appenzeller items like cow bells, bowls, and paintings of local scenes. The apartment is well furnished and very well appointed with all the necessities and then some. It is particularly well suited to children, and has a play room/kids room filled with toys, a high chair, and a playground. Sandy and her husband were absolutely wonderful and made us all feel so welcome, and even showed our kids the sheep and let them visit the newborn baby sheep, which my kids just loved. We would highly recommend staying here, and enjoyed our stay so much we hope to return in the future.
Kate
2016-08-22T00:00:00Z
The place is perfect! The main areas are large and beautifully decorated with art, and the home is located in the picturesque Swiss countryside. We stayed for Christmas, and had a wonderful time with our family -- an outdoor tree on the property was even decorated with lights! I would recommend this location to anyone for a few days of peace away from big cities and towns, but primarily for those who have or can rent a car (the area can be difficult to reach by bus). Our only other difficulty was that the hot water shut off at ~10pm each evening. But the positives unquestionably outweigh the negatives. One of our hosts even helped us with car troubles in the heavy snow. We hope someday to stay here again. Many Thanks!
Bianca
2014-12-28T00:00:00Z
This is a fabulous place in a very beautiful region and is equipped with everything one needs and more. The beds are very comfortable and the ground floor flat generally is very spacious and spotlessly clean. Ideal for a big family just as much as for some friends looking for a beautiful setting for a few days of rest - as long as you don't mind that there is one bathroom only. Lake Constance is just as easily reachable as the Alps mountains (Appenzell literally just round the corner) and we thoroughly enjoyed every day we spent in this beautiful traditional farm house. Sandy and her family are very friendly and helpful and we really could not fault this place in any way. Highlights for our families certainly were the newborn lambs, the new years eve fireworks organized by our hosts as well as the Silversterchlausen singing in front of the house on the last day of the year. We certainly hope to be back one day.
Markus
2017-01-03T00:00:00Z
Beautiful apartment in rolling countryside in the Appenzeller district. The apartment is very spacious and brilliantly equipped with everything you might need for your stay - from herbs & spices to Fondue and Raclette sets. The farm itself is beautiful - and the apartment opens onto acres of lush grounds to explore, with its own terrrace/sundeck including BBQ, sunloungers, table and lots of toys/games/swings for the kids. Sandy made us, our two children and our 2 dogs very welcome even before we arrived and was the perfect hostess throughout our stay. Highly recommended.
Simon
2016-04-10T00:00:00Z
Great experience in the Appenzell countryside! Many thanks to sandy and Natal for their warm welcome and their kindness! The apartment is spacious and very suitable for large families, notable is the high level of cleanliness!
Marino
2014-09-17T00:00:00Z
Sandy und Werner waren wunderbare Gastgeber und in ihrer tollen, geräumigen Ferienwohnung fehlt es an nichts! Auch für unsere Kinder hatten sie bestens vorgesorgt - mit Babystuhl, Wickelauflage, einer toll ausgestatteten Spielecke und jeder Menge Draußen-Spielspaß. Während unseres Aufenthalts haben die beiden uns bestens umsorgt. Wir können die Ferienwohnung in der herrlichen Umgebung wärmstens empfehlen und kommen selbst bestimmt einmal wieder.
Susanne
2016-07-05T00:00:00Z
ottima accoglienza,gentile,casa pulita.consiliato!!!
ion
2016-08-30T00:00:00Z
Room Type
Entire home/apt
---
Property Type
Apartment
---
Accommodates
8
---
Bedrooms
Hundwil, Appenzell Ausserrhoden, Switzerland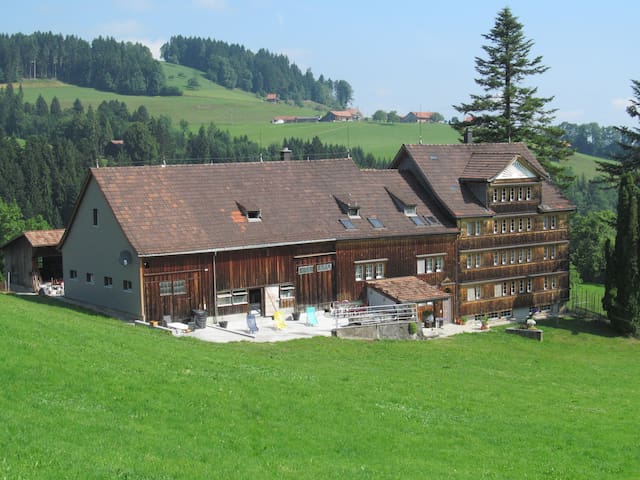 1

–

18

of

300+ Apartment Rentals
Enter dates to see full pricing. Additional fees apply. Taxes may be added.