Bright 3 bedroom semi detached home that's both comfortable and warm in a nice quiet part of Dublin. There is garden decking south facing which is great during the day to relax with a coffee or a glass of wine in the sunshine. If you wish in the evening you can turn on the fire and unwind with a movie, tv or just hook up your smartphone to a bluetooth speaker and listen to some music on the couch.
Room Type
Habitación privada
---
Property Type
House
---
Accommodates
2
---
Bedrooms
Artane, County Dublin, Ireland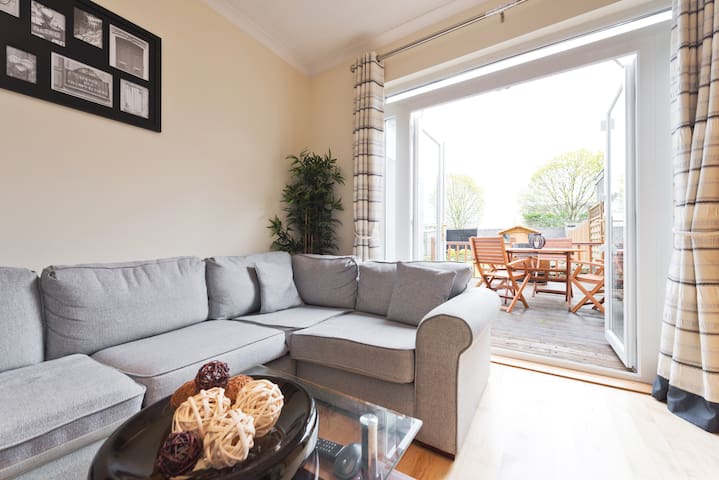 You'll love my space as it's a self contained, lovely Garden Room / Small Apartment separate to the main house with private entrance.Our gardens are beautifully landscaped with a lower patio level. Breakfast can be enjoyed here weather permitting! We live in a quite neighbourhood close to all amenities and on all major transport routes and easily accessable for the airport. We accept single bookings with no extra single supplement charge.
The host canceled this reservation 2 days before arrival. This is an automated posting.
Claire
2017-03-08T00:00:00Z
Close to public transport and the city center, a quiet corner in the yard of the family house, a studio for one person or a couple, I really enjoyed my stay overnight
Anita
2017-01-02T00:00:00Z
Excellent. Very comfortable. Quiet. Perfect for me and really nice hosts. Amazing value.
Stephen
2017-04-02T00:00:00Z
Cosy
Nick
2017-02-26T00:00:00Z
My stay was very comfortable! Even though it was short, the host was extremely welcoming and "homey." It's a nice residencial neighborhood with easy bus access to the coty center.
Lisa
2017-01-22T00:00:00Z
Great place, with beautiful garden & cosy wood-fired stove. Angela was very welcoming and helpful, many buses close-by make it easy to reach centre.
Viviane
2017-02-05T00:00:00Z
We had a great stay with Angela! They were very helpful with recommendations and provided a nice, simple breakfast so we could have a bite when we woke up. It's a unique setting but a pleasant surprise.
Melissa
2017-03-12T00:00:00Z
Angela and her partner are incredibly hospitable and welcoming. The room (in a separate guest house in the back garden) was very cosy, comfortable, clean and well equipped. They even offered to light a fire for me and leave me breakfast for the morning. The house is very close to public transport that takes you directly into the city centre. I would definitely book again!
John
2017-02-12T00:00:00Z
Room Type
Habitación privada
---
Property Type
Serviced apartment
---
Accommodates
2
---
Bedrooms
Donnycarney, County Dublin, Ireland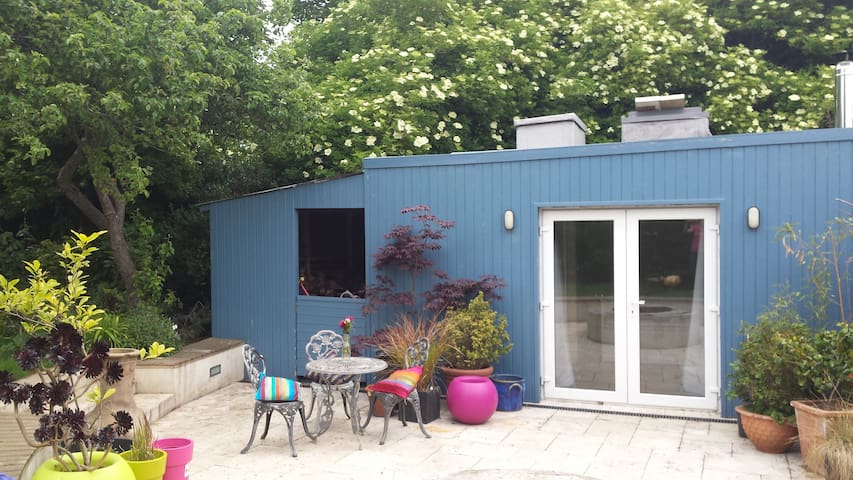 Situated 3 minutes from the bus stop and 15 minutes from Dublin city this spacious apartment sleeps up to 3 people and includes wifi and all mod cons ! It also features an alarm , private access and off street parking.
Santry is a quiet side of the suburbs which offers a shopping center and local pool and leisure facilities.
Tom and Rebecca were lovely, very accommodating hosts! The appartment ist small, but offers everything you need. It is well located between airport (approx. 15 minutes by bus) and city center (approx. 30 minutes by bus) in a quiet surroundings. Another big advantage is the supermarket nearly opposite. We will devinitely recommend this flat!
Martina
2016-10-06T00:00:00Z
Rebecca's place was perfect for us. It had all the conveniences of home. The kitchen was so useful for us. She was a delightful host who went above and beyond the call of duty in making us feel comfortable and welcome. Very nice place to stay. Highly recommended!
Jon
2016-07-06T00:00:00Z
This was a beautiful stay. Rebecca and her husband Tommy were extremely lovely and helpful. The place itself was very comfortable and had all we needed for three of us!
Serena
2016-07-29T00:00:00Z
Rebecca and husband were extremely welcoming. They provided us with loads of information on the area and how to get around. Also have us lots of information and stuff to do in Dublin. They were on hand to answer any questions we had. The apartment is just like the pictures. Lovely compact apartment.
alecia
2016-06-27T00:00:00Z
You made us feel so welcome!! Thankyou
rose
2016-10-10T00:00:00Z
Loved this flat! Was perfect for the three of us, and was near everything we wanted to see while in Dublin. Rebecca and her husband were extremely friendly and helpful while we were there for our stay. Would definitely recommend!
Alyssa
2016-10-16T00:00:00Z
Rebecca and Tom were lovely. The accommodation was lovely, perfectly between the airport and the city centre.
Antony
2016-11-19T00:00:00Z
Great little apartment with everything you need. Very clean with lovely fresh linen and towels. Great location to catch a bus in to the city or to the airport. Highly recommend.
Kailee
2016-07-11T00:00:00Z
Room Type
Entire home/apt
---
Property Type
Apartment
---
Accommodates
3
---
Bedrooms
Santry, Dublin, Ireland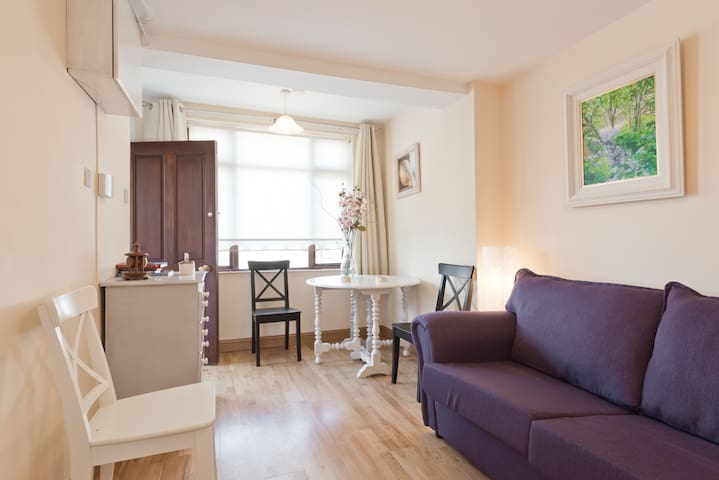 Warm comfortable 2 bedroom house in Clontarf, 2 miles from City Centre. Free parking. 5 miles from Dublin Airport - €25 taxi from Dublin Airport. House is not on a direct bus/train route to Airport. 2 double rooms - one super king size bed! Memory foam mattress on all 3 beds. Separate kitchen, dining area. Gas Central Heating. Good shower, 120mb Wifi. Bus stop 3 minute walk - house is about 5 short stops to City. You can walk it in 30 minutes. Train 10 minute walk. Sea front 5 minute walk.
Clean 2 bedroom terraced house with 50mb broadband, TV and kitchen. Two double bedrooms upstairs, bunk beds in one. Clontarf is a family friendly safe residential neighbourhood on the Coast close to shops, bars & restaurants - The Yacht Bar and Restaurant is a 5 minute walk. 40 minute walk to the City Centre, 2 minutes to bus stop and 10 mins to Dart (inter city train) €25 Taxi to the house from the Airport. The City Centre is 6 bus stops away or 2 Train Stops. House is walking distance from Clontarf Village and East Point Business Park. Toiletries, Hairdryer, fresh Towels and Dublin Guide Books provided. House is located on very quiet street, behind the Main Road, away from noise. The famous Clontarf Castle is 2 minutes walk. Beautiful walks along the sea front a few minutes away. Walks to Bull Island and Dollymount Strand. Great location for your trip to Dublin. No cleaning fee charged.
Clontarf is a quiet sea-side village with shops, bars and restaurants and the village is just ten minutes outside the city
Great host, made sure everything was ready and was there if we needed anything. Had welcoming snacks ready! Great location, near a bus stop, the sea and clontarf castle. We loved our stay and would recommend Fiona to anyone!
Leah
2017-02-20T00:00:00Z
Fabulous home at a great location for experiencing all that Dublin has to offer!!! Fiona was the best host for our trip and provided all we needed to make this a memorable holiday for myself and my family. The home was spacious and extremely well equipped for our visit and even when we got lost getting there Fiona was ready and available to help us find our way to our home away from home. Excellent value for staying in an extremely popular location with ready access on the DART to downtown but with the privacy to come home to. I would recommend this property and this host to anyone looking to be in the area and wanted a place that could accommodate a family or friends traveling to Dublin.
Lynn
2016-06-06T00:00:00Z
We came from Amsterdam to spend 3 nights in Fiona's apartment. The apartment is spacious, complete and clean. In a very nice neighbourhood with everything you need closeby like a large supermarket called Nolans in a nice street with a great deli shop. The busstop to get to the city center is just a few minutes walk. Everything is well arranged by Fiona to make sure you have a comfortable stay in Dublin. Thanks!
Sandra
2014-01-28T00:00:00Z
This was my first airbnb experience - and it has solidified my continued use! Fiona's townhouse was wonderful - quiet neighborhood, well appointed kitchen, and comfortable living room, solarium and beds. Everything was clean and Fiona's neighbor was available to let us in and explain all the nuances for security, heating and more. We had a grocery store, Clontaft Castle and restaurants in easy walking distance as well as quick access to the Dublin buses to get everywhere we needed. I highly recommend this rental!
Kathy
2014-05-24T00:00:00Z
The flat was so lovely , conveniently and safely located. Beds were big and comfortable to sleep even 5. New bathroom and kitchen. Living areas were big enough to lounge around. My family loved come "home" after a long day in Dublin .
KITHMINI
2016-03-29T00:00:00Z
Very friends and provided everything we could have possibly needed. In addition to anticipating needs, she provided wonderful al instant responses to every question/request.
Tekia
2017-03-24T00:00:00Z
Loved how it was located in a little town close to Dublin but it had it's own charm that took a whole day to enjoy! Great communication whenever we reached out and was kind enough to allow an early check-in! Would highly recommend to anyone else looking to visit Dublin :)
Tori
2017-03-11T00:00:00Z
This a wonderful spacious place to stay if you are looking for a space of your own while in Dublin. It's away from the city centre so you do have to use taxis or transit to get to and from but it's only about a 15 min ride. The place is very clean. Fiona consistently checks in with you before you and arrive and during to make sure you have everything you need. The amenities were easy to use and the beds were very comfortable. Highly recommend!
Ambria
2017-03-31T00:00:00Z
Room Type
Entire home/apt
---
Property Type
House
---
Accommodates
4
---
Bedrooms
Dublin, Dublin, Ireland
We reply to your enquiries within minutes! We are welcoming you to a modern private room in Dublin city. The place is easily accessible and spacious enough for two people. The room is very spacious and bright and has it's own bathroom! We are also providing you a laptop and super fast wireless internet! Fresh linens and towels, shampoo, shower gel are included. We love clean places, therefore your room is super clean at arrival. During your stay we will be happy to answer your questions :)
Comfy bed with fresh sheets in a spacious bright, modern room. Your private bathroom in your bedroom, with towels, shampoo and shower gel provided. Our apartment is 15 mins close to city center (O'Connell) by bus, 20 - 30 mins on foot. Please note that our place is NOT in City Center, but close! Use our kitchen? Yes! We share our kitchen with guests who like to cook. We also have basic breakfast items included such as cereals, milk, bread various spreads, and lots of tea! You'll find useful guides on what to do in Dublin and Ireland in your room to discover.
Nice quiet neighbourhood. Close to the Liffey river which offers a beautiful walk into the city center! The 3arena is on walking distance and the Convention Centre Dublin is also close. Our neighbourhood is NOT IN the city center. HOWEVER the bus stop is just beside the building which will take you to the city center in 10 minutes. The bus comes every 20 minutes. The tram stop is 10 minutes walking distance which will bring you to the city center in just 8 minutes. If you wish to walk, this will take around 30 minutes depending how fast you walk.
The room is super nice with comfortable bed and pillows, and the bathroom is my favorite one! Everything is extremely clean and comfy! 5 stars double bedroom:) There's bus stop downstairs which to city center but I used to walk.(~35 mins) There's two big supermarket near the apartment, 5 mins by walk. If you've any questions, Sami will try his best to help you! As he did helped me a loooooot, I am really thank him from my bottom of heart. So I highly recommend this accommodation and I will come back again! Love ya!
Miriam
2017-03-17T00:00:00Z
Walkable to the city centre, lovely room!
Jessica
2017-01-09T00:00:00Z
Sami and Salim were great hosts. the room was exactly as advertised. It was very clean. The shower is heaven compared to the water pressure you usually get in Dublin/Ireland. Sami and Salim always tried to answer all our questions. We enjoyed the privacy the most. One can walk to the city, but it takes about 30-35 minutes. We never took the bus, but it stops right infront of the apartment. all in all we had a great time!!
Bjoern
2017-02-14T00:00:00Z
Nice, clean and comfortable place. Hosts are cool guys.. 5 stars, will stay again.
Vijay
2017-02-24T00:00:00Z
Sami's place was clean and the private bathroom is definitely a big advantage to give you enough privacy. The bus stop is just 2 min walk away and Luas tram about 10min walk away - very convenient. For light sleepers, the noise from the street can be a problem as the window's noise isolation is not the best, but we noticed it only on our first night, the next 2 nights we slept better :) All in all, it was a nice place to stay for our little getaway in Dublin.
Ingrid
2017-04-01T00:00:00Z
Super uncomplicated and very nice host! Thank you so much for everything, enjoy 2017!
Pia
2017-01-03T00:00:00Z
Apartment very convenient to visit Dublin. Accessible quickly from the airport. Very clean with private bath. Very welcoming.
Jean-Marc
2017-04-04T00:00:00Z
We had a great stay in Dublin. The house was great, it's a brand new home and it's not to far from the city center. Salim and Sami were great! They gave us great advice and took the time to show us Temple Bar. Definitely a great place to stay in Dublin!
Joana
2016-11-13T00:00:00Z
Room Type
Habitación privada
---
Property Type
Apartment
---
Accommodates
2
---
Bedrooms
Dublin, County Dublin, Ireland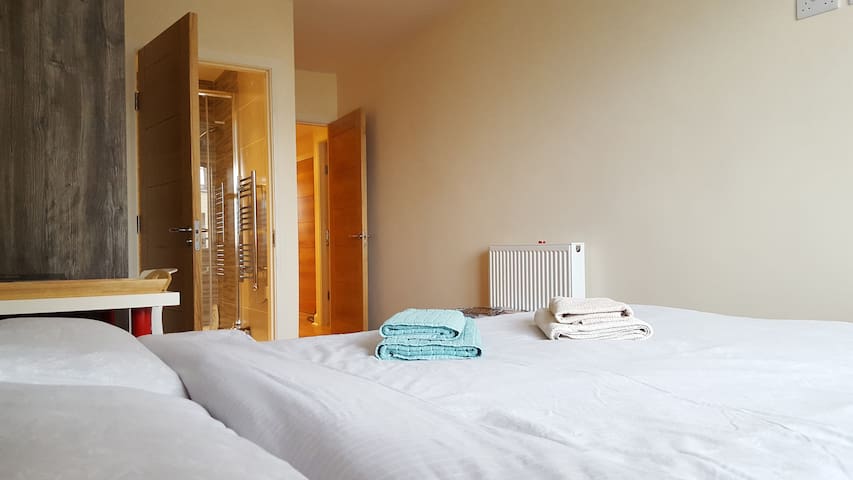 2 double bedroom apartment in Clontarf area (north side of Dublin). Bus stop around the corner which will get you to the city center in 10 mins. Close to airport (15mins). Best pub in Clontarf 'Harry Byrne's Pub' nearby. Includes entire apartment; kitchen, bathroom, large living room with dining table.
Room Type
Entire home/apt
---
Property Type
Apartment
---
Accommodates
4
---
Bedrooms
Clontarf, County Dublin, Ireland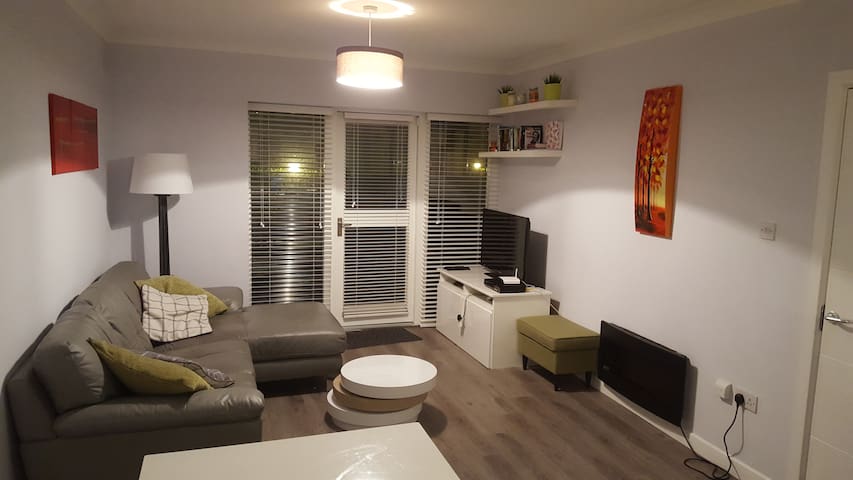 Comfortable 1 bed cottage 5 mins walk from Clontarf seafront . Behind Clontarf bus station , ideal for short trip to Dublin city centre. Close to shops , pubs , restaurants and local theatre. Enjoy the view to Howth from the seafront.
Kitchen is fully equipped with microwave, dishwasher, washing machine, fridge, cooker, oven and Lavazza coffee machine. The house has gas central heating and on demand hot water for the sinks and shower or bath.
This is a quiet residential area in a Cul De Sac behind the Clontarf Bus Station. There is no through traffic on foot or by car.
Room Type
Entire home/apt
---
Property Type
House
---
Accommodates
2
---
Bedrooms
Dublin, Dublin, Ireland
Welcome to Dublin! We are in a fantastic location beside the center and the main Bus, Train and Tram Stations, in a lovely neighbourhood with exclusive access
Double bedroom in a modern flat, sharing with us. The room is very warm and quiet, have desktop, wardrobe and direct access to one of the terraces.
The home is in a private and quiet neighborhood with exclusive access, very safe and great condition.
Becky and Fran are amazing people! If I come back to Dublin I'll repeat with them.
Marieta
2015-03-28T00:00:00Z
My boyfriend and I stayed with Becky and Fran over NYE and it was a good choice! Both hosts are really nice and gave advice on touristy things. The flat is situated in a quiet apartment block 20mins walking distance from town. The flat was nice - our room was lovely - the bed was very comfortable - the bathroom could have been cleaner.
Daniela
2016-01-02T00:00:00Z
We had a great time in Dublin and Becky and Fran were really kind and great hosts!
Leonie
2015-10-20T00:00:00Z
Fran and Becky were amazing and very accommodating. The unit was lovely and very close to the city center. They made my first experience with Airbnb a great one!
Joseph
2015-11-02T00:00:00Z
Becky was really nice, she came down to take us to the apartment. The room is a nice size. The bed was a little firm, but not bad. The location is great for walking, it was really easy to get around. Parking wasn't as easy. There is street parking only, and not much available. The water seems to take a long time to heat up, after a half hour I still had cold showers. Overall it is a good location, host was quick to solve problems, good size room, just a few quirks.
Barbara
2016-01-10T00:00:00Z
The house is very well located, not too far from the city centre and Becky and Fran are absolutely lovely, two welcoming and friendly people. The room is completely separated from their apartment so it gives us good privacy.
Sabrina
2014-12-22T00:00:00Z
We stayed 3 nights at Becky and Fran's flat. They are really friendly and made us feel really comfortable. Thank you again !
Laetitia & Arthur
2015-09-05T00:00:00Z
Very clean and in a safe gated area. Quick 20 minute walk to centre city where you can easily find various tours to attend or just walk around Dublin. Taxis are fairly cheap in Dublin as well. Becky was so sweet and let someone in our party have a late check out so that they did not have to carry his bags around the city with him. Thankful we found this nice Airbnb!
Caroline
2016-07-12T00:00:00Z
Room Type
Habitación privada
---
Property Type
Apartment
---
Accommodates
3
---
Bedrooms
Dublin, Dublin, Ireland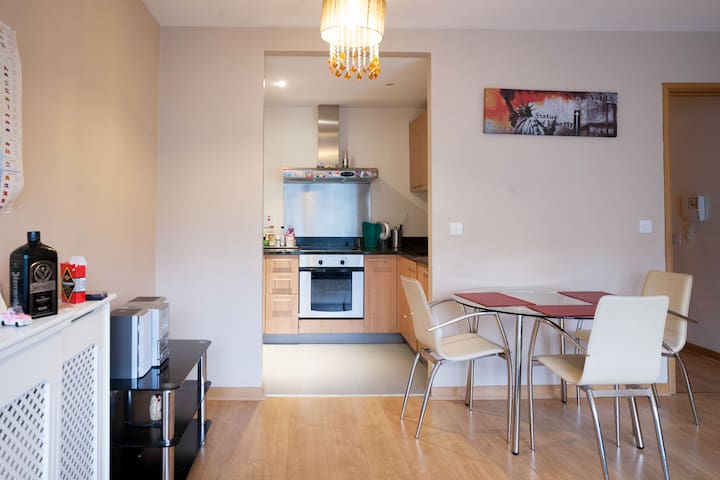 Single room suitable for student or tourist in clontarf lots of walks and amenities close by and ten minutes by bus or dart. This room is for one person only
Her house was located in a wonderful suburban area. it takes only about 20 min. by bus (29a, 31/32 etc.) from Central Dublin . As her place is popular I was lucky to be able to stay there last Sat night to catch my flight back to USA via Dublin next day. The room is a good sized single room with a large closet. It was very comfortable and her son and his friends were helpful when I arrived. Louise is kind and responds to email inquires very quickly. I do not mind exploring the nice area near the ocean front (as she recommended) but unfortunately no time this time. Highly recommendable.
Mariko
2016-03-07T00:00:00Z
Wonderful area, nice en suite room, very friendly host. Everything was just perfect!
Fabio
2016-10-26T00:00:00Z
Place as described in a quiet area of Dublin (50 minutes walking from the main bus station or 15 minutes with bus). Louise is a nice personn, ready to help if necessary.
Hervé
2016-04-16T00:00:00Z
Louise's house is perfect for students and business travelers, great location with shops and easy transportation nearby. Nice hot shower. Highly recommended.
Meredith
2016-08-26T00:00:00Z
Pleased I stayed with Louise, her home is modern & warm. No traffic! And less than 10 minute walk to Dart ... grocery store is on way to Dart, and other amenities in the same parade of shops. City Centre is 15 min. drive or by Dart perhaps 20 minutes. Planning on staying again - best kind of recommendation really.
Martin
2016-02-24T00:00:00Z
Great host, very helpful and great home
David
2016-06-12T00:00:00Z
Louise was s(PHONE NUMBER HIDDEN) nice and super flexible with allowing me to stay. She's the best hostess I've had!
Daniel
2016-09-04T00:00:00Z
Louise was a most welcoming host and met me at the arranged time. Nice, comfortable bed in a quite room. Would stay again
tim
2016-05-04T00:00:00Z
Room Type
Habitación privada
---
Property Type
House
---
Accommodates
1
---
Bedrooms
Clontarf, Dublin, Ireland
Comfortable room in a very spacious, bright and brand new apt (2 bedrooms, 2 bathrooms). You'll share the place with me and my girlfriend, we are 30 and we've been living in Dublin for the last 5 years. You'll be free to use all the furniture of the house like tv, Internet, hi-fi, of course the kitchen. If you like we'll be happy to go for a pint together.
Very Nice appartement, Dean is very frendly it was a pleasure !
Ignace
2017-03-27T00:00:00Z
I loved to be in this home, the couple is very nice, the flat is clean and organized. If I need, I will rent this room again. Lovely place
Mirela
2017-03-26T00:00:00Z
Great place, private room and bathroom, can't get any better! Also two of the loveliest people I have ever bnb'd with. Definite recommend.
Jonathan
2017-03-31T00:00:00Z
This was an awesome weekend with very friendly hosts. The communication between Dean and me was without any problems, the room was absolutely comfortable. We even went out for a pint on the evening :-) I highly recommend staying at Dean's! Thank you, guys
Jennifer
2017-04-02T00:00:00Z
Dean was an amazing host and really went above and beyond. He offered many suggestions for places to go in the city and helped me with whatever I needed. He wasn't just hospitable, but very welcoming and laid back in regards to house rules. I had a great stay and would visit again the next time I'm in town
Alex
2017-04-09T00:00:00Z
Room Type
Habitación privada
---
Property Type
Apartment
---
Accommodates
1
---
Bedrooms
Fairview, County Dublin, Ireland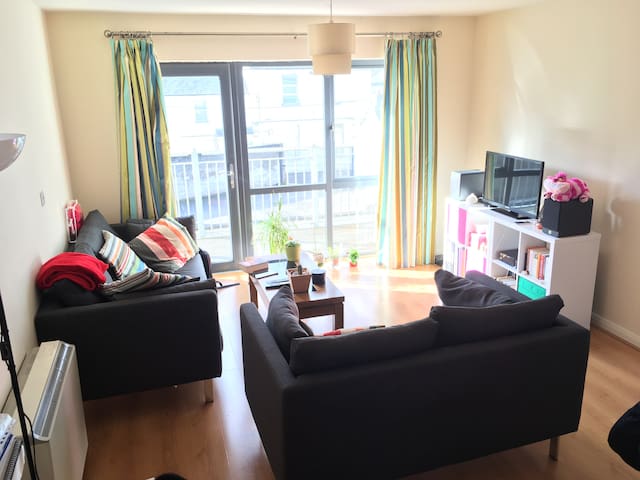 his very fine period house has been lovingly and conscientiously renovated over the last four years, to provide distinctive and elegant accommodation in the heart of Drumcondra village. 211 sqm over the four floors .54m garden. Rear vehicular access See drone footage on (URL HIDDEN)
Thank you Henri. I did not have chance to say goodbye, was knocking at the door for several times but nobody answered. You have an amazing house.
Ina
2016-06-19T00:00:00Z
Henri is a very kind and helpful host and we had a pleasant stay at his place. The house was very big with a nice garden, on walking distance of the city centre. The room was clean and tidy and we had everything we needed, even though it was minimally furnished. I will visit this place again when I'm in Dublin and recommend it to others.
Rob
2016-05-02T00:00:00Z
Although Henri was on a vacation till the last day of our stay, everything was taken care of. His very nice neighbors welcomed us and showed us everything and they were there for us the whole time, for any question or problem that might have occured. The house is beautiful and big and very close to the airport. When we met Henri on our last day, he was very nice and asked us, if everything was okay and recommended some bar and concert for the night. The only thing I can think of, that was not perfect, was the door between our room and the room next to ours. It was closed, but we could hear our neighbors talking all the time. But I would definitely come back on my next trip to Dublin!
Benedikt
2016-07-15T00:00:00Z
Henri was simply the most amazing AirBnB host we could have asked for! From the moment we arrived he made us feel so welcome and at home. The rooms were absolutely beautiful and he'd thought of everything (even power adapters because we'd forgotten ours). The shower was also incredible! Finally, Henri went above and beyond explaining what we could do with our time in Ireland, he had maps, brochures and travel guides all ready for us to use. Very sad to say goodbye to him, thank you for everything!
Fran
2016-10-18T00:00:00Z
Henry is a top host. He is very friendly and helpful. I strongly recommend to come and visit him. The place was really nice and comfortable. Big kitchen and bathroom.
Francisco J.
2016-10-02T00:00:00Z
We had a really good time in Henri's clean and beautiful house. Henri had a lot local tips for us and made our stay very comfortable.
Katja
2016-08-08T00:00:00Z
Had a great stay in Hendris lovely house, he is very friendly and accommodating. The house is clean and spacious and the bed was very comfy
Sarah-Jane
2016-05-20T00:00:00Z
Henri was welcoming and friendly host. The house has good bus connections to the Dublin city. The room was nice . There is no privacy as you can easily hear the sounds from the other rooms. We enjoyed our stay in Henri's place.
Raisa + Torsten
2016-07-18T00:00:00Z
Room Type
Habitación privada
---
Property Type
House
---
Accommodates
3
---
Bedrooms
Drumcondra, Dublin, Ireland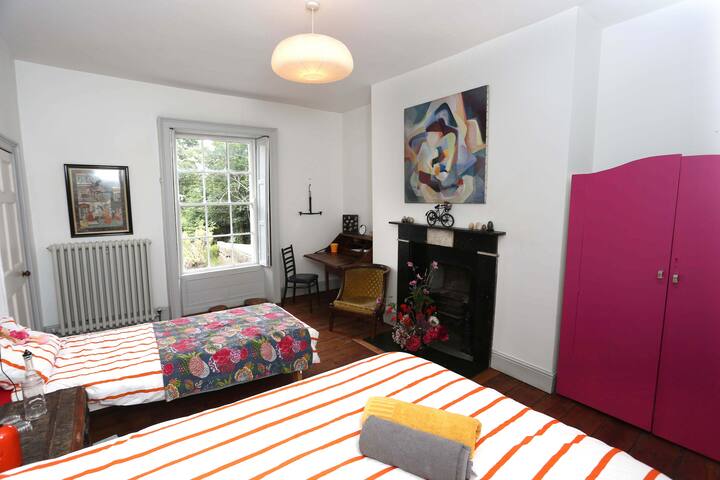 Amazing, apartment with the huge terrace in quiet estate 15 minutes by the bus distance from Dublin City Center and 15 minutes from Malahide. Two bedrooms, kitchen & dining room at the lower level; living room & terrace at the upper level.
This apartment is on the second floor. It is very unique for Dublin standards - not exactly a duplex, but it is on two levels. On the first level there are two bedrooms, bathroom and a very spacious and bright kitchen with a small balcony and dining area. The living room and the terrace are on the second level
It is close to the city centre (10-15 min by bus or taxi) but away from all the noise and things that I don't like there
It was a very pleasant stay and Gerta was extremely kind. The location is extremely good with easy connectivity to city center and airport .
Trupti
2016-08-02T00:00:00Z
Gerta was very welcome! They checkin us in late of night with no stress. The house is perfect and we had a great time. The access to center was easy too since the buses have free wifi which makes easy to see where we should stop when backing home. No complains.
Nei
2014-12-21T00:00:00Z
I can higly recommend a stay at Gerta's home. The flat is cosy, colorful and stylish. Unfortunately we did not meet Gerta as she was on holiday, but the organization was uncomplicated and everything worked fine! We had a great time at Dublin - and the flat made it even better! :) Thank you again - Gerta!
Gerlinde
2016-05-03T00:00:00Z
Really enjoyed our time in Gerta's apartment. Everything there that we needed.
Elizabeth
2015-06-14T00:00:00Z
Greta was a lovely host and communicative. Her home is very homey and full of beautiful plants. The apartment is located nicely to the airport (ten minutes by taxi), grocery stores and bus stops. However, it is a short ride from the city centre, but the peacefulness was worth a longer bus ride!
Ashlee
2015-06-02T00:00:00Z
Gerta's home was amazing! Very artsy and beautiful! It is near the bus stop, so it was really easy to get to the city center and the apartment is located in a nice neighborhood with many near by shops. I would definitely recommend staying in Gerta's apartment.
Brenda
2015-11-01T00:00:00Z
I had a lovely stay at the apartment. We met Gerta's partner who was very helpful - he showed us around the apartment and gave us a folder of helpful information on Dublin. He answered our questions and was friendly. The apartment was very nice and clean with lots of character. Towels and bedding provided. We used Gerta's instructions to travel to town which was accurate and easy. There are several bus around the corner into town so there was never a wait for more than 10 minutes to catch one. Very pleased.
Jo
2015-04-19T00:00:00Z
Gerta's place is amazing. The terrace on the back side is perfect for those sunny days and we happened to have 5 nice days at our stay in Dublin. Really cosy and uncomfortable. Bus stops and shops close by. Would definitely recommend this place :)
Madalena
2015-04-07T00:00:00Z
Room Type
Entire home/apt
---
Property Type
Apartment
---
Accommodates
6
---
Bedrooms
Dublin, Dublin, Ireland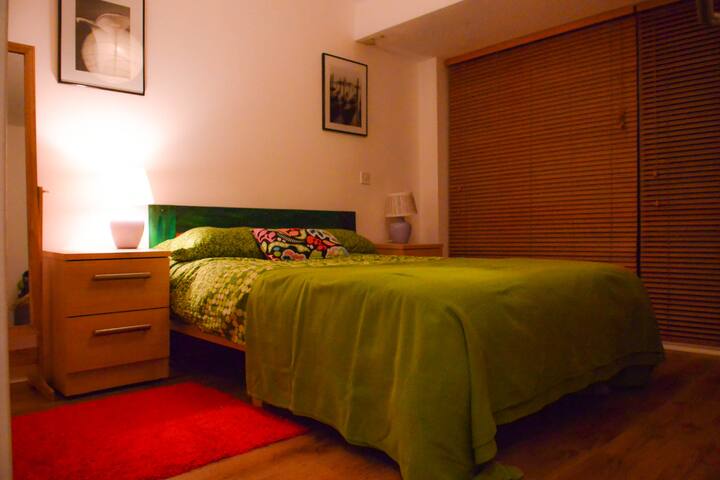 5 minutes walk from shops, main bus routes and 15 mins to Train/Dart Station. It is only 15 minutes from the city centre by bus and very close to the airport. We are a young family of 3. Irish and Italian background. We love architecture and design, we just renovated our house! It is a bright and cosy home. There is a lovely and cosy fireplace in the library/music room to relax after an hectic day in Dublin! It would suit couples, solo adventurers, business travellers, and families (with kids)
Newly renovated house, bright and comfortable. The bedroom is very comfortable in the front of the house with a huge window overlooking the front garden. The bedroom comprises of a double bed and a comfortable single sofa/day bed. There are bookshelves with books you might borrow during your stay.
Artane is a central location close to the city centre and very near the airport. It is five minutes away (by car) from the lovely Clontarf village and Dollymount Strand beach and there are many restaurants and cafes along the seafront. 20 minutes away from Howth and Malahide, two "must see" touristic beauties in Dublin. Artane has a shopping mall with Tesco supermarket, Primark/Pennies and a few other stores. Lidl is also 5 minutes walk. In the area there are many other conveniece/grocery stores
It was a pleasure to stay there. We felt like at home. Chiara and Karl were so friendly to us and we got the best Coffee
Dan
2016-11-04T00:00:00Z
When you are visiting Dublin as a tourist, this place is definitely a fantastic choice. The location is a quiet and tidy suburb, which is great for some peace and quiet after a tour through Dublin's pubs but at the same time want to be close to the city center. Public transport is available most of the time, and if you are lazy like we were, you can just take a taxi, which takes about 10 minutes and costs around 12EUR. The house itself is like homely and clean, the room featured on the photos is very bright and you definitely have enough books to read : D The hostess is super friendly and amazingly flexible when it comes to check in and check out (and everything else). Breakfast was lovely, and if you are looking for the best coffee in Dublin, forget starbucks, go to Chiara's place. We had a lovely time and this will be our first choice for our next visit.
Sarah
2017-02-11T00:00:00Z
Chiara was a great host. I can recommend to anyone. The accommodation was excellent and very well maintained. Only 10 min from the city center and great bus connection to the city. we were very satisfied.
Murat
2017-03-01T00:00:00Z
Couldn't have asked for a better experience. Loved every aspect of staying at Chiara's!
Holly
2017-01-21T00:00:00Z
The room / house is very stylish, clean and as described. Chiara and her familiy are very nice and extremely helpful. Breakfast is excellent and Karl's directions are better than those of Mr, (SENSITIVE CONTENTS HIDDEN)!
Stefanie
2017-01-16T00:00:00Z
Chiara's place is excellent. The bed was large and comfy, everything was clean, and the bathroom was private. She spread out a lot of food for breakfast which we appreciated and was so friendly and helpful. She speaks and teaches Italian (in addition to English) which is great for Italian travelers or those wanting to brush up their language! There are a few bus stops nearby and a safe walk into the center would take about 45 mins or so (it's about 3 miles away). Our taxi driver from the airport called her to get directions to her home (unless you use an Uber, taxi drivers rarely can locate airbnbs organically) and she answered immediately and gave him easy directions. It's a quick taxi ride to and from the airport, it cost 17 euro on the way there which was worth it to use because our luggage was bulky! Only 3 miles or so away. Artane is a safe suburb which was great because many affordable Dublin airbnbs are in rotten locations. Chiara was always available but never pushy, which was perfect! We would 100% recommend her place and stay there again. Best airbnb experience I've had and I was in Europe for 3 weeks! Best value in Dublin.
Valerie
2017-03-31T00:00:00Z
Chiara's place was lovely. A close distance to everything such as cuisine and local transport and her place was located in a very nice residential area. Chiara is lovely and was very helpful, she recommended places for us to go see and places to go eat at which was great. Definitely would recommend this place to anyone planning on staying in Dublin :)
Blaise
2017-02-19T00:00:00Z
Chiara and her husband were lovely hosts. The place an the breakfast were great and we felt home. We would like to stay again anytime.
Ha Phuong
2017-03-21T00:00:00Z
Room Type
Habitación privada
---
Property Type
House
---
Accommodates
3
---
Bedrooms
Artane, County Dublin, Ireland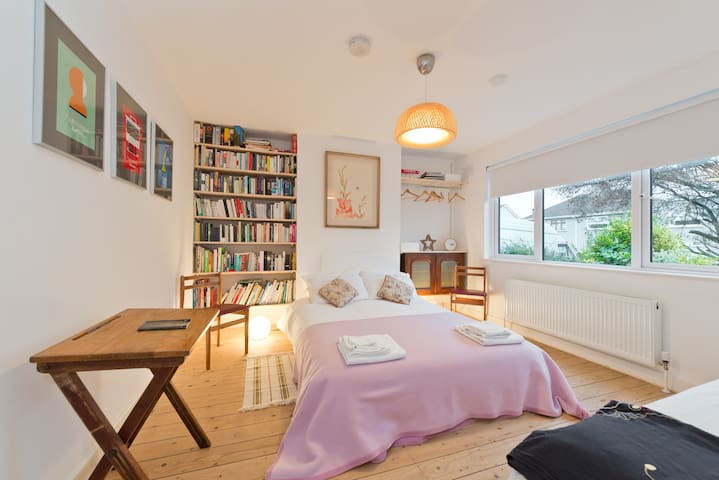 Room with a double bed in a modern and brand new apartment within a safe complex built to the highest standards. It is located in Fairview, a neighbourhood with all the services and very well connected to the city center by bus (15 minutes). LGTB friendly :)
This bright room has a double bed, so two people can comfortably rest. It also has storage space in a large wardrobe for you. It is within a complex located in a cul de sac street, so it is very good place to quietly rest from your day out in the city. The apartment has one bathroom (shared between the hosts and you). We are both working, and that's why we have included the check-in and checkout time, but feel free to let us know what time you arrive in advance so we can arrange it in the most easy and convenient way for both of us :)
Fairview is one of the neighbourhoods located in the north of the city. It is very well connected to the city center and other parts of the city by bus, but it is a very quiet area and close to the coast and it has supermarkets as well (Centra, Tesco, Lidl, Aldi). It is also very well connected with the coast towns (Howth, Portmarnock, Malahide) and close to Clontarf as well. There is a beautiful walk alongside the coast 20 minutes walking from the house and Fairview park is also 10 minutes from the house. Also, it is close to Drumcondra, an area full of supermarkets and nice restaurants, so it is very well connected with the airport (35-40 minutes by bus from our doorstep). In between our home and Drumcondra, you can find the Croke Stadium, where famous concerts and performances take place, as well as Gaelic football matches.
Very kind hosts, we felt very at home immediately with them. Thanks for them for the nice place and days in Dublin!
Csaba L.
2016-11-13T00:00:00Z
Maria & Christina are very nice, friendly and really helpful hosts. They provided us with lots of tourist guides and maps of Dublin. Also the spanish dinner was great! Their house is quite big and sunny and the room was very comfortable for 2 persons. Recommended
Elma
2016-10-16T00:00:00Z
We spent three nights at Cristina's and Maria's place, and it couldn't have been better! C & M informed us very well about the bus lines and about other practical things that made our trip smooth and easy. The apartment was clean and comfortable and the neighbourhood was nice and quiet. Cristina and Maria are lovely people and easy to get along with. Definitely recommendable!
Eila
2016-05-31T00:00:00Z
We had a really great stay with Cristina and Maria! They were wonderful hosts and helped us out with tips for getting around or finding good food, and Maria even went back to her office on a weekend to print out paperwork for our flight! (and pretty much saved us with that :) ) Their apartment and the room are really nice and clean and they also provide a lot of information about the city, such as maps and brochures about buses or things to do in the city, which was really helpful for us! The location is not too far from the city, it's easy to get there either by walking or by taking a bus, also there is a good bus connection to the airport. Long story short: I can definitely recommend this place, we would absolutely stay there again :)
Daniela
2016-04-17T00:00:00Z
Cristina and Maria's place are really clean and comfortable. Also their hospitality is amazing, like everything we need were prepared for us. Thanks to them, we had a great time in Dublin!
Kazuya
2016-08-06T00:00:00Z
Thanks for the warm welcome, you made us feel at home! The room was very comfortable and your advices about the city helped us greatly!
Laurie
2016-09-21T00:00:00Z
I had an absolutely amazing time in Dublin. Cristina and Maria are amazing, kind hosts who go out of their way to make you feel welcome and at home. They had a thoughtful welcome package in my room (towels, toiletries and snacks). They were very accommodating as I had to change my booking and arrive a day later. I would definitely recommend that you stay with them, they are great people.
Nokuthula
2016-07-12T00:00:00Z
This place is really near from Dublin center (20min by foot) and it's really great to be able to come back "home" at night when we leave the pubs! Cristina and Maria were very friendly and gave us a lot of precious informations as soon as we needed their help! We also spended time with them, chilling and watching movies. They prepare for us all we needed and couldn't bring by plane (shampoo, shower cream,etc ) and it was very useful! Thank you for everything!
Ivana
2017-01-30T00:00:00Z
Room Type
Habitación privada
---
Property Type
Apartment
---
Accommodates
2
---
Bedrooms
Dublin, Dublin, Ireland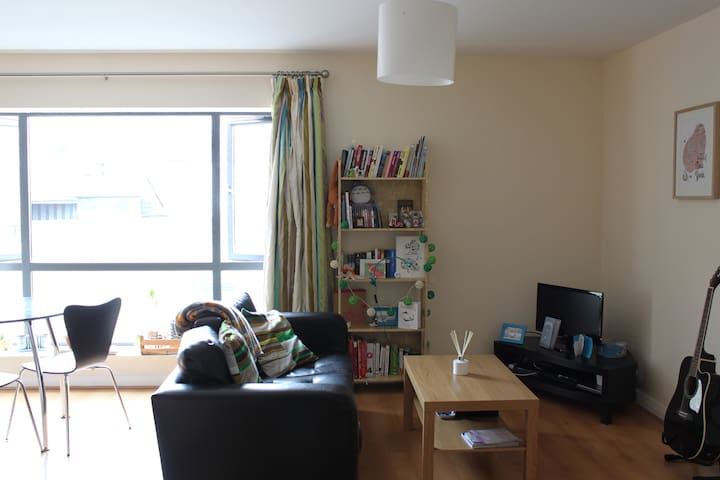 One of 6 apartments available for short term rental. Spacious bedrooms, very comfortable for up to 6 people. Within easy reach of city centre and the airport. Free wifi, laundry, kitchen, bathroom in each bedroom. Great retreat to explore Dublin from.
Supermarket, fast food and restaurants are close by.
Very nice appartment (for 4 people). We haven't seen Tom because we arrived late but everything was organised and ready for our arrival. A little far from the city center by feet but fast by bus.
Tiphanie
2016-08-20T00:00:00Z
This location was great . Bus stop almost at door from airport. No need for taxi. Bus stop around corner into downtown. Can walk to almost everything from there. Ideal space for 4 . Would stay here again. It's student-like basic housing. Very good value. Host allowed us early arrival.
jennifer
2016-08-30T00:00:00Z
The description of Toms place is pretty spot on. It is perfect distance to city center, with less than a 20 minute bus ride that picks you up right in-front of the apartments and takes your directly to temple bar, trinity college, etc. It also the perfect distance away from the center that you can see how average people live and have a place to breath before and after the bustle of the center of Dublin. It is a very simple but functional place. Well worth the money. Tom and his son made sure we knew how to get around town, and were very prompt upon our arrival. They were both also very understanding of our lack of communication skills due to jet lag.
Deedster
2016-07-15T00:00:00Z
Tom is great to deal with. The accommodation was as stated and perfect for what we needed. The staff enjoyed their stay. Great location and very safe. Thank you Tom.
OTL
2016-07-30T00:00:00Z
Everything was in place. Tom was very helpful and answered all our queries very patiently. The Apt was in a good gated location. Highly recommend it.
Ramachandra
2016-08-10T00:00:00Z
The appartment was comfortable and spacious with good bus connections to city center and airport. Local shops across the street. Very good WiFi.
Harald
2016-07-22T00:00:00Z
Contact verliep erg soepel. Er werd snel gereageerd op vragen. Tijdstip van aankomst was geen probleem. Ook bij het vertrek werd soepel omgegaan met de vertrektijden. Zo konden we de koffers laten staan en deze halverwege de middag weer ophalen. Het was er erg rustig en hebben geen overlast ondervonden. Sommige bedden lagen niet geweldig, lijkt of de veren er iets doorheen komen. Om Dublin te bezoeken een prima locatie en betaalbaar. Ruimtes waren prima, wel een beetje gedateerd en het had iets schoner kunnen zijn. Supermarkt in de buurt is erg handig. In 20 minuten en voor 2,05 euro ben je met de bus in het centrum van Dublin.
Vincent
2016-08-03T00:00:00Z
Room Type
Entire home/apt
---
Property Type
Apartment
---
Accommodates
6
---
Bedrooms
Dublin, Dublin, Ireland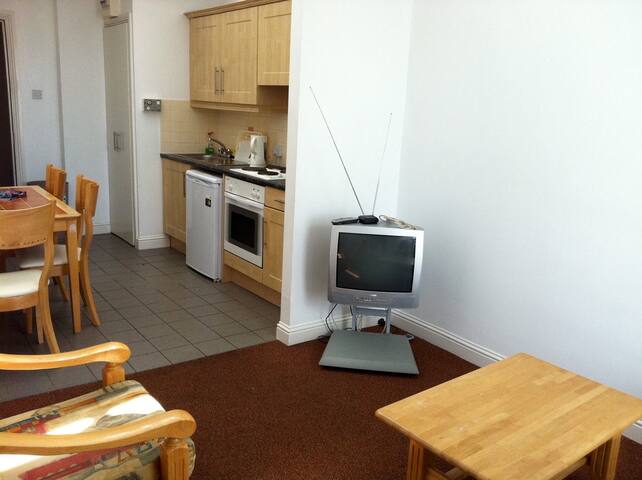 Cosy small double room is centrally located to all amenities shopping centre bus routes to the city centre/dublin ariport (10 minutes by bus from the city center)We are also close to Malahide Castle/Howth . We look forward to welcoming you!
Modern two bedroom apartment in bright quiet complex with big terrace and small balcony. Ten min by bus/train to city centre, close to seafront, park, shops, restaurants, bars, buses and dart station. Free parking. Brand new designer bathroom/kitchen, newly decorated throughout. Free parking, beside bus/dart station, 5mins to St. Annes park with its famous rose garden & farmers market on Saturdays. Stereo, parking, new bathroom with bath, shower etc, modern kitchen with oven, microwave, fridge, washing machine etc. As little/often as guests wish. . Excellent selection of restaurants, cafes, bars, shops & supermarkets within walking distance. Close to large park, farmers market, rugby club, cricket, seafront & Dollymount beach. Large variety of sports nearby including cycling, rugby, gaa, cricket, kite surfing & swimming. Close to Croke Park. 25 minutes by taxi from Dublin airport, 10 minutes from Dublin port ferry terminal, 10 minutes by bus/train to Dublin city centre, Malahide & Howth.
Quiet, safe, tree lined streets. Excellent selection of restaurants, cafes, bars, shops & supermarkets within walking distance. Close to large park, farmers market, rugby club, cricket, seafront & Dollymount beach. Large variety of sports nearby including cycling, rugby, gaa, cricket, kite surfing & swimming. Close to Croke Park.
I and my friend had stayed in Iwona and Darek's house for 5 days. We felt like we are in our home. They were so friendly, talkative and people person. We drunk tea with Darek and he told us his story that encourages us to travel more and makes us excited about different part of the World. The house is only 20 minutes to city center by bus. The room was properly warm and normal size (not too small opposite to other some comments). We had great time for these days. Thanks Iwona and Darek.
Hatice Nur
2016-11-21T00:00:00Z
Darek and Iwona's place was really nice and comfortable to stay at, a little hard to find to begin with but once you find it, it's actually really obvious! It's easy to get into the city centre with just a bus ride away and a supermarket not far away. There's also an adorable cat at the apartment, it really is like being at home. Would recommend to my friends.
April
2016-04-11T00:00:00Z
Great stay with two very nice people. Bus stop is about a 10 minute walk with several buses going directly to the city Centre. Go check out The Goblet pub on a Thursday night for some very authentic Irish music (a few old guys with their guitars/banjos).
Aaron
2016-10-05T00:00:00Z
Darek was very very nice and helpful. He gave my brother and me a lot of very helpful tips for visiting the city. The Room was very cozy and clean. The cat was amazing :D
Annika
2016-09-04T00:00:00Z
Amazing clean and quite place,very goood distance from the city center with good connection with train station, Derek and Iwone were really helpfull,nice and friendly,very cozy roo
Karolína
2017-02-20T00:00:00Z
Iwona and Derek were welcoming and the place is not too far from city center. Just a note, apartment is NOT smoke-free and they have a cat. Overall good value.
Rebecca
2016-07-29T00:00:00Z
We really enjoyed our holidays at Iwona and Dareks place. Everything was very nice and they were so friendly, helpful and courteous. Thank you so much.
Sina
2017-03-07T00:00:00Z
nice and sweet bedroom..friendly host and very helpful! :)
Mia
2016-09-29T00:00:00Z
Room Type
Habitación privada
---
Property Type
Apartment
---
Accommodates
2
---
Bedrooms
Artane, Dublin, Ireland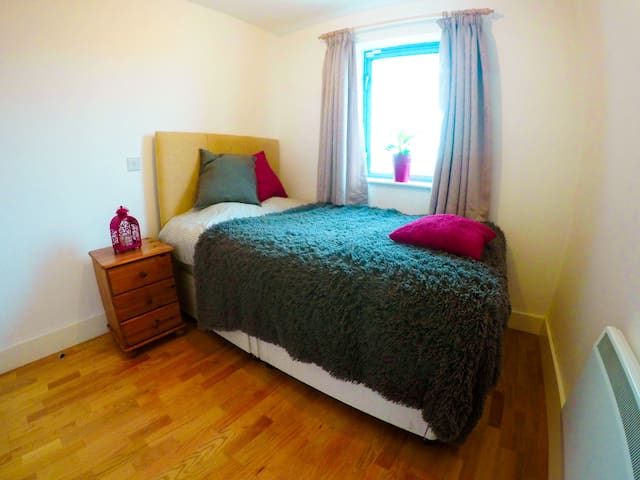 Lovely apartment located on Vernon Avenue right in the middle of beautiful Clontarf village, famous for excellent seafood restaurants, cafes and shops. Within a walking distance to Clontarf Promenade, Clontarf Castle, wooden bridge with famous Bull Island, known for its wildlife reserve and a long stretch of sandy beach. City center is only 15-20 minute on a bus, which runs very frequently. Suitable for a couples, however a double airbed can be provided to accommodate a group of 4.
Perfect stay, Magdalena was really helpful and the apartment was great.
Sam
2016-11-27T00:00:00Z
The host canceled this reservation 37 days before arrival. This is an automated posting.
Rachel
2017-02-07T00:00:00Z
The apartment is clean, nice space for 2 or 3 persons and all you need is available. The river/sea side is6 minutes walking. Bulls island is wonderful when you love the sea and dunes. The location is easy to reach by bus. Grocery shop is 3 minutes away. When you walk to the river it takes only 20 minutes to arrive in central Dublin.
Gert
2017-02-13T00:00:00Z
Appartement agreable, calme, privé, a proximité des transports en commun et des shops, très agreable sejour ! Je vous le conseille
Louis
2017-01-06T00:00:00Z
Room Type
Entire home/apt
---
Property Type
Apartment
---
Accommodates
4
---
Bedrooms
Dublin, County Dublin, Ireland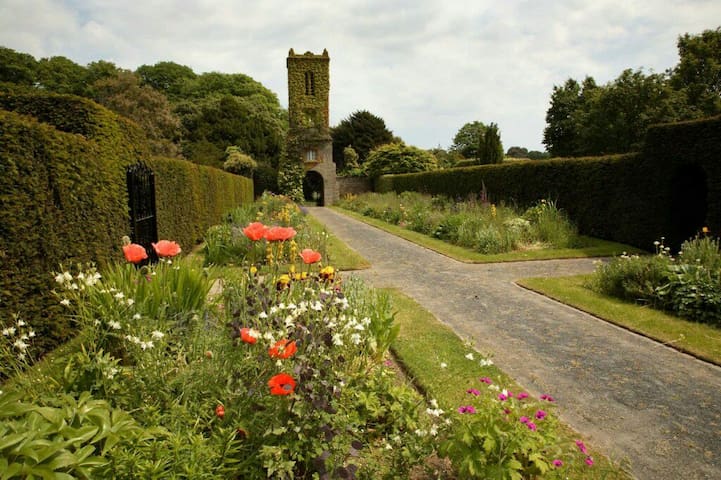 Relaxing in our comfortable Oak King Size Bed is the ideal start to your stay and our house is a good base to explore Dublin City. Close to Dublin Airport and city centre is 20 minutes away by bus. Reviews for our home: "Absolutely Perfect. Comfortable, close to everything we needed! - Nicole" "The house was beautiful; it was very charming and quaint with its garden and large windows. - Emily" "We felt extremely safe, and the location was perfect - Ashley"
Our home is a warm, comfortable and friendly place to stay for your short or long city break in Dublin. Oak King Size Bed is on the ground floor with open fireplace.
Donnycarney (Irish: Domhnach Cearnach, meaning Carney's Church) is a Northside suburb in the city of Dublin, Ireland. It is bordered by Beaumont, Artane, Killester and Marino, and lies in the postal districts of Dublin 3, 9 and 5. Donnycarney is a mostly residential area, located 5km from the centre of Dublin. It has a good range of amenities including restaurants, a credit union, a community youth project in the newly built community centre, and a 3.25ha park, May Park (Donnycarney Park). The area is crossed by one of Dublin's "small rivers". Donnycarney is most notable as the home of Parnell Park, a Gaelic Athletic Association stadium where the Dublin inter-county teams play many of their matches, including lower-profile matches which do not warrant the use of Croke Park, the national stadium. Donnycarney is also home to well known GAA clubs Craobh Chiarain and St Vincents, who have their base where the area borders Marino, as well as Parnells GAA. Donnycarney was the boyhood home of Charles Haughey, a former Taoiseach, who subsequently moved to Raheny, then Grange Park in what was then Baldoyle, then Kinsealy. He represented the constituency including the area in the Dail from 1957 to 1992, and it was also the location of his funeral service. Tommy Eglington, a former Irish footballer who played for Shamrock Rovers, Everton and Tranmere Rovers was originally from Donnycarney. As an international, Eglington also played for both Ireland teams - the FAI XI and the IFA XI. The members of the musical group U2 met and formed the band whilst attending Mount Temple Comprehensive School, which lies on the border of Donnycarney. Frank Kearns has a long and glorious history in the music biz. He went to school with U2 and was the guitar player with Cactus World News. He was founding member and guitarist and recently producer and solo artist was born and raised in Belton Park Gardens. 42 albums and six Grammys. The Chieftains' Paddy Maloney is not only a gifted musician and leader of the most famous traditional Irish music outfit in the world The Chieftains frontman and founder Paddy Moloney was born and raised in Donnycarney.
A friend and I stayed with Jacinta & David for the weekend and we had a wonderful stay! Jacinta was really helpful and gave us some great tips to do in Dublin, and David helped us by arranging a taxi to the airport. The room looked very nice and the bed was super comfortable. Thank you for a great weekend!
Judith
2017-03-06T00:00:00Z
We recommend the house of David and Jacinta for the warm welcome and breakfast. Located halfway between the airport and the city center (20 minutes by bus), it's also a quick access to the waterfront of Dublin. We wish them success and many others travelers in this huge bed room ! Good luck. Gil et Marie-Laure
Paillé
2017-02-22T00:00:00Z
We were in Dublin for the weekend and stayed at Dave and Jacinta s place . It was perfect for us because it was a 10 min journey to return the hire car to the airport and only a 15 min bus to the city . The king size bed was very comfortable , just what we needed !! We definitely recommend staying there if you re after a weekend getaway
Steve
2016-12-12T00:00:00Z
Excellent family and very welcoming. Their house is very beautiful. The area is close to the City and well served by local busses. Safe.
Giuseppe
2017-01-29T00:00:00Z
We had a lovely stay. Jacinta is very easy going and friendly. The place is in a quite neigbourhood however the city center can be easy reached by bus or taxi. Over all, we had a very good stay.
Patrick
2017-03-19T00:00:00Z
Jacinta and David are warm, friendly and welcoming and leave you to it, which was good for me. Their room is large and comfortable and nicely furnished in a great location. I would definitely recommend.
paula
2017-03-11T00:00:00Z
We had a wonderful stay at David and Jacinta's place in Dublin. David was very accommodating - flexible with our arrival and bag drop, helpful with directions and advice, and friendly. The house is easily accessible by bus to and from city center and the room is perfect for two. Would definitely stay here again! Thanks for a lovely stay!
Johanna
2016-10-09T00:00:00Z
Absolutely Perfect. Comfortable, close to everything we needed!
Nicole
2016-10-23T00:00:00Z
Room Type
Habitación privada
---
Property Type
Bed & Breakfast
---
Accommodates
2
---
Bedrooms
Donnycarney, County Dublin, Ireland
Enter dates to see full pricing. Additional fees apply. Taxes may be added.