The small village of Ambondrona is only 5 km to the tourist village of nosy-be, Ambatoloka. Place where it spends the night life, restaurant, dancing bar, casino, etc. This dynamic village and is very noisy. Staying with us, you can get a good night's rest in peace after your excursions to Ambatoloka.
You will find in our rooms every comfort for your stay. Only the air conditioning remains an option held account of excessive electricity prices in Madagascar For you to enjoy your holiday on our island, we opted for a small fee per night (AR 80000) for two people,
The little gem is located in a small Malagasy village, very quiet and secure, close to local transport and a beautiful beach (50 meters) you will love the peace and quiet that prevails there.
Room Type
Habitación privada
---
Property Type
Bed & Breakfast
---
Accommodates
2
---
Bedrooms
Ambondrona, Antsiranana Province, Madagascar

Bungalow pieds dans l'eau sur l'île de Nosy komba au Nord ouest de Madagascar Notre bungalow dispose d'une douche et toilette privative avec eau chaude. La lumière est solaire. Possibilité de séjourner en demi ou en pension complète.
Komba forever is located in the south of the island of Nosy Komba north west of Madagascar . Nearby is the small village of Antrema . Our structure is composed of 02 charming bungalows waterfront that are rented separately. The first bungalow has a double bed , and another double bed on the mezzanine. The second bungalow has one double bed. Our bungalows have beds with mosquito net, and private shower with hot water.
Here, You'll have your own private Beach ! This is a perfect spot for couples, friends, family who want a quiet place to stay. The snorkelling around the Hotel is great and can see dolphins swimming in the Sea close to komba forever.
Nosy Komba forever is an absolute paradise! Gael and his hardworking team made sure we had a brilliant stay with incredible food, service and attention. Honestly can't fault it! The location, the position of the bungalow right on the beach, the tranquility was just breathtaking. We would go back over and over again.
Leon
2016-12-14T00:00:00Z
With a warm welcome, Gaël and his team were super attentive. Nothing a problem to organise. We loved the simplicity and authenticity of Komba Forever. The location is incredible for relaxation.
Peter
2017-01-08T00:00:00Z
Very pleasent and cosy place with the magnificient view - even only the play of shadows on the hills of Madagascar on the other side of the bay on sunset is very worth to come here. The beach is the most beautiful of these I have seen here - wide with fine sand everywhere clean of seaweed and good for swimming and relaxing in the shade of huge tree. The bungalow is not so big but really nicely buil in local style -using the good quality wood and palm braid only. The large, double bed under the wide mosquito net will bring the calm sleep to everyone... The local cook is a great chef! And there is cold beer in the fridge all day long as well as hot wather in the bath!
dariusz
2016-06-02T00:00:00Z
Fantastic stay in a remarkable, quiet section of the island directly on the beach. The bungalow was fantastic, with a view onto the ocean from every corner. We were taken care of by Gael the Manager, who provided us with many personal tips and organised everything needed for our tours. Fantastic
Manfred
2017-04-04T00:00:00Z
séjour inoubliable avec un cadre de rêve chez Hubert et son équipe tous aux petits soins Merci à BRuno, Patrick, Vita et MAmambaba pour leurs attentions On reviendra ça c'est sur!
Chrystelle
2015-10-06T00:00:00Z
Très belle plage Bungalow magnifique avec belle vue partageant la plage avec un hôtel de luxe En revanche, c est isolé , loin du village principal ( pas de route sur l île) Prix demande pour aller au village principal en pirogue :65€! prix de la pension complète 30€ élevé au vu de la qualité et diversité des repas proposés Excursions proposées à un tarif très élevé
Violene
2015-08-20T00:00:00Z
Un voyage réussi vient pour partie des rencontres que l'on y fait...alors ne ratez pas ce rendez vous chez Hubert à Nosy Komba ! Au delà du cadre idyllique dans lequel se trouvent les bungalow, toute l'équipe allie bienveillance, disponibilité et discrétion... Je recommande vivement cette adresse si vous passez à Nosy Komba... J'en garde d'excellents souvenirs ! Merci à toute l'équipe.
Laurent
2016-12-07T00:00:00Z
un séjour inoubliable dans un bungalow magnifique! Une plage magnifique! Toute l'équipe est aux petit soin, les repas sont excellent, et l'accueil très chaleureux de Gaël, Patrick, Vita et Mamanbaba.
Mathilde
2016-03-22T00:00:00Z
Room Type
Habitación privada
---
Property Type
Other
---
Accommodates
2
---
Bedrooms
Nosy komba ou Ambariovato, Antrema Nosy komba Madagascar, Madagascar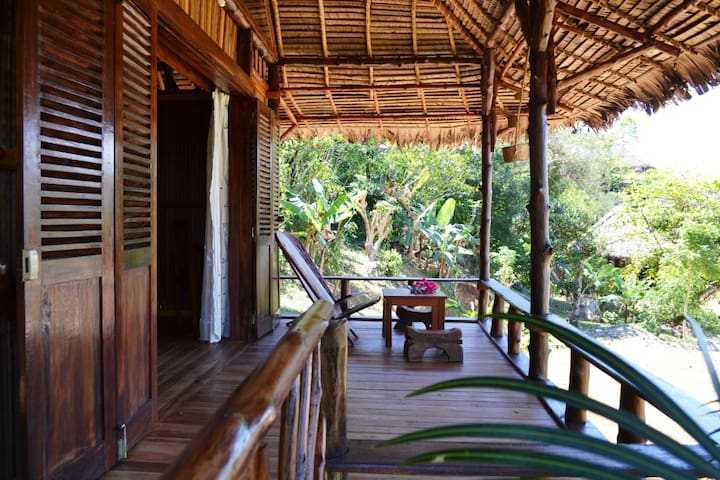 This charming wooden bungalow, Waterfront is located in the south of the island of Nosy Komba (Nosy be Madagascar). The bungalow has a double bed with mosquito net, plus another double bed on the mezzanine. private shower with hot water. It overlooks one of the most beautiful beaches of Nosy Komba. Patrick, our chef will make you discover all the specialties of the region.
This charming bungalow feet in the water, has two twin beds with mosquito net, one on the ground floor and one on the mezzanine. Regarding meals, we can arrange all inclusive (30Euro / person / day) or half board (25Euro / person / day). Our menus are not at the map, we set based on product availability in the market. Drinks are at hand including water bottles. Forever Komba is located on a rather isolated site, where there is no restaurant, no commerce around. All the teams will be on hand to offer you a unique experience.
We loved our stay at Komba Forever- it is beautiful! Everything was fantastic-great food and amazing service from very friendly staff who were exceptionally kind. They made us feel relaxed and at home. We had the best time ever!
Claire
2016-12-15T00:00:00Z
A perfect experience from start to end. Too bad we could only stay 5 nights in this tiny paradise. The team, starting with a warm welcome by the owner Hubert, made an incredible job in keeping us positively surprised and very welcome. Gaël, Patrick and Vita were always available and helpful beyond what you could reasonably expect. Making a fire in the sand to grill the small fish our ten year old daughter had caught with the equipment she borrowed from the kitchen was perfect. We will sure recommend this place to friends and family, and hopefully come back soon
Chris
2016-08-19T00:00:00Z
Séjour magnifique et reposant, ce que nous recherchions en famille! Style simple et local, déco homemade, propre, extérieur très bien soigné... et surtout, une plage isolée, du sable fin, des coquillages, eau calme et peu profonde pour les enfants, sous les cocotiers Une équipe en or rien que pour nous : - Hubert pour nous accueillir, nous informer, nous proposer des activités, et s'assurer que tout aille bien pour nous... - Patrick à la cuisine, que du frais, des plats préparés avec amour, ça se sent! - Vita aux multiples rôles, gardien des lieux, serviable, toujours souriant - Jérémie le jardinier, discret mais efficace! - Soua s'occupe du (URL HIDDEN) chaque jour la maison est mieux ordonnée que le jour précédent! Et tout le monde toujours avec le sourire et dispo ! Equipe de choc!!! Les petits détails à savoir : - sur ce versant de l'île, la plage n'est plus ensoleillée à partir de 15-16h - pour les amateurs de snorckeling, les premières patates sont à 15min, pas vraiment à côté, mais kayak dispo - comme c'est isolé, la pension complète paraît le plus simple !
Claire&Joël
2016-07-23T00:00:00Z
E' stata una esperienza veramente unica, un vero paradiso!! Il posto è ancora più bello dal vivo con una spiaggia che era quasi soltanto per noi e potevamo fare il bagno anche con la bassa marea. La pulizia eccellente e i bungalow bellissimi in mezzo alla natura. Berenice, la mamma del propierario è stata sempre a nostra disposizione ed è una donna molto gentile e parla benissimo l'italiano, Patrick un grandissimo cuoco che ogni giorno ci deliziava con i suoi piatti di pesce e poi avevamo anche la loro barca a disposizione a prezzi convenienti per fare le bellisime escuzioni! Che altro da dire...non vediamo l'ora di tornare a Komba!! forever!!
Javier
2016-10-22T00:00:00Z
Le cadre, l'accueil, la nourriture, tout était parfait. C'est un véritable paradis sur terre. L'équipe était très attentionnée et nous avons passer de superbes moment. Un seul Ombre au tableau.... Le vol d'argent. Nous étions trois jeunes filles dont deux ayant remarqué le vol d'argent dans nos deux portefeuilles. De petites sommes plusieurs fois, plus une grosse une fois suivante. En totalité c'est 450 000 aria qui ont disparu soit 130 euros .Génée nous avons décidé d'en parler au responsable de l'hôtel qui fut très gêné de l'apprendre. Mais nous ne savions pas encore a quoi nous ferions face dès le lendemain. 7h, on frappe a la porte, pas le temps de s'habiller, ni de déjeuner, nous sommes sortie du lit en moins de 5 minutes nous nous retrouvons sur un bateau avec toute l'équipe autour de nous. Nous devions déposé plainte oui ! Mais si nous avions eu le temps de déjeuner et de nous lever nous aurions moins eu l'impression d' aller " nous meme" en garde a vue. Nous avons senti une pression, une intimidation et avons décider de reprendre le contrôle, donc nous sommes allé déjeuner ( ce qui a beaucoup agacé l'équipe car que nous fassions nous meme la démarche les énervaient beaucoup )et aller porter plainte de notre plein grès comme nous souhaitions le faire sans être forcé a rentrer dans tel bateau, ni tel taxi ( ce qui a beaucoup énervé la patronne Madame Berenice, qui nous a dit que nous n'avions aucun éducation. Bref, nous en avions assez de ce cinéma a retourner la situation, nous sommes clients, victime de vol et on nous traite comme des voleurs ! Nous avons vite compris que tout le monde y été mêlés et les billets passaient de mains en mains ( Mada.... ma belle, tu ne changes pas malheureusement ) Les policiers nous ont souris presque gênés de nous dire que c'était tout le temps comme ça et que nous n'étions les premières et encore moins les dernières ! S'en ai suivi tout un brouhaha de malgache/français ou nous étions accusés de mentir sur ce vol pour ne pas payer la note ( évidemment nous avons tout payé et nous avions meme avant toute cette histoire laisser de généreux pourboires et payer au personnel de nombreux verres durant le séjour ! ....ainsi qu'un cadeau pour la famille du responsable, c'est pour vous dire notre gentillesse ). Histoire banale, sans suite, évidemment. Le soir nous avons décidé de changer d'hôtel meme si nous avions payé dix nuit et qu'il en restait deux, c'était trop pour nous, nous laissons donc nos coordonnées a notre hôte et partons. Nous retrouvant a notre nouvel hôtel, Monsieur se permet de faire scandale et de nous dire que nous ne sommes "pas solvable et que nous ne repartirons pas de Madagascar"... Comme si tout ce cirque n'avait pas suffit de la part de ce Monsieur, il s'est senti obligé de continuer a se ridiculiser alors que nous avions compris qu'il...
Nowna
2016-12-08T00:00:00Z
Room Type
Habitación privada
---
Property Type
Bungalow
---
Accommodates
3
---
Bedrooms
Antrema Nosy komba, Madagascar, Madagascar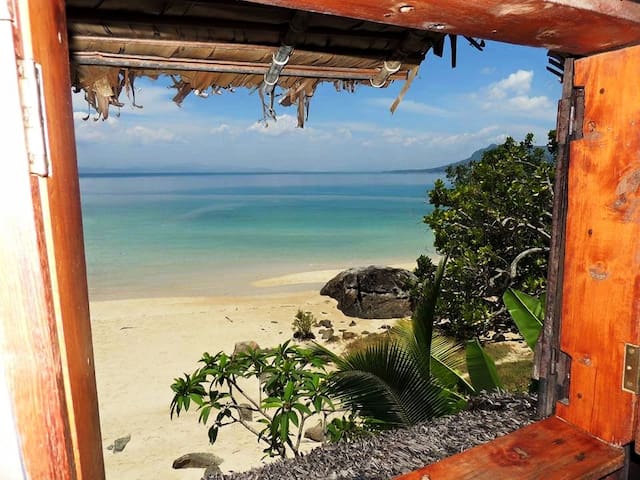 For the adventurous who want to discover Nosy Be as close a villagoise community. The house comprises a single chamber. The shower and toillettes are outside. Live a unique experience. The room can accommodate up to a childless couple.
It's a small cabin with a great big bed.
The village itself is a small village of less than 2,000 inhabitants, living is inexpensive because not many tourists and there all Nosy Be can go visit.
Petite cabane traditionnelle situee au coeur d'un village de pêcheurs proche de Lokobe, ideal pour ceux qui recherche l'immersion et la simplicité loin des gros hotels de l'île! Nous avons été tres bien acceuilli par Stanley et Jimmy qui se demene pour ses hôtes tant au niveau des repas que pour negocier des excursions a prix imbattable! Nous retenons surtout les belles rencontres et les soirees chaleureuses passees en leur compagnie!
Antoine
2016-12-07T00:00:00Z
Un séjour de rêve !!! Je ne peux que vous recommander cette cabane qui dispose de tout le confort nécessaire, un lit, une moustiquaire et une petite terrasse très agréable où vous prendrez vos repas. Les commodités sont parfaitement entretenu et mise a disposition par Stanley à 15 mètres de la cabane. Le village est habité par des pêcheurs et est situé au milieu des champs d'ylang ylang. La population y est des plus accueillante et d'une gentillesse à toute épreuve. La cabane appartient à Jimmy qui est sans conteste l'un des meilleurs guides de Nosy Be et qui vous accompagnera partout, il connait son île et ses habitants sur le bout des doigts, elle n'a aucun secret pour lui. Les repas que nous avons pris au village sont préparés par sa compagne qui est un vrai cordon bleu, avec les produits issus de la pêche du jour ( crabes, langoustes et poissons frais ). Jimmy vous fera profiter des meilleurs prix et des meilleurs activités qu'offre son île. Que ce soit les visites, les randonnées, les plongées ou la pêche tout était formidable, organisé par Jimmy d'une main de maître. Parmis nos plus beaux souvenirs, la réserve de Lokobé et ces animaux tous plus beaux les uns que les autres ( lémuriens, serpents, caméléons, lézards et grenouilles multicolores ). Nage avec les tortues a SAKATIA, nous étions seules, pas un touriste en vue grâce a l'habileté de Jimmy qui nous a fait écourter le repas pour nous offrir en exclusivité cette activité magnifique. La pêche au crabe en pyrogue traditionnel, la pêche a ligne a main toujours en pyrogue mais a voile cette fois. La visite de Mont Passot, lors de notre road trip a scooter autour de l'île. Les deux nuits passé a nosy iranja ( sur les recommandations de Jimmy ) resteront graver dans nos mémoires. Avec ma copine nous sommes d'accord, il s'agit d'un des plus beaux voyages de notre vie et tout ça on le doit à Jimmy. Nous remercions également Stanley, sans qui tout cela n'aurait été possible, c'est Stanley qui s'occupe de la logistique pour la location de la cabane et tout a été fait sans accrocs, les quelques moment partagés avec lui ont été très agréable et nous ont permis de mieux comprendre l'île et ses habitants. Sans aucun doute nous reviendrons mais cette fois ci bien plus longtemps que ces 12 jours qui sont passés à une vitesse fulgurante, la prochaine fois nous partirons au moins un mois avec Jimmy sur Grande Terre soyez en certains !!! Je remercie du fond du coeur Stanley et Jimmy qui sont des personnes exceptionnelles et sans qui ce voyage n'aurait pas eu la même saveur !! A tout les futurs visiteurs, vous pouvez y aller les yeux fermés, vous êtes entre de très bonne mains !!! A très vite !!! Alex et Amélie.
Alexeï
2016-06-09T00:00:00Z
Cette cabane se situe au coeur du village, c'est une petite maison simple, rustique et propre. Contrairement à beaucoup de cabanes du village, il y a un wc et un endroit pour la douche; Jimmy, le propriétaire est très attentif pour que tout soit impeccable: nettoyage de la terrasse, remplissage des bidons d'eau ... Jimmy est là pour toute demande complémentaire que ce soit pour trouver une couturière pour réparer un sac decousu que pour visiter les merveilles de l'île. Mais c'est avant tout un guide exceptionnel, il trouve toujours une solution pour visiter l'île au meilleur prix ( en prenant les gens du village pour les pirogues, pour les plongées...) L'accueil des villageois est sympathique, en un moins d'un mois je me sentais "admise", vazaha certe mais j'étais des leurs. J'ai pu faire le tour de l'île en scooter avec Jimmy, voir la réserve de Lokobe, le Mont Passot, Nosy Kamba..., Jimmy avait organisé un pique-nique pour moi seule sur une île déserte: l'île aus oiseaux. Il m'a accompagnée pour nager avec les tortues à Sakatia, pour passer une nuit à Nosy Iranja...Les filles adorables de Jimmy ont fait la cuisine. Stanley est là pour aider comprendre les gens, les situations et ... recharger les téléphones. Hermine, son adorable fiancée tient une jolie épicerie en face la cabane. Bref, un séjour inoubliable avec des gens inoubliables
sylvie
2016-10-25T00:00:00Z
Äußerst hilfsbereit. Die Unterkunft und der Aufenthalt sind sehr authentisch. Die Organisation der Touren war super.
Trixi
2016-09-12T00:00:00Z
Room Type
Entire home/apt
---
Property Type
Cabin
---
Accommodates
2
---
Bedrooms
Nosy Be, Nosy-Be, Madagascar
Votre bungalow se trouve à Nosy komba l'île juste en face de Nosy be,il se situe à 20 minutes en pirogue d'Hell-ville(capitale touristique de Nosy be); -Possibilité de transfert en pirogue 2€/pers -Possibilité de bénéficier d'une femme de ménage et d'une cuisinière.(voir prix sur place) -Possibilité d'excursion à partir de Nosy komba.(voir prix sur place) Mon logement est parfait pour les couples, les voyageurs en solo, les familles (avec enfants) et les compagnons à quatre pattes.
Votre bungalow se trouve à Nosy Komba l'île juste en face de Nosy be,il se situ à 20 minute en pirogue d'Hell-ville(capitale touristique de Nosy be) et 10 minute à pied d'Ampangorine,(le plus grand village de Nosy komba) idéal pour se restaurer dans de petites gargotes traditionnelles faire le plein de fruits,poissons frais,légumes.....visiter la foret aux lémuriens,préparer une excursion en plongée sous marine,pour les fêtards une discothèque est ouverte tout les samedis soirs de 21h au petit matin l'occasion de goutter la fameuse caïpirinha malgache et apprendre les pas de danse rythmés traditionnels du pays.
Votre bungalow se trouve sur un grande plage les pieds dans l'eau à Nosy Komba une petite île volcanique située au nord-ouest de Madagascar peuplée de plus de 4000 habitants cette petite perle et revêtue d'une foret tropicale dense et épaisse,elle abrite une faune et une flore riches et variées.Ses jolies plages et l'insouciance qui y règne font d'elle une destination pour les amoureux du farniente et des espaces sauvages.
Room Type
Entire home/apt
---
Property Type
Bungalow
---
Accommodates
4
---
Bedrooms
Nosy Ambariovato, Antsiranana Province, Madagascar
The Mentalis has sea view, very clearly and ventilated. With it's private spa pool in a peaceful, discreet and secure environnement. During your stay, owner of the place, I shall have pleasure to advise you and to help you so that you lived a unique experience in the best conditions. I can organise and book your activities before your arrival. 2 others accommodation: Bauhinia and Ravinala are available on AirBNB I advise you to look at them also.
Located on a hill with sea view
Residential, quiet area.
Solange and her son greeted us warmly into their beautiful home. We had the most wonderful stay in one of the little bungalows, complete with champagne in the fridge and a mini swimming pool. The room was stylish and cosy. Solange's cooking is wonderful! We really enjoyed our time here and felt completely at home. Thank you!
Joanna
2015-12-22T00:00:00Z
Solange made me and my wife feel welcome from the moment we stepped out of the taxi. She gave us some much appreciated refreshments while she told us about the surrounding area and the bungalow where we would be staying. Over our 5 day stay we were pleasantly surprised by the amount of effort she was putting into being our host. Not only did she provide a safe and comfortable place to stay, she also used her local network to provide us with things to do and see in Nosy Be. (Classy dinner party, private taxi drivers, English speaking tour guide just to name a few). Oh, and I didn't even mention the best part of staying here... her food! Breakfast, lunch, dinner - take your pick - it's all made right in her kitchen and sure to satisfy your tastebuds. Plus, she takes requests! The actual property is big with multiple bungalows and places to chill. My favorite was the small hilltop terrace from which I repeatedly enjoyed the sunset. If you like pets, you'll have a 5 dogs, a cat and wild chameleons (if you can find them) that'll make you smile. My wife wasn't feeling so well one evening and Solange gave her some medicine that helped her recover. The walk to the beach is short. Downtown is just a quick ride away. We can't speak French so having Solange as a host really made our trip a whole lot more comfortable and enjoyable. In short, Solange is the epitome of a host. We feel like she's family!
Kenji
2016-01-06T00:00:00Z
We had the most wonderful stay, the little house was perfect and the food was so wonderful. Our host was incredible she catered to our every need and we became very good friends. She was a wonderful cook. And served us some unforgettable meals during our stay. The fish! The creame brûlée was out of this world. Thank you so much for making our stay so perfect you made our holiday!
Joshua
2016-09-09T00:00:00Z
This is definitly the best place to stay on Nosy Be. The bungalow is very beautiful, Solange is very kind and helpfull (and the best cook in town!!!), and the location is perfect to go around. So if you want the perfect stay on Nosy Be, book this place!
Patrick
2016-11-07T00:00:00Z
Même si mon séjour était de courte durée, j'ai vraiment apprécié ce bel endroit charmant et reposant. Solange est une experte de la région, elle m'a fait bénéficié de son carnet d'adresse. Elle m'a conseillé pour mes excursions et pour la suite de mon séjour à Madagascar. Le bungalow est très mignon avec plein de petites attention. Le petit bassin est top pour se relaxe en fin d'après midi. Enfin, elle peut à la demande préparer les repas. J'aurai aimé rester plus longtemps car sa cuisine est généreuse et savoureuse! C'est définitivement la meilleure expérience Airbnb que j'ai eu. J'espère y revenir lors de mes futurs voyages à Madagascar.
Anthony
2016-10-23T00:00:00Z
Nous avons été accueillie très chaleureusement par Solange qui s'est montrée disponible et à l'écoute pendant toute la durée du séjour. Sa propriété a beaucoup de charme et est proche de la plage. Solange peut aussi préparer dîner et petit déjeuner à votre demande, là non plus vous ne serez pas déçu. Nous avons passé des dîners très agréables autour de bon petits plats. Vous serez aussi très bien conseillé sur ce que peut offrir Nosy-Be, n'hésitez pas à demander des conseils.
Thomas
2016-11-25T00:00:00Z
Logement mentalis super adapté pour un séjour en couple: beau bungalow, adorable piscine, magnifique vue depuis la petite terrasse qui surplombe le petit village de pêcheur et la mer. Romantique! Très bonne hôte avec de bons conseils. Dommage que le pdj soit en supplément et non compris dans le tarif...!
Marine
2016-12-31T00:00:00Z
Room Type
Habitación privada
---
Property Type
Bungalow
---
Accommodates
2
---
Bedrooms
Nosy Be, Diana, Madagascar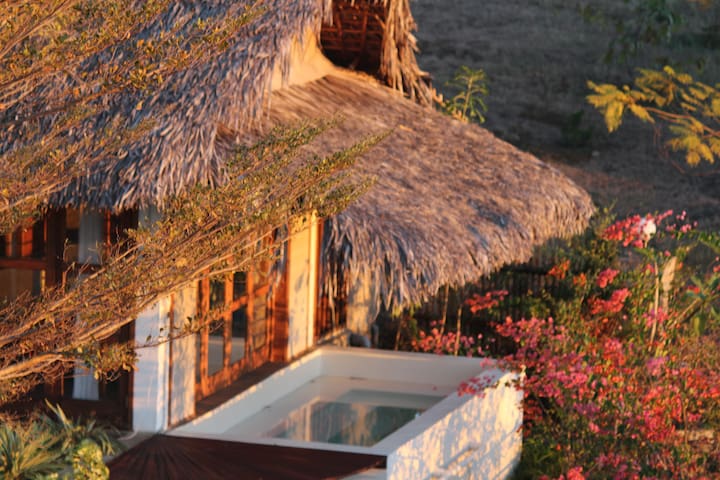 Looking for an exotic place? Travelling in one of the most touristic and quiet destination of the Indian Ocean? "Maeva" is the place to be for you. At only 30mn away from Hell-Ville (capital of Nosy Be), an exotic and fully furnished bungalow, view of the Mozambique Channel. Spacious interior, double bed, living room, fully equipped kitchen. Green exterior landscape, with garden representing endemic plants species of Madagascar.
spacious bungalow with view of the sea, sunset, quiet location cradled by the waves at night and by bird songs in the morning.
Quiet place, easy access by various modes of transport. 10Mn from Dzamandzar, the 2nd biggest town of Nosy Be and 30mn from Hell-Ville. Favourite quarter for sightseers search of quiet location, neighbouring big properties and hotels.
Very welcoming host. Did his best to make us feel welcomed when we arrived and throughout our stay. The meal we had prepared for us by the hosts was absolutely delicious. The bungalow was clean and well presented. There was running water and electricity at all times of day and night.
Rachel
2016-11-27T00:00:00Z
Marie's guesthouse is just the perfect place for a individual, cosy and special stay at Nosy Be. The house is lovely furnished and you have all the things there you need in daily life. With the back door you have your own entrance to you personnel part of the beach, were we swam every morning. Behind the house you've got also to sunbeds to relax and enjoy the perfect sundown-view. Everybody of Marie's family and of course herself have been so helpful and friendly to us. We really recommend this place to everybody who want to do have perfect holidays in Nosy Be. To reach the different soroundet places to see in Nosy Be it's recommended to rent a Motobike to be independent. Thank you Marie for creating the perfect stay! I hope we'll come back once. Lots of Love, Sally and Martin.
Sally
2016-11-07T00:00:00Z
Nice bungalow near the beach
Lorenzo
2017-01-17T00:00:00Z
Nous avons séjourné 3 jours au gîte Maeva et nous avons été ravis. Le gîte est très propre, avec tout le confort nécessaire, les pieds dans l'eau, avec le bruit des vagues pour s'endormir. Éloge, Raissa et Mika ont été très accueillants et d'une grande aide pour notre sejour. À conseiller.
Philippe
2016-05-18T00:00:00Z
Marie est très agréable et aussi sa maison. En première ligne de plage et dans un endroit de relax. Délicieux vacances à répéter.
Caroline
2016-06-07T00:00:00Z
Absoluement facile, propre, luxuriant, et belle. La Maison de Marie et situé sur plein vue et accès a la plage, une plage extrordinaire et exceptionnel pour sa beauté, tranquillité, et pureté. Tout été tellement facile et propre. J'ai visitait autour 30 pays et la maison et mon séjour chez la Maison de Marie été mon meilleur. Tout été facile, tranquille, et avec beaucoup beaucoup beaucoup d'aide.
Philip
2016-04-19T00:00:00Z
Room Type
Entire home/apt
---
Property Type
Bungalow
---
Accommodates
2
---
Bedrooms
Hell-Ville, Antsiranana, Madagascar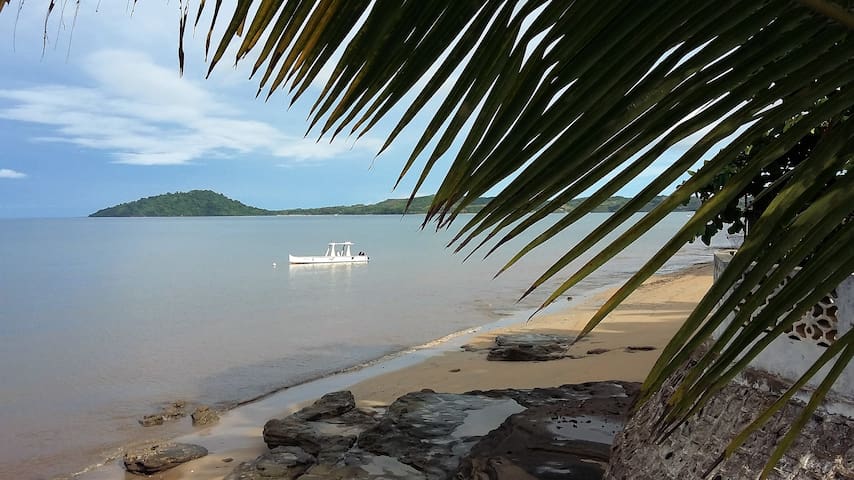 Charming bungalow built entirely of wood, with a beautiful view of the sea. Located on a beautiful private beach in the South the island of Nosy Komba. Here you'll be ringside seat to admire the horizon ...
Beautiful location with a top-notch staff to take care of you. I've traveled to many beautiful places in my life and have stayed at many nice places, but the quality and service , scenery and landscape at Komba Forever is unmatched. And the food was A+! Many kudos to Gael, Patrik, and Vita for showing us a wonderful time on our vacation. We already cannot wait to go back.
Emmanuel
2016-09-30T00:00:00Z
Really beautiful spot, perfect for a super secluded get away for a couple of days
Tyler
2017-01-01T00:00:00Z
The accommodations are very beautiful and just as described in the app. The staff at komba forever are very attentive in some areas-i.e. the second there was a drop of rain two people would materialize as if out of no where to deliver us umbrellas immediately. Gael was enthusiastic and accommodating to our requests for excursions. Due to Komba Forever's secluded location, you are pretty much required to purchase the full board option for food (30 euro/ppd). The food was mediocre. I was offered seafood multiple times and said I would like that and was ultimately only served calamari once of the 7 meals. The rest of the meals I ate what my traveling companion had (see below) or tough, sauceless beef and chicken. My traveling companion is a vegetarian and the only food they could serve her was pasta without sauce and over salted omelettes. Since we were the only guests there with a staff of at least 4, we feel we should have been offered some choices/feedback on the food. The 30 euro/day includes no beverages-we had to pay for bottled water (the water at the resort is undrinkable), soft drinks, and alcohol. While the prices seem inexpensive for Europe or US, they are exponentially higher than other places in Madagascar, including higher end resorts.
Joellen
2017-02-09T00:00:00Z
We had wonderful time in Nosy Komba. The place was so beautiful and also the service was very good, especially the tasty meals that were made according to our preferences, and also excursions to Nosy Tanikely and across the island. Thank you!
Solveiga
2016-10-27T00:00:00Z
Gael e tutto lo staff sono stati meravigliosi . i bungalow sono comodi , belli e puliti . La spiaggia è bellissima in qualunque momento della giornata indipendentemente dalla marea si puo' fare il bagno . La cucina di Patrick è degna di un ristorante stellato. tutto lo staff si fà in 04 per mantenere in ordine bungalow e spazi comuni. c'e una chiavetta Wi Fi molto utile.
Francesca
2016-08-31T00:00:00Z
Room Type
Entire home/apt
---
Property Type
Bungalow
---
Accommodates
3
---
Bedrooms
Région Diana, Province de Diego-Suarez, Madagascar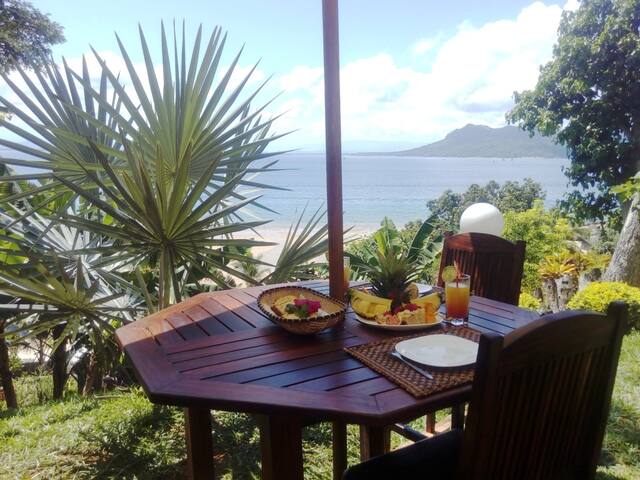 My accommodation is close to The bungalow is situated on a small island called Nosy Komba where the famous lemurs reserve the Macacos is located. It is made of local materials, consisting of a main room, a four-poster bed with mosquito net, a safe, a desk, a private terrace with sea view (can see from the terrace fish, dolphins and turtles), a bathroom with hot water. .
Établissement très bien tenu, les bungalows vue sur mer sont très propre, le personnel très agréable et le petit déjeuner est très copieux Je recommande
cedric
2016-11-14T00:00:00Z
Room Type
Entire home/apt
---
Property Type
Bungalow
---
Accommodates
1
---
Bedrooms
Antisiranana, Antsiranana Province, Madagascar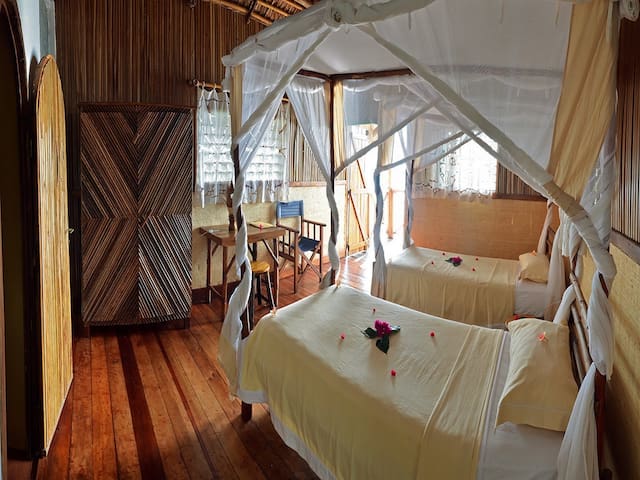 rental studios in residence, seafront on the beautiful beach of Madirokely Nosy be Madagascar. Comfortable studios on the floor of the residence, a staircase you are already on the white sand beach Madirokely.
Our studios are stairs to the beautiful beach Madirokely. Having a 30m square of size, they are fitted with a double bed, a bathroom with hot water, a kitchenette, a safe, a fan and air conditioning. Behind the apartments, studios do not give to the sea, but a staircase you are already on the beach
Madirokely is quiet on weekdays, and hosted the wee-kend especially on Sundays when there is music and dancers along the beach. The villagers are very welcoming and friendly, and the village is very clean. The Residence At the white sand in the heart of the village, its location on the beach, so travelers are fully located by the sea and can enjoy the sounds of the waves, the beautiful view of the beach, sitting on deckchairs .
Everything perfect. Even the optical hyper fast fiber internet connection. Strongly recommended also for long stay !!
Pascal
2016-09-01T00:00:00Z
Very friendly and nice apt on the beach. AC was an extra charge.
Charles
2015-12-30T00:00:00Z
The rooms are clean and the staff is very friendly. Au sable is a good choice in Nosy Be but be aware that it is very close to the nightlife.
Marie
2016-10-16T00:00:00Z
super stay, lovely hostess, everything was great!
Denisa
2016-06-18T00:00:00Z
Upon arrival at au sable blanc we were given a complimentary upgrade sea view apartment as the studio we had booked was right next to some construction works going on. The room was spacious, clean and tastefully decorated. There was a complete kitchen, dining room and living area all open-plan. The bathroom was clean, tidy and with a warm shower - a rarity in Madagascar. The bedroom was also very spacious with a safe and an incredible sea view. The hotel was literally on the beach as was our balcony. Wifi worked everywhere although it could have been quicker even by Madagascars standards. The hotel felt very secure, windows had locking grills and there was a 24 hour guard so you could come home late. It is located at the quiet end of the beach, as close to the sea as you can be without actually being in it. It is within easy walking distance of the lights of Ambatoloaka whilst being far away enough for noise not to be a problem. We were advised not to walk back along the beach late at night but before 9pm is completely safe. Overall a very pleasant stay and I would thoroughly recommend Au Sable Blanc.
Greg
2016-05-14T00:00:00Z
Big spacy appartment right at the beach, far enough out of the bar & entertainment hassle but close enough to walk to it - perfect location. The balconies are so nice. Dive shop is right next door as well as good restaurants. The lady at the reception speaks fluently English (which was a clear advantage for me, as I unfortunately do not speak any French) and was totally supportive with all my questions (Air Madagascar, laundry, taxi, scooter, etc.).. Nothing she did not know a solution for - I felt super-comfortable in this place. Highly recommended.
Elena
2016-01-14T00:00:00Z
Hotel ottimo. Più che vicino al mare. Praticamente dentro! Personale gentilissimoe pieno di attenzioni. Camere pulite, bagno spazioso. Lenzuola ed asciugamani sempre freschi di biancheria. Perfetto, romanticoe praticissimo. Vicino a molti ristoranti e attrazioni.
Veronica
2015-09-10T00:00:00Z
Merci pour se séjour court mais bon ! Le lieux est magnifique et les gens très sympa au plaisir de revenir vite !!
Antonino
2014-12-16T00:00:00Z
Room Type
Habitación privada
---
Property Type
Condominium
---
Accommodates
2
---
Bedrooms
Nosy Be, Madagascar, Madagascar
Villa facing the Indian Ocean, including services (cook, housekeeper, pool maintenance and caretaker) with terrace, private pool and beach. Views of the surrounding islands
The villa is a typical housing. Madagascar decoration gives it a lot of charm, a statue runs the bar in the kitchen and a tree holds the mezzanine! The garden consists of plants and palm trees on which there hangs a hammock, great for napping!
The villa is ideally located on the island. Between the capital and the beach ANDILANA near mythical places of Nosy Be. Facing the Indian Ocean, with direct access to the beach, the view is breathtaking and the sunset of sun irresistible!
C'est un endroit pour une famille . La villa est très agréable , tranquille.
Hanta
2016-12-26T00:00:00Z
Room Type
Entire home/apt
---
Property Type
House
---
Accommodates
8
---
Bedrooms
Nosy Be, Madagascar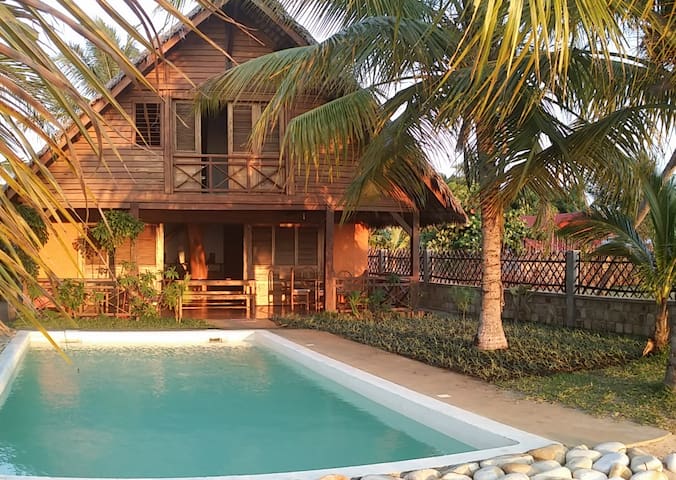 Petite maison typique malagasy bien propre situé dans le village d'Ambatozavavy.
Stanley et sa famille fort fort sympathique un echange agreable a l´ecoute des besoins, envies , j'ai partagé de bons moment a apprécié l'apéro après la journée de chacun . Stephano l'hôte chez qui j'ai vecu (qui a aménagé une chambre privé et indépendante) une personne de grand coeur , il m'a fait partager sa vie dans le village et aux alentours ,bon guide Je recommande si on recherche authenticité et grande simplicité
Anais
2017-02-11T00:00:00Z
Room Type
Entire home/apt
---
Property Type
Cabin
---
Accommodates
2
---
Bedrooms
Hell-Ville, Antsiranana Province, Madagascar
Nos 4 bungalows indépendants, climatisés et notre restaurant sont situés à 2 min à pied de la plus belle plage de Nosy Be, à Andilana. Chez nous, tous les vacanciers sont les bienvenus sans distinction. Accueil cordial assuré
Nos bungalows individuels sont spacieux (35m2), confortable, lumineux et climatisés. Nous avons installé des moustiquaires aux fenêtres. Nous sommes très exigeants sur la propreté et l'entretien de notre structure.
Nous sommes au coeur d'un village de pêcheurs typique de Nosy Be à l'écart de la ville. L'accès à notre établissement est facilité par la route principale bien entretenue et qui offre de magnifiques paysages.
Room Type
Habitación privada
---
Property Type
Bungalow
---
Accommodates
3
---
Bedrooms
Andilana, Antsiranana Province, Madagascar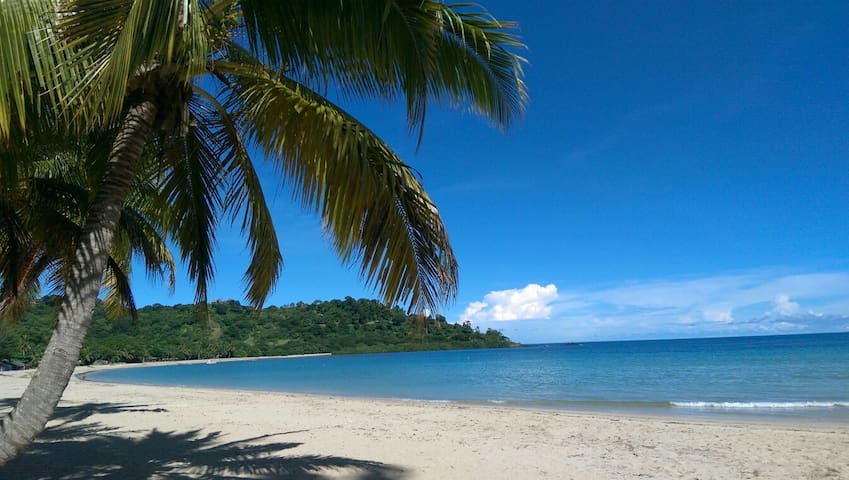 La particularité du loge est qu'il se trouve sur une petite île dont l'accessibilité se fait uniquement par la mer et nous nous trouvons sur la fameuse île des lémuriens. L'accès au Lodge se fait uniquement par la mer.
Vue à couper le souffle, orientation à 360° et aucun vis à vis
La destination est unique dû par la splendeur de l'île, par son authenticité, pour ceux ou celle qui aime la mer ou la montagne nous proposons différents circuits à la carte. Le calme et l'authenticité sont les maitres mots.
Lodges privatifs juchés sur un petit cap rocailleux, endormez vous avec les bruits des vagues et réveillez-vous avec une vue sur les petites iles en face de Nosy Komba (eau chaude, lit confortable et équipés de moustiquaire baldaquin ainsi que d'un ventilateur, armoire et coffre-fort, terrasse avec table et transat...) Petit déjeuners inclus et copieux (fruits, jus, boisson chaude, crêpes ou pancakes, tartine confiture, oeufs brouillés...) Thomas et son équipe vous accueille chaleureusement et peuvent vous mettre en relation avec toute l'île pour organiser vos activités (plongée, pêche, restaurant, randonnée dans l'île, déplacement vers Nosy Be...)
Clément
2017-01-21T00:00:00Z
3 nuits au maki lodge! Si vous voulez passer un séjour agréable loin du tourisme de masse, c'est l'endroit idéal!!! Bungalow sur pilotis surplombant la mer, vue incroyable! La nourriture est bonne. Pas grand chose à dire de négatif! Les villageois sont très accueillants et souriants! Pas mal d'activités: snorkelling avec les tortues, randonnée pour l'ascension du volcan, excursion en bateau à lokobé ( réserve naturelle....) . Nous avons eu le plaisir et la chance de rencontrer 2 guides d'exception René et Roméo qui se trouvent ds la village près du lodge (madagascar's nature) qui nous ont emmené ds des endroits paradisiaques!!!!! Bref, un vrai petit coin de Paradis!
David
2016-09-15T00:00:00Z
Room Type
Entire home/apt
---
Property Type
Bungalow
---
Accommodates
2
---
Bedrooms
Nosy Komba, Madagascar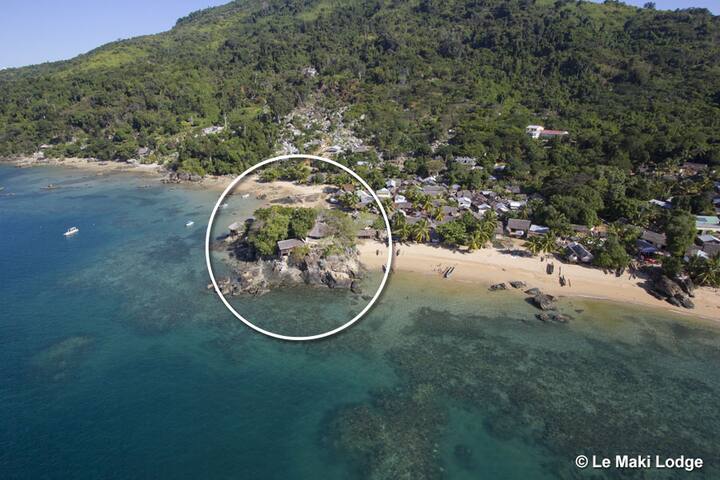 La villa Nofiko est située sur l'île de Nosy Komba à 20 min de pirogue de Nosy Be. Maison de 320 m2, avec un patio végétal central. Grande pièce de vie ouverte sur le lagon, espace salle à manger (10 places), belle cuisine ouverte avec bar, coin salon avec 3 canapés, 4 belles chambres, 3 bains. Une terrasse solarium avec lit de repos est installée sur les rochers en bordure du lagon et de la barrière de corail. Plage privée. Personnel sur place à disposition (cuisinière extra !)
Vaste salle à manger, coin salon, cuisine ouverte avec bar, 4 chambres, 3 salles bains, tout le confort moderne grâce à l'énergie solaire. La villa est louée avec le personnel ( cuisinière, femme ménage, gardiennage 24/24 et homme a tout faire). Les malgaches de l'équipe parlent français.
Amoureux de la mer vous trouverez un site totalement préservé, vous nagerez avec les tortues devant la Villa et profiterez de l'aquarium qu'est la barrière de corail. Toutes les activités nautiques sont possibles :pêche au gros, plongée en bouteilles, safari marin a la rencontre des baleines et des requins baleines (selon la saison), trekking, visite des îles (URL HIDDEN) surtout farniente et repos...
Villa plus qu'agréable. La maîtresse de maison, Roselle, est disponible, gentille, patiente et une excellente cuisinière. Vacances de rêves !
Anaelle
2017-01-18T00:00:00Z
Room Type
Entire home/apt
---
Property Type
House
---
Accommodates
8
---
Bedrooms
Nosy Ambariovato, Madagascar
Small guest house with 7 bedrooms and a 2 bedroom apartment. Super comfortable mattresses, hot shower, toilet, mosquito net, fan, safe, air conditioning and free WIFI 24/24! All complemented by a beautiful patio garden.
Le Petit Paradis has earned a reputation of charm where you are welcomed "at home". Rate of customer satisfaction: 100%!
Neighborhood Consulate is one of the most quiet and safe Diego-Suarez. Access to the Rue Colbert (main street) in less than 8 minutes on foot, 3 minutes by taxi.
Functional, cheap and close to town without being in the noisy centre. Pierre's photographer is clearly a magician whilst the ladies are helpful.
Penny
2017-04-06T00:00:00Z
Good location and value 4 money
Rudolfs
2016-09-07T00:00:00Z
Excellent place to stay in Diego Suarez, helpfull staff, clean rooms and rexaling atmosphere in the backyard
Kuba
2015-09-10T00:00:00Z
Le Petit Paradis was a wonderful little hotel. We were extremely comfortable and very much enjoyed our stay. We wouldn't hesitate to stay again.
Brad
2015-08-15T00:00:00Z
Very friendly people, especially the caring and funny girls =) We got all the help we needed, also our french was very bad! The rooms are very clean and nice; quiet and safe little hotel. Breakfast was typically french / european with a touch of Madagaskar... Very friendly atmosphere, clean an tidy (URL HIDDEN) was the perfekt start on Madagaskar for us....we can totally recommend it! We had a great time, thanks for everything =)
Ramona
2014-04-09T00:00:00Z
Highly recommended!
Florian
2016-12-11T00:00:00Z
Je remercie toute l'équipe et en particulier Agnès qui est une personne très énergique , qui connait parfaitement son pays et ses habitants . Malgrés la pluie chaude j'ai pu visiter de beaux endroits grace à l'organisation du petit paradis . Je suis parti un peu vite sans avoir remercié tout le personnel. J'aimerais bien avoir le mail d' Agnés pour la remercier Alain
alain
2015-01-14T00:00:00Z
A l'arrivée, l'accueil d'Agnès paraît très chaleureux mais très vite, son humeur change. Malheureusement Pierre n'est plus ce monde et le staff est complètement désorganisé. D'ailleurs à la facturation finale, on nous a exigé de régler les petits déjeuners alors qu'ils sont inclus dans le tarif ! La chambre est spacieuse et propre. La terrasse est très agréable. Par contre le quartier n'est pas très sur. Il ne faudrait pas que le petit paradis devienne "l'enfer"...
Lolita
2015-10-12T00:00:00Z
Room Type
Habitación privada
---
Property Type
Bed & Breakfast
---
Accommodates
16
---
Bedrooms
Antisiranana, Antsiranana, Madagascar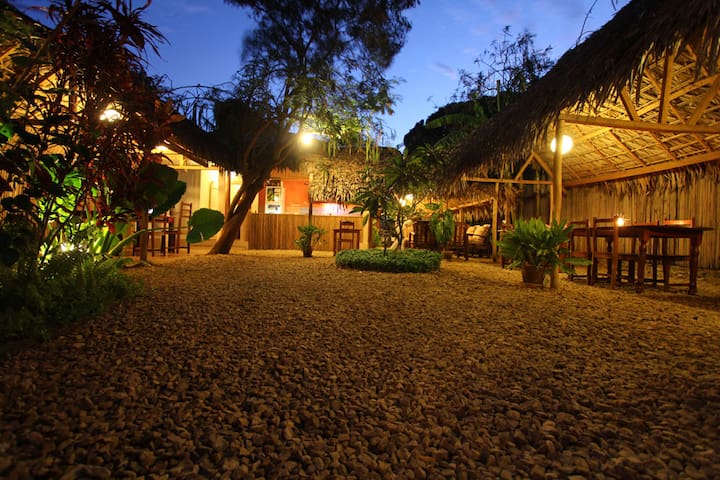 Mon logement est proche de la vie nocturne, les transports en commun, l'aéroport et le centre ville. Vous apprécierez mon logement pour le quartier, la luminosité, le lit confortable, la cuisine. Mon logement est parfait pour les couples, les voyageurs en solo, les voyageurs d'affaires, les familles (avec enfants), les grands groupes et les compagnons à quatre pattes.
Room Type
Habitación privada
---
Property Type
Townhouse
---
Accommodates
2
---
Bedrooms
Hell-Ville, Antsiranana Province, Madagascar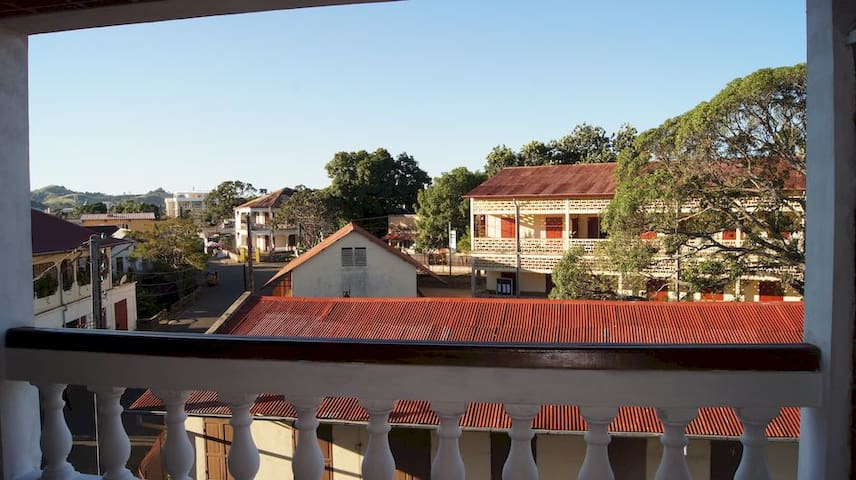 Deux lits simples confortables dans un cadre calme . Le bungalow a une surface de 33 m2. La douche italienne avec une bonne pression d'eau.
Room Type
Entire home/apt
---
Property Type
Bed & Breakfast
---
Accommodates
2
---
Bedrooms
Hell-Ville, Antsiranana Province, Madagascar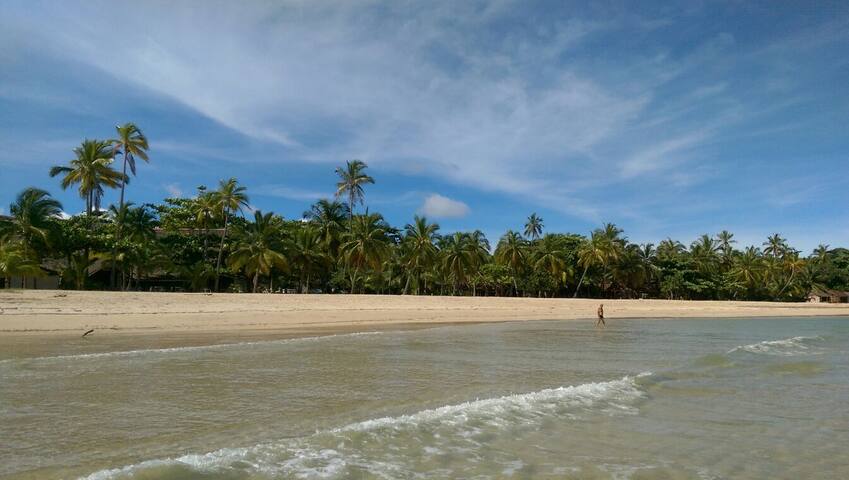 Enter dates to see full pricing. Additional fees apply. Taxes may be added.