Fully furnished , equipped and air_conditioned studio pyramids view , a few steps from the entrance of the Giza pyramids area .
a new modern clean and cozy studio with all the needed amenities (A/C, instant water heater , 32 LED T.V , Wi-Fi with 4G USB modem to take your internet with you even when you are out , a study area ), laptop, Iron , and fully equipped kitchen ( kettle , microwave to cook your favorite meals ) in the heart of pyramids neighborhood , Great place to be on vacation or if you are on a business trip . available for both long and short stays .
The Neighborhood : Pyramids area is one of the safest neighborhood in Giza , around the area all needs ( hospitals , local & tourism restaurants , pharmacies , supermarkets , Gym , ATM , cafe ...etc...
Mohamed was great. If you are looking for a complete tourist experience this would be the place to stay. Mohamed has many great connections with people all over Egypt that will take care of you. I personally love to explore and get to know the culture when I travel. I ended up changing plans half way through my trip with Mohamed. Which he was very flexible and allowed me to change plans. Thanks for the great camping trip in the desert. I will definitely be back to Egypt.
Tanya
2016-11-19T00:00:00Z
If you get a chance, STAY with Mohammed! You get an amazing view, super clean apartment in a centrally located area for food and transportation and most importantly, the coolest host ever! Brought us breakfast, gave us tour options and guided us all along :) waited for hours at the airport for us to arrive- (sorry our plane was delayed!) we wanted to play fútbol, fútbol we got! Thanks so much for everything you did! We will be back!!
Sheila
2016-09-19T00:00:00Z
The host canceled this reservation 5 days before arrival. This is an automated posting.
Desiree
2016-12-27T00:00:00Z
The host canceled this reservation 12 days before arrival. This is an automated posting.
Dr.AnjAli
2016-11-12T00:00:00Z
Mohamed instantly made my hubby and I feel right at home from day one. He was super nice and very hospitibable. He always went that extra mile to see that we were happy and comfortable with our stay. The appartment was very cozy, clean and inexpensive. The view of the Great Pyramids was absolutely breathtaking from the appartment, it was one of it's qualities I enjoyed the most. Mohamed helped us plan out our iteneraey and had a wonderful group of drivers and guides lined up to help us see it through and let me tell you, they were all some of the nicest people I've ever met in my life and even though my Airbnb may not show it, I've traveled to a lot of different places. Also, if you guys want an amazing tour guide, who is top notch and very passionate about what he does, look this guy up on (SENSITIVE CONTENTS HIDDEN) (URL HIDDEN) His name is Ali Hamza, tell Mohamed you want this guy as your guide. Trust me, you will be very happy you did. For Mohamed and his team, 5 stars all the way. Would highly reccomed them to anyone looking to make Egypt their next destination :)
Victoria
2016-10-23T00:00:00Z
Mohammed and his Staff was helpful, polite, very friendly and professional.
Gérald
2016-10-03T00:00:00Z
The apartment is absolutely amazing! The view is exactly as on the pictures or better, it was incredible to stand up and see the three pyramids of Giza from the kitchen and the balcony. On top, it even has a rooftop terrace, from where you have an even better view and can see the sunset behind the pyramids in the desert. It was a really unique experience. You are a little off the centre and the Tahrir square, but there are a lot of mini busses to go there, which are really cheap (~ 2 pounds each busride, which was more or less 0,10€ when we´ve been there), or even the taxi. Taxis take 20-40 minutes, depending on the traffic and are also really cheap (1,50€-2,00€ for the whole taxi, ask for taxameter!). For the rest, communication was really good and Mohamed was always available on (SENSITIVE CONTENTS HIDDEN) in case we had questions.
Isabelle
2017-01-13T00:00:00Z
Lone female traveleres! I've been traveling as a lone young female traveler for about three years now and it is so very important to know that you, as a young, solo female, will be safe and comfortable. This is the place. Mohamed is absolutely fastidious in his goal to make sure any traveler has a wonderful time while also feeling safe. He showed me around town, helped me find the perfect tour guide, (loved her so much), and catered to my every need. When I went to visit a friend of mine on the complete other city of cairo, he personally DROVE me there to make sure I got there safely and didn't get lost. My friend was very very impressed, as he called her multiple times to make sure I was safe and to confirm the location and well. She only briefly interacted with him and even she was impressed. While she would have preferred me stay with her, she was thrilled that I'd found a place in a beautiful a location and with such an attentive and caring host as this.
Kari Ann
2017-03-23T00:00:00Z
Room Type
Entire home/apt
---
Property Type
Apartment
---
Accommodates
2
---
Bedrooms
Giza, Giza Governorate, Egypt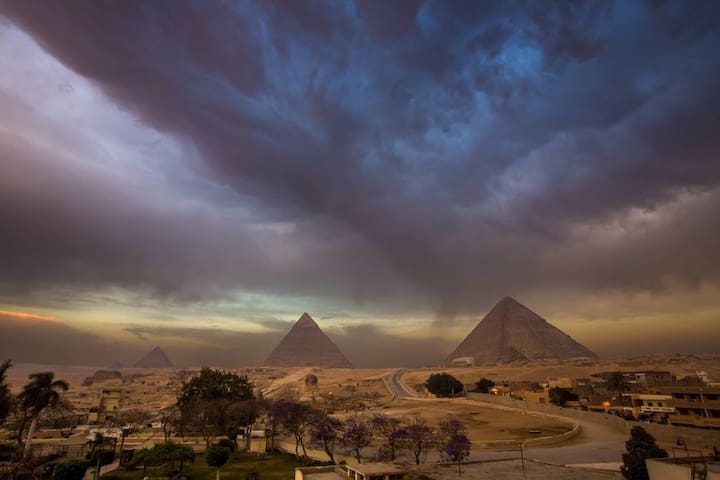 Modern newly refurbished appartment in extra-safe part of Cairo. Security around the building at all times. Quick access to lots of local amenities. Only a brief taxi journey to Downtown, Egyptian museums, pyramids etc. Clean, comfortable appartment with all the modern conveniences you may need!
Ground-floor. Ultra -modern conveniences. Air-conditioning at your fingertips.
It's peaceful, safe and ultra-secure. Just a short ride away from the local markets, restaurants and food court.
Nice and helpful host. Great location, and clean and large room, with reliable high speed internet, quite area and close to large malls, shopping, food, etc. Will plan to stay again.
Sam
2017-03-30T00:00:00Z
Ronan was very friendly and accomodating , totally recommend staying there
Mohamed
2017-01-11T00:00:00Z
It was great to stay with Ronan. Basically it felt like his house was my house. He replied to everything within a few second. Gave me lots of information regards to the area and even ordered a food for me every night I was staying there. He also recommended very trustworthy guy who was my guide in Cairo, that was also very much appreciated. I definitely want to recommend Ronan's Airbnb to other people.
George
2017-01-21T00:00:00Z
Ronan is an excellent host and you won't lack for anything. The apartment is situated in the gated community Rehab which is clean and safe if a bit far from downrown. Ronan gladly helps you find your way around though!
Frederik
2017-01-31T00:00:00Z
Ronan is great! Very friendly and helpful. Would definitely recommend staying with him.
kennedy
2017-02-17T00:00:00Z
Room Type
Habitación privada
---
Property Type
Apartment
---
Accommodates
2
---
Bedrooms
Cairo Governorate, Cairo Governorate, Egypt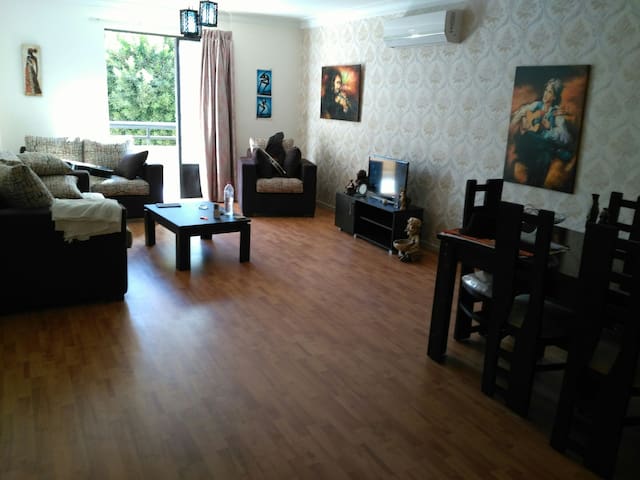 This bright, modern, and spacious penthouse is a traveler's dream! Located in one of Cairo's most beautiful neighborhoods, near the airport, metro, and Uber stand. Some of Cairo's best dining and shopping options are at your doorstep. This apartment features an open floor plan with a modern American kitchen, perfect for cooking, or order in. With 2 bedrooms and 2.5 bathrooms, this location is perfect for couples, solo adventurers, business travelers, and families. Wi-Fi and Netflix!
Fadi, is a awesome guy. Very helpful, very kind and as a person he's adding value to the accomodation. Speaks perfect English, so you don't have any risk of miscommunication. We came with the 3 of us, and we can consider Fadi now as our Egyptian Friend !
Antho
2017-03-23T00:00:00Z
The place is just perfect, very spacious, very well equipped, in a really good location, and fadi is just the perfect most welcoming host, we would love to stay at his place again.
Osama
2017-03-31T00:00:00Z
Modern, sophisticated, clean and comfortable. The kitchen, bedroom and living room were amazing. This apartment has all new appliances and furniture. Fadi has taken great care and attention in his furnishing. After taking an uber from the airport I was set up in the apartment and felt at home in minutes. Fadi speaks perfect English (and knows some Irish slang too :)) and told me everything I needed to know about the neighbourhood and how to access the coolest places in Cairo. The pyramids were an easy uber trip. He was very helpful for planning before I arrived and answered my emails quickly which really made a difference. Fadi is an avid diver and we shared some good diving stories. Food and the metro were downstairs. Great location, value and service. I'll be recommending Fadi's place to my friends.
Susie
2017-03-16T00:00:00Z
Last minute booking - so glad I booked Fadi's place! Friendly, really spacious accommodations (more than enough room to host 4, if not more). When I arrived, Fadi was very quick to get me settled, had a fridge stocked full of refreshing bevvies, and provided a quick lay of the land. I hopped in an Uber and just like that - was at the pyramids. Would also make a great home base for a day trip to see the pyramids at Dashur, the outdoor museum at Memphis, and the pyramid and tomb complex at Saqqara. But I digress! Eating at the nearby Tivoli Village market was also great. The room is nicely laid out and the bed was very comfy. Come one, come all!
Anant
2017-03-17T00:00:00Z
Fantastic Stay in a Great Location I had the pleasure of staying in Fadi's incredible apartment over the weekend and am very glad I chose his property. Fadi himself is a terrific host, very attentive on email with a lot of insight to share about navigating the area and what to see and do. He answered my questions promptly and went above and beyond my admittedly high expectations. The property itself is very well maintained and close to everything, including the Uber stop and Metro. The pyramids are a short trip away and everything I needed was in reach. The bedrooms are very comfortable and you can witness the owner's attention to detail throughout. Would definitely recommend for anyone seeking a great place to stay in a good location.
George
2017-03-20T00:00:00Z
Room Type
Entire home/apt
---
Property Type
Apartment
---
Accommodates
3
---
Bedrooms
Ard el Golf, Cairo Governorate, Egypt
My place is close to family-friendly activities. You'll love my place because of the kitchen.
Room Type
Habitación privada
---
Property Type
Apartment
---
Accommodates
2
---
Bedrooms
Tukh Dalakah, Menofia Governorate, Egypt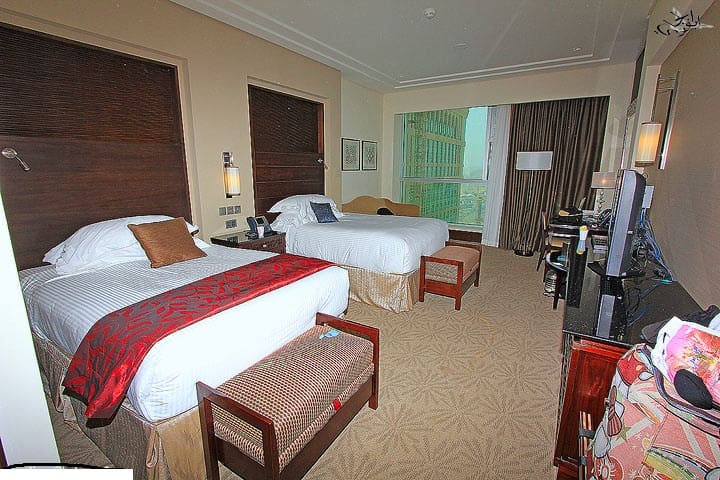 My place is close to restaurants and dining, nightlife, public transport, and family-friendly activities. You'll love my place because of the location, the people, and the outdoors space. My place is good for couples, solo adventurers, business travelers, families (with kids), and furry friends (pets).
Room Type
Habitación privada
---
Property Type
Apartment
---
Accommodates
4
---
Bedrooms
Mansoura, Dakahlia Governorate, Egypt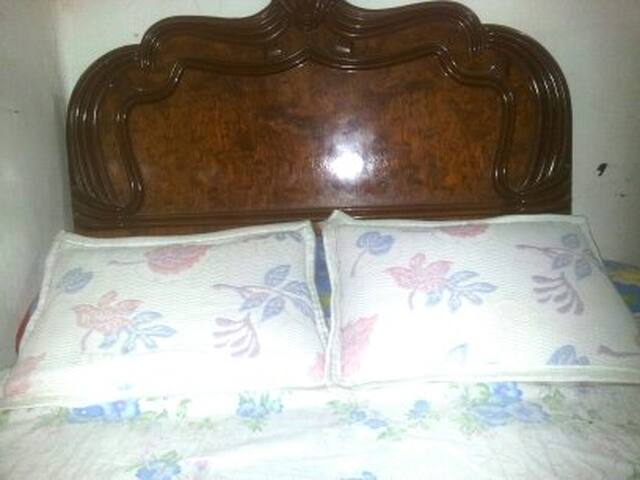 The room for rent is part of an excellently designed & decorated flat in Maadi. A quick walk to the metro & main streets of the area, it's located in a well lit, well kept square. Guest room has own balcony access, lots of space, personal desk, closet rack, & a large (California King size) bed. The flat has a full kitchen, plenty of communal space, 2 balconies, 1.5 bath, washing machine, WiFi, & a bicycle also available. We welcome small families of 3, with children under 5 years;maximum 1 week.
Charming appartment in a quiet and easy going residential area. Being on a business trip it was a pity that I did not have enough time to take advantage of the wonderful and relaxing interior and Carly's hospitality. Nevertheless I enjoyed my stay and would certainly recommend the place anytime.
Maike
2016-10-21T00:00:00Z
One of the best airbnbs ever! Just loved the place! Plus, not that far away from the centre. Ideal stay!
Konstantinos
2016-11-02T00:00:00Z
A very clean,warm and tidy place with a friendly atmosphere....highly recommended
Ahmed
2017-02-05T00:00:00Z
Absolutely incredible spot. Carly hosted us and was very accommodating with our arrival. The apartment has such charm and the location surrounding is green and such an escape from the hustle and bustle of Cairo.
Taylor
2016-08-12T00:00:00Z
Live in the Carly is very happy, Carly is a very nice girl ! I really appreciate her help. A meaningful and memorable trip to Egypt. Welcome to CHINA !
美莲
2017-01-04T00:00:00Z
Carly and Sumaiya's house is really calm, comfortable and beautiful. It is located in a residential area, but there are many cafes and restaurants close by.
남영
2017-02-19T00:00:00Z
Away from the madness of (URL HIDDEN),peaceful place to spent for two days after a "tough" journey in Egypt.I found several chinese restaurants nearby also. Carly is patient,helpful,her place is cozy,stylish,and so beautiful,will recommond my friends to come to stay here if they are travelling in Cairo.
James
2017-01-25T00:00:00Z
Throughly enjoyed our stay. The property is most beautifully decorated and made our time spent there most comfortable. The host was fantastic and made every effort to make us feel at home. This property has a wonderful vibe and is a prime explanation of what air B&ab is all about. Bare in mind due to the location of the property uber is a must, taxi to the airport and pyramids being 40mins. However the location is instituted in a lovely suburb surrounded by greenery.
Mostafa
2016-08-18T00:00:00Z
Room Type
Habitación privada
---
Property Type
Apartment
---
Accommodates
2
---
Bedrooms
Cairo, Cairo Governorate, Egypt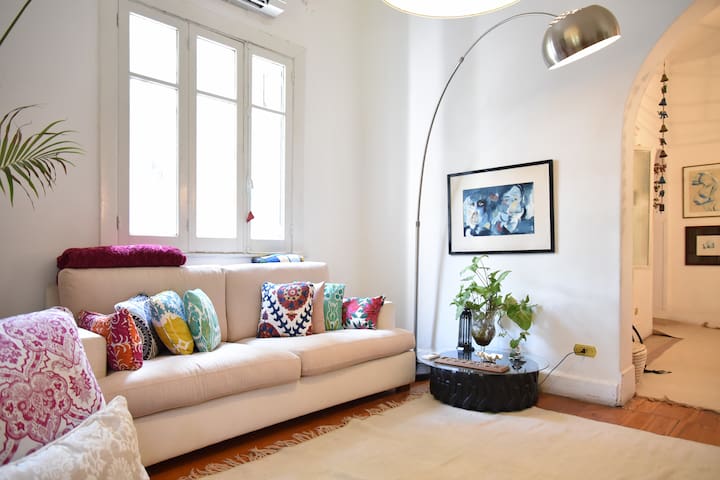 An amazing private room lies 3 mins from airport and 20 mins from downtown for singles and couples it has amazing view and close to nightlife and city centre, you are near everything you need. 25 mins from Cairo Museum (2$ trip by Uber) 40 mins from pyramids. 10 mins from the 3 biggest shopping malls in cairo. 20 mins from city centre and museums. 1 Hr only to reach Red Sea (Sokhna Resorts) Free wifi available Free airport pick up upon request based on convenient time of arrival
Not as advertised.
Connie
2017-03-15T00:00:00Z
Comfortable,clean and lovely host.we stayed for night and we really enjoyed.we were picked up at the airport and Mohammed was superkind.His godfather is a wonderful man who made our stay great.
Veronica
2017-01-26T00:00:00Z
This was perfect stay! I am coming back soon and have already booked the same place!
Akash
2017-03-09T00:00:00Z
The uncle of Mohamed, Omar, is living here. Sherif, the brother of Mohamed, picked me up from the airport. Omar is taking good care for you! They all speak good English. Go there!
Thijs
2017-01-27T00:00:00Z
The experience in this flat was amazing. Sherif was very nice and helpfull during all our travel. He proposed to be our guide in the city during all these days, especially in the places we wanted to see. He took us at the airport and he gave us great advices to escape the "tourist prices". His uncle cooked for us typical egyptian food. He is very friendly and you will feel at home in this flat. Thank you for all, it was an unforgettable experience !
Steve
2017-02-11T00:00:00Z
Staying at mohammad's place was definitely worth it. I was expecting as small private room but when we arrived it turned out we had the whole appartment for ourselves, it's spacious, the room is cosy and it had all we needed for our one night stay. The appartment is conveniently located close to the aiport and it was great that mohammad's brother sherif could pick us up. Both guys were very helpful with whatever we needed and they made sure our stay was fine. Definitely recommended
Angelo
2016-12-24T00:00:00Z
Steve
2017-02-18T00:00:00Z
Room Type
Habitación privada
---
Property Type
Apartment
---
Accommodates
2
---
Bedrooms
Cairo, Cairo Governorate, Egypt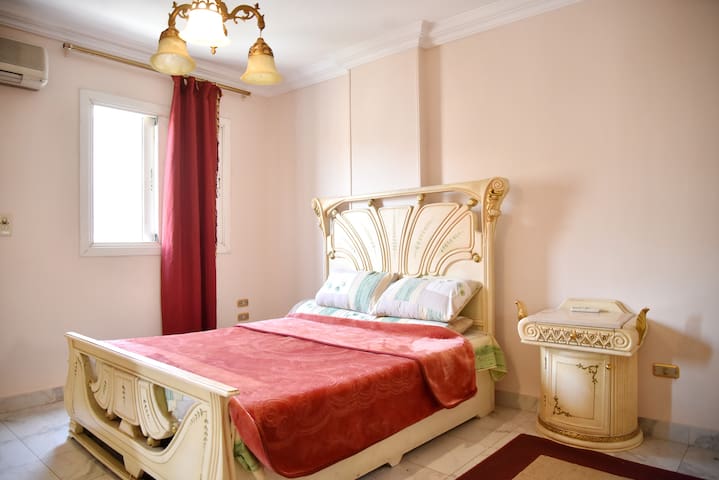 Clean room inside the family home .. one bed to accommodate two individuals ... have a computer, television and Internet .. There is one bathroom ... For to safety is no doubt that my house is in a safe place in the village of River Nile people here are friendly and I am pleased to welcome you.
Room Type
Habitación privada
---
Property Type
Apartment
---
Accommodates
2
---
Bedrooms
Tanta, Gharbia Governorate, Egypt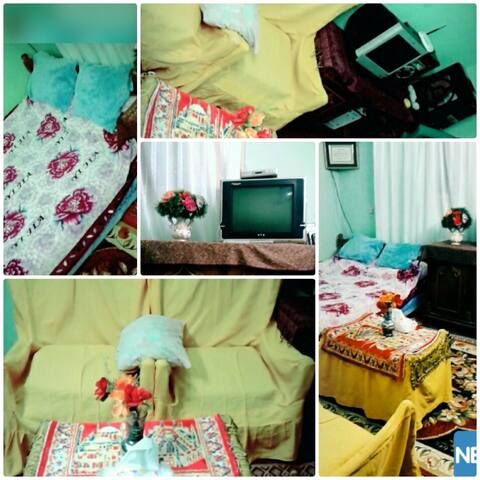 My place is good for couples, solo adventurers, business travelers, families (with kids), and furry friends (pets).
Room Type
Entire home/apt
---
Property Type
Apartment
---
Accommodates
4
---
Bedrooms
Tanta, Gharbia Governorate, Egypt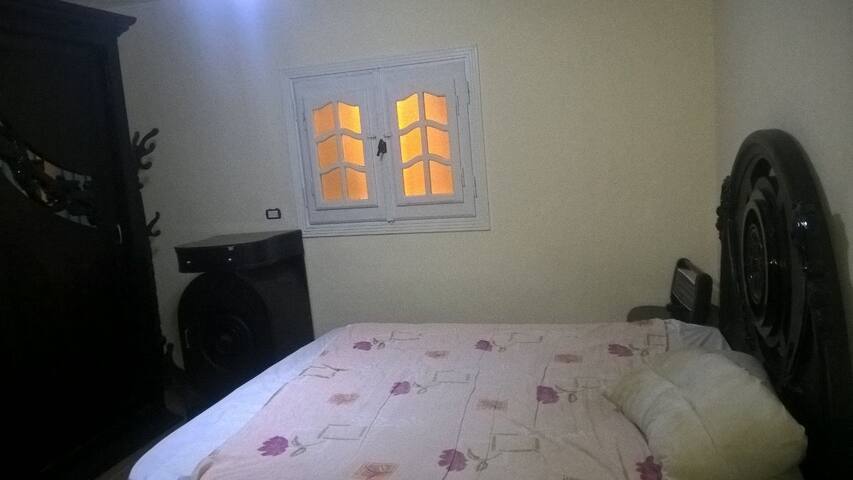 furnished roof flat for rent located 200 m from monuments area with magnificent view of Sphinx and Pyramids. The apartment now have air conditions in all of it not only the bedrooms.
The apartment is elegant and very spacious, boasting French doors leading to 2 balconies – perfect for making the most of the fine weather and wonderful views! Recline in air-conditioned bliss and enjoy a beautiful and comfortable living room with mod cons including a TV with a DVD-player, a CD-player and high-speed WiFi Internet. Cook up a stove in the fully-equipped kitchen, boasting a blender, iron, microwave and more. Get a great night's sleep in one of two peaceful bedrooms, one fitted with two king-sized beds and the other with two double beds. The immaculate bathroom boasts a bathtub, shower and WC. The owner can arrange low-cost tours to the most popular sights in the area - please get in touch for further information on this or anything extra you may require. Cleaning, linen, towels and WiFi are all included in the rental price. There is private parking on site, smoking is allowed and pets can be welcome on request.
Walk to the some of the world's most famous sights, throw a rooftop BBQ and enjoy the modern comforts of this central Giza flat. Just 200m from the monuments area hosting the Pyramids and Sphinx of Giza, the apartment sits in a popular spot with many shops and restaurants and is great for mature persons, couples and families alike.
Ashi was awesome. He is very friendly and great to talk to. He responds very quickly and took care of us and his place very well. We only got to see him for one day and wish we could have seen him more as we had a blast meeting both. The view is amazing.
Matt
2016-09-06T00:00:00Z
A+++ for both this space and Ashi as a host. His location is something that must be seen to believe. It's jaw dropping to be living just a couple hundred meters from these ancient structures. The apartment was exactly as described and Ashi was helpful before during and even after my stay. We are from the US and this was our first visit to Cairo. As he lived in the US communicating was so easy! You may rely absolutely on anything Ashi tells you about Cairo and activities to do while there including helping to book and plan transfers or tours. I highly recommend this place, an incredible value which will provide a. Opportunity to live as an Egyptian while you are there.
Shara
2016-11-20T00:00:00Z
I do not speak the native language so I was a little apprehensive booking the trip. Ashi was there to assist me the entire time whether it was ordering food, booking tours for the Great Pyramids, and getting any necessities I needed. The apartment was very clean and had a beautiful view of the pyramids from the balcony. Personally if you want the true experience of Cairo I'd highly recommend the apartment.
Keenon
2016-08-08T00:00:00Z
The stay here was fantastic! The view of the pyramids was awesome from the balcony and the rooftop. You get an authentic Egyptian experience staying in the city of Giza, from the sounds, smells, the people, it was great. Ashi made my trip hassle free. He set up multiple tours for the days I was there, had a driver take me to and from my destination and also had transportation to and from the airport. Couldn't have asked for a better host. I will definitely be back to Egypt.
Clarke
2017-03-26T00:00:00Z
Our stay with Ashraf was very comfortable! He was most helpful in arranging transport to and from the airport, getting groceries that we requested before arriving, and all around making us comfortable. The views from the apartment are really spectacular! You can always see the traffic at the pyramids as well as the nightly sound and light show! No need to be there in person it can be seen and heard from the apartment! The neighborhood is geared toward tourists so you can expect horses, camels, and donkeys around the area getting ready for their daily tours as well as many vendors selling their wares sometimes aggressively (this is the way I Egypt just be firm). We felt safe in this neighborhood. The apartment is large! One room had two king beds and one full and the other room had two full beds. The bathroom was fully equipped and clean. The kitchen had everything needed to make meals at home. This apartment is a third floor walkup to note for anyone who can't do stairs. We enjoyed our stay and Ashraf and his family were most kind and helpful!
Kim
2017-03-18T00:00:00Z
We were beyond impressed with our stay at Ashi's apartment. Ashi made us feel like family. Actually, we feel we are now family after sharing a home cooked feast he and his family made for us! Ehab's mother had us over for dessert one evening, too! They are all extremely friendly, but also provide you with all the privacy you need/want, as well. The apartment was extremely spacious...much more room than the pictures even depict. Ashi's cousin, Ehab (sp?), our licensed tour guide, was our personal driver and guide for several days. Anything we wanted or needed was instantly taken care of. You will experience the "authentic Egypt" and its people, if you stay at his apartment. The pyramids are literally in front of you as you sit on your private patio, with access through french doors from both the bedroom and living room. You can even see/hear the light show in the evening. It's absolutely breath-taking! It's not necessary to book events in Cairo/Giza/Red Sea much in advance with Ashi as your host, because he knows a lot of people and they work with him to give the best deal possible. He'll definitely hook you up with much better deals, whether it's a dinner cruise, trip to the Red Sea, or even jewelry/textile "haggling". Ashi's father is an Egyptologist, having worked at the university for 26 years in the field. Between Ashi and his family members, you're guaranteed the perfect visit! I sure hope he and his family can come to the US someday, so we can show the same fantastic hospitality that he showed us! Thank you, Ashi!!!
Lynn
2016-06-28T00:00:00Z
Ashi's apartment is amazing, and we loved our stay there. Our family of four was very comfortable there, and the view is unmatched anywhere in the world. Our flight was delayed and we got there very late, but Ashi met us and cheerfully helped us get settled, and the next day, he walked us around the neighborhood and showed us the good places to get groceries and incredible meals. When we were ready to visit the pyramids, we walked two hundred meters to the entrance from the apartment. If you are coming to Cairo to see the pyramids, stay at Ashi's apartment for the best experience. Thank you Ashi!!
Deena
2017-01-02T00:00:00Z
If I could add a sixth star for location I would! The view is amazing - sunsets by the pyramids are beautiful. It is also in the heart of the entrance to the pyramids - you can grab a camel ride to them from right outside the door. There are lots of great shops around - we went walking for breakfast every morning, and could even get some Pizza Hut when we needed it. Ashi was a great host - fixed the washing machine when we needed it even! The apartment is on the top floor, with access to a rougher of that has views of the Sphinx even. It is noisy - the call to prayer and the sound and light show at the pyramid are both loud. The place is simply furnished but comfortable. Overall it is hard to imagine a better place to explore the pyramids from.
Travis
2016-12-30T00:00:00Z
Room Type
Entire home/apt
---
Property Type
Apartment
---
Accommodates
6
---
Bedrooms
Cairo, Cairo Governorate, Egypt
Fully furnished, equipped, air-conditioned, central and private studio flat in the heart of safe upper-scale Zamalek neighborhood in Cairo, a few steps from the best bars and restaurants in town, a 5-minute walk from the Nile and a 10-minute walk from the infamous Cairo Opera House.
A modern clean cozy and functional studio with all the needed amenities (AC, instant water heater, 32 inch LED TV, cable, DVD player, high speed unlimited ADSL, wifi, a study area) and a fully-equipped kitchen (kettle, microwave, electric stove top, full-sized fridge with freezer, cutlery, pots & pans, all sorts of oils and spices to cook your favourite meals) in the heart of the safe Zamalek neighborhood, that can comfortably fit 4 people, 2 on a queen bed and 2 on a sofa bed. Great place to be on vacation or if you are on a business trip. Available for both long and short stays.
Zamalek is one of the best and safest neighborhoods in Cairo, with most embassies located here, it is home to most expats in Cairo and everything is within walking distance, with a state-of-the-art gym right across the street and the best restaurants and bars in town just a few steps away. Not only that, it's also an island, so you're surrounded by beautiful sights of the Nile in all directions.
The apartment looks just as it does in the picture. There are lots of places to eat and markets nearby. There is a laundry service in the building which was nice. It was very easy to grab a taxi or an Uber. Samah was very flexible with the check-in and check-outs as I had late night/early morning flights. The apartment is reached going up some stairs through a commercial part of the building with some businesses. The walk to the apartment is a little dirty and might be out of the ordinary for some foreigners. It didn't bother me at all. I liked the privacy and that we could easily come and go as we pleased.
Jamie
2016-02-20T00:00:00Z
I enjoyed my stay in this studio apartment which is furnished with all what you need in an attractive way. Furniture is clean and new. Samah was very responsive and brought me a heater during my stay. I liked the fact that there is a laundry "dry clean" inside the same building with very good prices and services. The location is great and next to everything. Thank you Samah for being prompt, reliable and responsive.
Basheer
2016-01-31T00:00:00Z
Samah was an amazing and professional host. Everything went so smooth throughout our stay. Keep it up and looking forward for a new experience soon at any of her listings.
Hatem
2016-02-08T00:00:00Z
Very nice location in Zamalek. A bit hard to find initially, but Samah is very accommodating in making sure that you arrive safely and will meet you at a convenient location. The building that contains the flat is a bit run-down but the flat itself is very modern and comfortable. There is a bit of noise that comes from the street behind the flat so be prepared for outside sounds to come leaking in. Make sure to ask about the wifi data limits as it is not unlimited; if you are a heavy internet user then you may need to purchase more data.
Terence
2016-11-19T00:00:00Z
Samah's studio was an ideal place for me to stay. It was close to restaurants, cafes, pubs, local shops, supermarkets and Nile river's sidewalk. It had everything I could ask for. Though I didn't have the chance to meet Samah, but she was great to deal with via phone and (SENSITIVE CONTENTS HIDDEN) and she was available during the time I was there and gave me many valuable tips. I would recommend the place to anyone. A busy and noisy street yet very calm inside the studio. Thanx a million Samah for the amazing place and see you again very soon :)
Shadi
2016-11-30T00:00:00Z
Samah was a great host and felt very welcome. The apartment is located in a commercial building and you have to walk through the building which is quite dirty to get to the apartment. Otherwise the apartment itself was very nice and clean. And the location in Zamalek is very central.
Liam
2016-05-08T00:00:00Z
Samah is such a kind soul, to start off. I loved every bit of this cosy apartment! At first glance, it seems like a run down building with university students everywhere. Once Samah (the host) showed me in to the apartment, it looked exactly like the photos. I couldn't really complain to be honest, great wifi at my disposal whenever I wanted to do a bit of work, tea and coffee along with other snacks and bottle of wine!! Will definitely choose this place for whenever I'm in zamalek next :)
Mustafa
2017-02-24T00:00:00Z
This was my second time staying with Samah, and to show the kind of host she is, here's a story. When I first stayed there in January, my sleeping cap fell behind the bed and I forgot about it and left. I didn't say anything to Samah when I realized it was gone, but when I met her this time, in August, she told me that I left my cap and handed it backed to me, washed. Thats how thoroughly she has the apartment cleaned. She literally would have had to move the bed to find it, which she must have done, and since she knew it was mine she must have done it the day I left. The location is the best in the city, in a quiet area. The building is not finished, and there are shops rather than other apartments around the building, but I like that more because there is no snoopy doorman (I feel like they are always watching everything everyone does). Samah is one of only a few hosts that are reliable in Cairo for AirBNB, and one of my favorite hosts worldwide. IF you ever have an issue, she is on top of it immediately and will stop whatever she is doing to fix it. I will definitely look for her place when I return to Cairo (and she has a new 2 bedroom in another awesome part of the city as well, for bigger groups)!
Alfred
2016-08-15T00:00:00Z
Room Type
Entire home/apt
---
Property Type
Apartment
---
Accommodates
4
---
Bedrooms
Zamalek, Cairo, Giza, Egypt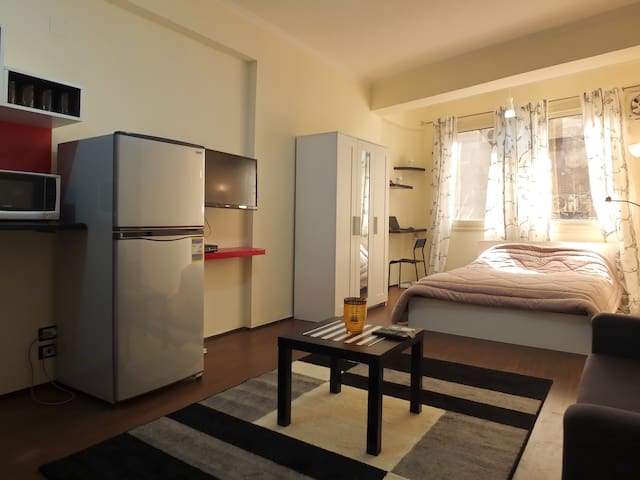 My place is in lovely Island of Zamalek, surrounded by the Nile and positive vibes, Bars and restaurants, close to the Opera House, Cairo tower and some museums, many galleries and exhibitions, many cultural hubs, across the bridge is Downtown, Public parks,. You'll love my place because of the location, the people, the ambiance.. My place is good for students, solo adventurers, and business travelers.
Loved staying with Ebrahim and his flatmate Amir. Their flat is close to a lot of restaurants.
hakem
2017-01-19T00:00:00Z
I was the first BNB guest and Ebrahim made met me and I felt safe. It's a great place to crash and sleep. He is a friendly guy as his room mate, both have big personalities and they will help you if required, even though I am local to Egypt Cairo can be a headache but everything went smooth. The bed was soft, clean and comfortable and the room quiet. It's a great essential location close to the Nile and Hotel Flamenco, if you need to sort out passports or visas as you can walk to most Embassy or they are 20EGP in a taxi, I suggest Uber or Careem. There is a Metro Market to the side and various places to eat, bistro bars, and I feel the area is safe to wander around and the locals friendly with no hassle. This area of Cairo is also very green and its like one giant garden, if your into rare plants you will come across some gems. As there is so much to see on foot I recommend a GPRS mapping application so you don't get lost or walk in circles, there are cultural things around and something different around each corner. I will probably be back as I don't want to spend lots of money at some fancy hotel just to complete paperwork. If your looking at a no frills place at a great budget price this place is for you, certainly you could spend a few days here and look around and it won't drain your wallet.
Raymond
2016-12-08T00:00:00Z
Room Type
Habitación privada
---
Property Type
Apartment
---
Accommodates
1
---
Bedrooms
Cairo, Cairo Governorate, Egypt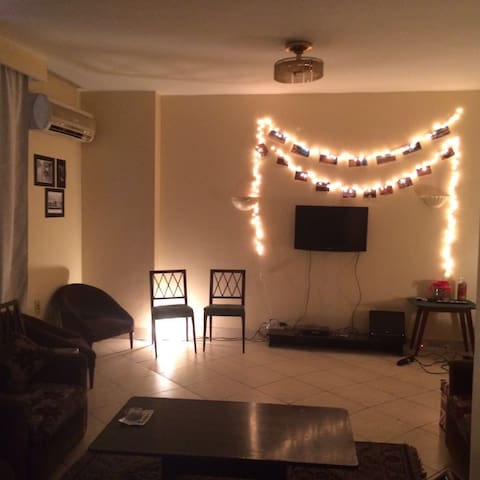 a good and natural place to stay and rest
Room Type
Entire home/apt
---
Property Type
Apartment
---
Accommodates
2
---
Bedrooms
Tanta Qism 2, Gharbia Governorate, Egypt
Lovely app in Gamasa for rent
Room Type
Entire home/apt
---
Property Type
Apartment
---
Accommodates
4
---
Bedrooms
Gamasa, Dakahlia Governorate, Egypt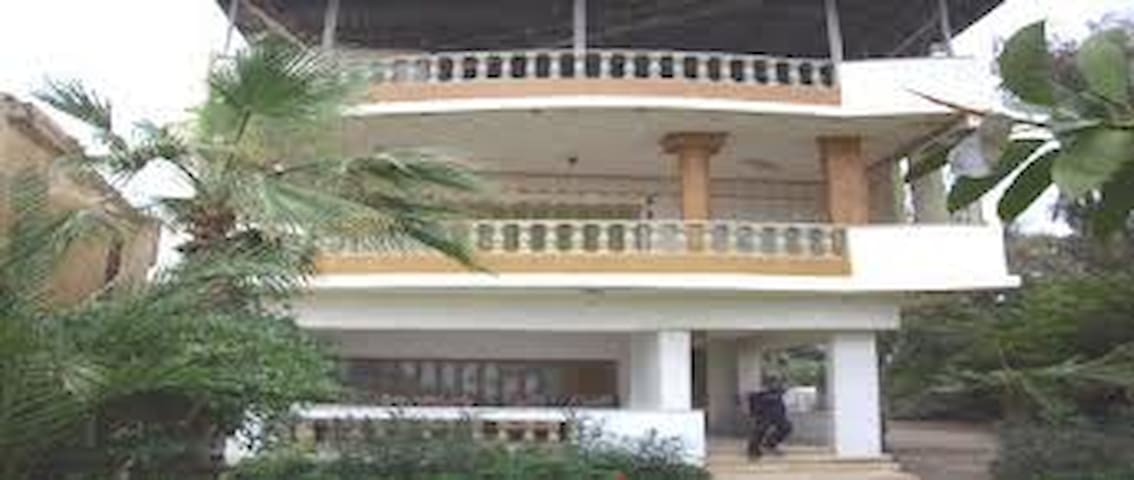 My apartment has a unique location, a breathtaking view, safe, clean and comfortable apt, you will feel The Egyptian culture in depth in the friendly neighborhood, while you are enjoying a relaxing time on my private roof top watching The Pyramids.
My apartment is located in Sphinx street, or the so called in Arabic (Abou El Houl El Seiahy) , our area is a tourist district ( very safe & full of life ) has easy access to all amenities & services, mini markets, restaurants, pharmacies, Hospitals, banks, grocery shops, bakeries, fruit shops, transport 24/7....etc. The apartment has 3 bedrooms with air condition, and fully equipped american Kitchen( washing machine, fridge, water heater, iron and ironing board), microwave, kettle and has a TV with satellite channels and DSL internet access (WiFi). The apartment has a rooftop 150 Mt overlooking the Pyramids, where you can enjoy your breakfasts and dinners there in a very unique place with a breathtaking view.
I have very friendly neighborhood, i arrange for my guests meetings with local families to spend with them the day and get lunch or dinner with them, to feel the culture of our Society
Where to begin? Muhammed and his whole team work above and beyond to keep a smile on everyone's face. We wanted for nothing. We were well taken care of. I've been to Giza before but this listing made it twice as exciting. The lodging was more than incredible and perfectly located. Extremely safe and spacious. You will need for nothing. Best airbnb choice I've ever made.
Sta'fon
2016-08-05T00:00:00Z
Just fantastic! Great flat - üüüber view on the terasse and Mohammed and his friends are the nicest people! 10/10 allways again!
Martin
2017-02-14T00:00:00Z
What a fantastic experience! Mohamad was a great host and even helped me experience the sights and sounds of Cairo. The place was clean and the view from the rooftop is fairly insane. I told Mohamad: "I'm clueless about Cairo." And he just took care of the rest. Next time I'm in town I'll be giving him a call for sure.
Matthew
2015-09-19T00:00:00Z
Mohamed's place is in a great location and has a lot of open space. There was miscommunication on the first day about his tour guide but we talked to him and it was better after that. He was very giving and available whenever you needed him!
Megan
2017-01-23T00:00:00Z
Great Pyramid view from the roof top. love the view
Hasnah
2017-01-31T00:00:00Z
The host canceled this reservation 111 days before arrival. This is an automated posting.
Anne
2016-12-02T00:00:00Z
Great hospitality and great experience. We got to see a lot of the sites and more. I really enjoyed the views of the pyramids, that is amazing! The streets were very dirty, but the apartment was safe and clean and the people were very friendly also, so I never felt in danger or uncomfortable at any point durning my stay!
ryan
2014-10-04T00:00:00Z
Our time at Mohammed's apartment was a great way for us to get adjusted to the very different pace of life in Cairo. We were picked up at the airport and taken to Giza which was a huge help on arrival and he and his staff were always available to organize anything we needed during our week long stay. Thank you Mohammed for making us feel so welcome.
Judy
2015-12-15T00:00:00Z
Room Type
Entire home/apt
---
Property Type
Apartment
---
Accommodates
6
---
Bedrooms
Haram, Giza, Egypt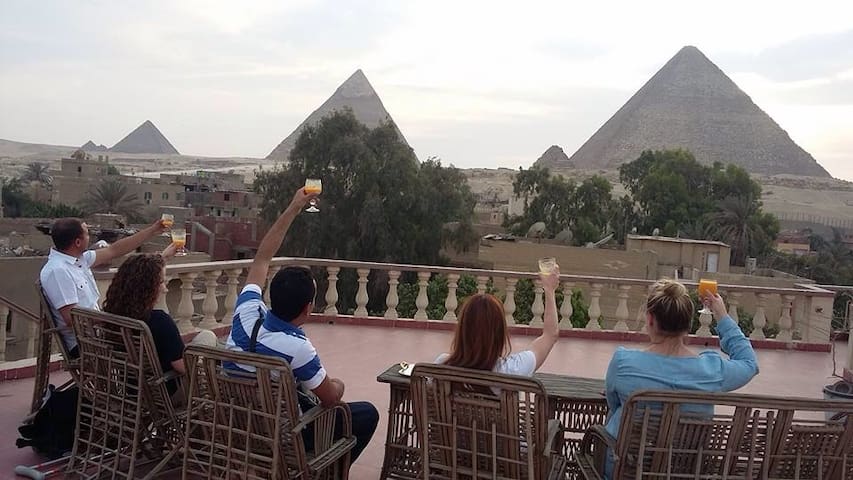 The Loft is a great location with a breathtaking view if you are visiting Giza/Cairo, Egypt. The loft is pretty with exposed brick and authentic decorations. It's clean with a high pressure, hot water bathtub. It's super safe, only 50 meters away from the highly secured gate of the Great Pyramids. We can help you organize your itinerary, offering a wide variety of unique tours throughout the country that fit all budgets.
A room at the pyramids loft listing , please review the original listing with more photos/info. The Pyramids Loft is a four apartment house with a breathtaking Pyramids view- the best in town! We have it fixed with a barbecue and cushions on the shared rooftop. -The rooms for rent are spacious, furnished, clean, and safe. -The price is per room per night in one of the apartments, which all have four bedrooms. The apartments all have shared living rooms furnished with a sitting area, a table, and cable TV. -There is wireless internet access that covers the whole building.
- The idyllic village of Nezlet Semman, also known as living-right-at-the-foot-of-the-Pyramids! - It's a lively area attached to the ultimate tourist attraction in the WORLD. - People are friendly and welcoming (to an overwhelming degree!) - The area is away from downtown, but you will have no difficulty finding everything you need nearby. - There are supermarkets open 24/7, souvenir shops, swimming pools, cafés and restaurants, and even a golf course right at the foot of the Pyramids.
The location was fantastic! It was amazing to be able to look out and see the pyramids so close. Also, there were plenty of cheap food options around. And Thomas and everyone who worked there went above and beyond to help guests.
Nikki
2016-03-20T00:00:00Z
Thomas is the best host in the world. He's very helpful and very caring. No way you're going to be left without money when your card was blocked as it happened in my case. Thomas organised an airport pick up and drop off. Not to mention food. He took care of our trip to Alexandria for the amount of money that my Egyptian friends called 'impossible', so yes, impossible is nothing to Thomas. We met fantastic people from different countries. And the pyramids. The view for the roof top is amazing and this is priceless. When staying in Cairo again this is going to be Thomas again. The whole experience was based in TRUST and this is invaluable.
Rosanna
2016-08-16T00:00:00Z
If you are coming to Cairo, Egypt to see Pyramids, there can't be a better place to stay than the 'Pyramids Loft.' A comfortable and homely place to stay with mesmerising view of the pyramids & sphinx. Ahmed; the care taker of the place is a man friday, wonderful & helpful guy who not only took me out to the local market but is always available there on one call if you need him. Our tour guide Ms Hala again was a charming personality who knows every nook & corner of the city and is well crude up with the history too. Thomas; I need not say, is a great guy! I didn't feel that I was meeting him for the first time. He was in constant touch with me and guided me since the day I got my booking done. It seemed that he was equally concerned as I was regarding my trip. He was throughout helpful starting from picking me up from the airport, chalking out a plan to fit my budget and timings, arranging the city tour, economical taxi to Alexandria and finally drop off at the airport. He fondly introduces you to the other travellers and may be if you are as lucky as I was, you will surely find a good travel partner too! :) I highly recommend this place for staying both to solo travellers and people traveling in groups. I would love to go back to Egypt and stay at Pyramids loft again.
Gill
2016-05-21T00:00:00Z
Thomas made us feel very welcome and was an incredible host. He went out of his way to truly support us during our stay in Cairo. He is a very kind and thoughtful person, and his place is wonderful. The pyramids are so close, it feels as though you can reach out and touch them from the comfort and relaxation of the rooftop! The rooms are clean, nicely decorated and inviting. Whatever you would like to explore in Cairo and Giza, Thomas will gladly arrange for a private tour guide, a driver, or any other suggestions that will help to create what you are hoping for. Thomas provided us with a phenomenal tour guide named Hala, who was more than one cold imagine or hope for in her effectiveness, excellent planning, and great communication. We visited more ancient sites and unusual shops in that one day than we ever thought possible! For a unique and custom-made adventure in Cairo, look no further!
jennie
2016-06-11T00:00:00Z
STAY HERE!!! Pyramids Loft is amazing and it really made my trip to Egypt. The location is unbeatable, right next to the Pyramids--the view from the roof is spectacular (plus free light show!). My room was good sized and the bed was comfortable. Thomas is a fantastic host: knowledgeable, helpful, and relaxed. He arranged transportation back to the airport (I used Uber on arrival and it was a disaster) and a wonderful tour of Memphis, Dahshur, and Saqqara with a local guide. A bonus to staying here is meeting amazing travelers from all over the world. I made many new friends and we explored the Pyramids, Giza, and Cairo together. There are so many excellent food places around, and with unbelievably cheap prices. I extended my stay by two nights because I loved it so much and I plan to visit again. 100% recommended!!
Taylor
2017-03-31T00:00:00Z
Thomas and his crew are a great bunch and very helpful in all facets. This place lived up to all I hoped for and surpassed with its even balance of social space and privacy all while in a tremendous location. I will gladly recommend him to friends/acquaintances who may plan to visit in the future and would definitely come back to this place in future visits. Great!
Jalen
2016-03-04T00:00:00Z
If you are traveling to Egypt then look no further- this is the place to start. Thomas Nasr is not only a fantastic host with the best deal in Giza, he is your friend. Sincere & trustworthy, his hospitality goes above & beyond with no strings attached, even when your exploration of Egypt takes you away from the Pyramids. (& by the way, his view from the rooftop is stunning & a wonderful place to spend sunrise & sunset!!) He has expert advice in how to operate while in Egypt, how to get a good deal, & what to watch out for. All of this & the Pyramids Loft he has created is an atmosphere of cool, creative travelers & people that give you a home away from home.
Kim
2015-03-18T00:00:00Z
This Pyramid Loft is an amazing place in the quiet and rural area of Giza. The team in charge is super friendly and efficient : - Thomas will help you from the landing to the takeoff with any question you might have - Hala Sugarmama will take you to nice (and sometimes hidden) places on tour, explaining you about Egypt's history - Bayoumi will provide you with anything you want and take you horseriding in the desert at sunset - Karim will drive you in his mini-van to thé cool spots unreachable by public tansportation ... Thanks to all of you! Oh and also the place has an amazing rooftop with a panoramic view on the pyramids from where you can sunbath during the day and chill at night by staring at the light show for free
Maximilien
2017-01-02T00:00:00Z
Room Type
Habitación privada
---
Property Type
Apartment
---
Accommodates
2
---
Bedrooms
Giza, Cairo, Egypt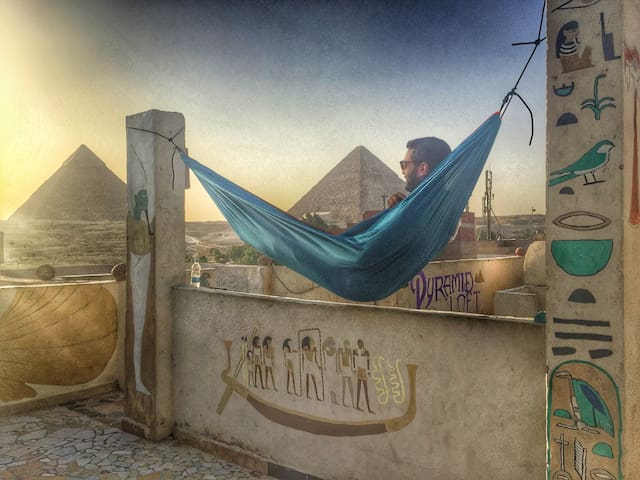 My appartement is located in the center of Cairo... On Manial El Rodah. You'll love my place because of the high ceilings, the views, the location, the people, and the ambiance. My place is good for couples, solo adventurers, and business travelers.
The apartment is 160 m2 apartment, very clean and very safe, with double glass windows to forbid noise and pollution. The decoration of this space is neo- arabic, Every piece is hand made. Here is a Huge entree, a dining room, a small arab balcony where u can watch the sunset over the nile river, a living room with a LED screen, a nic open kitchen and a bathroom...
momo is a great host , He will help you for anything he could .
minh tuan
2017-03-11T00:00:00Z
Momo was an awesome host. He provided many suggestion for things to do in Cairo. He was so kind and accommodating. The apartment is very artsy which is refreshing and a break from the norm. Very unique and CLEAN apartment. I plan to return in October. Thanks Momo
Charnette
2017-03-01T00:00:00Z
A great place, nice location and an amazing host. Definitely will stay there next time we are in Cairo.
Ahmed
2016-12-27T00:00:00Z
He was really great guy with nice taste. The room was pretty clean and decorated by many Egyptian hand-made staff, which was good. You'll be very welcomed and treated like a friend for sure. Highly recommend ;))
Masafumi
2017-02-07T00:00:00Z
I have used AirBnB in many countries, and Momo and his place come on the top of my list. Momo communicated very clearly, and was very accommodating to our very early arrival and departure times, and made sure to personally greet us, he has a very lively personality. Him being a professor of arts, is reflected on the apartment decor, which feels more like staying in an arts exhibition, each piece in the house has a story, make sure to ask Momo about your favorite pieces, it is quite fascinating. Not to mention the breathtaking nile view from the apartment. Momo was very knowledgeable of the area and the city, he gave us great recommendations, and took us on a lovely Nile boat ride. I very highly recommend the place, will definitely visit again. Thank you Momo for your gracious hospitality.
Samah
2017-01-06T00:00:00Z
I've stayed in Momo's place for almost one month, it was my best AirBnB's experience. The place is very well furnished, tasteful, comfortable, sunny and very clean… I didn't mention the breathtaking Nile view that you can have all over the place. Momo is an amazing host, an artist… Decent, humble, funny and very well educated, being a professor in the faculty of arts is influencing his place. He makes you feel as if it's your own place. When i've needed help on the first days of my trip, he was here for me. DON'T hesitate to stay there, BOOK right now… P.S: For sure when i revisit Egypt it will be my first choice to stay in- if it's available (because it's always BOOKED)!
NAYEF
2017-01-18T00:00:00Z
We greatly enjoyed staying with Momo in his apartment. From the first day there, we found him to be nice, friendly, and generous, giving us recommendations for the area and taking us to a local restaurant. We found his place to be clean, quiet, and in a great location for exploring the city (or just relaxing and looking at the view from his windows). If we're back in Cairo anytime soon we'd love to stay at the same place.
Sean
2017-03-18T00:00:00Z
This apartment is a bright, clean haven amidst the chaos of Cairo. The Nile views are wonderful, the room is quiet and comfortable, and the decor is impeccable. Momo is friendly, helpful, and respectful - I enjoyed chatting with him each day but also felt like I had plenty of space and privacy in his roomy flat. I would definitely stay here again the next time I'm in town!
Anny
2017-03-31T00:00:00Z
Room Type
Habitación privada
---
Property Type
Apartment
---
Accommodates
2
---
Bedrooms
Al Eini, Cairo Governorate, Egypt
Overlooking the main road in the village
Room Type
Habitación privada
---
Property Type
Apartment
---
Accommodates
1
---
Bedrooms
Madinet Kafr Al Battikh, Damietta Governorate, Egypt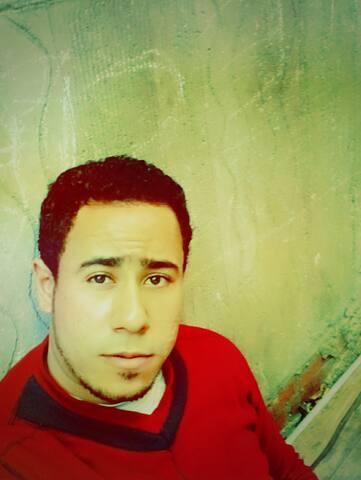 1

–

18

of

300+ Apartment Rentals
Enter dates to see full pricing. Additional fees apply. Taxes may be added.