La casa está esmeradamente cuidada y decorada, está estructurada en tres niveles, repartiéndose los mismos en cocina-office con comedor, un gran salon, habitaciones y baño y en el último nivel habitación de dormitorio y baño en el mismo con una gran terraza. En la parte exterior: se encuentra la zona solarium al lado de la piscina, una zona barbacoa habilitada y una gran zona ajardinada con muchas clases de plantas, árboles plataneros, palmeras, hibiscus, calixtemos, etc.
Lovely and luxurious holiday villa with pool and garden area, a bright villa recently built, decorated with style with open environments, comfortable and cozy, located in a quiet area to 300 meters of the sea. The garden is structured in different clearly defined areas: one to enjoy the sun (solarium), the barbecue area, relaxation area and own car parking. Ideal for families and for those wishing to relax and enjoy its surroundings. The villa has air conditioning and central heating, but due to its good guidance and sea breeze, makes it virtually unnecessary to use most of the time. The division of space is achieved by changes in levels or heights that give the impression of visual spatial continuity. The living room is spacious, open and comfortable with TV, located in one of its levels. The dining-office is decorated with style, also with TV, is on another level. Located in the region of La Safor in Daimús beach just to 1.5 kilometers from Gandia, synonymous of sea, mountains, landscapes, enjoyment and culture. Daimús beach has all kinds of services for leisure and entertainment. The other hand and just 60 kilometers from Valencia City which has a great historical and cultural heritage and offers recreational and cultural activities of all kinds and sites not to miss: La Lonja, declared World Heritage Site, City of Las Arts and Sciences, the Old Town of the city, the Albufera Natural Park. The theme parks of Terra Mitica and Aquasol are other interesting places to visit, well served by the AP-7.
Es una zona residencial tranquila cerca del mar, con grandes calles y grandes jardines, con toda clase de servicios cerca.
We spent an unforgettable honeymoon in Spain in the house of Enri. Lived there for a month with friends and parents. On arrival the house was all perfectly clean and comfortable. Ideal for 5-6 people. But there is additional sleeping space for guests. There are all necessary detail, feel as at home. Daimus is a very peaceful place for a family holiday. Ideal for families with children or with friends. The beach with fine sand and very beautiful sea. walk down to the beach takes 5 minutes by foot. There are several bars and restaurants, if you want night life you can go in Gandia, bus ,taxi 10 euros. We took a car for the rent and traveled across the continent. Enri with her husband are very nice, kind and helpful people. They met us at the station in Gandia and held on the day of departure. Thank you very much Enri! I wish everyone have a Good mood and fabulous holiday!
Olga
2014-09-30T00:00:00Z
Enri is very hospitable mistress. Her house is very comfortable.There are 2 bedrooms and 2 bathrooms on the second and the third floor, Easy-to-use kitchen and very nice dinner and living room on the first floor. Grill near the house is the best one to cook seefood. We did it every day-;) The small town Daimus has supermarkets, excellent sand beach and the crystal pure sea. I recommend Enri's house and Daimus to everyboody who is looking for excellent relax leisure!
Alex
2013-09-20T00:00:00Z
Recomendamos encarecidamente este bonito chalet, situado en zona residencial de vacaciones. El chalet ofrece todo lo necesario para disfrutar de una agradable estancia: barbacoa, piscina, jardín,... Los anfitriones son muy agradables y hospitalarios; esto queda patente con los detalles que hemos encontrado al llegar: La botella de cava en la nevera, botellas de agua, ... Buscábamos paz y tranquilidad y lo hemos encontrado, no sólo por la casa si no que también por la zona en la que está ubicada. Daimús es un pequeño pueblo costero, a 2km de Gandía, en el que hay de todo: restaurantes, supermercados, ...
ESTHER
2013-11-09T00:00:00Z
Room Type
Entire home/apt
---
Property Type
House
---
Accommodates
6
---
Bedrooms
Daimús, Valencian Community, Spain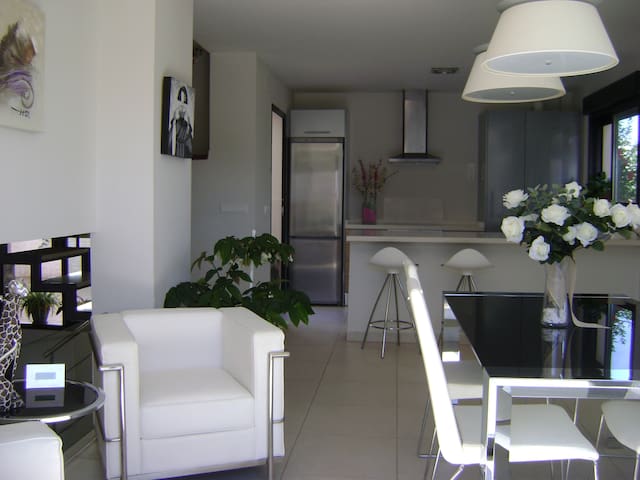 Casa adosada de tipo loft moderno con dos terrazas, piscina comun y zona privada
La casa de Pepe está en una zona tranquila apartada del centro de Gandía. Gozarás de la tranquilidad de esta zona sin estar lejos del meollo. Está a 10 minutos de la playa, pero lo realmente fascinante es el duplex en sí. La casa es amplísima, decorada con gran gusto, en la que pasarás unas vacaciones perfectas con un grupo de amigos. La piscina comunitaria es de 10, y no suele estar apenas ocupada, por lo que le darás gran uso. La limpieza es extraordinaria y los materiales de la casa son muy buenos. En general, es una estancia de 10.
Héctor O
2016-07-17T00:00:00Z
Estuvimos 4 días un junio dos familias con niños pequeños. Nuestra estancia en la casa de Pepe fue perfecta. La casa corresponde a la descripción, está nueva y tiene todas las comodidades y extras para disfrutar de la estancia. Tiene muchas escaleras, a tener en cuenta con niños, que necesitarán atención. La terraza es todo un lujo para cenar fuera cada noche. Las zonas comunes son fantásticas, con piscina infantil y poca profundidad. La playa está a 10 minutos, y es accesible con carritos. El paseo marítimo permite dar buenos paseos. No había demasiados restaurantes, pero suficientes para tener variedad. El pueblo está también muy cerca caminando. Pepe fue muy atento para hacernos todo fácil, incluso nos dejó cosas para el desayuno.
Juan
2016-06-27T00:00:00Z
Estuvimos alojados una semana en casa de Pepe y la experiencia fue muy positiva. La vivienda es bastante amplía y cómoda para 8 personas. La piscina, casi siempre con poca gente y con un área para niños de poca profundidad que mi hija de 2 años disfruto mucho. Nos dejarón consumibles básicos. A pocas calles andando se puede encontrar la playa y también un supermercado. Muy recomendable!
Jeimmy
2016-08-23T00:00:00Z
Nos hemos alojado en la casa de Pepe 5 noches, y la verdad es que hemos acertado! La casa esta en una zona muy tranquila ,pero a pocos minutos de la playa.El duplex es igualito que las fotos ,incluso mas grande diria yo ,con un diseño de muy buen gusto ,una maravillosa terasa, muy limpio y esta perfectamente equipado sobre todo la (URL HIDDEN) piscina es una pasada muy tranquila y muy limpia!!! En cuanto al anfitrion , muy agradable y atento ,siempre disponible para lo que haga falta . Estamos deseando volver a Daimus !
Byanka
2016-07-22T00:00:00Z
La casa es perfecta para unas vacaciones en familia o con amigos. Pudimos disfrutar de la piscina ya que no había mucha gente. La playa de Daimus está a 5 min. y la casa se encuentra a tan solo 14 min. de Gandía playa. Los propietarios fueron muy amables. Recomiendo sin duda esta vivienda.
Jennifer
2016-09-05T00:00:00Z
Alquilamos la casa de Jose del 1 al 4 de Julio y la verdad es que acertamos de pleno. La casa es espectacular, muy luminosa, limpia y sobretodo tranquila. La verdad que disfrutamos muchísimo y por supuesto que volveríamos a alquilarla.
Enrique
2016-07-05T00:00:00Z
Все очень понравилось!! Дом отличный, есть все необходимое и даже больше!!! Есть даже велосипеды!!! Прекрасный бассейн, территория, детская площадка, прекрасная веранда!! Очень тихо. Море рядом. Для тех кто хочет спокойного отдыха вдали от городской суеты это супер вариант!!!
Alexandra
2016-10-08T00:00:00Z
La estancia ha sido muy agradable, la casa es perfecta, a solo 8 minutos de la playa, y la piscina esta muy bien. Es una zona muy tranquila para pasar unos días con los niños.
Juan Manuel
2016-08-27T00:00:00Z
Room Type
Entire home/apt
---
Property Type
House
---
Accommodates
7
---
Bedrooms
Daimús, Comunidad Valenciana, Spain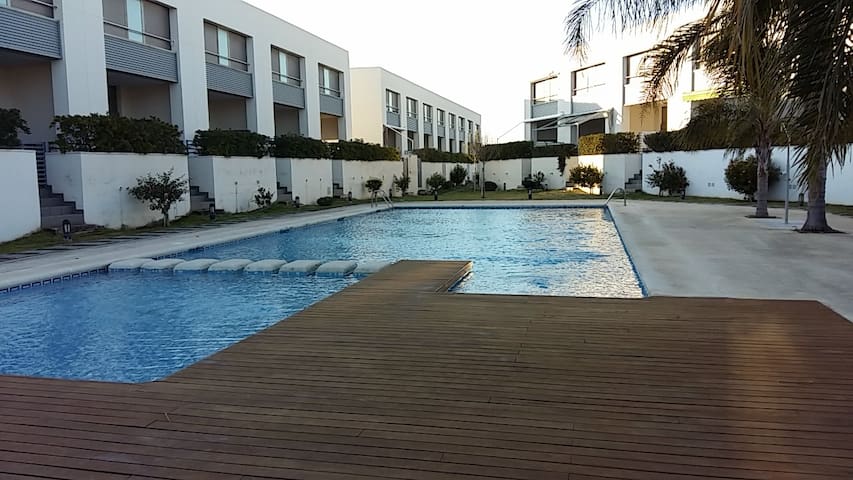 Villa estilo mediterráneo, decoración exquisita, fresca y cuidada. Techos altos con vigas y suelo de madera.Terraza exterior con comedor, zona de estar y barbacoa.Jardín de 800m, piscina,solarium, bicicletas..un placer para los sentidos.
Tranquilidad, sol y playa junto a todos los servicios.
We stayed 3 nights and had a very relaxing stay. The apartment was very clean and bright. We used the bicycles to get fresh bread and to go to the supermarket which was only around the corner. We walked to the restaurant & to the lovely sandy beach. A great central place to stay, we had a hire car so explored other places along the coast. Celia was very helpful and pleasant.
Jeanine
2016-10-23T00:00:00Z
Celia fue de lo más amable. le avise que iba con mi niña y sin decir nada me preparo una cuna súper cuca y hasta una bañera para bebés. Además, llegamos más tarde de lo esperado porque tuvimos que parar para darle de cenar a la nena y no hubo ningún problema por su parte.
Sinead
2016-09-11T00:00:00Z
Celia es una persona encantadora, nos recibió como si nos conociera de toda la vida y nos hizo sentir como en casa desde el minuto 1. La casa está muy bien, combina mobiliario moderno de diseño con la practicidad que se busca en unas vacaciones. Tiene todos los elementos de menaje necesarios para poder despreocuparse y no ir cargado. Las habitaciones y el baño son estupendos. Nos facilito todos los juegos de cama y toallas necesarios. La piscina y exteriores están muy bien cuidados. El barrio es muy tranquilo y se puede aparcar con facilidad en la puerta de la casa. Hay un supermercado a 3 minutos en coche. La playa está a unos 5 minutos en coche (ya que hay que atravesar un barrio residencial) y suele haber aparcamiento en la playa. Quizás está un poco aislada pero eso también ofrece una mayor tranquilidad y privacidad. Sin duda volveremos.
Alejandro
2016-06-13T00:00:00Z
las zonas comunes, que son compartidas con la casa de al lado,están a falta de un poco de mantenimiento,al igual que las bicicletas. La vivienda está muy bien, pero algunos detalles que para nosotros marcaban la diferencia no estaban. El trato con Celia,estupendo y la zona nos gustó mucho. Ha sido una experiencia muy agradable.
Silvia
2016-07-17T00:00:00Z
Celia fue muy amable, muy agradable y muy atenta. La casa es espectacular, mejor que en las fotos (impresiona cuando estás en ella, tanto dentro como fuera). Todo muy limpio y lleno de detalles. El jardín muy cuidado, las piscina estaba increíble de limpia, la zona muy tranquila y al lado de la playa. Sin ninguna duda, si volvemos por la zona, volveremos a repetir.
Ferran
2016-10-10T00:00:00Z
Wir haben 10 Tage im Haus von Celia verbracht und uns sehr wohl gefühlt. Freundliche Begrüßung, gute Ausstattung, sehr schöner Garten, schöner Swimmingpool und Terrasse. Alles o.k. Können wir nur weiter empfehlen!
Angelika
2016-06-05T00:00:00Z
Room Type
Entire home/apt
---
Property Type
House
---
Accommodates
4
---
Bedrooms
Daimús, Comunidad Valenciana, Spain
Es una pequeña casa en una playa muy tranquila y familiar, muy cerca de gandia
Planta baja con un salón comedor con dos habitaciones un baño, cocina y terraza.
Room Type
Entire home/apt
---
Property Type
House
---
Accommodates
6
---
Bedrooms
Daimús, Comunidad Valenciana, Spain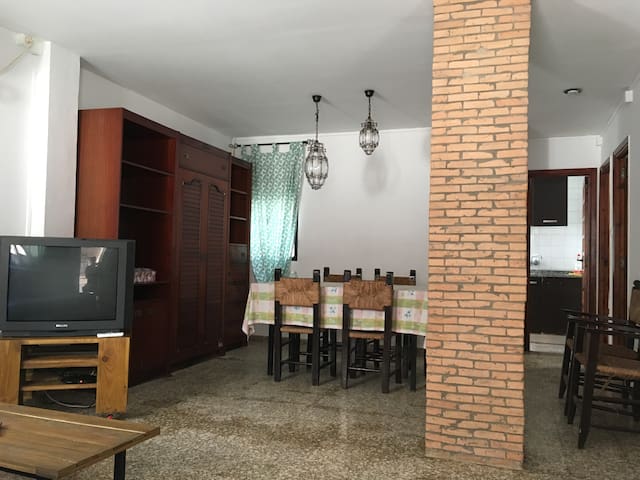 Villa de estilo mediterráneo junto al mar,exquisita decoración fresca y en tonos blancos,techos altos con vigas y suelo de madera,terraza con comedor, zona de estar y barbacoa,piscina, jardin de 800m, solarium, bicicletas..un placer para los sentidos
Casa tranquila junto al mar y cerca de todos los servicios.
Estupendas mini-vacaciones en familia! Celia nos dió la bienvenida en su casa con muchísimo cariño y nos preparó todo a la perfección - incl. una cuna para nuestro peque, una trona, una casita para jugar en el jardín... mejor imposible. Nos sentimos en casa desde el primer momento! :)
Simone
2016-03-27T00:00:00Z
Estupenda casa. Aún más bonita que en las fotos. Decorada con mucho gusto. Luminosa, cómoda, precioso jardín...
Rosa
2016-06-13T00:00:00Z
Nous avons passé une excellente semaine. Le logement était très agréable et bien équipé. Celia à toujours été très disponible et réactive. Elle nous a même rappelé après notre départ car nous avions oublié des affaires. Nous avons beaucoup apprécié les plages de Javea et Gandia même si le stationnement est compliqué. Merci pour ce très bon accueil. A recommander !
Anne
2016-08-07T00:00:00Z
Los días que hemos pasado en casa de Celia han sido exactamente lo que buscábamos, todo tan limpio ,nuevo y agradable como estar en tu propia (URL HIDDEN) hemos echado nada en falta...un poco de sol si pero eso fue mala suerte.Celia nos recibió con mucha amabilidad a pesar de nuestro retraso importante y tuvo detalles con los niños y con nosotros de bienvenida.También estuvo a disposición en todo momento aunque no hizo falta para nada.El jardín y la piscina son también muy bonitos y bien cuidados y dispone de diferentes ambientes para disfrutar del sol según la orientación .Además nos recomendó varios restaurantes de la zona y nos gustaron mucho los dos a los que fuimos.Ha sido fantástico !
maria
2016-01-04T00:00:00Z
La maison est très jolie, très bien décorée, très propre et le jardin est magnifique. L'accueil a été très agréable et Celia très disponible. Je recommande.
Massimo
2016-05-01T00:00:00Z
Petite maison très bien aménagée. Tout est propre et neuf. Le jardin est très agréable. Célia est parfaite et très disponible.
boris
2016-04-01T00:00:00Z
Celia es encantadora, muy amable y accesible en todo momento. El apartamento superó con creces nuestras expectativas: recién renovado, muy bonito, limpio y no le faltaba detalle. Además, contaba con un pequeño jardín muy relajante para leer un libro o comer tranquilamente y un gran espacio compartido con piscina y zona infantil. Lo recomiendo 100%. Gracias Celia!
Patri & Javi
2016-05-03T00:00:00Z
Room Type
Entire home/apt
---
Property Type
House
---
Accommodates
4
---
Bedrooms
Daimús, Comunidad Valenciana, Spain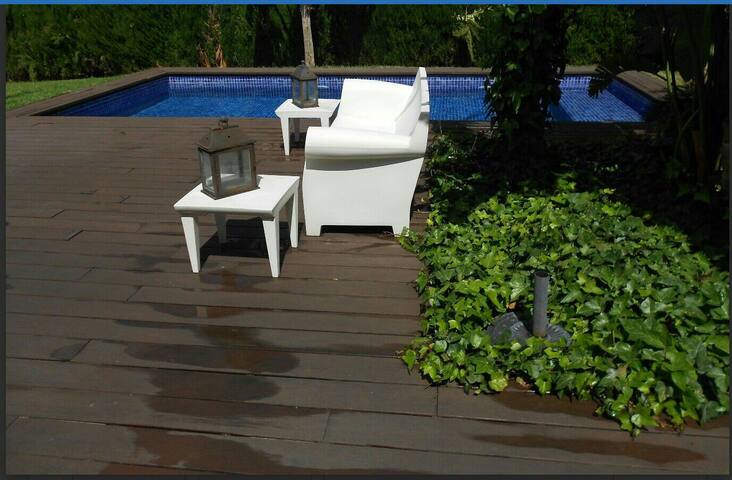 N'avez pas besoin du chaussures pour aller à la plage car le sable arrive presque à la porte de cette magnifique maison. Terrasse, jardin, grand salon, 2 salles de bains, 4 chambres, cuisine, wifi, entièrement équipée. Venez passer un bon séjour!
Room Type
Entire home/apt
---
Property Type
House
---
Accommodates
6
---
Bedrooms
Daimús, Comunidad Valenciana, Spain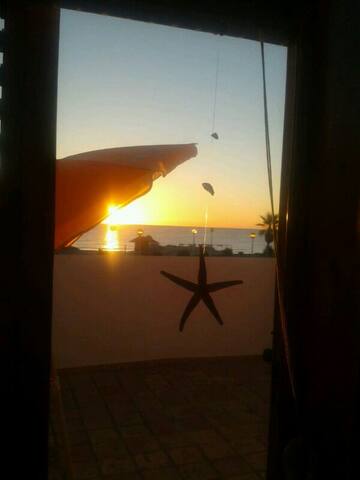 Beautiful house 250m from Daimus Beach 3 floors ground floor fully equipped kitchen table and chairs for 6 french windows to shared pool area large lounge tv table and chairs for 6 bathroom with shower. 1st floor 1 double 1 twin 1 bathroom with bath 1 master bedroom with terrace and bathroom ensuite all rooms have large wardrobes and ceiling fans 3rd floor double sofabed french windows onto a big terrace adjustable umbrella a bbq table and chairs for 6 parking for 3 cars and a house alarm
House is 250m from Daimus Beach, on 3 floors ground floor fully equipped kitchen table and chairs for 6 french windows to shared pool area large lounge tv table and chairs for 6 bathroom with shower 1st floor 1 double 1 twin 1 bathroom with bath 1 master bedroom with terrace and bathroom ensuite all rooms have large wardrobes and ceiling fans 3rd floor double sofabed french windows onto a big terrace adjustable umbrella a bbq table and chairs for 6. parking for 3 cars and a house alarm. Easy reach of Valencia, Denia, Calpe, Ibiza by boat.
Very quiet neighbourhood.
Room Type
Entire home/apt
---
Property Type
House
---
Accommodates
8
---
Bedrooms
Daimús, Comunidad Valenciana, Spain
Notre logement est proche des restaurants, 300m de la plage, les activités adaptées aux familles, la vie nocturne et les transports en commun. Vous apprécierez notre logement pour l'emplacement et l'envirronement. Notre logement est parfait pour les couples et les familles (avec enfants). Deux terrasses à votre disposition, petit déjeuner, repas derrière et apéro, diner devant.....
Room Type
Entire home/apt
---
Property Type
House
---
Accommodates
8
---
Bedrooms
Daimús, Comunidad Valenciana, Spain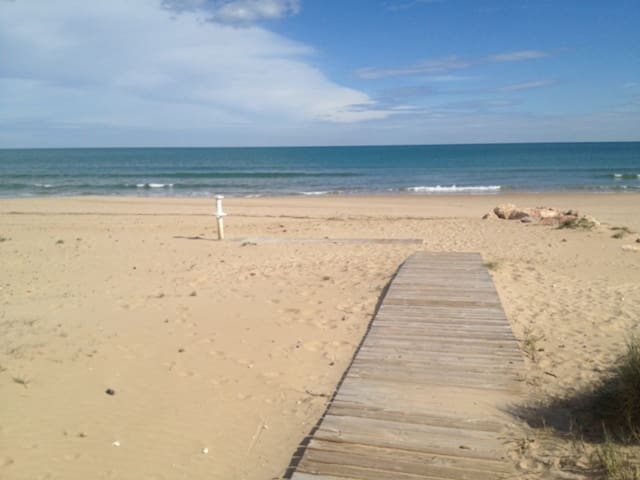 Welcome to this charming apartment on the beach of Playa Xeraco. It is prepared for 5 persons.
The residential area features a 10 m x 5 m, chlorine pool with a depth ranging from 1 m to 1.8 m and is open from 15th of June until 30th of September. This accommodation has a private and fenced garden, where you can refresh yourself thanks to the exterior shower or prepare a tasty BBQ. The garden has direct access to the fine grained sand beach. A few stairs lead you to the furnished porch of the apartment, which is situated on the first floor. The porch has stunning sea views and is a nice corner for a large breakfast. This apartment has direct neighbors. This one-storey, comfortable property offers a bright sitting-dining area where you will be able to read a book or watch a DVD with your kids. The kitchen with vitro hob is fully-equipped and there is also a laundry with washer, iron and ironing board. Ideal for five guests, this lovely apartment has two double bedrooms and one single bedroom. It caters for both seasons as it has four fans for the summer and five electric radiators for the winter. In case you travel with a baby, we can prepare a cot and a high chair. Regarding the bathrooms, there is one bath with bath tub and one shower bathroom. No pets allowed. There is covered parking space for 1 car. Contact the advertiser for possible charges. The holding of events is forbidden. The pool is open from 15th of June until the 30th of September, from 10:00h to 15:00h and from 17:00h to 22:00h.
The beach of Playa Xeraco, awarded with a blue flag since 1988 and with the "Q" of Tourism Quality, is a clean, quiet and familiar beach. It is the perfect place to relax or practice any kind of water sports. You might enjoy visiting the typical local market (Saturdays in summer) or the markets of Playa de Gandia (Sundays) and Xeraco (Mondays). From Xeraco, you can walk all the way to Gandía, over the beach of Playa de Ahuir, an unspoiled beach with protected dunes. A few kilometers away, you will find the highlands of El Mondúber and the Sierra de la Barsella, with the possibility to practice hiking, mountain climbing, caving or cycling.
Room Type
Entire home/apt
---
Property Type
House
---
Accommodates
5
---
Bedrooms
Xeraco, Valencian Community, Spain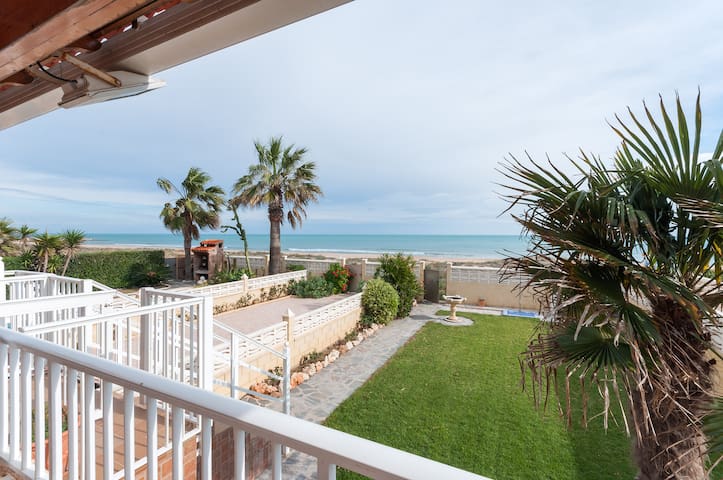 The accommodation is ideal for families, rooms or complete.
Many tourist attraction area a 10-minute walk from the main beach and 3 high
Room Type
Entire home/apt
---
Property Type
House
---
Accommodates
3
---
Bedrooms
Gandia, Valencian Community, Spain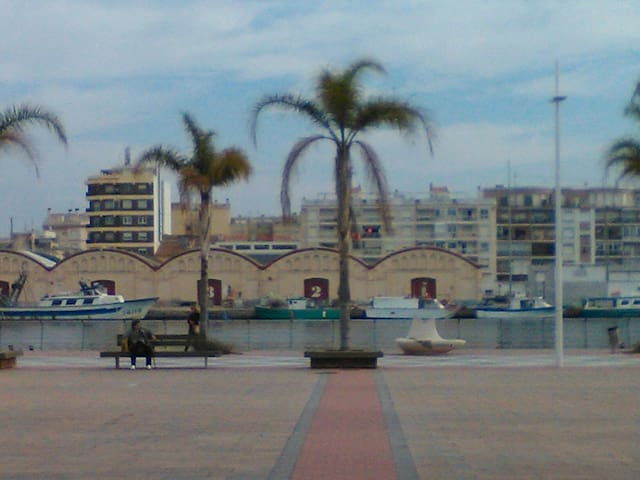 My place is located next to the pretty port in Grau de Gandia and 12-15 minutes walk from the beach. The train stop is 1 minute away as is the bus stop. The bedroom is part of a ground floor house which is a language school. My place is good for couples and small children and solo adventurers.
The bedroom has 2 individual beds and a en suite bathroom.
Located in the port area 15 minutes walk from the beach. Lots of bars, restaurants and supermarkets nearby.
This was for sure the best and the most incredible experience so far. Melissa and Holger came to pick us up from the station on our arrival and later in the evening took us on a long drive may be around 40-50 miles to some other port and hills and they paid all the charges. It was a nice happening place and they even paid for our drinks. We wanted to do scuba so they tried every bit to inquire about it. It didn't look even for a bit that we were with some strangers as it looked we are with our own family. Next morning at 5.30 Holger dropped us to the station as we had to catch a train for Valencia and when later we came back at night they had kept the doors open for us. Their kitchen was like any other Indian kitchen with full of spices and we could use everything. We were so comfortable talking to them in their beautiful house that we forgot to visit the nearby beach(lol). Surely I have missed out many thing while writing as feelings can't be expressed in words. Finally they dropped us to the station and now we will be waiting for them to visit India. This is exactly how all Airbnb host's should be like. Thank you guys!
saiyam
2016-09-01T00:00:00Z
Staying with Melissa and family were an eye-opening, organic experience. They adorned my trip with their love and knowledge of the place. Well deserved superhost!
Minyan
2016-08-09T00:00:00Z
Fueron 2 dias como en casa, desde el primer minuto fuimos recibidos como uno mas de la familia, ademas la casa con ese patio hace que seas uno mas durante esos dias, tengo claro que si el año que viene vuelvo espero poder volver a la casa. Lo recomiendo.
Carlos
2016-08-27T00:00:00Z
Una experiencia buenísima, ha sido la primera vez que usábamos Airbnb y no puede haber ido mejor. Melissa es majísima y te lo pone muy fácil, tanto como para la hora de llegada como la de salida, se adapta a tus necesidades. Los gatitos son un amor, muy juguetones. La habitación está muy bien, no se pasa nada de calor y el baño está muy bien también. Melissa es una anfitriona totalmente recomendable!
Sergio
2016-08-16T00:00:00Z
Mi estancia en casa de Melissa fue estupenda, ella y su pareja me hicieron sentir como en casa. Son super amables, atentos, están pendientes de ti en todo momento pero dando mucha libertad para que vayas a tu ritmo. Son además superflexibles con horarios de entrada y salida. La casa está muy bien ubicada, la habitación es amplia y tiene baño privado. Recomendable 100 %. Muchas gracias! Repetiré sin duda.
Rebeca
2016-08-29T00:00:00Z
Nuestro finde en Gandía ha estado genial. Melissa y Holger son muy hospitalarios y simpáticos. La habitación cumplía con lo indicado y estaba todo muy limpio. Si volvemos repetiremos.
Saúl
2016-07-18T00:00:00Z
Muy buenos anfitriones! nos pusieron muchas facilidades de horarios ya que nosotros llegábamos tarde. Una amplia terraza y dos camadas cómodas con baño propio, no se puede pedir más! Lo recomiendo sin duda! La zona está a 10 min andando de la playa en el puerto de gandia.
Gonzalo
2016-07-26T00:00:00Z
Realmente Melissa ha logrado que la estancia en su casa sea de las más increíbles experiencias que uno puede tener cuando se viaja, su amabilidad, su cordialidad son los factores que ayudan a que uno se sienta como en su propia casa. Una experiencia 10!!
Mauricio
2016-08-01T00:00:00Z
Room Type
Habitación privada
---
Property Type
House
---
Accommodates
2
---
Bedrooms
Gandia, Comunidad Valenciana, Spain
House brand new ,. It is 800 meters from the beach. It has 4 spacious bedrooms and living room-kitchen. Modern but cozy. It has large terrace and all the amenities for guests. It is located in the center surrounded by shops, pharmacies, banks and important landmark as the port (opposite), the St. Nicholas Church. Only 200 meters from the main avenue of the beach full of bars, restaurants, pubs and entertainment area.
Respecto a Aina, puntual, atenta, y muy bien trato. En cuanto a la casa, estupenda tal cual las fotos. Funciona todo estupendamente, camas y sofá cama muy cómodos. El WIFI funciona perfectamente. También decir que la casa tiene muy buen gusto.
Ivan
2016-09-05T00:00:00Z
La casa genial!!! El trato y la comunicación con ellos inmejorable super recomendados esperamos volver pronto y por mas tiempo.
Ainara
2016-06-27T00:00:00Z
Room Type
Entire home/apt
---
Property Type
House
---
Accommodates
12
---
Bedrooms
Gandia, Comunidad Valenciana, Spain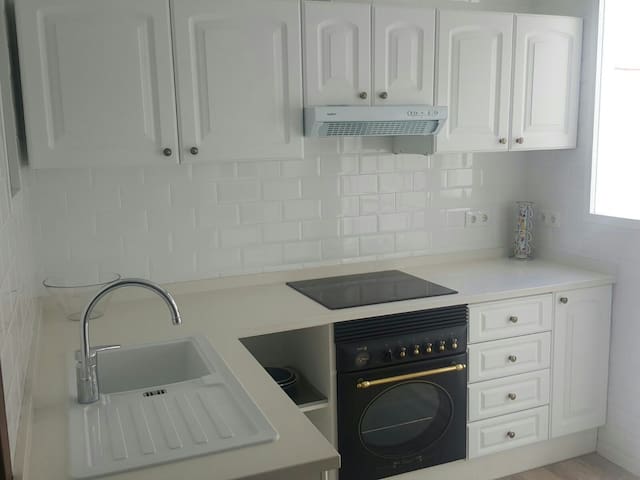 Bungalow with pool just 2 km far from the sea. Private rooms (3 rooms ) with private bathroom, shared kitchen and pool . The stay can be Bed & Breakfast with extra charge. WE DO NOT RENT THE APARTMENT, ONLY ROOMS.
TOWNHOUSE with swimming pool only 2 km from the sea. Private rooms (2 rooms, one extra in cases of groups) with private bathroom, shared kitchen and swimming pool. The stay can include meals, to be specified and to be paid upon arrival. In the house we live Vicente and Maria Teresa. We are two people open minded and always want to talk and meet people. We have already hosted many people from all over the world, and we are delighted with each and every experience. We wait for you! Quiet, central location and close to the beach. It is located exactly 2km from the beach and the leisure area like Falkata, Bacarra or Cocoloco. In addition, the historic center of Gandia is easily reached on foot (15 min.) Or by urban bus.
Tranquility and good connection with the beach and the center. There is space to park at the door always, 365 days a year.
We thoroughly enjoyed our stay. The townhouse was in a quiet street just 10 mins walk from the town centre. Everyone was friendly and very accommodating. Would recommend to others for a great stay.
Ian
2016-11-07T00:00:00Z
One of the friendliest family we stayed with in Spain. The room was very clean with its own bathroom and balcony. We could use the kitchen and a swimming pool but as we only stayed one night we didn't have the chance to do so. The son speaks English so no worries for no Spanish speaking tourist like us :) and Gandia is a very nice spanish town.
Patrick
2016-09-28T00:00:00Z
I stayed at Josep house with his parents for 4 nights. Very nice place and even nicer hosts. They were very helpful and welcoming, gave me all the tips, advice and were very good talker. I also joined them for dinners and lunches which were very tasty. I found the room very comfortable and just like in the description and photos. Thank you, Josep and your family! Would definitely stay again, when I take ultra triathlon again.
(URL HIDDEN)
2015-10-20T00:00:00Z
The host canceled this reservation 125 days before arrival. This is an automated posting.
Manuel
2017-03-14T00:00:00Z
My husband and I had a great experience with Vicente and Teresa (the JS parents, the real hostes). They were really friendly and lovely, easily to spend hours with. They give us great suggestions and made us feel at home. The room is amazing, with a private restroom (not in suite). It is quite, confortable and clean. A perfect place to have a relaxing night. The room we stay had a varanda where one can see the stars of Gandia. We do recommend their place and thank them for the hospitality.
Raquel
2016-07-19T00:00:00Z
Everything was great despite the fact that our car didn't start anymore and we had some trouble following our initial schedule. The hosts helped us push and restart the car. We only stayed one night, it was clean and cozy.
Amalia
2016-07-30T00:00:00Z
Son una familia majísima y muy agradable. Te facilitan todo para que te sientas como en casa. La casa nos encantó, es grande y se encuentra en una zona muy tranquila, ideal para descansar., pero a la vez bien ubicada para poder ir a la playa en poco tiempo Aparcamos el coche incluso en la puerta de la casa. Si en un futuro volvemos a ir a Gandia, sin duda que repetiremos con ellos, gente así da encontrar por el mundo.
Jonathan
2016-06-27T00:00:00Z
Js y sus padres son excelentes anfitriones. Siempre fueron muy atentos y dispuestos a ayudar en todo momento. El piso es agradable y tal cual en las fotos. Está muy bien situado. Repetiría sin dudarlo.
Gustavo
2016-07-04T00:00:00Z
Room Type
Habitación privada
---
Property Type
House
---
Accommodates
4
---
Bedrooms
Gandia, Comunidad Valenciana, Spain
the place is quiet and near the beach, 1 minute. place without passing vehicles. outdoor barbecue .and high and low terrace .all facilities, municipal swimming pools, shops and bakeries MERCADONA, marina, fishing, walking along the coast, good location and very (URL HIDDEN) house was recently redone, interior and exterior paint everything is clean, and the sofas were changed, as well as television.
house for relaxation and calm, pleasant landscape, orange and lemon trees .the house is 300 meters from the beach, but the best is to go by bike to daimus beach which is next door, the neighborhood is fine, near to the mercadona and bakeries and downtown neighborhood of grao, municipal swimming pool 500 meters .terrain foot football next .and nearby parking 30 meters away.
the calm and beauty of the area. and sea air
El amigo del dueño del apartamento fue el que nos entregó las llaves y con él todo genial. Majo, atento y nos explicó el tema de autobuses. La zona, a pesar de estar alejada del centro de Gandía, tiene una pequeña cala cerca en la que se está muy bien. Pero la casa en general un poco desastre. No había agua caliente y nos duchábamos con agua helada. Pocos cubiertos, sartenes pésimas, sábanas manchadas de fluidos corporales sospechosos y debía haber alguna pulga. Y lo mejor de todo es que nos encontramos a tres cucarachas tremendas.
Paula
2016-08-01T00:00:00Z
Room Type
Entire home/apt
---
Property Type
House
---
Accommodates
6
---
Bedrooms
Gandia, Comunidad Valenciana, Spain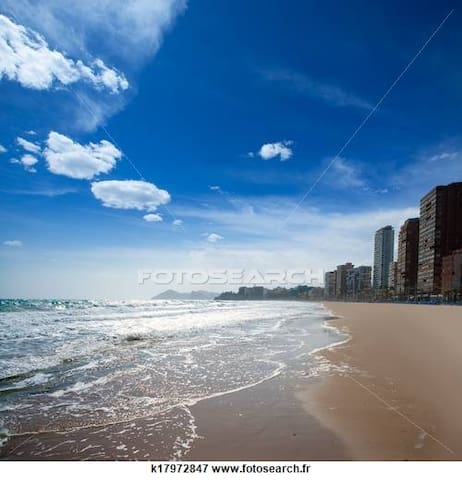 I have 1 double bed and 2 couches available. You will have blankets, a pillow, and a towel. I am willing to help to make your stay more pleasureable.
There are two subway station around the corner from where I live. It is very easy to take any public transportation in this area, whether it´s the Metro, MetroBus, or TroleBus, it´s all available.
If you´re coming into Terminal Norte on the bus, I live only two stops away on the yellow line. There are nightclubs, bars, karaoke bars, commercial centers and parks near where I live. As long as I´m not already hosting someone else, I'm available to host people every day of the week.
Room Type
Entire home/apt
---
Property Type
House
---
Accommodates
1
---
Bedrooms
Gandia, Comunidad Valenciana, Spain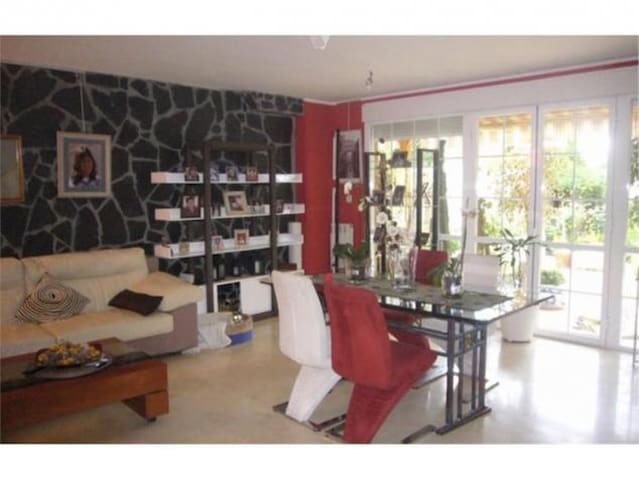 Estate of orange and palm trees. Coaching inn in the late nineteenth. Guests occupy independently entrance, parking and newly renovated ground floor. Pool, barbecue and oven moruno to share. Easy access to 2 km from Gandia city and 7 km from the beach.
Estate of orange and palm trees, overlooking the mountains and surrounded by nature.
The farm is in very good geographic location, two minutes drive from Gandia, tourist city, and next to the highway that encircles the city. Easy access to the beach, seven km, one of the best of Valencia white sand and place of glasses. It is 69 km from the city of Valencia and 124 km from Alicante airport. A 72 km from Benidorm. A few minutes you can go trekking and excursions: the green path of the old train of the English, and the circus of Safor; Calaveras cave and cave AIGUA; flowering cherry in the Vall de la Gallinera; visit to the monastery of Santa Maria de la Valldigna and St. Jerome in Rótova Cotalba. Hiking Trail through the valley of the Safor to Font de Lloret. panoramic views of the Vall de la Valldigna from Montdúber views. Parpalló caves (prehistoric site with Levantine cave paintings). Pego-Oliva and route of the coastal towns.
Nuestra estancia ha sido increíble. Desde el primer momento nos hicieron sentir como en casa. Llegamos a ultima hora del día y teníamos todo lo necesario para desayunar los días siguientes, has Joaqui nos había hecho un bizcocho riquísimo. Jose estuvo en todo momento pendiente de nosotros y cuando llegaron Joaqui y Paz lo mismo. La casa es como aparece en el anuncio, preciosa y muy cómoda, y de la zona de la piscina, que voy a decir. Sencillamente impresionante. Tienen un perro, Golfo, que es muy majo y juguetón, y se porto de maravilla con nuestro perrito, siempre con ganas de jugar con el. Nuestro perro también estuvo encantado en la casa, ya que dispone de bastante espacio para andar a su aire. Definitivamente, un lugar muy recomendable y al que, seguro, volveremos!! Por ultimo, decir que nos olvidamos la cámara de fotos, y al día siguiente ya nos la mandaron a casa. Muchas gracias familia!
harkaitz
2016-07-27T00:00:00Z
Nos recibieron muy calurosamente por José , su hermana y su madre . El apartamento era exactamente como en las fotografías , limpio y ordenado . Llegamos tarde se había ocupado de algunas diligencias en la noche y nuestra anfitriona . También nos dieron un buen vino tinto de la anfitriona . José , su hermana y su madre era muy amable y servicial. La zona es tranquila , se puede disfrutar de la naturaleza . La piscina está en el patio trasero y tiene una bonita vista . Se necesita un coche para ir a la playa y la ciudad . La playa está a diez minutos de distancia del apartamento . Las tiendas / centros comerciales son seis minutos de distancia del apartamento . Nuestra estancia fue agradable y relajante . Venimos próxima vez sin duda volveremos !
Jannis
2016-09-12T00:00:00Z
Description du logement identique à ce qui est dans l'annonce. Cadre du domaine et environnement parfait . Proche du centre ville ,de la plage et centre commercial, ville agréable Gloria et Jose nous ont mis très à l'aise dès notre arrivée ,une grande disponibilité, générosité et une extrême gentillesse de leur part ainsi que leur famille et amis. Nous recommandons fortement cette location et espérons y retourner dès que possible. David M. ( TARBES,FRANCE) Descripción de la misma vivienda que está en el anuncio. Parte del campo y el ambiente perfecto. Cerca del centro, la playa y centro comercial, la ciudad de Niza Gloria y José nos hizo sentir muy cómodo a su llegada, la disponibilidad, la generosidad y la bondad extrema de ellos y su familia y amigos. Recomendamos encarecidamente este hotel y esperamos volver tan pronto como sea posible. David M. (Tarbes, Francia)
David
2016-08-19T00:00:00Z
Wir hatten ein fantastisches Wochenende mit allem Komfort, den man sich nur vorstellen kann! Unsere Gastgeber haben uns sehr herzlich empfangen, sofort in die Familie integriert und uns rundum versorgt. Die Wohnung und das gesamte Gelände sind sehr sauber und gepflegt und der Pool sehr einladend :) Ein idealer Ort zum Entspannen!
Sonja
2016-09-19T00:00:00Z
Accueil très agréable une famille très généreuse souriante et très aimable petit cadeau de bienvenue pour nos enfants maison très confortable cadre magnifique nous recommandons vivement ce logement nous reviendrons l année prochaine merci à José et Vincente
Benjamin
2016-08-05T00:00:00Z
La casa es exactamente igual que la de las fotos, el trato súper bien, la calidad buenísima, lo mejor de la casa es que tienes tu espacio y la piscina es muy grande y muy bonita. Estás rodeada de la naturaleza y los anfitriones hacen que tu estancia sea genial, te resuelven cualquier duda rápidamente y además hacen que te sientas como en casa. La playa esta a 2 minutos de la casa y Gandía centro a mucho menos, hay supermercados muy cerca que tambien es bueno. No tienes a nadie que te moleste si eres amante de las casas de campo, esta es genial. Totalmente recomendada.
Ángela
2016-06-29T00:00:00Z
Un sitio genial. Los niños han disfrutado de la piscina,los jardines,el futbolín. Y qué decir de la barbacoa al lado de la piscina, que por cierto es mucho mejor de lo que parece en la foto.Un encanto de lugar y de casa. Los anfitriones han sido encantadores y muy atentos con nosotros. Un paraje precioso entre naranjos, con todas las comodidades y a tan sólo un minuto de Gandia. De seguro que repetiremos la experiencia
Isabel
2016-07-20T00:00:00Z
Room Type
Entire home/apt
---
Property Type
House
---
Accommodates
6
---
Bedrooms
Gandia, Valencian Community, Spain
Magnifico adosado muy cerca de las playas. Todas las comodidades Zona residencial muy tranquila. Entre la playa y el centro de la ciudad. A dos minutos de centros comerciales y grandes superficies, restaurantes y cines. Rodeado de naturaleza. Nueva BARBACOA. La casa tiene 2 plantas, hay 4 dormitorios, la capacidad máx. es de 8 personas. Hay ventiladores de techo y el dormitorio principal tiene Aire Ac. La piscina es de 8x4m. Hamacas y ducha exterior. Muy soleado! Playa y diversión a un paso!
Adosado con piscina privada. La vivienda consta de dos plantas, Planta baja con salón, cocina, amplio comedor y baño. Primera planta, tres dormitorios y baño completo. 3 dormitorios tienen amplios armarios empotrados. Semi-sótano con sofá cama de 155 por 195 de matrimonio, escritorio y gran vestidor. Piscina privada de 8 x 4, (profundidad desde 1 metro a 2 metros) barbacoa, jardín en la parte trasera y delantera. La vivienda tiene mucha luz, hay persianas. El comedor tiene una mesa para 6/8, en el salón hay una mesa para 12. Hay mobiliario de jardín, sillas y hamacas y una mesa grande. El dormitorio principal tiene aire acondicionado y ventilador de techo, los de mas dormitorios tienen ventiladores de techo.
Urbanización tranquila, calle sin salida, sin problemas de parking. Muy cerca de las playas y todo tipo de servicios. Un poco de información de Gandia. Cualquier época del año es perfecto para visitar la Playa de Gandia gracias a su magnífica ubicación y a un tiempo envidiable. Las Playas de Gandia cuentan con 7 kilómetros de costa y una superficie de 700.000 metros cuadrados de arena fina y blanca por la que los paseos serán todo un placer y un agua cristalina para refrescarse los calurosos días de verano. Gandia es el lugar ideal para disfrutar de las mejores playas del Mediterráneo con galardones como las banderas azules que avalan la calidad de sus aguas y sus servicios durante todo el año. Gandia es en una ciudad viva, una ciudad de gran riqueza cultural y de ocio. Gandia cuenta con una amplia infraestructura deportiva para la práctica de cualquier deporte.Con más de 80.000 habitantes está muy bien comunicada por carretera gracias a una red de autovías que nos facilitan su acceso y a un amplio horario ferroviario.
Gran fin de semana el que hemos pasado. La casa estaba perfecta a nuestra llegada y Peter ha estado atento en todo momento por si necesitábamos algo. Tiene una buena localización ya que en pocos minutos estas cerca de la playa, zona de discotecas o supermercados. Fuimos 8 personas y todos coincidimos en que el adosado estaba fenomenal!!!
Guillermo
2015-06-29T00:00:00Z
La descripción de la casa no se ajusta a la realidad. El aire acondicionado sólo está en una de las habitaciones de la parte superior de la casa. Durante nuestra estancia hemos soportado tener que encontrar varias cucarachas dentro de la casa. El anfitrión entró en el jardín de nuestra casa sin previo aviso mientras nosotros estábamos allí y al pedirle explicaciones nos dijo que tenía que revisar algo que estaba mal en la piscina, increíble... El wifi no funcionaba bien, ya que es el que él posee en su domicilio y del que también hace uso, por lo que la señal es bastante mala. La experiencia ha sido bastante mala, nos hemos sentido engañados ya que la descripción de la casa no es para nada real. Tampoco existe "un amplio jardín" como se describe en el anuncio. La verdad es que la experiencia ha sido como para no repetir. Y lo de las cucarachas ya ha sido de lo más ecatolígico
LEIRE
2016-08-22T00:00:00Z
Peter nos facilitó la estancia todo lo posible, nos esperó a que llegara el tren, nos enseñó con paciencia la casa y de paso nos dejó unas cervezas para que tomáramos algo al llegar. La casa estaba en perfecto estado, amplia, limpia y la piscina es un espectáculo. Siempre estuvo disponible y nos ayudó a buscar arrocería para traer a la casa, el contacto de restaurantes y bares/discotecas, etc. Ha sido un gustazo estar en su casa, nos hubiéramos quedado una semana o dos.
Yago
2015-07-06T00:00:00Z
La casa es magnífica ni le falta detalle, y una atención perfecta del inquilino, repetiremos seguro.
ruben
2015-07-13T00:00:00Z
Room Type
Entire home/apt
---
Property Type
House
---
Accommodates
9
---
Bedrooms
Gandía, Valencian Community, Spain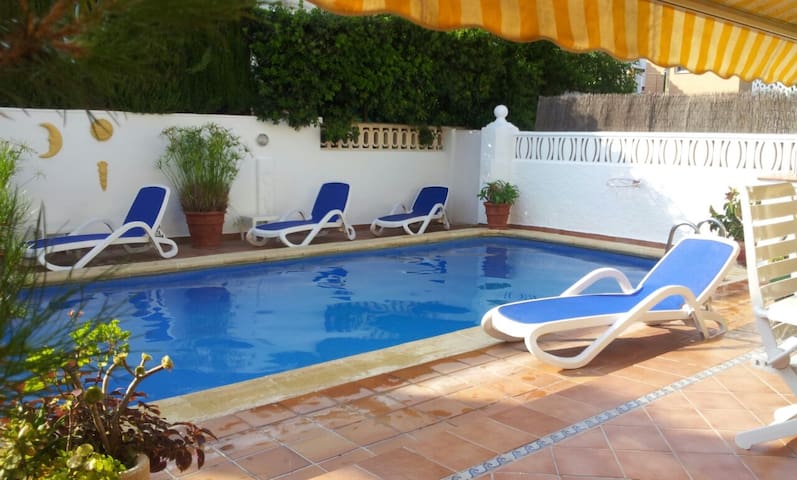 This wonderful house with a shared swimming pool is located in Marenys de Rafalcaid, at Gandía coast, very nrear the beach, and welcomes 6 people.
Welcome to this lovely house with a wide terrace and a shared 8m x6m swimming pool, with a depth from 1m to 2m, where you can swim and refresh yourselves while sunbathing on the hammocks. It also disposes of an external shower and a wonderful barbecue, to prepare unforgettable dinners with your dear ones. The house has neighbours around. This one floor 200m2 house approx, has a wide lovely dining room with satellite-TV, with views and direct access to the swimming pool. The open kitchen, is equipped with vitro hob, and disposes of all the necessary amenities for you to prepare everything you fancy, like tea, coffee, or your favourite dishes, and enjoy them at the counter or relaxing at the comfortable sofa. You will love the three coloured bedrooms, one with a double bed and bathroom en suite with hydro-massage shower, and two more with two single beds each and wardrobes and a second bathroom with hydro-massage shower as well. It has a washing machine, an iron and an iron board. We will provide a cot and a high chair if you travel with your baby, and two are possible with a little extra cost. As well for summer and winter, the house disposes of air conditioning and a heat pump at the kitchen- dining room, the living room and all the bedrooms. Note: The rent for this property is regulated by Spanish Law (PHONE NUMBER HIDDEN)mber), concerning urban leases, by which the property is available for use during the holiday season. Under this contract, the lessee will not be offered any kind of tourism services, only temporary transfer of use and enjoyment of the property. Pets are welcome. The holding of events is forbidden. Consult the advertiser for possible charges. There is an external parking for one car.
The house is located at Gandía south coast, in Marenys de Rafalcaid, in a thin sand beaches area, with a friendly and quiet atmosphere. It is so perfect to practice watersports. Dont forget about the local feasts, from the 8th of August, where you will find a wide range of activities for all ages and tastes. You will find all the services you might need 3km distance from Gandía north beach, as well as a fantastic market every Sunday afternoon at the marina port. If you are a nature lover, dont miss Ullal de l"Estany, a lovely natural spring, where the water comes from the closest mountains, and is located near Alquería del Duc. You can also enjoy Ruta de los Monasterios, a touristic itinerary trough the central Valencia regions, visiting five convents or monasteries. Must see is Palau Ducal.
Room Type
Entire home/apt
---
Property Type
House
---
Accommodates
6
---
Bedrooms
Gandia, Comunidad Valenciana, Spain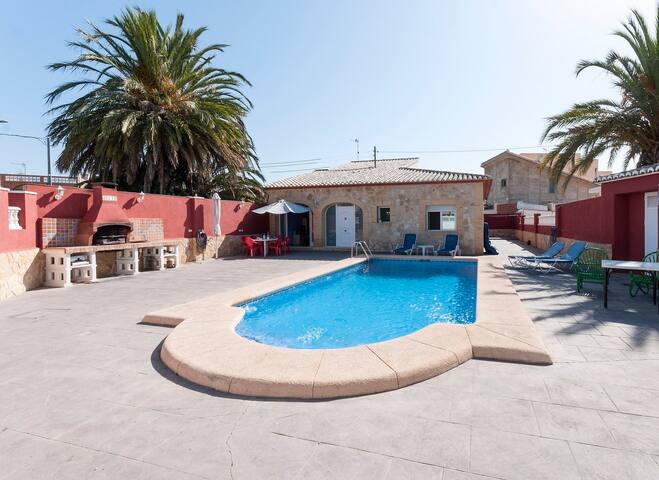 1

–

18

of

87 Home Rentals
Enter dates to see full pricing. Additional fees apply. Taxes may be added.