mansarda( secondo ed ultimo piano senza ascensore)ad uso esclusivo di chi prenota, si presenta ben arredata, wi-fi , dotata di tutti i confort per poter ospitare comodamente 2 persone; a disposizione un posto auto tipo utilitaria in garage comune sotto casa , facilità di parcheggio vicino casa per veicoli grandi .Posizione ben servita , ristoranti, bar, tabacchi, supermercato, farmacia ,centro commerciale e centro città wi-fi free , stazione treni/bus/metro vicino.
l'appartamento è tranquillo , ad uso esclusivo di chi prenota e permette a 2 persone di poter soggiornare anche per lunghi periodi . WI-FI FREE, lavatrice , phon ,ferro da stiro con asse ,lavastoviglie , forno microonde, stoviglie , accessori cucina, condizionatore portatile , 2 TV/RADIO con lettore DVD , riscaldamento autonomo , biancheria da letto ,da bagno e per cucina. Posto auto utilitaria in garage comune , sotto casa, per veicoli voluminosi adiacente parcheggio libero e sicuro.
Quartiere tranquillo e ben servito, a pochi passi farmacia, ristorante, pizzeria, supermercato, tabaccaio, centro commerciale Freccia Rossa con wi-fi libero , multisala Wizz. Ottimo come base per la vicinanza con la FIERA DI MONTICHIARI , FIERA DI BRESCIA , per periodi di studio/lavoro collegati alle Università o per stage presso Ospedali Civili di Brescia
The host was helpful and the house is so clean and cozy....I highly recommend it
Ellaine
2016-09-22T00:00:00Z
Everything was as espected. The place is easily found by car and in situated in a quiet part of town.
Marjeta
2015-06-07T00:00:00Z
Everything was like the description said. The entrance to the garage is very tidy but there is free parking around the appartement. The flat was clean and the kitchen is well-equipped. :) We had a great time.
Andy
2016-09-27T00:00:00Z
The host canceled this reservation 142 days before arrival. This is an automated posting.
maurizio
2015-06-02T00:00:00Z
Fantastic place, exactly as it was described. It couldn't be better. We were very content of our stay. The apartment was completely equipped with everything. It was very clean, luminous, air conditioned, very artistic and really nice. The bus stop 15 was in front of the building and it was easy to go to the center/10 min/ and to the train and auto station/5 min/ which was important for us because we not with a car. A big supermarket was near /10 min by walk/. Bea is a super host - nice person and very correct. I recommend to everybody this place.
Anna
2016-06-29T00:00:00Z
Bea is a wonderful host, who makes sure that her guests have everything they need to enjoy the stay in her apartment. The location is perfect to explore the old town, which is just 10 mins away on foot. Short walk to train station makes it easy to visit nearby towns : we loved our day trip to Bergamo! The apartment is spacious, cozy, and full of light. If we have a chance to come back to Berscia, we certainly will stay at Bea's again!
Svetlana
2016-10-04T00:00:00Z
Thank you Bea for your hospitality. We had a very nice stay in your apartment.
Peter
2015-07-21T00:00:00Z
Bea made us feel very welcome at her apartment. The apartment was great and had everything we needed. It was only a 15min walk to the beautiful old town. The room and bed were quite comfortable. I highly recommend the apartment. Thanks Bea
Andrew
2014-08-29T00:00:00Z
Room Type
Entire home/apt
---
Property Type
House
---
Accommodates
2
---
Bedrooms
Brescia, Lombardy, Italy
Charming house with large covered patio (BBQ, sofa, Wi-Fi). Just steps from bakery, grocery, café, pizzeria, gelato. Cycling paths and horse tracks connecting wineries with the Alps in the background. We supply 3 bikes. Courtyard and inflatable pool for children. Great variety of day trips and activities: Iseo and Garda lakes + Alps 30 minutes away, Brescia, Cremona, Verona, Mantua, Milan, skiing, golf.
It is a charming house completely renovated, bright, tastefully decorated and very comfortable. One of the jewels of this house is its rustic terrace covered with a tiled roof and furnished with a large corner sofa, a table for 6 guests, a charcoal grill with counter and sink and Wi-Fi access. A lemon tree and herbs grow in the garden (Rosemary, Basil, Sage, and Onion Spice). You can relax in the shade in front of the garden while you are lulled by the church bells that remind you that you are in the hearth of the village! The house can easily accommodate 5-6 people with a Queen size bedroom, a bedroom with two single beds and a double hide-a-bed sofa in the living room of the ground floor. Each floor has a bathroom with a walk-in rain shower and travertine stone flooring. The air conditioning in the master bedroom, ceiling fans in mostly every room and the wood stove in the living room - in addition to hot water heaters - will provide you comfort both in summer and winter. The kitchen is fully equipped. In addition to the tableware and kitchen tools, it includes a gas stove, oven, dishwasher, coffee machine with milk frother, a washing machine and clothes lines. The house is children friendly with it's courtyard, inflatable swimming pool, stair gates, children bikes, toys, a trolley and a child's cot.
Capriano del Colle is a friendly and authentic Italian village on the edge of the Monte Netto Regional Park, a popular spot for hikers in the region. Cycling and horse riding paths allow you to take a stroll in the bucolic scenery of vineyards and rivers, with the Alps in the background. We supply the bikes. Pause to enjoy good wine and local produce in wineries (agritourism) of "Capriano del Colle" (AOC) several of which have won awards at international level. Winemakers are welcoming and will make you visit their facility a wine glass in hand and sometimes also with salami! Just steps from a typical piazza and the old church, the neighborhood offers a bakery, café, deli, pizzeria, gelato, pharmacy, fresh fruit and vegetables. Capriano is also an ideal base for a wide variety of day trips such as visiting the great lakes of Iseo and Garda with many nautical activities just 30 minutes away. Skiing and hiking in the Alps -55 km-. Admiring many historical towns less than an hour away (Verona, Brescia, Cremona, Mantua, Milan, Bergamo) and even Venice, Modena and Parma about 2 hours away. Many nice restaurants in the region. Golf all year nearby. Served by many international airports (Milano-Linate, Milano-Malpensa, Verona-Villafranca, Bergamo-Orio al Serio). Enjoy Low cost flights (Ryanair, Easyjet, etc.) to travel to and from most European cities for an affordable price. Brescia (15 km away and connected via a bike path) is a beautiful historic city with a magnificent castle known as «The Falcon of Italy» and many UNESCO World heritage monuments among which the best-preserved Roman public buildings in the Northern Italy. Enjoy a coffee at the Piazza della Loggia, a noteworthy example of Renaissance piazza just foot steps from the Broletto, the medieval Town Hall. The Piazza della Vittoria is a typical example of Italian rationalism architecture. There are several golf courses open all year in the Brescia area. You are not far from the Alps. Maniva Alpine ski slopes are less than 55 km away. You can bike to Cremona (40 km), the birthplace of the famous Stradivarius violins, which can be seen at the Museo Stradivariano. The Museo Civico Ala Ponzone, exhibits a Caravaggio (Saint Francis in Meditation). Take the scenic route between the Alps and Garda Lake to visit the many historic towns, their beaches and thermal baths. Don't miss Sirmione (55 km), a peninsula famous for it's hot springs and the Scalinger Castle (13th century), a rare example of medieval port fortification. Garda Lake is a beautiful place for outdoor sports (climbing, wakeboarding, kite surfing, mountain biking, hiking, paragliding, Stand Up Paddle board (SUP), sailing, water skiing, etc.). The Gardaland amusement park will amuse the whole family. You will not be far from Verona, the historical city that inspired Shakespeare to write the famous play Romeo and Juliet. Nothing is more romantic than attending the opera in the Verona Arena. It is also the region of the famous Valpolicella and Amarone wines. The Vinitaly international exhibition is a world reference held every year in Verona in late March . At Iseo (30 km), take the ferry to Monte Isola, a beautiful mountainous island in the middle of Lake Iseo. A picturesque place where there are no cars! The island joined the "club of the most beautiful villages in Italy." Ideal for swimming and lying under the olive trees, vineyards and chestnut trees. Explore the island on foot or rent a mountain bike. Enjoy freshly caught grilled fish of the lake. Milan (88 km) is a must, a major world fashion and design capital. It is home to many museums and art galleries cultural institutions such as the church of Santa Maria della Grazie decorated with the mural of The Last Supper by Leonardo da Vinci. Stroll among the cafés and terraces of the Navigli district along the artificial canals constructed between 1179 and the 16th century. You can admire the innovative system of dams conceived by Leonardo da Vinci at the end of 15th Century. The old towns of Mantua and Sabbioneta (75 km) are two cities listed as World Heritage by UNESCO. In Mantua, the magnificent Palazzo Duccale houses a room decorated with frescoes by Andrea Mantegna. The medieval village of Grazzano Visconti (100 km) is a real gem. Cars are not allowed in the interior walls. Taste the flavors of Emilia-Romagna region. Parma (120 km) is the home of Parmesan cheese and Parma ham. To learn more about the making of balsamic vinegaryou must go to Modena (166 km) . The numerous restaurants will make your stay memorable. Venice (180 km) is a two-hour journey that will put you on the road to Verona, Vicenza and Padua. A good plan is to arrive or leave from Italy by Marco Polo Airport in Venice. A nice way to start or end the trip! From May 9 to 22 December 2015, it will also be the opportunity to visit the famous art exhibition of the Venice Biennale. Have fun!
Our family of 4 stayed at Simon & Ada's house in Capriano Del Colle for 2 weeks during the end of August 2016. It was a lovely surprise that Simon and Ada were there to meet us in person as they were visiting family on holiday. The house is a lovely traditional Italian home in a charming Italian village. We arrived slightly later than we thought but Simon and Ada had left us breakfast supplies and a bottle of wine which was great as we had had such a long journey. Simon, Ada and their family were very helpful in coming back to us if we had a problem and was really helpful in suggesting where and what to do around the area. Simon even managed to source us more bikes so we didn't need to take ours all the way from the UK. The village had a great pizzeria and the most fabulous gelato shop. Unfortunately we only got to use the bakery a few times as it had been shut during most of our stay as they were away on holiday. There was a supermarket not too far away. The property is approx 40-50 minutes drive to Lake Garda and 20-30 minutes drive to Lake Iseo. The house is clean and comfortable with a great outdoor seating area. It is in a very quiet village and the church bells ring every hour with a special ring at 6.15am and 8.15pm. Happy to recommend this property.
Alan
2016-08-28T00:00:00Z
It's lovely to have the essentials provided when you arrive somewhere new and not having to do a full shop every time you land. The house is basic but super clean and functional. There is a brilliant winery almost across the road and amazing ice cream down the street but all the recommended restaurants and supermarkets are a drive away. We enjoyed our stay in Cipriano del Colle and made great use of the central location.
Natalie
2016-10-16T00:00:00Z
The accommodation was as described, a very spacious and comfortable house with an attractive outdoor area. The hosts sisters met us with the keys and provided lots of local information. The locality is very interesting, with local wine shop, pizzeria, local groceries store, bakery, butcher, and deli within walking distance (3min) and good supermarkets a short drive away. We enjoyed our stay, many thanks to Simon and Ada and family for hosting.
Katherine
2017-03-23T00:00:00Z
Very lovely house with full of great things to benefit. Anna and Tina (housekeepers) were very kind and friendly. When we arrived they met us and gave all the information which we will need. They left us also a wine and something to eat, it was very nice. there is everything you need in the house. Towels, beddings, pillows, coffee machine, even milk frother, barbecue, stove, woods to burn, bikes....etc. Everything was very clean. We used the fire-heater and the barbecue. It was easy and fun to use. House is close to too many places but I prefer renting a car because the bus is ending too early and you can not find a bus on Sundays. I advice you to visit Verona and then Venice by car, not too far. Lake Iseo is nice to see and maybe have a dinner. Milan also is not too far. Duomo is great, a must see. So I really advice this house, especially if you will be in north side
Erhan
2016-02-13T00:00:00Z
We enjoyed our stay at Simon et Ada's place. It's spacious and very well equipped! In winter time there's a nice wood stove to warm up the environment. We had a technical issue with heater and boiler, so there was no hot water, but the host has promptly provided a solution
Edoardo
2016-11-27T00:00:00Z
We met Tina and Maria at their home which right down the road from the place. They led us to the house and it was so nice! They had a bottle of wine from the area waiting for us to have on our arrival. We really enjoyed our stay here as there is so much to do nearby! We took the bikes for a ride and ended up in the beautiful countryside. On the way back to the house we stopped in at San Michele Vineyard and had some amazing wine! MUST STOP THERE! Also definitely make use of the grill in the patio, it was awesome to grill out and use the fresh herbs that are growing in the garden (Rosemary, Basil, Sage, and Onion Spice) ABSOLUTELY WONDERFUL!!
Cameron
2015-09-13T00:00:00Z
We had a wonderful 2 weeks in Capriano del Colle! We had a great welcome by Anna, Ada's sister, who left us supplies including a bottle of delicious local wine. When we needed an oven dish to prepare home made lasagna, Anna brought it to us within a few minutes. The house was fantastic, well equipped and clean, the patio with roof provided an ideal place to have our meals and to relax. The mosquitos stayed well away when we lighted the citronella candles. The airco's in the bedrooms that we turned on a while before going to bed were comfortable and gave us good night rest. We did city trips to Brescia (beautiful castle in the city center), Cremona, Verona, lago d'Iseo and lago di Garda. We definitely recommend this location, and hope to come back again!
Alex
2016-08-14T00:00:00Z
All was ok. Tina and Anna were wainting for us until midnight (we had problem with reant a car). The hous is nice, especialy terrace. We recommend this house.
Magdalena
2016-07-06T00:00:00Z
Room Type
Entire home/apt
---
Property Type
House
---
Accommodates
6
---
Bedrooms
Capriano del Colle, Lombardia, Italy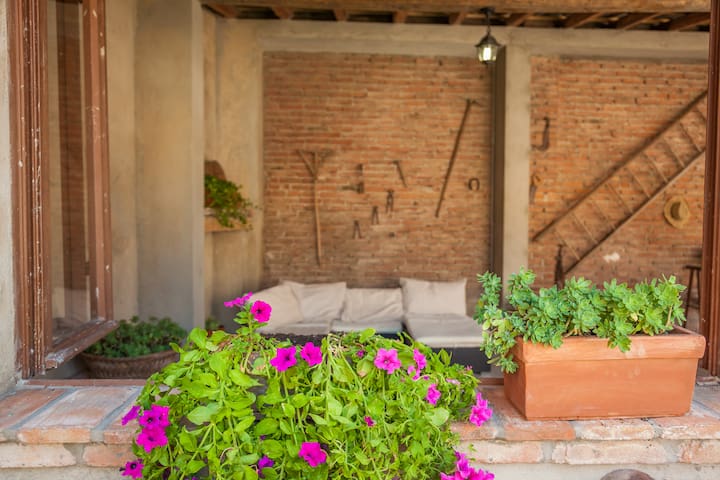 Castel Mella - Airbnb
:
Average

4.5

out of

5

stars from

70

guest reviews
Enter dates to see full pricing. Additional fees apply. Taxes may be added.