Suite is located in front of the amazing beach of Sikia in the Corinthian Gulf . The apartment (1st floor) has access to a 120 sqm terrace with BBQ facilities. With 2 bedrooms ,2 bathrooms, fully furnished kitchen, air condition , cable TV, Wi-Fi.
92 sqm private suite is located in front of the amazing beach of sikia in the Corinthian gulf . So you can reach the beach just by making only 3 steps! The apartment is on the first floor of the house and has access to a big private balcony with magnificent view and to a 120 sqm shared terrace with bbq facilities. The view from the spacious terrace and balconies is amazing and it gives you the opportunity to enjoy great meals at any time of the day and to share unique monents with family or friends.The apartment consists of 1 master bedroom with a double queen size bed and private bathroom with washing machine,1 bedroom with 2 single beds, second bathroom with jacuzzi douche , comfortable living room with a big dining table for six persons, fireplace, cable tv, dvd player, safe,free Wifi, and full equipped kitchen with facilities such as fridge,oven ,dish washer,kettle, coffee machine, microwave. Sheets and towels provided. Sykia is the best destination for those who search for relaxing and romantic moments. Families will appreciate the calmness and comfort in their holidays at the private suite! If this suite is not available for your dates, please have a look to the property " Xylokastro suite on the sea B " which is located at the first floor of the same building.
All of the facilities are in walkable distance! The distances from the house are the below: minimarket (with many products) : 1 minute on foot pharmacy : 3 minute on foot bakery : 5 minute on foot hospital: 20 minute on foot (5 min by car) supermarket : 30 minute on foot (8 min by car in xylokastro village) Furthermore at the front side of the house you will find a breathtaking scenery! The beach nearby it is a beautiful pebbly bay with crystal clear waters ! Most of the days in summer the sea is peaceful so that it will be easy for those who doesn't swim very well! On the one hand at this bay you can find organized beach with sunbeds and umbrellas for coffee , seaside greek " Tavernas" with traditional food but also more quiet areas for relaxing ! The serene pine forest of Peykias, that is only 5 min walking distance , reaches almost as far as the sea water.There is about 83 different tree & plant species and it is an ideal place to practise yoga play tennis, beach volley, jogging or simply for a walk in this magnificent environment. Sykia is the best destination for those who search for relaxing and romantic moments. Families will appreciate the calmness and comfort in their holidays at the private suite! For more information about the village you could visit the site (URL HIDDEN)
We arrived late but our hostess was there to welcome us and show us around. She had breakfast makings in the refrigerator and a bottle of wine. The place is beautiful and even better than the photos show. The view from the balcony is beautiful. The rooms are lovely and very comfortable. Her gardens are amazing and a real testament to her landscaping abilities. Our October weather was not the best but we still managed to take in walks around the area and for our little one to get wet in the sea. Our accommodations were everything we could have hoped for.
Owen & Mary Ellen
2014-10-31T00:00:00Z
The house is even better that the pictures suggest. The outside terraces are massive and are a quiet,pleasant place to relax at the end of a hard day at the beach. I can not fault the house in any way, it is very clean and modern and the host very extremely helpful and friendly. I would not hesitate in recommending this property to anyone. The host even left bread, milk, bacon, eggs, bottles of water and a bottle of wine for when we arrived which was a nice touch The village of Sikia is a very nice place, nice tavernas and cafés. The restaurant below the house I would recommend highly. The beaches are great and the sea is nice to swim in. Many beach bars in the area but the best one is bayberry. The house easily reached by train or bus from Athens. There is a bus stop opposite the house where a bus every hours goes to Athens and another bus which is every half an hour for Korinthos. Will definitely return again.
Neil
2014-08-28T00:00:00Z
The best vacation of our life - with hosts who became instant lifelong friends. I was captivated by their photos, but nothing can compare to the actual look and feel of this incredible place. So many good lounging options, as the sun shifts during the day... even a cool shady veranda at the back of the house, overlooking the beautiful garden. The terrace plantings blend beautifully with the sea view, and create privacy from the road below. Diamanto takes obvious pride and care in her gardening. She has a wonderful sense of design and placement, is constantly finding new ways to upgrade this place and make it more enjoyable. Diamanto was wonderful at guiding us through the process of taking a train from the airport to a town near the rental... where she met us at the train station with a taxi driver! It was late and we were tired, so we were grateful to be taken care of. The refrigerator was stocked with everything needed for an "English Breakfast"... bacon, eggs, coffee, bread, and lots of oranges to squeeze for fresh juice! Plus fresh grapes, and a chilled bottle of white wine... so welcoming. Later, Diamanto and her wonderful husband went to Xylokastro with us and showed us where to get the best feta, olives, and other groceries. When I asked about lamb, the butcher opened his locker and waved a fresh half carcass as us, indicating that we should choose the exact cut we wanted. We enjoyed being left in privacy to enjoy the house as if it were our own... and also enjoyed get-togethers with Diamanto and Iannis, who stayed in an upstairs flat to be available as needed. They are warm, funny and engaging people. As friends, we shared a day trip to the marvelous ruins of ancient Corinth. Since it was Monday and in off season, there was almost nobody there - so we had the magical experience of savoring it without crowds or distractions... really getting a sense of the spirit and deep, deep history of the castle and its temple of Aphrodite. Then we drove to Loukrtis for souvlaki at an outdoor cafe... on our final evening, we had an outdoor potluck where Iannis manned the BBQ and their good friends came by with a special cheese pie... a savory appetizer for which their friend Joanna even shared the recipe. This was my first visit to Greece, but certainly not my last! I hope next year, I can stay at this wonderful place for a much longer time. I'm also curious about Diamanto's other listing, on Crete... and I wish I had more and better words to describe how wonderful these dear people and their house are.
Elizabeth
2014-09-23T00:00:00Z
My family had the best vacation. The house is very cosy and well equipped. Everything is clean. There are two bedrooms, two bathrooms, large living room and fully equipped kitchen. The view from the terrace is simply stunning. On the terrace there is a barbecue, we had grilled meat every day. The beach is clean, nice entrance to the sea, the sea water is transparent. The village is very quiet, there are plenty of cafes and shops. We rented a car and toured the neighborhood, the landscape is very beautiful, in the mountains there are viewing platforms. We are very grateful to the hostess for hospitality and attentiveness. I would recommend to spend your vacation in this house!!!
Ольга
2015-06-14T00:00:00Z
My family and I enjoyed our vacation at Diamanto's place. The house looks exactly like in the pictures, very spacious, clean and comfortable. We had our private terrace and the access to the big shared terrace, which was free all the time, so it's variety of outside places with the nice sea view. Sikia is a small quite village, with a beautiful beach and a couple of restaurants/taverns. The ruins of ancient Corinth and the Corinth Canal are only 35 minutes drive away, it's worth visiting. Diamanto and her husband Ianis are very friendly and hospitable. Thank you! I definitely recommend this place if you are planning to spend your vacation in central Greece.
Aneta
2016-06-26T00:00:00Z
Amazing stay in sikia. The house was fully equipped, the owner had thought about every single detail. she had provided us with breakfast, wine, water, clean towels, she even had takeaway coffee cups if we felt like taking our coffees with us. She also proved flexible with us (checkout). I would highly recommend this flat and would definetely go back. We were there at end of may and were lucky to have 3 days of sunshine and one cloudy day. The terrace is a delight for breakfasts overlooking the sea or some drinks in the evening. Patrick
Patrick
2015-05-25T00:00:00Z
We spent more than two weeks there and found the place a thoroughly enjoying experience. The house is big and well-equipped and the deck, with a large choice of lounging options, is exposed to the sun from sunrise to 5PM. The hosts provided all that was needed including food essentials (and a chilled white wine bottle in the fridge) upon arriving. We took full advantage of the garden with fresh salad, herbs and lemon/orange trees providing fresh juices all day long. Diamanto proved a warm and discreet host. Tavernas are close by and stores are a 5 minute-drive from the village. The pebbly beach is just across the road where traffic is sustained, and the only drawback really in terms of background noise during the day. But your mileage may vary: my partner did not notice it.
Pascal
2014-06-13T00:00:00Z
Fantastic! The hosts were amazing, making sure we had everything we needed - even leaving us fresh toothbrushes (just in case). The home is very nice, comfortable and well-stocked. Everything we could need was there. Definitely one of the best places we have stayed (and we have been in a LOT of them over the past year). The deck with the beautiful view of the Corinithian Bay is gorgeous. The garden in back was really amazing, quiet and the smell of orange blossoms came in through the windows. We had some bad weather, but it was still lovely and probably just about perfect for swimming over the summer. If you are just looking for peace and quiet, this place is ideal.
cheryl
2014-05-03T00:00:00Z
Room Type
Entire home/apt
---
Property Type
Apartment
---
Accommodates
6
---
Bedrooms
Corinthia, Peloponnisos Dytiki Ellada ke Ionio, Greece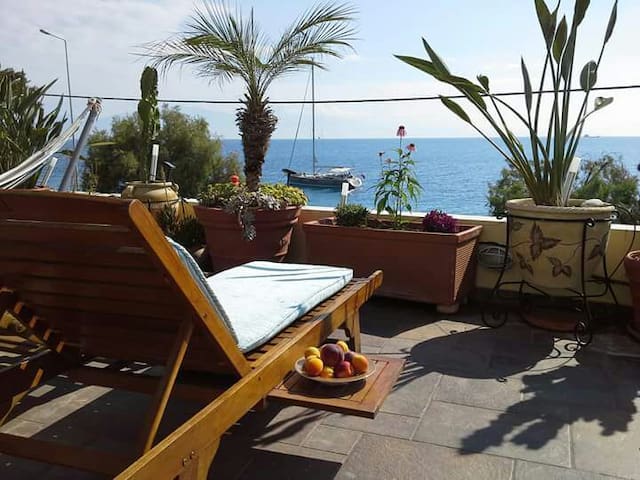 хороший семейный отдых
l'appartement d'Elena était très propre , spacieux et correspondait à sa description . il est situé dans une zone pavillonnaire tranquille avec le mer à proximité . C'est ce que nous recherchions .
serge
2015-07-26T00:00:00Z
Елена -- потрясающая хозяйка, отзывчивая и гостеприимная. В квартире было абсолютно всё, что необходимо для отдыха. Квартира просторная, красивая, недушная, чистая, оборудованная всем необходимым. Рядом большие и маленькие магазины, булочная с прекрасной выпечкой, а самое главное -- шикарное греческое море! Всем рекомендую это жильё! Спасибо Елене за прекрасный приём.
Nataliia
2016-07-17T00:00:00Z
Прекрасно отдохнули в гостях у Елены. Жилье вполне соответствует описанию и удобно расположено для путешествий к близлежащим достопримечательностям. Все преимущества больше всего проявляются при наличии авто.
Viacheslav
2016-09-21T00:00:00Z
Περάσαμε 7 καταπληκτικές ημέρες.Το σπίτι ήταν πεντακάθαρο,πλήρως εξοπλισμένο,περιτριγυρισμένο κοντινά με θάλασσα,σε μια ήσυχη γειτονιά και ο οικοδεσπότης ήταν φιλόξενος,ευγενέστατος και πρόθυμος να μας βοηθήσει.Ευχαριστούμε πολύ Έλενα για τη φιλοξενία.Ήταν όλα υπέροχα!
Anna
2016-08-11T00:00:00Z
Perasame poli oreo kai to spiti eiche ta panta. Tha erthoume pali sigoura. Eimaste poli efcharismenei. Megalo efcharisto stin elena kai to tassos
Mandy
2015-08-16T00:00:00Z
Room Type
Entire home/apt
---
Property Type
Apartment
---
Accommodates
6
---
Bedrooms
Corinthia, Peloponnisos Dytiki Ellada ke Ionio, Greece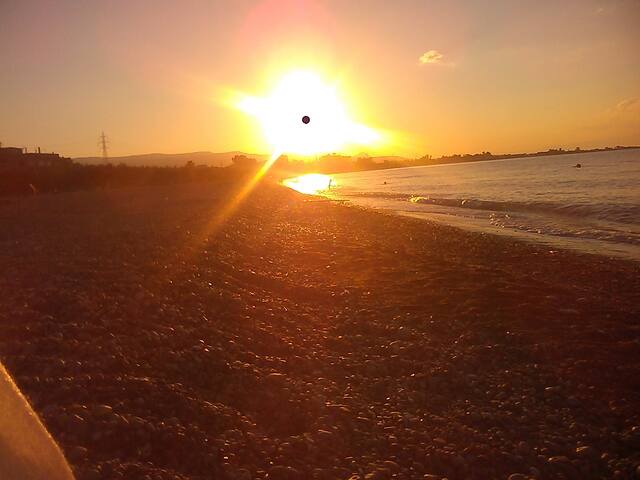 Luxurious Interior, Pool, Jacuzzi, BBQ! Waterfun Park Corinth, Loutraki Casino Resort, Private&Public Beaches + Water Sports, Cafés, Taverns, Bars, Beautiful Scenery! *Flat = 2 Floors of Villa, independent from rest of Villa Surrounded by pine tree forest, 1-hr from Athens, Easy Access-Few Mins off the motorway! Check Photo Gallery and description for: Olive picking experience (Nov-Jan), Fine wine tasting/historical sites & breathtaking views at the ancient City of Nemea!
Please note that there are in total 2 listings in Airbnb of the same Villa, namely: Luxurious 500m2 Villa (15 reviews) - Renting the entire 3 floors of the Villa Part of Asklipia Villa (15 reviews) - Renting the independent flat/top 2 floors only *ASKLIPIA VILLA DESCRIPTION* The estate is within a 12,000sqm land plot filled with olive trees and several other fruit trees (approx 300 trees in total, of which around 240 are olive trees). We produce our own extra virgin olive oil and in addition, we enjoy organic fruits such as lemons, mandarins, oranges, plums, grapes, pomegranate, figs, pears, apples, apricots, black/white berries, cherries, etc. Please read about the Asklipia Villa Olive Picking Experience at the end of the description "Getting Around" section and view the relevant photos in the photo gallery. In the middle of the land is the Villa, an outdoor barbecue area, a large parking area and a swimming pool. On one end of the land, there is a greenhouse where we grow our own seasonal vegetables, and at the other end of the land there is a small chickens & geese's farm. The Villa is framed by a beautiful wide marble stone pathway that extends from the swimming pool to the main gate. There are also 2 trained-to-guard shepherd dogs, which can be removed upon request.
The Asklipia Villa offers stunning views of the Corinthian Strait and it is surrounded by pine trees, ancient ruins such as the Byzantine Ioustinianian Wall, and the Museum of Isthmia is nearby. 24HR VIBRANT & LIVELY ENVIRONMENT Close by, the popular Loutraki Casino Resort (which is ~10mins drive from the Villa) are several bars and clubs, as well as taverns, cafes and restaurants. The Loutraki area is a popular destination for the youth as well as the elderly. Loutraki's nightlife attracts young people with several clubs and cabarets, as well as the elderly with its many meat and fish taverns offering traditional Greek cuisine along the beach. The Corinthian Strait is a 3mins drive from the estate, with many taverns and cafes to enjoy the sea view, whilst watching the bridge opening for luxury yachts and ships of all sizes passing slowly through the narrow channel. WATERFUN PARK - CORINTH The very popular family destination Water Fun is a water slide park, less than 5mins drive away. BEACH VARIETY There are many beaches, varying from sand to pebble and private to public, all in close driving proximity. Some of the popular beaches are the Loutraki beach, the Poseidon Resort beach (private with water games & sports, diving lessons) and the sea-lake of Vouliagmeni (a public beach which is like a lake in between two hills). CULTURAL SIGHTSEEING The very picturesque and traditional natural-healing Baths of Beautiful Helen (~4km away), where visitors can enjoy the natural spa treatments. Monastery of Osios Potapios (~8km away), on the mountain of Perachora area accepts visitors and tourists. City of ancient Corinth (~20km away), with several ancient ruins and a museum. WINE TASTING City of Nemea (~35km away), famous from the Greek Mythology and the story of Hercules, nowadays also popular for its wine. Nemea has 3 main regions of vineyards: In the Valley of Nemea (the lowest altitude zone) they produce light reds and dessert wines. In the mid-altitude zone, they produce the finest age-worthy red wines and at the highest altitude zone, they produce fresh red and aromatic rose. City of Epidaurus (~60km away), with several museums, the famous ancient theatre of Epidaurus and the Asklipia Temple.
Amazing villa with all the comfort, perfect location to visit korintho, the surrounding area and the seaside. Extremely kind host and..the pool is a plus! Highly recommended!
Riccardo
2014-08-21T00:00:00Z
We stayed 9 days at Maria's house. The house is great, clean, comfortable and functional. The pool was amazing, and it was a great place to explore the Peloponnese. I have to precise that a car is definitely needed. Maria was very welcoming and sympathic. she even gave us some fruits, and other products from the farm! Thank you for the wonderful holidays!
Melodie
2015-08-27T00:00:00Z
accoglienza calorosa , cibo ottimo alla greca, posizione strategica per andare ovunque, camere stupende, ben organizzate e con WiFi. tanto spazio a disposizione, fantastico per i bambini. Vino a un centro diving per fare immersioni e gite in barca. Non manca proprio niente anzi c,e pure un lago con acqua di mare, fantastico...
Anna
2016-07-28T00:00:00Z
Room Type
Entire home/apt
---
Property Type
Apartment
---
Accommodates
12
---
Bedrooms
Corinthia, Peloponnisos Dytiki Ellada ke Ionio, Greece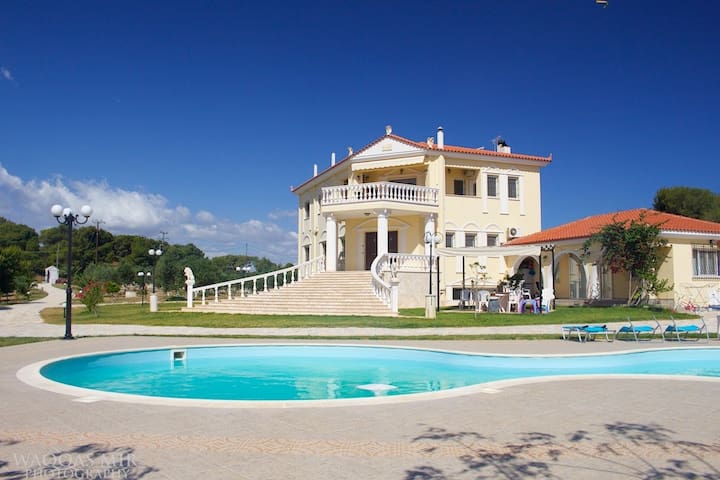 Maisonette with beautiful sea view. The perfect place to relax and have a unique time with friends and family!
The apartment is divided in 2 floors. In the 1st floor there is the living room with open plan kitchen , one bedroom and 1 bathroom. The ground floor consists of a big room with 3 bed sofas, kitchenette and 1 bathroom. The view from both floors (balcony and yard) is amazing!
The apartment is located to Amoni, a peaceful and organized area with 4 beautiful beaches (5' far by car) and sport fields (basketball, tennis, volley). There are only 2 taverns in the area. For grocery stores and pharmacy you drive to Sofiko village, 8km far from the apartment.
Giorgios is very friendly and knows very well meaning of word hospitality. The flat is very cosy, clean and very spacious, It even have two bathrooms and equipped with all the amenities needed for a very confortable life (TV, stereo, fully equipped kitchen with even cofee machine etc...) Living in this flat will give you the impression to live in your own house. The flat is located near the sea, and provides very beautiful views over the sea and sourrounding environment. Access to the flat is not easy, as it is located in an isolated area; but this makes this place the ideal place for a relaxed stay. Wonderful sea is very close to the flat and of easy access. Great stay, absolutely recommended.
Andrea
2016-08-26T00:00:00Z
It was an excellent house with all the necessary ammendments for our stay. The view and the serenity was remarkable. We were 4 adults and small child having everything we needed. The host, George, is a very kind and willing to help guy, with all the necessary advices you might need... A deffinetely "come back" place... . Thanks again....
George
2016-08-15T00:00:00Z
Room Type
Entire home/apt
---
Property Type
Apartment
---
Accommodates
6
---
Bedrooms
Corinthia, Peloponnisos Dytiki Ellada ke Ionio, Greece
APARTMENT 65 SQ.M. WITH 2 BEDROOMS, LIVING ROOM WITH KITCHEN, LARGE BALCONY (VIEW POOL AND CORINTHIAN) WITHIN TREES AND MAGICAL ENVIRONMENT. 4 adlults 2 children
Room Type
Entire home/apt
---
Property Type
Apartment
---
Accommodates
4
---
Bedrooms
Corinthia, Peloponnisos Dytiki Ellada ke Ionio, Greece
500 м от моря уютная квартирка с полисадником,русский канал,Wi-Fi,100 м супермаркет,пекарня.Прогулявшись 10 мин и вы в центре.Хотите покататься на велосипеде-всё к вашим услугам!Хорошего Вам отдыха!!!
500 м от моря уютная квартирка с полисадником,русский канал,Wi-Fi,100 м супермаркет,пекарня.Прогулявшись 10 мин и вы в центре.Хотите покататься на велосипеде-всё к вашим услугам!Хорошего Вам отдыха!!! Квартира с полисадником для семьи из 3-4 человек в тихом местечке.Отдыхаете с детьми?,всё необходимое для детворы у нас есть(детская кроватка,коляска-книжка,игрушки,велосипед). И самое главное - проверенный педиатр. живем на верхнем этаже,разговариваем на русском и греческом языках,если языковой барьер - всегда поможем. море, солнце,вкусная еда и натуральные вина местного разлива Из аэропорта на электричке до Коринфа (1ч.20 и вы на месте), так же можем встретить вас на машине - цена договорная. По городу гуляем ножками, можно передвигаться и на велосипедах (есть велосипеды) Много интересных мест,которые нужно посетить - Старый Коринф,монастырь Св.Потапия,морское озеро "Вулягмени", Микены,Нафплио,скучать не будет времени! ( проводим индивидуальные экскурсии за умеренную плату)
Красивый уютный городок
This is a fantastic place in Corinth only a short walk from the sea. It is a lovely spacious flat with a good outside area. Irina and Tassos were such nice hosts- very helpful and kind. We had a great experience here and we hope to return one day!
Stephen
2016-10-04T00:00:00Z
Отдых у Ирины мне очень понравился. Симпатичная, очень уютная и чистая квартира. Интерьер полностью соответствует фотографиям на сайте. Есть все необходимое и даже намного больше. Продумано все до мелочей, так что вы чувствуете себя как дома. Есть небольшой, но милый дворик. В холодильнике и в кухонном шкафу нас ожидал приятный сюрприз. Квартира находится на тихой улочке, совсем недалеко от пляжа и великолепного моря. Пляж и вход в море мелкая галька, но через 1-1,5 отличный песок. По моим меркам все: и магазины, и центр города, а особенно колоритный местный базар в субботу (огромный выбор местной с/х продукции и дешево) - в пешей доступности. Но самое позитивное впечатление я получила от хозяев – Ирины и ее мужа Тасоса. Ирина - радушная и приветливая хозяйка, просто очаровала нас. Мы расстались друзьями. Помогала всегда и во всем. Тасос встретил и проводил на ж/д станцию. Я рекомендую для проживания, и сама готова приехать к Ирине в Коринф еще раз. I enjoyed my stay at Irina's very much. The apartment is very nice, clean and cosy. It is exactly the same as in the photos, it's well equipped, has everything and even more. Irina thought of every detail, prepared some pleasant bonuses for us in the kitchen. So Irina made our stay pleasant and we could feel ourselves at home. The apartment is well situated in a quiet street, very near to the beach - only 5 minutes walk. Shops, supermarket, bakery are also not far. The downtown of Korinth is 10-15 minutes to walk and looks very pretty. The host family – Irina and her husband Tasos – impressed me greatly. She is energetic, charming, hospitable, friendly and helpful. She provided us with all the information we needed. Tasos picked us up and then drove us to the railway station. I highly recommend this apartment for anyone wanting to stay in the Town of Korinth. September, 2016
Tatyana
2016-09-16T00:00:00Z
Merci à Irina et son époux pour leur accueil chaleureux. L appartement est très cosy avec tout le confort dans un quartier calme et plaisant. Je recommande fortement.
Patricia
2014-10-03T00:00:00Z
Room Type
Entire home/apt
---
Property Type
Apartment
---
Accommodates
4
---
Bedrooms
Corinthia, Peloponnisos, Greece
"Sunset" Apartment Inexpensive luxury apartment with large balcony. Fantastic panoramic sea view over the Corinthian Gulf. Just 70 meters from the sea. The apartment "Sunset" is 48 square meters and with its two rooms is a perfect apartment for two persons. It is located on the top floor of the house. From its 17 sqm balcony you have a fantastic panoramic view over the Corinthian Gulf with wonderful sunsets. From all the windows you can see the sea. Only the bedroom looks to the mountainside. With a large living-dining area with open kitchen and a bedroom with double bed the apartment offers plenty of space for two people. For a third person there is a sofa bed in the living room. The bathroom has a shower, bidet, sink and toilet. All rooms are equipped with ceiling fans. The bedroom also has air conditioning. All rooms can be centrally heated during the colder season. All windows are fitted with fly-screens and electrically operated blinds. The awning that covers the entire balcony, can be extended with a remote control. Equipment Kitchen: Well-equipped with modern appliances: Dishwasher, large refrigerator/freezer, oven with hob, extractor hood, microwave, toaster, coffee-maker, kettle, espresso cooker, dish towels, plenty of cutlery and crockery, basic spices, etc. Living/Dining area: Radio/stereo system,TV satellite/HDTV analogue/TV/PC-screen. Other: Washing machine, vacuum cleaner, bed linen, towels, hairdryer, laundry rack, electric iron/ironing board, balcony furniture, maps andinformation material of the region, various books. Internet-Café next door, WiFi-Internet access available free of charge in any Café/Bar/Restaurant around.
Was hat uns besonders gut gefallen: das Appartment ist geräumig, und vollständigst ausgestattet. Wer in der Küche Löffel schwingen möchte findet viele Arbeitsgeräte, zwei Sorten Kaffee, verschiedene Saftpressen, Teller für die Nachbarschaft und Gläser für die große Spirituosenverkostung. Was er nicht findet sind Staub auf dem Boden oder sonstwie unangenehme Funde - es war alles pikobellosauber. Was uns auch sehr gerührt hat ist Inges "Mama". Sie wohnt im Erdgeschoss und hat uns noch spät am Abend den Schlüssel überreicht. Von da an fanden wir jeden Morgen eine kleine Aufmerksamkeit an unserer Tür: frische Orangen (wir haben uns Mühe gegeben, aber so viel Saft konnten wir nicht trinken!) und Eier aus dem eigenen Garten - danke dafür! Sonst: eine bequeme Sitzecke, Handtücher waren da, das Bett ist nicht zu weich, die Kopfkissen für nackengeplagte Nichtknautscher geeignet. Die Dusche duscht. Überall Ventilatoren, im Schlafzimmer eine Klimaanlage und Fliegengitter... kurz: das Appartmen selbst lässt keine Wünsche offen. Was uns nicht so gefallen hat: Das Appartmen liegt in dritter Reihe hinter der Autobahn. Wer Nachts gerne mit offenem Fenster schläft, hört ein rauschen - nicht das des Meeres. Wenn man allerdings Klimaanlage oder Ventilator verwendet, die Fenster schließt oder auch sonst in der Stadt wohnt dürfte davon nichts zu hören sein. Der Ort selbst ist nicht weiter erwähnenswert, durchaus aber der Blick auf Meer und Berge - beim Frühstücken, Abwaschen und Abhängen, auch wenn wir zum Sonnenuntergang (im Winter!) nie in Terassennähe waren.
Jonas
2015-12-02T00:00:00Z
Room Type
Entire home/apt
---
Property Type
Apartment
---
Accommodates
2
---
Bedrooms
Derveni, Evrostina, Korinthien, Greece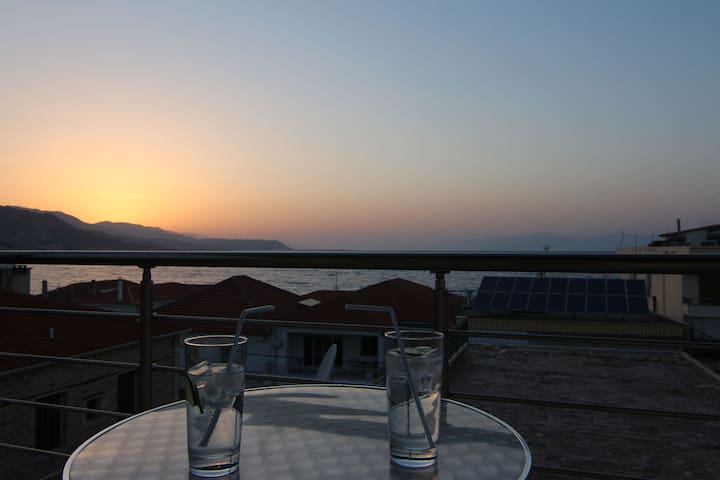 The studio is only 120 metres from the organised beach awarded "BLUE FLAG" for its cleanliness (ref. photos) and all the restaurants. Nevertheless the studio is located in a quiet residential area. The location is really just perfect. All the sunbeds and umbrellas on our beach are FREE-OF-CHARGE. You will also appreciate the studio for its comfort and the garden where you will be surrounded by lemon trees, orange trees, mandarin, grenade, grapefruit, hibiscus, jasmine, rose bushes, etc.
The studio is perfect to spend holidays at any season: in summer-for its beautiful beaches; in autumn-it's still the swimming season (sea water is 22-23 degrees, whereas air is 25-31). In spring you can sunbath without burning as from April, the temperature being between 20 and 28 degrees. In autumn, winter and even spring our garden is a paradise for the citrus lovers. Autumn, winter and spring are ideal for site seeing, Peloponnese being the cradle of the Hellenic civilisation
The studio is ideally situated: 1 minute walk to the organised beach and all the restaurants, but at the same time it's in the residential area and it's therefore quiet at night. Vrachati has without any doubt the best beaches in the region. Contrary to Kokkoni, Kiato, Corinthe etc Vrachati beaches are really large, several times wider than those in the neighbourhood.
Beautiful flat close to the beach. We didn't see Alena, but everthing works perfect. Garage, Garden, a Kitchen with a lot of things (but without coffee machine) and a nice big bed. The restaurants at the beach are a little bit expensive, but it's the touristic side of Vrachati. All in all its was a perfect stay. Thx to Alena
Robert
2017-01-07T00:00:00Z
Alena made sure that everything to make our stay comfortable was taken care of. She was away but arrival process was simple and place easy to find! Enjoyed the space, neighbourhood many walks while there.
Melody
2016-11-01T00:00:00Z
Η περιγραφή του σπιτιού ήταν σχεδόν ακριβής. Αντιμετωπίσαμε ένα πρόβλημα κατά την άφιξη διότι δεν μπορούσαμε να ανοίξουμε το σπίτι αλλά επιλύθηκε γρήγορα. Το σπίτι έχει ένα δωμάτιο με ένα κρεβάτι και κουζίνα και ένα ξεχωριστό μπάνιο. Ήταν καθαρό και πολύ όμορφο. Δυστυχώς λόγω του χειμώνα και λόγω της πολύ κοντινής του απόστασης από την θάλασσα, η υγρασία ήταν πολύ υψηλή (και στο πάτωμα και στον τοίχο). Το σπίτι κατά τα άλλα ήταν καλά εξοπλισμένο. Είχε κεράκια για να φτιάξεις ατμόσφαιρα, βραστήρα για να ζεστάνεις νερό αλλά και κουζίνα με σκεύη για να μαγειρέψεις. Το μπάνιο το οποίο δεν φαίνεται στην καταχώρηση δεν έχει μπανιέρα ούτε ντουζιέρα. Επίσης πολύ μικρές η ποσότητες των σαμπουάν. Το νερό ήταν πολύ ζεστό καθώς και η θέρμανση επαρκής. Ο χώρος ήταν όμορφα διακοσμημένος. Επίσης διαθέτει πάρκινγκ με πόρτα που κλείνει. Δυστυχώς λόγω της κακοκαιρίας δεν χρησιμοποιήσαμε τον κήπο. Ο κήπος όμως δεν ήταν περιποιημένος και παντού είχε πεταμένα κλαδιά από τριαντάφυλλα.
Ioannis
2017-02-27T00:00:00Z
Room Type
Entire home/apt
---
Property Type
Apartment
---
Accommodates
3
---
Bedrooms
Vrachati, Greece
The 60sm 1st floor apartment is located in a quiet neighborhood of Vrahati, right on the beach. It can comfortably accommodate 4 people (2 in the twin bedroom and 2 in the living room twin beds). There is a small open air kitchen where you can prepare your meals, one bathroom, one beautiful balcony overviewing the garden and one more bedroom balcony overviewing the beach by its side.
The apartment was renovated in March 2017
The neighborhood is mainly residential area. You should not worry about loud music and people.
Room Type
Entire home/apt
---
Property Type
Apartment
---
Accommodates
4
---
Bedrooms
Vrachati, Greece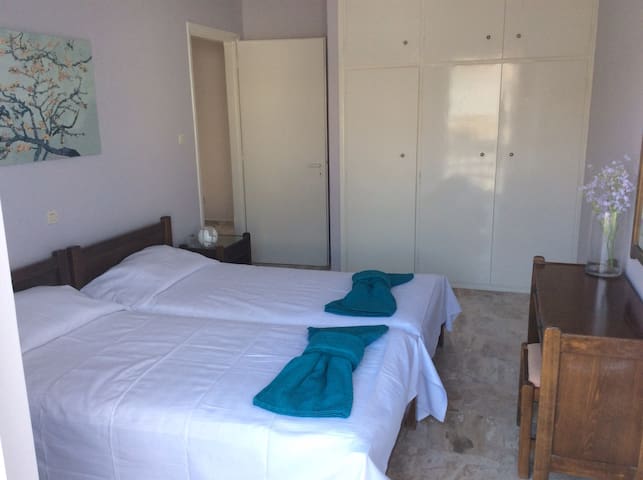 Family-friendly apartment in Derveni with comfortable terrace at the Corinthian Gulf only 70 meters away from the sea. The apartment "Family" is 68 square meters and with its 3 rooms is a perfect apartment for a family with children. It is located on the ground floor of the house. The apartment has a large living/dining area with fully-equipped open kitchen. In the bedroom with double bed you will find a large closet for all your stuff. In the small bedroom there is a single bed with underbed. This can be pulled out when needed. For a fifth person the sofa-bed in the living room can be folded out. There are two restrooms. One with a toilet and a shower, the other with toilet, washbasin and washing machine. All rooms are equipped with ceiling fans. The windows are equipped with mosquito nets and electrically operated blinds. All rooms can be centrally heated in the colder season. In front of the apartment there is a 18 qm private terrace, which can be reached via a few steps. Via a pittoresque stair, which leads to the road and to the beach, you get to the apartment. Equipment Kitchen: Large refrigerator/freezer, stove with extractor fan, toaster, coffee maker, kettle, espresso cooker, dish towels, plenty of cutlery and vrockery, basic spices, etc. Living/Dining area: Radio, Satellite-TV/HDTV analogue/TV/PC-screen. Other: Washing machine, vacuum cleaner, bed linen, towels, hairdryer, laundry rack, WiFi-Internet access available free of charge in any Café/Bar/Restaurant around.
Μείναμε στο διαμέρισμα (ζευγάρι με μωρό) για ένα διήμερο, επισκεπτόμενοι φίλους στο Δερβένι. Το διαμέρισμα ήταν πολύ καλό, ακριβώς όπως το περιγράφει ο ενοικιαστής, στο κέντρο του Δερβενίου, δύο βήματα από τη θάλασσα. Δύο μικρά θέματα υπάρχουν με το διαμέρισμα: η πρόσβαση γίνεται από σκαλοπάτια (για μας δεν ήταν πρόβλημα, για άτομα με περιορισμένη κινητικότητα μπορεί και να είναι) και δεν υπάρχει κλιματισμός (για μας το ΣΚ που πήγαμε επίσης δεν ήταν μεγάλο πρόβλημα, αλλά σε συνθήκες μεγάλης ζέστης μπορεί και να είναι). Κατά τα άλλα η διαμονή μας ήταν ευχάριστη, το διαμέρισμα έχει ότι χρειάζεται (δεν έχει επί της ουσίας μπαλκόνι ή αυλή, αλλά αυτό το ξέραμε εκ των προτέρων) και η τοποθεσία είναι πολύ βολική, οι ιδιοκτήτες εξυπηρετικοί και φιλική και το Δερβένι πολύ, πολύ ωραίο (με εξαίρεση τις εποχιακές τσούχτρες...)
Pantelis
2016-08-28T00:00:00Z
Room Type
Entire home/apt
---
Property Type
Apartment
---
Accommodates
4
---
Bedrooms
Derveni, Evrostina, Korinthien, Greece
Apartment sea view in central location Vrahatis. Ideal for families.
Room Type
Entire home/apt
---
Property Type
Apartment
---
Accommodates
4
---
Bedrooms
Vrachati, Greece
Corner Apartment 34t.m in Vrahati Corinth 1st Floor, 25 meters from the sea. Nearby holiday destination !!!!! Renovated in 2016. Windows with screens. Air conditioning. A parking space in the flats. Hosting 4 people.
Room Type
Entire home/apt
---
Property Type
Apartment
---
Accommodates
4
---
Bedrooms
Vrachati, Peloponnisos Dytiki Ellada ke Ionio, Greece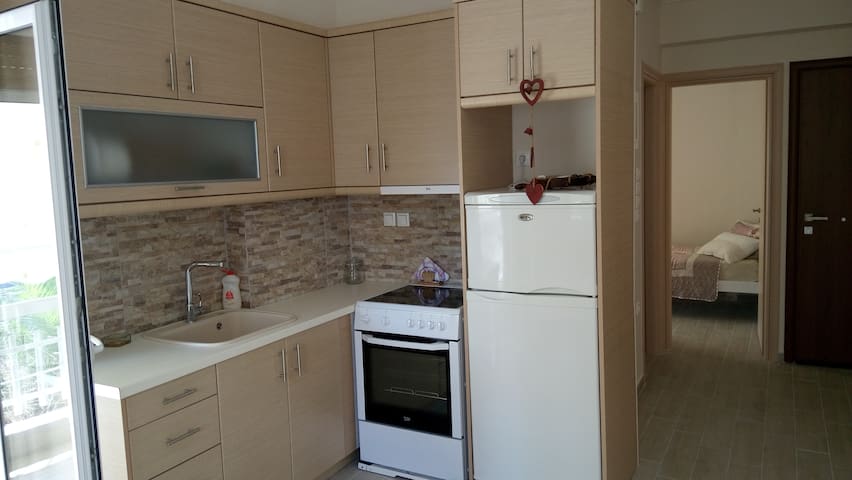 Ανακαλύψτε την Μυθική Πελοπόννησο. VRACHATI BEACH HOUSE δίπλα στο κύμα.
Discover the Mythical Peloponnese. VRACHATI BEACH SUITE by the sea waves (URL HIDDEN)
Wr loved our stay next Korinth. We had a fantastic view from The 2. floor And it was directly next to The sea. We could reach The antic Places in half an our an could swim afterward an in The Morning . The Apartment is next to a Lot of Restaurants
Uwe
2015-07-29T00:00:00Z
Nous sommes restes une nuit, petit coin super sympa avec restos a proximité (par contre pas de carte en anglais!), l appart est parfait pour 4, la mer juste en face pour un réveil parfait. Les hôtes étaient très accueillants et prévenants, il nous on apporte des bouteilles d eau car l eau n est pas potable.
Charlotte
2015-09-07T00:00:00Z
Room Type
Entire home/apt
---
Property Type
Apartment
---
Accommodates
4
---
Bedrooms
Vrachati, Peloponnisos Dytiki Ellada ke Ionio, Greece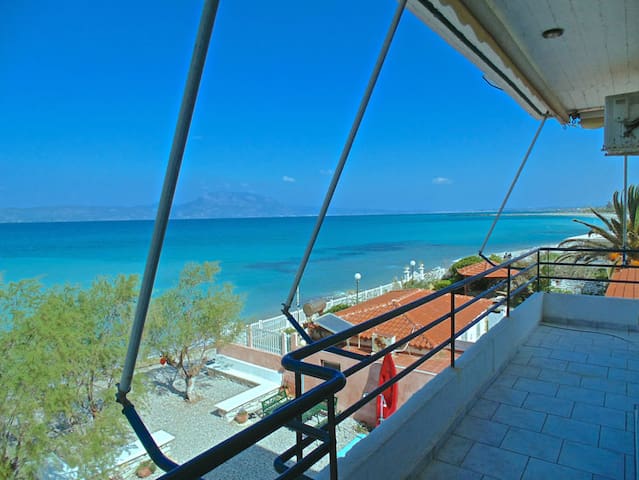 A lovely apartment, in a quiet place, just 80 m from the beach. Fully renovated (2015),can accommodate up to 5 persons. New kitchen fully equipped. Living room with new furniture, a sofa that turns into a double bed and a lounge chair that turns into bed, as well. A bedroom with a queen size bed for two. A cozy bathroom. Outdoors: 1 balcony at the front side with table and chairs. 1 balcony at the back side, with bamboo furniture. One bicycle offered with the apartment to explore the area!
Room Type
Entire home/apt
---
Property Type
Apartment
---
Accommodates
5
---
Bedrooms
Vrachati, Peloponnisos Dytiki Ellada ke Ionio, Greece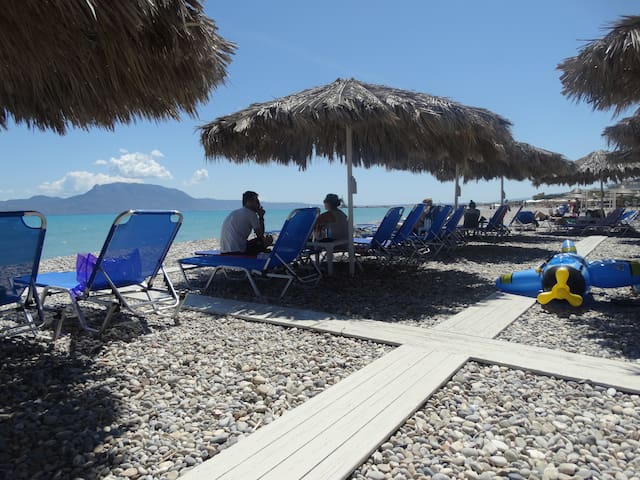 Seafront house apartment, with an extraordinary view, in one of the most privilege central area to explore Peloponnese and 50 min. trip from Athens. Large exterior spaces, relaxing interiors and high quality services. Best for sea side living!!
The interiors are as plush as you'd expect for your holidays. The apartment has the capacity to host up to 6 guests. Has 2 bedrooms, simple, comfortable and airy, 2 bathrooms with walk-in showers, an Open-plan kitchen with a dining area , a large and welcoming living room, free WiFi and satellite TV. Outside the green vegetation and the blue of the sea creates a striking color contrast.The walled gardens, the large exterior spaces, the outdoor dining and relaxation areas , the BBQ area with a vast fireplace and the spacious free parking, will make our guests enjoy a relaxing family home with standard high quality services!
The thing that i love in this house is that is peacefully located. In 5 min. by car you are in the center of the village which has restaurants, bars and shopping center.
Room Type
Entire home/apt
---
Property Type
Apartment
---
Accommodates
6
---
Bedrooms
Vrachati, Peloponnisos Dytiki Ellada ke Ionio, Greece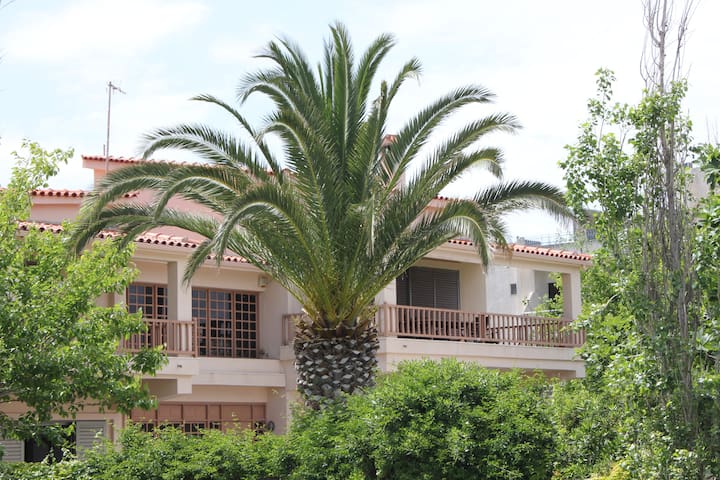 El apartamento de 40 metros cuadrados cuenta con una amplia cocina amplia sala de estar, 1 dormitorio con cama de matrimonio y litera, baño y patio frontal y trasera con bbq.Apechei a sólo 20 metros de la thalassa.Idaniko para la familia.
Una nueva marca de nueva construcción, amplio apartamento de 40 metros cuadrados, que ofrece todas las comodidades. LCD TV, reproductor de DVD, aire acondicionado incluso muebles Barbeque.I también es completamente nuevo. Su principal ventaja es su proximidad al mar, a sólo 20 metros.
Eso tiene todo.
Room Type
Entire home/apt
---
Property Type
Apartment
---
Accommodates
4
---
Bedrooms
Vrachati, Greece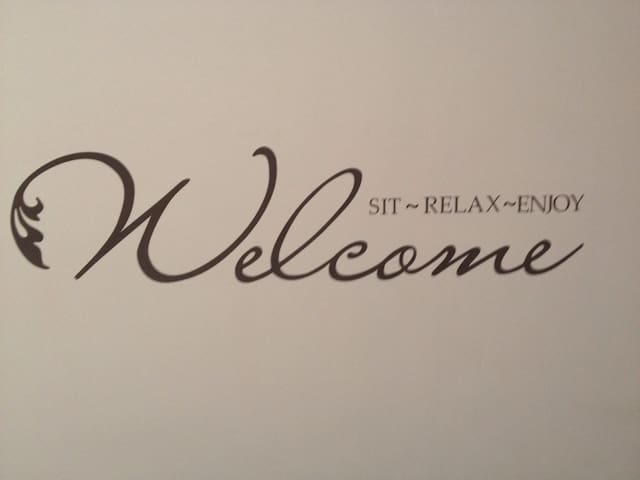 Discover tha Mythical Peloponnese. VRACHATI BEACH HOUSE by the sea waves.
Discover Mythical Peloponnese. VRACHATI BEACH HOUSE by the sea. To VRACHATI BEACH HOUSE features comfortable apartments with air conditioning, free Wi-Fi, TV, independent and fully equipped kitchen. Located in the cosmopolitan beach Vrachati, blue flag, right next to the beach and a short drive within 12 km from the shopping, business, center of CORINTH and important archaeological sites of the Peloponnese. Ancient Corinth, Ancient Sikion, Ancient Epidaurus, Mycenae, Nafplio, but Athens are some destinations that you can visit in a few minutes by car.
Really cool property. Right on the water and nice inside and out. The town was quiet when we went and we had a lot of fun at the beach bars within walking distance
James
2015-05-28T00:00:00Z
We had a great 8 nights at the apartment. We are a family of six with 4 kids under 12. We arrived later than planned but had kept in contact with Yannis that day to let him know. When we arrived we were met and shown around the apartment. There was fresh fruit in the fridge and bottles of cold mineral water. Yannis kept replenishing this water supply all week. Every couple of days he gave us more fresh fruit. The apartment was good, with everything we needed. Don't expect a plush 5 star place, you aren't paying that kind of money, but it was clean, up to date with air con in each room. We had a mid week clean. The location is okay, about 15/20 minutes through a couple of small villages because we did a lot of sight seeing we had to drive back and forth all this road a fair bit. We were central to a lot of the good sights and even drove into athens one day. (A must visit town is Nafplio) The area is a holiday area for Greeks, mainly coming out from athens to enjoy the beaches and beautiful water. The site is great, this apartment is the best in the block, we just open the door walk 20 steps and we are in the sea. The pebbles run from the water right to the front porch. We could wake in the morning and walk out to watch the sunrise and have a swim in the still morning water. The garden and beach are shared with the other apartments and so we were able to meet some of the local Greeks staying there too. It is quiet and no worry of feeling crowded. Yannis lights the garden up in the evening with candles giving the place a lovely atmosphere. Out in the garden area is a kayak to have paddle, BBQ, bats and balls, sun loungers and even the all important backgammon boards so you can look like a local. On one evening Yannis organised his weekly BBQ with all the guests of the block. We all brought the trimmings while Yannis organised the meat. It was fun tasting the local cuisine and trying to communicate with all the Greek residents. We all had a great time and would definitely recommend the apartment and the host to our friends and family. Our host was excellent and we were amazed regardless of what time we arrived back from a day trip he would appear at the gate with some goodies or just looking out for us. The real gem is his mum!!
ben
2014-08-13T00:00:00Z
Thank you for the perfect apartment ! We really enjoyed our Vacation's . The place is a terrific beach house close to everything ,cafes ,restaurants . And the people very nice there .
Rabie
2015-06-29T00:00:00Z
Great place for relatively big company with incredible option to spend evening around the table in 10 meters from sea. Great apartment for its price. Located in quiet place. 200 meters walking and you can find bars and restaurants. Liked it very much and for sure will recommend to anyone who is traveling from Athens to Ionian sea to stay a night or two.
Ivans
2014-04-24T00:00:00Z
Room Type
Entire home/apt
---
Property Type
Apartment
---
Accommodates
6
---
Bedrooms
Vrachati, Peloponnisos Dytiki Ellada ke Ionio, Greece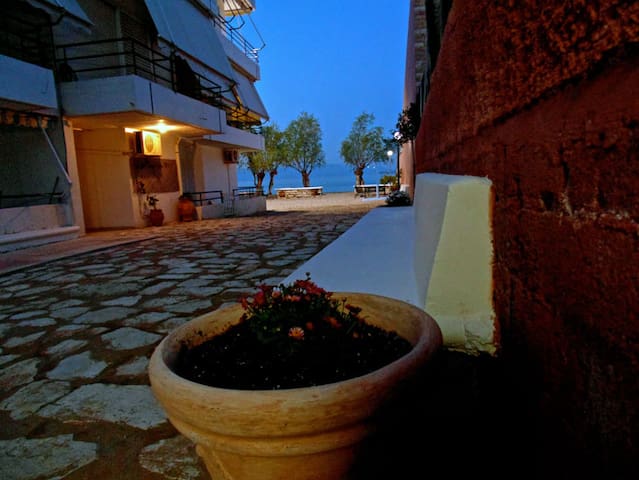 In a quite, secluded area this apartment is located not more than 100 meters from the sea and offers easy and relaxing vacation. It is also located right next to Alkyon hotel where our guests can use the swimming pool with only a 5euros/day fee.
The apartment has all the comforts one would expect to find in his own house. At the second floor the main apartment is located, which includes 2 bedrooms, one ensuite with a double bed and one with two singles and a WC. At the top floor, the attic level, there is one more ensuite bedroom. The top balcony offers a wonderful place to relax, enjoy the sea view and why not prepare your meal using the BBQ provided!
The neighbourhood is quite and is ideal for families or friends who want to relax and have carefree vacation. There is lots of activities you can do around Peloponnese from wine tasting to ancient sites and we will provide you with all information you need before your trip as well as a detailed guide once you arrive.
very elegant place for a family holiday. The house has everything you need for life. excellent location apartment, beautiful furniture, tableware. We were very pleased with these apartments. come again :)
Tigranuhi
2016-04-15T00:00:00Z
The house was very comfortable , clean and in a very good place close to the beach. It is the right place for family holidays . We would choose it again for our holidays. Thank you, Vicky
VASILIKI
2016-07-16T00:00:00Z
Sehr empfehlenswert. Wir haben zu viert in der Unterkunft übernachtet. Es stand genügend Platz für alle zur Verfügung. Die Wohnung ist sehr schön eingerichtet, sauber, gepflegt und hat eine gute Lage. Ein Parkplatz stand zur Verfügung. Wir haben uns sehr wohl gefühlt.
Jane
2016-08-02T00:00:00Z
Room Type
Entire home/apt
---
Property Type
Apartment
---
Accommodates
4
---
Bedrooms
Vrachati, Greece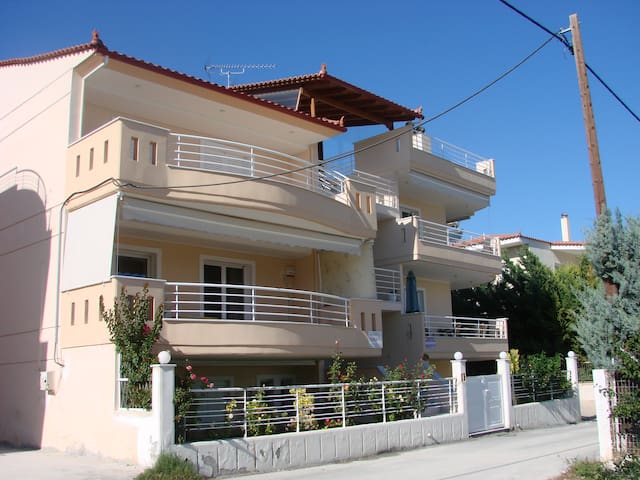 1

–

18

of

300+ Apartment Rentals
Enter dates to see full pricing. Additional fees apply. Taxes may be added.