If you want to run away from city noise, this is a right place for you. Only 30 m away from the beach.
Apartment is placed on the hill, 20 m above sea level with the stairs leading to it. It consists of one bedroom with queen size bed, one bedroom with two single beds, living room with sofa bed, kitchen, bathroom and big partially covered terrace with a beautiful view on Krnica Bay.
This is a very small and quiet place. Local people know each other and everyone are very friendly. Nearest grocery store and post office are in Krnica village, 3 km away. There is a restaurant nearby (250m away from apartment) where you can try great fish dishes. For active guests there are bike trails in this area and technical diving center focused on wreck diving in the Northern Adriatic.
everything was exactly like in the ad description also the photos are 1:1 like reality. appartment is very nice and comfortable and offers literally everything you could need. the terrace with deck chairs and roof (=> shadow!) is awesome. location is superb, the bay is very quiet, the shore just 50 meters from the terrace, very clear water, not many people, great for swimming. perfect for people looking for a place to relax. the restaurant nearby offers good fish from local catch. dubravka, the host, is absolutely uncomplicated, nice and helpful. this was probably my best holiday in croatia in many years.
willi
2016-06-26T00:00:00Z
The location of this apartment is absolutely fantastic! We explored a lot of the coast of Istria (this part of Croatia) and this must be the very loveliest of all the areas we visited. The apartment is south facing with a large patio, the equipment and cleanliness are superb, the bed is very comfortable. Dubravka is the perfect host. She lives in a separate apartment below this one and is always on hand to give advice while completely respecting our privacy. There are beautiful private coves for swimming just a few minutes away and the local fishing port has lots of atmosphere and a very friendly bar/restaurant. Thoroughly recommended, we will be back!!
Damian and Sue
2016-09-24T00:00:00Z
We had a great stay at Dubravkas Apartment. From the very beginning of our stay Dubravka did everything that we felt like beeing at home. The equipment of the Apartment is great and everything in perfect condition. Cleanliness on a high standard so nothing at all we could complain about. We want to come there as soon as possible again.
Andreas
2016-05-08T00:00:00Z
Dubravka was a wonderful host, very charming and welcoming. We felt right at home from the start. We even got some very nice welcoming gifts, like fresh fruits and chocolats! The house was very clean and practical with a very nice equiped kitchen and we loved the aircoditioning. The view from the big terrace is amazing and had some big parasols for shade. The beach is not private but not crowded and right in front of the house, which is perfect. Would recommend it! There's sadly no store in the vicinity so you have to take the car, but that didnt' spoil the fun. We had a very nice stay!
Ans
2015-08-13T00:00:00Z
We absolutely loved staying at this fresh and attractively furnished apartment. It was such a great place to relax and enjoy the amazing view from the terrace. You just can't get sick of walking out onto the terrace and seeing the view and hearing the seagulls laughing. The apartment is light, clean, cosy and set up with everything you could think of to make your stay comfortable. Dubravka has thought of all little things (e.g. hair-dryer, scissors, tealights, apron, serviettes, ...)! If we would have known before, we could have left half of our stuff at home! The beach is directly below the unit and a private parking space is provided. Dubravka has been an absolute joy to deal with -fast, polite and reliable - and always easy to get hold of, if we had any question. We would absolutely recommend Dubravkas apartment and would happily return! Maria & Umberto
Maria
2016-06-19T00:00:00Z
I recommend this apartment for a visitors who would like to stay in a very calm place not overloaded with tourists. The neighborhood is breathtaking and Dubravka is very friendly and helpful host that takes care of her guests in every aspects. The apartment is situated on a hill and overlook the bay. From a terrace which is fully equipped (table, chairs, barbecue, deckchairs and sun umbrellas you can go down to the beautiful beach or rather few of them. The flat itself is very cozy. Everything is brand new and there is all that you can imagine and even more. In the neighborhood there is a great restaurant with seafood and in the nearest village shop, bakery and pizza place. There closes big city is Pula. I'am glad we choose to stay in Dubravka's house and will come back for sure!!!
Dagmara
2015-06-28T00:00:00Z
De locatie was exact zoals beschreven stond. De hygiene en de uitrusting alles top. Prijs kwaliteit top. Wil je rust zeezicht en stilte en een gezellig verhuurder dan moet je bij Dubravka zijn.
Hubert
2016-09-18T00:00:00Z
Der Urlaub war sehr entspannend und schön. Dubravka ist sehr bemüht, dass alles passt und versucht eventuelle Fragen zu klären. Zum Apartment: Das Apartment ist sehr sauber und modern eingerichtet. Als einzigen Kritikpunkt ist zu erwähnen, dass es leider keinen Geschirrspüler gibt. Die Klimaanlage war wegen der natürlichen Kühlung im Haus nicht notwendig. Als leidenschaftliche Griller haben wir den gemauerten Griller täglich benutzt (vor Ort befindet sich Holz zum Anheizen). Die Terrasse ist neu gestaltet und mit Holz überdacht. Was ich super finde, da man dort auch in der intensivsten Mittagssonnen gemütlich lesen, liegen oder auch essen kann ohne das Gefühl zu bekommen das man gleich dahinschmilzt. Obwohl die Terrasse mit Holz überdacht ist bleibt der phänomenale Ausblick auf das Meer erhalten. Dieses erreicht man in 1 min vom Apartment aus (!!!), es müssen nur die Stufen hinab gestiegen werden. Das Meer ist sehr sauber und es befinden sich wenig Seeigel vor Ort. Ach ja was ich noch erwähnen wollte: - Man fährt mit dem Auto ca. 18min zum großen Pulaeinkaufszentrum. - Bezüglich Anreise: damit man zum Apartment kommt muss man auf der geschotterten Straße trotz Verbotsschild weiterfahren. (Unter dem Verbotsschild steht irgendwas auf Kroatisch was wir leider nicht verstanden haben). - ruhige Gegend, wenig Tourismus
Martina
2016-08-29T00:00:00Z
Room Type
Entire home/apt
---
Property Type
Apartment
---
Accommodates
4
---
Bedrooms
Krnica, Istria county, Croatia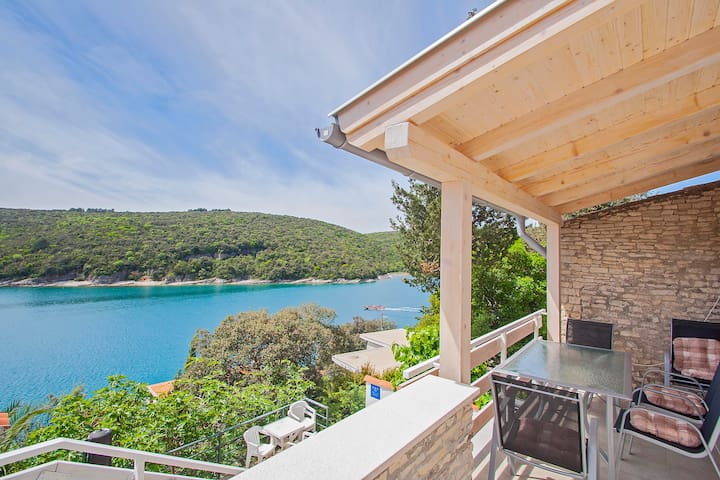 If you love going to the beach, but don't like the hassle of getting there, our house is right up your alley. With a 10 meter walk to the beach, we see it as our backyard! Forgot your book or tablet? You will be back on your beach towel in 2 minutes!
Besides the convenient location of the house, our family has had wonderful memories at this place and would love for you to contribute to the already extensive list. This house enables us to barbeque fresh fishes with some handpicked rosemary from the garden, dining at the balcony overlooking the sea, marvelling at the beautiful flowers and enjoying the peace and quietness of this picturesque place. If you feel like getting updated on your mail, the restaurant in the harbour provides free Wi-Fi and delicious coffee, or you can go up to the village and visit the pizzeria. Fortunately, the house is an internet-free zone.
For our more active guests, there are bike trails in the area as well as a diving centre right in the harbour (10 min. walk). If you feel like exploring the wonderful area of Istria, there are many interesting options for you to consider. For instance, you can visit the Cape Kamenjak, go shopping and sightseeing in Pula, have a visit at the Brijuni National Park or visit the "smallest city in the world" – Hum. According to the legend, Hum was built with the stones left over when giants were building towns in the river Mirna valley… who knows what you will encounter when visiting Hum! The airport is 25 km away (Pula) and the local bus station is 3 km away (Krnica Village).
We absolutely loved this place! It was homey and chic in a "boho" style. Everything was very clean, organized, and welcoming. Perfect space for relaxing and enjoying the beauty of Croatia. We enjoyed the grill, balcony, and cute kitchen. We also loved that the beach was just across the little road, only a few steps away. Everyone was friendly and kind, especially our hostess who made the stay very wonderful. We would definitely stay here again!
Sarah
2016-06-29T00:00:00Z
A wonderful experience in any aspect. We're looking forward to coming back some time soon!
Jonas
2016-07-10T00:00:00Z
We had a wonderful week in Villa Olanda! (Family at 5) This place with it's good atmosphere and spirit brought everyone of us in a good mood. So interesting and inspiring with all the private pictures, drawings and treasures. The house is fully equipped with what you need! It is placed at the end of a small route right beside the sea - very easy to go there and find a rock either with other people or if you want to find a place without just a walk along the rocks a bit further. You can even find a rock from which you can jump to the blue water and snorkel around.... After this we always used the nice shower outside in the garden! We had a warm welcome by Oleg and Dragica - and the written communication with Olanda was working perfectly! Dragica made our stay even more fantastic and unforgettable... Thank you! Highly recommend!
Lisbeth
2015-07-18T00:00:00Z
Klasse Unterkunft in toller Lage! Herzliche, hilfsbereite und großartige Gastgeberin! Wir kommen sehr gerne wieder!
Georg
2016-07-17T00:00:00Z
Dieses kleine Haus am Meer am Ende der Straße war himmlisch! Die Kinder und wir haben uns so wohl gefühlt, alles ist im Haus vorhanden, und bis zum Wasser sind es nur ein paar Schritte. Es war ruhig, friedlich, unberührt. Und die liebe Dragica hat dezent und liebevoll über unseren Aufenthalt gewacht und es uns an nichts fehlen lassen. Wenn jemand einfach Land und Meer und Leute in Kroatien sucht ... Bingo!!! : )
Anja
2016-05-27T00:00:00Z
Zum Haus: das Haus ist schlicht aber sehr liebevoll eingerichtet mit allem drum und dran, zB Kaffeemaschine und Espresso Kocher, Handrührer, Töpfe und Pfannen aller Größen, etc Zur Gastgeberin: die Oma von Olanda ist super herzlich und immer gerne behilflich. So gibt sie Gewitterwarnung weiter oder überrascht mit selbst gebackenem Apfelstrudel. Fazit: wir haben uns sehr wohl gefühlt und kommen gerne wieder!!
Katarzyna
2015-08-02T00:00:00Z
Room Type
Entire home/apt
---
Property Type
Apartment
---
Accommodates
6
---
Bedrooms
Krnica, Istarska županija, Croatia
apartment, 4 - 6 people, 3.5 room/s, 2 bedroom/s, 1 bathroom/s, approx. 90 m², 1 floor/s. Please note: Owner lives at the lower floor.
apartment, 4 - 6 people, 3.5 room/s, 2 bedroom/s, 1 bathroom/s, approx. 90 m², 1 floor/s., Please note: Owner lives at the lower floor. Furnishing: functional, tiled floor, parquet floor. Equipment: satellite TV; combined heating/air conditioning (in the living room). Living room/bed room: 2 x sofa bed, tiled stove. Living room/winter garden 2: sofa. Dining area: in the living room. Dining area 2: in the winter garden. Little kitchen: separate., Kitchen/ cooking equipment: 3 gas rings, 1 electric plate, oven, dish-washer, combination fridge-freezer, coffee machine, water boiler, toaster. Bedroom 1: double bed. Bedroom 2: 2 x single bed. Sanitary 1: shower, WC. Situation: suburbian area, in the district Krnicki Porat, sea view. Access/parking: gravel road, approx. 200 m., parking on the road near the house. Estate: (shared use with the owner): approx. 150 m², closed plot (wall), with plants. Plot description: terrace 50 m², furnishing provided, 4 deck chairs, brick barbecue.
Next village/town: Center Krnica in approx. 3 km Marcana in approx. 6 km Shopping: Next shopping possibility (Krnica) in approx. 3 km Harbour/marina: Harbour/marina Pula in approx. 26 km Beach/waters: Rocky beach (without crossing the street) in approx. 10 m
Room Type
Entire home/apt
---
Property Type
Apartment
---
Accommodates
6
---
Bedrooms
Marcana, Istria, Croatia
When my accommodation will like: the atmosphere, outer space, light, neighborhood, and a comfortable bed. Who is my accommodation: couples, solo adventurers, business travelers, and families (with children). The apartment is located 20 km. from the center of Pula, the sea is only 5 km. A beautiful view of the countryside. The airport is 15 km away. If you want to escape the noise and the city, this is the right place for you.
Room Type
Entire home/apt
---
Property Type
Apartment
---
Accommodates
3
---
Bedrooms
Krnica, Istarska županija, Croatia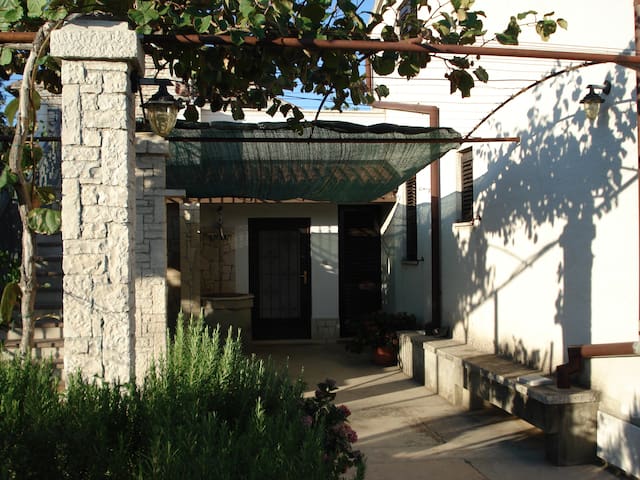 Our two bedroom apartment above the sea in the Istria, Port of Krnica, has a true relax feeling. It is in the small fishermen's village, never crowded.
Hidden in the hills of Port of Krnica, there is no Internet, no good cell signal, but there is a beautiful stony beach with crystal clear sea just under the apartment. If you want to see what real peace, silence and nature is about this is right place for you. There is possibility for internet in nearby tavern, a restaurant and pizzeria are in the village, 300 m far away, and grocery shop is in 2 km away Krnica village.
We stayed 4 nights at Koviljka - who was able to accommodate us at last minute, thank you! - and loved it. The location of the apartment is absolutely stunning, the views breathtaking. Pictures do not make it justice. The apartment is situated on the cliffs over the beach, and is only accessible via a slope and a long set of steps. There's some car parking near the bottom of the cliff but it's limited - if full, there's parking in the port area, further away. For us, this only made Koviljka's place more exciting, having a feeling of "off-the-beaten-track". It's tiny but very well appointed, with everything we needed to enjoy our stay. You can just roll out of bed and head down to the beach and come back for lunch barbecue. ;) We hope to come back again one day. Susana & Donald
Susana
2014-09-17T00:00:00Z
Very welcoming and waited fr me although I was late and did not hav cell ccontact. Showed me how all worked as well as places for coffee and eating. Also offered to show me Pula. Felt welcome.
Marlene
2015-05-28T00:00:00Z
We had a wonderful time at Koviljkas Apartment! :) It is situated at a very beautiful place, directly at the beach, which is never to crowed and the little fishermens' village has a good restaurant and in the next village, only a few min. away by car, there is also a restaurant and a little supermarket, so if you want to cook, you can get there everything you need. We would be pleased to come back there some day maybe... :)
Caroline
2015-09-20T00:00:00Z
The flat, its equipments and its location were absolutely fantastic! We had everything we needed, the view from the terrace is breathtaking. This place is also very close to Pula (about 30 minutes by car). We definitely enjoyed our stay and seriously consider coming back soon!!
Nathalie
2015-08-16T00:00:00Z
Everything went well, we have met Koviljka at a restaurant so she could show us the way (indeed, very hard to find without help). The place is just like described. The view is great and at the beach just a few other tourists.
Felix
2014-09-07T00:00:00Z
The apartment is in reality even better than on the pictures. It's a lovely place, everything seems newly refurbished and it's tastefully furnished. The huge roofed patio is a big plus! Koviljka was very welcoming and helpful. There's just one restaurant nearby, but if you look for a nice place away from the tourist crowds, this place might be the right choice.
HJ
2016-07-04T00:00:00Z
Absolutely loved this place. Perfect location. The terrace is great to sit out on and we had a barbeque every night. The apartment is small but perfect in every way - with Air-con for when it is too hot and everything that you need. Korvlika was great and there was a cold bottle of wine and beer in the fridge when we arrived. Some great touches - loved the outdoor shower, for coming up from the beach to sit on the terrace and dry out. Hope to make it back.
Simon
2016-08-21T00:00:00Z
We stayed 1 week in this lovely apartment and had a wonderful time. The apartment is situated in a remote area without many tourists. The water was clean and the view stunning. Koviljka welcomed us in the main "city" of Krnica and we had even some time purchasing food etc. in a local supermarket whereas Koviljka waited patiently for us. Afterwards she accompanied us to the apartment. The apartment is even better equipped as described, e.g. it has an A/C, which was very useful. However, the apartment is rather "simple" and most special about it is simple the amazing view and proximity to the beach (2 min path down a steps). We were able to park down at the beach and always found a proper parking space, only in the afternoon it became a bit more crowded, when local Croatians arrive for an evening swim. To conclude: we can highly recommend this beautiful apartment with a stunning view and an almost private beach. Thank you Koviljka!
Tobias
2015-07-25T00:00:00Z
Room Type
Entire home/apt
---
Property Type
Apartment
---
Accommodates
4
---
Bedrooms
Krnica, Istria County, Croatia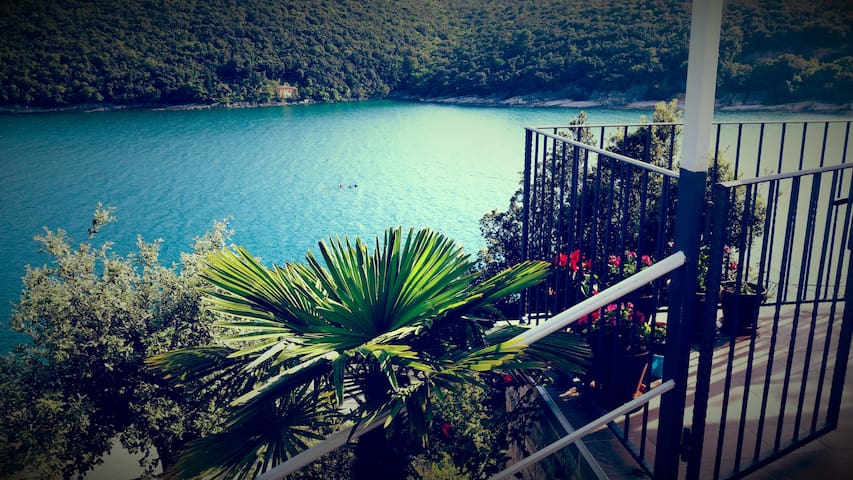 My place is close to the beach. My place is good for couples, solo adventurers, and families (with kids).
The apartment is in a very quiet area located. The equipment is frugally but very clean.
The beautiful sea is about 2 km far. The water is cristal clear and there are not to many people!
The house was quite clean, but the decor was pretty basic and furniture quite old. The beds were not that comfy either. The toilet was leaking, so the bathroom floor was constantly we. On the plus side, it's surrounded by nature and it's located quite close to the see and 20km from Pula. The is no asphalt near the house, so you need to be prepared to drive on a gravel road for a bit. The house felt very private, even though the owner lives upstairs (we never met him, as everything was done by the tourist office nearby).
Paulina
2016-08-23T00:00:00Z
Room Type
Entire home/apt
---
Property Type
Apartment
---
Accommodates
4
---
Bedrooms
Peruški, Istarska županija, Croatia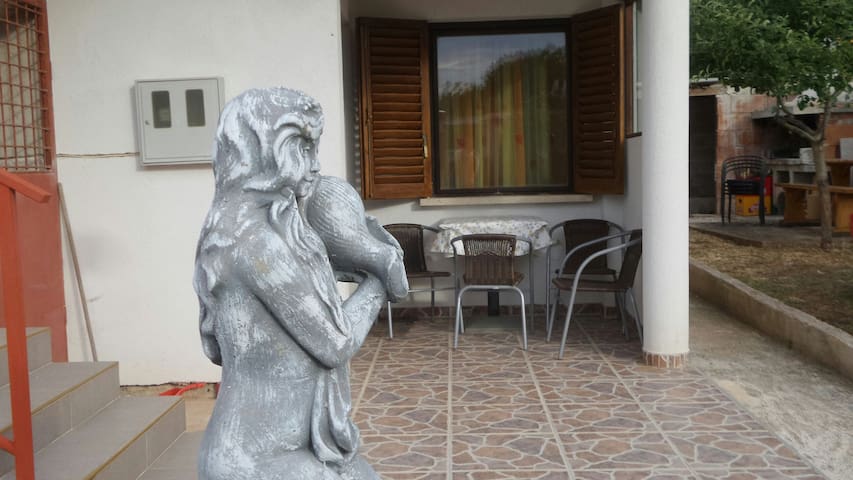 Our apartment is in a family house, just enough for an intimate holiday for two. With usage of swimming pool on the property, all kind of acitivites in nature, possibility for traditional meals, your vacation will be just great.
Perfect holidays in Istria ! A peaceful place with a swimming-pool... And nice quiet creeks in some kilometers ! I warmly recommend this place.
Neva
2015-08-15T00:00:00Z
Tina is very friendly and a careful host. The apartment is a small cozy place worth its price, perfect for a couple looking for relax. Peruskj is a calm village, very close to wonderful seasides and not far from beautiful cities like Pula and Porec. We also enjoyed the nice and tidy swimming pool.
Sara
2015-08-09T00:00:00Z
We are really happy that Tina made it possible to stay at her lovely place. Another host has just canceled our booking, but Tina was very spontanious so that we could even stay on short notice. Tina is also good with german and is a very open minded person. If we hat questions she helped us out. The apartment is even nicer than on the pictures, is has itselfs charming flair - you'll find everything you need for cooking, etc. Clima works :) The pool is really nice and clean - so was the apartment. You can find some hidden beaches close by, not crowded and used by local people. Thanks again!
Tobias
2015-08-11T00:00:00Z
We had a great time at Tina's place. The beaches around Peruška are really beautiful and not overcrowded. If you have time everything is in walking distance. Tina was really friendly, helpful and flexible. Thank you for everything! Sorry that we didn't say goodbye but we were in a hurry. P.S.: we loved the pool ;)
Tjasa
2015-08-01T00:00:00Z
Alles super! Klasse Unterkunft. Super nette Gastgeberin. Super pool und eine selbst im August wenig besuchte Bucht in 3km Entfernung :)
Marcel
2016-08-25T00:00:00Z
Tina und Ihre Familie sind sehr nette, sympatische Gastgeber, die wirklich alles für Ihre Gäste möglich macht, um den Urlaub so angenehm und interessant zu gestalten. Es ist sehr sauber und alle Wesentlichen Dinge sind vor Ort. Nach Pula fährt man ca. 25 Minuten und dort findet man alles, was der Mensch braucht oder auch nicht. Im Ort Perusiki selbst gibt es einen fußläufigen kleinen "Tante Emma Laden" und nebenan gleich eine Bar. Uns hat der Urlaub sehr gefallen, den sehr sauberen Pool haben wir oft genutzt und zum Meer sind wir mit dem Auto ca. halbe Stunde (zu Fuß war uns der Weg zu lang). Es gibt mehrere fast einsame Buchten und eine sehr schöne, wo auch eine Asphaltstraße hinführt, die belebter ist. Am Wochenende sind sehr viele Einheimische in Duga Uvala. Aber man findet immer ein Plätzchen. Vorallem bei leichtem Wind ist die größere Bucht sehr schön, die Wellen, die türkisfarbene saubere Adria, auch die felsigen Strände laden zum Schnurcheln und baden ein.
sybille
2016-07-31T00:00:00Z
Sehr schönes abgelegenes Dörfchen und ein tolles Apartment mit Pool! Was will man mehr :) Eine sehr gute Gastgeberin, die einem auch wirklich sagt wo man hinfahren sollte und wo nicht. Sehr hilfsbereit, Danke Tina der Seeigelstich ist verheilt :) Alles sauber ! Sehr zufrieden!
Sven
2016-07-13T00:00:00Z
E' stato facile arrivare e Tina e' stata molto disponibile. La casa e' come descritto nell'annuncio e anche la spiaggia piu' vicina non era difficile da raggiungere in macchina in 5 minuti.
Waltraud
2016-08-21T00:00:00Z
Room Type
Entire home/apt
---
Property Type
Apartment
---
Accommodates
2
---
Bedrooms
Peruški, Istarska županija, Croatia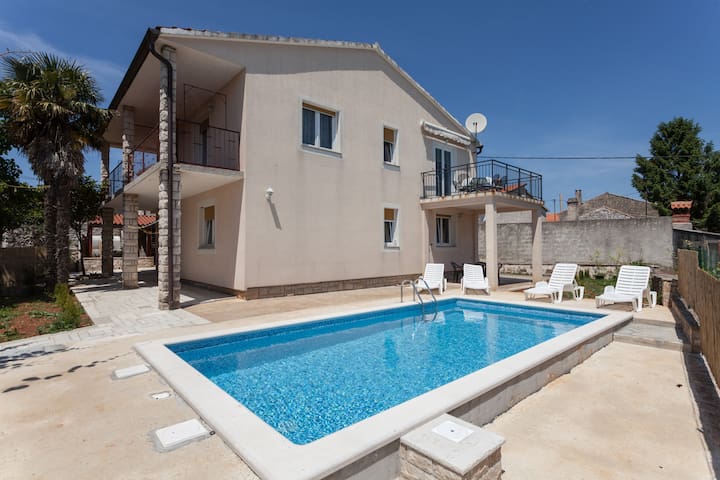 This villa with private pool and 2500 m2 of fenced private yard is located in a little Istrian village Pavicini near the wonderful beaches of Duga Uvala. Only 25 km from Pula, 1,8 km from the Sea. Max. 8+2 persons, 4 bedrooms, 4 bathrooms, kids playground, air-conditioning in every room.
This newly built villa is located in the small Istrian village Pavicini near the beautiful beaches of Duga Uvala. It is equipped with quality and modern furniture. The ground floor and the first floor are connected by internal stairs. The ground floor consists of a fully equipped and furnished kitchen, toilet, large living room and two double bedrooms each with its own bathroom. On the first floor there are also two double bedrooms each with its own bathroom. For even greater comfort this Villa is equipped with 4 air conditioners, which will be of great use during the warm summer months. The villa is surrounded with 2500 m2 of fenced private yard. There is also a specially designed space for children to play, with a swing and a slide. A large covered terrace of 40 m2 with outdoor barbecue is located right next to the swimming pool. There you can spend a lot of time in a cozy gathering with friends or family accompanied with delicious grilled meat or a glass of Istrian vine.
Room Type
Entire home/apt
---
Property Type
Apartment
---
Accommodates
10
---
Bedrooms
Krnica, Istarska županija, Croatia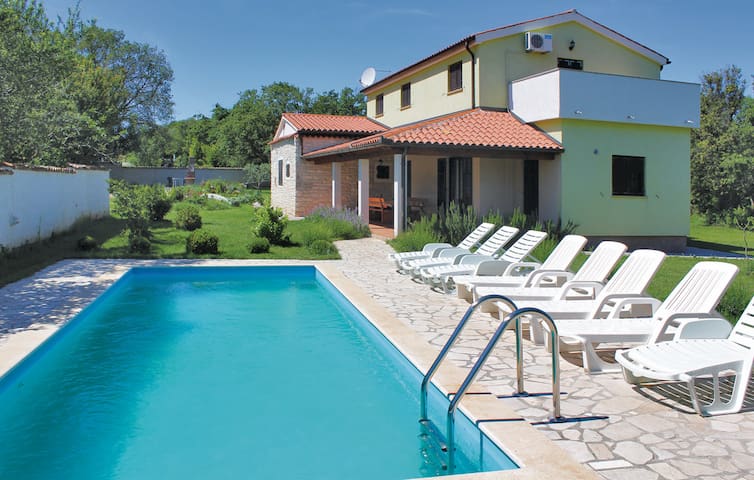 The house is located in a lovely village 20 km from Pula. It is ideal for families or friends looking to relax and enjoy away from the City. It is situated on a hill overlooking the sea, surrounded by beautiful forest, pastures and vineyards.
Country size house with rural atmosphere. Perfect getaway from everyday stress and speed of life. The house is surrounded by trees in a peaceful part of Krnica. Here you can enjoy in a fresh air, forest, birdsong with direct overview on the sea.
We had a wonderful time staying in this nice apartment in Krnica! Andrea is an excellent host. Not only his place was exactly, what we were looking for, it was better than we expected, indeed. The fully equipped apartment very clean and tidy. It is wonderfully located with a great view from the balcony as well as from the nice big garden. It is quiet and private. With my mum we extremely enjoyed this idyllic location disconnected from the outside world. The photos are faithful to the apartment - actually, it´s nicer than you can see in photos. The house is located close to the sea, and easy 10-minute walk to the beach. We only missed the path to walk also to the other side of the bay.
Branka
2015-09-05T00:00:00Z
The apartment was very comfortable and clean, we very much enjoyed our stay. The location is a quiet and pleasant area. Loved it!
Khulan
2016-07-10T00:00:00Z
The house was delicious and well described. The location is great for people who are looking for peace and relax. The sea is just wonderful and close to home. Andrea was a great host, very hospital and communicative. We have found in him something more than a simple host!
stefania
2015-08-16T00:00:00Z
During our stay in the house Andrea was a very kind and attentive host. The flat tiny and neat, just as described. If you are looking for a quiet place with lots of nature this is the place to be. Everything was just perfect and as described. The house offers a beautiful view to the sea and we had a very nice and relaxing stay. If you are there you notice that Andrea takes care of the house and the garden with a lot of attention, which makes it an even more beautiful place. Thank you!! We look forward to our next stay.
Andreas
2016-08-01T00:00:00Z
An uniquely placed apartment with a great view and a big garden with trees to provide shade. The apartment perfectly fits a small family (we were 3 adults and a small dog). Luka Krnika is the perfect place for a relaxing vacation. No loud nightclubs or traffic, just the calming surroundings with the occasional sound of a fishing boat sailing to or from the small harbour. In Luca Krnika we found a few fellow tourists and so the rock beaches were almost only used by locals. The water was great, we found sea urchins, different fish and giant mussels (length of an forarm!), the water is clear and the stream is weak. We also found a small walking trail through the forests and an amazing organic goat cheese farm where we were guided around to see the process of the cheese making. The nights are wonderful as there is no light pollution from big cities, which means that the sky is luminated by the moon and the stars. Our host Andrea and his family is very helpful and nice hosts, if we had any questions they wereeasy to get in touch with. They visited us a couple of times during our stay and brought local wine for us to try, and were generous enough to share a lot of stories and tips about the apartment, the local area, Istrien and Croatia. We would claim that we are pretty experienced tourists in Croatia, having visited many times before havin a bit of a 'been there done that'-feeling, but this particular place blew us away! It is in Top 3 – if not the best - when it comes to relaxing and de-stress and will be happy to have the posibility to come back one day! Tips (specially if it is your first time in Croatia): Buy some swimmingshoes as the beaches are rocky (cheep in most stores). Wear good shoes or sandals as you walk down the trail to the beach (no filp flops!) Find a free starsky map on your phone (we could see both Mars and Saturn in the night) Try the Croatian Jana Vitamin Water! Bring books, lots of books (or audio books) and games! Take a nap in the hammock or sit under the trees and enjoy that view you only thought possible in glossy magazines or way out of budget vacation resorts!
Torben
2016-07-22T00:00:00Z
Sehr gute Vorabkommunikation. Verabredung und Führung zum Apartment haben sehr gut funktioniert. Andrea hat uns sehr freundlich empfangen und das Apartment mit ausführlicher Einweisung übergeben. Durch die sehr ruhige Lage des Hauses im Wald, mit der schönen Ausicht von der Terasse und dem Garten auf die Bucht und die Adria haben wir genau das gefunden was wir wollten-Ruhe und Entspannung. Zugleich war es ein guter Ausgangspunkt um auf Ausflügen Istrien kennen zu lernen. Die gut zu Fuss erreichbare Badestelle an der Bucht haben wir oft besucht. Ebenso das Fischrestaurant im 3 Minuten entfernten Fischerhafen. Rundherum hatten wir eine sehr schöne Zeit und konnten uns sehr gut erholen.
Christrina
2016-09-18T00:00:00Z
Logement idéal pour 2 adultes et 2 enfants,superbe vue sur la mer.L'appartement est propre et les propriétaires sont extrêmement sympathiques et (URL HIDDEN) recommande chaudement.
François
2015-08-09T00:00:00Z
Room Type
Entire home/apt
---
Property Type
Apartment
---
Accommodates
4
---
Bedrooms
Krnica, Istarska županija, Croatia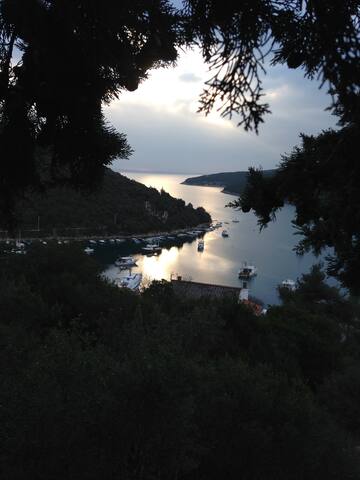 Apartment Nika is placed in the old Istrian stone house that includes 2 apartments for rent. It is on the ground floor with beautiful yard and place for relaxation. on the first floor is Apartment Luna Sky https://www.airbnb.com/rooms/13554658 My place is close to restaurants and dining, the beach, and family-friendly activities. It is good for couples, solo adventurers, families (with kids), big groups, and furry friends (pets). There is possibility for renting entire house.
Apartment offers you a relaxed holiday with garden, barbecue, wi-fi, Sattv.
Room Type
Entire home/apt
---
Property Type
Apartment
---
Accommodates
4
---
Bedrooms
Šegotići, Istarska županija, Croatia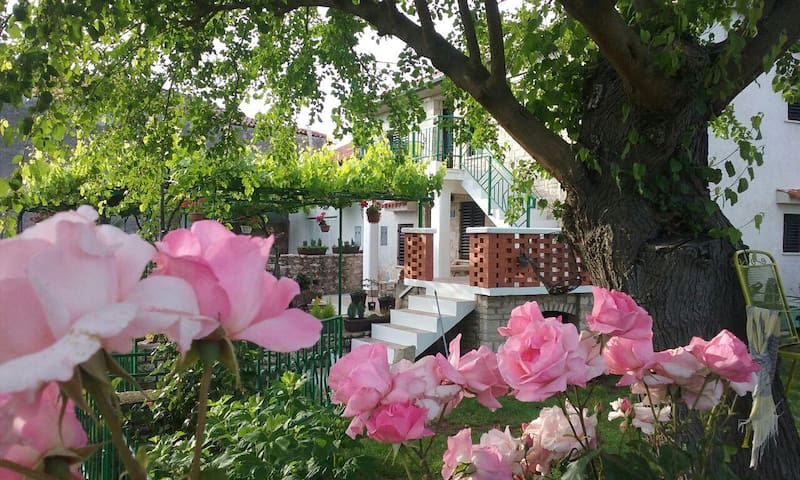 Nice and big Apparement ideal for 4 persons. 2 bedrooms. Fully equipped kitchen. Own shower and WC. Spacious terrace with seaview to relax or take dinner. The town Peruski is more an off location than a tourist spot. We offer our apartment especially to those who like being in a remote and quiet area. The beaches are beautiful and never overcrowded the water is christal-clear. The area is simple and some roads are not built yet. The nature on the other hand is the winner. True local!
I am renting out a "small" appartement in Peruski. Peruski is a small village 15km away from the capital city of Istria named Pula. The village center of Peruski has except a small market and nice little old istrian houses not too much to offer, which means that Peruski is a place which isn´t overloaded by tourists. A car is recommended and good restaurants are in 2-5km reach. The big advantage that Peruski is located in an non-touristic area of Istria is that the beaches and nature is breathtakingly beautiful, the beaches are never overcrowded and the water is very clear. Also the contact to friendly local people is guaranteed where you can buy local produced vine or honey ect. Bigger cities like Pula (15km), Rovinj (40km), Porec (60km) are in reach and worth a visit. Finding Villa Caja in Peruski is exotic. You have to drive through Peruski and a non-asphalted road through the woods to reach the house. Once you are there you are sourrounded by green trees and the sea is a 5 to 10 minutes walk. We offer two apartments. A bigger (5-6 people) and a smaller one (4 people). Both Appartments are on the top floor of the house. They both offer shower and WC and both have a small kitchen. Fruthermore both Appartments offer a generous terasse with sea view. If you want to make a barbecue feel free to ask fo a grill. The kichtens are well equipped. You should bring your own sheets for the beds though.
What a fantastic hidden spot, a real secret treasure. Thanks to Jozo, the early morning fish, lots of special drinks and beautiful tipps this was a fantastic stay in the woods of Istria. Vielen Dank Jozo, wir haben es sehr genossen !
Stephanie
2014-06-13T00:00:00Z
Nice apartment close to the sea. Jozo is a very helpful and nice!
Martin
2015-07-30T00:00:00Z
Jozo is a perfect host, very helpfull with good advices and adresses. The appartment is true to description, the beach is very near and the area is wild, quiet and not too touristic.
Helene
2016-08-11T00:00:00Z
The host was very kind, helpful. The house is nice, tidy, there's everything you need, and there really is a barbecue if you ask for it. Sea is close and beautiful. The village is quiet, filled with locals, literally no tourists.
Ákos
2014-08-10T00:00:00Z
Jozo is a lovely and solicitous host, making us feel really welcome. He was able to quickly address any little problem. The flat is not fancy but it has everything one needs for a short stay. The view from the terrace is beautiful and the clear water beach just 10 minutes walk away.
Raffy
2016-08-14T00:00:00Z
Jozo is a great, warm-hearted person, we really enjoyed our trip, not to mention the great home made schnaps he gave us. The apartement is ok (typical summer apartment), the sea is 15 minutes from the house with a lovely "private" beach. All the bests, Jozo! :)
Ágh
2014-08-13T00:00:00Z
We had a nice stay in Jozo's appartment (apt. 2), upstairs. We particularly enjoyed the terrace and the nice places to enjoy the sea nearby. The house is not that easy to find, but Jozo is very nice, welcoming and helpful.
jeanloup
2015-08-31T00:00:00Z
We had a very pleasant Time in Jozo's place. The flat is 10 minutes walk from the sea, in a lovely wild area with Sun and happy peoples in the little village. We had great Time
Lise
2016-08-01T00:00:00Z
Room Type
Entire home/apt
---
Property Type
Apartment
---
Accommodates
4
---
Bedrooms
Peruški, Istria County, Croatia
In our cozy typical Istrian house we offer accommodation in apartment for 3-4 persons. You will experience relax, peace, intact nature and beautiful beaches near by. In a 20 minutes drive you can visit the largest city in Istria, Pula ;)
Our house and apartment is in a great little place in Istria. When you wake up, you have 30 steps to excellent coffee at our local restaurant KUM (Godfather). But before that, check back to the bakery, which is located next to the entrance to the apartment and buy fresh baking. After you drink a cup of coffee go across the square in a small store and buy something fresh for breakfast. And then begins a wonderful day of vacation ... go to two-five kilometers distant - beach, fishing, cycling, horseback riding, wine tasting, cheese, visiting three thousand year old city (Pula) and the mandatory tour of the amphithatre. When you want to change, you can go on a one-day trip to Venice, Rovinj, Istria tour, Plitvice Lakes ... During the holiday with us you breathe fresh air, swim in crystal clear water, eat healthy food and enjoy nature and quiet. We look forward to seeing you :)
KRNICA - is a small Istrian village. The harmony of peace and silence. The nearest beach is located in about 2 km away. In the surrounding villages you can taste wine, cheese and local cuisine. You can rent a bicycle or boat. In the local travel agency you can book one day trip to Venice, Plitvice Lakes or Istria tour. It covers the top of the Istrian peninsula and the ancient city of Pula. It has great cultural significance and the largest monument is the amphitheater which is the entire summer organizing various festivals and shows films within the film festival.
The apartment is clean and very nice with a beautiful terrace. The house is in the center of the Village. Bakery, supermarket and restaurant are close to the house. Hosts are very nice. We hope to come back soon!
Barbara
2016-08-09T00:00:00Z
We spent ten wonderful days in Ljiliana's house in Krnica. It was our first trip to Istria and we just fell in love with it :) Ljiliana thank You for everything! 1. The hosts: Ljiliana and her husband are very friendly and helpful. Ljiliana's friend, Dragona, who works in a travel agency ten metres from the apartment speaks English and German fluently and she gave us every information we needed about the area - beaches, shops, things worth seeing etc - we also got some prospects which was very useful. 2. The appartment: very clean - everything almost new - towels, beddings - fresh and nice smell. A very nice thing about the appartment is that it is not a "non style" building. It is made of stone and wood, with a cozy terrace, which gives this place a traditional climate. Beeing there you can feel like a member of this small society :) Next to the appartment there is a coffe bar, people sit and talk sometimes till the morning - we loved that relaxing sound of whispered conversations coming from outside :) but If you close the the window every noise disappears - it's quiet. The rest - like in the description - air conditioning, wifi, parking place etc. - everything is ok. 3. Location: If you have a car - great. You can go to Pula, Kamenjak, Rovinj and many other beaufiful places. There are beaches two km from the appartment ( 3 min by car), but I personalny prefer Racaj (about 10 min by car) with the amazing view from St. Agnes church.
Marek
2015-07-30T00:00:00Z
Our stay at Ljiljana was absolutely wonderful.out of the 5 different places we stayed at during our 2 weeks croatian trip, this was by far the most authentic and relaxing place. From welcoming us to check out , their smile and help were truly appreciated. The place is large tidy clean and comfortable. The village is quiet and has the necessary: little market, bakery and pizzeria. You need a car to get there and access the surroundings. If you are looking for a truly authentic croatian village and experience this is the place to stay
Yann
2016-08-11T00:00:00Z
The apartment is located directly in the centre of Krnica opposite of a Pizzeria. It takes about 5-10 minutes by car to drive to a nice and silent beach (rocky beach). The apartment is in a well condition and very clean and has a very beautiful terrace where you have a view on the sea. Ljiljana and her husband were very nice and friendly. W-Lan connection was working only on the terrace. A bakery is directly below the apartment, coffee in the morning can be bought in the Pizzeria opposite. A supermarket and post office is located opposite of the apartment. We would definitely recommend the place and come again.
Rike
2015-08-29T00:00:00Z
Ljiljana and Gino are lovely hosts who made us feel especially welcome and always seemed to be on hand to answer questions and provide tips of places to visit etc. The preferred language for discourse is French / Italian or German. Mirroring the comments of others the apartment is clean and well equipped - the washing machine was extremely useful as teenagers arrived for a weeks stay after a 2 week inter-rail stint with laundry. The main bedroom is large with plenty of storage. The en suite shower / laundry room is small and functional but as the only bathroom has to be used by any other guests sleeping in the main reception on the sofa beds. The very large sun terrace has pleasant views although the sea is a long way off, ample drying space, sun loungers and a large patio table / chairs which was just perfect for leisurely breakfasts whilst planning the day's activities. There is a bakery beneath the apartment but you'd hardly know (very quiet). Only white bread and pastries were available so I preferred to use the excellent local shop 50 meters away where granary loaves, excellent local cheese, fruit, veg, beer and wine (the reds to my palate being more successful than the still entirely quaffable whites) could be had at fair prices. The Post Office has just about the most flexible opening hours I've ever seen - something like 8am to 8pm ..and is even open on Sundays. You can draw cash on a card from there too..good to know as a lot of Croatian restaurants / cafes expect payment in cash only e.g. the Pizzeria in the village. A cursory glance should make it obvious you'll need a car to stay here but it is a good location from which to tour Istra. Swimming is very good with the cleanest water I've seen in the Med (note there are very few sandy beaches - more rocky coves). Do check out the swimming at Krnica Port (3km) and the fish restaurant 'PortoRico' down there being much better (best quality meal we had) though admittedly less convenient than the Pizzeria in the village where service is very very slow - you've been warned. Being my first visit to this area I was surprised just how quiet the region was away from the main coastal towns of Porec, Pula, Rabac and Opatija (Austro Hungarian styled Monte Carlo). The hill towns are like small scale Umbria: Motovun is overrated (you'll be charged for parking there). Go to Vizinada, Oprtalj, Beram, Rum (very atmospheric), Buzet and the hippest place of all Groznjan instead. Visit Vodnjan to see a classic Italian town still with indigenous Italian families who didn't leave after WW2 and pro Tito graffiti. I recommend a trip to Brijuni Island too if only to see the Photographic Exhibition of Tito - a fascinating insight into the man and Yugoslav history. Trivia: The classic war film Kelly's Heroes was filmed in Vizinada! Enjoy your stay.
David
2016-08-21T00:00:00Z
Perfekte Unterkunft,um abzuschalten und Batterien wieder neu aufzuladen
Diana
2016-08-07T00:00:00Z
Traumhafter Urlaub in einem fantastischen Appartement und einen bezaubernder Gegend Ljiljana und ihr Mann haben uns ein sehr willkommenes Gefühl gegeben! Sie wohnen im Erdgeschoss, das Apartement befindet sich im ersten Stock. Die beiden waren sehr nett und hilfsbereit, aber dabei überhaupt nicht aufdränglich. In diesem Appartement hatten wir eine eigene Wohnung mit dazugehöriger Terrasse, ganz für uns alleine. Uns hat das Meer in krnica sehr gut gefallen, das Wasser ist kristallklar und es ist absolut nicht überlaufen. Bäckerei, Supermarkt und gemütliches Restaurant befinden sich innerhalb von 50m. Wir können dieses Apartement nur wärmstens empfehlen und würden auch selbst jederzeit unseren Urlaub wieder da verbringen!
Hanneke
2016-09-01T00:00:00Z
Room Type
Entire home/apt
---
Property Type
Apartment
---
Accommodates
4
---
Bedrooms
Krnica, Istria County, Croatia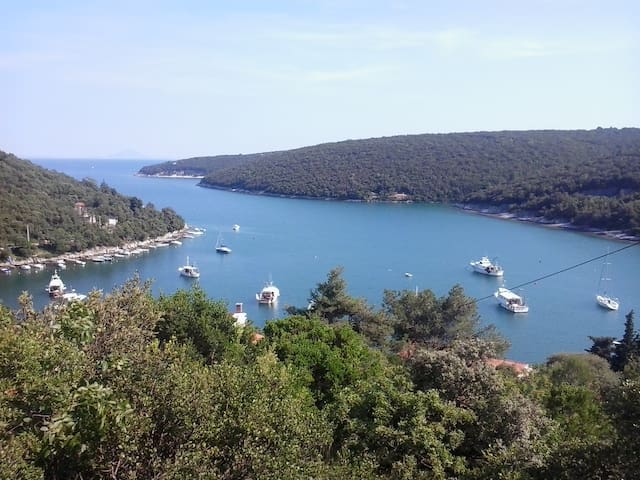 That is an cozy apartment in a very quiet area, surrounded with the nature. Next to it is an other so it can be interesting for bigger group of family or friends. The sea is about 2-3 km far and it is crystal clear!
Room Type
Entire home/apt
---
Property Type
Apartment
---
Accommodates
4
---
Bedrooms
Kavran, Istarska županija, Croatia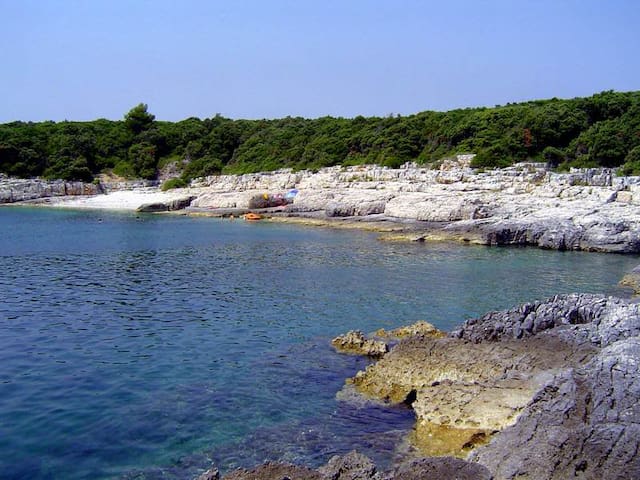 Apartment is stationed in a peaceful area with low traffic, and with a splendid view to the sea and islands. They are ideal for families with children, and families who want to spend a quiet and safe vacantion.
Apartment has 60 m2 with 2 bedrooms, one with extra double bed, one with two extra beds for a person with a kitchen dining room, bathroom and balcony. In front of the house it's garden of about 100m2 with table and grill . The price includes linen of bed-clothes, towels, area conditioning, wi-fi, a private parking, cleaning.
In the surrounding villages (3-5 km) you have the option to spend well your free time when you are not in one of the beautiful beaches. They are spread in peaceful bays situated about 2 kilometers from the apartment. The content is very varied so close you can enjoy in the swimming pool (at Hotel Croatia) in Duga uvala, in water park, paintball and adrenaline park. You can go on cycling along the road or along forest trails that lead to the sea. If someone is a lover of horses and riding we can organize this type of activity at Ranch Barba Tone in Manjadvorci.
Giusto compromesso tra entroterra e mare. Ottima posizione per esplorare l'istria. Sistemazione con buon rapporto qualità prezzo, ottima se si ha un cane e si amano le grigliate fatte in casa.
Roberto
2015-08-22T00:00:00Z
Room Type
Entire home/apt
---
Property Type
Apartment
---
Accommodates
5
---
Bedrooms
Peruški, Istarska županija, Croatia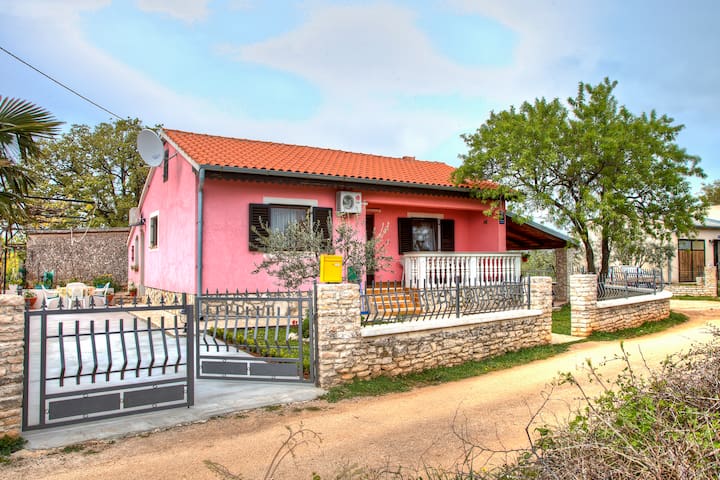 The apartment is located near the beaches of different type. Crystal-sea mixed with sunshine and surrounded with plenty of untouched nature is something you would love to experience! Nearby there are shops, restaurants and bars.
4 people
If you don't feel like cooking, there are pizzerias and restaurants around Duga uvala as in Marcana or Krnica (near the sea, don't miss it). You won't lack bars. The facilities of the Hotel Croatia in Duga uvala should have been restaurated until summer (a bar, a restaurant, sport playgrounds...). Your children can also enjoy the inflated rubber toys in the sea as slide, jumpers...
Great host who shows great interest in the visitor and their needs. The apartment is clean and have everything you need for a pleasant staying, close to the water and a nearby shop. I recomend Saša as your host!
Sammie
2016-07-12T00:00:00Z
The apartment was clean, equipped with everything possibly needed for our stay. I would like to highlight that the apartment is well-groomed. The hosts are nice and pleasant people open to our needs, helpful and polite in contact. The sea is within walking distance, we enjoyed mostly the large rocky plates. Environment is baby friendly. And as the best restaurant we nominate Luna in Prodol, Krnica. If we traveled again to Istria in the future, we would not hesitate to come again to Sasa. Thank you!
Anna
2016-08-30T00:00:00Z
Room Type
Entire home/apt
---
Property Type
Apartment
---
Accommodates
4
---
Bedrooms
Duga uvala, Istra, Croatia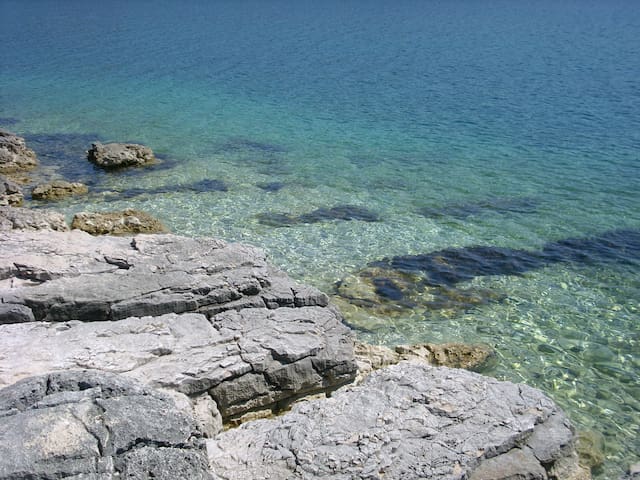 Apartment located is in Duga Uvala, near Marčana.The perfect place to relax. The apartment has a TV, air balcony,equipped kitchen,bathrooms with bath . The living room has a sofa bed and in the bedroom is bunk bed. From the balcony you can see a beautiful view of the sea. Apartment is 100 meters away from the sea.
Special is a beautiful view from the balcony
Room Type
Entire home/apt
---
Property Type
Apartment
---
Accommodates
4
---
Bedrooms
Krnica, Istarska županija, Croatia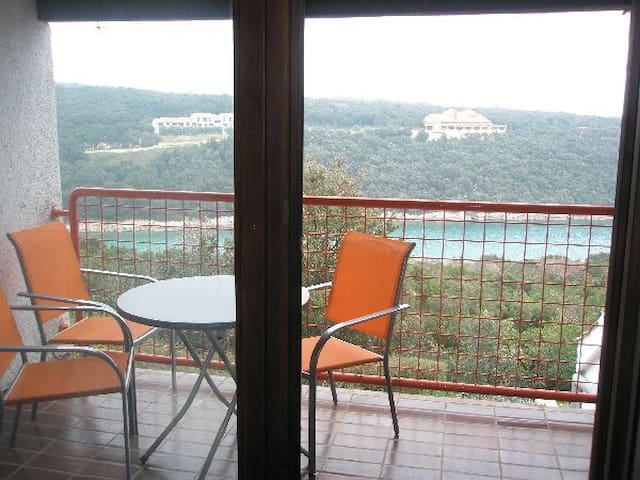 Room Type
Entire home/apt
---
Property Type
Apartment
---
Accommodates
3
---
Bedrooms
Mali Vareški, Istarska županija, Croatia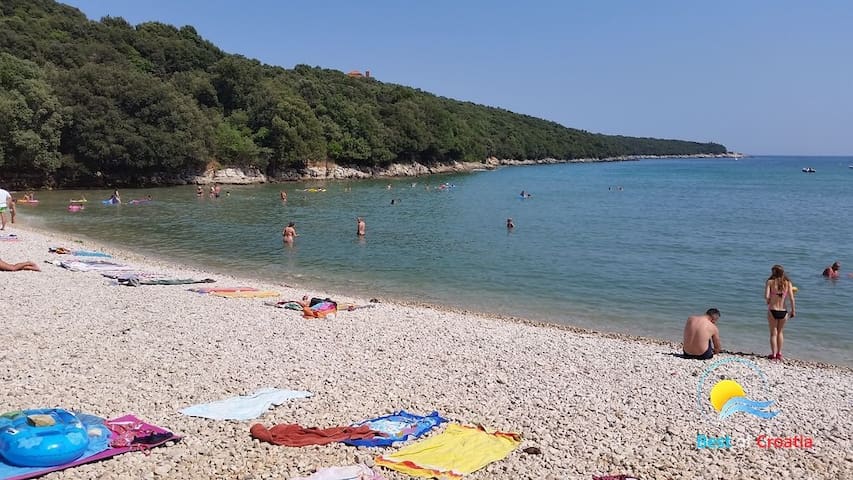 My place is good for couples, solo adventurers, business travelers, families (with kids), and big groups.
The house is very beautiful, clean and comfortable! The host is amazing. I suggest everyone in particular for family with little children!
Matteo
2016-08-28T00:00:00Z
Nice newly refurbished apartment with two bedrooms, with extra space for kids. Outdoor swimming pool and a completely equipped area for barbeque and for enjoying the nice view. Hosts very kind and discreet, highly recommended.
Claudio
2016-11-04T00:00:00Z
Room Type
Entire home/apt
---
Property Type
Apartment
---
Accommodates
6
---
Bedrooms
Rakalj, Istarska županija, Croatia
1

–

18

of

192 Apartment Rentals
Enter dates to see full pricing. Additional fees apply. Taxes may be added.