Our beautiful and romantic apartments are ideally located in the north of St. Lucia between Castries city and Rodney Bay Marina, offering panoramic views of Caribbean Sea and Martinique .300 m to the beach, shopping mall, dining and entertainment!
Come, join us and wake up every morning to a piece of paradise on your island getaway. It really is a taste of the best nature has to offer. Secretly tucked along the Caribbean seaside of the island, our apartment creates the feel of a sanctuary of natural beauty and tranquillity, but is only minutes away from the vibrant, historical city of Castries and touristic town of Gros Islet . Whether you are a young or older couple looking for a romantic, private escape or a family looking for some fun quality time together or even friends "up" for an adventure you are sure to find our apartment a real gem. For the sole traveller there is something special for you too. Additional 20EUR/Day will be charged, if 2 Persons wont to use 2 Bedrooms.
This is a warm and friendly upscale neighbourhood which is in close proximity to the city whilst offering the feel of country living. The area is in walking distance to two beaches and access to many more are less than five minutes by car or bus.
The apartment is beautiful, the view from the balcony is stunning and I enjoyed reading on the sun loungers in the mornings before heading down to the beach or into Rodney Bay. Judith and Will were very welcoming and accommodating, making us feel relaxed and at home. We would definitely recommend it to others.
Julie
2015-07-03T00:00:00Z
The photo's don't do the apartment justice, it was bigger than it looks and was lovely, clean and spacious. Willi and Judith were away while my boyfriend and I stayed at their apartment but Jim and Theresa looked after us very well. Jim picked us up and dropped us off at the airport which was a great help. Choc beach was gorgeous, we were the only 2 people on there. The Wharf is a must, food was great and Lisa was really helpful and a good laugh. Buses are cheap and reliable. We used shortcut afew times although it looks abit dodgy it was perfectly safe. Choc beach, The Wharf and the closest bus stop were just at the bottom of the shortcut which was a blessing because the walk there along the road would of been abit of a trek! The weather was fantastic while we were there but was close and muggy on an evening. The fans in the apartment helped abit but due to the lack of ac we had to open the bedroom window to let some cool air in and sadly the mosquitoes came in aswell. If like me you get bitten go well prepared as there isn't any mosquito nets in the apartment.
Rebecca
2015-06-01T00:00:00Z
Willi made us feel vey welcome and picked us up from the airport and made a stop for our first rum punch and photos at points along the way. He's very knowledgeable about the island. The apartments were exactly as photos, but more spacious, well equipped and the ones we stayed in had great views, the location up on the hill is between castries and rodney bay marina but a 5 min walk to a mall with all you need and just over the road from a beach = very convenient. We had great fun catching the local buses into town and up to the marina. St Lucian people and wonderfully warm and smiley, we enjoyed it and these apartments are very good value. A trip to the Castries market is well worth it with some great food stalls.
Debby
2015-12-06T00:00:00Z
Willi and Judith were very nice hosts, helpful and welcoming. The apartment was as advertised, very spacious, clean and private, located in a nice neighborhood with a supermarket down the hill and a popular mall, beach and multiple restaurants a 5-10 minute drive away. Would definitely stay here again.
Artemis
2014-12-07T00:00:00Z
Willi & Judith are warm and welcoming hosts who offer a great place to stay in a great location. They are more than helpful and go out of their way to offer good advice and options for sightseeing and transport.
Jess
2014-12-25T00:00:00Z
We were 2 weeks at Willi and Judith's apartment and it was a really good time. They are really nice and hospitable. Willi even picked us up from the airport. The apartment was very clean and had everything we needed. We had a very nice view from the balkony,too. As Willi is a professional tourguide for St Lucia, we got very usefull tips for travelling around. All in all it was a fantastic holiday, and we can fully recommend Willi & Judith's apartment.
Michael
2015-01-30T00:00:00Z
Location is central and safe. Apartment was beyond expectations. View was beautiful.
Thomas
2016-12-13T00:00:00Z
Our hosts were very welcoming and gave us the independence we like. The apartment was as described, clean and spacious with a great view and in a quiet neighbourhood. Other than that it was well equipped for independent travelers like ourselves. Would consider returning. Geoff and Leueen
Geoff
2015-02-25T00:00:00Z
Room Type
Entire home/apt
---
Property Type
Apartment
---
Accommodates
5
---
Bedrooms
Castries City, Castries, Saint Lucia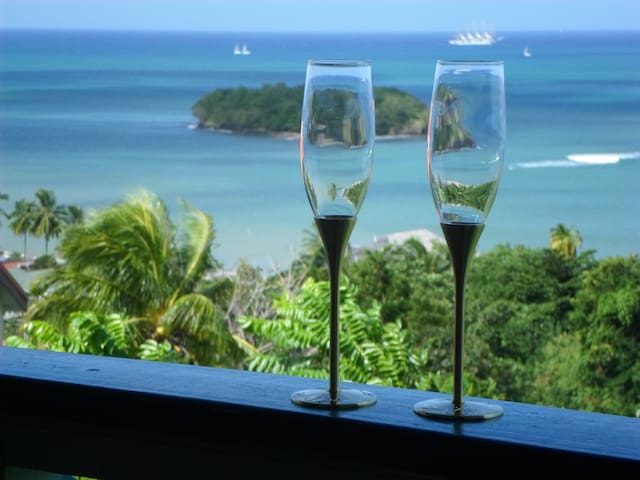 My place is close to Beach, the City Centre, great views, the Regional Airport, and the Castries Harbour. You'll love my place because of the location, it is very central and has easy access to the capital, Castries, and to the tourist hotspot, Gros Islet. My place is great for couples, solo adventurers, and business travellers. We are very open and international. We welcome people from all walks of life, especially you!
It is a quiet and friendly neighbourhood.
Cheikh's a really lovely guy who was very helpful with transportation and shopping for food.
Eoghan
2017-03-31T00:00:00Z
Very nice place, not too far from downtown, clean, beautiful view! Perfect!
Leslie
2017-03-02T00:00:00Z
Roges is one of those people you meet in life that make you smile. He is simply a fantastic host. His generosity in helping me with a problem I had was exceptional. A top conversationalist, incredibly welcoming and as helpful as anyone could be to someone in a different country. I recommend his apartment wholeheartedly.
eunan
2017-03-20T00:00:00Z
I stayed at Roges place for the second time while i had a layover in St. Lucia. He was verry friendly and i had a nice stay. I woud recomend the place to anyone looking for a place close to Casteries
Renato
2017-03-04T00:00:00Z
Rogues (Cheikh) was a superb host: generous and accommodating. Can thoroughly recommend.
Andy
2017-03-16T00:00:00Z
My Stay here was great. Communication before arrival worked really well, and if felt very well received. We chatted a lot and went to do grocery shopping together and so. It was perfect for a budget stay!
Björn
2017-03-17T00:00:00Z
I stayed at Cheikh's place for one night bevore leaving to Martinique. Is place is close to town and airport. He helped me organized a ride to the ferrydoc. Cheikh is very friendly and did everything to make my stay comfortable.
Renato
2017-02-25T00:00:00Z
Comfortable place and great host. Super close to the beach and airport.
Jake
2017-04-04T00:00:00Z
Room Type
Habitación privada
---
Property Type
Apartment
---
Accommodates
2
---
Bedrooms
Castries City, Castries, Saint Lucia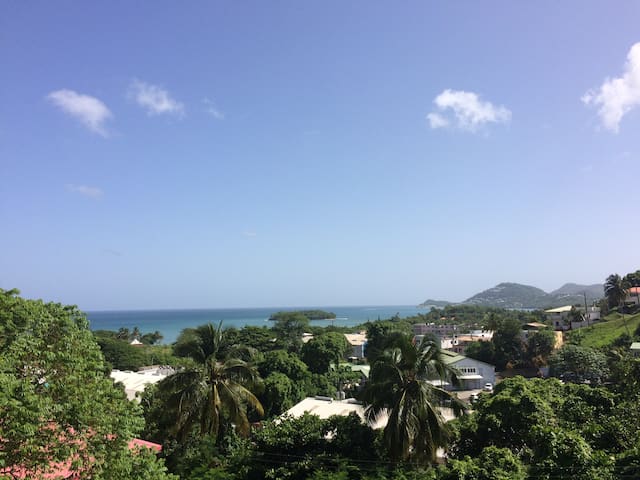 Villa Periwinkle is on a highly secured private resort compound. There are 5 restaurants on the property that you can either walk or take a free shuttle to and it is also close to other restaurants. There is a beach right there on the property. Enjoy great views, art and culture right here on property. Be as private or interactive as you wish. You'll love the ambiance and the outdoors space. It is a private home in a gated villa resort with full access to beach and resort amenities.
A private home in a serene villa resort. Private beach. Access to gym.
Candy's place is beautiful and so is she... She made us feel welcomed and comfortable. Her home is very peaceful, serene and compliments the amazing views. The location is perfect and close to everything, shopping, nightlife, restaurants.... I would most Definately stay here again on my return to St.Lucia
Stacy
2017-03-29T00:00:00Z
Candy is a rock star! My wife and I stayed with Candy and her daughter for an entire week. The accommodations are private as they occupy the farthest bedroom in the house, complete with a bathroom and pool access. Candy's house sits at the very top of the hill with spectacular views of the bay. Do not worry about walking to the beach as there is a complimentary shuttle that will whisk you down and back in 5 minutes. Candy was kind and efficient with her communications telling us the best spots to go. The resort she is located on has plenty to do the people are very kind. We made friends with alot of the other guests. I wish Candy the best and will definitely be staying here in the future!
Andrew
2017-03-18T00:00:00Z
Candy is an amazing and welcoming host. From the minute I arrived until I left she made me feel at home. Her Villa is gorgeous and the views unparalleled. The bedroom is very comfortable, large and completely private. There are doors that open up to the deck with the pool. Absolute luxury to sit in the mornings with the stunning views and the calming sounds of the wind chimes. The easily accessible and private beach on the resort was such an added bonus to not have to travel far for a swim and lounging. Make sure to brush up on your trivia and knock knock jokes as there's a resident brilliant 7 year old!
katie
2017-01-27T00:00:00Z
Candy's place exceeded our expectations. The view is beautiful and the resort grounds were very well kept. The use of all the resort amenities was a huge bonus as well! We cannot say enough good things about this place and hope to be back soon. Would highly recommend to anyone!
Celia
2017-02-18T00:00:00Z
Candy is an amazing host with a gorgeous villa that has breathtaking views of the ocean. She offered us recommendations of places to eat and was available to us whenever we needed something. I was in St. Lucia to celebrate my bf's birthday and Candy helped me make arrangements for a birthday surprise. The room has a door that leads directly to the pool. Though this is a shared space you won't lack privacy. Awesome villa- great accommodation!
Andrea
2017-01-15T00:00:00Z
We feel very lucky to have found Candy's listing. The stay was perfect. She made us feel right at home. The room was very clean, the bed was great and the private three piece bathroom gave us a perfect setting for the last couple of days on St.Lucia. Candy's home offers amazing views of the Caribbean Sea and the facilities at the resort gave us lots of activity and dining options. A perfect combination of a great host and a beautiful home. Thanks Candy
Cal
2017-01-30T00:00:00Z
Candy is AWESOME!! I felt an instant connection the minute I walked into her home! She is easy-going with a gentle and kind spirit. As I shared with Candy the things I like to do (prior to my arrival), Candy took what I shared, and personalized my experience while I was in her care. She is the best host and engaged in a real friend-to-friend experience with me!! Additionally, Candy showed her kindness to not just me, but also to strangers that she didn't know. Watching Candy treat people with love was awesome! Candy lives in a private estate on resort property, with breath-taking views of the ocean from every room in her house. I stayed in the guest room where Paulette (the housekeeper), provided clean linen on the bed, decorated towels, and a private bathroom with fresh flowers for my arrival. The bedroom I stayed in has a private french door access to the backyard, and I enjoyed going out to watch the stars while lounging out on the lounge chairs at night. I felt 100% pampered. On the first day, Candy took me to a local restaurant that served local, wild-caught fish. The next day, we went to a health booth where I had a delicious alkaline sea-moss drink, and sandwich for breakfast, and then we hiked together on Pigeon Island. On another day, I chose to enjoy the resort amenities, and hung out on the private beach the whole day. There were fun activities for families to do near the pools, restaurants/bars, and the private beach and as a single, I felt safe on the property. When I got back to the house, Candy had ordered and brought back a traditional local dinner with fresh fish, yucca root (I think), lentil beans and rice. It was fantastic!! Candy's home was sooo welcoming, that I spent a whole day inside, reading the many health books that Candy has on preparing smoothies, detoxing, and the like. I was encouraged to open the doors to the veranda to circulate the air and absolutely enjoyed the scent of fresh lemongrass and St. Lucian air, that surrounded her home as I peered out of the doors to her estate. On my last day, I went with Candy to the local farmers market in Castries, and this was one of the highlights of my trip. It was one of the largest Farmers Markets I had ever seen; the produce was amazing, where the farmers sold lemons, limes, huge grapefruit, tomatoes, bananas, and greens! Candy took care of me the minute I stepped foot on her island, to the final second where she helped me catch the bus to the airport, making me feel safe in every circumstance. If you are interested in relaxing, Candy and her home is where it's at!
Kay
2016-12-30T00:00:00Z
Awesome place incredible view FANTASTIC HOST! Candy is so kind and sincere that we were made to feel like old friends we really Can't express how wonderful our holiday was you really need NO LESS THAN A FULL WEEK TO appreciate everything here Our best holiday EVER! GOD BLESS YOU CANDY AND MIKI! NEVER ENDING Panoramic views that will leave you in AWE! Teresa& John Kamloops Canada
Teresa
2017-04-05T00:00:00Z
Room Type
Habitación privada
---
Property Type
House
---
Accommodates
2
---
Bedrooms
Gros Islet, Gros Islet, Saint Lucia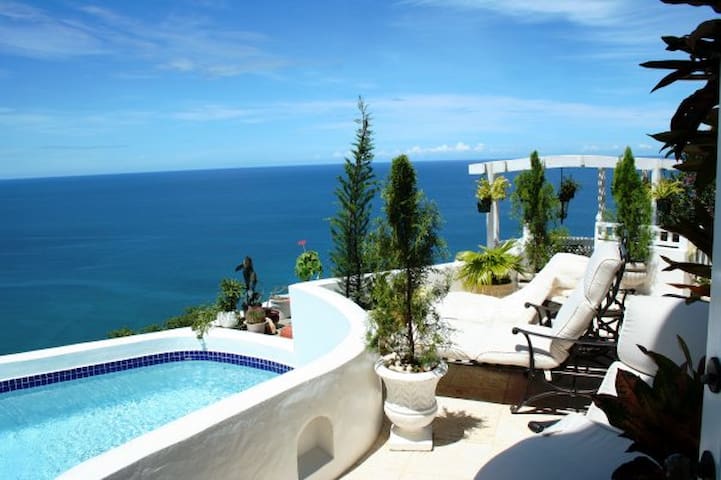 Orun villa is located in bois e orange on the road to the 5 star Resort, Windjammer Landings. The villa is surrounded by beautiful gardens in a peaceful residential neighborhood. There are two local beaches, which are a 9 to 18 mins walk.We will happily arrange private transfers from either airport. The local taxi prices from Hewanorra International Airport (UVF) is US$80 each way for up to 4 people, each person around $us80. It is US$21. The private taxi transfer from George F.L. Airport
Their are two good size bedrooms, which are light and airy. with modern decor
Very friendly neighbors with a very close community who are always there to assist you and help at anytime.
This is a very nice apartment in a great location. We enjoyed our stay here and would recommend it to anyone travelling to st Lucia.
Michael
2016-12-23T00:00:00Z
Its a good amd spacious place, a little walking distance from a great hotel resort with very nice beach. Transportation to Rodney Bay easly available but own car recommended.
Aleksander
2017-01-09T00:00:00Z
Loved it there . Get John to drive you around he's awesome ❤
Donna
2017-03-12T00:00:00Z
Room Type
Entire home/apt
---
Property Type
Apartment
---
Accommodates
4
---
Bedrooms
Gros Islet, Gros Islet, Saint Lucia
A simple & unique 3 bedroom home in a gorgeous ecological location overlooking the city, only 5 mins away by transport. Big, beautiful, and set amongst flowering plants & tropical fruit trees in one acre of lush hillside (a hot spot for bird watching!) only 1 mile from the beach, you're unlikely to find a villa with more spectacular views. The largest & best value-for-money villa on the island sleeps six in comfort but is just as cozy for two. Get a taste of real St Lucian community life here.
Staying at this gorgeous, wheel-chair friendly villa with probably the most stunning views on the island means that you can bring your family and friends to the best value-for-money holiday home in the entire Caribbean and you won't break the bank! And for wheel-chair users there is a ramp to the entrance, wide doors and corridors, grab-bars and easy to use showers. Many guests say that our fantastic panoramic views could have them spending their entire vacation (armed with a cocktail or three) on our spacious veranda. And for me, my husband and family, we all adore our villa Frangipani and think it is the most beautiful place in the world. Situated on a hill, the villa attracts every cross current of cool air so there is no need for air conditioning, but each bedroom is equipped with an electric fan. The spacious master bedroom (17ft x 14ft) has a king-size bed, plus a sturdy folded single bed for a third adult (or child). There are two further double bedrooms (12ft x 12ft), one with a double bed, and the other with two single beds. There are two bathrooms, one en-suite to the master bedroom and one between the double bedrooms (showers only). There is also a wooden enclosed shower in the garden. The huge living-room (25ft x 25ft) has a breakfast bar, and is furnished with two four-seater settees, two matching armchairs and other comfortable seating, and there are pretty patterned straw mats on the stained wooden floor. There is satellite/cable television, stereo system with radio, a telephone, and internet connection. The living-room opens out onto a magnificent veranda (15ft x 44ft) with breathtaking views all around. The veranda has a solid round pine table which seats up to 12 guests, also a Mexican hammock, two teak loungers, and two rocking chairs for further relaxation and comfort. The kitchen comes equipped with a large American refrigerator, microwave, coffee maker, oven, and all you'll need for self catering. (But if you want our splendid chef Julie to prepare your meals, all you do is ask her!). There is a spacious utility room with a washing machine, electric iron, and other useful cleaning amenities. Bedclothes are changed once a week, and towels when you want them. The villa is thoroughly cleaned before you arrive, and mid stay if you require it.
The town of Castries was where I was brought up, and the villa overlooks this exciting city. Our villa is unique! It's the only holiday home I know of on the island which is situated in a real 'Lucian' community where most of the residents happen to be very old friends or my own extended relatives. The beautiful Villa Frangipani stands amongst the homes of my lovely kinsfolk, always willing and happy to help each other and our guests. So here on holiday you not only have sunshine, sea and sand, but you get that extra buzz - a fascinating glimpse into the culture of St Lucia's wonderful people! The villa is central to most places on the island from which you can easily travel. The island is small, 27 miles long x 15 miles wide, so nowhere is a great distance from anywhere! You travel either by public transport, or if you wish, by your own hired vehicle. It is very easy to get to the city, or to our fabulous local beach Vigie, only 5 minutes away by transport or a 20 - 30 minutes walk. The bus stop is just yards away from the villa. Most ofl the neighbours have gardens where they grow fruit and vegetables, some keep a few chickens, sheep, or a goat or two. Eco-tourism here is at its friendliest - at this location you can choose the best of both worlds - sand and sea, and also a glimpse into the culture of St Lucia's most charming people.
Really great place to stay in St Lucia if all-inclusive resorts are not your thing. The villa is really spacious and the view from the terrace is really amazing. I could spend hours in the hammock just looking at the view and observing the planes landing at Castries airport. Dylyn was really good host. We were also given a phone with a local SIM card which probably saved as a lot on roaming charges. The meal Julie cooked for us was amazing and we regret that we only had it once on our last day.
Wojtek
2016-11-25T00:00:00Z
The villa is amazing. Even with a lot of flight cancellations and delays we made it to St Lucia and villa driver Paulie picked us up from airport. We are lucky to have him by our side because he knows St Lucia "in and out". We did almost all the activities within 4 days of our stay. The view from the villa is simply awesome. You can sit all night staring at the horizon. I would definitely recommend this place if you are looking to stay in St Lucia. Glad I choose this place. :)
Shashi
2016-08-15T00:00:00Z
Lovely, clean villa with FANTASTIC view over Castries. Made to feel very welcome and provided with a phone to call Pauly, very helpful to avoid a large phone bill. Pauly was an unexpected but fantastic addition. Was happy to chauffeur us around the island at a reasonable rate. He can also recommend places to visit . Leading up to our stay communication with Dylyn could not have been better which definitely reassured us. Would go back in a heartbeat.
Kayleigh
2016-10-31T00:00:00Z
Five Stars to this host ! This was the most spectacular Villa I have ever stayed in..... We were greeted warmly by the host's family which lived in all the surrounding homes in this cove....We were gifted a wonderful tasting rum punch... The Villa provide you with a large veranda with a wonderful view of the bay and several ships arriving and departing every day... The Villa is open, airy, spacious, well-maintained, with cool breezes with plenty of everything to make you right at home and to adjust to the relaxing fit of the Caribbean... I do suggest that you take the host up on the taxi service to find the place even if you're renting a car, like most of the islands in the Caribbean the streets don't have names so it challenging getting around .. however Kesha is perfect with giving directions...
Wendell
2016-12-06T00:00:00Z
Une vue à vous couper le souffle!!! Dylyn et Chris sont des hôtes attentionnés et serviables. Très généreux de leur temps! Ils ont pris le temps de nous expliquer les directions et attractions de Sainte-Lucie. De belles vacances! Merci Dylyn et Chris!
Hugo
2017-02-02T00:00:00Z
Room Type
Entire home/apt
---
Property Type
Villa
---
Accommodates
6
---
Bedrooms
Castries City, Castries, Saint Lucia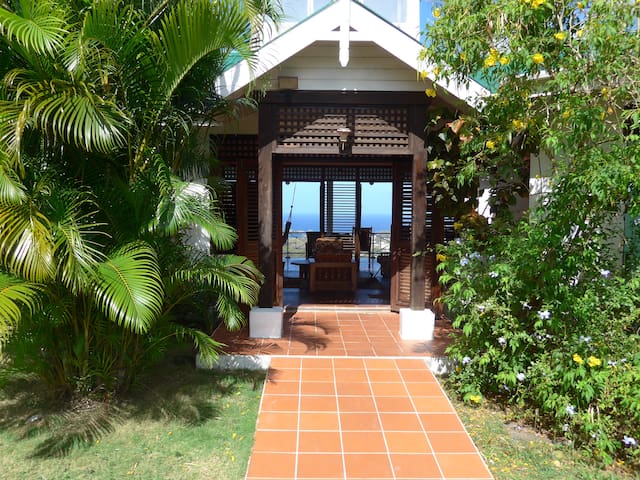 Beautiful, brand new, ground-level apartment ideally located 10 mins away from both the city of Castries, and Rodney Bay entertainment district in the north of the island. Short walking distance to the beach, shopping mall, supermarket, dining and entertainment! Easy access to public transportation. Fully equipped with modern amenities, our chateau has everything you need to enjoy a relaxing vacation on this beautiful island.
Welcome to our beautiful 2 bedroom, 1 bathroom apartment located across from Sandals Halcyon and arguably one of the most serene, beautiful beaches in Saint Lucia. Your Caribbean getaway is located just 5 mins away from SLU airport & 1 hour from UVF airport. Perfectly located close to everything. The property boasts Caribbean style decor and modern facilities with a private balcony. The two bedrooms are bright, spacious, and equipped with either AC or fans. The modern kitchen comes fully complete with all mod cons including pots and pans, china, microwave/toaster oven, electric kettle, large American style fridge/freezer. The living dining area has cable TV, LCD television, and the property has free high speed WI-Fi Internet access throughout. If you rent a car during your visit, there is ample private secure car parking spaces on site. Each bedroom has ample wardrobe hanging and drawer spaces, with full length mirrors. Fresh bed linens and towels are provided. Modern amenities include washer, cable TV, WIFI and AC. The apartment can be rented as either a 2-bedroom unit or rooms can be rented individually.
The property is tucked away in a safe, residential, neighbourhood, with easy access to public transportation. Your sanctuary is perfect for solo travellers, couples, families, and even small groups of friends - whether you desire a low key trip, adventure, relaxation, romance or a combination of all. A mall is within 10 mins walking distance, and offers a number of services including a supermarket, bank, hairdresser, clothing stores and eating facilities. If you wish to watch the latest movie out, the island's only cinema is just around the corner!
Room Type
Entire home/apt
---
Property Type
Apartment
---
Accommodates
4
---
Bedrooms
Castries, Castries, Saint Lucia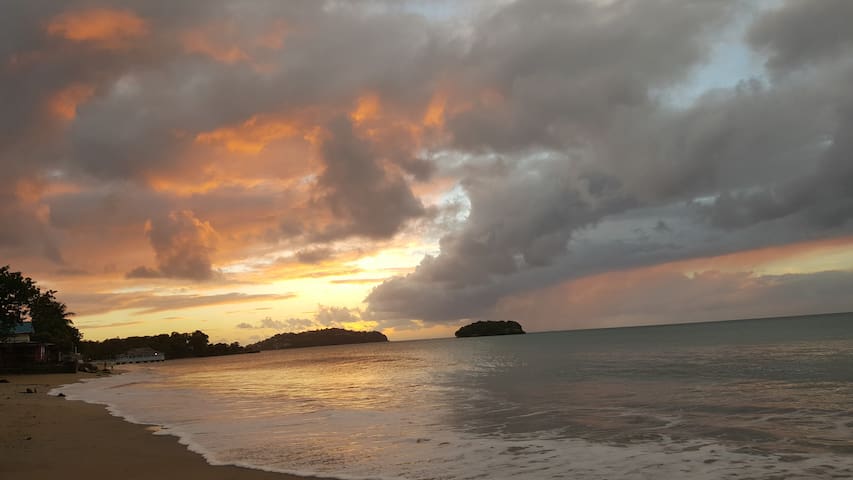 Welcome to Freeviews Apartments Saint Lucia: A private and comfortable dwelling place with cool, fresh breeze, great views, readily available transportation, and a convenient location with other local amenities (shopping malls, restaurants, beaches, hospital , parks, playing fields,)within close proximity. We're conveniently located ½ mile outside the city of Castries, 5-10 minutes drive from George FL Charles Airport, and 1 hour from Hewanorra International Airport.
Bachelor, Businessmen, Singles and Couples
We are like family looking out for each others interest in a peaceful and quiet neighborhood with a rich cultural heritage. Next door to the apartments is a neighbour who has a taxi service that is readily available. Lovely views of the mountains, valley, and sea to captivate your rich appetite.
We loved George ! ( Nathalbert ) he met us in the city so we can follow him back up the road to his house since the city of casteries can be quiet confusing driving there ( we had a rental ). He was very welcoming ! Then come to find out we shared the same birthday he offered for my BF and I to celebrate with him and his friends and also driver for us to a festival the following weekend so we can drink and not worry about driving. I highly recommend staying in casteries with George to get a lot of great city tips, feel safe and welcomed.
Jenny
2017-02-20T00:00:00Z
Nice place and Nice host !
Cédric
2017-03-13T00:00:00Z
Nathalbert est très accueillant et a l'écoute de ses hôtes.
Erwan
2017-03-26T00:00:00Z
maison agréable Nathalbert c est accueillir et organisé votre arrive
Cyrille
2017-03-25T00:00:00Z
L'appartement de Nathalbert, George de prénom est beau et grand sur une colline avec une magnifique vue sur la vallée! Par contre l'appartement n'est pas aussi proche du centre-ville tel qu'indiqué sur RbNb, il est à 3 km. George nous offre le transport gratuit partout en ville et nous a prêté un cellulaire afin de communiqué avec lui. George est vraiment gentil et serviable, il nous a même amené au Street Party à Gros Islet. Le transport en autobus est disponible tous près, mais à pieds c'est très difficile à cause des rue très étroite et aussi que le logement est situé dans une colline ( c'est assez abrupte) -les points à améliorer sont la propriété, surtout les planchers ,ajouté l'eau chaude, mettre un filet au-dessus du lit( nous en avons parlé à George) Point négatif: le bruit extérieur la nuit, aboiements de chiens et chants des coqs. Points positifs: grand appartement, vue magnifique, gentillesse et serviabilité de George, service de transport par George!
denis
2017-02-25T00:00:00Z
Room Type
Entire home/apt
---
Property Type
Apartment
---
Accommodates
4
---
Bedrooms
Castries, Castries, Saint Lucia
This inviting 4/5 bedroom fully furnished villa provides a lovely ambiance with its lush tropical gardens and stunning views of the ocean and the countryside. This is home away from home self catering villa holiday.
The villa, designed by a well known St Lucian architect Wayne Browne in the traditional Caribbean plantation style with its jalousie style shutters, benefits from cooling breezes. Built on 3/4 acres, near the summit of the Sunny Acres estate, it benefits from: *Huge Balcony With commanding Caribbean Sea Views overlooking Martinique and stunning sunsets. *Recently refurbished and totally redecorated in immaculate condition. *3 Bedrooms, with en-suite shower or bathrooms and 1 air conditioned. *Powder Room *Large Living Room With Indoor/Outdoor Living Theme. *6 Minutes To Gable Woods Mall with its supermarket, food hall, post office, medical centre, gym, and a variety of retail shops in both Castries and Rodney Bay
The neighbours and locals are very quiet but polite and friendly when around. Only 3- 6 Minutes To Gable Woods Mall with its supermarket by car, food hall, post office, medical centre, gym, and a variety of retail shops in both Castries and Rodney Bay
Really nice place with views to die for. Your in for a treat
Mark
2017-01-23T00:00:00Z
What a lovely home! My friend and I had a wonderful time at Corroll. She is so friendly and has plenty of good advice on how to enjoy the island. You can enjoy the island right at her place as she has amazing views of the Caribbean Sea (and Martinique in the distance). If you book with Corroll, you can't go wrong.
Nathaniel
2017-02-21T00:00:00Z
My family and I stayed at Carroll's beautiful house for six days. Carroll made us feel very welcome. She is a great host. It was especially enjoyable sitting on the terrace with its fantastic views. My husband loved looking at the rainbows in the morning after the night rain. My mother who is seventy-nine liked the house because she found it all very relaxing sitting in the living room watching some of her favourites films or reading a book. The house is all on one floor, so she didn't have to climb any stairs. Carroll's house has everything you need to enjoy your holiday: a fully fitted kitchen, a beautiful laid out sitting room, cable television, two huge sofas, dining table in the living room and on the terrace, lots of sun loungers and chairs, etc. The house is spotless, and all rooms have ensuite bathrooms with showers/baths We hired a car for the time of our stay to make little excursions as well as short trips to the nearby beach. The closest supermarket is just a five-minute drive away. We highly recommend Corroll and her house to all Airbnb guests.
Marcus
2016-12-23T00:00:00Z
Villa Stella Maris was an amazingly magical place for me and my fiance to stay (we were also later joined by another couple). The house is nice and very large. There are at least three bedrooms for guests, plus a very large living room and kitchen. But the best feature of the house has to be the wrap around terrace balcony with a perfectly scenic panoramic view of the bay and neighboring hillsides. It is seriously gorgeous, and the perfect place to enjoy a spectacular Caribbean sunset (the sun sets on this side of the island!) and where we found ourselves snapping endless photos. To top it all off, Corroll is the sweetest, warmest, most kind and accommodating host you could possibly ask for. She welcomed us when we arrived, and even drove us around the neighborhood briefly to help us get our bearings for where the market and restaurants were. She also made some great recommendations for where to eat in nearby Rodney Bay and helped us plan some fun activities. We cannot recommend this home/host combo any higher, and after staying we'd probably have paid double what she charged. If you stay anywhere else in northern St. Lucia you're doing it wrong.
Sara
2016-04-14T00:00:00Z
First off let me say Corroll is amazing!! My friends and i chose this property to be away from the hustle and bustle but not too far and got a lot more than expected. The view early in the morning is breathtaking!! Corroll provided us with a complimentary selection of seasonal local fruit and we did not turn them down. The property is as described and shown in the pictures. We felt very safe and secure, our rooms all had individual keys. To get to the house we rented a car from the airport and (SENSITIVE CONTENTS HIDDEN) mapped it all the way, it was about 1hr5mins drive (UVF). From the house its about 15 minutes to Rodney Bay and 20 minutes to Pigeon Island. This house is perfect for groups or couples alike and well worth the price but you definitely need a car. See you next time Corroll!!!
Allester
2016-04-01T00:00:00Z
Superbe appartement où nos vacances en famille ( 5 personnes) se sont déroulées à merveille. Les pièces sont spacieuses et très agréables à vivre. La vue imprenable sur la mer des caraïbes est merveilleuse mais implique une montée sur 1 km, en voiture pas de soucis, à pied de bonnes chaussures s'imposent. L' accès aux taxis et commerce sont au pied de ce morne . Cela est très pratique. Corroll est une hôte charmante et discrète, qui est de bon conseils pour votre séjour sur l'île. Carole et famille
carole
2017-03-08T00:00:00Z
Room Type
Entire home/apt
---
Property Type
Villa
---
Accommodates
8
---
Bedrooms
Bisee, Gros Islet, Saint Lucia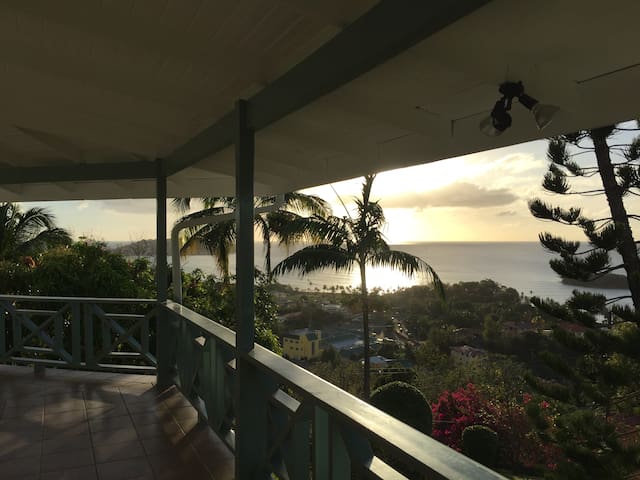 'Sur la Mer is an oceanfront villa with infinity-edge pool on the Caribbean coast. The villa is a short walk to Labrelotte Bay beach. The villa has 2 air-conditioned bedrooms and a very large verandah for great outdoor living.
'Sur la Mer' is a delightful cottage situated on the Caribbean coast of Saint Lucia in the Marisule section of Gros Islet. The cottage is located very close to East Winds Inn. The cottage is approximately 20 minutes by car from George F. Charles airport (SLU) and approximately 1 hour and 15 minutes from Hewanorra airport (UVF). The cottage offers privacy, yet it is still close enough to enjoy the hustle and bustle of the Rodney Bay area with its fine restaurants and nightly entertainment. Enjoy a fabulous view of the Caribbean Sea from the cottage's covered verandah, take a swim in its swimming pool or take a walk along the ocean's edge through a wooded path to the beautiful beach at the world-famous Windjammer Landing Hotel. If you are looking for a truly relaxing experience or for a fun-filled vacation, this is the cottage for you. The cottage overlooks Choc Bay the gateway to Castries harbor. Castries, the capitol of Saint Lucia, is the main center of commerce on the island. Cruise ships arriving in Saint Lucia tie up at the docks in Castries harbor. From the cottage's verandah you can watch the cruise ships, as they arrive. Or, you can daydream about days gone by, as you watch the tall-ship Brig Unicorn sail past making its daily trip from Rodney Bay to Soufriere. 'Sur la Mer' is designed to take full advantage of its seaside location. All major living areas open onto a large, covered verandah, which faces the pool and the Caribbean. The cottage offers the best of outdoor living. Take in the views of the Caribbean, as you eat a wonderful candlelight dinner either on the verandah or in the living and dining room. Relax and savor your favorite tropical drink while enjoying the sun setting over the Caribbean. The cottage offers two bedrooms, each with French-style doors that open onto the cottage's verandah. A third bedroom is available, which is ideal for one person. The master bedroom affords the comfort of a private bathroom, while the other bedrooms share a bathroom. The two main bedrooms each have twin beds, which are made up as king size beds. The two main bedrooms have ceiling fans and air-conditioners. It is your vacation! We want to help to make it one of the most enjoyable and memorable vacations of your life. 'Sur la Mer' has maid service five days a week. If you want to feel pampered, shopping and cooking services can be requested. Other services, such as automobile rentals and day tours, can also be arranged. Just let us know what it is you want! 'Sur la Mer' is ideal for a couple seeking a romantic getaway, friends wanting to relax by the sea or a family just looking to spend some quality time together. Additional photos upon request! Contact owner for Extended Stay and Family pricing.
Sur La Mer is in an located in a quiet residential neighborhood, which is located on the Caribbean Sea side of Saint Lucia.
Room Type
Entire home/apt
---
Property Type
House
---
Accommodates
5
---
Bedrooms
Gros Islet, Gros Islet, Saint Lucia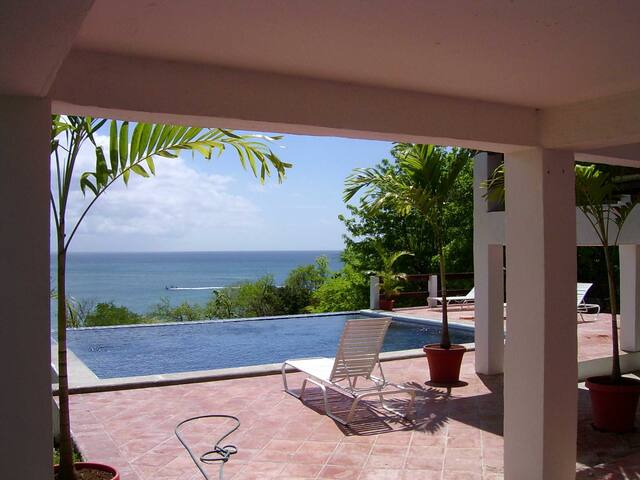 Spare room in a 2 bedrooms appartment, near the city center (5 min by bus/20min walk) and 4 min away from a beautiful beach.
It is located near the airport and a few min walk from a long sandy beach. You can easily reach the city center by foot or by bus. They are very frequent (every 2-3min). In the opposite direction you can go to Rodney Bay (very touristic city) and Gros Ilet (a fishermen's village which comes to life for the Friday night, when you can enjoy fried fish and music until 2am). The flat is upstairs, in a building with 3 other flats.
It is a very convenient location, 5 mins away from the airport (by taxi), 4 min from the beach (by foot), 10 min from the city center (by bus). You also have a Massy supermarket 2 min away, open from 7am to 9pm.
Sabrina was a very friendly and helpful host who answered all my questions about transportation and things to do in St. Lucia. A clean and welcoming home.
Faye
2016-10-24T00:00:00Z
Sabrina's place was comfortable and convenient, right next to a beautiful beach and several bus stops. You can easily take the bus to Rodney Bay, Gros Islet, or Castries. Sabrina helped us feel right at home and gave us great tips on things to do in St. Lucia. We enjoyed our stay very much!
Jacqueline
2017-03-28T00:00:00Z
Sabrina is very friendly and welcoming. She responds quickly to any questions you may have. This is a great place to stay if you are on a budget.
Bohdanka
2017-01-03T00:00:00Z
Very cozy stay. Especially Thank's to Sabrina for tips about visiting St. Lucia!
Linas
2017-03-20T00:00:00Z
We had a very Nice stay! We Can recommend everyone to stay in Sabrinas appartment!
Mathias Rejkjær
2017-02-15T00:00:00Z
This is the second time I've stayed with Sabrina, and she was just as friendly and welcoming as last time!
Faye
2017-01-01T00:00:00Z
Highly recommendable. Excellent location - Castries center and Rodney beach are very close, 5 min walk to the beach. Sabrina is a great host!
Kerstin
2017-02-02T00:00:00Z
Sabrina was wonderful helping me find the place and get me settled in. She helped with suggestions and transportation
Austin
2017-01-07T00:00:00Z
Room Type
Habitación privada
---
Property Type
Apartment
---
Accommodates
2
---
Bedrooms
Bisee, Castries, Saint Lucia
Location ,Location ,Location! This triangular/gable roof designed apt is ideally located at Corinth between Castries and Gros Islet. Approximately 7 mins drive from the airport 7 mins drive to Rodney Bay malls and 7 mins to the city.Unbeatable value for money.
The structure is a duplex or two flat (URL HIDDEN) contains two apartments , A one bedroom apartment and a two bedroom (URL HIDDEN) have access to two bedrooms, living room an kitchen area,yard space and surroundings. This means a group of four persons can comfortably stay for the low price of $55 .Ideal for wedding guests an family ,this price applies whether 2 persons stay at the apartment or 4 persons stay. However,(if you are a single individual, you will be entitled to a daily discount of $10 ,this means you can get the entire facility for $45 nightly or $315 per week ).There is NO BETTER DEAL in SAINT (URL HIDDEN) flat rate so I can break-even on (URL HIDDEN) the math if 4 people stay here the average price per person is approximately 14 usd,you can't go wrong,come on book today. This place is ideal for the French visitors from Martinique and Guadeloupe,Dominicans,Europeans,Americans and all Caricom Nationals.
Neighborhood is relatively quiet,suburban setting with a contrasting green environment,people keep in their houses mostly.Easy to get to Gros Islet Friday Night Street Party,zip line tours ,visit local beaches,Soufriere to see the Pitons ,Sulphur Springs,Mud Baths,boat rides,helicopter ride,piton hike,gran bois forest trail(live like a local) and many other famous attractions.All of these tours can be arranged.
We had a great stay at Bonaventure's place. He was very accommodating and generous in helping us get around the island and make arrangements, and even bringing us mangoes! We really appreciated his hospitality. It may be helpful for guests to know that the buses along the road nearby stop running around 8pm most days, but we did not have a problem getting a pretty affordable taxi ride back from Gros Islet on Friday evening, since it's not vey far.
Sarita
2017-01-02T00:00:00Z
for starters, bonaventure a very friendly guy who puts you at ease immediately and informs you about the good outings in St. Lucia. his apartment is very nice, very spacious and close to all amenities. conveniently located between Castries and Gros Islet. very interesting price-performance ratio
richard
2016-07-24T00:00:00Z
E.C.L is the place to be. Bonaventure is a fantastic host...from our arrival to our departure....he met us at the airport for a small (URL HIDDEN) wasn't a problem for us since we had no idea where we were going...the house is exactly what the pics show...he also had a bowl of freshly picked fruits waiting for us...and it's totally child friendly....we had our kidz and he provided games to keep them occupied..UNO, Dominos,Ludo,Snakes and ladder,table tennis and basketball... there wasn't a dull or boring moment...there's no TV but we didn't mind because it gave us time to spend time together playing the games...but he did provide us with a laptop....we even had a few karaoke sessions. He checked in sometimes on mornings to suggest places we can go and to make sure the kidz were enjoying themselves... He even showed them how to roast breadfruit... It had tuna,nuts celery (URL HIDDEN) was delicious. The location is 10mins to Castries and Gros Islet and 15 mins to Rodney Bay...BTW the beaches are lovely. There's a supermarket 3mins walk from the house and that's where you get the bus as well. The sister property is breath taking, a must see for all visitors. On our departure he had the kidz plant a pear tree...now they're looking fwd to the next visit to see how the tree has grown.For us it was a home away from home, I'm glad we made the right choice.
RENEE
2016-08-10T00:00:00Z
Wir hatten drei sehr schöne Tage auf St. Lucia und waren sehr glücklich über unsere Unterkunft. Das Appartement ist sehr gut ausgestattet, groß und sauber und der Gastgeber sehr freundlich und hilfsbereit. Er hat uns pünktlich vom Hafen abgeholt, was mit dem Gepäck und nach der langen Fahrt sehr praktisch war. Außerdem haben wir sein Taxi-Service für die Friday-Night-Streetparty in Gros Islet angenommen, die ebenfalls zu empfehlen ist. Das Appartement ist sehr günstig gelegen, nicht weit von Castries und Gros Islet entfernt und ganz in der Nähe von einer Bushaltestelle und einem Supermarkt. Tagsüber kann man die Insel problemlos mit den günstigen Mini-Bussen entdecken. Zusammengefasst: Ein tolles Appartement für einen super günstigen Preis, absolut zu empfehlen! Le séjour à Sainte Lucie était super et nous étions très heureuse que nous avons trouvé un appartement pas cher et avec une bonne qualité. L'appartement est absolument a recommandé comme il est bien équipé, propre est très bien situé entre Castries et Gros Ilet, près d'un supermarché et un arrêt du bus. L'hôte était super gentil et il nous a aidé avec tout dont nous avons eu besoin. We have spent three wonderful days in Saint Lucia and were very happy with our apartment. It was very large, clean and had everything we needed. The host was very friendly and helpful. He picked us up from the port, helped us with our luggage and we arrived safely at his place. On Friday night we made use of his Taxi service to get to Gros Islet which is also to recommend. Geographically the apartment has a very good position because it is not far from Castries and Gros Islet and the bus stop along with a small supermarket is across the street. Altogether, it is a great apartment for a great price. Only to recommend!
Katharina
2016-10-09T00:00:00Z
Room Type
Entire home/apt
---
Property Type
Apartment
---
Accommodates
4
---
Bedrooms
Corinth, Gros Islet, Saint Lucia
The Windjammer Landing has been our home away from home every year since our honeymoon 8 years ago! We have two weeks we won't be using in 2018 (both weeks starting Feb. 17). The Windjammer attributes guests the villa upon arrival. So pictures shown are for information only. The resort is well maintained and villas are kept up to date and very clean. Please visit the resort's website for more beach and resort photos.
One-bedroom, 1,100 sq. ft. villas include: King-size bed Private terrace Air-conditioned bedrooms En-suite bathroom Living and dining area w/ ocean view Fully-equipped kitchen Ceiling fans throughout Cable TV and DVD Personal safe Hairdryers Robes Pull out couch in living room or extra bed upon request (for kids) Some Villas are open air Housekeeping service everyday 110 voltage
Room Type
Entire home/apt
---
Property Type
Villa
---
Accommodates
4
---
Bedrooms
Castries, Castries, Saint Lucia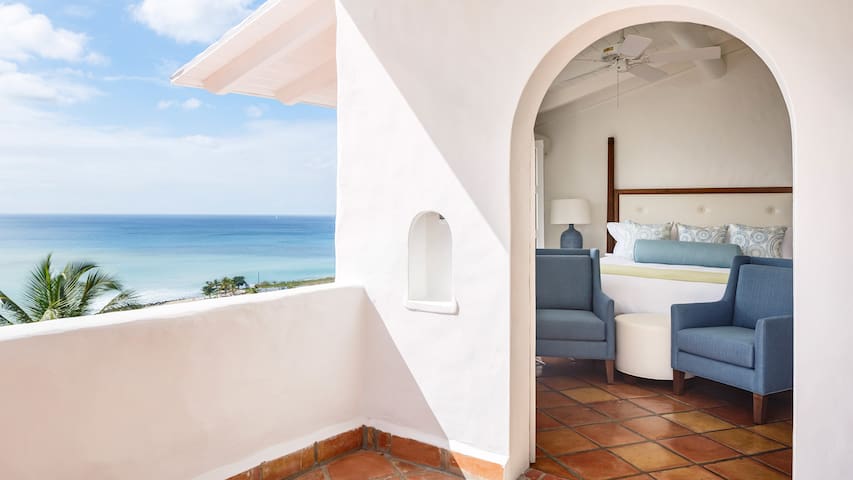 Date House is a 10 minute walk to the Caribbean beach and restaurants at the exclusive Calabash Cove hotel and spa and a 10 minute drive to the beaches, shopping, restaurants and bars at Rodney Bay. The villa and 30 foot pool are very secluded, sitting in landscaped tropical gardens with Caribbean sea views and plenty of terraces for relaxing and al-fresco dining. The pool and terraces are well lit at night so continue the fun with cocktails and an evening swim after dark.
The villa with its stunning sea views, secluded tropical gardens, terraces and large pool deck provides plenty of space to enjoy your Caribbean experience. The covered and uncovered terraces are great for relaxing and al fresco dining, day or night. Enjoy a BBQ and passing boats from the dining terrace or sit around the pool watching the hummingbirds on the bouganvillias. It sleeps 7 comfortably in four air-conditioned bedrooms; the three double bedrooms have private balconies with sea views. The villa has a spacious sitting room, adjoining dining area and large well equipped kitchen with separate laundry room. All the living areas are cooled with ceiling fans. The spacious master bedroom suite on the top floor has panoramic views of the Caribbean sea and private balcony, a mezzanine sitting area, a walk-in dressing room and an en-suite shower room with his and her sinks. There are two double bedrooms (queen beds) and a single bedroom (double bed) adjoining the living room on the ground floor.
A light and spacious villa situated in a select and quiet residential area of Marisule on the Caribbean coast. Date House is entered through automatic gates and then up a sweeping drive to the front door. As you enter the front door the breathtaking Caribbean sea is before you, through the balcony doors opposite.
A well-maintained, comfortable house with a stunning view. The bedrooms were each spacious with good beds, good lighting and solid furniture. The kitchen was super well-appointed (gotta have the blender, right?). The housekeeper Ann Marie was very helpful and did dishes and laundry for us, but was not in the way. She offers to cook, but we never took her up on it. You will need a rental car to get to the place and there's a convenience store about a half mile away, but not much else in walking distance (other than the beach, of which there are two each about a ten minute walk). I would recommend getting four wheel drive SUV, as the road is pretty rough and some of the roads in St. Lucia aren't so great. Although the home is sort of on a dead end, it felt safe, as did St. Lucia in general. We drove all over the island at all hours of day and night and never got the shivers. We generally look for places off the beaten path and there are plenty of beautiful spots on the Island.
Heather
2017-01-15T00:00:00Z
Room Type
Entire home/apt
---
Property Type
Villa
---
Accommodates
7
---
Bedrooms
Gros Islet, Gros Islet, Saint Lucia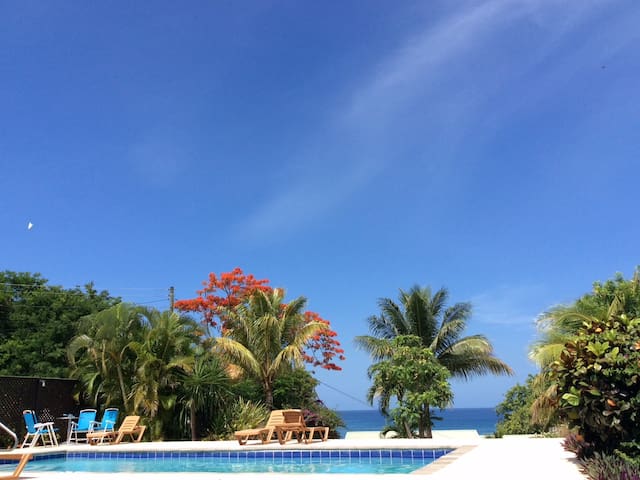 Private villa with infinity pool, sleeps six.
The perfect location to relax and enjoy yourself. There are breathtaking long distance island views and sea views from both bedrooms and the terrace. Your private infinity pool and sun loungers are on the terrace, along with an alfresco dining table and chairs. Inside, the kitchen has every appliance and kitchen equipment. The dining room sits six, the living room has a sound system and satellite-channel TV. Each bedroom has it's own balcony with two chairs and it's own ensuite. There is a cloakroom, shower room and a laundry room. There are fans and air-conditioning to all rooms. There is 24/7 security around the villa and grounds. Housekeeping visit each day for full cleaning and linen change. There is a large and very comfortable sofa bed in the living room to provide sleeping for guests number five and six. This villa is very high up towards the the top of the hills near Rodney Bay and the views are spectacular, it is possible to walk up and down to the beach but there is also a free of charge shuttle bus that can be called from the villa's telephone. This is a private beach resort and on the beach at the Water Sports you can book scuba-diving, snorkelling, water-skiing, sailing, windsurfing, kayaking, paddle-boarding. For children there are banana and donut rides. There are organised trips to the volcano, geysers and salt pools, historic villages, diving and snorkelling trips to various marine park sites; and of course, the weekly Managers Cocktail party. There are several restaurants, spas (treatments and massages available), cocktail-bars. there is a well run kids club for teens and younger. There is an air conditioned gym and two outside tennis courts with various scheduled coaching sessions, mini tournaments. British Airways, Virgin Atlantic are the main carriers to St Lucia Hewanorra International. With a 1 ¼ hour transfer by taxi. Or a stunning helicopter transfer past the famous Pitons, the rainforest and north along the coastline can be arranged. Book this early to avoid disappointment. Sleeps 6 2 beds (one twin and one king) 2 bedroom balcony with seating for two 3 bathrooms Laundry Kitchen Dining Room with table and chairs for six Living room with double bed Large terrace with infinity pool, sun loungers and dining table and chairs Daily housekeeper cleaning and linen change £195/night £1,365/week 2017 Dates 23-Jul to 29 Jul (Week 30), depart 30-Jul 30-Jul to 5 Aug (Week 31), depart 6 Aug
Room Type
Entire home/apt
---
Property Type
Villa
---
Accommodates
6
---
Bedrooms
Castries, Castries, Saint Lucia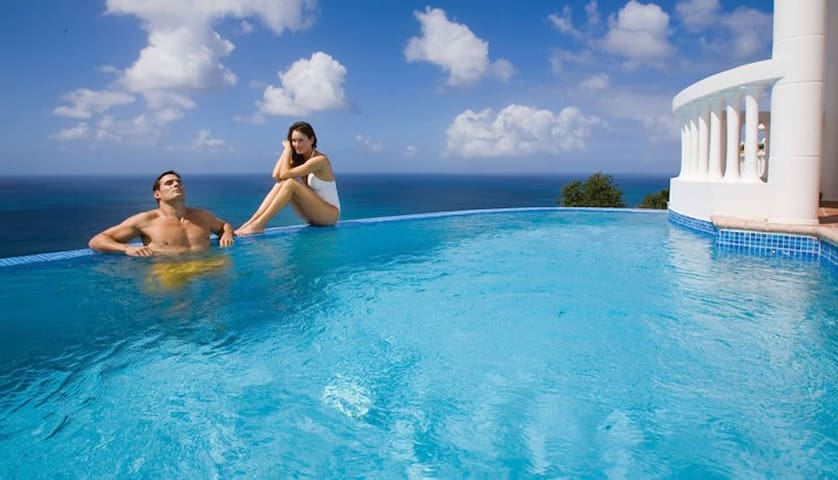 This is a newly built villa with breathtaking views of the Caribbean Sea, Rat Island, the Vigie peninsula and coastline. Our place is conveniently located in a quiet Marisule neighborhood but just minutes from the beaches and night-life at Rodney Bay or the hustle and bustle of Castries. It features an open plan kitchen, living and dining areas with 2 beds and 2 baths. The private balcony is a great place for morning coffee or unwinding with the most amazing sunsets and sounds of the ocean.
The units are approximately 1,000 sq ft with well appointed open plan kitchen, living, dining and oceanview balcony. A modern kitchen awaits you with granite countertops, a large island counter and glass subway tile backsplash. The kitchen is equipped with a cooker, refrigerator, microwave, coffee maker and electric kettle. We provide all the essentials for cooking and eating-in during your stay. The open plan living and dining area has a ceiling fan and air condition unit. The dining table seats 6. There are 2 bedrooms including a master bedroom with an en-suite bathroom. The second bedroom is adjacent to the guest bathroom. Bedrooms are simply decorated and both have queen beds. We provide towels and bed linens. Each bedroom has a ceiling fan and air conditioning. A rooftop solar system provides ample hot water for showering. There is also a convenient washer/dryer located in the apartment for your use. We also provide a clothes rack for hanging out towels etc. The units come with both American (110v) and English power/electrical (220v) systems. There is a 40" flat screen tv. Wifi and cable tv with mainly American programming is available.
Our place is located in a quiet and peaceful, residential neighborhood of Marisule, but you may be woken by our neighborhood rooster in the morning - be warned! The villa is on a hillside, off the main road. The bus stop is conveniently located at the bottom of the hill on the main road and buses are available all day. It's just a 5 minute drive to Rodney Bay, Baywalk and JQ shopping malls, the best restaurants and night life. A 3-minute drive south takes you to a 8-screen cinema which offers the latest movies, as well as pizza restaurant, coffee shop, supermarket and banks. There are supermarkets and a bakery within walking distance of the villa. You can also purchase fresh fruits and vegetables from roadside vendors nearby. The bustling city of Castries is just 2 miles away with government offices, banks, cruise ship terminal and other businesses as well as the renowned Castries market. The quiet Marisule Beach is a short walk away though not suitable for swimming. You will find more popular beaches in Rodney Bay or Pigeon Island. You can also walk to Calabash Cove Hotel, where for a small fee, you get a guest day-pass and can enjoy the resort amenities.
Room Type
Entire home/apt
---
Property Type
Condominium
---
Accommodates
6
---
Bedrooms
Gros Islet, Gros Islet, Saint Lucia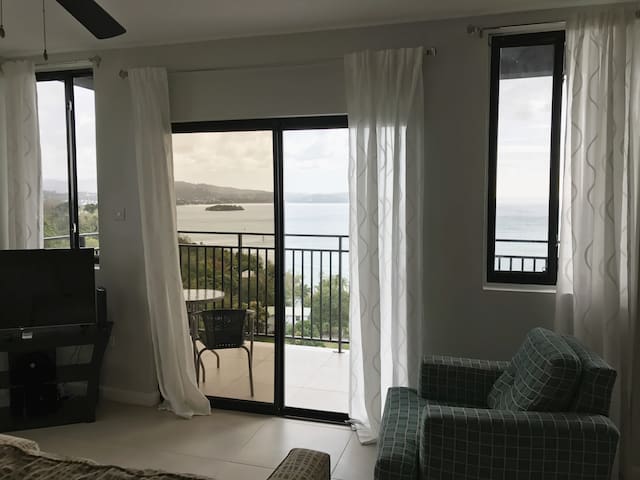 breathtaking 180-Degree ocean
la villa est composée de 3 chambres avec climatisation, une cuisine entièrement équipée (micro-onde, four, lave vaisselle, réfrigérateur, congélateur, lave linge, grille pain, machine a café, et surtout un super BBQ sur la terrasse face à la mer.. Internet Haut débit, Apple TV, système de son BOSE, Grande TV, musique autour de la piscine avec l'enceinte Sony. 2 salle de d'eau. 2 grands lits et 2 lits simples
la villa est idéalement située, près des commerces de la plage, des bars et restaurant. il est conseillé de louer une voiture pour visiter l'ile. la plage la plus proche est à 2 minutes en voiture et à 10 minutes to go to rodney bay (shops et bars de nuit).
What an incredible house! From the moment I reached out to Johan he was incredibly responsive and helpful in making the most of our stay. We rented the house for 2 weeks and were in heaven. When we arrived at the house and walked through the front door we were immediately taken back. The view is even better than pictured! You will not be disappointed by choosing to stay here! Johan and everyone that took care and helped us settle in were great and very welcoming! Any questions or concerns we had was immediately answered. One word of caution though..The house is kind of secluded. So, a car is highly recommended. It's quite a long walk out of the driveway and to a bus stop or hotel. We had a car and it was really easy to get around town. Gros Islet and Castries were about 10-15 mins away.
Kelsey
2017-01-28T00:00:00Z
The villa has one of the most spectacular views in st lucia. Everything from the booking to arriving at the Villa and being met by Francis has been easy and pleasant. The villa catered for all our needs. I highly recommend this special place for anyone that appreciates amazing views and a peaceful getaway!.
Johnny
2017-01-15T00:00:00Z
The ocean and mountain views are truly breathtaking! The house is very well furnished and the layout is exceptional, allowing you to enjoy pristine unobstructed views from the kitchen, the living room, the dining room and the bedrooms. We really enjoyed the outdoor living concept and the tranquility and the privacy of the villa. We could also access the beach just a short drive away. Johan, Francis and Jay were great hosts, very professional and responsive. A perfect location to enjoy ocean views, sunsets and starlit skies!
Lucie
2017-03-03T00:00:00Z
The house was amazing! Great views and very clean! The host was there to greet us upon arrival and was very easy to work with. I would highly recommend staying here!
Desiree
2017-04-02T00:00:00Z
You won't want to leave. From the stunning and breathtaking view, to the private pool, open and modern layout, and warm hospitality….this is a St. Lucian gem! Johan was responsive and professional, made sure we felt at home. Francis (property manager) and his wife Jay were very welcoming and helped us settle into the property on arrival. This secluded hill-top villa sits atop a long driveway, perched in lush greenery, with sweeping views over the Caribbean. It is very private and romantic, but also good for a small family. No neighbors and only the sounds of nature and boats in the distance. Open and airy, the house features a wall of glass and open walls (retractable shutters close up when needed) for true indoor-outdoor living. We pretty much lived outside on the terrace and enjoyed the well-maintained pool and lounge chairs. This is not a mere "plunge pool" like many resort villas but rather a good size for swimming, soaking up the sun, and relaxing. The kitchen is well-equipped and there are dining tables both inside and out. The large BBQ grill is a great addition, we used it frequently. There are several convenient appliances including: drip coffee maker, toaster, electric water kettle, microwave, and iron. Also of note, the house features both 110 voltage (US plugs) and 220 voltage (UK plugs) which are perfect for international visitors. The portable sound system, entertainment system/TV, and wi-fi all worked great.  If you want a resort-like fully-equipped home experience without all the resort crowds and craziness, look no further! As the other reviewers stated, a rental car with 4WD is a must for getting to the villa and exploring the area. We enjoyed the balance of having the private, home-like experience at this awesome villa, mixed with a number of visits to some of the Island's resorts and attractions when in the mood.  The Windjammer Landing resort is down the hill (a nice challenging walk) and good place for breakfast, a small market, tour desk, and shops. Like so many of the resorts on the island, they are welcoming to visitors who want to explore their facilities, use the beach and experience the bar/restaurants. There are numerous Massy supermarkets along the main road. We favored the ones nearby in Rodney Bay. Be sure to explore Pigeon Island, Marigot Bay (great dining and views from all the restaurants), Sugar Beach, Anse Chastanet, the Tet Paul Nature trail, Dasheen at Ladera Resort, Naked Fisherman (with great little beach) at Cap Maison….just to name a few.
Mark
2017-02-11T00:00:00Z
WOW. My girlfriend and I stayed here for 5 days and absolutely loved it. The villa was exactly as advertised and even more beautiful in person than the pictures. I'd echo the other guests' reviews - stunning view of the ocean, large pool with lounge chairs, open & airy house, exceptionally clean & spacious, comfortable furniture & modern decor, private & secure setting, great speaker system, wifi, and other amenities. The professionalism, responsiveness, and open communication with Johan, Francis, and Jay were top notch from initial booking until after we left the villa. Upon arrival, Francis and Jay greeted us with drinks and recommendations for things to do / exploring tips. One morning the water unexpectedly went out due to construction on a pipe distribution line in the area so Francis arranged for a truck to refill our water tank and fixed the problem within hours (truly exceptional service). Also, it was great being able to take advantage of the relatively close proximity to Windjammer Resort for eating meals, picking up supplies, and booking excursions (it's ~15min walk down / up hills and a couple minute drive away). As others have said, I'd recommend renting a car for getting around on the island though (preferably one with 4WD given the shape / steepness of some of the roads, although we managed to get by just fine with a standard rental car). Our favorite thing about the house was being able to watch the sunset over the ocean from our pool. We would 100% stay here again next time we vacation in St. Lucia.
Jon
2017-02-20T00:00:00Z
C'est une maison neuve et nous étions les premiers vacanciers. Nous avions nos deux enfants de 10 et 6 ans avec nous. Francis nous attendait à l'aéroport et nous a conduit à la maison qui est à 5 ou 10 minutes de l'aéroport. Francis est très accueillant. A notre arrivée, Katama nous attendait et nous a fait fait le tour de la maison pour nous en expliquer le fonctionnement; tout est simple; seule l'alarme nécessite quelques explications. Nous arrivions en soirée et elle avait fait quelques achats pour nous. La maison est très belle et la vue est à couper le souffle. On peut s'assoir pendant des heures face à la mer et regarder le spectacle toujours changeant. A 3 minutes en voiture, il y a l'hôtel Windjammer où nous avons pris quelques repas le soir. C'est assez pratique car ils acceptent les personnes venues de l'extérieur et les enfants (ce qui n'est pas toujours le cas sur l'île). Nous avons aussi découvert l'hôtel Maison un peu plus vers le nord et la plage du Naked fisherman. C'est un endroit sympa où on peut déjeuner juste sur la plage.
Werner
2016-10-23T00:00:00Z
Room Type
Entire home/apt
---
Property Type
Villa
---
Accommodates
6
---
Bedrooms
Gros Islet, Gros Islet, Saint Lucia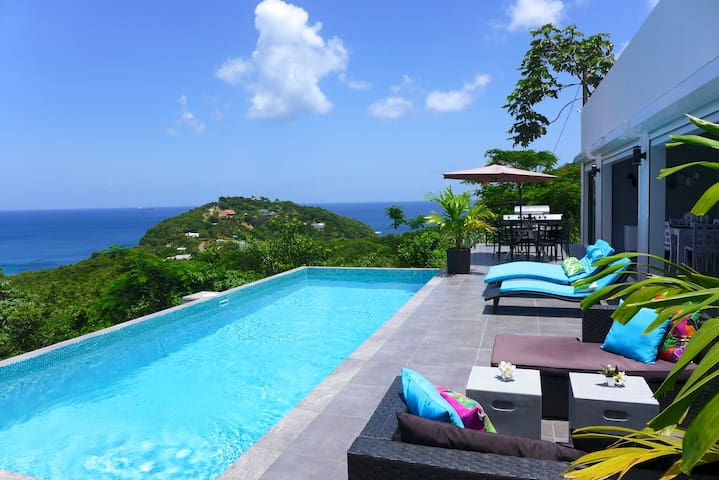 Comfortable room with a queen size or double bed, a fan and a drawer. The window has a mosquito net. The room is quiet , no cars passing in front of house. One bathroom to share with everyone. I provide bed sheets and bath towels.
nuits calmes car la maison se trouve dans une impasse.
Safe neighborhood. My place is in a secluded area. To reach fast to the main road, we use a small path throughout the neighborhood. Street lights doesnt cover the path all the way down at night however it is commonly used by everyone from the area. Just walk with your phone light
Noa is a very nice person.
Giovanni
2017-03-06T00:00:00Z
Nice room in a house tucked away from the main road. Bus stop 1min walk away takes you to all the major destinations and they are frequent. Fan in the room is good and a very nice family. Welcoming and very informative about wher to go and what to do
James
2016-07-02T00:00:00Z
Very friendly host with a spacious room, which has a fan (lifesaver!)
Dénes
2016-07-15T00:00:00Z
Noa and her lovely daughter Siam were perfect hosts! The weather was pretty extreme - nonstop rain - which made it difficult to go and get food but Noa came to the rescue! She's too amazing - super sweet and extremely accommodating. While Siam taught me French, Noa made me the most delicious tea and offered be some of her YUMMY vegan food! I mean, really YUM-MY! I need those recipes, Noa! The bed was sooo comfortable and if you're backpacking, you'll have one of the most restful nights at Noa's place.
Glenda
2016-09-02T00:00:00Z
I really enjoyed my time with you guys! I also got good tips for travelling in St. Lucia. I recommend Noa's house to all of travellers
Niila
2016-06-15T00:00:00Z
Noa's spare room is a good cheap option for independent travellers in St Lucia. The accommodation is excatly as described and Noa is quick to respond to messages. There is no hot water but it's not needed in St Lucia. Instead of Air Conditioning, there is a strong fan that works well. All-in-all, my stay was very easy and confortable. In common with other Caribbean islands, St Lucia seems to have an obsession with dogs and the houses around Noa's all seem to have them (although how useful those animals are for security is in question). What is does mean is that dogs barking in the middle of the night may wake light sleepers.
Paul
2016-07-29T00:00:00Z
Noa was a great host and her daughter is so cute! The room was as described. My friend and I were visiting and Noa gave us plenty of advice on how to get around St Lucia and kept the place clean. Worth the price!
Priscella
2016-07-21T00:00:00Z
The host canceled this reservation 3 days before arrival. This is an automated posting.
cheryl
2017-02-23T00:00:00Z
Room Type
Habitación privada
---
Property Type
House
---
Accommodates
2
---
Bedrooms
Gros Islet, Gros Islet, Saint Lucia
Two bedroom dwelling that is minutes drive from the beach in a quite and picturesque middle class neighbourhood. Nestled on the hilltop you enjoy cool breeze all day. spacious interior and large porch, full kitchen
Room Type
Entire home/apt
---
Property Type
House
---
Accommodates
4
---
Bedrooms
Castries, Castries, Saint Lucia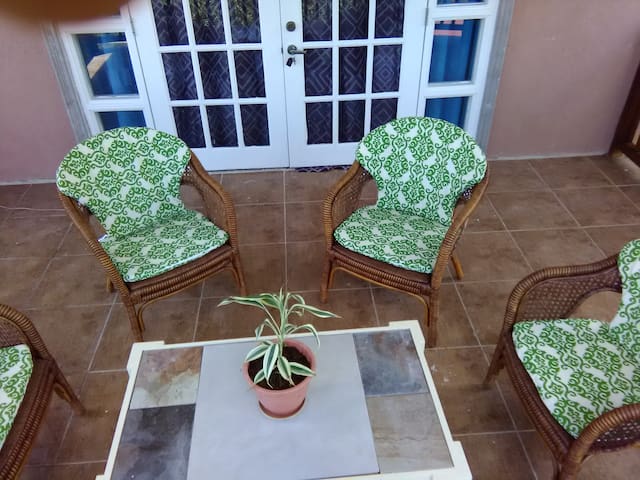 Enter dates to see full pricing. Additional fees apply. Taxes may be added.