25 square meter furnished studio apartment: independent (adjoining the owners' house), consisting of one 15 square meter bedroom, kitchenette, and bathroom (shower + WC). Smoke-free, quiet, with a view on the garden. Free Wi-Fi. Close to city centre, the hospital and Carouge.
To protect the environment and respect Swiss standards, heating in winter is kept at 20°C during the day and 18°C at nights.
Located in a popular, dynamic area, very close to the historic centre and Carouge. Well-connected to public transports, you can also easily walk or ride to the city centre and the lake.
Great place to stay if you're visiting central Geneva Evelyne and her family are very welcoming
Lynn
2017-01-20T00:00:00Z
Evelyn and her husband were there to great me even though I got in quite late and they made me feel like home in their independent garden annexe. The apartment is well equipped, clean and makes for a pleasant stay. I will certainly stay in this apartment again if I travel to Geneva
Hans
2015-10-17T00:00:00Z
Great spot for getting to know Geneve. Wonderful and caring hostess. Loved her recommendations and helpfulness.
Marta
2017-03-08T00:00:00Z
We had a wonderful stay at Evelyne's little cottage. It is just a few minutes walk from the train and walking distance to many restaurants and small markets. The place is very quiet and great for a rest and relaxation getaway. Would definitely stay here next time!
Maryam
2016-12-11T00:00:00Z
Very comfortable place in the center of Geneva. I've been before and will visit again (I hope)! Highly recommended.
David
2017-04-02T00:00:00Z
Evelyne is a wonderful host, caring and always ready to help! The apartment with the wonderful little garden is a jewel in the middle of Geneva. Lovely stay, thanks a lot!
Filippo
2017-04-04T00:00:00Z
Lovely little apartment. Quiet, clean and cosy. We will be back again!
David
2017-02-05T00:00:00Z
Sweet little retreat! And the Lovely private garden the room looks out on was like having nature in the room with us. Parking was challenging but the public transit is excellent. Thank you Evelyne for your warm reception.
r jane
2016-09-19T00:00:00Z
Room Type
Entire home/apt
---
Property Type
House
---
Accommodates
2
---
Bedrooms
Genève, Genève, Switzerland
Studio toutes équipées de salle de bain privée sortie indépendante à 5 minutes de la gare à proximité de l'ONU et oms
I really advise everyone to be hosted here
Giuma
2017-01-18T00:00:00Z
Iam great time in there. Nice place with everything is good, new, clean. So nice family and friendly. Iam feel warm in this winter :))
Huy
2017-01-01T00:00:00Z
it is very good experience to live by Jane. the room is well equipted, clean and very indepedent for living, and parking is inside. next time will come to her again
zeit
2017-01-28T00:00:00Z
This is a private apartment, very close to three bus stops so extremely convenient. Its a very large studio flat with a nice kitchenette. It is nicely furnished and has a separate entrance which is also very convenient. It is of great value, much bigger and nicer than a typical hotel room in Geneva. Jane is a great host and extremely prompt in communicating. There is a lovely bakery called Eric Emery very close to the apartment. A really awesome place to stay in Geneva!
Bibek
2017-02-10T00:00:00Z
Great location with parking. Clean place. Awesome sauna. Overall great stay.
Yadira
2017-02-25T00:00:00Z
We had a very beautiful stay here! Very well equiped, The place is perfect if you need to visit the palexpo or anything close to the airport area.. even center of town is about 15 min by public transport, lovley host. Highly reccomend this place. :)
Siddharth
2017-03-10T00:00:00Z
Le studio correspond bien à la description. Il est situé à 2 km de la gare, dans un quartier résidentiel, proche des arrets de bus. Très agréable, bien chauffé, propre, petite cuisine bien aménagée. Dommage pour le faible signal wifi et télé.
Alessandro
2017-03-13T00:00:00Z
Le studio est superbe et très bien situé. Proches de toutes les commodités. Notre hôtesse est très accueillante et arrangeante. Nous recommandons avec plaisir et reviendrons sûrement!!
Celine
2017-03-16T00:00:00Z
Room Type
Habitación privada
---
Property Type
House
---
Accommodates
3
---
Bedrooms
Genève, GE, Switzerland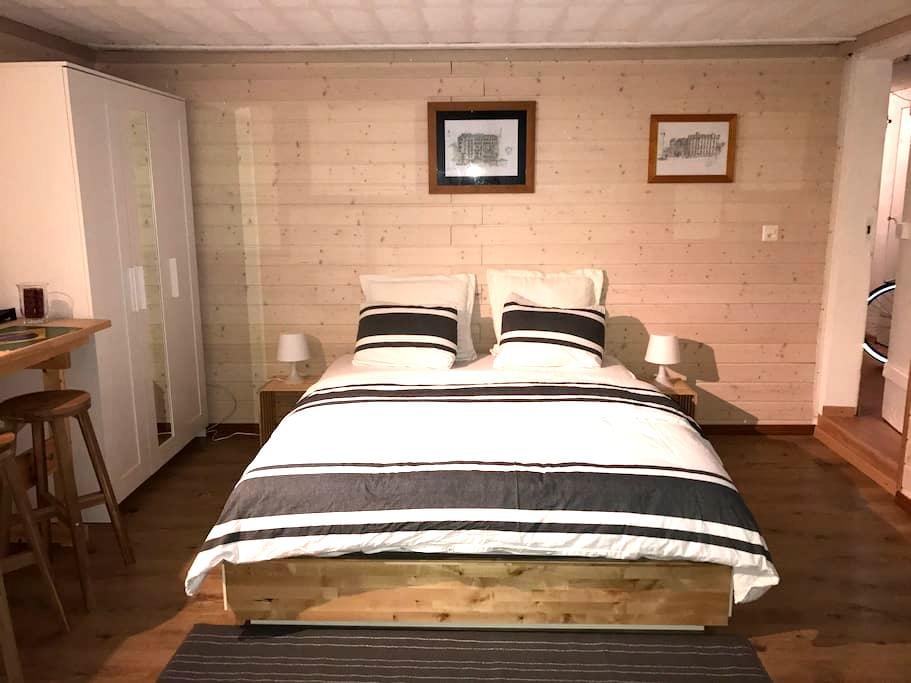 La maison est une ancienne ferme divisée en trois appartements. Nous avons une super terrasse avec un barbecue pour les beaux jours. A proximité nous avons une boulangerie, un supermarché, un tabac et une pharmacie. Nous somme près du centre en tram et pas loin du bord du Rhône pour des balades. Nous sommes 4 colocataires, 3 garcons, 1 fille (je suis celle qui laisserai ma chambre). Entre 20 et 25 ans tous issus du milieu du spectacle (2 techniciens 2 comédiens).
La maison peut être très animée, mais peut aussi être très très calme en fonction des projets de chacun ici et là. C'est une maison de jeunes, nous aimons vivre. Dans le respect de chacun biensûr!! Un inconvénient: les parois sont fines et il se peut qu'on entende les pas, les portes et voir même le réveil des colocs.
Quartier tranquille et nous avons de super voisins.
The host canceled this reservation 19 days before arrival. This is an automated posting.
Giacomo
2017-04-04T00:00:00Z
The host canceled this reservation 45 days before arrival. This is an automated posting.
Andrea
2017-04-05T00:00:00Z
Room Type
Habitación privada
---
Property Type
House
---
Accommodates
1
---
Bedrooms
Petit-Lancy, Genève, Switzerland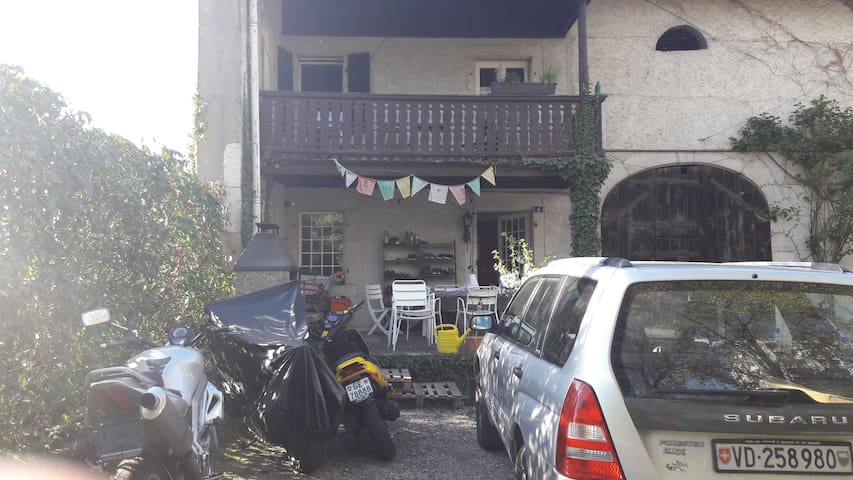 Appartement de 60 m2 entièrement rénové à 2 pas du lac et de l'hôtel Président Wilson. Grand salon/salle à manger avec cuisine attenante. Salle de bains. Chambre séparée avec lit double. Proche de la gare, du centre ville et des restaurants
A fantastic host and would recommend staying in the apartment, which looks just as nice as the pictures.
Siân
2016-09-30T00:00:00Z
Philippe was welcoming, reliable and responsive. The apartment is a great option for anyone staying in Geneva for a week or more. The apartment is spacious, modern and light-filled. Location is excellent, near international organizations, lake, restaurants and shops. It is expensive but then again Geneva is incredibly pricy.
Agnes
2016-11-05T00:00:00Z
This apartment is easy to find and well located within walking distance to main attractions. There are many great restaurants nearby. The apartment is comfortable, with excellent Wifi.
Bruce
2016-12-03T00:00:00Z
Phillippe was such a great host. He made everything very smooth, was quick to respond, gave tips and was indeed very helpful, kind and professional. I would definitely recommend others to book with him!
Benedicte
2017-01-30T00:00:00Z
Phillipe is a great host, certainly one of the best we've met so far. He is always helpful, easy to reach and extremely professional. The apartment has all one need to spend days in Geneva. It is central, close to the lake, grocery shops and restaurants and located next to public transportation and spacious and comfortable. It's kitchen is very well equipped and all the household equipments work well. Very convenient. A great choice.
Carlos
2017-03-05T00:00:00Z
Philippe is incredibly accommodating and this has really helped with our trip in Geneva. The location is brilliant for a mix of business and a holiday, being a short walk from the main road leading to the main bus/tram/train station, and a stone's throw from the Lake. Communication with Philippe couldn't be simpler with Airbnb's platform to either text, email or when logged in to Airbnb to reply, he replies within minutes. He greeted us and introduced us to the apartment and we were not disappointed. The apartment is as per the images and looks lovely. As Philippe gave us a tour of the apartment it became apparent that some things needed attention; While it didn't affect the illumination of the lounge and kitchen, several light bulbs were not working so we didn't ask to have them sorted. A couple of areas of the floor needed attention such as the position between the bedroom and bathroom, and the entrance in to the bedroom - both areas felt unstable and without any due care, we felt we the floorboard could break. With that in mind, treading around those areas carefully the whole apartment was liveable. Halfway through our stay we decided to use the oven but discovered it does not work. The kitchen hobs worked perfectly and we had a microwave oven so a combination of those enabled us to have a home-cooked dinner. It is a lovely apartment situated on the first floor, and there is a lift inside the building so getting suitcases or large amounts of shopping is easy via the lift or stairs. The area is very peaceful which means you can definitely get a good nights sleep!
Emily
2017-03-11T00:00:00Z
Très bon accueil de Philippe. Grand appartement très bien situé, proche des commerces, de la gare et du lac. Chambre très calme donnant sur une cour intérieure.
ambre
2016-05-21T00:00:00Z
Room Type
Entire home/apt
---
Property Type
House
---
Accommodates
2
---
Bedrooms
Genève, Genève, Switzerland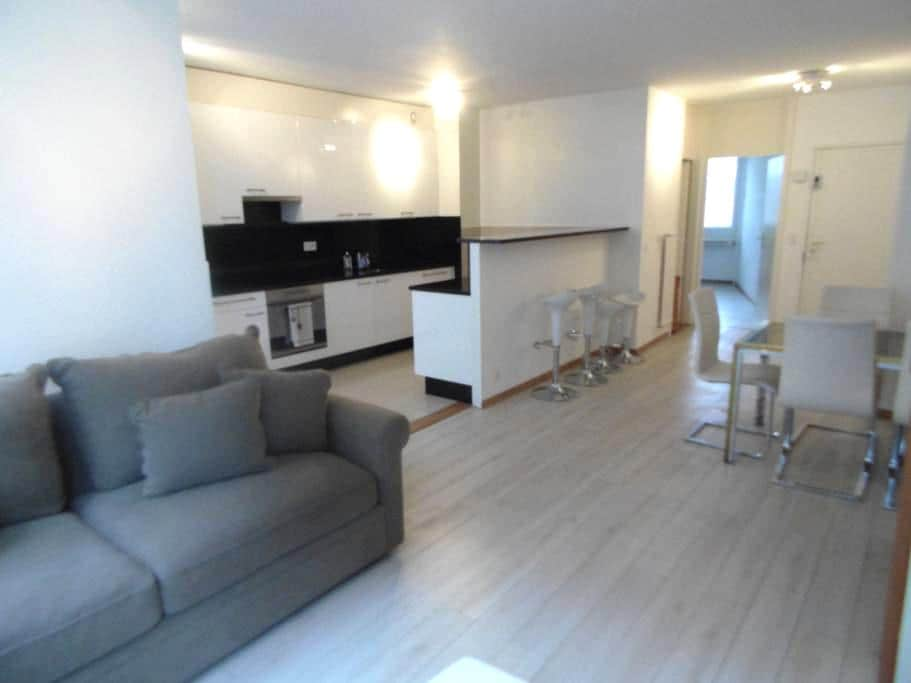 Possibilité de louer une chambre lit double, dans grande maison familiale avec jardin. (collocation de trentenaires bons vivants avec enfants et chat dans le jardin) A 15-20 min du centre en transports commun. Maison agréable et toute équipée.
Une maison familiale et acceuillante
Le calme et la nature à seulement 15 min du centre ville
great hosts, great house, great city, nice other guests - what can I say? Highly recommended! :-) The bus stop is very close, the ride to the city doesn't take long. Carole took the time to show us a few nice things to see on the map and both she and her husband were very cool about it, when I broke one of their glasses - sorry about that again!
Sarah
2015-07-02T00:00:00Z
It was a really nice stay at caroles place. She and her husband are very friendly abd helpful. They helped us with printing the boarding passes with their printer. The house is lovely and very clean. It's a bit far from the city center but it's very close to the public transport so it doesn't matter at all. Plus the house is so wonderful that no one would even mind! Overall amazing experience and highly recommended!
Rudrendu
2016-01-01T00:00:00Z
The accommodation was simply perfect. All people war extremely friendly and gave us good recommendations and let us use their bikes. The room was clean and cozy, the nights quiet and the free cake in the kitchen delicious! Check in times are flexible. Thank you so much, you made our special!
Ann-Kathrin
2015-08-25T00:00:00Z
If you plan on staying at Carole's you are going to feel very comfortable and at home since everyone in the house is very friendly and welcoming. The room fits two people very well, especially if you don't plan on staying for too long. The neighbourhood is calm quiet, packed with beautiful houses and buildings. Carole and her husband have a child, but that wasn't a problem at all.
Luis
2016-02-01T00:00:00Z
Everything ok
George
2016-10-15T00:00:00Z
Just great!
Natali
2017-03-20T00:00:00Z
Carole was there to meet us when we arrived. The room is as described, everything was clean, extra towels to use and there's a nice view of the mountains as well.
Cecilia
2015-10-08T00:00:00Z
A beautiful and big house with a great garden. Very nice family. We had a great time talking to very nice people at dinner. Carole and her friends are very friendly and helpful. Carole fue muy amable y nos recogió con el coche ya que nos habíamos despistado un poco y no encontrábamos su casa. Estuvimos cenando en su estupendo jardín, junto a su familia y amigos, una rica cena preparada por ellos mismos. La habitación es amplia y limpia. Recomiendo este lugar para su estancia.
Silvia
2015-06-06T00:00:00Z
Room Type
Habitación privada
---
Property Type
House
---
Accommodates
2
---
Bedrooms
Plan-les-Ouates, Geneva, Switzerland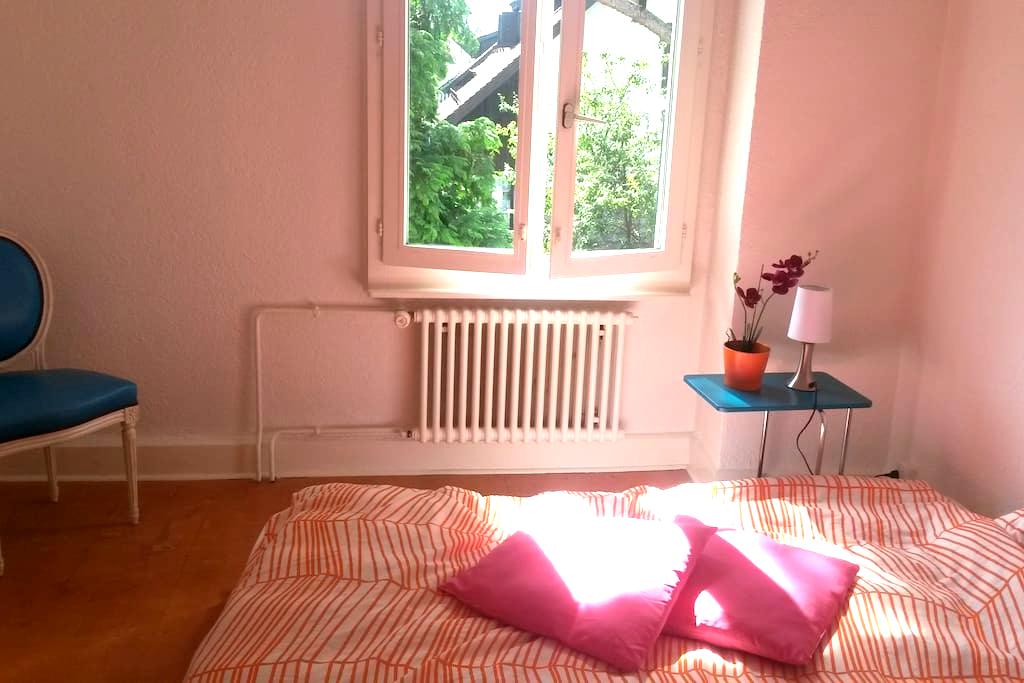 Mon logement est proche de l'aéroport, le centre ville, la vie nocturne, les transports en commun et les activités adaptées aux familles. Vous apprécierez mon logement pour la luminosité, le lit confortable et le confort. Mon logement est parfait pour les couples, les voyageurs en solo, les voyageurs d'affaires et les familles (avec enfants). 10 min (3,9 km) depuis Laeroport
Great place to stay, awesome house and unit under the roof, just so unique and that in the middle of Geneva- so easy to get to the city centre from there and also not far from the airport. Jane and her husband were wonderful hosts!!
Lin
2016-09-11T00:00:00Z
Beautiful comfortable room with a nice view. I will definitely stay again or recommend. Thank you Jane!
Sarah
2017-03-20T00:00:00Z
Fantastic stay. Jane and her husband were super easy going and willing to help, yet giving us freedom and all the space to do our own planning. The house is located around 15 min walking from the station and 30 from tge old town. Public transport also available but wepreferred walking to enjoy the weather. The room is huge, super clean and with a fridge and a tea + coffee machine with many samples ready to be used. There was space to park the car inside and the airport is just 15 min away. All in all, perfect for our needs. I highly recommend it for people looking for quietness that do not need to be in the city center.
M.
2017-04-03T00:00:00Z
My friends and I stayed here on a weekend trip. We loved it. The hosts could not be sweeter and the location made for a great walk into Geneva. A great place.
Maureen
2016-10-09T00:00:00Z
Jane's place is wonderful. The room is spacious and as shown in the photos. The beds were comfy and everything else that came in the room was perfect. No problems. Would recommend.
Saniya
2016-10-29T00:00:00Z
Jane's apartment is a wonderful place to stay in Geneva. Great neighborhood, a comfortable spacious apartment and warm hospitality from our hosts. Matt and Kim, Seattle, WA
Matthew
2016-09-27T00:00:00Z
This is my favorite Bnb during my whole trip in Switzerland,Jane make you feel so warm and cozy like your home,if I come Geneva again,definitely I will stay here and bring a cat gift:)
Weiwei
2016-09-28T00:00:00Z
I had a great experience here. The place is on a quiet street, and the room is just as nice as it looks in the pictures, quiet and private. Jane and her spouse were kind and accommodating.
Aaron
2016-07-15T00:00:00Z
Room Type
Habitación privada
---
Property Type
House
---
Accommodates
3
---
Bedrooms
Genève, Genève, Switzerland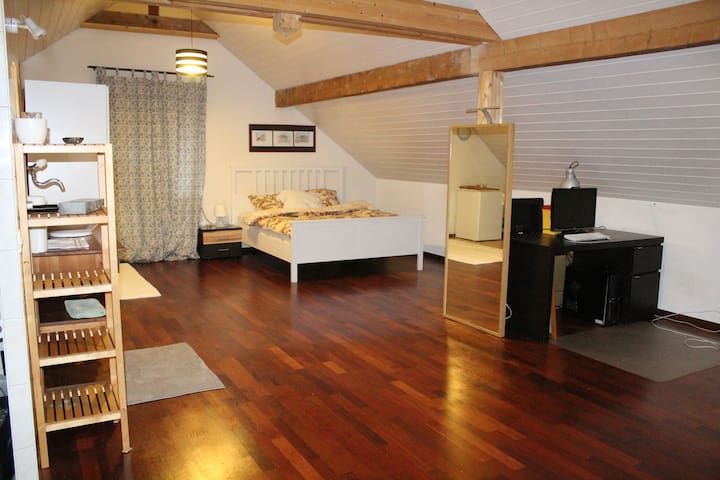 Little independent cottage situated appended to a nice old villa in the suburbs of Carouge. Commodities: -2 persons comfortable sofa-bed -mattress for a 3rd person -bathroom -kitchen -wifi -swimming pool -garden -car park -nearby bus stop
The small cottage is nearby my house in a beautiful street between Carouge and the beginning of the suburbs. It has everything needed in order to be independent (kitchen, toilet, shower, fridge, even a small table although you can eat outside on the garden's table if the weather permits it). The sofa bed is really comfortable and there is a possibility to install a mattress on the floor for a 3rd person. There is also a big garden and a beautifull swimming pool to chill out on sunny days :)
Carouge is an old sardinian town with lot of small shops and beautiful squares located only 10 min away from Geneva, it is the ideal place to take a break from Geneva's city centre. There are also a lot of great restaurants with terraces and nice bars. Furthermore, visitors who like nature can go for a walk or a jogging among the fields of the beautiful countryside of Veyrier and Troinex located at 5-10 min.
Le cottage est confortable et tout à fait confome a la description. Iacopo nous a réserver un accueil chaleureux et des plus sympathique. Nous vous recommandons vivement le cottage de Iacopo.
Marc
2015-08-09T00:00:00Z
Room Type
Entire home/apt
---
Property Type
House
---
Accommodates
3
---
Bedrooms
Carouge, Genève, Switzerland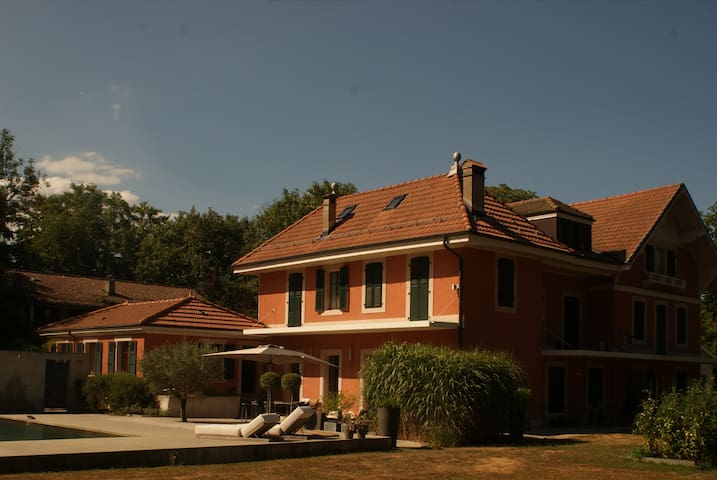 Just a few minutes away from the Airport: across the street from the largest mall in Geneva. Both tram and bus just around the corner. Single bed.
A classic Swiss villa in the heart of Geneva.
Across the street from the shopping mall, Cineplex theatres, five minutes from airport, ten from train station, close to the Palais des Nations and international organizations.
Adam is a great man with a very cozy house. You will feel welcome from the first second
Tobias
2017-01-20T00:00:00Z
I had a great time at Adam his place. I visited Geneva for the Genava Motor Show and that was just a few stops away. So if all the hotels are booked, this is a perfect alternative.
Rahul
2017-03-08T00:00:00Z
Excellent host, very friendly and easy to talk to,he helped me with the information to move in the city, I recommend Adam completely for your next stay in Geneva, he kindly picked me up at the airport and took me for my departure. Great place to stay
Nicolas
2017-03-19T00:00:00Z
It was very nice at Adam's house. The room was exactly like in the discription and was very tidy and comfy. Adam was the perfect host, he was always there for questions and other belongings. I would defently recommend to stay at his room.
Maxi
2017-03-12T00:00:00Z
The room is on the top floor of a nice villa. You will have almost everything you want. It has a big bedroom, a toilet and an office. A lot of private space. The house is also close to nature. Bus and tram station are few minutes walk distance away. Adam is quite welcoming and friendly. He lent a bike to me for free which brought much convenience to me. Great experience.
慎之
2016-08-07T00:00:00Z
Adam is a great host, very kind and helpful. The room is very big and well fournished, on the upper floor of the villa with great indipendence. There is also a nice studio corner with coffee machine and a private toilet. It is a perfect solution for 1 or 2 people, well located and served with public transport and shops. I strongly suggest it and I would come back.
Elisabetta
2016-07-01T00:00:00Z
Very nice room, quiet and nice location. Adam was very helpful and friendly
graciane
2016-06-29T00:00:00Z
Adam was friendly and helpful, as were the others staying in the house. The room was just as described, with a generous coffee supply (always appreciated!). Plus the neighbourhood is super convenient, both for onward transport (excellent links to train and airport) and also for exploring the city (trams and many buses on the doorstep). Recommended!
Emma
2016-10-11T00:00:00Z
Room Type
Habitación privada
---
Property Type
House
---
Accommodates
1
---
Bedrooms
Genève, Genève, Switzerland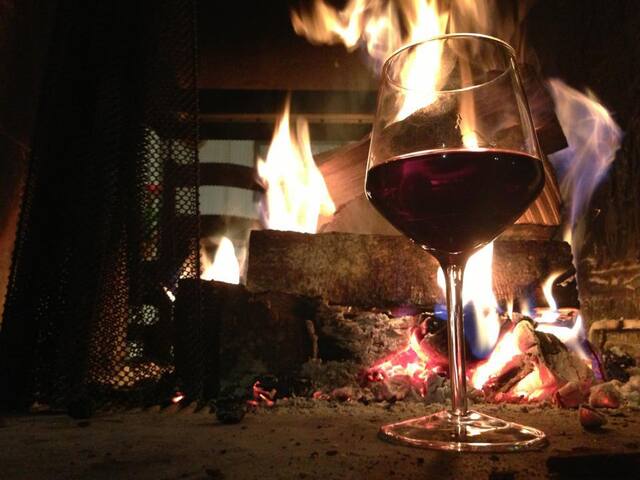 In a calm context close to the city center, studio of approximately 26 m2 plus mezzanine, fully independent from the main house and completely equipped with everything you need during your stay in Geneva. The studio has been recently completely renovated and it is composed of an open kitchen on the dining room, bathroom and sleeping room in the mezzanine.
Forniture in the studio Table, 4 chairs, sofa (with 2 extra beds), fully equipped kitchen Bathroom with shower, hair dryer, washing machine and dryer Equipements in the mezzanine: 1 double bed, complete linen set, TV Wardrobe
All was fine .
tobias
2017-03-09T00:00:00Z
Casa accogliente fornita di tutto il necessario, Barbara è stata disponibile e cortese, consigliatissima sia per ragazzi che per famiglie.
Gabriele
2017-03-12T00:00:00Z
Room Type
Entire home/apt
---
Property Type
House
---
Accommodates
4
---
Bedrooms
Petit-Lancy, Genève, Switzerland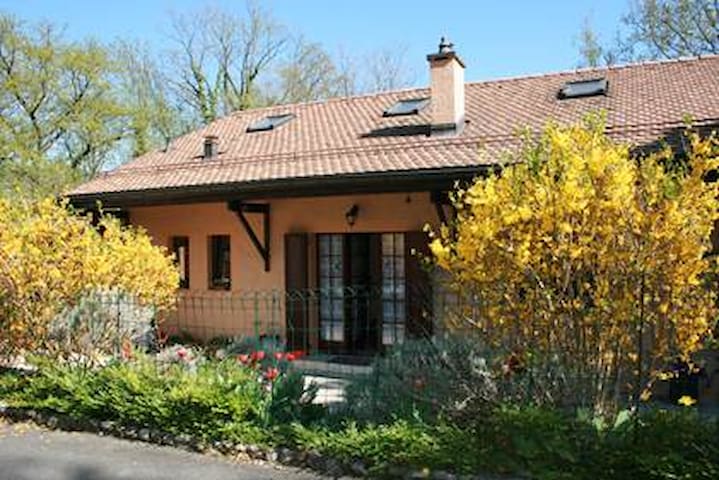 Nice and comfortable suite bedroom for two in farmhouse of the 18th century. It is centrally located in the hearth of Geneva while enjoying nice woods and calm. Enjoy a nice kitchen, an independent entrance, access to the garden and all bus lines.
A very large, beautiful and special room in an amazing place.. an old tasteful farm house in little bit of magical hidden forest in the middle of Geneva! And the host could not have been more warm, welcoming and helpful. What a wonderful experience, I highly recommend staying here!
Margriet
2016-05-20T00:00:00Z
The Red Suite is an absolutely beautiful and cosy room. The farm is located in a very quiet street and it is almost difficult to believe that is it so close to the city centre. Tram, supermarkets, restaurants... everything is within a 5 min walking distance. The host is welcoming and caring. Overall, the atmosphere is relaxed, easygoing and friendly. I loved it. Certainly worth going there to enjoy the best of Geneva!
Fabien
2015-12-31T00:00:00Z
Wow wow wow! What a place! The farmhouse was the highlight of my stay in Geneva. So quaint and a true Swiss experience. Genevieve is an epic hostess- so warm and full of great advice. It's a very friendly house and the red room is perfect- huge, sunny, comfortable, stylish and the private entrance to the garden is key. I would love to stay there again. I've been raving about this place ever since I left.
Samer
2016-10-24T00:00:00Z
Perfect for me. Clean, friendly and we'll organised. Location and setting was amazing for central Geneva.
Garry
2016-06-25T00:00:00Z
I had a very nice stay at the house, beautiful bedroom, nice atmosphere. The host very kind. I did not understand there were many other rooms for rent though, bathroom can get busy for shower in the morning.
Benedetta
2016-10-27T00:00:00Z
I was made to feel very welcome. The room was comfortable and in easy walking distance of the UN offices. My host went out of her way to make sure I knew how to get to where I was going.
Caroline
2016-06-18T00:00:00Z
I was so looking forward to staying at Oscar's place. Seems like a great location and great people. The day I was leaving for Geneva my wife got sick and I had to cancel my trip. I didn't ask for a refund because their policy was clear and I didn't want to leave him in the lurch. He was very gracious and concerned and next time I go back to Geneva, I will make sure to stay with him! Thank you Oscar.
Jim
2016-07-04T00:00:00Z
Very welcoming arrival. Very spacious and cosy room, decorated with distinction. Nice location. Easy access to downtown.
Dominic
2016-06-20T00:00:00Z
Room Type
Habitación privada
---
Property Type
House
---
Accommodates
2
---
Bedrooms
Genève, Genève, Switzerland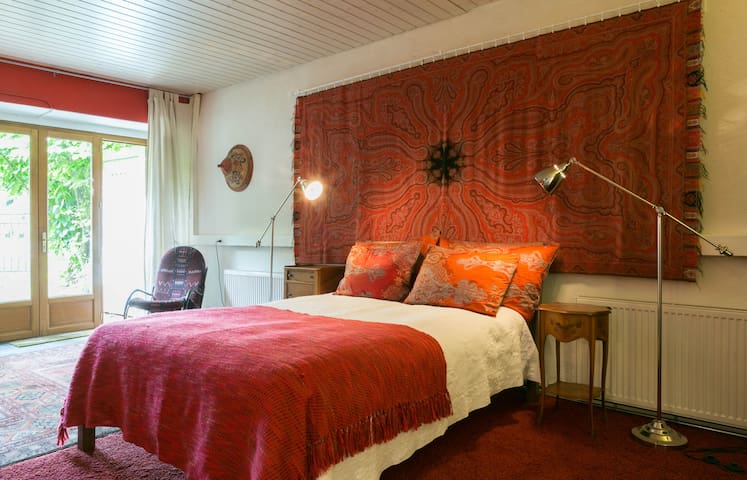 My accommodation is perfect for solo travelers and business travelers. Very small room with simple decoration and basic furnishings.
Very small room in a modern semidetached triplex house with terrace shaded garden.
Villa area on the outskirts of Geneva , calm riverside , still at 20 minutes from the town center and amenities with public transport. Please take note and do not complain about the location for these reasons when rating the room.
Modern, calm place, 25 mins from the center, and an Ivan is an absolutely hospitable person and respected our privacy to the maximum. I really recommend his place for anyone who wants to enjoy Geneva!
Attila
2017-01-15T00:00:00Z
Ivan's home is a nice, modern apartment. The bedroom itself is quite small and we found it a bit awkward trying to manage it with 2 suitcases. We didn't meet Ivan or hear from him at all during our stay so I probably wouldn't recommend it as a place to stay if you're wanting to receive any local tips etc. There wasn't many places to eat or shops in the area but it's only a 20-30min tram ride into Geneva. In terms of value this is a good option in an expensive city, however having the use of the kitchen would have been appreciated, especially as the host wasn't at home at all during our stay.
Gemma
2017-03-04T00:00:00Z
Ivan is such a considerate host, from free bus tickets to locking the door, he includes everything in detail. His timely reply is really a blessing as I don't speak French in the French zone. His house is within walking distance from public transit and it's super comfortable and clean and tranquil. Plus, it's such a reasonable price! Thx for the trust given to me. When I stayed, he was not home but we had no problems with communication. Last but not least, my room has a great view of the snow mountains and a soccer field. You cannot miss his house while in Geneva.
Marvin/Guojun
2017-03-19T00:00:00Z
very nice place to stay. close to public transportation although a bit far from town. it's in an expensive area so expect that. overall, we had a great time and Ivan was great!
Leta
2017-01-11T00:00:00Z
Everything perfect. Be aware that no access to kitchen. Room is very cozy with big bed and a desk. Good connection to city center. I recommend!
Sofia
2016-10-15T00:00:00Z
It was good decision to select Ivan's home to stay. His place is in nice residential area in a quiet place with lots of open space and surrounded by trees. Home is very close to the bus station and easy to get there from the airport and city. Ivan is so friendly, I enjoyed talking to him while we had free time. Room is small but enough for 1 or couple. Ivan is a good host, he offered lunch on my arrival and drink before leaving his home. I had wonderful time living in his home. If I have a chance, I will stay here again.
Shree
2016-09-15T00:00:00Z
We had a lovely time staying with Ivan - the room and house is as described and very clean and comfortable. Ivan is a great host and made us feel very welcome. We didn't explore too much of the local area/suburb but it seemed to have plenty on offer too.
Yhana
2016-12-16T00:00:00Z
Ivan's place is really nice, with a modern and Asian touch. The room is nice and bright, small but cosy and with a comfortable bed. We could use the living room as well. The neighbourhood is nice, surrounded by nature, but think is more convenient for those who have a car. Luckily, when arriving at the house, his friend kindly showed us how to get to the tram stop to the center, which would have been tricky without him. Notice that you must have coins to pay for your ticket or a credit card. Even if we didn't meet him, Ivan was really kind and gave us advice on how to arrive from the airport and to check in and out.
Daniela
2016-09-07T00:00:00Z
Room Type
Habitación privada
---
Property Type
House
---
Accommodates
1
---
Bedrooms
Grand-Lancy, Genève, Switzerland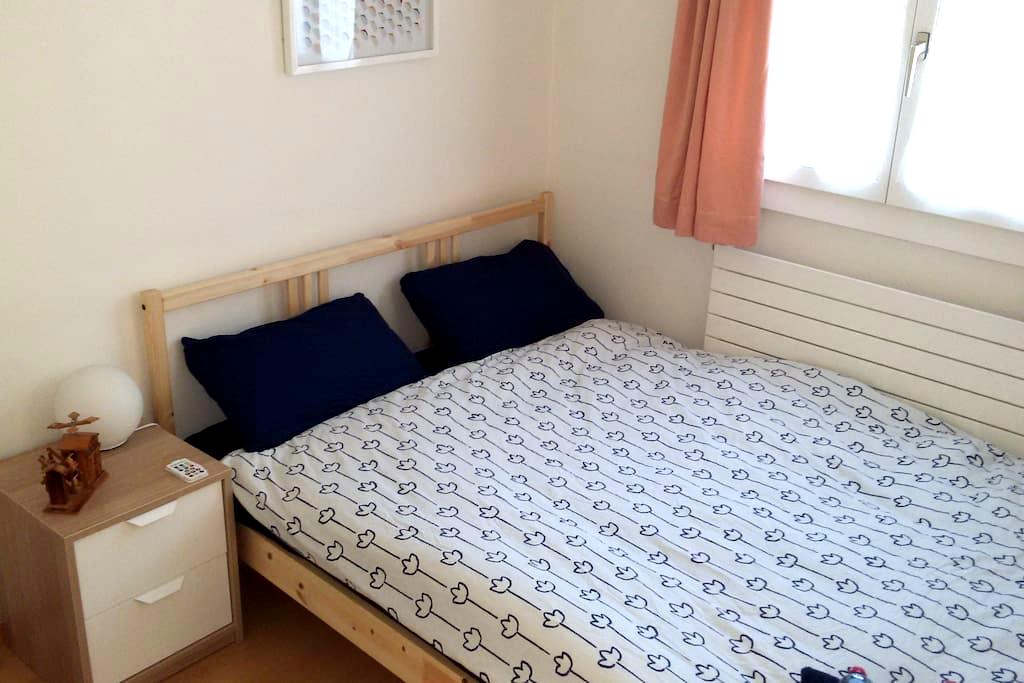 In a house in rent, with room available: kitchen, bathroom, conservatory, utility room and large garden Close to all amenities (200m) / 15 minutes from the city center by tram (No. 14) / 30 minutes from the airport by bus No. 23
Sandro completely exceeded our expectations from the reception, he was very aware of our arrival, he made us feel at more than home, made us feel like family, even he shared us his skills in kitchen, very delicious ... He was so friendly that left a great impression of people in Switzerland. The best host in Europe ... Thank you all Sandro for your kindness and hospitality, totally 5 stars. --------—-------------------------------- Sandro excedió completamente nuestras expectativas, desde el recibimiento, estuvo muy pendiente de nuestra llegada y más que sentirnos en casa nos sentimos en familia, estuvo todo el tiempo pendiente de nosotros y de donde podíamos ir, incluso compartimos (URL HIDDEN) en la cocina, muy delicioso todo... Fue tan amable que nos dejó una gran impresión de las personas en Suiza. El mejor Host de todos en Europa ... Gracias Sandro por tu amabilidad y hospitalidad, total 5 estrellas.
Javier
2016-08-20T00:00:00Z
Wow! The Best of the bests! Sandro is an incredible personality with the biggest smile and super interesting mind. I LOVED spending my time in his magical little wonderland :) We cooked, laughed, chatted together and he quickly became my good friend who I'd immediately visit whenever I'm next in Geneva again. His house is neat and tidy, very atmospheric and the huge garden with its fairylights makes you wanna stay there forever - and Sandro's award-winning Mushroom Risotto too. THANK YOU SO MUCH FOR EVERYTHING DEAR SANDRO!
Kinga
2016-09-27T00:00:00Z
Sandro was very helpful and hospitable. He even offered us dinner and breakfast though he didn't have to. The room is clean and spacious. Would definitely recommend this place. It's great value for money.
Arun
2016-07-15T00:00:00Z
We had a wonderful stay at Sandro's house. He provided easy directions to get to his place and came to meet us at the tram stop so we wouldn't get lost. The room was lovely and clean, and Sandro was very kind. He even provided us with coffee, toast, and jam free of charge for breakfast. The city center is easily accessible by tram 14 and takes only 20 min to get there. We would definitely recommend Sandro's house to anyone looking to stay in Geneva!
Alexis
2016-06-16T00:00:00Z
Sandro was very welcoming! The house is the most beautiful in the area. Highly recommend this place to stay.
Alona
2016-09-18T00:00:00Z
Sandro' s place is quiet, clean and pleasant with a big garden. We only stayed for one night so we couldn't enjoy it. Thank you Sandro for the stay!
Van Ban
2017-04-05T00:00:00Z
Sandro's brother came to welcome to the bus stop 23. It was late because of our flight. He was very kind. The building IS behind some new houses and without his help IS dificult to find. It is an old suisse House. Really tipical and beutiful. It IS very clean and has a beutiful Garden. You forget you are near the center of Geneva. Sandro's brother offer us some coffe and tea for breakfast.
Blanca
2016-07-09T00:00:00Z
Sandro is a really nice host. He is available when you arrive to present his house. Everything is clean (bathroom and room). The bed squeaks a bit but the price is really friendly.
Florent
2017-03-17T00:00:00Z
Room Type
Habitación privada
---
Property Type
House
---
Accommodates
2
---
Bedrooms
Petit-Lancy, Genève, Switzerland
185sqm, fully furnished, bright villa with garden in green and quiet surroundings. Accomodation for up to 6 person, ideal for families. Very close to city center, Geneva airport and international organizations. Minimum rental period of 7 days!
SHORTLY 185sqm, fully furnished, bright villa of recent construction in green and quiet surroundings. 10 minutes by bike or public transportation from Geneva center. 15 minutes car drive from Geneva airport and international organizations. 5 bedrooms, 2 bathrooms, open space (saloon, dining room, kitchen), garden and balcony, wireless Internet access, private parking space - IDEAL FOR FAMILIES. Important: Minimum rental period of 5 days! WELCOME What you can expect: a nice and spacious house, inhabited during the year by a family with two boys (us!), decorated with attention and a personal touch (as you can discover on the pictures), fully functional and extremely well located. Indeed, we are with one foot in the river (Aire) and overlook the forest and its hiking trails: in this green and very quiet environment, one feels far from the city, Geneva though is within a stone's throw: The tram stop can be reached in 3 minutes walking and the city center is 5 stops away (7 minutes). For better organization, we want to give priority to individuals / families who rent at least 5 consecutive days. FULL HOUSE DESCRIPTION The house is situated in a green and quiet area. The terrain is on a slope, so that the two parts of the garden are accessible from two different floors of the house. One is facing south-east, with the entrance. The other is oriented northwest (about 200sqm garden), where the sun arrives early afternoon and brightens up the barbecue until the evening. It is accessible from the kitchen. The interior is arranged on four floors. The ground floor has a large entrance hall, a guestroom (10sqm) and a bathroom with toilet and shower. In the rear of this level is the basement with craft room, sauna, laundry room and wine cellar (semi excavated level). The first floor is one open space of 60sqm, with dining table, lounge and kitchen. This level provides direct access to the garden at the rear and front balcony (16sm). The balcony is the ideal location for lunch with great views of the Salève. The second floor consists of three bedrooms respectively of 10, 12 and 14 sqm, a bathroom with tub and two sinks and a separate toilet. The third floor is a 20sqm bright studio, used as an office and playroom.
Nous sommes avec un pied dans la rivière (l'Aire) et surplombons une forêt et ses chemins pédestres : dans ce cadre vert et très calme, on se sent bien loin de la ville de Genève, alors que celle-ci, et son lot d'offre culturelle et touristique, se situe à proximité immédiate.
A wonderful house to stay !! Stylish, comfortable, spacious, views, a wondrful garden and located next to forest and a river. 5 mins walk to tram stop lancy mairie. perfect for a family of 5 with children 4, 8, 10. eric was incredibly helpful and provided great tips and advice about places to visit in the are and even arranged 5 bikes for us to use during our stay. easily the best of the the three places we stayed in geneva. a real gem. thank you eric and family for a great stay - we'd happily stay again
Joanna
2014-08-04T00:00:00Z
Very interesting and unique house close to downtown Geneva. It is a big house in a quiet neighborhood with lots of outdoor spaces. Sustainability is the key focus in this house, both in therms of energy as well as recyclable and reusable furnishings. There was plenty of space for 6 of us and the boys enjoyed the attic with its hammock, swing and piano. Wireless WiFi was working well throughout the house. I specially enjoyed the backyard with its beautiful granite patio and easy accessibility from the kitchen, but we also enjoyed the balcony with a few in front of the house. The house practically borders a nice park with a creek and trails through it lead to a grocery store within minutes. It was easy to get to the center of Geneva and to the freeway. Even though we never met the host family, they made us feel welcome and at home and left us all the little necessities that makes daily life away from home easy.
Yvonne
2013-07-11T00:00:00Z
nous sommes très satisfaits de notre séjour dans la maison d'Eric qui offre de nombreuses possibilités pour découvrir Genève et ses environs. Idéal pour une familles avec des enfants.Cuisine bien équipée , salle de jeux, jardin agréable. Nous recommandons vivement ce lieu. Le contact avec Éric a été très agréable.
BEATRICE
2016-07-31T00:00:00Z
Room Type
Entire home/apt
---
Property Type
House
---
Accommodates
6
---
Bedrooms
Lancy, Geneva, Switzerland
Il monolocale e completamente nuovo ,puo ospitare 2persone,ha un ampio bagno,un angolo cucina,una zona giorno,una notte ed e vicino a centro commerciale e tram x andare in centro
Ha un giardino che puo essere utiliztato,un entrata indipendente e un posto auto
Vicino centro commerciale e fermata tram a 5 minuti a piedi
The host canceled this reservation the day before arrival. This is an automated posting.
Martina
2017-02-14T00:00:00Z
The host canceled this reservation 20 days before arrival. This is an automated posting.
Margherita
2017-02-14T00:00:00Z
Room Type
Habitación privada
---
Property Type
House
---
Accommodates
2
---
Bedrooms
Vernier, Genève, Switzerland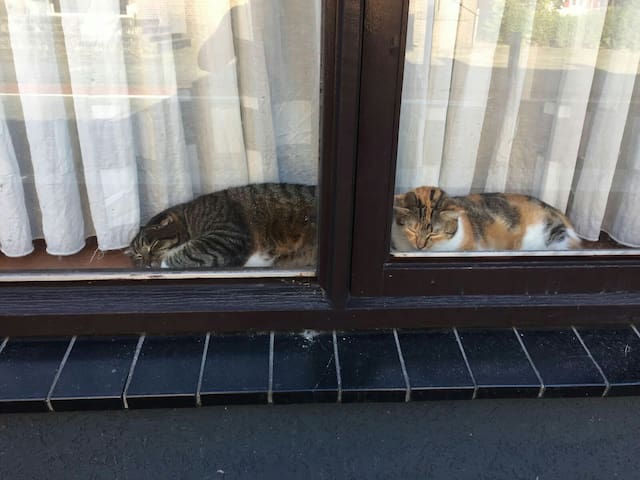 Modern 4 bedroom executive home conveniently located close to centre of Geneve.
Modern 4 bedroom executive home conveniently located within a 5 minute driving distance to downtown and a shopping mall with 360+ retail stores, within a kilometer to a central highway, and a 5 minutrs drive to the airport.
Avalable for short term and long term rental to qualified groups or individuals. Daily rental for events is available but must be approved by host.
Room Type
Entire home/apt
---
Property Type
House
---
Accommodates
10
---
Bedrooms
Genève, Genève, Switzerland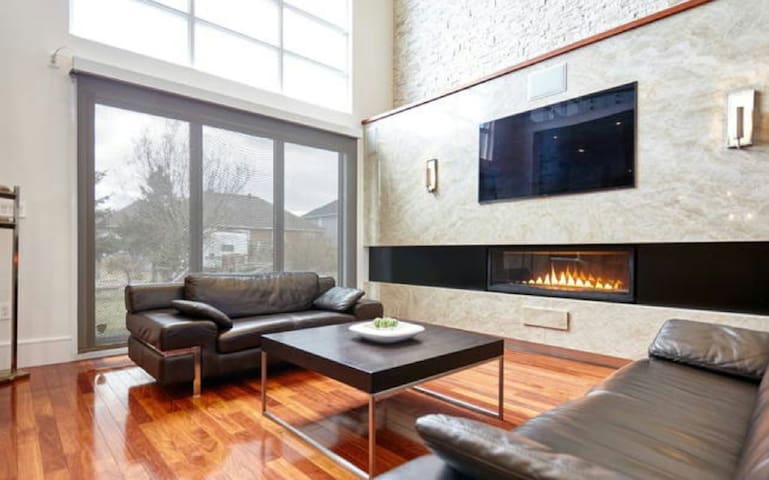 Villa. Two bedrooms with a double bed. One bedroom with two single beds. Baby cot. Living room. Kitchen with dishwasher. Bathroom with WC. One WC. Garage. Laundry with washing machine. Heater. Terrace, Garden. Wi-fi. Mountain bike (for man). 2 city bikes (for woman). Cats are not allowed.
We had a fantastic stay and found all our dealings with Christophe to be really easy and helpful. The house was lovely and clean in a quiet and leafy pocket of the city. Being able to borrow a bike was a real bonus. The kitchen was well equipped and we enjoyed eating meals on the back verandah.
Fiona
2016-09-25T00:00:00Z
Christophe made it very easy to check in and check out. The place was ready right when he stated it would be. The home is very close to public transportation to take to you downtown Geneva.
Nathan
2016-10-31T00:00:00Z
Nice, good size house in Geneva. Close to bus lines and some shopping. We liked the space and convenience. Lots of parks and a library nearby, so good for families with small children.
Alan
2016-11-09T00:00:00Z
Hallo Christophe Odette was just fantastic. She did a good Job and wated for us in the house, which we didnt foud. We walked over the wrong bridge. In direction where the Bus was going to. We didnt know, that we had to go 30 m back, then crossing the street. So we walked around for 45 min until we asked someone and he showed us the way. House was simple, but found all. No luxury, but very clean and we had a Great Time. Garden not so good condition, but we loved it. Good athmosphaer. Thank you very much.
Regine
2016-06-06T00:00:00Z
Christophe was a fantastic host with a lovely home. Would highly recommend.
Zack
2016-05-22T00:00:00Z
Our experience was fantastic, better than expected. The house is beautiful, has plenty of space, wide corridors and very confortable. The house is full equipped, has all you could need and everything works perfectly. The hosts were very kind, respectful and they've contacted us asking if we were in need of something. The neiborhood is very quiet. There's a supermarket near the location and has access to the public transportation system within a few blocks. I would recomend it for families.
Nacha
2016-05-15T00:00:00Z
We did not get a chance to meet Christophe or his wife personally, but they could have just as well been there. All the instructions were very easy to follow. The chance to walk into someones house in a foreign country and feel you were in your own home was just fantastic. Spacious, clean, great location, and friendly neighborhood. The buses to downtown and Cern were just a 5 minute walk. Our son was working at Cern for the summer so we had a car rental, and Christophe's house has a garage. From the house it was easy to get on the expressways; whether going towards Lausanne or Chamonix. We had a wonderful time and recommend anyone going to Geneva to consider staying at Christophe's house
Peter
2016-07-27T00:00:00Z
Great place, clean house and easy acces to public transport. The bikes were for us a super easy way to get around.
Eva
2016-09-30T00:00:00Z
Room Type
Entire home/apt
---
Property Type
House
---
Accommodates
6
---
Bedrooms
Châtelaine, Genève, Switzerland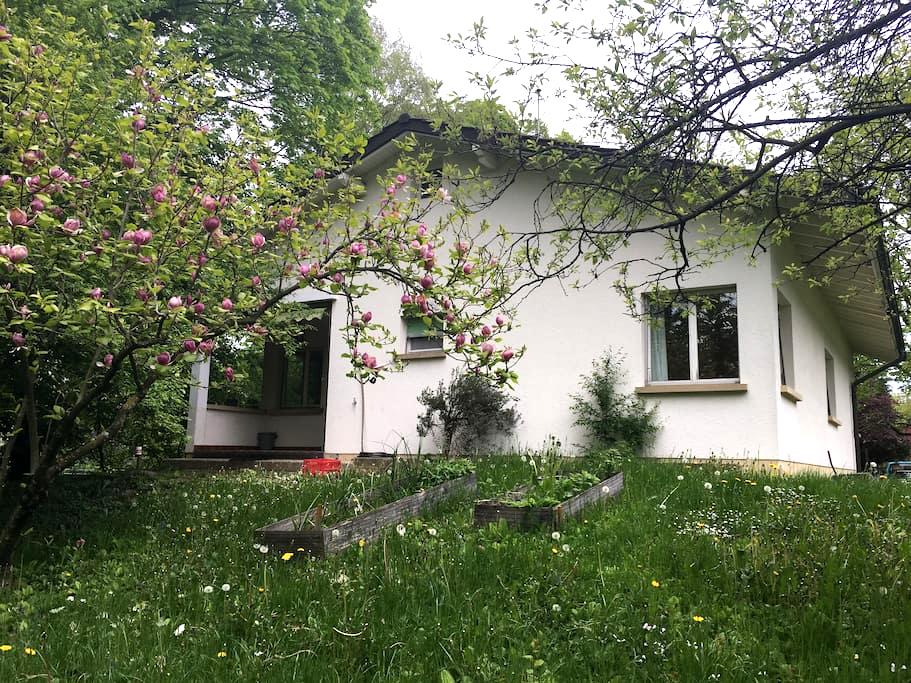 Nice and comfortable bedroom in farmhouse from the 18th century. It comfortably fits one and is centrally located in the hearth of Geneva while enjoying nice woods and calm. Enjoy a nice kitchen, access to the garden and easy access to all bus lines.
Nice place. Cozy. Autentic. Was there just to sleep for a couple of days while in conference. Perfect.
Loek
2016-02-05T00:00:00Z
My stay in the Fôret House was fantastic. A beautiful house close to the city centre and the UN area. I can recomend this accomodation to anyone visiting Geneva.
Kadi
2017-01-20T00:00:00Z
I really liked the holiday in this beautiful house!) Clean, stylish, with a soul. I recommend;) I want to come to this house again.Geneviève and Oscar, Thank you very much! You are a wonderful persons!I was very lucky to be your guest
Olga
2016-05-22T00:00:00Z
My experience at the quaint and charming farmhouse started off with a rocky start only because I did not anticipate having to go through an unlit muddy road to get to the farm house especially with a big luggage however, once I entered the farmhouse the momentary discomfort was eased by the extreme kindness and hospitality of the actual host Genevieve who was incredibly attentive and simply wonderful. I never got to meet Oscar in person because he explained to me that he takes care of the booking aspect of the hosting however, communication with him was easy and friendly. Over all the farmhouse was a lovely little find especially if you'd like to meet diverse and amiable individuals while in Geneva.
melissa
2016-02-27T00:00:00Z
Ich hatte einen tollen Urlaub. Die Buchung erfolgte kurzfristig und ohne Probleme. Das Haus ist in weniger als einer halben Stunde zu Fuß vom Genfer Flughafen zu erreichen und gut zu finden. Ich wurde bereits erwartet und freundlich empfangen. Die Kommunikation verlief super, da die Vermieterin sehr gut Deutsch, Englisch und Französisch spricht. Das Zimmer, das Bad und die Küche waren sauber und ordentlich. Auch der Garten lädt zum Verweilen ein. Die Einkaufsmöglichkeiten und die Anbindung an öffentliche Verkehrsmittel sind ebenfalls gut. Besonders die fürsorgliche Art der Vermieterin ist mir in Erinnerung geblieben und ich empfehle aus voller Überzeugung weiter.
Thomas
2015-06-27T00:00:00Z
Très bon accueil
Xavier
2016-02-10T00:00:00Z
Room Type
Habitación privada
---
Property Type
House
---
Accommodates
1
---
Bedrooms
Genève, Genève, Switzerland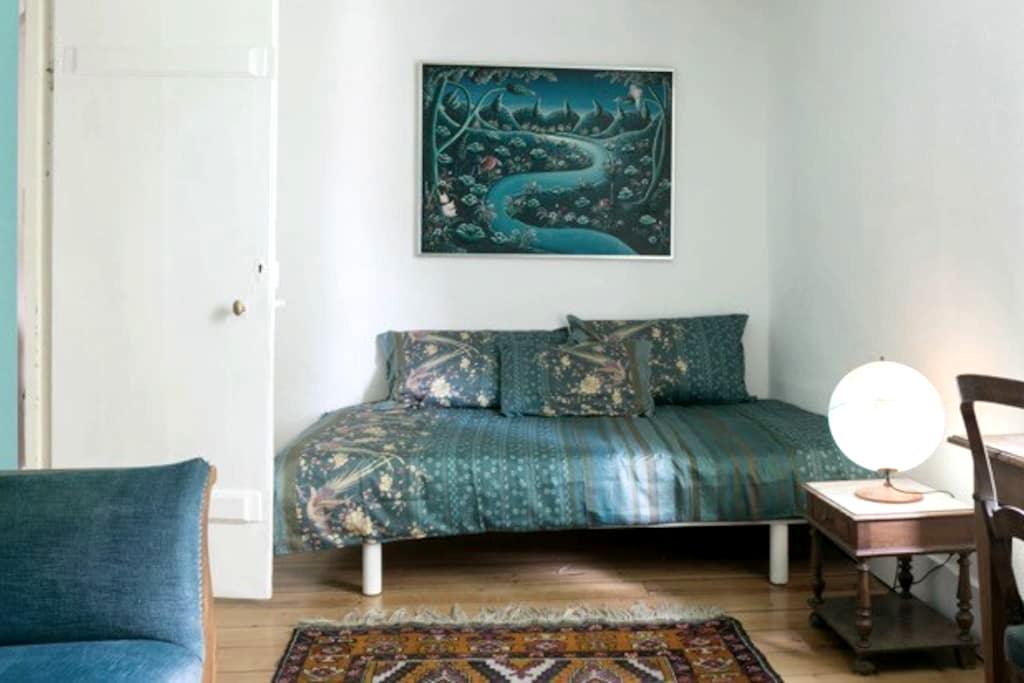 1930s renovated family home, modern loft type accommodation, 3 floors, 4 big bedrooms, 2 large bathrooms, TV room, large open living, dining area for 10, big garden, shaded terrace w bbq, private parking, 2 mins from buses, 10 mins city centre & lake
Our house is a hide away from the city in a green belt at the edge of the centre. With a group one can find space in different areas in the house: at the bar in the open kitchen area, at the large farm table in the dining area, in the study, in the living room, TV room, the spacious bedrooms or in the different areas of the garden. There is lots of natural light. With its easy access by bus to the city and airport at the end of the street our house is very convenient for a large family or group of friends who visit Geneva or want a base for hiking or skiing in the region.
Geneva is a compact and cosmopolitan city at the edge of Western Europe's largest lake. Surrounded by mountains, the city enjoys a wonderful location with sports and cultural activities all year round. We love going to Carouge for diner, this is an old Italian quarters of Geneva. Plain Palais is more student oriented, and then the lake is great for pizzerias and swimming. Our home is in Conches, a well-preserved green and charming neighbourhood at the south edge of the city centre of Geneva. Conches is a residential area where you still find century old family estates with their stunning 1900s mansions. Our home is traditional 1930s with a view on one of the oldest oak trees in the area. There is a secluded south-facing terrace with BBQ area with apple cherry and plum trees providing for necessary shade in the summer. We have renovated our home recently - we have preserved the outside and some of the old features but at the same time created a loft type modern feel to it once you are inside.
We were quite surprised to find the place were full of the family's personal belongings in the apt. We think that the owner family is actually staying in the apt. It was very unlike other Airbnb apts that we have stayed before where they was properly cleaned and solely rent out for short term tenure. The floor was also not properly cleaned, it was sticky and sandy. We were all hopeful to use the washer to wash our days of dirty clothes but was surprised to find that loads of washed clothes were hanging in their basement store where the washer is and there was even laundry still inside the washer. The smell of the storeroom was dank. We have no choice but to visit the laundromat to do our laundry. Lastly, the smell of animals in the house was pretty strong and there was animal hair on the floor. However, the location was good.
Verene
2016-06-06T00:00:00Z
We visited Josephine's cosy and beautiful house for a short getaway over New Year's Eve. We didn't meet Josephine personally, but her instructions were clear and simple, we felt at home immediately. Also, Josephine was very supportive throughout and before the stay, promptly answering to all our questions. The house itself is just as shown on the pictures, there were no surprises at all. In conclusion, I can recommend this house to anyone and would like to visit it again!
Sebastian
2016-01-02T00:00:00Z
We loved staying at Josephine and Olivier's place. They were receptive to all our questions and requests and their home was a beautiful space in a very pretty and quiet, serene area not far from the center of town near major bus lines. We loved the rustic, yet comfortable design and feel to her uncluttered space with pretty decor in every room. It was spacious enough so that a family of 6 could have their own privacy and was great to have 2 bathrooms and cozy rooms. We especially loved the outside area with places to sit and a hammock the kids enjoyed using!
Josh
2016-07-04T00:00:00Z
We had a wonderful stay at Josephine's beautiful family home. It's really spacious, easy to get the bus into the centre and had everything we could have needed. Would definitely recommend staying here. I didn't meet Josephine but she was incredibly helpful and accommodating and answered my queries in a timely and friendly fashion. There was plenty of room for 4 adults and 4 children and would be happy to stay again. The home is as beautiful as it looks in the pictures and is in a quiet residential area. we were all really pleased we found this place. Much better than staying in a hotel!
selina
2016-01-10T00:00:00Z
Very nice house in a very nice neighbourhood. Josephine has been very helpful and accommodating. The house is like in the pictures and the kitchen is big and awesome. In the morning sun everything gets even better.
Marcella
2016-01-16T00:00:00Z
Beautiful modern house with a ton of space. We enjoyed our stay in this house and neighborhood. My daughter especially loved visiting with Cookie the cat every day.
Jennifer
2016-07-24T00:00:00Z
Best house ever! Josephine was a fantastic host, giving us her good addresses, tips, advises well in advance. The house was impeccable and all we needed was there. It was so confortable, our children wanted to stay at home rather to go visiting... The neighborhood is quiet while being at 10 mins driving distance from the center, excellent location.
Valerie
2016-04-01T00:00:00Z
We stayed for two nights in this beautiful and big house. It is a very quite area with parking space and garden, but also near to the city --> Perfect. Communication was very easy and nice. Josephine and her family are great hosts.
David
2016-03-13T00:00:00Z
Room Type
Entire home/apt
---
Property Type
House
---
Accommodates
8
---
Bedrooms
Conches, Genève, Switzerland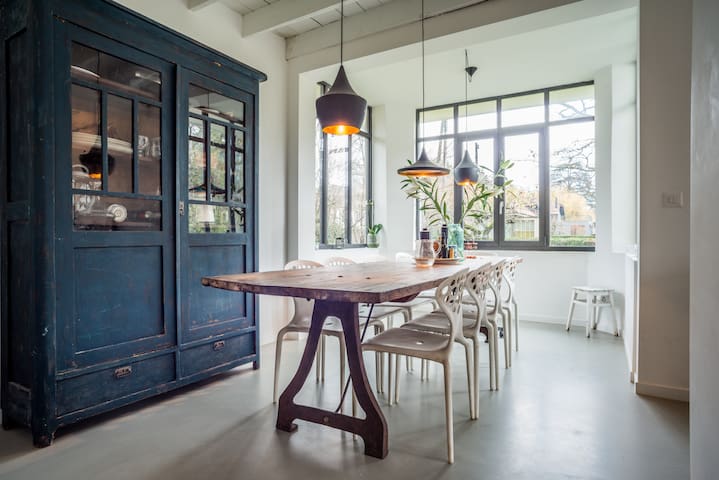 1

–

18

of

30 Home Rentals
Enter dates to see full pricing. Additional fees apply. Taxes may be added.