O T1 F&B é um apartamento encantador localizado no coração do centro histórico, num antigo prédio recentemente restaurado, mantendo o charme do antigo,ideal para duas pessoas. Nos arredores do nosso T1 F&B , pode encontrar, padarias, cafés,pastelarias,farmácias, supermercados, lojas exclusivas e excelentes restaurantes. Se aprecia a vida noturna você estará muito perto de zonas de diversão com diversos bares. É sem dúvida uma excelente escolha para você ficar durante sua visita.
O T1 F&B possuiu um quarto com cama king size, casa de banho privativa com secador de cabelo. Cozinha equipada com placa, micro-ondas, frigorífico, jarro eléctrico, torradeira, utensílios de cozinha ,ferro de engomar, produtos de limpeza, máquina de café. Roupa de cama e toalhas incluídas.Aqui terá oportunidade de ficar numa das zonas históricas e centrais de Guimarães e foi projetado para dar-lhe todo o conforto que você precisa.
Do nosso T 1 pode visitar todas as atracções da cidade a pé das quais destacamos a Igreja de Nossa Senhora da Oliveira, o Monumento do Salado,Museu Alberto Sampaio,Largo da Oliveira,Praça de Santiago, Castelo de Guimarães, Paços dos Duques de Bragança, Museu Arqueológico, Plataforma das Artes, Casa da Memória, Centro Cultural Vila Flor, Zona de Couros,Igreja de S. Francisco e a Nossa Senhora da Penha.
Fatima and Bruno are very nice hosts. Whenever we had questions they answered them quickly. The room is beautiful. In the kitchen you can find whatever you need to cook. The house is very central. Thank you for letting us stay, Sabrina and Julia
Julia
2016-06-01T00:00:00Z
We stayed three nights at T1F&B and loved it! It is situated right in the historic centre of Guimarães close to everything (shopping, restaurants etc). If you happen to arrive with the car, you can park close by (paid parking) but ask the owners for instructions to a free car park which is only five minute walk away. The apartment is very clean and cozy and if you are planning to cook for yourself, the kitchen is very well equipped. Muito obrigado, Fatima and Bruno, for letting us staying in your beautiful apartment!
G.J.
2015-08-29T00:00:00Z
We had a great experience here with Fatima and Bruno. They are perfect hosts, very helpful and welcoming. The place is strategically located in the centre of Guimaraes, with a "private" parking for us. The room is clean and fully equipped. You can't ask for more! Recommended!
Davide
2016-08-16T00:00:00Z
F&B are fantastic hosts - very sweet and helpful. Very easy communication. The room is spacious, clean and comfortable. I got very good tips and guidance for the city - where to go and what to see eat and so on. VERY good service and superb location makes it a very recommendable place to stay!
Kristine
2016-07-31T00:00:00Z
Fui muito bem recebida por Fátima e Bruno. Durante toda minha estadia recebi um tratamento atencioso e respeitoso. Me senti como se estivesse em casa. O quarto superou minhas expectativas. Pessoalmente era maior do que nas fotos. Quarto e cozinha muito bem equipados. Tudo que foi oferecido estava disponível e novo. Foi uma experiencia muito boa! Recomendo essa hospedagem! Foi um grande acerto!
Ligia
2016-09-30T00:00:00Z
Bel qualité d'accueil, tout était parfait mais très bruyant jusqu'à tard en soirée et un peu aussi avec les voisins
Pierre
2016-10-07T00:00:00Z
Wahou!!!! Logement fabuleux. Les photos correspondent parfaitement au descriptif et incroyablement équipé Le logement est très bien situé au coeur même de Guimaraes ou Fatima nous a acceuillis chaleureusement et même cedé sa place de parking lors de notre arrivée. Fatima est une personne formidable qui tout en restant discrète, est disponible et très réactive.(jusqu au fil et aiguille en cas de pepin, comme cela nous est arrivé.)Grâce à Fatima nous avons passé un séjour extra même s il était trop court. N ayez aucune hésitation à réserver !!! Tout simplement formidable
Annick
2016-08-16T00:00:00Z
Fatima y Bruno son dos personas encantadoras que hacen que tu estancia en Guimaraes sea perfecta. A una ciudad encantadora y un alojamiento con todas las comodidades, le sumamos la atencion de sus dueños hacen un viaje inolvidabl(URL HIDDEN)
Francisco Javier
2016-08-26T00:00:00Z
Room Type
Entire home/apt
---
Property Type
Apartment
---
Accommodates
2
---
Bedrooms
Guimarães, Braga, Portugal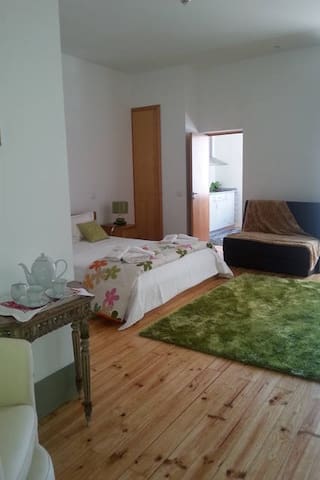 O meu espaço é bom para aventuras individuais e viajantes de negócios.
Room Type
Habitación privada
---
Property Type
Apartment
---
Accommodates
1
---
Bedrooms
Braga, Braga, Portugal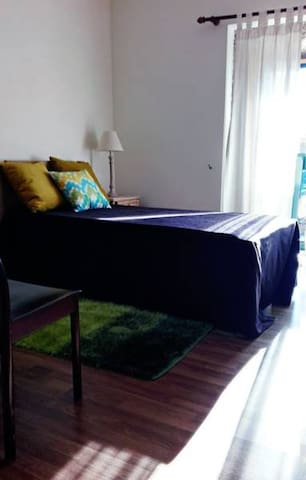 The New Nordic style gives you a very large and spacious feel. The room is full of living facilities, equipped with a high standard of home appliances furniture, I believe you will be here to live a special comfortable. Spacious kitchen with a full range of Western imports
Room Type
Habitación privada
---
Property Type
Apartment
---
Accommodates
2
---
Bedrooms
Póvoa de Lanhoso, 布拉加区, Portugal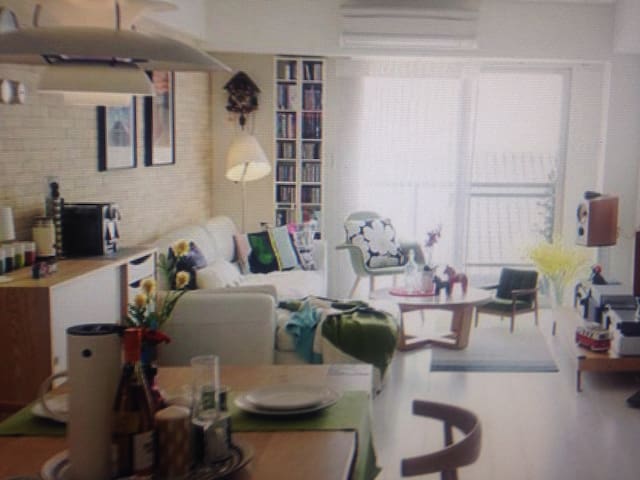 Varanda Por-do-sol is the perfect place to enjoy your holidays. Set in the heart of the Vinho Verde Region where you can visit the Aveleda's vineyards, everything is a stones throw from us. A 30 minutes drive, from Oporto Airport and the beach, 40 minutes from National Parks, 15 minutes from River beaches or, there is a Restaurant just across the road from the apartment if you choose to stay in and enjoy the colorful Sunsets from our balcony you can spend Your holiday Your way.
With far reaching views and breathtaking sunsets, Varanda por-do-sol is an amazing place to have a relaxing break.
10 minutes away from Aveleda's renowned vinho verde's vineyards and near the major city of Porto we are close to everything. There are Supermarkets 5 minutes away with a bimonthly street Market that will please all ages with something for everyone to buy. We can recommend restaurants, walks, bakeries, beaches, river beaches, malls or provide the market dates if you wish.
Room Type
Entire home/apt
---
Property Type
Apartment
---
Accommodates
4
---
Bedrooms
Porto, Porto, Portugal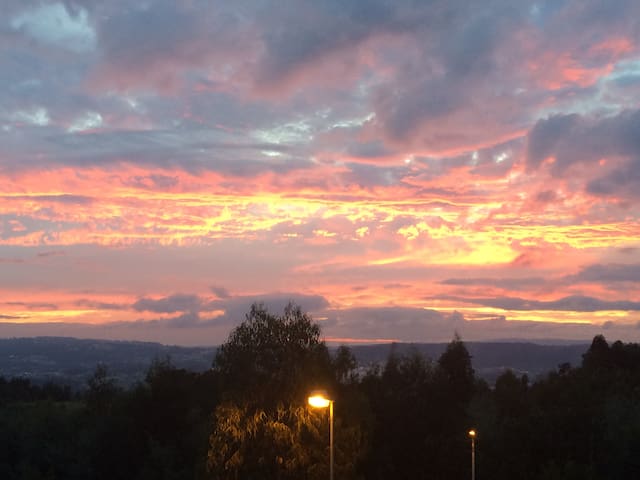 Situada a 10 minutos de carro das cidades de Marco de Canaveses e Amarante, com bonitas vistas sobre um vale do rio Tâmega, ótimos acessos, privacidade, rodeada de natureza, a 5 minutos de carro do rio Ovelha e a uma hora de carro do Porto e de praias.
Apartamento completo (um andar independente pertencente a uma casa de 3 andares). Espaçoso, com 3 quartos independentes com vistas para o Tâmega, uma sala grande, uma cozinha com lareira e duas casa de banho
Zona tranquila. Curiosidade: neste bairro nasceu a famosa cantora/ atriz Carmen Miranda!!
Room Type
Entire home/flat
---
Property Type
Apartment
---
Accommodates
6
---
Bedrooms
Marco de Canaveses, Marco de Canaveses, Portugal
Numa das principais ruas do Centro Histórico de Amarante, uma casa totalmente equipada para descansar e passar férias com vista para o rio. A casa está decorada de uma forma moderna e minimalista preparada para 4 pessoas, num prédio que é da família há várias décadas.
One of the main streets of the historic center of Amarante a house at your disposal fully equipped for rest and spend holiday with views of the river Tamega. Inside, the house Amarante has a topology of a T2 and is decorated in a modern and minimalist style. To get to the apartment you have to climb traditional igneous stone steps in the heart of the old town.
Sendo uma rua no centro histórico de Amarante, existe imenso comércio local, restaurantes e bons locais para petiscar. Chega-se aos principais locais do interior de Amarante a pé, sem ser necessário usar qualquer meio de transporte. O facto de ter o rio Tâmega mesmo em frente é bastante agradável e torna esta casa um previlégio.
We liked out stay so much at João and Mi's place that we extended our stay for another night before traveling back to Lisbon. The apartment is clean, comfortable, well-decorated and very well located. It's on the main street in Amarante within easy walking of restaurants, shopping, the river and the old part of town. All in all a great, relaxing stay with a very friendly, helpful and nice host. Next time we are in town again I hope to see more of your garden João and hopefully eat some oranges and cherries from the trees in the garden. Thank you very much!
Joe
2016-07-02T00:00:00Z
Really top class experience. Delightful, friendly, yet professional hosts and a really impressive apartment. If you are staying in Amarante for a few days you could not want a better place to stay. Well equiped, clean, great shower, great location, finished to a really high standard - all in all 5*.
Liz
2015-09-06T00:00:00Z
Great, location, modern apartment and Joao is very helpful.
john
2017-02-18T00:00:00Z
Our host was realy so kind sweet and helpful. She gave us the feeling that this is our home. She explained every little thing in the house and also in the town. She showed the best places to eat and enjoy our time. Realy mi is so kind, friendly and lovely woman.
hana
2015-06-02T00:00:00Z
Joao and Mi were there to welcome us into their apartment and told us all about the history of it and how they've restored it. They showed us around and gave us some good tips for what to see in the area. We stayed for two nights in the apartment, it was really lovely and had everything we needed there. It was very central whch was great, the only thing to mention is that the front bedroom is quite noisy from the street at night, but we just slept in the back room whch was very quiet and peaceful. It was lovely to be able to look out from the balcony over the river.
Elizabeth
2015-03-24T00:00:00Z
Meeting Joao was nothing but positive and welcoming. The picking up of the keys went without a hitch. The flat was in very good condition and also very comfortable. The location was perfect. Everything was as advertised, and more. I had a most enjoyable stay in Amarante and would definitely return to stay in the same place if I'm ever lucky enough to get back there. Thanks a lot for the opportunity to spend such a pleasurable visit!
Karyn
2014-07-27T00:00:00Z
Joao is very helpful and the apartment very centrally located. Amarente is a charming city...a bit noisy on the street but if your plans are to explore the region and you want an authentic experience, location is ideal.
Sandra
2014-10-20T00:00:00Z
João and Mi are wonderful hosts. The apartment could not be better located. Has a great view and is near to everything. We really enjoyed our stay and record this lovely place!
María Jose
2016-05-17T00:00:00Z
Room Type
Entire home/apt
---
Property Type
Apartment
---
Accommodates
4
---
Bedrooms
Amarante, Porto, Portugal
Apartment situated in the heart of the city, with terrace and fabulous views of the tower of the Church of São Gonçalo. old road proximity that leads to the historic center and pleasant river Tamega.
space located near the historic center with fabulous views over the city. The situation of the house, being at the back of Albano Sardoeira Library, allows you to make a nice walking to the city center. The sidewalk, gravelly, former leads the visitor from the apartment to said Library. Then to St. Dominic's Church are just a few meters, an ideal place for watching a good espolio of Sacred Art. The stop on the sidewalk terrace in front of this church will make him stop and marvel at the view of the coast of São Gonçalo, the church of the same name and the Old Bridge, the scene of French invasion. Down the broad and continuing to Alameda Teixeira Pascoaes, is the Museum Amadeu de Sousa Cardoso, amaranthine painter, International knowledge. A journey to the River Tamega close, you will be obviously reason for contemplation and photography. An ideal location as a base to visit the beautiful Serra do Marão, with its hiking trails, the Fisgas of Ermelo, Olo Lamas or even the fabulous landscape heritage of UNESCO, the vineyards of, the Ruler. For water lovers the Amarante Water Park is located a few Km. And for sportsmen or for those who enjoy nature, the Ecotrail, old line of Railways can be an ideal place for a great walk.
residential area, quiet and hospitable.
Nice appartment on a good location. Appartment has everything you need. Spacious balcony.
Thomas
2016-06-30T00:00:00Z
Deolinda was really nice and gave us a warm welcome. Nice apartment with a great view and close to the centre of Amarante.
Lauretta
2016-05-11T00:00:00Z
The host canceled this reservation 3 days before arrival. This is an automated posting.
Ana
2016-05-10T00:00:00Z
We had a wonderful stay at Deolinda's! She was easy to communicate with and even helped us get to the bus station in the morning. The apartment is clean and spacious and in a nice area of town. We would definitely stay again!
Madeline
2016-05-07T00:00:00Z
No remarks !
Marcel
2016-09-21T00:00:00Z
Enjoyed every minute of my time inAmarante and Deolinda's unit which had great view. Linda was a great host who helped me greatly. The unit was excellent and had everything you wanted. Thanks Linda
Peter
2015-09-12T00:00:00Z
Great place, great location and great hostess and a half way point to several must see towns of northern Portugal!
Elizabete
2016-11-02T00:00:00Z
Tivemos uma excelente experiência no apartamento da Deolinda! Boas condições, muito bem colocada (5 minutos do centro histórico), e além disso a Deolinda é de uma extrema simpatia e prestabilidade. Recomendo!
João
2016-01-03T00:00:00Z
Room Type
Entire home/apt
---
Property Type
Apartment
---
Accommodates
3
---
Bedrooms
Amarante, Porto, Portugal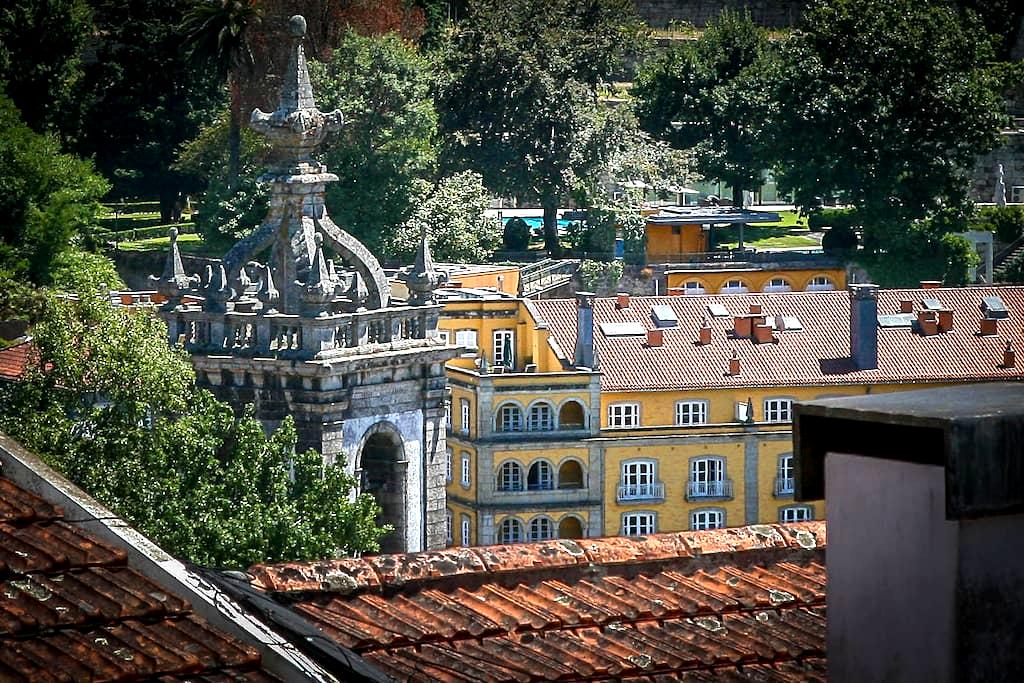 Acolhedor apartamento situado no centro de Mondim de Basto e perto de tudo.
Room Type
Entire home/apt
---
Property Type
Apartment
---
Accommodates
4
---
Bedrooms
Mondim de Basto, Vila Real, Portugal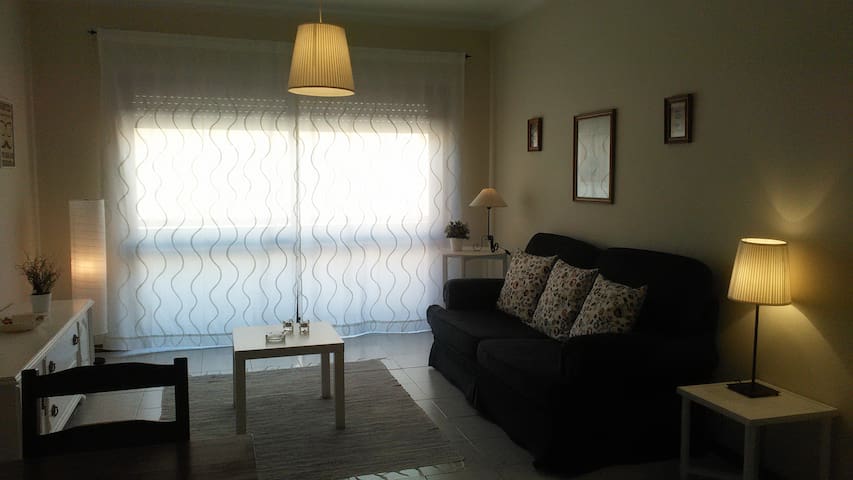 The New Nordic style gives you a very large and spacious feel. The room is full of living facilities, equipped with a high standard of home appliances furniture, I believe you will be here to live a special comfortable. Spacious kitchen with a full range of Western imports
Room Type
Habitación privada
---
Property Type
Apartment
---
Accommodates
2
---
Bedrooms
Fafe, 布拉加区, Portugal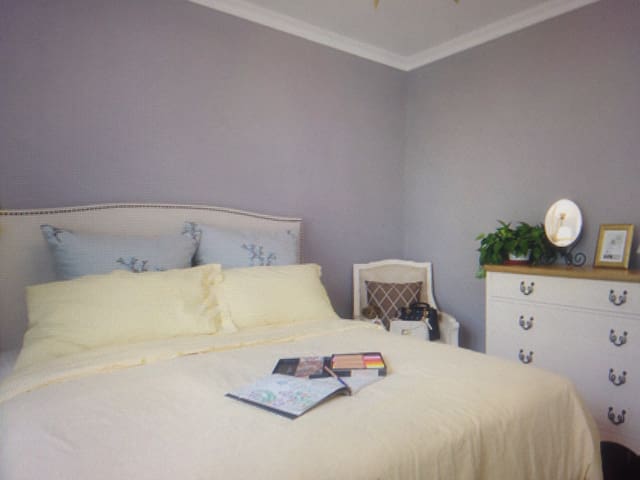 The residential area where the apartment is located is very central and on foot you will find all the facilities that will allow you to spend an unforgettable season in Amarante. Try the famous pizzeria pizzas that are right under the apartment or walk a little more and taste Toninho's famous ham sandwiches! The floor is about 130 meters, and a balcony with views over the city and the river Tâmega. Space with running track and playgrounds just a few minutes walk away.
Apartment in the center of Amarante , close to the historical center ( 5 min . Walk), S.Gonçalo Monastery, Rio (URL HIDDEN) has a River Beach also municipal pool, great to spend an afternoon with family or friends ( 10 Min . walk) .You can visit the whole city without using the car. It is also a 15-minute transport from Amarante Water Park and the Amarante golf course. Floor with two bedrooms ( one suite ) , two bathrooms , kitchen with stove, refrigerator , washing machine , dishwasher , coffee maker , microwave , living room and dining room fully furnished with TV and internet. Floor located in a building that includes: - Unisex Hair - Coffe Snack Bar + Bakery - Pizzeria ( Best pizza Amarante ) - Cash Machine - Mini market - Gymn The whole house is equipped with : - Crockery - Bed linen with seedlings - Bathroom towels with seedlings - Accessories for wellness.
Building near the historical center of Amarante , there is immense local shops , good restaurants and places to grab a snack . Get to the main sites inside Amarante walk without having to use any means of transport . The fact that the Tamega river right in front is quite nice and makes this house a privilege.
The host canceled this reservation 83 days before arrival. This is an automated posting.
Mikael
2016-05-19T00:00:00Z
A big modern apartment not far from the centre of town. We had a great stay, good value for money!
Victor
2016-08-31T00:00:00Z
Everything was great, the location is not realy central but for a such a small sity just 10 min to the Historical Center and 5 min to the Bus Station(walking)! The apartment is big, rooms are comfortable. Only thing was a very hard to find a flat. People were very glad to help us but nobody knows that small street.. If i'll stay in Amarante 1 time more, sure i'll choose for Vitor&Ana's place(now I know where is it!!))
Ania
2016-09-18T00:00:00Z
Óptima localização, perto do centro, a disponibildade e amabilidade dos próprietários é algo a realçar. O apartamento tem boas condições, gostamos e recomendo.Foi uma óptima estadia.
Anabela
2017-01-22T00:00:00Z
O apartamento é excelente, muito bem equipado e central. Os anfitriões são cinco estrelas, muito simpáticos e disponíveis. A localização do apartamento é excepcional muito central, permite conhecer Amarante sem precisar de carro. Tem bons serviços e restaurantes muito perto. Recomendo vivamente.
Viviana
2017-03-26T00:00:00Z
O Sr. Vitor esteve sempre disponivel para responder a qualuer questão antes sa estadia e ligou passado alguns dias para saber se estava tudo bem ou podia ser útil em qualquer coisa, o que é MUITO atencioso! A estadia correu sem problemas e o apartamento corresponde às fotos que são apresentadas. A localização é ideal para quem gosta de estar perto de tudo (central). Para quem não fizer questão de cozinhar nas férias(como eu) tem por ex. no rés do chão uma Pizzeria com especialidades Italianas e a poucos metros a churrasqueira Machado com pratos diários a preços muito acessiveis. Agradeço ao Vitor e à Ana pela agradavel estadia durante as 2 semanas de férias. O preço pela estadia achei em ordem, dado que com tv-cabo e internet na casa toda podemos estar sempre em contacto com amigos e familia sem ter que comprar cartões extra. Concluindo....satisfeita e aconselhavel. Mais uma vez obrigada e até uma próxima oportunidade. Carla Pereira.
Carla
2016-08-06T00:00:00Z
Vitor foi muito gentil e embora não tenha conhecido pessoalmente nos atendeu sempre ao telefone. Apartamento perfeito!!! Vamos voltar!!!
Mariangela
2016-10-04T00:00:00Z
Mesmo no centro da cidade, a casa é ótima para visitar Amarante. O Vítor e Ana foram uns anfitriões excelentes, sempre disponíveis e muito simpáticos. A nossa estadia não podia ter corrido melhor!
Ana
2016-05-16T00:00:00Z
Room Type
Entire home/flat
---
Property Type
Apartment
---
Accommodates
6
---
Bedrooms
Madalena, Porto, Portugal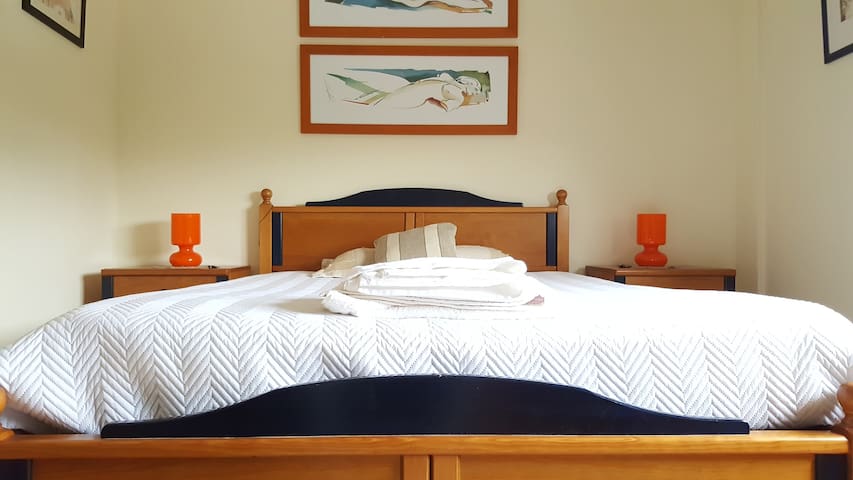 Apartment on the top floor with panoramic views of the Mosteiro, the river and the city of Amarante. Located in the historic center, one of the oldest streets of the city with great traditional commerce.
The apartment has two private rooms, one with bunk beds and one with two single beds that can be joined. In the living room , a sofa bed can host two more people. It has an independent kitchen, a large bathroom and plenty of light in all divisions. The balcony over the river invites to a comfortable reading, a dinner for two or a simple appraisal of the beauty of Amarante.
a great stay, top appartment
Eva-Maria
2016-10-15T00:00:00Z
We absolutely loved staying in Ana Catarina's apartment in Amarante. It was bright and light and clean. The small balcony has a beautiful view of the river and of the beautiful Cathedral. Every morning we would sit on the balcony, drinking the coffee and the pastries from their pastry shop downstairs. You do get some noise from the road, but the beautiful apartment makes up for that
Antoinette
2016-07-15T00:00:00Z
The house is in a very nice place. Amazing location! Everything was perfect. Thank you for the typical sweets! We enjoyed a lot the sweets. Un saludo Ana, muito obrigado.
Diego
2016-05-23T00:00:00Z
Amarantina house is really nicely located in the center with an amazing view. The only disadvantage is that 2 rooms are facing to the street so if a louder group passes by you hear everything. In addition there is a bakery one floor down and if the machine starts, no way you can sleep. Ana is really nice, she arranged a bakery workshop for us which was great. Overall I can recommend this accommodation for you!
Katalin
2016-07-23T00:00:00Z
The house is lovely - clean, spacious and nicely decorated and with a really gorgeous view of the river and a little balcony to sit and have breakfast on. Ana Caterina and Rui were very friendly and helpful, and easy to find if I needed to ask any questions. I was in Amarante during the Festa de Sao Goncalo (June festival) - if you go during that time, the flat puts you right in the middle of the action! The downside is that it's extremely noisy (the people know how to party all night!) if you intend to sleep, don't bother, you're better off going and joining the festivities instead (the noise isn't a fault of the house, just part and parcel of the festas. If sleep is a priority though you'd be better off staying outside the town center during the festival). On the upside, you have the most amazing and privileged view of the fireworks which go off on the river right around your balcony. Also try the pastries from Confeitaria Tinoca which is right below you, the Sao Goncalo cakes are delicious. In all I loved my stay at Ana Catarina's and would definitely stay at the house again.
Tania
2016-06-06T00:00:00Z
The host was very easy going and chilled. The house is very functional and clean. There is a bakery downstairs with delicious Portuguese sweets. The bedrooms are comfy and the terrace is perfect to have breakfast with great views. The wi-fi signal wasn't ideal.
Antonio
2016-05-31T00:00:00Z
We enjoyed our stay at this Amarante apartment. It's located in the old part of the city, and overlooks the river. We had every meal on the balcony listening to the river burble, and enjoying the light on the water. The town is charming with many cafes and restaurants. The host operates a bakery in the ground floor of the building, and the pastries were delicious. The host was friendly and helpful. We had a wonderful time.
Jay
2016-05-05T00:00:00Z
Location and apartment were excellent. The hosts very careful and always available. Highly recommendable!
Paulo
2016-10-12T00:00:00Z
Room Type
Entire home/flat
---
Property Type
Apartment
---
Accommodates
6
---
Bedrooms
Amarante, Porto, Portugal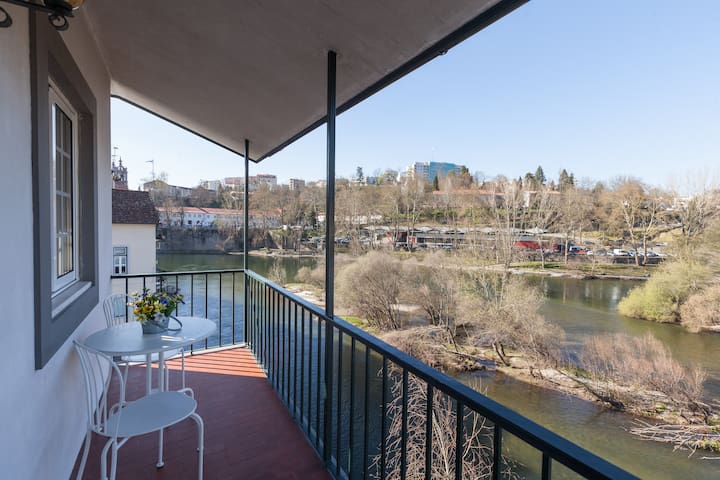 At the countryside, in the ground floor of a beautiful villa, a independent and fully equipped apartment. Kitchen at your disposal, bathroom with walk in shower and full access to the pool all day. You can also take your breakfast or dinner on the terrace and enjoy the sun. Shops, Supermarket and restaurants nearby. Our home is 10 minutes from Amarante and Felgueiras and 30 minutes by highway from Porto.
Très bon séjour chez José , même en cette saison automnale , il y a de quoi visiter dans le secteur et tant pis pour la piscine , nous l'essayerons une autre fois ....José est particulièrement charmant et nous avons été reçu très agréablement .Nous qui sommes habitués aux bords de mer , nous avons adoré ce petit séjour et nous avons découvert la région avec de longues marches et ce , avec grand plaisir ...
Patrick
2016-10-28T00:00:00Z
José le propriétaire est réellement sympathique, il a rendu notre séjour fabuleux . Le lieu et les villes environnantes sont magnifiques , conclusion que de bonnes surprises et de bons moments passés durant nos vacances . Encore merci José ! Ayelle, André et Spike.
André
2016-08-14T00:00:00Z
Ons verblijf bij Jose was heerlijk. Zijn appartement was mooi voorzien van alle comfort. Het terrein is ruim en het grote zwembad ligt op een mooi beschutte plek. Jose verzorgde ons goed en gaf veel informatie over de omgeving. Toen wij voor zijn goede zorgen wilde koken werd het idee al snel omgekeerd en kookte hij voor ons een geweldige Portugese maaltijd. Dit typeert de warmte welke wij van hem ontvingen. Wij raden zijn appartement dan ook aan een ieder die een relaxte plek. Zijn huis biedt in een straal van een uur , de stad (Porto), het strand of avontuur op de rivier. Ooh en natuurlijk kan ik de flipperkast niet vergeten, die heeft voor de nodige competitie in ons gezin gezorgd.
Albert
2016-08-21T00:00:00Z
Nous avons passé un excellent séjour. Endroit calme et reposant. Grande propriété très bien entretenu. L appartement est spacieux et propre. Merci à Mr Jose pour son accueil chaleureux.
Stephanie
2016-08-28T00:00:00Z
Notre séjour chez Jose était en un mot PARFAIT!!!! L' appartement, la vue, la région et surtout le propriétaire !!! Vraiment une adresse à recommander.
Jopie
2016-09-17T00:00:00Z
Room Type
Entire home/apt
---
Property Type
Apartment
---
Accommodates
3
---
Bedrooms
freixo de cima, Amarante, Portugal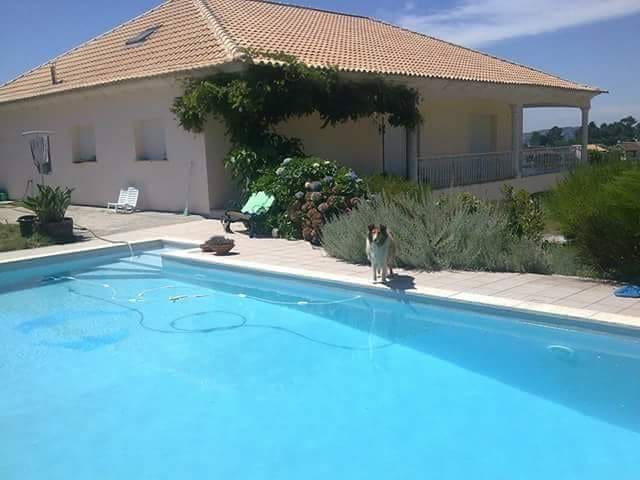 This apartment is a simple, cozy and comfortable space. Near the city. A 5 min walk from the forest park and municipal swimming pools. Doing to meet the Water Park or even play Golf. still see the Serra do Alvão, Marão and the Douro
Hi at all, this is a very nice and fine Apartment. Also Davide was very friendy and helpful to find the right adress. Because we had some problems to find the house. Our navi (Gps) navigated us to the end of the street, but the house is more in the middle of the street. So if you have the same problem, now you know it :)
Thomas
2016-09-16T00:00:00Z
Très très bon accueil de David, sans Ivonne malheureusement. Personne qui vient vous aider au moindre soucis et viens vous chercher si vous êtes perdus. Appartement très bien ranger, propre, moderne. Séjour au top
Valorys
2016-08-26T00:00:00Z
David et Ivone sont charmants, ils ont tout fait pour que nous nous sentions bien, même proposer de laver le linge. Ils nous ont conseillé pour les visites dans les environs. Trés bon souvenir de notre séjour chez eux.
Marie-Françoise
2016-09-13T00:00:00Z
Très bel appartement sur amarante à 5 min du centre ville et de la piscine municipale .On a passer un très bon séjour .Accueil chaleureux et sympathique .David parle très bien (URL HIDDEN) vous recommande cette appartement .
Stephanie
2016-08-13T00:00:00Z
Espaço acolhedor, prático e funcional. Uma varanda magnífica para apreciar o por do sol enquanto degustamos um jantar.
Susana
2016-08-03T00:00:00Z
Très bon séjour à Amarante, David est très agréable et disponible. Descriptif identique au logement, bien équipé. Cependant, peu insonorise. . Je garde l adresse pour un futur séjour !
Adeline
2016-08-21T00:00:00Z
Adorámos, o apartamento é bastante confortável, limpo e acolhedor. Uma experiência a repetir.
Vanda
2016-08-24T00:00:00Z
Fui muito bem recebida pelo David! A casa é linda, super bem decorada em lugar silencioso e bem perto do centro. Já estou pensando em um breve regresso para ficar aqui de novo!
Luciana
2016-09-05T00:00:00Z
Room Type
Entire home/flat
---
Property Type
Apartment
---
Accommodates
6
---
Bedrooms
Amarante, Porto, PT, Amarante, Portugal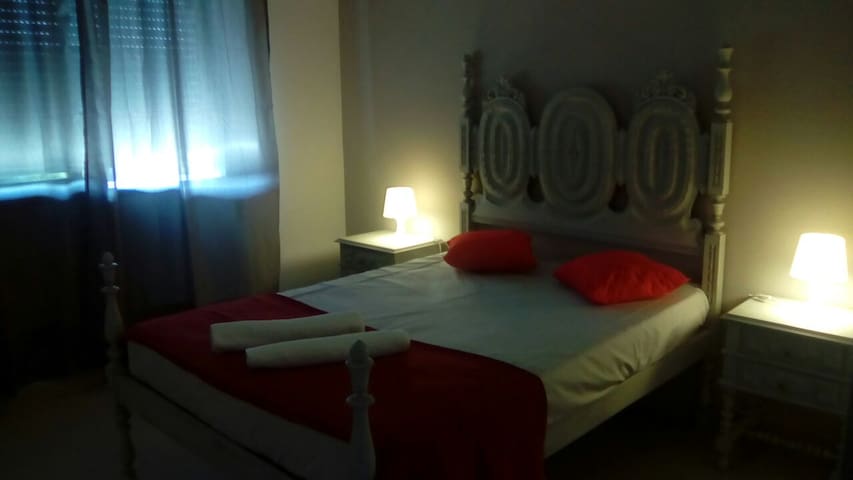 Tenha a experiência dos desbravadores portugueses na charmosa Guimarães. ;) O conforto da proximidade do centro de caminhonagem (rodoviária) e dos principais pontos turísticos da cidade. Nosso apto é uma construção histórica adaptada para os dias atuais. Conta com cozinha completa, copa, casa de banho e máquina de lavar que estão a disposição para o uso compartilhado. O confortável quarto de casal com cama king size, mesa de estudos e roupeiro estão a disposição exclusiva dos hóspedes.
Room Type
Habitación privada
---
Property Type
Apartment
---
Accommodates
2
---
Bedrooms
Guimarães, Braga, Portugal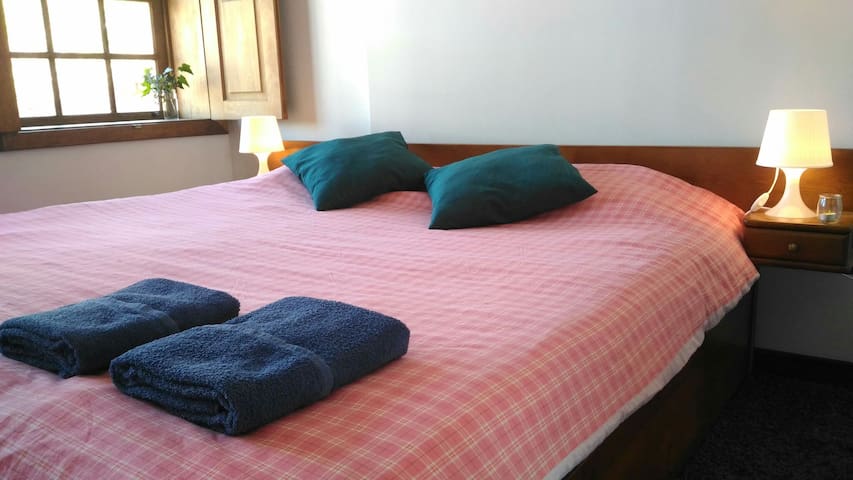 Set in within the grounds of the beautiful Portuguese Casa de Vilar, with access to swimming pool, fish pond, garden pathways and vineyard, this recently renovated cottage offers modern comforts and traditional charm. Located at 40km from Porto.
Set within the grounds of the beautiful Portuguese quinta, Casa de Vilar, with access to swimming pool, fish pond, garden pathways and vineyard, this recently renovated independent cottage offers modern comforts and traditional charm. Open concept living, dining and kitchen with private bedroom as well as extra sleeping in living room. Wifi, TV, Parking and complimentary guided tour of the animation museum located on premises. 40km East of Porto.
The Casa de Vilar is part of the region of the ROTA DO ROMANICO (Romanic Tour) and the Lousada's Camellias Tour
I spent four days this summer at Abi and Regina's place with family. We greatly enjoyed everything. The place is gorgeous, very friendly and charming. The flat very cozy. The two hosts are really nice and friendly. I absolutely reccomend this stay if you want to be away from the city for a few days.
nicolo
2016-08-29T00:00:00Z
Beautiful house and beautiful environment. Abi is friendly and has an interesting museum you should visit (and take your time for it). The house matches the photos. Delicious fruit/vegetables straight from the garden!
Toon
2017-03-22T00:00:00Z
We had a lovely stay at Casa do Vilar. After what could have ruined our stay — our car broke down in the middle of the highway — we still managed to go the Vilar de Torno e Alentém to be very welcome by Abi, who perfectly understood our 2h delay in checking-in. Both Abi and Regina were very kind to us, leaving fruit, vegetables and eggs for our breakfast in the house, and letting us wander through their property in the company of the cutest Josefine — a young Estrela Mountain Dog — and of an invader small dog with whom Josie became friends with. Not to mention that, on the last day, they asked the kind Jorge to take us to the closest train station, so we could return home. Since we didn't have a car, we had a homy but wonderful couple of days, just chilling and enjoying the landscape. Unfortunately, due to an unforeseen event, which made us leave even earlier on the last day, we couldn't visit the Museum of the Moving Image they have in the house. But we're planing to go back very soon, and take some friends with us! We wish Abi and Regina all the best and highly recommend their place to stay.
Fernando
2016-06-14T00:00:00Z
We had a really amazing time at Vilar do Torno e Alentém. The apartment is beautiful and very thoughtfully outfitted, with a kitchen well equipped for enjoying the fresh vegetables and fruit that we were offered from the garden. The pool was available for a refreshing dip when we arrived by bicycle on a late spring afternoon, and the next morning we had a fantastic and sadly brief tour of the animation museum. Abi, Regina and the other hosts who were there helping to maintain the gardens and museum were friendly and welcoming and we left hoping that someday we can return for a much longer stay.
Colin
2016-05-19T00:00:00Z
Our stay couldn't be better. Abi immediately made us feel at home. He was always available when we were in need of something. We only stayed for two days but they were wonderful: the beauty and tranquility of the property, the private swimming pool, Kasilda the dwarf goat (we miss her already!) and Josephine the kindest dog ever, the tour of Abi's animation museum ***, ... We want to go back!
Wim
2016-07-12T00:00:00Z
Abi is a warm, relaxed and thoughtful host. His property is magical, and this small apartment that forms part of it is a clean, practical and private space. From 20 or more airbnb experiences, this is one of the best I've had.
Scott
2016-12-12T00:00:00Z
Recommend a stay here without any hesitation. Delightful hosts. Good sized apartment, independent of the main house - so good privacy. Fantastic tomatoes and fruit and vegetables straight from the garden a super bonus! Ideal location (quick and easy access to the motorway system) makes this a good base for exploring the stunning Douro valley, Guimaraes, Braga and beyond and also Porto (45 mins to the city centre by car, and 25 mins from the airport. Even if you don't get the chance to stay at Abi's apartment, do make sure you visit the Museum on the estate - it's fascinating.
Emma
2015-08-31T00:00:00Z
Beautiful house, beautiful surrounding, beautiful people, great swimming pool! The museum was a nice surprise with an enthusiastic guide. If we went back to Portugal....
Ronald
2016-08-26T00:00:00Z
Room Type
Entire home/apt
---
Property Type
Apartment
---
Accommodates
4
---
Bedrooms
Vilar do Torno e Alentém, Porto, Portugal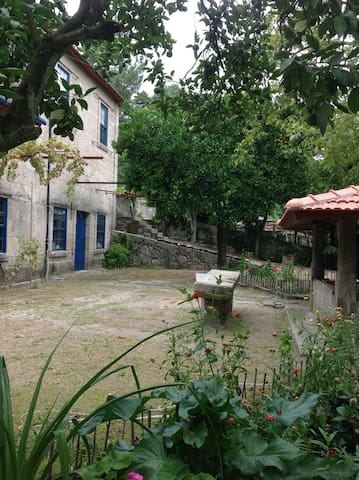 Un charmant 2 pièces situé dans le quartier prisé du centre historique dans immeuble classé Patrimoine mondiale de l'unesco. Très lumineux avec une vue dégagé sur la montagne de Penha.
Au cœur du centre historique de Guimaraes dans un immeuble classé patrimoine mondial de l'UNESCO. A 800 mètres de la station de bus de Guimaraes permettant de rejoindre par navette l'aéroport de Porto en 40 minutes. Au 1er étage d'un immeuble d'époque classé patrimoine mondial de l'UNESCO. Une agréable vue dégagée sur les jardins Alameda de la ville et sur la Montagne de Penha et son église (sites naturels protégés à visiter en prenant le téléphérique). Cette vue vous permettra également d'avoir la meilleure place (grâce à son balcon) pour assister à toutes les attractions et fréquents défilés de fêtes traditionnelles de la ville. Grâce a son exposition plein sud, ses fenêtres et son balcon sur les jardins de la ville, cet appartement de deux pièces est baigné de soleil. Il dispose de : Un séjour ensoleillé avec balcon équipé d'un canapé lit pouvant accueillir deux personnes. Une chambre au calme sur courette avec lit double et armoire pour rangement. Une cuisine équipée de plaques vitro-céramiques, réfrigérateur, four à micro-ondes et tous les ustensiles de cuisine (vaisselles, couvert, casseroles...) Une salle de douche avec serviettes, sèche cheveux. Pour votre confort, internet en wifi, TV, petite table de repassage et fer à repasser, sont mis a votre disposition. Cet appartement apportera tout le confort à qui souhaite y passer un séjour agréable, qu'il s'agisse d'un couple avec ou sans enfant ou d'un groupe d'amis. En 2012, Guimarães et son centre historique fut la Capitale Européenne de la Culture. Les grandes places prisées de la ville comme praça Oliveira, Santiago et Toural sont à peine à 1 minutes à pied et à seulement 5 minutes à pied des lieux de visite historique et culturelle : le Château de Guimarães, le Palais des Duques, le Centre Culturel de Vila Flor, la Plateforme des Arts et la Maison de la Mémoire. De Guimaraes, vous pourrez visiter aisément plusieurs villes importantes dans la culture et l'histoire du Portugal comme Braga (à 20Km, à peine 20 minen voiture), la grande ville de Porto et ses caves (à 40 Km, environ 30 à 40 min en voiture). Egalement la fabuleuse région du Douro avec son grand fleuve où l'on peut prendre le bateau pour une jolie traversée ou une croisière à travers les coteaux de vignes d'un vin réputé mondialement. Et bien d'autres villes..."
In 2012, Guimarães and its historical center was the European Capital of Culture. The must seen squares like praça Oliveira, Santiago and Toural are only 1mn walking distance from the flat and only a 5mn walk is required to get access to the main touristic sites (Guimarães castle, Duques' Palace, Vila Flor cultural center, Plataforma das Artes and Casa da Memoria). From Guimarães, you will be able to visit the main cities in the region, also landmarks of the culture and the history of Portugal, such as Braga (20km far or 20mn drive), Porto and its famous cellars (40km or 30-40mn drive), and even more cities worth to be visited. Don't miss the amazingly beautiful Douro area and its main river through which you can go across by boat or by a cruise ship for a great view on the vineyard hills where the world famous wine of Douro is produced.
No complications. Nice people. Was a pleasure to stay there.
Tiemo
2016-08-05T00:00:00Z
Visiting Guimaraes as a couple we think the appartment of Antonio is the best choice you can make. It's comfortable and offers you everything you need. It's right central in the old city with a magnificent view. Guimaraes is a very nice city with much culture and a lot of squares with pleasant terraces. You can easily visit them all on foot. We didn't meet Antonio (his reactions were always very quick and arrentive), Teresa was very helpfull and told us everything we need to know. Thanks. Angelika and Martin.
Mart
2016-09-14T00:00:00Z
The host canceled this reservation 165 days before arrival. This is an automated posting.
Barbara
2017-02-20T00:00:00Z
Nice apartment in the center of the city - perfect for a weekend trip.
Lena
2016-10-13T00:00:00Z
Fomos muitíssimo bem recebidos em Guimarães! O apartamento é muito central. Adoramos e recomendamos!
Inês
2016-07-19T00:00:00Z
Merci à Antonio de nous avoir loué l'appartement et à Teresa pour l'accueille. Le logement est beau et très lumineux. Avec mon mari nous avons passé de très bonnes vacances et nous reviendront à l'occasion. Merci pour tout Antonio et à bientôt j'espère Verna et Alex.
verna
2016-08-23T00:00:00Z
Super accueil, appartement très bien décoré et situé au centre d'une charmante ville. Le balcon offre une très belle vue sur la place et la colline d'en face. Les attentions tel que le café, le thé, le gel douche, le fer à repasser sont autant d'éléments qui rendent l'endroit encore plus agréable. Obrigada Antonio.
Marie-Laurence
2016-05-06T00:00:00Z
L'appartement de antonio est idéal pour 2 pers. Bien aménagé avec gout et extrêmement propre (renovation complete récente). Lieu très agréable et parfaitement situe pour visiter guimares. Antonio a pu nous fournir un parking près de l'appartement. Super ville, superbe location.
Sophie
2016-08-07T00:00:00Z
Room Type
Entire home/apt
---
Property Type
Apartment
---
Accommodates
2
---
Bedrooms
Guimarães, Braga, Portugal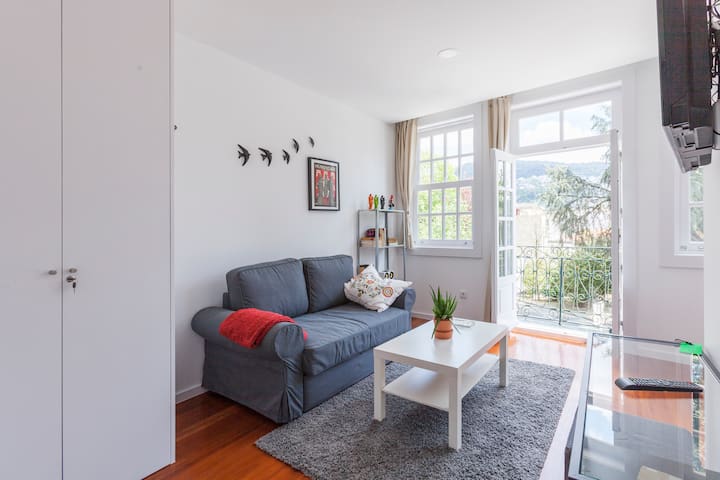 Apartamento todo renovado, completamente equipado com loiças de cozinha, eletrodomésticos, roupa de cama e toalhas, muito bem situado, com padaria e supermercado no rés do chão, ótimo para férias em família ou com amigos.
Apartamento na melhor zona da vila, com fácil estacionamento, excelente vista sobre a vila, calmo e boas comodidades.
L'appartement est situé en plein centre ville au-dessus des commerces très fréquentés, c'est commode mais aussi très bruyant. L'Hôte était très ponctuel et accompagné d'un interprète. Le logement est très fonctionnel et propre.
Solange
2016-08-04T00:00:00Z
A casa estaba muito bem limpa, e preparada. Atenção é óptima. Obrigado ficamos contentes
Rober
2016-07-26T00:00:00Z
O Carlos e o seu pai foram muito simpáticos e estiveram sempre muito disponíveis. A casa estava fiel às fotos. Está bem localizada num bairro muito calmo e central. Fomos recebidos com umas saborosas cavacas do Minho e com um deliciosas cápsulas de café. A casa está totalmente equipada e aquecidas para os dias frios. Adorámos. Claro que recomendo!!!
Lurdes
2016-04-06T00:00:00Z
Foi um fds excepcional, fomos um grupo de amigos participar em actividades outdoor, e ter um local para descansar como este. soube mesmo bem. Apartamento muito bem localizado, muito amplo e com todas as comodidades necessárias, adoramos. O anfitrião recebeu nos muito bem, e o facto estar sempre disponível ajudou na nossa instalação :) mais cedo que o previsto, e sem stress na hora de saída. Recomendo a estadia para conhecer a região :)
Maria João
2017-04-02T00:00:00Z
O Carlos recebeu-nos muito bem. A casa está no centro de Mondim de Basto e facilmente é possível viajar para os pontos de interesse da região de Basto. A pé pode visitar o centro de Mondim, estando a zona histórica a 100m. Restaurantes e lojas na zona. De inverno a casa pode ser um pouco fria, mas a lareira e os aquecedores fazem a diferença. Durante o dia, o sol entra casa dentro o que também a aquece. A casa é ideal para famílias numerosas e que precisem de bastante espaço.
Nuno
2017-01-22T00:00:00Z
Não contactamos diretamente com Carlos, mas sim com o seu simpático pai. Muito obrigado, estava tudo óptimo. E óptima localização.
Elos da
2015-11-14T00:00:00Z
Room Type
Entire home/apt
---
Property Type
Apartment
---
Accommodates
7
---
Bedrooms
Mondim de Basto, Vila Real, Portugal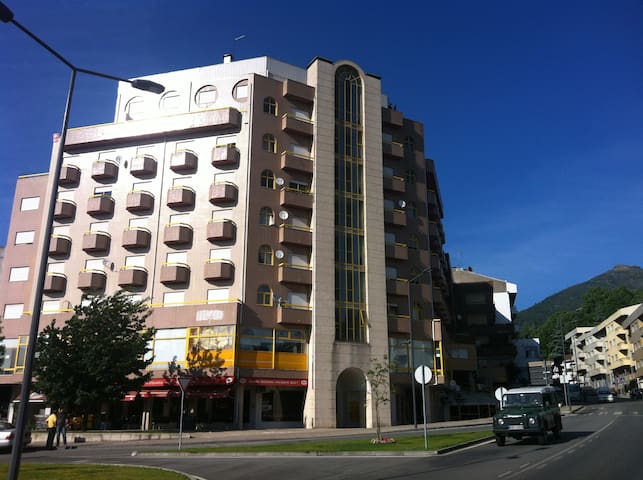 Os Guimaraes Historic Center Apartments fazem parte de uma propriedade do século XVIII completamente renovada. Cada acomodação auto-suficiente dispõe de acesso Wi-Fi gratuito. Os apartamentos disponibilizam uma televisão de ecrã plano por cabo, uma varanda e uma área de estar, um chuveiro, a casa de banho privativa também inclui uma banheira e secador de cabelo. Estão disponíveis 2 apartamentos com acesso a amplos terraços.
Os hóspedes dos Guimaraes Historical Center Apartments podem preparar as suas próprias refeições, pois cada acomodação dispõe de uma cozinha totalmente equipada. Como alternativa, poderão visitar a grande variedade de restaurantes a 100 metros, que servem gastronomia local. Os hóspedes que desejam explorar as imediações podem visitar o Castelo de Guimarães, a 10 minutos a pé, e o Centro Comercial Guimarães Shopping, a 900 metros. O Aeroporto Internacional do Porto encontra-se a 53 km da propriedade. Esta é a parte de Guimarães que os hóspedes preferem, de acordo com comentários independentes. Esta propriedade também tem uma das localizações melhor pontuadas em Guimarães! Os hóspedes estão mais satisfeitos com ela do que com outras propriedades da mesma área. Este alojamento é recomendado pela boa relação preço/qualidade em Guimarães! Os hóspedes têm mais por menos dinheiro em comparação a outros alojamentos nesta cidade. Falamos o seu idioma! Guimaraes Historical Center Apartments dá as boas-vindas a hóspedes de Airbnb desde 20 de Mai de 2014. Apartamentos: 4
Uma óptima escolha.
Pedro
2017-02-18T00:00:00Z
Room Type
Private room
---
Property Type
Apartment
---
Accommodates
8
---
Bedrooms
Guimarães, Braga, Portugal