Our home in Italy. A renovation project in 2007 within the medieval village of Introdacqua. Our vision was to create a tranquil haven to escape the stresses of the real world. The beautiful area of Abruzzo is surrounded by Mountains, Lakes, Beaches.
An apartment in a medieval village, living with the locals. The top floor of our house, with its own entrance has two bedrooms, a large double and a twin plus an amazing terrace with views of Introdacqua and the Maiella Mountains. Ocassionally we do let the whole house/apartment sleeping 10/12 at an additional cost.
5mins away is the medieval city of Sulmona with markets, shops, bars, restaurants. Beautiful Acquaduct & Piazza hosting numerous festivals.
Room Type
Entire home/apt
---
Property Type
Apartment
---
Accommodates
4
---
Bedrooms
Introdacqua, Abruzzo, Italy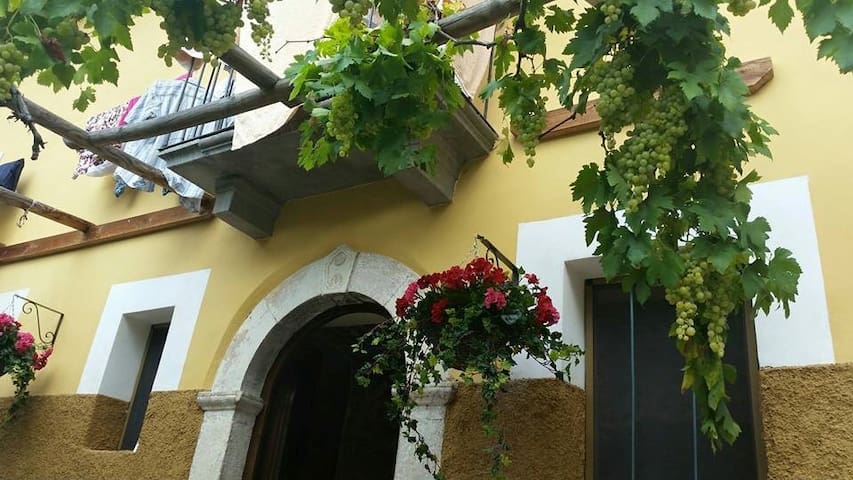 Antica dimora dell'Ottocento, interamente ristrutturata e nel centro storico di Introdacqua, La dama è un appartamento per due persone composto da cucina, camera con bagno all'interno
Sentirsi come a casa dopo aver goduto della bellezza naturale del borgo medievale e delle località circostanti
Room Type
Habitación privada
---
Property Type
Apartment
---
Accommodates
2
---
Bedrooms
Introdacqua, l'aquila, Italy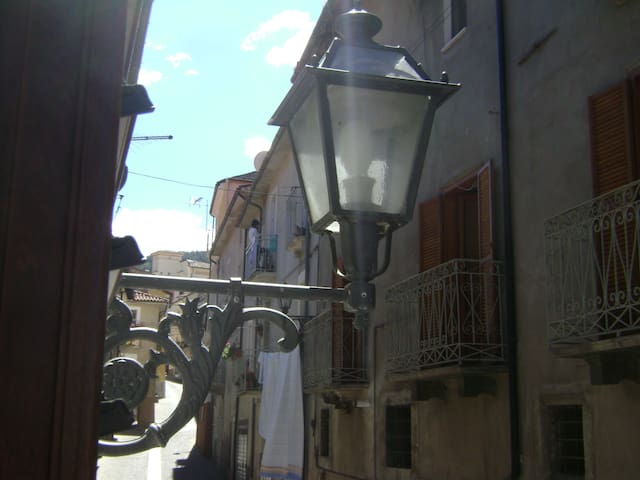 L'alloggio è molto vicino al centro storico. parcheggio privato e gratuito, tutti i servizi (market, tabacchi, pizzerie,farmacia autobus ecc..) nei dintorni.
Marco was an excellent host. We drove to Sulmona from Rome and Marco met us just as you leave the highway and we followed him to the apartment - no getting lost. Marco also left us some wine and cake - a very nice touch. The apartment itself was nice and clean, with views across to some of the mountains. Sulmona is ideally situated for exploring the various national parks and nature reserves that are in the area. Also, Olivero's pizzeria is just round the corner and we have never been made to feel more welcome in a restaurant - we ate a lot of pizza while we stayed in Sulmona! A great holiday!!
Rosemary
2016-11-08T00:00:00Z
Splendido viaggio, grazie Marco!
Valeria
2016-10-29T00:00:00Z
Estancia agradable, cómoda, con restaurantes, supermercado y centro del pueblo cerca, dispone de WiFi.
belen
2017-03-20T00:00:00Z
Room Type
Entire home/apt
---
Property Type
Apartment
---
Accommodates
2
---
Bedrooms
Sulmona, Abruzzo, Italy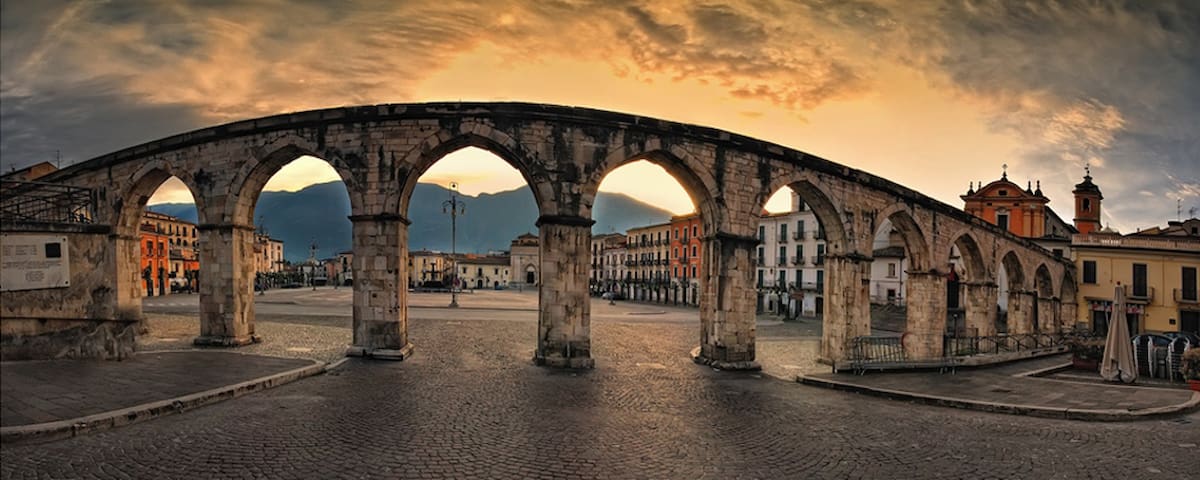 'Gramsci 29' is a newly-restored, stylish & comfortable two-bedroom apartment, on the 2nd floor of a charming 19th-century palazzo, in the historic centre of beautiful Sulmona. You'll find everything you need to enjoy a great holiday here in the jewel of Abruzzo.
The apartment is dual-aspect with views on one side over the quiet pedestrian side street and on the other side overlooking our own private garden below. The space comprises two comfortable double bedrooms - each with French windows leading out onto the balcony, two newly-fitted shower rooms - one adjacent to the bedroom with French windows and the other ensuite. There is a fully equipped kitchen / dining area with a full-sized oven, a four-ring gas hob, fridge-freezer, a dishwasher and cooking equipment / utensils for everyday cooking. The dining table seats 4 people comfortably. This room also has French windows and overlooks the quiet pedestrian side-street below. The large sitting room has two comfortable leather sofas and a wood burning stove in the fireplace. The entrance hall is unconventionally wide and features a small console table where you will find maps, guide books and where you can work quietly on your laptop. We have high-speed fibre optic wifi in the apartment which should be sufficient for all of your day-to-day internet needs. A metre-wide balcony runs along the entire length of this apartment and overlooks our garden. It has two small tables and 4 chairs so you can enjoy your morning coffee or evening aperitivo in the open air. The palazzo dates from the mid 19th century but we have just finished restoring this apartment with new bathrooms, a new kitchen, new double-glazed window units and new wooden flooring. We have furnished with both style and comfort in mind with a few carefully chosen pieces which we hope you will enjoy and appreciate. The addition of a washing machine means that this space is especially suitable for longer term visitors. We have also provided an ironing board & iron plus a drying rack for your convenience.
The city centre of Sulmona is a vibrant and bustling place to enjoy your holiday. We are located on a secondary street within a minute's walk of the main Corso Ovidio where you will find all of the town's bars and restaurants. The apartment itself overlooks a pedestrian side street and our own garden so it's generally pretty quiet in our little corner. Check out: www welcometosulmona com for more info about Sulmona & the Valle Peligna - all in English.
DREAMY - Have you ever wondered what's behind those beautiful arched timeworn wooden doors as you meander down a cobblestone street of a picturesque village? We had the chance to find out, in this beautiful apartment, each time we turned the key to enter, we had to pinch ourselves; this was going to be our home-based for a week! Overjoyed with our stay. Katy is very responsive and a wealth of knowledge, from the moment we booked it was stress-free, with clear and easy instructions, she picked us up from the car park with a warm welcome, her husband helped us carry our bags inside, she gave us a run through of the apartment, which is immaculate, spacious, beautifully decorated and well equipped with attention to the smallest of details. At the entry of the apartment there is a desk and bulletin board loaded with information and maps of the area, we were so appreciative of, plus a very useful reference book regarding everything you need to know about the use of the apartment, thoughtfully organized. There are beautiful views from every window, we took full advantage of the balcony that overlooks the peaceful courtyard, and tile roof tops of the neighborhood, it was the perfect way to begin and end our day. We were mere steps from small shops, galleries, cafes and restaurants, and an easy 5 minute walk to parking and the market, which we went to nearly every day, we can't imagine a better location in Sulmona. A highlight for us was taking a cooking class with one of the local Nonna's and her daughter, a treasured experience that Katy set up, thank you! If our stay was longer we would have taken the wine tasting class too. Our recommendations, get lost in the streets and alleys, soak up the magnificent architecture and culture. The farmers market on Wed & Sat is a must, as is the spectacular drive to Scano, Villalago and Pacentro, and lastly take in the evening passeggiata (the art of the Italian stroll) on Corso Ovidio. As other travelers mentioned, we found friendly locals, amazing views and fantastic food, wherever we went. Our experience could not have been better. Thank you Katy for everything, it was a pleasure crossing paths and staying in 'Gramsci 29'. Jenny & Ron
Jen
2016-10-20T00:00:00Z
If you are reading this review don't hesitate.....don't look at any other properties in Sulmona.......just book this Airbnb! We've just finished a 5 week visit to Sulmona. The Abruzzo region is one of Italy's best kept secrets. Sulmona is a wonderful city......a perfect gem offering the best of the Abbruzzese lifestyle. We booked Katy and Steves Airbnb for the entire duration of our stay. Best decision ever. Katy and Steve are natural hosts. There is really nothing they don't know about Sulmona having settled here some years ago. English is their native language. Katy is astonishingly fluent in Italian. Communication right from the time of booking was quick and positive. That continued during our entire stay. The apartment is superb. The pictures don't lie. Katy and Steve's Airbnb is finished to a very high standard. To which they have added so many lovely and welcoming touches. Books. DVDs. Great art. Incredibly comfortable furniture. The bathrooms are beautiful. The kitchen fully set up. The laundry spot on. The wifi connection awesomely crisp and stable! And literally a world of information at your fingertips about the best things to do and see and where to eat and shop in this perfect city. Quite simply ....... we can't wait to return. And we will not hesitate to rebook! Grazie Mille Katy and Steve. From Wayne & Glennys, Adelaide, South Australia. xx
Glennys
2017-01-19T00:00:00Z
Amazing location. Beautiful spacious apartment. Gracious hosts. Come!
shira
2017-04-05T00:00:00Z
A superb apartment for either one or two couples. Definitely feels like living in a palace! The apartment with two large bedrooms and two bathrooms and modern kitchen and spacious living areas, this apartment is beautifully decorated with high quality fittings and has everything you can conceivably need. Located in the heart of the old city of Sulmona, it is but a stone's throw to the best bar, cafes and restaurants in town and is within five minute walk of Piazza Garibaldi which is the focal point for markets and a wide range of musical and other cultural events. Katy and Steven are very responsive hosts and are readily available to attend to any special needs. I f you feel like living in the "lap of luxury" at a very reasonable cost, this apartment is too good to miss.
Jenny
2016-07-31T00:00:00Z
We have just had a wonderful three day stay at Gramsci29, truly memorable. The apartment is very spacious in a beautiful, historic palazzo in the heart of the centro storico in the fine city of Sulmona. The apartment location is very quiet and peaceful and has everything you need. Shopping, an outstanding twice weekly market and a number of restaurants are just a short walk, the ultimate in convenience. The apartment comprises two large bedrooms, two well appointed bathrooms, a spacious living room and stylish, modern kitchen and to complete the ambience, a very large entrance hall entered from a impressive staircase. The apartment has been beautifully and sympathetically renovated to a very high standard while maintaining its abundant Italian character. The bedrooms and living room open to a long balcony which overlooks tranquil gardens and historic homes of Sulmona. The views are quintessentially the real Italy, Bellissimo! This is five star accommodation and very good value for the money. We wish we could have stayed much longer in such comfortable surroundings as the apartment is very suitable for long term stays. Steve and Katy are incredible hosts. They know Sulmona and Abruzzo exceptionally well and were very willing to share their knowledge to make our Abruzzo experience a genuine Italian affair, often so difficult to realize on the usual tourist routes of Italy. Sulmona and the surrounding Abruzzo region are splendid and have a rich history dating to the pre Roman era so it was a delight to learn about the region and enjoy the glorious mountain park terrain and unspoiled medieval villages. Grazie Katy and Steve. David and Sharyn Melbourne, Australia
Sharyn
2016-07-08T00:00:00Z
Our honeymoon stay at Gramsci 29 was so much more than we could ever have imagined, though 7 days was simply not enough time to take in all that Sulmona has to offer. Arriving into Sulmona was a breeze on the train from the airport, and Katy was at the door waiting to give us a warm welcome. She showed us around the apartment, and offered lots of advice and guidance on the best places to eat, what to do, how to get there, which was all very much appreciated as we hadn't planned much at all! We felt that Katy couldn't have done enough for you, and was really the definition of the perfect host. The apartment itself was just incredible, absolutely immaculate throughout, ridiculously spacious, and it felt like home for the week. It was actually quite painful to leave, it's an incredible apartment in a beautiful setting. Sulmona and the surrounding areas speak for themselves, but we found amazing views, fantastic food, and friendly locals wherever we went. From Pacentro to Scanno there is really nowhere better placed than Gramsci 29 to go exploring in Abruzzo! Thank you Katy for everything, we can't wait to come back already :)
Joe
2016-08-21T00:00:00Z
This was our first time in Italy and we wanted to try and get a full Italian experience. After spending our first few days getting the most out of Rome, Sulmona was going to be our time to relax and get the feel of the country and its people. Getting to Sulmona was a spectacular and stress free drive. Katy and Steve gave us good advice in advance about hire cars and driving in Italy, with very clear instructions on how to find the apartment. From entering the main building with its impressive reception area and staircases, and meeting Katy you know that you are going to enjoy your coming stay. The apartment was fabulous, spacious and finished to a really high standard. Information is at hand for all local attractions and Katy and Steve were extremely knowledgeable about local history and places to see and eat. Having the car was a bonus, Scanno and Pacentro, being two local places we would recommend, but simply having the opportunity to pass the time in Sulmona is fantastic. We will be coming back.
Gavin
2016-08-26T00:00:00Z
Cosa dire... casa spettacolare! Pulita, ovunque! Sita in un palazzo signorile importante, due camere con altrettanti bagni (con phon, carta igienica, sapone e bagnoschiuma) ben disimpegnati Cucina molto attrezzata (trovato caffe, latte, te, e svariate altre cose utili) Asciugamani e biancheria di ottimo livello! Piacevolissimo speaker Bluetooth x ascoltare musica. Kety? Fantastica! Disponibile cortese e... preziosa... i suoi consigli utili al 100% Praticamente perfetto, prezzo eccezionale per il livello generale
Simona
2017-02-12T00:00:00Z
Room Type
Entire home/flat
---
Property Type
Apartment
---
Accommodates
4
---
Bedrooms
Sulmona, Abruzzo, Italy
Il mio appartamento è situato alle porte del centro storico di Sulmona, a ridosso dei giardini comunali. Nonostante sia a pochi metri dal corso cittadino, è raggiungibile con l'auto fin sotto il portone ed è facile trovare parcheggio, sia a pagamento che gratuito. L'alloggio si sviluppa su un unico livello, al 4° piano di un palazzo senza ascensore, ristrutturato e consolidato nel 2015. Gode di un magnifico panorama con vista sul Parco Nazionale della Majella e sui giardini comunali.
La casa, con arredi nuovi, è composta da: -un ampio soggiorno con cucina, televisore, camino e divano che può diventare un letto matrimoniale; -camera "Mondo" con ampi spazi, televisore, letto matrimoniale e mobilio completo; -camera "Keith Haring" con due letti singoli, televisore e arredi completi; -bagno con tutti i servizi igienici e doccia con sedile e idromassaggio. Tutte le finestre dell'appartamento sono dotate di zanzariera.
Il quartiere è molto tranquillo ed è situato in posizione strategica rispetto a tutti i punti interessanti ed utili dell città.
The host canceled this reservation 43 days before arrival. This is an automated posting.
Gilda
2016-11-18T00:00:00Z
I can only reccommend this accomodation. I spent there 4 wonderful days. Everything looks the same like in the photos. The flat is exactly in the center, but still calm. Everything was clean. Serena was very helpful in everything. Thank you! xoxo
Lilla
2016-11-09T00:00:00Z
Casa adorabile, nuovissima e curata sotto ogni aspetto. Ordine e pulizia impeccabili! Serena è stata disponibissima e presente per ogni evenienza. Assolutamente consigliata.
Alessandro
2016-09-25T00:00:00Z
Ottimo
Giusi
2017-02-11T00:00:00Z
La casa è molto graziosa e Serena è molto simpatica ed efficace
Giovanni
2017-02-19T00:00:00Z
Casa in ottimo stato e posizione, praticamente al centro di Sulmona. Host disponibile e di parola. Si può raggiungere Roccaraso in circa 30 minuti
Michele
2017-02-24T00:00:00Z
Ho soggiornato due notti, la casa è perfetta in ogni particolare e con un ottima posizione. Da consigliare senz'altro! Serena è stata gentilissima!
Michele
2017-03-09T00:00:00Z
La casa è situata vicinissima al centro della città, è confortevole e dotata di tutto il necessario. Altamente raccomandata.
Patrizia
2017-02-27T00:00:00Z
Room Type
Entire home/apt
---
Property Type
Apartment
---
Accommodates
6
---
Bedrooms
Sulmona, Abruzzo, Italy
Camera singola indipendente a un passo dal centro storico: comoda, luminosa, dotata di tutto il necessario per soggiorni brevi e lunghi, tra cui angolo cottura, balcone, tv, armadio e bagno privato.
Room Type
Entire home/apt
---
Property Type
Flat
---
Accommodates
1
---
Bedrooms
Sulmona, Abruzzo, Italy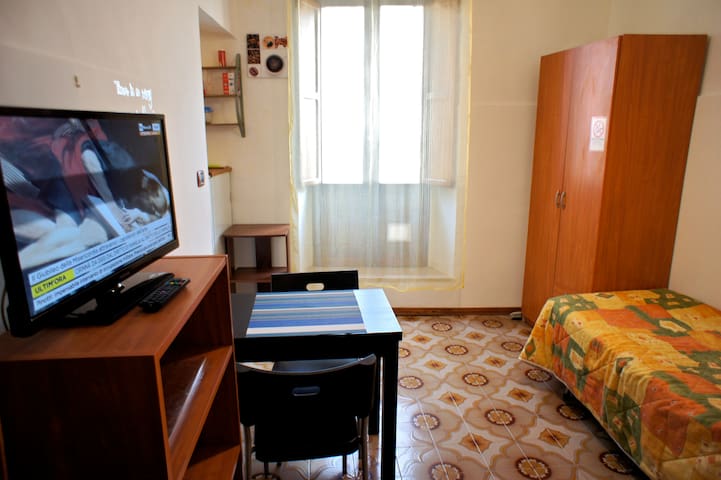 Discover the magic of the EASTER in Sulmona between tradition and sweet emotions. Wonderful apartment in the heart of the National Park of Majella, 3 km from the beautiful art city of Sulmona, 30 km from the ski slopes (Roccaraso). Surrounded by greenery, It is ideal for those who love to go mountain, bike or just relaxing in contact with natur. Meraviglioso appartamento nel cuore del Parco Nazionale della Majella a soli 3 km da Sulmona e a 30 km dalle piste da sci di Roccaraso.
The apartment is composed of three rooms: 1) Big open space with a double bed and sofa-bed; 2) Bathroom complete with all amenities; 3) Utility room with large closet. The apartament has also a cradle for babies and, in additional, a single bed. The entire apartment is equipped with WI-FI, TV, Large Parking, Washing Machine, Large Living Room and Deluxe Kitchen. L'appartamento è composto d 3 grandi stanze: 1) Open space con letto matrimoniale e divano letto; 2) Bagno completo di tutti i comfort; 3) Stanza di servizio con armadio grande. Tutto l'appartamento è dotato di WI-FI, TV, Lavatrice, Ampio Parcheggio, Cucina completa e Ampio soggiorno.
B&B located in the countryside. All that we need is 2 km from the b&b: restaurants, pizzeria, bakery, bar, grocery, newsagent, tobacconist, post office, bank. B&B situato in campagna. Tutto quello di cui avrete bisogno si trova a 2 km dal b&b: ristoranti, pizzerie, panificio, bar, alimentari, edicola, tabaccheria, ufficio postale, banche, farmacia etc...
We had a wonderful time staying in B&B La Ginestra. From the beginning, Stefano was helpful, answering all our questions promptly during the booking and preparation process. He sent us a text at our expected time of arrival to explain where to meet and find the accommodation. Stefano is a wonderful host, helpful, friendly and welcoming. He assisted us with all our needs. As soon as we requested anything he responded immediately. The accommodation is very comfortable, was spotlessly clean and we had everything we needed to make our stay pleasant. We were left some useful extras - like coffee, spices and some kitchen towels. The dining room was set ready for us to eat as soon as we arrived, which was a nice touch, particularly as we had been travelling for some hours. The bed is very comfortable, and the dining kitchen area very pleasant for cooking and eating. The kitchen is well equipped. Use of a washing machine was an added bonus. The apartment is cool, which was pleasant on some of the hot days, but pleasant at night as well. It is useful to have a car to reach the apartment, but the quiet neighbourhood and lovely views on short walks around is an advantage. Stefano gave us some wonderful advice on places to visit and from the area a number of great places are accessible by car with ease. We would thoroughly recommend this apartment for a great relaxing time with welcoming and wonderful hosts.
Lindsay
2016-07-01T00:00:00Z
Stefano was an incredible host. He took care of us from the minute we arrived. The best part is that he did what Airbnb was originaly created for: living at people's places and getting to know them, their lives and their culture and not just getting the keys to the house as if it was a hotel. He invited us to a family barbeque, we met his friends and had a great time. He took us to the shop for food before we rented the car, he always responded in minutes when I had a question. The house is very cool, which is irreplacable in summer time. The kitchen and living room is one space, but it's so large that you feel very comfortable. The location is 5min drive from Sulmona, shops and caffees so you need to have a car. If you go for a walk around the house you will see true farming fields, vineyards all of which is surounded by beautiful mountains. A true Italian experience.
Ausra
2016-07-15T00:00:00Z
We had a thoroughly positive experience staying at Stefano's. The place was spotless, large and well placed to explore the amazing national parks in the area and Sulmona. We had some problems finding the apartment - Stefano came and collected us ! On arrival, we were presented with local cakes baked by Stefano's family. There is also a well stocked kitchen, with coffee, butter and a selection of jams. A great experience and one we have no hesitation in recommending.
Rabie
2016-07-21T00:00:00Z
Stefano has been an amazing host. Everything perfect..kitchen nice and fully equipped, the bathroom is huge and has washing machine as well, bed is comfortable and, in general, he and his sister have provided us with all the information we needed for the park of Majella. Grazie!
Roberto
2016-07-04T00:00:00Z
Accoglienza ottima di Stefano: persona estremamente cordiale e disponibile a ogni nostra richiesta. Avevamo bisogno di una culla e di un po' di riscaldamento extra e ci ha IMMEDIATAMENTE accontentato. Casa estremamente funzionale e con parcheggio comodissimo. Piuttosto distante dal centro di Sulmona ma in auto ci si arriva in pochi minuti. Possibilità di cucinare tranquillamente. Off limits per gli allergici ai gatti.
domenico
2016-06-15T00:00:00Z
Esperienza positivissima. Innanzi tutto Stefano e sua mamma molto disponibili e gentili, pronti a consigliarci i posti più belli da visitare. L' appartamento è molto più grande di quello che sembra in foto, dotato di tutti i comfort. La cucina inoltre è super fornita di tutto il necessario. Cantone dista solo 5 minuti da Sulmona e la posizione è buona perché è possibile raggiungere sia il parco della Majella che il parco Nazionale Abruzzo.
Giulia
2016-08-18T00:00:00Z
Tutto perfetto! I proprietari sono gentilissimi e disponibilissimi! Ottimo rapporto qualità prezzo! Grazie ancora e a presto!!!
Chiara
2016-08-08T00:00:00Z
Calorosa. Stefano e sua mamma ci hanno consigliato alcune escursioni e posti da visitare nella regione.
Nicholas
2016-07-27T00:00:00Z
Room Type
Entire home/apt
---
Property Type
Apartment
---
Accommodates
4
---
Bedrooms
Cantone, Abruzzo, Italy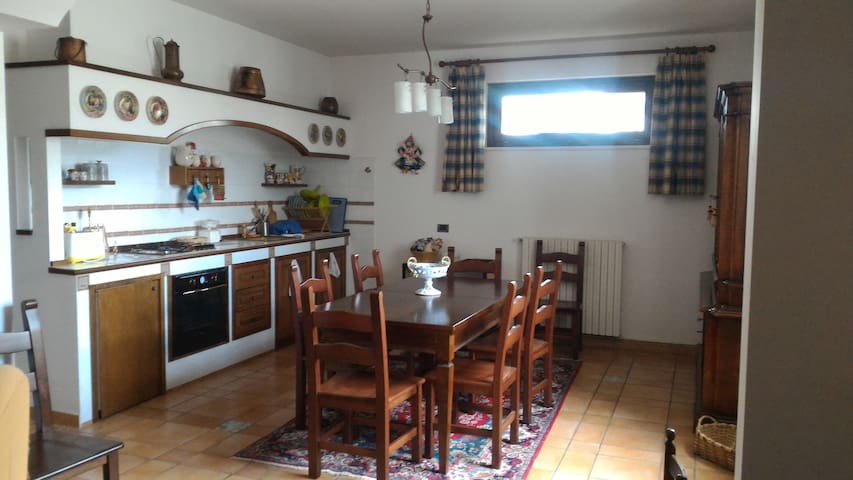 After a few years of renovating a part of a XVI century convent in the beautiful historical center of Sulmona, I am proud to say that the work has been completed and I am very pleased with the result. I offer a two bedroom apartment, one bathroom, living/dining room and separate fully equipped kitchen. There are also two balconies. The apartment is ideal for a maximum of four people. The house has just been completed in 2013 and it has been renovated to a high standard. There is central heating and free WiFi (free internet connection). As this is a very old structure, the walls are very thick and there is no need for air conditioning. The temperature remains pleasant even during the summer period. If need it there are funs available. Flat TV scream is in the living room. Sheets for beds and two towels per person will be provided. Moreover, I will welcome you with a free "aperitivo" (cocktail) on my beautiful panoramic terrace on the top floor of the property. The views from there are the best of Sulmona. Just spectacular! We are located in the historical center of Sulmona at just one minute from the Corso Ovidio (main street) and the main building in town or Palazzo dell'Annunziata. Traffic is very limit through my street. It is very quite. However, if you bring your car and need a free parking space we have enough of it at just two minutes walk. The place has been furnished with antique furniture to make your holiday in Sulmona very special. Sulmona, located in the center of the region of Abruzzo, at 1h and 30min from Rome and 45min from Pescara is the perfect town to explore the three national parks of the center of Italy: National Park of Majeilla, Gran Sasso and National Park of Abruzzo. All of them within a distance between 20min to 40 minutes. Also there are several charming medieval villages at less than 25 minutes drive from Sulmona. If you want to go to the beach, the Adriatic Sea is just 50 minutes away. Continental breakfast is included.
This was a great two-room apartment in the middle of Sulmona, centrally located for our four day excursion to Italy's Abruzzo region. Victor helped us get situated and was available by phone if we had any questions. Parking was about a 5 minute walk down-hill, just outside the pedestrian-only city center. The rooms and beds were comfortable. In all, the apartment was small but functional--for example, I wouldn't have wanted to cook much (but it's okay with so many good restaurants around). Wi-Fi worked well, the rooms were comfortable despite the hot temperatures outside, and we did not get much noise from the quiet street outside the window. Could see Sulmona's surrounding mountains from the small terrace. It was a excellent base of operations.
Andrew
2014-07-02T00:00:00Z
Victor's newly restored apartment in beautiful Sulmona was an ideal choice for getting the quaint experience the city has to offer. Victor was a great host, meeting us warmly upon arrival and inviting us for a drink on his beautiful terrace overlooking Sulmona and the frosted mountains that surround it. All of our basic needs were met, and the apartment was very clean. Our group of four had a wonderful time in the city, and Victor's apartment was perfectly located for the authentic Italian experience so many hope for.
Raphaela
2015-04-12T00:00:00Z
Gordon, the business partner of Victor, checked is in as Victor had a family emergency. Gordon was on-time and a wonderful host. We had cocktails on his penthouse terrace with a view to kill. He fried gnocchi and it was enough for a full dinner, and they were super yummy! The apartment was really nice, modern, warm, clean, quiet and comfortable. The kitchen was a bit small for our taste, we like to cook one meal a day and his was not the best place to cook a gourmet meal, but the two pots will get by in a fix! I'm any case we give them 2 thumbs up
Laura & Mark
2014-04-24T00:00:00Z
Absolutely warm and incredible! Wouldn't have changed a thing.
Gianna
2014-06-02T00:00:00Z
Our host was away at the time but he left Anita in charge who made us feel very welcome and gave us all the help we needed. The apartment was very clean and well fitted out and ideal for our family of 2 adults and 2 children. It was perfectly located in the historic centre and Anita arranged parking permits for us. Sulmona was a beautiful and friendly place and we would highly recommend it for a visit.
olivia
2014-07-23T00:00:00Z
We had a fantastic stay at Victor's the apartment is beautiful the host is very gracious and accommodating with lots of information about places to go, places to eat. Winery's to visit and things to do while in sulmona.
Thomas
2016-06-13T00:00:00Z
We had a wonderful stay. Victor is an extraordinary host. Going out of his way to show this charming and little known part of Italy. Enjoyed meeting fellow travellers at cocktails on Victor's terrace surrounded by beautiful mountains. Loved the appartment, the town and surroundings. Will definitely return!!!
Rodrigo
2016-07-02T00:00:00Z
This appartment is great located in the centre. You can easily park your car just outside the city walls, at 3 minutes walking distance. And leave it there, to see Sulmona at foot. Inside the house there is everything, even some candles. Bedrooms, bathroom and living room; everything is to a high standard. Victor is a friendly host, and knows all about Sulmona.
Marjon
2014-08-01T00:00:00Z
Room Type
Entire home/apt
---
Property Type
Flat
---
Accommodates
4
---
Bedrooms
Sulmona, Abruzzo, Italy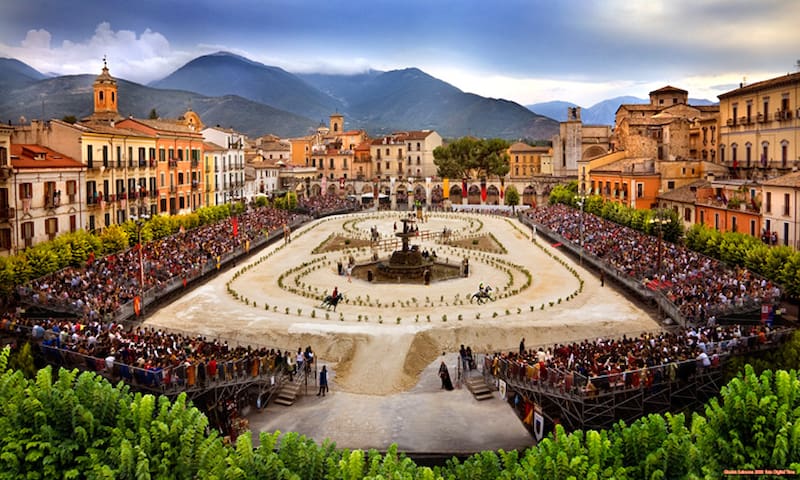 L'appartamento è situato a meno di 2 km da Sulmona e 1 km dalla storica fabbrica di confetti Pelino. Arredamento nuovissimo, ospita comodamente 5 persone e la grande metratura permette su richiesta eventuali letti aggiuntivi. Ampio terrazzo - balcone e possibilità di posto auto sia fronte casa che nel giardino privato, protetto da cancello. Su richiesta anche macchine in affitto e autisti privati.
Apartment located on the first floor, two flights of stairs to access it, in the same building there are 3 other apartments. Appartamento situato al primo piano, due corte rampe di scale per raggiungerlo. Nello stesso stabile sono presenti altri 3 appartamenti.
Tranquilla area periferica a 15 minuti di cammino dal centro . Quiet rural area 15 minutes' walk from the city centre
Room Type
Entire home/apt
---
Property Type
Apartment
---
Accommodates
5
---
Bedrooms
Provincia dell'Aquila, Abruzzo, Italy
Casa Linda, our homey 2 BR/1 BA apartment, awaits. Located near the Cathedral of San Panfilo at the edge of the Villa Communale and just a short walk into the historic center of the city. Restored by one of the area's preeminent architects.
The well-appointed, fully modernized apartment comes with: (1) Two bedrooms: one on the main level with a matrimonial bed and one upstairs in the open plan loft space with two twin beds (2) Modern bathroom with shower (3) Small sitting room (4) Fully equipped kitchen/dining area with plenty of room for cooking and eating (5) Stove, oven, refrigerator (6) Clothes washing machine and drying rack (7) Lovely antiques interspersed with modern Italian touches throughout (8) Three small balconies from which to view the gorgeous mountains and let in the fresh Abruzzese air (9) Towels and linens included (10) Free Wi-Fi in the apartment and several internet hot spots in town
There's so much to do, both in Sulmona itself and within an hour's drive in any direction. And the food is among the best you'll find in all of Italy — like the rest of Abruzzo, it's entirely authentic and uses the freshest of local ingredients prepared in old-world styles. There's a binder in the apartment with our recommendations for caffes, restaurants, and sightseeing options — both within the city and in the surrounding countryside — as well as emergency numbers and all the information we think you'll ever need.
Linda was prompt and clear over email leading up to my lovely stay in the center of Sulmona, a tiny city with next to no tourism. The apartment is gorgeous, clean, and well outfitted for a stay of any length. I was able to wash my clothes, park my car, cook if I wanted. I will miss the apartment and the entire city and region!
Nick
2016-07-04T00:00:00Z
Casa Linda was the perfect place to spend a month in Sulmona. This beautiful apartment is ideally situated and has a breath taking view. The full kitchen is a real plus and allowed us to fully experience the local produce. Linda provided wonderful and detailed information about the town and surrounding region. This was our fifth, and definitely best summer in Sulmona. Thank you Linda!
Shannon
2015-07-21T00:00:00Z
Room Type
Entire home/apt
---
Property Type
Apartment
---
Accommodates
4
---
Bedrooms
Sulmona, Abruzzo, Italy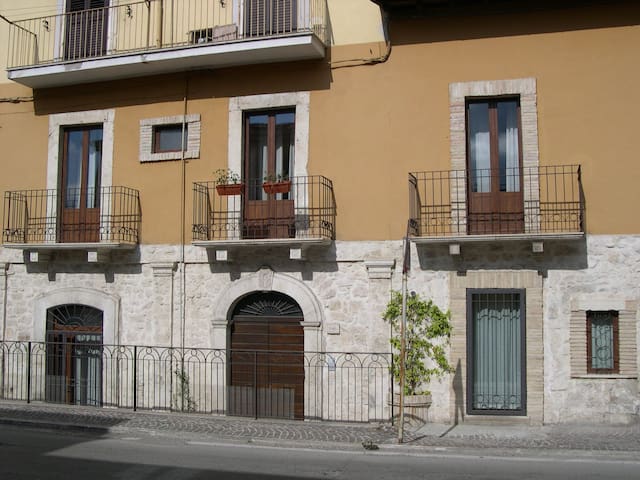 L'appartamento si presenta accogliente, luminoso e spazioso, l'area circostante è molto silenziosa, ideale per riposarsi dal caos delle città, inoltre a pochi metri si trova la strada principale del paese e il rinomato ristorante La Fiaccola.
Uso da diverso tempo Airbnb ed è la prima volta che ho riscontrato troppi problemi (tutti tra l'altro facilmente risolvibili con un minimo di attenzione in più). L'accoglienza è stata veloce, MA: non ci era stato dato l'indirizzo esatto, non era stato indicato che erano presenti molte scale, soprattutto per lasciare le valige più vicino possibile all'accesso di casa. Eravamo abbastanza pieni di borse e non è stato fatto un minimo accenno di aiuto (considerato che finora almeno il "gesto" l'ho sempre avuto da qualsiasi host). DENTRO CASA: l'annuncio era per l'abitazione INTERA e ci siamo trovati dentro un'altra persona a nostra insaputa. La cucina era sporca (frigorifero inutilizzabile, pentole tutte da lavare e vecchissime, un unico cucchiaino, pochi coltelli, tovaglie con peli di cane). Mancava un secchio per l'immondizia. Ho dovuto chiedere un altro paio di asciugamani, considerato che eravamo in due e ho trovato solo un set. Ci è stato detto che l'altra signora ospite avrebbe probabilmente usato il nostro bagno per farsi la doccia (bagno senza chiave). I termosifoni sono rimasti accesi tutta la notte, con conseguente disagio. Ribadisco quanto scritto all'inizio: casa molto carina, ma troppe cose andate storte per mancanza di attenzione. 100 euro (75 euro + 15 di pulizia!!) per il servizio ricevuto non vanno proprio bene.
Alessandra
2016-05-02T00:00:00Z
Room Type
Private room
---
Property Type
Apartment
---
Accommodates
2
---
Bedrooms
Anversa degli Abruzzi, Abruzzo, Italy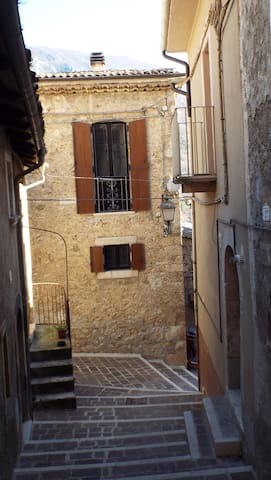 Stay in our elegant apartment in Sulmona's historic centre and get lost in the alley ways of this wonderful hidden gem of a town in central Abruzzo! Beautifully renovated and thoughtfully equipped: great for short city breaks or longer holidays!
Stay in our elegant apartment in Sulmona's historic centre and get lost in the alley ways of this wonderful hidden gem of a town in central Abruzzo! Located in a traditional "fondaco", with exposed stone work and attractive vaulted ceilings, the apartment is cosy in the winter and cool in the summer months thanks to the massive stone walls of this 19th century (?) building. Beautifully renovated and thoughtfully equipped, the apartment is spread over a main 'living' floor, plus a mezzanine 'sleeping' level above. The atmosphere is intimate and offers all of the amenities needed for a short city break as well as for longer holidays. On the ground floor there is a kitchenette made from the counter of an old blacksmith's workshop, equipped with a hob, an oven and a refrigerator. The TV area has two single sofa beds plus a table and four chairs. Our small bathroom is located on ground floor and has a black granite sink and a shower. An open-tread wooden staircase connects the upper level under the main vault to the principal living space Make this your starting point for exploring the many National Parks and Nature Reserves which surround Sulmona and the Valle Peligna and are beautiful in every season. Alternatively you can enjoy the relaxed city life and local cuisine of Abruzzo. The apartment is situated in the a restricted traffic area. You can access it by car before 10.30 am, and between 13.30 and 17.30 but we advise you not to park in the area. There are several car parks within walking distance of the apartment. Once you are here there are no limits. This studio flat is right in the heart of the old town of Sulmona - the pearl of Abruzzo!
Soggiornerai in pieno centro storico, nei vicoli di Sulmona, la perla del Centro Abruzzo!
Patrizio was away on holiday when we arrived in Sulmona, but he was very attentive via email and text and left the keys somewhere very easy for us to find them. It was very simple to let ourselves in, and we were very pleasantly surprised by the flat. The photo's really don't do it justice - it's clean, very cool and comfortable and has everything you could possibly need for a good stay. The Location of the flat is very convenient for the town and surroundings, although parking was a little bit difficult. I would definitely stay here again - thanks Patrizio!
Ruth
2016-07-18T00:00:00Z
Amazing place, great location. Best place to stay in Sulmona
Vladimir
2016-07-03T00:00:00Z
Patrizio and Susanna's studio flat is Sulmona is located the the heart of the historic centre making it very easy to get around. Susanna provided us with some great recommendations for walks in the national park and restaurants. The apartment is located in a basement and has no natural light, it was well equipped, had a comfortable bed however the bathroom was a very very tight squeeze. We enjoyed our stay in Sulmona - many thanks.
Rosemary
2016-06-08T00:00:00Z
The host canceled this reservation 40 days before arrival. This is an automated posting.
Elizabeth (Lisa)
2017-03-03T00:00:00Z
We had a wonderful stay in Patrizio's cosy apartment. It is very close to the centre of Sulmona so in three minutes you are in the middle of the nice shopping street, lovely restaurants etc. Patrizio gave us very useful tips for wandering in the beautiful Abruzzo Parks. Thanks for everything Patrizio and Susanna!
Rudy
2016-05-15T00:00:00Z
My friend's and I had a great stay at Patrizio's apartment in Sulmona. The location was close to everything we wanted to see and parking was easily found only a short walk away.
Candiss
2016-10-15T00:00:00Z
Patrizio's place in Sulmona is absolutely wonderful. It's perfectly located in the heart of Sulmona, within walking distance to all the shops and sights. The house itself has everything you need for a comfortable stay. Patrizio was a super helpful host, offering many great recommendations for restaurants and sight seeing. Would definitely stay again!
Ricky
2017-03-27T00:00:00Z
Fantastic location and great little apartment from which to enjoy Sulmona. Patrizio was away but his colleague Katy looked after us and was fabulous with lots of helpful tips on places to eat. We will be back
Jo
2015-09-02T00:00:00Z
Room Type
Entire home/apt
---
Property Type
Apartment
---
Accommodates
4
---
Bedrooms
Sulmona, Abruzzo, Italy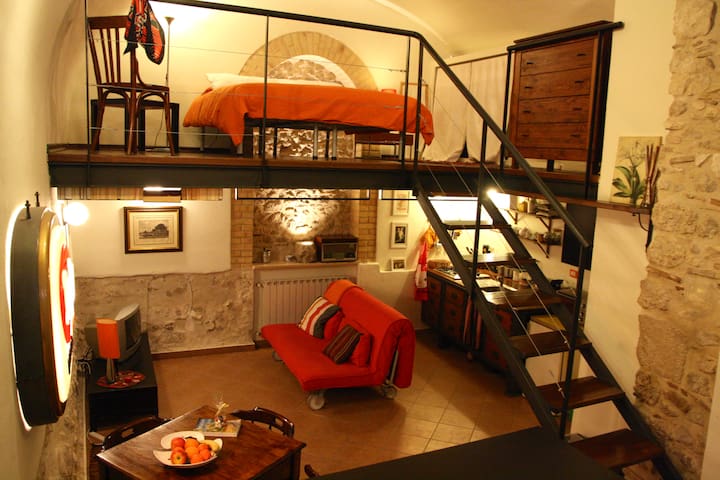 Delizioso appartamento nel centro storico di Sulmona, a 50 metri dallo storico Palazzo e Chiesa della SS Annunziata nel corso principale e il teatro comunale. L'appartamento, appena ristrutturato è arredato in stile moderno per rendere più accogliente e confortevole il tuo soggiorno. E' al secondo piano di una palazzina privata su due livelli (zona giorno al primo piano, zona notte e servizi al secondo piano). Dotato di ogni confort è adatto a coppie, amici e famiglie con bambini.
Tutta la "movida" della città si svolge a pochi passi dal mio appartamento: il mercato del mercoledì e del sabato in Piazza Garibaldi; lo shopping tra i negozi di abbigliamento e di prodotti tipici quali i famosi confetti nel Corso Ovidio; feste, tradizioni e riti religiosi del periodo estivo e pasquale (Giostra Cavalleresca, Processione del venerdì Santo, la Madonna che scappa in Piazza, la fiera dell'Assunta, e tanto altro). Dalla stazione ferroviaria, è possibile provare l'emozione di un viaggio su un treno storico che attraversa l'appenino abruzzese e molisano, la "transiberiana d'Italia" tra paesaggi innevati e distese di bianco.
We recently stayed at Sole&Luna and had a lovely time. The apartment is located just a block from the main street in Sulmona, in the heart of the historic center. The apartment has been recently renovated, so everything was new and clean. Angela's mom baked sweets to await our arrival, and Angela put a few things in the fridge, too, knowing that we were arriving late and that our daughter would probably be hungry! We will definitely return!!
Yv
2016-07-04T00:00:00Z
Soleluna apartment was great. Simona's sister checked us in and she was lovely. Cats are limited access in the neighborhood and those streets are super tight. Parking was a few blocks away on a street and apparently we were fortunate to find a spot. The apartment was clean and comfortable. Simona left is breakfast treats and coffee pods and water. :) the location is just in the historic district. It's on two floors: On the 2nd and bedrooms/bath on 3rd floor (3rd and 4th USA). You just turn up one or two streets and you see the corso. I'd stay here again.
Lorenzo
2016-09-04T00:00:00Z
Angela's beautiful apartment has the perfect blend of both old and new. Situated in a great position in a 1700's palazzo in Sulmona's Centro Storico, we all loved staying there and both Angela and Angela's sister Maria Olga were wonderfully welcoming and warm. We would highly recommend staying there again as we were treated like friends and we felt totally at home. Grazie mille Angela and Maria Olga!
Anna
2016-07-26T00:00:00Z
Esattamente cosa cercavamo: appartamentino carino, pulito accogliente, al giusto prezzo, in pieno centro. Perfetto luogo per scappare dalla città e rilassarsi contornati da bei borghi e parchi naturali.
Romano
2016-12-25T00:00:00Z
Room Type
Entire home/apt
---
Property Type
Apartment
---
Accommodates
5
---
Bedrooms
Sulmona, Abruzzo, Italy
Appartamento con cucina, 2 camere da letto e bagno, nel centro di Sulmona, fuori ZTL, con parcheggio. Pulizie giornaliere di tutti gli ambienti. Camera tripla con ingresso autonomo disponibile in aggiunta sullo stesso piano.
Situato a due passi da Corso Ovidio e da Piazza Garibaldi, nel cuore del centro antico della Città di Ovidio, a 2 km. dalla stazione ferroviaria, il B&B Amores vanta camere arredate in stile tradizionale, con connessione internet Wi-Fi gratuita e TV LCD. Il B&B Amores offre assaggi gratuiti dei famosi confetti di Sulmona, i più buoni al mondo. Tutte le camere dell'Amores presentano freschi pavimenti piastrellati e mobili in legno, e la maggior parte sono dotate di letti in ferro battuto. Il bagno privato è completo di doccia, asciugacapelli e articoli da toeletta. La struttura serve una colazione self-service a base di prodotti dolci nella cucina comune. Su richiesta sono disponibili prodotti salati. In alternativa, è possibile fare colazione presso i migliori bar del centro storico,convenzionati con il B&B, dove vengono serviti ottimi caffè e cappuccino. E' possibile parcheggiare l'auto presso il vicinissimo parcheggio di S.Chiara, coperto e custodito; moto e bici possono essere parcheggiate nel garage del B&B.
La zona è piena di negozi, bar, ristoranti, caffè, banche e uffici postali, teatro, parcheggi gratuiti e a pagamento, pub, attrazioni varie.
Antonio was a fantastic host.Communication was extremely easy and very accommodating in our requests. Domus Amores is in a great central location in Sulmona which is beautiful and full of life. The accommodation was spacious, clean and well laid out. Having fresh coffee was a bonus. I would highly recommend a stay here and look forward to coming back in the next few years.
Arveena
2016-02-22T00:00:00Z
Io e mio fratello siamo stati a Sulmona per una sola durante il nostro viaggio verso Pescara. Antonio ci ha offerto una casa alternativa a quella dell'annuncio e ci siamo trovati benissimo. La casa è stata parzialmente rinnovata e nella sua semplicità ci siamo trovati molto bene.
David
2015-10-05T00:00:00Z
Room Type
Entire home/apt
---
Property Type
Apartment
---
Accommodates
4
---
Bedrooms
Sulmona, AQ, Italy
Whether you want to hike, bike, relax, lap up Italian culture or just the mountain views, eat in or out Villa Ulignano can offer you this and more. Set in stunning Abruzzan countryside a stone's throw from historic Sulmona we are the perfect getaway.
Villa Ulignano is just 5 km from the beautiful, historic town of Sulmona but set in peaceful countryside with stunning mountain views in every direction. For the active traveller you can walk, run, cycle endless routes directly from the apartment. If eating out is your thing, there are numerous restaurants to choose from in the area offering traditional Abruzzan dishes. Or if you just want to chill out at home the kitchen area is extremely well equipped and the choice of quiet spots in the garden is ample.
We love the fact that our area is a natural wilderness with stunning views and endless areas to explore, but in just 5 minutes drive Sulmona is a lively town with lots going on if we want to shop, eat out, or enjoy the general festivities. We love that we can be at the beach in less than an hour and that we are surrounded by national parks in every direction.
The hosts were very warm and friendly. The house was very clean and extremely well equipped. We liked the rural setting with the back drop of the mountains and yet only 5 minutes from the beautiful city of Sulmona. We could not recommend the villa highly enough.
Chris
2016-10-06T00:00:00Z
Perfect base for hiking in wildlife abundant mountains. Really lovely and helpful hosts. Well appointed apartment and self catering a good balance in this region as the restaurants are really good, but so is the quality of produce locally for cooking. We used this as a base for hiking in beautiful mountains. In 6 days we saw close up: a Marsicano bear, a herd of chamois, a boar, vultures, eagles, deer, preying mantis. Location brilliant for the mountains. But also practical - quiet and spacious but easy access to all you need in Sulmona. Great week and hope to return. Iain
Iain
2016-10-02T00:00:00Z
We had a wonderful week in Villa Ulignano, hiking, biking, visiting small, adorable villages and the market in Sulmona. The apartment is very nice, clean and modern with all facilities and mountain view from all the windows! The surroundings are beautiful - quiet, peaceful and only a short drive from lovely Sulmona. Michelle and Dougie are the most friendly hosts - generous and always ready to help and suggest where to go and what to do, but never intrusive.
Signe
2016-07-23T00:00:00Z
Room Type
Entire home/apt
---
Property Type
Apartment
---
Accommodates
4
---
Bedrooms
Sulmona, Abruzzo, Italy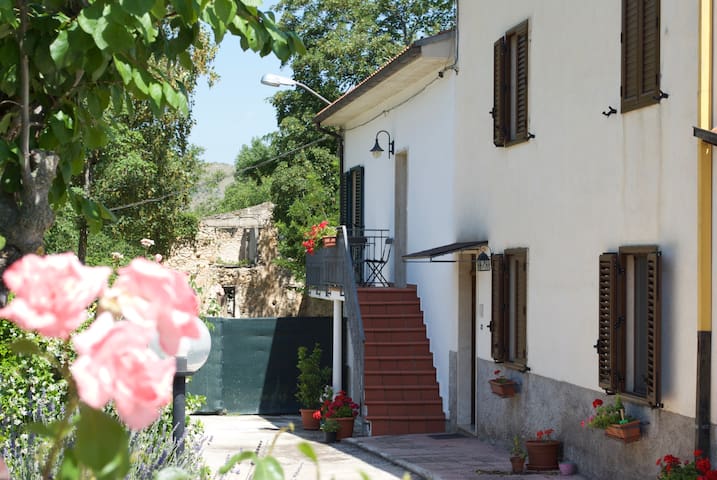 Il mio alloggio è nel centro centro città, arte e cultura. Ti piacerà il mio alloggio per questi motivi: l'atmosfera e il centro storico.
Centro storico
The apartment is set in the centre of Sulmona which are both beautiful. The apartment was spacious and clean and has good parking facilities in the underground car park which is secure. We went skiing in Monte Pratello which is around 20 minutes by car, a fantastic ski resort. Naida was a great host and accommodating regarding our arrival time which was greatly appreciated.
Arveena
2017-02-19T00:00:00Z
Ottima accoglienza di Naida, Alloggio situato in pieno centro storico con vista sulla piazza principale. L'appartamento è arredato con cura, le stanze sono ampie con ogni comfort ! Consigliatissimo!
monica
2016-08-14T00:00:00Z
Séjour très agréable à Sulmona et dans le Parc de la Majella. Appartement très bien situé et plaisant, permettant d'accéder facilement aux différents sites de visite, à pied ou en voiture. Naida à été très accueillante et réactive. Une très bonne semaine en Abruzzes
Alain et Sylvie
2016-08-07T00:00:00Z
Naida è molto gentile e sempre disponibile ai messaggi. La casa è tanto carina e pulita, ci siamo travati benissimo.
HUIYU
2016-08-26T00:00:00Z
Room Type
Entire home/apt
---
Property Type
Apartment
---
Accommodates
6
---
Bedrooms
Sulmona, Abruzzo, Italy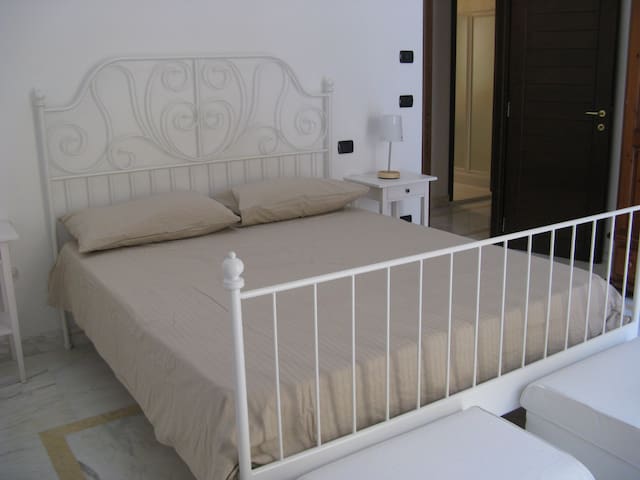 Casa La Rocca is a lovely reconstructed farmhouse standing at the southern end of the Sulmona valley. The house and attached apartment, set within quiet fields and vineyards, enjoy tremendous views in all directions of the surrounding mountains.
Casa La Rocca is a great place for a peaceful holiday in magnificent countryside and yet within a few kilometres of the market town of Sulmona and the beautiful old hilltop village of Pettorano Sul Gizio. Accommodating outdoor enthusiasts is our speciality. We love to help walkers, cyclists, skiers, climbers and naturalists get the very most out of their trip to this wonderful region. Stuart, one of the owners, is the author of 'Walking in Abruzzo', published by Cicerone Press in July 2011. But catering for those seeking a less active holiday is an equal pleasure - the tranquility and heat of the valley often prove irresistably suited to a day of lounging in the hammock, eating, reading and sipping the house red made from our own organic Montepulciano grapes. The apartment is situated on one level at the back of the main house. It has its own entrance through french windows that lead into the kitchen / living room. A shady porch runs the length of the back. Outside is a private terrace shaded by mature trees that offer a welcome respite from the summer heat. This creates a lovely spot for dining al fresco whilst enjoying the views. Guests also have exclusive use of the large terrace above the apartment, with loungers and a shady pergola. Although perfect for a small family or goup of friends, Casa La Rocca is equally suited as a quiet retreat for a couple or two friends. We are pleased to offer a discount on weekly bookings for one or two people only - just let us know in advance.
Despite its central location and proximity to Rome, Abruzzo is one of Italy's least known regions. A spectacular and harmonious blend of high snowy mountains, grassy plains and forested canyons; of hillside olive groves, vineyards and long sandy beaches. Its natural riches protected in three national parks, one regional park and many smaller reserves. Thousands of years of history reflected in a multitude of abandoned castles, hilltop villages, ancient farmsteads and sheep droves; splendid abbeys, silent churches and remote mountain hermitages. It's a wonderful place to get to know. The Abruzzese are resourceful, respectful and welcoming people - one eye on their global future but a very firm sense of their history and tradition. The wild and high Appenine ridges form the grain of the land and are the home to marvellous plants and animals - golden eagles, wolves, Marsican bears, chamois and lynx. The highest peaks in peninsular Italy outside of the Alps are here, their slopes supporting a host of ski resorts and an extensive network of summer trekking amd mountain biking trails. The mountains fall to the Adriatic , the intervening hills covered in vines, olives and orchards, the coastline itself developed with seaside resorts offering warm, safe bathing and sun shades and loungers as far as the eye can see. A blend of mountain robustness and simplicity, fertile hill country and the riches of the sea have produced a fine and varied regional gastronomy - pasta, lamb, pecorino cheese and fish dishes known throughout Italy and the characteristic Montepulciano d'Abruzzo red wine. These are some of our favorite days out: • Calascio and Rocca Calascio - simply the best castle and view in Abruzzo • Campo Imperatore - a high mountain plateau - wild, vast, magnificent • Sulmona - the beautiful town just down the road and centre of the valley - cycle in on market day! • Corno Grande - take the cable car to help you on your way to the highest point of the Appenines • Passo San Leonardo - the high point of the mountain road across the Maiella • Pettorano Sul Gizio - our ancient and quite delightful hill top commune - take an hour or two and walk up • Lago Scanno - a cool swim in the mountains with a wonderful view and the lovely old village nearby • Pescara - the authentic Italian beach experience and big town shopping - why not take the train? • Roccaraso - the main ski resort of the Appenines, Lots of runs for everyone and 25 minutes away • Pescocostanzo - a suprisingly unusual village - take bikes on the back of the car and cycle back down! • Anversa degli Abruzzi and Castrovalva - enchanting twin villages in the Sagittario gorge - do the walk between the two • The Fara San Martino Gorge - an adventurous exploration on the edge of the Maiella - a squeeze to get in! • Passo di Godi - small scale, cheap and friendly family skiing in a lovely spot - downhill, cross-country or tubing! There are many local village festas throughout the summer months and, at the end of July, the international jousting festival takes place over two weeks in Sulmona - a colourful and spectacular nightime pageant. And, whilst in Sulmona, browse the many shops offering the town's speciality - brightly coloured displays of sugared almonds, the original confetti.
Stuart and Hil were fantastic hosts, exceedingly helpful, they went out of their way to make our stay better. When we found we couldn't rent a car (have to have been driving longer than a year a well as over 25) they gave us several lifts as well as picking us up from the station and dropping us at the bus to the airport. The vegetables from the garden they gave us were very tasty as was the wine both of which we thoroughly enjoyed. The house itself is wonderful nicely located for walking in the valley. Very clean and remained a comfortable temperature throughout the day despite the heat. The views from the roof terrace are fantastic and it's a great spot for star gazing though the moon was too bright to really appreciate them during our stay. The bed was very nice to sleep on too, large and comfortable. We also enjoyed having Max and Flow, the dogs around both very lovable friendly dogs and very well behaved with no begging for food or entering the apartment uninvited. Sulmona is a beautiful place and Stuart and Hil are great people to stay with we highly recommend both.
Sam
2016-08-20T00:00:00Z
Room Type
Entire home/apt
---
Property Type
Apartment
---
Accommodates
4
---
Bedrooms
Pettorano Sul Gizio, Abruzzo, Italy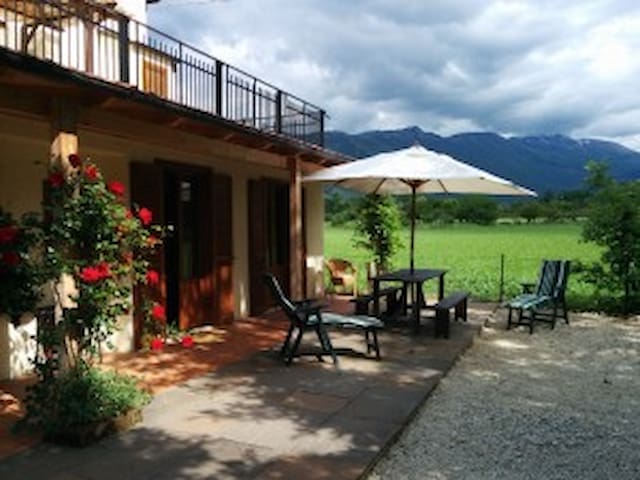 Tranquillo confortevole economico con tutti i servizi essenziali, per una vacanza di puro relax. Le vostre esigenze sono un nostro impegno. Disponiamo di 3/4 posto moto coperto secondo disponibilità
Appartamento privato al secondo piano posto tranquillo e soleggiato a pochi passi dal Corso Ovidio e da numerosi palazzi e monumenti storici, tutti visitabili a piedi
L'appartamento si trova nel cuore di Sulmona antica, zona tranquilla anche di notte disponiamo di 3/4 posti moto al coperto e Gratis (zona soggetta a limitazione di accesso ZTL con i seguenti orari di ingresso 01:00/10:00 13:30/17:30) contattaci per ulteriori info.
The host canceled this reservation 2 days before arrival. This is an automated posting.
Giovanni
2016-12-29T00:00:00Z
Ospite cortese e rapido nell'accettare la prenotazione. Casa in pieno centro come da foto. Molto ospitale e disponibile
Vincenzo
2016-07-03T00:00:00Z
Accoglienza puntuale e precisa, preceduta da messaggi telefonici che assicuravano disponibilità e presenza. L'host ha portato i nostri bagagli con la sua auto fino all'alloggio poichè la zona centrale di Sulmona è agibile solo in orari determinati. L'appartamento, al secondo piano, si trova in una casa storica del centro urbano, comodissimo al corso principale e quindi ai monumenti ed ai negozii. La signora Maria Olga è stata disponibilissima ad illustrarci l'appartamento, dotato di tutto ciò che serve per la vita quotidiana, compresa wifi. La casa è comoda ed ampia e soprattutto pulita. Dai piccoli poggioli si godono piacevoli scorci della città e delle montagne circostanti. Insomma una sistemazione ottimale con le sue due camere matrimoniali, che ci ha fatto sentire davvero come a casa.
Gary Robert
2016-08-24T00:00:00Z
Room Type
Entire home/apt
---
Property Type
Apartment
---
Accommodates
5
---
Bedrooms
Sulmona, Abruzzo, Italy