I travel the world searching out interesting people and places, and this place is where I choose to live. Bo is one of the most special places on the planet. You can literally look out over the Pacific Ocean and see San Francisco, arguably the most thriving city on the planet. Meanwhile in Bolinas there is an honor system farmstand as you drive into town, where you literally put money in the metal box and take your produce--and eggs!
The town is small, and most people live on the big mesa, which is nice, but you will probably be getting in a car to go into the super cute town with everything from a general store to a bar that's been there since 1951 to a hardware store complete with lumber yard! Cool thing about my place, it's on the little mesa, which means you can walk to downtown, and the beach. Yes, it's a 5 minute stroll to the beach, and honor system bookstore. My favorite part about my place though, is the front deck. You can see the ocean from it, and hear the waves crash, which is much louder at night--so leave the bedroom cracked and you can fall asleep to the ocean. The deck is surrounded by beautiful trees and succulent garden. This mean you can actually sit outside in the shade and enjoy the deck all day long. I actually set up my office outside, there's a folding table you can bring outside for just this purpose. And I even have an extra large yoga mat that you can use on the deck, just give the deck a little sweep first. The apartment is the downstairs unit of Captain Marco and Babette's house. They're about as cool as it gets and are a huge value add for staying here! He's a slightly crusty sailboat captain and race car driver. She continues to hone her skills as one of the most amazing people on the planet. And lastly, and most importantly. The internet sucks. It's pretty much the vain of my existence. The good news is that because this is something I care so much about, we pretty much have the best achievable internet in Bolinas. I have satellite, DSL, generic cell antenna repeater, and a T-Mobile data planned tablet with window rebroadcaster. My work requires that I be online. And there is no television. If you really need, there is a computer monitor, a DVD player, and streaming off of the tablet or your laptop. There's so much more, but I'll let you discover it. Enjoy your stay.
Walking distance to one of the cutest downtowns in the world. The beach is even closer!
Dream weekend!
Ben
2017-03-05T00:00:00Z
My husband and I really loved our weekend getaway at Doc's place. We had everything we needed in this cozy warm house, with a fully furnished kitchen and comfy bed. Also made a great home base to go out exploring and hiking in the rain with nice warm heaters, shower and hot tea to look forward to when we got home. We felt very at home there. Thanks, Doc!
Mary
2017-02-20T00:00:00Z
This was the perfect place for a mini retreat! It was light and bright with ocean views. The sound of waves was lovely in the evening. Easy walk to town and down to the ocean.
Natalie
2017-02-06T00:00:00Z
Bolinas is one of the most charming and beautiful places that we have visited in California and Doc's place exceeded our expectations. There was everything that we needed to prepare our own meals and plenty of room to stretch out. Marco and Babette upstairs were very friendly, helpful, and easygoing. We would visit again in a heartbeat.
Garrison
2017-01-28T00:00:00Z
Good location, use (SENSITIVE CONTENTS HIDDEN) maps, not waze. Deck was great.
Janine
2017-03-18T00:00:00Z
I was in Bolinas for business, and it was lovely to come home to Doc's place on a hill overlooking the ocean at the end of a long day. As soon as you walk inside you are right at home, with everything you may need for a wonderful stay. Thanks so much Doc.
Shai
2016-12-09T00:00:00Z
Great coastal hideout!
Jens-Erik
2016-10-30T00:00:00Z
We had a really good stay at Doc's relaxing spot. Bolinas is a beautiful, chill town, avd this place fits it perfectly. I appreciated the awesome view out front toward the ocean, and sitting out there hearing the waves and feeling the ocean air was the perfect place to have morning coffee and breakfast. We didn't have a lot of communication with Doc, especially prior to our stay, but his very clear directions in the house info ensured that it was easy for us to get settled. We were relaxed and comfortable in the apartment, and liked that it was less than 5 min walking down the winding road to the beach. The kitchen is small, but well enough equipped to do whatever cooking we wanted to do; and the main room is bigger than we expected, so sitting at the table proved to be a great spot to chop veggies etc if two people are cooking. The location, perched up on the hill near the ocean was just great - being able to open the door and windows to the fresh ocean air was really nice. Overall a great spot, in a very cool and relaxing town.
Jonathan
2017-02-16T00:00:00Z
Room Type
Entire home/apt
---
Property Type
Apartment
---
Accommodates
2
---
Bedrooms
Bolinas, CA, United States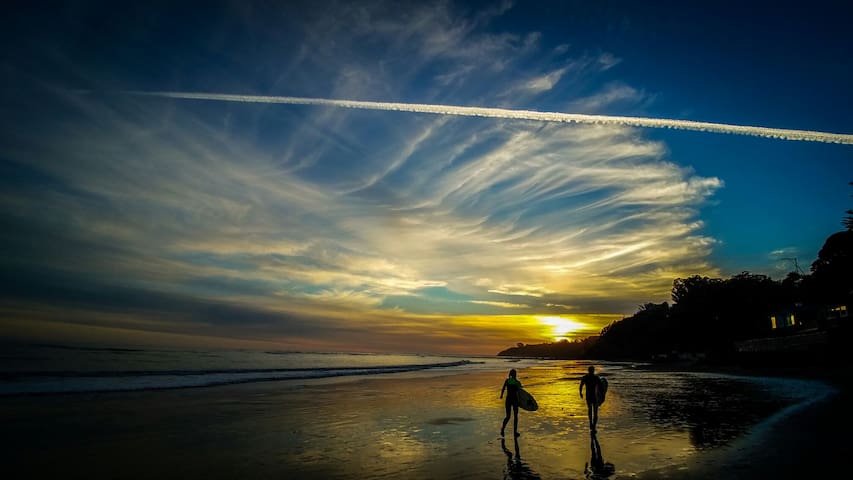 Located in Bolinas on the beautiful Marin County Coast, The Garden Room offers exquisite guest quarters in an idyllic setting. Although part of the main house, The Garden Room is completely independent, with a separate entrance, private bath and kitchenette. Lovely accommodations are set amid nearly an acre of lush gardens on the Bolinas Mesa. Agate Beach is a short walk away, and the trails of the Point Reyes National Seashore and the amenities of downtown Bolinas are within a few minutes by car. Enter The Garden Room through your private entrance. The Garden Room features a spacious light filled main room with spectacular views of the Upper and Lower Gardens which sleeps a maximum of three, one double bed and a single day bed. A gas fireplace adds heat and charm. The private, immaculate bathroom has a pedestal sink and shower. A kitchenette with mini-fridge, microwave and toaster/convection oven and facilities for coffee and hot drinks is stocked with continental breakfast fare. WiFi service and a land line telephone (cell service can be problematic) will keep you connected; the room offers ipod speakers, CD player and radio. Enjoy your private out door seating area overlooking the koi pond and water garden, or stroll down the garden pathways and find your own special corner of this heavenly property, which has become a destination for garden lovers and horticulturists alike. Visit the studio of owner Sally Robertson, where art and garden meet, and view original watercolors, prints and note cards. Maximum of 3 guests (including children of any age). No Pets. Price includes local taxes.
Sally's Garden Room was peaceful, tranquil, beautiful... One of the two days we were there it rained and was very relaxing to listen to while sleeping. The garden was vivid with life after the rain stopped. Sally was a friendly and kind host who made sure we had everything we needed and was knowledgeable about local restaurants and other things to do even with the rain about. The room was very clean and had all the amenities you would want. I would stay here again.
Karl
2014-03-31T00:00:00Z
Sally's gorgeous garden suite in Bolinas, her fabulous garden, her amazing watercolors, and Sally herself were an absolute delight! Sally went out of her way to provide for our comfort and enjoyment. We have discovered a very special gem and I feel honored to have experienced Sally's space. Thank you, Sally, for sharing it. It was a pivotal part of a truly memorable weekend getaway.
Diana
2014-06-10T00:00:00Z
We had a marvelous time at Sally's. She was excellent host and offers an incredible get-away experience. Sally is attentive and friendly but also provided privacy; a perfect balance. She even provided a wonderful kitchen stocked with breakfast snacks to enjoy on the patio. Sally's garden was magical and provided a peaceful setting to relax. Thank you Sally. D
Rob
2016-04-18T00:00:00Z
Sally is an amazing host. Her garden if heavenly, one of the best I've seen—and I've seen many. Sally is also a great artist, and that was reflected in every detail of my experience there.
Andre
2015-08-09T00:00:00Z
Sally's place is amazing. Quiet and peaceful, so close to the beach and the beautiful view... I don't think there's a better place in Bolinas than Sallys Gorgeous Garden Suite. It's not in the town center, but the walk there is easy and beautiful, takes about 25 minutes. I totally recommend Sally's place to anyone who loves nature, and a true relaxing getaway.
N
2014-11-16T00:00:00Z
Sally is a welcoming, friendly and understanding host. The space is very comfortable and cosy, has a well-equipped kitchen, and is set in some gorgeous gardens. Very convenient for the center of Bolinas and both Stinson Beach and Olema/Point Reyes Station. All round very pleasant, peaceful and comfortable spot.
Beaudry
2014-12-27T00:00:00Z
What a great way to spend a peaceful weekend! Sally was very welcoming and hospitable. The room was quiet, peaceful, and the fireplace kept the room comfortably warm even though it was cold and stormy while we were there.
Zac
2015-11-27T00:00:00Z
We had a lovely stay at the Garden suite in Bolinas! Sally was gracious and accommodating. Her garden is amazing! My daughter was reminded of "The Secret Garden", which we had been reading. Thank you!
Deanna
2014-08-20T00:00:00Z
Room Type
Entire home/apt
---
Property Type
Apartment
---
Accommodates
3
---
Bedrooms
Bolinas, CA, United States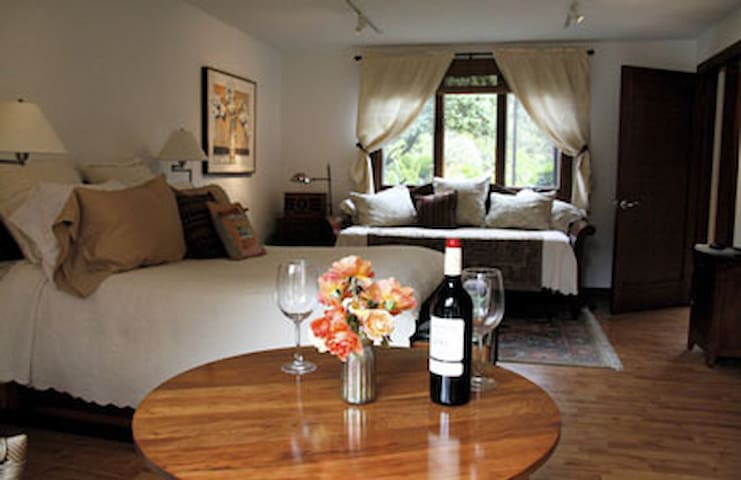 The Cape Cod Style home is stylishly furnished and large. It has 4 bedrooms, 2 baths, a spacious living room with fireplace, and dining room. The quiet and beautiful garden has areas for sitting, as well as a BBQ and outdoor dining table. There is also a hot tub on the back deck, and an adjacent outdoor shower. The front porch is lovely for afternoon sun. The home is clean and has a lot of natural light. There is wireless internet, and garage. Marin Transient Tax is included.
This is an enjoyable, large family home with a two car garage and spillover parking. A short walk leads to the downtown areas of Bolinas for food and shopping, and the beach and surf areas are a short walk in the opposite direction. The 27' long living room has a fireplace, and comfortable lounging areas with picturesque views and lots of light thru the large windows. There are 2 queen beds, 1 full, and two twin beds. The quiet and private fenced in garden, with lawn areas and a lovely hillside, is private despite proximity to the beach. The house is equipped with wireless internet and (SENSITIVE CONTENTS HIDDEN) Cast, as well as smart DVD players.
This sturdy house at the end of Brighton Avenue is in the best location in Bolinas for beach lovers and visitors who want to be among authentic vintage houses, some of which date to the 19th century. This house is located far enough from the beach so it isn't crazy, and you can hear a pin drop in the yard. It is so close to the ocean you can literally be in the water in five minutes on foot. In the opposite direction, a two-minute walk will take you to the Waterhouse Building, which has the Post Office, book, liquor, and antique stores. The center of town is only a few hundred yards long; simply turn right at the stop sign and you will be on Wharf Road, which eventually dead ends at the other end of the Bolinas beach. In fact, if the tide is low enough, there is a lovely one + mile loop all the way around the beach and back to home on Brighton.
Room Type
Entire home/apt
---
Property Type
Apartment
---
Accommodates
8
---
Bedrooms
Bolinas, CA, United States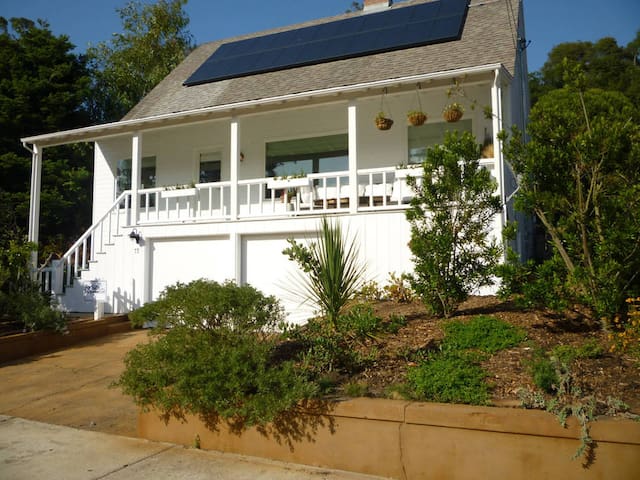 VIEW, VIEW, VIEW! Could be one of the best views in the world. And the view from the high bed looking out the large window (s) onto the beach is beyond fantastic and a great way to start the day. The sound of the waves is calming and relaxing for a perfect night sleep! The place is an in-law apartment, but very private, the front patio is only used by the guests.
Magical Muir Beach Getaway Just steps from the beach. VIEW, VIEW, VIEW! Every guest has commented on how the view is even better in real life and how they have had the best sleep in years! Could be the sound of the waves, or view of the sunrise on the water upon awakening and because the property consists of 2 acres of bird and animal life, the singing birds are a daily alarm clock. One thing is for sure the view and location is amazing amazing! A guest mentioned recently the reason he thought the view was strikingly unusual from the unit because you can see the back of the wave as well as the front, so from the unit not only is the view the length of the beach and the coastline stretching to SF (including views of SF) but what's really remarkable is you see the back of the wave as it forms and the front as it crashes, it's a very unique view point. And to see the SF lights at night is fantastic! Walk to the beach, world famous Zen center, bike and hike on Mt Tam! Muir Woods is two miles away and San Francisco is a 30 minute drive. From the bedroom and tiled outdoor sitting area view San Francisco and the SF lights at night. View the beach and ocean from every room. Fall asleep to the sound of the ocean waves! One bedroom apartment (in-law) is a complete unit, not a studio or share, the one bedroom unit has a nice size living room, bedroom with queen size bed, full bath with claw-foot tub and shower, full kitchen. This is not a share unit, it is a fully equipped one bedroom unit. Living room equipped with TV and DVD player, games and wireless internet. A variety of snacks are complimentary, sometimes more sometimes less. :) The kitchen is fully equipped with built-in cooktop and countertop oven (new technology). The bedding is quality with 500 + count 100% cotton or cotton linen mix. Beach towels and chairs and ice chest are in the unit for your use and miscellaneous bath products; help yourself!. Coffee and a verity of teas are complimentary.
Very friendly and wonderful!
A+++ view! My girlfriend and I stayed here for my birthday and it was one of the best Airbnb experiences I've had. Misti was awesome — very responsive, accommodating (we arrived a little early and were able to check in early) and helpful. As others have said, pictures don't do the view justice. It was rainy during our trip, so while we didn't get to see any sunsets or sunrises, we were still in awe. You could hear the waves crashing on shore, and the rain hitting the roof of the bedroom. Very peaceful and relaxing. The apartment itself was warm, cozy, and clean — the kitchen had everything we needed to make lunch and dinner. We did some exploring on the beach and hiked some of the nearby trails, and absolutely loved it. It was a perfect getaway for some R & R. Do yourself a favor and book this place!
Austen
2017-02-21T00:00:00Z
This place was spectacular! I proposed to my fiancé at Muir Beach and Misti was unbelievably helpful in coordinating details for surprise engagement! Can't recommend enough :-)
Daniel
2017-01-21T00:00:00Z
Our plans for a weekend hike were somewhat dampened by the downpour, but even so the house was a beautiful, cozy place to wait out the storm. Misti was an excellent host who was prompt, easy to reach and provided us with all the information we needed.
Heather
2015-02-10T00:00:00Z
Thank you Misti for sharing your beautiful home with us! The view from the listing is breathtaking and you can hear the sound of the waves as you go to sleep. The kitchen is fully equipped. It's a short walk to the beach and hiking trails. I would definitely recommend staying at Misti's place for an unforgettable Airbnb experience!
Shao-An
2014-01-03T00:00:00Z
We loved the small beach community upon our arrival. We waited briefly for housekeeping to finish cleaning, and Misti's dog Wesley promptly engaged with us and led us to the beach :) We were thrilled upon waking up after having such a marvelous nights sleep, waves in the background and the luxurious bed made it so perfectly relaxing. Amenities were excellent, we did laundry and were able to make ourselves feel at home, even though we just stayed for the night. Our only regret is that we didn't stay longer!
Alicia
2015-09-05T00:00:00Z
First off Misti is a very cool person! And secondly what a view! We needed a night away from SF to collect our thoughts and recharge our batteries and found Misti's listing. Her spot is an amazing way to experience Muir Beach - from the little hidden beach in front of her house to the amazing cliff walk behind it! (A MUST SEE). The super tall bed was brilliant to lay in and watch the bay, the kitchen was quant, and the fixtures were all adequate. The only issue we had is that this apartment is essentially an in-law unit, and we could hear Misti and her fun dog walking and moving about above. This took away from the amazing sounds of the surf outside. All in all it is a wonderful place to really see an amazing view of Muir Beach.
Beau
2015-02-21T00:00:00Z
This place is amazing. As we were driving up the road that takes you to Mistis place my husband and i looked at each other and said.."this couldnt be the road we are staying on?" It was breathtaking. It is literally on the side of a cliff overlooking this beautiful beach and when we met Misti and entered the apartment we were blown away. We were so excited. The location is right near the famous Muir woods and we couldnt have enjoyed our stay any more than what we did. I totally recommend this getaway stay to anyone wanting to experience more than just San Francisco City... we loved it and it was definately worth it.
Melanie
2012-09-02T00:00:00Z
As a newer user and enlisted with the task of finding a secluded beautiful quick beach getaway for my BF's birthday, I ran through listings and stumbled upon Misti's great space. She was very responsive and her space seemed to have all that I was looking for. I was able to book for the time I needed and we were off! Directions were very easy to follow and the space was exactly as we had hoped. Many small details were made to Mysti's Beach Front Getaway which made us feel at home and yet completely away from everything. We ended up only booking one night but wished we had had a week. We will definitely be back!
Jenny
2014-06-23T00:00:00Z
Room Type
Entire home/flat
---
Property Type
Apartment
---
Accommodates
3
---
Bedrooms
Muir Beach, CA, United States
Hello! We are undergoing a remodel in the Breezeway. We are putting in a two way glass fireplace that heats the bedroom and living area and a kitchen upgrade. Look for other surprises too...Should be fantastic! Check back in Spring of 2017 In the meantime, The Getaway is available for a 2 night minimum up to month long stays.
Walk to Muir Beach from the one bedroom apartment with floor to ceiling windows for big views to get lost in. Equipped with your own fire pit and hammock off your deck, comfy bed and sofa, you can feel the peace, quiet and nature seeping into you. *NOTE: We are remodeling and will update calendar when finished. Thanks!! Dog and child friendly, with a 10 minute walk to Muir Beach, The Breezeway is a comfortable, peaceful, unique separate apartment that is connected by 1 common wall to the main house which we call the Barrel because of its unique round shape. The Breezeway has its own separate entrance, kitchen, living room and bedroom, bathroom equipped with shampoo, soap, towels, linens. It is surrounded by hills and the Pacific ocean and landscaped grounds. There is a private hammock and fire pit on your deck and access to the redwood hot tub with ocean view. Off of the living area/kitchen, is a bedroom which has a queen size bed (pillow top mattress) with cotton sheets, plenty of pillows and a cushy down comforter for a most comfortable rest. The bedroom also has its own door which takes you onto the privacy of your deck with big views where there is a small cafe table to sit for morning coffee along with the hammock and fire pit (wood provided). All of the lights are on dimmers which creates a warm, romantic ambiance. Off the bedroom is a small bathroom with a nicely tiled shower. The living room has floor to ceiling windows with a large, wide, plush sofa with views of Coyote and Diaz ridge. The small, efficient kitchen has a mini fridge, coffee maker, dishes and everything else you would need to make a simple meal. We provide coffee and a variety of teas, spices, sugar, olive oil, salt, pepper. If you are planning on cooking in, you might want to do your grocery shopping in town before you arrive since there is not a grocery store here at Muir Beach. In the room is a small screen with Apple TV with numerous channels and movies. There is a work area/desk for people who use a computer. We have high speed internet. We use No VOC paints, green cleaning products and hypoallergenic biodegradable laundry soap. There is a fire pit outside your room on the deck where you are free to have a nice fire. We provide the wood. The hot tub is a for our guests and family, so it is shared and exposed for the 360 degree views. Swim suits and showers before getting in are required. Please let us know ahead of time if you are bringing a pet. We have a 1 yr old Aussie Shepherd and want to make sure visiting dogs are socialized and are current with their shots. Within walking distance is: 1.The Muir Beach Overlook for scenic coastal views and sunsets, 2.Muir Beach- dog friendly, bonfire friendly and there is even a small secluded nude section. (website hidden) Gulch Farms Zen Center 4.Pelican Inn that has a pub-side for fish n chips, lager on tap, darts and live music AND a restaurant side which serves local organic produce, fresh fish and has a romantic, cozy ambiance. They also serve Sunday Brunch and rent their facility for weddings and events. (website hidden) Map for local hikes and trails (website hidden) Local towns are Stinson Beach with art galleries and more restaurants. Mill Valley 6 miles; great shops, cafes, restaurants, Sausalito 13 miles and finally traveling over the Golden Gate Bridge 21 miles to downtown San Francisco. Good food in Mill Valley: (website hidden) and (website hidden) (website hidden) We look forward to meeting you and we will do what we can to help so that you have a great visit! Denise and Greg As a guest, your room comes with its own private hammock and fire pit. We provide the wood. You will have access to the community hot tub and various areas where there are scenic places to sit on the property. Greg and I have active lives and do not get to interact as much as we would like these days. This is one of the reasons we have you check in at your leisure between 4-10pm Muir Beach is made up of 155 houses. It is a small, colorful, tightly knit community of artists, families, dog lovers, nature lovers and eclectic souls. Muir Beach is about a 10 minute walk from our house- 298 steps take you down to the beach if walking, otherwise it is a 1/2 mile drive to the parking lot of Muir Beach. The beach is dog friendly (off leash for well behaved dogs) bring poop bags with you if you are bringing your dog. Muir Woods is 2 miles away and has been very crowded of late due to the fact of Planet of the Apes movie stated Muir Woods as the Apes settling place which has made Muir Woods suddenly more attractive to tourists. We like to ride out bikes to MW. We have bikes you can borrow as well. Unfortunately, there isn't any public transportation *If you are checking in after 10pm please let us know as it is dark and can be disruptive to arrive late. We ask that you check in between 4-8pm. Our address takes you along a private road. Our driveway is steep and we share the driveway with one other home, but our house is the house at the bottom of the driveway with parking that is shared for up to 3 cars (1 car per guest) is to the right of the driveway. It is a paved road....
Muir Beach is made up of 155 houses. It is a small, colorful, tightly knit community of artists, families, dog lovers, nature lovers and eclectic souls. Muir Beach is about a 10 minute walk from our house- 298 steps take you down to the beach if walking, otherwise it is a 1/2 mile drive to the parking lot of Muir Beach. The beach is dog friendly (off leash for well behaved dogs) bring poop bags with you if you are bringing your dog. Muir Woods is 2 miles away and has been very crowded of late due to the fact of Planet of the Apes movie stated Muir Woods as the Apes settling place which has made Muir Woods suddenly more attractive to tourists. We like to ride out bikes to MW. We have bikes you can borrow as well.
Denise and Greg have been great hosts. The location in the hills with a sea view is breathtaking and the apartment is newly furnished, modern and warm. As we arrived only in the evening Denise kindly provided us with some nice food for breakfast which we prepared in the well equipped kitchen. Thanks! We are already missing the view.
Nadja
2011-11-05T00:00:00Z
Unbelievably amazing! An incredible setting and extremely well presented and furnished. We had such an amazing time, we were really sad to leave. Denise and Greg are lovely people, really friendly and helpful. Thanks so much Denise and Greg! Rhiannon and Nathan
Rhiannon
2012-05-02T00:00:00Z
This is an amazing place to stay, just outside San Francisco but it feels like a million miles away. The views are outstanding and everything you need is there. Denise has thought of it all! Highly recommend for a weekend break or even longer if you can. I will definitely return.
Sarah
2014-02-03T00:00:00Z
This place is amazing, and while the owners have the perfect view (which they should), your view is barely second to that. Denise is wonderful and sweet and while I didn't get to interact with her and her husband very much, they seemed like a very charming couple and I would have loved to get to know them a little more. Perfectly Fantastic Place!
Anton
2012-02-04T00:00:00Z
Denise has a fantastic home with an incredible view and atmosphere. Honestly the pictures and her description did not prepare us for how awesome this place is. Beautiful surroundings and scenery. The hot tub is amazing. **SPECIAL NOTE** Seriously bring your own slippers. It was a lot cooler than we expected. Thanks Denise!
Ryan
2012-06-22T00:00:00Z
Best Airbnb destination we've had so far. The Breezeway is a little paradise... Relaxing in the outdoor hot tub with such a scenery is just too much! Denise and Greg have been wonderful hosts, both helpful and discrete. Highly recommended!
Mathieu
2012-07-13T00:00:00Z
This place is awesome, and that's and understatement. The hosts kindness matches the beauty of the property and the comfort of the Breezeway. We were immediately greeted by the nicest dog upon arrival, and when we walked in, there were directions and information for any question that popped into your mind. They have it covered! Space heaters kept us warm in every room, and the kitchen helped us prepare meals instead of driving out of paradise to find a place to eat. Unfortunately I came down with a cold by the time our trip landed us at the Breezeway, and the hosts kindly offered pick up something for my symptoms. That's above and beyond in my book. Everything is at walking distance (if you don't mind tall hills) and all you need as a lover of nature and peace is outside of the Breezeway's doorstep. The pictures are accurate, but cannot capture the feeling of being there. You simply have to experience it for yourself. Best. Honeymoon. Decision. Ever.
Kari
2014-01-28T00:00:00Z
What a dream! it was very hard leaving this beautiful and peaceful place. The hot tub was sublime! Thank you so much Denise and Greg, we would love to come back someday.
Henry & Augusta
2012-01-27T00:00:00Z
Room Type
Private room
---
Property Type
Apartment
---
Accommodates
2
---
Bedrooms
Muir Beach, CA, United States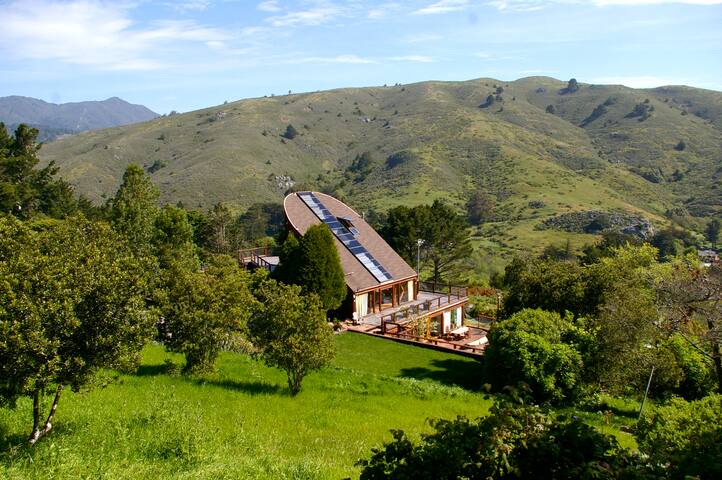 Centrally located, easy access to all but tucked away enough that you feel removed from the hustle and bustle. This is a one bedroom, two story apartment (attached to main home). We are a 10 minute walk (5 minute drive) to Spirit Rock Meditation center and a 7 minute drive to the San Geronimo Golf Course, 15 minute drive to Samuel P Taylor National Park, 10 minute drive to fun and happening Fairfax and 25 minute drive to Point Reyes Station and 40 minute drive to San Francisco. Lovely pool too!
Room Type
Entire home/flat
---
Property Type
Apartment
---
Accommodates
4
---
Bedrooms
Woodacre, CA, United States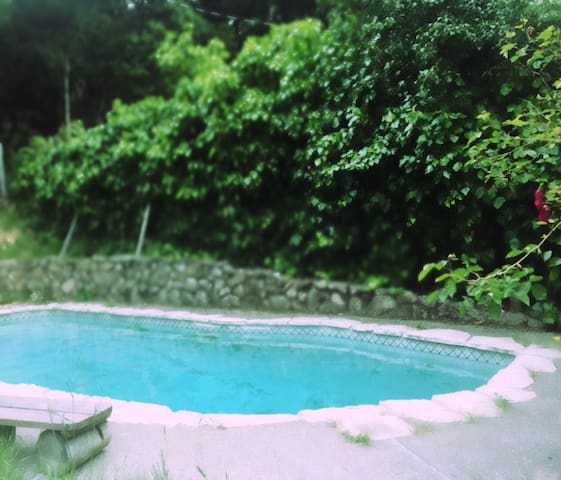 The cottage is steps away from the creek and minutes to several great hiking trails. A short walk to the waterfall and beautiful streams. Minutes to the most beautiful library on the West Coast and a fabulous downtown with great stores and restaurants. Plenty of parking across the street from our home, closet space, washer and dryer and fully loaded kitchen.
We have a stand alone apartment. The property is private, clean and everything is new. If you love to cook, it is a large, fully loaded and functional kitchen. Location provides the serenity of the redwoods but is a short walk to our fabulous town. No need to go to a gym, the hikes are amazing, Dipsea steps are five minutes from here.
You are surrounded by the best hiking trails, walking distance to the grocery, book store and other great shopping. Live music downtown at the Sweetwater, you can't imagine the incredible acts that show up. Tuesday we have comedy night at The Throckmorton Theater.
Place was clean, cozy, and spacious. The interior design was modern and lovely as well. Highly recommend.
Elise
2016-10-01T00:00:00Z
This was an amazing property! Very private and very upscale. Nestled amongst the trees in a quiet neighborhood near a flowing creek with a waterfall. Fantastic kitchen with everything you need to cook including oils, vinegar, and some basic spices. The bathroom has a heated floor! This was just the perfect place to come "home" to after a day of hiking, biking, or exploring San Francisco, which was a short 20 min. drive away. The town of Mill Valley was just a few minutes away and has lovely restaurants and shops. I hope to make this an annual vacation. It was wonderful!
Regina
2016-11-17T00:00:00Z
This place is unique and awesome – and was one of the highlights of our honeymoon trip. My husband and I wanted a quiet place to relax and the cottage was just as promised. The windows with the view of the trees in every direction were stunning. The cottage is tastefully furnished with many aesthetic details und a fully equipped kitchen. The bathroom with its roof-light is also beautiful. Kendra was very obliging and provided information about nice restaurants and detailed instructions on how to access the property with plenty of time prior to our arrival. She welcomed us briefly at our arrival and then let us the privacy we needed. Wifi was accessible and very strong. There was enough space for parking and the neighbourhood was nice and quiet. All the Redwoods make it a great hideaway and a good spot for hiking and biking. We did a trip to San Francisco, which was easily to reach in 40 min by car (booked a parking lot there in advance for 25 $). If you're afraid of going by car, you can drive to Sausalito and use the ferry (25$ for parking at the harbour, 23,50$ per person for the ferry). Also Mill Valley itself with its little fancy shops is worthwhile to visit – try the icecream at "honeymoon"! :) Highly recommend this place!
Nina
2016-10-03T00:00:00Z
Kendra's apartment was fantastic! It was clean and modern (the bathroom floors were heated!) and was equipped with everything you need for a stay of any length - kitchenware for cooking, dishwasher, plenty of fresh linens etc. Although we only stayed for a couple of nights the space really felt like a home away from home! The apartment is located in a quiet wooded area, close to a trail leading to a small waterfall, perfect for a nice morning walk. "Downtown" Mill Valley area is quaint and has tons of cute shops and restaurants. Mill Valley is also located very close to some great hikes, costal tourist spots, and San Francisco! Kendra and her family lives in the other house on the property and is welcoming and responsive when you need her but gives you space to enjoy and explore Mill Valley for yourself! I highly recommend this property!
Danielle
2016-11-13T00:00:00Z
Great place to stay if you love being out in nature since there are short hiking trails nearby. Her place is clean, modern and beautiful.
Alice
2017-01-16T00:00:00Z
Same as private
mackie
2016-10-11T00:00:00Z
Kendra's apartment truly IS luxurious and not only does offer complete privacy, yet also a terrific location. Everything is so tastefully done - the furniture, the decor, the lighting, even heated floors in the bathroom. It's an enchanted experience under the redwoods yet only a couple minutes to downtown Mill Valley. A real bonus is walking out the door and at your feet lies one of the best walks in Mill Valley, the Lovell loop. Cascade Falls is only minutes away as well. AT&T cell service spotty, yet very strong WiFi. I'll be back. Soon.
Dean
2016-09-23T00:00:00Z
This cottage is gorgeous and well thought out, with upscale high-end appliances, a beautiful kitchen, and thoughtful tasteful decorating. Great lighting, a fabulous bathroom, it was the perfect place to stay for a retreat.
Terri
2017-01-09T00:00:00Z
Room Type
Entire home/apt
---
Property Type
Apartment
---
Accommodates
2
---
Bedrooms
Mill Valley, CA, United States
Beautiful, cottage with amazing views of the City attached to the main house in the very desirable Strawberry area of Mill Valley, minutes from Hwy 101 and the San Francisco Bay Area delights! Designer remodeled, fully furnished, top of the line appliances. Large walk-in closet, super comfortable Queen bed with quality bedding., Direct TV DVR, washer/dryer in unit and WiFi included. Unit is fully equipped with all kitchen utensils and linens. This is turn key easy living! There a comfortable queen bed and an ottoman that openers up to a twin bed with a tempupedic mattress in the living room. The ottoman is not on the pictures yet, as we just added it. The place can accomodate three people, extra bedding for the 3d person provided. The place is a handicaped friendly, as It is all one level, there are no stairs, just a short step up to the bathroom and short step down to the deck. If you are bringing a baby - we can provide a portable crib/playpen and the bedding. Panoramic, breathtaking views of the Bay and San Francisco from wrap around decking. Choose great hiking from your front door to the top of Ring Mountain or easy access to Blackies Pasture all the way to Tiburon! Abundant bike paths, superb restaurants, minutes to downtown Mill Valley and all of it's shopping and entertainment venues, two designer shopping centers minutes away in Corte Madera! Additionally, you are 45 minutes to the wine country or the exquisite Pacific Coast and it's many gorgeous beaches! Ferry terminals from Sausalito, Larkspur and Tiburon within minutes of your cottage to the City with easy public transportation in all directions. Many parking options available. Sorry, non smoking, no pets
Great location. Have stayed here many times. Comfortable, quiet
Stephanie
2015-05-15T00:00:00Z
In law suite is beautiful. Everything you need. Bed makes so much noise when you sit or move while sleeping that it woke me up. Not very comfortable either. I like airbnb for the simple fact that you are able to connect with locals in different places. When I called the phone number listed-I got a property management lady that didn't know how to help me. Kind of frustrating.
Maya
2015-08-30T00:00:00Z
Tatyana was very welcoming and very responsive to any issues that came up. We had a rainy and drizzly weekend, so we couldn't take advantage of the view or the deck--but it was still a very nice place to stay.
Tim
2016-10-30T00:00:00Z
Tatyana's cottage is the perfect base camp for exploring Marin, Napa and SF. Everything is as written in the description, but the view off the deck is even better than described! Great if you like to cook your own meals, as the kitchen has everything you need, including a view of the Bay. The location can't be beat, with easy access to the 101, hiking and biking trails, grocery stores, a coffee shop, and the Tiburon ferry. Tatyana is very warm and eager to share her knowledge of the neighborhood and beyond. We only stayed two nights and that was not nearly long enough!
Rebecca
2016-06-20T00:00:00Z
Tatyana made my wife and I feel very welcome in her wonderful suite. The proper is beautiful; it's very private yet close to everything Marin County and San Francisco have to offer.
Matt
2015-03-22T00:00:00Z
Tatyana was so gracious and kind!She made us feel so welcome and her amazing cottage was even more than we could have hoped for!We love to make our own food and the kitchen left us wanting for nothing!Her view from the patio felt like we were having an Escalen experience!So clean and it's just as she says it is!Cant say enough positive things about her and the cottage!
Jennifer
2014-08-08T00:00:00Z
I loved my stay in Mill Valley. It was such a magical place.
Kelly
2015-06-18T00:00:00Z
The stay was awesome! What a lovely cottage in a truly beautiful place. (go climb the hill to the top!) Also the hosts where so nice :) Would love to stay there sometime again!
Sebastian
2015-03-13T00:00:00Z
Room Type
Entire home/apt
---
Property Type
Apartment
---
Accommodates
3
---
Bedrooms
Mill Valley, CA, United States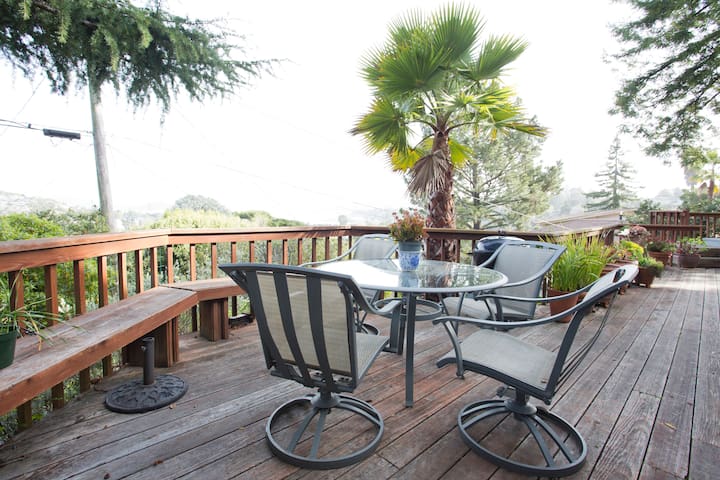 This comfortable 1BR is a rare find with inspiring views and close proximity to downtown/restaurants/stores. Lots of space for 2 (plus sleeper couch), full kitchen, laundry & beautiful outdoor space. Bus stops at the corner; 15min to San Francisco.
Our unit, which we've named Bloomers, is a quaint little private apartment with a full kitchen and a queen bed. It is within two blocks (or less) of two grocery stores (incl. Whole Foods), several restaurants, coffee shops, a theater and lots more. It is a 15-minute walk from the quaint shops and restaurants of downtown Mill Valley and even spectacular hiking. On our street corner is a bus stop for transit to San Francisco, or, if you have a car, we are about a 15-minute drive from the city. It is unusual to have this proximity AND a view as most homes/units are situated deeper into the hills and valleys. So while many will have views, very few will have a view within walking distance of so many conveniences. Also, perhaps of interest to music fans is the fact that Mike Bloomfield, a famous blues guitarist, lived in our home in the 70s. Originally, he created the lower unit (that is 'Bloomers,' his nickname) as a recording studio, but never completed it. He used to play with Bob Dylan (locals recall listening to Mike work with Dylan on songs from Like a Rolling Stone in our house), the Butterfield Blues Band and more. Recently, a documentary was released about his life/accomplishments and then Rolling Stone wrote this article 1/2014.
We love that we have everything so close. Whole Foods, Super Duper (a locals favorite burger joint), frozen yogurt and Puerto Rican restaurant...are within a block of our house and are regular haunts of ours. There is space between the houses here with lots of natural beauty. People who have been in our house say they feel like they are in a tree house. It feels like that to me, too. I love that we can access anything we need while also being able to walk out our door and down the road onto a path that will lead us deep into open land. Or, if we are just relaxing in the house, we appreciate the wildlife that simply passes by our windows...hummingbirds, deer and fox are commonly seen floating around.
Dawn made us feel like we were family staying in her lovely apartment...just the right amount of informative time, great conversation and some local stories. She made sure we were comfortable and the apt. Was as lovely as the pictures show it. The views are fantastic and the kitchen well equipped. Consider staying here in Mill Valley...super area and unique digs!!
Kathryn
2016-06-07T00:00:00Z
I helped my parents find this apartment. They had a wonderful stay and this is their review: My husband and I had a wonderful stay at Dawn's very clean and beautifully appointed apartment. Everything one can need is there including welcoming eggs, cream and oatmeal. The location is exceptional for enjoying not only San Francisco, Mill Valley but also all of Marin County. Dawn was a wonderful and responsive host. She even went out and got us a cordless vacuum. She was available but never intrusive. We highly recommend this Airbnb.
Jason
2015-08-01T00:00:00Z
We could not have picked a better spot for our vacation! Dawn's apartment was inviting, cozy, clean & beautiful.... And wow, that view!! We had everything we needed right there at the apartment and the location was perfect! (Minutes from Sausalito and not far at all from downtown San Francisco). There is no doubt we would stay here again on our next trip. It was more than amazing! We met Dawn, she was super sweet and helpful! :) I really cannot say ENOUGH how amazing and perfect this trip was!
Alison
2016-08-30T00:00:00Z
What a beautiful place! It is exactly as described and pictured. The apartment is immaculate and well appointed. The location was great for us. We ate at two of the very close restaurants that were recommended by the host, and the lovely downtown of Mill Valley is an easy 1 mile walk away. Dawn provides explicit instructions on how to find the place , and we were met there by her very nice husband since it was after dark when we arrived. An added bonus was being greeted by a whole family of 5 deer right off the deck the morning of our departure. If we did not live 2400 miles away, we would be there often.
Nancy Bolton
2014-10-12T00:00:00Z
Fresh eggs, fresh ground coffee, and a local creamer was our "welcome" which made for a great start in this perfect getaway house for a week. My husband and I worked out of this cozy house throughout the week and found awesome trails to run daily. Muir Wood was only 2.5 miles away, and Whole Foods is 0.2 miles. Couldn't ask for a better location! Our views were insane and we enjoyed watching a family of deer visit daily. The house was perfectly acquainted for a getaway for 2 - great location with the all the amenities both indoors and outdoors.
Corene
2015-05-16T00:00:00Z
Dawn was very flexible with our arrival time as we had things planned during our stay so we did not check in until well after dark.
Jennifer
2016-07-26T00:00:00Z
Great place, everything was perfect. The couch in the living room pulls out to a bed and is comfortable for an extra guest. Pretty, quiet, spot with a nice porch. Apt is clean and stocked with everything you'd expect and more. Dawn was very proactive about communication before the trip, and always easy to reach and quick to reply throughout our stay if we needed anything.
Jeff
2016-10-06T00:00:00Z
Dawn is a great host and we really enjoyed staying in her amazing guesthouse. It is so well designed and everything we wanted was there. The view is great, the bed is comfy and the amenities are nice.
Bianca
2016-07-21T00:00:00Z
Room Type
Entire home/apt
---
Property Type
Apartment
---
Accommodates
2
---
Bedrooms
Mill Valley, CA, United States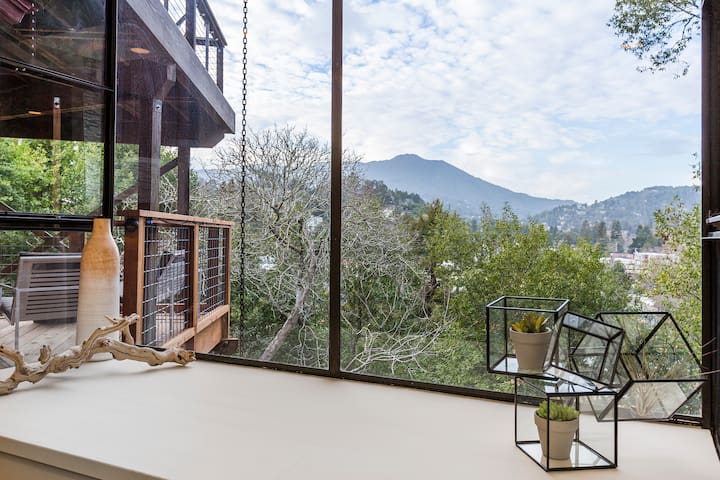 A lovely 1-bedroom in-law cottage just 10 mins from San Francisco in Mill Valley. Minutes to the beach, hiking trails, road cycling, mountain biking, & more. Admire gorgeous views during day while binge-watching free HBO, Netflix, and Hulu at night.
It's green, fresh-air, quiet living just 10 minutes from San Francisco! Apartment comes with full kitchen (including everything you'd need to cook and eat!), living room, bedroom with queen-sized bed and brand new, ultra-comfortable Casper mattress, plus a bathroom with shower and access to washer/dryer beside unit if required. It includes free Wifi, and two flat screen TVs with Apple TV (including Hulu, Netflix, and HBONow free-of-charge). Coffee, tea, soft drinks, and snacks will be waiting for you upon arrival. Fresh bathrobes, linens, hypo-allergenic pillows, blankets and towels provided. Fabulous organic high-end grocery story (Good Earth) and drugstore (Walgreen's) within walking distance. If you are traveling with a baby or young child, we can provide a portable crib plus toys/books for use during your stay (so you can minimize what you lug with you on your trip!). If you are traveling with older children, they are welcome to use our extra-large backyard trampoline and swing set. We can set up an air mattress in the living room in that case for a small additional charge. We are right on the border of all the incredible national parks, beaches, etc, but still extremely close to San Francisco and the East Bay. Easy commute via public transport (number 4 bus) or Sausalito ferry into the city. Or even ride your bike across the Golden Gate bridge! We can also provide space in the yard to store and lock bicycles, surfboards, etc, in case you're using the apartment as a jumping off point for a weekend of physical activity/fun. Parking is free and plentiful, with a dedicated spot for you on the street in front of house.
Tamalpais Valley/Mill Valley is a beautiful oasis. Redwoods, beach, hiking trails, yoga, road cycling, mountain biking, and more. A great place to come if you want to train for a triathlon and need somewhere to relax in the evenings. Or, if you just want to escape the city and clear your head. Mill Valley itself is quaint and lovely. Plenty to see and do, and so close to all the majestic beauty of the North Bay plus the culture and excitement of San Francisco and the Silicon Valley. There's a wonderful organic grocery store within walking distance of the apartment, and we're happy to lend you a trolley so you could walk to/from to grab groceries if you desire.
We arrived very late, but the host was there to let us in and show us around the apartment. The apartment was gorgeous, spacious, and the view from the living room and bedroom was amazing! Andrea left us thoughtful snacks. All the furniture was brand-new, very tasteful and very comfortable. Free access to Apple TV and HBO was included. Hosts were very friendly and accommodating, and the apartment was quiet. The kitchen was fully equipped.
Cindy
2015-12-30T00:00:00Z
Andrea and her husband helped in providing trailhead maps (the main reason for our stay), as well as recommendations for dining, shoping, and local stuff to do. They made it very easy to find the place, and provided clear info on getting checked in and setup on wifi. It was nice having the apple TV with netflix, hulu, and HBO already setup too, made our downtime between hikes and other activities enjoyable. There were even toys for our 4 year old to play with. Overall I highly recommend staying here, it was great!
Andrew
2016-06-02T00:00:00Z
This place is perfect! Convenient, peaceful location with a wonderful view of the bay, and a really cute interior. Andréa even set out some chocolates for us since it was Valentine's Day. So thoughtful!
Laura
2016-02-15T00:00:00Z
Amdrea went WAY above and beyond to make me comfortable. When I wasn't comfortable in the bed, she brought me a raised Aerobed that was perfect for me. She was considerate and prompt in every way I can think. The house is about 2 1/2 miles from downtown Mill Valley . Mill Valley is great little Community with some good shops and restaurants and a wonderful bike route. I would have no trouble recommending this to anyone
Juanita
2016-11-12T00:00:00Z
As soon as I stepped into the cottage I let out tears of joy. My home for the next few days was more than I could have ever asked for. Andrea and David had left me a birthday welcome sign, a pressie, snacks and a bottle of wine. Their cottage was peaceful and I'm so glad I stayed there. I didn't have a (URL HIDDEN) I uber'd my way to some places but more often than not I would walk as I love taking in my surroundings. I wish I had got to meet them but I knew if anything went wrong they were a phone call away and they would help. Andréa also sent me her friends suggestions for wine tours which I found extremely helpful as I didn't want to go with the bustling crowd and an insiders knowledge is the best. Thank you ever so much for making my 40th birthday and my first solo travelling trip the best ever. If you'll have me again I'd like to come back x
Nikki
2016-02-09T00:00:00Z
Andrea really goes the extra mile! I left some expensive raw pork chops from Marin sun farms in the fridge accidentally. They offered to drive the meat to SF for me so a friend of mine could pick them up for me the next day. Very considerate! There place is in a great location offers excellent value.
Rajat
2017-01-02T00:00:00Z
Such a great place to stay for a weekend away. We came here to have a great weekend and we had a great home as well with one of the best views in northcal!!
Raul
2016-12-11T00:00:00Z
I've had the pleasure of staying at Andrea's place for just over 3 weeks! It's been a great experience, Andrea is a great host and has been available when I needed and gave me space to enjoy the home and community. The place itself is large and kitted out to a high spec and throughout my stay I haven't once no had what I needed. Communication with Andrea and David has been quick, efficient and mainly welcoming...exactly what I was looking for! I'd have no hesitation staying here again or recommending it to others. Great place to stay if you want to explore SF but not be part of the 24/7 life of a city!
Ben
2017-03-02T00:00:00Z
Room Type
Entire home/apt
---
Property Type
Apartment
---
Accommodates
2
---
Bedrooms
Mill Valley, CA, United States
Suki's mountain retreat is nestled up on Mt. Tam in the redwoods with beautiful views East looking over Mill Valley and out across to the East Bay. It has a private parking space, entrance and patio looking over the rose garden.
Nestled among Mount Tamalpais' majestic old-growth redwoods is a chalet Hansel and Gretel would feel at home in..and a fully equipped apartment with a separate entry and private patio. It has a small kitchen, good for basic cooking. The view stretches across San Francisco Bay to the Oakland hills and beyond. The size of the property, 2.5 acres, ensures peace and quiet. Downtown San Francisco is 25 minutes – and a million miles – away. Mt. Tam's hiking, running and biking trails are at hand. Mill Valley via the Dipsea Steps is an easy 20 minute walk (and a challenging uphill return). The location is very central for tourist destinations, and very secluded and private for those needing rest and relaxation. The legacy of the original proprietor, photographer and author Suki Hill, who lived in the home since 1972, will be carried on by her daughter, Abigail Hill. Sadly, Suki passed away June 14, 2014. The rental is the lower floor of a wonderful, characterful Mill Valley home, built in the late 1930's.There is a sunny patio outside the apartment with spectacular views of San Francisco Bay and overlooking rose and dahlia gardens. A short stroll down driveway leads to another "secret" garden with a small pavilion for quiet reflection or yoga. The home is also close to Muir Woods and the beautiful Hwy.1 coast. One can drive to the wine country in an hour .
This is a very quiet neighborhood, a lot of the people who live up here have lived up here for a long time and get along very well and are very helpful if you bump into them on the street and have questions.
Thank you for an enjoyable and relaxing weekend. We had lots of fun exploring the hiking trails and taking in the view from the porch. Also, thank you for your local knowledge of some good spots to explore.
Michael & Jamee
2015-02-02T00:00:00Z
We had a wonderful three-day stay at this house high up the hill in Mill Valley. It was all that was advertised and more. Only a short distance from the bustle of highway 101, the Bay Bridge and San Francisco, but once you drive up the winding road and driveway you are in another world, quiet and private. And being in the house is almost like time travel back to a simpler and gentler life but with all the modern conveniences. Abigail was the perfect host, friendly and helpful but discreet and unobtrusive. This is not the place for someone looking for glitz and up-to-the minute designer kitchens, but it is perfect for anyone looking for a serene setting, a spectacular view and a glimpse into why this has long been one of the most appealing communities in the Bay Area.
Robert
2015-11-15T00:00:00Z
Suki's Retreat was wonderful place to have a vacation. The view from the cottage was superb. If you want to get away from the stresses of a city, this is a great place to unwind and relax. Yet it is not too far from San Francisco. She was a caring host. My son enjoyed playing with her two dogs. We all enjoyed our stay there.
Sunanda
2012-05-29T00:00:00Z
The rain lifted just as we arrived and the view looking out over Mill Valley to the San Francisco Bay was spectacular. Our host Charlie met us on Suki's behalf and set us up quickly. The downstairs apartment was cozy and welcoming. We took a great short hike after breakfast, but we could have hiked many more miles--the top of Mt Tam is a perfect destination. We shopped for two days of eating before driving up to the retreat---but it is quite easy to drive back down to local area restaurants. We just didn't want to break the spell!
Eileen
2014-04-28T00:00:00Z
It was great staying at Suki's Mtn Retreat. It really is an oasis and a great place to stay for those of us who love SF but would rather not stay in the middle of the hustle and bustle. Thank you for having us and for being so accommodating!
Anna
2015-07-06T00:00:00Z
Abigail was a kind, easy-going host. When we were both at the property at the same time, she gave us some tips on hiking in the area. She also let my son enjoy the company of her energetic dogs, which he says was the highlight of his trip. We were glad to get some written instructions from her ahead of our drive to the property. Our GPS (and even (SENSITIVE CONTENTS HIDDEN) maps) was having some difficulty figuring the last turns to her home. The property was in the perfect location for us to do the activities we really wanted to do in the area, which included hiking in Muir Woods and biking across the Golden Gate Bridge, and exploring the Marin Headlands. After an active day, having a short drive home really increased the relaxation factor of the trip. Since the property is quite close to Mill Valley grocery stores and the property has a little kitchen area, it was very convenient for us to take care of our breakfast needs quickly at the property so we could get an early start and beat the crowds. We're grateful to Abigail for sharing her little piece of heaven with us.
Sherry
2015-04-06T00:00:00Z
Suki was a great host. It was a NICE brief getaway spot from San Francisco. She has provided us a few recommendations with hiking routes to restaurants from her place. We would definitely stay at this retreat sometimes soon as this secluded guest house's view is absolutely stunning!
gabe
2010-10-18T00:00:00Z
My wife and I and our son and his girlfriend spent two nights and two glorious mornings at Suki's wonderful mountain retreat in Mill Valley! We arrived late in the evening and were not aware of exactly how beautiful Suki's place was. In the morning we all awoke to a bright, sunny day and when we looked outside the view of the valley and the bay was spectacular!! Suki's place is on top of the mountain set amongst some fantastic Redwood trees....just a wonderful setting. We ate breakfast outside on the patio that overlooks the valley and because it is such a beautiful and peaceful place we had difficulty convincing ourselves to leave and to go out to tour the area. We all enjoyed meeting and talking with Suki and enjoyed her two very friendly black labs too. She was kind enough to give us a tour of her house too! That alone was worth the trip. The views she has out every window are spectacular!! I especially liked the bathroom with the tub against the windowed wall adjacent to the redwoods. So close you could actually touch them! If you have a chance when you are out in the San Francisco area we all recommend Suki's Mountain Retreat. It is a wonderful place!
Robert
2012-10-01T00:00:00Z
Room Type
Entire home/apt
---
Property Type
Apartment
---
Accommodates
4
---
Bedrooms
Mill Valley, CA, United States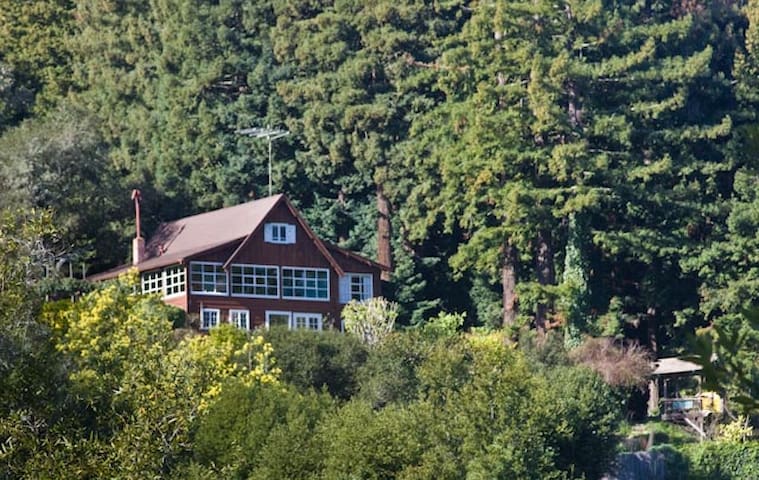 Private little apartment with private shower/bath - very well located near downtown Mill Valley, about 2 minutes from Equator coffee. The bed is comfortable, the surrounding greenery is vibrant and the setting is classic Marin county. Local Hotel tax is 10% is not automatic in AirBnb charges. Please expect to add 10% to your total for your stay for the local TOT charges.
We live in an outdoor paradise and are close to necessary shops
Close to town, restaurants, stores, parks, & the redwoods
Room Type
Entire home/apt
---
Property Type
Apartment
---
Accommodates
2
---
Bedrooms
Mill Valley, CA, United States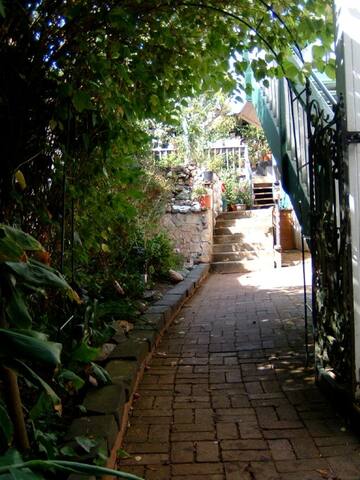 Romantic getaway, peaceful retreat or tourist base camp— your choice! We welcome people from all backgrounds to our newly renovated, custom designed 'Garden Suite' in a quiet, natural woodland area of outstanding natural beauty. This could be your springboard to a full variety of fun destinations- hiking, biking, horseback riding, walking through redwoods, mountain trails, sandy beaches, touring the Wine Country, sightseeing in San Francisco (just across the Golden Gate Bridge).
The Garden Suite is a spacious, light, clean and airy studio apartment with private front door, deck, and parking spot. Only 3 steps up to your deck and front door, you open the door to gleaming hardwood floors, remodeled kitchen and bathroom in a custom designed Craftsman style home. The wall of windows with louvered blinds around the 'Garden Suite' octagon area creates a lovely light and airy atmosphere, and provides mountain views as well as the deck and garden. The romantic swag-curtained bedroom has new Queen-sized bed/bedding and super quiet but efficient Casablanca ceiling fan/light. New LED dimmable track and lighting throughout gives you control over lighting mood and atmosphere. The living area contains a full-sized Futon sofa/bed with coffee table, WiFi and TV. This segues into the dining area seating four, and a new custom designed kitchen complete with wood cabinetry, refrigerator, cooktop (ceramic induction), and convection microwave (with oven/bake/grill features). The bathroom has the same Craftsman look with wood cabinetry and the bathing area has a Kauai III Rain Shower system, a soaking tub and a cozy heated towel rail. You will also have full access to the garden and the fully stocked laundry room; LG hypo-allergenic steam washing machine and dryer and ironing facilities.
"Do everything at once. Or do nothing at all. Ride the Ferry across the Bay to Fisherman's Wharf, tour San Francisco, have a moonlight boat tour beyond the Golden Gate Bridge. Explore the Wine Country and ride the Napa Valley Wine Train. Go horseback riding in the Redwoods. Explore the local beach towns, with their surfing and kayaking. Picnic or lounge on a beach. Or you can launch yourself from a mountain and soar 2000 feet to the ocean's break. You can go to dinner. Or you can visit the ranches and farms that supply some of the finest restaurants in the world. There's no such thing as a typical Marin County vacation. Because there's nothing "typical" in Marin. Plan your next trip and it will be like no other! Marin County is well known for its arts, entertainment and culture. The County is proud of its home-grown Marin Symphony that plays to sold-out audiences each season. The Mountain Play, one of the longest running theatre companies in Marin, performs its annual Broadway musical production in a huge amphitheatre at the top of Mount Tamalpais. The Marin Center in San Rafael is the venue for national and international music, theatre and dance productions and numerous exhibitions throughout the year." read more at: (URL HIDDEN)
Room Type
Entire home/apt
---
Property Type
Apartment
---
Accommodates
4
---
Bedrooms
Forest Knolls, CA, United States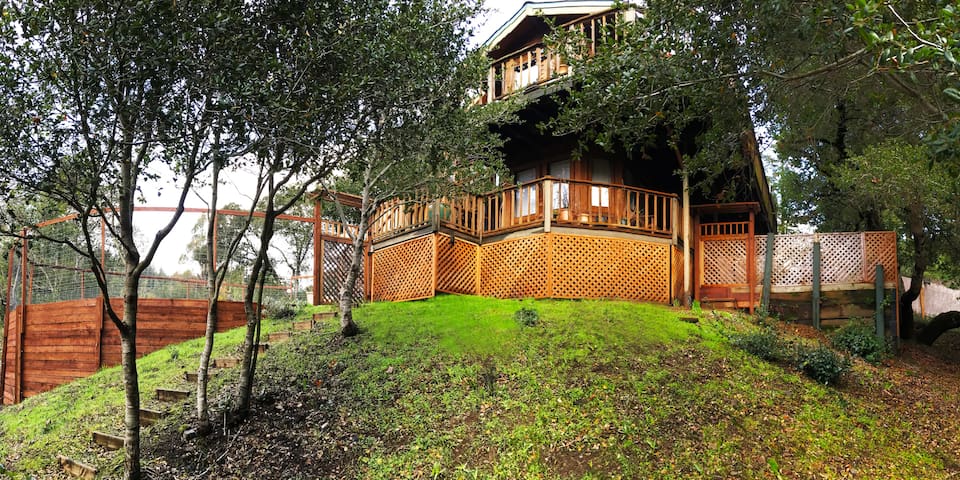 One room "tree house" studio in a redwood grove. Large, spacious room with 2 twin beds, shower, small fridge, microwave oven, toaster oven and coffee maker. 15 min "fairy-tale" walk to downtown Mill Valley. Close to hiking trails yet only 30 min from San Francisco.
PLEASE NOTE: To comply with local regulations there will be a 12% tax for stays under 30 days. This will be collected at check-in and in cash, to avoid additional Airbnb fees. Large spacious room (~320 square feet) with bathroom complete with a shower. Basic kitchen equipment - a small fridge, toaster oven, microwave oven, coffee maker and hot water jug. Tableware and cutlery also provided. There is a large closet with plenty of storage room - a hairdryer, iron and ironing board. Enjoy tranquil views looking out to the beautiful redwoods.
Close by the famous Dipsea Trial, about a 40 minute walk to Muir Woods National Park and less than a 15 minute walk down the Dipsea steps to charming downtown Mill Valley with an award winning library, cafés, restaurants, bars including the Sweetwater, a movie theatre and more. A 30 minute drive over the hill to Stinson Beach and Mt Tam. Perfect spot for hikers and an easy commute to San Francisco.
This studio was perfect for a weekend stay in Mill Valley. The setup in the studio worked great for sharing it with a friend. We each had our own comfortable twin mattress. Mary was a welcoming host and attentive to our needs. I'd highly recommend staying here.
jeremy
2015-12-07T00:00:00Z
We enjoyed our time in Redwood Canyon and primarily used the studio as our home base while spending our days in San Francisco. Due to our schedules, we didn't meet Mary; however, she always checked in with us via email. Her directions to her place were perfect and it was so easy to find our home away from home.
Julia
2016-04-30T00:00:00Z
Super cute place in Mill Valley. Calm, quiet neighborhood. Mary provided great directions and guidance for an enjoyable stay.
Noshir
2016-07-04T00:00:00Z
Mary was easy to communicate with and responded promptly to my questions prior to our stay. Upon our arrival, she was very friendly provided helpful information about things to see and do in the area. She was available and responsive, but also gave us our privacy. The neighborhood is very quiet and pretty, the beds are comfortable and the studio is spotlessly clean and roomy. We enjoyed our relaxing stay in Mary's studio.
Katrine
2016-06-11T00:00:00Z
This was our first air bnb experience and we were really nervous and didn't know what to expect. Mary greeted us and explained everything. The space was beautiful (inside and outside), clean, and she was a very accommodating host. Construction was going on in her neighborhood but she was quick to provide alternate directions without us even asking! She responds quickly to messages as well for any questions we had. We couldn't have asked for a better experience to open our eyes to this wonderful world of air bnb.
Elizabeth
2016-10-26T00:00:00Z
We LOVED our stay at Mary's studio ! The location is lovely and very walkable. We didn't have to use the car at all during our visit. Mary was a fabulous host, wonderful communicator and provided great suggestions for things to do in the area. We hope to visit again!
Tc
2016-10-10T00:00:00Z
This is the best Air bnb we have ever tried. The surroundings, the room and not least the very friendly and helpful Anderson family made our stay an absolute wonderful experience. Our best recommendations! It's a bit tricky to find without a GPS.
Jens
2016-05-18T00:00:00Z
Mary's place is wonderful for a peaceful and relaxing getaway. Very clean, well equipped and very close to many breathtaking hiking trails. Mary was very welcoming and available. Will definitely go back when visiting Marin county.
Asma
2016-11-27T00:00:00Z
Room Type
Entire home/apt
---
Property Type
Apartment
---
Accommodates
2
---
Bedrooms
Mill Valley, CA, United States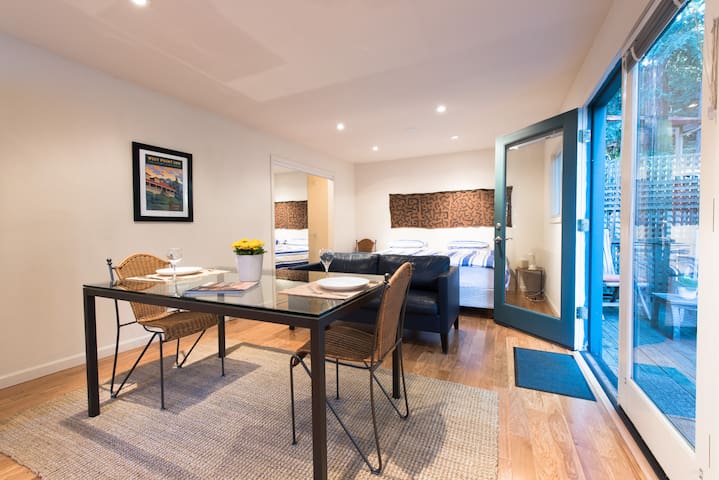 This is a newly remodeled apartment that is a self-contained and private unit within a large house. In Tam Valley, this spacious and attractive apartment is nestled in the trees - yet bright and conveniently located. Every window looks out onto greenery. It is 450 sq. feet, with a washer and dryer in the adjoining laundry room. Enjoy the 37" flatscreen TV with premium cable hookup, Blu-ray DVD player, and wi-fi. It has a private entrance with a small patio surrounded by greenery. The bathroom has a tiled floor and a large walk-in shower. This apartment is 10 minutes from Mt. Tamalpais. and we are 15 minutes away from San Francisco and ocean beaches, and 40 minutes away from the heart of Wine Country. We are close to 2 Whole Foods, Safeway, downtown Mill Valley, Corte Madera shopping malls and many, many extraordinary restaurants. Our place is better accessed by car but there is a bus route at the end of the road if you don't mind a 10-minute walk. This cozy apartment is fun, convenient and in the perfect location for shoppers, hikers, meditators, honeymooners and vacationers.
This Location is just perfekt to Visit the bay area. Thank you very much for everything and we will definitly come back. ;-)
Alexa
2013-05-23T00:00:00Z
Keith and Deborah were very nice and made us feel very welcome! Keith was a very responsive communicator via e-mail and text. We used their rental as a home base to visit Muir Woods and explore other nearby areas. They gave us great advice about local restaurants, scenic hikes, and getting the most out of our stay. The rental was very clean and modern. It was just like the pictures. The location was in a nice quiet neighborhood and close to anything you might need. We would recommend staying at Keith and Deborah's place!
Wendi
2014-11-11T00:00:00Z
Place was great. Very clean, well decorated, very nice location, etc. Only good, positive things to say about my stay. Thanks !
robert
2017-02-15T00:00:00Z
The Bailey's Sumptuous split level apartment fit my visiting weekend needs perfectly. Private, clean and quiet. Basically, I slept and left each of the three days, worked for me. Keith was there to greet me upon arrival, helpful and accommodating. If returning, I would book again.
Hal
2014-06-23T00:00:00Z
Keith was very helpful and explained the room and its amenities thoroughly. A lovely and clean room with a small kitchenette and shower in a great location of Mill Valley. I will definitely stay here again.
Amy
2016-08-02T00:00:00Z
Staying with Keith was wonderful! Very clean and EXACTLY like the photos. Would stay here again and would definitely recommend to friends.
Kaitlin
2016-09-08T00:00:00Z
This home is in a beautiful setting and the place is so charming. Highly recommend staying here.
Cara
2017-01-16T00:00:00Z
First of all, Keith and Deborah are two of the most kind and compassionate people you will ever meet. I had an eye problem while staying at their Air B&B rental and after I checked out Deborah welcomed me into her and Keith's home for six hours. She assisted me with my problem and got me on the road to recovery. What a wonderful couple! The studio apt I stayed in was beautiful, light and airy and very quiet. The apt is set in lush foliage in a secluded setting. I easily walked into town to check out The Good Earth health food store and Walgreen's. The wildlife was beautiful and spotted a deer at the base of the driveway. At night it was blissfully quiet. The apt had a great little kitchen and living area with a nice balcony overlooking the foliage. Just a wonderful place all the way around!
Constantina
2016-06-20T00:00:00Z
Room Type
Entire home/apt
---
Property Type
Apartment
---
Accommodates
2
---
Bedrooms
Mill Valley, CA, United States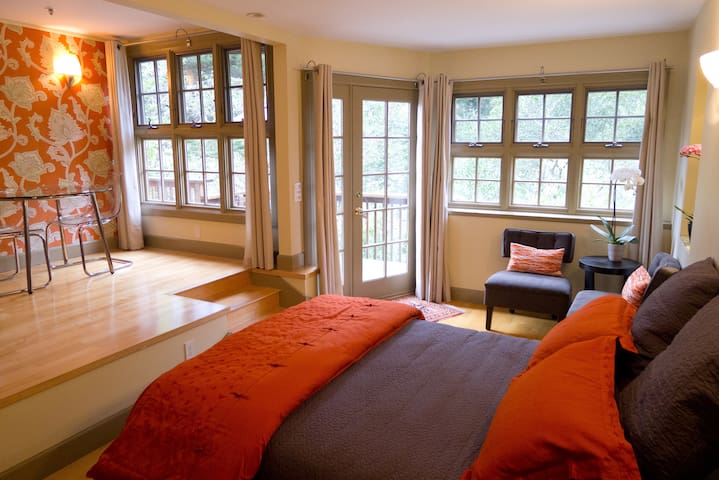 Great overall location. Easy access to US-101 freeway. Nearby destinations: Muir Woods, Stinson Beach, downtown Mill Valley, Sausalito. 24-hour 711 directly adjacent to apartment. Good Earth (local & organic) grocery store, gas station, restaurants minutes away.
Kitchen is fully loaded with appliances: microwave, stovetop, oven, toaster, coffee grinder, blender, magic bullet, dishwasher.
Quiet place.
Room in modest 2BR apartment. James was helpful and had no trouble with communication and getting check-in. He does have a large (quite well behaved) dog. OK with me, but might not suit everybody. The place is quiet and no trouble at all to find it. I only stayed one night on work visit. Good value, as lodging is quite pricey in MV. Like most of Mill Valley, the area isn't really walkable. There is a convenience store directly across the street, some decent resturants and cafe's a short way down the road (1/4 mile or so).
Daniel
2017-03-09T00:00:00Z
Very nice location -- halfway between Sausalito and Muir Woods. James and his girlfriend are very kind and accommodating. Would recommend to anyone new to California or looking for a weekend getaway like myself.
Valerie
2017-03-19T00:00:00Z
James and his girlfriend Patricia are excellent hosts (friendly and informative) and provide a very comfortable place to stay while in Mill Valley. The two of us stayed for 8 nights and it worked really well for us. We thought that sharing the bathroom with the hosts might be a bit awkward or imposing, but it really worked out well with no delays for us (or for them, as far as we could tell). The apartment is not large (two bedrooms, kitchen, bathroom, and living/dining area). Our bedroom was certainly sufficient for us with a double bed, bedside tables, and a full closet for our use. The hosts were very willing to share their living area (nice, comfortable sofas, TV, etc.), their kitchen (including space in their refrigerator) and dining area. They provided linens and offered to change them out (towels and washclothes) halfway through our stay. The rental rate for this property is tough to beat (anywhere, but particularly in the SF Bay area!). No regrets. Highly recommended!
Tom & Ruth
2017-04-04T00:00:00Z
Communication, cleanliness, and location were all perfect for our weekend in the mountains. Hosts were super nice, talked a bit when we met, let us be when we needed to turn in for the night. Very quiet, accommodating and friendly!
Chaz
2017-03-24T00:00:00Z
The place is chic, the room is large enough with a closet. James is very friendly and knowledgeable about the area. There's a 7-11 literally next door if you forgot your toothbrush.
Prajwal
2017-01-28T00:00:00Z
James was personable and easy to communicate with. His dog was very mellow and friendly and we enjoyed our stay. His place is just down the road from a couple of nice breakfast places and a grocery store, which was also convenient.
Shelby
2017-03-12T00:00:00Z
Room Type
Private room
---
Property Type
Apartment
---
Accommodates
2
---
Bedrooms
Mill Valley, CA, United States
Location! An exquisite tranquil garden apt with its own street entrance in the very heart of downtown Mill Valley, just a couple of blocks from the square, Throckmorton Theatre, Sweetwater Music venue, the Sequoia movie theatre, galleries, restaurants, cafes and an excellent library in a nearby redwood grove.
Garden Apartment in Charming Downtown Mill Valley Location location! An exquisite tranquil garden apt with it's own street entrance in the very heart of downtown Mill Valley, just a couple of blocks from the square, Throckmorton Theatre, Sweetwater Music venue, the Sequoia movie theatre, galleries, restaurants, cafes and an excellent library in a nearby redwood grove. French doors open onto my lovingly designed English garden, original features remind you that this is one of the older houses in town, yet tasteful furnishing and décor give away my profession as a designer of interiors as well as clothes. The apt. has its own private bathroom, which was completely remodeled two years ago. The house consists of two apartments, and I live in the one above, and am glad to advise on great restaurants, entertainment, and hiking and biking trails just steps from your front door. Public transport is available to San Francisco and all points in Marin County from the town square. The apartment has an alcove kitchen with a refrigerator, microwave, toaster oven and electric kettle. Internet access and television. Non-smokers only. No dogs. Off the street parking is available in front of the house. $125 per night with a two night minimum $75 cleaning fee $200 deposit refundable upon departure To comply with local regulations there will be an additional 12% tax applied to the nightly rate for stays under 30 days. This will be collected at check-in and in cash, to avoid additional Airbnb fees. I am a clothing designer and a design consultant, originally from England but now happily settled here in Mill Valley. DSCN0796.JPG
The house is situated in the downtown area, a couple blocks from the square. It is considered the historic part of Mill Valley and is charming. It is close to hiking trials and about 20 minutes from Muir Woods.
Braeda is the perfect host, very welcoming and sincerely concerned that your stay be everything that you wish. My wife and I were familiar with the location and it did not disappoint--walking distance to everything that Mill Valley has to offer, from the ambiance of the village to the exhilaration of the hiking trails. But none of that compares to the intimacy of the apartment and its delightful English garden. The garden provided a most relaxing atmosphere in which to enjoy our coffee in the morning (the hummingbirds were a nice touch) and our wine in the evening. We will be back. Thank you, Braeda.
Alan
2014-05-19T00:00:00Z
Braeda was very attentive and available. Apartment was as advertised and all worked out well. Very quiet area and plenty of parking,
David
2014-08-25T00:00:00Z
We returned for a second time to Braeda's Garden Apt and it was so lovely to be back for another relaxing getaway. The Apt. had everything we needed and is very tastefully decorated. It is wonderful to be able to open the French doors up and look out to the beautiful garden. Braeda recommended a couple of hikes to us which we went on and loved. Mill Valley itself is a lovely place. We will be coming back again :)
Catherine
2015-05-19T00:00:00Z
Everything about the apartment was as expected. It was super-convenient to walk into town.. about a 3 minute walk. The garden was lovely. I slept like a rock in the bed. For my first Air-Bnb experience it couldn't have been any smoother
Dan
2015-10-31T00:00:00Z
Great experience, very easy, would highly recommend it.
Daniel
2015-06-21T00:00:00Z
One of out favorite spaces to stay in Mill Valley. Braeda is a wonderful and welcoming host. Hope to stay again soon :)
Elisha
2016-07-18T00:00:00Z
There is no way my stay could have been more perfect. From the location, to the details of the space, to the host herself, everything was ideal. Braeda has given thought to how every part of the room and the experience of staying in the space will affect the guests -- and the result is marvelous.
Jan
2016-09-22T00:00:00Z
Braeda was responsive and made the process very simple. Our company rented the apartment for a guest who was very happy with the space itself, as well as the location. We will certainly look to renting from Braeda again!
Jeanette
2015-08-27T00:00:00Z
Room Type
Entire home/apt
---
Property Type
Apartment
---
Accommodates
2
---
Bedrooms
Mill Valley, CA, United States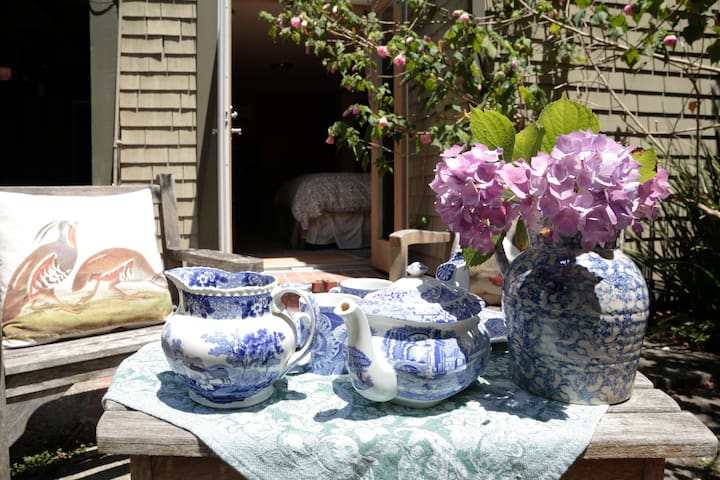 Private garden entrance. TWO private rooms and one bathroom in separate and private part of our home. Included is a microwave, coffemaker and refrigerator (NO sink or stove) . May be used as two bedrooms or one bedroom and sitting/living room. Nice for or multiple guests who may enjoy an additional room or prefer separate sleeping quarters! Completely private! No access to main home. There is a cat and poodle residing in the main home, but they have no access to these rooms.
Perfect spot for additional family members coming to town, visiting parents at the Redwoods Retirement community or simply in Mill Valley on vacation. Our guests will have access to two private rooms and bathroom; one room includes twin extra long trundle bed/sofa, cable (smart) TV, Apple desktop computer with internet access, including microwave, refrigerator, coffeemaker, plates, cups and utensils. The other room includes the private entrance a double bed, closet for hanging clothes and shelving.
Our home is located in a most desirable neighborhood of Mill Valley...safest, friendliest and most walkable. Within walking distance is two Whole Foods /Safeway Markets, delicious restaurants and other shops, many hiking trails with access to Mt Tamalpais are within walking distance. Our home is exactly one mile from the Mill Valley Depot, and is just eight miles from the Golden Gate Bridge. Our neighborhood also has several playgrounds and tennis courts. The Redwoods retirement community is also a short walk away.
Robin was nice and accommodating. She showed me around and briefed me everything I need to know about the house upon my arrival, and responded to my request really fast. The house is really close to Mill Valley town centre, where you can find great restaurants and movie theatre. It was accurate as described. We enjoyed our stay.
Charles
2017-02-08T00:00:00Z
nice room,warmly host!
stefan
2016-05-18T00:00:00Z
Mill Valley proved to be the perfect launching pad for a weekend in and around Sausalito, Tiburon and especially Muir Woods. Our host's home was the ideal spot, tucked in a quiet residential block, just a few minutes drive to great hiking in Muir Woods and shopping/dining in charming downtown Mill Valley. Our rooms were exactly as described -- neat and clean and quiet -- with lots of extra room in one of the 2 bedrooms and easy access to a private bathroom. The amenities like TV, internet, fridge and microwave were bonuses that made the value of the package especially worthwhile. A warm friendly welcome from our hosts, with great recommendations for hiking and dining, put the experience over the top!
Kevin
2016-07-25T00:00:00Z
Great location for getting to the Muir Woods. Host was incredibly kind and generous--she let us borrow rain gear on one dreary day! One note: unit has a microwave and mini fridge in one of the bedroom closets, in lieu of a kitchenette. Ok for storing prepared foods but don't plan to cook anything.
Darren
2016-11-20T00:00:00Z
The maison is located in a very quiet valley, a beautiful neighborhood, the two rooms are nice espetially it has a small living room which could provide enough space for activities
Zhi
2016-08-25T00:00:00Z
This place was so cute and amazing! It's exactly as pictured and had everything we needed and more! Everything was clean and organized. We were in town for a wedding and Robin was so sweet greeting us, showing us around and gave us the tip to drive up to Mt Tamalpais! We did and had an incredible day up there hiking around! We would definitely come back again!
Michelle
2016-04-25T00:00:00Z
My son and I enjoyed staying at Robin and Chris's place. It was nice to be able to walk to shops and restaurants. It was also really nice to have the separate bedroom to have a little more space. We didn't make coffee or use the little prep area, I think it would be difficult to do much more then make coffee. It was nice to have a refrigerator too. We appreciated being able to park in the driveway.
Christine
2016-07-22T00:00:00Z
Robin & Christopher are wonderful hosts. Their guest unit is quiet and comfortable, and very conveniently located. The only drawback is that the kitchenette doesn't have a sink and running water.
Lorna
2016-04-10T00:00:00Z
Room Type
Entire home/apt
---
Property Type
Apartment
---
Accommodates
3
---
Bedrooms
Mill Valley, CA, United States
Bolinas - Airbnb
:
Average

4.97

out of

5

stars from

1722

guest reviews
1

–

18

of

190 Apartment Rentals
Enter dates to see full pricing. Additional fees apply. Taxes may be added.