Separates kleines Häuschen auf Privatgelände, 36 m2 Grundfläche mit Schlafboden.Nichtraucher. Heizung,Bad,Herd,Kühlschrank,Geschirr,Kaffeemaschine, Toaster,Mikrowelle Wasserkocher,Bügeleisen, WWW,Bettwäsche möglich,PKW-Stellplatz,S-Bahn 10 Gehminuten
Unterkunft liegt in ruhiger, grüner Wohngegend
Lebensmittelläden aller Art fußläufig erreichbar. Einige Restaurants im Ort. Kein Nachtleben. Potsdam 20 min mit dem Auto oder S-Bahn etwas länger. Berlin-Zentrum mit der S-Bahn in 25 min. Flughafen Berlin- Schönefeld in 10 min mit dem Auto.
I'm with my husband and baby stayed for one night in this apartment. Mario was very welcoming and friendly. The house had everything we needed, there was cozy and clean. Quiet area is located in the vicinity of Berlin. We liked it and we can recommend this place for a relaxing vacation.
Asia
2016-08-05T00:00:00Z
Fantastically cute place. We had a wonderful stay, if I'm ever in the area again I will definitely ask to stay again. Perfect for a couples retreat and for solo travellers!
Carwyn
2016-08-29T00:00:00Z
good, very nice place
Andy
2015-08-20T00:00:00Z
We stayed at Mario's place for the night in between flights out of SXF. The house is located in a pleasant suburb south of Berlin, about a 25euro cab ride from SXF. It's walking distant to a metro station and some restaurants and shops- we ate dinner at the neighborhood Greek restaurant, Acropolis, which was fantastic. The beds are 2 separate twin beds but my husband and I didn't mind for one night. Highly recommend!
Victoria
2016-10-21T00:00:00Z
Mario is a very willing host. The house looks like in the pictures and is located in the garden of Marios house. The garden is beautiful, well-kept and quite big with variety of corners. House was perfectly cleaned and equipped with all the staff one can need. I could recommended when you are in Berlin by car as we were. It took us about 20min. to the centre.
Bara
2016-06-23T00:00:00Z
Mario was an excellent host, he gave us our privacy but I knew he was there in case I had any questions, made everything very easy for us and was very welcoming. The neighborhood was adorable and felt very safe. The listing is very accurate and the Finn hütte is even sweeter in person :) there was plenty of room for both of us and our things and we had an amazing trip staying there. We travelled into the city every day via train, the S + U bahn system is very easy to navigate and it made us feel like we had a beautiful country break within an exciting city break!
Millie
2016-07-14T00:00:00Z
We had a lovely stay at this very cute fairy tale hut. It's true that there is no nightlife in this area (to an English person the scarcity of shops and cafés may come as a surprise), but the wooded streets and varied houses nearby are charming and enjoyable to walk through on the way to the station and supermarket. The journey to Central Berlin is really short and easy, and the airport is very close - about 20 euros by taxi. The kitchen and bathroom in the hut work very well, all was clean and well kept, and it was very nice to sit outside and watch the sun set while drinking a glass of wine. For parents of young kids like us this was accommodation was an excellent option. Mario kindly provided us with a travel cot, which was great - though parents of toddlers should be aware that the ladder to upstairs is very steep and it's a bit anxiety-inducing to be up there with a baby! But it was also very cute and a bit of an adventure. A bit glamping, a bit Little Red Riding Hood. Mario was very friendly and kindly greeted us with a drink of Apfelschorle. Thanks for a great stay!
Sally
2016-06-21T00:00:00Z
Everything about our stay was lovely.
Simon
2016-08-08T00:00:00Z
Room Type
Entire home/apt
---
Property Type
Apartment
---
Accommodates
3
---
Bedrooms
Blankenfelde-Mahlow, Brandenburg, Germany
The apartment (in a 2 apt. house) is located not far (4km) south from Berlin-citylimit. The train-station 150m metro-station1000m) will take you anywhere you would want to go in Berlin (Kreuzberg by S-Bahn 23min/Potsdamer Platz wihin 34min), airport SFX within 10min (!!) or even beautyful Brandenburg. The appartment: - own entrance - large living room with a sofa-bed - bedroom - bathroom with shower - practical open kitchen
Thorsten gave us a very warm welcome even though we arrived earlier than we said. He is a particularly friendly host (e.g. offered us access to home grown peppermint for tea in his garden) and the flat is huge and very clean. Thorsten's recommendations about places for dinner were excellent- we can highly recommend Dionysos for Greek food and "Zur Eiche" for German meals and its beer garden! Potsdam is easily reached by car and well worth a visit and you can catch the S-Bahn close to Thorsten's house which gets you into Berlin in 40 minutes. The flat is in a village with supermarkets and lovely rural surroundings- you are close to Berlin but it doesn't feel like it.
Natascha
2016-08-29T00:00:00Z
Fabulous Experience. Thor is so hospitable and helpful. His place is just so call and serene. We had a barbeque together and he has an awesome collection of classic vehicles. Would definitely visit Thor's place again and highly recommend it. Altogether Thor is an amazing human
Bhaarath
2016-05-01T00:00:00Z
Thorsten's place is really lovely it's clean tidy and he's thought of all those little extras to make the place special. But it is quite far from the center if Berlin and public transport is one train an hour. Also this stops around 9 PM and you have to get two trains and a bus. Other than that Thorsten and his place are lovely
Katrina
2017-03-25T00:00:00Z
Great stay, lovely host. Approximately 40 minute train ride from Berlin
Merrick
2017-02-12T00:00:00Z
Enjoyed our stay in Thorsten's house. He did his best to make our stay a comfortable one. The description was accurate as given in the listing. Would definitely recommend this place to friends and family. Great stay!
Kingston
2016-12-26T00:00:00Z
Very nice place and host. Super easy to get to and Thorsten was waiting for us all ready to set up. Very good for space for a couple and everything works perfect. About 30 mins into city
Jessica
2016-07-07T00:00:00Z
Amazing flat, Thorsten was an incredible host. Everything was neat,clean and we had everything we needed. I recommand every travellers to book this flat for a trip to Berlin!
Marion
2016-01-03T00:00:00Z
Thorsten is a perfect host, he's a very kind, generous and friendly guy and he was helpful for everything we needed. The apt was clean and comfortable, with a big garden and we stayed very well, the place is quiet and well connected to the city. Everything was perfect and we totally recommend it. Thank you Thorsten :) !
Antonella
2016-04-01T00:00:00Z
Room Type
Entire home/apt
---
Property Type
Apartment
---
Accommodates
3
---
Bedrooms
Blankenfelde-Mahlow, Brandenburg, Germany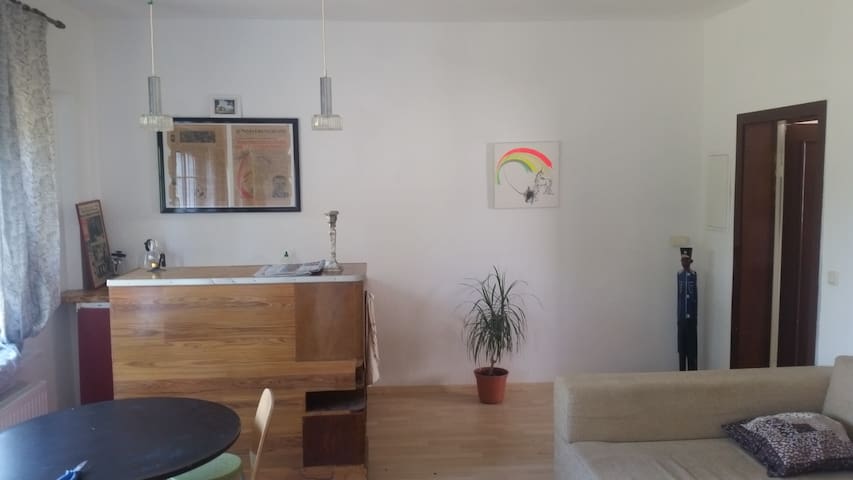 Heller, frisch renovierter Bungalow (60m2 Grundfläche und 25m2 überdachte Veranda) mit 1000m2 eingezäuntem Garten - warten auf die ersten Gäste - Sehr gerne mit Hund. WLAN vorhanden. Wald vor der Haustür. Bahnhof 400 Meter - 30 Minuten City-Berlin.
Nur 400 Meter zu Fuß vom Bahnhof Dahlewitz entfernt, befindet sich dieser frisch renovierte Bungalow mit ca. 1000 m2 Garten. Das Grundstück ist komplett eingezäunt und endet mit der Rückfront am Naturschutzgebiet Glasowbach. Ideal für Hundebesitzer, die mit Ihrem Vierbeiner nicht direkt in Berlin übernachten möchten, aber schnell in die City gelangen können. Von hier besteht die Möglichkeit die Natur von Brandenburg zu genießen – und trotzdem schnell nach Berlin zu gelangen. Mit der Regionalbahn erreicht Ihr Berlin-Mitte (Friedrichstraße, Brandenburger Tor) in 30 Minuten. Der Flughafen Schönefeld ist in 10 Minuten mit Bahn oder PKW erreichbar. Weitere wichtige Infos Diverse Freizeitaktivitäten möglich: Großer Wald liegt direkt vor der Haustür und lädt zum Spazieren oder Joggen ein. Fünf Golfplätze sind zwischen 5 und 20 Autominuten stresslos erreichbar. •Golfclub Gross Kienitz •Golf Club Mahlow •Berliner Golf- und Country Club Motzener See •Golf- und Country Club Seddiner See Herren Schläger-Equipment kann kostenlos gestellt werden –(falls Mann spontan eine Runde spielen möchte….) Pferdehof und Badesee findet man in der Nähe. Hier können wir auch hilfreich zur Seite stehen Wakeboard- und Wasserskianlage in ca. 15 Autominuten Entfernung – Gute deutsche und internationale Küche wird in 5 Minuten Entfernung angeboten.
We were a group of four staying for just one night, and Tom was a great host. We met him upon arrival, he showed us the place and made us feel very welcome. The bungalow itself it great for a group our size. It's exactly as it looks in the photos, very clean and well kept. We had a great time and will probably go back! Thank you Tom!
James
2016-07-17T00:00:00Z
Clean, quiet, nice bungalow in touch with nature. Tom is a great host, bungalow is fully equipped, quick access to public transport (if you planing to visit Berlin). Highly recommended.
Tomislav
2016-07-22T00:00:00Z
Great place to stay. Walking distance from the train station, open backyard, comfortable home and friendly dogs to greet you in the morning, if you wanted. The host was very generous with tips on how to get around, detail oriented regarding the stay and very kind. It was a place you could call home.
D
2016-05-08T00:00:00Z
Very nice welcome wen we arrived at the place, everything was arranged and explained. The house, garden and area was very beautiful and quite. neighbours are very nice and shops are close by. you can take the metro straight to the center of berlin. Our dog was also very satisfied and happy!!! overall its perfect!!!
Yorn
2016-07-01T00:00:00Z
Great place to stay in a gorgeous location. We stayed for 12 days without a car and had no problems whatsoever. Would recommend it to all.
Matt
2016-08-16T00:00:00Z
The listing was spot on. A perfect place outside Berlin and in the calm beautiful village of Blankenfelde. It is best suited for a family with children. Also suitable for 2 couples. Tom was helpful to guide us to the place and offer suggestions for looking around. Friendly host. Car parking was no problem, and good train connectivity to berlin within 1km by RE and 3 kms by S-Bahn from the house. Would definitely recommend.
Shreenath
2016-06-20T00:00:00Z
nice home in quiet neighborhood away from city. Very nice local restaurant near by with incredible food. Tom was very accommodating and helpful! Train station just 10 min walk
Travis
2016-07-10T00:00:00Z
Tom is a great host! He was quick to respond with answers to questions and check in was flawless. The house is clean and comfortable with one bedroom and a couch that would fit an extra person if needed. If you need to be in Berlin this is a bit far but we liked the location and neighborhood setting. There is a grocery close by so you can cook after sightseeing in the city. Definitely recommended for a small family.
Germaine
2017-01-02T00:00:00Z
Room Type
Entire home/apt
---
Property Type
House
---
Accommodates
4
---
Bedrooms
Blankenfelde-Mahlow, Brandenburg, Germany
Apartment especially suited for families near Berlin with direct train connection to the capital. Shopping and medical facilities within ten minutes on foot.
The studio offers sleeping in a double bed which can be seperated from the living area. There is a studio couch which can sleep two more persons. The kitchen is part of the living area and fully equipped with e.g. a dishwasher, a coffee machine, an electric kettle, dishes and cutlery, toaster, breadcutter, microwave, fridge. A big dinner table with six chairs provides a chance of retreat even when there is bad weather. On warm spring or summer days, you also can relax on the balcony after a busy day of excursions or sightseeing. A tv, radio-cd-set and wireless internet access also belong to our standards. For your relaxation, a set of board and card games are provided for. A seperate sleeping room with extra table and chairs is situated at the end of the hallway. It provides retreat for two children or adults. The bathroom is fitted with a bathtub. The location of the apartment is suited for sightseers of Berlin as well as for those who seek recreation in the vicinity of the German capital. The apartment is situated in a naturally grown residential area only a few kilometers from the Berlin city boundary in a quiet side street. Shopping and medical facilities can be found only ten minutes on foot from the apartment. The city centre of Berlin at Potsdamer Platz or the Brandenburg Gate is only a 30 minute rapid transit trainride away from Blankenfelde every 20 minutes, and every 30 minutes at night. It only takes ten minutes´ walk to get to the rapid transit and regional train stations. Blankenfelde is easily accessible by the Hannover-Frankfurt/O motorway. Berlin-Schönefeld airport is only a few minutes´ train ride away. Apart from the Berlin sights, there is also a lot to see in the Brandenburg neighbourhood. You can visit the Spreewald area with its many waterways and barges which are pushed forward by their boatmen with long sticks. There is the museum and arts and crafts village of Glashütte where in former times, glass was produced by hand as well as the 220-kilometer skating and biking round Fäming-Skate for those who are into sports activities. Relaxation at its best can be found at Tropical Islands, Europe´s biggest covered tropical recreation center or the termal bath and spa at Ludwigsfelde. None of these locations are more than an hour´s car ride away from Blankenfelde. Also worth seeing is the Brandenburg regional capital Potsdam with its many historic sights like Sancoussi palace and beautiful landmarks. - No smoking in the apartment (granted on the balcony) - no pets, sorry Special offer in November: A voluntary, free-of-charge sightseeing tour on foot per booking along the former border between West- and East-Berlin with sights like Checkpoint Charlie, Potsdamer Platz, Brandenburg Gate, the Reichstag, a walk along the Eastern part of the border with Litfin Memorial (an East German watchtower) and Bernauer Straße, where people after the building of the wall jumped from East German tenant houses to West Berlin.
Blankenfelde is a quiet little town with supermarkets and everything needed a few kilometers from the Berlin city boundary. The center of Berlin is only 30 minutes by rapid transit train away.
Ralph's apartment was perfect. Very clean and has everything whats necessary. Ralph also explained to us in detail everything we wanted to know about the surrounding. Great host !
Daniel
2017-02-10T00:00:00Z
We were very welcomed by Ralph and his wife. Ralph even picked us up at the train station. Invaluable when you have big luggage! The Ralph apartment is very clean and contains all amenities. It is also very quiet (we slept very well ) and very close to the S-Bahn. Berlin is a 40 min (center). A very good Airbnb address to recommend (-:
Patrice
2016-07-20T00:00:00Z
We loved everything about Rolph's apartment:)! It was really quiet, cozy and modern and spacious with all ammenities you need . The hosts were most kind and helpful and they have indeed a very warm approach to their guests. Rolph is a walking encyclopedia when it comes to history and sociological aspects of life in his town and in Germany:)! He was most helpful with all kind of tips regarding the visits, recommendations of places etc. Their lovely house is just several minutes walk from S-Bahn which takes you right to the center of the town very quickly. We recommend it to anyone travelling to Berlin!
Krzysztof
2017-01-08T00:00:00Z
Easy access to Berlin via the train which is only a 10 minute walk. The apartment was good for us since we were out most of the day enjoying the sites. Ralph has many tips for what to see and where to go in Berlin. He is very willing to sit down and go over an itinerary with you, explain public transportation and answer as many questions as you have. Very good experience!
Margie
2017-03-21T00:00:00Z
Ralph and his wife were very welcoming and were able to provide plenty of information about the area. They were particularly helpful when it came to navigating the train lines. There place match the description found on airbnb and was in a great location.
Brendan
2015-02-10T00:00:00Z
Ralph is wonderful host. He knows what his guests want. The house is super spacious and warm. Its perfect for a family and is located in a silent residential area just 7 mins away from sbahn station. Would definitely recommend this place to anyone visiting berlin. Thanks Sampath
Sampath
2016-01-13T00:00:00Z
Great place to stay, I would highly recommend.
andy
2016-05-05T00:00:00Z
The apartment was good in a very quiet place and had everything we needed. it's very easy to get it, in 5 min to the S-Bahn. Ralf and Renate were very helpful in responding to our questions and the communication with them was perfect. Thank you for everything. With best wishes Roman and Ksenia.
Roman
2013-10-02T00:00:00Z
Room Type
Entire home/apt
---
Property Type
Apartment
---
Accommodates
7
---
Bedrooms
Blankenfelde-Mahlow, Brandenburg, Germany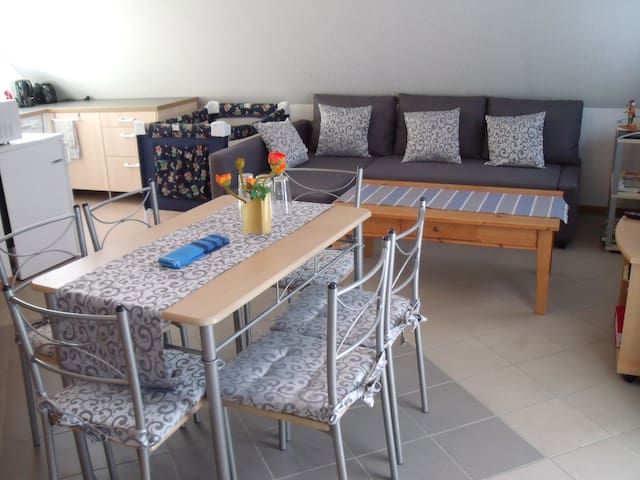 people from all backgrounds are welcome public transport and train station just 5 minutes away (I can pick you up by car if you want) private parking slot infront of the house for your car terrace with garden what can be used: kitchen for cooking, all electronic devices (Pay-TV for free and PlayStation 4), dishwasher, washing maschine, dryer and iron
big house with much space
quiet and safe area
Room Type
Entire home/apt
---
Property Type
House
---
Accommodates
5
---
Bedrooms
Blankenfelde-Mahlow, Brandenburg, Germany
Im Mietpreis sind neben den Übernachtungskosten (Heizung, Wasser, Strom, Müll), die Telefonkosten, das W-Lan, die Bettwäsche, Handtücher, Geschirrtücher, Spül- und Putzmittel, Müllbeutel, Toilettenpapier, Seife und Schampoo enthalten. Die Unterkunft ist 10 min fussläufig von der S-Bahn Linie 2 und der Regionalbahn entfernt die in 30 Minuten in der Berliner City sind. Bis zur Autobahnabfahrt Rangsdorf (A10 Berliner Ring) sind 6,6 km, zum Flughafen Berlin Schönefeld 12,6 km und nach TXL 34,4 km.
Das Haus hat eine Wohnfläche von etwa 100 m² und steht auf einem 800m² großem Grundstück. Es gibt eine große Wohnküche die keine Wünsche offen lässt, 3 Schlafzimmer, 1 Dusch- und 1 Wannenbad. Zum Parken stehen 3 Stellplätze auf dem Grundstück zur kostenfrei Verfügung. Gelegen an einer ruhigen Anwohnerstraße in super Verkehrslage. Blankenfelde liegt 5 km südlich von Berlin. Das Ferienhaus ist in einer ruhigen Wohngegend, idyllisch zum Entspannen und Erholen.
Dein Feriennachbar ist Imker und hat einige Bienenstöcke auf dem Grundstück. Solltest du also Honig benötigen dann einfach bei Haus Nr. 14 klingeln. Es ist ausdrückich erwünscht das mitgebrachte KFZ auf dem Grundstück zu parken, da die Anliegerstrasse sehr schmal ist.
Very nice place, looking forward to visit again.
Leszek
2016-12-09T00:00:00Z
The host canceled this reservation the day before arrival. This is an automated posting.
Benjamin
2017-02-20T00:00:00Z
Nice house in a beautiful area. 15min by car to airport SXL. Good to know some German when you travel to Germany :).
Ioan
2017-02-19T00:00:00Z
Wir haben Silvester in Berlin gefeiert und haben dieses Haus gemietet. Das Haus ist sehr schön und in einer guten Lage. Die Anreise hat reibungslos geklappt. Alles in einem würde ich das Haus weiterempfehlen!
Marcel
2017-01-01T00:00:00Z
Wir kommen auf jeden Fall wieder!
Yves
2017-02-16T00:00:00Z
Alles super da fahren wir gerne wieder hin!
Yves
2017-01-27T00:00:00Z
La casa estaba muy bien equipada y perfecta, como aparece en las fotos. Todo ha salido bien. Gracias por ser tan amable el anfitrión.
MARIA
2017-02-08T00:00:00Z
Karsten hat freundlicherweise bis nach 21 Uhr auf uns gewartet. Der Aufenthalt war sehr angenehm. Alles war wie beschrieben, in einem guten Zustand und es fehlte uns an nichts. Er war sehr hilfsbereit und wir hatten den Eindruck ihn jeder Zeit kontaktieren zu können.
Kerstin
2016-12-18T00:00:00Z
Room Type
Entire home/apt
---
Property Type
House
---
Accommodates
8
---
Bedrooms
Blankenfelde-Mahlow, Brandenburg, Germany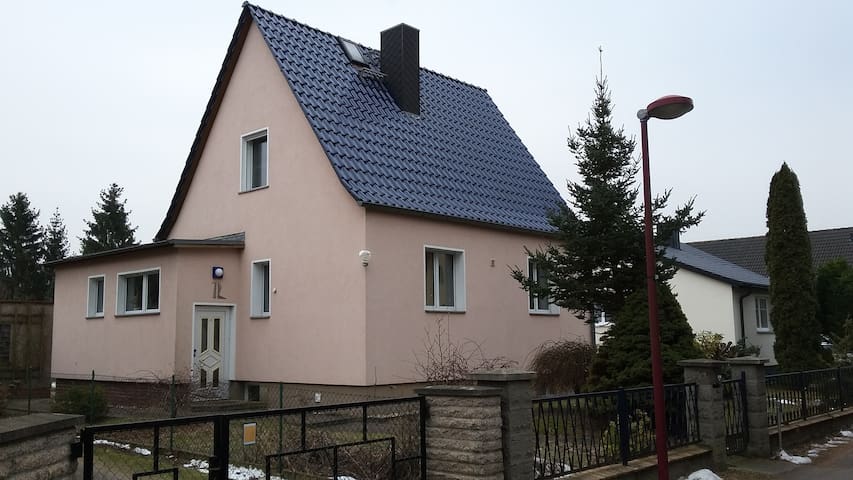 Beautiful 50 qm- apartment ( bedroom, living room , kitchen, bathroom ) just south of Berlin S - Bahn station in beautiful Art Nouveau house . 30 minutes to the Berlin main train station , 20 minutes to the airport . Small lake at the site . Nature and city close .You can stay in the small village Mahlow with a direct train (30 minutes) to Berlin downtown. You have both: Nature and Town
You have a nice und calm sleeping room, a living room, kitchen und barthroom
Es war einfach alles perfekt und wie erwartet. Eigentlich hatten wir nur einen günstigen Schlafplatz in Berlin oder naher Umgebung gesucht, aber mit dem Auto nur 5 Minuten von Berlin entfernt, waren die paar Tage für uns wie Urlaub. In der Küche erlebten wir beim Kochen jedesmal eine Überraschung, weil Robert wirklich an alles gedacht hatte, um uns unseren Aufenthalt so angenehm wie möglich zu gestalten. Falls wir nochmal einen Zeitraum erwischen, wo die Ferienwohnung nicht ausgebucht ist, würden wir gerne wieder kommen.
Stefan
2016-08-18T00:00:00Z
Room Type
Habitación privada
---
Property Type
Apartment
---
Accommodates
2
---
Bedrooms
Blankenfelde-Mahlow, Brandenburg, Germany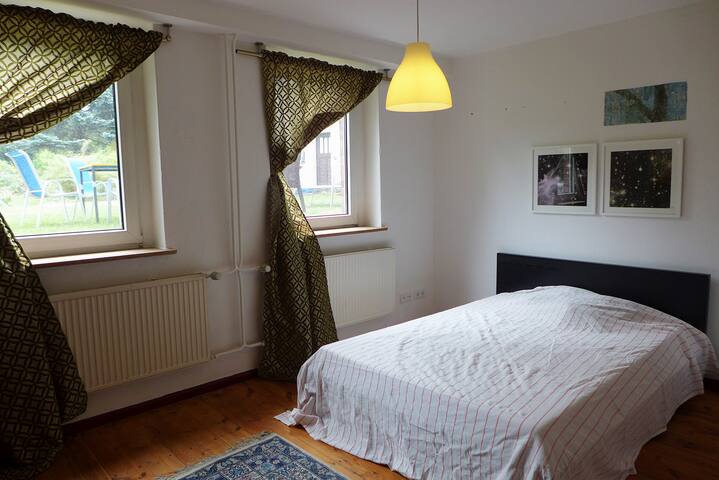 Gästehaus im grünen - eine preiswerte Alternative:
KEIN Palast - doch eine sehr preiswerte Alternative: Kleine Zimmer in unserem Gartenhaus neben unserem Haupthaus für Gäste, Reisende, Monteure oder Studenten. 1 oder 2 Personen je Zimmer (Einzelbetten ((PHONE NUMBER HIDDEN)). Bettzeug+Bezüge, Handtuch, Shampoo, TV, Internet/WIFi/W-LAN u. Gem.-Kochgelegenheit (Herd/Kühlschrank/Geschirr/KaffeMaschine etc.) sind inclusive; WC mit Waschgelegenheit im Gartenhaus - Gem.-Bad / Dusche im Haupthaus (12m durch den Garten). Grillen u. Waschmaschine nach Absprache. Ihr wohnt in unserem Garten-/Gästehaus (neben unserem Haupthaus) nahe dem Flughafen Schönefeld (BER); keine Durchfahrtsstraße. Umliegend Einfamilienhäuser und Gartengrundstücke im Grünen. Guter Ausgangspunkt für zahlreiche Freizeitmöglichkeiten wie Fläming-Skate, Wakeboard-und Wasserskianlage, Reiten, Golf, Sport- und Fitnesscenter mit Sauna, Tennis, Kegelbahn und Klettern. Im Sommer bieten sich der Mahlower See und das Seebad-Rangsdorf an. Unser Dorfkrug, weitere Restaurants und natürlich MC-"Fastfood" laden zum Essen; div. Lebensmitteldiscounter bieten Gelegenheit zur Selbstversorgung. S-Bahn Mahlow (S2) und Blankenfelde (S2 + RE3/RE7) sind fußläufig in 20min. zu erreichen.Transfer von/zum Flughafen oder Bahn nach Rücksprache möglich. Auf dem Grundstück sind Hunde (nicht im Haus). Hunde von Gästen nach Rücksprache möglich. Beachte bitte den mind. Auffendhalt von 6 Tagen..
Grüne Lage am südlichen Rand von Berlin-Lichtenrade. Umliegend Einfamilienhäuser und Gartengrundstücke. Golfplatz, Pferde-/Reitställe, Tennis-/Badminton- und Squash-Halle und zahlreiche weitere Sport und Freizeitmöglichkeiten fußläufig zu erreichen.
Room Type
Habitación privada
---
Property Type
House
---
Accommodates
2
---
Bedrooms
Blankenfelde-Mahlow, Brandenburg, Germany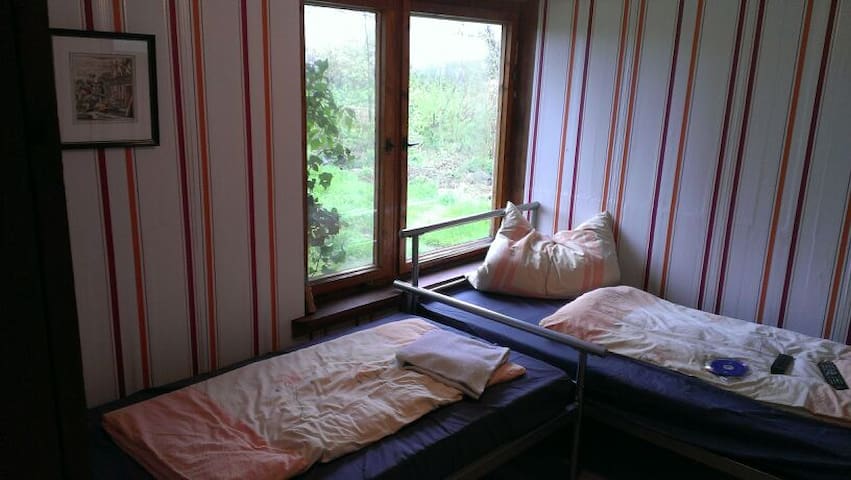 Gut ausgestattet, separates Ferienhaus 40 m2. Auf privatem Grundstück am Berliner Stadtrand. Eingerichtete, offene Küche im Wohnbereich, separates Schlafzimmer, großzügiges Bad, Nichtraucher, keine Haustiere, Bettwäsche, öffentlichke Verkehrsmittel
PKW- Stellplatz vorhanden,Haarfön, Bügeleisen ebenso. Die Unterkunft liegt in ruhiger, grüner Wohngegend
Lebensmittelmärkte aller Art zu Fuß erreichbar, verschiedene Restaurants im Ort. Im Ort kein Nachtleben. Potsdam in 20 min. mit dem Auto erreichbar oder mit der S- Bahn etwas länger. Berlin - Centrum mit der S - Bahn in 25 min. Flughafen Berlin - Schönefeld in 10 min. mit dem Auto
The cottage was lovely! Very accommodating, new and cosy. The wi-fi connection was also excellent. Very quite and peaceful neighborhood. Train station is a 12min walk. The host Mario was very kind and helpful. Lives closeby for any problems. Thank you for a wonderful trip! Will definitely be visiting again :-)
Bav
2015-09-21T00:00:00Z
We stayed in Mario's house for about 6 weeks and we had an amazing experience. We were greeted with open arms and a smile, our privacy was respected and the location was perfect. He always takes care of the garden, which is really nice. Me and my girlfriend are very grateful for Mario's hospitality and we wish him the best.
Ignacy
2015-12-01T00:00:00Z
Our one week stay at Mario's cottage was very enjoyable and hassle free. Mario greeted us warmly and showed us the cottage, despite our arriving at a late hour. During our stay, Mario was very easy to contact to answer questions. The cottage was just as pictured and the neighborhood was quiet. This cottage was the perfect place from which to explore downtown Berlin. The train station is only a 10 min walk away and there are multiple grocery stores in the area.
Dustin
2015-10-14T00:00:00Z
Lovely little place. Very clean and comfortable. Mario had good communication before and during our stay.
Jemima
2016-01-12T00:00:00Z
Avevamo prenotato questa casa per 4 settimane e poi abbiamo prolungato il nostro soggiorno di qualche giorno. È la prima volta che usiamo airbnb e tutte le recensioni su mario sono più che vere. Esperienza meravigliosa, Mario non ci ha fatto mancare davvero niente!
Ignacy
2015-12-04T00:00:00Z
Mario und sein Sohn gehören zu den besten Gastgebern - beide sehr freundlich und hilfsbereit, sehr nette Menschen.
Kende Lőrinc
2015-09-11T00:00:00Z
Tolle Unterkunft, toller Gastgeber. Es ist alles sehr sauber und ordentlich. Mario ist sehr nett, zuvorkommend und flexibel. Ein herzliches Dankeschön an den Gastgeber! :-) Nice place, nice Host. It is very clean and tidy. Mario is very nice, very obliging and very flexible. Great thanks to Mario! :-)
Mike
2016-01-02T00:00:00Z
Mario was goed bereikbaar. Huisje en omgeving is precies zoals omschreven.
Eric
2015-10-19T00:00:00Z
Room Type
Entire home/apt
---
Property Type
House
---
Accommodates
3
---
Bedrooms
Blankenfelde-Mahlow, Brandenburg, Germany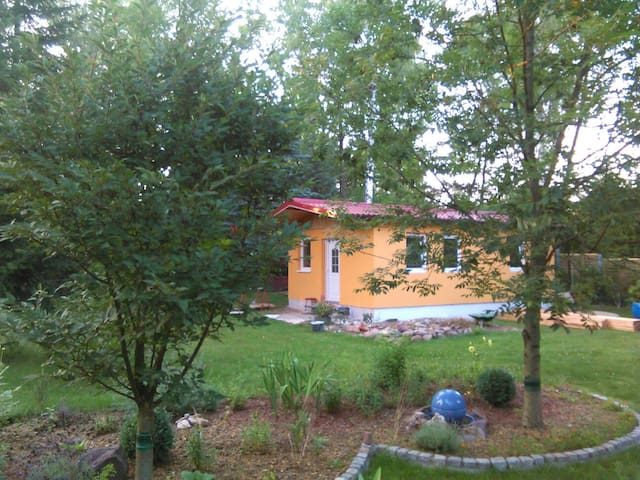 Unser Apartment Unterkunft ist in der Nähe von öffentlichem Verkehr, Flughafen und Parks. Du wirst unsere Unterkunft lieben wegen Umgebung, Nachbarschaft, komfortablem Bett, Licht und Platz im Freien. Unsere Unterkunft ist gut für Long-Term Stay von Managern, Ingenieuren, aber Paare, alleinreisende abenteurer, geschäftsreisende und familien (mit kindern).
Das Apartment befindet sich im OG eines Hauses aus dem Jahr 1920, welches wir 2008-2012 komplett restauriert haben. Das Apartment liegt im Ortszentrum von Blankenfelde. In Fußnähe befinden sich 3 Supermärkte, eine evangelische und eine katholische Kirche, zur Autobahn sind es 5 min.. Der Flughafen BBI ist nur 1 Bahnstation entfernt. Am Bahnhof gibt es ein kostenloses Parkhaus P+R mit Stellplätzen für Autos, Scooter, Fahrräder.
Wir sind sehr grün, eine kleine Stadt mit 26.000 Einwohnern, Restaurants, Snackbars, freundlichen Menschen und hoher Sicherheit.
The host canceled this reservation 54 days before arrival. This is an automated posting.
Veronika
2017-03-12T00:00:00Z
I can't say enough about how nice this place was. Stephan and Ilona were both very communicative and went out of their way to make me feel at home. Because I was arriving on a Sunday afternoon, Stephan contacted me beforehand and offered to pick up some groceries for me because all the nearby markets would be closed. This kind gesture really made my first day better while I was recovering from traveling and jet-lag. I would absolutely recommend this place to anyone looking for a quiet spot in the beautiful Blankefelde neighborhood.
Jacob
2017-02-12T00:00:00Z
The host canceled this reservation 3 days before arrival. This is an automated posting.
melanie
2017-02-21T00:00:00Z
El apartamento es tal como se ve en las fotos y estaba muy limpio. El marido de Ilona, Stefan, nos recogió en el aeropuerto y nos enseñó la estación de tren para ir al centro de Berlin, el camino para llegar a casa y los supermercados cercanos (hay un Aldi al lado de casa). Nos enseñó el apartamento y se aseguró que el wifi se nos conectaba, nos indicó donde estaba todo y también nos dijo una aplicació para smartphone del transporte público en Berlin que nos fue muy útil. La llegada, pues, fue genial ya que nos dio mucha información muy útil. El barrio es muy tranquilo y seguro, son todo casas, muy agradable. Hemos estado muy bieb en el apartamento y lo recomendamos.
Maria
2017-01-03T00:00:00Z
Room Type
Entire home/apt
---
Property Type
Apartment
---
Accommodates
4
---
Bedrooms
Blankenfelde-Mahlow, Brandenburg, Germany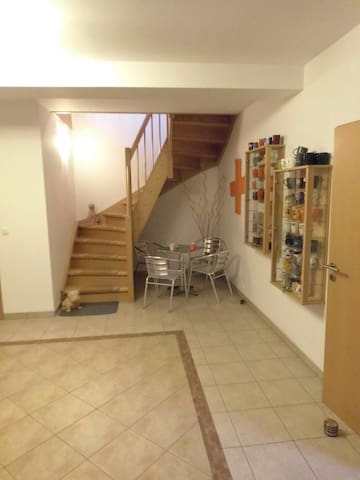 Mit Liebe eingerichtetes Haus mit einer Wohnfläche Fläche von 130qm und einen Garten 850qm. Das EG verfügt über Küche,Wohn-/Schlafzimmer+Badewanne und WC Neben der Küche (komplett eingerichtet) befindet sich ein Wintergarten mit Blick in den Garten mit Grillmöglichkeiten Obere Etage drei weitere Schlafzimmer & Dusche/WC Garage vorhanden
Nur 30 Minuten per Bahn zur Friedrichstraße, Brandenburger Tor, Hauptbahnhof Ostbahnhof schnell in die City . Am Bahnhof besteht ein kostenfreier überdachter Parkplatz für einen Pkw , um schnell in die City ohne Stress und Parkplatzsuche zu kommen. Komplett eingerichtete Küche mit Wasser Kocher u. Kaffeemaschine . 2 kostenlose Fahrräder stehen zur Verfügung. Zum Bahnhof Blankenfelde kommt man in 5 Minuten mit dem Fahrrad . 18 Minuten Autofahrtzeit zum Flughafen Schönefeld entfernt .
Sie sind sehr hilfsbereit
The experience in Rene's apartment was wonderful, the house was in perfect conditions, very clean, with everything that we expected. It's very comfortable and the neighbourhood is very nice and quiet. Rene helped us with all the logistics and also with with other things that we needed in Berlin, he's a great tenant! I would recommend his apartment to anyone visiting Berlin.
Roger
2016-05-17T00:00:00Z
Rene was a fantastic host right from our initial contact. The apartment was exactly as described, clean and very roomy. More than adequate for a group of 7 adults. The accommodation was in a lovely quiet neighbourhood around a 15 minute walk from the train station which made getting around very easy. Rene is very attentive and is the perfect host. On arrival, he showed us the property, had direcrions to attractions we wanted to visit then gave us a quick tour around pointing out the local supermarkets, bars and restaurants. A very pleasant stay all round and highly recommended.
Jane
2017-01-05T00:00:00Z
We visited Berlin for few days during the last week of December 2015 and stayed at Rene's place. The apartment was big, clean and warm. The apartment had a nice garden and a good parking space. The neighbourhood was very good. Rene was very friendly and accommodating.
Karthik
2015-12-31T00:00:00Z
The house is very nice and fairly well equipped. More than enough space ! Everything is very clean. Public transportation is reasonably close. Very calm and quiet neighborhood.
Antoine
2016-01-31T00:00:00Z
The house was as described in the listing. The backyard gave my three boys a chance to run around in between sightseeing outings. The internet worked ok. We really enjoyed the Greek food in town, we highly recommend it.
Chris
2016-05-09T00:00:00Z
The house is in a very quiet, pleasant neighbourhood and has a beautiful large garden with lots of trees, which is great to sit in. Blankenfelde station is a 20 minute walk and the trains run every 20 minutes into the centre of Berlin. As a family group of seven adults we really felt we were in a home from home, with everyone able to do their own thing and then return in the evening to spend time together. We spent a lot of time doing tourist stuff in central Berlin but also the beautiful forests and lakes are easily accessible. Locally there are pleasant, interesting walks and Strandbad Wannsee , Pfaueninsel and Havel Chaussee are only an hour away by public transport and easily accessible if you have a car available. The house has all the amenities we needed. Plenty of room for seven people to spend time together without feeling that they were getting in each others' way. The house is the perfect combination of city break and rural holiday.
andy
2016-08-08T00:00:00Z
René ist ein flexibler Vermieter. Das Haus ist Spitze - die Bilder zeigen das nur andeutungsweise - wir wurden sehr nett empfangen.
Uwe
2015-09-06T00:00:00Z
Ein unglaublich netter Gastgeber. Hat mich abgeholt und wieder zum Flughafen gefahren. Sogar das Fahrrad konnte ich nutzten am Tage ohne eine Gebühr zu zahlen.
Mine
2015-09-02T00:00:00Z
Room Type
Entire home/apt
---
Property Type
House
---
Accommodates
7
---
Bedrooms
Blankenfelde-Mahlow, Brandenburg, Germany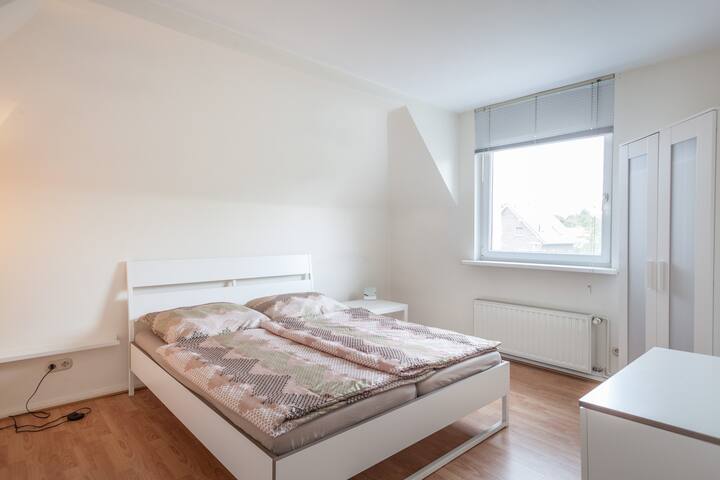 Meine Unterkunft ist 3Km von Berlin entfernt, Flughafen Schönefeld 8Km, Tegel 24Km. Du wirst meine Unterkunft lieben wegen der Lage, Umgebung, Platz im Freien. Meine Unterkunft ist gut für Paare, alleinreisende Abenteurer, Geschäftsreisende und Familien mit Kindern. Zur Stadtmitte Berlin Potsdamer Platz, Brandenburger Tor sind es mit der S-Bahn nur gute 25Min Fahrzeit. Der S-Bahn- und Busbahnhof ist 900Meter entfernt. Einkaufsmöglichkeiten in unmittelbarer Nähe 50m oder im Ortszentrum 900Meter
Persönliche Begrüßung und Schlüssel-Übergabe
Das Grundstück hat einen schönen grünen Garten, kein Einblick durch Nachbarschaft (Zaun, Hecke, Sträucher, Bäume).
Second time living in this house this year. Heidrun is nice as always! We really had a great time living in this house. If possible we'll definitely come back!!!!
Jenny
2016-11-23T00:00:00Z
Thank You! All was ok!
Andrey Grinyov
2016-09-20T00:00:00Z
This house in Mahlow although is a bit far from the city, but it's a very very chilled and well designed house with a very nice and beautiful garden and terrace. Every single corner in the house, you can tell the host has thought through it and designed it for a better purpose: your convenience. Also the host is very welcoming, no matter what you need, she'll try to fulfill it. This house is definitely one of the best one that I've ever found and I will ever find as well with a very reasonable price. I highly recommended this place for you to chill and have some really nice time with either ur friends or families. I will surely come back and very soon I believe.
Jenny
2016-09-12T00:00:00Z
Heidrun and his wife were so sweet with welcoming us as first guests. We booked a bit last minute, but they were flexible. The place is very good, and clean with everything you need including the most perfect garden. S-barn station is close and takes you straight into the city! The bikes were also great. I would book this place again next time in Berlin, thanks so much!
Marco
2016-07-01T00:00:00Z
Very nice couple! Very nice place! We had very good time during our stay in German. Next time we hope can still live in their nice house. By the way, the jam made by hostess taste so good.
承辉
2016-10-26T00:00:00Z
Hello hello was hosting fun and wonderful and the service is very excellent and we wish them success
Abdullah
2016-09-01T00:00:00Z
Very nice play to stay. Hostess was very friendly. No complaints at all.
Klaas
2016-10-03T00:00:00Z
Es ist eine sehr schöne und sauberes Ferienhaus im Grünen . Wir können dieses Urlaubsdomizil nur weiter empfehlen. Die Gastgeber sind sehr herzlich !
Heiko
2016-07-22T00:00:00Z
Room Type
Entire home/apt
---
Property Type
House
---
Accommodates
5
---
Bedrooms
Blankenfelde-Mahlow, Brandenburg, Germany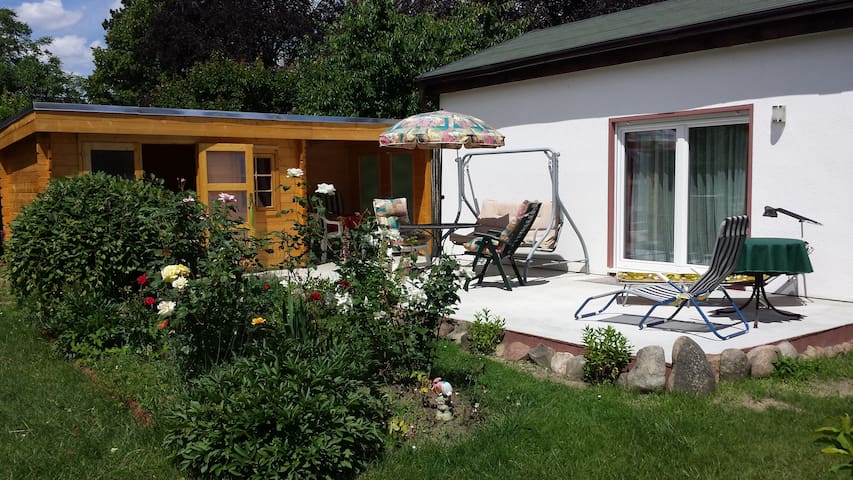 Newly furnished upper floor lovingly restored and perfected for new guests. The rooms are all equipped with satellite TV, Wi-Fi and wonderful beds. The location is incredibly perfect in a side street in Dahlewitz. Bright light-filled rooms.
The rooms are newly decorated and furnished with great attention. Located in a quiet side street in Dahlewitz. Very conveniently located. Rail and road links are excellent. Bicycles are provided free of charge.
Thank you
Pakki
2015-05-12T00:00:00Z
Manuela was efficient, friendly & very patient. Great location for nature lovers! Thanks!
Jorge
2015-07-14T00:00:00Z
Die Beschreibung der Zimmer hat gepasst, die Küche war wesentlich besser ausgestattet als erwartet und die nähe zum Flughafen war optimal. Die Zimmer sind sehr sauber und freundlich eingerichtet. Alles in allem problemlos und fair
Pascal
2015-06-09T00:00:00Z
Room Type
Habitación privada
---
Property Type
House
---
Accommodates
2
---
Bedrooms
Blankenfelde-Mahlow, BB, Germany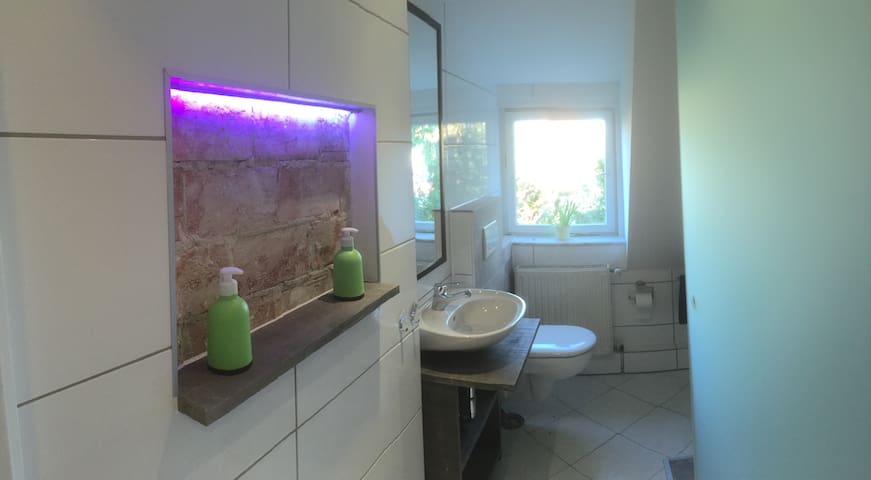 Small and cozy "Roof Studio" for 1-2 max. 4 people (1 double 1x Double bed for Kids / Youths.), Accessible via stairs. TV, Wi-Fi, shared bathroom / shower, kitchen, garden, terraces, use. BBQ by arrangement.
Small and cozy "Roof Studio" for 1-2, max. 4 people (1 double deck 1x Double bed for Kids / Youths.), Accessible via stairs. TV, Wi-Fi, Shared bathroom / shower, kitchen, Garten-/Terrassennutzung; barbecue and washing machine by arrangement, You are in the owner-occupied, located close to the airport Schönefeld family house, no through road. Surrounding houses and garden plots, horse riding, golf, Sporstcenter, tennis, climbing, guest house, restaurants, bowling alley, various grocery stores, MC "fast food", S-Bahn Mahlow (S2) and Blank field (S2 + RE3/RE7) in the immediate vicinity or within walking distance. On the property are dogs (not in the house). Dogs from guests only possible after consultation. Transfer possible from / to the airport or train after consultation.
Grüne Lage am südlichen Rand von Berlin; viele Sport und Freizeitmöglichkeiten, alles leicht zu erreichen.
Durante mis dos meses de estancia en Berlín tanto Birgit y Dietmar como sus dos hijos me han acogido como a uno más de la familia, con ellos me he sentido en total confianza como si estuviera en mi propia casa. Han sido en todo momento atentos y amables conmigo y además está todo impecable(URL HIDDEN)Os recomiendo totalmente este alojamiento. Incluso para aquellas personas que quieran venir a aprender el alemán, deciros que esta familia os van ha ayudar muchísimo. Mi intención es volver a Berlín y por supuesto no voy a hospedarme en otro sitio que no sea con ellos :-) ¡Birgit y Dietmar gracias por todo! Rubén.
Rubén
2014-03-01T00:00:00Z
Room Type
Habitación privada
---
Property Type
House
---
Accommodates
2
---
Bedrooms
Blankenfelde-Mahlow, Brandenburg, Germany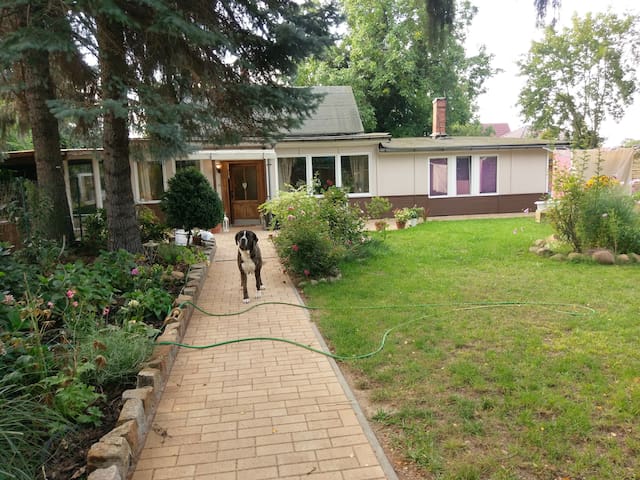 Die neu gestaltete Souterrainwohnung befindet sich in einer kleinen Siedlung in Mahlow, eingebettet in herrlicher Natur. Sie erreichen das Zentrum Berlins innerhalb von 30 Minuten mit der S-Bahn und mit dem Auto den Airport Schönefeld in 10 Minuten.
Es war ein wunderschöner Aufenthalt bei Burckhardt. Er ist ein aufmerksamer Gastgeber und war sehr zuvorkommend. Die Wohnung ist sehr gut eingerichtet, mir hat nichts gefehlt. Ich konnte es genießen, den Abend auf der herrlichen Terrasse zu verbringen. Vielen Dank!
Susann
2016-06-03T00:00:00Z
Die ansprechend und modern gestaltete Wohnung im Berliner Vorort Mahlow hat uns sehr gefallen. Alles war in einem einwandfreiem Zustand. Gerade weil man mit der S-Bahn erst einmal 20 Minuten ins Zentrum Berlins fahren muss, bietet die Wohnung, nach einem anstrengenden Tag in der Stadt, den richtigen Kontrast zu Lärm und Unruhe. Burckhard, der Gastgeber, kümmert sich sehr flexibel um seine Gäste, ist unkompliziert und gut zu erreichen.
Leo
2016-09-11T00:00:00Z
Room Type
Habitación privada
---
Property Type
House
---
Accommodates
4
---
Bedrooms
Blankenfelde-Mahlow, Brandenburg, Germany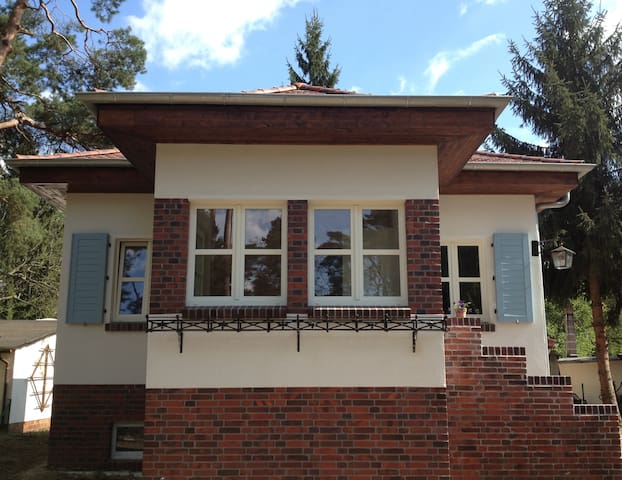 Ein Traum für alle Golfer wird wahr. Wohnen in einer komfortablen Ferienwohnung mit Blick über den Golfplatz.
Ein Traum für alle Golfer wird wahr. Wohnen in einer komfortablen Ferienwohnung mit Blick über den Golfplatz. Die 68qm grosse, helle und modern eingerichtete 2-Zimmerwohnung, 15 km südlich von Berlin, liegt im Erdgeschoss auf der südlichen Seite des Hauses. Sowohl vom Wohn- als auch vom Schlafzimmer aus, hat man einen wundervollen Ausblick über den Golfplatz. Die Wohnung verfügt über eine Fußbodenheizung und einen gemütlichen Kaminofen und ist für max. 3 Personen geeignet. Hunde sind willkommen. AUSSTATTUNG - hochwertige Einbauküche mit Backofen-Mikrowellen-Umluft-Kombination - Induktionskochfeld mit Dunstabzugshaube - Geschirrspüler - Toaster - Nespressomaschine - Wasserkocher - Filterkaffeemaschine - komplettes Geschirr und Besteck - Topfset von Silit sowie alles was man zum Kochen benötigt - Arbeitsflächen und Essbereich aus Shivakashi-Granit - 4 Hocker, davon ein Swopper - Kaminofen - Stressless Couchgarnitur - Samsung Smart TV 55 Zoll mit zwei 3D-Brillen - Blu Ray Disc Player - Telefonanschluss - Waschmaschine - Wäschetrockner - Badezimmer mit Badewanne und Dusche und 2 Waschbecken - Badezimmerspiegel mit integrierten Vergrösserungsspiegeln und Zeitanzeige - Föhn - Handtücher - Bettwäsche - Bademäntel - Kuschelkissen - Extradecken - Haushaltsgeräte wie beutelloser Staubsauger - Bügeleisen und Bügelbrett - Wäscheständer - Aschesauger Für unsere vierbeinigen Freude steht folgende Ausstattung zur Verfügung - Hundebett 70x100cm - Futter- und Wassernapf, Hundehandtuch Außenbereich - Große Terrasse mit Bangkirai Holz - Garten mit Rasen - Terrassenmöbel für 4 Personen - 1 PKW Carport Stellplatz - Kugelgrill Extras - aufklappbares Gästebett mit dazugehörigem Bettzeug
Room Type
Entire home/apt
---
Property Type
Apartment
---
Accommodates
2
---
Bedrooms
Blankenfelde-Mahlow, Brandenburg, Germany
We are offering a cozy room with a good quality mattress, in a fancy apartment: big living room, bathtub, sauna. You're welcome to feel at home and to use these facilities, as well as the piano, the guitar, or the projector Lunch or Dinner on demand (!) ->Coming from France and having worked in a Restaurant, I would be happy to cook and share a lunch or a dinner with you, in exchange for a tip - Based on how much you liked it
Florian was so Nice, we didn't See the roommates but i'm sure they were nice too! the flat is Amazing in a quiet yet close to many transport and not so far from the centre. Go for it eyes closed!!!
SPIE
2017-03-15T00:00:00Z
Florian é muito simpático e a casa é muito boa. Somente a cozinha que estava suja. Se a cozinha estivesse sempre limpa seria melhor para os hospedes.
Leandro
2017-04-04T00:00:00Z
Freundlich kommunikativ und lebhaft. Hat mir gefallen gerne wieder. Typisches WG leben.
Lukas
2017-03-29T00:00:00Z
Room Type
Habitación privada
---
Property Type
Apartment
---
Accommodates
2
---
Bedrooms
Berlin, Berlin, Germany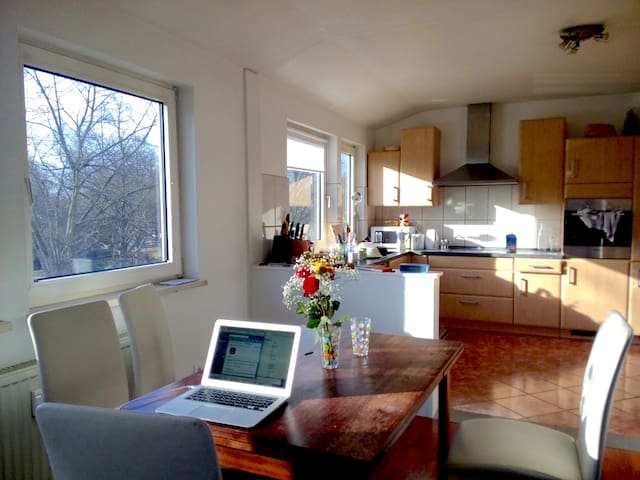 Enjoy your small quiet bedroom. Please feel free to make tea or coffee in the kittchen, to store your snacks in the fridge, to have a rest. Check-in: 11 a.m. - 8 p.m. Check-out: 7 a.m. - 10 a.m. The place is not far from the airport Berlin Schoenefeld. My 3-room-flat is on the first floor (AE: second floor) of a 6 parties house in Berlin-Neukölln.
Regina is very kind person and the place is very calm and clean, I really enjoyed my accommodation there.
Behzad
2017-03-22T00:00:00Z
Regina's place is comfortable and close to public transportation. Regina is very nice and helpful for you every concern. She made me feel right at home immediately.
Thomas
2017-04-06T00:00:00Z
Spending a nighg at Regina's was great and awesome. Not only because of the comfort I had in the well equipped room, the warmly welcome I got from Regina and dog and the location of the house. I will strongly recommend you spend a night at her place to witnessed what exactly I am talking about......
Benedict
2017-03-23T00:00:00Z
Regina was very friendly and helpful. Her place was very cosy and had everything i needed. The price was brilliant. Thank you Regina!
George
2017-04-07T00:00:00Z
Perfect, Regina is the nicest host you will ever get. The room is pretty comfortable and nice.
Diego
2017-01-12T00:00:00Z
I thought that the photos did not represent the accommodation well, as most of them are of the private areas that guests do not have access to. However the room itself was clean and warm and Regina was a helpful host.
Siobhan
2017-01-16T00:00:00Z
Regina and her place are AWESOME!!! Regina is the sweetest, kindest person I've met and her dog, Easy is the K-9 equivalent! I am so sad that I only got to stay here one night, but my stay was incredible. The bed is also AMAZING, I have a bad hip and back and it was incredibly comfortable and put me right to sleep. If I come back to Berlin I will absolutely be staying HERE!!!!
Shea
2016-12-09T00:00:00Z
All was ok! Good quality for fair price. Thank you!
Alexey
2016-12-17T00:00:00Z
Room Type
Habitación privada
---
Property Type
Apartment
---
Accommodates
1
---
Bedrooms
Berlin, Berlin, Germany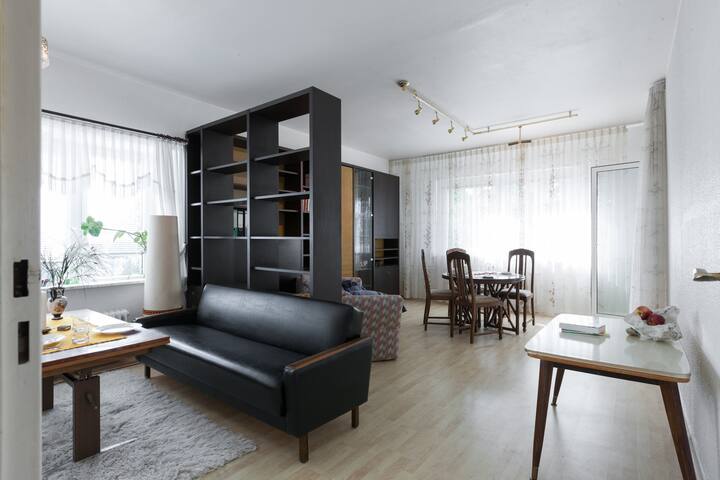 Enter dates to see full pricing. Additional fees apply. Taxes may be added.