House with garden and barbecue located in a quiet village 8 km from Aguilar de Campoo. It has a living room, bedroom, bathroom and kitchen. Pets Allowed. Ideal for relaxing, sightseeing nature or visit the Romanesque Palencia.
Our house is lovingly renovated and aims to be a welcoming place to relax and be at ease during a weekend or holiday. We have equipped with all those details that we needed to make visitors feel at home. Cleanliness is very important to feel comfortable in a housing, so we strive lot. So that every visitor feels that the house is brand new.
The house is in a quiet area with many nearby to enjoy nature and forests that inhabit the area walks.
Gema was easy to communicate with. Alvaro was there to meet us and explain things when we arrived. The village is small and quiet, so the neighbourhood felt safe. Gema took us tot he start of a lovely forest walk nearby through very old oak trees, and lovely views.
Sheila
2016-07-23T00:00:00Z
Fantastic in every way. Gema was there to meet us and the place is great. Would recommend for a couple. Very dog friendly, would certainly stay again. Thank you Gema.
keren
2016-05-03T00:00:00Z
Acogedores y amables. Contactaron conmigo desde el primer momento, de forma rapida y amable, explicando como llegar a la primera. La casa acogedora tal cual la muestran. Personalmente, me hubiera gustado cama de matrimonio mejor que dos individuales.
Inmaculada
2017-02-12T00:00:00Z
La casita muy bien para dos personas. Nosotros estuvimos con nuestra perras q tb se encontraron muy cómodas. Esta muy bien ubicada. Y la casa estaba muy calentita. Gema y Álvaro superencantadores
Dolores
2017-03-17T00:00:00Z
We genoten van ons verblijf in het huisje van Gema. We werden warm onthaald. Het huisje is apart wat ervoor zorgt dat er voldoende privacy is.
Annick
2017-02-27T00:00:00Z
La estancia en casa de Gema ha sido muy agradable. La casa esta muy bien acondicionada, es acogedora y está localizada en un pueblo muy tranquilo y bien comunicado. Nos encantaría repetir.
Rosalia
2016-04-05T00:00:00Z
Como quiera que sólamente utilizamos en apartamento para dormir y ducharnos, resultó suficiente. Las camas bien y limpias. Gema muy agradable.
Francisco
2016-07-30T00:00:00Z
Nous avons séjourné quatre nuitées dans cette maisonnette rénovée . Nous avons apprécié sa propreté et son confort :connexion wifi de qualité, chauffage et la cuisine bien équipée. L'accueil de Gema fut attentif , la cour jardin est agréable mais commune avec la famille qui s'est montrée néanmoins discrète . Cet hébergement est bien situé pour effectuer des excursions dans la région.
André
2016-07-02T00:00:00Z
Room Type
Entire home/apt
---
Property Type
House
---
Accommodates
2
---
Bedrooms
Pomar de Valdivia, Castilla y León, Spain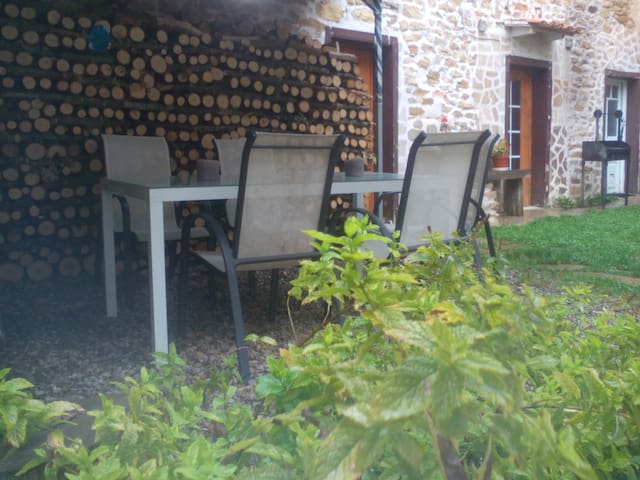 Sources Carrionas Natural Park and Fuente Cobre-Montaña Palentina. You'll love the cozy space, the location, the view, the natural environment, suitable place for hiking, wildlife watching, hiking snowshoe, mountain bike .... My accommodation for adventurous families (with children) and large groups.
Typical house of the Palentina Mountain with all amenities. Is rented for groups of 8-10 people. The total price of accommodation is 175 € / night (22 € / night per person). From the second night, the rate is reduced to 100 € / night. It includes use of the kitchen, which is fully equipped, living room with fireplace and patio with barbecue. Oil heating has also included in the price. Ideal for long stays for groups or families
Room Type
Entire home/apt
---
Property Type
House
---
Accommodates
8
---
Bedrooms
Polentinos, Castilla y León, Spain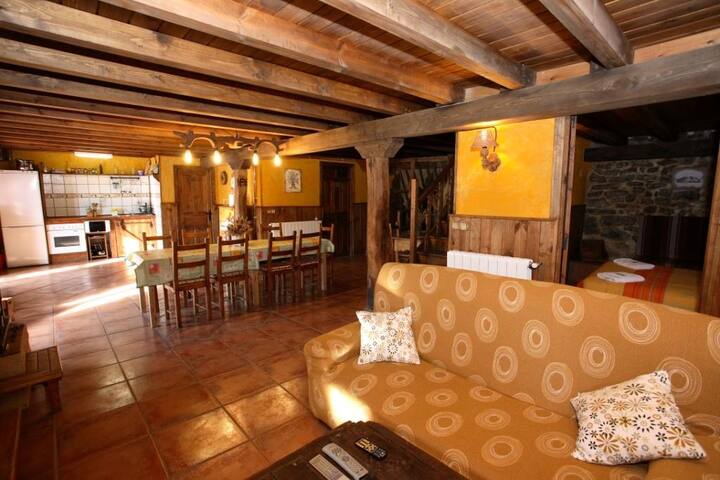 Edificación restaurada del siglo XVIII , construida de piedra y madera y destinada a casa rural y uso particular, ubicada en una pequeña aldea del valle de Santullán y muy cerca de la villa románica de Aguilar de Campoo
Es una casona solariega del siglo XVIII construida sobre los restos de una torre medieval. Aquí se escucha el silencio de las piedras y el crujir de la madera. Aquí huele a vida. Aquí se pueden ver las aves, las estrellas, los ciervos, jabalíes y demás animales del bosque. Aquí puedes coger setas. Aquí tienes la mayor concentración de románico mejor conservado de España y de Europa. La Montaña Palentina es el paraje de nuestra península con mayor biodiversidad. Nuestra aldea tiene 10 habitantes
Lo más especial de Santa María de Nava es que es un lugar que goza del privilegio de la tranquilidad, por lo que los huéspedes afirman que la hora de dormir les proporciona un sueño reparador, nada comparado con las grandes ciudades. Los vecinos se dedican a la agricultura y la ganadería, así es que en verano es posible ver circular algún tractor y también alguna vaca, no resulta molesto pues solo hay dos familias en el vecindario. Resulta interesante para las personas que nos visitan procedentes de las ciudades observar otras formas de vida.
Un lugar estupendoso! Marisa's Casa Barbara is situated in a small authentic hamlet, surrounded by peaceful mountains and rolling countryside -- an ideal place for a walking holiday, a tranquil retreat or avid bird watching (while we were there, storks were nesting atop practically every tall tree and post). The house itself has visual impact, combining original features melded with a fine sense of artist works. It is also very cosy to live in, with most of the amenities we've come to expect. But the best part of the deal is Marisa, who is a most generous hostess and very interesting to talk to. We will definitely return for a longer stay, as there was so much we didn't get a chance to do.
Edgar
2016-04-23T00:00:00Z
La casa era mejor de lo que se ve en las fotos! Muy acogedora y con todo lo que se necesita. Hicimos la ruta de la Tejeda de Tosande - qué bonita. Recomendamos la casa y algún día repetiremos. The house was really great. Very traditional and it had everything we needed!
Dina
2015-12-30T00:00:00Z
Una casa y trato muy agradable, en un entorno privilegiado...
Iñaki
2015-06-14T00:00:00Z
Fin de semana perfecto! La casa es más acogedora incluso que en las fotos. Al igual que su dueña, Marisa. Siempre atenta y dispuesta para que todo esté cómodo. Para repetir , sin duda, cuando el tiempo lo permita.
Ignacio
2016-11-12T00:00:00Z
L'accueil et la propreté sont irréprochables. Marisa est à l'écoute et elle est d'une grande amabilité. Un endroit magique pour cette maison de caractère. C'est un très bel endroit tant sur la maison que sur le calme et l'environnement. A recommander.
Patrick
2015-08-08T00:00:00Z
Room Type
Entire home/apt
---
Property Type
House
---
Accommodates
4
---
Bedrooms
Santa María de Nava, Castile and León, Spain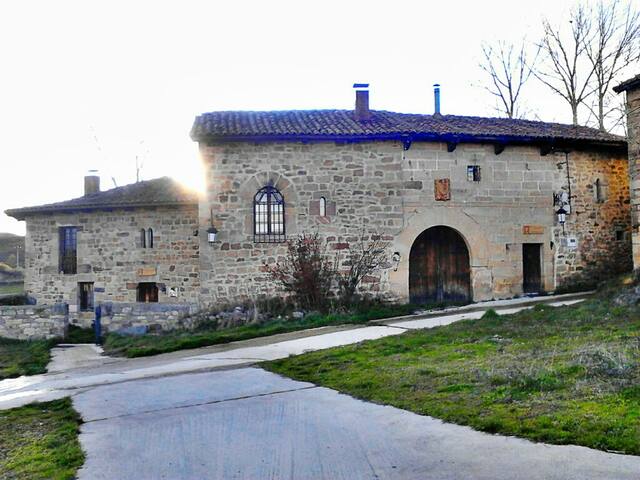 Casa de 6 plazas (más 1 supletoria). Habitaciones dobles, la planta de abajo con cama doble. Disponemos de 2 baños (1 baño adapatado para silla de ruedas), salón, cocina-comedor. La casa tiene jardín, patio, vistas a la naturaleza. Opción de alquiler solo la planta de abajo, adaptada para silla de ruedas. Cuna opcional a petición de los huespedes.
Estancia perfecta
Alberto
2017-04-12T00:00:00Z
Room Type
Entire home/apt
---
Property Type
House
---
Accommodates
7
---
Bedrooms
Palencia, Castile and León, Spain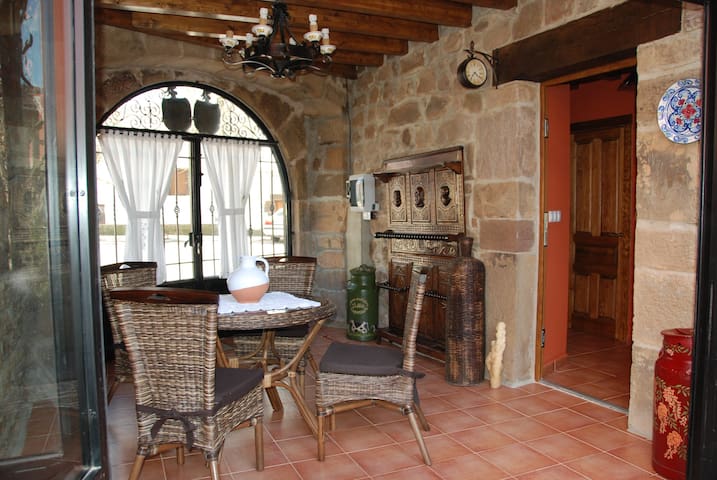 Casa rural en San Mames, Polaciones (Cantabria), en un entorno natural y con diversas rutas de senderismo en los alrededores. Una casa acogedora y recien construida, con todas las comodidades y chimenea.
The apartment is perfectly appointed for a longer stay and we had nothing to complain about. Ignacio and his wife were always available living right across the street. The village is a very calm place from where you can easily go for a hike.
Karen
2016-08-29T00:00:00Z
Gracias por todo
Taina
2017-02-27T00:00:00Z
Charmante maison dans un village très agréable, au bout du monde... Calme et tranquillité au rendez-vous.. De belles balades au depart de la maison. Ignacio et Da femme ont été adorables, très disponibles, toujours près à tout pour nous faciliter le séjour.. Bref, un régal que je recommande vivement..!!!
Maxime
2016-08-14T00:00:00Z
Una hermosa casita en medio de las montañas!... altamente recomendable tanto Ignacio como su esposa nos hicieron sentir como en casa!. Gracias x esa estancia inolvidable!!
Chellah
2016-07-24T00:00:00Z
Pajar remodelado en mitad del pueblo, con muchos sitios cerca para poder disfrutar del valle de Polaciones y la montaña, en encalve es perfecto, y el alojamiento esta muy bien.
Luis
2016-12-08T00:00:00Z
La casa es una belleza (totalmente equipada) y está introducida en un valle que es una auténtica locura natural. Por otra parte, Ignacio fue muy atento y flexible con la hora de llegada. Dio gusto tratar con él. Muy recomendable.
Borja
2016-11-06T00:00:00Z
Mejor imposible. 100% recomendable!!! Al apartamento no le falta de nada, y la comunicación con el anfitrión es excelente.
Ainhize
2016-10-09T00:00:00Z
La casa se ajustaba a la descripción del anuncio, todo correcto, los anfitriones muy amable y atentos.
Fernando
2016-07-21T00:00:00Z
Room Type
Entire home/apt
---
Property Type
House
---
Accommodates
4
---
Bedrooms
San Mamés, Cantabria, Spain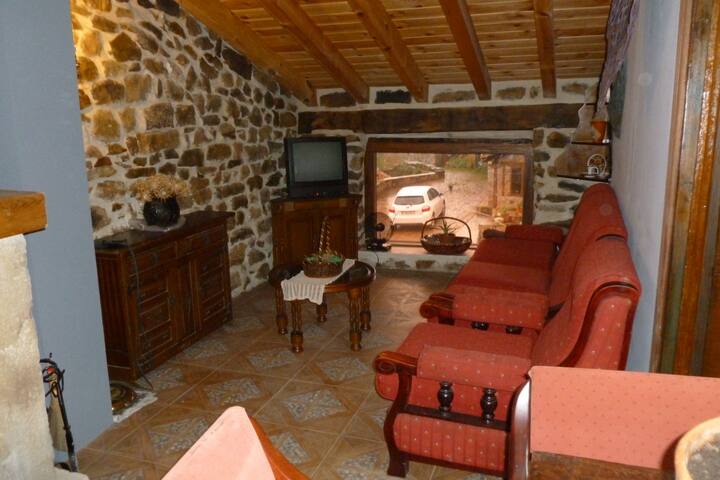 Una casita muy acogedora, con un patio precioso en una zona rural bonita, escondida y muy agradable.
Nuria
2016-08-08T00:00:00Z
María nos enseñó la casa nada más llegar y dió información de paseos y lugares interesantes cerca de Reocín. Siempre ha estado disponible al momento cuando hemos necesitado algo. El anuncio refleja como es la casa a la perfección. Es un pueblo tranquilo y muy bien conservado. No hay muchos habitantes, pero tiene un bar (al menos el fin de semana) y otras dos casas rurales (con una se comparte el jardín de la entrada), lo que hace que sea un pueblo tranquilo pero con movimiento.
Iker
2016-03-27T00:00:00Z
Muy bien, maría es muy maja, la casa rural igual que lo que aparece en las fotos, sitio estupendo para desconectar, paisajes encantadores, repetiría.
Patri
2016-11-06T00:00:00Z
Una estupenda entrada de año gracias a un entorno de postal, a un apartamento rural cómodo, acogedor y con un carácter muy especial y a una excelente anfitriona que lo mismo te hace un centro de mesa navideño con muérdago como te da una "master class" de cómo preparar una chimenea. La guinda del pastel: tomarse las uvas con los del pueblo mientras los "rebeldes" se subían al viejo campanario de la iglesia para dar las 12 campanadas (sin cuartos…) para luego deleitarnos con un espectáculo de fuegos artificiales y tracas, todo bajo el impresionante manto de estrellas del cielo cántabro. 2016 promete… ¡Mil gracias María!
Remy
2016-01-04T00:00:00Z
Room Type
Entire home/apt
---
Property Type
House
---
Accommodates
2
---
Bedrooms
Reocín de los Molinos, Cantabria, Spain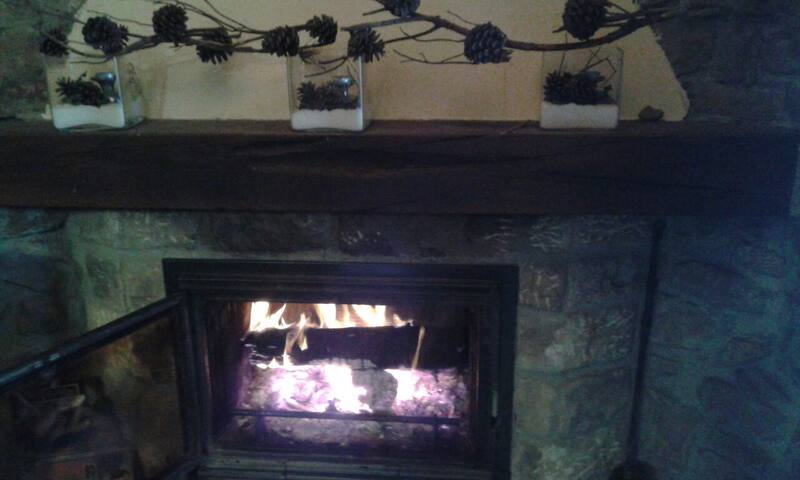 Relajar la mente Vaciar la mente Pensar y repensar Dibujar y pintar Escribir y reescribir Todo esto lo puedes hacer aquí, en la Torre de San Esteban, en el valle de la meditación, donde eremitas meditaban en rupestres iglesias desde la antigüedad, donde sarcófagos salpican los caminos. Robledales, hayedos, sendas y caminos de leyenda. Ven y verás…
La Torre de San Esteban es una vivienda rural independiente, de nueva construcción, empleando la técnica de la argamasa en seco típica de la zona, situada en Bárcena de Ebro, municipio de Valderredible, al sur de Cantabria. La casa-torre consta de: 4 dormitorios, 1 en la planta baja con acceso para minusválidos y 3 en la primera, una de ellas con balcón semicircular y las otras dos habitaciones con balcón rectangular compartido; 2 baños, uno en la planta baja y otro, con chimenea, en la primera planta; salón con chimenea; cocina con vitrocerámica y cocina de leña y despensa. Asimismo dispone de una amplia galería acristalada en la primera planta, zona abuhardillada para juegos y biblioteca situada en el piso superior de la torre. La casa está rodeada de 700 m2 de terreno, con patio delantero, porche y jardín con pozo. El porche tiene una barbacoa de obra y mobiliario de comedor exterior
Restaurantes y mercados: Teleclub El Chigri, a 3 km Casa Chicote Restaurante, a 6 km Mesón El Cazador Restaurante, a 6 km Chocolatería Bámbola, Reinosa, a 26 km Brasería La Cabaña Restaurante, Reinosa, a 26 km Hipermercado Mercadona, Reinosa, a 26 km Mercado de Reinosa (Lunes), a 26 km Mercado de Aguilar de Campóo (Martes), a 27 km Hipermercado Lupa, Aguilar de Campóo, a 27 km Entorno natural: Río Ebro, a 0,1 km Monte Hijedo, a 12 km Centro de Interpretación del Arte Rupestre, a 14 km Observatorio Astronómico de Cantabria, a 20 km Embalse del Ebro (torre de iglesia sumergida), a 25 km Cueva de los Franceses, mirador de Valcabado y espacio pretegido de Covalagua, a 30 km Embalse de Aguilar, a 30 km
Room Type
Entire home/apt
---
Property Type
House
---
Accommodates
8
---
Bedrooms
Bárcena de Ebro, Cantabria, Spain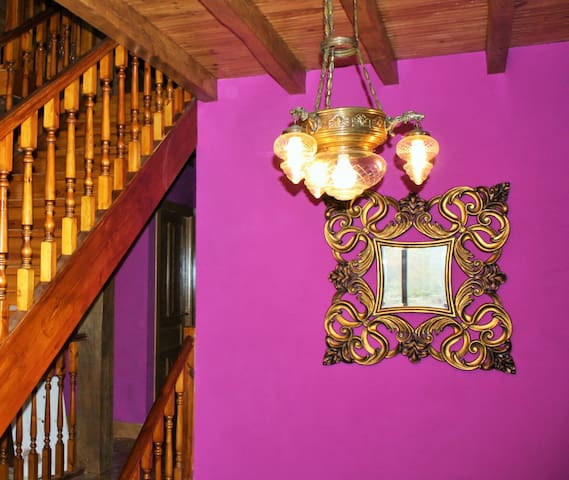 Casa FACES VuT(vivenda de uso turístico) esta en ALAR DEL REY(Palencia), bonito pueblo done nace el CANAL DE CASTILLA. La casa tiene 2 plantas , 4 habitaciones dobles con baño y TV, salón-comedor y cocina. En la casa se pude pnr hast 3 camas supletorias.
Room Type
Entire home/apt
---
Property Type
House
---
Accommodates
8
---
Bedrooms
Alar del Rey, Castilla y León, Spain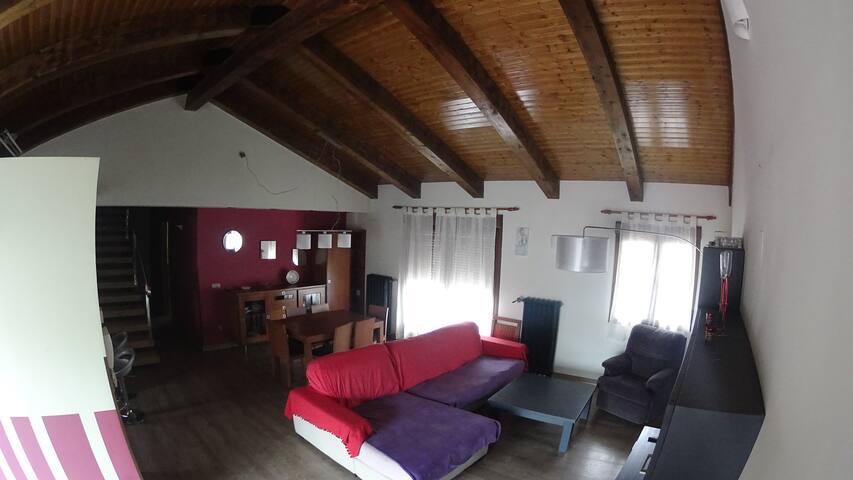 Casa totalmente equipada . Consta de 2 habitaciones con TV , una de ellas con baño( jacuzzi ) , un aseo , cocina / sala , calefacción eléctrica , chimenea y jardín . La casa está situada en una zona de reserva natural . Ski alto Campoo a 40 minutos.
La tranquilidad de la aldea y la comodidad de una casa nueva.
La tranquilidad y la naturaleza.
The host canceled this reservation 42 days before arrival. This is an automated posting.
Marta
2016-10-15T00:00:00Z
La casa está genial, todo a estrenar. Tiene todo lo necesario para una estancia muy agradable. Muy cómoda, se siente uno como en casa. Aunque la calefacción es suficiente, en pleno invierno de heladas tuvimos que mantener todo el día la chimenea encendida, pero para nosotros no fue problema, solo necesitamos leña suficiente. Muchas Gracias David.
Clara
2017-01-08T00:00:00Z
Todo perfecto y muy nuevo y cuidado. Muy recomendable
Carlota
2017-02-18T00:00:00Z
La casa esta muy limpia y muy bien equipada, jacuzzi, chimenea,ect... Todo está nuevo y en perfecto estado de funcionamiento. El jardín está perfectamente cerrado y se puede dejar los niños jugando sin problemas. Se sitúa en un pueblito muy tranquilo, los vecinos son agradables. Este fin de semana fue perfecto para descansar, y visitar el parque animal de Cabarceno. Idéal en familia pero no sería buen sitio para estar de fiesta. Aconsejo esta casa.
Sandra
2016-10-23T00:00:00Z
Room Type
Entire home/apt
---
Property Type
House
---
Accommodates
5
---
Bedrooms
Pujayo, Cantabria, Spain
Lugares de interés: arte y cultura y parques. Montaña. Te va a encantar mi espacio por la ubicación, las zonas exteriores, y el ambiente. La fauna y los paisajes. Mi alojamiento es bueno para parejas, aventureros, familias (con hijos), y mascotas. Dentro de un espacio natural, en un entorno de naturaleza y aire fresco en estado puro
La tranquilidad y la paz que aquí habitan hace de este lugar un sitio inmejorable para descansar, evadirse y relajarse. El silencio absoluto y la naturaleza que lo envuelve lo convierten en algo inefable.
Se encuentra en un pequeño pueblecito de 25 habitantes, en el Valle de Santullán rodeado de monte.
Room Type
Shared room
---
Property Type
House
---
Accommodates
4
---
Bedrooms
Bustillo de Santullán, Castilla y León, Spain
Complejo rural en Valberzoso de 3 casas independientes y 2500 m2 de jardín. Se alquila entera o por habitaciones (24/26 plazas). Todas las comodidades en un entorno natural incomparable. 4 salas de actividades. - Casa "Valle de Brezos" 8 plazas - 3 baños. - Casa "Los Otoños" 16 plazas - 5 baños. - Casa " Los Tilos" 2 plazas - 2 baños. * Sala "Mandala" 84 m2 de madera. * Sala "Narayana" 28 m2 * Sala "Melisa" de 28 m2 de recepción. * Sala "Armonía" porche acristalado. * Sala "Gayatri" abierta.
El centro Jardín Mandala, te ofrece un espacio para disfrutar en la naturaleza con cómodas instalaciones y amplios recursos naturales en el pueblo de Valberzoso. Un espacio único en plena naturaleza rodeado de bosques centenarios, ríos cristalinos e imponentes montañas en un entorno de gran belleza. Si desean contratar durante su estancia clases de yoga, relajación, excursiones organizadas, visitas culturales o actividades lúdicas para su grupo estaremos a su disposición para ofrecerles estas posibilidades. Una casa de reposo y salud para reponerse y descansar.
Esta en el parque natural Fuentes Carrionas Fuente del Cobre. Ubicado en Valberzoso, un tranquilo pueblo con manantial, ríos cercanos de cristalinas aguas, pozas para bañarse y bosques para pasear sin tener que desplazarte en coche.
The host canceled this reservation 10 days before arrival. This is an automated posting.
Maria
2017-04-04T00:00:00Z
Una casa preciosa limpia amplia y con mucho gusto . El lugar es especial el olor la luz La Paz .
Su
2016-08-14T00:00:00Z
El emplazamiento de la casa esta muy bien y tanto la casa como la parcela son muy espaciosos y agradables.
Jesus
2017-04-06T00:00:00Z
El jardín mandala es un lugar mágico, lleno de rincones preciosos donde relajarte y desconectar del mundo. Las habitaciones son muy bonitas y estuvimos muy a gusto. Aurelio y su mujer son encantadores!! Sin duda repetiremos!!
Génesis
2016-08-07T00:00:00Z
Casa rural situada en un pueblo muy tranquilo, ideal para desconectar de lo rutinario.
Kenza
2016-08-13T00:00:00Z
Room Type
Entire home/apt
---
Property Type
House
---
Accommodates
16
---
Bedrooms
Brañosera, Castilla y León, Spain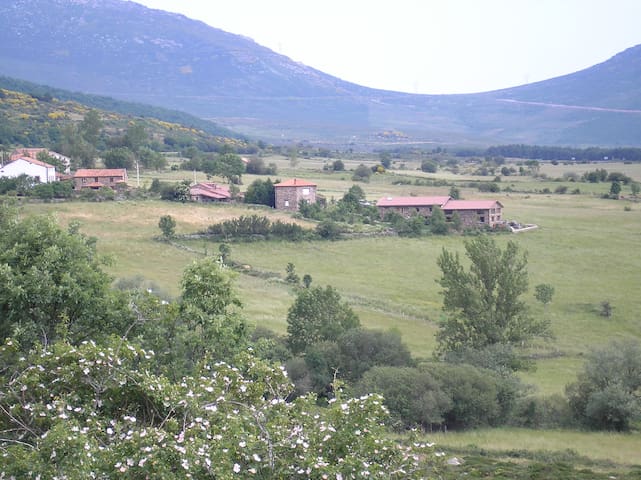 "APARTAMENTO BALCON", de 12 plazas (compuesto por 4 habitaciones dobles y una cuádruple, 5 baños y un amplio salón-comedor-cocina). "APARTAMENTO JARDIN" de 6 plazas (compuesto por 1 habitación doble y 1 cuádruple, 1 baños y un amplio salón-comedor-cocina) "CASA COMPLETA", de 18 plazas. Contamos con la posibilidad, de alquiler completo de la casa con capacidad para 18 personas, jardín con barbacoa propio y mesa de jardín, y entrada independiente.
Casa de alquiler completo que puede dividirse en 2 apartamentos.
Pequeño pueblo en la montaña Campurriana, a los pies de Alto Campoo
The host canceled this reservation 36 days before arrival. This is an automated posting.
Luci
2017-02-09T00:00:00Z
Room Type
Entire home/apt
---
Property Type
House
---
Accommodates
16
---
Bedrooms
La Lomba, Cantabria, Spain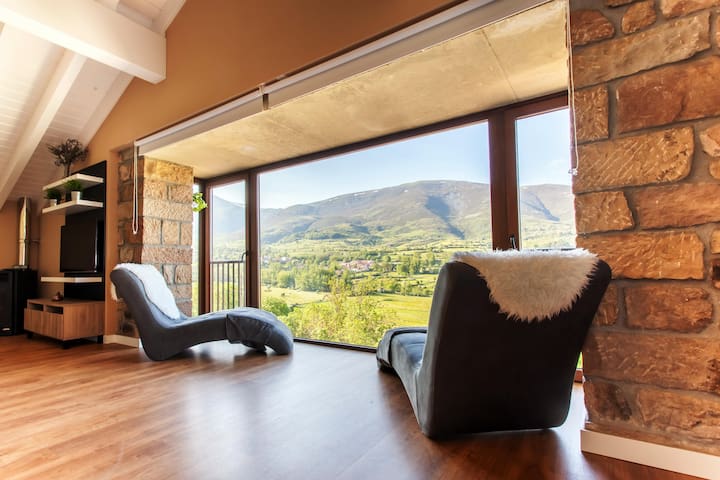 One of the most deconocidos places of Spain, keeps charming scenery, corners tale .. ideal for romantics, nature lovers and dreamers bucolic.
Son DOS CASAS y UN APARTAMENTO situadas en terrenos contiguos , pero no adosadas : 1º Casa Druna , tiene 4 habitaciones con baños compartidos ( 35€ hab/ doble ) con capacidad para 8 plazas , en ella vivo yo con mi hija . Tiene una cocina diferente de la mia para uso de los viajeros . 2º Casa Druna Lee tiene dos puertas de entrada independientes . Una puerta da paso a La Casita Druna que es un apartamento de 2 ( 70(URL HIDDEN)90€ ) plazas . Y la otra puerta accede a Casa Druna Lee con 5 habitaciones con baño privado ( 45€ hab/doble) y capacidad de 14 plazas . Tiene salon - cocina - comedor . Camas supletorias son 10€ por persona ( habitaciones triples y cuadruples ) Casa Druna is located in one of Spain's most unpopulated regions. Surrounded by lush beech and oak tree forests and vegetation unique to the north of Spain. At only 3km. you can bathe in the Ebro Reservoir and sunbathe on its sandy beaches. This reservoir is a stop for all kinds of birds on their way to Africa from the North of Europe. A must see spectacle. In the forests, around the reservoir and in the surrounding areas you might bump into roe deer, wild boar, otter, fox, woodpeckers, kites, owls, wolves (very unlikely), and will see packs of horses and cattle. Autumn is the mushroom season! You can find a wide variety of edible mushrooms. Las Merindades geography is composed of lakes, waterfalls, caves, historical and natural monuments, including prehistoric sites, paintings and Roman and Romanesque villas. For the active minded, there are lots of opportunities to inmerse in any of the water sports offered by local companies. Those include, kayaking, canoeing, kite surfing, rafting, sailing, windsurfing, etc. The closest airports are Santander International Airport (80km), Burgos International Airport (100km) and Bilbao International Airport (130km.). The interprovince coaches run daily from Santander, Bilbao, Burgos City and Madrid. The nearest stop is 13km. from our village and we can arrange to pick you up. * Highlighted characteristics: pets allowed. * Inside: dining room, DVD or video, fireplace, heating, Hi-fi, kitchen, library, lounge, microwave, selection of games, shared bathroom, television, washing machine. * Languages: English, French, Italian, Spanish. * Outside: barbecue, garden, garden furniture. * Services: breakfast available, Vegan and Vegetarian breakfasts also served, cot available, information about the area, laundry service, local products on sale. * Situation: close to the beach, mountains, quite central, signposted, tarmac entrance. 2 double rooms : with a shared bathroom 2 twin rooms : with a shared bathroom * Caractéristiques les plus prisées: animaux admis. * Extérieur: barbecue, jardin, salon de jardin. * Intérieur: bibliothèque, chaîne stéréo, chauffage, cheminée, cuisine, DVD ou vidéo, jeux de société, lave linge, micro-onde, salle à manger, salle-de-bains commune, salon, télévision. * Langues: anglais, espagnol, français * Services: documentation sur la région, lit bébé disponible, nettoyage du linge, petit-déjeuner, vente de produits locaux. * Situation: accès asphalté, dans le village, montagne, proche de la plage, signalisation d´accès. 2 chambres lit double : avec salle de bains commune 2 chambres doubles : avec salle de bains commune
This place was just amazing! we had a very pleasant stay and Marta was a perfect host. verything was super-clean and cosy ... you can see she puts very much effort in it! combined with the surrounding i have to say that i'd loved to stay longer with them ....
Lena
2013-08-01T00:00:00Z
Marta is a wonderful host: she has been very welcoming and warm, and she helped us plan our visit. Her suggestions have been great! Thanks to her, and despite the weather, the time we spent in the area was well worth the trip. Marta was so kind to let us stay in the depandance, even though we had only booked a room. The apartment was cozy, nicely decorated and very clean. The village is tiny, quiet, surrounded by farms, fields and forests. Its only bar provides excellent tortillas, jamon and queso for the hungry tourists we were!
Ilenia
2015-04-28T00:00:00Z
Marta is a spritely, generous host who made us feel perfectly at home. She helped out in a lot of small ways which made our stay wonderful. The surrounds and animals are beautiful. The bushwalk is exquisite.
John
2016-04-29T00:00:00Z
One word for our time with Marta...WONDERFUL!!! She was a spectacular host, and her place is just magical. Her home has so much character - it reminds me of something out of a fairy tale. The bathrooms are very clean, and there is plenty of space! My husband and I so enjoyed walking around the small town and exploring the forest nearby. It is a quiet, remote area of Spain, that is totally worth seeing..especially if you can stay with Marta!
Cherith
2010-07-05T00:00:00Z
I enjoyed staying in Marta's guest house very, very much! Tranquility, fresh air, deepest and best sleep i had in a long time, hardly any cars, her beautiful pets, Marta's beautiful qualities - she's very caring, generous, lively, picked me up from the station, i had local fruit and eggs on arrival, was let to use her mountain bike at any time, separate kitchen for guests, surroundings with a very rural feeling, beautiful sunsets, nice forest close by... I stayed there for 5 days, but wish it was longer. If i get a chance to see it in winter i'll be calling you Marta! Thank you! It was just what i was looking for! All the best to you!!!
Kardash
2012-10-08T00:00:00Z
The house and its surroundings were very beautiful and peaceful. We went with our greyhound and she enjoyed a lot playing and running in the nature. Marta was very helpful and friendly. She provided the house with everything we would need and offered us several places to visit which were awesome. It is a highly recommended experience :) We'd love to return and stay more time.
Diana
2012-10-15T00:00:00Z
everything was very comfortable and marta very accommodating. great for a bucolic small town feel and unplugging.
nadya
2016-07-30T00:00:00Z
We spent 5 days in Marta's guest house in Santa Gadea. We are not exaggerating, when we say, it was an outstanding experience. The rooms were comfortable, well equipped and super clean, breakfast copious and fabulous with fresh home-made bread and jam. Marta is very knowledgeable of the treasures of the region and kindly spent time with us each morning to point us to the highlights for a perfect holiday: hiking trails, beach at the lake, forest waterfalls and gorges, canyons, activities for children, hermit caves, Romanesque and even Pre-Romanesque churches, beautiful medieval villages etc., etc. We highly recommend a stay at Marta's place. 5 days were too short, we will surely be back to enjoy and explore the Ebro valley. Thank you, muchas gracias, Marta, for a fantastic vacation.
Anne
2013-08-22T00:00:00Z
Room Type
Habitación privada
---
Property Type
House
---
Accommodates
8
---
Bedrooms
Alfoz de Santa Gadea, CL, Spain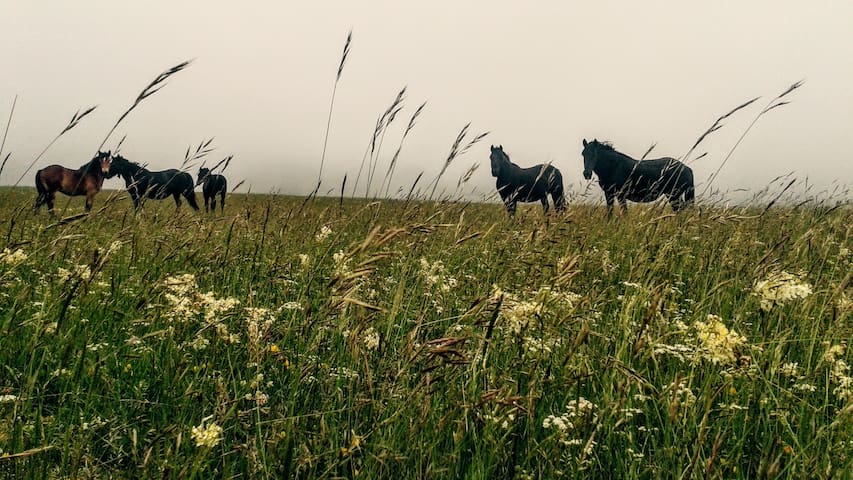 Casa de tipo rural situada en Villanueva de la Nía, Valderredible, Cantabria. Dentro del entorno de seis casas con patio central, pero cada casa independiente. Ideal para familias que disfruten de la tranquilidad,del senderismo, del Románico, de la gastronomía y del esquí, puesto que está cerca de Alto Campoo.
Room Type
Entire home/apt
---
Property Type
House
---
Accommodates
6
---
Bedrooms
Villanueva de la Nía, Cantabria, Spain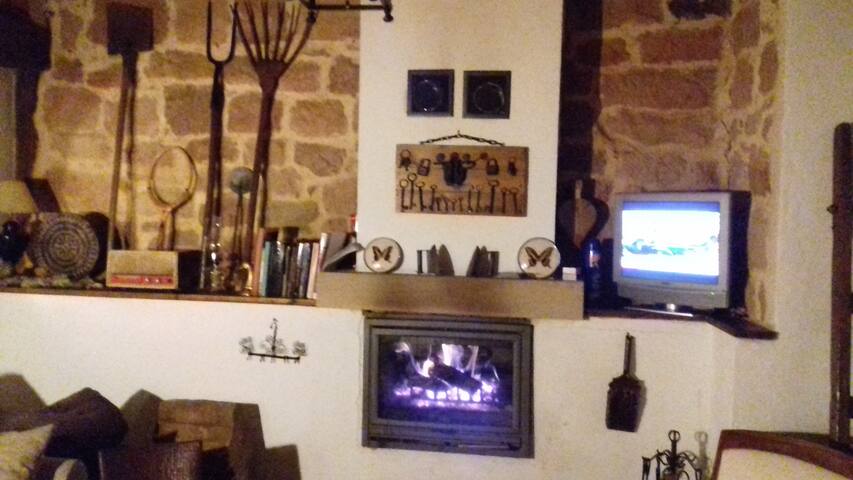 La casa, de construcción nueva, está situada en pleno Valle de Campoo, a 15 minutos de la Reserva del Saja, de la estación de Esqui de Alto Campoo, 10 minutos del campo de Golf de Nestares y a 40 minutos (autovía) de las mejores playas de Cantabria.
Se trata de una casa de construcción nueva, muy confortable y tranquila en un lugar único.
El pueblo es uno de los más pequeños del valle de Campoo, con toda la tranquilidad del mundo y a la falda de las montañas. Ideal para la práctica del senderismo, montañismo, bicicleta (tanto de montaña como de carretera). En el valle se ofrecen múltiples actividades, desde rutas a caballo, kite-surf y canoa en el pantano del Ebro hasta la práctica del esqui en invierno. Se puede salir directamente desde la casa para hacer muchas rutas de montaña, andando o en bici.
En la casa de Monika nos encontramos como en la nuestra. Es cálida, amplia, bonita, tiene todas las comodidades, un jardín fantástico enorme y está en un entorno rural de prado, monte y vacas. Pese a su situación única, esta a tan solo 7 minutos de Reinosa, con acceso por carretera muy cómodo y con algunos pocos vecinos entrañables. Monika nos hizo muy fácil la llegada, incluso nos consiguió una cuna para uno de nuestros bebes y estuvo disponible para lo que necesitáramos. La experiencia ha sido fantástica y de veras que la recomiendo.
Fernando
2015-08-23T00:00:00Z
La casa es preciosa. Mejor en la realidad que en las fotos. Lo tiene todo para pasar unos días fantásticos en un entorno rural y con muchas cosas para ver cerca. Todo fue muy fácil gracias a Monica. Espero poder repetir. Super recomendable.
carlos
2016-08-31T00:00:00Z
Es un sitio ideal si lo que buscas es tranquilidad, la vecina super amable te informa de todo. Para disfrutar de la montaña un pueblo con 4 casas
Fina
2016-08-16T00:00:00Z
Maison spacieuse et confortable, au cœur d'une vallée magnifique. L'accueil de Monika et sa gentillesse, son souci de nous rendre service lors des difficultés rencontrées avec notre voiture ont été extrêmement appréciables. À recommander sans hesitation
Maureen
2016-08-07T00:00:00Z
Han sido una vacaciones geniales. Monika ha sido una estupenda anfitriona y la casa es una maravilla. La comunicación con ella ha sido fluida y rápida. Las fotos están bien pero la casa es aún mejor: muy luminosa, cómoda y en un lugar muy tranquilo. Perfecto para esquiar, montar en bici, salir a andar, ...
Enrique
2016-03-30T00:00:00Z
La experiencia ha sido excelente. La casa perfecta para una familia grande como la nuestra. Muy cómoda, funcional y amplia. Equipada perfectamente. Entorno precioso, tranquilo y con unos vecinos encantadores que nos acogieron con mucho cariño. Con muchos planes para hacer y descansar. Nos sentimos como en casa. 100% recomendable.
Marcos
2015-08-16T00:00:00Z
La casa está muy bien ubicada, cerca de alto campoo y también del nacimiento del ebro. Es muy acogedora. Totalmente recomendable. Monica esta pendiente y facilita información de lugares para comer....etc
Jose M
2017-02-28T00:00:00Z
La casa es espectacular, incluso más bonita que en las fotos. El sitio es precioso. Está rodeado de naturaleza y animales si vas buscando un lugar tranquilo para disfrutar con la familia. La vecina es encantadora, la cual nos recibió a nuestra llegada. Monika, la dueña de la casa, nos atendió gentilmente cuando la necesitamos. Además nos tenía preparadas dos tronas para los bebés y una cuna.
Carlos
2016-08-24T00:00:00Z
Room Type
Entire home/apt
---
Property Type
House
---
Accommodates
7
---
Bedrooms
Hermandad Campoo de Suso, CANTABRIA, Spain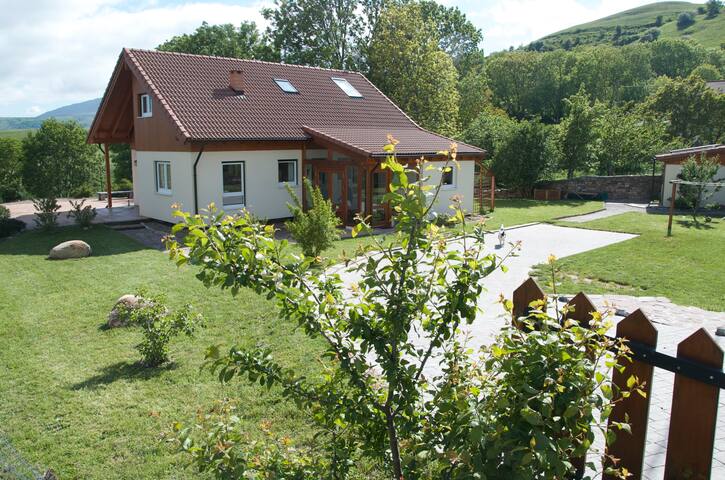 Cosy and comfortable two storey house with 3 bedrooms and 2 bathrooms, fully furnished. Living room with a fire, large kitchen with a pantry. Porch very cool in summer. Garden with lawn and fruit trees, barbecue and oven. Sunny patio.
Traditional architecture (girders of treated wood, facade with handcrafted brick). The house was restored in 1996. It has 3 bedrooms for six people and a sofa bed for two.
The neighborhood is peaceful
Easily the best airbnb experience ever. This place is just amazing and I really cannot recommend it highly enough. A wonderful welcome awaited us when we arrived (including a delicious home-made tortilla!) and meme and her partner took us on a tour of village so we could find our marks. The village is beautiful, the people kind and very welcoming, the surrounding area breathtaking. We will definitely be returning here:-)
David
2013-08-01T00:00:00Z
From the very start the host was extremely prompt and helpful with any questions/requests we made and she did her best to welcome and inform us; including sending additional views of the accommodation, and weblinks for our journey there & suggested day trips. The house listing and information is accurate with the added benefit of a dishwasher and plenty of inside space. It is a very charming and comfortable property, with a choice of pleasant spaces to relax/eat, and good quality beds/washrooms, within peaceful surroundings that very much appreciated. The local amenities are quite adequate with friendly residents and merchants and it is a very pretty village. Finally the nearby North of Palencia mountains provide stunning scenery, and the location is ideal to explore the many, varied and interesting sights of Northern Spain with very good road links.
Fiona
2015-06-01T00:00:00Z
Meme is a great host - communicative and very helpful. The house was spotless, pretty cool and the town is both beautiful and in a beautiful area.
Tim
2016-11-06T00:00:00Z
La casa esta genial, tal cómo esperabamos ya que el anuncio es fiel a la realidad, muy confortable y con todo lo necesario para pAsar unos dias tranquilos nosotros ibamos con niños y lo pasaron fenomenal, la comunicacion con Meme inmejorable, conclusion muy muy recomendable
monica
2017-02-28T00:00:00Z
La casa de Meme es grande, acogedora y decorada con mimo, hace que te sientas bien en ella. El pueblo es muy tranquilo y está en un punto estupendo desde el que se puede aprovechar tanto el norte de Palencia como el sur de Cantabria, ofreciéndote rutas muy interesantes de naturaleza o de pueblitos y arte románico. Una buena elección, nos ha encantado.
lola
2017-01-08T00:00:00Z
Room Type
Entire home/apt
---
Property Type
House
---
Accommodates
8
---
Bedrooms
Salinas de Pisuerga, Palencia, Spain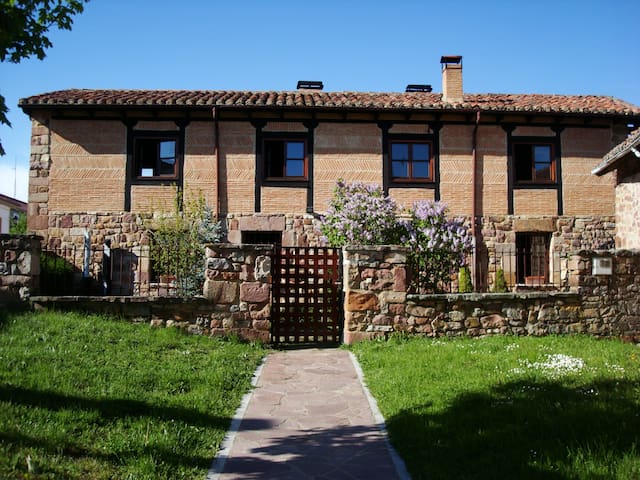 Casavieja es una antigua casa rehabilitada y situada en un entorno privilegiado en plena naturaleza. A 9 km. de la Estación de esquí Alto Campoo, a 13 km. de Reinosa y a pocos minutos del campo golf y más sitios de interes turístico.
Confortable casa rústica de madera y piedra, en un entorno privilegiado que consta de 5 dormitorios todos con baño. En la planta baja se encuentra un amplio salón con dos sofás y tv , zona de comedor,cocina y chimenea. En el exterior hay un jardín con barbacoa
Hoz de Abiada es un pequeño pueblo rodeado de robles y muy cerca de la estación de esquí Alto Campoo, a pocos minutos del campo de golf, también pueden visitar el nacimiento del río Ebro, el castillo y poblado cántabro de Argueso, cerca del parque natural del Saja-Besaya
Lidia the host was very good and extremely kind. The place was nice and clean. The location is a little far away but very nice perfect if you want to be alone calm and peaceful. The kitchen only is definitely a little small and it was very difficult to cook for all of us (11)
Stefano
2016-08-12T00:00:00Z
Nous avons été très bien accueilli à notre arrivée. Le logement est très confortable et est situé dans un joli village.
yannick
2016-08-06T00:00:00Z
Room Type
Entire home/apt
---
Property Type
House
---
Accommodates
14
---
Bedrooms
Hoz de Abiada, Cantabria, Spain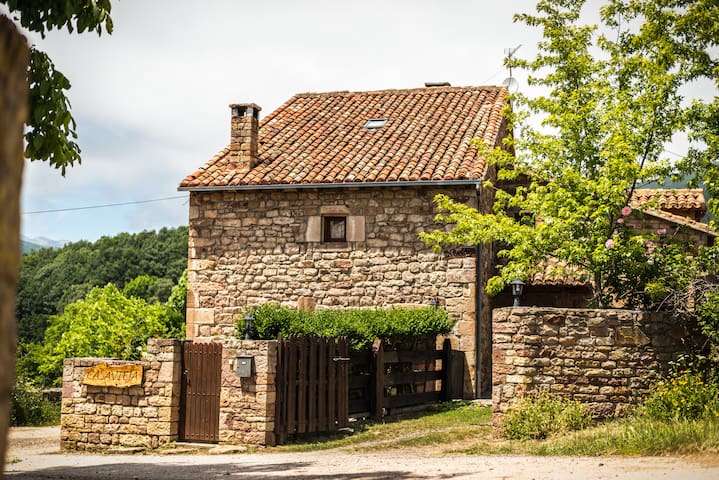 Casa rural en lugar tranquilo donde desconectar oir el canto de los pajaros relajarse pasear tomar el sol hacer barbacoa
Room Type
Entire home/apt
---
Property Type
House
---
Accommodates
5
---
Bedrooms
Montecillo, Cantabria, Spain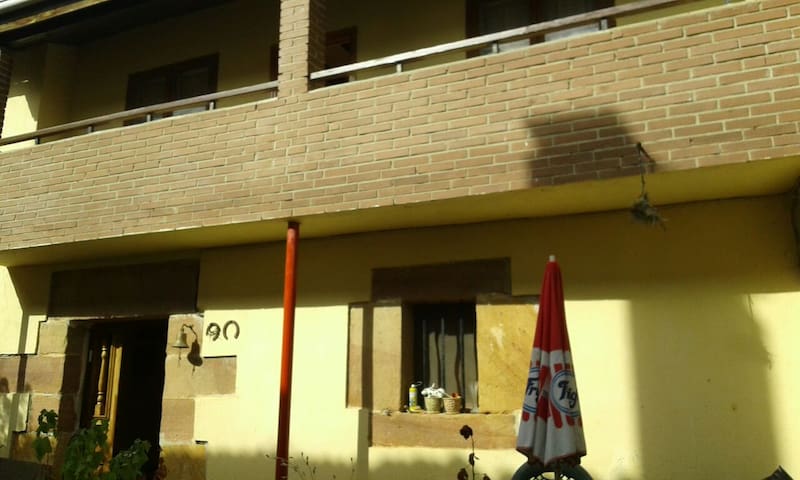 Valdivia - Airbnb
:
Average

4.65

out of

5

stars from

104

guest reviews
1

–

18

of

69 Home Rentals
Enter dates to see full pricing. Additional fees apply. Taxes may be added.