My accommodation is close to public transportation, downtown, historic sites, shops, motorway, festivals. Enjoy my apartment for its brightness, location, comfort. My accommodation is perfect for couples and solo travelers.
My stay at Martine and Oliver's place was wonderful. The room was spacious and very clean. It was nice having a private bathroom. Lot's of small details which made for a nice stay such as towels and water. They were very nice people, always asking if I needed anything and offering any help whenever they could. Have a stay at this place you'll be extremely pleased with your decision! Catch you guys in Ancienne Gare sometime! -Steve
Steven
2017-02-26T00:00:00Z
Couple charmant et sympa. Chambre agreable et propre avec SDB privée. Tout était parfait! Il y a une petite télé et le wifi! Je conseille vivement !
Steph
2017-03-26T00:00:00Z
Martine e Oliver sono stati molto gentili ed accoglienti. comunicare con loro è stato facilissimo fin da subito. L'alloggio rispetta completamente quanto appare sull'annuncio ed è perfettamente posizionato per visitare Avenches. Grazie ancora per l'accoglienza. I would for sure recommend this accommodation. Maurizio
Maurizio
2017-03-19T00:00:00Z
Room Type
Private room
---
Property Type
Apartment
---
Accommodates
3
---
Bedrooms
Avenches, Vaud, Switzerland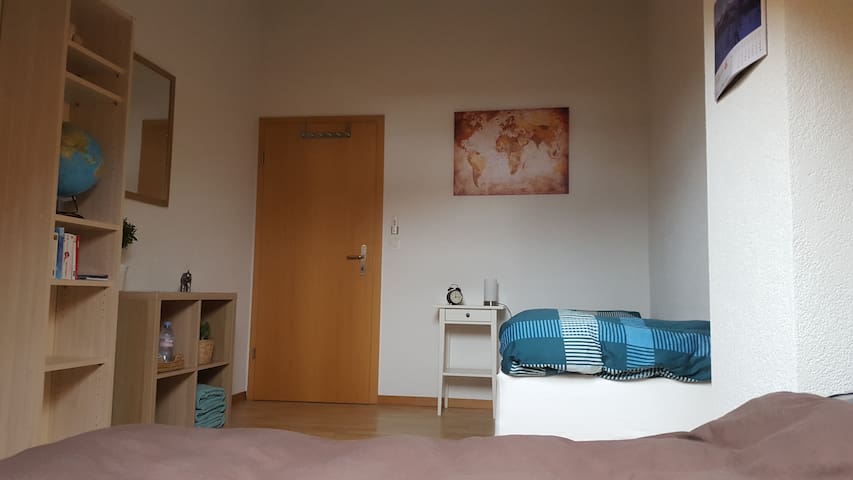 Beautiful place in a house of Aventicum The studio stay at 5 minutes by walk from the railway station, the Amphitheater and the center. The parking is about 2 minutes from the house Nice outdoor place with hamac just in front of the private entrance. The swimming pool is also available. It will be a pleasure to welcome you and take time to give you some good adresse of the area and show you some secret paradise place :-)
Room Type
Entire home/apt
---
Property Type
Apartment
---
Accommodates
3
---
Bedrooms
Avenches, Vaud, Switzerland
Available the weekend
Très bel emplacement, Des gâteaux et une boisson en arrivant... Tout était parfait ! Merci
Jennifer
2016-05-09T00:00:00Z
Très joli studio! Avec une vue magnifique sur le lac... il y a la possibilité de faire des balades au bord du lac! L'accueil est chalereux et convivial... Merci pour cette bonne expérience
Laetitia
2016-12-31T00:00:00Z
Room Type
Entire home/apt
---
Property Type
Apartment
---
Accommodates
2
---
Bedrooms
Neuchâtel, Neuchâtel, Switzerland
Nice little apartment on the ground floor of a house in the center of the village, consisting of a large room of 25 m2, a separate kitchen and a bathroom which, unlike the room, is tiny but functional. Although the place is exposed to street noise during rush hour, the nights are quiet and the accommodation gives on the terrace side. Buses and trains available in two minutes walk; highway entrance near (Avenches).
Separate entrance and fully independent accommodation with equipped kitchen. Possibilities Home: 3 people or 2 adults and 2 children.
Bertrand and his wife were extremely helpful with check in, and very accommodating. The apartment was spacious, clean and convenient located near the highway. We had a lovely time! Thank you so much.
Linshan
2017-03-26T00:00:00Z
The room is so warm and clean. All the furnitures are included and Bertrand and Claudine are really friendly and helpful. Anyway it's an amazing experience. Thank you so much! ;)
Xin
2016-08-07T00:00:00Z
Everything was great: the goods, the room... Thanks a lot!
Jairo
2016-11-24T00:00:00Z
Bertrand was very nice and helpful, Flat was clean and fully equipped. thanks a lot
arthur
2016-11-01T00:00:00Z
Bertand's place is so lovely, homely and cosy! Perfect for a stop over or a few days. Warm, and facilities were wonderful. Close to shops and restaurants. We booked late in the day on the actual day we arrived and Bertrand went out of his way to accomodate us.
Annie
2016-11-28T00:00:00Z
We enjoyed our stay very much. A lovely place,very comfortable,nice and tidy. The owners are kind and helpful.
wei
2016-12-31T00:00:00Z
Bertrand and his family were really nice to us and helped us settle in comfortably. The apartment gave us everything we needed and we were very happy with our stay here. If you're in the area, do look out for this apartment!
Hussain
2017-03-05T00:00:00Z
Everything was great - location, nice apartment, the hospitality. Nice place to visit again!
Ellen
2017-03-11T00:00:00Z
Room Type
Entire home/apt
---
Property Type
Apartment
---
Accommodates
3
---
Bedrooms
Domdidier, Fribourg, Switzerland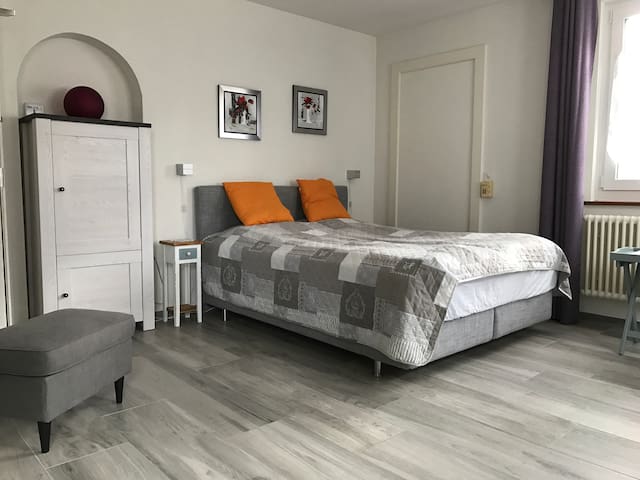 Independant &well furnished 40m2 flat at the 1st floor of our house, in a peaceful village, 1.5km away from Portalban's beach (the biggest sand beach of Neuchâtel lake) and the Natural Reserve La Grande Cariçaie. Equipped terrace with a little garden on its side. Intersting spot to visit this area of Switerland, between Neuchatel, Morat &Fribourg with river shuttles. Experience the various ballades -hiking &cycling- to enjoy the beautiful countryside. Free parking near the house.
The apartment is new with modern furniture but we tried to preserve the characteristics of its traditionnal Swiss house style. For your information, both resting area have mosquito nets and the bedroom has blackout curtain.
Right next to the city center, in front of the former Miklhouse
The host canceled this reservation 12 days before arrival. This is an automated posting.
David
2016-08-27T00:00:00Z
Great comunication . Emmanuelle is very kind and available for all you need to enjoy her beautiful place and surrounding .
Capoccia
2016-10-13T00:00:00Z
Emma und Ihre Mann sind sehr nette Host, Ihre Unterkünfte befindet sich auf dem sehr schönen Ort, und die Wohnung ist gemütlich, und sehr sauber, und alles drin, was man irgendwas für Urlaub braucht, wir habe sehr angenehme Urlaub gehabt, Emma와 그의 남편은 친절하고 지금껏 만난중 최고의 호스트입니다. 깨끗한 집과 뇌샤텔호수와 근접한 숙소는 휴가를 보내기에 정말 최고의 조건이라 생각합니다. 또한 여행중 필요한 물건들 또한 세세한부분까지 잘 준비되어있어 여행 중 많은 도움이 되었습니다.(피크닉을 위한 일회용품, 스트로우까지도 준비되어있을정도로 세세한부분까지 준비되어있더라구요.)
Jun Won
2016-08-28T00:00:00Z
Emmanuelle et Jean-Claude nous ont accueillis très chaleureusement et avec beaucoup de soin, la porte grand ouverte - ainsi que leur potager dont on a pu savourer les légumes bio ! On a aussi vraiment éprouvé leur désir d'échanger avec nous et de faire de vraies rencontres humaines comme ils le disent si bien dans leur annonce. La maison est très confortable et très bien équipée, le canapé-lit (dit "lit d'appoint") est excellent !!! - ce qui est plutôt rare, il faut donc le souligner ! Quant à la région, elle est magnifique, n'hésitez pas à suivre les conseils de visite d'Emmanuelle et de Jean-Claude : beaucoup de randonnées pédestres ou à vélo à faire, profiter du lac, des bains thermaux, de la faune de la Cariçaie... Définitivement, un magnifique accueil et un endroit stratégique pour découvrir toute cette région !
Andra
2016-08-20T00:00:00Z
Wir waren bei Emmanuelle Anfang März 2017. Die Wohnung war für uns zwei ausreichend und bequem. Emmanuelle und Jean-Claude sind sehr freundlich und hilfsbereit. Wir haben uns wohl gefühlt. Die Lage von Delley ist bequem für Tagesausflüge mit Auto, z.B. Schaukäserei Le Gruyere mit Schloss, Genf (ca. 1 Autostunde), Montreux mit der wunderschönen Seepromenade und dem Schloss Chillon (unbedingt besuchen), Friburg und Bern (auch ca. 1 Autostunde). In der nahen Umgebung: Neuchatel (schöne Alpenpanorama), Avenches (altröm. Amphitheater), Murten (pittoreskes mittelälter. Städtchen).
Tatiana
2017-03-16T00:00:00Z
Tout en accord avec la description et les photos. Propriétaire, qui est très aimable, répond rapidement. A recommander!
Marta
2016-12-18T00:00:00Z
Room Type
Entire home/apt
---
Property Type
Apartment
---
Accommodates
4
---
Bedrooms
Delley, Fribourg, Switzerland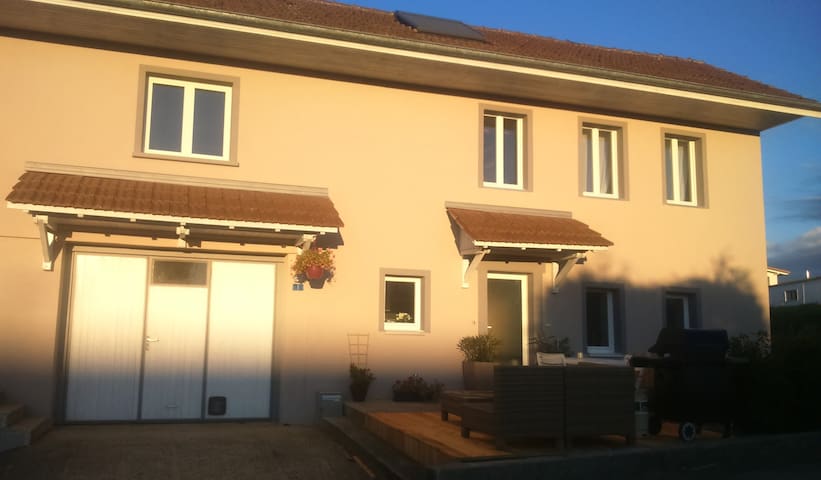 Our place in Villarepos (name of the village) is close to nature, the lake of Murten, the historical site of Avenches and about 20' to Fribourg, a beautiful Zähringer city. Our home is built with organic building materials. you will love its 'soul', the coziness, the views, the ambience. It's made to calm down! You are woken up by the cock and peacock, you'll hear Leila and Jack, the two horses from next door, breathing out and letting go all unnecessary weight, you smell flours and hear bees.
Construction: timber work, insulated with straw, covered by clay or chalk plaster. Only natural materials were used, therefore the allergy potential is very low. Healthy and tranquilising ambience. All natural colours. The whole house is off grid, the electricity you consume is produced on the roof, also the warm water. We collect rainwater. The whole house runs on rainwater for shower, washing machine and drinking water. Drinking water is filtered by osmose-filters (left hand side tap in the kitchen). The garden is not yet finished - there are only local plants, nurrishing bees, insects and us:-)! Please help to take care of nature and our home - built with lots of love of our heart, hours of our hands and our friends! Enjoy it! Thanks for telling us what we could do better and what you miss. We are greatful for your feedback.
It is a very calm barrior, there are children and animals. There is a cock, two peacocks and two horses next to us - you will hear them. There are only villas in this barrior with very calm people.
The host canceled this reservation 63 days before arrival. This is an automated posting.
Nadia
2017-01-09T00:00:00Z
Had a lovely stay at Sibylle's AirBnb flat. Exceeded my expectations in terms of charm, efficiency, ease. Sibylle the perfect host, and I look forward to returning to the region just to stay there again.
Gary
2016-08-04T00:00:00Z
We had a wonderful stay at Sibylle´s house. The place is great, everything was new and the whole house is sustainable. The views are amazing, great to relax and close to many points of interest as well. I recommend this place to everyone!
Valeria
2016-08-09T00:00:00Z
Unser Aufenthalt bei Sibylle hat uns sehr gefallen! Sibylle war sehr freundlich und offerierte uns ein grosszügiges Frühstück. Zudem war es für uns eine einmalige Erfahrung in einem so neuen und ökologischem Haus zu wohnen. Alles war genau wie beschrieben, die Lage auch sehr ruhig. Allen autofreien Reisenden empfehlen wir ein Velo mitzunehmen oder das Angebot von Sibylle zu nutzen, da die Busse sehr unregelmässig verkehren. Wir können Sibylles Unterkunft nur empfehlen!
Julia
2016-09-09T00:00:00Z
Hübsche, saubere und sehr gemütliche Unterkunft wo man sich sofort zuhause fühlt.
Astrid
2016-11-13T00:00:00Z
Notre hôte a été parfait ! Accueillant, serviable, de bon conseil, ouvert à la discussion. Le logement correspond parfaitement à la description qui en est faite, bien équipé et fonctionnel, calme, reposant, ouvert sur la nature en un écrin de verdure . Merci Sibylle, pour ces quelques jours passés en votre compagnie.
Pierre
2016-08-26T00:00:00Z
Wir genossen unseren Urlaub in Villarepos sehr. In ruhiger Umgebung in einem faszinierenden Haus zu Gast konnten wir viele Plätze der Westschweiz wieder einmal erkunden. Sogar für das Frühstück war Sibylle stets besorgt! Vielen Dank
Andreas
2016-10-14T00:00:00Z
Sehr freundliche, offene, unkomplizierte und flexible Gastgeberin! Sie hat rundum für unser Wohl gesorgt! Uns hat es wirklich sehr gefallen, hat alles perfekt geklappt! Herzlichen Dank!
Bettina
2016-08-29T00:00:00Z
Room Type
Private room
---
Property Type
Apartment
---
Accommodates
4
---
Bedrooms
Villarepos, Fribourg, Switzerland
Mon studio est au centre ville, à 8 min à pied de la Gare, à 4 min à pied de l'Université, proche des musées, restaurants et commerces. Vous apprécierez mon charmant studio pour sa situation au centre ville proche de tout . Mon logement est parfait pour les couples, les voyageurs d'affaires et les familles (avec 1 enfant). Piano à disposition, div. expositions d'art et vêtements secondhand à essayer et acheter!
Charmant studio avec cuisine au centre-ville de Fribourg. A quelques minutes à pied de la gare et de l'Université. Boulangerie, commerces, restaurants à 100m.
Very nice place, and super close to the University, ideal when you have a conference
Cecile
2017-02-10T00:00:00Z
Andrzej is a very friendly host and a nice person to talk to. The apartment confirmed its character as shown on the pictures in real life as well. One of my best AirBnB experiences so far. Thanks, Andrzej.
Konstantin
2016-08-08T00:00:00Z
It was ever so different to sleep in a shop. A very new experience! Old City in walking distance.
Petra
2016-08-11T00:00:00Z
I have only positive things to say of my experience at the Walriss Factory. Such a warm and accommodating welcome and the entire atmosphere is creative and inspiring. The accommodations are lovely and the hosts are impeccable. Merci!!
Tiff-Annie
2016-07-13T00:00:00Z
The place is so unique, we enjoyed discovering everything there - the current exhibition, the jars, the CDs, the piano, etc. It is exactly as on the pictures and we loved it ! If the room temperature is low you can light a fire in the chimney. Communication with Andrzej was easy and pleasant. I would definitely book again :)
Marie
2016-11-27T00:00:00Z
Really good location for exploring the town. Cosy with the fire going, and well equipped. Just up the road from nice burgers at cafe populaire, and fondue around the corner at cafe marcello!
Peter
2017-02-03T00:00:00Z
I recommend this place 100%. Very cozy and well decorated. Good location near downtown, restaurants and bars.
Carlos
2017-01-15T00:00:00Z
Our host was there on time and everything in the appartement was like on the pictures. Great and very central location. Would stay there again.
Marcel & Germaine
2016-07-17T00:00:00Z
Room Type
Entire home/apt
---
Property Type
Apartment
---
Accommodates
3
---
Bedrooms
Fribourg, Fribourg, Switzerland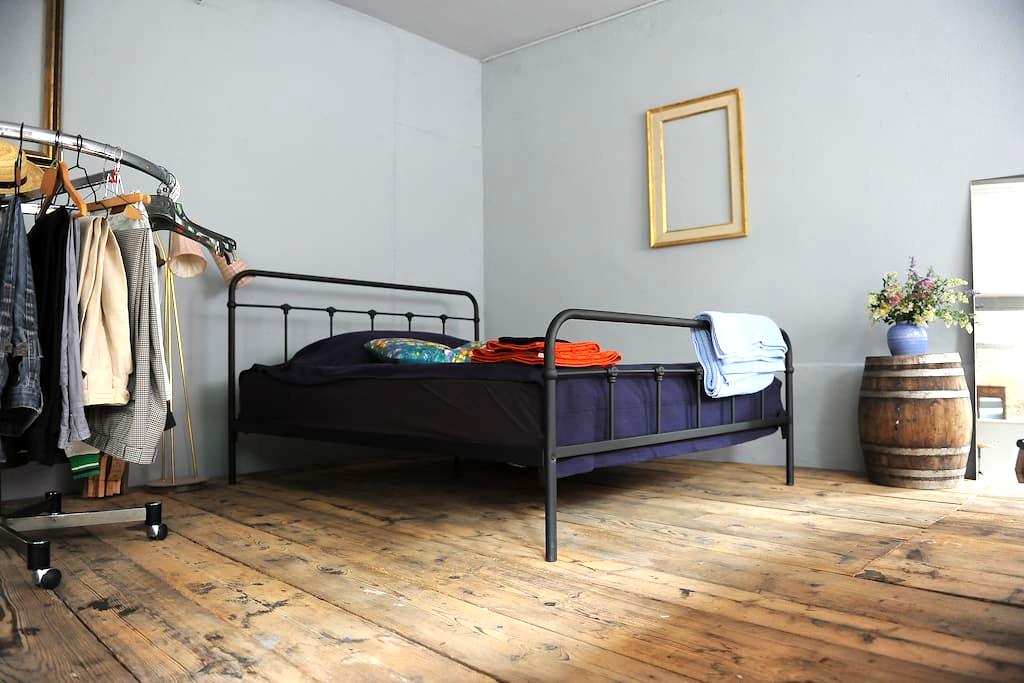 Quiet and cozy lodging in the agricultural zone
Very nice in the green and quiet 2 room apartment with all necessary features. 1 bedroom double bed with private shower. 1 sofa bed and 1 single bed in the living room. The CHF 80 are for 2 people, each additional person Fr. 30.-, cleaning a flat rate for 2 persons Fr. 40 .-. The prices are for 1 night. Discounts for longer term rent.
Grossguschelmuth located in the beautiful Freiburg Zealand and is approximately 8 km from Murten / Lake and about 10 km from the city of Freiburg / Fribourg away.
Nice apartment in the country! Clean, tidy, everything at your fingertips! in the morning you wake up, look out the window, and you have the windows cow bells ringing! it's magic!
Elena
2016-10-07T00:00:00Z
The appartment is very beatiful, we had everything we needed and more. The kitchen is full equiped, they even gives us capsules for coffe and tomatoes! A very good time there :D
marisa
2016-09-24T00:00:00Z
What a great flat, spacious, clean, country outlook, close to things to do. Can't speak highly enough of this great flat to stay.
Allan
2016-07-21T00:00:00Z
We had such an amazing experience during our stay with Catherine and Betty. First, the flat is excellent in fact the pics don't really capture it well - very modern, clean and has all the conveniences that you need in a house. It also have two lovely gardens at front and back. It is also well located for exploring the area so we stayed there and visited Bern and toured around Lake Geneva. Catherine and Betty are very helpful hosts and stayed up late to accommodate our late check in as well. Their recommendations on food particularly in Murten were brilliant. We will def be back. Mona
Mona
2016-09-02T00:00:00Z
Mir hat der Aufenthalt in dieser Ferienwohnung sehr gut gefallen. Es gibt in der Umgebung sehr viel zu unternehmen. Catherine und Betti waren sehr gastfreundlich und ich kann die Unterkunft nur weiterempfehlen.
Stefan
2016-11-19T00:00:00Z
Hem estat allotjats durant una setmana a l'apartament de la Catherine, realment magnífic, molt còmode, amb tot el necessari i molt ven decorat. Cal destacar la importància de poder gaudir de la seva terrassa i el jardí. El lloc on està situat és molt tranquil i rodejat de prats verds. Estada esplèndida a l'apartament!!
Montse
2016-08-10T00:00:00Z
Die Gastgeber sind sehr nett und zuvorkommend. Die Unterkunft liegt wunderschön im Grünen und ist komplett eingerichtet. Sehr schöne Terrasse und Gartenblick. Der Murtensee und Neuenburgersee, sowie Restaurants und Einkaufsmöglichkeiten sind nur wenige Fahrminuten entfernt. Wir kommen gerne wieder :-)
Ralf
2016-08-01T00:00:00Z
Super netter Kontakt. Kaum angekommen kam auch schon ein richtiges Urlaubsfeeling auf. Wohnung war auch klasse und geschmackvoll eingerichtet!
Dani
2016-06-18T00:00:00Z
Room Type
Entire home/flat
---
Property Type
Apartment
---
Accommodates
4
---
Bedrooms
Gurmels, FR, Switzerland
Willkommen, welcome, bienvenue in meinem gemütlichen und ruhigen Zuhause. Ich biete zwei Zimmer im Dachgeschoss eines umgebauten Bauernhaus mit grossem Garten oberhalb Murten. Sie haben eine separate Dusche/WC, Frühstück 5 Gehminuten bis Bahnhof und Bushaltestelle. Murten 5 km, Fribourg 15 km, Bern + Neuchâtel 30 km Tankstelle mit Shop, Käserei und Restaurant im Ort. Cressier FR liegt an der Herzroute und ideal für Ausflüge im Dreiseen-Land. I speak english, je parle français, parlo italiano
Ich habe diese Zimmer für meine Schwägerin mit ihrer Familie gebucht. Sie waren hell begeistert von Ursulas Gastfreundschaft. Gerne wieder!
Leticia
2016-08-23T00:00:00Z
Liebe Ursula, danke für deine Gastfreundschaft, dein offenes Haus und die tollen Erlebnisberichte. Wir haben uns sehr wohl gefühlt und werden dich gerne weiter empfehlen.
Juerg
2016-08-16T00:00:00Z
Ursula ist sehr freundlich und aufgeschlossen. Man kann sich zurück ziehen in seine "kleine Wohnung" im Dachgeschoss, die genauso ist, wie man auf den Fotos vermutet, oder mit ihr im Wohnzimmer zusammen sitzen und etwas über die Gegend erfahren.
Melanie
2017-03-09T00:00:00Z
Tolle Unterkunft in einem kleinen Dorf nahe Murten. Sehr charmant und originell eingerichtet, Hüsler Nest und grosser Garten, der zum verweilen Einläd. Nette Gastgeberin , welche unkompliziert und offen ist. Gerne wieder!
Andreas
2016-09-11T00:00:00Z
Wir haben Ursulas grosse Gastfreundschaft und Aufmerksamkeit sowie ihr reichhaltiges und gesundes Frühstück sehr geschätzt. Ihre Erzählungen und der Naturgarten werden uns besonders in Erinnerung bleiben.
Bruno
2016-07-31T00:00:00Z
Gracias a Ursula por todo, la estancia en su casa fue muy agradable. Todo muy limpio y acogedor El trato fue de lo mejor, siempre estuvo atenta de nosotros dándonos un trato muy cordial y familiar.
Nicolás Hernando
2016-09-09T00:00:00Z
Room Type
Private room
---
Property Type
Apartment
---
Accommodates
2
---
Bedrooms
Cressier, Fribourg, Switzerland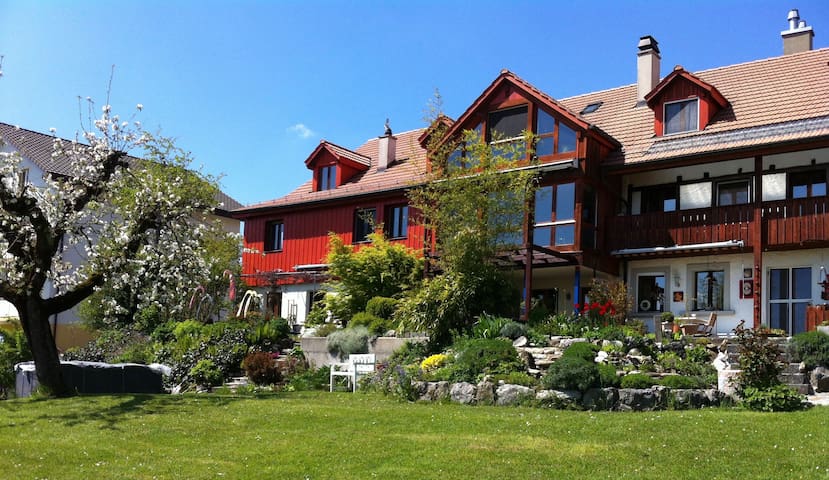 L'appartement est situé à 5 minutes en bus du centre historique et culturel, mais à 3 minutes à pied de la nature. La chambre contient un lit une place. Si vous êtes deux, un second matelas est disponible. Sur demande, je peux parfois mettre ma chambre à disposition, qui elle bénéficie d'un lit double. Vous pouvez utiliser la cuisine pour le petit déjeuner. Fumer est possible sur la terrasse.
Ballades nature possibles dès le pas de la porte.
La maison est située dans le quartier du Schönberg, en dessus d'une institution nommée "Les Buissonnets". Après avoir dépassé les buissonnets, tournez à gauche devant les petits immeubles verts. Le troisième immeuble, entrée numéro 17. Vous êtes arrivés.
Martine's place was wonderful. We only stayed for one night and it was exactly what we were after. Martine was very friendly and welcoming, offering us advice on where to go for dinner and how to get there. Busses to and from the main station were regular and easy! Very happy we stayed here :)
Adriana
2016-12-20T00:00:00Z
Cozy place with a welcoming easy going host, strongly recommend. 20 minutes on foot from centre of town but with a bus stop 5 minutes away from the appartment.
Jordi
2016-12-13T00:00:00Z
A nice room in fribourg, easy to park the car
Xiaobin
2016-10-29T00:00:00Z
c'était bien et agréable
Tristan
2017-04-02T00:00:00Z
Una noche (entre las 19:00 y las 9:00) es poco tiempo para establecer un vínculo. El departanento del hospedaje exelente y muy recomendable.
Santiago
2016-10-31T00:00:00Z
Super Airbnb, on s'y sent vraiment bien! Intérieur Zen et cosy. Super rapport qualité-prix. Co-hôte réactive et sympa. Je recommande!
Mona
2016-10-19T00:00:00Z
Le logement chez Martine est idéal pour des personnes épuisées ou possédant des enfants, car il est à 50 mètres de la nature (une vraie ferme avec des VACHES et d'autres animaux domestiques au sommet de la colline). L'appartement est très propre, moderne, confortable et bien chauffé. Vous allez avoir votre salle d'eau individuelle avec une douche et des produits de soins bio. Vous allez dormir dans un lit artisanal, fait à la main par Martine qui est une véritable artiste dans le cœur. C'est un plaisir de côtoyer quelqu'un si talentueux. Elle vous recommandera des places à visiter à Fribourg ainsi que plain d'autres choses, si vous auriez le plaisir de papoter ensemble. Je recommanderai de s'y rendre par les bus 123 et 182 jusqu'à l'arrêt « Vieux chênes » (3eme arrêt de la gare), et pas par le tram 6, car la montée sur la colline de l'arrêt « Kessleur » est une épreuve pour des personnes non sportives.
Anna
2017-01-20T00:00:00Z
Martine propose une chambre dans un tres bel appartement, tres propre, confortable avec possibilite de garer sa voiture et rejoindre le centre a pied ou en bus. Je recommande absolument son appartement pour sa situation, sa security et sa proprete.
gisele
2016-10-25T00:00:00Z
Room Type
Private room
---
Property Type
Apartment
---
Accommodates
2
---
Bedrooms
Fribourg, Fribourg, Switzerland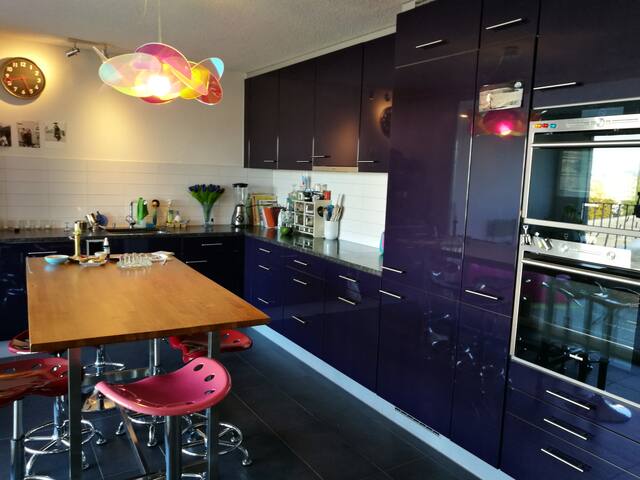 Mon logement est parfait pour les couples, les voyageurs en solo, les voyageurs d'affaires, les familles avec enfants.
This listing is 100% recommendable! Michel is really responsive, always available and ready to help. The place is clean, comfortable, with great views, and a fully equipped kitchen. 5 minutes away from everything (by car). We travel with infants and we loved it. We are already wishing to comeback. Merci beaucoup Michel!
Lucas
2017-01-22T00:00:00Z
A fabulous quiet location, yet close to Fribourg town. Our flat was a floor in a large house, we had everything that we could wish for - space, well equipped kitchen, large bathrooms, lounge, dining room, TV and balcony. This is a traditional Swiss house with modern touches. Michel was a gracious host and we are grateful to him for his generosity.
myriam
2016-12-31T00:00:00Z
All was perfect! Michel was very kind and the house very clean and comfortable!
Viola
2016-11-01T00:00:00Z
I had an excellent time staying at Michel's house. He was flexible with the check-in time, and even picked me up from the train station. The apartment was very nice, and very well stocked. Michel was very helpful and easy to contact. I would definitely stay here again.
Jason
2016-10-22T00:00:00Z
Cozy, warm and spacious accommodation with all amenities and a great view. Michel was a very friendly and helpful host, too. We very much enjoyed our stay here and would definitely recommend it to others.
Steven
2016-11-12T00:00:00Z
Emplacement idéal, assez loin pour ne rien entendre du bruit urbain, mais assez proche pour prendre tout les transports en commun
Nadia
2017-03-25T00:00:00Z
Die Wohnung liegt außerhalb der Altstadt Fribourg mit einem schönen Blick! Sie ist sehr geräumig und ebenerdig. Michel ist ein wunderbarer Gastgeber! Ich habe noch nie eine so toll ausgestattete Wohnung gemietet! Es fehlt an nichts, von salz und Gewürzen über Regenschirme und badartikel. Absolut super, wir haben uns sehr wohl gefühlt und kommen gerne wieder! Vielen Dank für deinen lieben Empfang und die Flexibilität (baby reisebett besorgt, Ankunft /Abfahrt flexibel).
Anne
2017-03-02T00:00:00Z
Corbeille de fruits, café, boissons, pain, produits de toilette à disposition à notre arrivée.
Alain
2016-10-12T00:00:00Z
Room Type
Entire home/apt
---
Property Type
Apartment
---
Accommodates
3
---
Bedrooms
Fribourg, Fribourg, Switzerland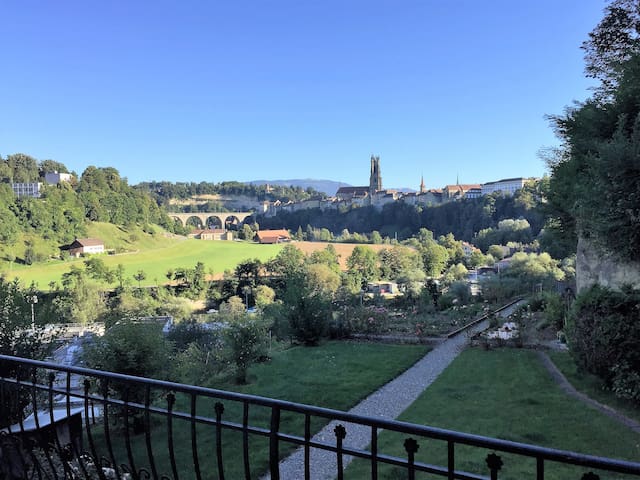 Proche des commodités : bus, commerce. A 10 minutes en bus du centre ville de Fribourg. Dispose d'une chambre principale et d'une deuxième avec canapé-lit. Cuisine, frigo, lave-vaisselle et colonne de lavage a disposition. Near to the centre (10 minutes by bus). 2 rooms, kitchen, wash machines.
Vue dégagée sur une grande place avec jet d'eau
Quartier moderne
The host canceled this reservation 40 days before arrival. This is an automated posting.
Ismael
2017-03-20T00:00:00Z
Myriam is an excellent host, don't hesitate to book this apartment if you have such an opportunity, it is big, spacious and definitely value for money. We traveled across Switzerland and stayed in many apartments/hotels in the area. This one is the best
Igor
2016-07-20T00:00:00Z
Myriam is very welcoming and helpful, eventhough we came late at night (10pm), she still can accomodate her time for us, without any extra late check-in fee. The house? Very very very clean and spacious, even with 4 people inside. And it is a brand new house! Everything are very neat, tidy and complete for a budget traveler like me. Really love Myriam's house. Would love to come back again, if given the chance.
mohamad ruzaini
2015-09-17T00:00:00Z
The building is brand new, not far away from the train station. The house looks very nice, we really enjoy ourselves when we were staying here. The balcony bed is special and romantic.
珏
2015-07-26T00:00:00Z
Her place is very nice and clean! Very spacious and Nicky laid out! Enjoyed our time!
Sheri
2015-06-28T00:00:00Z
Myriam's place is nicely decorated, modern and clean. The location is convenient, because the bus stop is just 2mins away. Myriam was a helpful and reliable host. We really enjoyed our stay!
Rosemarie
2015-05-10T00:00:00Z
We had a great time in Myriam's apartment as she has really organised the entire apartment very well. We stayed for 4 days in total and did not face any issues at all. Myriam met us once during the beginning and explained all about the apartment and the rest of the trip went very smooth. The place is located in a quiet place in Fribourg and since we had a car we did up-down from this place to all places that needs to be visited (Titlis, Luzerne, Trumbechh falls, Interlaken , Vevey, Geneva etc) and was very convenient. I would love to stay at the apartment again if i get a chance to visit Switzerland again :) Thnks Myriam for making our trip a memorable one.
Yogendra
2014-08-18T00:00:00Z
Everything was perfect. Myriam welcomed us personally and showed us the whole appartment. She is very friendly and her place is very nice and tidy.
Patrick
2017-03-06T00:00:00Z
Room Type
Entire home/apt
---
Property Type
Flat
---
Accommodates
4
---
Bedrooms
Villars-sur-Glâne, Fribourg, Switzerland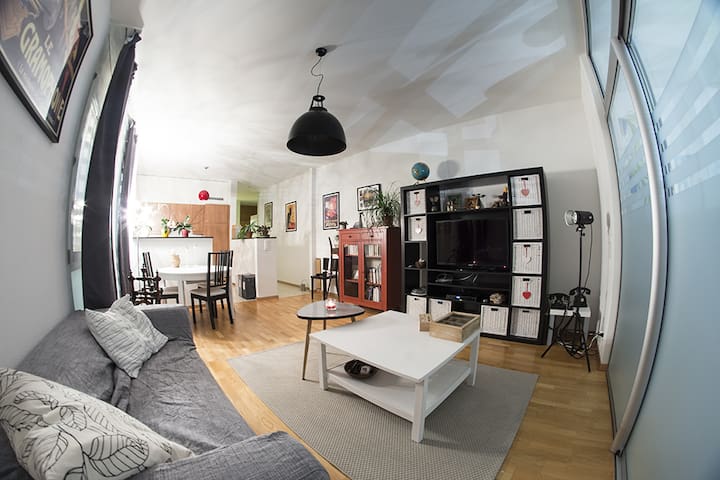 In the Vully, near the Lakes of Murten and Neuchâtel, apartment away from the road, overlooking the Alps. park and garden space (barbecue), children's games: swings, table tennis, trampoline, swimming pool available. Bathroom with large bathtub.
homelike, quiet, television, stereo Dolby sur-round access. Ideal for families. My animals never go in this apartment.
Village, view, tranquility ...
We really enjoyed our time at Jean-Luc's! As a host, he was extremely friendly and accommodating. He made sure we had everything we needed and gave great recommendations on places to explore. The place itself was very clean and spacious. Definitely worth the drive if you have a car and want to explore Switzerland!
Negar
2016-07-03T00:00:00Z
Lovely place and lovely host too we enjoyed our stay there and jean was very helpful host
Oman
2016-09-25T00:00:00Z
Jean-Luc is a very kind, warm and welcoming host. The apartment is spacious and quiet, located in the Swiss countryside. It is only 10min to supermarkets and the beautiful Neuchatelsee and only 30min to Bern and Fribourg. We had a wonderful and peaceful stay at Jean-Luc's house. Thank you for your hospitality!
Yann
2016-03-02T00:00:00Z
Jean-Luc greeted us warmly and helped us settle in. Our children loved the toys and books in the apartment. Everything was clean and orderly. Our baby became ill the first night and Jean-Luc helped us find a pharmacy, going as far as to print out a map and directions for us.
Christopher
2016-08-21T00:00:00Z
Hi, We had a great stay. I would recommend it to everyone. Greetings, Sangam
Sangam
2016-12-27T00:00:00Z
Fantastic apartment in a lovely rural location, although only about 4ks drive to the nearest town. We loved our stay here!
Kate
2016-07-18T00:00:00Z
The place was easy to find and Jean-Luc waspresent to welcome us and show us the appartment. Our dog was welcome and played with th edog of Jean-Luc. The ppartmetn was very confortable and the village was a small rural village in a beautiful part of Switzerland.
Huib
2016-02-28T00:00:00Z
We felt very welcome, the place is very kid friendly with the sweet dog, pool and house.
Aviv
2016-08-18T00:00:00Z
Room Type
Entire home/apt
---
Property Type
Apartment
---
Accommodates
6
---
Bedrooms
Villars-le-Grand, Vaud, Switzerland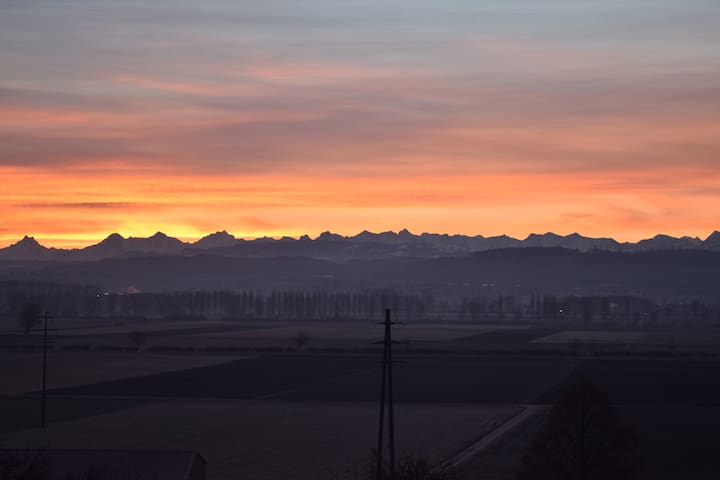 My unique flat has a comfortable, multipurpose bedroom which can double as an office. In addition, it contains a small library filled with interesting medical books and exciting thrillers. The rooms are very bright, spacious and clean. This apartment is very central located. The train station is simply a four minute walk away, where you also can find a grocery store. In only two minutes you can walk to the laundromat.
The host canceled this reservation 117 days before arrival. This is an automated posting.
Clymene
2017-04-04T00:00:00Z
Room Type
Entire home/apt
---
Property Type
Apartment
---
Accommodates
2
---
Bedrooms
Fribourg, FR, Switzerland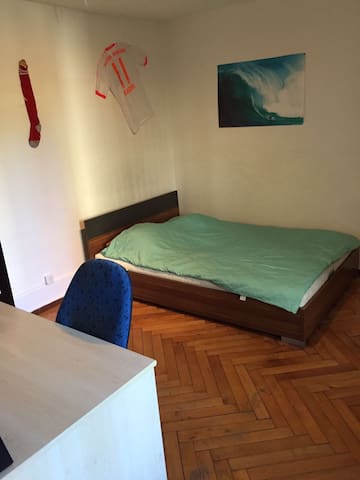 Discover the charm of a flat in a restored farmhouse of the 18th century:one spacious private room, bathroom, large living room with open fireplace, modern kitchen and a garden. Easy access from motorway, bus stop and the rail station, shops nearby
In the countryside and yet in town!
The village is frendly, the neighbourhood is peaceful, there are woods behind the house..and the town centre of Fribourg is only a fex minutes away
Everything was great. Thanks Christa, hope to meet you next time.
Nicola
2016-11-06T00:00:00Z
I had a one-night stay at Christa's place. It was entirely enjoyable. Charming place, nicely decorated and very warm reception.
Markus
2014-03-31T00:00:00Z
I enjoyed staying with Christa. She was very helpful. The house is amazing, so was my room. The region is awesome. Therefore I absolutely recommend to stay at her place. Exactly a home away from home. Mir hat der zweiwöchige Aufenthalt bei Christa sehr gut gefallen. Es war sauber, ordentlich und das Haus ist sehr geschmackvoll eingerichtet. Ich habe mich gleich zu Beginn wohl gefühlt. Ich kann einen Aufenthalt nur empfehlen. J'ai aimé rester chez Christa. C'est une belle maison, aussi une belle région. Ma chambre était propre et trés grande.
Stania
2014-05-12T00:00:00Z
This was our first experience in Airbnb and we absolutely loved christa and her house. She was more welcoming, friendly and nice person to spend time. she offered us delicious breakfast. She made our stay more comfortable and felt being at our home. And the room was romantic with flowers, chocolates, fruits. No place would be better than this for our honeymoon trip. She also shared a lot of information about herself and the city. The next time if we visit Switzerland, would be just to stay at her home.OMG such a lovely person and a wonderful house. we highly recommand to spend time at her house on your way at Suisse. Thank you so much for your great host Christa. See you soon (may be in India or Paris ;) Have a great days ahead.
Prasath
2014-06-02T00:00:00Z
Our stay with Christa was perfect. The room, the hospitality, the location, the facilities, everything! We also really enjoyed the contact with Christa. She's lovely. So if you're in Switzerland, go there. For sure. No doubt.
Judith
2016-10-31T00:00:00Z
Lovely place, lovely hostess. It was a great week and a source of lovely memories.
Valentin
2015-11-18T00:00:00Z
Christa was the absolute perfect host. We began the weekend with an apéro all together; I truly enjoyed getting know Christa, and she offered great tips about what to do in Fribourg. The room we stayed in was clean and completely ready for our arrival. Overall, a wonderful first Airbnb experience. Merci, Christa !!!
Rachel
2014-02-17T00:00:00Z
Christa's home is simply wonderful. Good location near Fribourg and near shopping center. Very quiet neighborhood. Christa was very friendly and a fantastic host; she truly made us feel at home.
Benoit
2017-01-03T00:00:00Z
Room Type
Private room
---
Property Type
Apartment
---
Accommodates
2
---
Bedrooms
Villars-sur-Glâne, Canton of Fribourg, Switzerland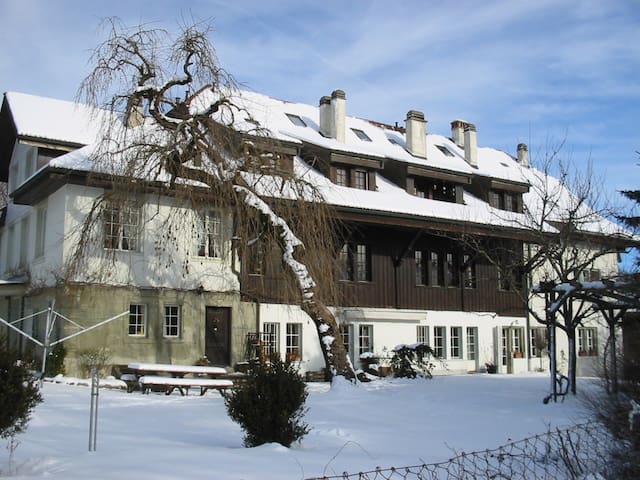 Belfaux is a village a few kilometers from Freiburg. My apartment is located between the two train stations and bus stop Belfaux. There is a Migros and many ride trail for nature lovers. A parking space is available (see photo).
Room Type
Private room
---
Property Type
Apartment
---
Accommodates
2
---
Bedrooms
Belfaux, Fribourg, Switzerland
In the heart of the city center, the apartment is situated on a pedestrian and peaceful street, in front of a shopping mall. Walking distance from cinemas, concert halls, coffee shops and restaurants, University and the train station.
A haven of peace, silent, bright in the last floor of a 6-storeyed building. It will have to use the staircase to join the apartment from the 5th to the 6st floor. 2 rooms with in every room a very confi double bed. The kitchen is filly equipped.
On a Parallel street to boulevard de Pérolles (stores, restaurants, cinema), walking distance from everything, just 200m from the park of the domino.
Super appart, super emplacement! Merci Mélanie!
julien
2017-04-03T00:00:00Z
Room Type
Entire home/apt
---
Property Type
Apartment
---
Accommodates
4
---
Bedrooms
Fribourg, Fribourg, Switzerland
Schöne, neu renovierte Ferienwohnung an zentralster Lage, mitten in Murten. Moderne Küchennische mit Blick auf See. Gemütliches Schlafzimmer mit Doppelbett, helles Wohnzimmer mit Sofa, TV und Tisch. Mitbenutzung des Gartens möglich.
Die Wohnung liegt im 2. Stock des denkmalgeschützten Hauses. Der grosszügige Garten mit Sitzplatz und Feuerstelle darf gerne mitbenutzt werden.
Das historische Städtchen liegt gleich neben der Haustüre. Zu Fuss ist auch der See bequem erreichbar. Die Gegend eignet sich wunderbar für kürzere und ausgedehntere Fahrradtouren.
Ana's flat has a lot of charm. It is really quiet, functional and clean. It is actually a very relaxing place. Noticeably, the bed is very good. The flat is ideally located: near the beautiful city center of Murten (4' walking distance), close to a supermarket (1' walking distance), close to the train station and to the lake (3' walking distance). In a residential and quite area where it is very easy to park. The communication with Ana is very easy and clear, she answers promptly and she is very helpful. I warmly recommend this accomodation.
Stephane
2016-01-14T00:00:00Z
Ana's flat is like on the pictures, nicely furnished and lies in a quiet neighbourhood. We enjoyed our stay in the beautiful town of Murten and were housed very central. Thanks!
Jaidé
2016-11-03T00:00:00Z
A fabulous apartment in a fabulous location. Just a block from Murten and next to a Coop. Quiet neighborhood and 2 blocks from the train station. So clean, spacious, and well equipped. We definitely would stay here again.
Carol
2016-10-04T00:00:00Z
This is one of the nicest Airbnb places we have ever stayed. The home is beautiful as is the backyard. It is modern, quiet and very comfortable. The train station is only two blocks away and it is an easy walk through town and to the lake. We loved our stay here.
Stephen
2016-09-22T00:00:00Z
Die Wohnung ist gut zur Stadt Murten gelegen. Das ist aber ihr einziger Vorteil. Sonst: lieblose Billigstmöblierung, kein Badezimmer, winziges Waschbecken neben Fenster ohne Vorhang, Toilette so klein, dass man um die Türe turnen muss, ungenügende Kuchenausrüstung (kein Essig und Öl, keine kleinen Teller, etc.), Bettkissen so dünn, dass sie nichts nützen, kein privater Parkplatz. Diese Wohnung ist einer Unterkunft, aber angenehm wohnen ist anders. Wir sind nach 2 von 3 bezahlten Nächten wieder ausgezogen. Auf keinen Fall ist diese Wohnung 150 Franken pro Nacht wert.
Walter
2016-12-14T00:00:00Z
L'apartament és acollidor, ben decorat, còmode, a prop d'un supermercat i de fàcil aparcament. Els propietaris són molt agradables i sempre servicials. Murten és un lloc encantador i ben comunicat.
carme
2015-08-17T00:00:00Z
Sinnvoll und schön renoviertes Haus. Die Wohnung bietet alles für einen angenehmen Aufenthalt in Murten: In 4 Gehminuten von der Altstadt und vom Bahnhof und in absoluter ruhiger Lage. Besser geht es nicht. Freundlicher Empfang und unkomplizierte Abwicklung. Wir können die Ferienwohnung nur empfehlen. Claude und Lisa
Claude
2016-01-30T00:00:00Z
Perfekte Wohnung, perfektes Haus, perfekte Gastgeber! Herzlichen Dank! Erich
Erich
2016-12-08T00:00:00Z
Room Type
Entire home/apt
---
Property Type
Apartment
---
Accommodates
2
---
Bedrooms
Murten, Freiburg, Switzerland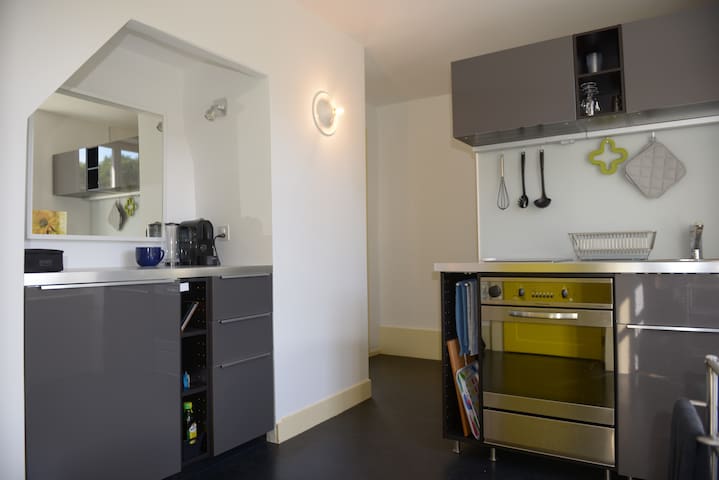 1

–

18

of

115 Apartment Rentals
Enter dates to see full pricing. Additional fees apply. Taxes may be added.