Outstanding location: 5 min walking distance to city centre and quiet!! Incredibly true! 10 min up o the Alhambra, situated in an autentically Spanish district and its bars around the park Campo de Príncipe, supermarket, fruit shop.., a village in town! Parking near! Ubicación inmejorable, 5 min andando al centro, 10 min a la Alhambra y tranquilo!! Casi imposible! En un barrio auténtico, bares en el parque Campo de Príncipe, supermercado, frutería, un barrio en la cuidad! Un parking cerca.
Great place, great location, great internet, and very helpful hosts.
Alicia & John
2017-04-10T00:00:00Z
They were very welcoming and helped us out with tips and a map. The place is cosy and well placed. Highly recommended!
Mads
2016-09-12T00:00:00Z
We were met and shown around the apartment and Josephina helped with finding parking for our car with us. The Location is great for getting around the city and within walking distance of the Alhambra palace.
Michelle
2016-11-09T00:00:00Z
Perfect location to walk to the Alhambra and all of Granada! You really don't want a car in Granada, as parking is very expensive, $30+ per day. Large 1 bedroom apartment in a very quite building with everything you will need to cook, even tea was provided :)
R.J.
2016-09-08T00:00:00Z
We had a great time in Antonio' appartment. Really central, 15 min walk from the Alhambra and Antonio was flexible in terms of time. We recommand!
Stéphanie
2016-09-29T00:00:00Z
What a GREAT! Location. Antonio's rep is also fantastic! Loved the city even with it's challenges... Getting lost is a given in Spain. Be extra prepared with printed maps. Don't count of your (SENSITIVE CONTENTS HIDDEN) maps or your phone. Its spotty most of the time. Enjoy!
Alicia
2017-02-23T00:00:00Z
Antonio was a great host. He helped us with everything. The apartment was very clean and very well located. Thank you again!
Edna
2016-10-10T00:00:00Z
We arrived and were met by a friend of Antonio's whose spoke excellent english. She gave us a map and talked us through the best places to go and how to get to them. This was extremely helpful. The house was perfect for what we wanted. I would recommend Antonio's apartment.
Sheena
2016-10-22T00:00:00Z
Room Type
Entire home/apt
---
Property Type
Apartment
---
Accommodates
2
---
Bedrooms
Granada, Andalucía, Spain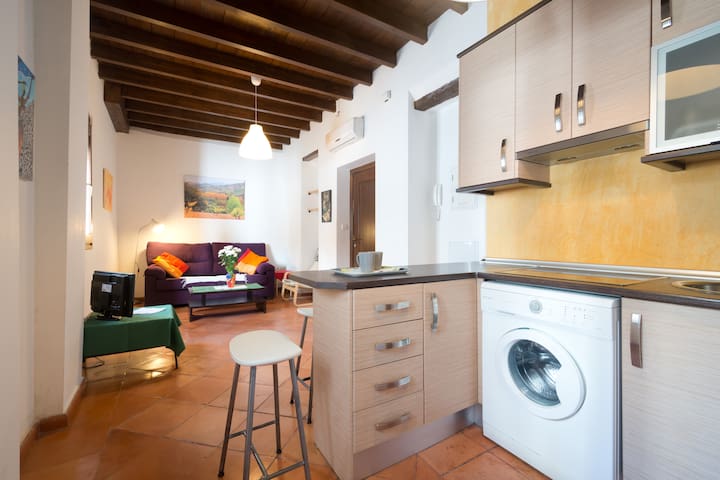 Apartamento para 2 personas. Nueva construcción en zona residencial muy tranquila, silenciosa y segura. Bien situado: 5 min a pie de la estación de autobuses y a 15 min del centro. Paradas de autobús y metro al lado. Fácil para aparcar. Varios parquees alrededor y centros comerciales. Aire acondicionado y calefacción central
Barrio moderno, residencial. Muy tranquilo y seguro. Muy bien comunicado, con numerosos comercios y espacios verdes.
El apartamento estal cual en las fotos. Esta a 2 km del centro pero es perfecto si lo que buscas es un barrio tranquilo y donde aparcar sin problemas si vas en coche . Tienes cerca a 5 minutos andando la estacion de buses y pasan cada 5 minutos hacia el centro . De jose manuel solo puedo decir gracias por ser tan amable y gracias por esperar aque llegaramos por la noche a granada , muy amable y siempre dispuesto a ayudarnos y decirnos sitios muy bonitos de granada .
Silvana
2017-04-03T00:00:00Z
Alojamiento perfecto para dos personas, muy acogedor. El casero es muy agradable y disponible. Muy recomendable.
Paolo
2017-04-11T00:00:00Z
Todo casi perfecto! La hora de salida un poco precipitada, pero también es de comprender que quiera preparar el apartamento para los nuevos inquilinos! Gracias por todo! Y hasta la próxima! Repitire seguro!
Andrei
2017-04-09T00:00:00Z
Room Type
Entire home/apt
---
Property Type
Apartment
---
Accommodates
2
---
Bedrooms
Granada, Andalucía, Spain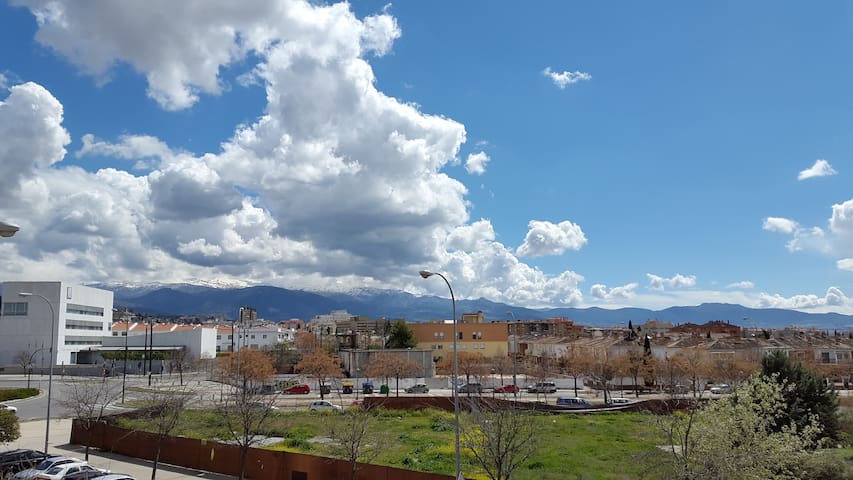 Hola a todos y bienvenidos a nuestro rinconcito!!! Somos Dori y Enrique, una familia joven y dinámica a la que nos encanta la música, el mar y la sierra. Somos privilegiados, porque Granada lo posee todo.... En nuestros ratos libres nos gusta pasear
Está una zona muy tranquila y muy bien comunicada con el centro de la capital. Al encontrarse cerca de la estación de autobuses, tenemos la ventaja de acceder fácilmente tanto a Sierra Nevada como a la costa granadina. Se encuentra situado muy cerca de los hospitales.
Está muy cerca de 2 grandes supermercados y de un centro comercial. Es un barrio muy tranquilo y muy habitado. Está a 20 min. del centro de la ciudad a pie.
Dori is very friendly and made us feel welcome. The flat is in a residential area at 20mns from the city center, easy to access by car. The bus to the heart of the city is at 5mns walking distance.
Emmanuel
2016-03-08T00:00:00Z
Dori is the perfect host! Great Communication, very warm and thoughtful welcome. Upon arrival the apartment was spotless and included everything you could need plus a few extras to be comfortable. Location is a nice 20-25 minute walk or 10 minute bus ride away from all tourist areas. We enjoyed our stay and would stay another month if we could.
Abraham
2016-01-10T00:00:00Z
Dory and Henrique are very nice poeple ! Very concerned to make us a great welcome ! Moreover it was very easy to communicate with them because of their disponibility ! the appartment was very clean and contains all we beed for our trip on Granada ! after visiting this beautiful city, the check out was very easy and fast. thanks again to our super host Dory and Henrique
Thibaut
2016-08-27T00:00:00Z
Great, Perfect. Staying here was best choice. The house was clean, easy to use, comfortable.
민우
2016-08-04T00:00:00Z
The apartment was in perfect conditions and very pleasant. It felt modern and comfortable. Dori was very available and kind. The location had some amenities (a couple of restaurants, supermarket). Getting to the center could be done by bus or taxi. The apartment was very close to the central bus station which was useful.
João
2016-05-09T00:00:00Z
Apartment was very comfortable. Two blocks from a large Alcampo supermarket. Right on the bus line to central city.
Stephen
2016-10-23T00:00:00Z
Enrique was very welcoming and accomodating - nothing was too much trouble for her. The apartment was clean with plenty of light and lots of room. The bed was very comfortable. The roof top was great for drying clothes and having a refreshing drink whilst overlooking Granada. Great supermarket across the road. Easy and interesting walks into all the major centres and buses for the less energetic.
John & Cath
2015-12-31T00:00:00Z
The host were very pleasant n helpful on our visit to Spain, beautiful country, the apartment was great well ubicated near shops and restaurants, we are glad we visit you n we are going to come back again... Thank you very much
Margarita
2016-06-08T00:00:00Z
Room Type
Entire home/apt
---
Property Type
Apartment
---
Accommodates
3
---
Bedrooms
Granada, Andalucía, Spain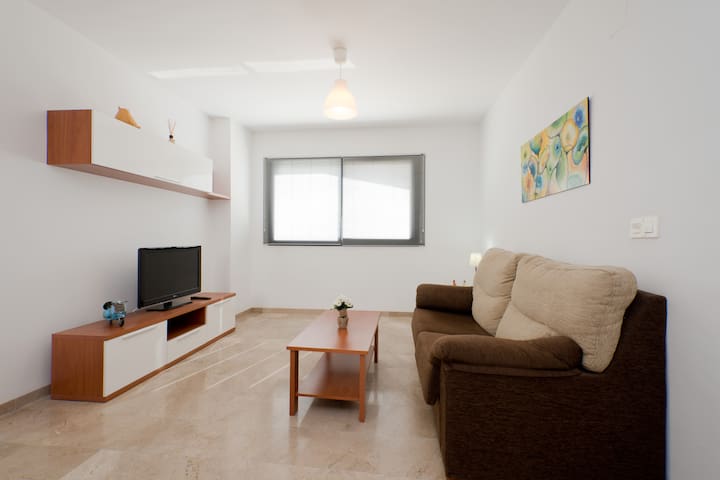 Habitación situada a dos minutos andando del centro, a 20 pasos de la línea de Bus LAC y taxi, zonas comunes: salón, cocina y dos baños, con ducha y bañera. Recojo y llevo de regreso al huésped a estación bus. Se incluye desayuno.
La habitación es muy tranquila para descansar cómodamente y está a dos minutos andando del centro, de fácil acceso a la autovía, líneas de bus y taxi.
Mi barrio se llama "Villarejo" es muy bueno, está lleno de comercios, bares y zonas de ocio.
Maria was a wonderful host especially when it come to breakfast. The breakfast she serves was worthy of a fine rEstaurant. Her place is comfortable, clean and has a good location to visit city center. Her efforts to make you feel at home are the best.
Louis
2015-10-12T00:00:00Z
Marisa was very sweet and kind! Great host.
Vera
2017-04-11T00:00:00Z
I can reccommend this host. Nice and beautiful room.
Natalia
2016-09-30T00:00:00Z
Volveré a Granada, sin duda.
Michel
2016-03-26T00:00:00Z
Marisa es muy buena anfitriona , agradable y siempre dispuesta a ayudarte , da gusto encontrar gente asi por el mundo . La habitacion comoda y confortable , ideal para descansar despues de haber recorrido Granada . Totalmente recomendable
Rafael
2016-10-23T00:00:00Z
Muy recomendable. Atenta y agradable desde el primer momento y aunque corta la estancia, me facilito informacion y atencion desde el principio.
Alvaro
2016-10-16T00:00:00Z
El paso por la casa de Marisa es insuperable. Atenta y servicial tanto activa como pasivamente. La casa está muy bien en todos los sentidos: ubicación, interiores, limpieza... Etc. Recomendable al cien por cien.
ADEL
2016-06-04T00:00:00Z
La acomodación limpia, tranquila y buena. La habitación privada es muy bonita y puedes relajarte muy bien. La dueña es muy amable y me ayudó mucho. Muchas gracias por todo.
Rumi
2016-09-25T00:00:00Z
Room Type
Habitación privada
---
Property Type
Apartment
---
Accommodates
1
---
Bedrooms
Granada, Andalucía, Spain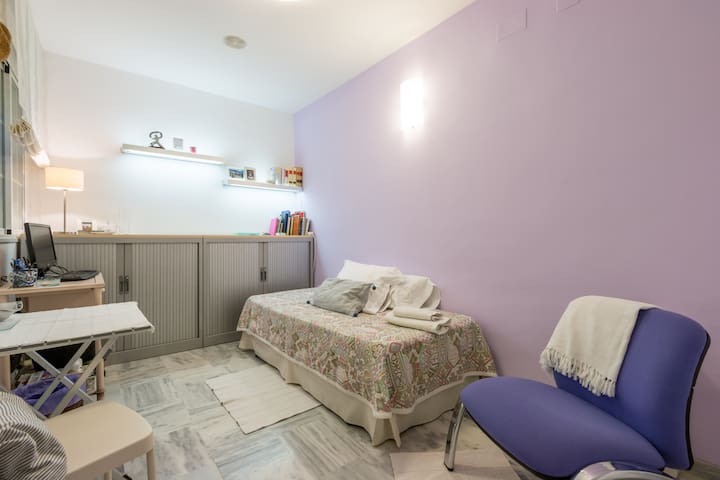 Precioso, cogedor y luminoso apartamento, situado en una zona céntrica de Granada, con parada de bus en la misma puerta que te lleva directamente al centro y a los mejores y emblemáticos monumentos de Granada.
Montse welcomed us on time with many informations on Granada and the surounding area with all sorts of tips regarding restaurants and sightseeing locations. Communication can be a bit tricky at times if you don't speak spanish. The appartement we stayed in was located near a busy main road right on top of a supermarket - not all that quiet as you can imagine. On the other hand the parking situation was good and as we can tell safe and you are able to get in and out of the city quickly (eiter by car of bus). The appartment itself looks like in the pictures. When we first entered the room there was quite the smoky/moshus smell in the air. As it turned out there was some kind of air refresher with that scent in one of the power sockets. We turned it off but for the 2 days of out stay weren't able to get the scent out of the appartement. Also the toilet-area didn't smell to nice either. The shower-head was leaking but I'm sure Montse will fix that for the next guests. The small kitchen had everything you need for cooking small meals - a definite plus! All in all the appartement is completely fine if you use it as a hub for exploring the city for a couple of days and Montse was a friendly and caring host. Thank you!
Michael
2016-05-13T00:00:00Z
Overall, we had a good experience. We had no trouble communicating with Montse (I used (SENSITIVE CONTENTS HIDDEN) translate). We came in on a late bus and were met at the apt. It was super clean. The kitchen is small but everything we needed was there. It is very close to the bus and grocery stores, and it was not hard to get to the center of Granada. Something to note in the pictures, the tables are glass and the space is small. As it says in the listing (I believe), this is not a place for young kids. Even with adults, having 4 people, you want to keep an eye on the hard surfaces. The wifi was not always stable. Sometimes it was great but then it would cut out after a 1/2 or so, be spotty, and then be fine later. I've mentioned this to Montse, and perhaps it will be improved. The shower situation is unusual - it is in the same room with the sink with no separate barriers. In fact, the floor of that room slope down into the next room. So, you have to be careful when you shower! My teens figured it out after one minor mishap, but for young kids it would be difficult. The black pull-out bed/couch is small. It was fine for my two teens, but two large adults would find it "cozy". Beyond those caveats, it was great. Super clean, which I really appreciated, convenient to everything we needed (bus, groceries), and there were no problems contacting the host at any point.
Elizabeth
2016-07-19T00:00:00Z
Nice appartment with seperate beds near supermarket, churro / coffe bar and bus stop. The appartment is situated near the bus station which can be a bit noisy sometimes if you're not used to it. Montse welcomed us personally and gave us information on how reach the center and Albaicin. We enjoyed our stay at Montse appartment.
Laura
2016-10-30T00:00:00Z
Montse was helpful and patient host. Because I arrived later then agreed. The apartment was really nice and clean. Close to the bus station and close to the city central. There is a food store and tapas restaurants really close by. I walked to the Alhambra from the apartment. It too me 40 min. The only thing that bother me was the WiFi didn't work for me sometimes. I really recommend this apartment if u want to visit Granada.
Huber Gustavo
2016-05-10T00:00:00Z
Everything was really ok. We have great time in Grenada! You can get to the center of the city by walk easly (25min).
Michał
2016-06-14T00:00:00Z
The apartment is clean and near to a supermarket. I couldn't meet the host but her sister and brother-in-law are very friendly and kind. But the address on the AirBNB is not correct and should be corrected.
Woosuk
2015-12-21T00:00:00Z
We had a great stay in this appartement. The supermarcet is downstairs and the busstation just in front of the house. Only negative point: it's about 20 min walk to the center. You can take the bus, however.
Linda
2016-10-17T00:00:00Z
Very clean apartment, with a great value for the price. Not close to the center but the bus stop (15 min. to the Cathedral) is literally close to the door. We have asked for the place afternoon and it was confirmed immediately with a quick communication.
Jan
2016-10-01T00:00:00Z
Room Type
Entire home/apt
---
Property Type
Apartment
---
Accommodates
4
---
Bedrooms
Granada, Andalucía, Spain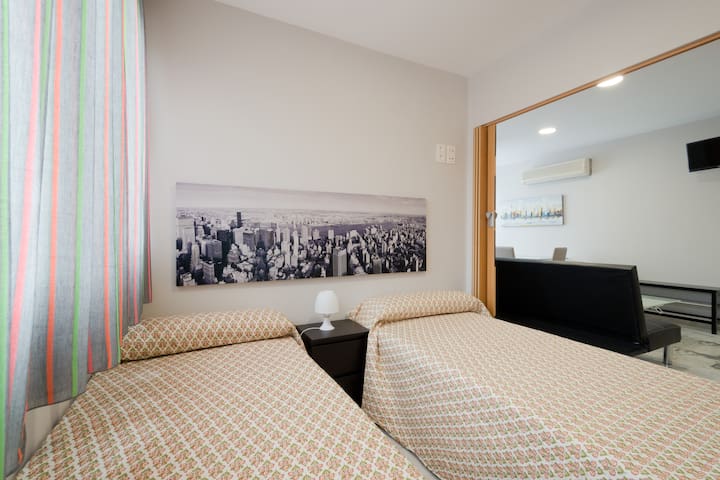 Closely to the supermarket. And closely to the bus station to anywhere of the city. 200 meters far away from bus station, 3 kilometers far away from downtown.
Alice is terrific! Super flexible and easy to communicate with. Her room is great for anyone looking for a quick place to stay for the night.
Nate
2017-02-19T00:00:00Z
Had a lovely stay with Alice. She was extremely helpful, and even woke up at 5 am to help me get a cab. Thanks for everything!
Christopher
2016-10-30T00:00:00Z
Great place to come home to after a big day sightseeing. Alice is kind and keeps her home very clean and free of clutter. Was greeted with a small bowl of fruit which was a lovely guesture. Bedroom could do with a lamp and a place to hang your towel, but it is clean, comfortable and private. Would recommend!
Hayley
2016-10-27T00:00:00Z
It's good place, accessible by bus, or by longer walk from city centre. The place is clean and Alice actively assist to keep it like that. There is a great view out of the window to the hills south of city.
Jindrich
2017-02-12T00:00:00Z
Alice was extremely helpful and went out of her way to schedule a taxi pick up for me in the morning.
Jeong Woo
2017-03-19T00:00:00Z
Muy cálida atención personal. Tranquilo para dormir. Muy buena disposición de Alice para que te sientas cómoda. Gracias
Amanda
2017-01-29T00:00:00Z
Estuve en el piso de Alice para el año nuevo . A pesar de que el escribi muy tarde Alice me respondió rápidamente y me recibió en su piso , es una chica agradable y todo estuvo muy bien . La habitación es como en las fotos y todo estaba limpio . Recomendable para una estancia a buen precio en una zona cerca del centro
Daniel
2017-01-01T00:00:00Z
Alice foi extremamente solícita e veloz na comunicação, apesar da reserva feita sem (nenhuma!) antecedência.
Lidyane
2017-03-12T00:00:00Z
Room Type
Habitación privada
---
Property Type
Apartment
---
Accommodates
1
---
Bedrooms
Granada, AL, Spain
Apartamento con Wifi, tv cable, muy confortable en zona residencial, a 5 minutos caminando la Cámara de Comercio y la Estación de Autobuses . Lugares de interés: La Alhambra, Monasterio de la Cartuja, Catedral y monumentos emblemáticos, autobuses con paradas cerca. A unos 40 minutos en coche la costa tropical, Sierra Nevada (en conexión con la Alhambra, lugar de misterio y de poder), La Alpujarra . Este alojamiento es bueno para parejas, aventureros, viajes de negocios y para los más románticos.
Confortable apartamento, muebles nuevos. Podrán disfrutar de una estancia de lujo en una de las mejores y nuevas zonas residenciales de Granada, con salida fácil a la autovía a todas direcciones. Centros comerciales a 5 minutos caminando y salida a todos los lugares en la Estación de Autobuses
El apartamento está en una zona inmejorable, junto a la Cámara de Comercio de Granada y la Estación de Autobuses a unos 5 minutos caminando, rodeado de parques y gran bulevar junto a a entrada, de las pocas zonas de Granada que se encuentra aparcamiento en la calle.
Apartment well located near bus stop, perfect to explore the city.
Bjoern
2016-12-29T00:00:00Z
The host canceled this reservation 66 days before arrival. This is an automated posting.
Stephanie
2017-02-07T00:00:00Z
Angeles was very kind and patient with us when we got lost finding our way to meet her. She was very sweet and brought us a wine cork when we found we did not have one on hand. She was flexible and very accommodating, especially since we booked last minute for the Holidays. The apartment is a perfect home away from home, comfortable and very safe. The kitchen was well equipped and allowed us to make a lot of meals. There are some nice neighborhood bars near by with great tapas as well! Also the private car park is really nice. Really enjoyed our stay!
Tabitha
2016-12-27T00:00:00Z
I'm very happy that I chose exactly this apartment. Ángeles is very pleasure person. Apartment is really good.
Denys
2016-12-18T00:00:00Z
Angeles fue muy agradable. Yo llegue mas tarde pero recibió a mi amiga adaptandose a su hora de llegada y ademas nos dejo algo de comida. El dia de nuestra marcha nos dio la posibilidad de abandonar el apartamento a la hora que quisieramos. Angeles, nos dio la posibilidad de meter el coche en el parking pero no tuvimos problema de aparcamiento y no hicimos uso de este. El apartamento esta muy bien equipado, limpio y bonito. La zona esta apartada del centro de Granada pero los autobuses estan muy bien comunicados. La zona es tranquila, segura y tiene un parquecito muy agradable. Gracias
Angela
2016-09-25T00:00:00Z
Experiencia satisfactoria El apartamento es tal y como viene en las fotos, tienes todo lo necesario para pasar unos días en Granada. Cerca de la estación de autobuses para estar comunicado con el centro. La anfitrionamuy pendiente de que estaríamos bien. Por poner algún pero, la plaza de garaje estrecha
Maria
2016-10-15T00:00:00Z
Un buen recibimiento Todo estuvo genial .El . piso . perfecto
Debora
2016-10-22T00:00:00Z
Todo mas que perfecto Angeles es una persona genial, amable,detallista y sobre todo con una humanidad desbordante, si nos gusto el apartamento mas nos gusto la anfitriona con el poco que se habla con ella ya te da paz. El apartamento es de 5 estrellas en general no falta un detalle para que te encuentres como en casa. Todo lo que pone en la descripcion del apartamento se asemeja a la realidad volveriamos con los ojos cerrado. GRACIAS ANGELES por todo personas como tu quedan pocas
Ramon
2016-10-09T00:00:00Z
Room Type
Entire home/apt
---
Property Type
Apartment
---
Accommodates
2
---
Bedrooms
Granada, Andalucía, Spain
Attractions: There are a lot in Granada. You will have to reach art and culture without sacrificing natural spaces and incredible views. The traveler can enjoy the famous tapas of Granada and the wonderful restaurants. You'll love my place because of the resulting cozy apartment, very well located, with easy access to public transport .. My accommodation is good for couples, adventurers and business travelers.
Cozy apartment consisting of bedroom, living room, kitchen and bathroom. All of this for private use without having to share with anyone.
Host was really nice, friendly and helpful. Even before we got there, he sent us all information about Granada by email which was so useful. House was brand new and clean. But needs to have got more equipped. And electricity was kept powered off, if we tried to use heater with induction. Was bit annoying but we figured it out. Has got heater in the living room but not enought to warm all the place up. Location was good. Has got everything near the house also can go to Granada by bus about 20-30 mins.
MG
2016-12-16T00:00:00Z
El piso es tal y como aparece en la foto,muy acogedor, limpio y con todas las comodidades para hacerte la estancia agradable, no hay problema de aparcamiento, barrio seguro y silencioso todo muy a mano, supermercados panaderías y varias pastelerías al lado Antes de llegar al alojamiento el anfitrión demostró su hospitalidad y nos envió mucha documentación sobre Granada y sus alrededores, que ver,como moverse,las famosas rondas de tapas....también valoramos positivamente la rapidez con la que nos confirmó la reserva. También agradecemos el haber estado en contacto con nosotros desde el momento de la reserva y durante toda la estancia. Cuando volvamos a la zona volveremos a contar con él.
Ana Belen
2016-12-09T00:00:00Z
le pongo 5 estrellas por no poner 10... todo perfecto limpio y muy atento.. gracias x todo lo ke hiciste y me voy muy satisfecho de toda la atencion que mostraste...gracias de corazon eres un tio 10
oscar
2017-03-06T00:00:00Z
Alojamiento cómodo y cerca de la ciudad Destacar la amabilidad del propietario y el buen trato,resolviendo cualquier problema y dándonos toda la información necesaria para pasar la estancia
Carmen Cinta
2017-01-16T00:00:00Z
El apartamento es tal cual muestran las imagenes.
Beatriz
2017-03-19T00:00:00Z
Muy atentos y buen trato
Enrique
2017-01-22T00:00:00Z
El bloque era muy moderno, y estaba completamente reformado. La luz de las escaleras funcionaban con sensores y el edificio terminaba con una pequeña terraza. El piso tiene unas vistas desde la ventana que son increíbles, dentro de la tranquilidad que ofrece el pueblo. Toda la casa estaba muy limpia y cuidada, se notaba que era nueva. Nuestros anfitriones estuvieron muy atentos en todo momento, y nos facilitaron toda la información necesaria para movernos por Granada y los alrededores. Sin duda fue una buena elección.
Jose Antonio
2016-11-06T00:00:00Z
La casa es pequeña y acogedora, muy bien ubicada, cerca de supermercados, restaurantes,tiendas. No tuvimos ningun problema para comunicarnos con el anfitron y estuvo pendiente de nuestras necesidades en todo momento. Totalmente recomendable!!
Cristina
2016-10-31T00:00:00Z
Room Type
Entire home/apt
---
Property Type
Apartment
---
Accommodates
2
---
Bedrooms
Pinos Puente, Andalucía, Spain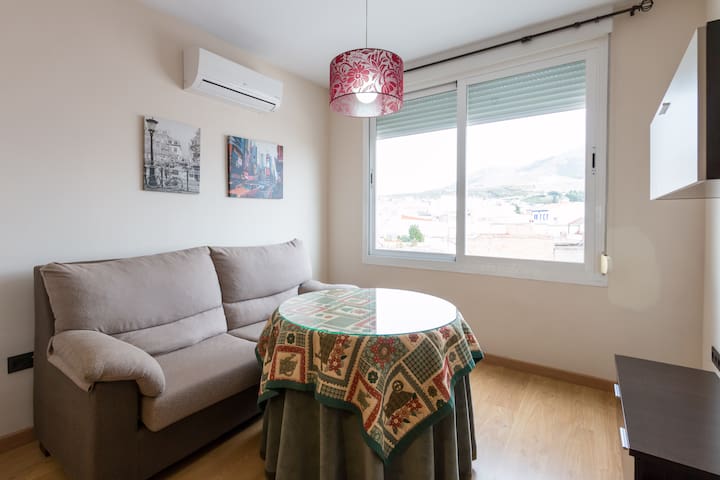 A 10 minutos andando del centro de Granada. Cocina equipada (hornilla, cafetera, tostadora, menaje,...). Proporcionamos sábanas y toallas. Cuenta con calefacción y aire acondicionado. 3ª planta con ascensor.
Stay in a beautiful apartment with designer furniture. You can walk to the Plaza de Toros and enjoy the tapas area surrounding (less than 10 minute walk), or visit the city without using the car. At the end of the day you can relax in the apartment which has a bedroom with a double bed, a bathroom, a large living room with sofa bed and a kitchen with cooking utensils, microwave oven, fridge freezer, toaster, juicer, coffee maker... It is fully equipped . The apartment has heating and air conditioning. Fully equipped with bed sheets, duvets and towels. The capacity is up to 5 people, staying 2 in double bed, 2 other people in a sofa bed and the fifth in an extra bed. Available other apartments in the same building. The apartment is on the third floor, with elevator. It is very bright and is well located. Easy parking on the street. Mercadona supermarket on the ground floor of the building. Shopping center two minutes walk . Hospital 200 meters . At the door of the building you can breakfast churros with hot chocolate. Economic bars close. It is very well connected by public bus stop right outside the building, with bus lines that take you to all the landmarks of Granada. Near the bus station. Direct access to the highway. The ski resort of Sierra Nevada is 30 kilometers, approximately 40 minutes by car. And Granada beaches are also within 40 minutes by car. If you need anything, consult before your arrival. We'll be happy to help and make every effort to make your stay the best possible. Enjoy the atmosphere of a quiet neighborhood in a charming town just 10 minutes from historic downtown is priceless.
Es un barrio familiar y tranquilo. Diez minutos andando de Plaza de Toros. Se puede aparcar fácilmente: es gratis y seguro. Hay un supermercado Mercadona cerquísima. Bares cerca para desayunar o comer. Hay una churrería justo en la puerta del edificio por si les apetece desayunar churros.
Very nice appartment well located in Granada. Supermarket and bus station are closed to the appartment. There is no parking with the appartment but no problem to find a place for free in the area. Saida provided us all informations necessary for a good stay in Granada. She was very nice and helpfull. We recommend this appartment for a few days stay or holidays.
Sophie
2014-05-09T00:00:00Z
Really excellent little apartment, very well equipped. Nice and cool for staying in the summer months. The supermarket nearby was very convenient and the surrounding area was full of little parks. The apartment is a little far out from the centre of town for walking, but it is close to the train station and bus links.
Donald
2016-07-25T00:00:00Z
Saida is a very nice host. She gave us few tips about where to eat when we first arrived. The apartment was very clean and the furniture was very new. It was very comfortable. It was great value for the money we paid.
zena
2013-10-01T00:00:00Z
The place was exactly as described. The apartament was modern, clean and comfortable. We would definitely stay here again.
Magdalena
2014-05-17T00:00:00Z
Saida was a nice host. The apartment was well located, directly above a Mercadona supermarket. The apartment was modern, very clean and with free WiFi excess. Saida was very helpful to orientate in Granada. Many thanks for the nice time.
Andrea
2014-04-13T00:00:00Z
Overall, the apartment is in line with many of the reviews. Saida was great with communication. It is really important to me that I don't have to wait to get into an apartment after a day of traveling, and Saida was waiting for us at the door. That said, the pictures are a little deceiving-- I'm not so sure the apartment looked that nice in real life, but I might be a little too critical. It just felt like the apartment was missing a little attention to detail. The internet was reliable. The apartment is a little far from some places, but don't let that prevent you from renting it because there is a bus stop right in front and both the 3 and 33 lie will take you to many of the places you want to go for tourism in Granada. One thing that is really convenient about the apartment is that it is right above a supermarket and a spot to get churros in the morning. Overall, I felt like I got my money's worth staying at this apartment.
Josh
2014-06-27T00:00:00Z
Everything OK, clean apartment, parking without problems. We were very happy, thank you Saida.
Tomas
2015-12-30T00:00:00Z
The location was perfect. The bus stop is in front of building. The grocery store & churro stand are only few steps away. Appt looks exactly like the pictures. It was very nice. Thank you.
Graciela
2013-12-28T00:00:00Z
Room Type
Entire home/apt
---
Property Type
Apartment
---
Accommodates
4
---
Bedrooms
Granada, Andalusia, Spain
This apartment is 15 minutes from Granada by car or bus. It is located at 1 th floor of a new building close to all amenities (shops, bar, restaurant, post ...) in the center of Pinos Puente (village of character). The bus stop is in front of the building. The location of this apartment allows you to visit the fabulous city of Granada and enjoy magical nights but also to enjoy extraordinary walks in the fields or in the nearby mountains (el piorno).
When we tried to use washing machine, it doesnt work but host's father and mother visited home, and they fixed it. Even though it was national holiday, they didnt hesitate to spend their time. Thank you! Location is Not far from Granada center and Police station is very near, so I parked my car in safety area. thank you. Gratias
민호
2016-10-15T00:00:00Z
A beautiful and cozy appartement in a small village. With nearby a few shops, a bakery and a supermarket. Unfortunately we didn't meet Joe. But received a good welcome by his father in law Antonio. Who gave us an introduction with map to the village. Good hospitality and Joe was good reachable via (SENSITIVE CONTENTS HIDDEN). We enjoyed our stay very much.
Karima
2017-03-15T00:00:00Z
My stay in this house was awesome, the house was clean, new, and well equipped, the bus stop was in front of the house, the supermarket was only 2 min from the house. Joe is nice guy, he was in contact with me all the time trying to make everything easy and well going. I strongly recommend this house, and for sure i will be back to rent it again :) Thank you Joe and Silvia for your hospitality!
Zack
2016-10-30T00:00:00Z
Joe and the father in law were really nice and tried to make our stay in this apartment perfectly. We had a little problem with the water but the father in law fixed it immediately. The apartment is really big and was very clean. Thank you for your time in your apartment!
Sarah
2016-11-13T00:00:00Z
Wow. What service! Practically instant communication. Joe and his family work almost telepathically. Only moments after hanging up with Joe after making a request, his father-in-law, Antonio, would knock on the door to fulfill it. Antonio was funny. Antonio's wife, Maria, was very kind. Joe's brother-in-law was curious and super helpful. They all treated me like family. The house is sparkling-clean, modern, functional. I felt relaxed there. It was fun to be in such a nice place.
Andrew
2016-11-05T00:00:00Z
Desde un principio la comunicación con Joe antes, durante y tras la estancia ha sido fabulosa. Ha existido muchas facilidades para la llegada y salida. Nos recibió su suegro, persona muy amable y servicial que nos ha brindado su atención en todo momento. El piso se encuentra en la calle principal de Pinos Puente, con la parada del autobús a Granada justo en frente. El piso es silencioso y equipado con todo lo necesario para una buena estancia. Todo muy nuevo. Sin duda alguna, totalmente recomendable para visitar Granada y alrededores puesto que en unos 15 minutos en coche estás en el centro de Granada.
JESÚS DAVID
2016-11-02T00:00:00Z
Logement propre et fonctionnel. Silviajoe s'est montré parfaitement disponible. Nous étions en voiture, l'emplacement était idéal pour visiter Grenade et ses environs.
Carole
2017-02-28T00:00:00Z
Mooi appartement, goeie accommodatie, goeie ontvangst, zeker een aanrader!
Flor
2017-02-09T00:00:00Z
Room Type
Entire home/apt
---
Property Type
Apartment
---
Accommodates
4
---
Bedrooms
Pinos Puente, Andalucía, Spain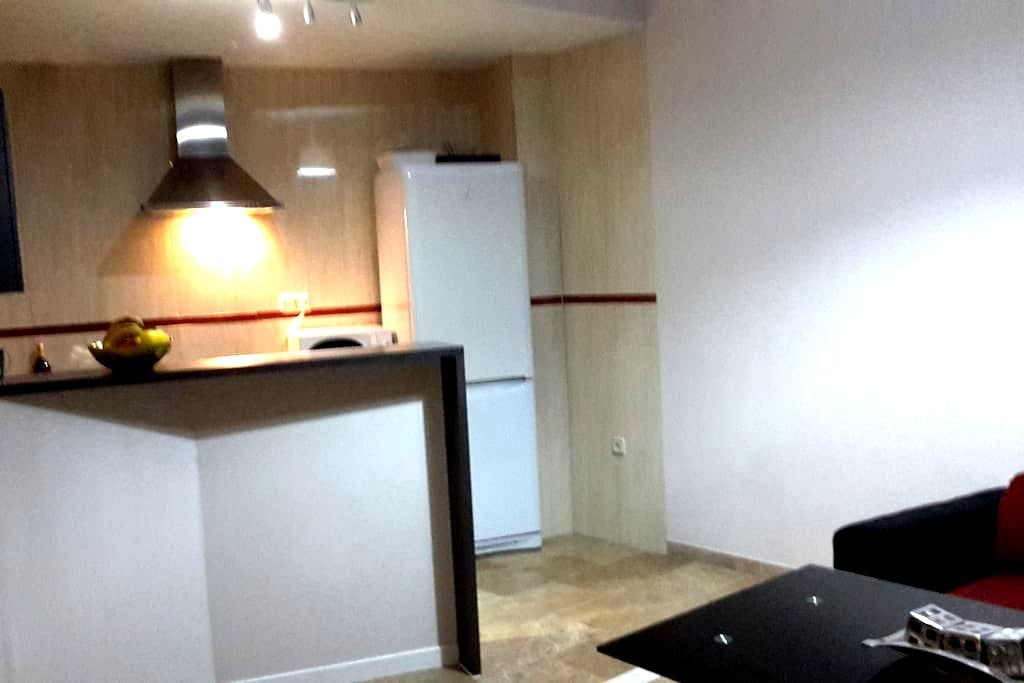 Piso en barrio familiar, ideal para visitar Granada, Sierra Nevada, la Alpujarra o la costa. Bien comunicado por transporte público y salida a carretera y sin los agobios del tráfico del centro de Granada. En uno de los mejores barrios de tapas de Granada, fácil acceso sin atascos. Acogedor y luminoso. Tres dormitorios con cuatro camas individuales y una doble. Trato amable y flexible. Admitimos mascotas. Terraza para fumadores. Acceso minusválidos.
Great location near shops, banks etc. Just 15 minutes drive to Alhambra. This house offered everything we needed during our trip. Javier was a good and friendly person with great communication. Highly recommended place for a family and group.
Zairol
2017-02-23T00:00:00Z
Awesome apartment to stay at. Very clean, spacious and great location. Easy to use public transport to the Old City. Very helpful host that organised taxis for us - thank you. Would highly recommend this place to stay.
Becky
2016-09-17T00:00:00Z
El piso esta genial, muy ordenado, limpio y perfecto. La única pega que le puedo poner es que esta lejos del centro, aunque cogiendo taxi por 5 euros estas en el mismo centro.
David
2017-03-12T00:00:00Z
Muy económico, el piso es espacioso, las habitaciones están bien, tal y como se ve en las fotos. Hay cafetera grande, que en mi caso particular es algo importante. En la zona no es difícil aparcar y está bien comunicado con el transporte público. El propietario muy simpático, no tuvo ningún problema con nuestra hora de salida, puesto que salimos un poco más tarde de las 3. Por poner alguna pega, se echó en falta alguna manta de más.
Isabel
2017-03-26T00:00:00Z
La casa es muy amplia, limpia y está en una zona tranquila. Hay una parada de autobús al lado de casa y pasan bastantes taxis por la zona pero por la noche solo pasan búhos los viernes y sábados.
Sandra
2017-04-11T00:00:00Z
Muy económico, el piso es tal cual se ve en las fotos, no está en el centro pero su ubicación es bastante buena a la hora de ir a sierra nevada, parque de las ciencias... Hay un centro comercial cerquita y una zona de tapas. Lo recomiendo. Javier me ha ayudado en todo lo que ha podido.
Almudena
2017-02-20T00:00:00Z
Muy buena relación precio/calidad. El barrio está excentrico pero muy bien comunicado con el centro con una línea directa hacia el casco histórico. Faltaría un poco de calefacción. Pero muy buena estancia en Granada gracias al piso de Javier! Gracias por su acogida y su atención.
Mélanie
2017-02-09T00:00:00Z
Javier atento y agradable estancia que sin duda repetiría,hemos estado en familia muy agusto ya que es un piso espacioso y con WiFi y muy equipado.Gracias Javier!!!
EVA
2016-12-26T00:00:00Z
Room Type
Entire home/apt
---
Property Type
Apartment
---
Accommodates
6
---
Bedrooms
Granada, Andalucía, Spain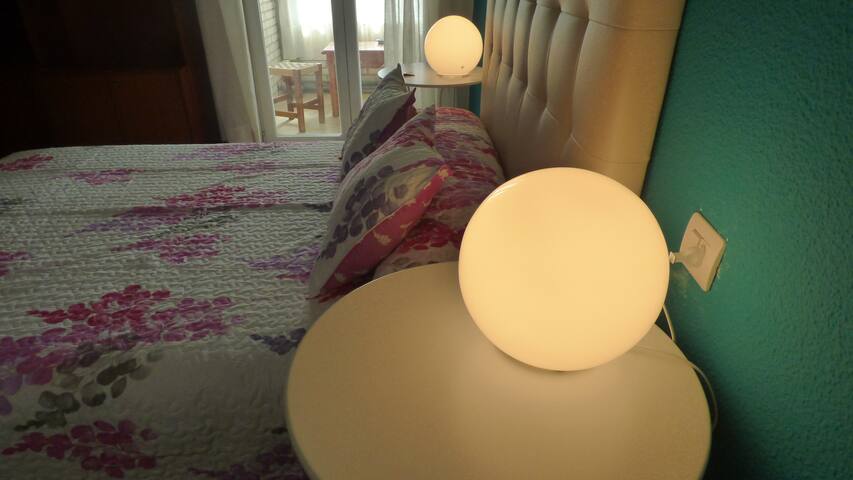 Piso valorado por los huespedes como superhot durante el 2016-17.El piso Tiene 1 habitacion con cama de 135 cm, baño privado dentro de la habitacion y sofa-cama en el salon de 135cm. Hay un 2º baño,con ducha. Parking gratuito en el edificio.Piso muy bien comunicado, tanto con el centro y enlace directo por autovia con alhambra , sierra nevada y costa , padada bus junto edificio y supermercado detras edificio. Calefacción gas natural en invierno. Fresco en verano por orientación y ventiladores.
El alojamiento consta de un dormitorio con baño privado y con cama 135 para dos personas y un sofa - cama 135 en el salón ( 2 personas max.) , ademas de otro baño con ducha y cocina totalmente equipada, calefacción de gas ciudad en periodo invernal .
Barrio nuevo, llamado barrio de los periodistas que se encuentra justo a la entrada de la ciudad por la A-92, justo al lado de la avenida que da acceso directo al centro y rotonda malaga, sevilla, aeropuerto, es el principal nudo de comunicacion de la ciudad desde aqui se accede directamente autovia y circunvalacación de la ciudad por lo que tienes acceso directo en coche a la alhambra y sierra nevada y a cualquier destino y punto de interes de la ciudad y provincia, centro ciudad, acceso alhambra, sierra nevada, costa tropical, alpujarra, malaga o sevilla. En coche el centro 10 minutos y liea de bus SN4 directa al centro , la parada bus al lado la casa.
Jesus was awesome and super friendly! Even though he didn't speak much English, he went out of his way to make sure we understood everything.The apartment is nicer than it looks in the pictures and would definitely recommend.
Meagan
2016-09-03T00:00:00Z
We arrrived 2 hours later than supposed and still the host was outside of the building waiting for us to guide us in. The place was perfect; clean, very-well decorated and secure. We would recommend Jesus' place to anyone visiting the beautiful Granada...
Halid
2016-08-03T00:00:00Z
This apartment had everything we needed to relax after a few days of hiking in nearby national parks. It is spacious, clean, and well-equipped. The large supermarket within 5 minutes walking distance and secure garage were also appreciated. Though Jesus didn't speak any English (and us no Spanish!), we managed to communicate fine.
Leanne
2017-02-24T00:00:00Z
The apartment was very clean and the parking was convenient. There was a lift which was also very helpful. Jesus was easy to work with. I recommend.
Richard
2016-07-18T00:00:00Z
Jesus was a wonderful host; Punctual, caring and responsive. His apartment is a modern flat in new building with all necessary amenities. It is located in a nice and quiet location. It is accessible to Granada center and Alhambra. Bus is a few steps from the building. Supermarket was located in the vicinty. Private and safe parking garage was huge plus for me since I had my own car. I highly recommend Jesus's apartment for my Airbnb fellows.
Adel
2016-01-08T00:00:00Z
Jesus' apartment was as described, and as we were touring around in a rental car, the secure parking was ideal for our needs. Jesus was quick to respond & met us at the apartment earlier, even though we had planned to arrive later, so he was friendly & accommodating, despite the language barrier which we overcame with (SENSITIVE CONTENTS HIDDEN) translator app. However, we found the neighbourhood completely lacking in soul & essential amenities - except for a cafe downstairs, there were no bars, restaurants or supermarkets within walking distance. It was further out of the main, nicer part of the city than we had expected. The view from the small balcony was disappointing, it overlooked other residential buildings which blocked out any view of the city or the surrounding mountains, and we found it quite noisy at night. If you don't mind getting in the car each time you need to go out to get food & supplies ( we had to make sure we had everything we needed before heading home each day) it is at least a comfortable place to rest with secure parking if you require it.
Lana
2016-09-15T00:00:00Z
Everything was perfect. The apartment is modern with a nice touch of design. Highly recommended. Jesus is very nice and available.
Bea
2016-10-16T00:00:00Z
We enjoyed our stay in Jesus' apartment. The apartment was very clean and well equipped.
Sebastian
2016-10-25T00:00:00Z
Room Type
Entire home/apt
---
Property Type
Apartment
---
Accommodates
4
---
Bedrooms
Granada, Andalucía, Spain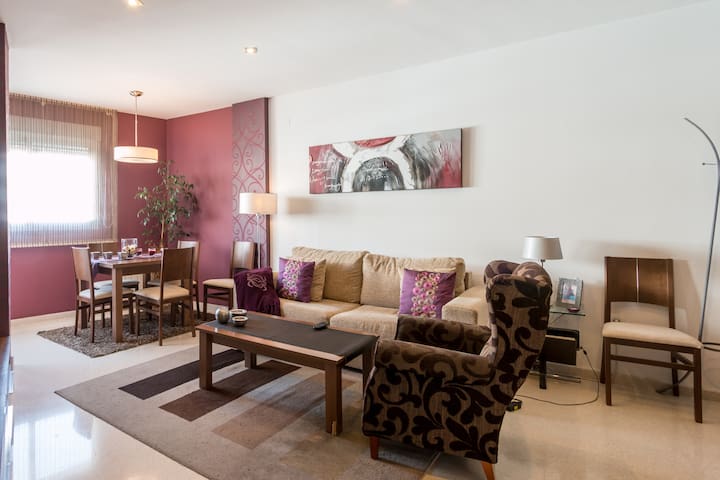 Bonita y cómoda habitación en la zona norte de Granada. Muy tranquila y cerca de la estación de autobuses y supermercados. Al lado de líneas de autobuses a distintas zonas de la ciudad. Gran disponibilidad de aparcamiento. Libre uso de zonas comunes (baño, cocina, salón). Posibilidad de dos huéspedes más en colchones aparte.
Paseos, zonas de entretenimiento y tranquilidad.
Flat well localized. The appartement is clean and well equipped. No problem to park the car. Free parkings near the flat. Ideal flat to visit grenada. I recommand
Younes
2017-04-08T00:00:00Z
The flat is located in the northern part of the city. Good connection to the city center (buses) and a tram-line is coming soon. If you like walking, you can reach the city center in ca. 45 min. The place is ideal if you have (rented) a car. There was no problem with parking, a free parking lot was always available. The neighborhood is easy to reach from the highway (exit 123). Several big supermarkets nearby. The flat (room, kitchen, bath) is clean and equipped with all you might need. The hosts are very welcoming young people and can give you some advice about the places to visit.
Guillermo Hugo
2017-04-04T00:00:00Z
The host canceled this reservation 18 days before arrival. This is an automated posting.
Katsiaryna
2017-03-21T00:00:00Z
Alba y Dany nos atendieron super bien, una pareja muy maja y divertida :) La ubicación del piso está muy práctico cuando llegas con equipaje en la estación de autobuses o quieres hacer excursiones a los alrededores de Granada. Al centro también se llega fácilmente y rápidocon el autobus urbano que sale enfrente de casa. Una estadía muy cómoda, gracias chicos!
Maren
2017-04-01T00:00:00Z
Room Type
Habitación privada
---
Property Type
Apartment
---
Accommodates
2
---
Bedrooms
Granada, AL, Spain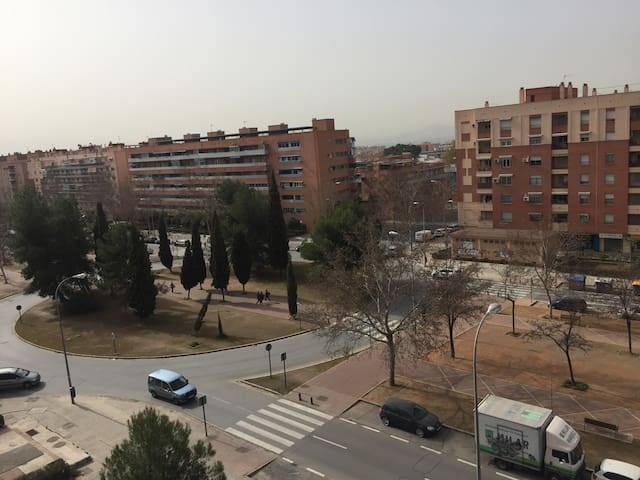 Apartamento con 1 dormitorio .Aire acondicionado posibilidad cama supletoria. Cocina equipada Proporciono sabanas y toallas Calefacción central y wifi A 10 minutos del centro Transporte público
Apartamento coqueto en el centro de Granada, a 10 min. del barrio árabe. Piso muy tranquilo con todas las comodidades. Situado a 10 min. de la estación del tren.
facil acceso . zona tranquila. bien comunicado. a 5 minutos andando del barrio de la chana conocido por sus bares de tapas. a 100 mts una espectacular vista de toda granada. a 10 minutos andando al centro.
The host is great in speaking english . She came to the train station for us to explain the way to go the flat. That was suprised and quite special experience. She was so helpful. The flat is very wide and really easy from the train station. It's only two blocks away . Takes 15 minutes. The flat is completly same the picture. Everything was great. Especialy air conditioner and washing muchine was greatly holded. Highly recommended. 기차역에서 두블럭 정도 걸어서 15분 걸립니다. 알함브라 궁전 갈려면 역 앞에서 버스 타야되서 그까지 걸어가야 되는거 빼면 좋아요. 집도 사진 그대로고 겁나 넓고 있을 거 다 있고 추천 추천!
Sunny
2015-08-10T00:00:00Z
My partner and I had a wonderful time at Alice's apartment. We felt at home, she was attentive to our needs. We liked the unique design in the Apartment. The wifi was excellent speeds. Is a good location to explore the city. Thanks Alice for being so kind and we hope to visit Granada and stay there again sometime in the future.
Kristian
2016-05-01T00:00:00Z
It was perfect for me: I was given secure parking in the apartment complex for EUR9/night & it was an enjoyable 40 to 50 minutes walk to the Nasrid Palace entrance of the Alhambra. The cava in the fridge was much appreciated.
Fulvio
2015-06-02T00:00:00Z
Great place. Not 10 min walking to the center as fescribed, though. Almost half hour to get there actually. Nice hoster, clean apartment, easy to get in and out. Great shower and fast internet connection.
Bruno
2015-08-09T00:00:00Z
this bnb is the best bnb where i have gone!! Also Alice and her friend Olga give us many help:)
Eun-jin
2015-02-16T00:00:00Z
Alice's apartment was clean and great to stay at. She was very helpful and responsive in both communications and local recommendations. 15 minute walk to downtown and nice quiet location.
Emily
2015-04-05T00:00:00Z
very comfortable apartment! just a little walk to the plaza nueva. we spent the afternoon at the Alhambra. great little city, clean comfortable place to stay! alice was so very kind and even called her friend to translate a few more difficult questions. she was very helpful and thorough in showing us the apartment. and was very flexible with our departure time as we left a little later in the day.
mackenzie
2015-04-07T00:00:00Z
Alicia was very friendly and accommodating when we arrived. She responded right away when one of our keys did not work. She was an amazing host and incredibly friendly lady. Her home was very clean, well decorated and about a 10-15 min walking distance to the center of town. It was a convenient area and near the train station. I would highly recommend her place!
Karren
2015-05-12T00:00:00Z
Room Type
Entire home/apt
---
Property Type
Apartment
---
Accommodates
2
---
Bedrooms
Granada, Andalusia, Spain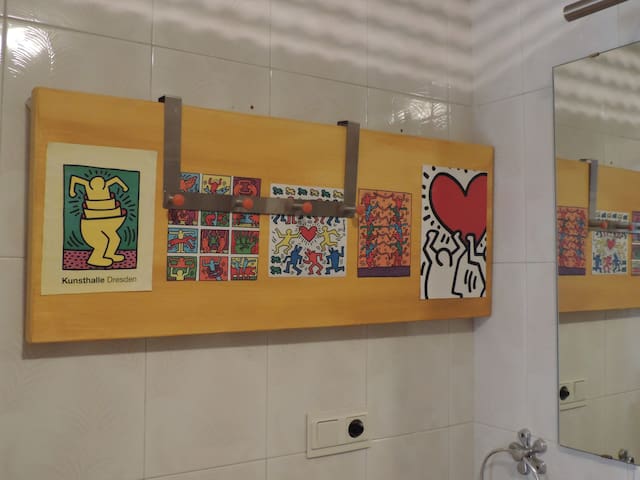 Duplex en última planta con 1 dormitorio y un cuarto de baño equipado. Balcón en el salón y una ventana en cada habitación. Cocina equipada (fogones, horno, lavadora, frigorífico) Dos plantas para mayor confort de los huéspedes y se accede al apartamento con el ascensor directamente.
Room Type
Entire home/apt
---
Property Type
Apartment
---
Accommodates
2
---
Bedrooms
Granada, Andalucía, Spain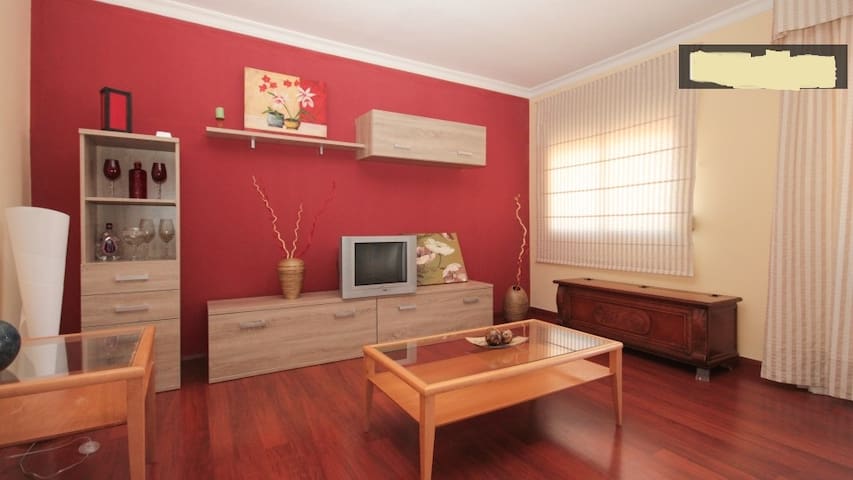 Piso reformado, con aire condicionado y bomba de calor. Junto a facultades de informática, telecomunicaciones y bellas artes. Bien comunicado autobuses desde la parada sagrada familia, buena conexión con circunvalación si quieres ir a Sierra Nevada
El piso está a menos de 10 min andando de E.T.S. de Ingenierías Informática y de Telecomunicación y de la Facultad de Bellas Artes. Buena conexión con la circunvalación para si quieres ir a Sierra Nevada (aparcar por la zona es muy fácil). Líneas de autobús SN3, SN4, U1 (para ir a Cartuja) y el búho 111. Diversos supermercados cerca un Mercadona a menos de 10 minutos, un Día, un Lidl y el Área Comercial Supermercado Villamagna a unos 5 minutos. ¡Además hay muchos bares con buenas tapas! El piso esta en la última planta (4ª), por lo que no tendrás vecinos arriba que te molesten, ademas subir las escaleras es como ir al gimnasio :) . Esta totalmente amueblado y tiene aire acondicionado y bomba de calor, para sobre llevar las temperaturas de Granada, también hay una estufa. Los gastos de luz y agua están incluidos en el precio (siempre que cada una de las facturas estén por debajo de 100 euros, cuando yo vivía allí eran inferiores de 50 euros incluso los meses de invierno). Y si te quedas más de 3 meses, también incluye 2 horas de limpieza de zonas comunes al mes. Este piso es muy especial para mi, estuve viviendo allí durante 4 años mientras hacia mi doctorado en la Universidad de Ciencias de Granada. Por motivos de trabajo ahora no vivo en Granada, por eso alquilo el piso.
La Chana es un barrio donde podrás comer grandes tapas junto con tu bebida por muy poco. El portal da a la calle principal del barrio. Desde aquí al centro (reyes catolicos) hay 20 min andando por la preciosa avenida de la constitución.
Everything was just perfect. The neighborhood was incredible. Well connected to the center, yet it felt quite authentic. Amazing tapas in the nearby bars. Pilar was the best host ever. She cared for us, was dependable, and so everything went super smoothly. The apartment was just as described. The AC works fine; it's comfy, the kitchen is convenient. Perfect!
Julius
2015-08-28T00:00:00Z
We lived in Pilar's flat for 19 days in the middle of July to the beginning of August. Having been to Granada 3 years in a row now, we really wanted to experience the city as locals, as we have plans to live there more permanently soon. The flat was particularly good value and in a safe, welcoming, and vibrant neighbourhood. The flat was not too far from the centre either - 10 minutes by car/bus, or 40 minutes on foot directly down the main road (which was what we did each day and enjoyed). The apartment was clean, cosy, and homely and was nicely decorated with lots of light open space, a comfortable bedroom, and friendly neighbours. There was also an air conditioner which made it possible to sleep despite our stay there at the hottest time of year. Pilar was also a wonderful host, who was very attentive to any questions and queries we had and happy to help with any issues. Overall we had an amazing 2 and half weeks, and can't wait to go back.
Dorelia
2016-08-13T00:00:00Z
Pilar es accesible al 100%, siempre está disponible para cualquier duda o problema. El piso es antiguo, pero está perfectamente limpio y muy bien cuidado.
Ana
2016-11-02T00:00:00Z
Room Type
Entire home/apt
---
Property Type
Apartment
---
Accommodates
3
---
Bedrooms
Granada, Andalucía, Spain