This house is perfect for 8 people max. It has 4 bedrooms, living-room and kitchen. Outside it´s the BBQ, a toilet and the swimming pool.
It has wonderful views and it´s a quite place.
Judit is a wonderful host and always on hand if you have a question The house is beautiful and even more stunning than the photos can show. The local amenities of Archez are only a few minutes drive away or a 20 minute walk (as long as you don't mind steep hills!). Competa is a larger village and very lovely and is about a 10-15 minute drive (or 1 hour walk).
Kenny & Rachel
2016-11-08T00:00:00Z
La casa está genial, todo está cuidado hasta el mínimo detalle. Las vistas son espectaculares, las habitaciones están totalmente reformadas y cuentan con varios enchufes, etc. Judit nos recibió en el pueblo y nos guío hasta la casa, así que por su parte también perfecto. Recomiendo al 100% este alojamiento.
Antonio
2016-03-26T00:00:00Z
Room Type
Entire home/apt
---
Property Type
House
---
Accommodates
8
---
Bedrooms
Árchez, Málaga, Spain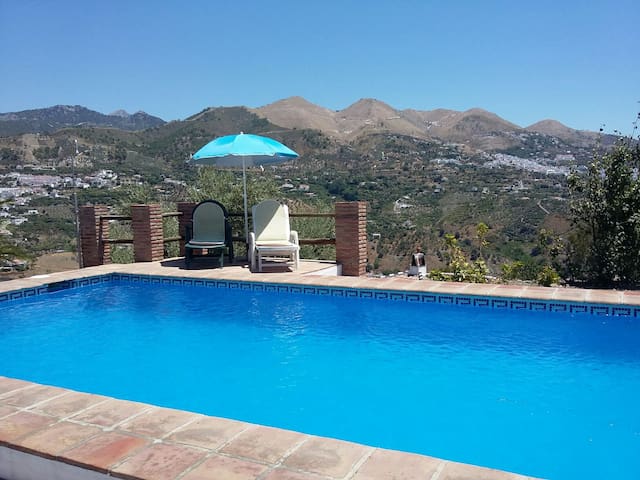 Casa de mas de 140 m² sin vecinos próximos en un terreno de 3500 m² 3 habitaiciones (6 pax.)1baño Salon- comedor con chimenea Cocina barra americana con placa vitrocerámica Amplio porche convistas a Cómpeta y Canillas de Albaida.- AA/CC. TV.
Rodeado de naturaleza y tranquility; en un entorno apacible para la relajación, deporte y sosiego. / Surrounded by nature and tarnquilidad; in a peaceful setting for relaxation, sport and peace.
Alejado de vecinos. El pueblo mas cercano (Corumbela) está a 5 min. con el coche. Archez a 10 min. /Away from neighbors. The nearest village (Corumbela) is 5 min. with the car. Archez 10 min.
Room Type
Entire home/apt
---
Property Type
House
---
Accommodates
6
---
Bedrooms
Archez , Andalusia, Spain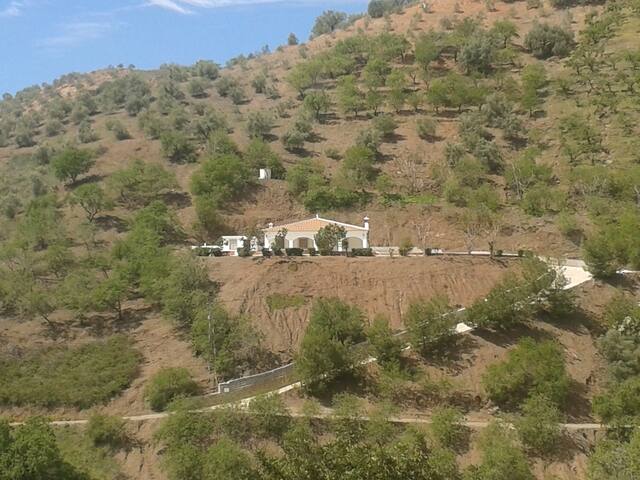 Classic white Spanish Townhouse with private secluded patio, several Terraces and two double bedrooms in the middle of Cómpeta. Just two minutes walk to the church square with Bodega and restaurants. It has several roof terraces with beautiful views over the village and down to the Mediterranean Sea. A special house with parking at the square nearby.
This is a rare find, a townhouse with patio right in the centre of the village. A place for tranquility. You will enjoy the shady area when having breakfast or dinner outside or just for relaxing after a walk in the natural park Sierra de Tejeda & Almijara. At the upper terrace you can take sun or just enjoy the beautiful view to the mountains, over the village and down to the Mediterranean see. A wood burning stove in the lounge lets you create a cozy atmosphere on winter evenings. Large modern kitchen. Moorish styled bathroom. Satellite TV and Wifi are available.
A local supermarket nearby caters for daily fresh bread and food. And a two minutes walk brings you at the church square with restaurants, small shops and a bigger well stocked supermarket close by. You will also find cash machine and a pharmacy. A market every Saturday sell local fruit, local wine, clothes, crafts and more. There is also a gym and in winter a modern swimming hall.
Geert's house is very central, an easy walk to the main square. The house is beautifully decorated, very comfortable,and has all you could possibly need for a very pleasant stay Geert is very helpful and communicative Five stars from us!
Sol
2017-03-05T00:00:00Z
Geert's house is beautifully furnished with a kitchen complete with anything you would need and in a great location, just a few minutes walk from the central square. The local property agents who manage the house were friendly and easy to work with. It was a delight to wake up in the house each morning and have a choice of terraces from which to enjoy our breakfast and morning coffee! The views from the roof were amazing, once you'd caught your breath after all the steps to get up there! :) . It is a proper multi-level townhouse. We loved our time in Competa and hope to return again soon.
Julie
2017-04-01T00:00:00Z
Room Type
Entire home/apt
---
Property Type
House
---
Accommodates
4
---
Bedrooms
Cómpeta, Andalucía, Spain
House old building but in perfect condition. Save the style and furnishings that year and is in the center of town, next to the Star Monument, the minaret tower of the thirteenth century, declared National Historical and Artistic Heritage in 1979.
Judit's house was right in the middle of this beautiful mountain village. Access was easy - Judit's husband met us and let us in. There was a fabulous roof terrace at the top of the house (which is on four floors), where we spent our evenings. There was everything we needed in the immediate area and we found a great restaurant in the village which was very popular with local people, serving roast pork on Sundays. The village swimming pool was small, but we enjoyed our afternoon there, and there are bigger pools in nearby villages. This was a lovely experience.
Jenny
2015-07-28T00:00:00Z
Room Type
Entire home/apt
---
Property Type
House
---
Accommodates
4
---
Bedrooms
Árchez, Málaga, Andalucía, Spain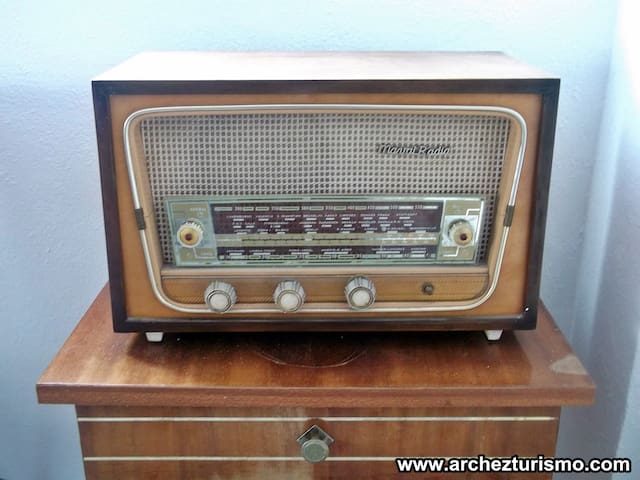 The mountain villa "Las Lagartijas" combines a Mediterranean outdoor living with comfortable conveniences. The house is south oriented, surrounded by young trees, colorful flowers and has a well-maintained swimming pool. The house has three bedrooms (1 x double bed, 4 x single beds), living room, kitchen, bathroom and a storage chamber. A terrace, about 200sqm, surrounds the house, it is partly build with a shade-giving roof. A roof terrace, accessed via an external staircase, offers a 360 degree view. The pool is always filled with fresh water. You find also a small pool house with a terrace and a refrigerator for cold drinks. This idyllic apartment complex is as following equipped: Cold and hot water, freezer and refrigerator, dishwasher, coffee maker, gas stove, espresso machine, crockery, cutlery, electric outdoor lighting, radio / CD player,-cot, Wifi internet, high chair, wood stove for cool winter evenings, a small library, bedclothes, towels, garden furniture, an additional outdoor shower, a barbecue, an acoustic guitar and a poker case. The Fina "Las Lagartijas" lies east of Malaga, 780 meters high south of the mountain Maroma (2065m). From the terrace you can see far down into the valley onto the white Andalusian villages (pueblos blancos) Archez - Cómpeta - Competa 10-15 minutes driving. It takes about 30 minutes (10 km) to the Mediterranean cost. The sun, wind from the mountain or an ocean breeze mitigated creates a pleasantly dry climate. Relaxing quiet, off the beaten track, surrounded by nature. Situated on its own mountaintop (Pena de Santos). No neighbors, surrounded by lovely vineyards, almond and olive trees. When the visibility is good, you can see Africa (maroccan Er-Rif mountains). For hikers, there are wonderful trails in the nearby mountains. (The swimming pool is in use from the beginning of Mai to the end of November.)
This place is great! We spent 2 weeks there with our little daughter and two friends. It´s everything there what you need for a little child (bed, chair, etc.)...the pool is wonderful and so is the view over the surrounding hills and mountains. The finca is well equipped with everything you need. We made day trips to the coast, to Granada, the white villages, hiking,...and still had enough time to relax! ;o) You need a car to get around and you should not be afraid of small, narrow, steep and twisty roads. Henning and Lisa are very friendly and provided all the information we needed for a pleasant stay and their friends next door to the finca are there if you need help. So highly recommended!
Jochen
2014-06-01T00:00:00Z
We had a great time at Canillas de Albaida. You have to climb quite height to arrive, but it's really worth it. The sight on the valley is amazing ! The pool and the house are exactly the same as the pictures. That is to say, very very pleasant. Henning is very helpfull and answer very quickly to any question. That was really great hollidays !
Philippe
2013-08-09T00:00:00Z
The owners were very helpful and communicated well in the lead up to our visit. The house was well equipped and the view from the main terrace was outstanding! The location is very remote, the perfect escape. If the pool was a little bigger and located a little nearer the terrace it would have been better. AC in the bedrooms would have also been nice. - Closest food shops are about 15-20min drive. - Granada can be done as a day trip, about 1hr 45mins drive.
Wilson
2014-09-06T00:00:00Z
We had a great time at the finca! The place is very nice with a breathtaking view and a lovey pool! It's a good thing to be an experienced driver when you go there, because the roads are very steep and there are many turns. And it's a good idea to shop some groceries before you come there, because when you are up there, you don't want to go anywhere :-) We had our two year old daugther with us and it was very child-friendly. Henning is a great host! He answered his emails quickly and he send detailed information that made everything easy. We can strongly recommend to go to the finca!
Maria
2013-09-26T00:00:00Z
We had an amazing stay at this beautiful finca. While only a 30 minute drive from Nerja, it feels like it's another world. As others have said, the biggest problem is not wanting to leave. The house is well set up, lots of towels, blankets, cooking utensils and cookware is provided. We had a great time BBQ-ing, eating out on the terrace and relaxing in the pool. We stocked up on food at the Carrefour in Grenada, shopping before you arrive is essential. The house does not have an oven, silly us thought there would be, so cooking is just a gas stove top and the BBQ, which wasn't a problem. Henning and Lisa provide excellent notes and directions. The drive up the mountains is gorgeous and you do get used to the narrow roads, I promise. Nerja is very close if you want a day on the beach. We also did two longer day trips, one to Granada to see the Alhambra and one to Tarifa to take the ferry across to Tangier for the day. Roberto, the caretaker lives just down the road and was very helpful when we had problem with the water. He showed up right away and left us several big jugs of water to keep us going until it was fixed. Thanks also go to Henning's cousin Ralph, who happened to be staying at his finca nearby, for helping as well. We would love to come and stay again, perhaps this time I will manage to get a photo of the fast moving geckos and lizards that come out each morning.
Scott
2014-06-25T00:00:00Z
The house is very nice, and the view is great as well. We spent one week there, and everything has been perfect, we really enjoyed our stay. Henning and Lisa have been very helpful and present (we discussed by email). I sincerely have nothing negative to say... I strongly recommend the place! You'll love it.
Alexandre
2014-06-16T00:00:00Z
My partner and myself spent 4 x nights here in mid september and we had such an amazing time! Finding the place wasn´t at all easy so I recommend studying an aerial photograph of the area as it doesnt appear properly on a gps and the location of the house is rather hidden as it very high up on top of a hill hidden behind lots of trees. Once we found our way and worked out exactly where the house was we were speechless upon arrival. The views from the house were absolutely stunning and the way that the house was decorated in rustic Andalucian style was gorgeous. We especially loved the landscaping and the gardens, it created privacy and it felt like you were in your own oasis on top of a secluded hill. The pool was appreciated alot and we spent many hours there each day between reading books and our most favorite time was late afternoon on the roof terrace watching the sunset. This house had all the modern comforts one needed however I was surprised they had everything except a washing machine, I would have prioritised installing a washing machine before a dishwasher as it would have been nice to able to do a load of washing or two to get some clean clothes. To sum up our experience I would still give this place a 10 out of 10 it superceeded our expectations and it was the highlight of our visit to Spain and I would definately love to go back there one day.
Rod
2016-09-21T00:00:00Z
This is an unique spot on the mountain. With great views on the hills and even the sea. You can be in the clouds or in the sun. Esp the swimming pool is a lovely spot, the cool water en the sun beds along the pool. We like to drive the hill up to the house. Don't expect a luxurious place but a rustique, simple place to enjoy the silence. We had wasps and small Mosquitos so take your precautions.
Peter
2015-09-12T00:00:00Z
Room Type
Entire home/apt
---
Property Type
House
---
Accommodates
6
---
Bedrooms
Canillas de Albaida, Andalusia, Spain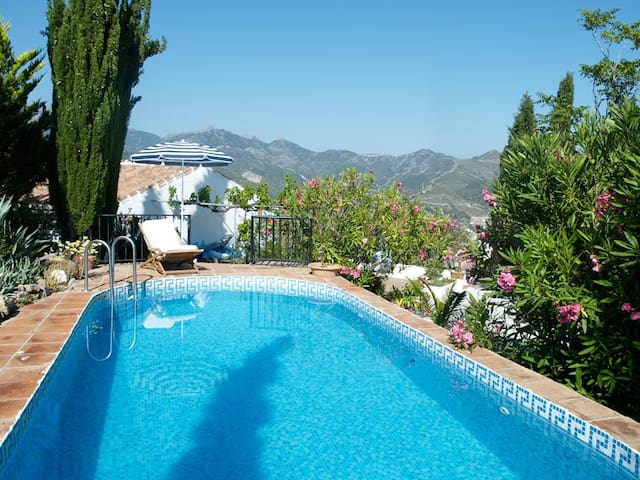 This authentic house is located in the pictureseque Andalusian mountain village of El Acebuchal, in the heart of the Sierra Almijara. It is 45' from Malaga&Granada, 20' from the beaches of Nerja and 15' toFrigiliana. The house is surrounded by a Natural Park so the last 2km are a rural way through trees: a little bit narrow and irregular. Our friends, Antonio&Paca, will go with you all the way from Frigiliana to Acebuchal. The magic, silence & stars in the sky are just amazing. It´s worthy :)
The house is furnished in the traditional Andalusian style with an original fireplace, oak beams and tiled floors. It has two patios where you can eat "al fresco", play with the children or simply lounge around sun-bathing and reading.
:)
We stayed for 5 days in this beautiful house on our last honeymoon stop in Spain. The pictures don't quite tell how beautiful and picturesque the neighborhood is. In brief: Host: Even though we didn't meet Lidia in person, rest assured that if you choose her house, it is like going to your family's place for vacation. She went way out of her way to ensure we had a delightful stay. We couldn't get to the pick up location so she sent us her friend "Antonio" to pick us up from an even further place. We even had issues with car rental that she greatly helped in. She also stayed in touch through our stay to make sure we are enjoying, In brief, its like going to your Aunt's house :) House: Its very well taken care of, there's a fruit basket for welcoming, essentials for cleaning and cooking. Towels, clean sheets and covers were provided. Shower & bathroom were also issue-free. Having breakfast in the terrace with a view of the mountains is an experience we will never forget. Neighborhood: El Acebuchal is a wonderful area to relax, the restaurant in the village has some of the best food you will ever taste, and definitely the best ice cream, It is all home grown. It is 10 minutes drive from Frigiliana. Be sure to stock up from a supermarket on your first day as there are no stores and the restaurant closes at 5 pm. Also, there is very weak reception/internet in the area. So before you go for a couple of days for seclusion, be sure to get all your errands done, you will be greatly satisfied. The drive up there in the night is not very easy so remember that, however it gets dark at 10 pm so you have time. Hiking trails are right next to you. This is THE place to relax and enjoy nature. Note: if you are there and the weather is hot enough to enjoy the pool, this will even be more beautiful than it already is!!
Saleh
2015-05-22T00:00:00Z
Although we did not meet Lidia she was always available on the phone or on email to provide answers to any questions and to provide help and advice. The house clean, comfortable and full of character as was the village. The location was perfect for us and our two dogs...plenty of wonderful walks and a great restaurant a short stroll to the top of the village.
David
2016-03-19T00:00:00Z
The place was lovely, and David and Lidia were very kind and helpful. Went out of the way to drive us to Frigiliana and back to get dinner!
Beatrice
2015-01-12T00:00:00Z
In short: 100% perfect! Lidia and Alvarez are wonderful hosts, warm and friendly and always helpful. Communikation was easy and fast; when Lidia was not there, Antonio and Paka from Frigiliana were just as helpful. The house itself is cosy and a home away from home; El Acebuchal an extremely charming village. Just perfect for everyone looking for nature, quietness, peace. Once during our stay we heard a motorbike in the distance - that was about the only sound. Otherwise: silence. Even the roosters and donkeys wait till 9:00 before they utter a sound!!! For those who want a little more exitement, there are numerous opportunities to go out for a drink or dinner in Frigiliana, or to stroll through the pretty, narrow streets. Even though: the top adress is the Bar El Acebuchal, only a few steps away from the house. Unfortunately it was only open til 16:00 during our stay, otherwise we would have spent every evening there! Plenty to do all day: good hiking around, pretty beaches close, lots of interesting daytrips to be done. And how wonderful to come back in the evening and see sleepy El Acebuchal hidden in the valley! Thanks for everything from Monica and Andreas
Andreas
2016-04-09T00:00:00Z
We really enjoyed staying in la Soleria. The house was very clean and Lidia and Alvaro were really very friendly. It's a pity we had to leave so early in the morning and couldn't taste the breakfast at the bar 'el acebuchal'.
Claudia
2016-10-31T00:00:00Z
Lidia and Alvaro's La Soleria was wonderful. It is just as beautiful as it looks in the pictures and the little village of acebuchal is very nice, quiet and friendly. The kids loved going to visit the donkeys, peacocks, wild boar, etc. that the neighbor keeps. The people who run the restaurant/bar are very friendly and welcoming and the history of this village is fascinating. We also enjoyed hiking so close to the house. Thank you Lidia and Alvaro, it was perfect for our family of 4. - Anne
Anne
2016-07-11T00:00:00Z
We loved our stay at Lidia's place. It was very peaceful, and we found some great walking trails nearby. We spent one day in Nerja, and were able to check emails and text messages then. We found Arroyo del Acebuchal a wonderful place to read and rest. The little cafe in the village closes some time between 16:00 and 18:00. We were able to order entrees to take with us and warm up later at Lidia's. We enjoyed a quiet family dinner on the patio with wine we had brought with us. Very sweet.
Robyn
2016-05-24T00:00:00Z
Really enjoyed our stay at Lidia and Alvaro's apartment. Beautiful location and apartment. The road to get there is unpaved and rural but our hired Fiat Panda managed it fine!
Robyn
2016-09-18T00:00:00Z
Room Type
Entire home/apt
---
Property Type
House
---
Accommodates
4
---
Bedrooms
Frigiliana, Málaga, Spain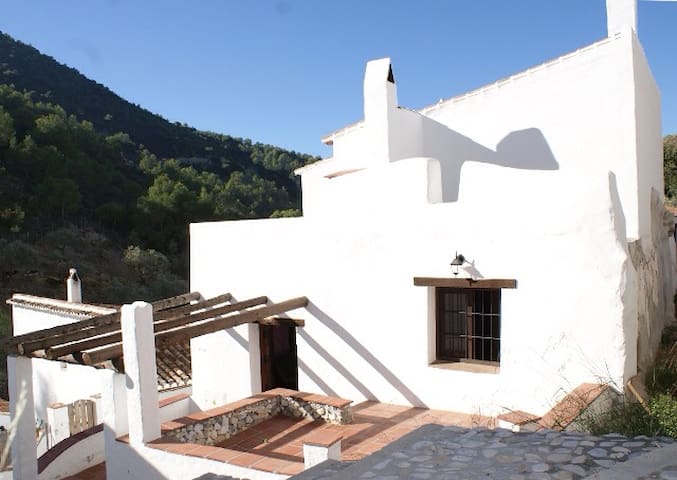 Casa Mula was literally home for one of the local Mules and has been lovingly renovated using local materials making a lovely rustic three story holiday home with all mod cons ! Situated in a corner of the village, with parking ,it has fantastic views of Mount Maroma , at 2,065 metres its the highest mountain the the Axarquia area.
Sedella is a traditional white village ( Pueblo Blanco ) situated in the Tejeda and Almijara mountain range . There are two small shops that sell all the basics and there is a street market on a Monday . There are two restaurants where you can sample the local food including Chivo ( goat ) and lamb, there is also a tapas bar on the plaza where you can sit and enjoy a glass of the local wine and watch the village life go by . There are some lovely walks / hikes that can be taken from Sedella into the national park . We can also help organise outdoor activities like horse riding , kayaking , potholing , 4X4 trips into the national park etc . Casa Mula is a unique holiday home and gives the feeling of real Spain as you will see all the locals going about their daily chores whether it be harvesting the grapes to make the local wine or bringing back fresh fruit & vegetables from their allotments . There is a bread van that comes past daily as well as other vans selling anything form fresh fish to water melons ! The house itself is full of features like old beams and terracotta flooring and is well furnished . There is a CD/ Radio player and a TV ( no satellite ) DVD player with a large choice of DVD´s There are a number of City day trips you can take from Sedella including Cordoba , Granada and Malaga , or you can just spend your days exploring the white villages in this beautiful area .
We love living and working in Sedella as it is such a friendly and traditional Spanish village surrounded by beautiful countryside . You can walk for 10 minutes and be in the natural park where you wont see anybody apart from maybe a goat herd or a mule !! Its still such an unspoilt area . There are a few ways to climb the mountain from Sedella as well as the neighbouring villages .
Casa Mula is the perfect place for holidays to hike in the spanish mountains and have relaxed days at the costa del sol. Caroline is a really nice and warmhearted host, WHO made us feel at home in Sedella from the point of arriving there! If you stay there for more than a few days, earplugs can be necessary, due to the barking dogs from the neighbourhood!
Holger
2016-09-06T00:00:00Z
Our stay at "casa mula" was marvelous. This delightful little tower is beautiful, cozy, clean, perfectly equipped, and exactly as described. Caroline was very friendly and helpful and provided us with lots of useful information about Sedella and the surrounding area, which is definitely worth visiting. Highly recommended.
Sabine & Oskar
2016-04-07T00:00:00Z
Best experience I've had with AirBnB so far. Such a charming house. Roof terrace alone is worth the stay. We even slept a night under the stars. What a lovely little village in the mountains. Absolutely delightful host who made our stay easy and memorable. Wonderful experience all around. Would stay again, would stay longer.
Vlad
2015-08-13T00:00:00Z
We had an excellent experience. Caroline and Malcom were great. The place was clean and cozy with lots of extra touches. We didn't rent a car and buses up to Sedella are only twice a day so Caroline offered to take us up! Really great people, responded well and gave us space. They made us feel very welcome and we felt very comfortable and safe with everyone in the village. It was a great way to get to know the land and the peaceful people in Sedella. We would recommend this to everyone, it's something very special. Thanks! We hope to go back someday!
Polly
2015-12-26T00:00:00Z
Caroline must be the host of your dreams. The house is beautifully renovated, every detail has quality and charm. That also goes for the equipment: while other hosts sometimes chose to only supplie the most necessary things, Carline equipped Casa Mula with lots of care. In every small detail: not the cheapest corkscrew or cooking pans she could find, only good quality stuff. Ans Caroline herself is very helpful: if it's not there, she'll get it for you or arrange it for you. We were welcomed wit a basket of goodies, including white wine and terreno wine from the region. The location of Sedella is perfect: mountains, vineywards, almond trees, spectacular hikes in the hills or simple strolls through the 'campo' (the farmland), wonderful quiet beaches only half an hour away. We enjouyed every day of our two weeks in sunny Sedella!
Hans
2016-02-03T00:00:00Z
Caroline has been a great host, very friendly, helpful and easy to talk to. The little tower (as we called it) is amazing, lovely decorated and perfectly and thoughtfully equipped. We had a very relaxing time there and appreciated the sunbathing on the roof top terrace. Highly recommended! Thank you, Caroline. Sandra
Sandra
2016-03-27T00:00:00Z
We had a very wonderful stay in the Mule House and would recommand it anytime! The contact with Caroline was very easy and she offered all the needed information. The Mule House is very clean and has everything you could need while your stay there. We felt comfortable and enjoyed our time there very much :)
Sarah
2015-11-22T00:00:00Z
A very unusual and characterful little tower house in a wonderful white washed mountain village with a lovely top terrace. Caroline cares for her guests welfare and her personal touches, such as basic provisions, a bottle of Cava were much appreciated. La Casa Mula is certainly unique, the surrounding countryside quite majestic and Caroline a wonderful host. Thank you.
Inge
2016-04-15T00:00:00Z
Room Type
Entire home/apt
---
Property Type
House
---
Accommodates
2
---
Bedrooms
Sedella, Andalucía, Spain
Our romantic town house has a roof terrace and lovely views of countryside and all the way down to the sea. On a clear day you can just about make out the coast of Africa !! The terrace is perfect for sunbathing or relaxing with a glass or 2 of vino. There is also a barbeque. We now have a flat screen tv with English channels and wifi is also available (small supplement) . The house is very close to the main plaza with its delicous restaurants and church.
The house is perfect for a relaxing break in the lovely village of Competa. It has a lovely roof terrace with stunning views. There are ample sunbeds, dining table and barbeque. The house has a small but well equipped kitchen, a lounge with flat screen tv (sat channels) and a bedroom with ensuite. Wifi is available ( supplement payable) Lets of 4 weeks or more do not include electricity charges. Competa is a lovely village and has many fine restaurants and bars.
Our house is in a quiet secluded corner with Spanish neighbours. The people in Competa are very friendly and always say hello. Fresh bread can be bought each day from the bakery near to the house. There is also a well stocked supermarket close by. There are lots of fantastic restaurants, you really will be spoilt for choice.
We had a wonderful holiday in Julies townhouse. It is perfectly located, quiet, clean and with the most beautiful view ever!!! We are allready planning to come back, and will definately live in this cute little house again. Nice beds and everything you need! We loved it :-)
Chalotte
2017-03-06T00:00:00Z
Brilliant little house in a very pretty and friendly village. Breakfasts and sundowners on the roof terrace are to die for! Very well equipped, and Julie is very friendly , helpful and communicative. We really enjoyed our stay, from long bike rides to long walks on the area.
Sol
2016-03-18T00:00:00Z
The house was as described, and the views from the terrace were beautiful. It was just what we needed for a few days away. It is not too far from the main square and Julie gave us all the information we required prior to arriving which was great. We just got a bit lost on arrival because the satnav took us down all the winding streets - which was a bit hairy but the local residents helped point us in the right direction. We was also worried about our car being stranded in the middle on the Saturday market, but luckily we parked really close to the supermarket and this part of the car park doesn't get used for the market. There are some lovely bars and restaurants, which we made the most of and bought a couple of the Vino De Competa as suggested by Julie. Great little place if your looking for a mountain village getaway.
kellie
2017-03-15T00:00:00Z
We've had a fantastic holiday at number 10. A little gem of a place, brilliant views, directions through the beautiful streets of competa were perfect as was the accommodation, booking process and info when we arrived! We would definitely recommend this place to all our friends and family! Thank you
Hayley
2016-08-13T00:00:00Z
A beautifully kept traditional Spanish townhouse which is perfect for a couple. The photograph of the view from the terrace does not do it justice- it is fabulous! Very short, if steep walk from the main plaza. Will gladly return!
Emma
2015-07-02T00:00:00Z
We stayed in Julie's little house in Competa for 4 nights. The views from the patio at the top of the house are lovely ,looking out over the top of the village towards the beautiful church. I would guess it's a 5 minute walk into the village square where there are pretty restaurants and bars. It is quite steep and you need to be fairly agile to cope the the narrow typical Spanish streets. We had problems getting hot water in the shower and better instructions on how to operate the shower taps would be helpful if left in the property. We also were unable to access the wi fi for some reason however various restaurants and bars have availability . We loved the village and the house but am giving it 4 stars due to the above reasons.
Norma
2016-09-25T00:00:00Z
Competa is een geweldig dorpje in Zuid Spanje. Het apartement is moeilijk te bereiken, zeker als je moeilijk ter been bent. Veel klimmen. Apartement is goed ingericht maar ook binnen is het veel traplopen. Heerlijk bed en goed uitgeruste keuken!! Schoon en gezellig!
Elisabeth
2017-02-16T00:00:00Z
Room Type
Entire home/apt
---
Property Type
House
---
Accommodates
2
---
Bedrooms
Cómpeta, Andalucía, Spain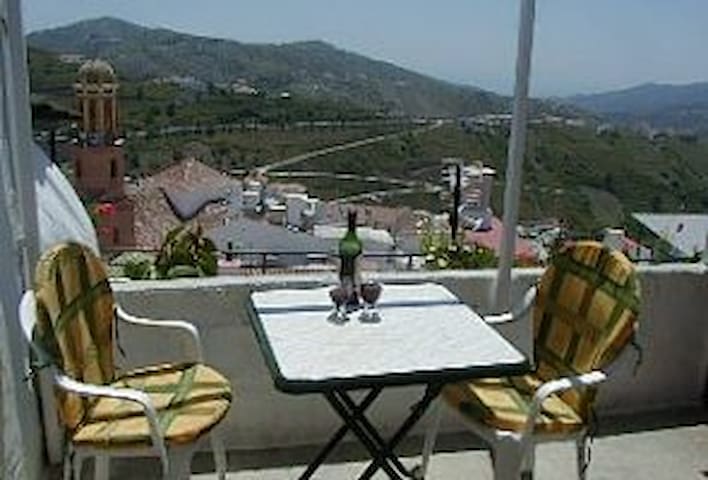 Nestled on the mountainside, Finca Agujas offers tranquility in a beautiful setting close to the picture-perfect village of Competa. The cottage has a great pool, Wifi and TV and has been newly furnished to a high standard with Moroccan touches.
Our 3 bedroom (two twins, one double), 2 bathroom cottage has been newly furnished to a high standard, providing free Wifi, washing machine, microwave, Nespresso coffee machine, multi-channel UK TV, air-conditioning/heating in the bedrooms etc. There's even an Xbox, if, in the unlikely event, the kids are bored! There's plenty of shaded outdoor space for cooking, eating and relaxing as well as an enclosed, good-sized outdoor swimming pool. Visitors are also very welcome to use the 4-burner gas barbecue and pick the home-grown lemons, oranges and almonds overhanging the terraces. The property is managed and serviced locally by an English couple who live nearby.
Competa is less than 10 minutes away from the Finca (by car) and is a lovely small Andalusian pueblo blanco with many restaurants and activities. The locals are friendly and most people in the shops and restaurants will speak at least a little English. From Finca Agujas it takes 30 minutes to get to the nearest beach at Torrox Costa and 40 mins to beautiful Nerja. Malaga airport is 1-hour away, while the Alhambra can be done in a day. For those who prefer challenging walks, the national park is right on the doorstep. There are also many other sporting activities, within a 40 minute drive.
We had such a wonderful family holiday in Robert's finca. Communication with Robert was immediate and he was very helpful answering all our questions. His managing agents who live nearby were also very helpful, and had kindly left us some milk, bread, cheese and Cava for Christmas! The cottage is absolutely gorgeous and really well equipped - we had everything we needed there. It was a bit chilly - as these Spanish houses are obviously built to be cool - but we loved having the log fire on when the sun went down, and we could also blast the bedrooms with heat from the air con just before getting in to bed. The views from the cottage are stunning and we enjoyed lazing about outside - the weather was really hot and sunny even in December! Great for sunrise watching and star gazing too. We walked one day into Competa, which took us about 45 minutes. The town is lovely. We went for a nice walk around Competa as well, up into the mountains a bit more, and on another day drove down to Nerja to the beach. For the boys, they were very happy to have Sky TV with all the English channels, so they could keep up with the footie. There is an Xbox as well, however it does not play English DVDs as it is from a different region. But we managed to get Netflix working so we could still watch some films. Only other technical thing to mention is that the cottage can't support much electricity at once, so we were quite often tripping the switch. All in all we loved our stay in the cottage, and if you are after a relaxing time, and being somewhere remote and peaceful but with a beautiful Spanish town close by then it is highly recommended. Thank you for all your help and letting us stay Robert!
Katie
2016-12-29T00:00:00Z
We had a lovely stay at the Finca. The photos are completely representative. Its location is beautiful and close also to Competa which is a lovely little town with lots going on. The house has everything you need including great cooking facilities. The rooms and bathrooms were nice. Although we didn't use the pool, it would be lovely in the summer. Would recommend to anyone, would be perfect for families.
Bo
2016-03-30T00:00:00Z
Nuestra estancia ha sido perfecta , la casa es preciosa y no le falta ningun detalle.
Mar
2017-01-03T00:00:00Z
Room Type
Entire home/apt
---
Property Type
House
---
Accommodates
6
---
Bedrooms
Cómpeta, Andalucía, Spain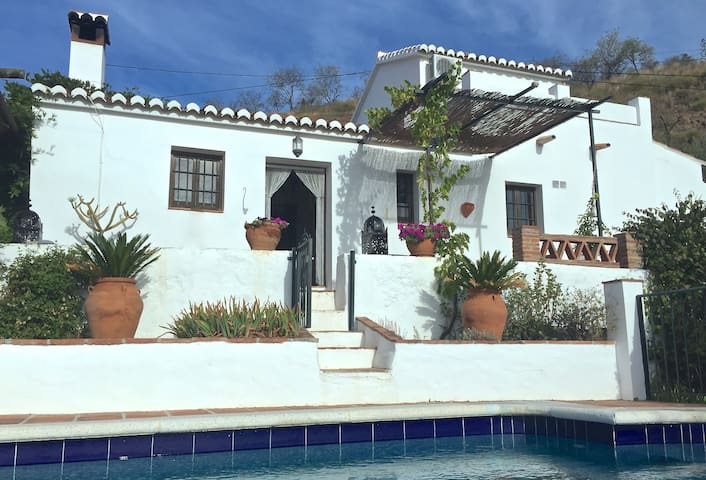 Magnificent Competa villa with a big private salt water pool on 2.500 sq.m. with fantastic views of Competa, the valley and the Natural Reserve. It has 3 bedrooms, an insite and outside kitchen, lots of lounging and seating space in or out of the sun, very secluded.
Only 2 minutes walking distance from Competa Center, and full privacy, unique!
From the moment we booked this villa, Elsie & her other hosts were fantastic and communicated with us leading up to, during and after the stay. This villa was exactly as it was described on Airbnb and the pictures were a true reflection of the property, in fact they don't really do it justice. We very much enjoyed our stay and it was in a perfect location from which to base our holiday. Our dog enjoyed the cool winds on the terrace and we enjoyed the beautiful swimming pool and fabulous mountain views, not to mention the great food and wine that Competa and the surrounding area has to offer. Thanks for an amazing stay in your beautiful home. Rich & Stu (and Yorkie the Chocolate Lab).
Richard
2016-07-12T00:00:00Z
Lovely villa, very spacious,simple but very tasteful decoration. The garden was beautiful, lots of character with several spaces to sit and chill or, for the kids, to explore. Fabulous views. Pool also lovely but a bit cool in October! Elsie was very easy to contact and responded to queries quickly. The village is a 2min walk away and is a very welcoming place with several good restaurants to choose from. There are several walks/ hikes that you can take from the villa and village. The third bedroom is in a separate annexe with a different entrance to the main villa, this may be an issue if you all need to sleep under the same roof! Would definitely recommend staying at Casa Katja.
Claire
2016-10-29T00:00:00Z
One word: amazing!! Beautiful house en great ambiance. Cómpeta is also a very nice village, with good food and friendly people. Elsie, thanks for the best holiday.
Tamar
2016-10-08T00:00:00Z
We really enjoyed our stay at Elsie's villa in Competa. The town is lovely and the Villa was perfect. We have 2 small kids and the house had everything we needed. Elsie's local host in Competa was really helpful and friendly, spoke really good English, showed us round the Villa and made us feel very welcome. I can't speak highly enough about the high standard of the Villa and the great communication we had. The views are stunning, the property and pool are really private. Everything is clean, well presented and we had a lovely time there. Would highly recommend.
Jamie
2016-07-05T00:00:00Z
Room Type
Entire home/apt
---
Property Type
House
---
Accommodates
7
---
Bedrooms
Cómpeta, Andalucía, Spain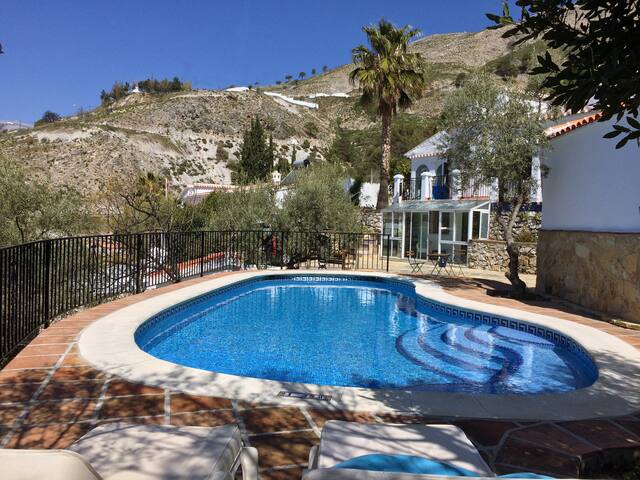 Cozy private villa with private pool 8 mx 4 m, garden, terrace & barbecue, at 4 km. from Algarrobo. It enjoys a living room with fireplace. Wonderful views to the Mediterranean sea and mountains.
- 4 (5) people - 2 bedrooms - Kitchen - Living room / Dinner room - 2 bathrooms - Satellite TV - Washing machine - WI-FI
- The Axarquia region lies on the eastern Costa del Sol (Spain), at just 55 km from Malaga International Airport. - It is a region with one of the most varied landscape of Andalusia. Here you will find sea, beaches, mountains, valleys, traditional white villages, two national parks, and the Costa del Sol! - It extends from the town of Rincon de la Victoria to Nerja-Maro. Up-country, the Natural Park of Sierras de Tejeda, Alhama and Almijara constitutes its natural limit. - Each one of its 31 municipality has its peculiar cultural and gastronomic heritage to be enjoyed during all seasons. - The Mediterranean climate, with mild winters and warm summers, attract the international visitor all year long.
What a beautiful villa in a peaceful tranquil private location with stunning views, it's exactly as described and wouldn't hesitate to stay again or recommend to anyone else, the views were picturesque I was mesmerised everyday only been home a day and miss them
bradley
2016-05-16T00:00:00Z
We had an wonderfull time in Casa Herrera. The view is stunning and the villa very comfortable. We stayed with 4 and had 2 bathrooms. There are beautifull gardens surrounding the villa. The costa tropical is very special and the people very friendly. Highly recommended!
Ingeborg
2016-04-24T00:00:00Z
Zeer goede informatie vooraf. Op de dag van aankomst zouden winkels gesloten zijn en er werd aangeboden boodschappen voor ons te doen. Omdat het huis lastig te vinden is werden we de eerste keer begeleid vanaf de ontmoetingsplek bij de snelwegafrit. Prima huis, in goede staat. Schoon zwembad.
Ad
2015-10-19T00:00:00Z
Ich war eine Woche mit 4 Freunden in der Casa Herrera. Das Haus bestand aus 2 Schlafzimmern (Doppelbett, 3 Bettzimmer), 2 Badezimmern mit Dusche, einer Küche mit Theke und einem Wohnzimmer. Das Haus war sauber und gepflegt. Die Gartenanlage und der Pool waren ebenfalls Sauber und gepflegt. Das Haus hat einen wunderschönen Ausblick und eine Wunderbare ruhige Umgebung, die zum Ausschalten und Entspannen einlädt. Jedoch wird diese Lage durch eine durchaus abenteuerliche Anfahrt bezahlt. An die man sich nach mehreren Fahrten jedoch gewöhnt. Jedoch sollte man dies bei der Autoauswahl berücksichtigen. Wir hatten leider einen Tag keinen Strom, da dieser in der ganzen Region ausgefallen war. Dies wurde uns, jedoch gut erklärt und es wurde für Wiedergutmachung gesorgt. Am Haus wurden wir von Garry begrüßt, der uns sehr freundlich und engagiert über die örtlichen Begebenheiten informierte und auch Tipps zu der Region wusste. Ich kann sagen, dass wenn jemand einen ruhigen und wunderschönen Fleck Erde sucht, um sich vom Alltag zu erholen und dies nicht unbedingt in Mitten von hunderten Touristen tun möchte, hier an der richtigen Stelle ist. Ich kann es nur empfehlen. Einen Tipp habe ich noch: Man sollte an Mückenschutz denke.:)
Simon
2016-06-08T00:00:00Z
De verhuurder heeft mij aangeboden om mij te assisteren bij het vinden van de woning. Ik heb dat afgewezen want ik dacht dat ik het zelf wel zou vinden. Dat viel erg tegen. De weg naar de woning is namelijk een onverharde weg. Je hebt het idee dat je niet goed rijdt en dat deze weg eindigt in een niemandsland. Voor lokale bevolking normaal, maar voor Nederlanders een behoorlijke onderneming. De woning zelf is eenvoudig, maar volstaat. Het uitzicht is prachtig en je kunt in de omgeving fantastisch wandelen. Het duurt 15 minuten om de woning te bereiken boven op de berg.
Haye
2016-05-08T00:00:00Z
Kun majoittaja saapui huvilalle, esitteli hän kohteen perin pohjin. Hän myös suositteli lähistön ravintoloita, kun kysyimme missä kannattaa käydä syömässä. Oikein lämmin vastaanotto.
Olli
2016-10-09T00:00:00Z
Das Haus und die Umgebung haben uns sehr gut gefallen. Die tolle Aussicht ist allerdings mit einer gewöhnungsbedürftigen Anfahrt erkauft, an die man sich allerdings nach ein paar Tagen gewöhnt. Der Service war sehr gut und sehr freundlich. Wir hatten einen überaus erholsamen Urlaub.
Tilman
2016-04-08T00:00:00Z
Room Type
Entire home/apt
---
Property Type
House
---
Accommodates
4
---
Bedrooms
Arenas, Andalusia, Spain
Casa Adeli is a rustic recently renovated townhouse that oozes charm and character. It is a comfortable fully furnished house which is well situated in a quiet but central location, just a few minutes walk from the main village square, Plaza Almijara
Casa Adeli is a rustic recently renovated townhouse that oozes charm and character, two bedrooms with two double bed and one bath, all with Rustic style, just a few minutes walk from the main village square, Plaza Almijara, and the tapas bars and restaurants of the village.A big proof terrace with magnificent mountains views and village. Cómpeta is a beautiful white village in the mountains. It's location affords it the most breathtaking views from the mountains down to the sea. It is a friendly traditional Spanish village with a good selection of tapas bars, restaurants and local shops. There is a local swimming pool and lots of good walking routes nearby. It is approx. 1 hour drive from Malaga airport which offers competitive low cost flights and 30 minutes' drive from the coast.
(URL HIDDEN)
Miguel was a lovely host and made us most welcome in his sweet rustic Casa in beautiful Competa. We really enjoyed our stay there and the terrace was a great place to enjoy lovely sunsets over the village and the mountains.
Pauline
2016-06-17T00:00:00Z
Great apartment. Competa is a great place to base for lots of hikes in the area. Miguel was very helpful in providing us with a walking book in english and map for the walks in the area. We enjoyed our stay in his traditional home complete with traditional furniture. Comfortable beds and great roof top terrace. Would recommend this place for sure.
Narelle
2016-10-23T00:00:00Z
We got a very warm welcome from the owner Miguel. He explained us everything about the house and gave us walking tips. The house is a clean family house. With two bedrooms but without doors. Instead of doors they have curtains as room deviders. In winter it is a place where you have to like to heat the rooms with electrical heaters or make your own wood fire which we liked. Very cosy! We went there to walk in the natural park. This house is an excellent starting point for walks.
Sabine
2015-12-24T00:00:00Z
Miguel is very friendly and accommodating. He met us late in the evening after our flight was delayed, showed us free parking and gave us a lift. The house is is very traditional and has a nice roof terrace. Both rooms are on the ground floor and do not have doors, curtains are used to separate the space. One room is very comfortable with a window and TV. The other is at the bottom of the stairs to the kitchen and is windowless. The guest in the front room must pass through the back room to get to the bathroom.
Duncan
2016-08-23T00:00:00Z
A lovely tiny house full of character; great value for money and really makes you feel at home. Miguel was great as a host - flexible with the arrival and departure time, helped us with luggage and provided advice about the town and the surroundings. The house was furnished with everything we needed, including cooking supplies, some tea and coffee, and (most importantly) detailed information on the region, including a topographical map of the nature reserve and a book describing walking routes that start from the village. Competa also turned out to be a nice little town (we checked out the neighbouring towns during our stay and liked this one the best); if we come to this region again, would definitely book the same place in the future .
O
2016-05-05T00:00:00Z
Miguel is a very kind man and his house is very good typical Andarcia style house and very comfortable, we enjoyed so much his house. He speaks English as well! We had breakfast and dinner at the roof terrace with beautiful view, and bought his recommend olive oil and Murcia sweet wine of village, lots of souvenirs! He lives nearby and village people are also kind so we said 'Hola! Buenas!' at the street. It was so special experience for us to stay such a beautiful village! Competa is a very lovely white beautiful village, has shops and market, bars, restaurants, we luckily saw flamenco show at the plaza Friday night. Our children also like Competa very much! We stayed two nights and recommend Miguel's house very much. Muchas gracias, Miguel! Visitamos Granada, Toledo, Covarrubias de Burgos donde viviabamos hace veinte anos, todas muy bien!
Ryutaro
2016-08-27T00:00:00Z
Miguel was the perfect host and the place is so nice and cozy. Miguel picked us up to show us an easy access to the flat. When we arrived, there was local wine, Bread and some pastry for us. The whole place was typical and we felt at home. Also it was perfectly clean and had so many nice Extras like the oven and the beautiful terrace. Miguel also gave us really helpfull tips for hiking Routes. We will come back!
Katja
2016-01-07T00:00:00Z
The accommodation was really nice and very clean. The roof terrace was a big bonus in this premises. Miguel the host has provided literally everything that you would need to make living in the house. The beds were very comfortable and sheets, clean linen and towels were provided. Miguel as a host was really good in communication and fitted the handover of keys etc to fit in with our plans rather than the other way around. The accommodation is situated on a steep slope so you cannot really park outside the property, but this is not a problem as on-street parking is very accessible and free. The shops and competa itself is literally 5min walk to the centre and the area is very safe. We would not hesitate to recommend a stay here and would definitely book again for a return journey. Great host and a lovely, Spanish feel to the accommodation. What more would you want.
David
2016-04-01T00:00:00Z
Room Type
Entire home/apt
---
Property Type
House
---
Accommodates
4
---
Bedrooms
Cómpeta, Andalucía, Spain
Only a short drive from Frigiliana Casa Ubique is set in its own olive grove and surrounded by a lush Andalucian garden. Our treasured second home combines original & modern features and offers supreme relaxation
With a setting in amongst its own olive grove and views to the sea and El Fuerte mountain to the back the cortijo is tranquil without being isolated - its only a 4 minute drive up the road from Frigiliana and down a 400m concrete track. While other houses are dotted around there is sufficient privacy to enjoy the pool, shaded terraces and garden.
We couldn't have asked for more! The location in the hills above Frigiliana was breathtaking, the house was warm and welcoming and our host, Martina, along with our escort, Birgit, were so accommodating. If we ever get back to Spain, we know where we'll be staying!
Todd
2017-03-24T00:00:00Z
This place is lovely with a magnificent view. The house is duly renovated, well equiped and clean. We had a great stay here.
Stijn
2016-02-26T00:00:00Z
What a beautiful house! We had the most amazing few days here. Thoroughly enjoyed it! Pool is beautiful, views are stunning and it had absolutely everything we needed. Thank you!!
Brogan
2016-07-17T00:00:00Z
Our first experience of using Airbnb . It certainly will not be our last. Thank you brigit for the meet and greet Martina and Robert thank you so much for opening up your beautiful home to us . It really has been one of our best accommodation experiences this year. We left our base camp ( a canal barge in England ) in April and have travelled extensivly around France and Spain. Our stay was a last minute treat for ourselves before the long drive To England . What a treat. We will be back . Beautiful pool ... Amazing views ...excellent out door entertaining spaces . Shhhhh... Don't tell everyone. Thank you again.
Simon
2016-10-06T00:00:00Z
The cortijo was just as described - very comfortable and in a stunning setting, perfect for a relaxing week in Andalucia. We were met nearby and shown where everything was, and communication from Martina was excellent.
Tristan
2016-02-07T00:00:00Z
We loved this villa! Amazing location with fabulous views. Great pool - tasteful decor, clean and really well equipped! Loads of space to relax in sun or shade.
Adrian
2016-06-27T00:00:00Z
This is a beautiful villa and we were met at a convenient location and time to be taken to it. Everything was explained clearly and there was a helpful book which covered all aspects of the property. The views are spectacular, beds are very comfortable and the villa is very peaceful. Excellent tapas restaurant close by and Frigiliana is stunning. Extremely relaxing break.
Neil
2016-05-06T00:00:00Z
After a bit of an intense welcome of the local manager, we really enjoyed Martina's place. It was clean, well equipped, and a very relaxing place. Look of the in-, / exterior is tastefully done. House is build for summer conditions, but during a few february storms we could manage to keep the place warm. Contact with Martina was good and accurate.
Daan
2016-02-19T00:00:00Z
Room Type
Entire home/apt
---
Property Type
House
---
Accommodates
6
---
Bedrooms
Frigiliana, AL, Spain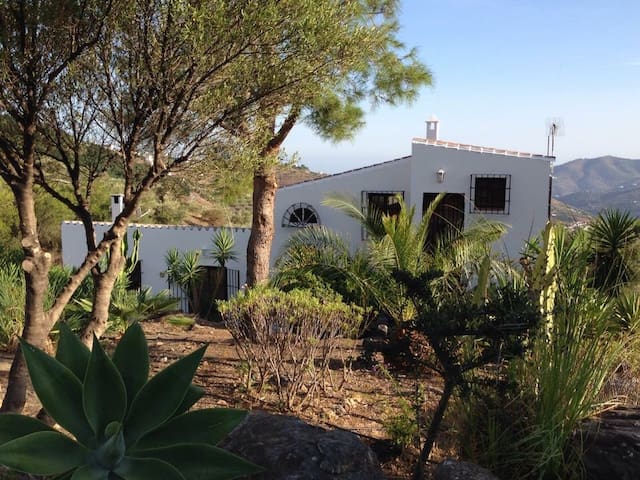 Our house is 5 min walk from the main plaza near bars, restaurants and shoppings. It has a terrace w/spectacular view, 2 bedrooms, modern kitchen, 3 bathrooms (rare in Andalucian houses!), cozy TV room with UK cable and highs speed internet.
Our house is built in 4 levels: first floor modern kitchen, Tv room, and washroom; in the second floor is 1st bedroom and a 2nd washroom; in the 3rd floor 2nd bedroom and 3rd washroom. Our terrace in the 4th floor has an breathtaking view of the valley down to the Mediterranean...we love to spend our time here relaxing with a glass of sangria or at night drinking coffee or tea watching the lights of Morocco! We also provide UK cable and highs speed internet.
Cómpeta, the pearl of the Axarquia, is located 700 m.a.s.l. with stunning views of the surrounding mountains, countryside and Mediterranean, Most popular annual fiestas are Noche del Vino (Night of the Wine) on the 15th August which features a programme of flamenco and sevillana music and dance, plus plenty of wine. The town offers every Saturday a municipal market for example with a fresh daily supply of meat fish and vegetables. The Plaza Almijara, dominated by a magnificent sixteenth century church. This bustling square is one of the best places to enjoy a break with a choice of several bars and restaurants. Competa is fascinating to explore with its labyrinth of narrow cobbled streets that date back to Moorish times and spectacular views. The town is located less than an hour from Málaga airport on the Motril bypass, so ideal for a day trip, as well as an overnight stay for those who want to explore the area further or continue their journey into the province of Granada. The end of January, early Febuary is the Almond blossom season, visit then to see beauiful landscapes in Competa and the surrounding villages of La Axarquia
A fantastic house in a fantastic part of this fantastic mountain town
Robert
2017-03-16T00:00:00Z
Jay & Miwa sind ist ein sehr nettes Pärchen! Ich habe nach Tips gefragt was man alles Unternehmen kann und auch spezielle fragen gehabt die sie nicht prompt beantworten konnten, sie haben sich sehr bemüht und ein paar Freunde gefragt worauf es dann antworten gab. Sie haben immer sehr schnell zurück geschrieben und auch verständlich. Das Haus ist sehr schön gelegen, nicht so im typisch touristischen Bereich Cómpeta's sonder weiter oben, wo noch viele spanische Personen wohnen.. Es fällt quasi gar nicht auf das in der Nähe auch andere Touristen sind. Die Unterkunft ist wie beschrieben und wirklich sehr sehr schön! Fazit: Schönes Haus, sehr nette "Vermieter", atemberaubendes Städtchen -> definitiv ein Urlaub wert
Sebastian
2016-08-10T00:00:00Z
El apartamento es muy acogedor y tiene unas magníficas vistas, aunque los anfitriones no estuvieron una persona nos atendió y estuvo disponible en todo momento.
Mirenka
2017-01-07T00:00:00Z
Room Type
Entire home/apt
---
Property Type
House
---
Accommodates
4
---
Bedrooms
Cómpeta, Andalucía, Spain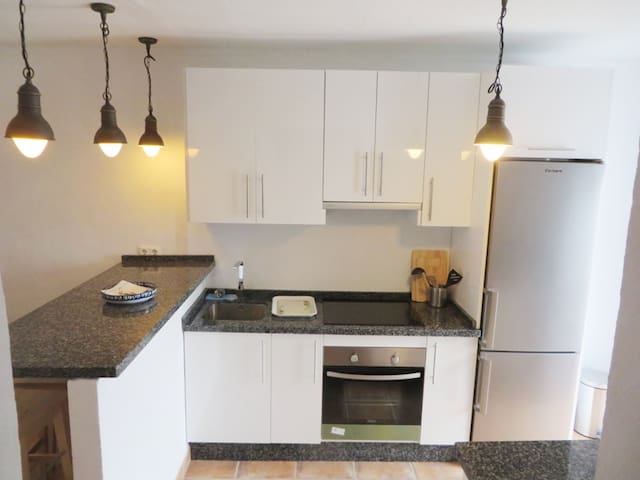 A large 3 bedroom property with private heated pool. As you arrive you will find ample parking for two cars on a private drive. With beautiful views of the mountains and rolling hills sat just outside the stunning white village of Competa, this house is perfect for a large family to spend a relaxing holiday or as a base for the local hikes, cycle routes or wine tours.
As you walk into the house from the drive you pass through a private shaded seating area, where you can sit and enjoy a relaxing meal or glass of wine. Entering the house, you immediately walk into the open plan kitchen and living room with indoor dining. The kitchen is fully equipped with everything you need to prepare that family breakfast or evening meal. There is even a washing machine to reduce the amount of clothes and luggage you will need to take, with today's airline charges saving just one case is worth it! When you arrive there will be a small welcome pack waiting for you, a few essentials to make the first few hours less stressful and allowing you to settle in. The living room is fitted out with a TV, Bluray/DVD player and Internet TV. If you prefer the sound of your own music, an ipod/MP3 music system is included. We are aware that within a family different family members prefer to relax with their own entertainment, so TV's are included in both double bedrooms. The living room has both air conditioning for those hot summer days, and a pellet burner for those cooler winter evenings, both can be enjoyed sitting in the main seating area. All three bedrooms and the family bathroom are accessed via an archway. The main two bedrooms both have en-suites and the rear bedroom has beautiful views over the hills and valley and a lovey balcony to sit on with that morning coffee or orange juice to start your day. Let us not forget the pool area, complete with seating and sun loungers, you can even pay a small fee during the winter months to have it heated for you. We include bedding and towels for your stay, there is everything you will need in our house to make you feel at home and enable you to have a wonderful holiday
Cómpeta is a beautiful village of white-washed houses in the Andalusian mountains not far from the sea in Southern Spain. With its 4,000 inhabitants, the village stands for friendly people, breath-taking views, exciting time spent, peaceful evenings, delicious food and wine and traditional Spanish festivities where everybody can join in. The location of Cómpeta about 18km from the Mediterranean Sea and the proximity to the Parque Natural de la Sierra Tejeda y Almijara give holiday-makers and residents alike many options to spend eventful days: hiking, horse riding, sunbathing, beach days and playing golf. People of every age will find something to their taste. Many people discover the area as their favourite holiday destination and come back regularly to enjoy a relaxing or active break from the routine at home. The regions offers many attractions and we recommend you explore: • Cómpeta and its pretty winding streets on a walk and its tranquil feeling; • Local, national and international dishes in a local bar when letting life go by; arts & crafts shops around town and in the other villages dotted around the region; the regional beaches and calm waters; • The hustle & bustle of the coastal towns such as Nerja, Torre del Mar and Almuñécar; • The beautiful and lively city of Malaga; the numerous picturesque old towns combined with shopping; • A nearby waterpark close to Malaga; the national parks with their scenic hikes that you can easily reach from Cómpeta and surrounding villages; activities such as kayaking, rafting, guided walks or 4x4 tours. Cómpeta has its own charm: in the evening after a day out, you can stroll through the village and relax in one of the many bars or restaurants with a glass of local wine and a local dish. Cómpeta becomes alive in the evening and you may just be tempted to go for a dance at one of the local parties with a muscatel wine; this wine has been produced here for centuries.
Room Type
Entire home/apt
---
Property Type
House
---
Accommodates
6
---
Bedrooms
Competa, Andalucía, Spain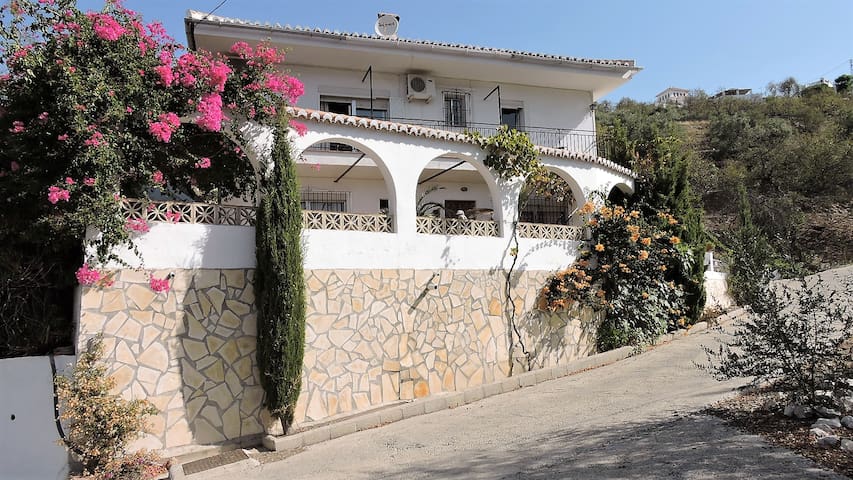 Charming character finca, 2 bedrooms, 2 bathrooms, kitchen/dining area, private water pool. Beuatiful sea and valley views. Southerly orientation. Sunny and shaded terraces. Mature irrigated garden and orchard. Good parking. Broadband internet.
The property consists of the main house in L-form and a studio with seperate entrance. The main house has one sleeping room, as does the studio. There is one bathroom in the main house and one bathroom (with washing machine) in the studio. There is a bed sofa in the living room with space for 2 extra persons to sleep.
The house is located in the hills of Carraspite. One must take into consideration that it takes a 10 to 15 minutes drive from the village Sayalonga via a small track. On destination you will find a quiet place and beautiful views.
Great place! The house had everything necessary to have a wonderful time. The view, the silence, the nature and the sunny days made our experience unforgettable! ( we still miss it - very much-) Sayalonga is perfect if you want a quiet place but also to explore the beautiful towns and cities around (Frigiliana especially). All info provided by Wim was accurate and very helpful, he also arranged a baby bed for our 1.5 year old son. The reception by Malcolm was great and the house a 10/10 (excellent taste!) THANKS and without a doubt we will repeat this experience! Gts Dani & Santi (+Louie)
Daniela
2015-09-19T00:00:00Z
Beautiful place to enjoy your holiday, we felt at home within a minute. We were guided to this remote little gem by Caroline and Malcolm, which were very helpful, also if we encountered a little local challenge (like losing the road in the dark..) Every sunset was spectaculair, you have a beautiful view over the sea and mountains. All is there what you could possibly need, also good kitchen equipment (we cooked a lot). We were there in winter time, the house is designed mainly for the summer of course, but that was no problem. We also enjoyed sitting outside and the heating worked well inside. Little surprising thing was that they were re-constructing the road (change it into a concrete road) so we parked the car before the construction and walked to the house for two days which was a nice daily work-out, and the views were still stunning. I can imagine that this place must be even more amazing in summer time.
Philippine
2016-01-01T00:00:00Z
A charming house in a beautiful setting. Stunning views and great access to nearby beaches, bodegas, and more. We loved the pool and the outdoor kitchen and those views! If you are looking to completely switch off for a week or so then it is the place to go.
Drew
2015-09-05T00:00:00Z
Thank you for a great stay. The house and surroundings were pleasent and everything was in order. a special thanks to Caroline and her husband who did a lot to make us feel welcome. We would love to come back an other time.
Rikke
2016-03-30T00:00:00Z
We had an absolutely wonderful time at Wim's finca. The house is so charming, the view is stunning and we would hope to get the chance to come back some time! The communication with Wim and Caroline was also very easy, they are super nice, friendly and helpful. Definately recommended!
Ingeborg
2016-06-18T00:00:00Z
The finca is a wonderful place to relax and enjoy holidays. The kitchen is very well equipped and you are able to cook inside or make a Barbecue outside. Heating and fireplace to Heat with wood worked well, so holidays in wintertime are nice too. We can absolutely recommened the finca.
Elena
2016-02-22T00:00:00Z
Dear Win, Thank you for a wonderful stay. We enjoyed 14 days in your beautiful finca and we already miss it. We miss the house, the pool, the surroundings, the outdoor kitchen and the stunning view. We often travel to southern Spain for summer vacation but this has without doubt been our best vacation for years. Your setup are very professional and hereby we also include Caroline and Malcolm who welcomed us warmly. It's a magic place and we would love to come back next summer to get some more of it. Kindest regards from Jesper and family
Jesper
2015-08-07T00:00:00Z
It was an excellent stay. The host was reachable but not leaving in the area, which for us was desirable as we were looking for the privacy. Very quite and private indeed. All was as expected. The description was accurate. The place was clean, in great functioning form and the grounds well cared for.
Anibal
2016-06-29T00:00:00Z
Room Type
Entire home/apt
---
Property Type
House
---
Accommodates
6
---
Bedrooms
Sayalonga, Andalucía, Spain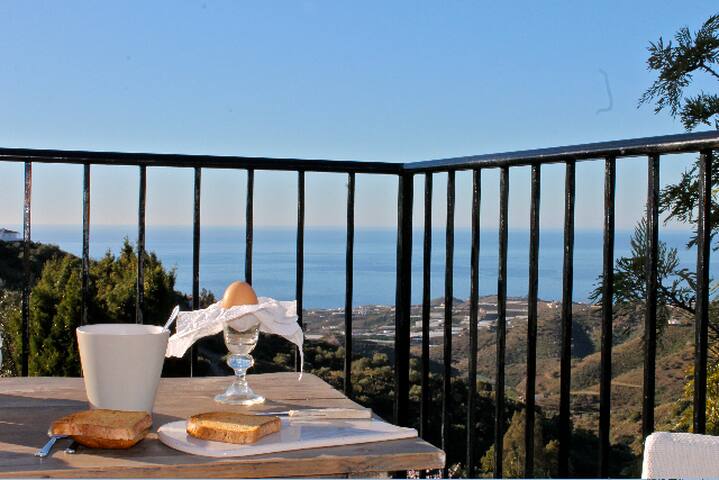 The moment you arrive here at Pinehaven you will feel the full atmosphere surrounding the house and location of total tranquility and peace. Built by myself over many years i have come to appreciate the true beauty of living and the realisation of how lucky one can be residing in such a wonderful location set in pine trees with stunning mountain views. Only friends and family have previously stayed here and now i want to share this beautiful house with yourselves. Hope to see you soon.
There are two beautiful bedrooms listed on this site. This bedroom is "Parsley" (Double bed) The other bedroom you will find listed on a separate booking on this site under Pinehaven ( Breakfast included ) Bedroom "Oregano" which sleeps up to three people. Parsley has a unique handmade wooden double bed with the added feature of a lovely little log burner & also an integral part of this large stunning bedroom is the en suite luxury double jacuzzi bath with traditional shower over. This bedroom has wonderful views of the surrounding mountains. Pinehaven is a beautiful wooden house ideal for those seeking a peaceful retreat from a busy lifestyle whether relaxing in the garden, chilling with a book in the hammocks, walking in the mountains or cycling with bicycles provided by myself, make what you want of your stay. There is an excellent wi fi connection both inside the house and in the garden. There is access in the lounge area to a large projector and screen with full sky sports, BT sports and terrestrial TV on request ( so please ask )
A very peaceful quiet neighbourhood. The busiest this beautiful area of Montealegre ( Happy mountain ) gets is when you meet Arbelo the local goatman & his kids ambling in no particular hurry along the track ........ in typical Andulucian style.
My husband and I enjoyed a short break here at Pine haven and thoroughly enjoyed ourselves. The house is amazingly beautiful and the views are absolutely breathtaking. We were very well looked after by Martyn who is the perfect host and also the most fantastic cook. Thai fish curry was spectacular 'highly recommended'. Tranquil ambiance and great food is the perfect description for Pinehaven. We will definately return later this year we were so impressed. Thank you so much. Kathie and David.
Kathryn
2017-02-15T00:00:00Z
Room Type
Habitación privada
---
Property Type
House
---
Accommodates
2
---
Bedrooms
Torrox, Andalucía, Spain
Du wirst meine Unterkunft lieben wegen der Stille und Abgeschiedenheit und des Ausblicks. Sie ist gut für Paare, Geschäftsreisende und Familien (mit Kindern). Die Finca liegt in der Nähe von Cómpeta (3 km) mit Einkaufsmöglichkeiten für den täglichen Bedarf und Restaurants, liegt 20 km vom Meer. Von Cómpeta aus kann man viele Wanderungen durch schöne Landschaften mit eindrucksvollen, weiten und breiten Panoramaaussichten machen, ebenso findet man viele pittoreske Dörfer in der Umgebung.
Room Type
Entire home/apt
---
Property Type
House
---
Accommodates
4
---
Bedrooms
Cómpeta, Andalucía, Spain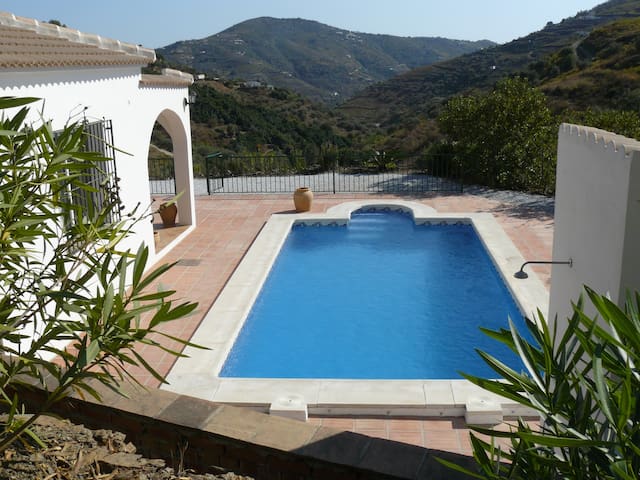 Árchez - Airbnb
:
Average

4.57

out of

5

stars from

213

guest reviews