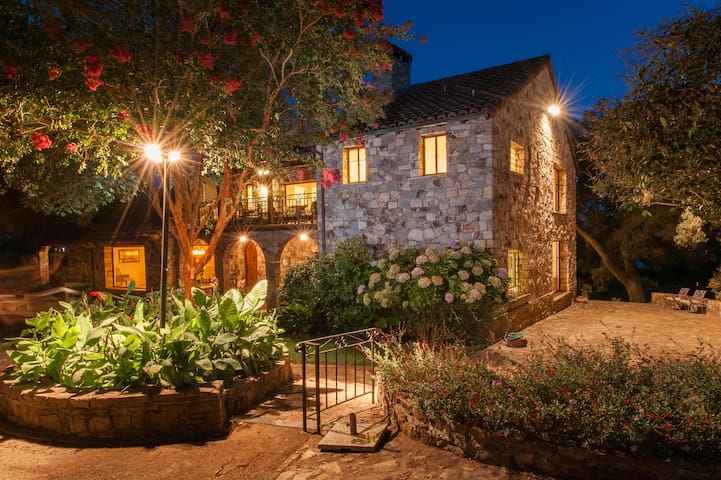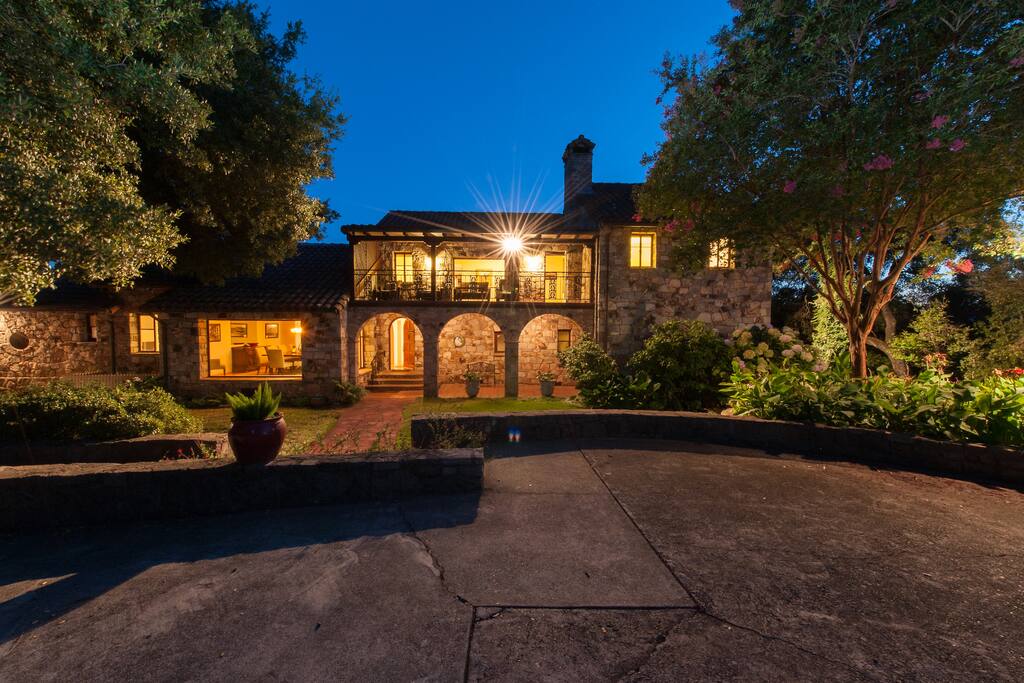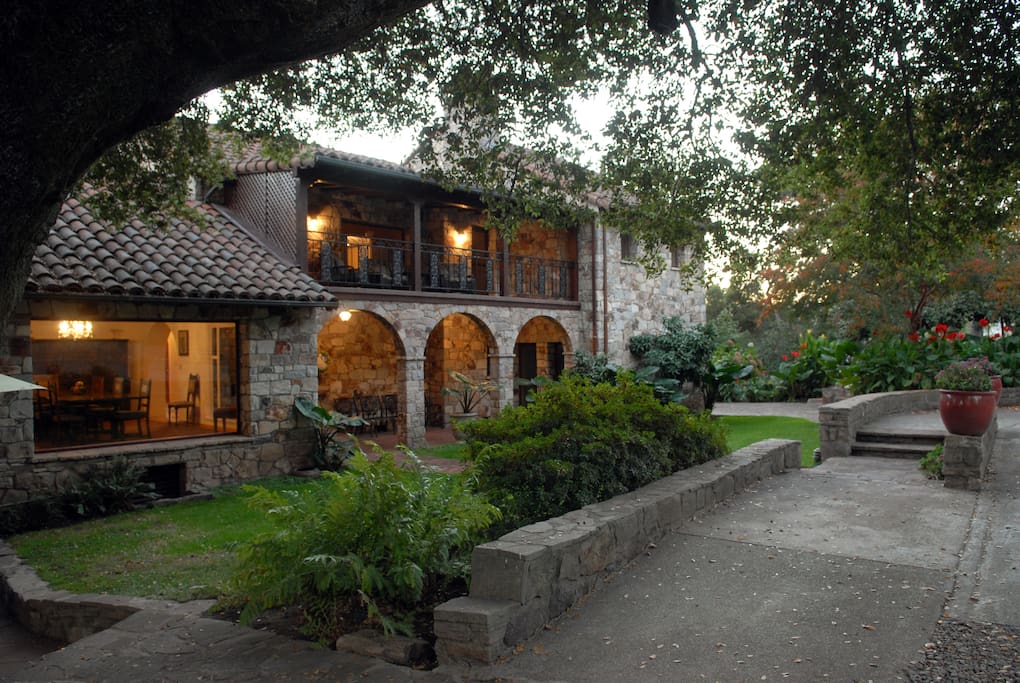 Casa Sebastiani - Wine Country Classic
When you stand on the veranda of Casa Sebastiani and gaze out over the vineyards below, you are sharing the experience with generations of the prominent wine family who stood here before you.
The space
Built by August and Sylvia Sebastiani in 1947, the property is a leisurely stroll up from the acclaimed winery.
A grove of olive trees and rustic stone walls define the approach and a remarkable profusion of flowering plants create a tapestry of color. Bird of Paradise, trumpet vines and fragrant lavender surround the home, along with numerous fruit trees heavy with succulent oranges, lemons and apples.
There is an unmistakable sense of the many gatherings and memorable moments that have taken place here over the years.
The gracious hand-hewn stone home was fashioned after a Tuscan villa with its arched entries, deep porches and expansive terraces. An old-world air of hospitality is apparent in the design and the setting.
The sun-filled terraces and decks that encircle Casa Sebastiani offer views on all sides and the dappled shade of the ancient live oaks beckon for a meditative stop under their tall branches. Large boulders are interspersed with indigenous plants and trees and masses of blooming flowers, creating a natural backdrop for special events.
This is a place that has been connected to a significant part of Sonoma Valley's history ever since 1904 when Samuele Sebastiani acquired the vineyards of the Franciscan fathers who originally planted them in 1825. From those humble beginnings the winery he founded grew into a name known around the world. Now you can fashion your own bit of history in these splendid surroundings.
Interior
Casa Sebastiani is the ideal setting for celebrations of all kinds. The home has an immediate air of welcome, with a size and scale that invites hospitality.
A circular walkway leads up to the deep, tiled porch with its stone arches and carved wooden door. Inside a wide entry opens to the expansive living room, which can accommodate a cocktail party or a casual family group. The room features a grand piano and gleaming white marble fireplace; floor to ceiling picture windows frame beautiful scenes of the flowering landscape, bringing in the natural, golden light that warms the vineyards.
The home has recently been redecorated and upgraded throughout, retaining the authentic Italian touches that express its origins. The bedroom off the living area offers a relaxing glimpse of the tranquil scenery. There is a small sitting area and a flatscreen TV and a Dutch door to the outside. The bath has a stone tile shower with tiled bench seat, marble vanity, two closets and privacy windows for plentiful light.
A separate guest suite can be entered from outside or through the kitchen area. Completely remodeled, it has a stone-tiled bath, bedroom and views of the stately oaks. Upstairs on the second floor are three bedrooms: a large master suite with a floor-to-ceiling window for private views of the soaring shade trees, and doors that open to a sleeping porch where you can lounge in the shade on a summer afternoon. A marble dressing table area connects to the bath where there is a tub, shower and separate toilet.
Down the hall are two bedrooms, one with a queen bed and one with two queen beds. Each room has views of the vineyards and access to a veranda with an ornate wrought iron railing that runs the length of the house and provides time for quiet contemplation. A shared bath with shower over tub and a toilet separates the two rooms.
The kitchen, always the heart of a home, is where Sylvia Sebastiani tried out her recipes for the scrumptious sauces and hearty Italian meals that are included in her popular cookbook, Mangiamo! Let's Eat. Newly upgraded for today's cooks with granite counters and tile floors, the kitchen has marvelous vistas of the fruit trees and vines, and a huge flowering poinsettia with bright red blossoms frames the view. You'll be inspired to try your own pairings with some of the fine local wines around the oak table in the kitchen, or create a splendid meal to enjoy in the formal dining room.
Arched windows and doorways out to the lower veranda are a hallmark of the congenial indoor-outdoor lifestyle treasured by wine country residents. The veranda has a long carved stone table with umbrellas that seats 16 for alfresco dining, and a charming rock bridge takes you to the sparkling turquoise oval pool.
Beyond the pool is a two-car garage, and a short stroll down the hill brings you to a guest cottage. The rustic, natural wood-paneled cottage has a living area, a small kitchen and a large, appealing bedroom that faces the vineyards. Doors open to a wooden deck that wraps around the house and creates a delightful private guest getaway experience.
Casa Sebastiani is a most welcoming place, embodying the generous spirit of the legendary pioneers of California's premium wine industry that built this home. It's a place where you will want to welcome your friends and family and create new traditions of your own.
Please note: Wifi is limited, can be spotty, no streaming.
Guest access
6 Bedrooms
5 Bath
Sleeps 14
Main house and guesthouse
Multiple entertainment areas
Beautifully landscaped ground
Across the street from Sebastiani Winery
Interaction with guests
This property is represented and managed by BeautifulPlaces, Inc. We strive to deliver an outstanding vacation rental experience and will be available to address any issues which arise before, during or after your stay. We are available by phone 24/7 during your stay to help with any issues which arise at the property.
BeautifulPlaces provides concierge services and are happy to recommend activities and arrange for pre-arrival shopping, private chefs and other in villa services.
Please do not hesitate to contact us with questions about the property, our services or these terms, conditions and rules. After we receive confirmation of your reservation, we will email you a copy of our rental agreement which you must sign and return to us within 24 hours.
Other things to note
•Professionally managed, cleaned and inspected before each guest stay
•24/7 emergency and after hours support
•Complementary Gilchrist and Soames bath amenities
•Complementary bottle of local wine
•Complementary starter bag of local coffee
•Pool is not heated but has a locking child safety fence
•Available services: concierge, private chef, villa pre-stocking, in-villa spa treatments, activity and itinerary planning
---
---
Always communicate through Airbnb
To protect your payment, never transfer money or communicate outside of the Airbnb website or app.
Learn more
---
Check in is anytime after 4PM
Additional rules
Terms, Conditions and Rules
The following states the terms and conditions concerning this vacation rental between you, the" Guest", referred to as the "Guest) and BeautifulPlaces. You are responsible for payment, deposits and all facets and terms of the lease as detailed in this rental agreement. Payment of money or taking possession of the property is evidence of your acceptance of this legally binding agreement and acceptance of these terms, conditions, limitations and restrictions on behalf of you and all members of your rental party.
Prior to arrival, names of all registered occupants staying at the property must be provided under "Guest list" (different from "Itinerary share") as well as the ages of all children under 18. Directions and check-in instructions will only be provided once we receive the names of all registered guests.
Good Neighbor Policy
There is a local Vacation Rental Ordinance which we are required by law to enforce governing occupancy and behavior. Our rules and terms are designed to comply with the ordinance and ensure neighbors are protected from vacation rental disturbances as well as comply with the conditions set by individual vacation rental owners who have graciously made their homes available for you to enjoy. Neighbors have our 24/7 contact number and will call us and may notify the sheriff if disturbed.
Occupancy
Overnight occupancy is strictly limited to the number specified for this property.
Additional Day guests are not allowed.
Parties, events and gatherings are not allowed at any time, even if the maximum occupancy is not exceeded.
You will be asked to provide the names of all guests in your rental party who will be staying at the property with your signed rental agreement, and we will need the final list of names at least 7 days prior to arrival.
Noise and neighbor disturbances
Excessive noise and behavior which disturbs neighbors is not allowed.
Outdoor amplified music and music which is audible to neighbors is prohibited at all times.

Quiet Hours
Any noise and outdoor activities which may disturb neighbors are prohibited between the hours are of 10:00 pm and 9:00 am. Sound travels in the wine country, particularly at night, and even a small group of people enjoying a quiet conversation may result in a neighbor disturbance.
Parking and Speed Limits
Parking is strictly limited to the parking spaces provided on site.
Parking is not allowed on the street, private or fire access roads.
Please drive no more than 5-10 miles an hour on private and shared access roads.
Accelerated eviction
We know that most Guests will behave in a respectful manner and adhere to the terms and conditions of this agreement. However, any violation related to over occupancy, non-compliance with quiet hours, noise which disturbs neighbors, holding a party or event may result in immediate eviction and forfeiture of all funds plus a charge of $3,000 to your credit card. In addition, Guest may be responsible for fines issued by county officials or the sheriff for violations of local vacation rental laws and ordinances.
Excessive utilities
Guest shall be responsible for excessive utility usage. Pools which have pool heating are mildly heated between July 1 and Labor Day and many pools will be warm before or after those dates. Most pools are heated by propane, which is very expensive. If you have any questions about pool heat, or want additional pool heating, this must be arranged with BeautifulPlaces well in advance of your stay. If pool heating is adjusted upwards by Guest or a member of his party, an additional fee covering incremental propane costs may apply and will be charged to your credit card. For rentals of 30 days or more, there may be a different arrangement for utilities which will be communicated at the time of booking.
Extra cleaning
The housekeeping fee covers normal cleaning at the end of the rental term. If the condition of the premises requires extra cleaning or laundry beyond the norm, Guest shall be responsible for the cost of such cleaning which will be billed at a rate of $35 per man hour which will be charged to your credit card. If you would like additional housekeeping during your stay, please inquire well in advance of your stay.
Check- in and Check-out times
Check-in time is 4:00 pm. Unfortunately we are not able to accommodate early arrivals. Check-out time is 10:00 am. You will be assessed a fee of $250 if you depart after 10:30 am or $500 if you depart after 12:00 noon which will be charged to your credit card on file. For security reasons, you will receive the actual address about 2 weeks prior to arrival.
Recycle and Trash
Recycling is required by local law. Normal guest usage includes one large can for garbage and one large can for recycling which should be ample. Failure to recycle will result in a fee of $150.00 and any excess garbage which must be removed from the property will result in a minimum fee of $100.00 which will be charged to your credit card.
Dogs
Certain properties managed by BeautifulPlaces allow dogs with prior written consent and payment of a one-time dog fee and agreement to specific dog rules. Guest agrees not to bring a dog or allow a dog on the premises without prior written consent of BeautifulPlaces. Unauthorized dogs may will result in an additional fee of $100 per day. Unfortunately cats and other pets are not allowed.
Smoking
Smoking is not allowed inside the buildings or on the property during the rental term. A fee of up to $1,500 may be charged for violations.
Fireworks
Fireworks are prohibited by local law.
Commercial Photography
Commercial photography is permitted only with prior written consent of BeautifulPlaces and requires a separate commercial photography agreement and fee.
Damages
Your stay includes accidental damage protection up to $1,500 provided you notify BeautifulPlaces immediately of damage, breakage or stains. Guest is responsible for all intentional damages to the property caused by Guest, the members of his party or their guests in excess of $1,500 as well as for the replacement of any items missing or removed from the property during the rental term. Guest is responsible for ensuring the property is left in the same condition and repair as upon arrival. Guest will be billed for any and all necessary replacement and repair costs within 45 days of the end of the rental term. Guest agrees not to try to repair damage or remove stains himself.
Right to Repair
We strive to make sure properties are in good repair prior to arrival. You agree to provide, detailed telephonic notice to BeautifulPlaces of any damage or disrepair to or affecting the property. BeautifulPlaces will make every effort to address damage or disrepair which interferes with the use of the premises as quickly as possible. There are many situations that are beyond the control of BeautifulPlaces or property owner and credits or discounts will not be granted for such. Examples that are not guaranteed and will not warrant any refund or credit include but are not limited to: failure of systems, AC, heat, pool and spa equipment, appliances, TV's, electronics, internet, cell or cable services.
Access to property
BeautifulPlaces may enter the property for necessary maintenance, repairs or other responsible purposes. Regularly scheduled pool, spa and landscape services may not be turned away by Guest.
Assignment or sub-lease
Guest may not assign this agreement or sublease any portion of the property without prior written consent of BeautifulPlaces. Not such approved assignment or sublease shall in any way relieve Guest of obligations and responsibilities under this agreement.
Swimming Pool, Spa, Hot Tub, Water Fountains, Pond or Lake
GUEST ACKNOWLEGES THAT THAT A SWIMMING POOL, SPA, HOT-TUB and WATER FOUNTAINS AT THE PROPERTY MAY BE UNCOVERED AND OR UNPROTECTED, AND THAT ANY LAKE OR POND MAY BE UNPROTECTED AND THEREFORE MAY CONSTITUTE AN INHERENTLY DANGEROUS CONDTITION FOR WHICH GUEST ACCPETS FULL RESPONSIBILITY DURING THE TERM AND WITHOUT LIMITING THE FOREGOING, GUEST WILL DEFEND BEAUTIFULPLACES AND THE OWNER AGAINST ANY CLAIMS RELATED TO THESE CONDITIONS.
Walkways, stairs, balconies and patio areas
Guest acknowledges that outdoor walkways, stairs, balconies and patio areas may be slippery when wet or icy and may constitute an inherently dangerous condition for which Guest accepts full responsibility during the term and without limiting the foregoing, Guest will defend BeautifulPlaces and the owner against any claims related to these conditions.
Rural Property
Property may be in a remote location. As such, what would be considered normal response time for public services in an urban area may not be available for this location i.e. police, fire and emergency services. Also, naturally dwelling animals, reptiles and fauna are different than may be encountered in an urban setting and some might be considered "pests" by some individuals, i.e. poison oak, raccoons, skunks, rattlesnakes, coyotes, mountain lion, yellow jackets, etc., some of which may be exposed to Lyme's disease.
The property may be on well water and a septic system. Only toilet paper may be flushed. Damage to the septic system as a result of flushing in appropriate items will be the responsibility of the Guest
Right to Farm
If the property you are leasing is located near an agricultural operation on agricultural land, Guests of the property may at times be subject to inconvenience or discomfort arising from that operation, including, without limitation, noise, odors, fumes, dust, smoke, insects, operation of machinery during any time of day or night, storage and disposal of manure, and ground or aerial application of fertilizers, soil amendments, seeds and pesticides. One or more of these inconveniences or discomforts may occur as a result of any properly conducted agricultural operation on agricultural land. You should be prepared to accept such inconvenience or discomfort as a normal and necessary aspect of renting a home in a country with a strong rural character and an active agricultural sector.
Substitution
In the event of serious and substantiated unforeseen circumstances, BeautifulPlaces reserves the right to substitute the rented property described herein with an equivalent level, quality, value and location. In the event of force majeure or sale of the property rented, BeautifulPlaces reserves the right to cancel and terminate this contract and return any amounts paid with no further obligation, responsibility or liability.
Arbitration of Claims
This agreement shall be interpreted in accordance with the laws of the State of California. Each party waives his right to trial by jury in any matter and action under this Agreement, including, without limitation, in any summary proceeding based on termination, holdover or other default in which repossession of the Premises is sought. In the case of any dispute between the parties (other than any summary proceeding based on termination, holdover or other default in which repossession of the Premises is sought), the parties agree that such dispute shall be exclusively and finally resolved in arbitration, without recourse to any court, by a single arbitrator qualified to resolve disputes of this nature by the American Arbitration Association (the "AAA"), such arbitrator to be selected from among the list of available AAA arbitrators according to the AAA arbitrator selection procedures. The arbitration shall take place in the County of Sonoma, California. Any party to this Agreement may initiate the arbitration by providing a written notice to all other parties to the Agreement, which notice bears a current date, states the name of the initiating party, and briefly states the matter to be arbitrated. The arbitrator may allocate costs, fees and other expenses of the arbitration equally among the parties to the dispute, except in the instance that the arbitrator determines that a party has initiated an arbitration without a reasonable basis for doing so, the arbitrator shall assess against that party the costs of the other parties relating to the arbitration, including reasonable attorneys' fees.
Limitation of Liability and Indemnification
The liability of BeautifulPlaces or its agents shall be limited to damages arising solely from BeautifulPlaces'gross negligence or willful misconduct, and then only up to the amount of any rentals and deposits paid. In no event shall BeautifulPlaces or its agents be liable for any special, consequential, incidental or punitive damages. Guest agrees to indemnify and hold harmless BeautifulPlaces and the Owner of the property from and against any liability for personal injury of property damage sustained by any person (including Guest's guests) at the property during the rental term as a result of any cause, unless such damage was caused solely by the gross negligence or willful misconduct of BeautifulPlaces or the Owner.

Miscellaneous
All individual provisions, paragraphs, sentences, clauses, sections and words in this Agreement shall be severable, and if any such provision, section, paragraph, sentence, clause or word is determined by any court, administrative body, or tribunal, having proper jurisdiction, to be in any way unenforceable, or to be in any way in conflict with any law of any applicable jurisdiction, such determination shall have no effect whatsoever on any of the remaining paragraphs, provisions, clauses, sections, sentences, or words of this Agreement; (b) it is understood and agreed that time is of the essence for all purposes, and with respect to the performance of all obligations, under this Agreement; (c) this Agreement may be executed in two (2) or more counterpart copies, all of which counterparts shall have the same force and effect as if all parties hereto had executed a single copy of this Agreement; (d) this Agreement is the entire agreement between the parties with respect to the subject matter hereof, and no modification or addition to it shall be binding unless signed by the parties hereto; (e) the covenants, conditions and agreements contained herein are binding upon and shall inure to the benefit of the parties hereto and their respective heirs, executors, administrators, personal representatives, successors and assigns; (f) if there is more than one (1) Guest under this Agreement, the Guests shall be jointly and severally liable and each shall be deemed to confer upon each Guest full authority to act on behalf of all Guests under this Agreement; (g) the obligations and covenants between the parties are independent and the rent will be payable without offset, reduction or abatement for any cause; and (h) wherever the context so requires, the singular number shall include the plural, the plural the singular, and the use of any gender shall include all other genders.
---
---
The minimum night stay for this listing varies.
---
BeautifulPlaces offers guests an authentic lifestyle villa vacation experience in a variety of destinations around the world – the wine regions of Northern California and Italy... the resort areas of Mexico, Costa Rica and the Bahamas... the winter playgrounds of Telluride, Snowmass and Aspen... the Caribbean Islands of Mustique, Barbados, and the US and British Virgin Islands... and the jet set hideaways of The Hamptons, Nantucket and Palm Beach. In addition to a select portfolio of villa and estate rentals, BeautifulPlaces' concierges handle all personal arrangements; plan custom itineraries; create unique experiences and; provide insider tips about the destination; and are available 24/7 to assist guests.


Response rate:
100%
Response time:
within a few hours
Explore other options in and around Sonoma
More places to stay in Sonoma: