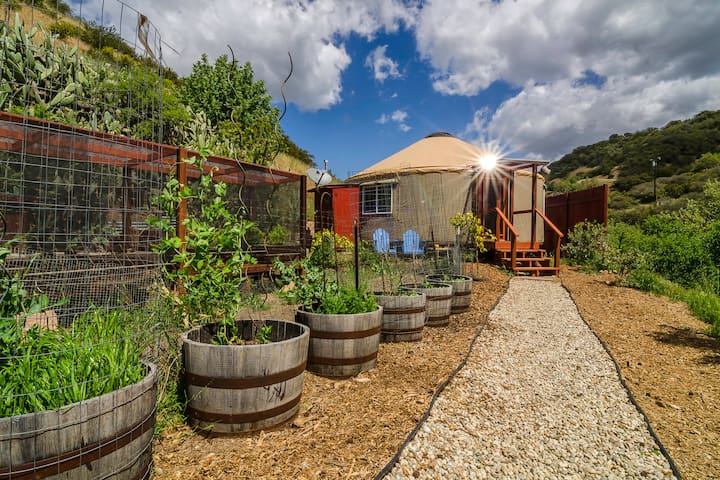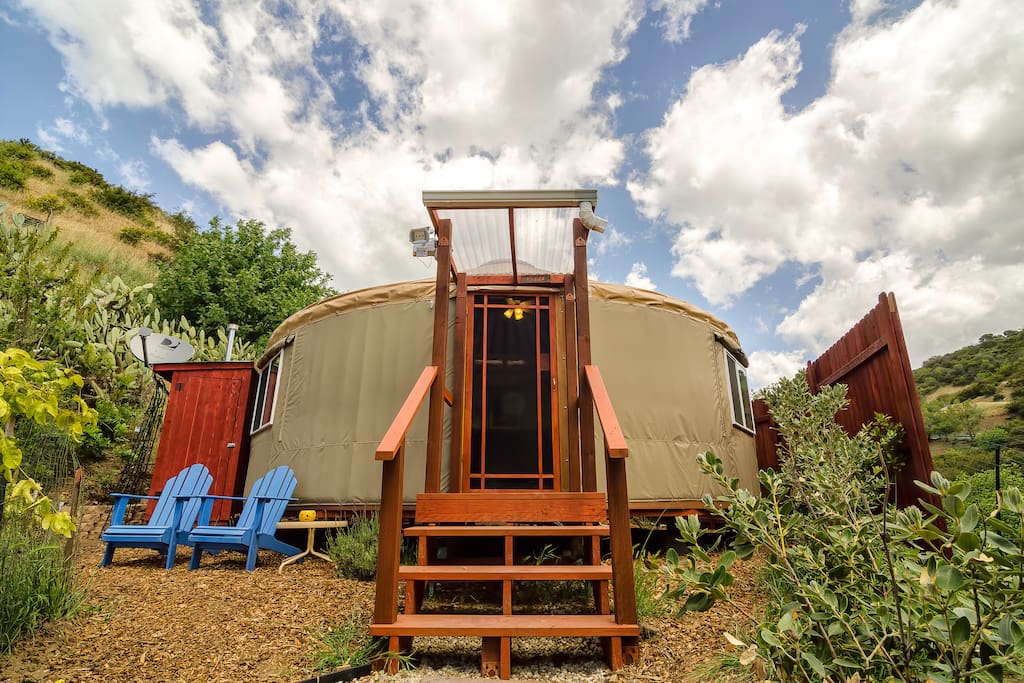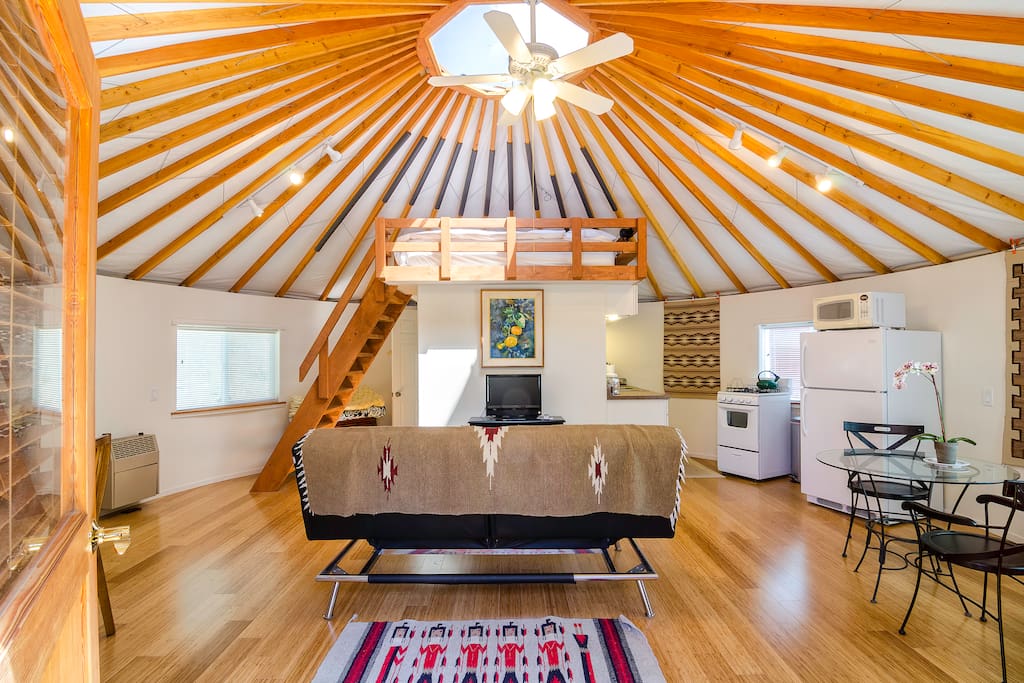 Stay in Malibu's TOP-RANKING AirBnB property with over 750 5-star reviews! Guests and others enjoy all-organic 'farm-to-table' meals on this certifiied organic farm just 2 miles from the beach and surrounded 180 degrees by the Santa Monica Mountains Conservancy. Look also at our 3 other rooms -the Safari Tent, the 'OCEANVIEW reTREAT on Malibu (EMAIL HIDDEN)/rooms/961535 or our NEW Tiny Japanese Tea House - a Tiny House on Wheels at https://www.airbnb.com/rooms/18786416.
The space
AirBnB's 5- star TOP-RANKED property - The Malibu Yurt and the Zen Retreat with over 250 thumbs-up from guest reviews!
A private and secluded eco-friendly Yurt with all the modern conveniences on working organic citrus farm. DESIGNED BY AWARD-WINNING INTERIOR DESIGN AUTHOR OF 'SAFARI CHIC' AND 'SWAHILI CHIC'
Enjoy our famous 'farm-to-table' home-cooked ALL ORGANIC meals but our rooms are full? Just send me a message to reserve a meal with us on the ocean-view sun deck or dining room.
Surrounded by canyon park-lands, this brand-new yurt with luxury conveniences features one large circular room (24' diameter) with a queen size bed in the sleeping loft, a full size sofa bed in the living room, and two additional airbeds available as needed. There is a well-equipped kitchen and en-suite bathroom with shower. While retaining the circular structure and skylight of traditional yurts, this modern guest house has bamboo flooring, built-in walls, glass windows, heating, ceiling fan, WiFi (from 6 am - 11 pm) and satellite TV (no PPV movies/porn or Fox News). It is tastefully decorated with Southwest Navajo artifacts.
This beautiful yurt is available by the night, week or month. It sleeps 4 comfortably, and additional air beds are available. Neither pets nor children under the age of 7 are allowed.
In this rustic retreat, you'll enjoy the tranquility of sustainable living in the midst of our organic orchard and organic gardens watered with our own well. Just a little over a mile up a scenic canyon road from the Pacific Coast Highway, our neighborhood is home to deer, coyotes, raccoons and hawks and just a few families. Floating above the coast, the property has views of the canyon and the ocean beyond with limitless lookouts for sunrise, sunset, moon rise and star-gazing. Surrounded by our Meyer lemon and avocado orchard, the yurt is adjacent to our organic vegetable gardens and free-range chicken coop but does not have it's own private ocean-view.
In the morning, there is fresh brewed coffee en suite. Home-cooked organic meals featuring our own garden-fresh produce and local, organic or varietal wines can be (EMAIL HIDDEN)mitted to an ecological lifestyle, we alert guests to a few limitations. No loud music. No parties or non-paying guests unless cleared by the management. Smoking allowed outside only, on decks or patio - use ashtrays only. This is a highly flammable wildlife area.
We also want to advise guests that this is a working orchard and vegetable garden. People uncomfortable with domestic animals (dogs, chickens, rooster) or scared by the sounds of wild animals (coyotes, owls, song birds) may prefer an urban location. Also, those who are very light sleepers should consider using earplugs if the possibilty of sounds of coyotes, owls, rooster or dogs keep them awake. While we strive to avoid working around the Yurt during early morning or late afternoon when guests like to relax, we will be tending the gardens, etc. during the day which many guests find fascinating.
Whether you wish to retreat to Nature or explore the surroundings, you have a wide choice of activities. Our canyons and beaches boast world-class mountain biking, hiking, horse-riding, wine-tasting, surfing and sunbathing. Nearby are local restaurants and hangouts while the towns of Westlake Village & Thousand Oaks are just 15 miles away to the north. There are hiking trails right out the yurt door which access Nicholas Canyon Park and lake as well as Leo Carillo State Park. Note that out-the-door hikes involve a steep climb, but those guests who prefer a stroll to a strenuous hike can drive up the hillside in 10 minutes to access a walk through 200 year oak groves so level it is officially wheel-chair accessible! We can help you arrange horseback lessons and trail rides locally, as well as rental of surfboards, wet suits, and mountain bikes. Yoga, dance, Pilates, acupuncture, massage, and gym usage can also be arranged.
While secluded, we are easily accessible by major roads. A 3 minute drive down the canyon takes you to Pacific Coast Highway's most pristine beaches in southern California. It's just a few more miles to beautiful Malibu town and pier with all lots of shopping, dining and recreational opportunities. A 12 minute drive in the other direction takes you to the Ventura Freeway for easy access to Burbank. Downtown L.A., Disney land and beyond... Or heading north to Ventura, Santa Barbara, Pismo Beach, and other sights on the way to San Francisco.
** Special Note **
We are a working agricultural operation that hosts guests through Airbnb. Our location is in a distinctly rural area of the Malibu hills. If you are the type of person who is squeamish about encountering a few natural things like crickets, ants, spiders and an occasional deposit of dust on the window sill then perhaps we are not the right fit for you. We strive every day to keep our facilities dust and insect free, but our location is not in a dirt-free city center but rather in a country rural setting, so if this is appealing then we hope to see you soon.

If you wish to book, please include in your message this specific information:
* Number of People
* Ages of Children
* Intentions of having guests
* If you have food or animal allergies.
LOCAL ATTRACTIONS
Restaurants:
At the beach:
Sunset Restaurant – elegant beachside dining in Point Dume.
Neptune's Net – seafood and snacks – surfers' and bikers 'hangout.
Spruzo's Café – pizza and Italian dining with beach view.
Kristy's Café – oven roasted dinners with panorama sea view
Malibu Seafood – world famous Malibu outdoor fish dining with sea view
Paradise Cove – beach-side dining and take-out on the beach
At Point Dume:
Sage Room – authentic Italian dining
Lily's Café – Mexican breakfast and lunch. local hangout.
Zuma Sushi – Delicious and reasonable – a Zuma favorite
Mexican Café – Margarita happy hours
In the Canyons:
Calamigos Ranch – Romantic indoor/outdoor canyon dining
The Old Place – Wild West dining – good for brunch
Saddle Peak Lodge – elk, bison, ostrich – great atmosphere
Rock Store – local hangout – good for beer and burger
Malibu Golf Club – quiet place to mingle with Malibu locals
In Malibu/Pier area
Nobu - Sushi
Geoffrey's - Italian
Mr. Chow – elegant Chinese food
Dukes of Hawaii – fish and steaks
Tony Tavernas - Greek
Malibu Kitchen – breakfast & lunch
Howdie's – organic Mexican
Moon Shadows – American steakhouse
Gladstone's - Fish
Cholada Thai Beach Café, and many more.
Markets
Farmers' Market – Sunday mornings
Vital Zuman organic farm stand – all grown on local farm
Pavillions Super Market – nearby modern convenience
PC Greens – wonderful organic market and deli
Erewhon Organic Market – (coming soon in 2013)
Wine Tasting:
Malibu Wines
Malibu & Vine
Sip Cielo
Cool Spots:
Orchid Gardens
Trancas Nursery
Troutdale (trout fishing)
Paramount Ranch Movie Set Park (home of Dr. Quinn Medicine Woman)
Malibu State Park (home of MASH filming)
Point Dume Park
Paradise Cove (home of Rockford Files TV show)
Great Beaches:
Malibu Surfrider Beach – considered one of the greatest surfing beaches on Earth
El Matador Beach - gorgeous pocket beach with natural arches
Pescador Beach – gorgeous pocket beach
Leo Carrillo – another beautiful beach with natural nooks and crannies
Zuma Beach – 3 mile long white sands beach
Guest access
Guests have access to the pool and pool patio in addition to their own private terrace. The pool area is technically a bonus area and not officially part of the Airbnb reservation, however, feel free to utilize the area along with other guests. Guests also have access to hiking trails right outside the door as 180 degrees of the property is bordered by Santa Monica Mountains Parks. Malibu's best surf beaches and most secluded beautiful beaches are just 2 miles down the road and in the other direction are wine-tasting sites in the midst of Malibu's vineyards. And, don't forget to star-gaze here in one of LA's only Dark-Sky preserves.
Interaction with guests
Lastly, guests have access to Malibu's most affordable, quality dining option - our own farm-to-table, all organic home-cooked breakfast or dinners. Check the Menu at the end of this section, however be aware please that meals are an Option not covered or part of the Airbnb reservation.
We love to interact with our guests, but we strive to give guests the level of interaction and privacy they want.. Honeymooners, for example, are given total privacy. Other guests who want to mingle will enjoy hearing stories of our travels and behind-the-scenes working on Hollywood Studios as well as great tips for how to enjoy Malibu. The best way to do this is to indulge in one of our very affordable farm-to-table, all-organic home-cooked breakfasts or dinners.
Malibu Orchard Menu – ALL ORGANIC!
Farm-to-Table; Pasture-to-Plate
Feast on a meal that is 100% organic and cooked from scratch just for you!
AT A GLANCE:
Breakfast: $20 pp plus gratuity includes Breakfast Plate, Toast, Home-Made Jams, Fruit, Coffee or Tea. All organic and cooked just for you!
Dinner: $39 pp plus gratuity is a 3-course menu that includes a Main Course with Seasonal Veggies, a Garden-Fresh Salad and a Home-Made Dessert. BYOB – no corkage charged!
Meals are often served 'al fresco' on the ocean view sun deck so please dress in layers. All guests enjoy the same meal, so please choose one menu. Specify if you require a special diet (gluten-free, lactose-free; Paleo, etc.) Intimate meals, Wine-Tasting Picnics, and Special Requests can also be arranged. Feel free to invite along local friends to join us for dinner.

BREAKFAST MENU:
Hearty Safari Breakfast features Fresh-Laid Organic Eggs with a side of our Home-Smoked Organic Bacon, Roasted Tomato, Harsh Browns, Fresh Fruit, Toast and Bibi's own Marmalades and Jams - a memory of my safari days.
Home-made Belgium Waffles served with Home-Made Fruit Preserves on a dollop of Organic Greek Yogurt with a side of Fresh Seasonal Fruit - an indulgence brought home from Brussels.
Roasty-Toasty Coconut French Toast drenched with Maple Syrup and accompanied by a plate of Fresh Seasonal Fruit - a New England treat.
English Scones fresh from the oven served with a selection of our Home-Made Marmalades - a momento from my Grandmother's recipe box.
Cowboy Pancake breakfast - stacks of Fluffy Pancakes with Syrup and a side of our Home-Smoked Bacon and a Fresh Fruit.
Galician Spanish Tortilla (like a frittata) made from our Fresh-Laid Organic Eggs, Potatoes, Onions and Garlic served with Pesto-Roasted Tomato, Fresh Fruit, Toast and Bibi's own Marmalades and Jams – inspired from my 500 mile walk across Spain on the Camino de Santiago.
Hot Quinoa Pistachio Cereal served with Coconut or Almond Milk and Fresh Fruit, Fresh Fruit, Toast and Bibi's own Marmalades and Jams – a health-conscious start to the day.
DINNER MENU:
PORK:
Organic Pork Tenderloin Medallions prepared in a Grape-Pomegranate sauce served with Garden-Fresh Steamed Spinach cooked with Toasted Macadamia Nuts and Feta Cheese and Mashed Orange Sweet Potato – a recipe made famous by my muse, the renowned French Chef, Jacques Peppin ($39 pp)
Slow-Roasted BBQ Baby-Back Ribs of all natural, hormone/antibiotic-free free range pork rubbed with coriander and cumin slathered with our signature BBQ sauce served with our Signature Peanut Cole Slaw and Molasses Baked Beans followed by a Home-Made Dessert for a taste of the American West. ($45 pp)
LAMB:
Grass-Fed Spice-Encrusted New Zealand Rack of Lamb with Home-Made Mint Vinegrette served with Ratatouille from our garden Vegetables and Pesto Orzo accompanied by a Garden-Fresh Salad and a Home-made Dessert – my personal favorite. ($45)

BEEF:
Grass-fed organic Hamburger spread with Fig/Hazelnut Preserve, layered with a slice of Brie and topped with Caramelized Figs and Onions served on a Portabelo Mushroom or Brioche Bun accompanied with Sea Salt French fries and a Baked Basil/Garlic Tomato or Corn on the Cob served with a Garden-Fresh Green Salad and Dessert ($39 pp)
Grass-Fed London Broil with Stuffed Baked Potato and Mint Baby Green Beans served with a Bacon Bit Green Salad and a Apple-Passionfruit Crumble with Whipped Cream - the home-coming meal for my son ($45 pp)
Spaghetti Bolognese made with Organic Grass-Fed Beef in an Heirloom Tomato Sauce topped with fresh-grated Parmesan and herbs served with garlic bread accompanied by a Garden-Fresh Green Salad and a Home-Made Dessert – a hearty comfort food loved around the world.
Traditional Shepherd's Pie featuring hearty Organic Meat Sauce from Grass-Fed Beef and home-grown Heirloom Tomatoes layered with Baby Green Beans and topped with Garlic Mashed Potatoes with Melted Cheese – an elegant version of the 'pub food' I ate as a student at the London Film School. ($39 pp)
Organic Vegetarian or Beef Chili with Cornbread Madelaines - packed with fresh vegetables and spices slow-cooked in dark ale served with rice accompanied with a Garden Fresh Green Salad and Home-Made Coconut Ice Cream - savor the flavor of the SouthWest. ($39 pp)
Eggplant Parmesan with Grass-Fed Organic Beef in an Home-Made Heirloom Tomato Sauce layered with Mozzarella and Parmesan Cheese and smothered in a baked Grilled Cheese Topping served Farfalle Bow Tie Pasta with a Garden-Fresh Salad and Home-Made Dessert. (Vegetarian option available) ($39 pp)

POULTRY:
Organic Bourbon Chicken smoked over apple-wood chips served with Sweet Potato French Fries and Almond Green Beans accompanied by a our Signature Peanut Cole Slaw and followed by a Home-Made Dessert – a new spin on the American South. ($39 pp)
Organic Roast Chicken cooked with Meyer Lemon and Rosemary with mashed garlic potatoes and caramelized carrots served with a Garden Fresh Salad and Home-Made Dessert- a family favorite Sunday roast. ($39 pp)
Organic Roasted Turkey Breast with Cranberry-Orange Relish. Mashed Orange Sweet Potatoes, and Braised Brussel Sprouts with Bacon Bits and Crumbled Feta served with a Garden-Fresh Salad and Home-Made Dessert - because every visitor to the USA should have a taste of Thanksgiving. ($45 pp)
Coconut-Encrusted Organic Chicken Tenderloins served with Thai Sesame Noodles and Fresh Vegetables with a Garden-Fresh Green Salad and Home-Made Coconut Ice Cream - inspired from river-boating in Thailand. ($39 pp)

FISH:
Nobu-style Sea Bass Marinated and Grilled in a White Miso and Sake Sauce served with Steamed Yams and a Seasonable Vegetable and our Signature Cole Slaw with Peanuts and Dessert - because not everyone can afford Nobu's but everyone can enjoy at taste of Nobu's at Malibu Orchards! ($45 pp)
Fresh Wild Pacific Fish braised in a Coconut Penang Curry served with Rice Pilaf and a Seasonable Vegetable, a Garden-Fresh Green Salad and a Home-Made Dessert – a heavenly dish discovered in Thailand. ($39 pp)
Catch-of-the-day Fish 'n Chips featuring Fresh Wild Line-Caught Pacific Fish with a selection of tangy dipping sauces, a Seasonable Vegetable and our Signature Cole Slaw with Peanuts and Dessert - because fish 'n chips is like surf 'n sun! ($39 pp)
VEGETARIAN:
White Truffle Farfelle Bow Tie Pasta with Porcini Mushrooms and Baby Vegetables (Sweet Corn, Sweet Pea Pods, and Red Peppers) served with a Kale-Quinoa-Grape Salad and a Home Made Dessert - memories of a Tuscan summer ($39 pp)
Organic Vegetarian Chili Slow-Cooked in a Spicy Dark Ale/Mole Sauce with Cornbread Madelaines served with Organic Rice accompanied with a Garden-Fresh Green Salad and Home-Made Coconut Fruit Sorbet- savor the flavor of the SouthWest. ($39 pp)
Galician Spanish Tortilla (like a frittata) made from our Fresh-laid Eggs, Potatoes, Onions and Garlic served with Roasted Pesto Tomatoes and accompanied by a Kale-Quinoa-Grape Salad and Crème Caramel – inspired from my 500 mile walk across Spain on the Camino de Santiago. ($39 pp)

Note: There is a $10 Housekeeping Charge for serving breakfast or dinner in your room. .Prices quoted are based on the same menu being served to all guests in your party. No split plates. Gratuity (15%) not included in price and will be added to the bill
Other things to note
It is important to note that during the months of Dec, Jan, Feb, & March, the temperature at night can fall below 50 degrees. Although there is a nice wood pellet stove heater in the yurt, it is important to be aware that it can be chilly by morning even with the heater on, so we recommend having some warmer morning clothing available during these months. We provide extra blankets for the bed during this time also. The pool is available year-round but, of course, the water isn't warm until around July - October. Note that the hot tub is not part of the AirBnB amenities.
Not safe or suitable for children (0-12 years)
Check-in is anytime after 3PM
No infants or children
No pets
Smoking only on gravel or cement areas which are designated areas
No smoking in the Yurt.
Advance permission required for 5 guests. No more than 5 guests allowed.
Check in is at 3:00 and check out is at 11:00.
Organic, home-cooked meals are available at additional charge. Reservation required. Additional guests who are not overnighting are welcomed for meals pending approval by hosts.
Be prepared to do a self check in please.
At check out, leave the room as you found it.
You must also acknowledge
Dog(s) live in the house
WE EMBRACE DIVERSITY! I'm an author/photographer by profession, but a traveler by vocation ... that's why I'm running an AirBnB... because even when I'm not traveling, I'm always on a journey! I love learning languages and speak Spanish, Portuguese and French with a smattering …
Languages:
English, Español, Français, Português
Response rate:
99%
Response time:
within an hour
Explore other options in and around Malibu
More places to stay in Malibu: