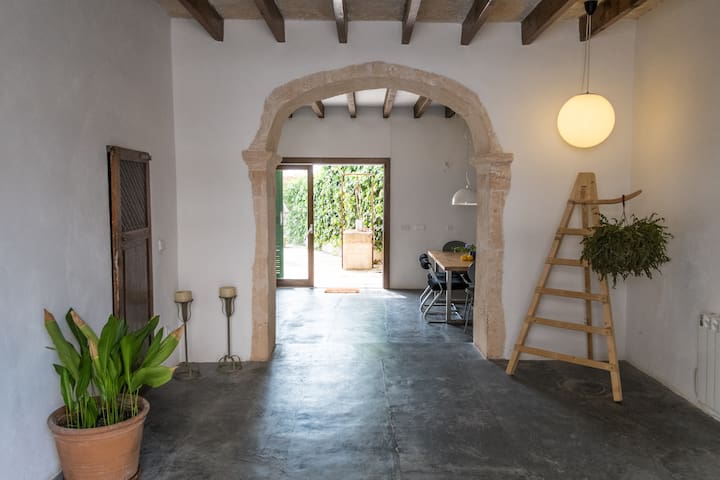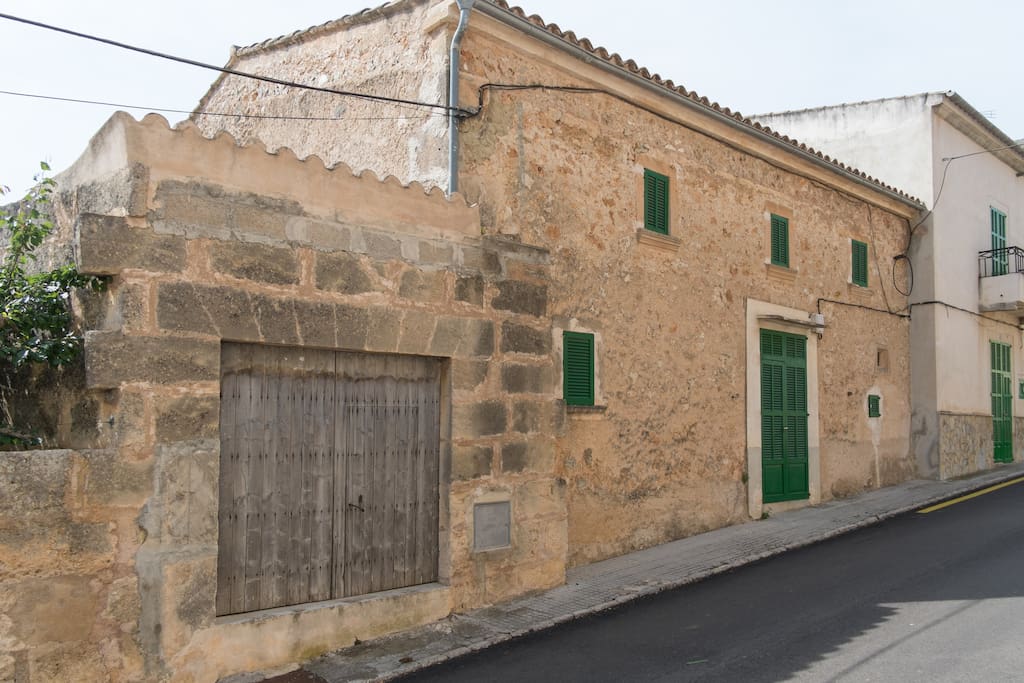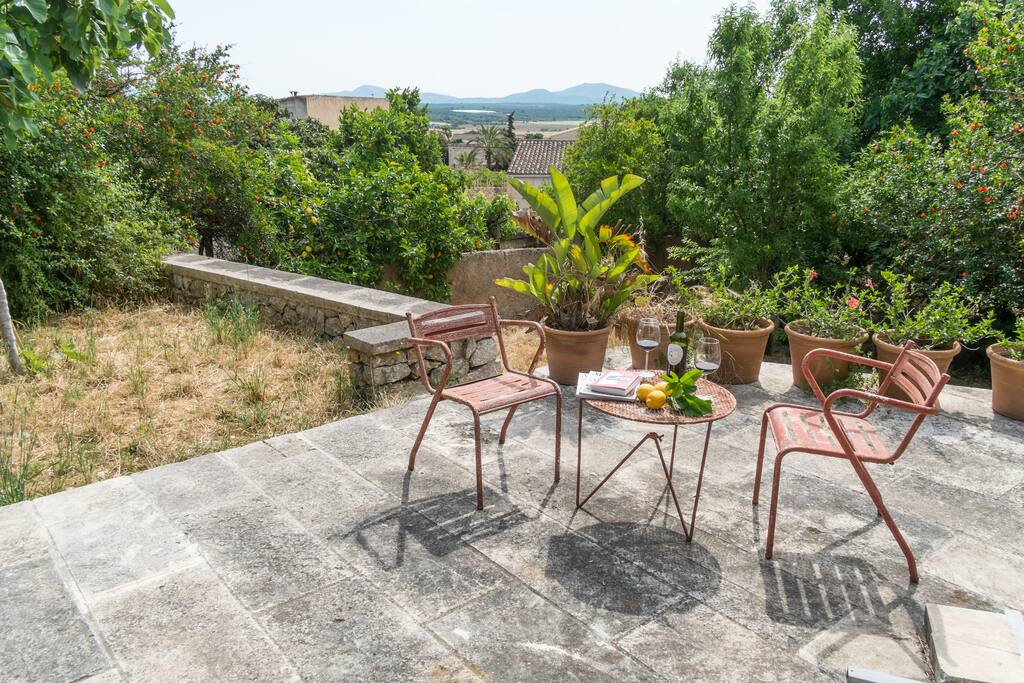 Charming townhouse in one of the most typical and tranquil enclaves of Mallorca, El Pla. Renovated by a renowned architectural firm from Barcelona, the house offers all desired modern comforts as well as the appeal of traditional Majorcan houses.
The space
Charming townhouse in one of the most typical and tranquil enclaves of Mallorca, El Pla. Renovated by a renowned architectural firm from Barcelona, the house is characteristic of traditional Majorcan houses. The architects have respected the feel and personality of the original building while creating a spacious and functional living environment of modern comfort and homey coziness. All visitors will enjoy the unforgettable beauty and sense of well-being innate to this unique village townhouse. The house has a floor space of 200 m2 across two floors. The large entranceway leads into an open-plan kitchen-living room fully equipped with all the necessities (dishwasher, microwave, water heater, oven, etc.). The laundry room, pantry, and bathroom are likewise located on the ground floor. On the second floor, there is a bathroom with shower and bath, two pleasantly sized bedrooms, and a master bedroom with office space and a large window with panoramic views of the Majorcan Pla. The two exterior porches, both covered by traditional Mallorcan arbors, open to the spacious garden where, depending on the season, you can pick figs, pomegranates, almonds, plums, persimmons, and more. Spanning 300 m2 in total, the beautiful garden is enjoyable all year round. There is always someone available should you have special needs or questions (usually the caretaker of the house or one of the villagers). Ariany is a lovely little town populated by friendly people who do their best to make visitors and travelers feel welcome. At the town's entrance you find the large and popular restaurant Ses Torres, with some of the best food on the island (their porcella [suckling pig] is our personal favorite). Around the corner from the house is a shop for convenient shopping as well as traditional Mallorcan sweets and snacks, and only a few meters further is the large and almost always empty public swimming pool (open only in July and August). Some of the best beaches of Mallorca are found less than 18 kilometers from Ariany. We recommend that you rent a car for your visit to be able to enjoy everything that the island offers, but there is also a bus from Ariany to other towns of note, like Sineu and Petra, where you can also catch the train to Palma. A cleaning lady from Ariany is available by special agreement.
Other things to note
Pets are not allowed and it is not permitted to smoke in the house. In winter, there is an additional surcharge of €0.25 per kilowatt consumed during the stay for the electric heating. The house can also be heated by wood-burning stove.
---
A nice house with a lot of facilities in a small town. We didn't meet Santiago himself, but we have good contact by SMS. And upon our arrival we were welcomed by Toni. He was a great host. If you do not like hassle then this accommodation is an excellent starting point to explore the island. As Santiago indicates, a car is needed, as public transport is very limited. We have been well pleased. Certainly also in the swimming pool.
---
Arieny is a lovely small village in the middel of Mallorca. In the morning you hear the local Rooster compete , who has the best Voice :) Easy acces to Palma, and beaches on the eastcoast. The house looks from the outside as a normal Mallorcan townhouse, you will be positive surpriced when you come inside. Every detail has the owners used a lot of time on. The terrace is with a wonderful view. Toni who was the owners representive, was most helpful. He provided us with adresses for lokal restaurants , where to buy different tings we were looking for.
---
La casa ha estat molt ben rehabilitada i els espais son amples i confortables, i està molt ben equipada. La terrassa és molt ampla i té un pati amb arbres fruiters. Barreja modernitat amb una estructura de casa rural. Nosaltres som una família de 5 membres i hem estat molt còmodes. Ariany és un poble molt petit i molt tranquil. Té dues botiguetes i un bar. A 500 m hi ha una zona esportiva amb una piscina pública i barata. És un bon punt de partida per conèixer la costa de Llevant i la plana. Toni ens va fer una rebuda molt bona i ens va donar indicacions interessants sobre la zona. A Santiago no l'hem vist personalment peró hem està connectats amb ell en tot moment i ens ha donat informació molt útil sobre la zona.
---
Das Haus in Ariani war genau so, wie beschrieben. Die Fotos haben einen sehr guten Eindruck vermittelt und zur Begrüßung gab es eine Flasche selbst angebauten Wein. Wir haben uns sehr wohl gefühlt, die Lage mitten im sehr ruhigen Ort war für uns perfekt, Parkplatz direkt vor der Tür war immer vorhanden. WLAN funktionierte einwandfrei und die Begrüßung sowie die Verabschiedung durch den Kontakt vor Ort war sehr nett und herzlich. Santiago hat immer umgehend auf unsere Anfragen reagiert und uns das Gefühl gegeben, sehr willkommen zu sein. Perfekte Gastgeber, sehr geräumiges Haus, alles vorhanden, was man so braucht. Wir hatten einen sehr angenehmen Aufenthalt!!
---
Explore other options in and around Ariany
More places to stay in Ariany: