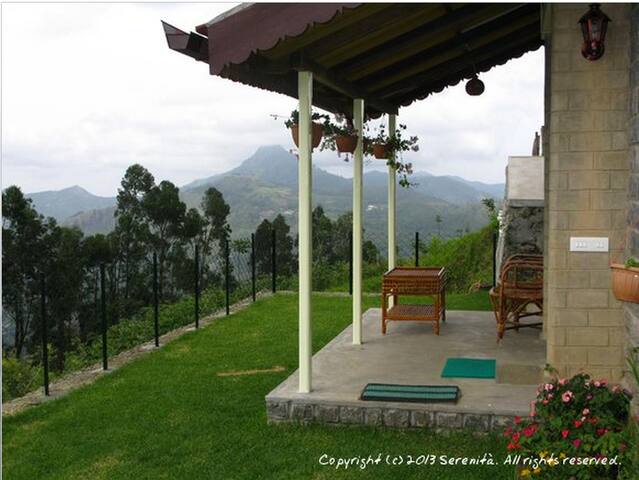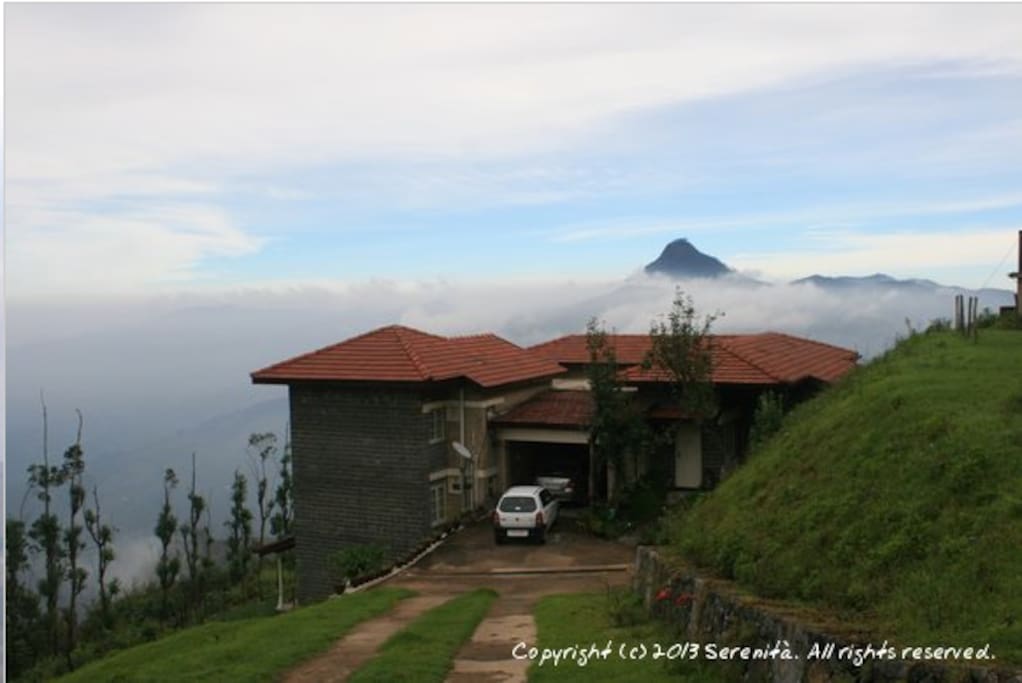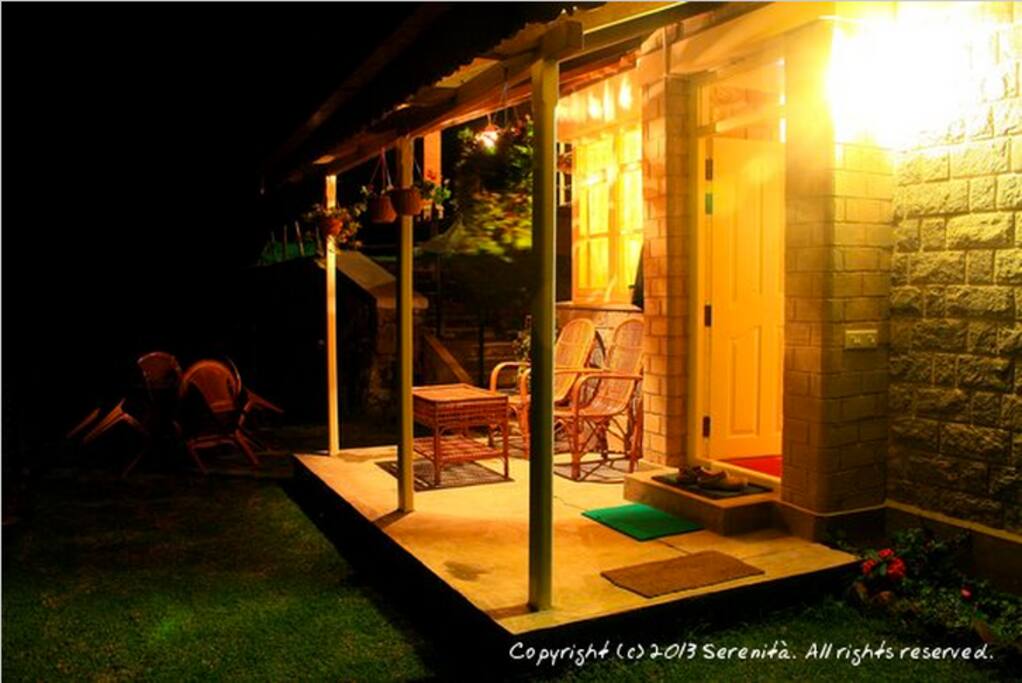 A tranquil & secluded homestay or vacation rental accommodation perched on a quiet hillside offering an exhilarating view. Includes a multifaceted & fairly large room with en suite bathroom, well equipped kitchenette , covered patio and a private lawn and most of all, no one in sight!
The space
Just under 15 minutes from town and connected with a asphalted (except for the pot holes) road all the way in. Peacefully perched on a serene and secluded hillside offering an exhilarating view...not so easy to find these days we can proudly say!
The accommodation is with attached bath and a small kitchenette. Furnished for a comfortable stay with an independent entry, a small covered patio and a private lawn with outdoor seating. Designed in such a way to make it reasonably self sufficient and offer privacy while enjoying the benefits of the main house and its surroundings. Internet, TV (can pull the plug off if its not needed...:) .Not a thoroughfare or rather as we say, the end of the earth...for folks who drive/ride in, parking is no issue at all.
The Kitchenette is fairly equipped to give you that little freedom you very much need while on a holiday....well there are folks who have managed for a few weeks out of this set up.
An ideal retreat for a couple or nuclear family who want to get away from it all (expect us unfortunately!!!).
Do visit our webpages, listing on TripAdvisor for for more reviews.
Guest access
The only public transit facility would be me...happy to do trips to town if needed. Well, if you have your own means of transport, you are all set. You are free to move around our property and we are open to you joining us upstairs if you so wish...you could also freely walk around the gated property which is about 14 acres in all and with three houses...watch out for our four legged friends at all times!
Interaction with guests
We reside at the place all through the year (this is our home for god sake!) and the guest accommodation is an extension to our home. We interact quite frequently with our guests, including sharing a meal/drink together many a time. However food is served in the room as we believe that most of our guests are looking for quality family time and thus it's better to give them that much needed space...the choice is yours...happy to help!
Other things to note
The accommodation is equipped enough to rent on a self catering basis. We will be more than happy if you can take care of yourselves as that will keep us off your face and makes you totally independent. We are happy to help with any errands if so needed
We may forget to warn you as it's become a part of our daily lives...the Indian Gaur is a frequent visitor and one needs to be cautious when taking a stroll when it's dark outside...if there is any trick up your sleeve, do let us know!
---
---
Extra people ₹750 / night after 2 guests
Weekend Price ₹5500 / night
Always communicate through Airbnb
To protect your payment, never transfer money or communicate outside of the Airbnb website or app.
Learn more
---
Check in time is flexible
THE RULES OF ACCOMMODATION
TO MAKE SURE THAT YOUR STAY WILL BE PLEASANT AND TO PREVENT ANY MISUNDERSTANDINGS, PLEASE READ THE RULES OF THE ACCOMMODATION. WHEN CHECKING IN, IT IS IMPLIED THAT YOU ARE FAMILIAR WITH AND AGREE WITH THEM AND THAT YOU WILL FULLY ADHERE TO THEM.
VIOLATION OF RULES OF ACCOMMODATION CAN RESULT IN THE CANCELLATION OF THE RESERVATION, AND CHARGING THE FULL AMOUNT OF THE PRICE OF THE ACCOMMODATION REGARDLESS OF THE SHORTER STAY.
1) TARIFF: Room tariff will be as per agreement during the time of reservation. The room tariff is not inclusive of any additional charges for food & beverages or any other services availed by guests and not provided/agreed with the accommodation. These will be payable as per consumption. Extra guest charges will be payable as per the prevailing tariff for persons exceeding the standard number of persons for the room. The extra guest charge will be levied irrespective of whether extra bed is used or not. However extra guest charges for a maximum of one child under the age of eight (to be ascertained by the proprietor) will not be payable while occupying rooms let out to their parents/guardians.
CANCELLATION CHARGES WILL BE AS PER RETENTION TERMS GIVEN BELOW or THE TERMS SET THROUGH THE ONLINE LISTING
22 DAYS BEFORE THE ARRIVAL DATE: 90% REFUND
8 TO 21 DAYS: 50% OF THE PROPOSED PERIOD OF STAY WILL BE KEPT AS RETENTION CHARGE
7 DAYS BEFORE THE ARRIVAL DATE: NO REFUND
NO REFUND FOR NO SHOW / DEFERRED CHECK-IN / EARLY CHECK-OUT THAN THE PROPOSED DURATION OF ACTUAL BOOKING.
2) PROOF OF IDENTITY: Guest must sign in the guest's register/registration card at the time of check in. all guests (both foreign & Indian nationals) are required to provide us with valid photographic proof of identity and proof of address like passport, voter id card, pan card, driving license & valid phone/mobile number and/or any other documents as per government regulations in force.
3) SETTLEMENT OF BILLS: Bills must be settled on presentation by payment in cash or cheque in specific cases. Credit cards are not accepted. This includes charges beyond the room charges paid by bank transfer or online and in advance at the time of reservation. All external services arranged and used by the guest during the stay should be settled by the guest directly and the establishment shall have no involvement in the same.
4) DEPARTURE: Check out time is normally at 10.00am or that agreed at the time of reservation. Guests staying beyond the agreed check out time will be charged for a half or full day depending on the extended stay period succeeding their check out date and time.
5) PROPRIETOR'S LIEN ON GUEST'S LUGGAGE & BELONGINGS: In case of default in payment of dues by a guest, the proprietor shall be entitled to a lien on the luggage and belongings and to detain the same and to sell or auction such property at any time after the day of departure, without reference to the party and appropriate the net sale proceeds towards amount due by the guests.
6) BED LINEN, TOILETERIES AND TOWELS: These will be changed before room occupation and shall not be changed thereafter for short stays unless the absolute need arises. Kindly bear with us to help us conserve our limited resources.
7) PETS: Pet dogs are allowed only with prior permission and provided their owner reasonably proves that they are healthy and pose no health risk. Noisy animals will be refused. The cost of accommodating animals is billed according to the applicable price list. Bringing pets without prior information during reservation is not allowed, and the proprietor has the right to cancel accommodation. However no birds, other animals or unsanitary articles may be brought into the room. Guests have to ensure that their pets do not in any way dirty the room. They are expected to clean up after their pets use the area outside of the room.
8) MINORS: Minors under 18 years, male or female, are not allowed to stay at this establishment without being accompanied by their parents or guardians. It shall be unlawful for any person underage of 18 to possess or consume any alcoholic beverage, illegal drugs or cigarettes.
9) GUEST'S VISITORS: It is strictly forbidden to bring persons who are not users of the accommodation to the room without prior permission. The establishment accommodates only those registered at the time of reservation. In case unregistered persons or persons not announced during reservation or thereafter are found in the room, the proprietor has the right to cancel accommodation. Guest's visitors shall generally not be permitted to stay overnight.
10) GUEST'S VALUABLES, CASH, JEWELLERY, ETC.: Visitors are particularly requested to lock the doors of their rooms when going out or when going to bed or when using common areas. The establishment will not in any way whatsoever be responsible for the loss of guest's belongings or for damage thereof, whether due to neglect or any other cause, including theft or pilferage.
11) PROPRIETOR'S RIGHTS: The proprietor reserves to himself the absolute right of admission to any person into the premises and to request any guest to vacate his or her room if a valid reason is found to do so. The guest shall then be bound to vacate when requested to do so. In default, the proprietor will be entitled to remove the luggage and belongings of the visitor from the room occupied by him or her and lock the room.
12) DAMAGE TO PROPERTY: Guests will be held responsible for any loss or damage to the property, room and equipment caused by themselves, their friends or any person for whom they are responsible and the full cost for the same would be charged to the guest.
13) ROOM KEYS: Room keys must be either deposited with the proprietor or carried on self whenever guests leave the premises and MUST BE returned to proprietor at the time of check out. It is not permitted to lock the room with personal locks.
14) DUE CARE: Guests are expected to take adequate care and maintain cleanliness of the rented room including the bathroom, kitchen/kitchen equipment and the immediate premises of the room. All crockery and cutlery used by the guest should be cleaned and put back in its place. Guests must turn off electric appliances, cooking stove, gas cylinder and taps when not in use. When leaving the room, room accessories (pillows, blankets, towels and the like) are not allowed to be taken out of the room.
WHILE WE DO NOT INSIST ON FOOTWEAR BEING KEPT OUTSIDE THE ROOM, WE WOULD APPRECIATE THAT WET OR SOILED FOOTWEAR IS KEPT OUTSIDE THE ROOM AS IT MAY DAMAGE THE FLOOR AND CARPET
A guest may not use his or her own electrical appliances, which are not used for the guest's personal hygiene and comfort. You can use electric razors, hairdryers or chargers for laptops, flashlights etc in your room.
YOU ARE OBLIGED TO LEAVE THE ROOM YOU RENTED AS YOU FOUND IT UPON ARRIVAL –CLEAN, TIDY AND UNDAMAGED.
15.) GUEST HEALTH: If the guest becomes ill or injured, the establishment can help with the provision of medical assistance or, as the case may be, to arrange for the guest to be taken to hospital, all at the guest's expenses. BASIC FIRST AID KIT IS PROVIDED IN THE ROOM
16) TIPPING: We do not levy any service charge on lodging, food and beverage or any other service provided. If at any time, we have helping hands, we prefer that the residents appreciative of their service be at liberty to express their satisfaction in the traditional manner as and when needed.
17) RELATION BETWEEN ESTABLISHMENT AND VISITORS: Nothing herein shall constitute or be deemed to constitute any tenancy or sub-tenancy or any right of tenancy or sub-tenancy or any right or interest in the establishment or any part or portion thereof in favour of any guest or resident or visitor and the proprietors shall always be deemed to be in full and absolute possession and control of the whole premises.
18) HAZARDOUS GOODS: Storing of hazardous goods like chemicals, inflammable fuels, firearms, explosives etc, in the establishment premises by guests is strictly prohibited. Items provided in the room from time to time for guest's convenience like cooking stove, gas cylinder etc must be handled with due care and as instructed.
19) GOVERNMENT RULES & REGULATIONS: Guests are requested to observe government rules and regulations in force from time to time, in respect of registration, alcoholic drinks, firearms, etc.
20) SMOKING: Smoking is not permitted inside the room due to the inherent risk involved and the odour. However guests can smoke in the patio or lawn. We would appreciate if the ashtrays provided are used at all times to keep the premises clean.
21) COMMERCIAL USE: Commercial use of the premises (eg. Filming or photographing for commercial use) is strictly prohibited without prior permission of the proprietor.
22) EMERGENCY: A fire extinguisher is provided in the room for any small fires. However the proprietor needs to be immediately notified and in their absence, please call 108.
23) VIOLATION OF RULES OF ACCOMMODATION: The guest who violates house rules and disturbs the peace will be unconditionally refused accommodation. In case the establishment cancels accommodation to the guest because of violation of house rules, the guest will have to pay the total amount for accommodation during the reserved period, regardless of the shorter stay.
24) AMENDMENT OF RULES: The proprietors of Serenità Home stay reserves to itself the right to add to, to alter and to amend any of the above terms, conditions and rules.
FOR ANY FURTHER INFORMATION, PLEASE CONTACT THE PROPRIETOR
---
---
---
Ravindran is an extremely nice host. Always smiling and cheer-y! Their home is very cozy, warm and full of love. Perfect to visit if you want to enjoy the rains with a pot of coffee on the stove and read your favorite book. It's an ideal place packed away from the rest of the town. Since it faces the valley the winds are strong and the view is spectacular! His wife Preeti is a super cook and made us some real tasty food! I would definitely recommend his home to anyone who wants a break!
---
We are a family of three. We as a family decided to give up urban living and me my corporate life in the year 2008 to settle down in these hills and start a new way of life. We love to meet and engage with like minded people, my wife's second home is her kitchen and she loves to cook a variety of cuisine and thus a little set up to host guests was just the right thing for us having moved here and with this location. Having lived in the city, connecting with city travelers is something that works well for us and we enjoy it. Being an avid listener and collector of music covering Classic Rock, the Blues, Jazz and Indian Classical/Fusion, its always a pleasure to share thoughts with folks with similar interests. My wife would be happy to share culinary secrets with those interested...maybe learn some tips from you as well.
Since we have room for just one family/couple, there's a lot of privacy while at the same time the opportunity to have a one on one engagement and share our home with those who do not mind seeing our faces...:)

"Luxury is not happiness - happiness is luxury."
― Denice Envall
Languages:
English
Explore other options in and around Kodaikanal
More places to stay in Kodaikanal: