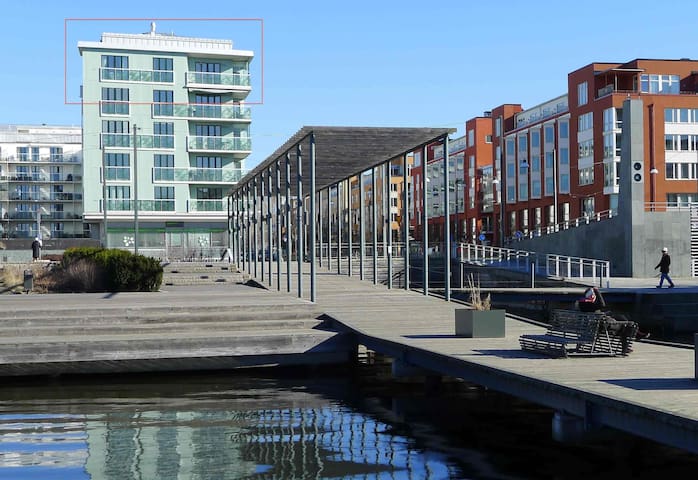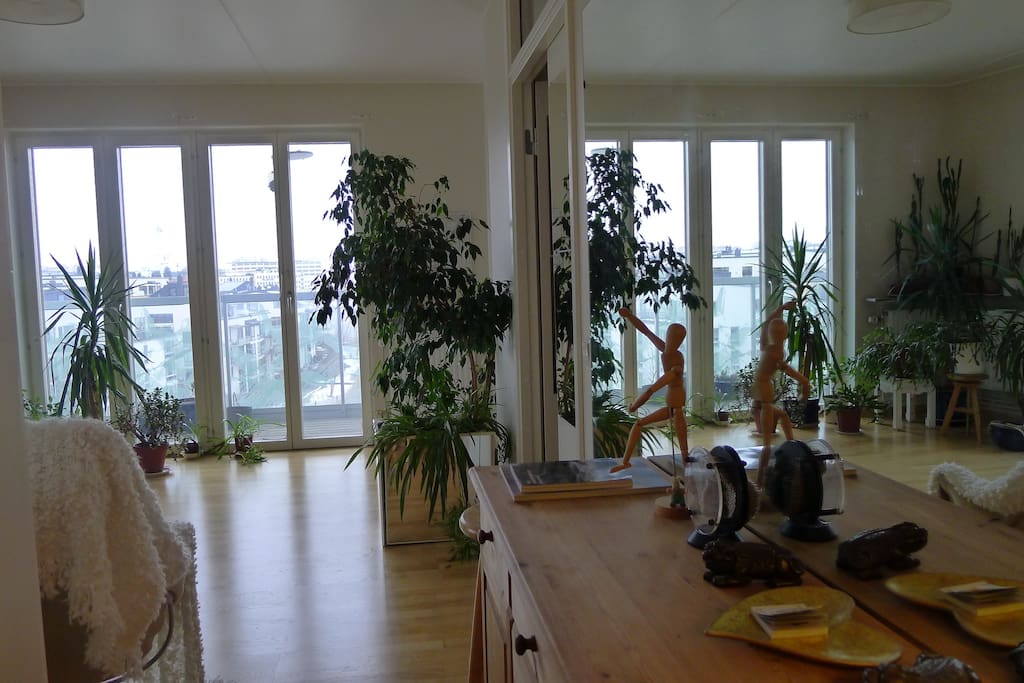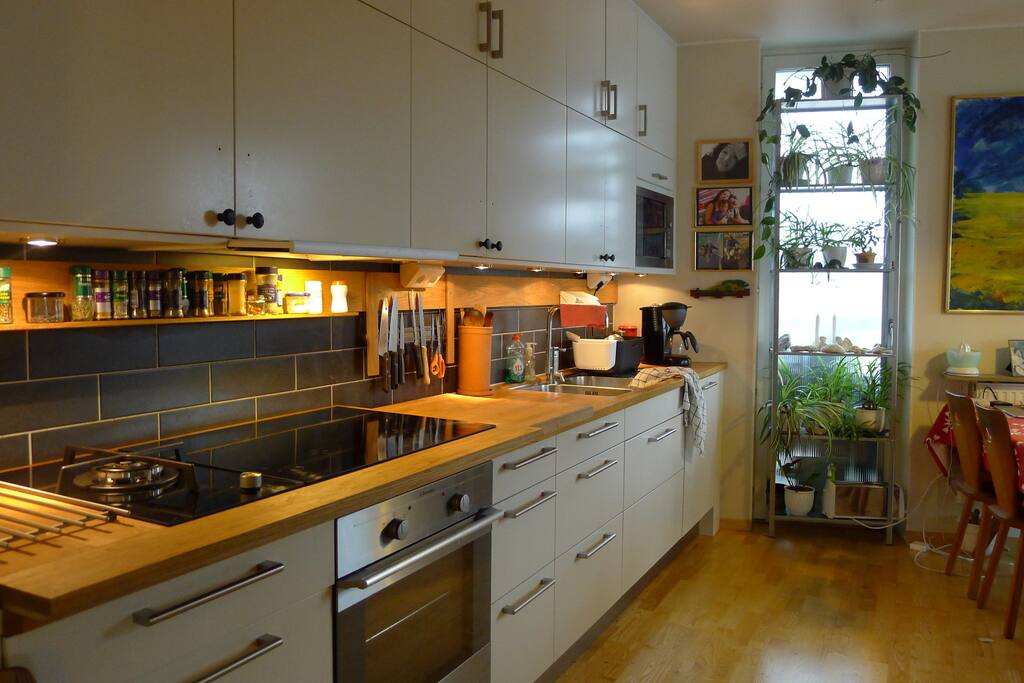 Penthouse 3 room 93 m2 and terrass
Penthouse 3 room 93 m2 and terrass
Our modern flat with privacy is overviewing Hammarby Lake and Södermalm in Stockholm. It accomodates up to 4 in 2 bedrooms and 2 bathrooms. Enjoy sun and views from terrace 32 m2. At door seaside, parks & restaurants. Center 10 min
Unsere Anreise ist zu unserer Zufriedenheit verlaufen. Ein Beauftragter des Wohnungseigentümers hat uns eingewiesen. Die Wohnung hat eine gute Lage und schöne Aussicht. Leider waren wir mit den vorgefundenen Verhältnissen innerhalb der Wohnung überhaupt nicht zufrieden. Auf…
Response from Vilhelm:
Mein antwort zu "eine, nach unserer Rückkehr in Deutschland verfasste, kritische Mai" auch von Tom genant "Mail vom (Phone number hidden by Airbnb) " was sent and recieved (Phone number hidden by Airbnb) : Answer to Feedback from Tom Neubacher (Both text and pictures were in a Pdf-document. Pictures cant be sent here though)   "Lieber Tom Thank you for feedback. It gives us information from which we can learn and make better. I read your text and It seemed you found the apartment as I left it 4 o ́clock in the morning, the day of your arrival. The coffe-filter not cleaned, the dishwasher not run and emptied, the bed in guestroom not opened from the wall. And more. Ich muss leider zustimmen du hast Recht damit nicht zufrieden zu sein. Was it possible Pooya could not reach the flat in time to do what should bee done? Now I have met and talked with Pooya and his wife. Pooya was in the flat in good time, he made the beds, brought towels, emptied garbadge, wacumcleened all rooms, cleened bathrooms, kitchen. Nevertheless he gives you a little right and he begs your pardon for that. The coffefilter and the dishwasher. That missing/not ok is of cource my responsibility. I have translated your feedback for Pooya. Doing that Pooya says: "There were four persons. I invited them to have my instructions and my help. But they all acted like they were in a greate hurry. Only one of them, (I call him you in the text that follows, but pooya thinks it was the shorter Guy – maybee Joerg) followed me and he did not take his time to listen and ask questions. So for example he did not look in all places where to put their things and clothes and so on.... Before I left, I did as you told me: I explained the WiFi and showed them the note with the names of the two WiFi senders, kitchen and office, and the password and my telefon number and told them to call me for any reason." I will now comment on your feedback and and tell you what i learn from your feedback. Tollen Ausblick. I am happy you like the view. Zwei Badezimmer. Maybee you did not see the Ad in english? It is written in english. I used help when doing the ad and learned that the word "bathroom" is in english used for these kind of rooms. Therefore, to avoid missunderstanding, I used a drawing and photos as complementary information. From there you can see clear difference to what the rooms serve. I am sorry you did not notice - especially because it was of great importance to you, as you say and decisive for your choice of apartment. I have given correct information and it can not be said I gave missleading info. But I learn from this that also the text should be clear about if bathroom has shower or not. The way you write it in German is clear and helpful. Thank you. Das Wandbett. First I gave you right about it, but pleas read at page 16. Gardinen. Curtain. The room has and had a curtain rod and a curtain! To the right of the window is a folded massage-bench. On it is a folded curtain. Curtain placed there folded aside so the room looks nicer. The curtain covers the window niche plus 12 cm on each side. My sister puts it over the rod when she is here. It works! So why did you have a problem? Maybe you were upset over the bed or in a hurry or just did not look as you should? Why did you not call for help the first morning? Why do you write feedback "20 Stunden Helligkeit täglich zwingend notwendig"? Pooya was daily just schort away all day long from 09 until 21. You did not take his help for this. You helped yourself, (nach 20 Stunden Helligkeit täglich?) to find a curtain from another room. But you did not tell me in your feedback. Instead you play the suffering victim. Before I had the full story from Pooya I guessed Poya gave you a new curtain from my storage – and thought maybee he tock for granted you had looked for the curtain and it was not there, so he looked for a new for you. But 1) the curtain was there on the red folded bench, as it should, all the time. In front of your eyes. 2) I regret I have been sorry for you not having curtain all nights as you describe the feedbackstory. 3) still get my compliments to you bringing the curtains from the TV-room. Wlan. WiFi. Pooya told you there are two senders of WiFi, VilhelmAcess (in kitchen) and VilhelmHerlin (my office). They have the same password as you can see in the photo. The house have some walls of reinforced betong. Therefore we need and we have two senders for the same network- and you must change between the senders when moving your equipment around or it will be weak. If you do, it works fine. You say you had a lot of work with that? Why? Pooya explained but you were in a hurry. Pooya, as written before, gave you the note with wifi names, password and his telephone number. It is still here on the wall in kitchen: Pictures here. Did You call him for help explain again? No you didnt call him (and not me.) One important idea with AirBnB is the possibility to meet a personal home instead of an hotel. In the ad my flat is presented as it is now and at you arrival. You remark "Uns hat auch nicht gefallen, in allen Bereichen Deiner Wohnung so "hautnah" mit Deinem umfangreichen, teils sehr persönlichen Hausrat zu leben." I look at my photos in the ad and I wonder: Wy did you then choose it? As you also remark that this caused you not finding place for your own clothes and stuff "kaum genügend Platz gab, wo wir unsere Sachen hätten ab-oder hinstellen konnten" When I saw that remark of yours I decided to learn by measuring. Just think you were right! Now I know you were not right. Here are a series of photos over places specially prepared for my you – my guests. To the photos are texts telling purpose, position, length, area, volume. Picture. In the kitchen Pooya told you that we had prepared sideboard, dining table, and one fridge/freeser for you. With fruits, a bottle of wine, 4 beers, 10 eggs, butter, coffebeens, union, potatoes - food and coocking accessories, everything free for you to use at your arrival. My private fridge/freeser was also prepared with two empty boxes with enough space for all food and coockinaccessories in your fridge. Pooya told you to put in my fridge what you eventually did not want or needed from the guest fridge. So actually you could choose to have an empty fridge of your own. Your freezer had two empty (except for fresc icecubes) boxes - enough for a week daily consumption of frozen food. In the to the left of fridge there was a selecktion of hard bread free for you. The shelf obove bread was almost empty – except for pasta you were free to use - enough space there for your dry food. The Bathroom guest: Toilet/washbasin had three kinds of soap, a small jar luxurious skin cream, two glasses, it left over two shelves empty lengths 75 + 88 cm. Bathroom with shower: Picture In shower: promised schampoo (gave you unused) and also other useful equipment and still left place in shelf for more things. Shelf over washbasin: two glasses for you, toothpaste (new), soap, my glass, my perfume, a haircutter, an electric toothbrush and lot of space for your stuff. The cabinet marked Guest had the hairdryer, a first aid kit, hand desinfection, deodorant, some oils – it could be assembled in one off the two shelves and leave 25 x 47 cm free for your stuff. Picture. Under this cabinet there is a big area (66 x 138 cm) mainly free to use. So till here your words on "not enough room" seem strange to me. Picture. In the passage outside this bathroom is a cleaning cabinet and clothes cabinets. For guests see three photos. One cabinet marked Guest with 2 shelves and drawer (57x53 cm) free to use, Picture. and one cabinet with two levels, many hangers, to hang clothes ( (Phone number hidden by Airbnb) cm) Picture upprpart. Picture underpart. Guest room has two large cabinets (each 72x60). The one to the right has an upper shelf with a few things for guests kids, under it hangers, my guitarr (there is room under bed for it if needed), my gardenspade (there is room under bed for it if needed), slippers for guests, , 5 drawers empty (and clean – the photo reveals it is worn). Picture. To the left is a closet with clothes rail 72cm, a glas shelf, a drawer for her/his Juwelery, a drawer with extra pillows and som moore space, 2 drawers with plenty of room. Picture. The bedroom: Behind sliding doors part of clothes rail ( 55cm), under it shoe rack. Two pairs free in front. Moore free behind. Hangers for mens trousers also. Picture. Left of this in the closet for blankets are two shelves (46x58x57cm) Picture. Opposit side a closet with three shelves (57x55xh86) Picture. On the door to sleeping room clothes hooks, 3 free. In the entrance hall is a closet with clothes rail and free shelf under it for gloves etc Picture At entrance doorside shoe racks for outdoor schoes. An Umbrella stand. If asked for more needed space Pooya could arrange the long chest of drawers and cabinets ahead from entrance door. See the ad. It is bis jetzt almost empty Pooya told me about the coffe grinder. "When they were going to leave the flat they reported that the coffe grinder did not work. They had used it twice and then it did not work anymoore." I thank you for telling us. The grinder has been used for half a year without problem. I examined the grinder and was first puzzeld. When looking closer I notised the protection hood was not completly in place. With a plasticknife I examined the lid to the protection hood outside the been tray. It is visible here. Picture Kafémühle. In the lid was a small thing. I mooved it and turned the machine up side down. Out fell part of a bean. Heureka! Why dit it come there? Of course accidently, but it happened when someone filled the tray with little to much of a hurry and to little of patience to examine the situation when the machine did not work. As you know Pooya ́s little shop (Hammarby Livs) from my photos in my message to you, is only very short away. Today I counted my normal steps from door to door: 220 steps. He, Pooya is my receptionist, my helper, fixer, my cleaner, I told you and he told you to ask for help. You say you found the flat not to be in reasonable order, did you tell him? did you ask him to correct it? Did you call me for help? You asked for help only once and you have got help, and that without delay. It is true, I know. But you gave me, in your feedback, the impression the Wallbed was not done. Today i talked again with Pooya when I asked for help to examine this letter. He tells me the bed was done. It had its blanket, quilt and pillow was also done. In order to let you have the possibillity to reach the place on other side of bed he decided to wip it up, but first he had to put the ready linens in the cabinet next to the bed. I am sorry you in the first place did not understand this context and secondly that you did not tell me this context now, later. You, wife and friends were my first honored guests. Every detail was not ok at your arrival, but we were here, ready to correct and give you service. So I think your general remarks like "vorbereitet bzw. gesäubert hätte" are unfair to me. The flat was in general well prepared for your visit, nice, clean and tidy, with plenty of room for your stuff, we were friendly, we were reedy to serve you with whatever. The forgotten things and other things you actually asked for - we fixed. How about the matress-protection? You found it had stains. I here bring you a better photo - revealing how it looks , measures and its position. Picture. The biggest stain has length 12 cm, two smaller are close to the side of bed slightly to the left of picture. I like that you want to protect/defend your wife. I always did with my lovely wife. Now you can tell her: When you touched the cloth you could feel it was newly washed, The detective in you could have turned the end of the cloth upside-down and find no stain there on backside though it easily lets liquid through - someone had probably rapidly wiped, tried to clean the surface immediately. The stains position were close to the side/end of bed, 35 cm/50 cm i.e. reasonably caused a) when the matress-protection was mounted counter 180° b) from beverage taken sitting in bed with a pillow behind the back- looks like tea (and it is tea). Alltogether the analyze exclude urine from a person sleeping on/in bed. A relief for a sensitive person. Klimaanlage. I have not in my ad said there is a Climate Control or cooler. There is no – of course. We dont have that climate in Sweden – not yet. In offices and hotels there are CC, mostly because of heat from many people, lamps, machines, freesers etc. I feel very sorry for our shortcomings and beg your pardon and I hope my explanations and reminders to you can help you to see own misstakes and that most was o.k. but just not in your taste. Best regards to you, Christa, Frauke und Joerg from Your Host Vilhelm Herlin" After recieveing your opinion over my flat and now also remark over "keine Antwort" I am sorry to say: it seems you are both unfair and dishonest
I am an architect with my own company. I have two lovely sons 31 and 28. My main hobby is my work and dancing (Tango, salsa, WCS). I am an environmental activist, I love is-skating, bicycling (last november i Morocco), sailing. The kitchen is well equipped since I love cooking. …
Languages:

Deutsch, English, Español, Svenska
Always communicate through Airbnb
To protect your payment, never transfer money or communicate outside of the Airbnb website or app.
Things to do near this home
Explore other options in and around Stockholm
More places to stay in Stockholm: