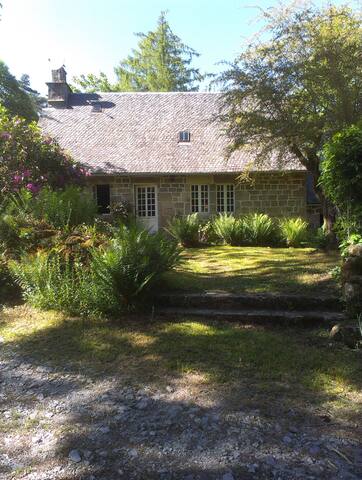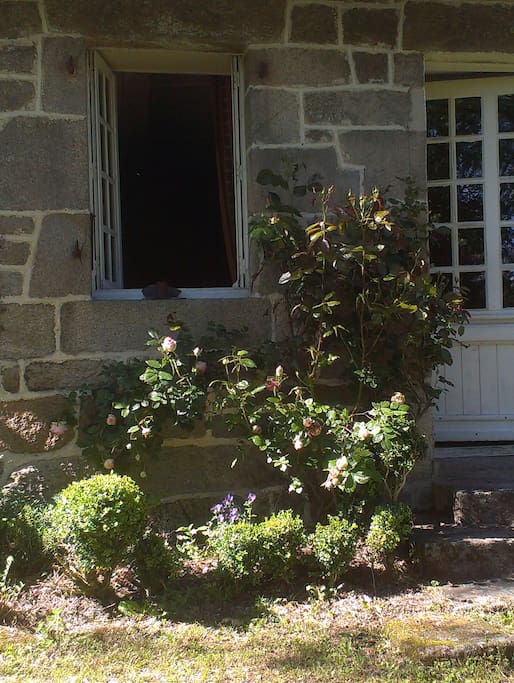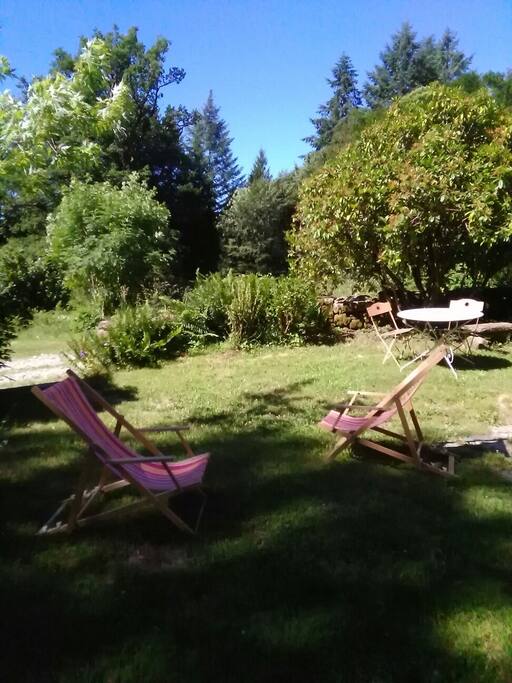 The space
It is an authentic house, full of charm, little in its juice, I keep(guard) affectedly it hurdy-gurdy kitchen sink in earthenware a little bashed up but which really has its place ds this house Of warm colors, wood, a big cantou (fireplace) with its big stove for beautiful fit.
A small end of the world
Ideal for 4 people.
Because of the pond, and because the garden in front of is not perfectly closed, I disadvise this accommodation(housing) in family with of very young children.
Guest access
e supply you, sheets and bathroom linen, as well as the wood.
If you cannot do the cleaning, thank you for indicating him(it) to me? Cost of the service(department) 35€
For the electricity you are entitled to the 6kw / day, the rest is at your expense(under your responsibility).
The read of meter is made on arrival and at first.
For the interview(maintenance), there is a base(basis) for washing(washing powder), washes dishes(crockery), arrange(treat carefully).
Animals are strictly forbidden in the house because of numerous allergy.
We are far from any businesses The first village St Augustin 10km, with small minimarket and bakery.
15 km Treignac, in quoted(esteemed) of the lake of Bariousses is a big village with all the businesses and market of country on Fridays from 17 hours July August
In 4 km, Farm of the blueberries for your vegetables, organic wild lamb, blueberries taste it all around
Interaction with guests
Allowing exception I or my husband will be tjrs present has your arrival, this moment of welcome(reception), knowledge is trés important for us and for you to get from you as, confidently
Weekend Price ₹4552 / night
Always communicate through Airbnb
To protect your payment, never transfer money or communicate outside of the Airbnb website or app.
Check-in is anytime after 4PM
This accommodation is in a pretty and quiet area of France. While the cottage is very attractive on the outside we did not find it a comfortable house to stay in. The lounge and dining room and outdoor furniture is not comfortable or easy to use. Please note there is no wifi or television as is stated in the listing. If you are English speaking you may not notice this as it is written in French at the beginning of the description. However the host is friendly and helpful. It is not expensive accommodation so the facilities are probably reflected in the price. We should have been more careful in our selection. This accommodation may really suit what you want in a holiday, just be mindful that as the host says, it is very rustic. It has only basic facilities, but in a beautiful and remote part of France.
bonjour Tom Un grand merci pour toutes ces précisions qui me seront très utiles pour améliorer la description de la maison, car je ne vais pas tout casser pour mettre la s de bain a coté de la chambre, et entourer la maison d'une bulle de plastique pour eviter qu'un essaim d'abeille ne vienne se regrouper dans le mur essaim que nous avons été obliger de détruire a grand coup de bombe, mais il faut plusieurs jours pour le détruire totalement, et aucun apiculteur ne peux contrôler (heureusement cela nous apprend l'humilité) le déplacement des (URL HIDDEN) ne suis absolument pas responsable du temps, et des insectes mouches , abeilles, ect petites souris, tics ,chevreuils.....qui vivent dans la nature Quand a la poussière.... nous étions 2 a faire le ménage, dont une amie ancienne gouvernante de grand hôtel, nous passons scrupuleusement tout , nettoyage des murs, des plinthes, des ampoules, des meubles placard , contrôle de tous les appareils ménagers ect ect alors que peut être malgré toute notre vigilance un petit coin nous a échappé..... Quand au mobilier....meuble en merisier de facture régional, armoire ancienne Je mettrais des coussins sur les fauteuils en bois de hêtre fait par un ébéniste de la region. Les photos donnent une exacte description de l'intérieure L'esprit de cette maison; du confort (literie tout l'electro menager, grande s de douche, poele a boisEct Du charme, dans une décoration soignée De l'authenticité, je refuse systématiquement d'introduire du mobilier de grande distribution ni la tv, ni la wifi ni micro ondes c'est une ethique a laquelle je me tiendrais avec rigueur car avant tout je respecte cette maison et ce lieu préservé Je connais parfaitement cette maison, elle a des failles, comme toutes les vieilles maisons donc le prix est peu élevé avec quand même la fourniture des draps, linge de bain ,produit ménager base pour l'epicerie, le petit dejeuner et un panier d'accueille avec produits régionaux J'espère que vous aurez trouver le long de votre voyage des hébergements conforme a vos désirs et vous souhaite un excellent voyage. Ps pour palier au désagrément des abeilles je ne vous ai pas fait payer la taxe d'habitation. Tres sincèrement Odile
---
We have just had a wonderful two week holiday at this great house and recommend it HIGHLY. Here is why: 1) the area is beautiful; hilly, green, wooded and very, very quiet. So quiet, in fact, that we invented a 'how few cars do you think we will pass on the way to the lake today?' guessing game! So it's a real 'get a way from it all' holiday 2) the approach to and immediate location of the house itself is idyllic; I likened it to the woodcutter's cottage out of Hansel and Gretel, in a clearing in a wood. REALLY pretty, and old-worldy 3) the house is full of character, homey, painted in tasteful colours, has lovely old (i.e. antique) furniture, paintings and is much bigger than it looks in the photos. So even on the few days of rain we had, we never felt 'cooped up'. It also has a lovely smell of wood fires because of the wood burning stove (though we didn't use the stove, as the weather was too warm) 4) the double bed is by far the most comfortable we have ever slept on in a holiday house and is MASSIVE (6 ft) - made from 2 3ft beds put together 5) the children's room is very cute and has a lovely view over the garden and little valley beyond 6) the shower is big, effective and there is lots of hot water 7) there are lovely walks in the woods right outside the house 8) the lake at Treignac is GREAT for swimming, kayaking, pedal and 'stand up paddle' (enough to keep our 2 kids aged 11 and 13 busy while we adults read books in the shade). There is a beach there, with a great cafe/restaurant with very friendly staff, but we preferred to sit under the trees to the north of the beach as the beach itself can get very busy. Here, it was quiet and very lovely 9) Last, but by no means least, Odile (the owner), is very welcoming. She left us home-made crepes for our supper on arrival and she and husband Georges were both very friendly when we paid them a visit later during our stay Thank you Odile for a wonderful holiday!
Merci Maddy pour votre description de notre maison et de cette si belle région tellement peu connue et quel belle surprise en ouvrant le placard a vaisselle de trouver ses 4 mugs, dans le style de la maison...;qui vous attendent pour votre prochain séjour A tres bientôt Maddy avec toute notre sympathie pour vous et votre famille Odile
---
We had a great stay in Odile's house. It was such a warm welcome with a cosy fire and Odile welcoming us and showing us around. The house itself was charming, very well decorated and convenient. Everything was clean and working well; a well equipped kitchen (and nice crockery), good beds with fine sheets and a good working bathroom. The fireplace was great. Because it is the main heating in the living room (the other rooms have electrical heating) and the weather was a bit cold and humid we used it all the time (firewood was included). There is no heat insulation but because of the fire place there was no inconvenience, although house slippers are recommended. The garden is beautiful, with blooming flowers all over (we stayed in May). The house is situated in the woods and we could walk the GR that was passing along the house. I can imagine in every season it is a great place to stay. All in all, we have never stayed in such a quiet and peaceful place and we will definitely stay here again!
---
Nous rentrons ce soir même après avoir passé un excellent week-end à Chastagnol. La maison près de l'étang était conforme à nos attente et même davantage. Le cadre également. C'est beau, c'est calme; un écrin de bois, de pierre et d'eau... Nous sommes allés par les sentiers jusqu'à la ferme de la Monédière et en sommes revenus avec de la merveilleuse confiture de myrtilles. Nous avons adoré, et c'est peu de le dire, nos deux soirées au chaud près du poêle... Nous reviendrons...
---
La marche au milieu de cette si belle nature de la Corréze avec ses producteurs de légumes bio pour satisfaire mes papilles de gourmet
Je suis peintre, peintre d'atmosphère ou se mêle la musique et la poesie.

J'aime recevoir des personnes qui partage ma passion de la nature, du silence et de l'authenticité.
Response rate:
100%
Response time:
within an hour
Explore other options in and around Chaumeil
More places to stay in Chaumeil: