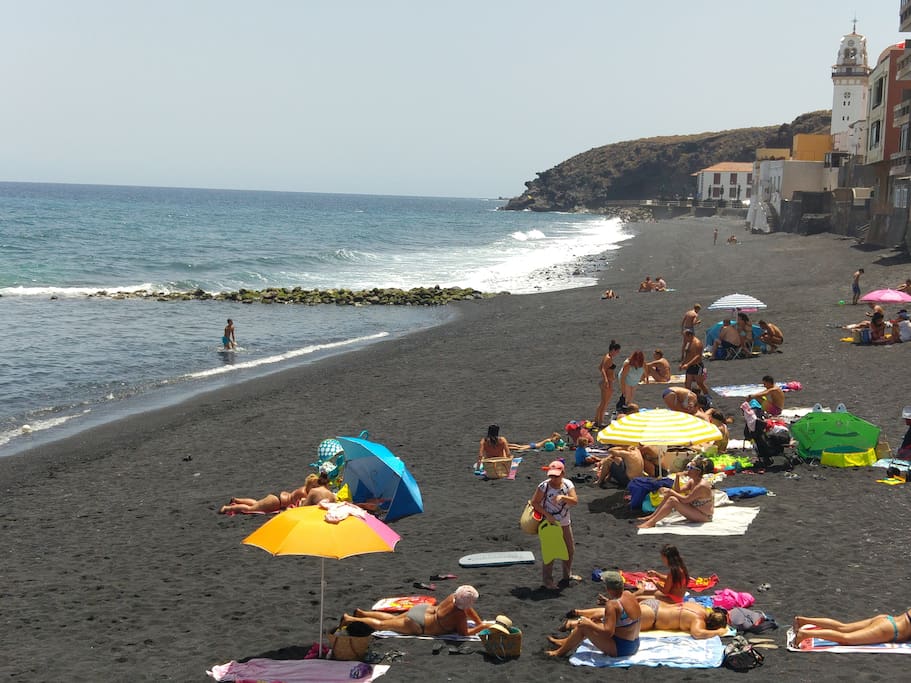 CALM ARTISTIC VIOLETA SPACE AT THE COAST WF
The space
A quiet, modern home with private bedrooms to rent, strategically placed near the beachfront of Caletillas and Candelaria area, a charming old fishing village that has grown to become a favorite get-away and weekend spot for local citizens, and a few knowing tourists as well. A mere 10 minutes drive from Santa Cruz, the modern capital of Tenerife, Candelaria is also the traditional destination for yearly spiritual pilgrimages from everywhere in the seven Canary Islands. The image of the Virgin Mary that you may visit here in the mother temple, right in the middle of the old fishermen's village, is the most worshipped in the Canary Islands, very dear and meaningful to the faithful and people in this traditional island that has preserved its bridges with a mysterious past. Conquered by the spanish in the 15 century, Canary Islands was a kind of paradise for the primitive aboriginal people, called Guanches, whose culture has been half lost and half blended with spanish character and flolklore. Here in Candelaria there is a famous promenade, along the beach, where you can admire the magnificent giant statues dedicated to the kings of the ancient tribal clans who lived by fishing, farming and gathering the fruits of a heavenly climate and a rich volcanic earth. You will feel just like a king too, in swimsuit and sunglasses, walking barefoot on the shore here in the salty breeze, after a good dinner and deep sleep in your cozy (URL HIDDEN) you enjoy the feeling of the ocean, here is your chance to experience living close to it, among healthy surfers and local youth, and old fishermen alike, strolling quietly along the coast to discover your favorite bathing spots, either on sandy coves and little beaches of our volcanic black sand, or rocky natural pools and piers where you will meet isolated amateur fishermen or local people harvesting some of the seafood among the rocks in the low tide. Leave all problems behind where they belong, and become one with the ocean.The clean and transparent waters and delicious sea breeze will caress you while you return home from a walking trip around the town, or after a relaxed dinner in any of the wonderful and inexpensive fresh fish and seafood restaurants. The choice of cafes, ice-cream shops, restaurants of all kinds and flavours, and beer or "tapas" bars is amazing here, one of the reasons that on friday and saturday nights many local people, flock to the sea-front avenues, either to enjoy romantic dinners, or a safe and easy walk with the family. Children can be seen everywhere riding their bycicles or skating, or playing in the many little children's parks along the seaside. It is also an excellent and favorite choice for the fitness-minded, who will find the outdoors simple but delightful outdoors gym, and the nourishing sea-breeze, a perfect combination for helping your body and mind to recover the natural balance. Along the beach here you will find convenient and harmonious wooden decked spaces, among the palm trees, where some people meet to practise yoga sessions that you can join for free, or enjoy a refreshing dive in the blue ocean, inmersed in the golden morning light. Going around barefoot here in the clean surroundings is perfect... taking only your first cup of coffee or tea from your modern kitchen, to enjoy it while you let the sun dry your skin naturally after a splash in the cooling ocean. You don't deserve any less than this. And then you may prepare your home breakfast, to enjoy on your quiet homestay, and rest your mind looking at the horizon of a sea that will look often like a calm lake, sometimes, on rare windy days, magnificent with crashing waves and towering foam. Or you may choose to mix with the local people at the cafes, bakeries, cakes and ice-cream shops, where you may try the local and spicy "barraquito", a unique way to make coffee in Tenerife, or natural orange, papaya and banana fruit juice. The house is located near Candelaria, the old fishing village center, with its magnificent temple and the fishing harbour, in the newer Caletillas: the area that emerged in the years of the development boom as a petfect getaway spot from the urban life in Santa Cruz capital. Nowadays it has become a fine blend of old and new, modern facilities and simple, picturesque streets and views. The ocean is always there, everywhere, its surface always blessedly free from any man-made things, to remind us that our mind too can become like a mirror that reflects the blue sky, with its white or gray clouds sometimes, always pure and always new. Nearby you will find great spots for bathing all along the quiet seaside avenue. There is a small beach nearby with wooden decks and walkways, and simple but modern facilities. The place is well connected by buses to Santa Cruz that pass very often, and if you rent a car (a great option to discover all of the island and specially its volcanic heartland!) you will find it easy to find a parking space. A short and pleasant walk from your homestay are a range of small and large shops and supermarkets, including the nearby shopping mall of Punta Larga, where a lively traditional farmer's market, in the open, takes place every weekend with wonderful fresh products and organic vegetables, our fresh goat's cheese, and homemade cakes and bread. Do not miss it! You will find it super convenient to get all your supplies and favorite things, to make your stay at the apartment complete. If you are a bicycle lover you will find Candelaria-Caletillas, a linear neighbourhood spread alongside the coast, a paradise for riding. Then you will enjoy the trips to the main Candelaria old town, passing the fishermen's harbour and shops, and all the way to the old church large square, also great for roller skating. You may buy fresh sardines and octopus directly from the fishermen or eat in the fishermen's guild own restaurant. Candelaria and Caletillas is an area almost lacking any major hotels and tourist developments, ideally suited for the sensitive traveller who enjoys to feel and to blend with true local culture.Being close to the main city in Tenerife, Santa Cruz, Caletillas and nearby Candelaria is the perfect location if you plan to go shopping or if you have any business here, and for the cultural life, music and exhibitions. Santa Cruz, the capital, has a famous concert hall where you can enjoy a rich program of artistic events, including opera and classical music by the Tenerife Symphony Orchestra, jazz, and even ballet. There is also the old theater nearby, and many art galleries as well as cafes and bars that harbour varied performances by undiscovered new talents and sometimes renowned international artists.Santa Cruz hosts the world famous Carnival festival around February, one of the best carnivals second only to Rio de Janeiro. Santa Cruz is also a great city to discover and enjoy on bycicle, or walking, with beautiful parks and plazas and historic streets and buildings. Nearby is the famous and long Las Teresitas beach, with tourquoise blue clear waters and yellow sand, and another lovely old fishing village, San Andres. This way lies also the road to the very unique Anaga mountain system, with its fairy-tale looking misty forests, little and green forgotten valleys, scattered with hamlets and little potato farms and fields, where time seems to have stopped, leading as well to some of our most strikingly wild beaches of volcanic black sand, in the Taganana area. You probably want to see and enjoy all you have heard or read about Tenerife. But I suggest you take one or two days to relax back and enjoy the quiet life around your homestay here, forgetting about maps and roads... after all we cannot possibly know all this amazing world! But probably the most striking and unique of all Tenerife spots, seemingly belonging to another planet, is the striking landscape of our volcanic heartland in the center and the top of Tenerife: our natural park of Las Cañadas del Teide. Here as in all our seven islands, you will find a network of trails for lovers of nature and walking treks that allow you to discover the beauty of our island in the best way. From your home in Candelaria you can set out on expeditions across the island: just drive 300 meters and you will be on the highway leading both to the turistic part of the island in the south, with its massive tourist developments, big hotels and luxury resorts, at about 60 kms. south, and also to the green and lush north slopes and countryside.The best and longest of our beaches, in El Medano and Los Cristianos-Las Americas area, lie about a 40 minutes drive southwards. Famous for its ideal conditions for wind and water sports, here you may practice wind surfing or kite surfing in a location choosen for international championships.The Tenerife South airport, probably your arrival point in Tenerife, is a mere 35 minutes easy drive from the apartment. Or just take the nearby road that goes up the mountain to the Teide volcanic Park through the villages of Arafo and Guimar, a breathtaking trip across layers of different ecosystems and landscapes rich with vineyards and flowers, until you will emerge above a layer of clouds and mist into the wonderfully sharp and blue skies, and sweet air of the rich green forests that surround the volcanic mountains with a crown of green and mists. From Candelaria, all this is a mere one hour exciting car ride uphill.On full moon nights, if you are so lucky to be here, do not miss the feeling of walking along the seaside in the moon glow, and maybe lie down on the sand, until the time to withdraw to your comfortable bedroom. It is possible to bathe and swim in the ocean here all year round, anytime, even in the night time. But some of the best times are early morning and the sunset times, when it is not so hot. You must be careful with our strong sunshine here: it is a good idea to use protective cream for your skin if you spend much time outdoors specially around midday. Enjoy and welcome to Tenerife, garden of eternal spring.
An special room for one or two people, with big bathroom just in front, only for the guest use. It offers intimacy and quiet atmosphere.. also independent, upstairs. Ideal for a peacefull time, and all leisure possibilities also.. With big and usefull table!
Quiet and perfectly connected by bus with all interesting places in the Island. Only 20 minutes to Santa Cruz de Tenerife main city.300 metres to the beach, with all services around, beside Maritime Avenue with many terraces and resturants, nice also for walking or practising sports.
Fast Internet WiFi in the house, TV, washing mashine..
You can go to the local fresh fruits market if you want enjoy with the colors.. o have a look to the fishermen in the morning..
This is a special and cosy place with all posibilities.
You are welcome!
Bonita y especial habitacion estudio, para una o dos perso
nas. Ideal para un tiempo de tranquilidad, al mismo tiempo que con todas las posibilidades de ocio. Con gran baño justo enfrente y de uso exclusivo para el huesped.
Ofrece intimidad e independencia, en la planta alta de la casa.
En un entorno tranquilo y a la vez perfectamente comunicado en autobus con todos los lugares de interes de la Isla. A solo 20 minutos de la capital Santa Cruz de Tenerife. A 300 metros de la playa, rodeada de todos los servicios necesarios, terrazas, restaurantes y lugares de ocio. Internet WiFi en la casa, television, lavadora..
Puedes recorrer sus alrededores, o acercarte al mercadillo local del agricultor.. a deleitarte con la frescura y el colorido de las frutas frescas..
Un lugar especial con todas las posibilidades a tu alcance.
Te espero! Bienvenido!

Guest access
This is a private space, detached to the rest of the house, with direct entrance. Includes a spacious nice bedroom, and a nice and colorful private bathroom with big size bathtub.
Room with key.
For independent travellers who value intimacy and quietness.
Interaction with guests
I will keep in contact with the guests in case samething is needed, and glad to help or give suggestions about the Island, places to visit, etc. Dont hesitate contacting me by phone or internet!
---
---
Always communicate through Airbnb
To protect your payment, never transfer money or communicate outside of the Airbnb website or app.
Learn more
---
Not safe or suitable for children (0-12 years)
Check in is anytime after 1PM
---
---
---
Highly Recommended! We really enjoyed our stay in Les Caletillas(Candelaria) with Violeta. That was perfect spot for us to explore whole Tenerife (we were focused on hiking). The house is in a great spot, just few minutes walk from the sea and restaurants, and 5-10 minutes from the commercial centre. That made it ideal for us, after whole day spent in mountains, you only want to have good meal and relax in one of restaurants next to the sea. Bedroom was clean and tidy, we also had bathroom to ourselves. Violeta has three cats, so, if you are allergic that might be a problem. For us they were just adding extra bit of charm to Violeta's place. ;-) Few days passed really quickly and we are back in rainy, cold and foggy Scotland - dreaming of visiting Tenerife again! :) Muchas Gracias, Violeta!
Thank you from my heart for your review and advises! I take it in account! Just one cat is allowed to stay inside the house in the living room, but never upstairs in the bedroom:) Good to hear that you appreciate Tenerife, Candelaria fishing village, and my home.. You always welcome at home!
---
Violeta is the most welcoming and friendly host. She helps with any queries, lends her bicycle and makes you feel absolutely at ease. Her peaceful and very clean house with the three characterful cats is quiet yet very close to shops and beach. Wifi in the rooms works perfectly. The large bathroom is just opposite the room and all is in fantastic working order (nice hot water and pressure!) My favourite bit of the house is the inspirational kitchen wall. I am hoping to be back soon.
---
We were a little worried when we arrived in Tenerife as the sky opened up and rain fell dense and dark on our heads ... but the sun soon came out and the atmosphere brightened up even more when we met Violeta and discovered her lovely house! We were in the smaller room but managed to have a very comfortable week with our three-year old, all the more so as we were free to use the the living room (and TV, useful for cartoons ...) and kitchen as much as we wanted. The Wifi worked perfectly in the bedroom (useful for cartoons ...) There's also a nice terrace where you can enjoy a pleasant breakfast in the sun. The house is really well located, with the beach, shops, and restaurants within walking distance, and Candelaria is a great base for visiting the northern part of the island, which is really beautiful. Violeta is a warm, helpful, patient, friendly, gentle host ... so her house is really the perfect place to stay, there are three interesting and entertaining cats (useful when there are no cartoons available) and we will definitely be back! Thanks for our lovely week Violeta!
---
To stay at Violetas was great. Everything was exactly as described. She went way out of her way to make you feel at home and even made us breakfast! She helped with restaurant tips and overall information. Since Fritz is allergic to cats we didn' t stay much in the rooms downstairs/ kitchen so sorry Violeta we would have liked to talk more too. For all if you allergic to cats out there, this wasn' t a problem at all! The cats stayed downstairs and our room and bathroom was catfree, so don't hesitate to stay here if you are concerned. Thanks Violeta we had a great time cheers JeJu and Fritz
---
I really enjoyed my stay with Violeta. The room was great and I had a lovely bathroom to myself. Location was perfect, very close to beach and buses. The WiFi did not work in my room but I was able to use it downstairs. Violeta was very warm and welcoming and a wonderful host. I was also able to use kitchen for cooking. I would have no hesitation in recommending this B&B.
---
These were amazing holiday with a beautiful view of the ocean from the window. Violeta is a very friendly person. The room was clean and adequate for our trio. In the living room you could use the wireless interetu because the room was poor range. Violeta also took us on a wild trip through the forests and mountains of Tenerife. And at the end of the tour took us to a local restaurant for "skinny rabbit" :). This was our first time with Airbnb, and certainly not the last time. RECOMMENDED!
---
Freelance, photographer and artist. I love sharing my apartment in this beautiful fishing village by the sea with all around the word travellers! Its a way to keep open minded and warm heart! Choosing peaceful options and enjoying my family and friends.
I love making each person feel happy and relaxed! Just at home!
Languages:
English
Response rate:
100%
Response time:
within a few hours
Explore other options in and around Candelaria
More places to stay in Candelaria: