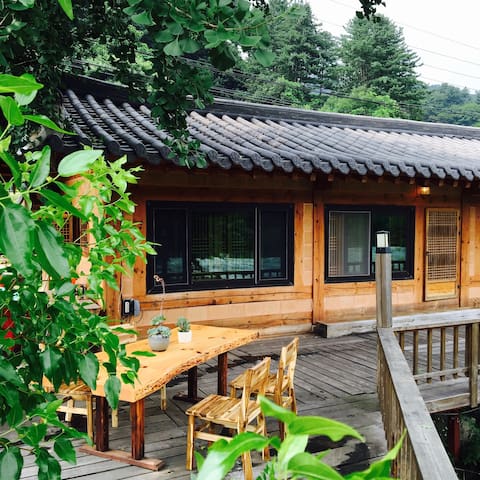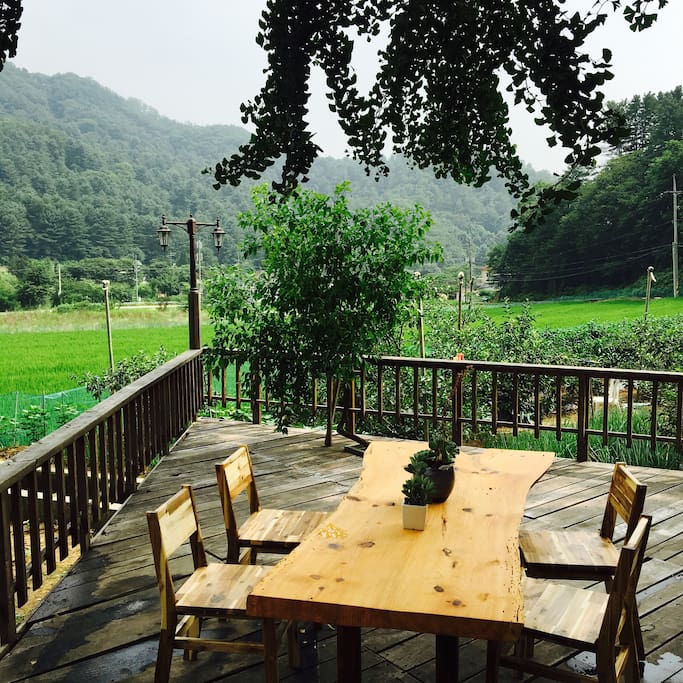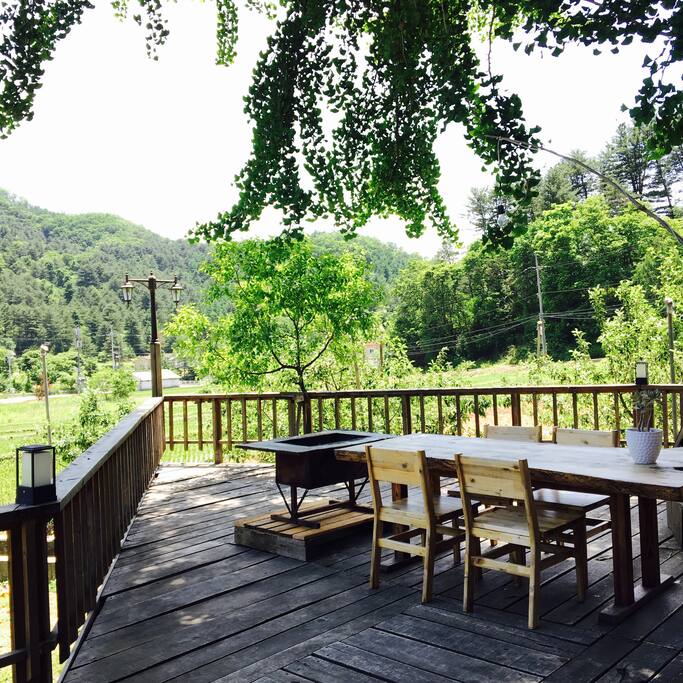 - It is a small hanok house in quiet village. Sitting on a cool terrace in the shade of a ginkgo tree that has grown 50 years. The spacious terrace is the best place for house camping :)
- 조용한 마을에 위치한 아담한 한옥 독채입니다. 50년 자란 은행나무 그늘이 시원한 테라스에 앉아 여유를 느껴보세요. 넓은 테라스는 하우스 캠핑을 위한 최고의 장소입니다:)
The space
- Please use the independent hanok poetry as a soulful sage :) There are no other guests !!! - It is recommended for those who like nice country village, nature scenery, birds and water sounds :) - Separated bathrooms, toilets, kitchens, and rooms. The room is a one-room type of ondol not separated from the living room, and can sleep up to four people :)
- 정성스레 지은 독립된 한옥 독채를 통으로 사용하세요:) 다른 손님은 없어요!!!
- 정겨운 시골마을과 자연 경관, 새소리, 물소리를 좋아하시는 분들께 추천합니다:)
- 욕실겸 화장실, 부엌, 방으로 분리되어 있습니다, 방은 거실이 분리되지 않은 원룸 형태의 온돌이며 4인까지는 여유있게 지낼 수 있습니다:)
Guest access
There is a ginkgo shade, a large terrace, a traditional oven (no bed !!), bedding, shower (shampoo, conditioner, body wash, towel, bidet) and toilet, sink and tableware, lawn garden, , Air conditioner, refrigerator, rice cooker, coffee pot, microwave, dryer and fireplace (autumn winter season) / ** Please note that from December to February, it may be cold to use the kitchen because of the wood door !!! **
은행나무 그늘, 넓은 테라스, 전통방식의 온돌방(침대 없습니다!!), 침구, 샤워실(샴푸, 린스, 바디워시, 수건, 비데) 및 화장실, 싱크대 및 식기, 잔디 정원, 정원내 수돗가, 케이블TV, 에어콘, 냉장고, 전기밥솥, 커피포트, 전자렌지, 드라이기 and 아궁이(가을겨울 시즌) /
**12월~2월까지는 부엌에 나무대문 때문에 부엌 이용하시기에 추울 수 있으니 참고하세요!!!**
Interaction with guests
- Co-host: Hosts are with my mother who lives in the back of the hostel :) When I use the hostel, I often see my mother more than me!
- 공동 호스트 : 호스팅은 숙소 뒷편 주택에 사시는 어머니와 함께 하고 있습니다:) 숙소 이용하실때는 저보다 어머니를 자주 뵐 것 같습니다!!
Other things to note
1. The room is non-smoking. 2. Please note that you can not use facilities other than those listed in the accommodation information. :) 3. Cook in the kitchen and on the outside terrace of the hostel :) Barbeque is good on the terrace! * Please prepare the charcoal and fire plate as necessary as the guest needs :) 4. Please check the "Parking" sign at the entrance of the accommodation! 5. Indoor is a traditional Ondol. There is no bed and bedding is available in the cabin in the room !! 6. I do not offer breakfast :) 7. Please use the hotel cleanly. I will charge a penalty in case of damage to the inner wall and the interior of the hotel !!! Fun! 8. I do not service internal cleaning during the stay :) 9. The nearest mart is located in front of "Hyoenri Public Bus Terminal" (within 10 minutes of the car). 10. When using hot water, please press "bath" in the bathroom entrance controller! 11. Since it is a rural hanok, it can be uncomfortable compared to a downtown hotel, so I always care. I will continue to try to make it a good memory for you. Thank you for using!
1. 실내는 금연입니다.
2. 숙소 정보에 표기된 것 외의 시설물을 이용하실 수 없으니 양해 부탁드려요:)
3. 숙소내 주방 및 외부 테라스에서 요리해보세요:) 테라스에서는 바비큐도 좋지요! * 숯과 불판은 게스트가 필요한만큼 미리 준비해주세요:)
4. 주차는 숙소 입구 "주차"표지판을 확인해 주세요!
5. 실내는 전통방식의 온돌입니다. 침대가 없으며 침구는 숙소내 수납장에 준비되어 있습니다!!
6. 조식은 제공하지 않아요:)
7. 숙소는 깨끗하게 사용해 주세요. 숙소내 내벽 및 실내 파손시에는 패널티를 부과할 거에요!!! 어흥!!!
8. 숙박 기간내 내부 청소는 서비스하지 않아요:)
9. 가장 가까운 마트는 "현리공용버스터미널" 앞에 위치해 있습니다(차량 10분내).
10. 온수 사용시에는 욕실 입구 조절기에서 "목욕"을 눌러주세요!
11. 시골 한옥이다 보니 시내 호텔에 비해 불편할 수 있어 항상 신경쓰고 있습니다. 조금 아쉬웠던 부분도 좋은 추억으로 가져가실 수 있도록 계속 노력하겠습니다:) 이용해 주셔서 감사합니다!
Extra people ₹912 / night after 3 guests
Weekend Price ₹7906 / night
Always communicate through Airbnb
To protect your payment, never transfer money or communicate outside of the Airbnb website or app.
Check-in is anytime after 2PM
1. 실내는 금연입니다.
2. 숙소 정보에 표기된 것 외의 시설물을 이용하실 수 없으니 양해 부탁드려요:)
3. 숙소내 주방 및 외부 테라스에서 요리해보세요:) 테라스에서는 바비큐도 좋지요! * 숯과 불판은 미리미리 준비해 주세요!
4. 주차는 숙소 입구 공터에 해주세요:) 정원내 하시면 아니되요ㅠ
5. 실내는 전통방식의 온돌입니다(보일러도 있습니다). 침대가 없으며 침구는 숙소내 수납장에 비치되어 있습니다!!
6. 조식은 제공하지 않아요:)
7. 숙소는 깨끗하게 사용해 주세요. 숙소내 내벽 및 실내 파손시에는 패널티를 부과할 거에요!!! 어흥!!!
8. 숙박 기간내 내부 청소는 서비스하지 않아요:)
9. 가장 가까운 마트는 "현리공용버스터미널" 앞에 위치해 있습니다(차량 10분내).
10. 이용해 주셔서 감사합니다!
Languages:
English, Español, 한국어
Response rate:
100%
Response time:
within an hour
Explore other options in and around 가평군
More places to stay in 가평군: