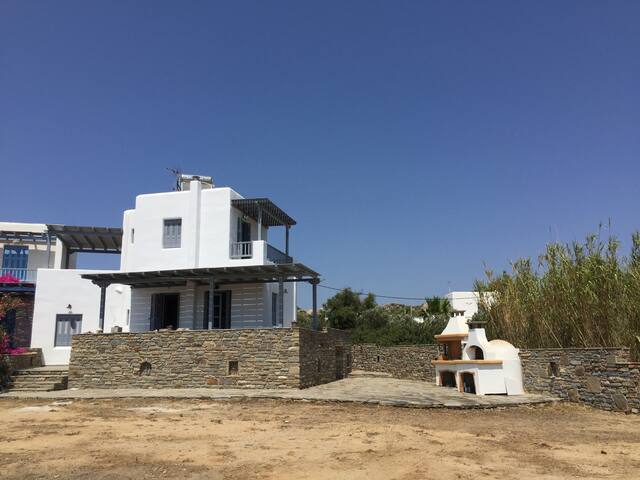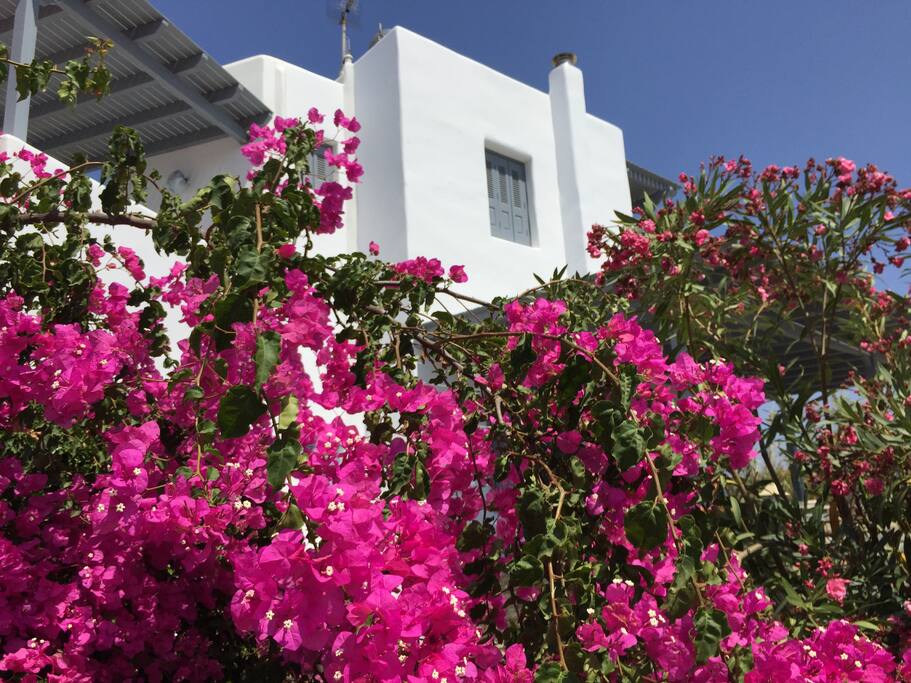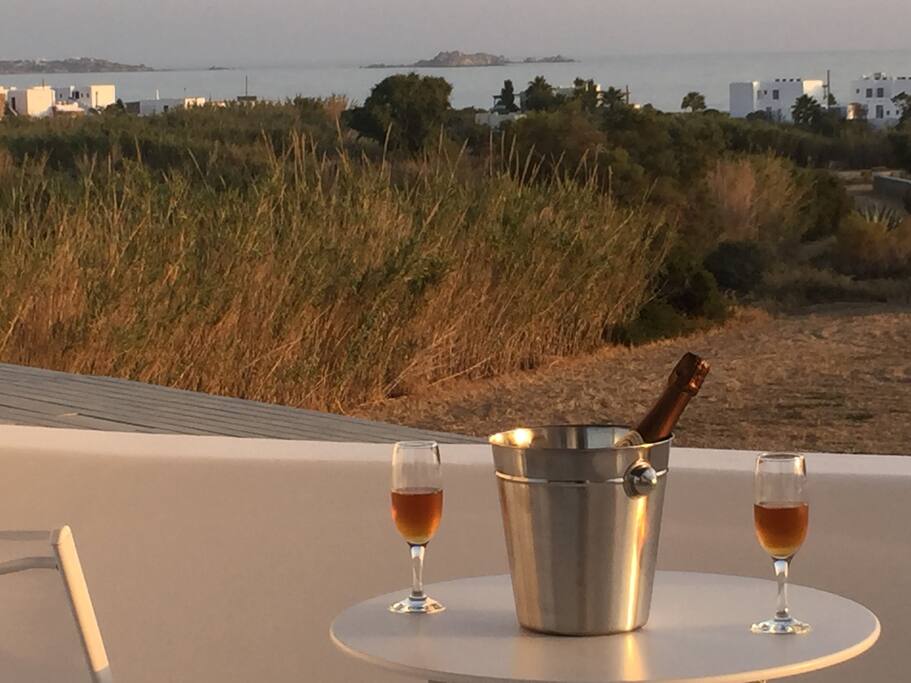 When rare Naxian landscape sculptures and world awarded beaches meet luxury, Villa Tonia promises unique romance and vacation moments. Located just 350 meters by foot or 3 minutes drive from the world famous sand dunes and beaches of Plaka, this great property offers complete independence to three couples or families. The villa is 10/15 minutes drive to airport/port/city center, restaurants and dining. Property is unique for couples, solo adventurers, business travelers, and families with kids.
The space
The Villa is a three story level property offering 4 spacious different sea - view verandas.
The property has 3 totally independent bedrooms each of which has its own private WC/Shower or bath.
The Villa offers an entrance hall that does not interact with any of the bedrooms providing the required privacy when needed.
It is also offering a convenient living room with comfortable sofa and 32 " LED Technology with complimentary (Free of Charge) SAT TV usage.
We are glad to provide Complementary (Free of Charge) Unlimited Free WiFi to all our esteemed guests.
Due to the unavailability of the land lines in the specific area, "Villa Tonia" is just one of the very few properties in this popular area that currently offers WiFi service.
There is a modern high end fully equipped kitchen with built in new appliances connected with the living room and at immediate proximity with the main house veranda that offers unique convenience in serving meals, drinks and dinners.
The property offers a very spacious full comfort bathroom with bath tub in the semi-basement floor that is very handy and convenient for bathing of small children and infants.
Guest access
The guests have full access to all the property spaces and private land / yards of it.
Interaction with guests
During arrival, on a weekly basis for changes of linen and towels and cleaning (for staying of 7 days or more), and upon departure.
Other things to note
- We offer free change of Natural / Ecological and Hypoallergenic fabrics linen and towels (from the internationally awarded Cocomat Brand) including property cleaning on a weekly basis. The linen and towels are washed with special ecological and hypoallergenic detergents under ISO specifications and processes in Athens.
- The property offers dishwater with complimentary detergents.
- The property offers Complementary Unlimited WiFi to all Guests.
- The property offers anti-mosquito electrical devices for every single room and living room with replacement tablets for free.
- The property offers iPhone 4 / iPod dock (iPhone 5 and upwards apple adapter is also working on the appliance).
- The property offers Satellite LED Technology 32" TV.
-The Property offers coffee machine and free / complimentary coffee (Greek and French / American Coffee) and tea.
- The property offers an electrical toaster for toasting bread or sandwiches.
- The property offers complimentary cold bottled water upon arrival.
- The property offers complimentary detergents for washer machines.
- The property offers Ecological Solar Powered 24/7 Water-heating System without any need from the guests for switching On or Off any boiler.
Check-in is anytime after 3PM
- This is a newly constructed and freshly fully painted property.
-All kinds of pets are strictly prohibited.
-The guests should respect all the property belongings and should keep them in their newly condition.
-Order of the property belongings should be kept at he end of the staying. -Electrical appliances should be treated with special attention.
- No electrical appliances should be on use (besides of course the refrigerator) when guests are leaving the property for shorter or longer intervals.
- Special attention should be provided for the ceramic stoves. No cutting, depositing of any glasses or other stuff is allowed. Also there is strictly prohibited to throw specially sugar (also coffee etc.) on the ceramic stoves since these will be destroyed immediately after heating. After every use of it and before the stoves become completely cold, with special attention with a wet fiber / Vitex type or soft side regular sponge provided by us, the stoves should be cleaned other wise dirt from cooked oils, sauces etc. may permanently destroy the ceramic surface.
- The refrigerator shelves should be treated with care and kept clean. No bulky packages, tapers or heavy stuff should be placed in risking the damage of the shelves themselves or the sides. Also some smelly foodstuff should be rapped up with special membranes in order to avoid permanent smell attach to the refrigerator' interior. Any packaged foods, juices etc. should be stored in it being hermetically closed beforehand. Lat but not least, special attention should be paid to the INOX exterior part of the fridge for potential scratches etc. Specially from children accidents, souvenirs magnets (which are not allowed) etc. The only cleaning material should be a wet Totally clean soft fiber or semi wet Totally cleaned or new Vitex type of sponge. No pressure or any detergent should be applied during cleaning the inox exterior surface.
-Moving of luggage and other bulky stuff during the staying should be done with care due to the sensitive white color of the walls.
-Parents should keep an eye on their kids / children for any potential accident or damage for which they will be fully responsible.
-The villa should be all times be carefully locked and secured anytime guests are leaving it for short or longer periods. This will provide security both to your personal belongings as well as the property's standards belongings and equipment for which the guests are also fully responsible during their stay specific period.
- No extra overnight guests are allowed, unless previously notified.
- Proper Air-condition Units Use: it will be highly appreciated that guests turn off all air-conditions units every time before leaving the property and for any reason. The house is new and well insulated. The air-condition units are also new and performing well.
Therefore there is no need for harming the environment and overheating the property's electrical circuits without reason.
It is also important that guests do not leave any air-condition unit turned on if any windows or doors of the property is open.
Although the property is new and very well developed, there is always the risk of electrical circuits overheating with all its outcomes possible.
Besides all, let us altogether Think Green and preserve what we currently enjoy in order for us and our friends to be able to live it again!
Thank you for your consideration.
For the time being since there is no availability from any existing internet provider of land lines for the whole area, the property provides free of charge an expensive and relatively limited 3G mobile router Wifi device solution under annual contract. Although this device provides a good speed for the given average of the island, being an expensive solution for us it is not meant to be used for big downloads like movies etc.
Also we will highly appreciate to make logical use of YouTube and similar internet visiting locations.
Social media, business emails, news-pages, blogs, portals etc. can be used without any problem.
Thank you in advance for your respect and understanding.

For your information, from next year's season, seeking continuous improving experience for our guests, we will be able to provide full limitless Wifi internet through already reordered regular land lines from the Public Telecom Provider OTE.
We honestly thank in advance all our guests for reading and paying attention to all the above rules.
We will highly appreciate everyone's attention on our beloved private property!
Having a family export business, me and my wife are frequent travelers with great multicultural and international experience on hospitality services. Due to our business needs in the last 18 years we have traveled almost all around the world and had the chance to stay in some of…
Response rate:
100%
Response time:
within a few hours
Explore other options in and around Naxos
More places to stay in Naxos: