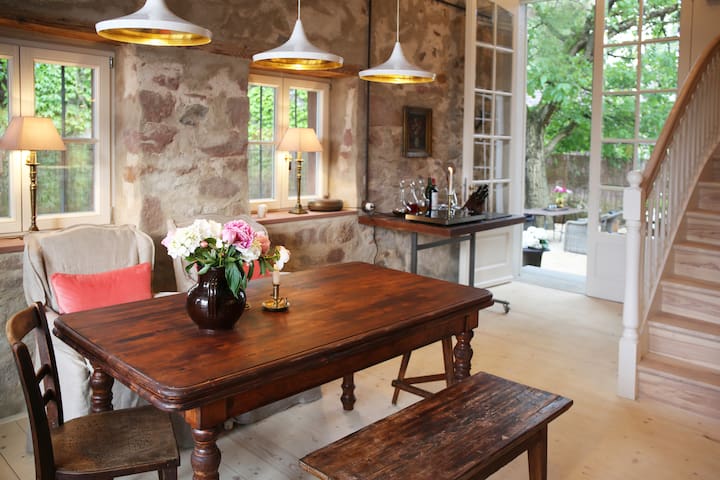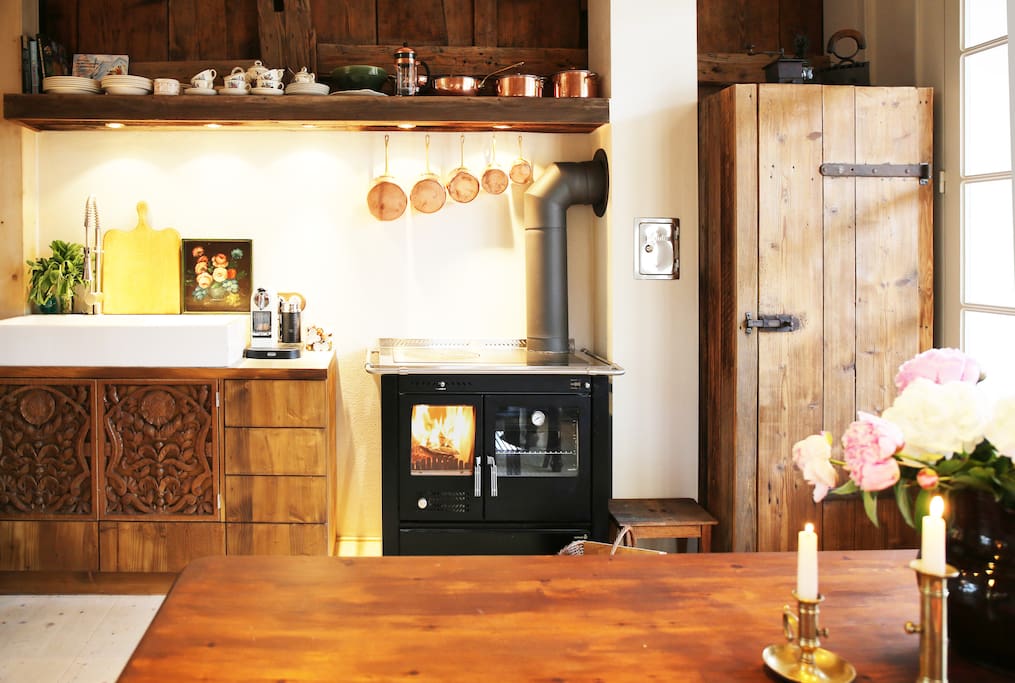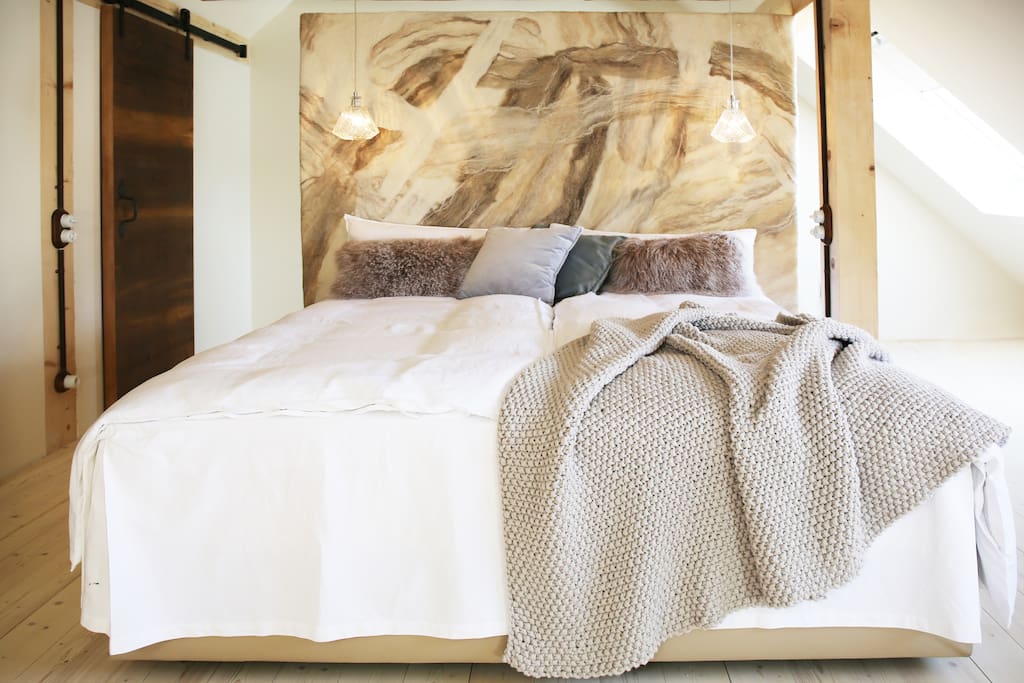 Der Boutique Design Bauernhof: ANNAS SCHEUNE
The gateway to the Elztal in the Black Forest and the world-famous Glottertal is the small "Slow City" Waldkirch. In the suburb of Buchholz lies ANNAS SCHEUNE in the middle of the old town center. A 2016 biologically lofty farmhouse with several outbuildings from the 17th century. Decorated with antiques, design classics and bespoke furniture complements the modern country style of the barn.
Die Pforte zum Elztal im Schwarzwald und dem weltbekannten Glottertal bildet die kleine "Slow City" Waldkirch. Im Vorort Buchholz liegt mitten im alten Ortskern ANNAS SCHEUNE. Ein 2016 biologisch loftänlich saniertes Bauernhaus mit mehreren Nebengebäuden aus dem 17. Jahrhundert.
Die Einrichtung mit Antiquitäten, Designklassikern und maßgefertigten Möbeln komplettiert den modernen Country-Style der Scheune.
Interaction with guests
Of course, I will be available for further inquiries during the stay.
Selbstverständlich stehe ich während der Aufenthaltsdauer für Rückfragen zur Verfügung.
Other things to note
The old barn including the threshing floor was lovingly renovated with local artisans from the ground up and transformed into a spacious, loft-like holiday home. Traditional, rural elements such as stone walls and ceiling beams meet urban style with lots of glass, light and wood. Decorated with antiques, design classics and bespoke furniture complete the modern country style of the barn. The heart of the house today is the kitchen with a wood-fired stove. "Arriving and decelerating" is the motto here. If, however, the firing of the hearth lasts too long, it is, of course, possible to resort to modern induction plates. Special attention is paid to the bed. Handmade wild silk and cashmere boots from Wittmann from Austria promise Schlafluxus the extra class. A hand-felted bed of merino, alpaca and silk invite you to cuddle. Behind the bed is a walk-in closet. In the bathroom a modern bathroom furniture was built from the more than 300 years old wedding line of Anna's ancestors. The wooden tackle of the threshing floor was turned into a lamp. In the summer it can be gently grilled under the old walnut tree in the romantic courtyard, eat or in a small wild garden behind the house in the deck chair the bird (SENSITIVE CONTENTS HIDDEN)ing and barbecue cirrus. From sunrise to sunset. The history of the house Forty years the estate was in the Sleeping Beauty. Previously, a well-known costume lover, Anna Schätzle lived in this house. She earned her livelihood with the production of costumes, as before her mother and great grandmother. In order to earn a so-called "Handgeld" during the turn of the century, Anna Schätzle hiked with a hand sewing machine on her head, many kilometers from farm to farm. The stories tell Anna that Anna was a generous, kind, and strong woman. She loved cooking, baking, gardening, handwork and her 88-year-old son Rudi, who is still living in Australia. Supposedly she had gold in her fingers. Two original costume hats by Anna and many historical items remind you of the time when she lived here in the farmhouse with her family and the many animals. In her honor the house was named "Annas Scheune".
Die alte Scheune samt Tenne wurde liebevoll mit heimischen Handwerkern biologisch von Grund auf saniert und in ein großzügiges, Loft-ähnliches Ferienhaus umgewandelt. Traditionelle, ländliche Elemente, wie Steinwände und Deckenbalken treffen auf urbanen Stil mit viel Glas, Licht und Holz. Die Einrichtung mit Antiquitäten, Designklassikern und maßgefertigten Möbeln komplettieren den modernen Country-Style der Scheune.
Das Herz des Hauses ist heute wie damals die Küche mit einem holzbefeuerten Herd. "Ankommen und entschleunigen" ist hier das Motto. Wem das Anfeuern des Herdes allerdings zu lange dauert, kann selbstverständlich auf moderne Induktionsplatten zurückgreifen.
Besonderer Augenmerk gilt dem Bett. Handgefertigte Wildseide- und Kaschmirmatratzen der Firma Wittmann aus Österreich versprechen Schlafluxus der Extraklasse. Eine handgefilzte Bettrückwand aus Merino, Alpaka und Seide laden zum kuscheln ein. Hinter dem Bett befindet sich ein begehbarer Kleiderschrank.
Im Badezimmer wurde aus der über 300 Jahre alten Hochzeitstruhe von Annas Vorfahren ein modernes Badmöbel gebaut. Der hölzerne Flaschenzug der Tenne wurde in eine Lampe verwandelt.
Im Sommer lässt es sich herrlich unter dem alten Nussbaum im romantischen Innenhof grillen, essen oder in einem kleinen wilden Garten hinterm Haus im Liegestuhl das Vogelgezwitscher und Grillenzirpen genießen. Von Sonnenaufgang bis Sonnenuntergang.

Die Historie des Hauses
Vierzig Jahre lag das Anwesen im Dornröschenschlaf. Zuvor lebte eine sehr bekannte Trachtennäherin, Anna Schätzle in diesem Haus. Sie verdiente sich mit der Fertigung von Trachten ihren Lebensunterhalt, wie schon zuvor ihre Mutter und Urgroßmutter.
Um sich während der Jahrhundertwende ein sogenanntes Handgeld zu erwirtschaften, wanderte Anna Schätzle mit einer Handnähmaschine auf dem Kopf bepackt, viele Kilometer von Hof zu Hof.
Zeitzeugen berichten, dass Anna eine großherzige, gütige und starke Frau war. Sie liebte das Kochen, Backen, Gärtnern, das Handarbeiten und ihren heute noch in Australien lebenden, 88-jährigen Sohn Rudi.
Angeblich hatte sie Gold in den Fingern. Zwei originale Trachtenhüte von Anna und viele historische Gegenstände erinnern an diese Zeit, in der sie hier in dem Bauernhaus mit ihrer Familie und den vielen Tieren lebte. Ihr zu Ehren erhielt das Ferienhaus den Namen "Annas Scheune".
---
This listing has essential business travel amenities.
---
---
Bedroom 1
1 king bed, 1 couch
---
Check in time is 4PM - 8PM
Die Hausregeln für ANNAS SCHEUNE (Stand 26. Juli 2016)
1. Bitte buchen Sie alle Mitreisenden als Gäste namentlich ein. Es besteht die
Möglichkeit, dass eine Person auf dem Sofa schlafen kann, oder wir stellen gerne ein Beistellbett mit Bettsachen und Bettwäsche zur Verfügung. Bei der Verwendung eines Beistellbetts hat man etwas Platzverlust auf die Gesamtfläche.
2. Buchen darf nur ein Gast, der tatsächlich auch in ANNAS SCHEUNE wohnt. Drittpersonen-Buchungen sind nicht gestattet. Das bedeutet, dass Sie nicht auf ihren Namen buchen können und andere Gäste reisen an.
3. Bitte bringen Sie ihre Ausweise/Personalausweise/ ID Card zum Check-in mit und legen Sie diese zur Kontrolle vor. Beim Check-In muss gemäß der gesetzlichen Vorschrift ein Meldeschein ausgefüllt und unterschrieben werden. Mit der Unterschrift des Meldescheins bestätigen Sie die Richtigkeit ihrer persönlichen Angaben, dass Sie die Hausregeln zur Kenntnis nehmen, respektieren und für jeglichen Schaden aufkommen, der durch Sie oder einen von ihnen eingeladenen Gast verursacht wurde.
4. ANNAS SCHEUNE steht ausschließlich unseren Gästen für deren Urlaub zur Verfügung. Weitere Untervermietung ist untersagt. Weitere Besucher, die im Haus nächtigen, sind ohne vorherige Anmeldung nicht gestattet.
5. ANNAS SCHEUNE verfügt über eine steile Treppe in das erste Obergeschoss. Bitte berücksichtigen Sie das auch beim mitbringen ihres Kindes. Kinder und Babys sind in ANNAS SCHEUNE herzlich willkommen.
6. Gäste sind zur Mitbenutzung des WLAN im Rahmen des gesetzlich Zulässigen berechtigt. Das WLAN Netz ist derzeit auf 3 GB Datenvolumen pro Monat ausgelegt. Bei Zuwiderhandlung werden Strafanzeigen, Verwarnungen und Rechnungen unverzüglich an den Gast weitergeleitet und der Schaden in Rechnung gestellt.
7. Partys sind ohne Genehmigung durch die Gastgeberin nicht gestattet.
8. Sie befinden sich in einem Nichtraucherhaus. Rauchen ist nicht erlaubt. Das Rauchverbot erstreckt sich auf das gesamte Haus. Im Innenhof und auf der Terrasse im Freien besteht dieses Verbot nicht.
9. Ein Lagerfeuer im Garten und Innenhof ist wegen Brandgefahr nicht erlaubt.
10. Offenes Feuer, wie brennende Kerzen müssen fortwährend beaufsichtigt werden.
11. Wir erwarten von unseren Gästen, dass Sie sich im Einklang mit der Nachbarschaft an die überall geltenden Regeln und Ruhezeiten halten. Zwischen 22 Uhr Abends und 7 Uhr Morgens ist unnötiger Lärm in oder um das Haus zu unterlassen.
12. Wir erwarten, dass Sie respektvoll und umsichtig mit dem zur Verfügung gestellten Inventar umgehen. Entstandene Schäden, oder Verlust sind sofort zu melden und zu ersetzen. Eine aktuelle Inventarliste wird Ihnen beim Check-In überlassen.
13. Der Gast übernimmt ein einwandfrei gereinigtes Haus. Während der Mietzeit ist der Gast für die Reinigung selbst zuständig. Die Endreinigung beinhaltet das Reinigen der Böden, sowie reinigen von Bad & WC, Bettwäsche waschen und wechseln, das Reinigen der Fenster und das Pflegen des Gartens.
14. Der Gastgeber behält sich vor, an warmen Tagen in den frühen Morgenstunden die Pflanzen rund um das Haus und den Garten zu wässern. Es wird darauf geachtet, dass sich kein Gast davon gestört fühlt.
15. Haustiere, wie Hunde und Katzen sind bei uns Willkommen. Bitte achten Sie darauf, dass das Haus nicht markiert werden darf und Urin und Kot unverzüglich beseitigt werden muss. Die Haustiere dürfen nicht auf das Sofa oder Sessel und nicht ins Bett.
16. Selbstverständlich stellen wir Ihnen alles Wesentliche bei Ihrer Ankunft zur Verfügung. Sie erhalten diverse Handtücher, Geschirrtücher, Stoffservietten, eine großzügige Erstaustattung von Toilettenpapier, Seife und Duschmittel, Putz- und Waschmittel zur Verfügung, so dass Sie entspannt ankommen können.
17. ANNAS SCHEUNE ist ein Ferienhaus und kein Hotel. Daher gibt es kein Frühstück, es werden Hand,- und Badetücher nicht täglich gewechselt, sondern für die Dauer Ihres Aufenthaltes ausgegeben. Im Haus befindet sich eine Waschmaschine/Wäschetrockner, die Sie natürlich im verträglichen Rahmen benützen können.
18. Toilettenpapier und Duschmittel wird während des Aufenthaltes nicht nachgefüllt. Bitte sprechen Sie uns an, sollten Sie frische Bettwäsche oder Handtücher benötigen. Wir helfen ihnen selbstverständlich weiter, wenn Sie etwas benötigen.
19. Bitte ziehen Sie ihre Schuhe im Haus aus, wenn diese schmutzig sind, oder auch bei Regen und Schnee.
20. Schließen Sie alle Fenster, Türen und das Hoftor, wenn Sie ANNAS SCHEUNE verlassen, und schließen Sie ebenfalls die Holzläden auf der Terrasse und am Eingang im Innenhof. Besonders bei Regen ist darauf zu achten, dass die Fenster geschlossen sind, da sonst das Regenwasser in kürze einen Wasserschaden auf dem Holzdielenboden verursacht.
21. Bei Schlüsselverlust kommt der Gast für einen Ersatz der Zylinder und der Schlüssel in 3-facher Ausfertigung auf.
22. Wir halten eine Empfehlungsauswahl an Wein, Sekt, Bier und Kaffeekapseln zum Selbstkostenpreis für Sie zur Verfügung. Eine Preisliste hierzu liegt aus. Bitte halten Sie das Geld bei einem Verzehr passend am Abreisetag bereit.
23. Mülltrennung: Wir möchten darauf hinweisen, dass der Müll bei uns getrennt wird. Plastik und Tetra Packs in der vorgesehen Mülleimer mit gelbem Sack. Papier in den Papierkorb. Essensreste in den Kompostmülleimer mit orangen Sack. Leere Flaschen in den Kupferkorb. Pfandflaschen entsorgt der Gast selber.
24. Bitte teilen Sie uns an dem Tag vor Ihrer Anreise mit, in welchem Zeitfenster Sie anreisen. Check-In ist in der Regel zwischen 16.00-20.00 Uhr
25. Bitte ckecken Sie an ihrem Abreisetag bis spätestens 11.00 Uhr aus.
26. Wir möchten alles dafür tun, dass Sie sich während des Aufenthalt in ANNAS SCHEUNE durch und durch wohlfühlen. Falls es etwas zu beanstanden gibt, geben Sie uns bitte die Möglichkeit, dies sofort zu ändern. Beanstanden Sie bitte nicht im nachhinein, wenn keine Möglichkeit mehr besteht, etwas zu ändern, oder verbessern zu können.
27. Eine Kurtaxe von € 1,60 pro Tag und pro Gast ist gesetzlich vorgeschrieben und bei Reiseantritt bar bezahlt. Im diesem Preis sind alle Bahn-, Bus, - und Teamfahrten im Umkreis von 60 km pro Gast kostenlos. Ebenfalls der Eintritt von Museen und Schwimmbädern in Waldkirch sind kostenlos.
_______________________________________________________________
Rules and Instructions for ANNA'S BARN (26th July 2016)
1. Would you please give the names of all guests when booking. There is the possibility for one person to sleep on the sofa or we can provide a rollaway bed with bedding and bed linen. If you need that rollaway bed, you lose a bit of space of the total living area.
2. A person is only allowed to book if he or she actually stays in Anna's Barn. Third-party-bookings are not allowed. That means, you are not allowed to book on your behalf while other guests actually check in.
3. Would you please bring your IDs and show them to the host while checking in. It is a legal requirement for the guests to fill in a registration form when checking in. With your signature on this form you confirm that all your personal datas are correct, that you have taken notice of and respect the rules and instructions of Anna's Barn and that you are liable and responsible for any damages caused by you or any person invited on your behalf.
4. ANNA'S BARN is at our guest's dipsosal only within the time of their holidays which they have booked in ANNA'S BARN. Any further subleasing is not allowed. It is not allowed to any person that does not belong to the registered booking to stay overnight in ANNA'S BARN without previous registration.
5. ANNA'S BARN has got steep stairs to the first floor. Would you please consider this, especially when you have small children. Children and babies are heartily welcome in ANNA'S BARN.
6. Our guests are allowed to use WIFI within the existing legislation. At the moment, our WIFI Net has got a data volume of 3 GB per month. Any infringement will entail the immediate forwarding of reportings of an offence, warnings and invoices to the guest and the caused damage will be charged to him.
7. Parties without permission through the host are not allowed.
8. You have booked a stay in a non-smoking house. Smoking is not allowed within the whole house. This does not include the inner yard and the terrace.
9. It is not allowed to make a campfire in the garden and inner yard due to danger of fire.
10. Any open fire such as burning candles have to be supervised continuously.
11. We expect all guests to stick to the rules in force and to the rest times, in accordance with the neighbourhood. Between 10 pm and 7 am, any unnecessary noise in and around the house is to be avoided.
12. We expect you to treat any fixtures provided respectfully and cautiously. Any damage caused or any loss is to be reportetd to the host and replaced immediately.When you check in, you will get a current list with all fixtures.
13. The guest will get a sound and proper house when checking in. During your stay you are responsible for the cleaning. The final cleaning includes the cleaning of the floors as well as that of the bathrooms and toilet, in addition the changing and washing of the bed linen, the cleaning of the windows and garden care.
14. The host reserves to herself the right to water the flowers around the house and the garden in the early mornings on warm days. Of course, she will do that without you feeling bothered.
15. Any pets such as dogs and cats are warmly welcome with us. Would you please pay attention to your pets not marking the house and would you please remove any urine and excrement immediately. The pets are not allowed to be on the sofa, armchairs or beds.
16. Of course, we provide you with anything that is essential for your stay when you arrive. You will get towels, kitchen towels, cloth-napkins, a generous quantity of toilet paper, soap, showergel, cleaning agents and detergents, so that you can relax right from your arrival on.
17. ANNA'S BARN is a holiday house and not a hotel. Therefore, we do not offer breakfast service and the towels and bath-towels are not changed daily, but provided for the time of your stay. In the house, there is a washing-mashine and a dryer which you may both use to an agreeable extend.
18. Toilet paper and showegel will not be refilled during the time of your stay. Please tell us if you need fresh bedlinen or towels. We will be happy to help you anytime.
19. Please take off your shoes before you go into the house if they are dirty or in case of rain or snow.
20. Please close all windows, doors and the gate to the yard when you leave ANNA'S BARN and please do also close the wooden window shutters on the terrace and at the entry of the inner yard. Especially if it rains, the windows have to be closed as otherwise the rain would cause immediate water damage on the wooden floorboard.
21. In case you lose the key, you have to replace the cylinder lock and the key in triple copy.
22. We provide you with a choice of wine, sparkling wine, beer and coffee capsules at netcost price. We therefore have a pricelist. In case of consumption, would you please pay in cash the exact amount due on the day of your departure .
23. Waste separation: We would like to point out that we have to separate our waste. Any plastic waste and the so-called Tetrapacks go to the garbage can with the yellow plastic bag. Paper goes to the wastepaper basket, leftovers have to be put into the compost bin with the orange bag and empty bottles go into the copper basket. Returnable bottles have to be disposed by the guests themselves.
24. Would you please tell us your time window the day before you arrive. Normally, the check-in is between 4 and 8 pm.
25. Would you please check out by 11 am at the latest the day you are leaving.
26. It is essential for us to make you feel perfect during your stay at ANNA'S BARN . Should there be anything to complain about, please give us the chance to help you immediately. Do not wait to do that afterwards when we don't have the possibility to change something.
27. The visitor's tax is 1.60 Euros per person and day. This amount is to be paid in cash when checking in.
---
I think the word 'WOW' left my mouth about 5 times upon entering Ines' place. The attention to detail is incredible, right down to the dog biscuits left out for Cora and welcome message on the slate outside. We had a lovely 4 night stay here. The most amazing space to relax in. I encourage everyone to stay here. You will NOT be disappointed. Simply magnificent!!!
---
There are only a few places in the world that can compare to Ines's. Every single detail of the space is a wow. My husband and I felt like royalty while staying here. Ines was so wonderfully inviting and helpful. Her passion for excellence is very evident in this space and we were honored to be a part of it. If this place is available, I urge you to jump at the opportunity!
---
Words can not describe how PRECIOUS this jewel of space is...it is a blessing on all senses to arrive there! Above all this beauty and love to the details put into this mindblowing beautiful transformed barn, there is this OMazing and heart touching host Ines...the welcoming this warm soul has created, is the most profound experience of 'coming home' that I was allowed to have on Airbnb. Thank you sooooo much, dear Ines! Please keep on radiating so beautifuly :)
---
Me and my boyfriend had our best Airbnb experience uptill now (and we've had some!) at Ines fabulous boutique cottage in Schwarzwald: the interior and design was impeccable, from the copper pans to the gorgeous and very comfortable bed! Also, Ines took fantastic care of us during our stay, from welcoming us with home made jams, cider and delicious bites after quite a few hours in the car, lending us bikes to explore the beautiful surroundings to even getting a van (and home made icecream!) against a few very hot Summer days we've had during the week. We couldn't think of a more graceful, great and sweet host than Ines, so thank you very much again dear Ines for our fabulous stay!!
---
Man kommt in Annas Scheune an und fühlte sich sofort wie zuhause ! Das wirklich besondere ist der zu befeuernde Herd ! Wahnsinn, macht einfach nur Spaß drauf zu kochen und zu backen !! Sind zum zweiten Mal da gewesen und soll bestimmt nicht das letzte mal gewesen sein !
Lieber Josh, lieber Chris und Wauzi Luciero, vielen lieben Dank für euren Besuch und es war mir, auch beim 2. Mal eine große Freude euch als Gäste zu haben. Ihr seid so zwei tolle Genussmenschen und es ist eine wahre Freude euch hier zu haben. Alles Liebe und Gute und vielleicht bis bald Mal wieder. In großer Vorfreude, eure Ines
---
Annas Scheune ist eine ausgezeichnete Adresse und ein ganz wunderbarer Ort zum Entspannen. Das Interieur des Ferienhaus übertrifft noch die Fotos. Alles ist mit sehr viel Liebe zum Detail eingerichtet und es fehlt einfach an nichts. Ines ist eine so herzliche Person. Sie hat uns den Aufenthalt durch die vielen Aufmerksamkeiten noch mehr verschönert. Auch der Hof ist wunderschön gestaltet. Kurz gesagt ein rundum perfekter Ort mit einer wunderbaren Gastgeberin.
---
hello, my name is Ines and I am from the black forest.
Response rate:
100%
Response time:
within an hour
Explore other options in and around Waldkirch
More places to stay in Waldkirch: