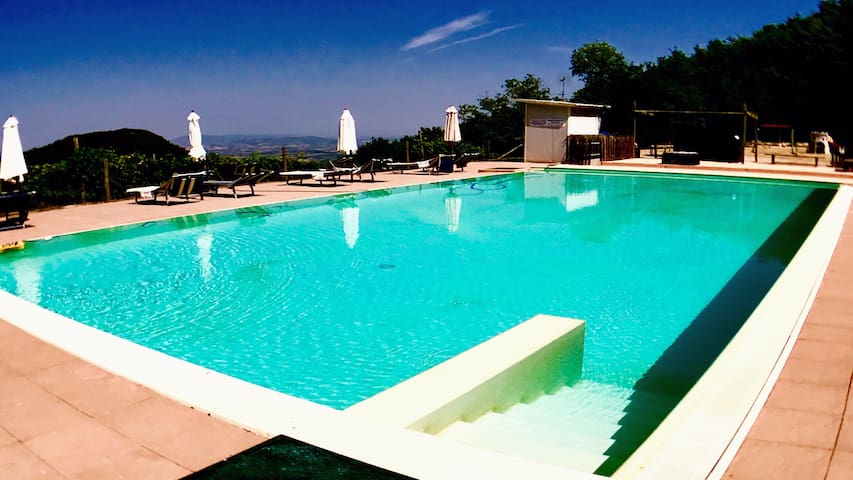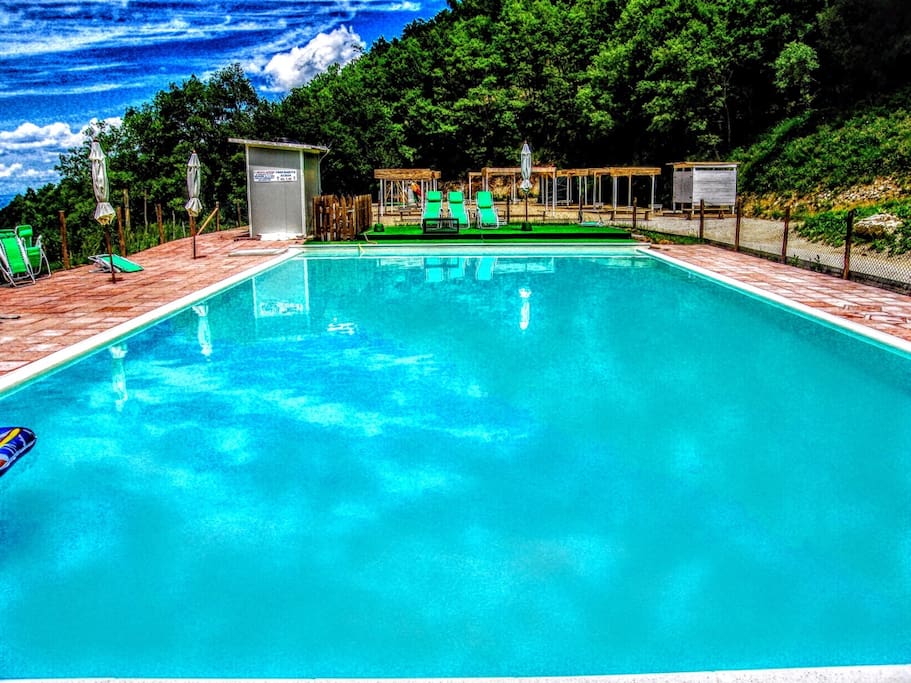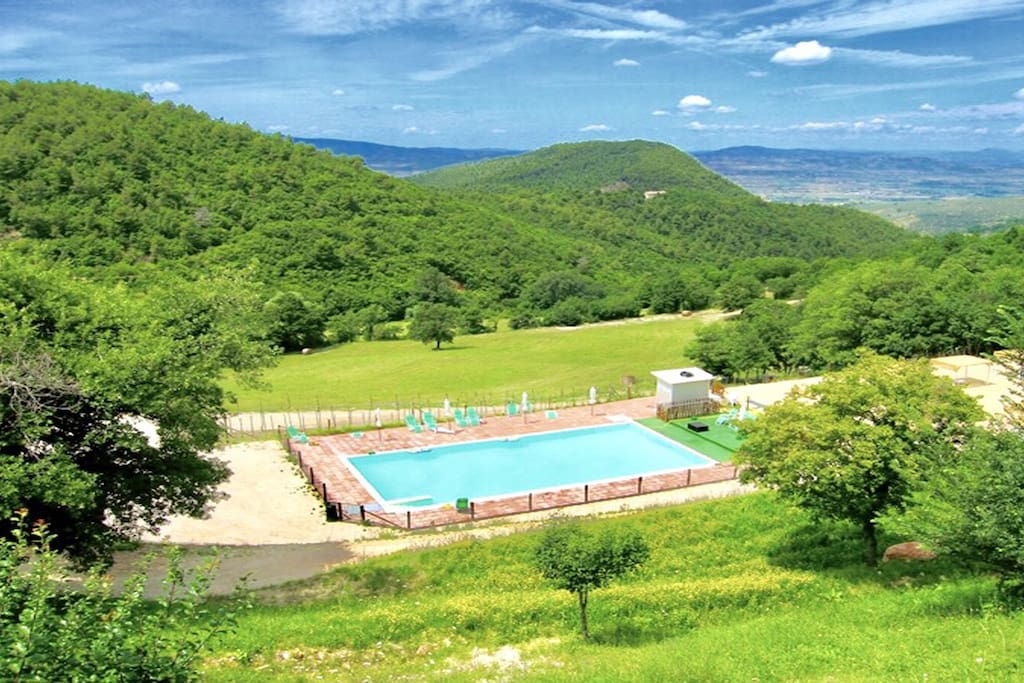 Villa Marianna:APT D, 7 mls/Spoleto
20 mins drive to central Spoleto.
Wifi, dishwasher, washing machine, fully fited kitchen, large patio, large shared pool.
1 of 5 apartments in restored 16C villa, APT D is spacious.
Within 45 mins, drive to Assisi or Perugia, or, 1 hr to Rome.
The space
THERE IS NO RESTAURANT AT VILLA MARIANNA - A TRANQUIL ENVIRONMENT.
Set in 100s of acres of private land, it is all yours while you are at Villa Marianna. You can walk for hours in any direction. Indeed, St Francis and his desciples used to pass Villa Marianna on their journeys between Assisi and Rieti.
There are a few farmsteads on the land so you will see a handful of locals tending the land, on which our cows, sheep, horses, geese, ducks and peacocks graze.
Free high speed WiFi and a dish-washer in every apartment.
With large pool - 120 sq mts, this is a very large fabulous 16C stone manor house (car necessary) - 5 apartments. 7 miles from central Spoleto, above Bazzano, on the side of Spoleto towards Assisi - excellent location for sight-seeing.
Close to Assisi, Perugia, Orvieto + Rome. And, Spoleto, teaming with shops, bars and restaurants, is just 7 miles.
From the villa, amazing panorama towards Assisi that stretches over valleys, mediaeval hill-top towns, olive groves and vineyards, all the way to a seeming infinity ! Large private patio areas and balconies outside the apartments, with plenty of tables and parasols etc for al fresco eating.
Picnic anywhere you choose in the extensive grounds. Lounge around the pool, next to which is a toilet. Chill out exactly where the mood takes you.
No end of space in the acres surrounding you for those who wish to "get away" and be reclusive.
While the private pool is available to all our guests, to date, the pool is often quiet, since most of our guests in central Spoleto do not have cars and/or are not interested in a pool property. Indeed, the pool is often empty for large chunks of the day.
Private car park for residents.Our peacocks, hens, goats and horses in next field.
High speed internet available, free of charge, via WIFI.
Ideal for lovers and families alike....
A romantic, mountain retreat, above Bazzano Superior, with sensational views, where there is so much space that guests can do what they like, without feeling inhibited. Quiet nooks and crannies for lovers, wide open sandy areas for children, spacious patio areas for dining alfresco, endless pilgrim trails for walkers and cyclists, heavenly views, bird-song, a huge pool for family gatherings, local restaurants with proximity to the Umbrian 'hot-spots' ....Assisi, Perugia, Orvieto, Spello, Casteluccio, Norcia, Trevi, Montefalco, and, Rome, a mere 1.15 mins, by train, or, Spoleto, just 20 mins, by car, via the quiet Giro D'Italia route, a spectacularly beautiful country road. And, while exploring Umbria is a must for most, if you tear yourselves away from this mind-blowingly beautiful and historic villa in the hills above Bazzano, the buzzy, fairy-tale city of Spoleto will satiate a yearning for the bright lights with shops, bars, restaurants and churches, amidst its arched, cobbled streets.
Villa Marianna, a fabulous 16C manor house with WiFi in every apt, its rooms large, light and airy. In an intensely romantic setting, the 5 self-catering apartments are well-spaced from each othe(URL HIDDEN)occupy the entire 1st floor, B + D occupy the entire ground floor, each apartment separated by spacious hall-ways, and E in a position on its own, annexed at the end of the house.
Hewn from the rocks, this majestic manor house looks over the pool and the magnificent, panoramic landscape, embracing monasteries, olive groves, woods, vineyards, fields of poppies, cherry orchards and hill-top villages, furling and unfolding through valleys and across a grand plain towards Assisi.
This is a great walking area and there are many marked paths from Villa Marianna to a diversity of places, several following in the footsteps of St Francis !
If you are seeking an intimate experience with Nature, fun and frolics by the pool, and, easy access to all the "hot spots" of Umbria, then, Villa Marianna is for you.
5 huge + 1 medium apartments, all with dish-washers..
LOCATION : 7 MILES TO SPOLETO HISTORIC CENTRE/car necessary
Arrival/Departure dates flexible, subject to availability
APT A can sleep 8 persons, IF each of the 2 triple bedrooms sleeps 3 persons.
APT B can sleep 6 persons, IF the enormous sitting room area sleeps 2 persons in the alcove.
APT C can sleep 8 persons, IF 2 of the 3 triple bedrooms sleeps 3 persons.
APT D can sleep 6 persons, IF each of the 2 triple bedrooms sleeps 3 persons.
APT E can sleep 3 persons, IF the triple bedroom sleeps 3 persons.
VILLA MARIANNA : APT D with dish-washer
2 or 3 Bedrooms, Sleeps 4 - 6...
APT D (100 sq mts) has 1 large sitting/dining room (with fully fitted kitchen), 2 triple bedrooms (each with double bed and single bed) + 2 shower rooms. Very pretty views of hills and woods. French windows open onto a private patio/pretty hill and wood views.
2 Bathrooms/2 WCs...
On the ground floor (no steps), it is the most private of all the apartments, occupying the end of a cul-de-sac, with a very large terrace area/very pretty views of the woods from all its large windows and terrace.
A spacious apartment, it has 1 large, sitting/dining room - seats 8, with a fully fitted kitchen, 2 double bedrooms + 2 bathrooms.
There are French windows that lead directly from the sitting/dining room onto the large terrace.
Simply, but, elegantly, furnished, this apartment is perfect for families and lovers alike.
Booked together with APT B + E, the whole of the ground floor becomes occupied by 1 large party that can sleep up to 12 persons comfortably.
However, please note that APT E is in an annex of the manor house, at the end, and, that APTs B + D are next door to each other. But, if its views from a terrace that will accommodate a larger party that you are after, you are best to include APT E because its terrace can seat up to 10 persons and it has stunning views. The balcony of APT B only seats 4 and the large terrace of APT D has only wood views.
There are no steps leading to the apartment nor inside the apartment.
However, there are some steps from the back of the house, leading to the large communal terraced area, overlooking the pool. But, you can avoid these steps and walk round the house directly to the communal areas and/or the pool.
Worried about steps ? No need !
NO STEPS, if you book APT B, D or E, everything is on 1 level. A short flight of steps to APT A or C - once inside, everything is on one level.
However, there are steps from the back of the house, leading to the large communal terraced area, overlooking the pool. But, you can avoid these steps and walk round the house directly to the communal areas and/or the pool.
For the elderly or infirm, you can drive a car directly to the pool via a separate lane.
The pool....
The pool is 110 sq mts, a large pool with plenty of room for everyone all around it. And, there is a WC.
It is a short walk from the villa, about 2 minutes, downhill. However, if you are feeling very lazy and wish to take a picnic to the side of the pool, you can take the car down a special pool lane, right to the side of the pool.
All our guests are invited to use the pool. However, most of our "non-pool" guests either do not have cars and/or are not interested in the pool.
Therefore, to date, the pool has remained quiet much of the time and, at times, it is empty.
There is a large sandy area next to pool has a few swings, climbing frames + a slide for young children.
FREE PARKING....
There is a private car-park adjacent to Villa Marianna....However, our guests are allowed to park closer to the villa, if there is room. The public, who will use the restaurant, MUST park in the car-park.
ARE YOU A LARGE GROUP OF BETWEEN 10 AND 25 ?
One of the most impressive features of APTs A, B, C + D is the sheer size of these apartments !
APT E can sleep 1 couple + child. If the child is over 2 years old, there would be an extra charge of 50 euros/week.
APT A + APT C occupy the entire upper floor and, when booked together, create a totally private area because the spacious hall that divides these 2 apartments becomes part of a super-large apartment in a naturally 'privatised' area. Together, they can sleep up to 12 persons.
APT B + APT D occupy almost the entire ground floor. Together, they can sleep up to 12 persons. APT E is in an annex at the front end of house and sleeps up to 3 persons, including a small child.
OR, if you were to book APTs A, B, C, D + E, the manor house could sleep up to 25 persons.
Discounted rates for the simultaneous booking of more than 1 apartment. Please enquire.
WHEN YOU BOOK THE WHOLE VILLA, AN EXTRA INDUSTRIAL SIZED KITCHEN WITH DISH-WASHER + RESTAURANT AREA TO SEAT UP TO 100 PERSONS, WHICH IS ON THE GROUND FLOOR OF THE VILLA, IS INCLUDED IN THE RATE FOR YOUR EXCLUSIVE USE. USUALLY, THIS AREA IS CLOSED DURING THE SUMMER MONTHS.
Brief description of Spoleto, 7 miles away....
Spoleto is akin to a giant, fairy-tale castle. Sprinkled with bars, restaurants and shops, peppered with piazzas, Spoleto sits magestically amidst a maze of tunnelled, cobbled lanes and alley-ways, all leading skywards to the famous Rocca, the aquaduct and, some of the best views in the world. A surreal setting, a stage-set in the making, fringed by mountains, olive groves, vineyards, mediaeval monasteries, towns, cities and tiny hill-top villages - all beckoning a visit, Spoleto is truly a temptress. Succumb to her beauty and you must use all your will-power to leave. Quite simply, Spoleto is the most captivating city in Italy, never mind Umbria, Venice and Florence, being on a par.
Venice has the water. Florence has the Uffici. Spoleto has the mountains.
All three have a history to be reckoned with. All three bedazzle us with their rich cultures, their European, aristocratic connections and their sheer beauty. But, Spoleto has the upper hand for the world traveller. It resists tourism with its associated inflated rates and tacky goods on sale ! You are invited to visit Spoleto, but, not as a tourist. You will be welcomed like a long lost member of the family ! Treated like a king. And, you will pay the same rates as all the locals, especially when you pay attention to all our recommended restaurants, bars and gelaterias.
AND, WE UNDERCUT ALL OTHER PROVIDERS OF ACTIVITIES SUCH AS OLIVE OIL TASTING, TRUFFLE HUNTING, CHEF AT HOME ETC.
Our small partnership group, ourselves included, own all the properties that we advertise, about 60 in all, from villas with pools to smart town houses to central city apartments.
Subsequently, we can organise olive oil tasting, wine tasting, chef at home, eating in chef's house, truffle hunting, picnics with a donkey, cheese making, caving, canyoning, rafting, canoeing, horse riding.....anything you like.......all at better rates than you get going through the conventional channels. This is because all the aforementioned activities, except for horse-riding, are offered by our partners to ensure you have the holiday of a lifetime!
For instance, the olive oil of one of our partners (Ciarletti) was blessed by the Pope 2 years ago, after it had won the top prize in Italy. He, amongst other of our partners, offers olive oil tasting, accompanied by a lunch, at his farmhouse.
All our activities are totally authentic, put on by Italians, whose familes go back for centuries and who have been in the truffle, olive oil and wine trade for all of that time.
And, because all the activities we offer are "inhouse" we can undercut all the "professional" businesses, for whom it is their livelihood. Such activities are not our livelihood. Neither are they the livelihood of our partners. We and our partners offer these activities with the aim of enriching your holiday.
Also, included in the rate is a Welcome Pack : pasta, pasta sauce, olive oil, wine, tea, coffee, sugar, milk + toiletries to start you off.
---
---
Always communicate through Airbnb
To protect your payment, never transfer money or communicate outside of the Airbnb website or app.
Learn more
---
Bedroom 1
1 king bed, 1 single bed
Bedroom 2
1 king bed, 1 single bed
---
---
---
I arrived here 30 odd years ago, fell in love with the place, my 1st spiritual home. Couldn't wait to move here permanently. Did so. With 2nd husband. Ist husband declined.

Was persuaded to rent to someone, whose violinist daughter was performing in a Spoleto festival because she couldn't find anywhere to stay.....and, we happened to be holidaying in Sydney. That's how it started. 11 years ago.

We bought more property here.

Our estate agent saw what we were doing. She joined up with us.

The person we bought property from saw what we were doing. He joined up with us.

Suddenly we were in the holiday rental business, for real !

Sydney lost its appeal as we started to introduce potential guests to the beautiful properties that our small partnership group offers, about 50 in all....apartments, villas and pool properties. It is such a joyful experience to be able to offer people the holiday of a lifetime.

Never having been in business before, both of us retired academics, we wished we'd done this all our lives. However, our hard-nosed business friends describe our activity as merely a life-style. "You should charge for this, charge for that, the euros add up", they say. But money is not our goal. Your happiness is.
Response rate:
100%
Response time:
within an hour
Explore other options in and around Bazzano Superiore
More places to stay in Bazzano Superiore: