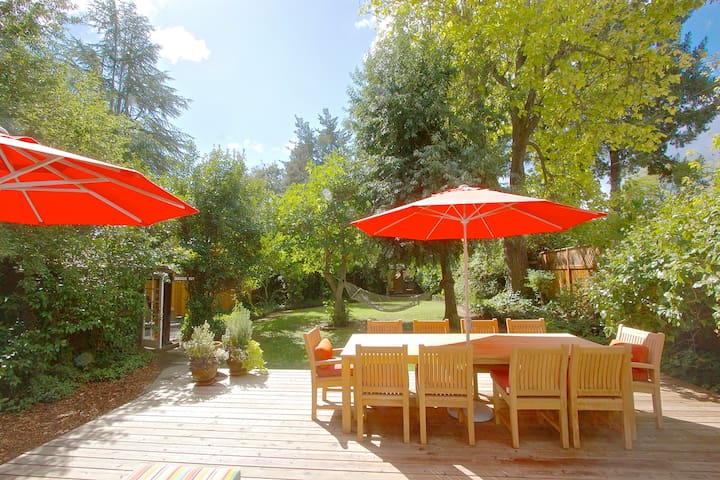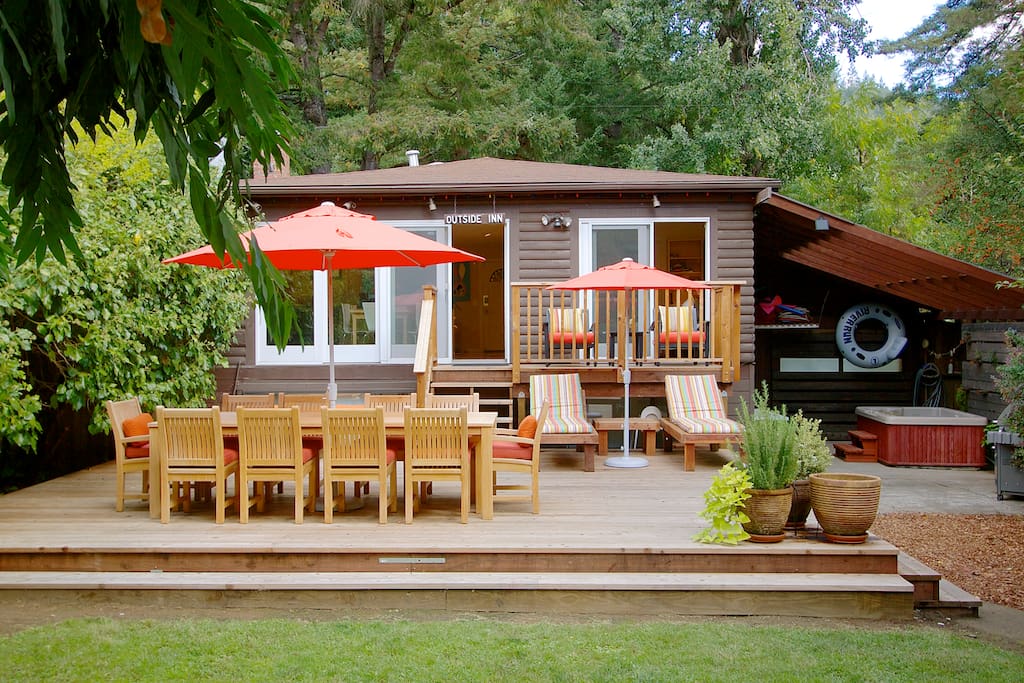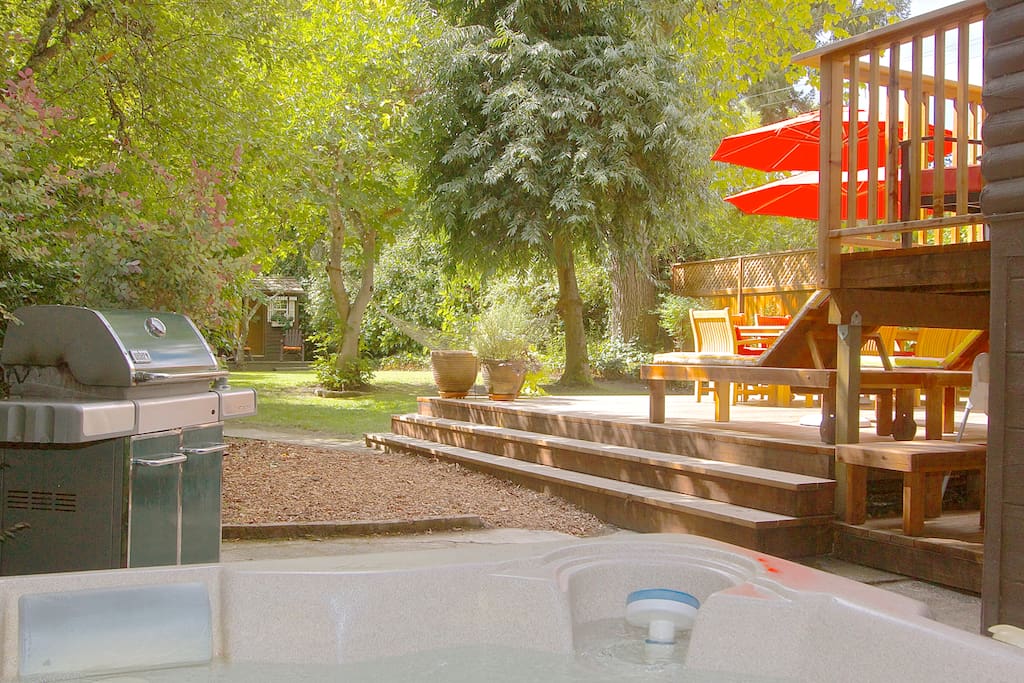 Outside Inn is your own personal mini-resort & play-land that sleeps 10 guests comfortably just steps from one of the Russian River's most beautiful beaches. Come enjoy a very private & magical property to share some unforgettable memories with your family and friends.
This modern and spacious home is designed for your comfort and enjoyment. Step out to a private deck, hot tub, gas grill, and an outdoor living and dining area overlooking a large backyard and pristine redwood forest.
The space
Outside Inn is your own personal mini-resort & play-land that sleeps 10 guests comfortably. Come enjoy a very private & magical property to share some unforgettable memories with your family and friends.
Inside and out, this modern and spacious home is designed for your comfort and enjoyment. Step out to a private deck, hot tub, gas grill, and an outdoor living and dining area overlooking the peaceful and large backyard and pristine redwood forest. A canopy shades half the deck if you want to read or watch the clouds slide by on a warm afternoon, or recline in one of the lounge chairs if you'd rather work on your tan. The lush backyard is a private world unto itself, surrounded by Russian River fauna yet with enough open space for a game of soccer. Walk a short trail of less than 100 yards through redwoods to the huge soft-sanded neighborhood beach where you can spend a hot summer day swimming, lounging alongside the river, or taking the house's kayaks on a river adventure.
Two Flats & Two Cottages
The Outside Inn is a comfortable home with two separate-entrance flats, each with two bedrooms, a bathroom, and a kitchen. There are also two cozy cottages on the property: one is the perfect fifth bedroom and the other is a serene studio that can be used for meditation or as a child's play room.
Upstairs Flat
Featuring the main gathering area of the home, the fully remodeled upstairs flat has a large lounge with a media center and comfortable sofa seating, large chef's kitchen with everything you need to prepare a gourmet meal and a huge amount of counter space, dining seating for eight, and two queen bedrooms and a bathroom. Sliding doors in one bedroom and the kitchen lead to the private deck with outdoor-dining seating for 10 or lounge areas where you can enjoy your morning coffee.
Downstairs Flat
The lower level flat features a private entrance, fully equipped kitchen perfect for creating breakfast or coffee, bathroom, family room, and one queen bedroom and one double bedroom.
Bedroom Highlights
All bedrooms feature comfortable beds with down comforters and high-quality linens and are quiet and spacious, with bedside tables, reading lamps, and ample storage space in dressers and closets.
Bathroom Highlights
Bathrooms are modern and clean with comfy towels, and a hair dryer in each.
Upstairs Lounge Highlights
After a day's long adventure on the river and a perfectly grilled dinner, gather your family and friends in the lounge to enjoy movies, sports, or TV shows on the 50-inch High-Definition TV. Open your Netflix or iTunes account to watch thousands of movies and TV shows. The TV is also equipped with a DVD player, DirectTV with NFL Sunday Ticket, over 250 channels, and a DVR so you can record your favorite shows while on vacation.
Innside Out Cottage
A romantic cozy cottage-bedroom getaway located down the garden path through the backyard. With a double bed and sink, it is the perfect fifth private bedroom.
Backside Inn Cottage
Located toward the back of the yard, this extra-cozy cottage is a serene and private spot for meditation or a child's play or nap room.
Special features
* Two self-contained flats with two bedrooms, a bathroom and kitchen each.
*Two additional cottages; one is a bedroom and one is a small meditation retreat or child's play room
* A gas fireplace in each apartment for cozy and romantic evenings
* State-of-the-art media options including two 50-inch HDTVs, Apple TV, DirectTV with DVR and NFL Sunday Ticket, DVD player, Netflix and iTunes access to thousands of movies and TV shows.
* Indoor and outdoor dining areas
* House-wide high-speed Wi-Fi Internet
* Fully equipped kitchen with modern appliances, gas stove, wine refrigerator, coffee maker, microwave, ultra-quiet dishwasher, full set of professional-quality pots and pans, non-stick fry pans, full set of cutlery, and any accessory you would need to create your edible masterpiece.
*Outdoor shower for rinsing off after swimming
*Home has recently been beautifully renovated including the outside deck, which also features new modern teak furniture.
Location
Away from it all but close to everything, Outside Inn is less a 5-minute drive from from downtown Guerneville and its great restaurants, shops, and festivals. The Outside Inn is minutes away from more than a hundred wineries and just 25 minutes drive from the spectacular California coast and the marine-life refuge of Salt Rock Beach. Spend a few hours whale watching on the coast or hiking amidst towering redwoods in nearby Armstrong State Park. Or just relax on your private deck while you spend quality quiet time with your friends, family, and yourself.
We love our place. We hope you do too. Please email or call us with any questions, we'd be happy to help.
---
---
Weekend Price ₹30180 / night
Always communicate through Airbnb
To protect your payment, never transfer money or communicate outside of the Airbnb website or app.
Learn more
---
Common spaces
1 air mattress
---
Check in is anytime after 4PM
- 1. Respect Maximum Occupancy and Extra Guest Policy: Maximum occupancy is limited to 10 guests, no additional guests are permitted. All occupants of the Outside Inn will be bound by the terms of this agreement. 2. Observe Quiet Hours 10pm-9am and No Loud Parties: • If neighbors can hear you after 10pm and before 9am, you are in violation of County Ordinance. No outdoor amplified sound is allowed anytime. If there are repeat noise violations, a loud party, and/or unauthorized excess guests, Rental your stay will be immediately terminated without refund for unused nights. • At all times, please respect your neighbors. This is a residential neighborhood where noise carries easily. 3. Bring Your Rental Documents: • Print and bring all your Rental documents with you. You'll need them! Should you forget your rental documents please let me know and I can email another copy. I will also email the rental agreement prior to the beginning of the rental and with the access instructions. 4. Check-Out by 11am: • Our housekeeping and maintenance crew take great pride in their work and allowing enough time for them to complete it is critical. We do ask that you vacate the home by 11am sharp on your check-out date. 5. Call Us Immediately with Any Issues: • Please call (PHONE NUMBER HIDDEN) with any problems relating to the property or email me at (EMAIL HIDDEN) especially anything hazardous, so that we can inspect and fix the problem. As we take great pride in having a home in good condition for our guests we do ask that you call us within 24 hours of noticing any issue so that we may address it during your stay. Either reporting repairs or not reporting observed needed repairs does not give Occupant the right to cancel this Agreement or receive a refund of any payments made. • As these items are inspected and tested prior to each arrival, we do expect you to unblock your own toilets (or pay a plumber if necessary). Do not flush anything other than toilet paper; check your own breaker boxes, and reset your own modem and router, but call us if you need help. 6. Allow Us Entry to the House: We reserve the right to enter the home during your rental, if we believe this Booking Agreement has been violated, as well as for necessary repairs and maintenance. We reserve the right to photograph the house and its contents, while you're occupying it, if we believe the Booking Agreement has been violated. 7. Observe Check-Out Requirements: Upon termination of occupancy, Occupant shall leave the vacation home in the same clean condition in which it was found. Listed below are the check-out procedures that Occupants must follow: 1. Leave all copies of all keys where they were found. 2. Vacate the Premises and surrender it to Owner empty of all persons. It is important that you vacate the premises at the regularly scheduled check-out time of 11 am. Any late check-out will be charged at $100 / hour and will be deducted from the security deposit. The cleaning crew will arrive at 11 am to clean the premises and will inform me of any late departure. 3. Vacate any/all parking spaces. 4. Remove all trash, compost and recycling. Place in appropriate outside bins. 5. Clean all dirty dishes and put them away where they were found. Empty the dishwasher as well and put clean dishes back to where you found them. 6. Clean up any messes or spills that may have occurred. 7. Turn the thermostat all the way down and until it reads 50. 8. Verify that the hot tub is reset to standard 101 degree temperature (if it had been changed) and the cover is shut. 9. Pick up after yourself. 10. Lock all doors and windows, including the basement. 11. CHECK ALL DRAWERS AND CLOSETS FOR PERSONAL ITEMS. If the aforementioned check-out procedures are not followed, such as dirty dishes being left behind, any resulting additional cleaning will be charged at $75/hour and will be deducted from the security deposit. Late check-out is not permitted without prior agreement with the owner to allow getting the house ready for new renters. 8. Secure the House: Lock doors and windows every time you leave the house and set the alarm. Please also set the alarm when you leave the house during your stay. You will be responsible for any damages that come from leaving a house unsecured. 9. Keep Calls Domestic: You are responsible for international call charges. You agree to let us charge your credit card on file for any international calls made during your reservation. 10. No Temporary Structures: County Ordinance prohibits tents, yurts and RVs. 11. Use Hot Tub Wisely: • We do not provide towels for outdoor use; please bring your own. • Please inspect your hot tub right away. If there is any problem with a hot tub, immediately follow the directions on the Hot Tub Rules Sheet posted at each house (on refrigerator or next to hot tub). If the Hot Tub Rules are not strictly followed, a mid-stay service call or unscheduled maintenance after you leave may be required, at your expense, to restore balance. All of our hot tubs receive regular weekly maintenance, which may fall during your visit. • Use the hot tub at your own risk. We are not responsible for any illness (including hot tub folliculitis, which is caused by not showering and/or overuse) or injury resulting from use or misuse of the hot tub. • To avoid problems, please follow these Hot Tub Rules: Shower before getting in (especially after being in the River and if you had applied lotion) and do not overuse the hot tub (too many people in the hot tub for too long). Not rinsing prior to hot tub use may result in us having to replace the water, which will result in a charge of $135. Keep your head above water. Children must be supervised at all times on the property, especially around hot tub. Kids 7 and older only in the hot tub. No dogs. Avoid hot tub if you are pregnant, have a heart condition, or are intoxicated. No glass in or around hot tub. Leave the floater alone. Replace cover after use. Keep tub filled to one inch above highest jet. Keep temperature set between 100 and 104 degrees. Don't use if the water appears dirty, cloudy, or otherwise unsanitary. No dogs in hot tub. All guests use the hot tub at their own risk. By agreeing to the terms of this agreement on the (SENSITIVE CONTENTS HIDDEN) website, you agree to hold Outside Inn Owners harmless and to indemnify them for any injury, loss, claim or damage resulting from the use of the swimming pool and hot tub located at the vacation home by you and any members of your party. The use of the hot tub entail certain significant risks which you are expressly assuming for yourself and all members of your party. You are further agreeing that no one pregnant, intoxicated, or who has a heart condition or other health problem that might create a further risk of harm will use the hot tub during the rental. 12. Understand the Details about the River, Creeks, Docks, and Boats: We do not provide towels for outdoor use; please bring your own. Ability to boat or use a kayak on the river is seasonal and cannot be guaranteed. We are not responsible for water levels or condition of river/creek frontage. We don't give refunds or move you because of unavailability of docks or river access. 13. Boat Safely: In general, boating is considered safe May 1 through Oct 31. All guests use boats at their own risk. By signing this agreement, you agree to hold owners of the Outside Inn home harmless and to indemnify them for any injury, loss, claim or damage resulting from the use of any boating equipment located at the vacation home by you and any members of your party. You also are agreeing that all members of your party will use life jackets, provided by you if not available on the premises, while using any such boating equipment. The use of boating equipment entails significant risks which you will need to explain to members of your party, and you are expressly assuming all risk for yourself and all members of your party with regard to use of the boating equipment. In particular, you agree to ensure that no one will stand up in any boat at any time nor will anyone consume alcohol while using the boating equipment. You also are agreeing that kayak's will be kept secured except when in use and that you will be responsible for any loss or damage to the boating equipment arising from failure to secure the boat(s) during the rental. Minimal value of any of the kayak's is $500. Such a loss is expressly not covered by the Property Damage Protection Insurance and will be deducted from any refundable deposit that was provided. 14. No Smoking in our House: Smoke outside only. The penalty is $500 for smoking inside and you herewith agree to any such amount to be deducted from any refundable security deposit. 15. Gain Permission for Commercial Use: We need a contract for specific use, so ask before you use one of our homes for commercial purposes. 16. Understand Refunds for Cancellation/Early Departure: • We do not refund the rental fee for cancellation or early departure. We suggest you buy trip/cancellation insurance (offered when you book our property on (SENSITIVE CONTENTS HIDDEN) via CSA). It is inexpensive and worth it if you have to cancel! 17. Choose the Outside Inn for the Right Reasons: We make every effort to represent the Outside Inn accurately, but we cannot anticipate every aspect of a property that might be important to an individual guest. We will not refund solely because the house does not meet your expectations. It is your responsibility to ask questions, read the house's descriptions, and amenities on (SENSITIVE CONTENTS HIDDEN) and reviews, and make sure that you have booked the Outside Inn is the right house for your needs. 18. Security Deposit: If a security deposit has been requested, it is $500. Alternatively, a Property Damage Insurance may have been requested. The Security Deposit must be paid by credit card and is due to hold a reservation. A. The Security Deposit will be held in the Owner's account. B. All or any portion of the Security Deposit, upon termination of occupancy, may be used as reasonably necessary to: (i) cure Occupant's default in payment of rent, fees or other sums due; (ii) repair damage, excluding ordinary wear and tear as determined by Owner, caused by Occupant or Occupant's guests or licensees; (iii) clean the Premises; and (iv) replace or return personal property or appurtenances. C. Within three weeks (21) business days after Occupant vacates the Premises, Owner shall: 1) furnish Occupant an itemized statement indicating the amount of any security deposit (i) received, (ii) withheld and the basis for its disposition, and (iii) withheld pending receipt of fine notices, utility bills, item replacement costs and maintenance/repair bills; and 2)return any remaining portion of the security deposit to occupant. D. In the case where incurred charges exceed the Security Deposit, Occupant authorizes Owner to charge the Occupant for all costs including damages, additional cleaning or replacement value of items removed or missing from the house. E. No interest will be paid on the Security Deposit. F. Deposit will be refunded depending on method of Payment: If paid by credit card then the deposit will be credited to the same credit card. The deposit is NOT applied toward rent; however, it is fully refundable provided the following provisions are met. No damage is done to house or its contents, beyond normal wear and tear as determined by Owner. • No charges are incurred due to contraband, pets or collection of rents or services rendered during the stay. • All debris, rubbish and discards are placed in dumpster, and soiled dishes are cleaned. • All keys are left as found and house is left locked. • All charges accrued during the stay are paid prior to departure. • No linens are lost or damaged. • Check-out policy is adhered to prior to departure. • The renter is not evicted by the owner (or representative of the owner), or the local law enforcement. 19. Pay Assessed Extra Charges • Penalties for the most serious violations of the Booking Agreement are noted in this document. Service charges may apply to any violation of the Booking Agreement, and vary according to incident. • You agree to pay for any fees, charges or penalties assessed under the terms of the contract, including damages not covered by the Property Damage Protection Insurance. The Property Damage Protection Insurance does not include intentional damage (including intentional acts likely to cause damage even if damage was not intended), hauling of excess trash, excess cleaning charges such as washing of dirty dishes or violation of dog rules, loss of a boat due to negligence, or draining of an excessively dirty hot tub. It also does not cover damage resulting from a violation of the Rental Agreement or House Instructions and items removed from the house or neighboring properties, whether accidentally or purposefully. You expressly agree that you will pay the amount of a professional estimate of repair for damages which occurred during your booking, with the understanding that, if the actual amount is less than the estimate, we will refund the difference. If the actual amount is more, you agree to pay that amount. You expressly agree that we may charge you the amount of $500 for the following reasons: You refuse to leave upon termination of your booking for cause. You leave a dog uncrated and/or barking. You repeatedly violate the noise ordinance, host a loud party, and/or have unauthorized excess guests. You expressively agree for any such fees to be deducted from the security deposit that was provided or are due to be paid within 7 days of rental period completion in the case that you did not provide a security deposit, but were covered under a Property Damage Protection Insurance and you caused any damage not covered by that insurance. 20. Be Present: You must be present at the house for a majority of the reservation. As the signatory on this contract, you are responsible for the behavior of and any charges incurred by your guests. 21. Release Us from Loss, Damage, and Injury: You as the renter fully release and discharge the owner of the Outside Inn our employees and contractors from any claim, demands and causes of action by reason of any injury or loss suffered by you and/or any member of your party in connection with the occupancy of the vacation rental and you agree to hold the owner of the Outside Inn free and harmless of any claim or suit arising from the occupancy. In any action concerning the rights, liabilities, or duties of the parties to this agreement, the prevailing party shall be entitled to reasonable attorney fees and costs. 22. NO Refunds will be given for Cancellation or Interruption that occurs due to inclement weather. Nor will refunds be given for any occurrence out of Owners control including, but not limited to; acts of nature, power outages, loss of phone / internet / cable service, unexpected change of weather or river conditions. 23. Sonoma County Guest Code of Conduct Outside Inn: The following Code of Conduct is part of the rental agreement. This home has graciously been made available for you to enjoy the peace, tranquility and beauty of the neighborhood. As this home is located in a residential area, we trust that you will show courtesy and respect to the neighbors and conduct yourself in a manner in keeping with the neighborhood practices and local ordinances. Unfortunately, due to a small number of vacation rental guests who have created neighborhood disturbances in this area, vacation rental home owners have agreed with the local community to enforce this guest code of conduct for their vacation rental homes. Please review this Code of Conduct with each person in your group and be aware that you will be subject to immediate eviction, forfeiture of any deposit and remaining rent in the event of eviction, and/or significant fines and penalties for violating the terms of your rental agreement. You must assume that neighbors will report violations of these rules. Thank you for ensuring your stay is an enjoyable one and that peaceful and beautiful ambiance of Sonoma County is maintained. a. Maximum overnight occupancy: 10. b. Number of people allowed on the property: The number of people allowed on the property at any given time may not exceed the overnight occupancy without prior permission from the owner. c. Parties: Gatherings in excess of the number of people allowed on the property require prior permission of the Owner. The County has strict ordinances regarding parties, events and weddings at vacation rental homes. Parties or gatherings with guests in addition to the maximum not approved in advance by the owner risk eviction from the home and forfeiture of remaining rent and/or deposit. d. Parking: Do not exceed the available parking spaces provided on the property. Do not block neighboring driveways and maintain access for emergency vehicles at all times. e. Speed limits: Please observe and obey all local speed limits; drive no more than 5-10 mph on private or shared private access roads. f. Amplified Music and Outside Noise: Amplified music is not permitted at any time. Any outside music or outside noise must be stopped between the hours of 10:00 p.m. and 9:00 a.m. Please be aware that noise from loud voices, laughing and general socializing travels in this area resulting in neighborhood disturbances. Please move outdoor conversations and activities indoors after 10:00 pm. The spa may be used after 10:00 p.m. provided that voices are kept to a minimum. g. Respond to all noise complaints: Please respond to ANY request, even if it appears to be unreasonable, by any neighbor, Property Management Company, the owner of this property, law enforcement or private security firm. Please contact the owner immediately if you are contacted by a neighbor or the sheriff's office with a complaint. h. Trespassing: Please do not trespass on neighboring properties. i. Garbage: Please follow this home's recycling program. Failure to recycle will result in additional charges. Garbage must be limited to the available garbage cans. j. Energy and Water Consumption: From time to time local authorities will ask residents to restrict energy and water consumption. Please comply with these requests. k. Smoking and fires: Please note the smoking rules for this premises. Fireworks are not permitted in the house or on the property. Please be aware that there is severe fire danger in this area, particularly during June-November.   24. Boat and River - Waiver of Liability Statement In consideration of the granting of my request, and the request of my guests and visitors, to be allowed to access the Russian River and use any boat available from Outside Inn, hereafter known as OUTSIDE INN, I hereby state: 1. I hereby acknowledge that there are dangers and risk of injuries and loss inherent in accessing the Russian River or operating any boat, and I and my guests understand that the River and use of OUTSIDE INN's boats could be harmful or dangerous both to myself and to other people on board, or on other watercraft. With full knowledge of such risk, I desire to access the river and use the boats from OUTSIDE INN. 2. I represent and warrant to OUTSIDE INN owner that I and my guests are able to operate a boat and have read and understood coast guard regulations governing the safe use of such a craft. 3. I fully accept responsibility for myself and my guests with regards to access to the Russian River, use of the boats, and any other hazardous activity for the duration of the contract with OUTSIDE INN. 4. I hereby waive for myself, my guests, my heirs and assigns, any and all demands, obligations, liability suits, actions and causes of action and claims of every nature whatsoever which I may have against OUTSIDE INN and its owners caused by or resulting from access to the Russian River or use of the boats. This Waiver of Liability shall remain in effect during and after my stay at OUTSIDE INN. 5. I hereby agree to indemnify and hold harmless OUTSIDE INN and its owners from any losses, liabilities, damages or costs which OUTSIDE INN may incur, directly or indirectly, due to my use or my guests use of the Russian River or boats including but not limited to losses or injuries suffered by persons not a party to this agreement. By agreeing to the terms of this rental agreement on (SENSITIVE CONTENTS HIDDEN) when booking this property, I certify that I have read understood and voluntarily signed this waiver of liability statement and expressly agree that this waiver is intended to be as broad and inclusive as permitted by the laws of the State of California. I also understand that the inclusion and agreeing to the terms of this rental agreement does not guarantee that boats will be available for use during my stay. 25. Follow the Dog Rules (Sorry, no Cats or Other Pets): We love our canine guests; help us stay dog- friendly! You must notify us in writing of the number, breed, age and weight of all dogs that will be occupying the property. We allow a maximum of 2 well-behaved dogs. Damage done by dogs and cleaning costs in excess of what is covered by the regular cleaning fee and you agree to pay for such damage or let us deduct any such costs from a refundable security deposit provided by you. Guest hereby agrees to comply the following: 1. All pets must comply with the following specifications (documentation from an accredited veterinarian must be provided by Guest upon request): a. No more than 2 dogs; no cats are allowed; no other pets are allowed without prior written approval from the owner. b. Must be spayed or neutered. c. Must be up-to-date on rabies vaccinations and all other vaccinations. Heartworm preventive is highly recommended. 2. All pets must be leashed at all times. 3. Guest is responsible for cleaning up any/all pet refuse. Refuse must be disposed of in sealed plastic bags. 4. Pets are not allowed on furniture at any time. Any evidence of pets on furniture will incur additional cleaning fees. 5. All pets are to be treated with a topical flea and tick repellent three (3) days prior to arrival. Fleas and ticks are very rampant in this area and can cause harmful/fatal illness to humans and pets. 6. Pet will not damage premises. If damages are caused, the cost of the damage will be the owner's responsibility and it will be deducted from the security deposit. 7. Guest are required to prevent pets from producing excessive noise at a level that disturbs neighbors. 8. Pet will not be left unattended for an undue length of time, either indoors or out. Pet will not be left unattended on balcony, patio, or porch. If pet is left at the house for a short amount of time, it needs to be crated. 9. Homeowner assumes no responsibility for illness or injury that may occur to pets or humans while on the premises.
---
---
The minimum night stay for this listing varies.
---
I love to share good wine and food with friends, walk on the beach with my dog Che, and to travel. I like to understand the places I visit during my travels and will learn the language as much as possible.
Response rate:
100%
Response time:
within an hour
Explore other options in and around Guerneville
More places to stay in Guerneville: