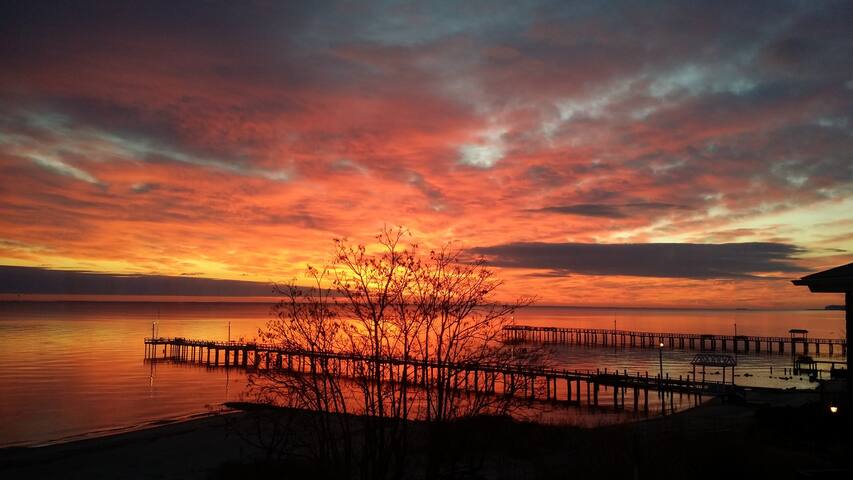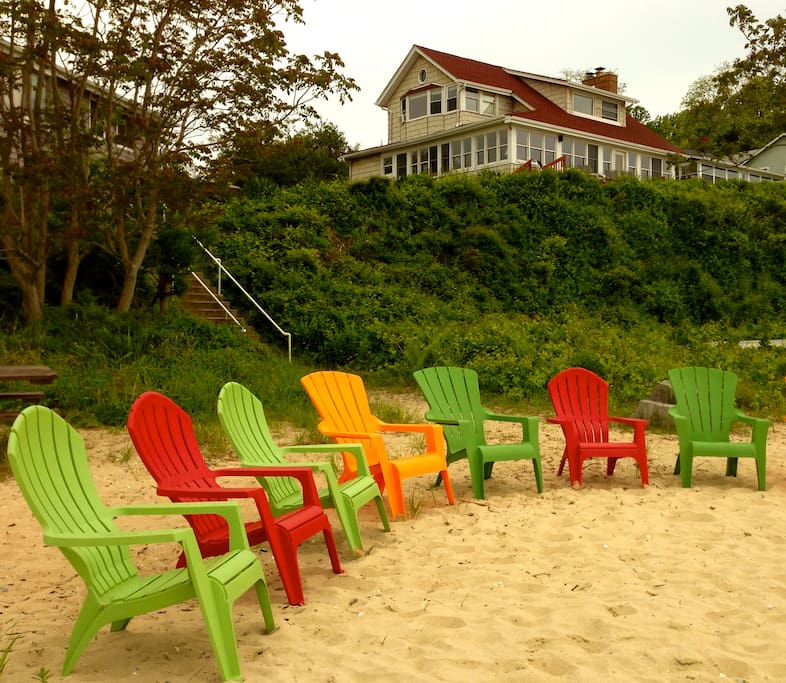 Beautiful sunrises and panoramic bay views make this 3 bedroom, 2 full bath, vacation beach house (sleeps eight). Located in Southern Maryland's Western shore, only 45 min from Washington, D.C. Fossils galore, walk 5 miles on the bay's sandy shores. 450 pier, kayaks available.
The space
Our home is part of a 15 home community, the beach is very private. We live here six months of the years, so it lives like a primary home. Although we sleep 8, the upstairs bedroom has a sofa bed and two trundle beds and is a walk thru room to the master, so it is not private. It is a beautiful room with a stone fireplace and skylights but we want everyone to know this before booking. The downstairs bedroom is private as it the master bedroom which both have queen beds. We have huge picture windows surrounding the porch area, magnificent views of the bay!. Living room with charming stone FP, totally equipped kitchen and lovely gardens surround the house, with two decks. You can walk for miles on the bay, finding fossils from the Miocene era along the way. We also has over 100 acres of trails through deep woods behind our home. It truly is one of the magical homes on the Chesapeake. Catch fish off our 450" pier, enjoy a private beach shared by very few which offers a large fire pit, perfect for an evening enjoyment
In summary:
Amenities include:
2 full baths and an outdoor shower
2 stone fireplaces
2 HD LCD Televisions, DVD players and HD Digital Cable
Kitchen with stove, cook-top, refrigerator, coffee maker, toaster, dishwasher & microwave
Washer/Dryer
Central A/C and Heating
Wireless internet access
2 Decks
Beach access
Fire Pit
Disabled/handicapped access features entry at front of our home with only one step
2 Kayaks can be rented for the duration of your stay for a fee (see reservation/rates)

Sleeping accommodations:
A queen size bed on first floor
A queen size bed in master bedroom
A pull out queen size sofa bed
A trundle bed which converts to two twin size beds

Dogs are allowed (Cats are not permitted) - our pet policy
Sweep & clean up all dog hair after your stay
Always pick up after your dog on the beach and grounds
Not permitted on the furniture/beds
Never leave your dog out on the deck while you are gone from the house
Must be on a leach at all times when outside of the home.

Check in time is 4:00 pm, Check out is 10:00 am

The house sleeps 8 people, including children. Our septic system will not allow for any more than this number. The community homeowners association get extremely upset if this rule is violated and we would appreciate your consideration regarding this issue. Violation of this rule will result in automatic termination of the vacation time and lease and will require you to leave the premises immediately, without a refund and potential board of health fines.

We have wireless internet access for you, not a computer. Please bring your own computer, tablet or smartphone etc.. that can access wireless internet. Please make sure that your computer has the capability of accessing wireless internet and bring all instruction booklets, etc. Instructions for access are at the house and in your confirmation letter.

This is a smoke free home. Please step outside the home if you plan to smoke. Absolutely no smoking is allowed in the house. Many of our guests are highly allergic to smoke and cat dander, so please abide by our policy.

Please remember to pack, all toiletry items shampoo, soap etc., sunblock, beach towels,
bug spray, lifejackets/water toys, fishing gear (please abide by Maryland State Fishing and Crabbing Laws including all appropriate licenses, this information can be found on the state of Maryland website), tablet or laptop computer, camera, sheets and towels (can be provided for additional fee), dog bed or dog pillow, flip flops or water shoes and a good book.
Guest access
The entire house and beach, pier and 80 acres of deep woods with nature trails throughout, adjacent to another large track of land dedicated to wildlife preserve.
Interaction with guests
Yes, please call or e-mail me at anytime at (PHONE NUMBER HIDDEN) or (EMAIL HIDDEN)
Other things to note
If you are interested in fossils of the Chesapeake Bay - we strongly recommend that you visit the Calvert Marine Museum located in Solomon's Island, just 14 miles south of our home. You will discover a wealth of information about the very fossils you will find on our shores at the Museum.

Fossils are the remains of ancient life, which are preserved for millions of years. They can be found potentially everywhere. In someone's backyard, on a beach shoreline or high up in the Rocky Mountains - all the same they are still fossils. Fossils found along the Chesapeake Bay and on our beach are mostly from the Miocene era, (19 to 24 million years ago). These fossils are much younger than the dinosaurs, which became extinct sixty million years age. They are much older than man who first walked the Earth a couple of million years ago.

There have been over 400 shells identified in the Calvert Cliff formations located directly near our property on the Bay. Of those 400, only 44 percent still live in the Chesapeake Bay. The scallop shell is one of the oldest and most decorative shells found along the shoreline of the Bay. These shells can vary in size between the smallest compared to the size of a dime; to some of the largest being 10 inches long.
Shark Teeth

The shoreline of the Chesapeake Bay is filled with all different kinds of shark's teeth. Fossil records indicate that some of the first sharks lived some 300 million years ago. It is estimated that modern sharks had evolved between 70 million to 100 million years ago. Sharks are known for their speed and maneuverability in the water. Most species can swim at speeds of 20 to 30 (32 to 48 kilometers) miles per hour. Sharks are among the oldest living water creatures, and they have remained essentially the same since the modern sharks first appeared.

Shark teeth are among the hardest of all organic materials, highly resistant to destruction by weather or wave action. Therefore you can find many washed up by waves on the shoreline of the Bay. (Look for something black and triangular). They vary in size, from barely visible to teeth 5 inches long - teeth of the great white shark. Sharks have an unlimited supply of teeth, which are formed in layered rows. These teeth are not set firmly in the jaws, but are positioned in the gums. No cavities, permanently missing teeth, or tooth-aches for a shark! If a tooth is lost it is quickly replaced by another. Any shark has numerous amount of teeth loss by the time is reaches adulthood. Don't be alarmed by the numerous teeth you find- remember these are about twenty million years old!

Paleontologist discovered that many of the whale bones had scratches and scars by teeth of sharks. It would appear that Miocene sharks were attracted to the Chesapeake Bay by the young whales that made easy prey.
The Chesapeake Bay stretches its beauty 195 miles from the Pennsylvania's Susquehanna River to the Virginia Capes. It is the largest bay in the United States, with the greatest number of tributaries (150) and more miles of shoreline (4,000) than the entire West Coast.

The origin of this beautiful estuary dates back 20,000 years to the last ice age. A huge glacier fed the head waters of the Susquehanna, often referred to as the "mother of the Chesapeake", with a glacial melt, carving a deep valley through Pennsylvania, Maryland and Virginia. When the ice sheet began to melt approximately 18,000 years ago, the Susquehanna converged with the Potomac, the Rappahannock and the York Rivers spilling its force into the Atlantic.
The Atlantic overflowed forcing the Susquehanna River mouth to retreat, giving birth to the Chesapeake Bay, a name giving to it by the Algonquin Indians. It meant "great shellfish bay". Early explores hoped the Bay and its rivers would lead them to the Pacific and ultimately, Asia. While they never found the Orient, they did discover a land rich in resources and ripe for the taking. The Bay served as their entrance into the new America.

For centuries the Bay has provide man with a wealth or recreation activities, transportation means for importing and exporting worldwide products and livelihood for generations of fisherman and crabbers. The Chesapeake Bay male crab often referred to as "jimmies" is renowned worldwide for its abundance of delicious tender meat.

Over 50 per cent of all crabs and soft shelled clams caught in the United States come from the Chesapeake Bay. In fact, each year the Chesapeake produces over 200 million pounds of seafood which equates to a value exceeding $100 million. Only the Pacific and Atlantic out produces the Bay. According to scientists, the freshwater tributaries, shallowness, low-lying wetlands and a wide portal to the sea account for the Bay's abundance of seafood.
The Bay is also rich in Fossils from the Miocene era. Ten to twenty million years ago a shallow ocean covered Southern Maryland. The shells, bones and teeth of animals that inhabited the area either sank or were washed into the seas and were covered with mud or sand.

When the Bay was developed by the drowning of the Susquehanna River Valley, it left what is now called the Calvert Cliffs, as a part of its eroded banks. These Cliffs are located on the Western Shore of the Chesapeake a few miles from Solomon's Island. The Cliffs rise in height more than 100 feet and nearly all of the fossils found on the beach along Calvert Cliffs come from the Cliffs.

It was here, on the Chesapeake, captive on a British ship in Baltimore harbor, that Francis Scott Key anxiously watched the bombardment of Fort McHenry and wrote the Star Spangled Banner. Yes, the Chesapeake is rich in history and culture and it is at your finger tips.
Availability Calendar
Bedroom 3
2 single beds, 1 sofa bed
COMMUNITY ASSOCIATION RULES
1. Owners, renters and all guests for the houses on the hill must park in the general parking area, located across from the playground.
2. Everyone is responsible for picking up and disposing his or her own trash.
3. All trash must be place in plastic bags before placement in the Dumpster.
4. Trash must be properly placed in the Dumpster and not left outside of the Dumpster when it is full or on beach.
5. Dogs must be kept under control at all times (on a leash) and excrement cleaned up.
6. Unless otherwise agreed to, each person fishing from the pier is restricted to one fishing rod each.
7. All crab pots must have their cottage number clearly marked on a float attached to the crab pot.
8. Crab pots must be emptied at least every 48 hours. No crab pots are to be left unattended for longer than this period.
9. Boat trailers must be parked in the parking area near the small yellow house (the field).
10. Owners and renters must take proper care of the septic system (not to exceed a certain number of guests per house) as described in the guidelines.
11. All persons fishing from the pier must have a valid Maryland Saltwater Fishing License with them while they are fishing (can be purchased online or at local Walmart).
12. Diving from the pier is prohibited.
13. Renters must be on premise when they have guests.
14. Renters and their guests can have no more than four crab lines per unit at a time in the water and no more than two fishing rods per unit, Renters must have a valid fishing license prior to fishing off the pier.
15. Renters can have no more than four (4) guests on the pier at a time.
16. Renters must obtain written permission from the president of the Board of Directors & approval from the cottage owner prior to having an excess of eight people.
17. Renters must supply their own wood for fires on the beach.
Great experience and beautiful home! Proximity to water cannot be beat. At this price point access to kayaks and bedding should be included. Extra charges seemed a bit steep.
This is the first time I received a comment concerning our costs in 33 years of renting. In fact most people tell I am under the market for the quality of the house and beach location. You rented in the high season and only for a three day long week-end, something I usually never do. I am already booked for next season with the exception of one week in July by former clients, all of whom have said I was the best buy on the Chesapeake. I will review my guide but I got the information from the web which must be outdated. As to the bugs, I guess it was summer ants which again is my first comment I have received so I will have it resolved. We will maintain our home and most clients would simply call me if there is a bug problem. You are my first guest with Airbnb and one of the issues I have with this company is that it is protocol to just text or e-mail the owner by the traveler. I know all my travelers thru (SENSITIVE CONTENTS HIDDEN) and have developed a good relationship with them before they arrive so that they are comfortable in calling me if there is an issue, albeit, I don't have many. I am sorry that you found ants in the house and would have gladly resolved it during your stay.
---
My husband and I are retired. I was a real estate agent for 23 years and also a juvenile justice planner for many years working in the District of Columbia and performing national consulting. My husband was the Director of the Office of Finance at Farm Credit Administration. …
Response rate:
100%
Response time:
within an hour
Explore other options in and around Port Republic
More places to stay in Port Republic: