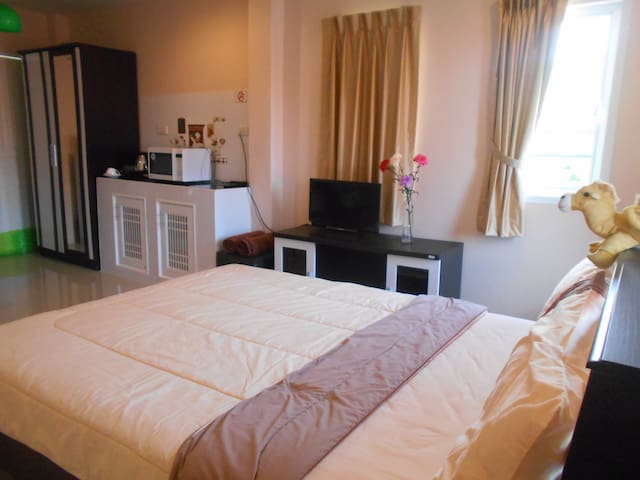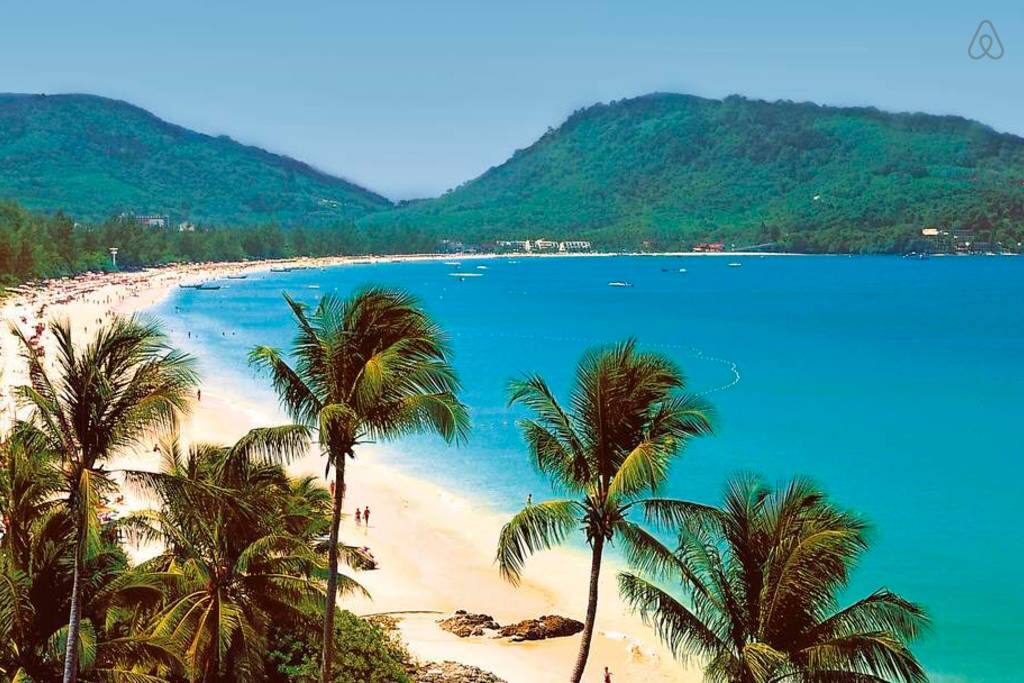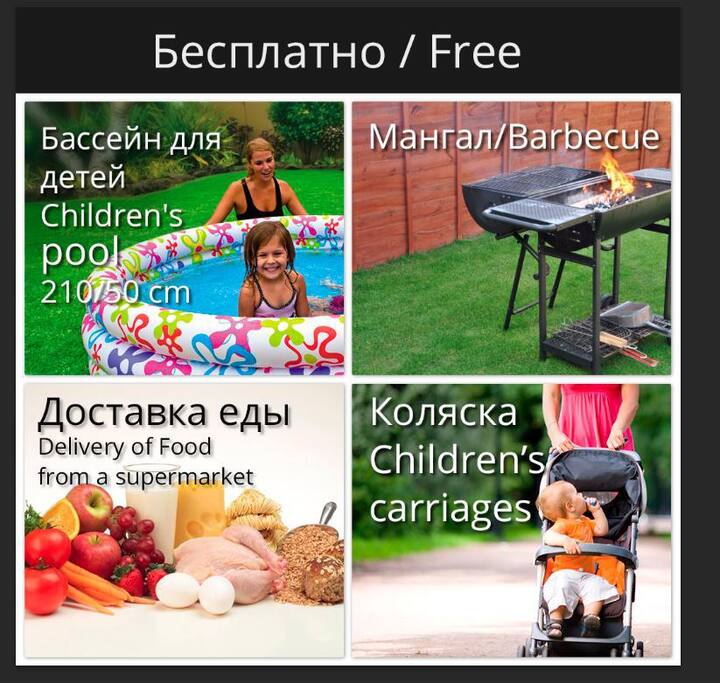 -This is much like a guest-trip to your good friend, who lives on the paradise island. I'll help you to forget about the stress of work and spend a fantastic vactiaon in Phuket. There are numerous reviews to prove it all. Read them t
The space
-Close to beach
-Wi-fi 20 mb download / 5 mb upload
-My personal map 327 best places to visit on the island of Phuket (Phuket with a guide);

** Free for families:
- Baby carriage (stroller)***;
- Children's pool (PHONE NUMBER HIDDEN) cm (or (PHONE NUMBER HIDDEN) cm. Not available – warn in advance)***;
- Big grill for barbecue***;

- Baby bath tub***
- Baby cot (paid-for, warn in advance)
** Forewarn me before you come that you need some things. And I'll prepare them for you.

-Delivering food from the supermarket Tesco Lotus;
-My personal map 327 best places to visit on the island of Phuket (Phuket with a guide);

- Protection against mosquitoes, malaria, dengue (mosquito nets, local fumigators);
- Water cooler. (Comfort in household use is very important);
- Kitchen, all ready for cooking.
** Service
- Shampoo, 2-6 towels, toilet paper, air freshener, hair dryer, iron, shower gel, laundry detergent, towels;
- If you need anything else, it will be bought for you. Almost always free.

** For Active
-Action Camera for you (go pro or another) ***;
-Big grill for barbecue***;
-My personal map 327 best places to visit on the island of Phuket (Phuket with a guide);
-Safe bike training. I've already trained 140 people aged 16-52 years. ;
-Mask, snorkel or swim goggles ***;
-Table tennis is available;
-bluetooth speaker***;
-power bank ***;
- gym with a large swimming pool (0-3$ per visit or 20-50$ per month.).
*** Forewarn me before you come that you need some things. And I'll prepare them for you.
**Gifts
You may celebrate a birthday on the villa with a private pool for 2-7 people.
Conditions: Rental price 0$, you are required to pay $30 cleaning fee, possible if the villa is free.

Not Included in the price (utilities):
- Electricity. 1 unit = 7 bath. Meter charge. The meter is available for monitoring. As a rule, ~ $100 per month for the air conditioning.
- Wi-fi 20-50 mb/s for free when renting up to 28 days; Internet costs $20 per month
- Water for free. Paid separately from March to July only, 5-30$ per month.

** Cleaning
1-2 times a week (from November to February only). Housecleaning is paid separately, $10-25. Housecleaning before the arrival is included in reservation.

**About Quality
-This is much like a guest-trip to your good friend, who lives on the paradise island. I'll help you to forget about the stress of work and spend a fantastic vactiaon in Phuket. There are numerous reviews to prove it all. Read them to understand why it is worth booking my property;

-You'll read my reviews, special offers, detailed description of the object – and choose me for my hospitality, confidence, beauty, security, recreation comfort and customer solution;
-I solve any problem of my guest: relaxation, mood or daily routine. I also show really beautiful & amazing places of the Phuket island;

-Only the host with good reviews can make your stay better. Read my reviews and detailed description – and your holiday will be a good one or maybe even fantastic.

I deal with renting out real properties of my Thai family and their relatives, unlike other brokers.

**Transfer. Meet-and-greet at the airport.

-The taxi driver marked as 'Ali WWW TTT' will be waiting for you at the exit of the airport terminal. He takes you directly to the right place. You will never get lost. Everything is thought out. Everything is thought over.) It's all settled. Otherwise, you may have problems with 90% of taxi drivers, who neither know the streets nor have any navigation.



**Distances
Beach: 8-12 min walk;
Café #1,2,3: 3-7 min walk;
Shop, supermarket: 3-10 min walk;
Market: 8-12 minutes;
Playground, lake: 12-15 minutes.


** Funnier, safer, more comfortable & money-saving:
-You will get a secret map of Phuket with TOP-275 most beautiful places. I was selecting them with a critical eye during 14 months, especially for my guests. These are your nostalgic memories long after the trip. By the way, my map is regularly updated;
-I know & I will tell you where it is safer, cheaper & more reliable to buy provision, souvenirs, cosmetics, seafood & other popular items. The price generally differs up to 200% & up to 50% – in the supermarkets! Many people don't pay extra any longer.


**Freedom

-How do ordinary tourists rest in Thailand? Usually, most of them spend a lazy evening in the room, watch TV or YouTube, loaf on the beach, go to cafes, stay in bed & drink alcohol. What about the leisure time of my visitors? They have fun, but never feel bored for lack of occupation! They arrange chat-ins, appoint poker parties, play games & and have fun... Always with a good & cheerful company. I recommend where to go & what to do;
-I do my best to energize, pick you up & add the drive to your trip. I'm trying to upscale your freedom, at least for a while.


**Wi-Fi + Russian cable channels

-Custom dedicated separate ADSL, which is a rarity in Thailand. Almost all owners have common Internet for users in 5-10 houses. I have the 20MB rate and upload 5 mb. All the rest will offer you the cheapest rate of 5 MB. My signal is stable and flows without breaks. are very expensive for installation. My Internet will be enough for watching video, downloading TV series & torrents;
-Cable TV with Russian, English, music & children's channels/



**Pool

-A swimming pool with slides & a gym are in the 10-min walk from my house. Price per visit is 100 Baht ($3).


**Safe deposit box
-To rent a safe costs $ 20 (But, please warn in advance).


***About security. Life, health, crime
**Mosquitoes, malaria, dengue, diseases.

-I take care of your protection against mosquitoes. I fix insect screens, bed nets, fumigators & anti-mosquito light fixtures. There will be no dengue & malaria, which are treated hard and are very bad for health & sometimes even cause deaths. Llocal mosquitoes can be killed only by local fumigators. Almost no one cares here about safety, speaking of this trouble. I think it is important to protect my guests(URL HIDDEN)


**Included in price:

-Shampoo, 2-6 towels, toilet paper, air freshener, iron, shower gel, laundry powder, towels;
-These things are usually not available in Thailand. In supermarkets they cost unreasonably high – up to 300% more. You do not want to pay for it at all, do you? Though, you may take your favorite sunscreen with a protection factor of 30-50;
-Hair dryers & irons are not always available.



**Insurance.
-Minimum risk of catching a disease. Even if you get sick, you will not be treated here. You will be sent home to be treated free of charge. But I'm lucky to have the Thai bike insurance coverage with $ 1000 for your unforeseen treatment. So, I can activate it, because Safety First. It works even if you do not have a driver's license. There is no insurance in most cases. I have bought it for my guests.


**Air conditioners
-Do you know that they do not clean air conditioners over the years in Thailand? I have seen how dirty they look. And do you know how harmful it is for your health & that it increases the risk of malaria, dengue & other terrible diseases? The amount of dust, bacteria & dirt in the air conditioning system here is really awful;
-I keep an eye on their cleanliness & maintenance regularly. I do care about your health even in small details)


**Security in the District
-A safe district. Robbery is not usual here. Quiet streets, where you can see someone's bikes & helmets left. Well, if you want to use a safe deposit box, I'll arrange it for additional fee. Unfortunately, our friends were once robbed;
-It's quite humid in Thailand. And the doors are usually very creak. I oil & pad them, so that they could be quietly closed.


**Kitchen
-Fully equipped with all necessary things. The photos do not show all the stuff.


**Safe drinking water.
-There is a cooler and it's more pleasant to live with it. Typically, there is some fresh water from the supply, because it is very expensive in the stores and you'll waste money.
*When renting the whole house, you'll get bottled water instead of a cooler.


**Food.

-Food from this cafe can be ordered home. All you need is relaxation!
-A cafe on the Bang Tao, in which they make mild Thai or European food, is at your disposal, too. Or you may order dishes from the chef;
-Prices in cafes for my travelers are the same as for local residents. I eat two times a day. Rice, meat, fish, drinks – just for (PHONE NUMBER HIDDEN)ht ($ 3-4). And since this is a tourist area, food in other places is tasteless, 2-4 times more expensive & often very, very spicy! I have had meals in many places, but I really liked this chef;
-Mind that in Thailand they cook dull food, make bad coffee & do poor repair work by hands. I faced it so many times(

**About your entertainment & emotions
-My attitude towards guests. Example: You get lost, want getting home to sleep & do not know where to spend the night? I race to rescue. I will find you! Once a guy fell on the bike – I went to the hospital & took care of him as a nurse. I solved problems with insurance & police, even though I knew him for just a week. Do you have any problems with your sim card or the Internet? You cannot cope with both? If you go with me, you'll get it all for free in 15 minutes. You do not know where to go & what to see? Here's a map of my TOP-275 places for trips around the island. Frequently asked questions by girls: "Show me how to use a washing machine". I show. "Where can I buy cheap trips without overpay?" I'm driving you to the right place. If you want lobsters, squids, mussels & crabs, I know the place where local fishermen hand in all this with no extra charge. The prices are 3 times cheaper than in the store! Maybe, you want all this to be cooked especially for you? OK, no problem. It will be at its best. You have to drive somewhere but you do not know how, which way & how much it costs? I deal with any problem of yours)


**About the district
-Surin & Bang Tao are rated the best island beaches. The tourists, who visited all the beaches & nearby areas, think so too. It's great to swim alongside the longest beach in Phuket, which is 6 km long. To swim and to watch no people here & there. And to be not afraid of touching or hurting anyone in the water. Not to hear the sound & smell of water & boat motors. I think you want just to enjoy the beach, the sea & no one in sight;
-Bang Tao & Surin are good, quiet residential quarters with famous entertainment places at reasonable prices, plus a cozy, clean beach. The best place on the island is probably Laguna Phuket, while the most popular beaches are Bang Tao & Surin - in 5-min. walk from the house.

I offer a perfect meet-and-greet that will result in money-saving. This is ideal for people who go on holiday seeking for unforgettable emotions.

**About the object. Nuances

-No building area nearby. There won't be any construction project with noisy workers or bulldozers. Most often, this fact is dissembled;
-The whole house is protected against snakes, mosquitoes & big cockroaches. Many tourists are afraid just of it.
-Canalization is not piped at the moment. Thai streets are often pulled to pieces to lay sewers;
-There are many problems with plumbing in Thailand. Some of them are still unsolved. Besides, there are very few good plumbers. I learned it the hard way. Now I watch out my plumbing fixtures myself;
-Special protection against mosquitoes in the house;
-Sharpened knives & clean utensils. I know that not every host can boast of them.
-It sometimes happens that the house can be rented cheaper. But you may suddenly listen to the prayers shouting 5 times a day directly outside. This is especially the case with the locals. My objects are located miles away from the speakers of a mosque temple. Phuket is a village with its attributes, such as chickens, geese … walking around. This is something that is everywhere! Except hotels costing $ 100 per day;



**What is Thailand?

In addition to the paradise on earth, you'll deal with negligence as well. You may be hosted, yet left without the Internet, kettle or even hot water for several days. More than 70% of tourists face this disaster more often than not. This is something that happens quite often. I experience this on a regular basis. It once happened that plumbers were fixing the water problems in the house during a month! Imagine: 3 poor plumbers guided by 1 professional.


**Where to rent a house?

I deal with renting out real properties of my Thai family and their relatives, unlike other brokers. (Directly from the owner without sub-commission). For example, you've rented a house from the Thai or the Russian. Well, then you will not be shown everything. Reviews of my guests prove that I do it regularly and everybody is happy. You do not have to spend hours or days in search of good food, water, entertainment & company. You will have flexibility, freedom of action & evenings full of fun.


**What to do in the evenings?

In our homes we enjoy barbecue, play poker, cards & have fun board games. Catfish tastes delicious).

I deal with renting out real properties of my Thai family and their relatives, unlike other brokers. (Directly from the owner, without sub-commission – the margin of normal rent value, as it is usually the case with brokers).


**How do I check the object for you?

-If there is a barbecue grill. To save your time, I have bought the charcoal;
-If there is a washing machine. For your comfort I have bought the washing powder;
- If there is light. Yes, trite but true, this is a trouble here;
-If water heaters & plumbing fixtures are operating;
-If taps are not leaking;
-If there are towels & toilet paper;
-If they clean the rooms (floor, dust, toilet, kitchen, dishes, plumbing fixtures) & the entire object;
-If bedclothing is washed twice before your arrival with good, but not cheap laundry powder;
-If there is any gas in the balloon for cooking;
-If garbage bags are available;
-If the pool is cleaned 2 times a week;
-If the garden is kept clean too;
-if there is toilet paper.


**Additional services

-Children's bed (100 Baht per day)
-If you have Happy Birthday during the vacation, tell about this right after your arrival;
-Swimming pool with slides ($ 3, 100 Baht per visit for 1 person);
-Safe rent ($ 20, warn in advance);
-Additional bed for 1 or 2 people ($ 5-10 per day);
-Table tennis (free of charge; rackets & balls are available);
-Riding a bike – free of charge training;
-Additional room cleaning – $ 3, additional house cleaning – $ 20-30. By default, standard cleaning of the room or house is included.
-Tour selection at good prices;
-Rent of bikes, cars, yachts, boats, chefs, drivers + fishing;
-If you get in trouble, it is usually solved in a few minutes due to kind & caring welcome;
-Services of babysitting, beds for children, playpens (free of charge, to warn in advance);

**House rules.

-Make yourself at home;
-Take out the litter & drop it into bins behind the house, beside the road;
-Wi-Fi password is specified on the rout(PHONE NUMBER HIDDEN));
-I advise you to use the bidet. This is a hose next to the toilet bowl. It's much nicer, cleaner & more hygienic than toilet paper.
-Do not make noise after 10-11 p.m. (22:00-23:00) But you can be noisy at midnight in the bar).
-The light is paid separately, according to the meter.

*How much is light?
Except for air conditioning, all the bills are not pricy (up to $ 50 a month);
2-3 air conditioners, actively working during 10 hours a day for 2 weeks, gain $ 200-250 easy;
If a person uses a single air-conditioner and it runs in the minimum power of 25-27 degrees, the bill will be $ 50-100 per month.
---
---
Check in is anytime after 1PM
---
Отдых с детьми исключён , вы создадите себе куча проблем если согласитесь отдыхать в этом подобие жилья. Скорее он подходит для путешественников кому главное крыша над головой. Аркадий все волишь посредник, который решает все после требования, либо претензии. Пробыв в этом жильё час, мы развернулись и уехали, благо в Тайланде не первый раз и ориентируемся хорошо. Ребёнка двух годовалого намучили, после перелёта ещё искали жильё, благо тайцы народ добрый и войдя в нашу ситуацию поселили нас. Фото жилья имеются, сразу увидите что оно явно отличается от продаваемого. Может быть сам Аркадий не виноват в этой ситуации, но я описываю все как есть, фото в наличии, требуйте от Аркадия полного фотоотчета жилья куда едите, не попадите в такую ситуацию как я.
Response from Arkadii Djast:
я гарантирую гостю 100% заселение в верное жилье Я ПОМОГ ГОСТЮ! это отзыв о квартире. ДА, другое жилье! Почему?, Дмитрий ПРИЕХАЛ В 5 УТРА, А заселение С 13 ЧАСОВ в пик сезона!!!, так как я понимаю, что Дмитрий с ребенком Я ПРЕДОСТАВИЛ БЕСПЛАТНО другую КВАРТИРУ на пол дня. Так как всегда вхожу в положение гостей. И вернул деньги гостю. Если бы гость заселился бы в 13 часов. ОН увидел бы МОЮ квартиру, а не временную чужую. Проверяйте время заселения время прилета при брони жилья!! а не за сутки как сделал Дмитрий. Все остальные 962 гостя заселились в нужное жилье. Почему? потому, что люди следят за временем прилета и улета. Если у вас вылет вечером, А выселение в 11. Значит выселение в 11. А заселение в 13.
---
"Arkadii Djast " I do not bite. Write me)_ Я не кусаюсь. Пишите мне)_ Часто сижу в соц. сетях вкронтакте Все мои дома. All my 10 house https://airbnb.com/s?host_id=15613406 +Owner of the video channel "Arkadii Djast" +Owner company " Arkadii Djast - Thai Smile Proper…
Languages:
English, Русский, українська
Response rate:
100%
Response time:
within an hour
Explore other options in and around Tambon Choeng Thale
More places to stay in Tambon Choeng Thale: