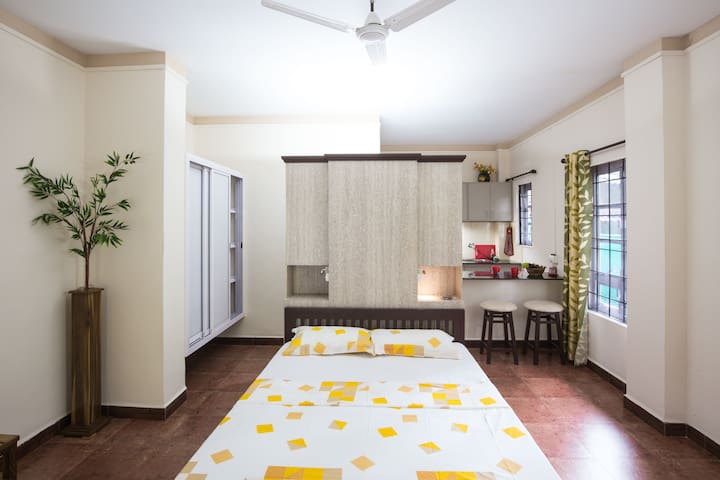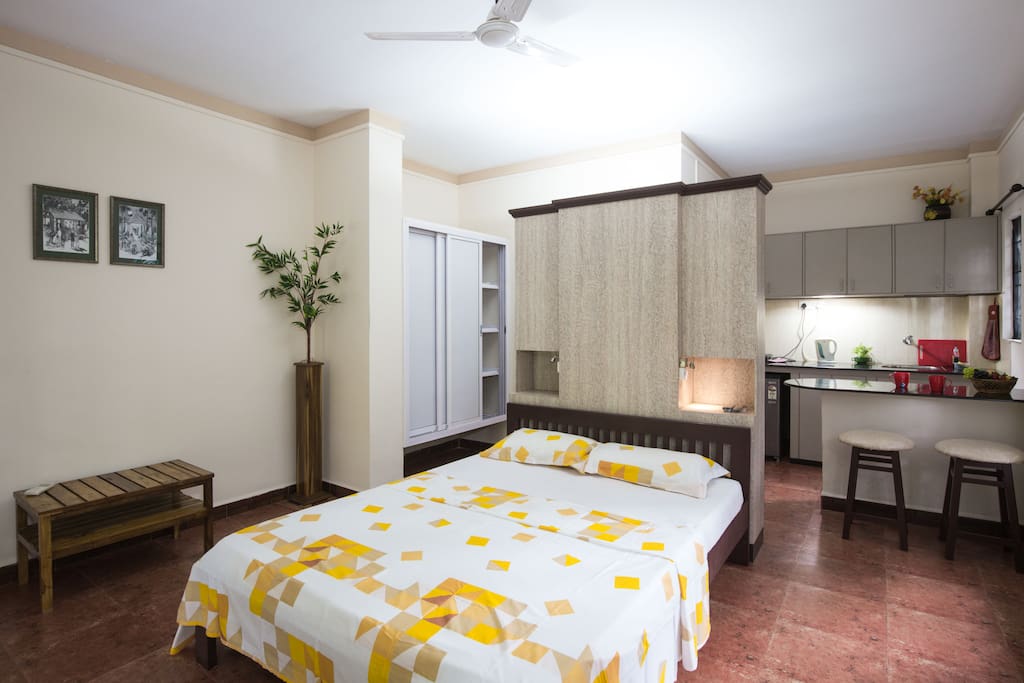 A stunning green and quiet location inhabited by a variety of birds tucked away in a beautiful corner of Cansaulim far away from all the chaos that would ensure a quiet and peaceful holiday. Len's Hideaway offers you all the privacy with a separate entrance and its own private compound with an understated yet elegant landscaping very close to the main hundred year old heritage house on one side and a very quiet neighbourhood on the other at a walking distance to the shops, cafes and beach.
The space
The studios are very close to the one hundred year old house where i live with my family . Close enough to be always available to help and yet having a private space of 2000 sq. ft with plants and fruit trees such as coconut, mango, jackfruit, chiku, pomalo, love apples, bananas, passion fruit and cinnamon, making it a haven for a variety of birds that envelopes you into nature and making it a perfect hideaway for you , away from all your busy routine, the crowded city with its garish signboards and noisy traffic, making it a memorable experience of living in a truly Goan village, that would definitely rejuvenate your spirits. That's what Len's Hideaway is all about .
Here's what we offer .
A queen size bed with bedside tables and bed lamps and wall mounted TV
A long mirror with a collapsible table suitable for working on a laptop.
A table for the suitcase . Large windows with a fibre mesh to keep the inscets away . Ample storage space behind the divider besides a wardrobe for hanging clothes and shelves for folded clothes .
Besides a ceiling fan one can even opt for air conditioning that is available in our second listing . Len's Hideaway 2 Air-conditioned .
The kitchenette is equipped with a small fridge, an induction cooker, a kettle, utensils for cooking,cutting board , soap and scrubbers, a kitchen towel ,a few serving bowls, crockery and cutlery glasses and mugs where guest can cook s whole meal.
The Bath has wall mounted racks for towels and clothes . A water heater for a warm shower and all other necessary toiletries like paste, soap, towels, and toilet paper. A steel collapsible clothing rack is also provided which can be used on the patio.
Beside the kitchen bin with extra bin bags there are large bins outside for glass , plastic and wet waste.
There is also a battery backup in case of a power breakdown.
Guest access
The guests would have ample space to park their vehicles at the gate .
They would have a paved well illuminated pathway and patio which is absolutely safe for children and for a little walk after dinner.
A balcony with a table and chairs . An ideal place for a drink !
A stone sit out for four .
An old shed with seating built with mud overlooking acres of farm lands with cattle grazing and birds chirping with a built up barbeque pit.
Interaction with guests
Besides just having a chat with our guests , what we love the most, we are always available to help out with anything they might need . Since we work from home we are always available . If they need to rent a bike or a car or hire a taxi , we would be there to make arrangements from reliable , trustworthy and pleasant local people known to us . We have listed contact numbers for rentals ,taxis and also a menu from fairly good restaurant that offers home delivery.
Other things to note
Location of Len's Hideaway
Dabolim Airport, Goa : 12 km 15 minutes drive . recommend a prepaid taxi.
Vasco da Gama : Train station 16 km 25 minutes drive .
Margao : Train station 18 km 30 minutes drive.
Karmali train station : 24 km 40 minutes drive.
The Cansaulim market : 10 minutes walk equipped with superstores, banks, ATM, wine stores, medical stores, fruit and veggies , laundry , fast food joints .
Cansaulim has a virgin beach with white sands, no garbage at a walking distance of 20 minutes.
There are several other fine dining restaurants within a radius of 7 kms.
---
---
Always communicate through Airbnb
To protect your payment, never transfer money or communicate outside of the Airbnb website or app.
Learn more
---
Check in is anytime after 12PM (noon)
Submitting self attested copies of identity with address of both guests is mandatory.
The stay of all foreign nationals will be registered by us with the FRRO and the registration number will be made available to them in case of any inquiry during their stay . The guests would have to give us the required information along with the passport to do an online registration.
On returning from the beach, use the garden tap to wash off the sand before you enter your room.
Try to keep the place clean as there are no Room Attendants.
Smoking is strictly prohibited inside the room.
Please be considerate towards your neighbours.
Gambling or any other behaviour that is against public morals in the room and in the house or any part of the property is prohibited.
Inviting strangers into the house is not allowed.
A BIG NO TO PARTIES .
Kindly keep the remote controls out of reach of children.
SWITCH OFF THE AIR CONDITIONING BEFORE YOU LEAVE.
The Kitchen
The kitchen is equipped with all basic requirement(URL HIDDEN)Keep your kitchen clean(URL HIDDEN)DO NOT OVERLOAD THE FRIDGE(URL HIDDEN) Make sure all food stored in the fridge is properly covered or sealed to prevent odorizing and unwanted drips.
Use the kitchen bin for wet waste. A spare bin bag is provided above the breakfast table.
Please use the wooden bins under the cinnamon tree for plastic, glass and kitchen bin bags.
The Bath
The switch to the water heater is outside the bathroom on the switch board in the kitchen.
DO NOT FLUSH ANY OBJECTS DOWN THE TOILET
For your wet towels and laundry, kindly use the racks in the bathing room and on the patio
We strictly prohibit drying of wet clothing on furniture and railing.
THANK YOU
---
---
---
We were looking for a relaxed Beach vacation away from all the hustle and bustle. Lenny's place was spot on! Just 5 minutes from the beach and some amazing restaurants. We loved the hospitality and the beautiful nooks and corners his wonderful property has. We will surely return soon with a longer stay plan :-)
---
Lenny was very welcoming. Extremely helpful in guiding us and even went out of the way to find an English mass for Christmas! He was accessible at any time and kept checking on our comfort daily. His place is great, very quiet, but easily accessible to shops and the beach.
---
Lenny extended us a very warmth hospitality. He made us feel at home, it was like visiting a relative unlike a commercialized stay. Before we started our trip, he shared the location and pictures to guide us reach his place with ease (through (SENSITIVE CONTENTS HIDDEN)). When we reached, he showed us the room and facilities and when we told we were hungry he took out his own car to drive us to Caji Square (an eatery). He gave us time in answering to all our query (even at midnight), made arrangement for our bikes/taxi. As an interior designer himself, he has beautifully arranged the courtyard and the rooms. Room was cosy with facility for preparing coffee and instant noodles/bread. He showed us round his century old home with addition of his own artistically crafted chandelier. Only thing we missed was a blanket on our bed (he told he ordered for it). It was a wonderful stay!
---
Lenny's place was the ideal getaway I was looking at. He's an intelligent host who knows the requirements of the discerning traveller. The living space is carefully designed by Lenny himself and I was impressed with the perfect balance between the contemporary style and modern amenities inside the house and the countryside outside. It's spotlessly clean and one would feel guilty of dirtying it! I loved the splashes of green plants within and the color coordination. It's ideal for families looking for a complete village set up in lush green with easy access to the main areas. The supermarkets and stores are just a walk away. Lenny is more like family and very easy going. Our kids loved their pets Skipper and Dusty, who are away on Lenny's bungalow but came over to meet our kids with Lenny. His family is lovely. I loved the sprawling area and the chirping of birds and the stone benches to sit and relax. It's rustic at the same time the network of towers is good so one can easily access the data packs. The beaches are pristine and our kids had a great time! I would want to stay here again when I next feel like taking a break from the rush of life. Thank you Lenny!
---
Lenny was the most helpful and generous host. Such a kind person and really very patient considering all the travel questions and help I needed. A lovely, clean and secluded place to stay. So peaceful and green. Really lovely!
---
Lenny's hideaway is a really lovely place to stay. If you are looking for a host that is very sociable, will spend a lot of time with you, and regularly checks in on you, then this is the perfect place to stay. First off, the village of Cansaulim is my new favourite place in Goa. It is a hidden gem for anyone who does not like the party scene, and wants some peace, quiet, and real Goan life. The beach is seemingly unending, clean, almost uninhabited, and just lovely. The village is quaint and very picturesque with its many charming and colourful Portuguese-style homes. The locals are sweet and kind. No one hassles you to buy things, and no one tries to rip you off. Lenny's place is also beautiful. It is so uniquely and tastefully decorated and laid out. I loved how clean it was, and the extra touches, like the optional air conditioning, the kitchen, the laundry rack (seemingly a simple touch, but in India this is rare!), the bathroom floor water sweeper thing (sorry I don't know the name of it – but again, I haven't seen this anywhere else, and it really helps keep the washroom clean!), and all the shelves and even hangers. Although Lenny's place is farther from the beach than described, it is a really nice lovely 30 minute walk to the beach through the charming village. I actually felt the longer walk was a bonus, because you got to see real Goan life. There is also a lovely walk from Lenny's place through farming fields that lead to a hill top church where you can see 360 degree views of the area. Lenny and his entire family are extremely helpful, friendly, and sweet. They all went above and beyond a host's duties, helping me out when I was sick (even getting their relative who is a homeopathic doctor to take a look at me), lending me reading books, helping me get my guitar ready for plane travel, and even inviting me over to see their beautiful Goan home. There were regular issues with the internet going down for extended periods (like 6-24 hrs at a time, versus just 10-15 minutes as is usual in India), and as wifi was one of the amenities listed that drew me to this listing, I was disappointed that the airbnb description didn't mention that Cansaulim has more extreme internet problems than other places in Goa. However, I also hadn't notified Lenny in advance that this was very important to me, and just assumed that since it was listed as an amenity that it would be in full working order. Had I thought to mention this, I'm sure Lenny would have let me know in advance. And when I did let him know this was an issue for me, he did everything he possibly could to improve the situation. So long as you aren't hoping to use the internet on a daily basis, you should be fine....
Thank you very much Shannon ! It was our pleasure hosting you . Making my guests feel at ease and cared for is a special gift that costs nothing but gives me a lot of satisfaction . However it was unfortunate that you had problems with the WiFi , which as I had explained to you that the Cansaulim Telephone Exchange was having a major work carried out where the whole of Cansaulim was badly effected . Students , institutions , banks faced a lot of inconvenience for those few days and Airbnb would undoubtedly have no clue of any such technical upgrading or a breakdown simply because it is unanticipated .
---
My husband and I really enjoyed our stay and it was probably one of the most enjoyable of our Airbnb stays. Lenny's Hideaway is a hidden gem amidst the beautiful and peaceful countryside in Cansaulim. The apartment was clean, very well designed and contained all the essentials for a comfortable stay. The shower was strong with lots of hot water and having air con was a real bonus. The star of the place was Lenny whose love of his garden and nature was obvious. We really appreciated the time he spent with us and his garden is not a pristine manicured floral creation but something far more interesting. It's a work in progress and there's so much to see and learn. At the bottom of his land there is a gazebo and it was our pleasure to sit out early in the morning and look across the fields and watch birds and listen to the wonderful sounds of nature. We are really grateful to Lenny and his lovely family including two friendly dogs for making our stay so memorable.
---
Hello there! I am an interior designer who enjoys working more on furniture designing with a passion for music and gardening. I love meeting new people and sharing experiences and Airbnb makes it happen !
Response rate:
100%
Response time:
within an hour
Explore other options in and around Cansaulim
More places to stay in Cansaulim: