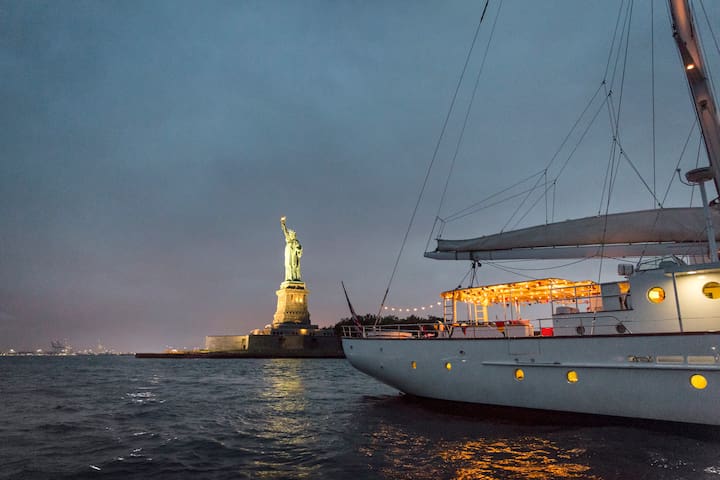 Night At
America's Gateway - Ellis Island
Entire home/flat
2 Guests
1 Bedroom
1 Bed
About this listing
On Monday, June 29th, stay at America's Gateway and explore through the eyes of those who found their first moment of belonging on Ellis Island. Simply enter to win by 11:59 p.m. ET on 6/20/15.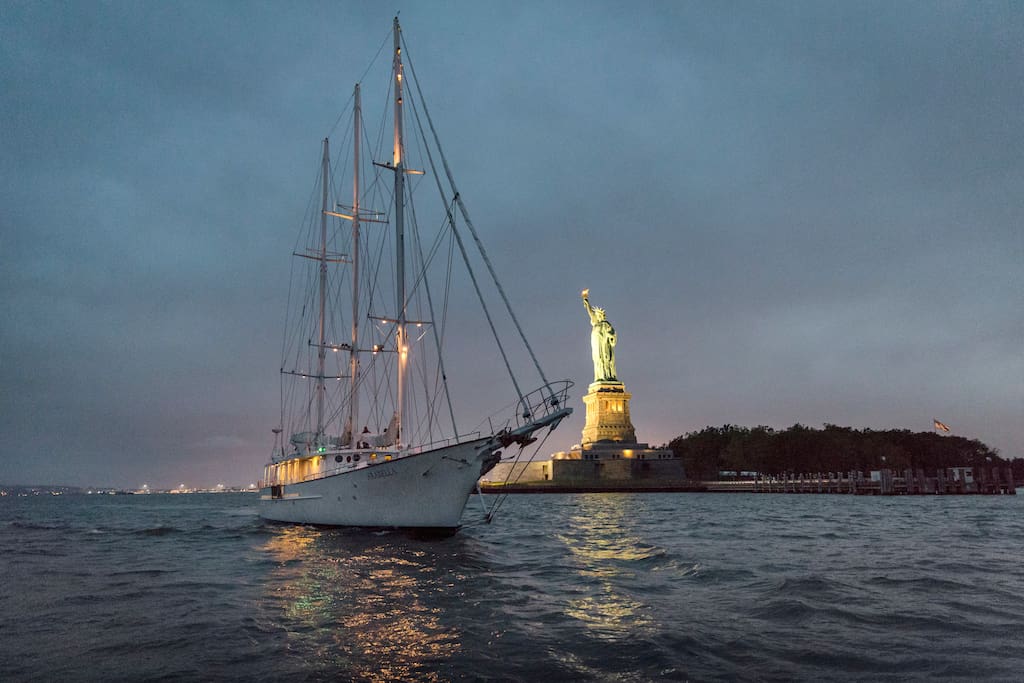 After a specialty-made meal (with a few surprise dinner guests) on Ellis Island, take a late-night cruise circling around Lady Liberty.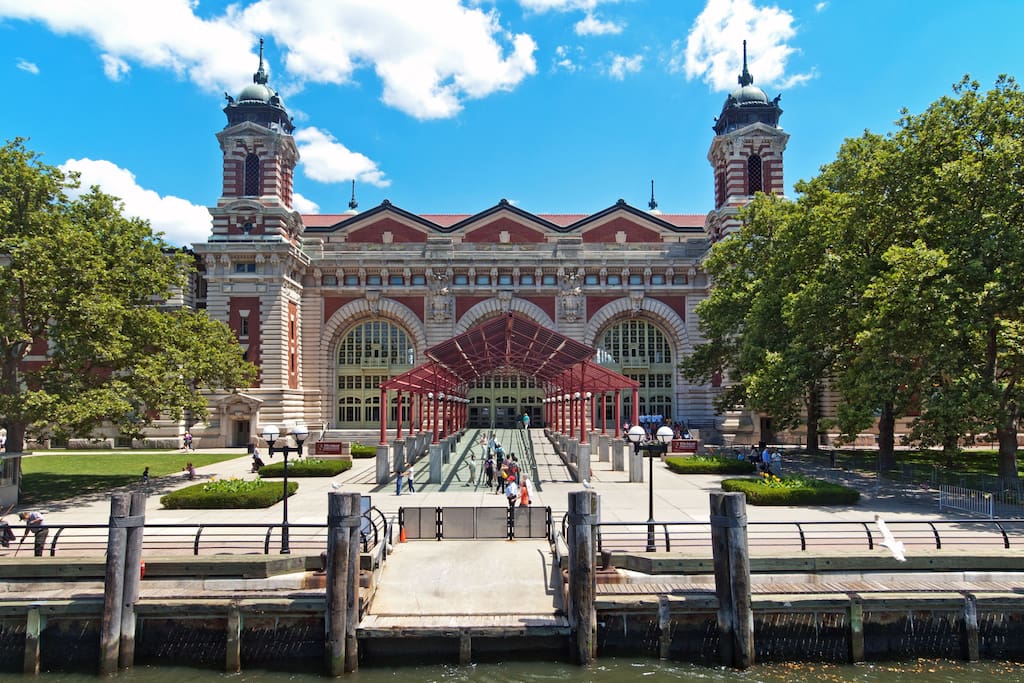 Welcome to Ellis Island. Time to soak in the history and explore the island as it was your very own.
---
Room type: Entire home/flat
Bed type: Real Bed
Accommodates: 2
Bedrooms: 1
Bathrooms: 1
Bed: 1
---
---
Description
The Space
For millions of immigrants, the long journey towards the American Dream went through Ellis Island. Catching that first exhilarating glimpse of Lady Liberty's welcoming torch meant the chance of creating a new home in a new land. On June 29th, recapture those first breathtaking moments when your ship docks at Ellis Island.
We're offering one lucky winner and a guest this once-in-a-lifetime opportunity to explore the rich history of the island and uncover the many stories of the immigrant experience. Enjoy a curated, themed meal with a few surprise guests in Ellis Island's Great Hall, the same spot where immigrants lined up in hopes of capturing their piece of the American Dream. After a private after-hours tour of the Grounds and Museum, a genealogist will uncover your own Ellis roots. Later, the Arabella, your floating bedroom for the night, will take you for a late-night cruise around the islands and Manhattan before docking for the evening, leaving you with breathtaking views of the skyline. In the morning, Lady Liberty will watch over you as you eat breakfast on the boat before you head back to Manhattan to explore.
So how do you make this Night At America's Gateway - Ellis Island happen? Tell us by 11:59 p.m. on 6/20/15 why you (and a lucky guest) should get to experience a taste of American history. Not local? You're still eligible: we will fly the winners in from anywhere in the world.
---
No late night swims to Battery Park.
No yacht races after dark.
Please don't splash Lady Liberty. She finds it rude.
Night at America's Gateway - Ellis Island on June 29-30, 2015 Official Rules

NO PURCHASE OR PAYMENT NECESSARY TO ENTER OR WIN. A PURCHASE OR PAYMENT WILL NOT INCREASE YOUR CHANCES OF WINNING.

When you submit a submission for this Contest, you agree with the Official Rules below.

Sponsors. The Sponsors of this Contest ("Contest") are Airbnb Inc., 888 Brannan Street, San Francisco, CA 94103 ("Airbnb") and The Statue of Liberty - Ellis Island Foundation, Inc. 17 Battery Place, Suite 210 New York, NY 10004-3507 ("Partner")

How to Enter. Participants who have reached the age of 21 at the time of participation may enter the Contest from June 17, 2015 at 6:00:01 a.m. Central Time ("CT") until June 20, 2014 at 11:59:59 p.m. CT by following the process below. Submissions must be received through the below process by the close of the Contest to be eligible.

Note: If you are not already an Airbnb user, you must also complete the registration process to create an Airbnb user. This process is free.

Process. Navigate to www.airbnb.com/night-at/ellis-island, and follow the instructions on that page to submit your answer to the following question ("Submission"):
"Please tell us a little bit about yourself or your family's history and why you'd like to make America's Gateway your home for the night."

Airbnb is not responsible for computer or network problems, problems with servers, problems with email accounts or the failure to receive any submission for any reason whatsoever. By entering the Contest, participants agree that they may be contacted by Airbnb in relation to the Contest and agree to take part in any publicity that occurs as a result of the Contest and grant Airbnb and their agents the right to use their name and/or image.

Submission Requirements. Submissions must: (a) be in English and a maximum of 550 characters (not including spaces or punctuation), (b) comply with Airbnb's Terms of Service and User Conduct guidelines, (c) be entrant's original work, not previously submitted in any promotion or displayed publicly, (d) not violate the rights of any other party, including but not limited to intellectual property rights or rights of privacy/publicity, and (e) not contain any content which (i) constitutes advertising or commercial content for any party other than Airbnb, (ii) endorses/promotes illegal or harmful activity, or (iii) is violent, profane, vulgar, obscene, defamatory, or otherwise objectionable or inconsistent the image of Airbnb. Airbnb reserves the right to disqualify any submission that violates these prohibitions or that Airbnb deems inappropriate for any reason, in Airbnb's sole discretion. You represent and warrant that your Submission does not make unauthorized use of, or violate, any rights of any third party, and that, if necessary, you can provide proper permissions in a form acceptable to Airbnb.

Eligibility. The Contest is not open to residents from: North Korea, Cuba, Iran, Sudan, Syria, the Province of Quebec, or any country subject to embargo by the United States, or any jurisdiction where the Contest would be prohibited or restricted by law. Directors, officers, employees, independent contractors and agents of Partner and Airbnb, or their subsidiaries or affiliates, and the members of their immediate families or households, are not eligible.

Winner Selection. One winner will be chosen entirely on merit, based on three judging criteria applied by a panel of judges at the following weight:

50% - Originality and creativity of the Submission. Does it surprise and delight us?
30% - Spirit of the Submission. How does your submission relate to Ellis Island? Does it tell us something about you?
20% - Quality of expression. Is it well-written?

The judges' decisions are final and binding. If substantially similar Submissions are submitted by different entrants, judges will select only the best version of that idea, as determined by the judges in their sole discretion.

Prohibited Content. Submissions/content must be developed by the participants and must not violate the rights of any other party, including but not limited to intellectual property rights or rights of privacy, publicity or other moral rights. Submissions must NOT contain: (a) advertising or commercial content for any party other than Airbnb or Partner; (b) content that endorses/promotes illegal or harmful activity; (c) violent, profane, vulgar, obscene, defamatory or otherwise objectionable material; (d) adult material; or (e) defamatory content. The Sponsors reserve the right to disqualify any participant who violates these prohibitions, or that the Sponsors deem inappropriate for any reason, in their sole discretion.

License. By submitting a Submission, participants grant each of Airbnb and Partner a perpetual (or for the term of the protection granted by the relevant intellectual property rights), worldwide, irrevocable, royalty-free license to transform, edit, modify, reproduce, distribute, transmit, publish, broadcast, perform, display, or otherwise use the submitted story, in whole or in part, with or without modifications, in any form or medium (including but not limited to: internet, any printed medium distributed via press, billposting, point of sale advertising, flyers, or leaflets), whether now existing or later developed, for entertainment, promotional and/or advertising purposes and/or any other purpose. To the greatest extent permitted by law, participants agree not to invoke any so-called moral rights in relation to their submissions (including without limitation the right to be identified as the creator of the work and the right to object to derogatory treatment of the work). For the avoidance of doubt, the license referred to in this paragraph is a fully paid-up license.
Prize. The winner is eligible to receive, in recognition of his/her personal writing talent and as full and comprehensive consideration for the License described above, the following trip:

Double-occupancy accommodations with an Airbnb host, as selected by Airbnb, in Manhattan, NY on June 28, 2015
Transportation from Airbnb listing to Liberty Harbor
Double-occupancy accommodations on the Arabella Yacht, anchored between Ellis Island and the Statue of Liberty, on June 29, 2015
Transportation between Liberty Harbor, the Statue of Liberty, and Ellis Island
Special guided tour of Statue of Liberty Museum and Pedestal
Reception on the Statue Cruises Ferry
Historically themed dinner with several Ellis Island related guests (e.g., historian, foundation members) in Ellis Island Grand Hall
Special guided tour of Ellis Island
Cruise on the Arabella Yacht around Manhattan and New York Harbor islands
$2,500 USD cash to be used for travel or any other purpose

Approximate retail value of the Grand Prize is $42,000.

Winner must be available to travel to America's Gateway - Ellis Island to participate in the event from June 29-30, 2015. Winner may bring one (1) travel companion [who is 21 or older to participate in the trip. Winner and his/her travel companion must have a valid passport or other necessary travel documentation during the period of the trip to redeem the prize. If a winner declines to accept prize, prize will be forfeited and may be awarded to an alternate winner, time permitting. Winner is responsible for payment of any expenses or costs not expressly listed above, as well as any incidental or personal expenses. No substitution or transfer of the prize is permitted. The prize may not be redeemed for cash. If due to circumstances beyond Sponsors' control, Sponsors are unable to provide the stated prize, Sponsors reserve the right to award, as substitute, a prize of equal or higher value. If any portion of the prize trip becomes unavailable, remainder of prize will be awarded as the complete prize.

Notification/Announcement of Winner. The winner will be notified by Airbnb on June 24, 2015. Winner must confirm their acceptance of the Prize in writing within 24 hours of such notification. The Sponsors reserve the right to disqualify any winner who does not confirm acceptance of the Prize in accordance with these Official Rules, and reserves the right to select an alternative winner in such event. In the event of a dispute about the identity of a winner, the Sponsors will award the prize to the authorized account holder of the Airbnb account corresponding to the email address that sent the winning entry. The Sponsors may publicly announce the name of the winner within 30 days of the close of the Contest, including through social media channels such as Twitter (@airbnb) and Facebook.

Prize Conditions. Save as may be required by any applicable mandatory laws, the prize is provided as-is with no express or implied warranty or guarantee. This Contest is subject to applicable local laws and regulations, including but not limited to tax laws. The winner is solely responsible for any taxes applicable to or resulting from the award of the prize, and the Sponsors will have no obligation for any taxes that may be payable. Sponsors may require the winner, and where applicable, the winner's guest, to sign and return an affidavit of eligibility, a liability release and/or a publicity release permitting the Sponsors to use the winner's name, image and winning Submission in promotional materials where permitted by law and subject to applicable rules. Refusal or inability to sign and return such forms within 72 hours of receipt may result in disqualification and awarding of prize to an alternate winner. The potential winner and travel companion (if any) shall strictly abide by any rules and procedures set forth by Sponsors and personnel working where the event is occurring in connection with the Prize. Engaging in any inappropriate or illegal conduct during any prize-related events may result in removal from the premises where the event is occurring.

Airbnb may conduct a background check on the winner to confirm eligibility and compliance with these rules, as well as on any proposed travel companion. By entering, you agree to cooperate reasonably with any such background check. Failure to cooperate may result in disqualification and selection of an alternate winner. If a background check reveals that a potential winner or potential travel companion has engaged in conduct that could damage the reputation or business of Airbnb or Partner, the potential winner or potential travel companion may be disqualified and, in the case of the winner, the prize may be awarded to an alternate winner, time permitting.

General Liability Release. By entering this Contest, participants release the Sponsors and their agents from any liability whatsoever, on any theory, and waive all claims and causes of action arising from or related to this Contest and/or fulfillment and/or use of the Prize, to the extent permitted by applicable law.

Data. By entering the Contest and submitting a Submission and any other personal information, participants are expressly consenting to the processing of their personal information by the Sponsors for the purpose of the Contest or any associated publicity. Airbnb's privacy policy will apply. Airbnb may share the Submissions with Partner and third party prize providers for Contest administration and prize fulfillment purposes.

Interpretation and Disputes. Participants agree to be bound by these Rules and all decisions of the judges, which are final and binding. Any disputes shall be governed by the laws of the State of California, and shall be resolved in the courts of San Francisco, California.

Miscellaneous. The Contest is void where prohibited. If any provision or part-provision of these Official Rules is held by a court of competent jurisdiction to be invalid, illegal or unenforceable, it shall be deemed modified to the minimum extent necessary to make it valid, legal and enforceable. If such modification is not possible, the relevant provision or part-provision shall be deemed deleted. Any modification to or deletion of a provision or part-provision under this clause shall not affect the validity and enforceability of the rest of this agreement. To the extent permitted by applicable law, the Sponsors may suspend, modify or terminate the Contest if they believe, in their sole discretion, that malfunction, error, disruption or damage is impairing or will impair the administration, security, fairness, integrity or proper conduct of the Contest, in which case the prizes will be awarded among the eligible entries received that were unaffected by the problem, if possible.

For United Kingdom Residents Only. Nothing in these Official Rules limits or excludes any person's or entity's liability for death or personal injury caused by their negligence or any other liability which may not as a matter of law be limited.

For Italy Residents Only. Note that this Contest does not constitute a "Manifestazione a Premio" under the provisions of D.P.R. 430/2001 because winners are selected and prizes are assigned to them on the basis of their personal writing talent and consequently the exception described under Article 6, par. 1, letter a) of the above mentioned decree shall apply.

For Canada Residents Only. Any personal information supplied by you in connection with the Contest will be used solely for the purpose of administering the Contest or as you otherwise expressly consent or as required by law.
---
About the Host, Marcia
Hi! I'm Marcia Gay Harden. Some may remember me as Lee Krasner from Pollock, or the glamorous 'Ava Gardner' in Sinatra, or the down-and-out Celeste in Mystic River, or even as the Academy Award-winning actress, but, as your host, you can just call me Marcia!! I've chosen a life away from mainstream Hollywood, crossing between independent and studio films, television and theatre. Some of my favorite people in the world (my family) immigrated to the U.S. through Ellis Island, so the history here is something that is so beautiful and personal to me. When I'm not performing or hosting, I'm usually spending time with my three kids and traveling as often as possible. Watch me in my latest project CBS's new medical drama Code Black premiering September 30th.
Bonjour, je suis Marcia Gay Harden. Vous vous souvenez peut-être de moi comme Lee Krasner dans le film Pollock, Celeste dans Mystic River, ou même encore comme la mère de Christian Grey dans 50 nuances de Grey. Comme je suis votre hôte, vous pouvez simplement m'appeler Marcia. Certaines des personnes que je chéris le plus au monde (ma famille) sont arrivés aux Etats-Unis en passant par Ellis Island, l'histoire qui repose ici est donc à la fois magnifique et personnelle. Lorsque je ne joue pas ou que je n'héberge pas des voyageurs, je suis avec mes trois enfants et voyage autant que possible sur Airbnb.
Hallo zusammen! Ich bin Marcia Gay Harden. Manche kennen mich auch als Lee Krasner aus dem Film "Pollok" oder Celeste aus "Mystic River". Außerdem spielte ich die Rolle der Mutter von Christian Grey in "50 Shades of Grey". Genug Filme aufgezählt - ihr könnt mich einfach Marcia nennen! Meine Familie kam über Ellis Island in die USA. Deswegen habe ich eine sehr persönliche Beziehung zu der Insel. Wenn ich mal nicht schauspieler oder Gastgeberin bin, verbringe ich meine Zeit am liebsten mit meinen drei Kindern oder auf Reisen mit Airbnb.
Ciao! Sono Marcia Gay Harden. Alcuni si ricordano di me nei panni di Lee Krasner in Pollock, altri invece per il ruolo della povera Celeste in Mystic River. I più giovani mi identificano come la madre di Christian Grey in 50 Sfumature di Grigio. Quando sarò la tua host però potrai chiamarmi semplicemente Marcia. Alcune delle persone che preferisco al mondo (la mia famiglia) sono immigrati negli Stati Uniti passando da Ellis Island e per questo motivo trovo affascinante la storia di questo luogo e lo sento molto vicino. Quando non sono impegnata a recitare e a ospitare adoro passare il tempo con i miei tre bambini and viaggiare il più possibile con Airbnb.