The room is located on the top of Gangding subway station, close to the BRT bus line and convenient transportation, adjacent to South China Normal University and Taikoo Hui of Jinan University. Many mature business districts in the surrounding area can be reached within 10 minutes on foot. The sofa area inside the room was changed to a tatami cushion, adding two lazy sofas and a woven swing are very comfortable. Equipped with a 300-inch nut projector, it is very convenient whether it is a mobile phone screen or online viewing. The bedroom area uses a full set of IKEA products, and the mattress is comfortably equipped with a 60-piece cotton four-piece suit.
What guests are saying:
"The corner of the room is a little different from the imagination. It is a small table. If you want to see the projection, you can't lie on the bed. You are sitting on the bean bag on the small table, but it feels like this is not bedding. I often wash it, so it is not convenient to see the projection after taking a bath. The second is that the room lights are too dim. I think a brighter light is also needed. Then Miss Landlord's sister is very good, very good communication, there are no other problems, and the cost performance is relatively high. It is better to suggest that small problems can be improved."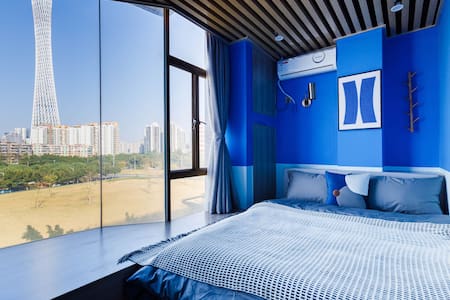 SUPERHOST
Entire flat · 2 guests · 1 bed · 1 bathroom
蔚蓝海洋|全景落地窗独享广州塔丶近珠江新城CBD长隆野生动物园丶带暖气可制暖丶情侣首选丶拍照摄影圣地
1-Geographic Transportation Metro Station There are two Guangzhou Tower and Kecun Metro Stations on Line 3, which are about 8 minutes on foot. It is very convenient to take a taxi at the door. There is 1 subway station in Zhujiang New Town. There is no need to transfer to the airport subway, 6 subway stations in Guangzhou Railway Station, 4 subway stations in Guangzhou East Station 2- Room introduction Each room is an independent space with a different theme. The room is designed with floor-to-ceiling windows, and the lighting and scenery are first-class. You can see the entire Guangzhou Tower and the park in bed. Each room has Separate toilets with heating and air conditioning. Bedding is strictly changed for each guest. 3-Shopping district shopping houses are located in the central axis of Guangzhou, and there are many shopping malls in the surrounding area. The most recent is that food and beverage brands that are basically familiar with Liying Plaza have settled in, including Haidilao Dude Tao Tao Ju and so on. 4-Introduction to attractions The closest thing is the Guangzhou Tower attraction. A few minutes walk can take a taxi to Changlong in the past, about 20 minutes. Secondly, it is the Pai Pub Street, which is a must for local couples in Guangzhou.
What guests are saying:
"Super satisfied with this room, the night view is very nice, the traffic is also very convenient, the price/performance ratio is even less to say, it is a pity that I have not been able to stay a few more nights, I asked the landlord twice, I temporarily changed the itinerary, I want to stay one more night, but already There is no room, experience tells me that this homestay really needs to be booked early, at least about ten days in advance, otherwise it is difficult to book, and there is a possibility that the exfoliating shower gel may be a bit unused for a few nights. Other daily necessities are very complete, it is really good, so good a bed and breakfast"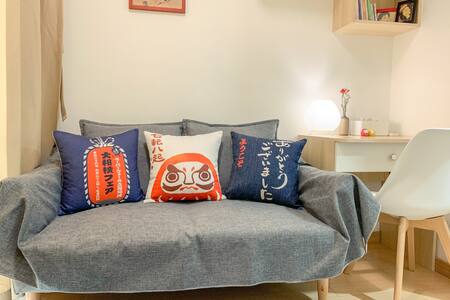 SUPERHOST
Entire loft · 2 guests · 1 bed · 1.5 bathrooms
【青鸟】全屋消毒/Loft复式/21号线天河智慧城站/地铁口/投影仪/广州/天河区/万科/米酷公寓
Click on the avatar of Yuanxiao sauce to see more listings~٩(˃̶͈̀௰˂̶͈́)و Welcome to the blue bird! ! 【Introduction】 ●Blue Bird is a small duplex bed and breakfast designed and managed by Yuanxiaojiang. Downstairs is the living room and bathroom, and upstairs is the bedroom, equipped with a 1.5m standard double bed and projection. ●Bed sheets, quilts, towels, etc. must be changed per customer and disinfected. ●It is located in Tianhe Wisdom City, where delicious food gathers downstairs. The next door is two minutes away from Vanke Plaza, which has a variety of Internet celebrities. ● Vanke's property management is orderly and public security is guaranteed. ●Japanese-style design, collecting all kinds of books and small objects brought by Japan. ●Toiletries are for home use, and there are cotton swabs and makeup remover. ●Check in:15:00, Check out:12:00 【Traffic】 ●The 78a bus at the door can directly go to South China Agricultural University (8 stops), South China Normal University (9 stops), and the Sports Center (10 stops). The transportation is convenient. (Compared to Line 3, 78 is very spacious~) ●There is an airport bus directly opposite the Nikko Hotel to the airport. ●You can walk to Huolushan Forest Park.
What guests are saying:
"The house is at Exit B of Tianhe Wisdom City Station, just a short walk away. The surrounding environment is still very good, very clean, and there is a convenience store downstairs, which is very convenient for shopping. The house is a loft structure with a small area, suitable for 1-2 people. The interior is the same as the picture, and the furniture is all available. The main color of the room is warm yellow, clean, warm and comfortable, and there is also a small balcony. There is a washing machine on the balcony. After washing, the clothes are hung on the balcony to dry the next morning. The second floor is tatami mats. The bed is really soft and comfortable. There is a projector next to the bed and you can watch TV. After a tiring day, I returned to the homestay and had a good night's sleep. It was really worth it!"